Mailchimp is a reference software on the market of emailing and direct marketing software. It is a very simple solution, which offers an interesting design and which has allowed for a few years to develop the experience of creating a newsletter, especially through its free plan.
The software allows you to easily createemailing campaigns, marketing automation sequences, and to benefit from powerfullead generation tools.
The software is mainly aimed at those who are new to emailing, as some of the features are a bit limited, especially in terms of audience management.
In this article, we detail everything you need to know about Mailchimp!
Our opinion on Mailchimp
Criterion
Note Salesdorado
Comment
Overall score
Mailchimp is known worldwide as the software that democratized
email marketing
in the early 2000s. 20 years later, the software still benefits from an excellent user experience, and focuses on e-commerce to remain attractive. We are not really convinced, but overall it remains a very solid solution.
Functional scope
Mailchimp is perfectly suited for small structures and those who are new to emailing, who can use its free plan
Reporting
The reporting is very well developed and goes quite far, especially on the evolution of the audience
Accompaniment/ Support
The help center is well supplied and the support is reputable and very responsive, but it is limited to 30 days for free plan users, and it is only available in English
Integrations
The catalog of integrations is rich, both in terms of lead generation, e-commerce and customer support tools
Value for money
Mailchimp's ease of use and overall experience make it an interesting solution, but the prices have really become far too high for our taste.
The advantages of Mailchimp:
Functional depth: excellent email editor, rich template gallery, very good lead generation tools, very advanced reporting compared to its competitors, and essential features for e-commerce…
Excellent reputation: the undisputed leader in email marketing, the most solid, with excellent references – and therefore a very good email deliverability rate.
Catalogs of integrations: over 500 available (native and third-party), not including the Zapier extension – ideal for making it your all-in-one marketing tool.
The disadvantages of Mailchimp:
Less good value for money: since their takeover by Intuit, the free plan in particular is less interesting (fewer contacts, no email scheduling functions).
Mailchimp : Features overview
Creation of email campaigns
Mailchimp email campaigns
Mailchimp allows you to create four types of email campaigns.
Personalized HTML email campaigns, which can be scheduled to be sent.
Campaigns based on the proposed templates, thanks to the automation features.
Text-only email campaigns, without images or formatting.
Email campaigns to be built with the drag and drop method.
Email templates
Mailchimp offers several email templates, which you can customize yourself. The software also allows you to create your own templates from scratch. This is a strong point of Mailchimp.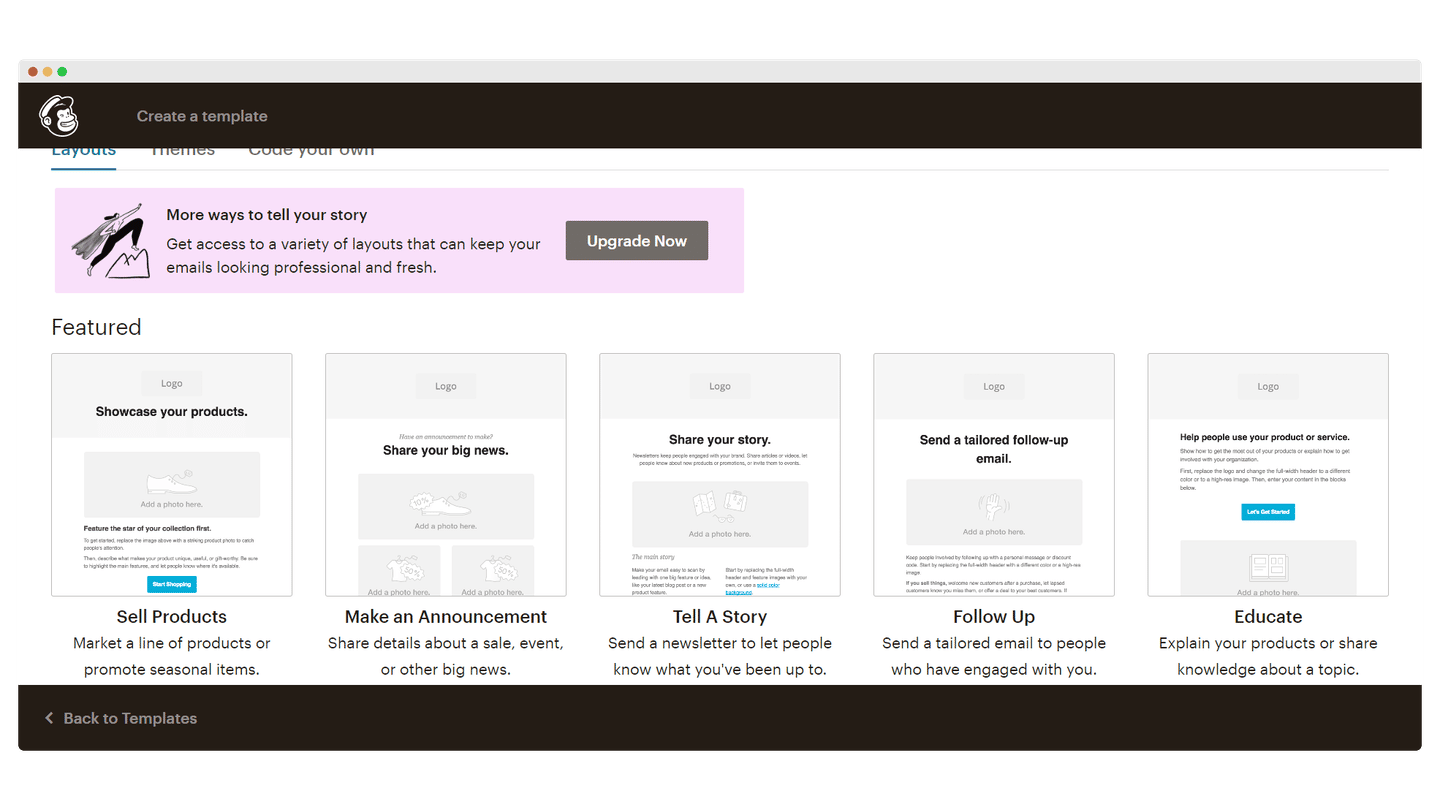 Drag and drop
Drag and drop functionality allows you to design email campaigns on the fly, in a flexible and intuitive way. Many customization features allow you to create beautiful email templates. This is surely the most remarkable feature of Mailchimp.
Automation functions
Mailchimp offers classic automation features (sending automatic emails on a customer's birthday for example), but also some more advanced features. The Customer Journeys feature allows you to create automations linked to objectives or actions.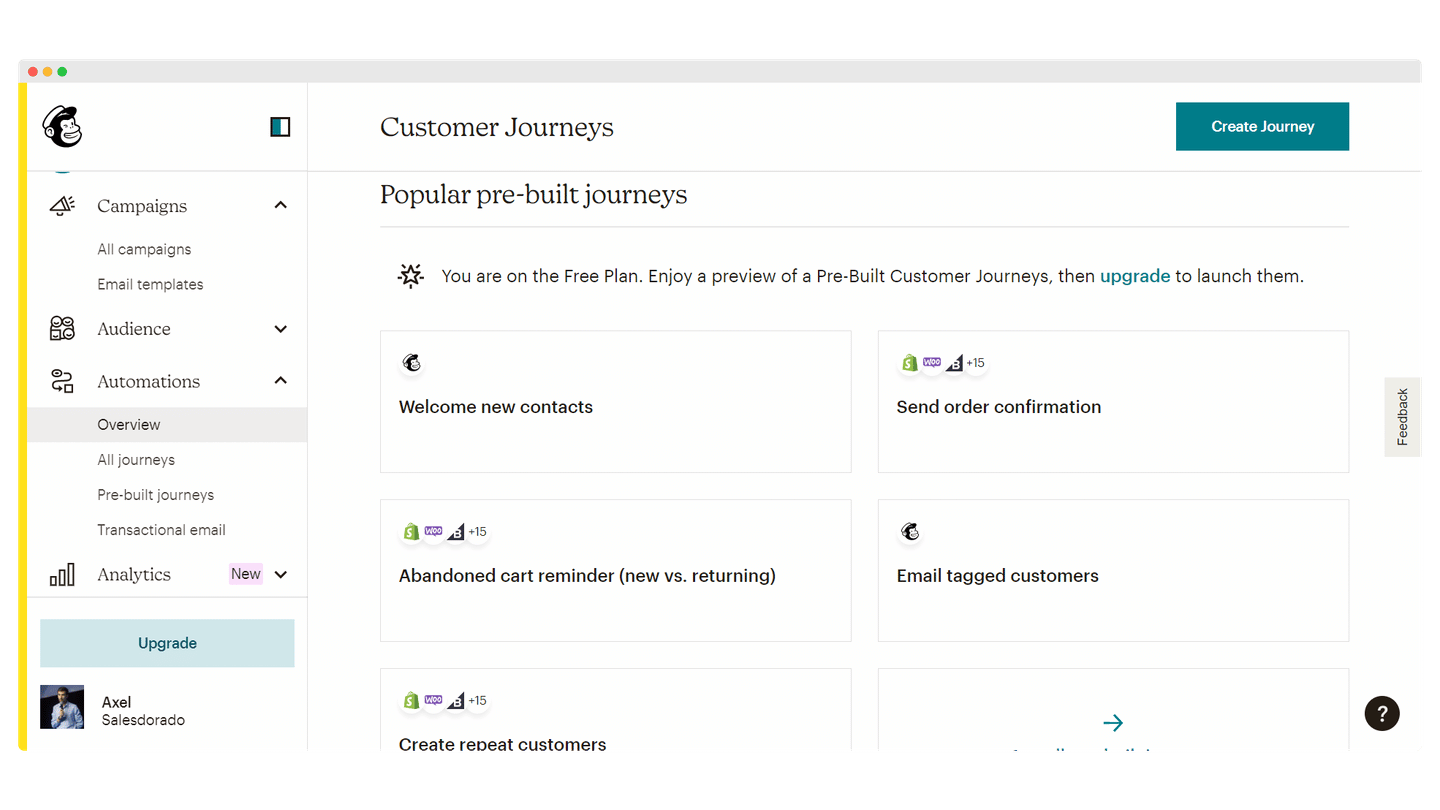 Mailchimp is a bit limited in terms of campaign customization, compared to solutions like Sendinblue or ActiveCampaign. But for those who are just starting out, the solution is still more than enough.
Contact management
Mailchimp allows you to manage your contacts by segments, grouping them according to five criteria (registration form data, group preferences, geographical location for example). It's pretty easy to use, since you just have to manually copy and paste a list of recipient emails from a global list and then use a previously created segment, or use a series of filters that automatically create the segment for you. This is the easiest solution if your contact list is large.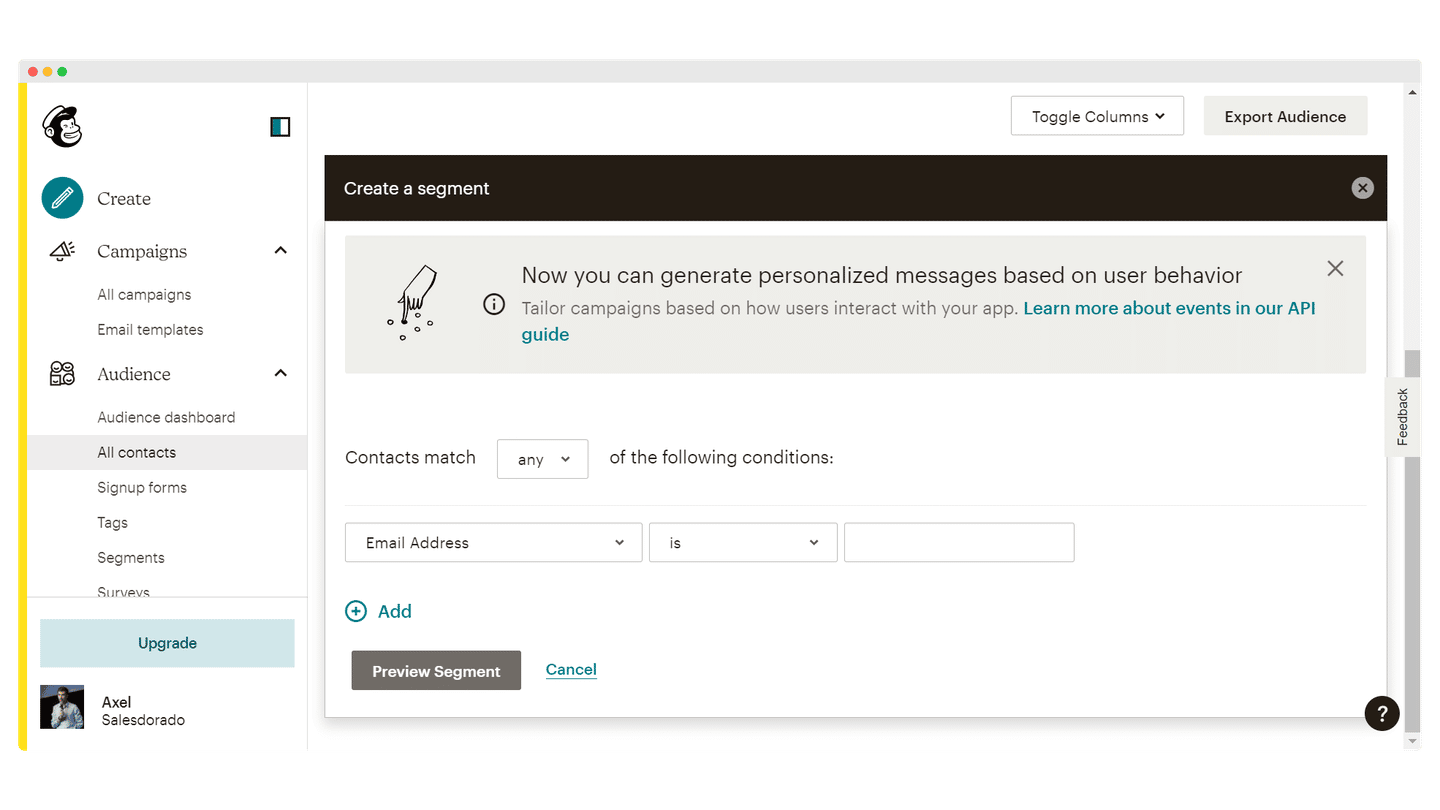 On the other hand, the software does not offer contact management by list.
To import your contacts, the software offers to download them from a file, to copy and paste them from a spreadsheet or to use an integration to synchronize the contacts.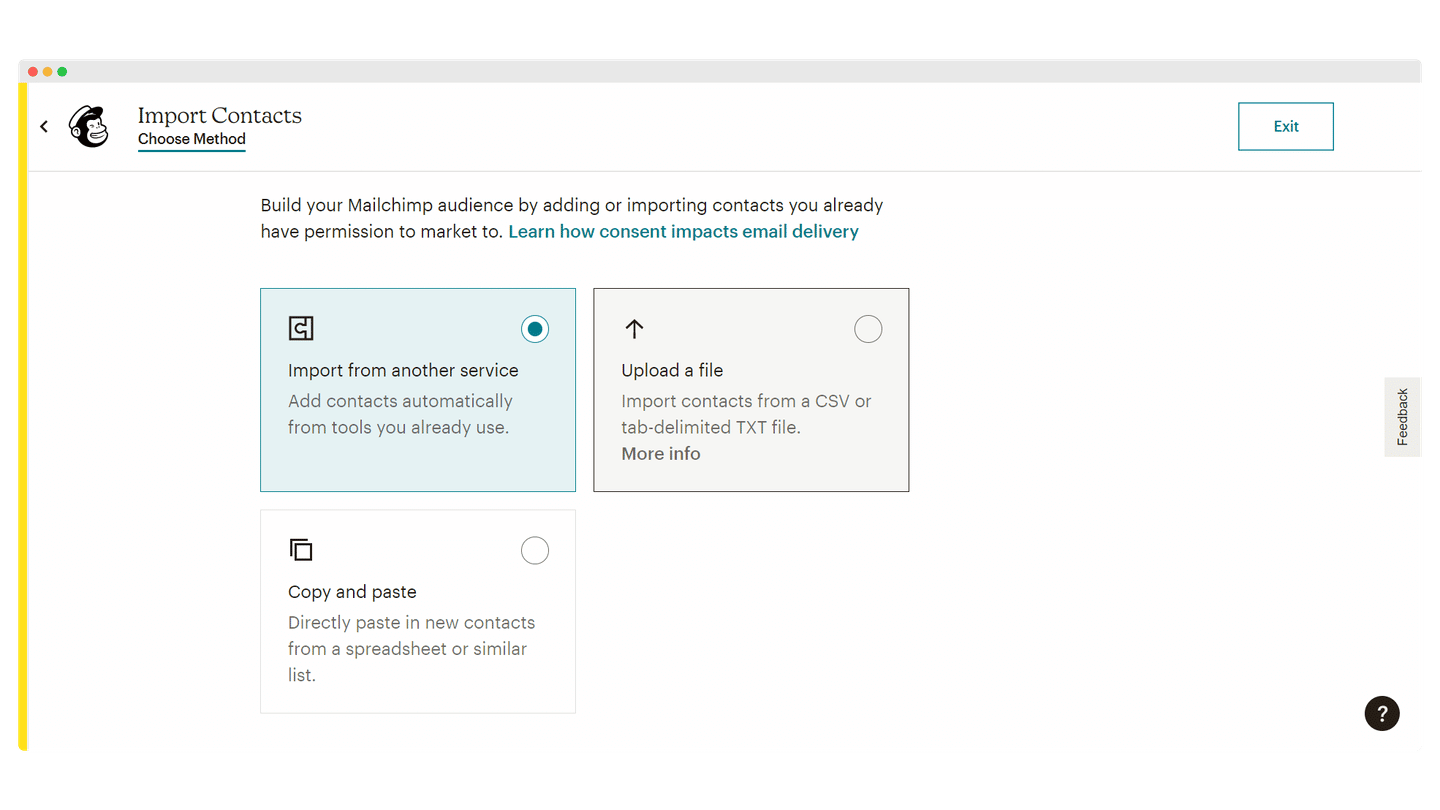 Lead generation
Form generator
The Mailchimp subscription provides a built-in form builder to help you get started with creating your email marketing campaigns. It's pretty average and the interface not very intuitive, but enough to easily create and integrate web forms on your software.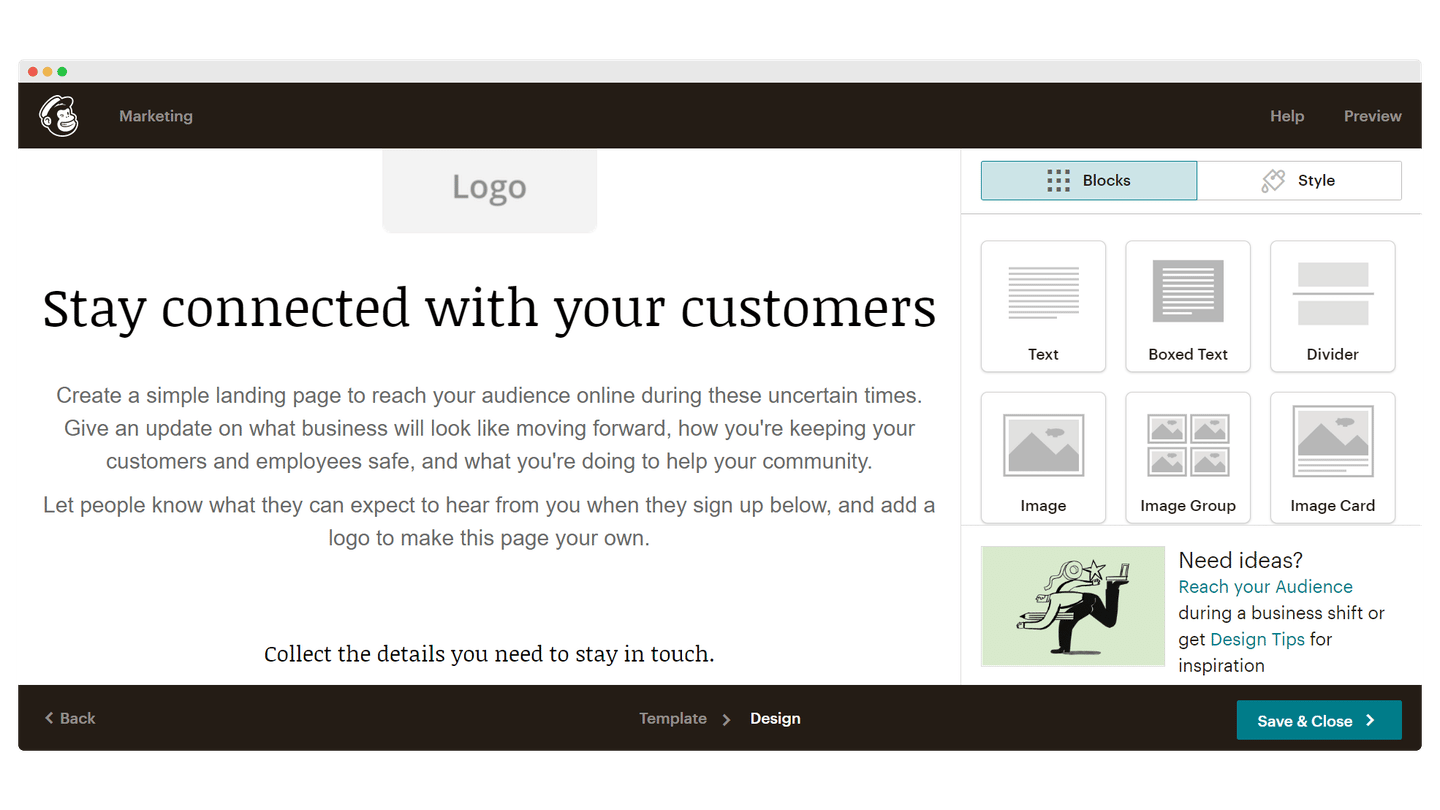 To create better and more sophisticated forms, it is best to use dedicated form design tools, such as Leadformly.
Landing pages
Mailchimp also has a built-in landing page builder, which you can use as much as you want, regardless of the version you use. There are two types of landing page templates: one for building your email lists and another for promoting products.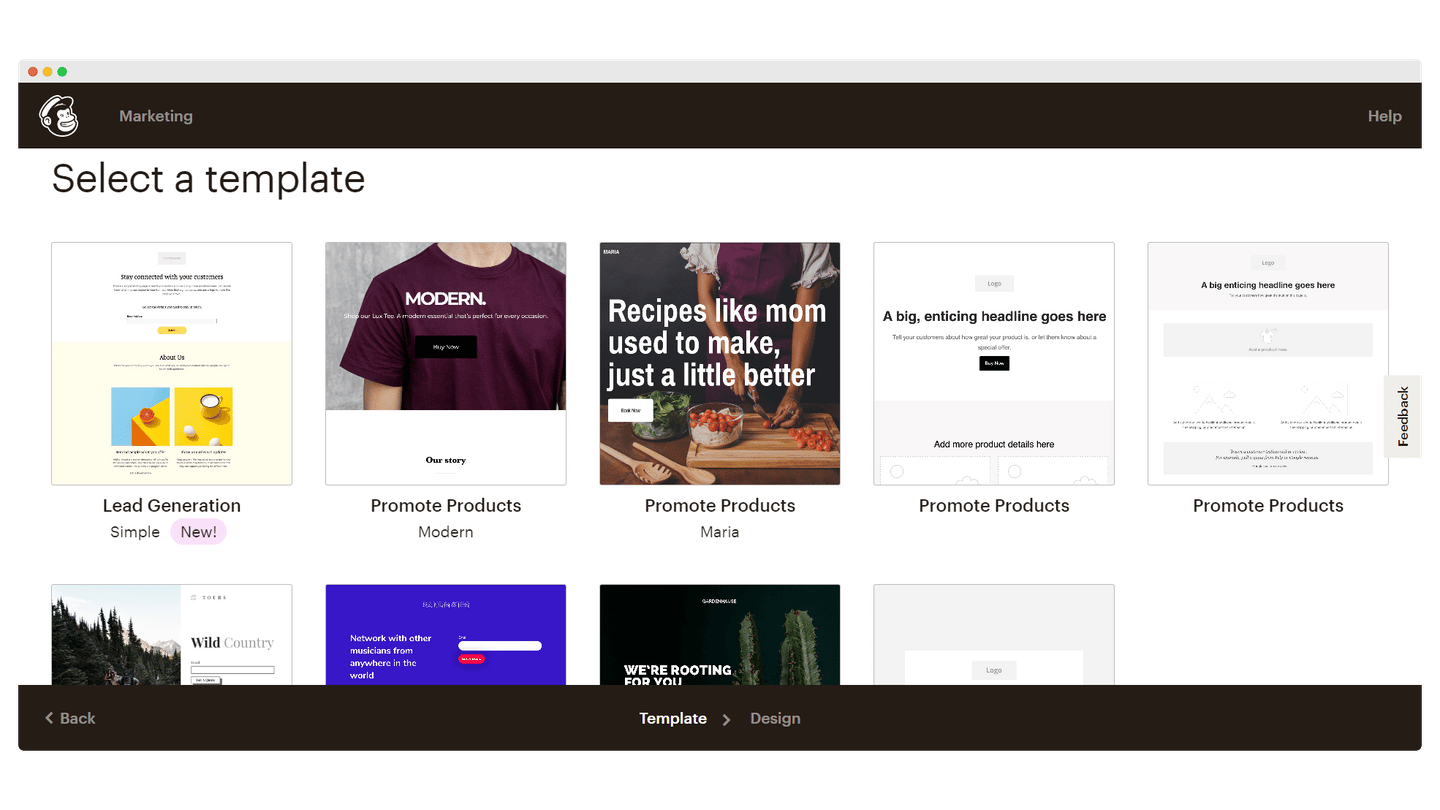 Facebook Ad Campaigns
To help you reach a wider audience and build a larger email list, MailChimp also comes with a Facebook ad campaign feature. This allows you to buy an ad for Facebook and Instagram to promote your email offer.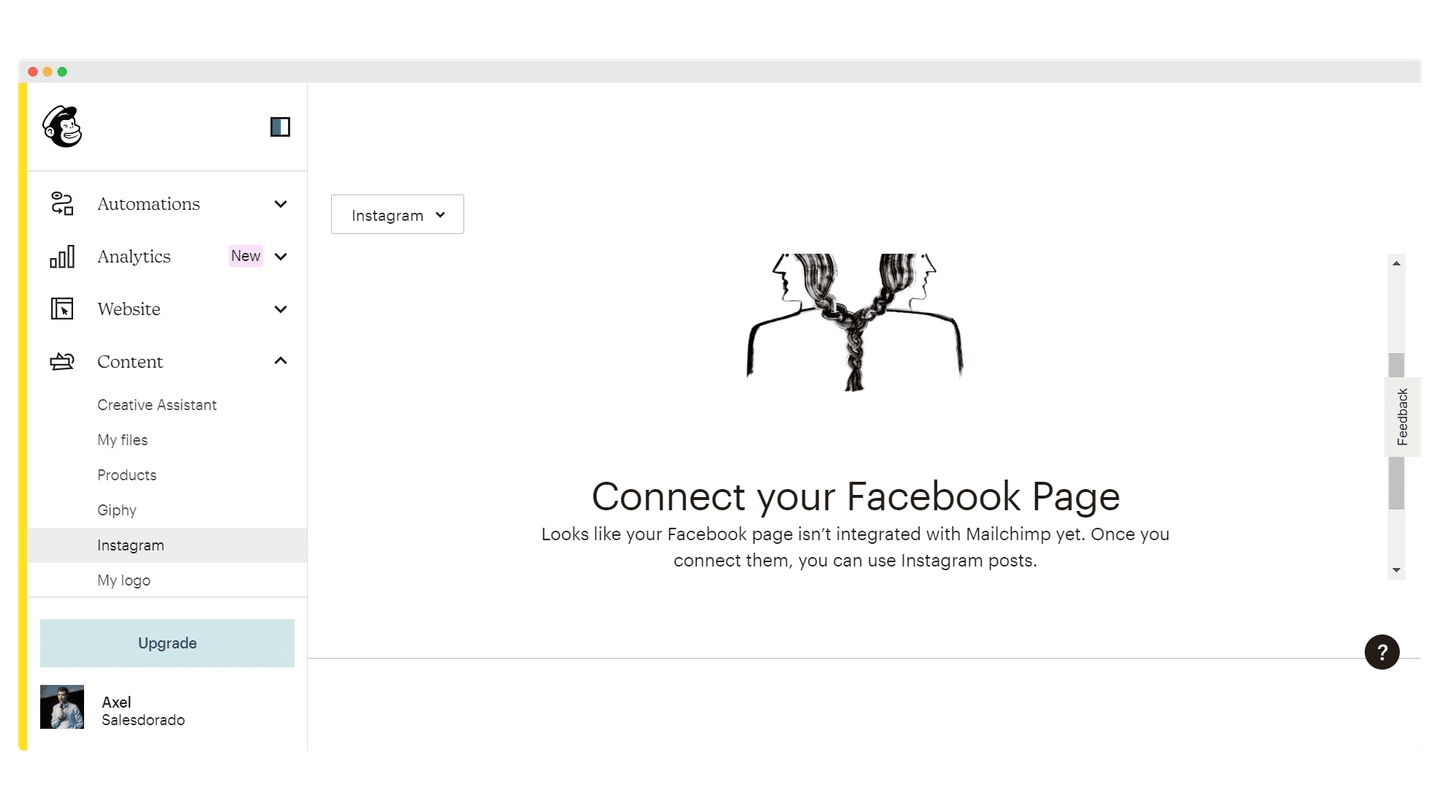 It's a great tool for small businesses that want to grow their audience but aren't ready to manage their own Facebook advertising account yet.
Reporting
Mailchimp offers good reporting and easy-to-find analytics, providing classic information about the deliverability of your emails. The "Predicted Demographics" section allows you to determine the different demographics of your contact list and target your campaigns more effectively by forming new segments.
A big strength of Mailchimp is also its huge user base, which allows it to provide benchmarks to compare its performance to the average performance observed by Mailchimp. It's not always very relevant, but it gives a reference point, which is very appreciable, especially for beginners.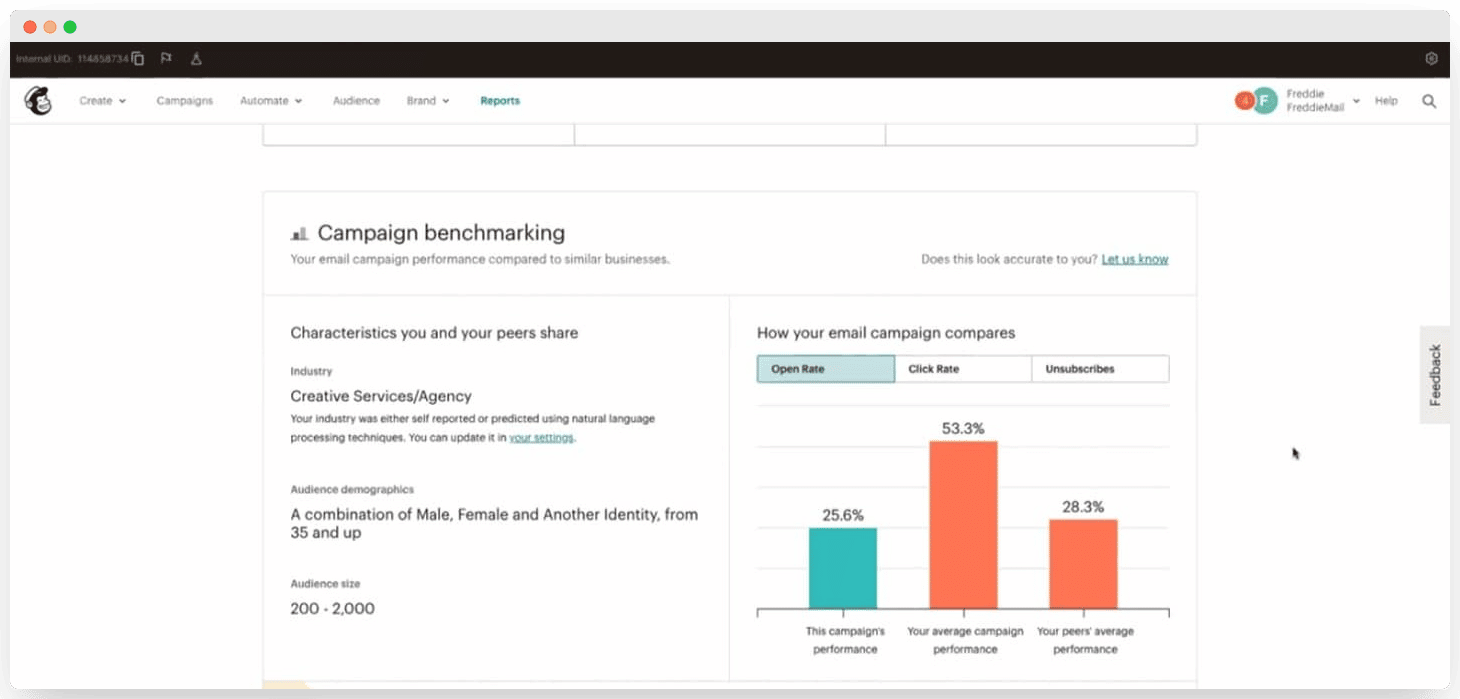 It's very simple and easy to use, suitable for beginners and managing a single audience, but quite limiting if you want to manage several audiences for your campaign. Custom URLs are not easy to understand, and the user guides are sometimes vague.
Mailchimp also offers a product recommendation feature. It uses purchase data from your online store to suggest products from your inventory that your subscribers might like. When you send emails, Mailchimp can include up to 10 of these recommendations. Then, when you view the reports, you can see how many sales were made from each email sent.
The plus for those who do B2C: the excellent e-commerce features of Mailchimp
CMS (Content Management System)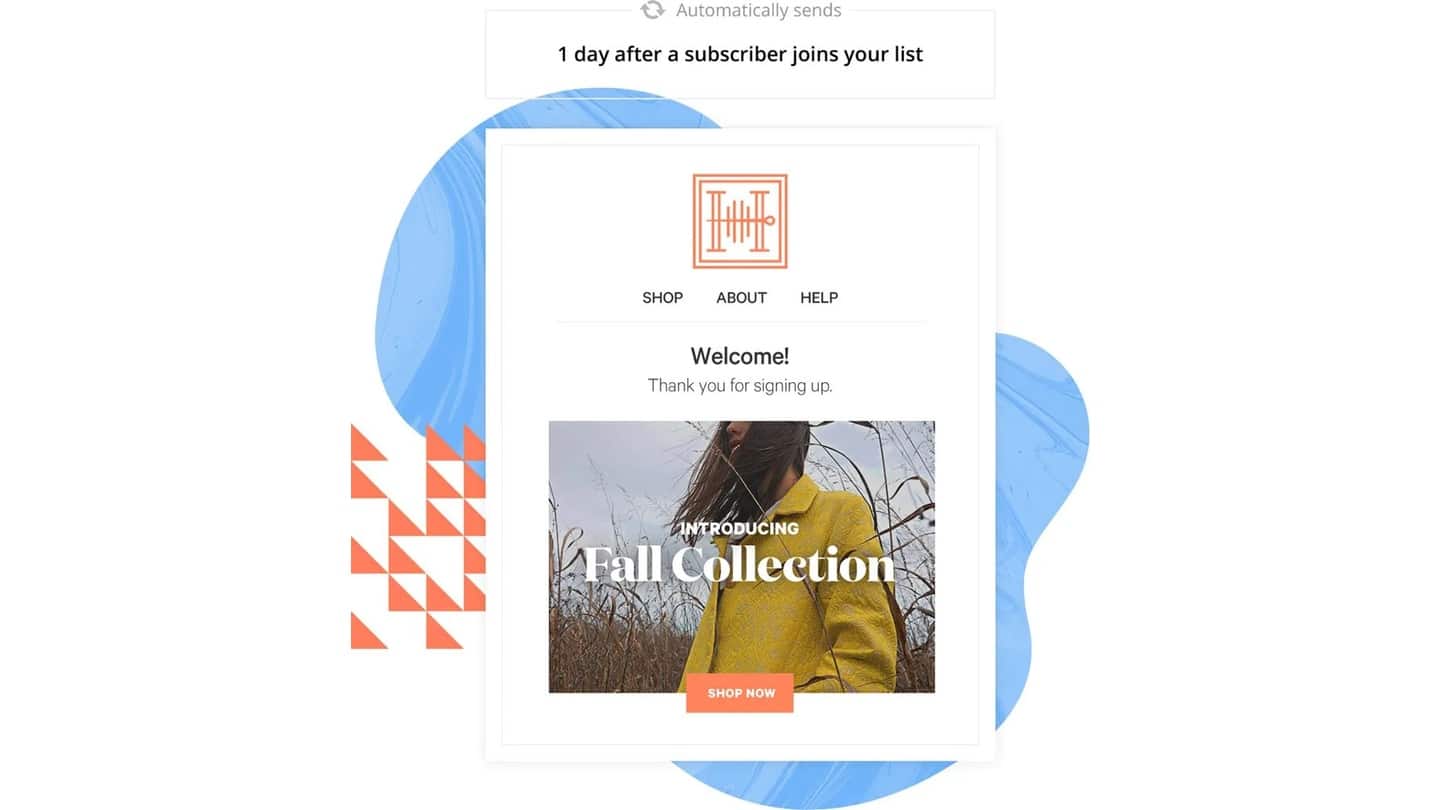 Mailchimp's CMS integrations allow you to set up automatic responses and send messages to new contacts as soon as they sign up, for example.
Abandoned baskets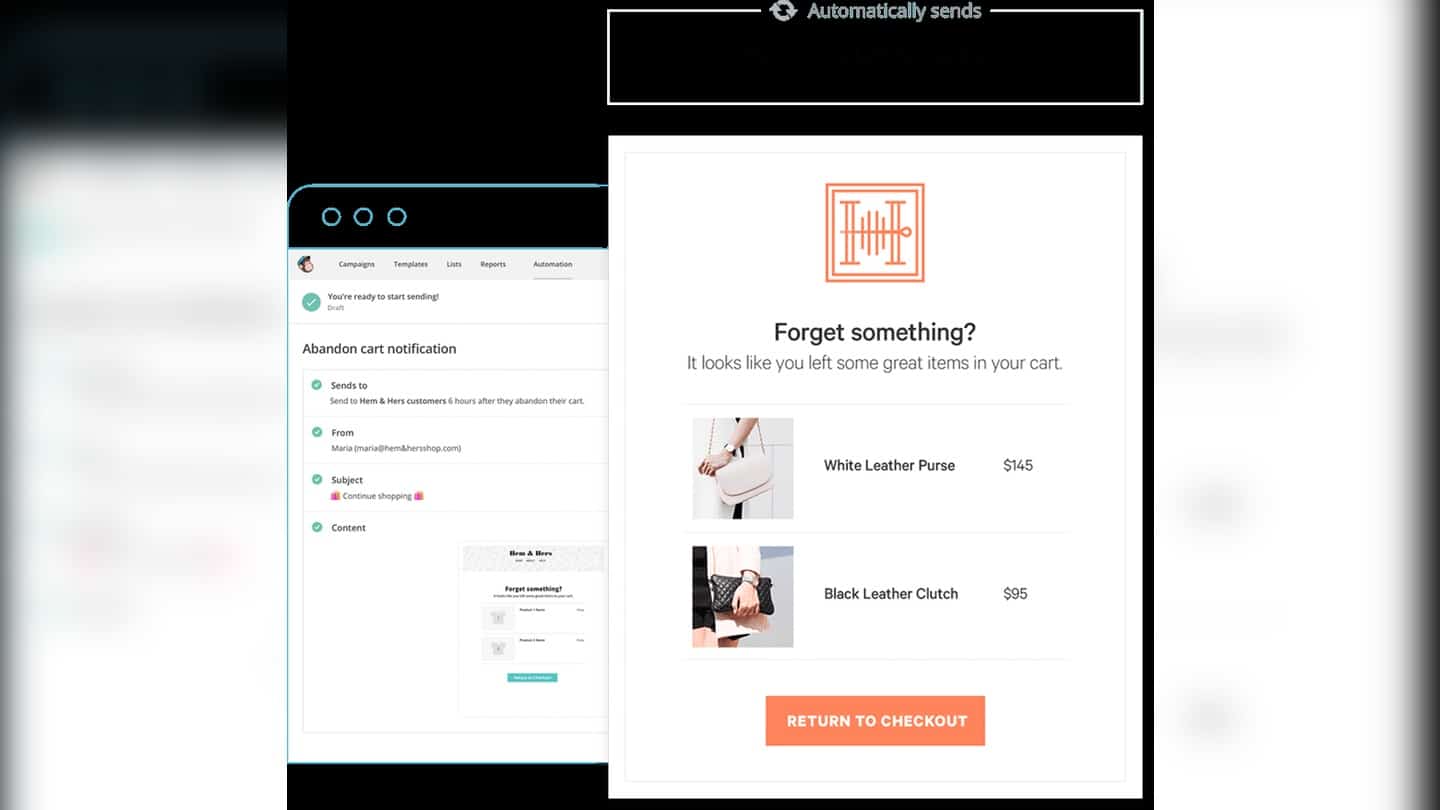 Pretty common, but it's particularly well done at Mailchimp. The feature allows you to send email reminders to customers who abandoned their cart to encourage them to complete their purchase. Immediate ROI guaranteed.
Personalized product recommendations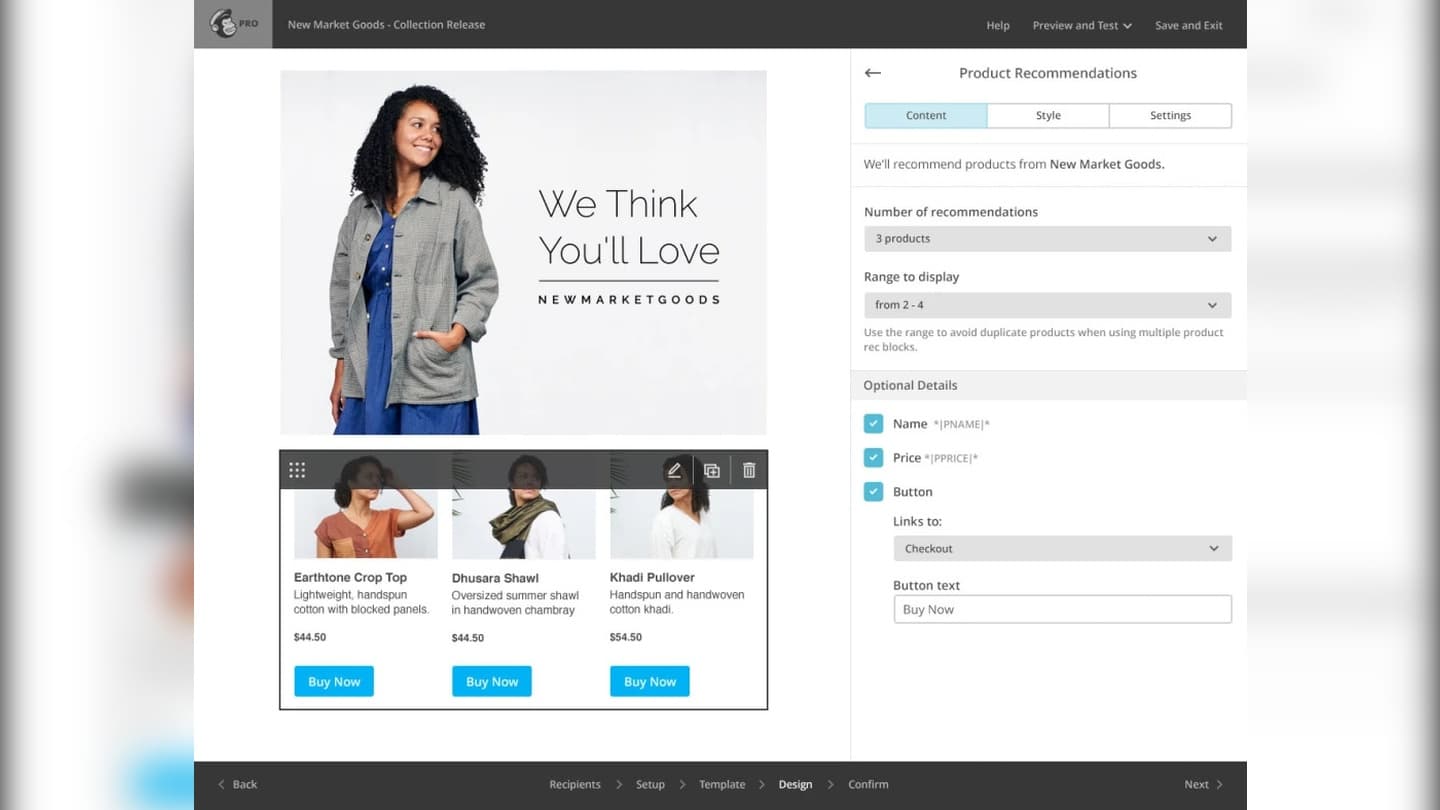 This feature allows you to design an email and take advantage of the recommendation list automatically created by Mailchimp, based on the purchase history of your customers. Your emails propose different products to each contact: each product is recommended according to the customer's purchase history.
Discover Mailchimp
Take advantage of Mailchimp!
Customer reviews of Mailchimp
Mailchimp has very good customer reviews overall. Users appreciate its ease of use and the quality of its customer support. The software is particularly appreciated by beginners in email marketing.
Some customers regret that the formats are limited. This restricts the possibilities for customers who do not find themselves in the proposed categories. Other customers also point out that the software malfunctions quite frequently.
Discover Mailchimp
Take advantage of Mailchimp!
Customer support at Mailchimp
Mailchimp customer support is available by email or chat 24 hours a day, 7 days a week, in French and English, but only for paying users. Customers using the free version can only contact Mailchimp by email for 30 days, starting from the beginning of their subscription.
The support center is rich and clear. It offers guides and tutorials, classified by category (automations, deliverability, landing pages etc.). They give access to well detailed information, classified by topic, and sometimes illustrated. Videos and webinars are also available.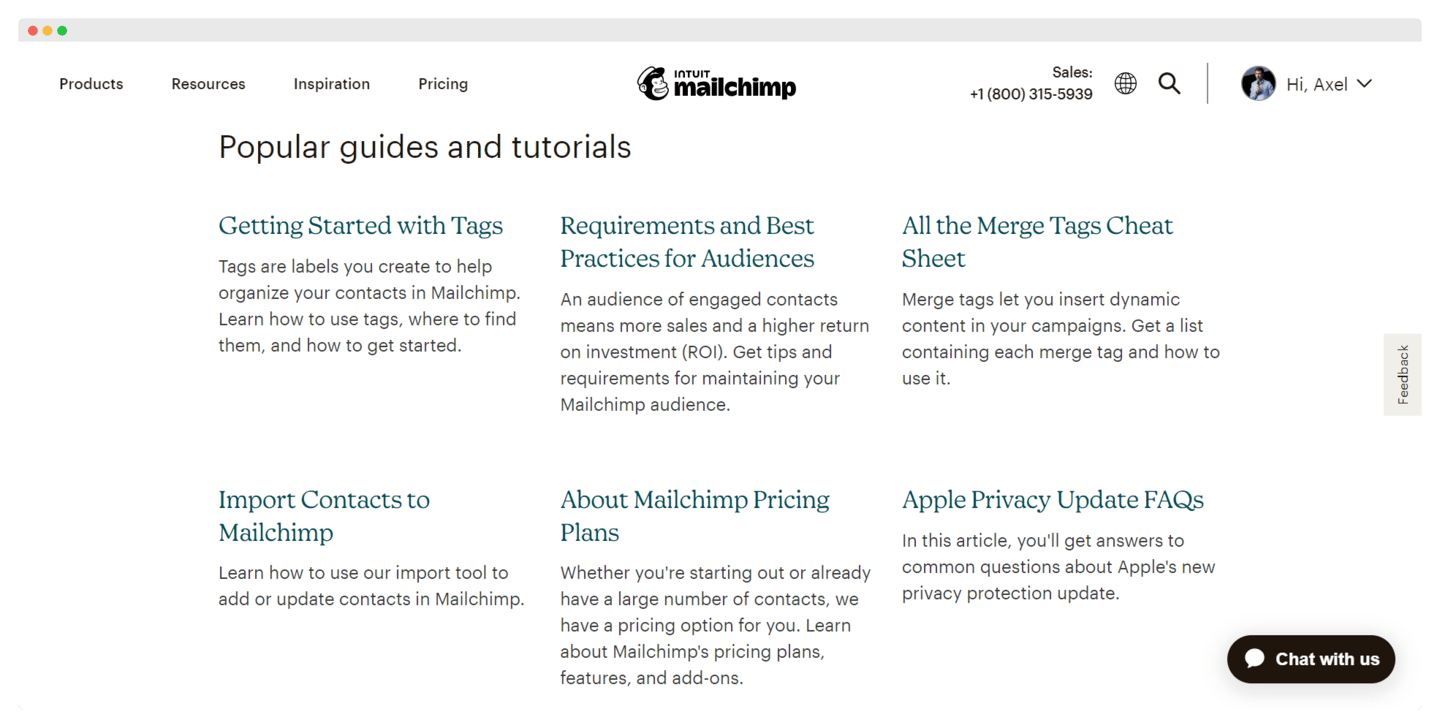 Mailchimp allows its community of users to interact on its youtube channel, but there is no collaborative blog or forum allowing users to exchange directly. However, online events, conferences and webinars are organized by Mailchimp.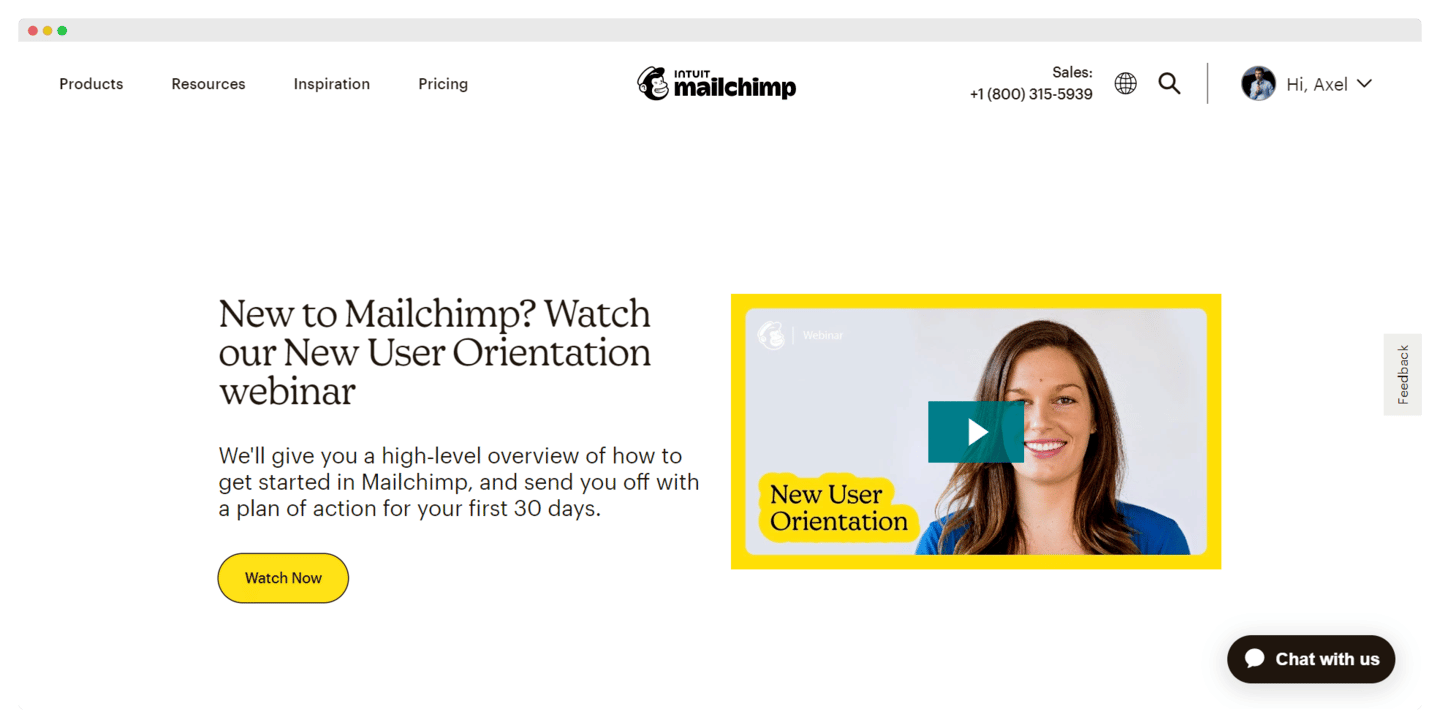 Discover Mailchimp
Take advantage of Mailchimp!
The Mailchimp integration marketplace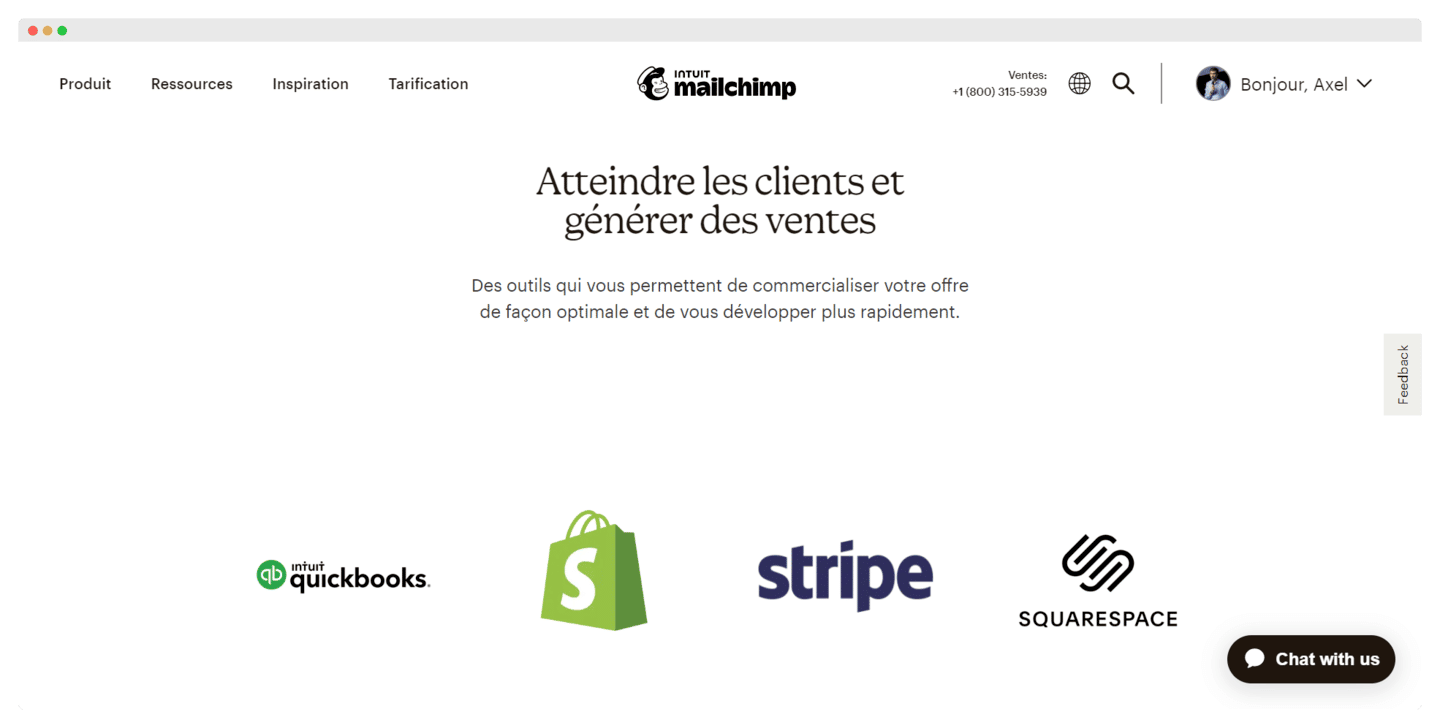 Mailchimp : prices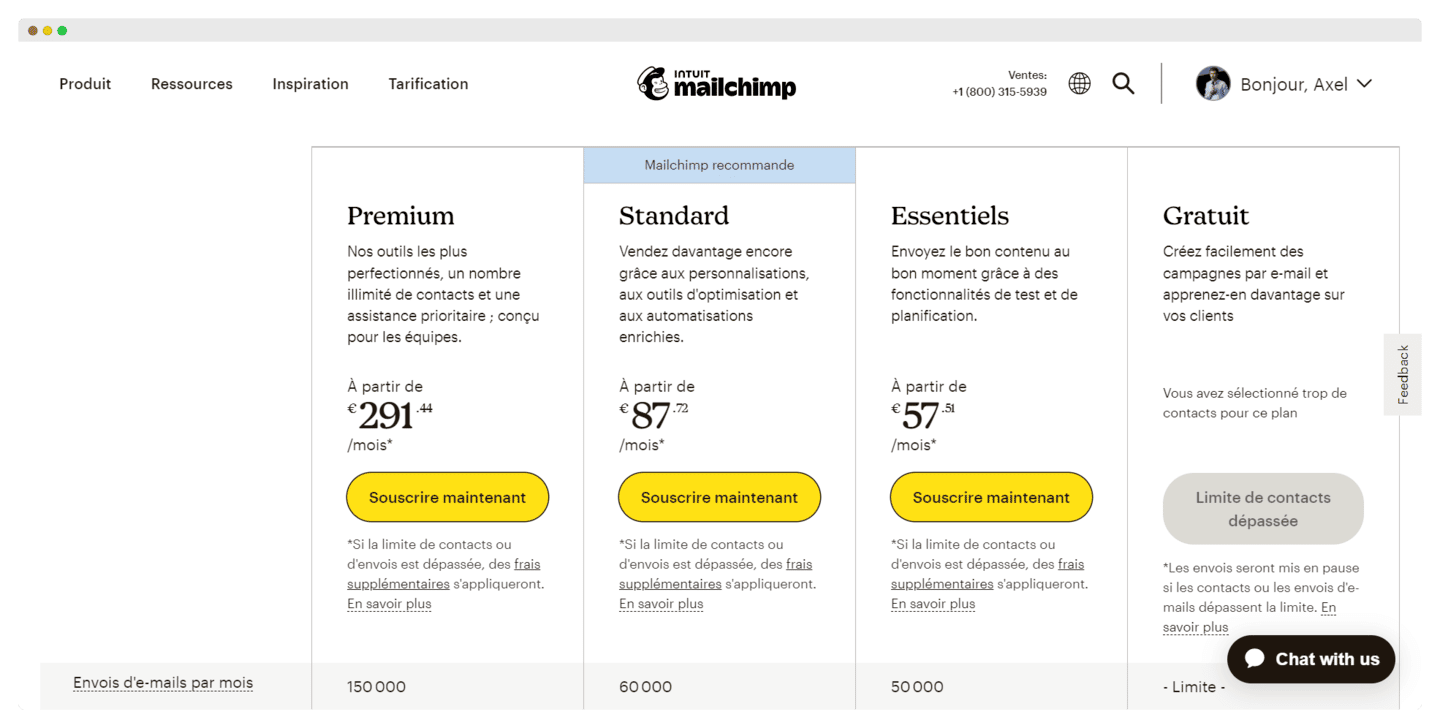 Mailchimp offers several rates:
Free plan: it allows you to have a list of 500 contacts, to send 2500 emails per month and to have access to predefined email templates, to more than 300 integrations, as well as forms and landing page templates.
Essentials package: at 58€/month for a list of 5000 contacts, it allows you to send 50 000 emails per month, to benefit from a 24/7 email and chat support, A/B tests as well as the email scheduling system.
Standard package: at 88€/month for a list of 5000 contacts, it allows you to send up to 60 000 emails per month and to have access to predefined paths, personalized coding templates, dynamic content and a content optimizer.
Premium package: at 291€/month for a list of 5000 contacts, it allows the sending of 150 000 emails per month, multivariate tests, comparative reports, advanced segmentation, as well as the support of an integration specialist.
Discover Mailchimp
Take advantage of Mailchimp!
What future for Mailchimp?
Intuit bought Mailchimp in 2021 for $12 billion, even though the founders had created the software 20 years ago without raising any funds (a great feat).
This has resulted in higher rates and reduced benefits of the free plan (contacts limited to 500 instead of 2000). The future will tell us if the rates will continue to increase and if this will affect the value for money of the software.
The main alternatives to Mailchimp
Sendinblue: remains the best value on the market, for a similar level of functional depth.
Active Campaign: more interesting (cheaper) paid plans and more advanced automation features.
Sarbacane: for those who want to "buy French", and who need a more personalized support on emailing topics.