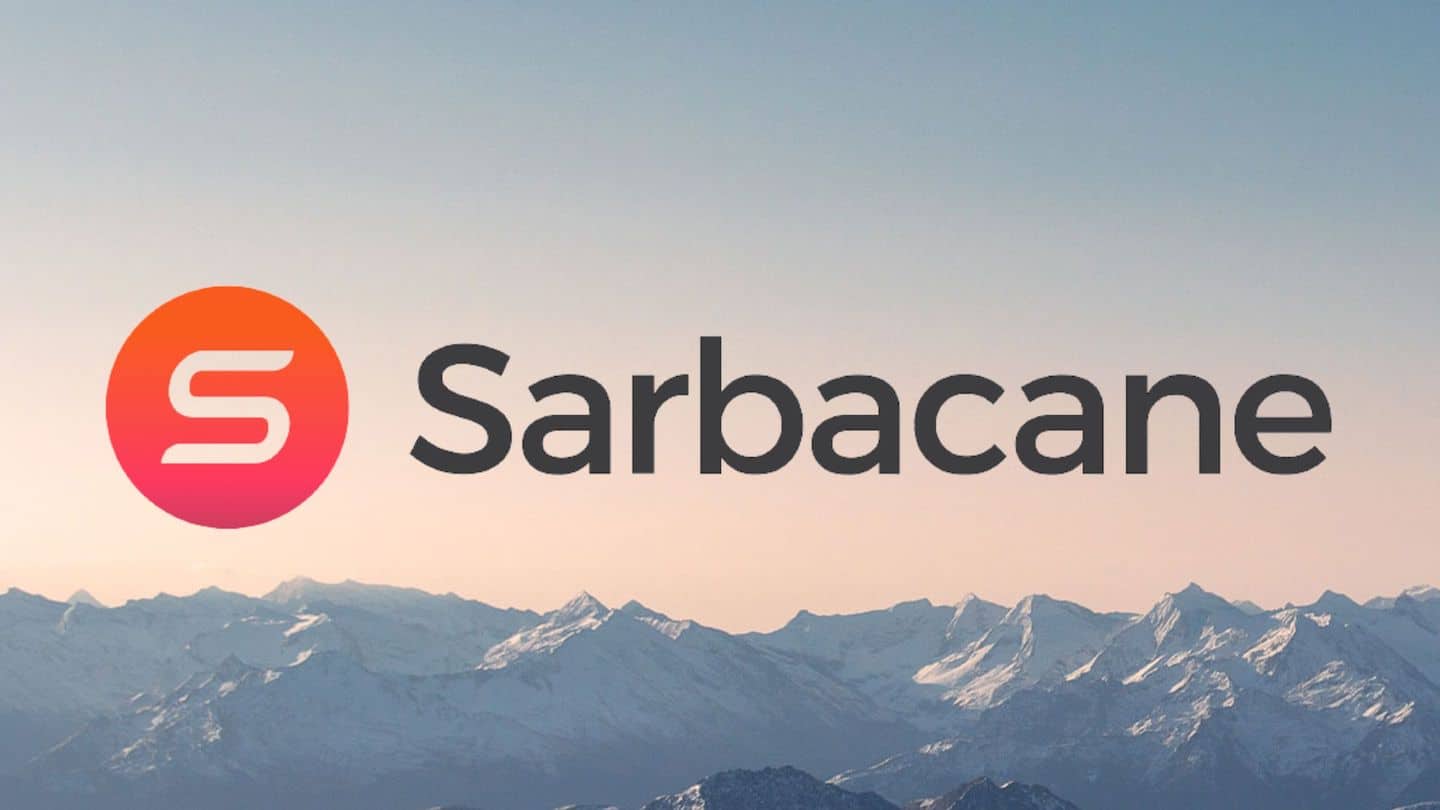 Sarbacane is a Made in France tool present on the emailing software market since the years 2000, and enjoying a good reputation. They have notably bought theprospecting tool Datananas a few years ago.
The cost of Sarbacane is substantial, but the tool provides access to a significant layer of services, as well as webinars in French, and educational content. If you're just starting out inemailing and are looking for tips on how to get started, this could be a tool to shortlist.
In this article, we tell you everything you need to know about Sarbacane!
Our opinion on Sarbacane
Criterion
Note Salesdorado
Comment
Overall score
Sarbacane is a 100% French solution that clearly focuses on the personalized support of customers. If you are a beginner, it can be a good solution.
Functional scope
In terms of pure emailing, the tool does the job. On the other hand, it is difficult to get out of the email channel – Apart from SMS, no other channel is available on Sarbacane
Reporting
Sarbacane offers quite classical reporting functions on emailing
Accompaniment / Support
Customer service and support are clearly very advanced
Integrations
Sarbacane has fewer integrations than its competitors, but they are of high quality
Value for money
Sarbacane distinguishes itself on certain points (customer support, SMS campaigns…), but its price is higher than those of the market
The advantages of Sarbacane
Excellent user experience (UX): easy to learn and use the tool thanks to personalized support from the beginning of your free trial, and a helpcenter rich in educational content(webinars and thematic sheets)
Really satisfying features: very good reputation in particular for its good rate of deliverability (thanks to the anti-spam filter and NPAI lists) particularly for transactional emails. We also appreciate being able to do email AND SMS campaigns (not offered by all software), and the advanced automation features
The disadvantages of Sarbacane
The service has a price: even if for all the offers, the number of contacts is unlimited (which is rare on the market), the prices are still very high (1st plan at 69 euros monthly…). If you have a light marketing email flow it remains affordable, but as soon as you consider 3 or 4 emails per month and per contact, it becomes expensive.
Sarbacane : Features overview
Creation of email campaigns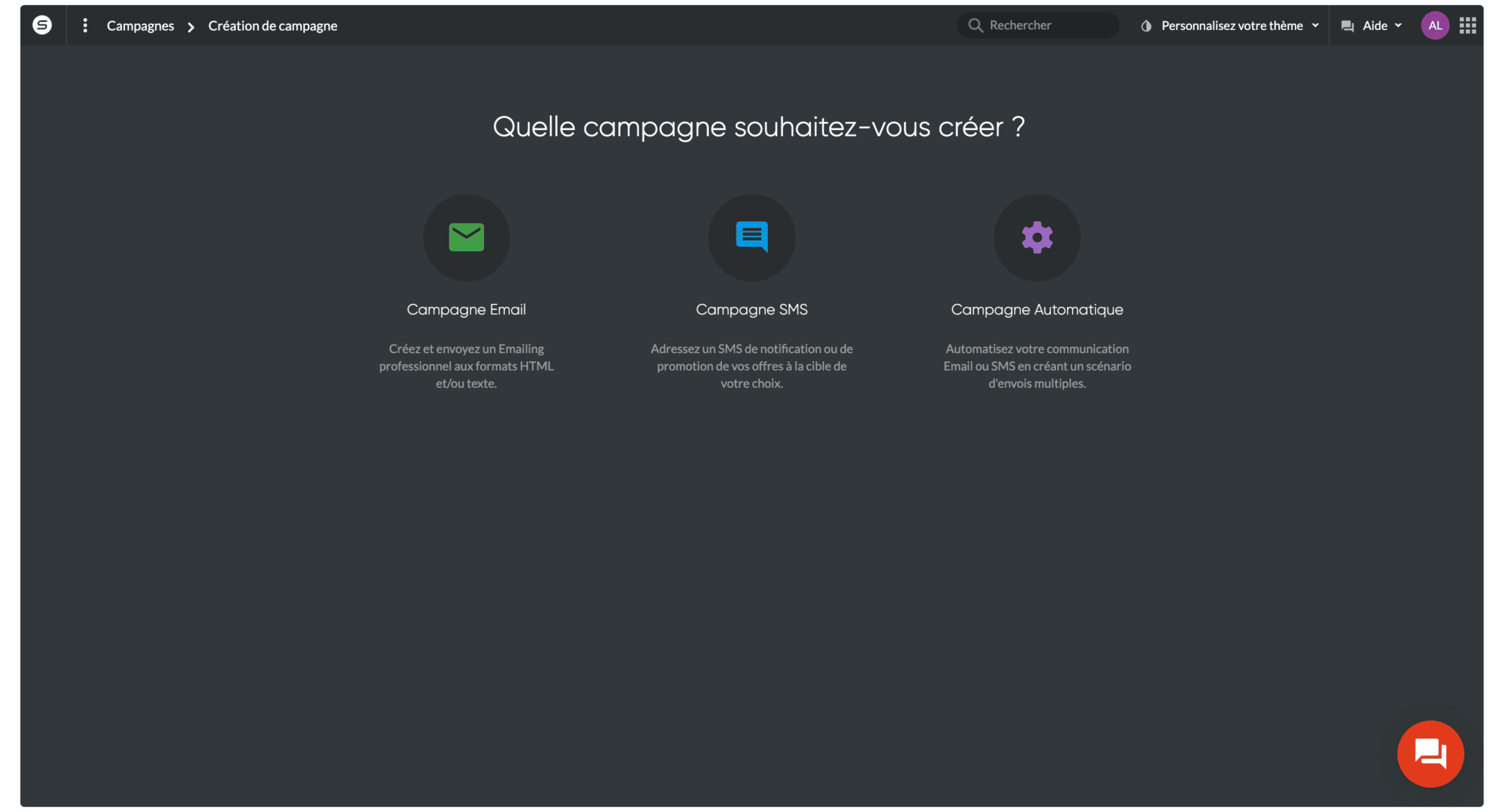 For the creation of your email campaigns, Sarbacane offers several options:
Choose an email template from over 70 responsive templates in the template library.
Import templates in HTML format.
Create a template yourself from an empty structure.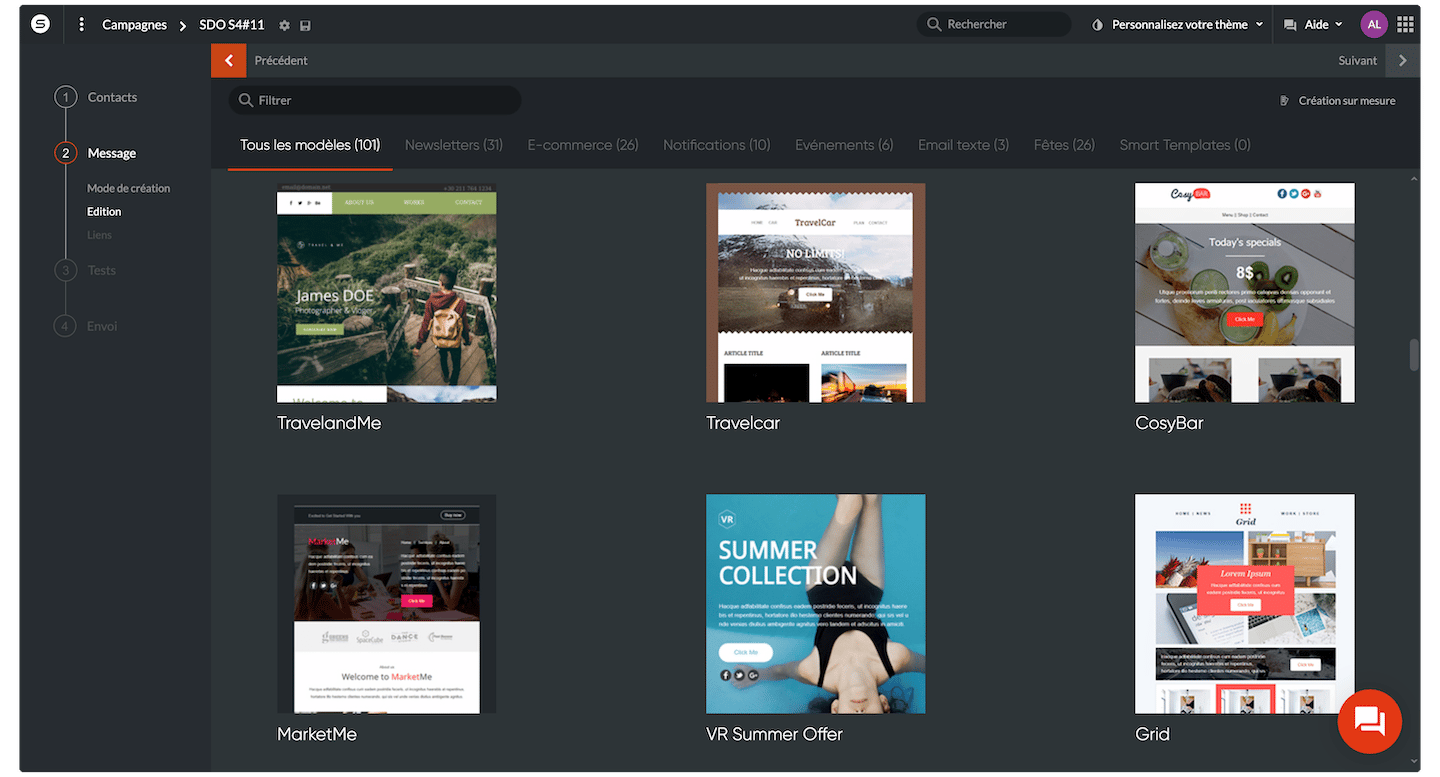 After having chosen your template, the second step consists in personalizing your message. The Sarbacane template editor is very complete and easy to use, thanks to its efficient "drag and drop" system.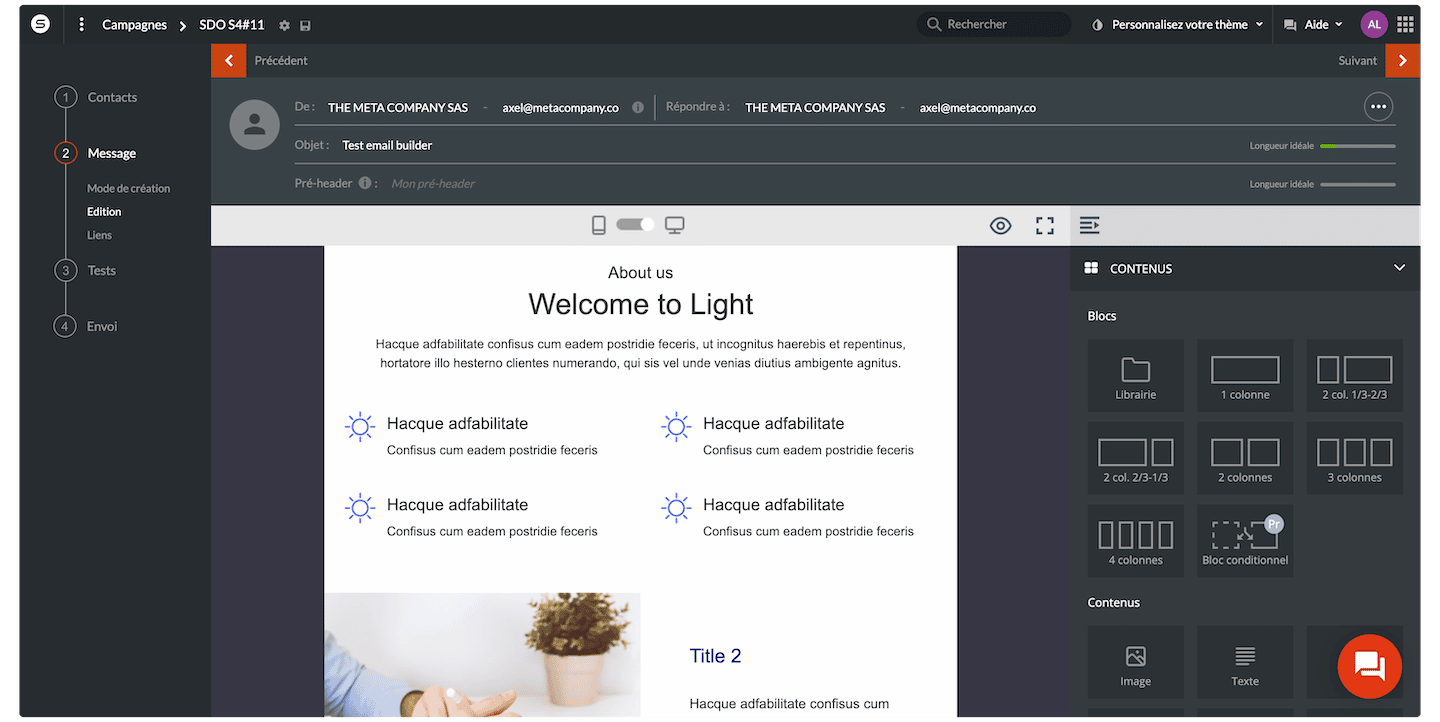 Sarbacane allows a very high degree of customization thanks to different preconfigured layouts and different themes. The mail editor also allows you to add all types of blocks (texts, images, videos, banners, social network buttons, etc.).
All blocks can be modified to customize the alignment mode, borders, width, line spacing, spaces between blocks or font.
Email campaign automation
Marketing automation is pretty easy and quick to get started. And the advantage is that you can integrate in the same automated series triggers on emails AND via SMS to multiply the opening rate of your prospects.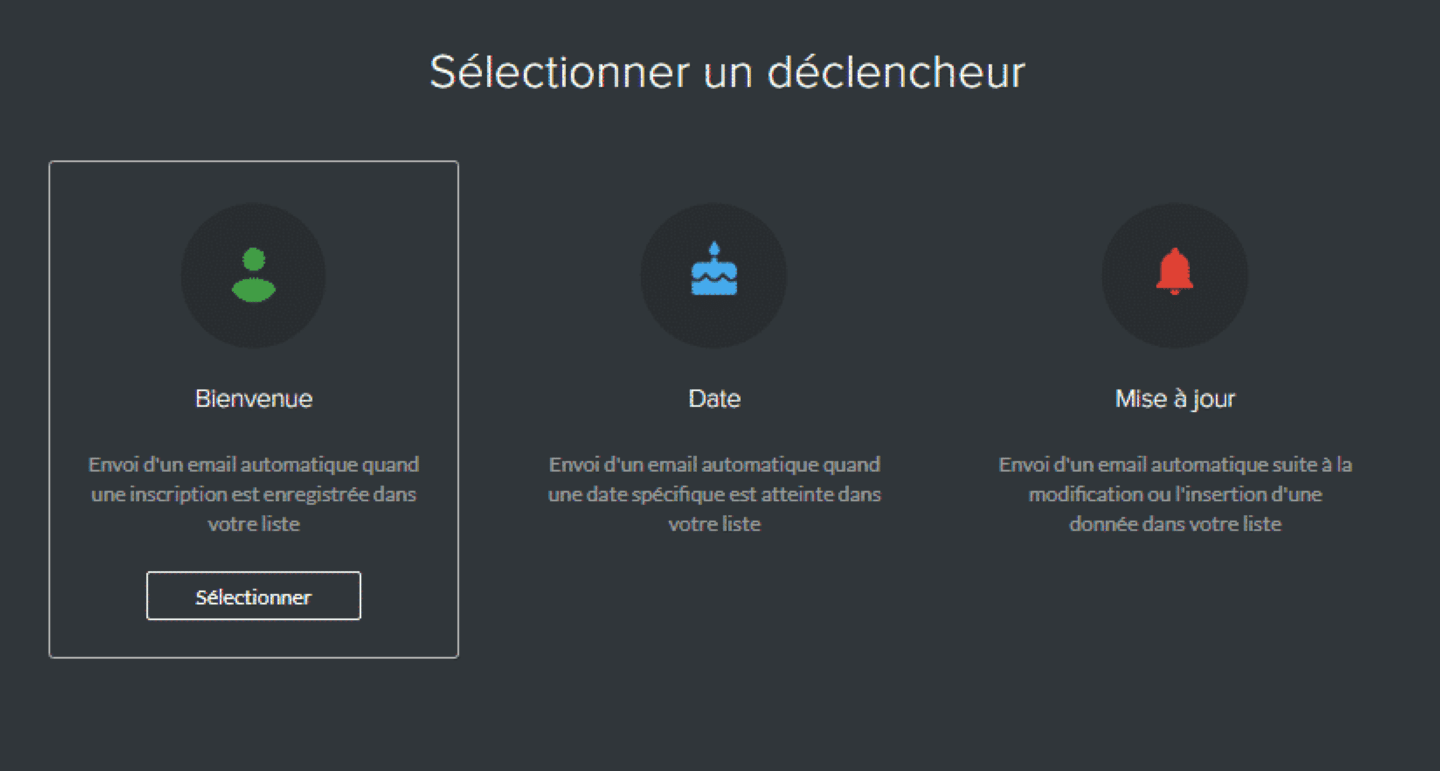 You can choose to create a brand new campaign or start from an existing one. The A/B testing extension allows you to try different versions of your email on different samples of contacts to identify which one performs best.
The differences between the two versions can be related to the subject of the email, the name of the sender, or the content of the email (the layout, the position of call-to-actions, etc.).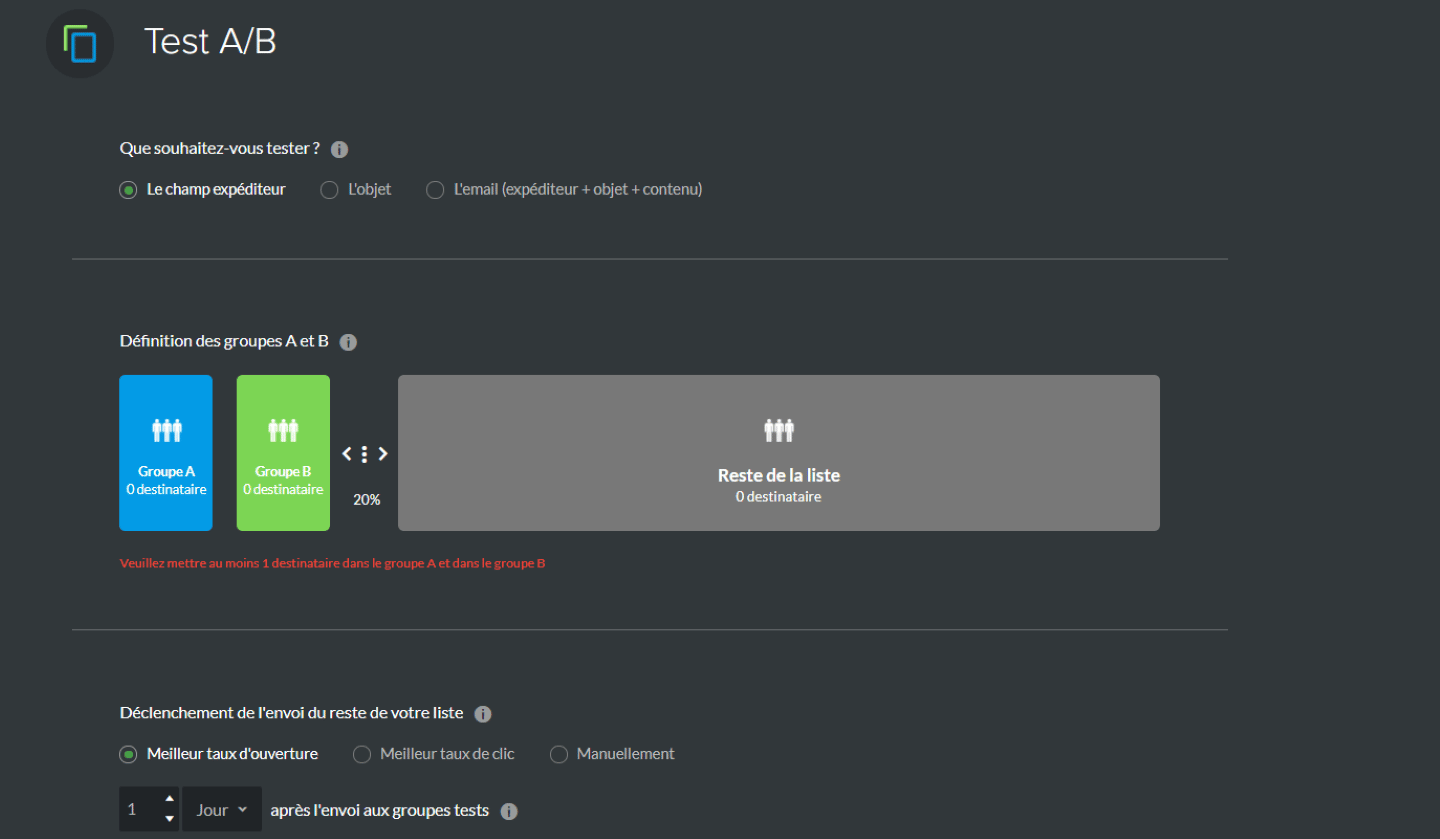 Sarbacane can even determine the "winning" version according to your criteria and automatically send it to the rest of your contacts after a defined test period.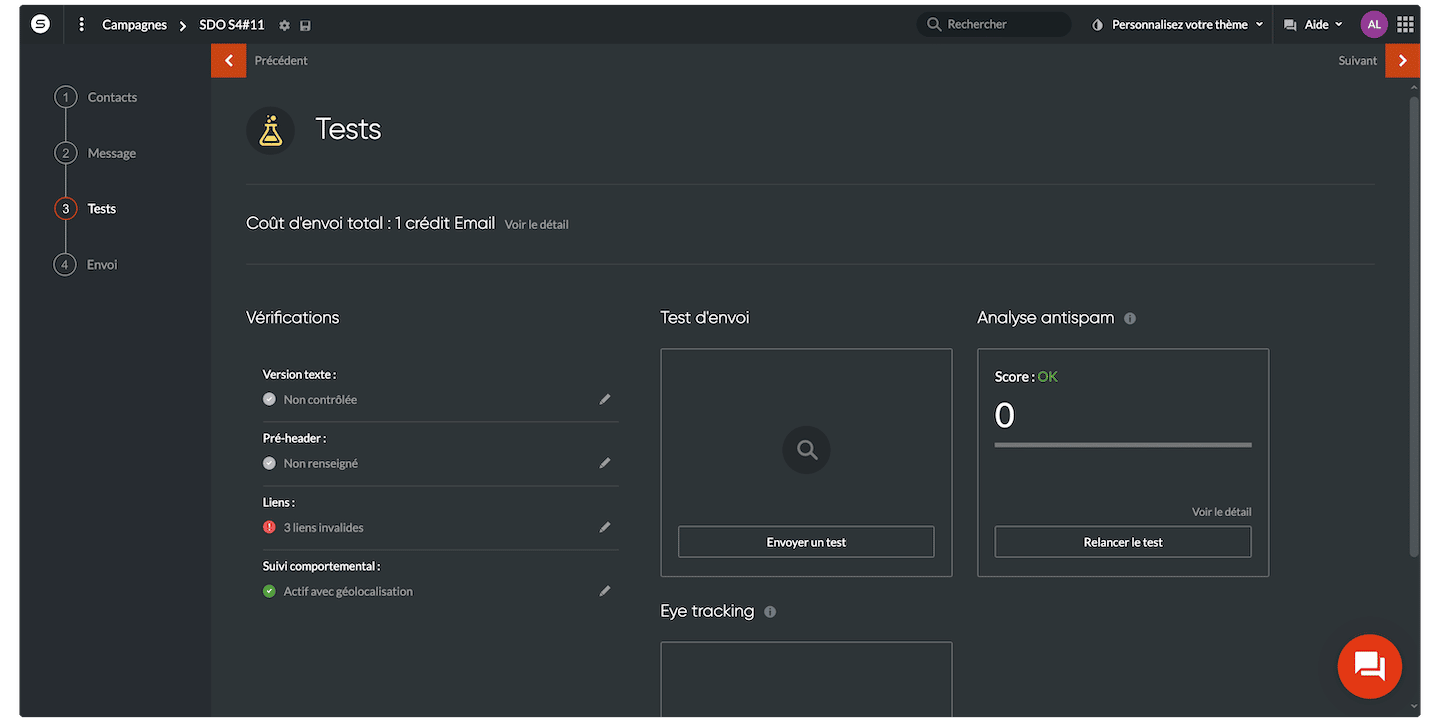 Once your campaign is set up, Sarbacane proposes a checklist to check that everything is ready and well configured. You can also test the sending of your emailing campaign.
Contact management
Contact lists and segmentation
You can create as many contact lists as you want, and for each list import your contacts from an Excel file, a MySQL database or by copying and pasting an email list.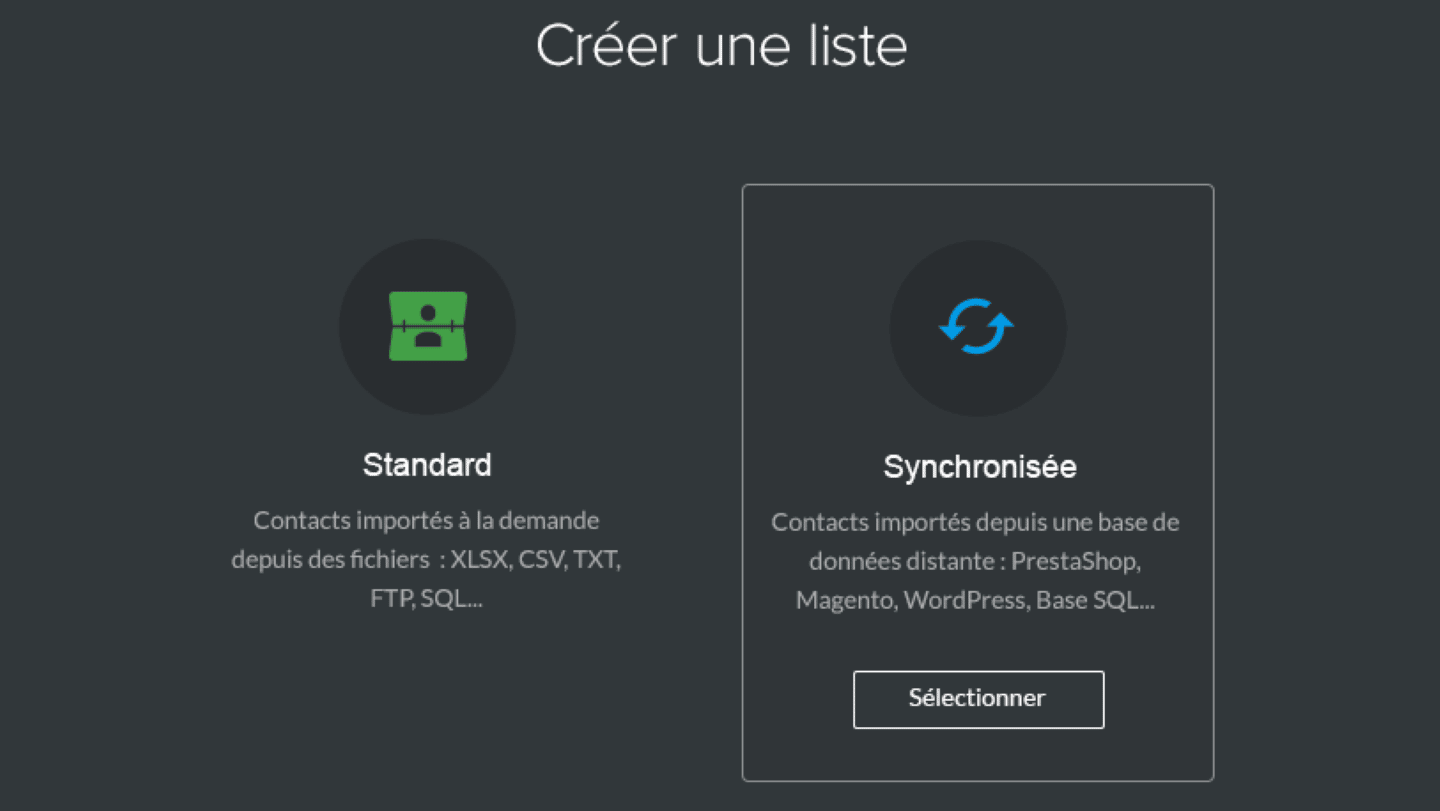 The tool offers you to detect duplicates and to correct syntax errors and unknown domain names in your contact list (for example, transform ".yaoo.com" into ".yahoo.com").
To segment your lists, you must create attributes: gender, age, department, etc. Sarbacane allows you to create as many columns of information as you want, and if you have the first names of your contacts, Sarbacane will automatically determine their gender.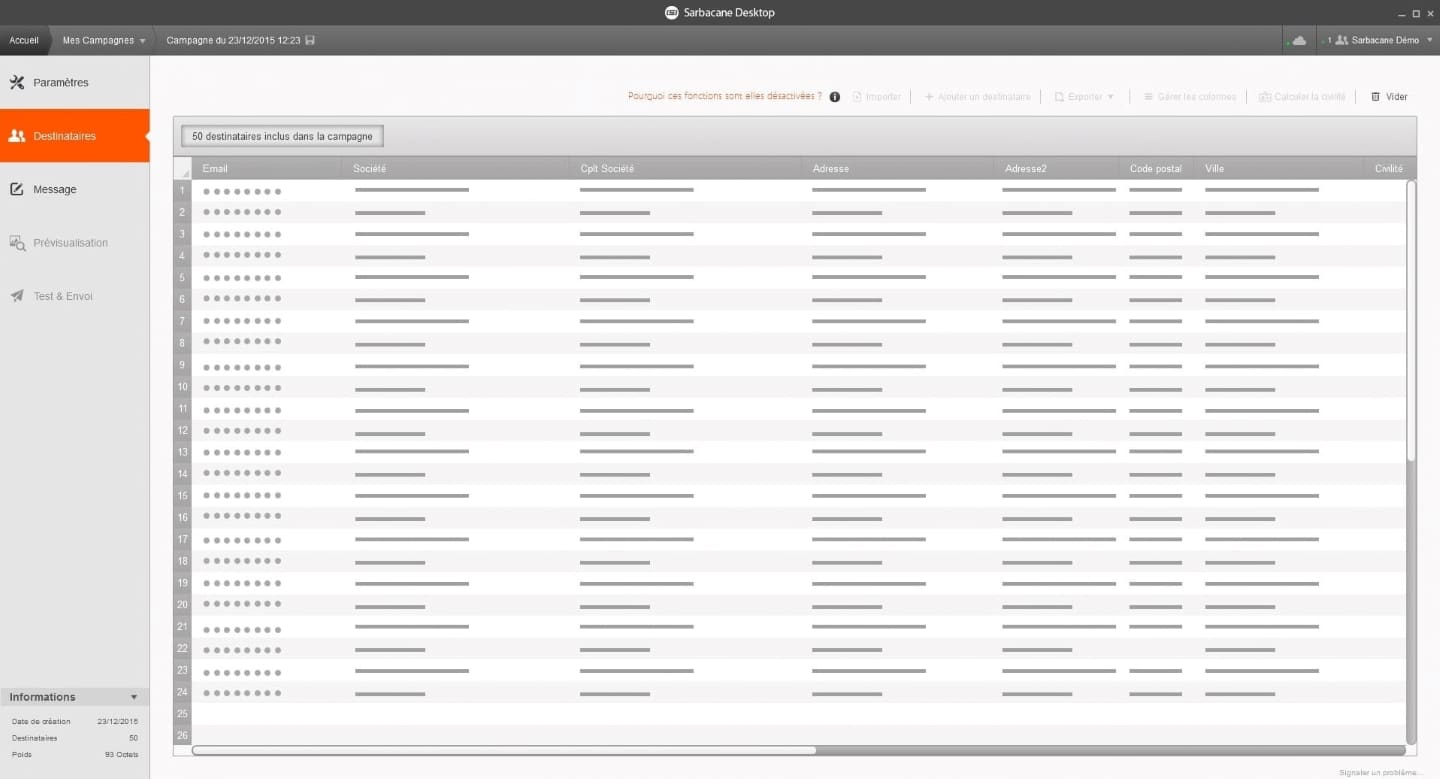 Sarbacane systematically brings up all unsubscribes, unsubscribes and complaints in your interface (in the category Blacklists). This is very useful to take care of your reputation and to clean your contact lists continuously.
Lead generation tools
Sarbacane landing pages can be easily edited and customized thanks to the drag and drop system. They can be integrated to your emailing and SMS campaigns, or exclusively dedicated to SMS promotions.
Sarbacane also provides a form editor. Everything is integrated to create simple and attractive registration forms. Once edited, you can integrate these forms on your website to get e-mail subscribers.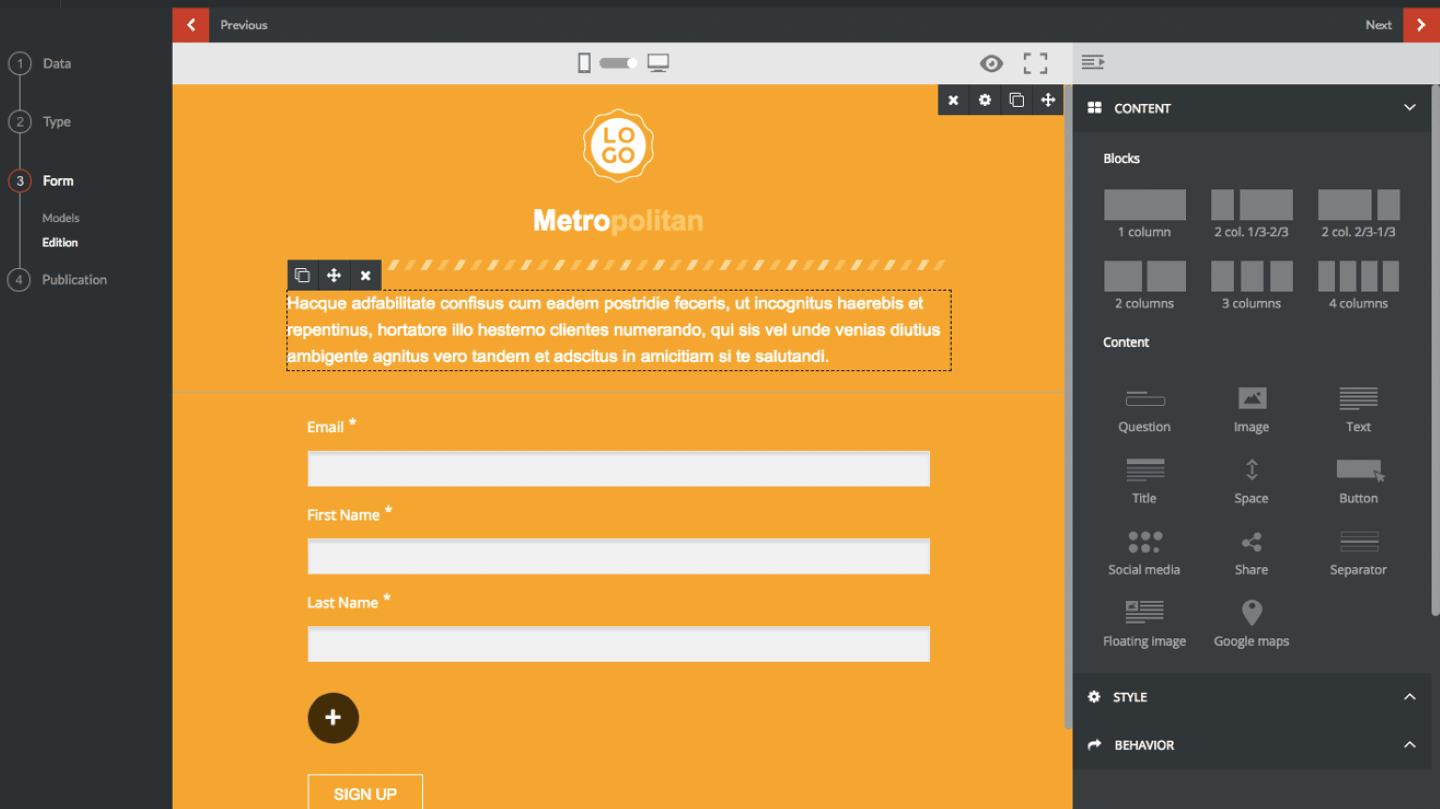 Sarbacane also proposes the update of your existing databases, the creation of questionnaires for your subscribers, and the double opt-in to qualify your contacts.
Reporting
Sarbacane's reporting functions allow you to measure the results of your campaigns and to refine your communication strategy.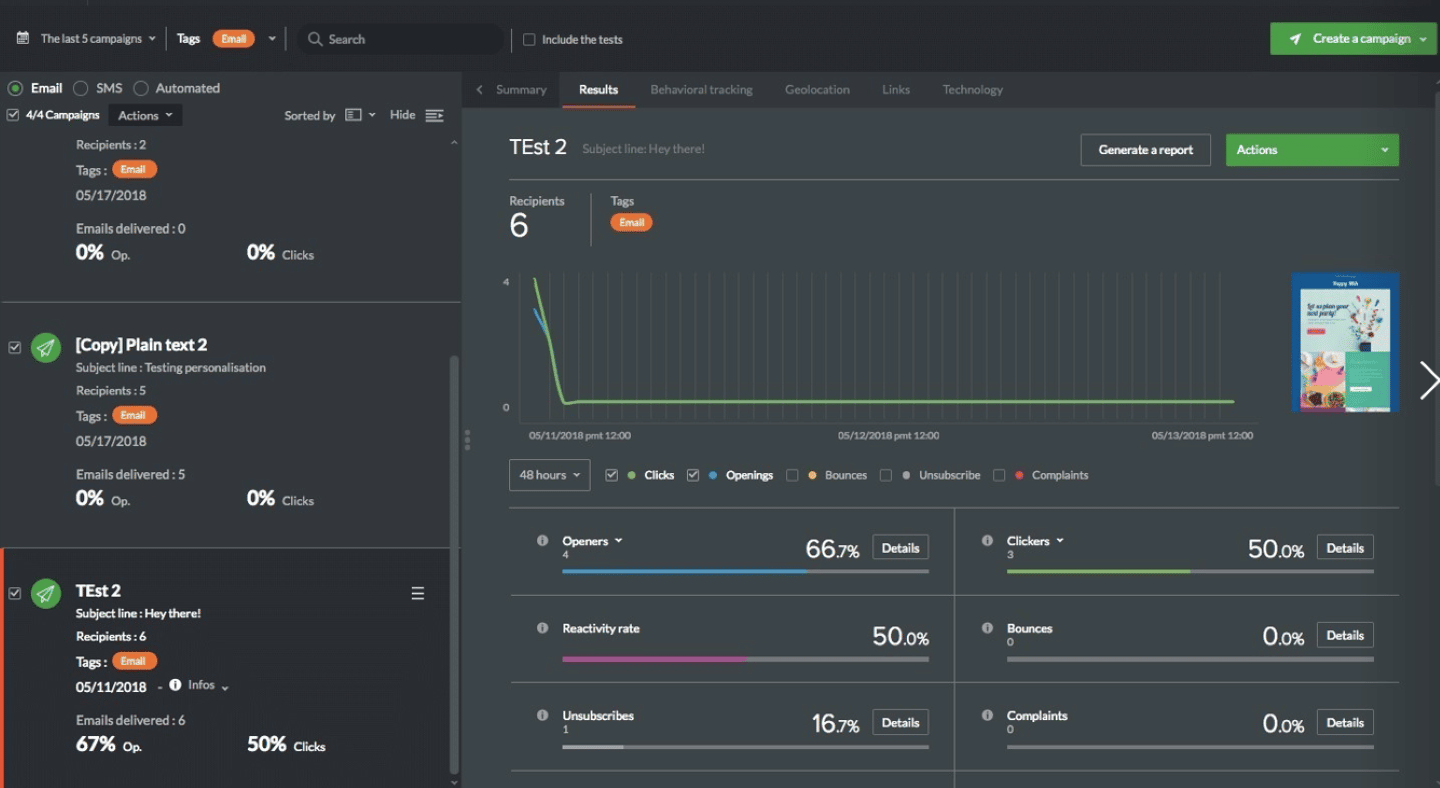 In the Statistics section, you will find various key indicators for decision-making:
Results, with key performance indicators (open, click, bounce, complaint and unsubscribe rates) and performance comparison between computer and mobile openings.
Behavioral tracking with a table including the recipients' mailing list and several columns with their actions or behaviors.
Geolocation and its interactive map, with the origin of the users as well as the links with the URL of the sources from which they accessed it.
Sarbacane's little extra: SMS marketing
The elaboration of an SMS marketing campaign follows the same guidelines as the emailing campaign: import of contacts, selection of recipients, elaboration of the message and test/sending.
Sarbacane proposes to create two types of SMS campaigns:
Marketing campaigns (promotions, event invitations, etc.)
Notification type campaigns (appointment reminder, order confirmation, etc.)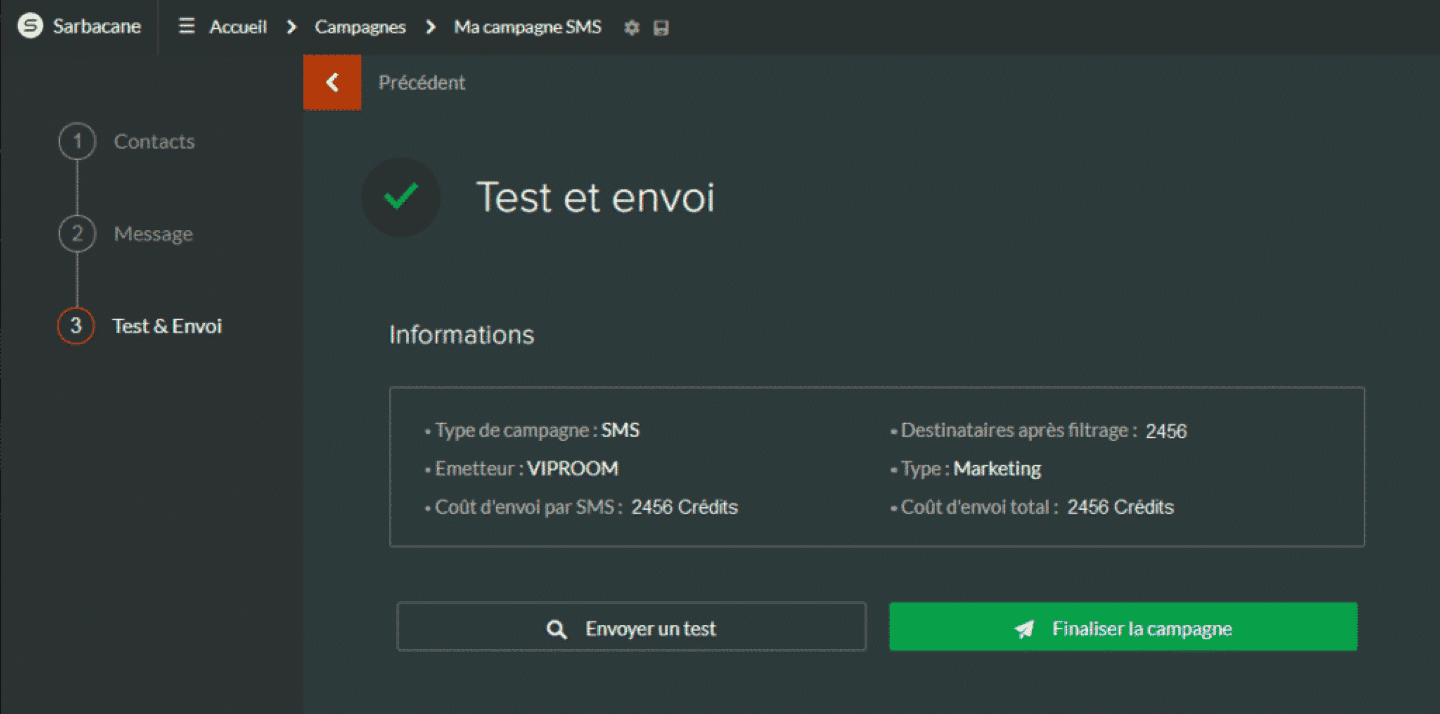 Sarbacane also allows you to create web pages adapted to the reading on mobile to which you can redirect the recipients of an SMS.
Discover Sarbacane
Sarbacane offers a free 30-day trial: don't hesitate to try it!
The Sarbacane integration marketplace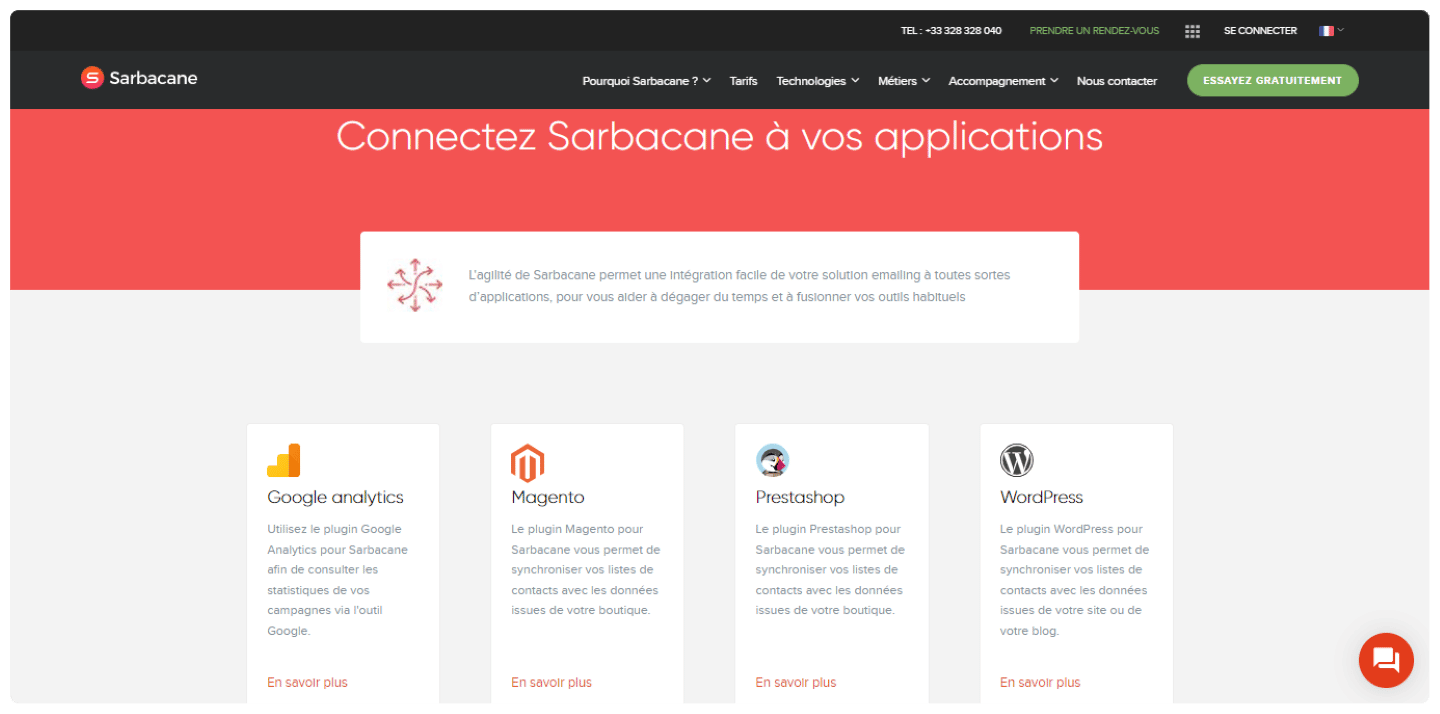 Sarbacane offers a limited catalog of integrations, with only 22 extensions available (where Sendinblue or ActiveCampaign offers dozens more). But the few integrations available are very qualitative.
You can access :
In addition, Sarbacane offers Zapier integration to connect the tool to hundreds of other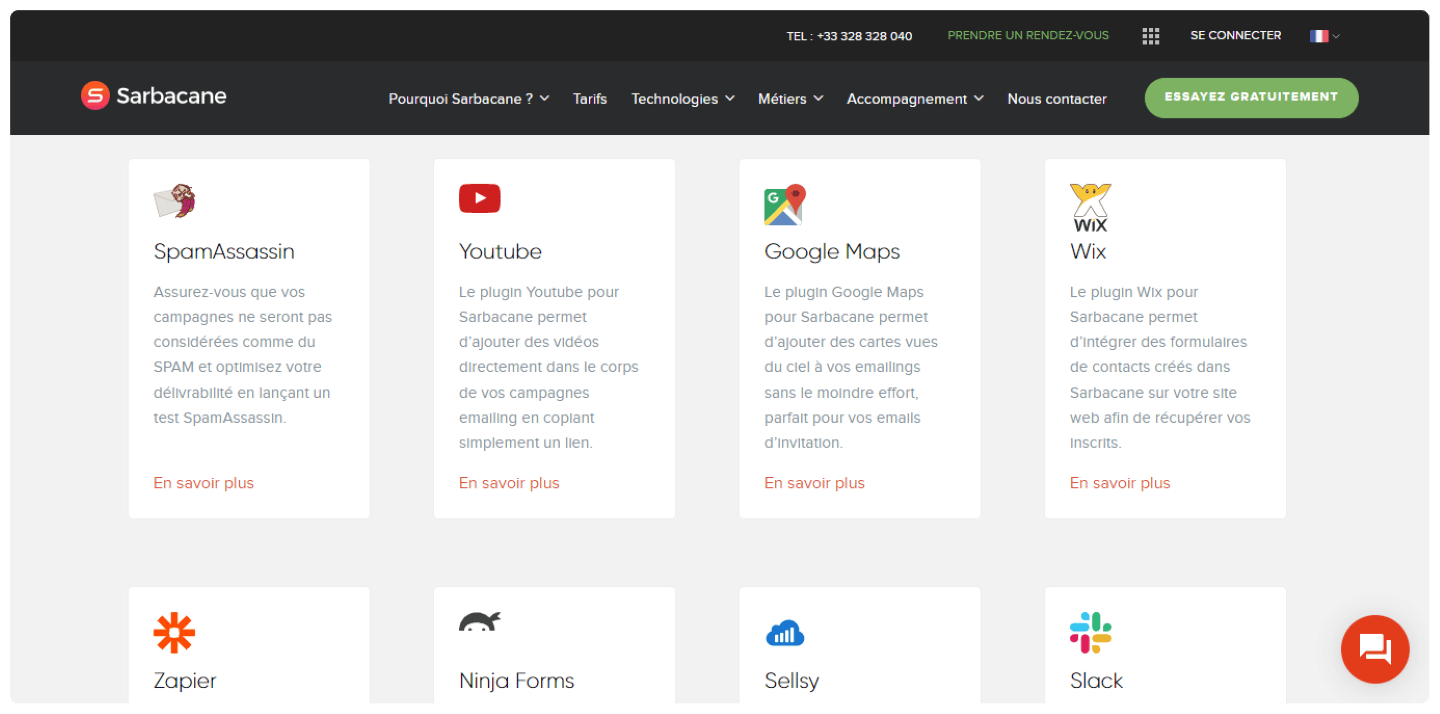 Customer reviews of Sarbacane
Many users appreciate the functionalities, the intuitive ergonomics, the service and the customer support of Sarbacane. But some customers regret the presence of many bugs, especially considering its high price.
Make your own opinion on Sarbacane
Sarbacane offers a free 30-day trial: don't hesitate to try it!
Customer support at Sarbacane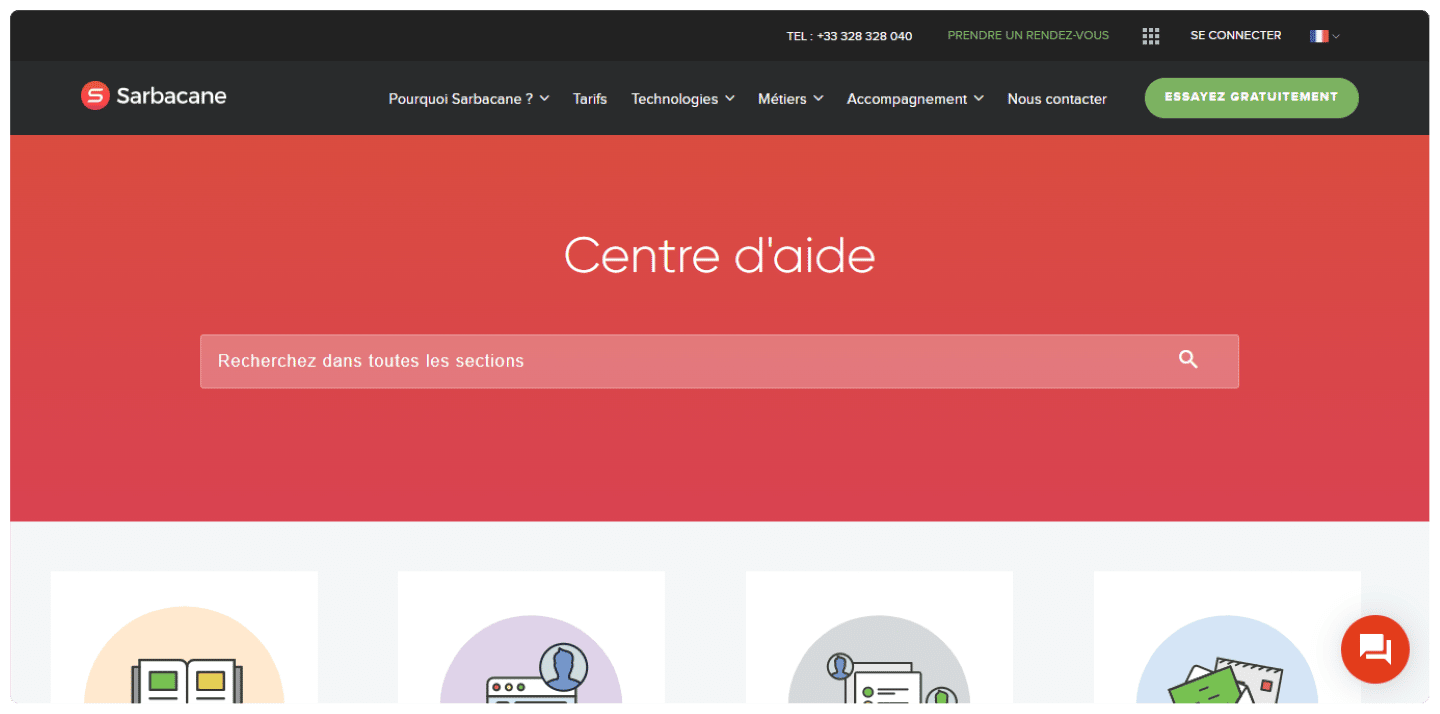 Sarbacane offers a very rich customer service. The search bar of the Help Center allows you to search among all the proposed resources. Sarbacane proposes many articles on various subjects to help its customers.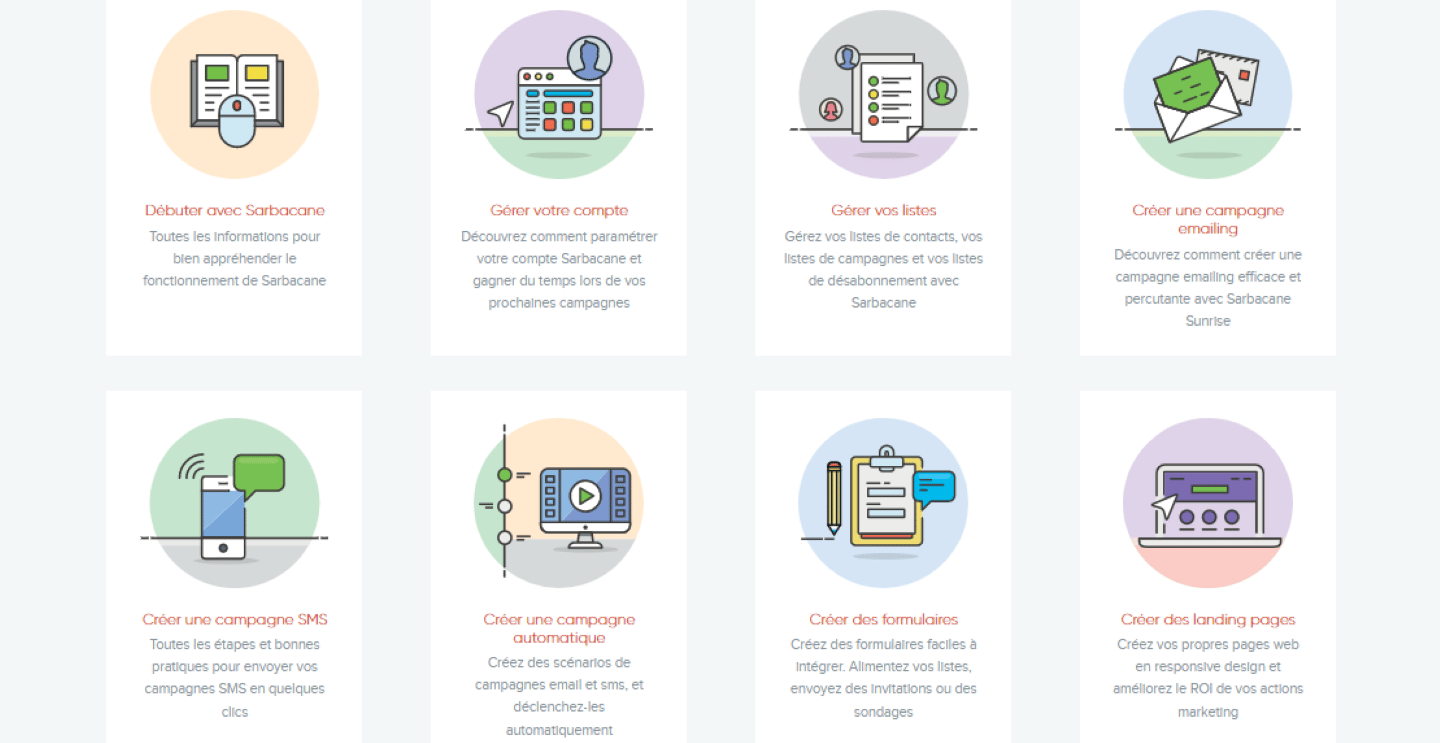 Sarbacane offers video tutorials on its website and the Youtube channel of Sarbacane concentrates many explanatory videos.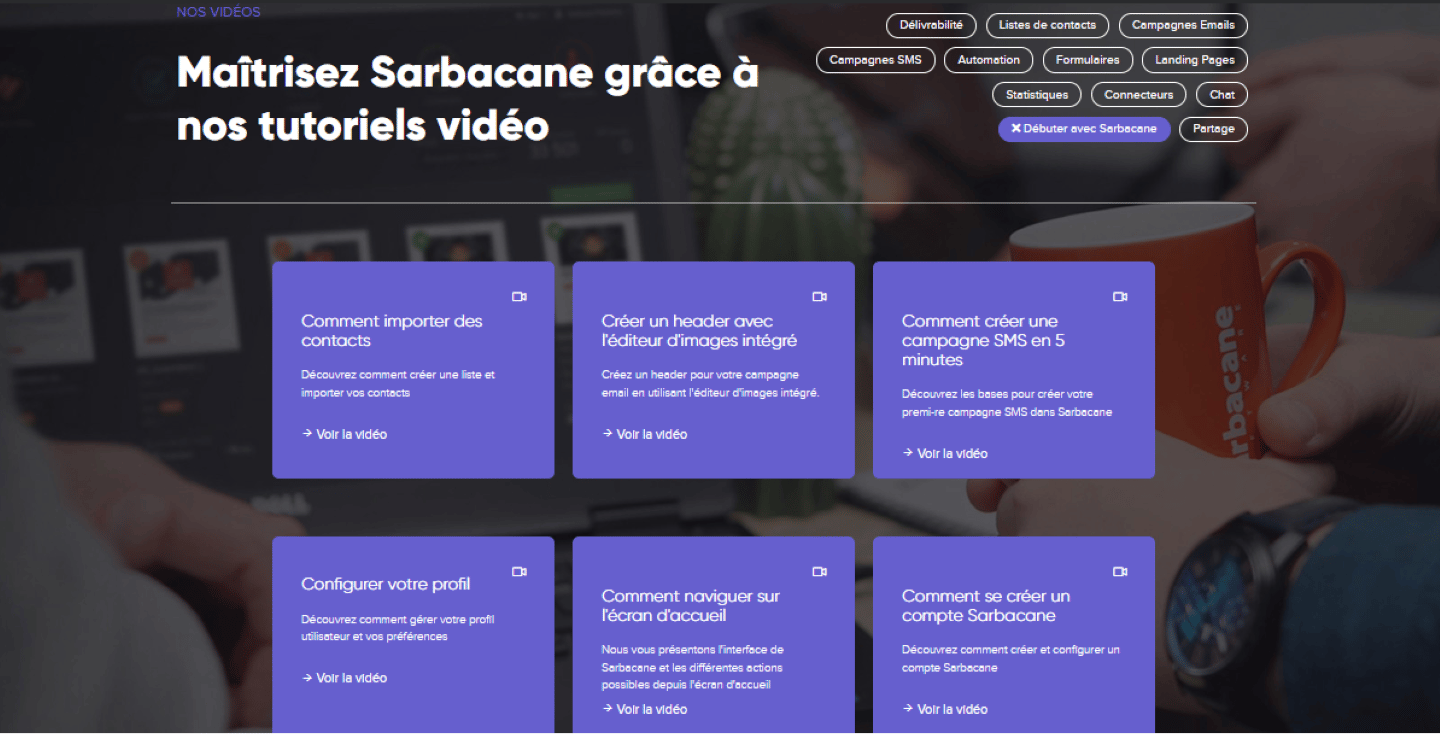 Sarbacane even offers its customers to attend live webinars led by the company's training coaches, on various subjects. On some subjects, Sarbacane organizes up to 2 webinars per week.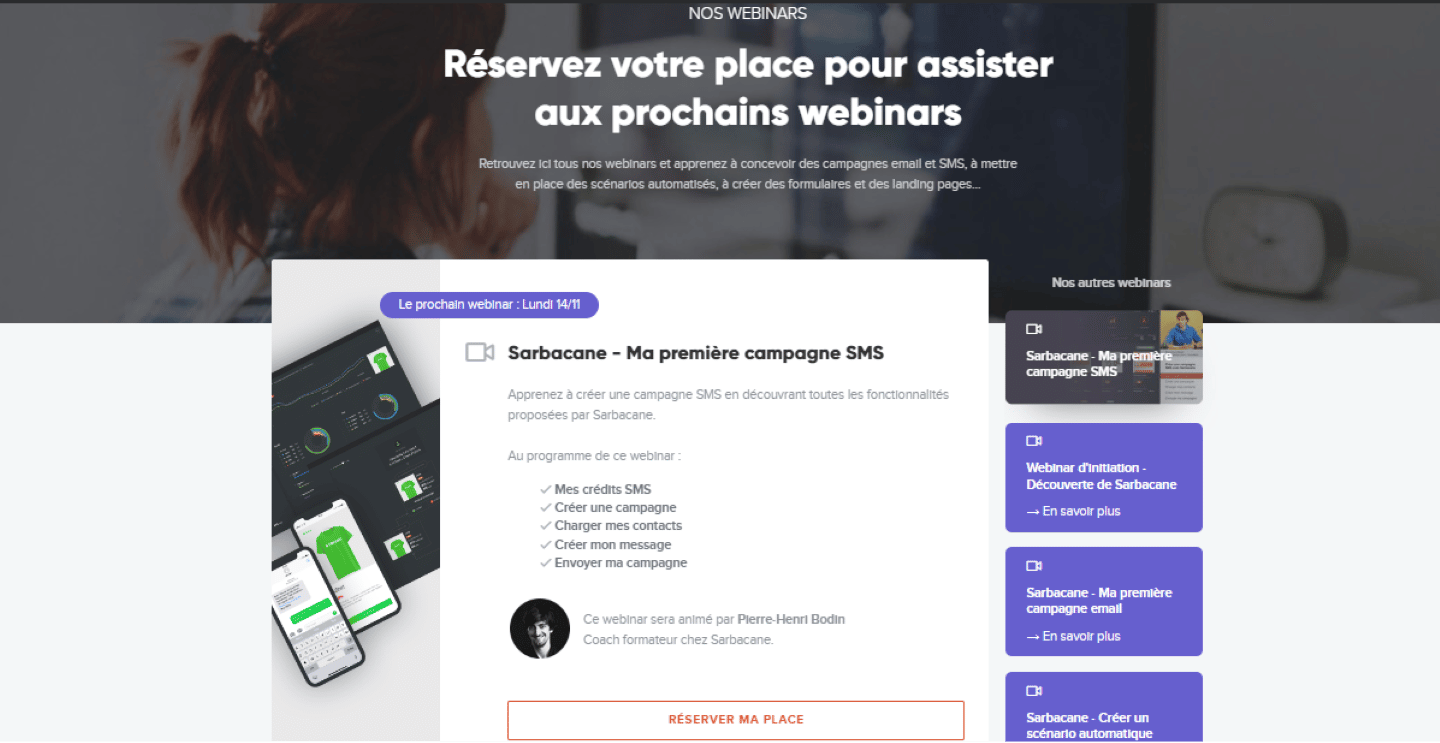 And if all these resources are not enough in case of a problem or if you have any questions regarding the use of the emailing software, the customer service can be reached by contact form, phone, chat and email (Monday to Friday from 9am to 12:30pm and from 2pm to 6pm).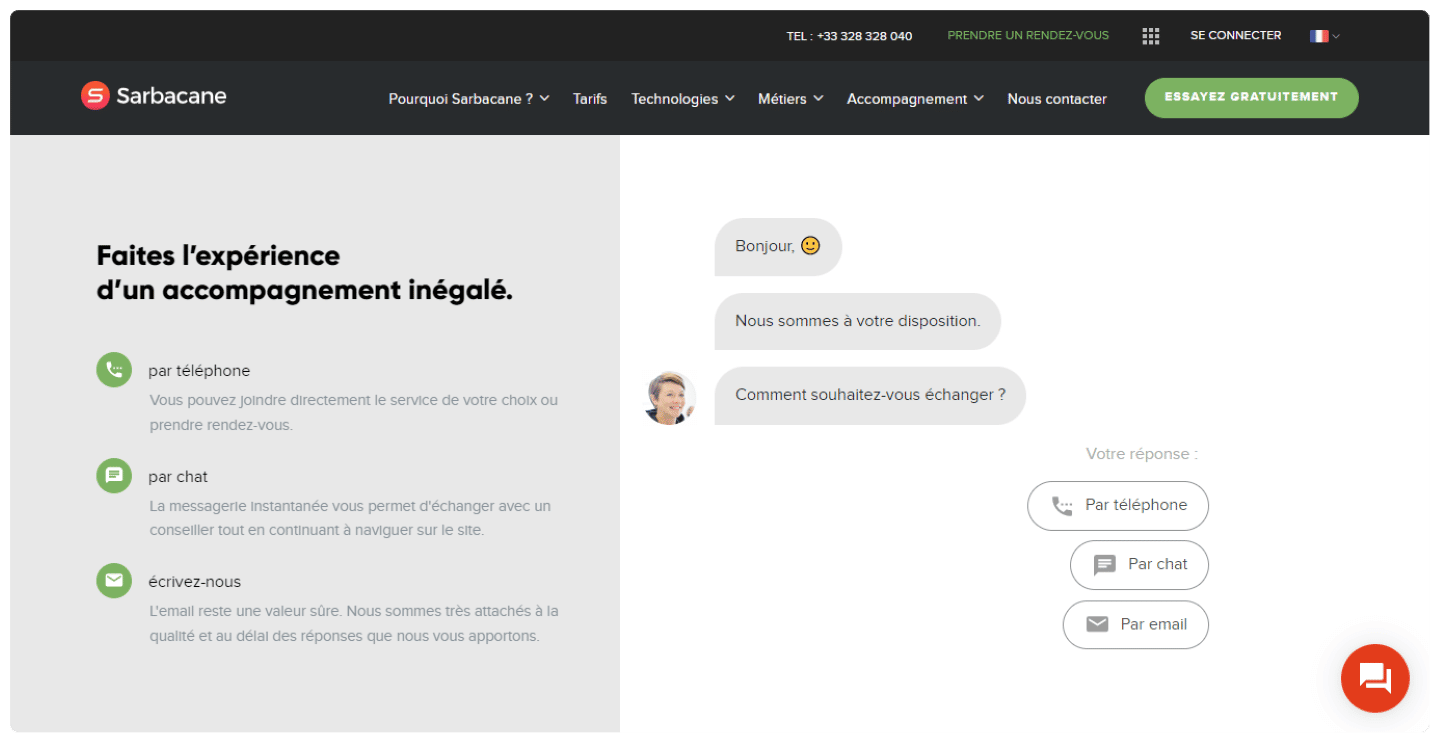 More generally, the whole offer of Sarbacane is oriented around the personalized support of customers. The company proposes in particular appointments with its trainers to assess the whole emailing strategy of its customers.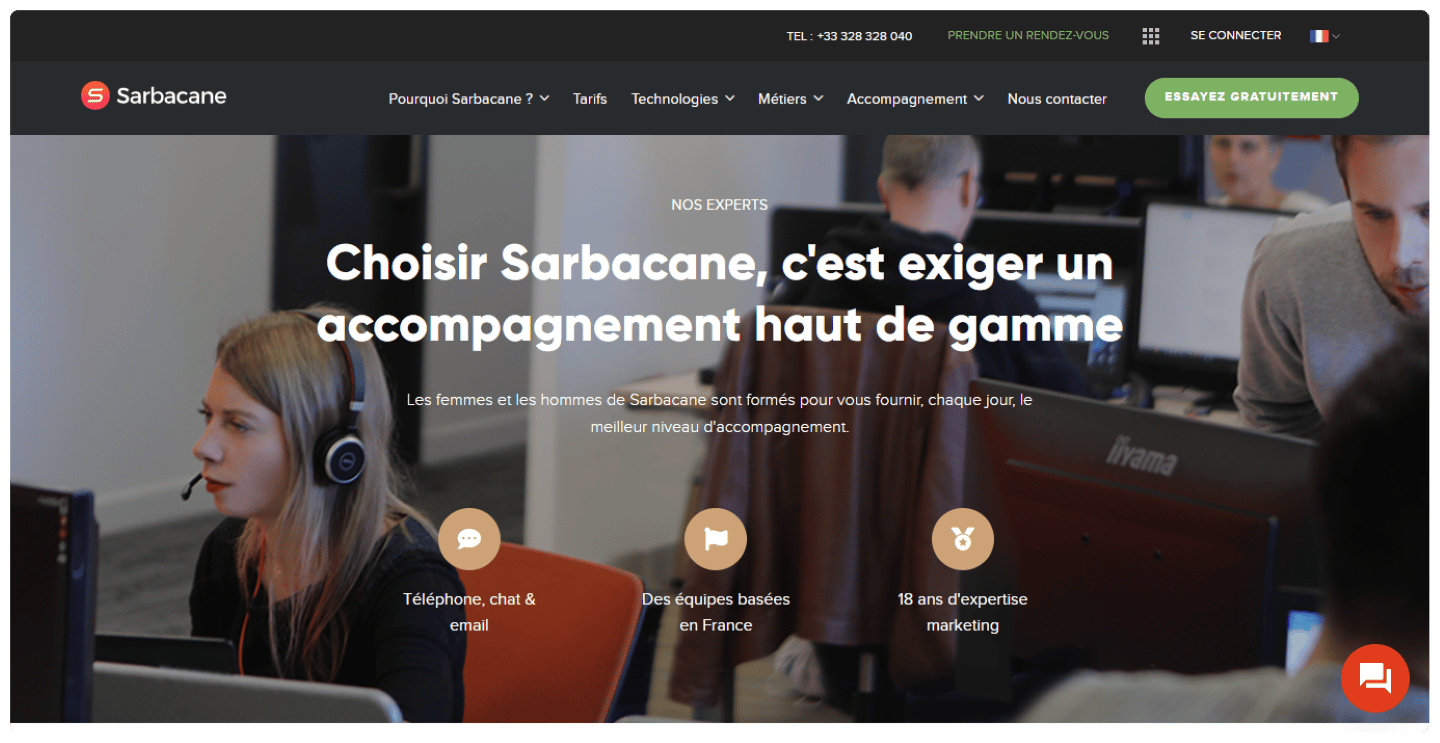 Pro tip !
Sarbacane provides a rich and very didactic documentation in more than five different languages: English, French, Spanish, Portuguese, German.
Discover Sarbacane's customer support
Sarbacane offers a free 30-day trial: don't hesitate to try it!
Sarbacane : prices
We regret that the price plan of Sarbacane is not publicly accessible. To access it, you have to create an account with a professional email.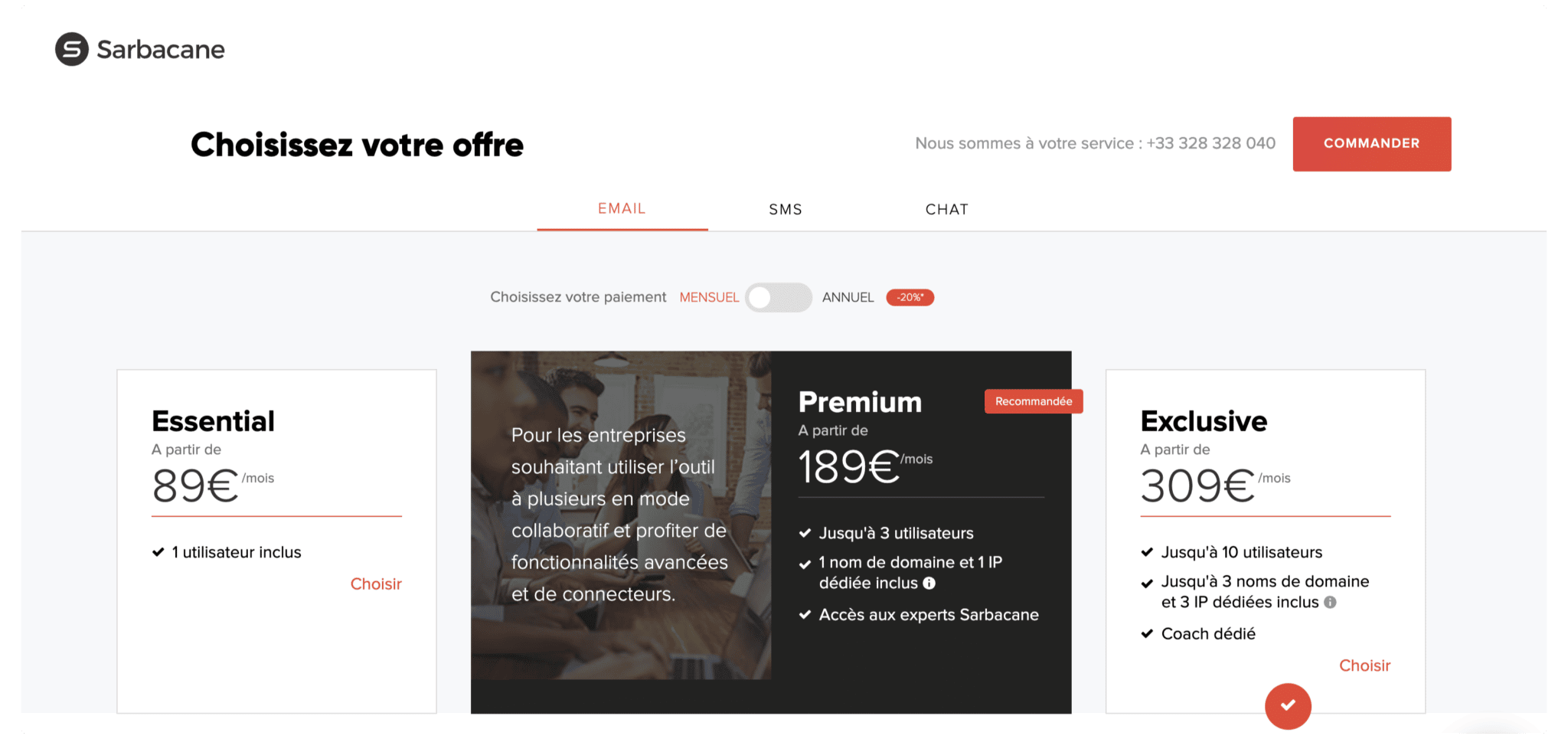 Sarbacane offers 3 different plans:
The Essential plan starts at 89€ / month to send up to 5000 emails / month. It gives you access to the basic features of the tool. Advanced A/B tests, advanced automatic campaigns, landing pages and popups, and collaboration tools are not available. For context, with an equivalent functional scope, a solution like Sendinblue would allow you to send up to 20,000 emails for 20€ / month.
The Premium plan starts at 189€ / month to send the same volume of emails (5000 emails / month). The premium plan gives you access to advanced features, popups, and landing pages. If you want to send up to 25,000 emails / month, you'll still need to pay 269€ / month. This would be about the equivalent of the premium at Sendinblue (49€ / month).
The Exclusive plan starts at 309€ / month for 5000 emails / month. It essentially gives access to a dedicated Sarbacane coach, more users (up to 10), and several domains and dedicated IP. Let's note however that for such a low volume of sending, these features are not very interesting. The real prices start a little higher: 449€ / month for 50 000 emails for example.
Sarbacane offers a free 30-day trial during which its teams will contact you to show you the software, its possibilities, and accompany you towards your first campaign.
You can also get a 20% discount off the rates shown below by committing to an annual subscription. Overall, it's expensive. But the support and guidance offered will save you precious months of learning if you are just starting out.
Discover Sarbacane
Sarbacane offers a free 30-day trial: don't hesitate to try it!
The main alternatives to Sarbacane
Sendinblue: for those who want a similar functional depth, a quality customer experience and an attentive customer service… for 2 to 3 times less. Be careful though, at Sendinblue, the support is very available if you have a technical problem, but they are not intended to help you design your campaigns.
Active Campaign: for small and medium-sized businesses that are looking for an all-in-one marketing and sales software, and that do not have too high a volume of contacts.
Zoho Campaigns: if you're willing to put aside personal training and support, have simple email campaign needs, and want value for your money.
Discover Sarbacane
Sarbacane offers a free 30-day trial: don't hesitate to try it!
Reader Interactions