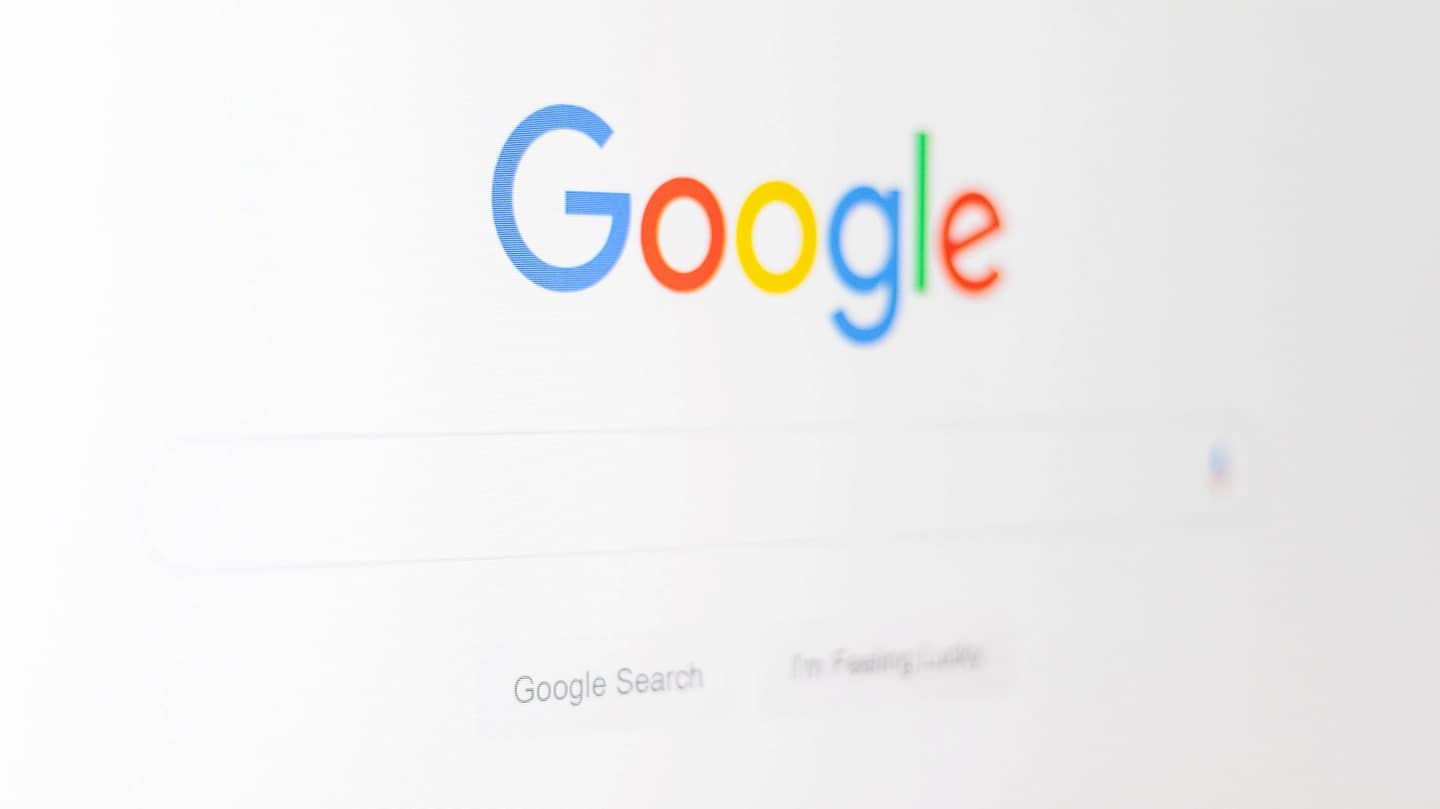 When we talk about automation on the web, we almost always think of the flurry of no-code and full cloud tools, a market in full explosion.
And we quickly forget one of the most powerful and incredibly rich tools: the browser. However, chrome extensions are legion, and Google is doing its best to encourage the development of new extensions. We had fun developing one for a very specific use case, and it is remarkably simple.
The great strength of chrome extensions is that they exploit a very powerful tool, and on which we all spend the vast majority of our working time. It allows you to design very clever things to add a touch of automation or intelligence on an interface that you know well.
Whether it's scraping tools, data enrichment (email, phone number, tools used, SEO tags, etc.), text or media creation (image, video, sound, transcription, etc.), or productivity micro-tools, these extensions save an incredible amount of time and allow you to access valuable information in just two or three clicks.
Top 30 best chrome extensions: summary table
Our favorite chrome extensions for scraping and data enrichment
As any knowledgeable growth hacker knows, the browser is a gold mine of information. This article explains it well enough for those who want to go further.
But many extensions allow you to retrieve almost anything from a website, a LinkedIn page, or a google page. We have selected 12 essential extensions, and we mention alternatives when there are credible ones.
#1 Datagma: the best chrome extension to find anyone's contact information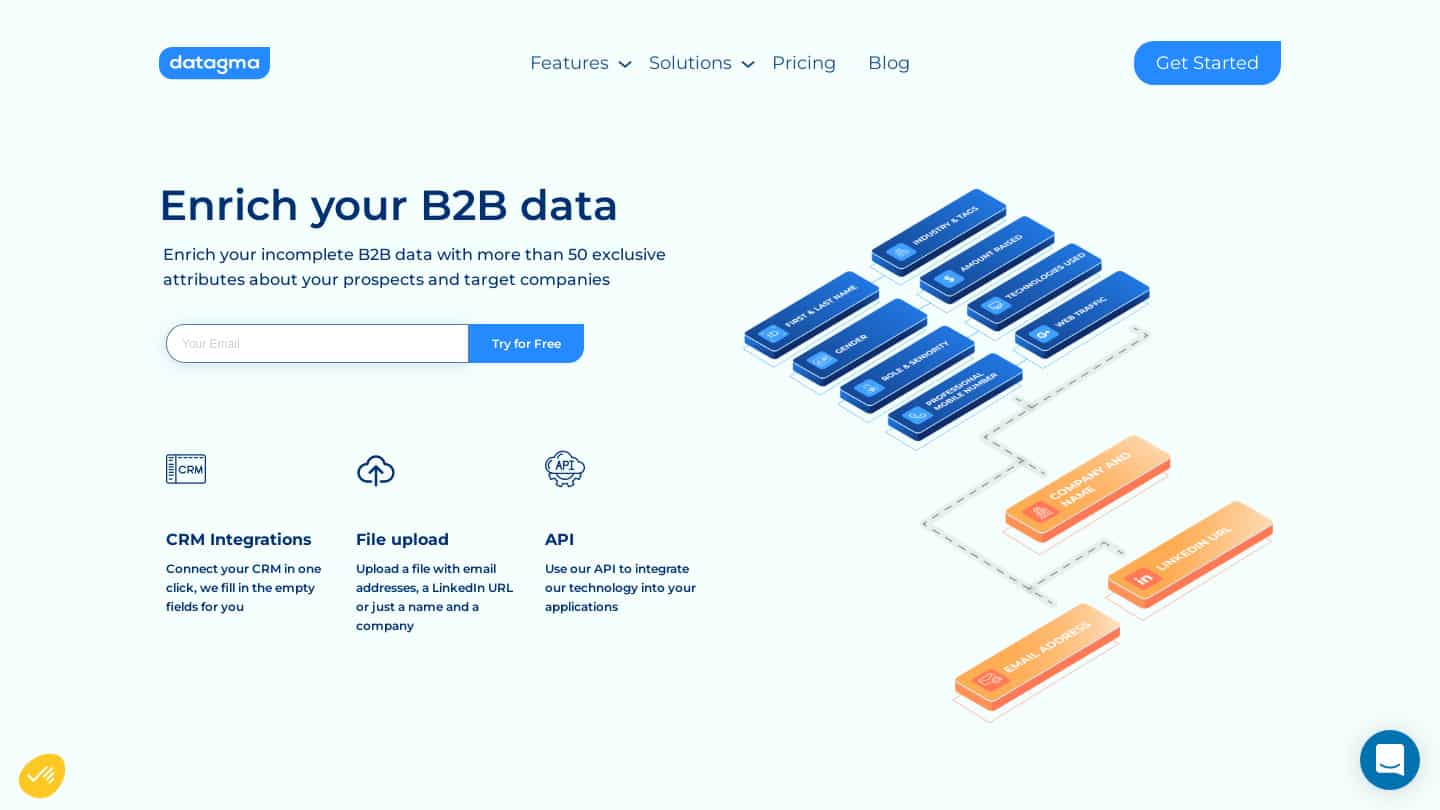 We start with a list of essential extensions to enrich your B2B data.
Datagma is a chrome extension that allows you to search for business contact information from LinkedIn profiles: email addresses, numbers and social networks. You can even contact your prospects directly from the extension by integrating your email accounts.
Concerning the rates, you pay by the number of searches: 1000 searches cost 24$/month according to their simulator.
Discover Datagma
Datagma offers a free 14-day trial to get an idea of the tool's capabilities!
As an alternative, there is also Lusha, which offers a rather limited free plan with 5 credits/month (or 5 contacts). The 1st paid plan offers 480 credits for $29 per month.
#2 Apollo: to drive multi-channel prospecting sequences from LinkedIn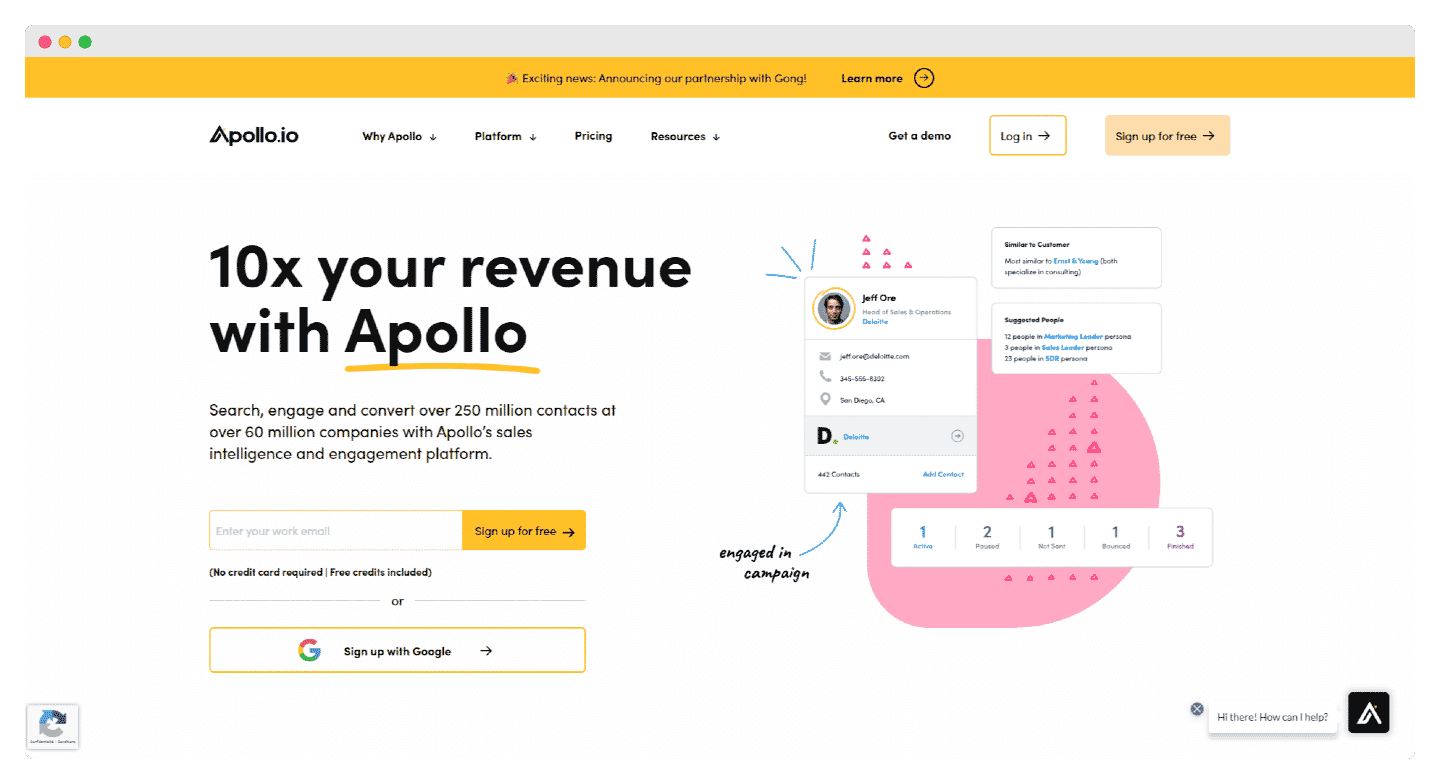 We already gave you our opinion on Apollo, an efficient prospecting platform that brings together all the features in one place. One of the great things about Apollo.io is the Google Chrome extension that connects to both your mailbox and LinkedIn.
This allows you to pull all emails and phone numbers from LinkedIn and sync them instantly with your CRM, but also access LinkedIn via your Gmail email.
As for the price, the free offer allows you to connect your Gmail account to the solution, to have two mail sequences and to send 250 mails per day. You can also track the status of opened and engaged emails.
Discover Apollo
You can testApollo 's free plan to get emails & add to cold mailing sequences from LinkedIn.
#3 Wappalyzer: to get the tools used by any website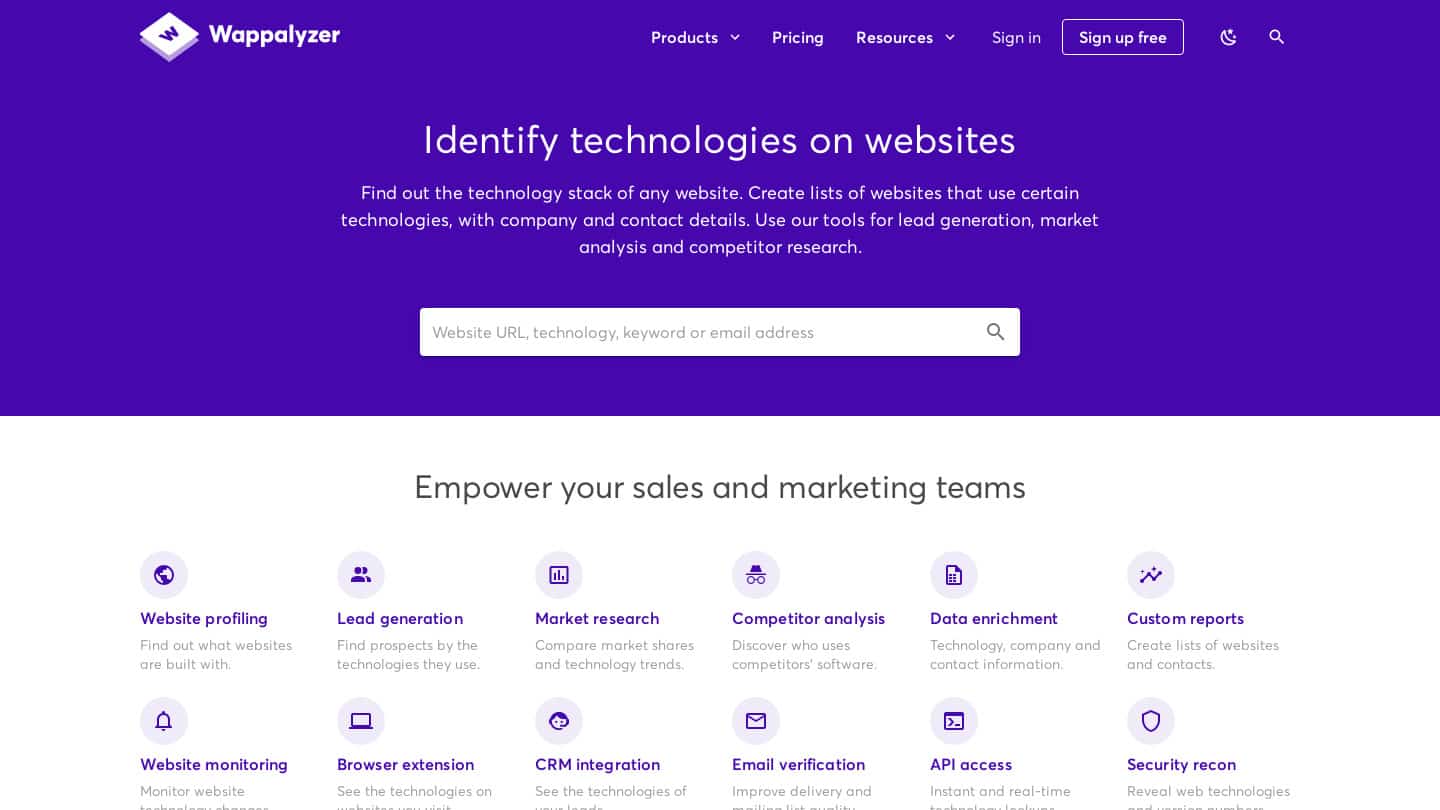 The Wappalyzer extension allows you to identify the web technologies used by the websites you visit: content management system, store, server, JavaScript frameworks, etc.
It is a powerful tool if the software used by a website is a good way to qualify your leads. To qualify multiple sites at once, we prefer to use BuiltWith, much more powerful, and very affordable ($500/month) if you qualify many sites at once.
Plans start at $149/month for 1 user and 10,000 credits, but you can get a free trial that gives 50 credits per month.
Discover Wappalyzer
Get a free trial of Wappalyzer to know which tools are used by a company!
#4 Waalaxy: chrome extension for your LinkedIn prospecting campaigns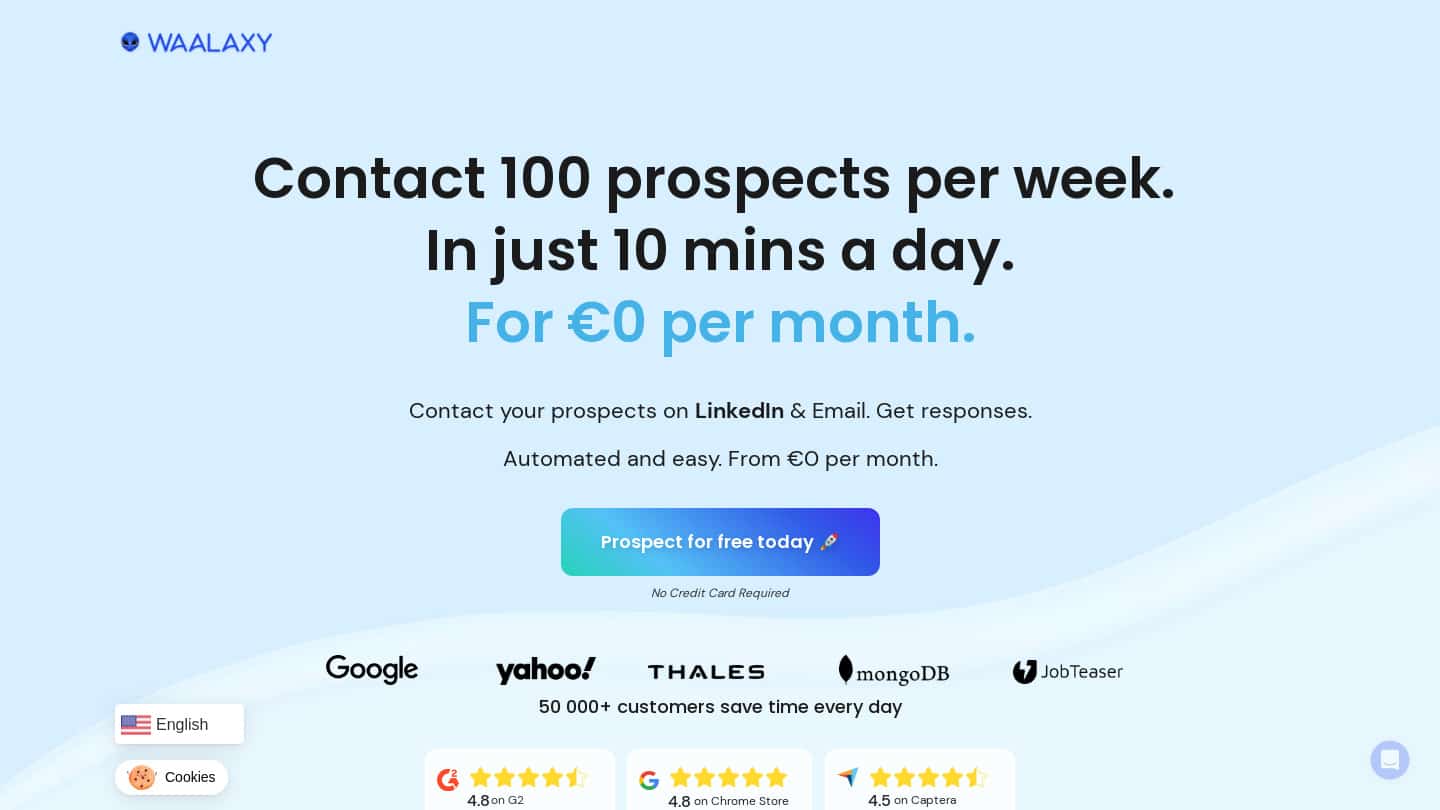 As an extension for Google Chrome, Waalaxy is a great tool for your LinkedIn prospecting campaigns: from a LinkedIn search page, you can create a list of contacts or upload a CSV file already containing your LinkedIn lead URLs.
The extension also allows you to bypass the 100 connection requests/week limit imposed by LinkedIn.
For pricing, there is a free plan with 100 LinkedIn actions/month. Paid plans start at $25/month for 300 LinkedIn actions per week.
Discover Waalaxy
You can test Waalaxy for free!
#5 Evaboot: to scrape Sales Navigator search results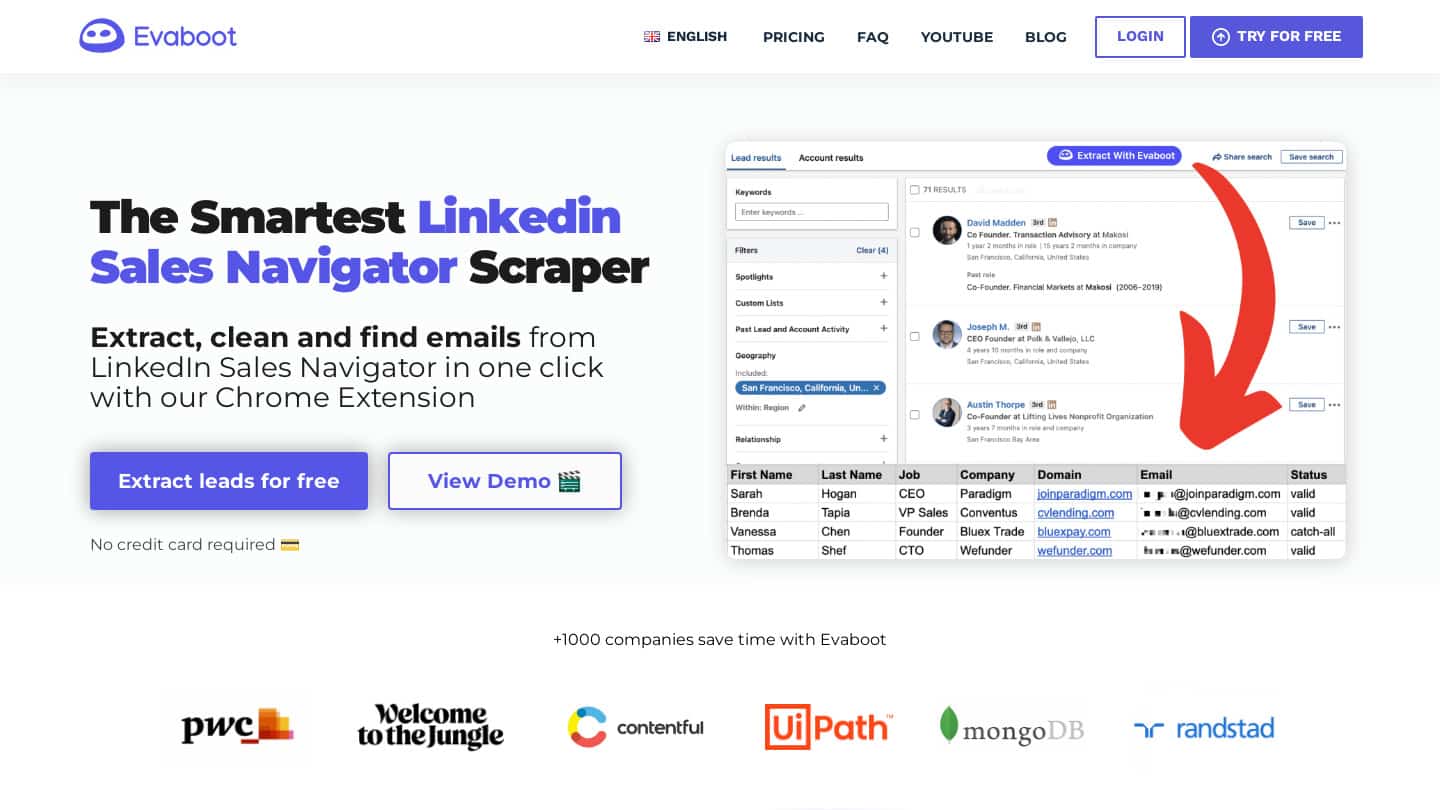 We talked about it in our top 10 LinkedIn prospecting tools: Evaboot is a great Chrome extension that works with LinkedIn Sales Navigator to quickly find the contact information of visited profiles: email address, company information, etc.
Evaboot's plus: the tool allows you to import all this data in CSV format into a clean file as it removes duplicates and filters out leads that do not match your Sales Navigator search to avoid mistargeted messages.
Evaboot's plans vary depending on the volume of leads you want to extract from Sales Navigator: the 1st plan is 45 euros/month for 2,000 leads per month (and getting professional emails).
Discover Evaboot
You can test Evaboot for free!
#6 Webscraper: to scrape anything when you can't scrape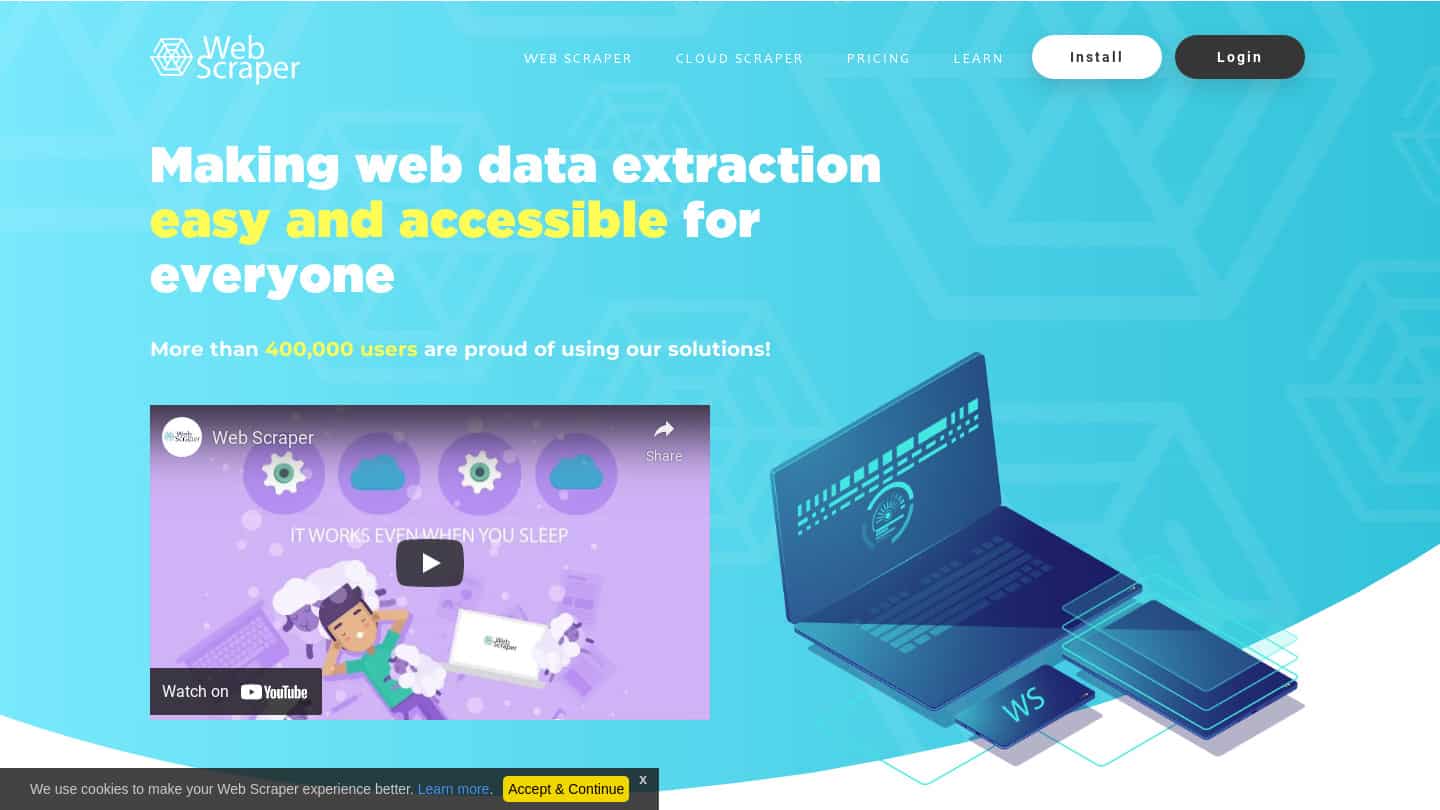 Webscraper is one of our favorite tools when it comes to webscraping and automation. It is a no-code scraping tool for novices with good documentation. You need a little patience to create the patterns and to execute the scrapping but the tool really allows you to go quite far.
Without even having written a line of code in your life, the tool is quite easy to use, with very well done tutorials. This allows you to extract any type of data from web pages.
Discover WebScraper
WebScraper is by far the best free extension for scraper!
#7 Ahrefs SEO Toolbar: to get SEO info on all google search results
This extension gives access to Ahrefs information on all results of a google page. It transmits quite precise data on a page such as:
On-page SEO report: title and description, word count, canonical URL, indexability, etc.
Link checker, broken link checker and link highlighter: you can read all outgoing links and highlight the links you are interested in according to the filters you set.
HTTP header checker and redirection tracker: the goal is to easily check the HTTP response headers for the URL you are visiting.
The extension is free but does not give access to Ahrefs' metrics, which are the reference in this field, as we pointed out in our article on the best inbound marketing tools. /inbound-marketing/tools-inbound-marketing/
Discover Ahrefs SEO Toolbar
Ahrefs SEO Toolbar allows you to get SEO info on all google search results!
#8 VisualPing: to be notified when something changes on a particular website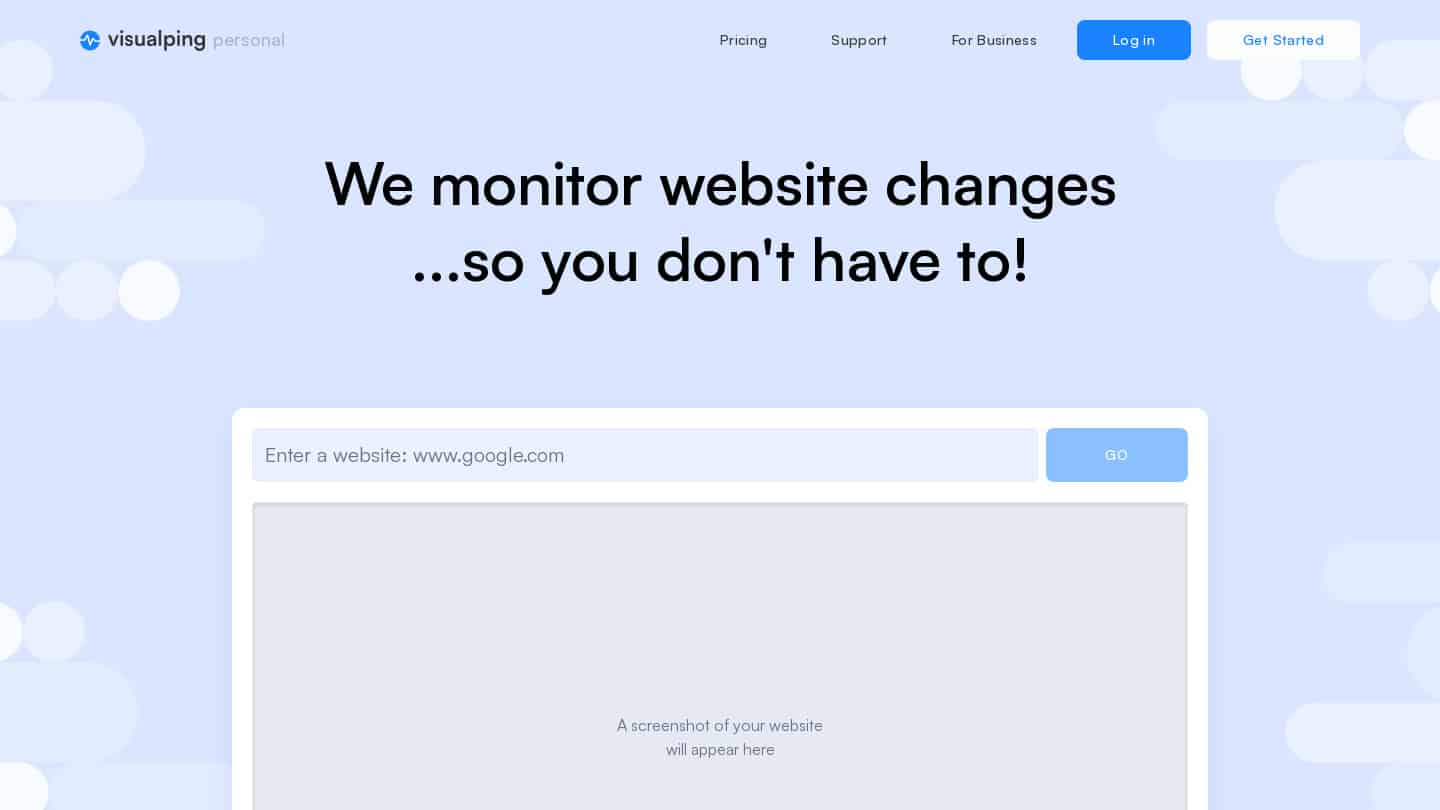 VisualPing is a simple service for monitoring changes to websites. You will receive an email notification when it detects a change in the page content.
At Salesdorado, we like it because the extension allows to check the pricing of a competitor for example.
Pricing wise, there is a free plan to monitor 5 pages checked daily. Paid versions start at $10/month, for 25 pages that you can monitor every hour.
Discover VisualPing
Monitor your competitors' pages with the VisualPing! extension.
#9 Dux Soup: best chrome extension to scrape LinkedIn easily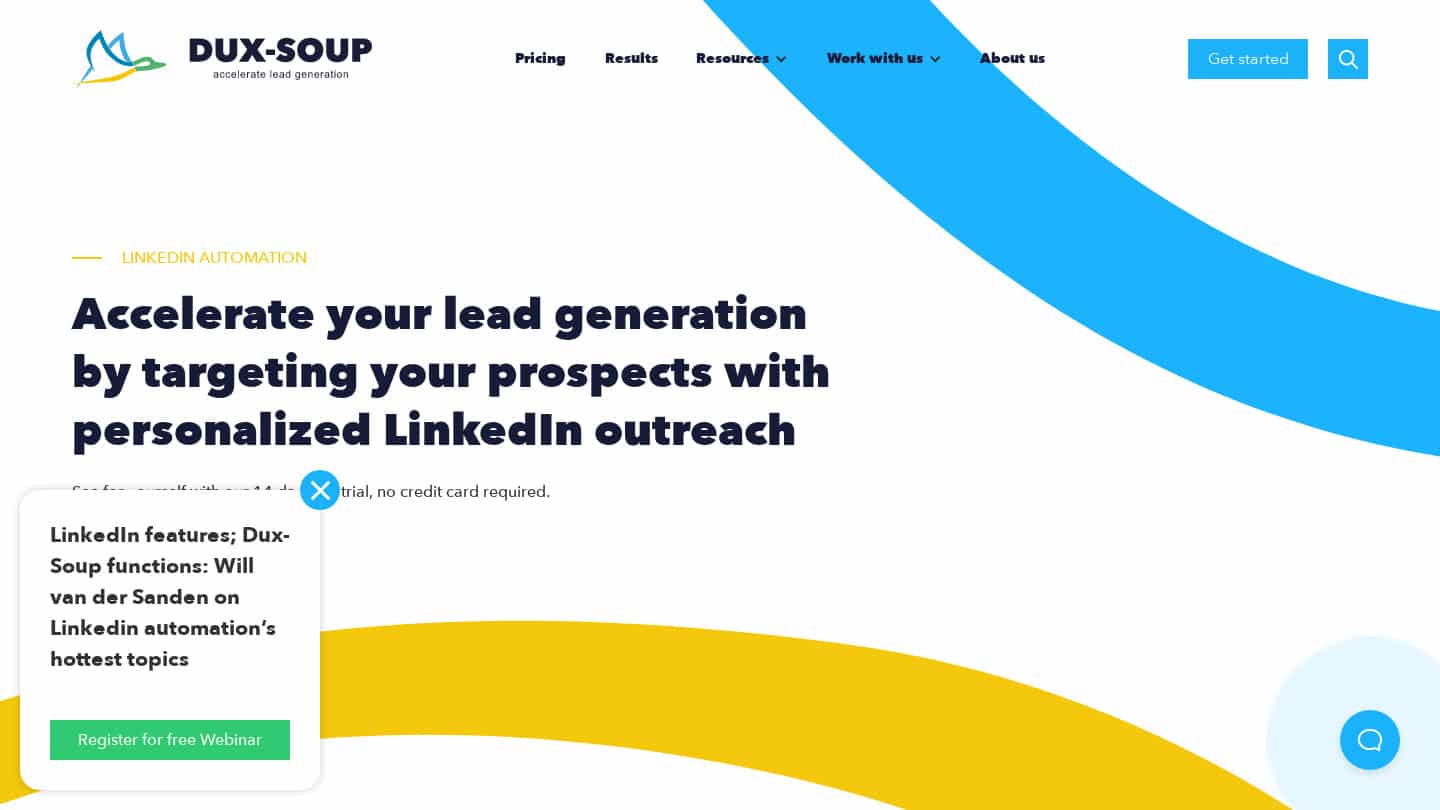 We have already given you our opinion on Dux Soup but we take the liberty of putting it back here as this Chrome extension is so well done. Very simple to use, Dux-Soup is an extension that stands out for its seniority and its advanced understanding of LinkedIn algorithms that allows you to scrape LinkedIn hyper easily to retrieve prospecting data.
The tool offers a free startup plan. The paid version allows you to export the automatically collected profile data to a CSV file to generate lead lists or to export the notes you have taken.
Discover Dux Soup
Dux Soup is the best extension to download Linkedin search results.
#10 Linkclump: to scrape links from any web page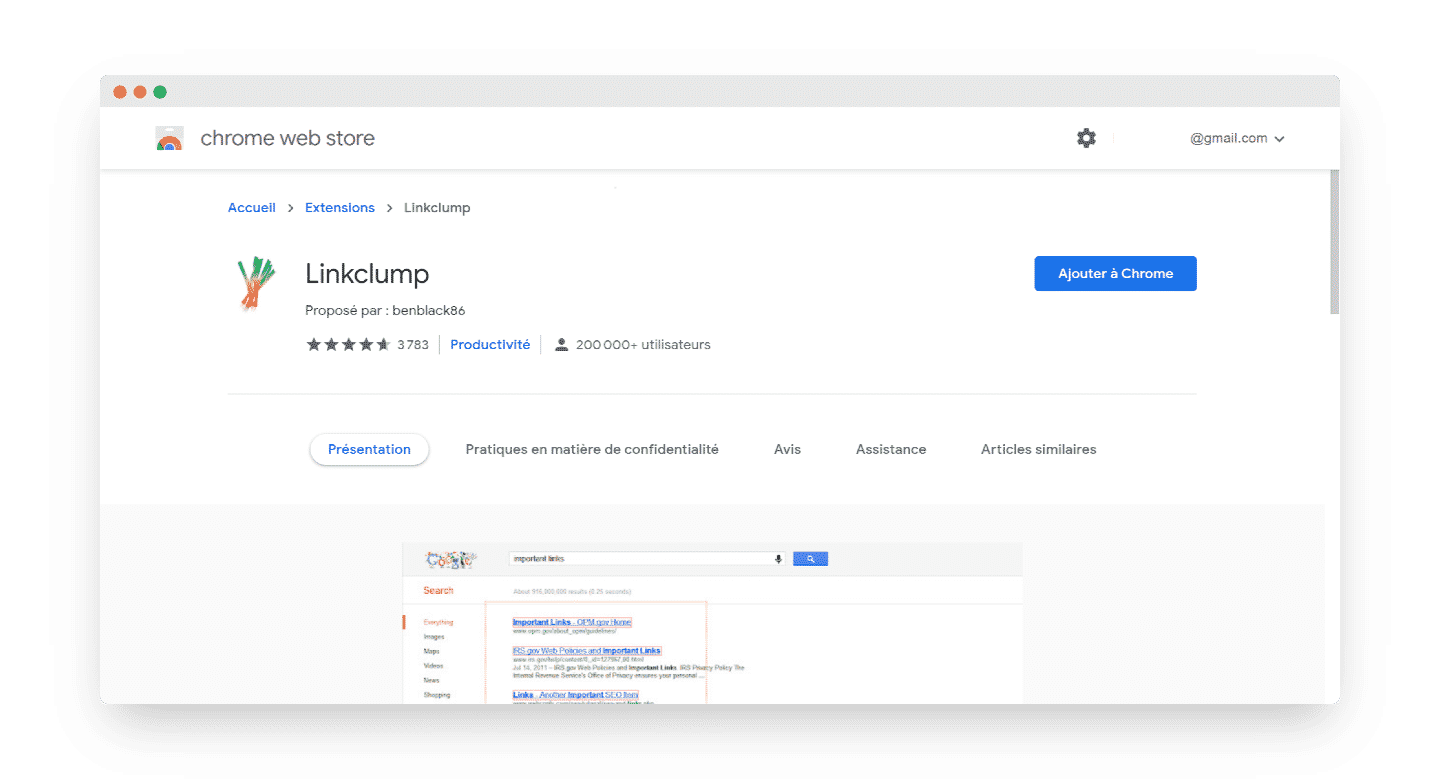 Linkclump is one of our "nugget" tools. It allows you to retrieve links (and their titles) extremely easily on a website. You can also choose to open the links in a new window, copy them to the clipboard or save them to your favorites.
Thanks to its "smart select" system, you can select only the important links on a given page. Uncheck this option to open all selected links. Auto scroll will automatically scroll the page up/down to make it easier to select all links at once. Add Linkclump to your toolbox and adopt it immediately.
It is not for nothing that Linkclump is one of the best scraping tools!
Discover Linkclump
Linkclump is a free extension that allows you to scrape all the links on a page!
#11 TabSave: to download images in bulk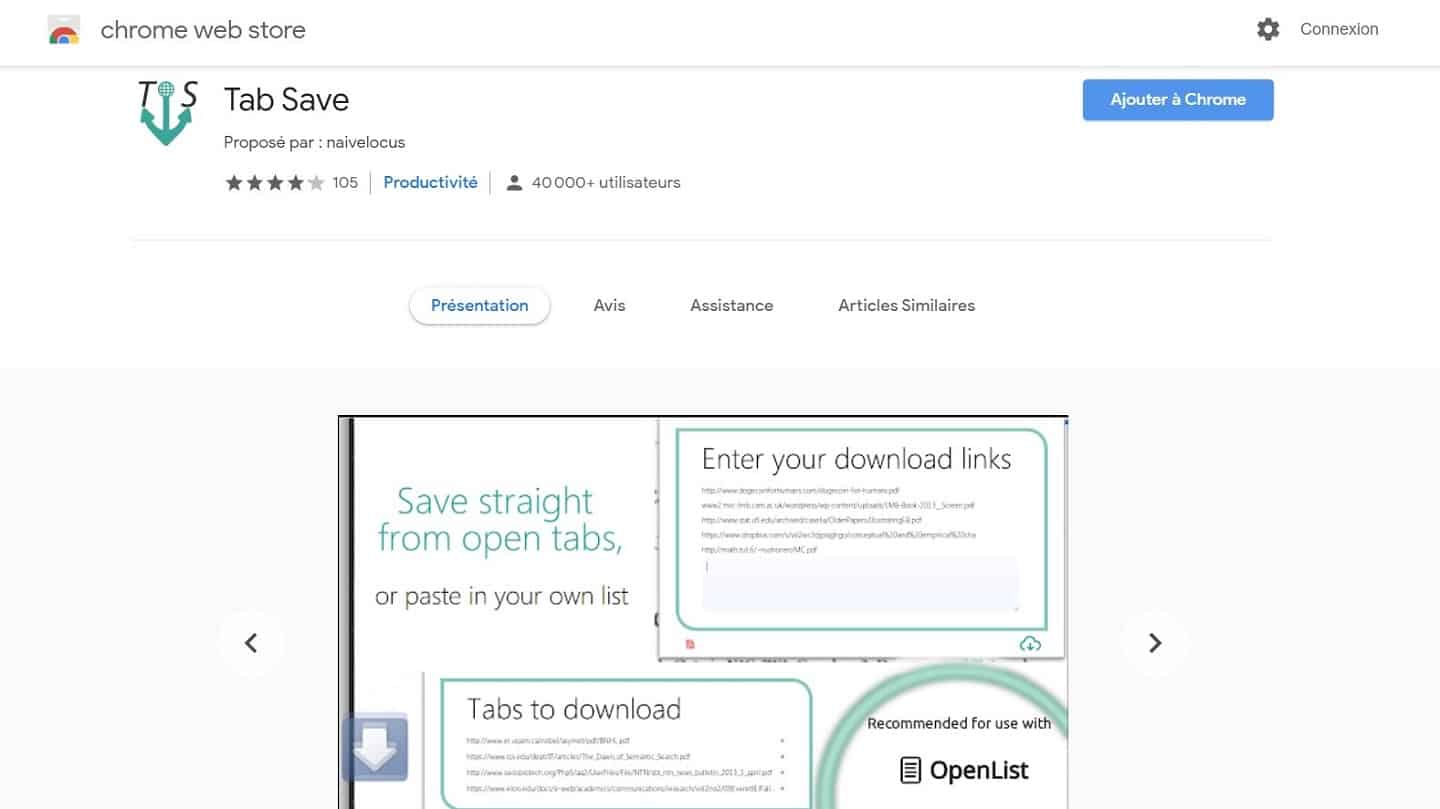 Again, one of our best scraping tools: if you want to download images in mass, TabSave is a very powerful tool that will be perfect for this use (even more powerful associated with Linkclump to get the URLs).
To use it, proceed as follows: go to chrome://settings > Downloads > Location. Here you put a clean file of your choice. Then you open TabSave, paste in a list of image URLs, (so they end in .jpg, .gif, .png, etc.), and click Save.
The only drawback: be careful not to load too many URLs each time. When it plants, it plants well.
Discover TabSave
TabSave is a free extension that allows you to download images in bulk.
#12 NightWatch: a chrome extension to simulate a google search from anywhere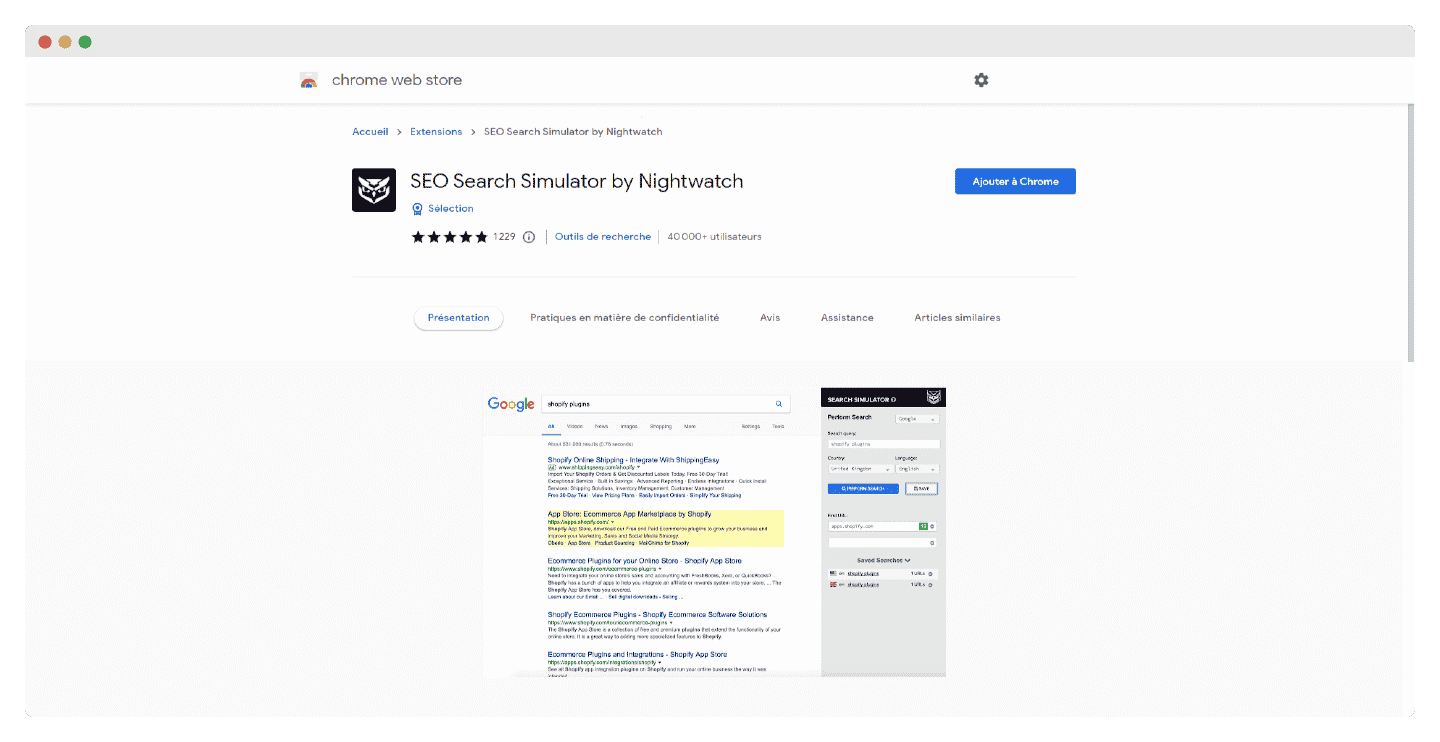 NightWatch is an extension that allows you to simulate unbiased search engine queries from anywhere on Google. We like it because it allows you to easily check the ranking of your website or your competitors.
Pricing-wise, it's a free extension, but you can also access paid plans with much more advanced analysis and reporting options.
Discover Nightwatch
NightWatch is a great extension to check your website's ranking on the SERP!
Go further
Scraping and data enrichment are a bit of a hobby for us at Salesdorado:
Best chrome extensions to generate content
We also spend a lot of time on our browsers to create content: images, videos, text, emails. Many extensions allow you to take advantage of the power of the browser to facilitate this, and it's quite impressive you'll see.
#13 Screely: to take perfect screenshots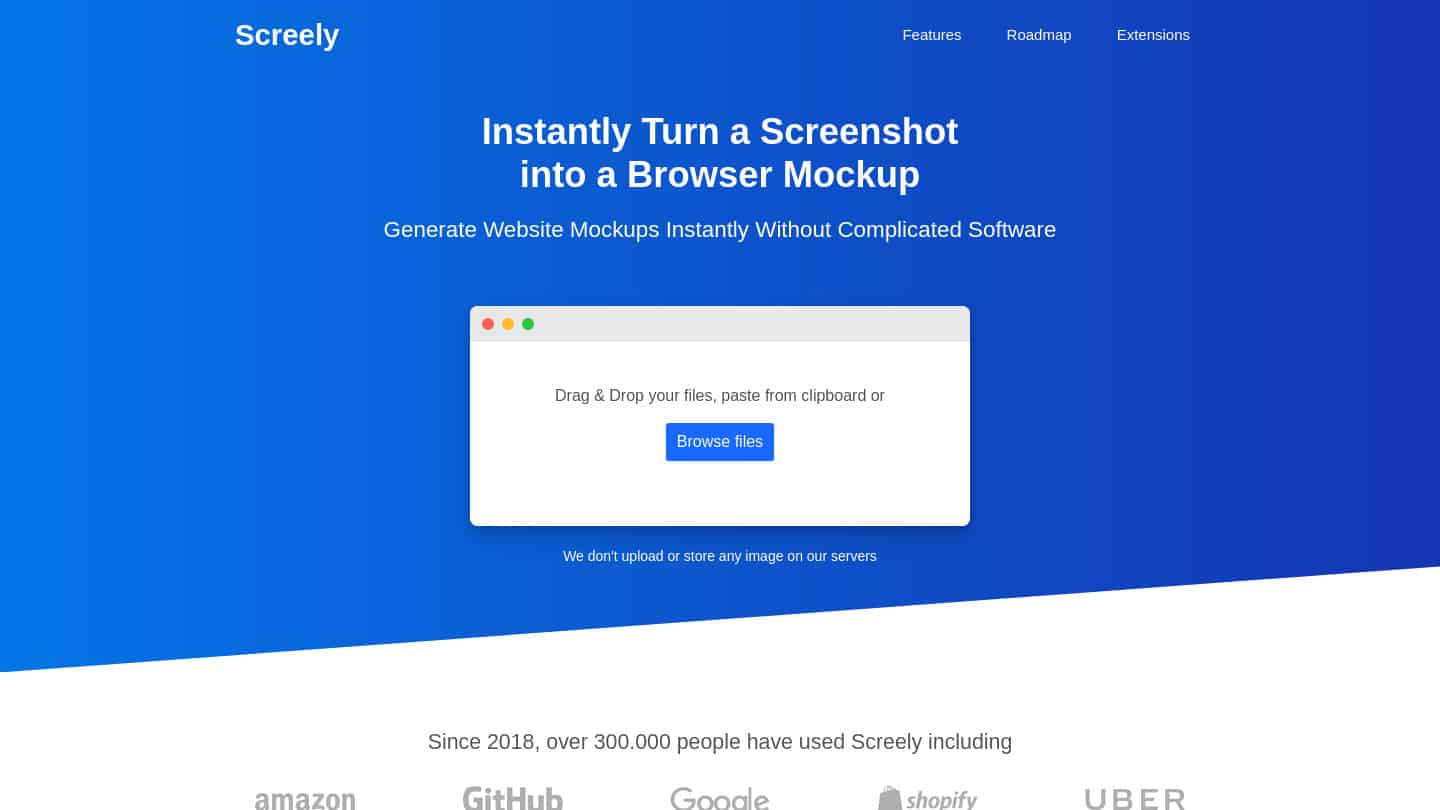 Screely is one of our favorite plugins at Salesdorado. The chrome extension allows you to take impeccable screenshots (like the one we took for the occasion), clean, with the margins that go well in a click. A huge time saver if you have several screenshots to take. It's free, and it's awesome.
Salesdorado's advice
If you have several screenshots to make & you want to work them together, you can change the download folder of your browser in a few clicks. Just go to chrome://settings, search for downloads, and change the destination folder. Don't forget to change it back when you're done (!). Very practical 🙂
Discover Screely
Screely is simply the best extension for taking screenshots!
In the alternatives, you also have Xnapper, which is not a chrome extension: you can currently download its Beta version, but only for Mac.
#14 Video Downloader Plus: to download any video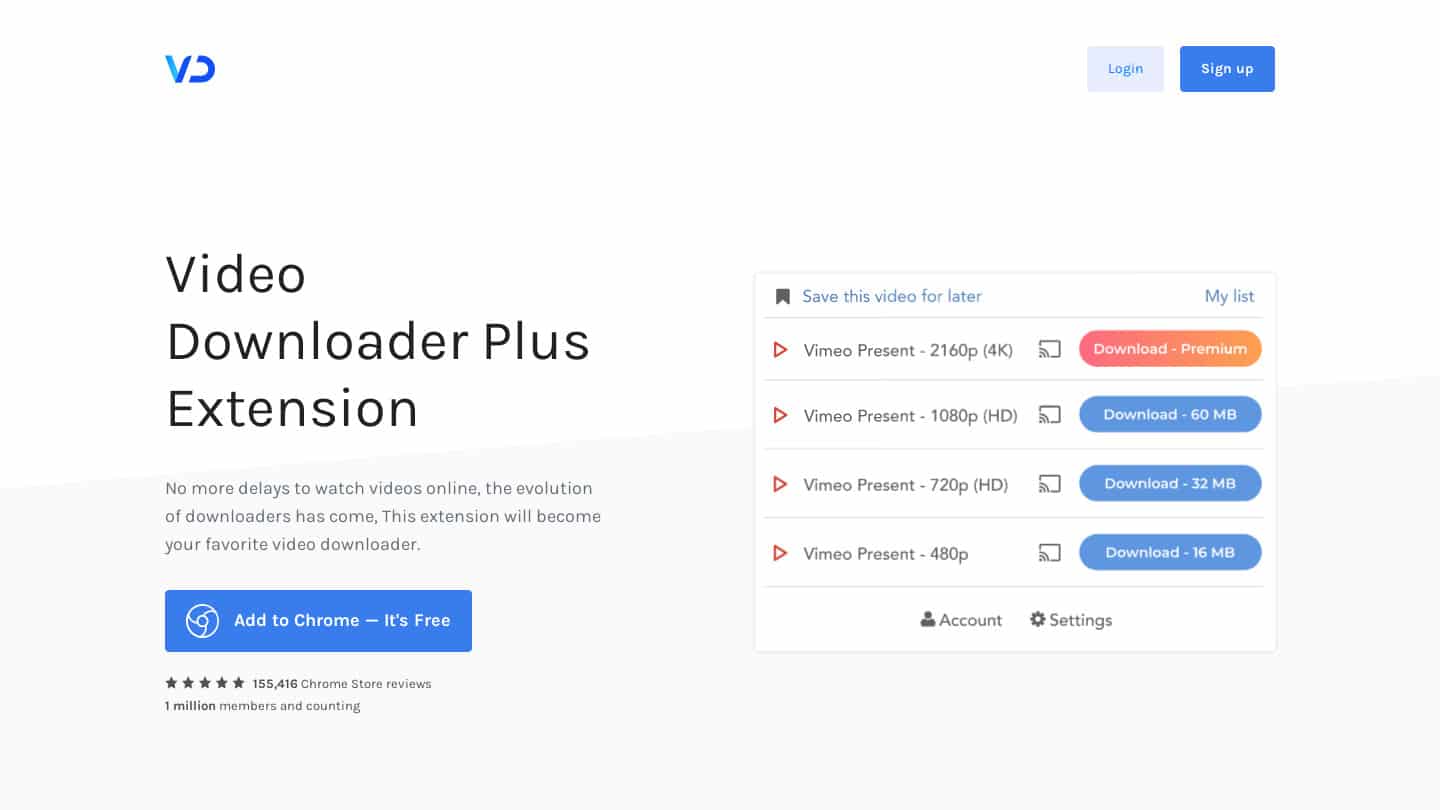 Video Downloader Plus is a free extension that allows you to quickly download any video from any website.
You can download them in different formats (MP4, MOV, FLV, AVI, WEBM, ASF, MPG, etc.), in high definition (the tool detects all available resolutions), and save them for later to view them at any time. The only downside is that it doesn't work for YouTube videos.
Discover Video Downloader Plus
Video Downloader Plus is a free extension for downloading images imported natively from Facebook, LinkedIn, Twitter, etc.
#15 Grammarly: to avoid making a single spelling mistake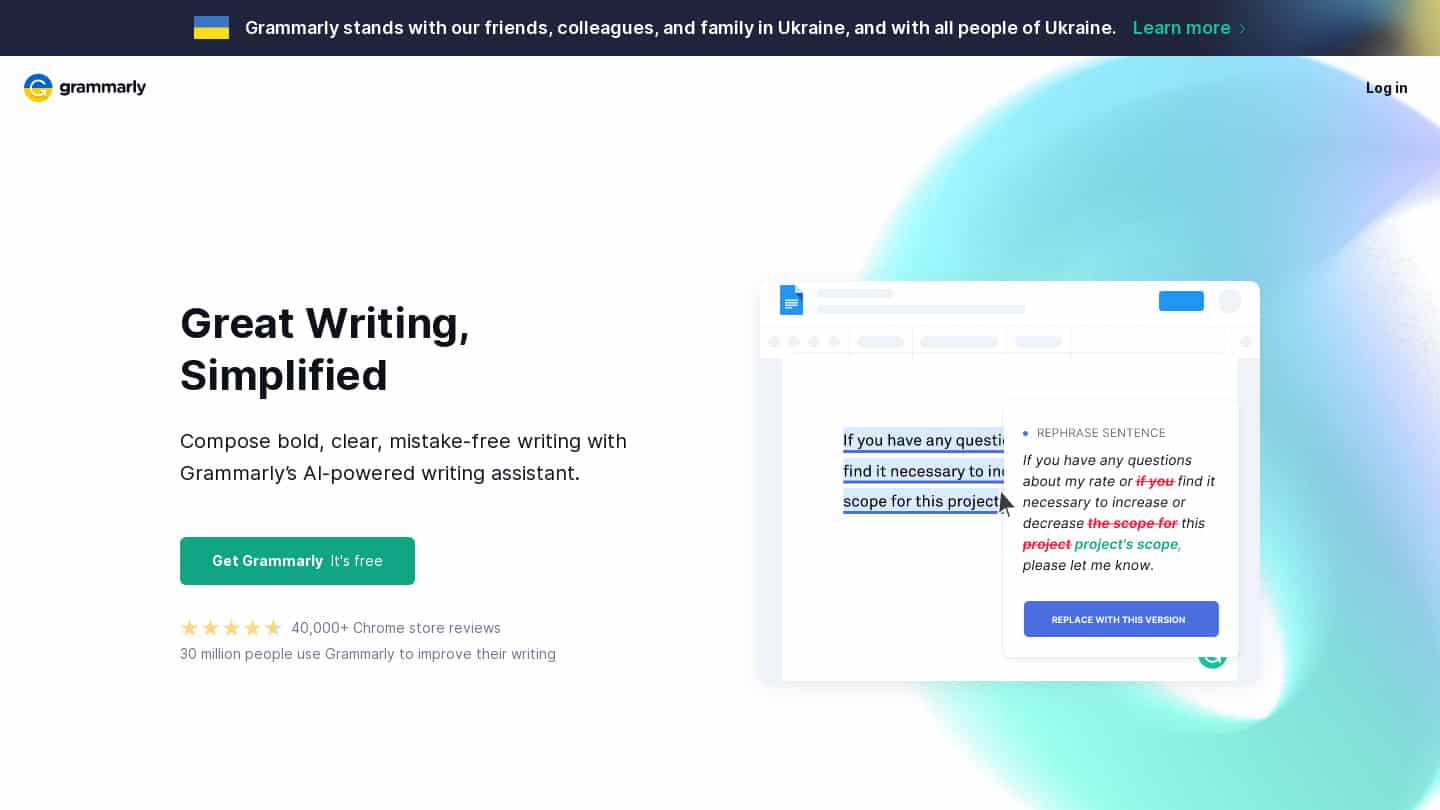 Grammarly is an English spellchecker: the Chrome extension offers real-time suggestions to help you write best online, no matter what you're working on in your browser.
The Grammarly extension analyzes your sentences as you write and adds color coding to highlight words and phrases where you can improve your writing. You can apply Grammarly's suggestion with a single click, or expand the suggestion to learn more.
There is a very complete free version but also a paid plan that offers even more advanced rewriting functions.
Discover Grammarly
Grammarly is a free, super powerful proofreader for your English texts!
In the alternatives, there is its French version, Merci App, also available on Chrome through its extension.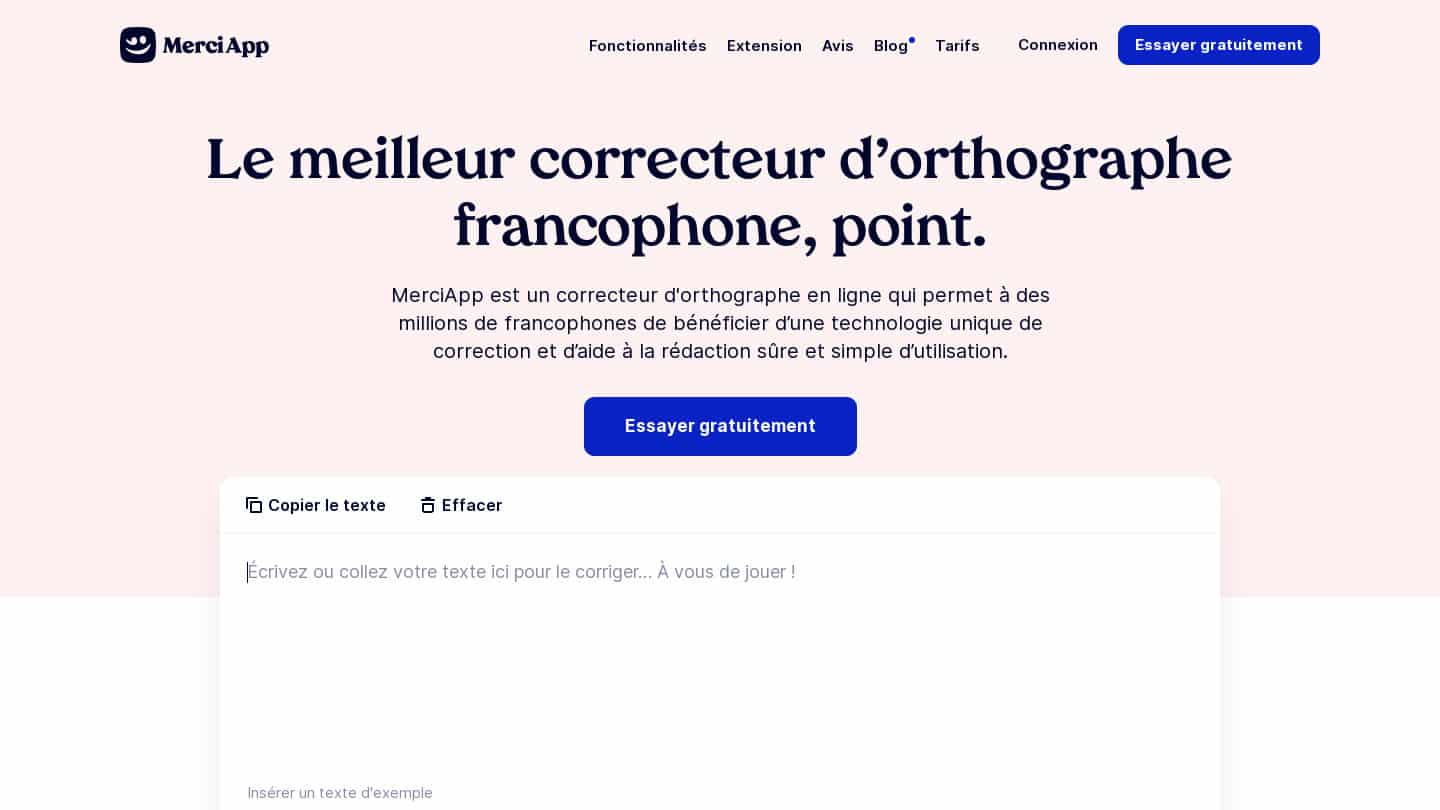 Discover Merci App
Merci App is a free extension that corrects your texts in French!
#16 Copy AI: to write truly engaging content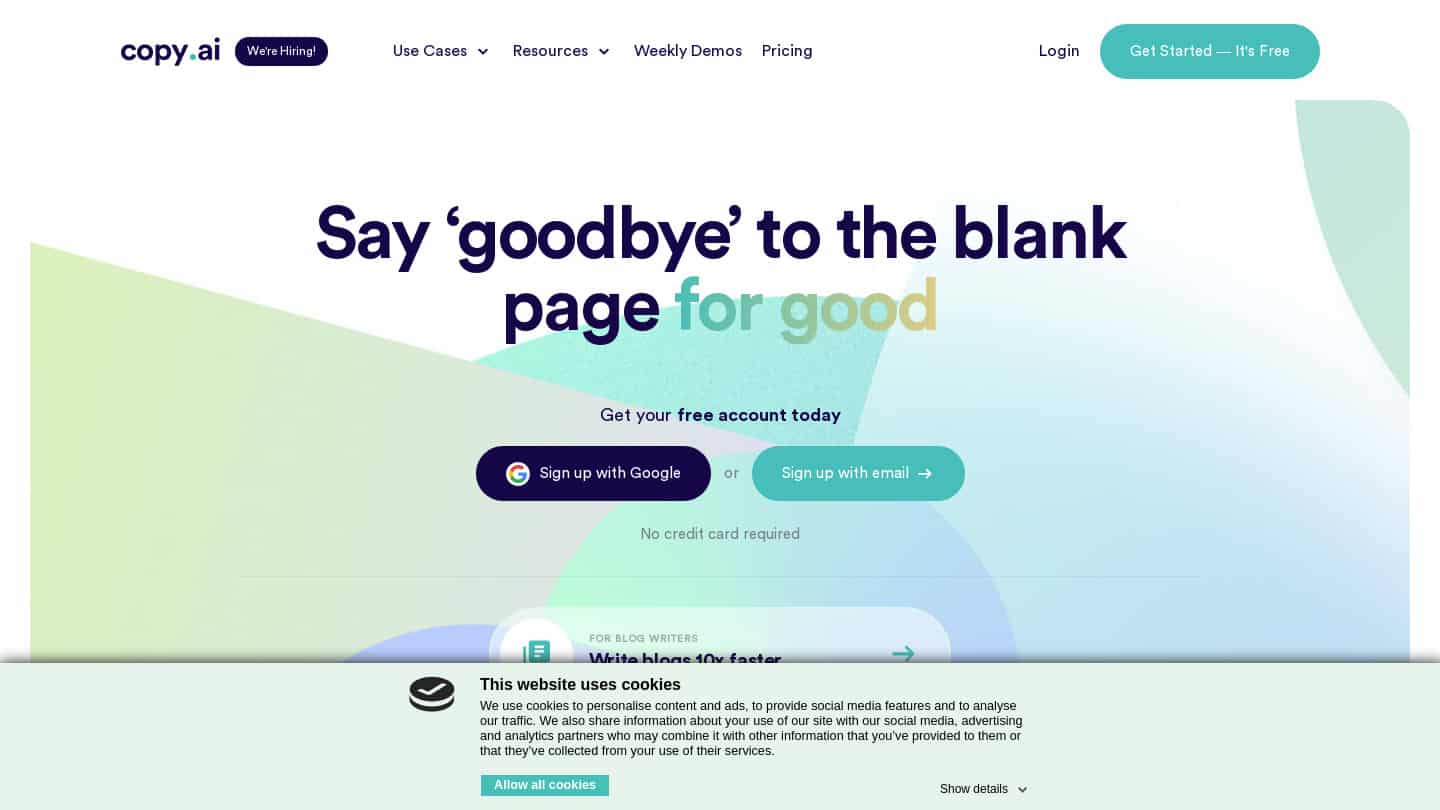 CopyAI is the leader in AI-assisted copywriting, which allows you to write more engaging copy for your readers, whether it's blog posts, campaign emails or social media posts.
The extension allows you, for example, to analyze the content of your website to improve it.
Discover Copy AI
Check out the free extension of Copy AI, the leader in AI-assisted writing!
#17 Lavender: best chrome extension for writing more relevant prospecting emails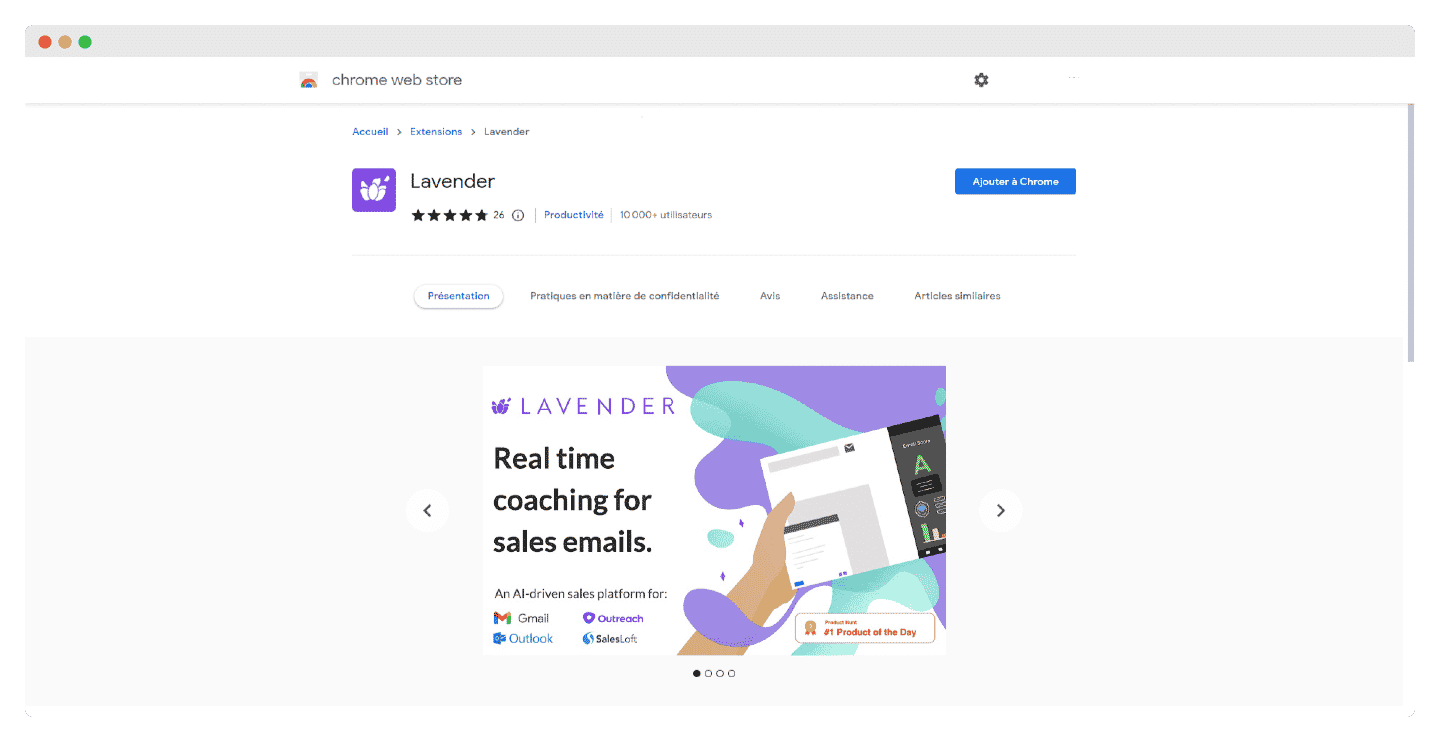 Lavender is a Chrome extension that helps you with prospecting emails, suggesting more thoughtful and effective emails using AI.
The free plan, with the extension, works on Gmail and Outlook 365 and includes the analysis of 5 emails/month, as well as the search of 5 profiles.
If you want to access the AI recommendations, we recommend the $29 plan for individuals with unlimited features or the $49/user/month plan for businesses, which includes the integration of the extension (all these plans have a free trial).
Discover Lavender
Lavender offers a free trial to help you write prospecting emails!
#18 Scribe: to create tutorials of your actions on the Web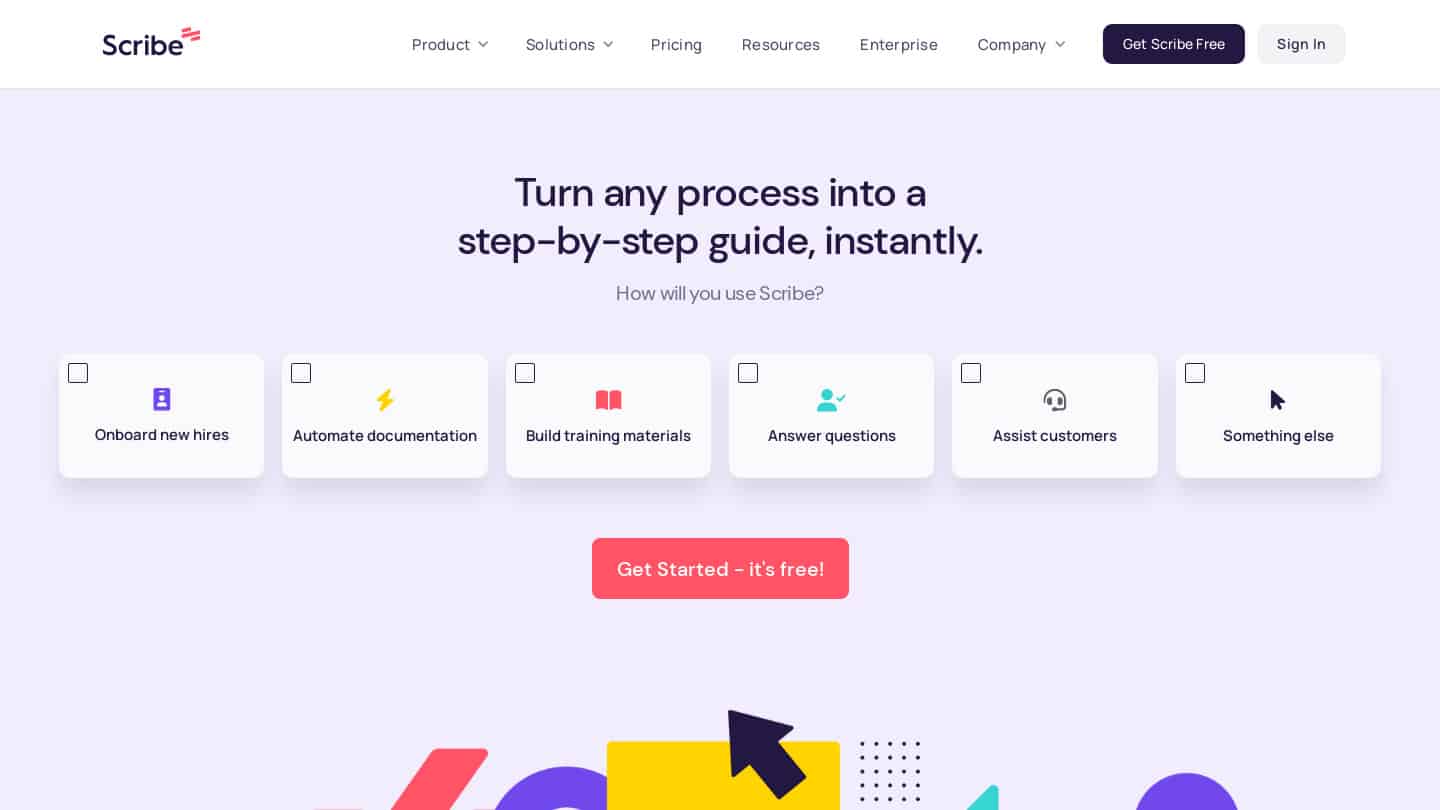 Scribe is a free extension that records and transcribes all your actions into a written, shareable tutorial. You can automatically generate step-by-step guides by simply clicking on save.
The idea, of course, is to share them with all your teams and thus save time and efficiency!
Discover Scribe
Scribe records and transcribes all your actions into a written, shareable tutorial.
#19 Loom: chrome extension to record your screen and create a video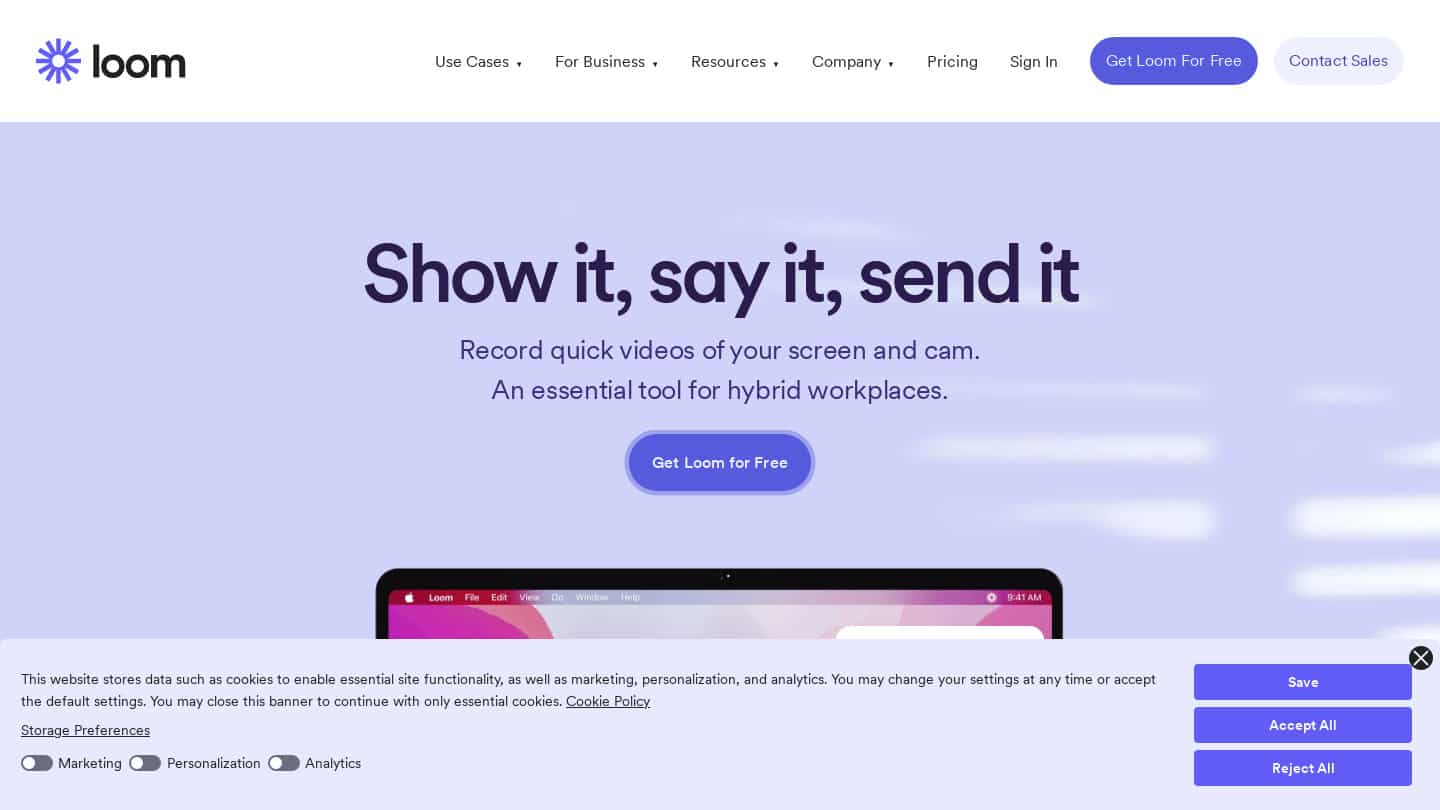 Instead of writing a long email, Loom allows you to record your screen, your voice and your face to create a video that can be shared instantly.
Loom is an extension that makes it easy to record and share video screenshots. You can then share your videos via an online platform without having to download large files, customize them to highlight certain aspects and receive notifications each time you watch them, which is very useful in a sales or customer support context, for example.
Discover Loom
The free extension of Loom allows you to record and share 5mn videos!
#20 Chrome Remote Desktop: to give access to your computer remotely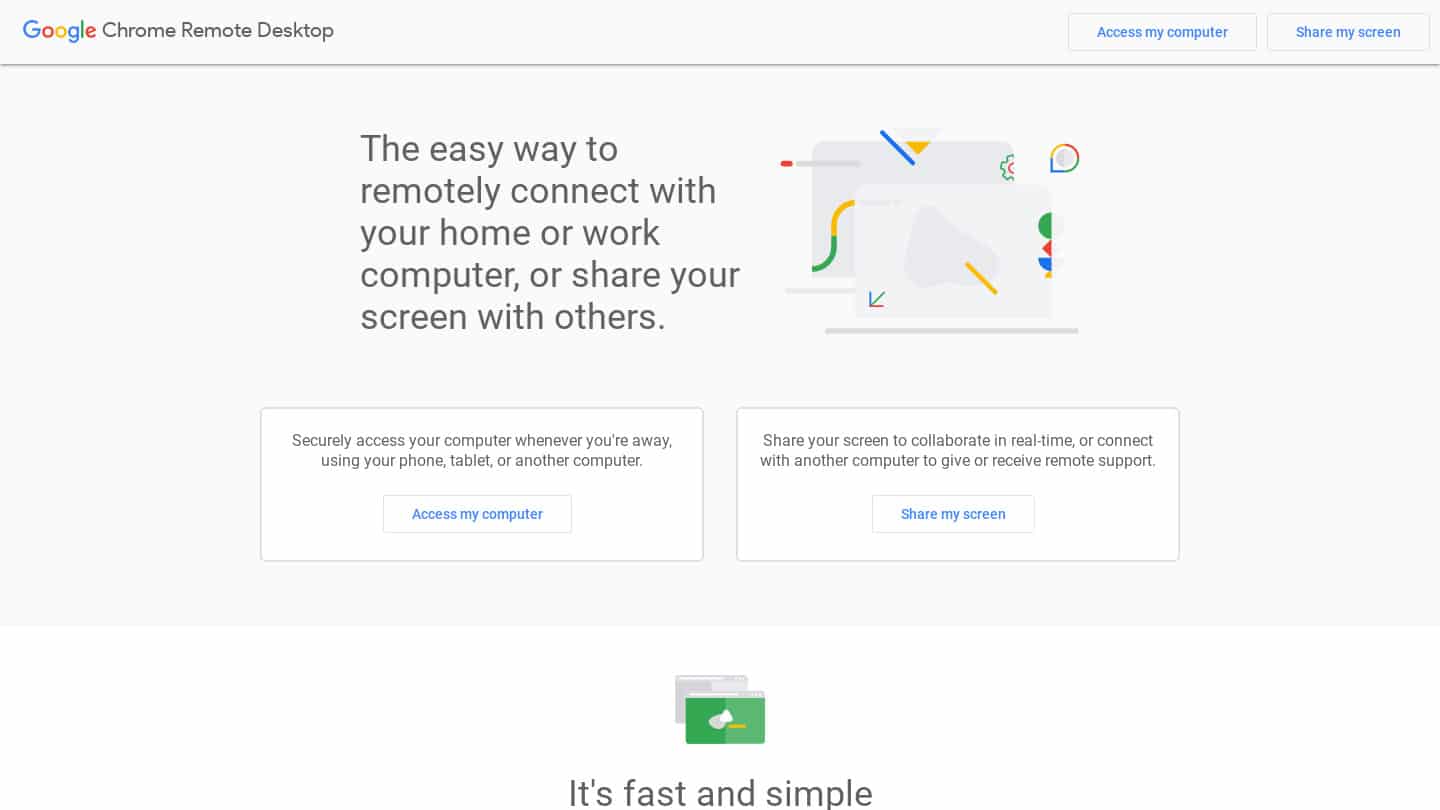 The free Chrome Remote Desktop extension allows you to install, view, and modify the native Chrome Remote Desktop client from within the Chrome browser.
Multi-platform, fully secure, this extension will make your computer available in the short term for scenarios such as ad hoc remote assistance, or in the longer term for remote access to your applications and files.
Discover Chrome Remote Desktop
Chrome Remote Desktop is a free extension that allows you to access your computer remotely
#21 CSS Viewer: to retrieve CSS data in one click
CSS Viewer is an extremely useful niche tool to retrieve in one click the CSS rules applied to an element: colors, fonts, and other assets on a prospect website for example. CSS Viewer is a very intuitive Chrome extension but requires a little web culture to properly interpret the results.
Discover CSS Viewer
CSS Viewer is a free extension to retrieve the CSS rules applied to an element!
#22 Bit.ly: to generate shortened links in one click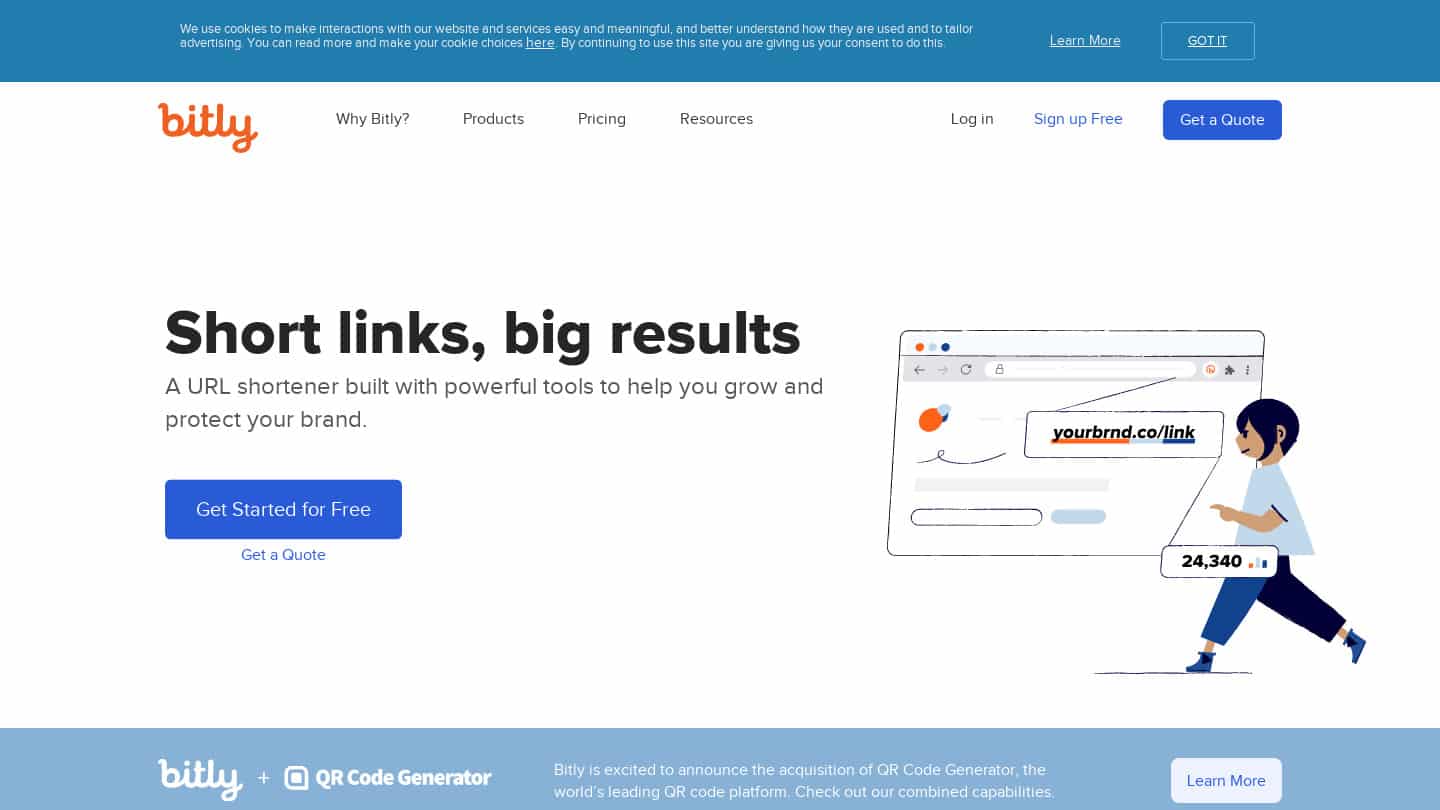 Bitly is a Chrome extension that allows you to generate a shortened link in one click, from any page by clicking on the Bit.ly button from your toolbar.
You can also generate QR codes instantly!
The extension is free for 50 links/month. The 1st plan starts at $29/month for 1500 links, and allows you to customize the links with your own brand.
Discover Bit.ly
Bit.ly allows you to generate a shortened link in one click
Best chrome extensions: the unclassifiable ones
But we also have our favorite little nuggets to make everyday life much easier and more enjoyable. This is our selection of the best chrome extensions that we couldn't rank.
#23 Tl;dv: to transcribe your video meetings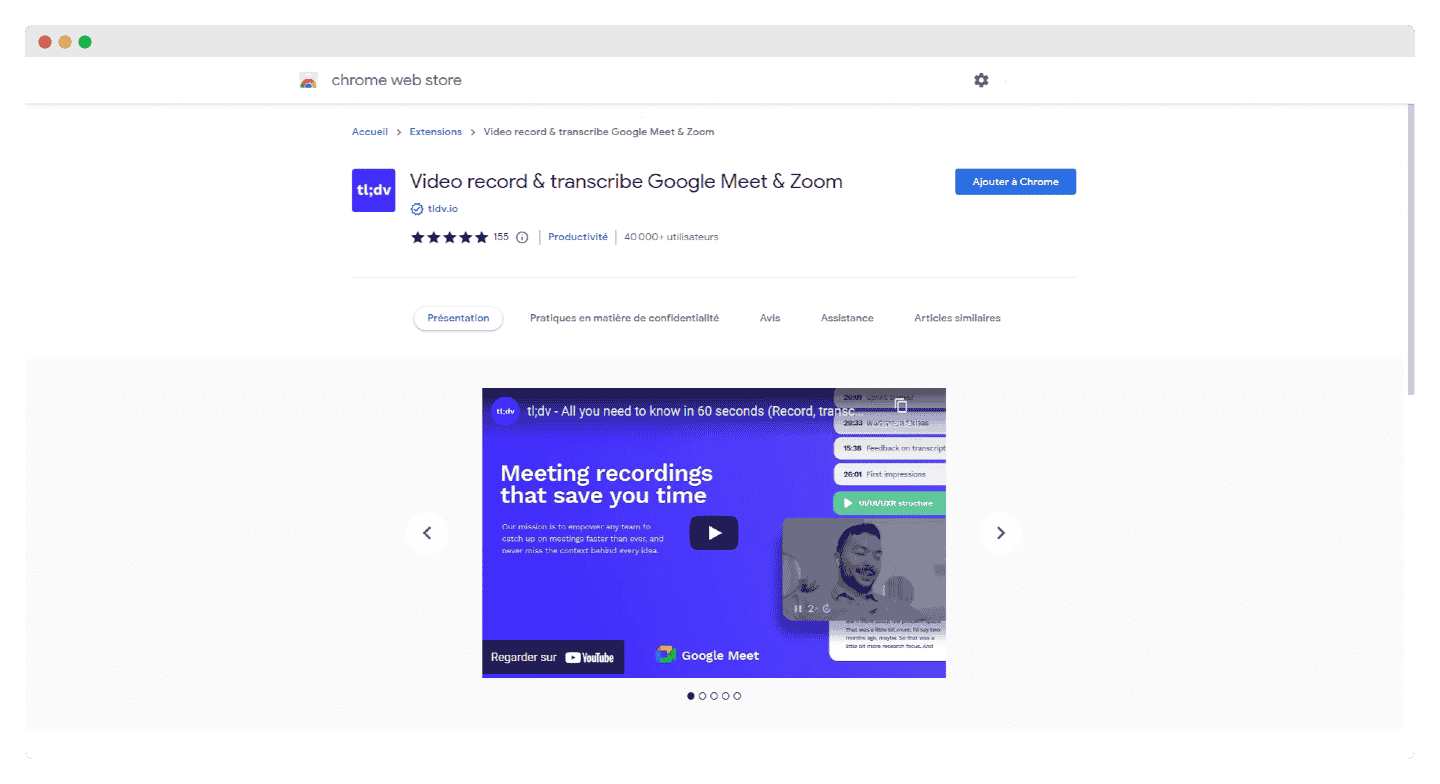 Tl;dv is a Chrome extension that records and transcribes your google meet & zoom meetings and allows you to add notes.
Among the practical features, it allows you to time-stamp important moments of the live meeting, instantly share fully contextualized summaries with your team and thus allow your team to catch up in minutes.
The most? Transcripts are available in English, French, German, Portuguese and Spanish.
Discover tl;dv
tl;dv is an extension that records and transcribes your google meet & zoom meetings and allows you to add notes.
#24 I dont care about cookies: to remove cookie warnings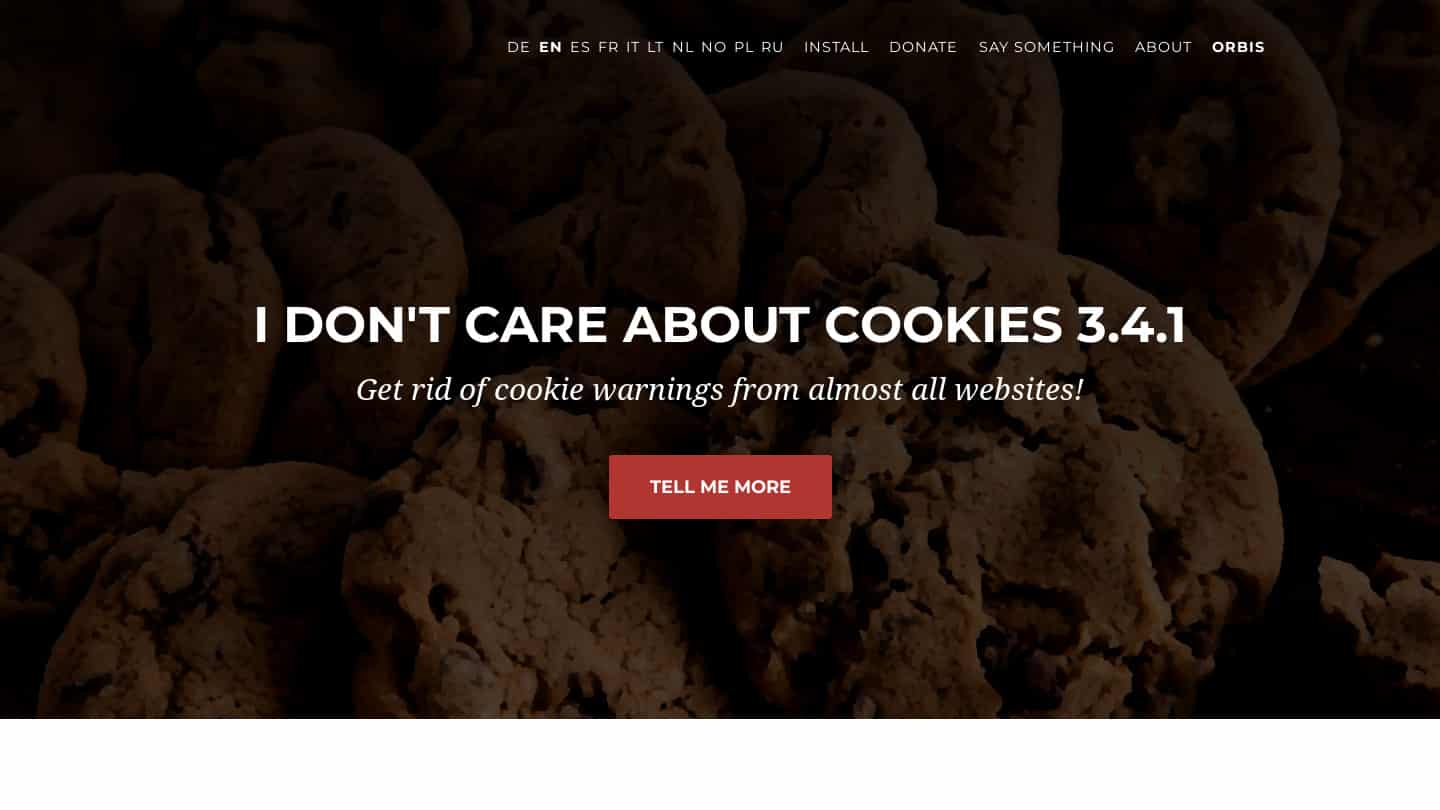 I don't care about cookies is an extension that allows you to remove cookie warnings from almost any website.
In most cases, this only blocks or hides cookie-related pop-ups. When necessary for the proper functioning of the website, the tool automatically accepts the cookie policy for you (sometimes it accepts all categories of cookies and sometimes only the necessary categories of cookies, depending on which is easier to do). It does not delete cookies.
Discover I don't care about cookies
This free extension allows you to remove cookie banners.
#25 LastPass: chrome extension to manage your passwords efficiently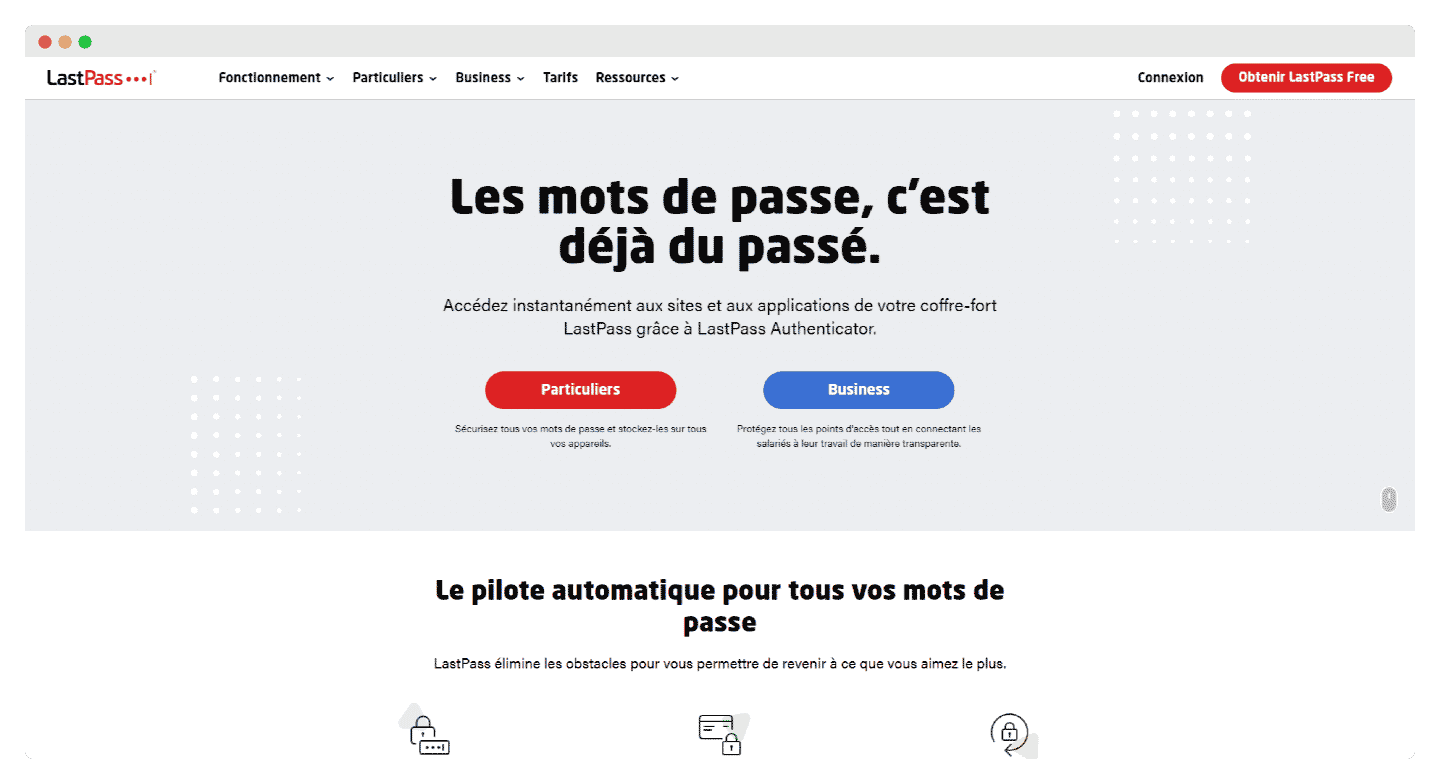 LastPass is a password manager that saves your passwords and gives you secure access from anywhere.
The tool allows you to remember only one password – your LastPass master password, which gives you access to all your usernames and passwords in LastPass, which automatically logs into your sites and syncs your passwords wherever you need them.
Discover LastPass
LastPass is a free Chrome extension that manages all your passwords.
#26 Toggl Track: to better manage your time online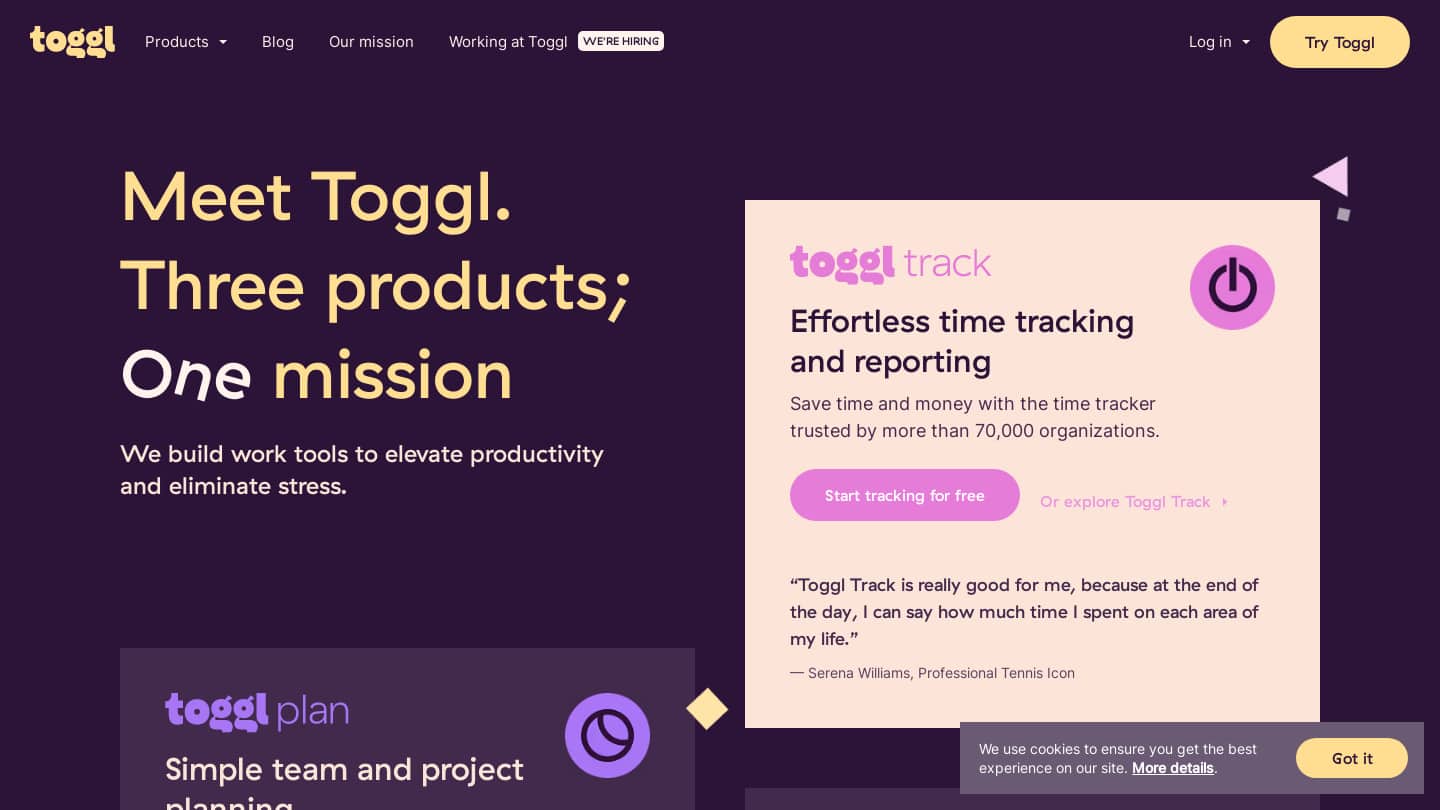 Toggl Track is an online time management tool that allows users to track time spent on different projects and analyze productivity. With the extension, you can synchronize all data, whether it comes from the web, your desktop or your mobile.
Discover Toggl Track
Toggl Track allows you to measure your productivity and that of your teams!
#27 Todoist: to organize your tasks efficiently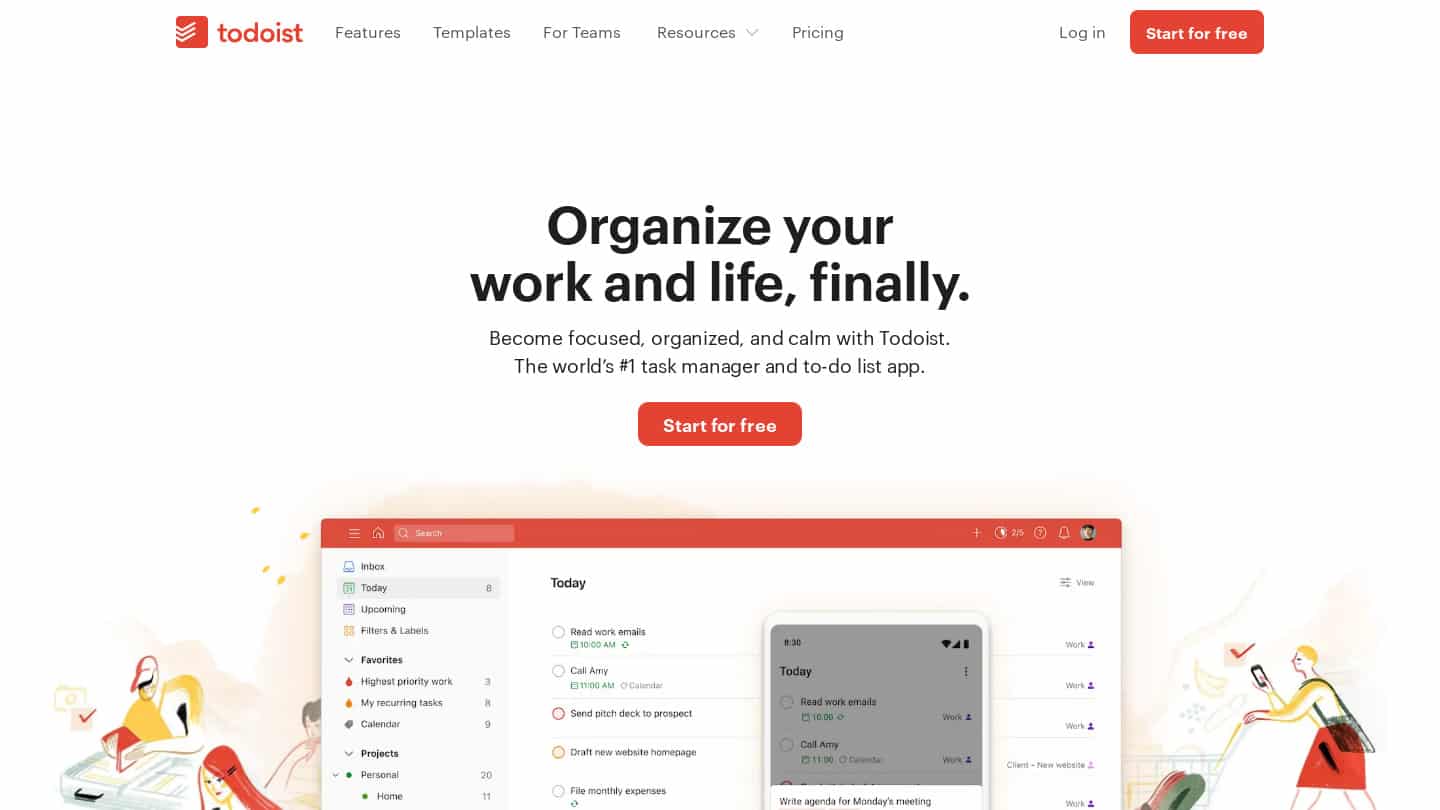 The Todoist extension for Chrome is our favorite tool in terms of organization. You can:
Add websites as tasks: a blog post to your reading list, an item in your shopping list, work tasks to be done.
Plan your day by quickly organizing your tasks for the day directly in the extension.
Complete tasks from the browser by checking them directly without changing applications.
Discover Todoist
Organize your life and work with Todoist for Chrome.
#28 Instapaper: to save links offline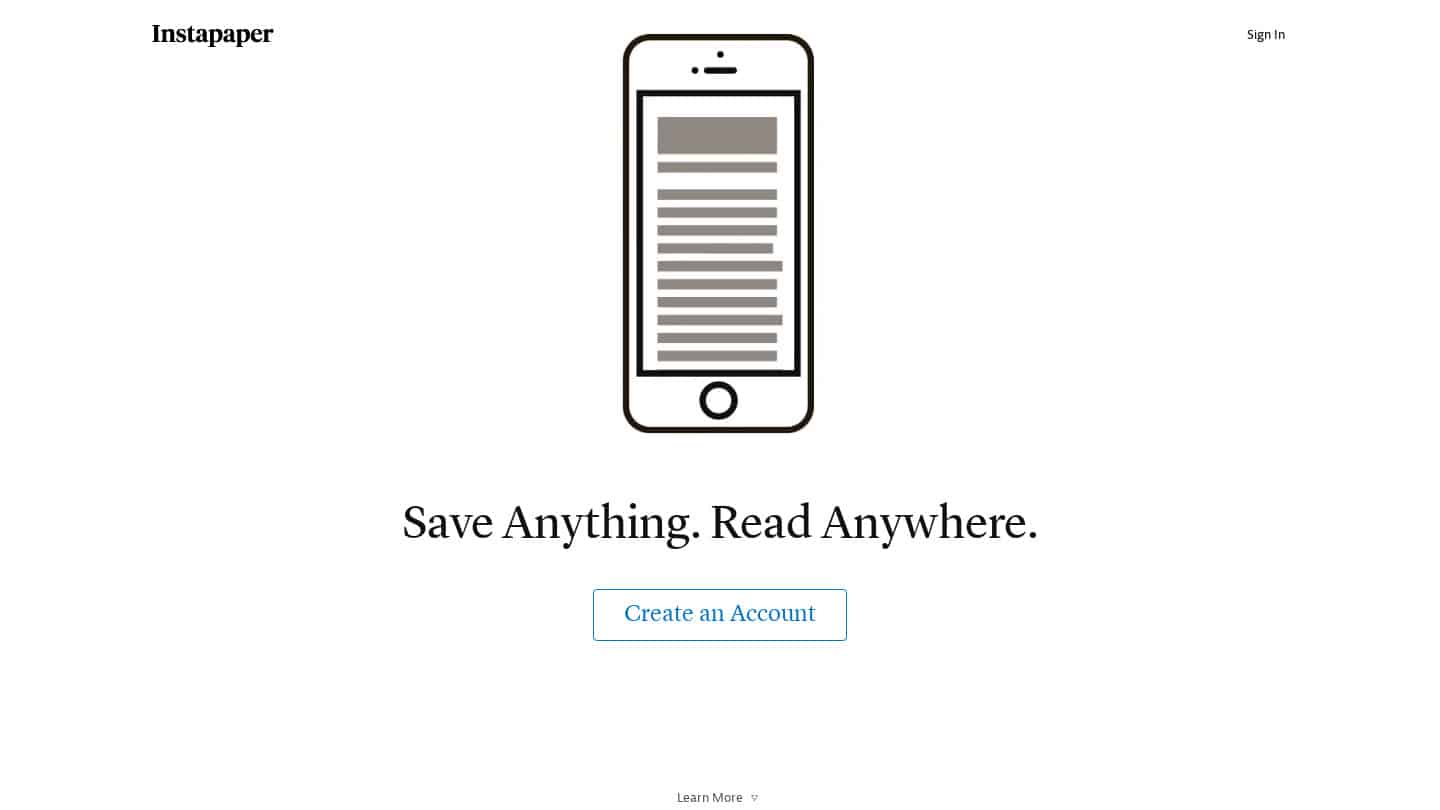 Instapaper is a browser extension to save links for offline reading.
It works by saving the current tab to your Instapaper account. Users who are not logged in will be directed to a login or registration page, after completing the process they will be redirected to the original page with the original page saved in their queue.
Discover Instapaper
Instapaper allows you to save your favorite articles to read offline.
#29 Docusign: to sign your documents online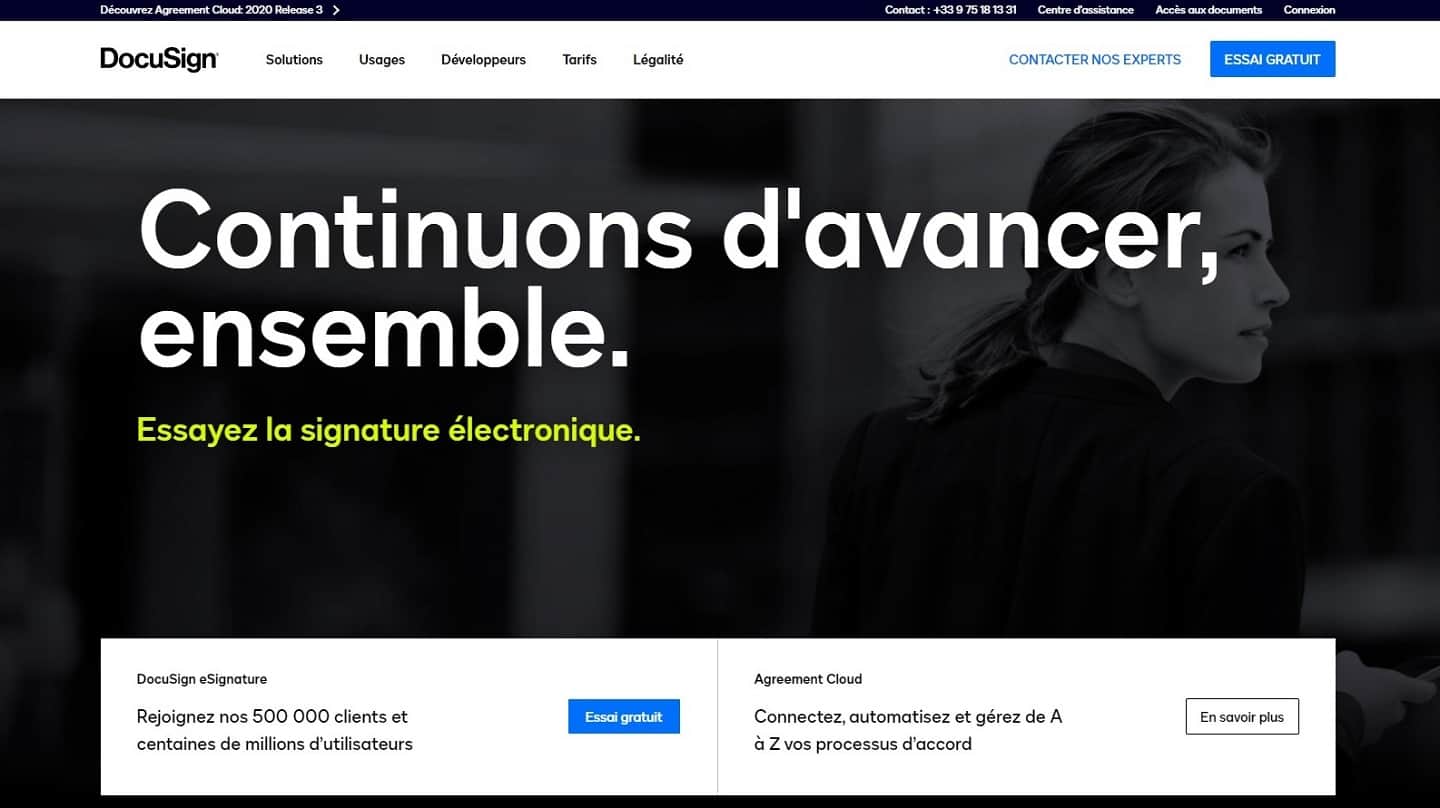 We've already told you a lot about Docusign, one of the most used free electronic signature tools on the market.
Docusign also offers an extension that allows you to access the tool whenever you are in Chrome to work more efficiently.
Whether you're shopping online, surfing the web, or watching your favorite videos, you can keep an eye on your documents with DocuSign eSignature and Chrome integration: basically, it lets you view envelope status, send reminders, sign documents, and start collecting signatures right from your Chrome browser.
Discover Docusign
The extension as well as the software is free!
Go further
We can only recommend our selection of tools!
Reader Interactions