Phoning is a must for your sales teams, and fortunately there are powerful software programs to optimise it. There are three types of software:
VoIP tools, which offer a limited number of functions and little support but at a lower price.
Multi-channel prospecting tools, which are more comprehensive. The fees are higher, but this also comes with personal assistance.
Conversational intelligence tools: these are high-end phoning software, and the price is often on demand. Focused only on cold calling, they allow you to increase the quality of your calls (more than the quantity).
In this article, we present you the 10 best phoning software to manage your cold calling efficiently.
What is phoning software?
Phoning software is a sales tool that helps sales representatives optimise their phoning processes to increase the number of appointments obtained.
It allows daily calls to be scheduled, tailored to different parameters and prioritised according to prospect engagement levels. To do this, the software offers AI-assisted coaching to train new sales representatives. The software then helps you optimise your phoning strategy for your sales team.
Phoning software can also automate mundane tasks such as scheduling appointments, follow-ups, recording calls, taking notes, sending text messages or emails to prospects after the call, and saving time to sell to the right prospects.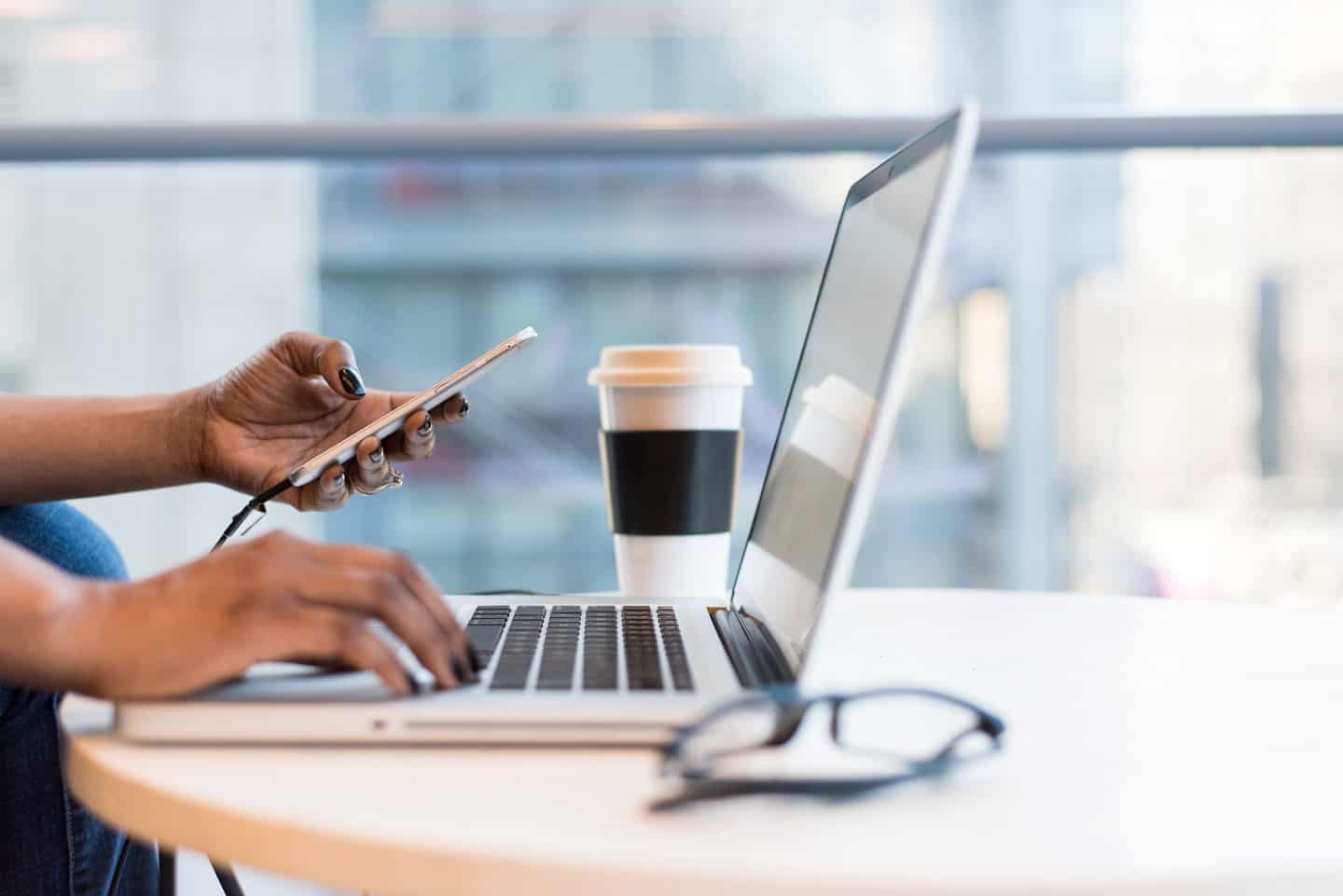 There are 3 main types of software:
VoIP phoning software: these are solutions in the form of applications, extensions or integrations designed specifically to boost phoning. They are mainly aimed at call centres, but also at sales teams specialising in cold calling.
Multi-channel prospecting tools: powerful software for prospecting through different communication channels, from emails to calls to LinkedIn. Ideal for SME sales teams, it allows you to combine all your prospecting activities into one software package.
Purely dedicated phoning tools: these are software packages specifically designed to help you optimise your phoning process. Therefore, they are mainly intended for sales teams that rely solely on calls.
Going further
It should be noted that the phoning software market has been exploding in the United States for several years, and that France is gradually following this trend with the arrival of software such as modjo.ai.
Key features of a cold calling tool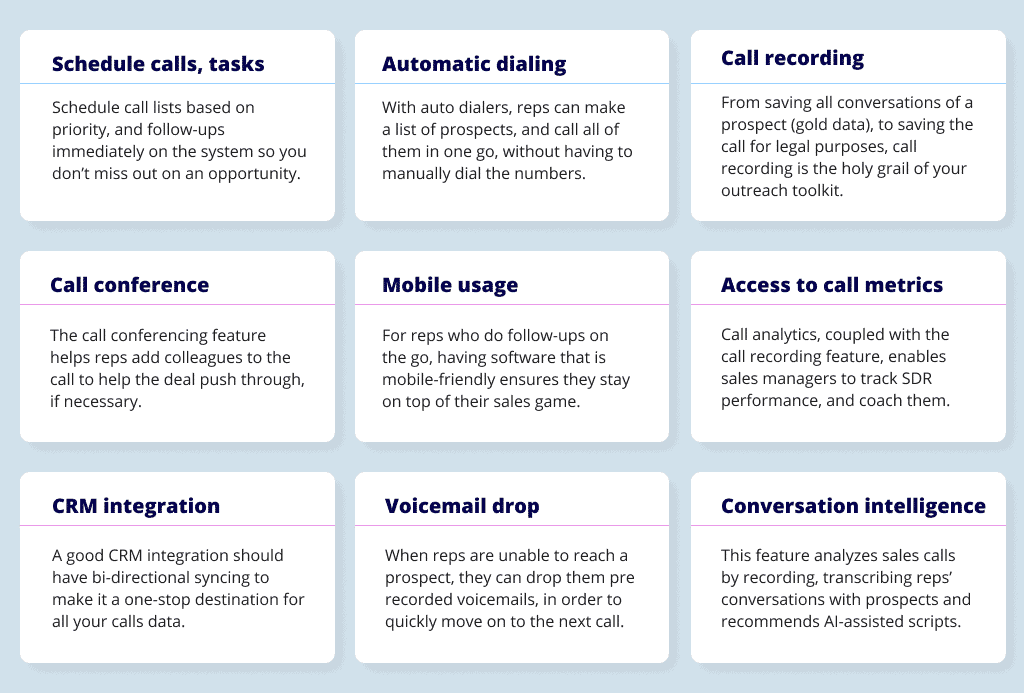 Scheduling calls and tasks
Phoning software allows you to plan prioritised call lists and strictly monitor these calls so that you don't miss any opportunities.
Organising conference calls
The conference call feature allows sales people to add their colleagues to the call to complete the deal if required.
CRM integration
A good integration with CRMs allows you to have a synchronisation that redirects all your call data to a single file.
Automatic dialling
This allows salespeople to make a list of prospects and call them all at once, without having to type each number by hand.
Mobile applications
Being able to follow up on prospecting from their mobile phone allows sales representatives to be more effective in phoning.
Voicemail
When salespeople can't reach a prospect, they can leave pre-recorded messages and quickly move on to the next call.
Recording your calls
From saving all conversations with a prospect (gold!) to saving the call for legal reasons, recording your calls is the Holy Grail of phoning kits.
The provision of statistics on your calls
Call analytics, coupled with call recording, allow sales managers to evaluate their representatives and coach them if necessary.
Conversational intelligence
This tool analyses sales calls by transcribing conversations between salespeople and prospects and then recommends scripts designed by AI.
The best phoning software: summary table
#1 Aircall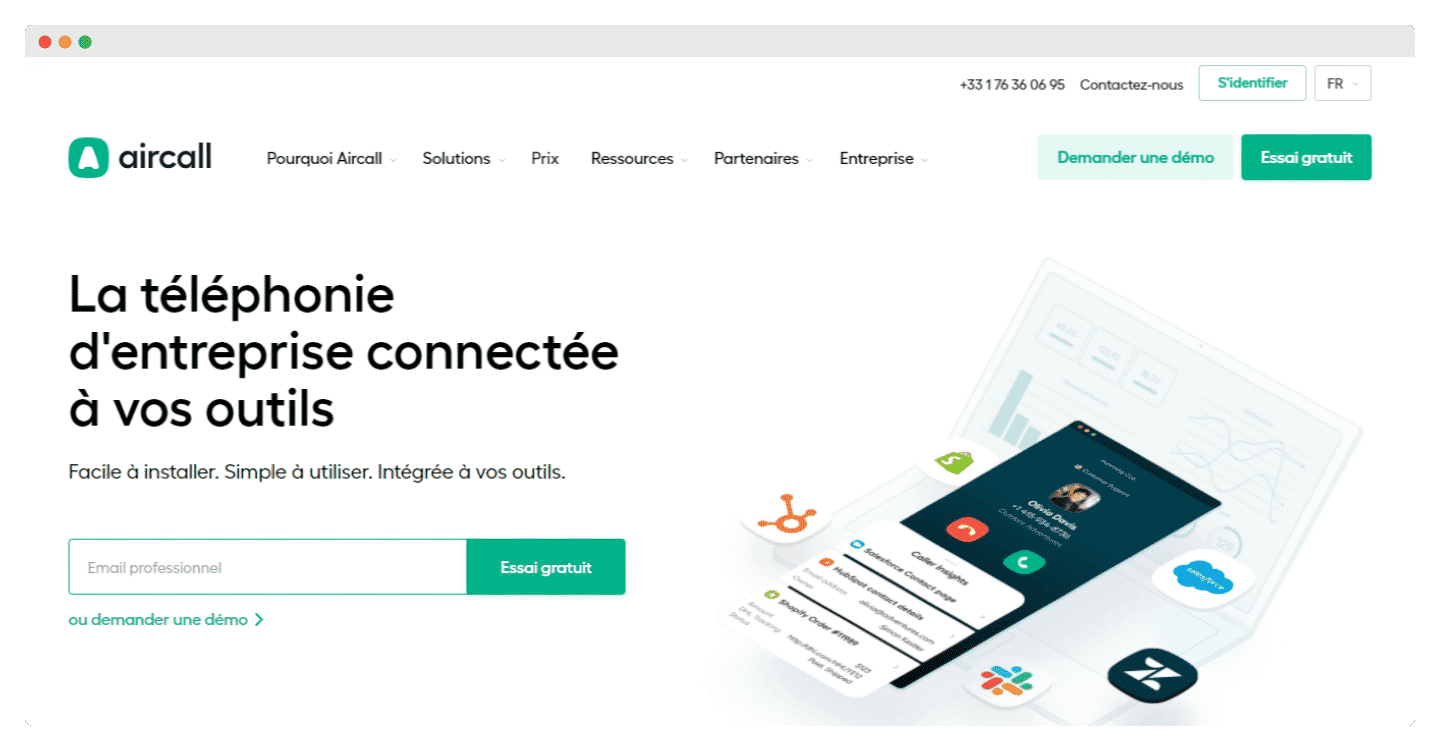 Aircall is a cloud-based phoning software that also offers cold calling solutions for sales teams.
Highlights
Much more than a pure phoning tool, it allows you to analyse your calls and thus improve the overall performance of your team.
Ability for sales reps to talk to their teammates while online, so they can make the best possible offer to the prospect.
Integration with numerous tools, including CRM software: Zoho, Salesforce, Hubspot.
Weaknesses :
Absence of Power Dialer in the essential pack, one of the essential tools for cold calling.
Price :
Essentials: Aircall's 30 euro/month starter package, which includes all essential features
Professional: the advanced solution at 50 euros/month, which also offers the Power Dialer function, an unlimited number of international calls, a telephone queue and integration with Salesforce software.
Try Aircall for free
Aircall offers a free trial with access to all features to give you a good idea of the tool's possibilities.
#2 Ringover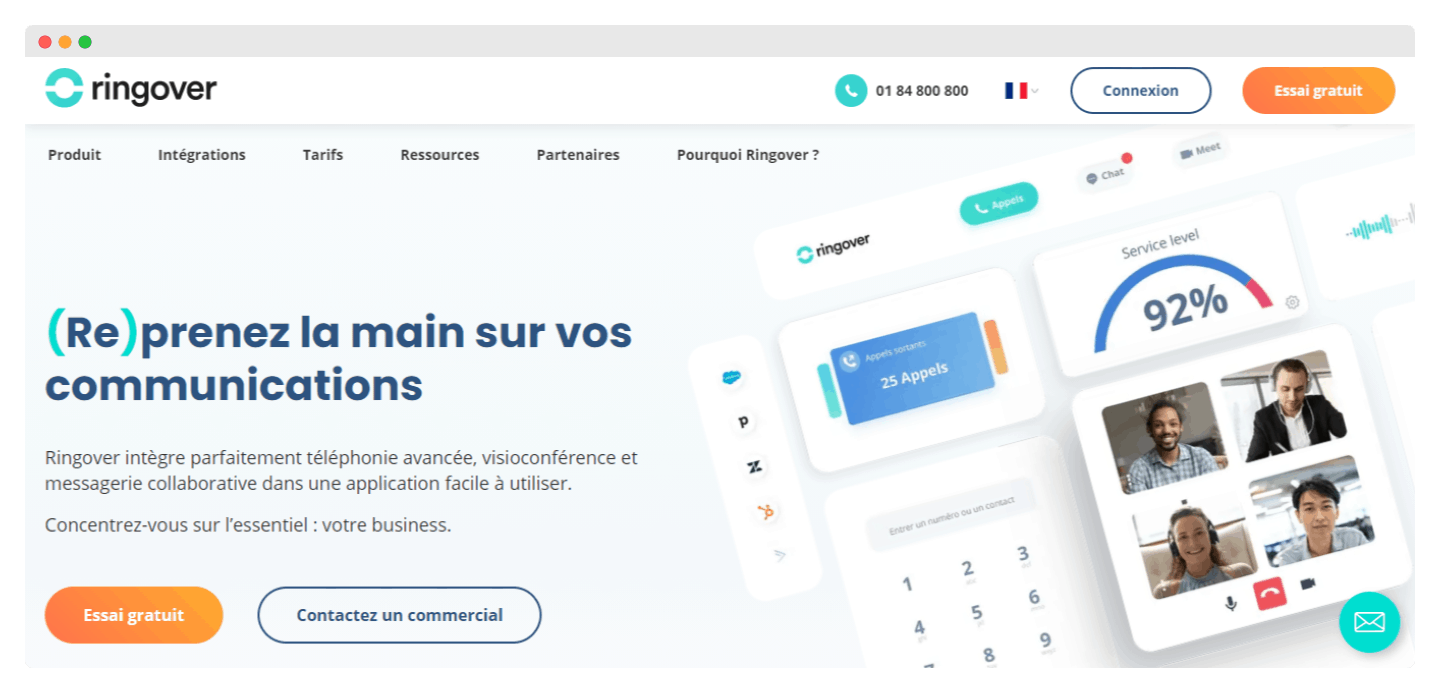 Ideal for start-ups and small businesses looking for a pure, intuitive and affordable phoning solution.
Highlights
Advanced features to optimise your sales productivity: "click to call", call notes and tags, Power Dialer.
Transparent pricing that is accessible to all types of companies, even the smallest.
Weaknesses :
Reporting could be optimised with elements such as the number of new contacts in missed calls for example.
Call quality: the tool requires a good internet connection
Implementation of the tool: is done in relation to a member of their team when it could be automated
Price :
Smart: Ringover's starter package at 19 euros/month, which includes all the classic features
Power: the advanced solution at 44 euros/month, enriched with integration with CRM software and all the advanced features (Power Dialer, etc.)
Try Ringover for free
Ringover offers a free trial with access to all features to give you a good idea of the possibilities of the tool.
#3 Toky: A true cold calling platform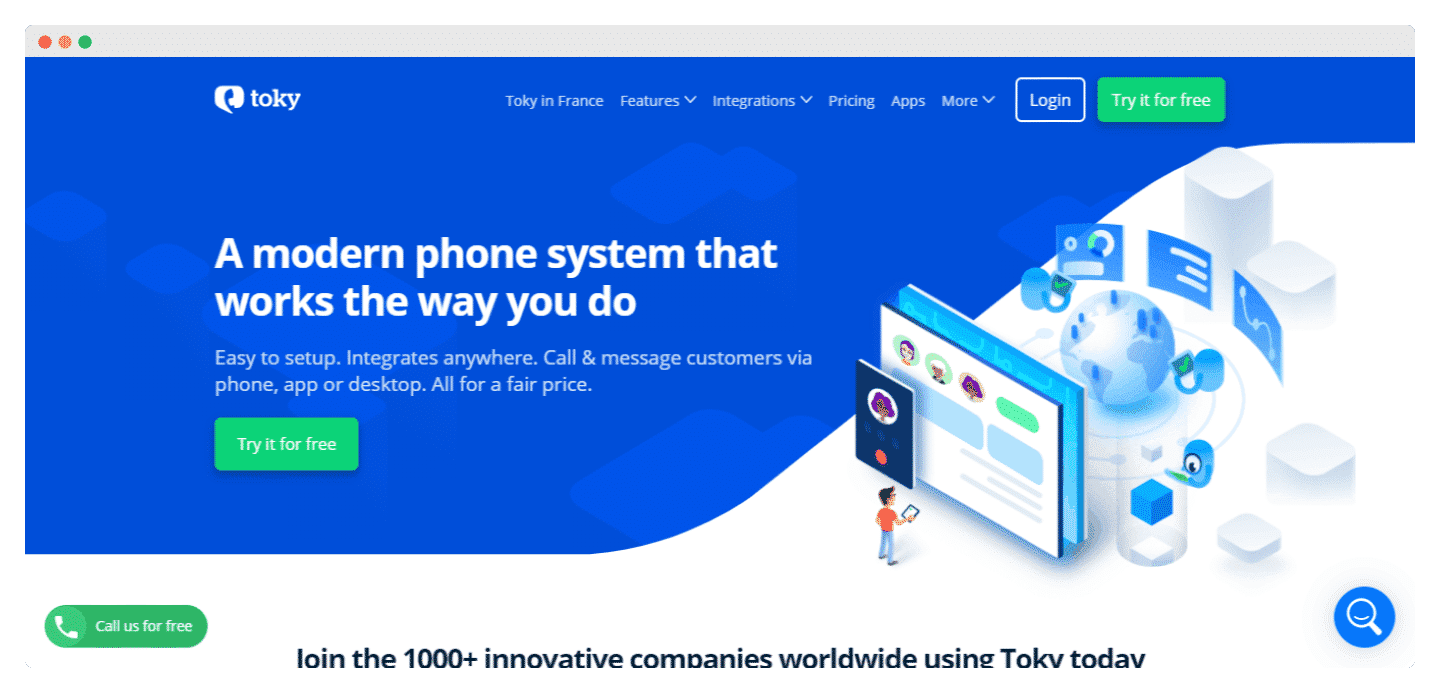 Toky offers a modern phoning software for SMEs, very complete and at an affordable price.
Highlights
Rich features include the Power Dialer, call tracking and the ability to add notes and labels, and even a link on your website that allows your customers to call you directly.
Mobile version.
Weaknesses :
Some features remain separately charged, such as automatic dialling, call recording, voice mail and voicemail.
Price :
Entrepreneur Plan: Toky's fairly comprehensive starter package at $20/month.
Business Plan: the advanced $25/month solution that also offers CRM integration and 24-hour support
Try Toky for free
Toky offers a free trial with access to all features to get a good idea of the possibilities of the tool.
#4 Close.io: The CRM dedicated to prospecting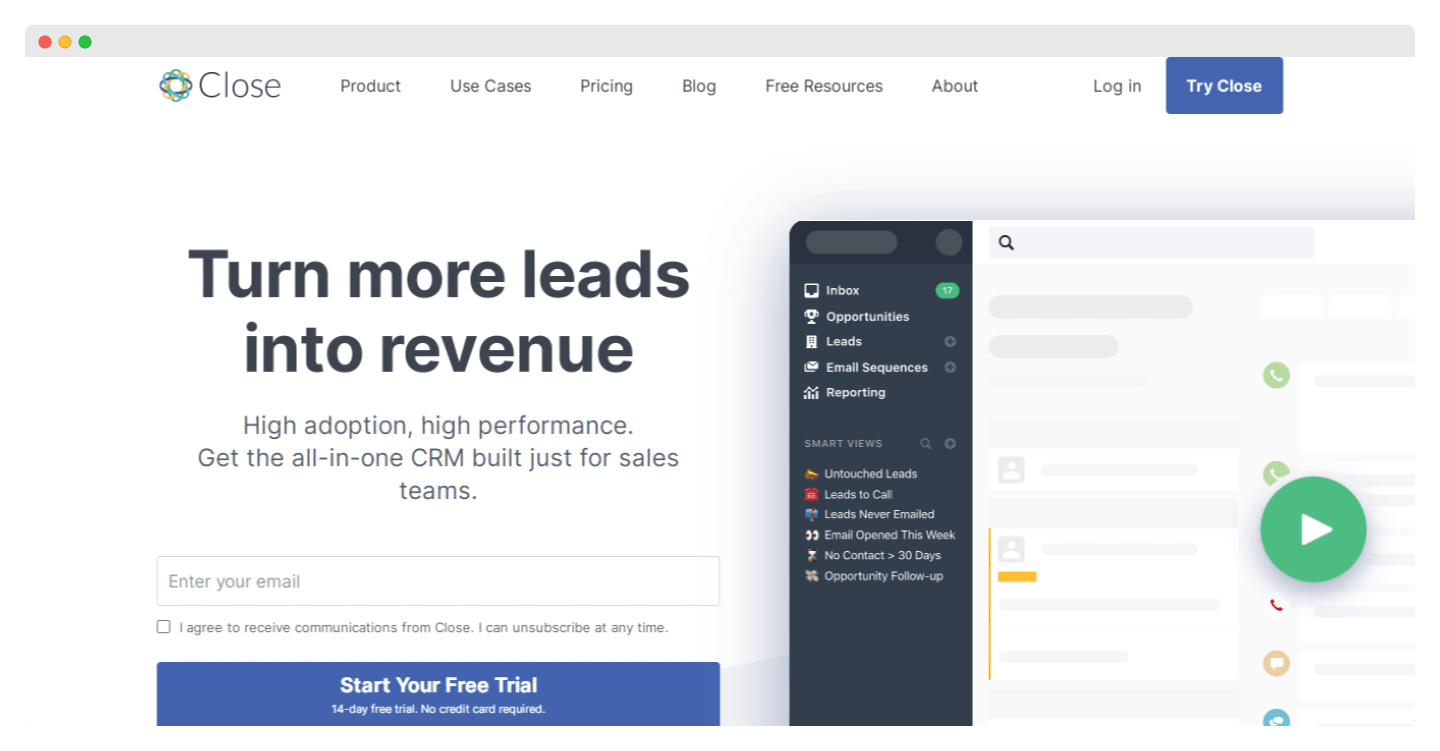 Close is a CRM software that offers an all-in-one solution for companies that prospect via different channels.
Highlights
4 different offers according to your needs, which include the different functions of phoning software, from call recording to automatic dialers.
14-day free trial, no bank details required
Weaknesses :
Initial offer limited to incoming and outgoing calls, call forwarding and the ability to send and receive text messages.
No mobile application.
Price :
Starter: the starting offer from Close at $29/month, for teams of 2-3 people, limited to basic functions
Basic: from $69/month, more complete (unlimited number of templates and leads in particular)
Professional: from $99/month, includes Power Dialer.
Business: from $149/month, it offers a true all-in-one solution for cold calling.
Try Close for free
Close offers a free 14-day trial with access to all the features to give you a good idea of the tool's possibilities.
#5 VanillaSoft: The all-in-one cold calling tool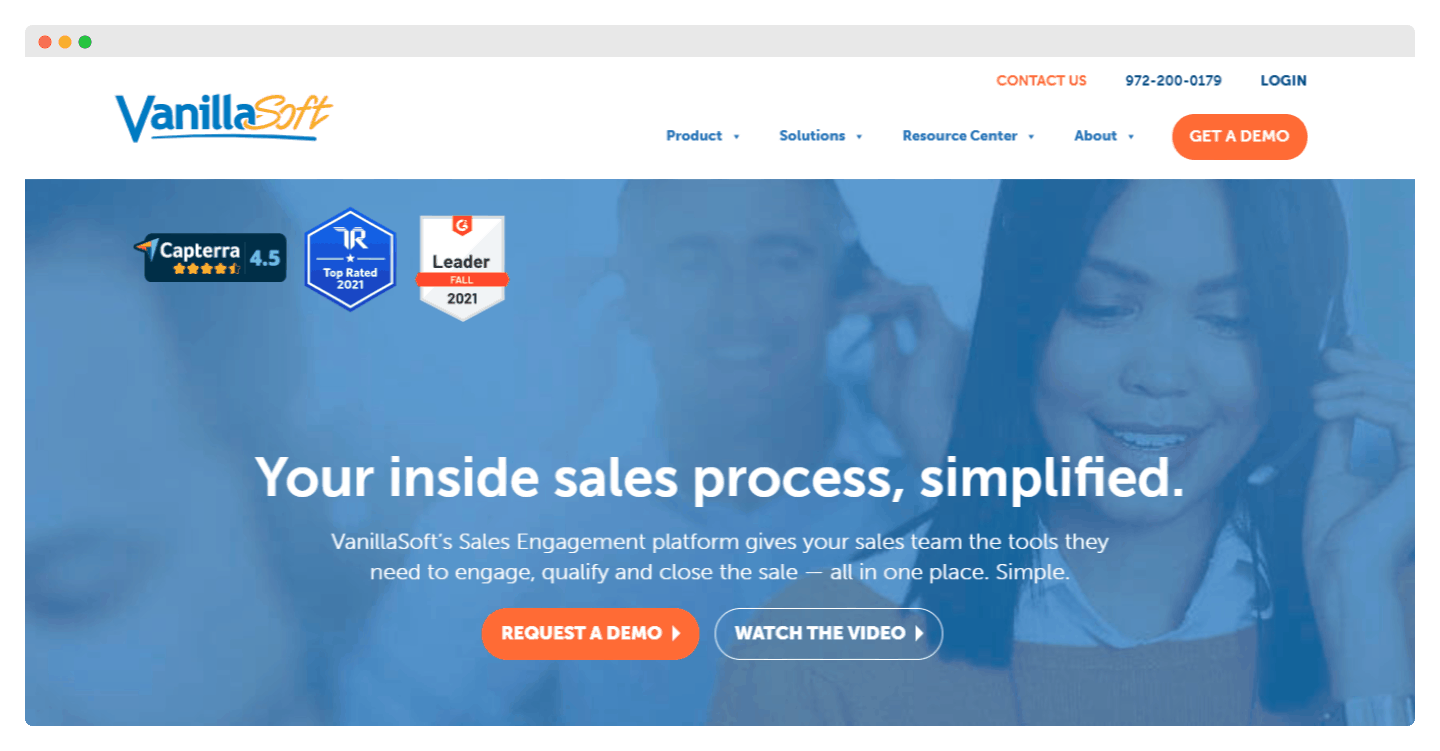 VanillaSoft offers a prospecting platform that is more expensive than those of its competitors but whose many features make it extremely complete.
Highlights
A really ergonomic all-in-one tool to increase the effectiveness of your campaigns.
Rich features: automatic dialling, call recording, SMS and email marketing, creation of a queue of prospects to call, voicemail deposit, creation of a call script and automation of the sales cycle.
Weaknesses :
The initial offer which is only used for lead management, i.e. setting appointments, routing based on queues, and getting information from the lead dashboard.
The price is quite high and therefore does not include the following features: automatic dialling, recording, VoIP and Smart Caller ID.
Price :
Starting offer: at $80/month, it includes the basic platform.
Features to be added at extra cost, ranging from $2/month (Smart Caller ID) to $30/month (Automatic dialling, recording, VoIP, etc.)
Try VanillaSoft for free
VanillaSoft offers a free trial with access to all features to give you a good idea of the possibilities of the tool.
#6 Klenty: Multi-channel prospecting tool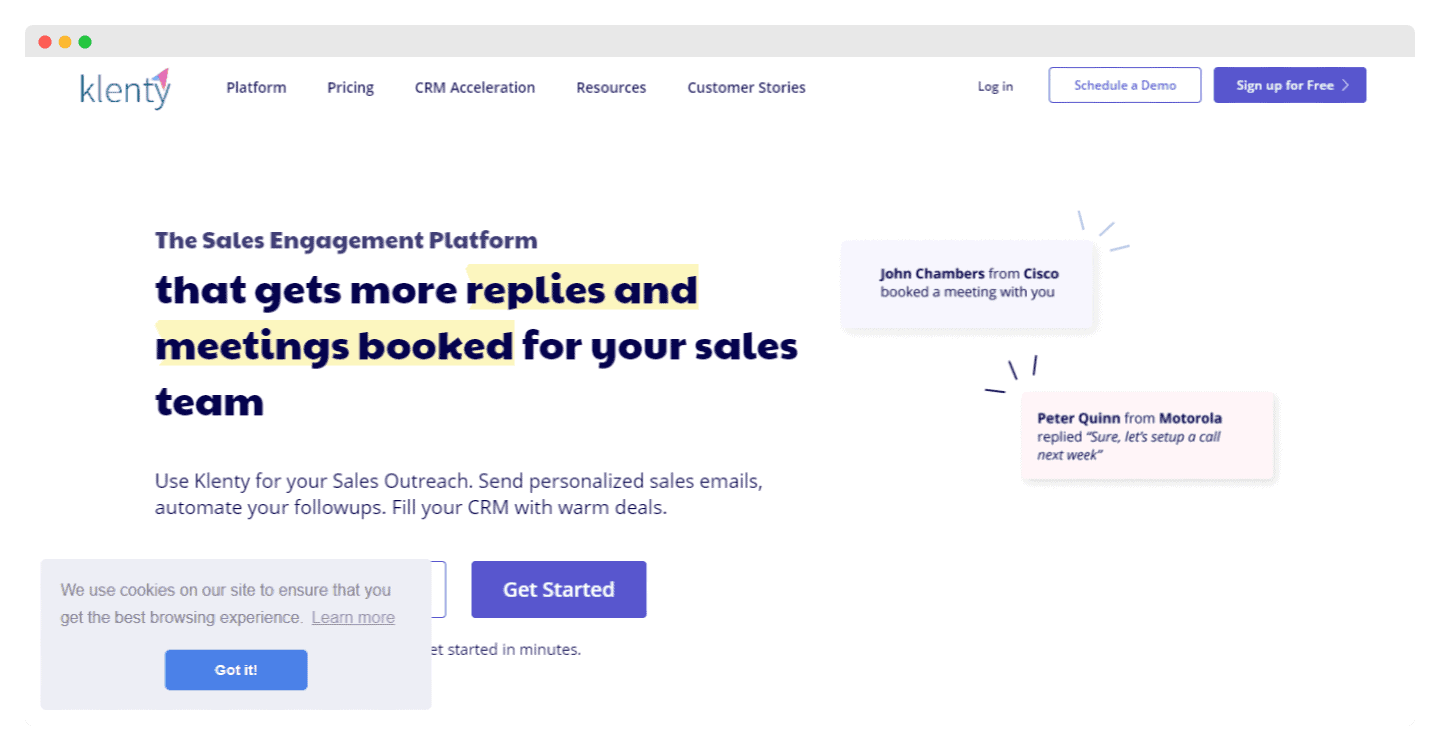 Klenty offers a multi-channel prospecting platform for B2B companies with a wide range of features.
Highlights
Multi-functional solution: send personalised emails, schedule follow-ups, track open, click and response rates, call from the prospect's country to build credibility with VoIP
LinkedInPlugin
Integration with the most widely used CRM software.
Weaknesses :
Limited starter pack, especially without a phoning tool
Price :
Start-up: Klenty's $35/month starting offer, limited to basic features
Growth: from $60/month, allows integration with CRM tools and multi-channel prospecting
Enterprise: Klenty's advanced solution at $100/month, enriched with various reports on your phoning activity.
Try Klenty for free
Klenty offers a free trial with access to all features to get a good idea of the possibilities of the tool.
#7 RingCentral: from multi-channel to call centre software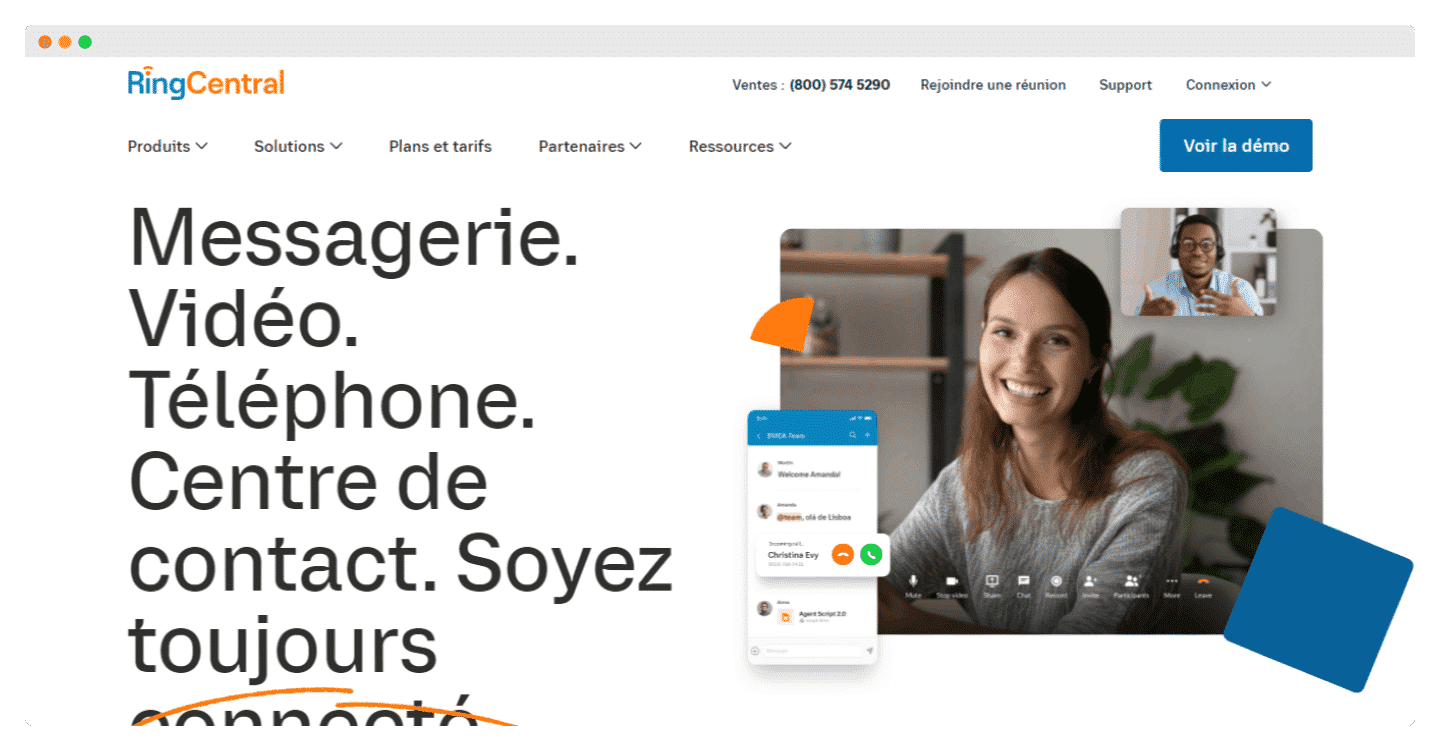 RingCentral is a cloud solution specialising in remote collaboration tools for businesses. They have been in the market for a long time and offer three products: one for messaging, calling and video; one for video conferencing and team messaging; and a multi-channel and fairly comprehensive application for prospecting, "Engage Voice".
Highlights
A wealth of features that make it a top-of-the-range software package, including support for deleting your outbound call list to protect your business from potential consumer data protection class actions.
Software compatibility with mobiles.
Variety of the offer, which is adapted to the needs and size of your company.
Integration of "Engage Voice" with your CRM.
Weaknesses :
The outbound prospecting tool is not part of the basic package.
Prices available only on request.
Price :
N.A.
Try Ringcentral for free
Ringcentral offers a free trial with access to all features to give you a good idea of the tool's possibilities.
#8 ringDNA: the software to analyse your cold calls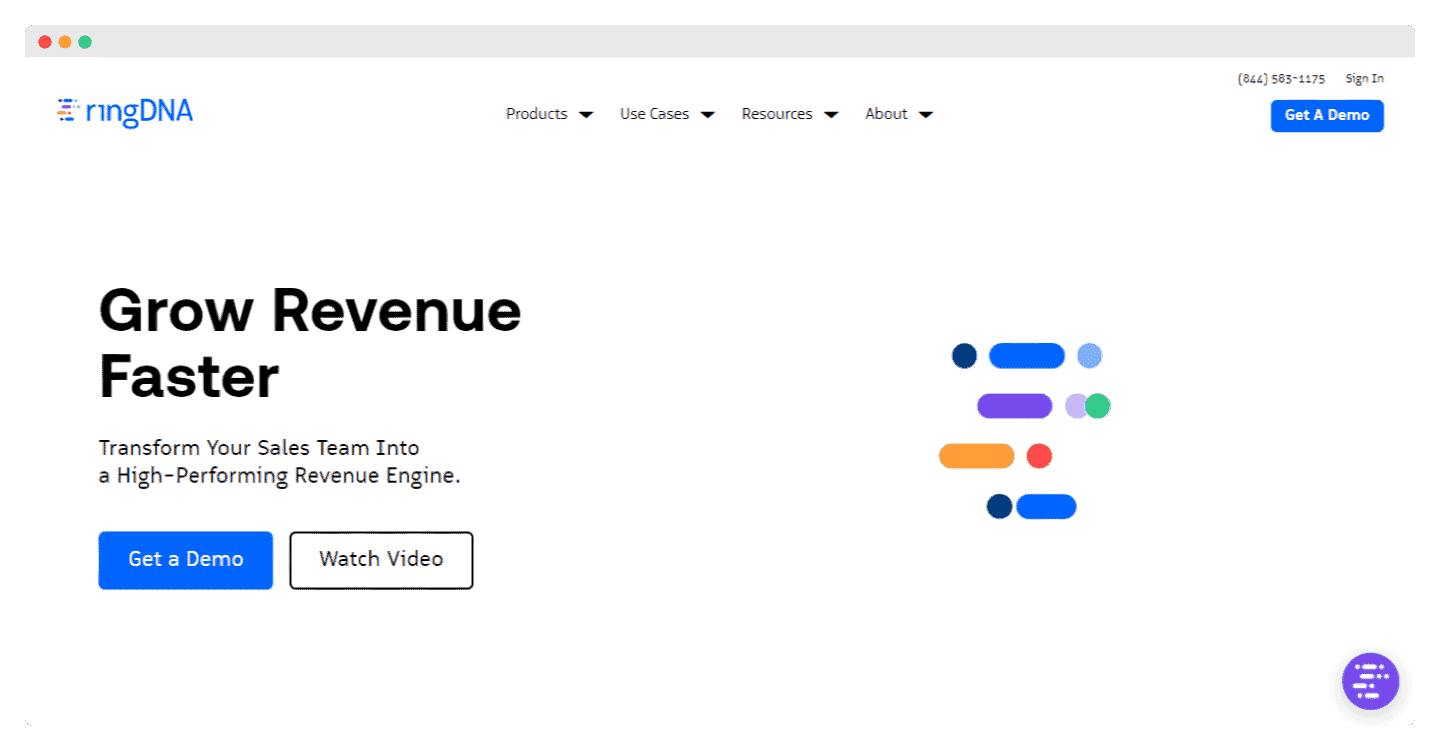 RingDNA is positioned as a cold calling software that boosts productivity by guiding salespeople on how to get the most out of their calling process.
Highlights
From AI to the follow-up of your calls, RingDNA offers all the necessary features for effective prospecting.
A guide to help salespeople make the most of their canvassing.
Integration with CRM software
Weaknesses :
Again, prices available on request only.
Price :
N.A.
Try ringDNA for free
ringDNA offers a free trial with access to all features to give you a good idea of the possibilities of the tool.
#9 Gong.io: the trendy new kid on the block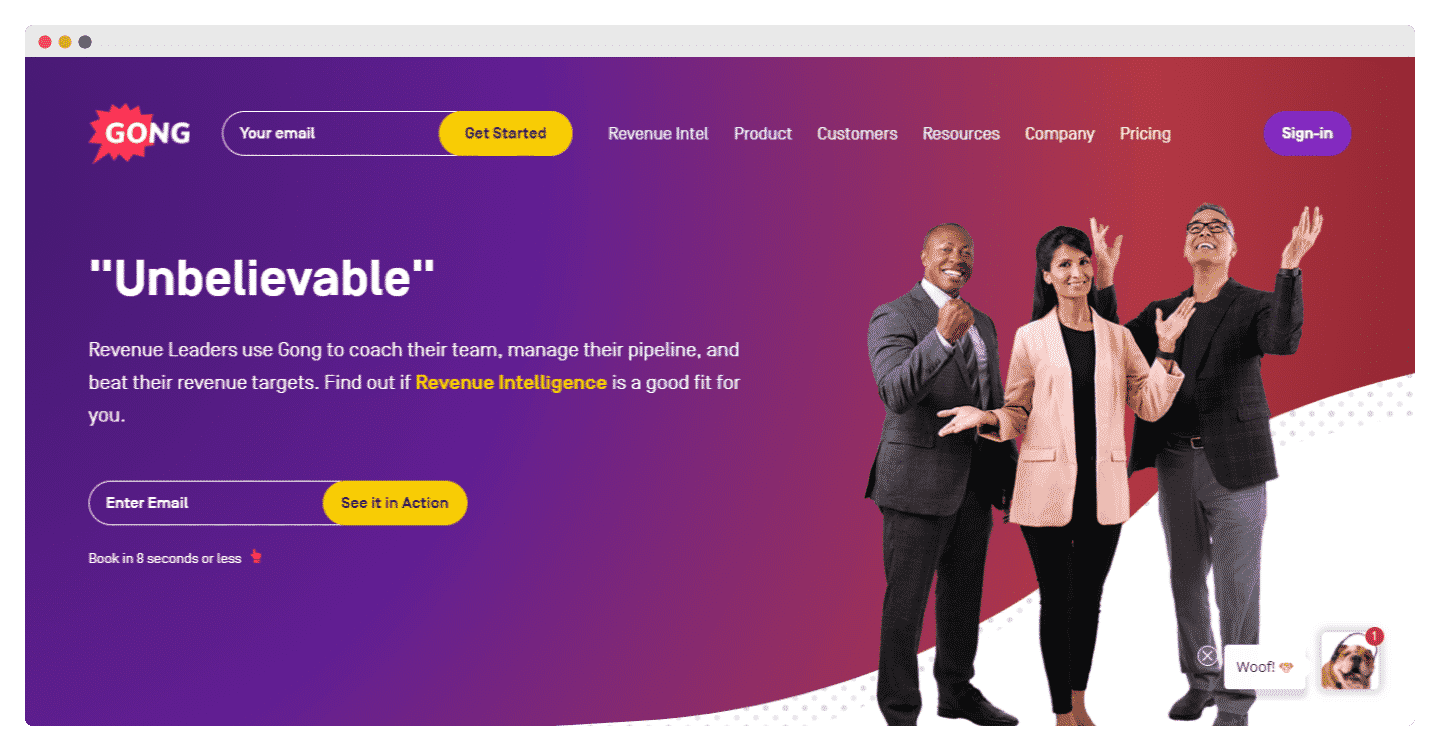 Gong.io is a very new but very successful prospecting software, with some of the highest customer satisfaction ratings
Highlights
Extremely comprehensive all-in-one platform.
The conversational intelligence tool, which records all calls and suggests ways to improve.
More than complimentary opinion.
Weaknesses :
Price only available on request
Price :
N.A.
Try Gong for free
Gong offers a free trial with access to all features to give you a good idea of the possibilities of the tool.
#10 Wingman: conversational intelligence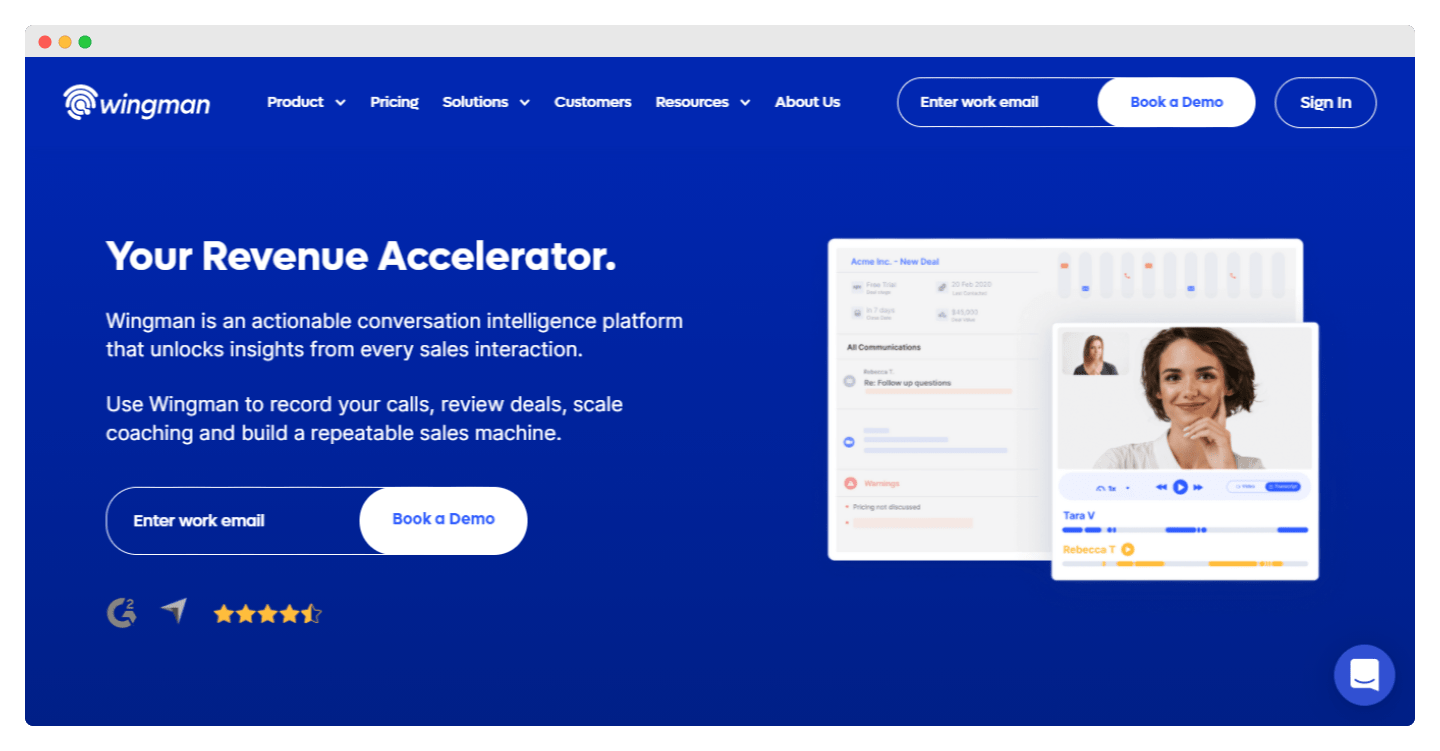 Wingman is conversational intelligence software for sales managers and sales reps to review calls, train and improve their sales methods. It highlights what works and what doesn't in your phone calls and helps you achieve your sales goals.
Highlights
AI assistance in studying and monitoring your business.
Tailor-made coaching and a guide at every stage of the call to help salespeople.
Weaknesses :
Price :
Pro: Wingman's starting offer of $500/year.
Business: the advanced solution at $750/year, which mainly includes coaching for its installation as well as an easier-to-use interface for sales staff.
Try Wingman for free
Wingman offers a free trial with access to all the features to give you a good idea of the tool's possibilities.