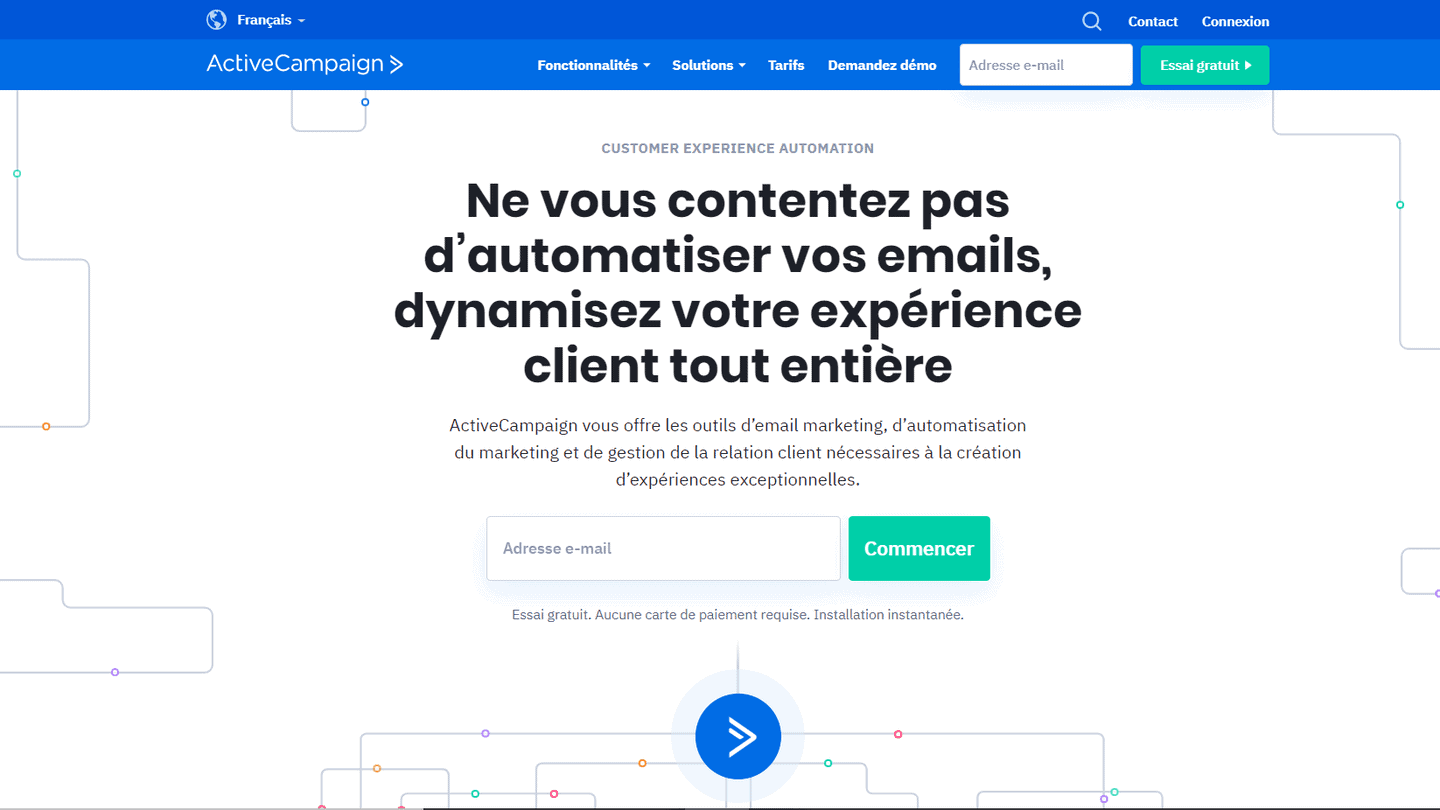 ActiveCampaign is a pretty amazing tool for all your marketing automation needs. It's not only the best in-house database, but it's also one of the only software packages to offer an integrated sales CRM, which allows your sales teams to be ultra-responsive.
We also recommend this tool, whose starting plan costs 9 euros per month.
It is a particularly interesting tool for SMEs that are not yet equipped with CRM software and are looking to structure their sales processes.
Our review of ActiveCampaign in brief
Criterion
Note Salesdorado
Comment
Overall score
One of the most complete tools on the market, with offers starting at $9 per month.
Functional scope
Activecampaign offers a wide range of features, with almost infinite possibilities for customisation.
Reporting
Numerous reports are available, and they are largely customisable to your needs. The only drawback is that they are not always easy to read.
Accompaniment/Support
It is unfortunate that their telephone support is only available for the Enterprise plan, but this is common to most tools.
Integrations
Activecampaign is one of the most integrated programs.
Value for money
Great value for money, as the starting plan is $9 per month.
However, we summarise the advantages and disadvantages of Activecampaign at a glance:
Benefits
The best in-house contact database – includes list and subscriber management, contact profiles, task tracking, task automation, lead scoring, and interaction history.
Among the best marketing automation software, a very complete solution starting at $9 per month
ActiveCampaign's integrated sales CRM connects to all your email marketing data, allowing sales teams to act quickly. Features such as lead scoring and social data can also help streamline your sales tracking processes.
Disadvantages
If you only want to set up basic email sequences (e.g. a welcome campaign), we recommend cheaper options like Sendinblue which is much easier to use. Otherwise, you'll be paying for a ton of extras (and complexity) that you simply won't need.
It lacks some key features – ActiveCampaign has no function to build a survey, and it does not support transactional emails – which may be a problem for some!
The chat function is an extension and is not included in the standard plan.
Try ActiveCampaign for free
ActiveCampaign offers a 14-day free trial with access to all features to give you a good idea of the tool's capabilities.
ActiveCampaign's functional scope
Email marketing & lead capture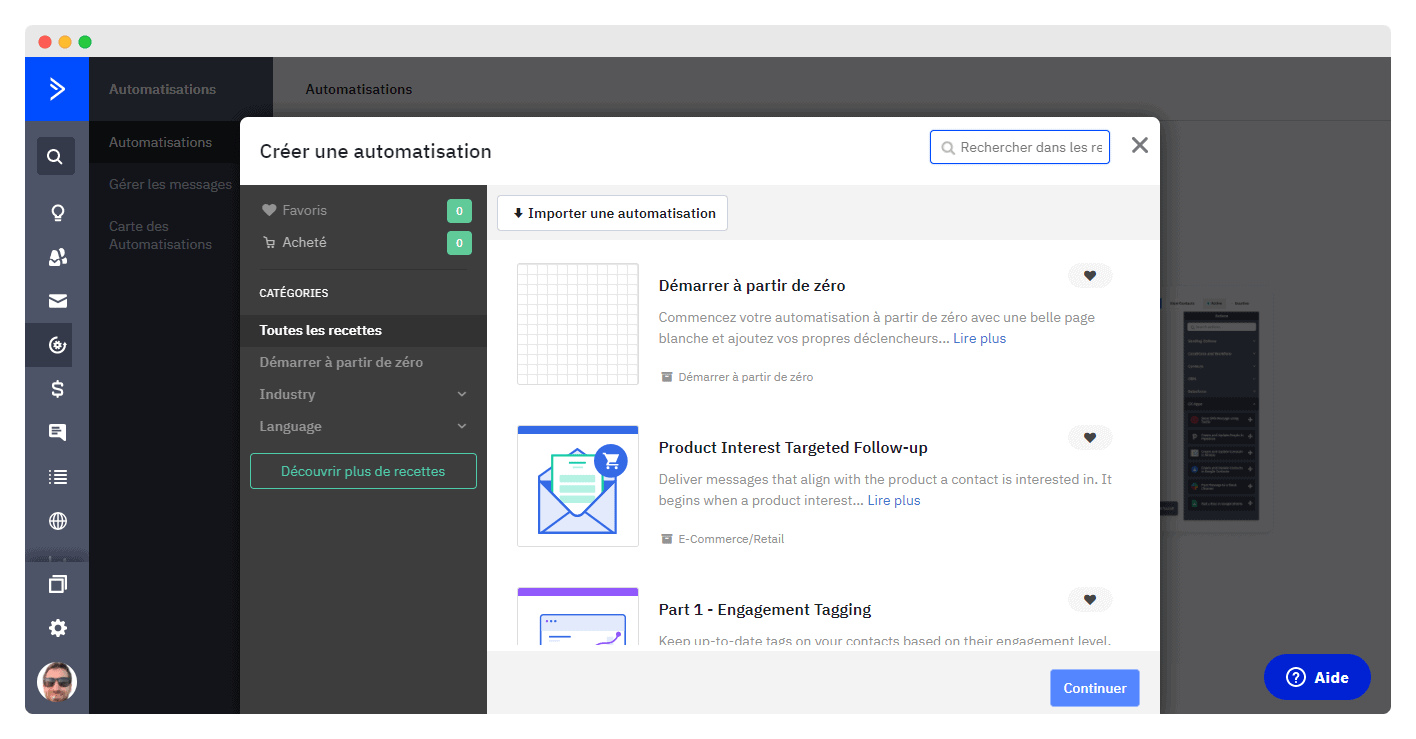 Activecampaign is a very comprehensive tool that allows you to automate all your marketing processes. One of the first things you can do is to create automations, i.e. to send emails automatically when a prospect performs an action you have defined (e.g. the prospect has clicked on your site).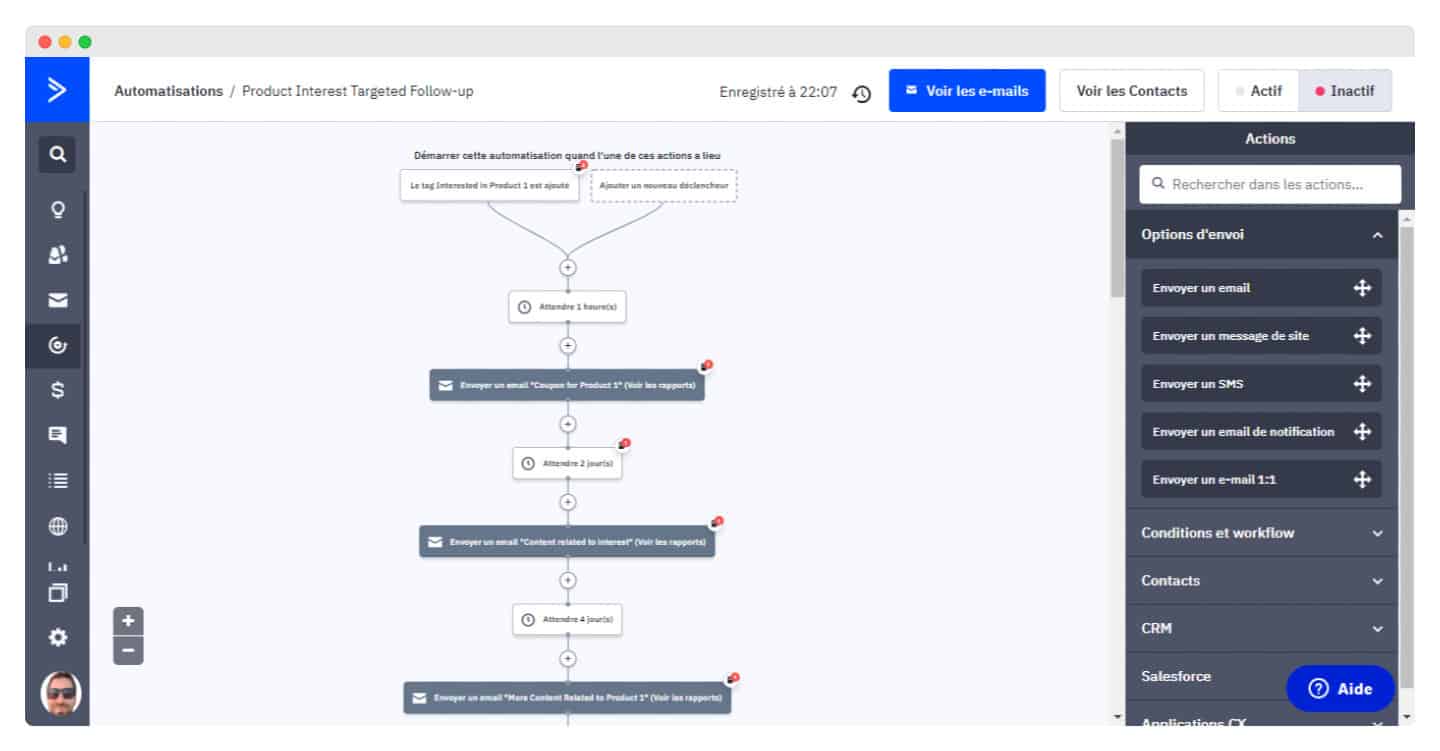 You can create automation chains: you can choose to send an email after X number of days to a certain prospect, etc. The possibilities for customisation are almost infinite.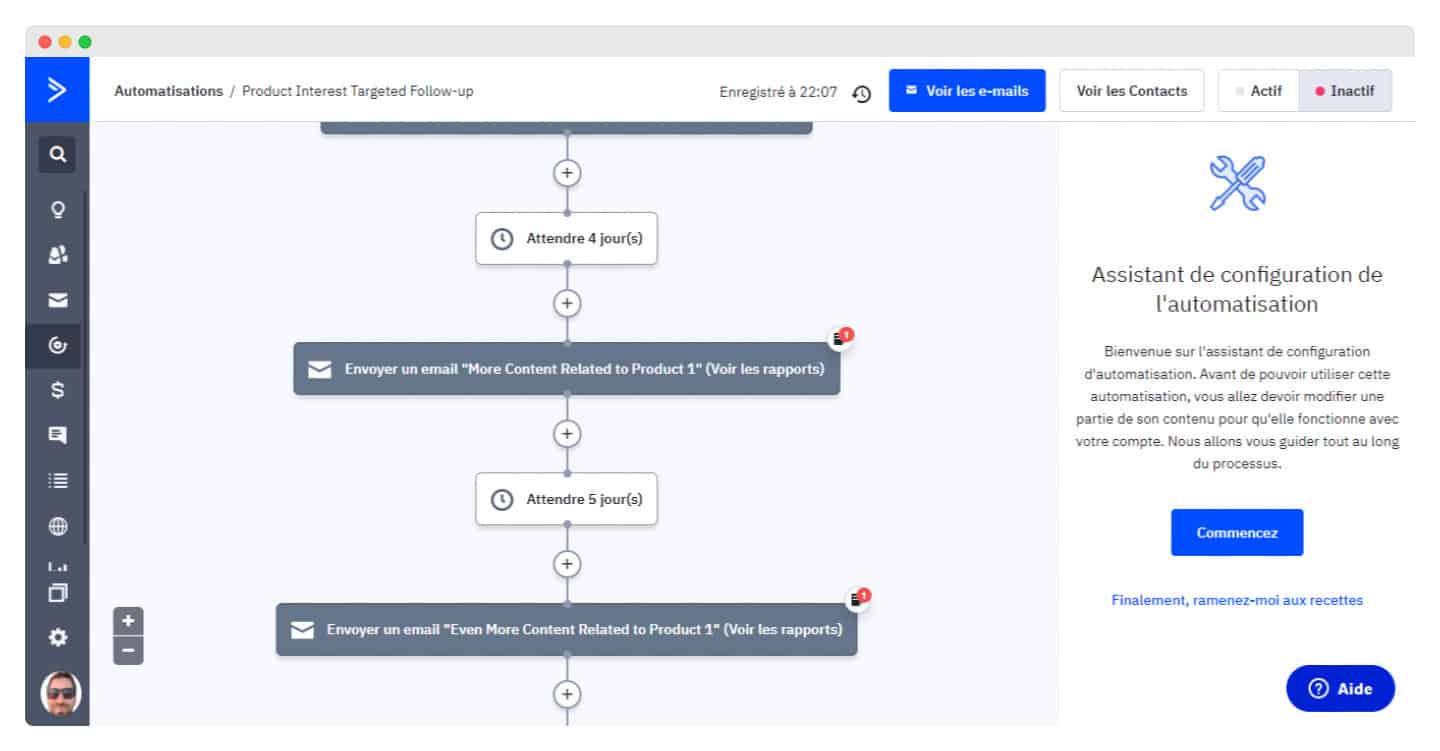 All this with Activecampaign support to help you get to grips with the tool so you can benefit from all its options.
The email creation tool is fast and has some useful features, such as the ability to save custom 'blocks' for reuse, or to see changes made by others, a la Google Docs (the downside is that the document is constantly changing, and it can be difficult to find the last action to undo).
Among the few drawbacks, note that it is sometimes difficult to create columns (except in the case of products with the new product block). Surprisingly, there is no quick way to preview your newsletter – you have to go into the email settings.
In terms of customisation, an easy-to-use If/Then/Else function is available via "conditional content" which allows you to show certain customers different content depending on certain conditions such as interests, links clicked in the past, etc.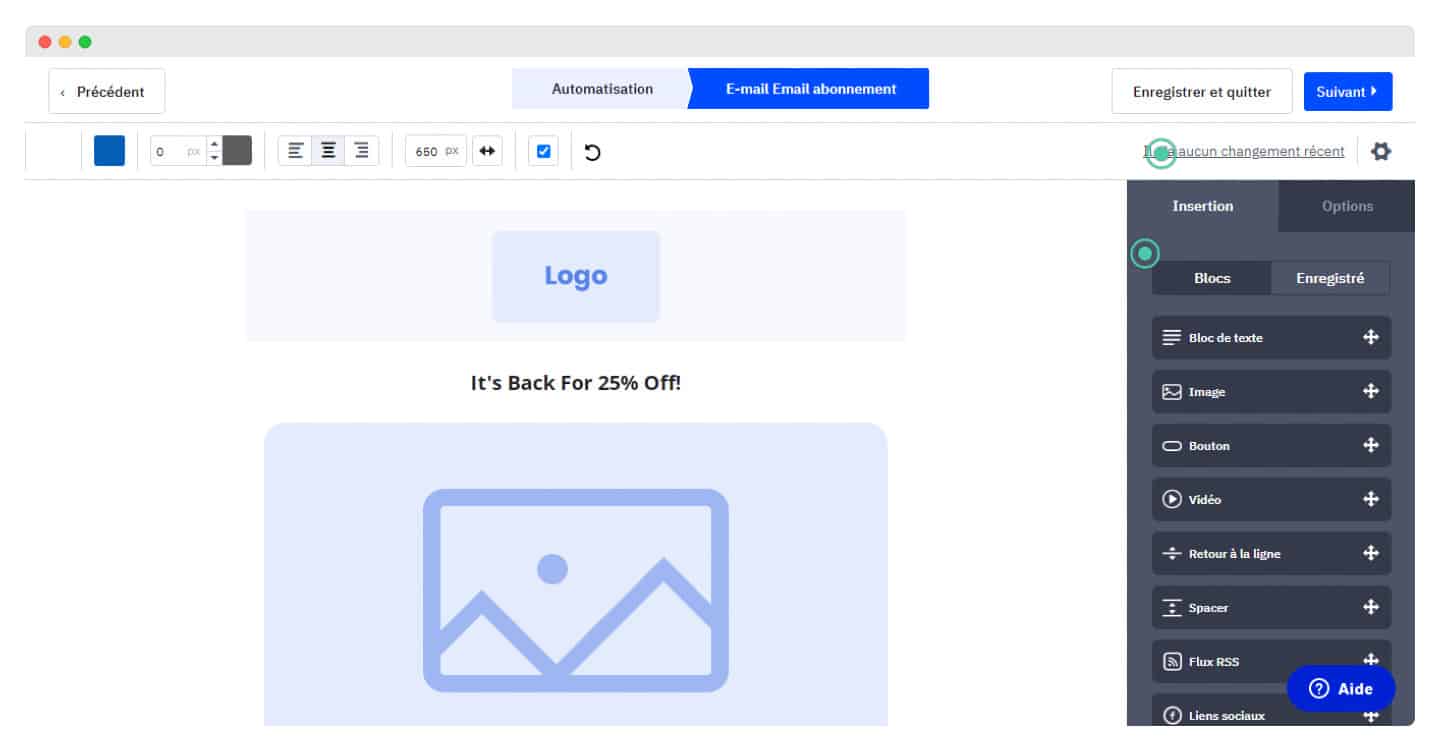 As types of email, you can send classic newsletters, SMS, autoresponders, A/B testing, RSS triggering, advanced automation. ActiveCampaign does not have a dedicated transactional email server.
When it comes to registration forms and opt-in/opt-out processes, you can easily create your own custom fields. In addition to the standard forms, which are modular, you can also create custom surveys.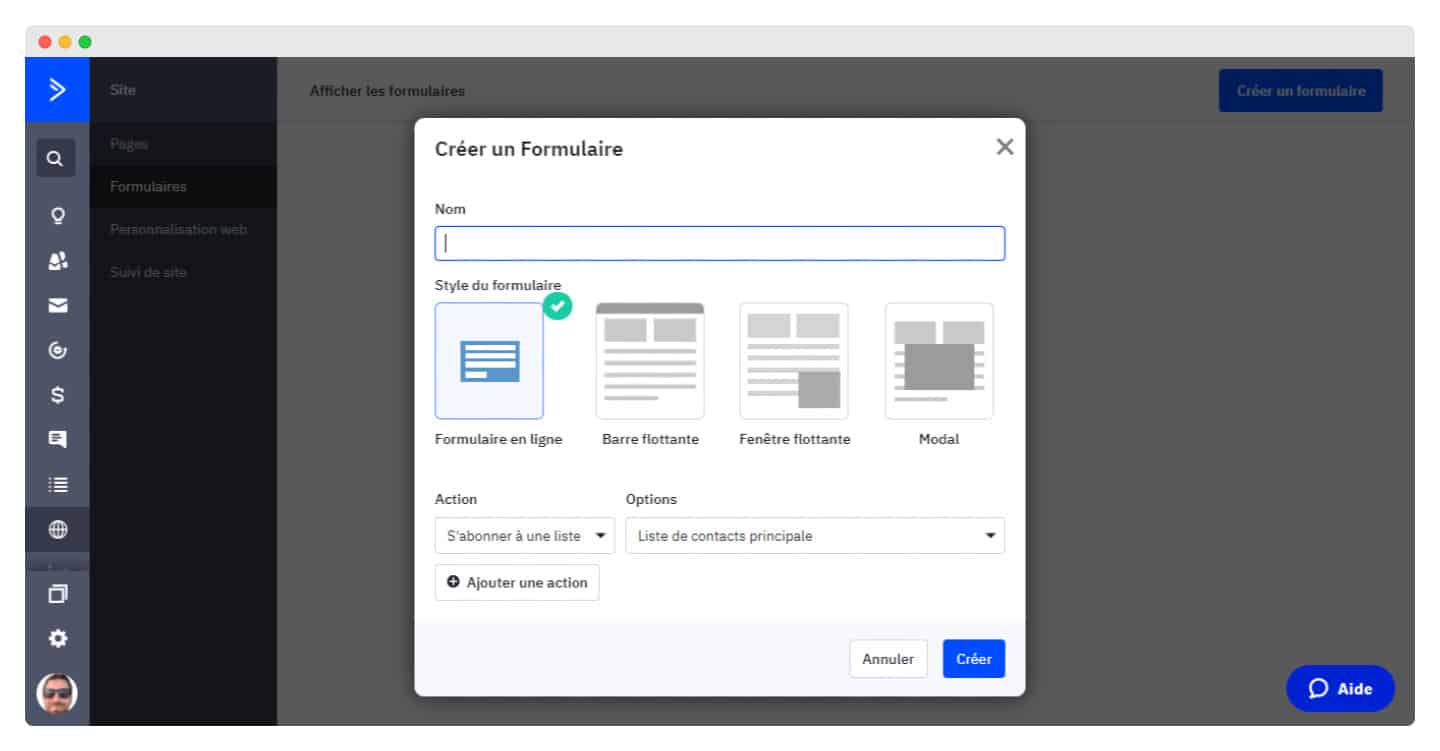 You can also create landing pages from a variety of easy to modify templates. They are hosted on a custom domain or sub-domain. The professional plan allows you to create custom web experiences by hiding or removing certain elements.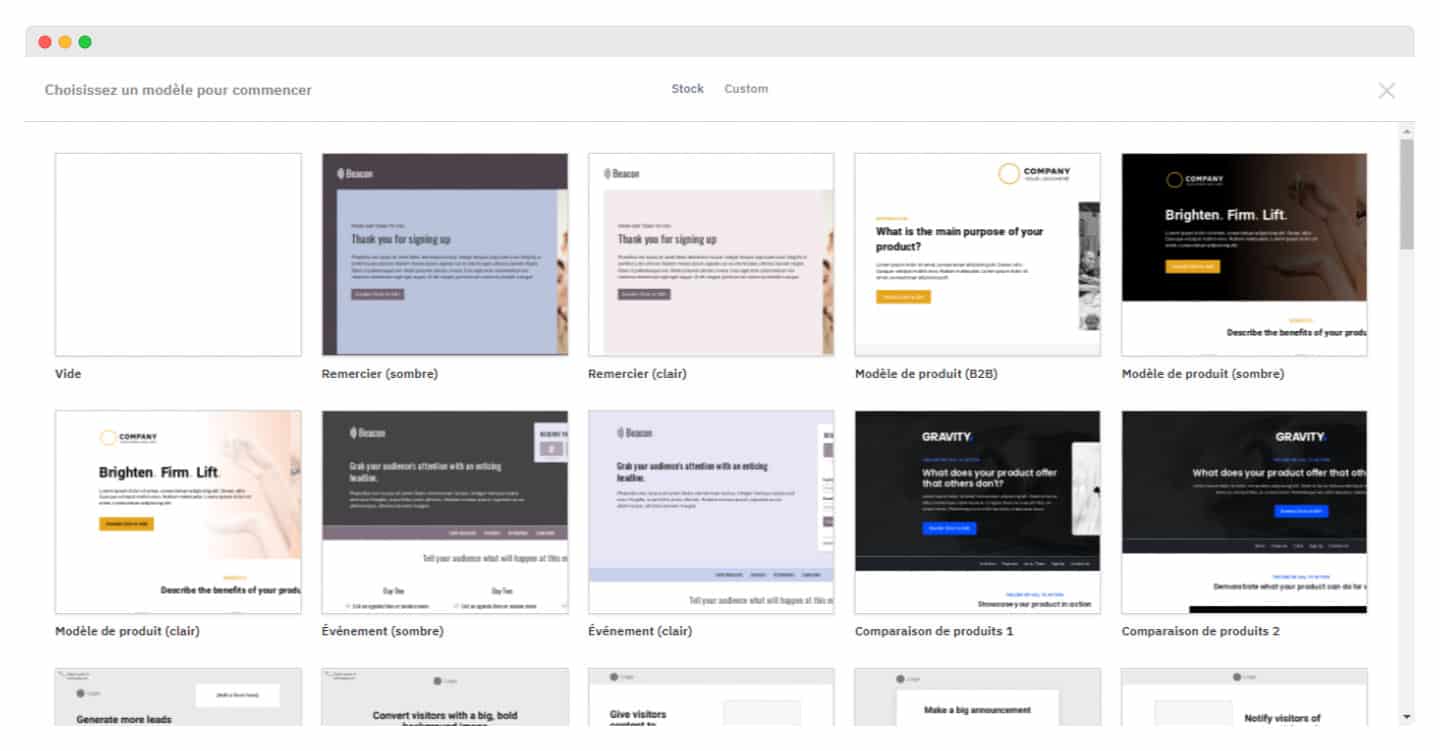 You can also add special buttons, for example to call a phone number, download a file or send an e-mail.
Try ActiveCampaign for free
ActiveCampaign offers a 14-day free trial with access to all features to give you a good idea of the tool's capabilities.
Lead management and segmentation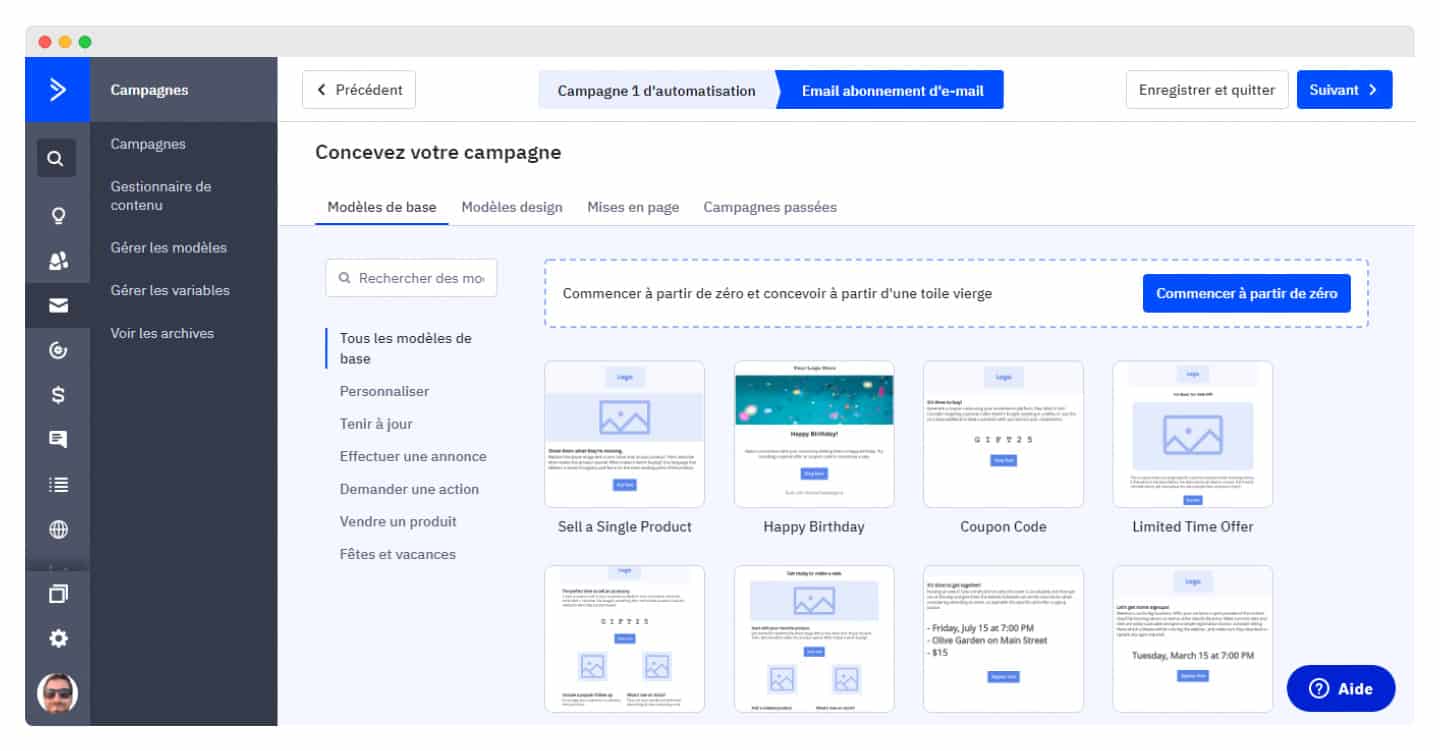 You can then create marketing campaigns according to pre-defined templates on Activecampaign or start from scratch. But the strength of Activecampaign is that it offers ultra-fine segmentation, which allows you to reduce the cost of your campaigns by reducing the volume of mailings.
The ActiveCampaign platform includes segmentation tools that you can use to create customer segments using the data that is stored in the system, allowing you to increase the relevance of your emails.
You can set the segmentation conditions on ActiveCampaign to include or exclude parts of your list: the contact's activities (number of clicks, pages visited), their personal information (their email, IP address), or their location.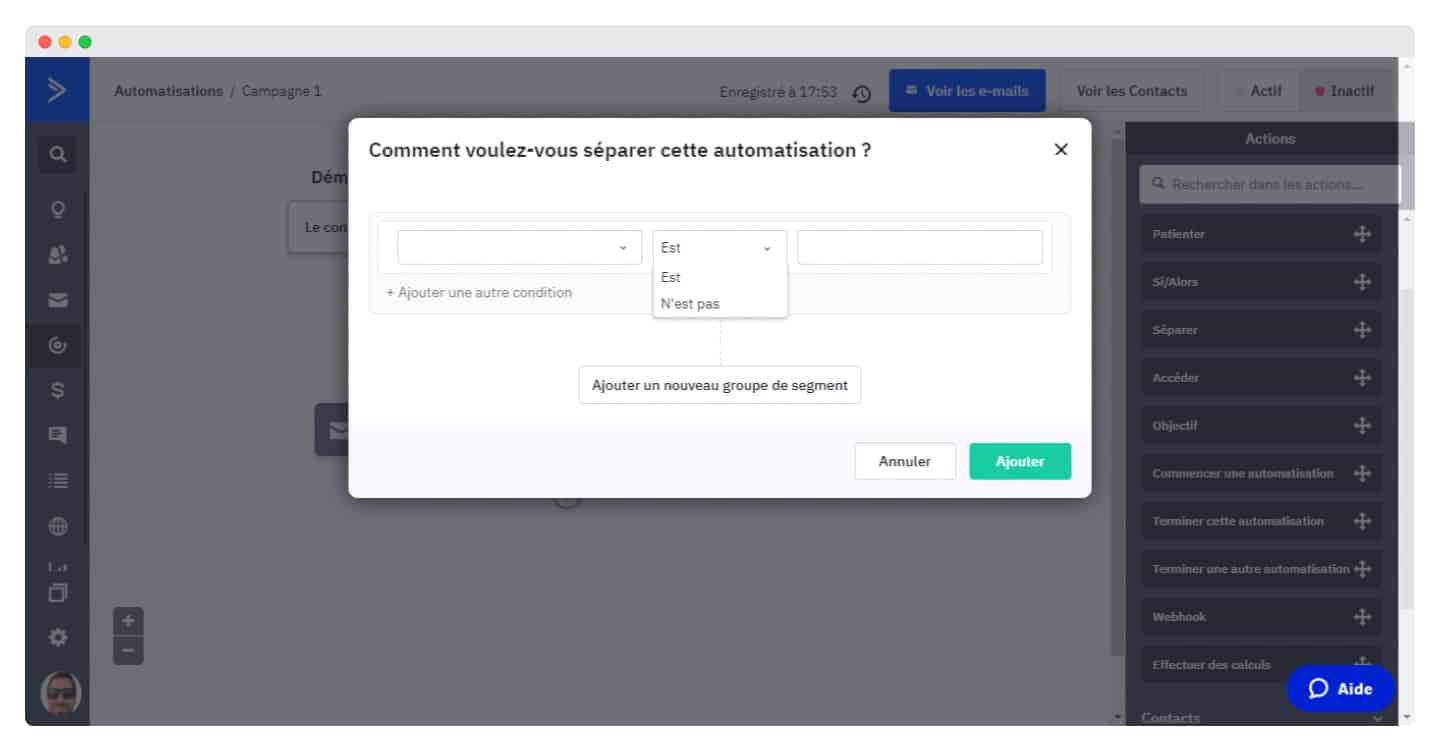 You can create complex segments in ActiveCampaign using any logic, with specific operators such as contains or does not contain, less than or equal to, is before or after, etc.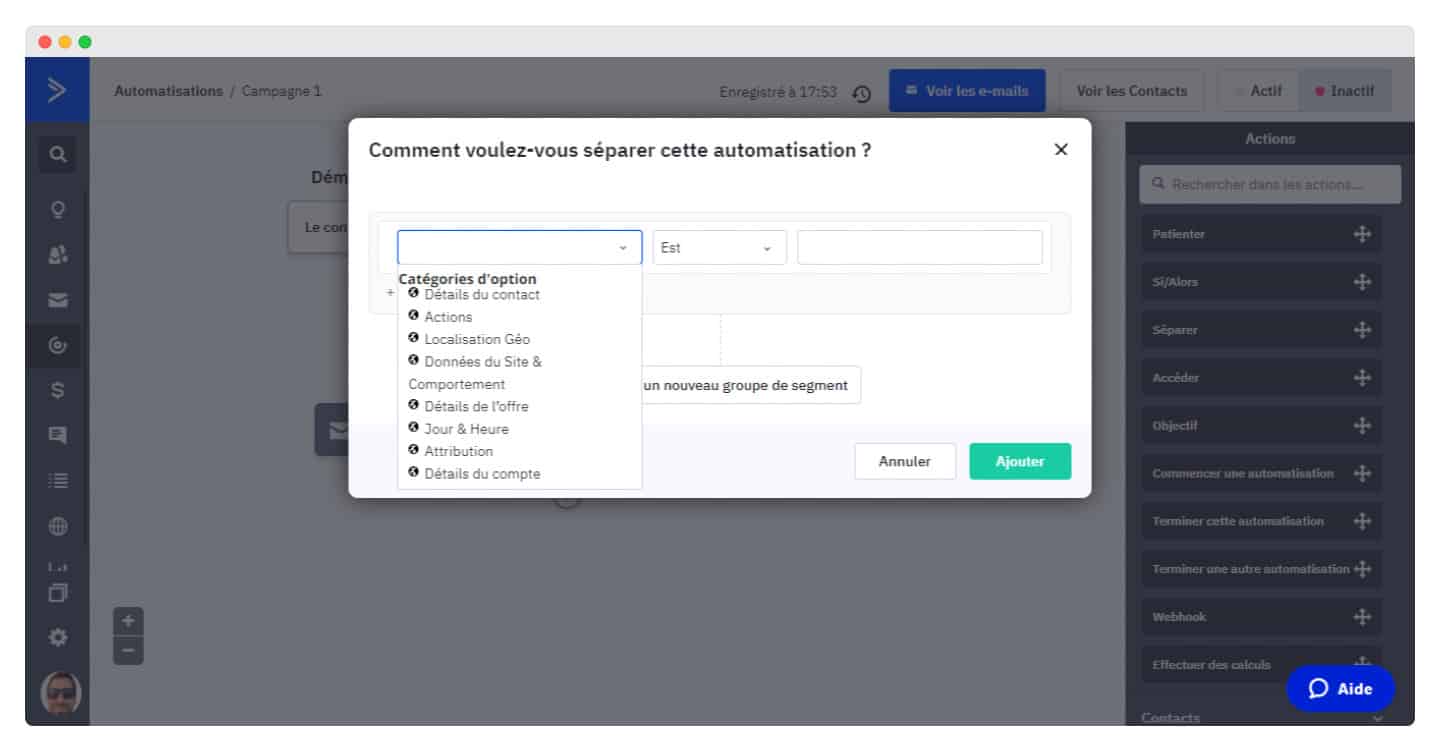 ActiveCampaign allows you to create a virtually unlimited amount of segments. However, there are some limitations:
Up to 20 conditions per segment
Up to 5 "Action" conditions per segment.
Up to 3 conditions that use the "Contains" operator per segment.
In addition, ActiveCampaign includes automation features to manage leads automatically. Leads can be added, updated, moved and prioritised in your CRM automatically based on a range of criteria. For example, if a recipient clicks on a specific link in your email, they can be added as a lead.
CRM allows you to assign a score to each lead. This allows you to target the most important leads with the best chance of converting, allowing you to deploy your resources accordingly.
Scenario editor
ActiveCampaigne offers dozens of predefined scenarios that you can customise to your needs, but all with enough guidance so that you don't get lost in dozens of options like on other software.
These scenarios are activated by one of 22 triggers (contact birthday, web page opening, etc.), which you can complete and modify very easily, without having to go back and forth between theemailing and automation dashboards 10,000 times (again, this is not the case with all software).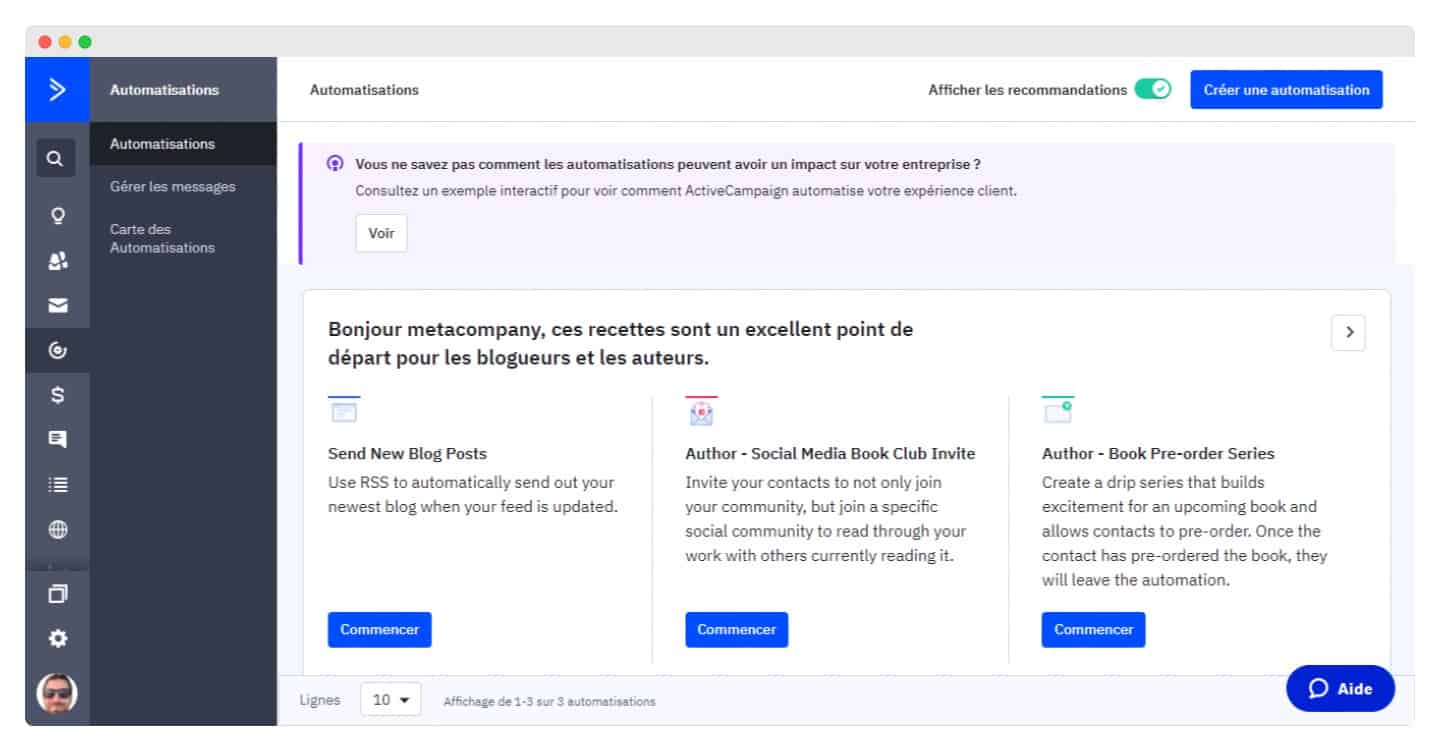 But ActiveCampaign also provides you with starting points for your automations, such as sending out new posts from your site or pre-order alerts for a book in the case of bloggers or authors. These starting points are also ActiveCampaign's recommendations on recipes that work in terms of marketing.
The tool's split action feature allows you to A/B test everything from emails, wait times, SMS vs. email, or any type of custom action you create in the tool. It also allows you to differentiate the types of offers people receive depending on when they enter your scenario!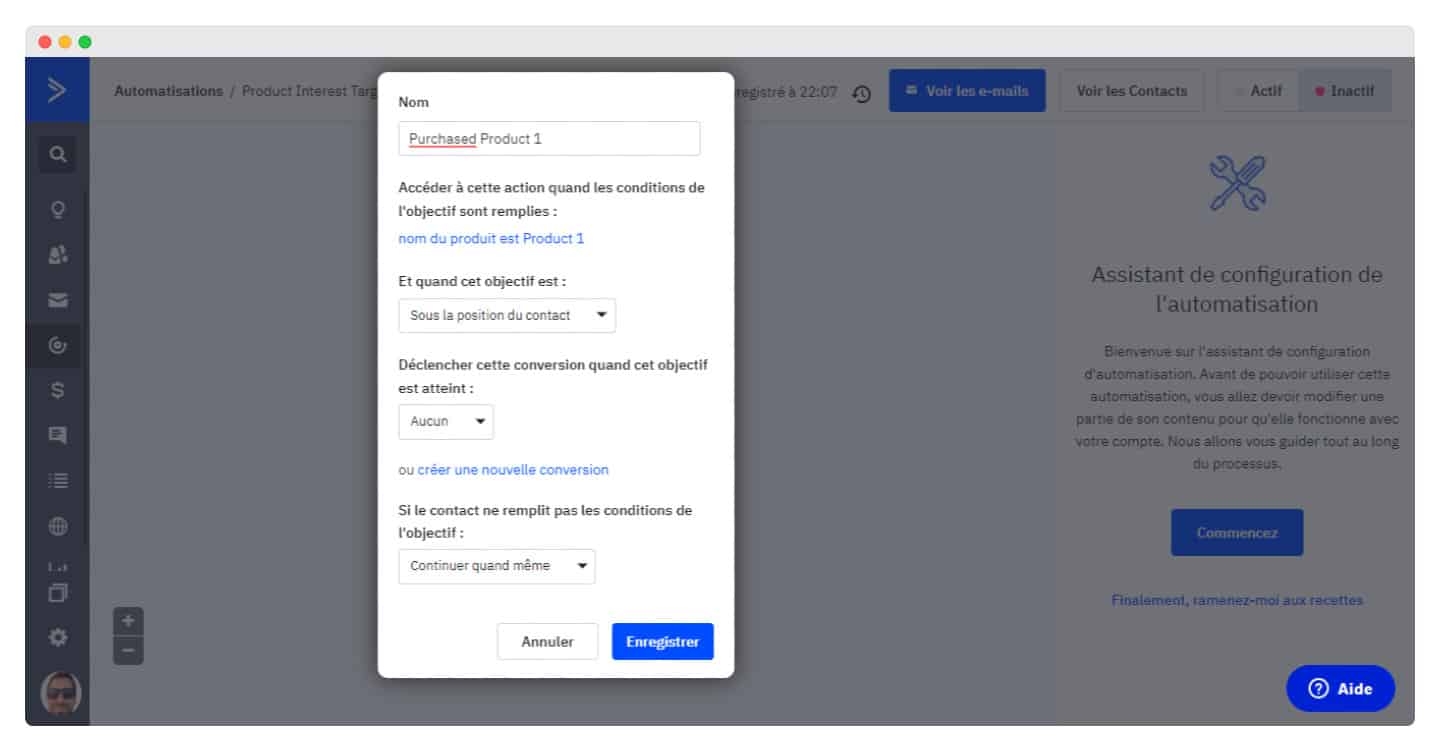 ActiveCampaign's "Goals" feature allows you to bypass certain automation steps if a contact performs an expected action: for example, if someone makes a purchase during the first step of a nurturing campaign, you can incorporate the "Goals" tag to skip the contact to the upsell or resell step.
Try ActiveCampaign for free
ActiveCampaign offers a 14-day free trial with access to all features to give you a good idea of the tool's capabilities.
Live chat & SMS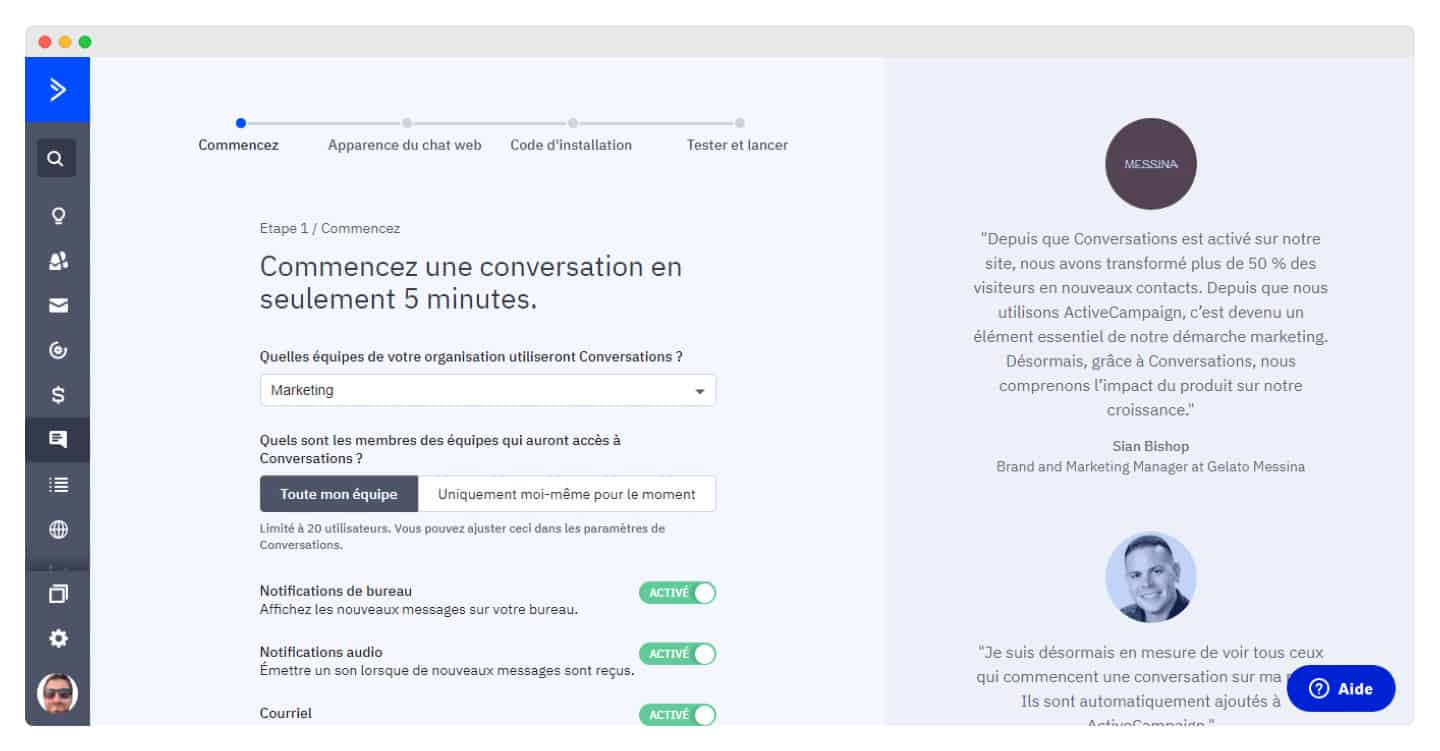 ActiveCampaign allows you to create an omnichannel messaging experience that increases conversions. The conversation tool is customisable to the teams that will use it.
Text messages and SMS: with an open rate of well over 50%, their effectiveness is proven. With ActiveCampaign, contacts can subscribe directly via SMS or from an account (if they give their phone number). It is one of the few tools that integrate SMS!
Livechat & Conversations: you can respond to messages to help customers and prospects but also send proactive messages to site visitors and deliver a CTA.
The messaging and site conversation features are separate, but not stand-alone. You can use ActiveCampaign site tracking and other targeting options to personalise messages and reach specific people based on how they have interacted with your brand.
Facebook: ActiveCampaign offers deep integration with Facebook Ads to add and remove people from custom audiences.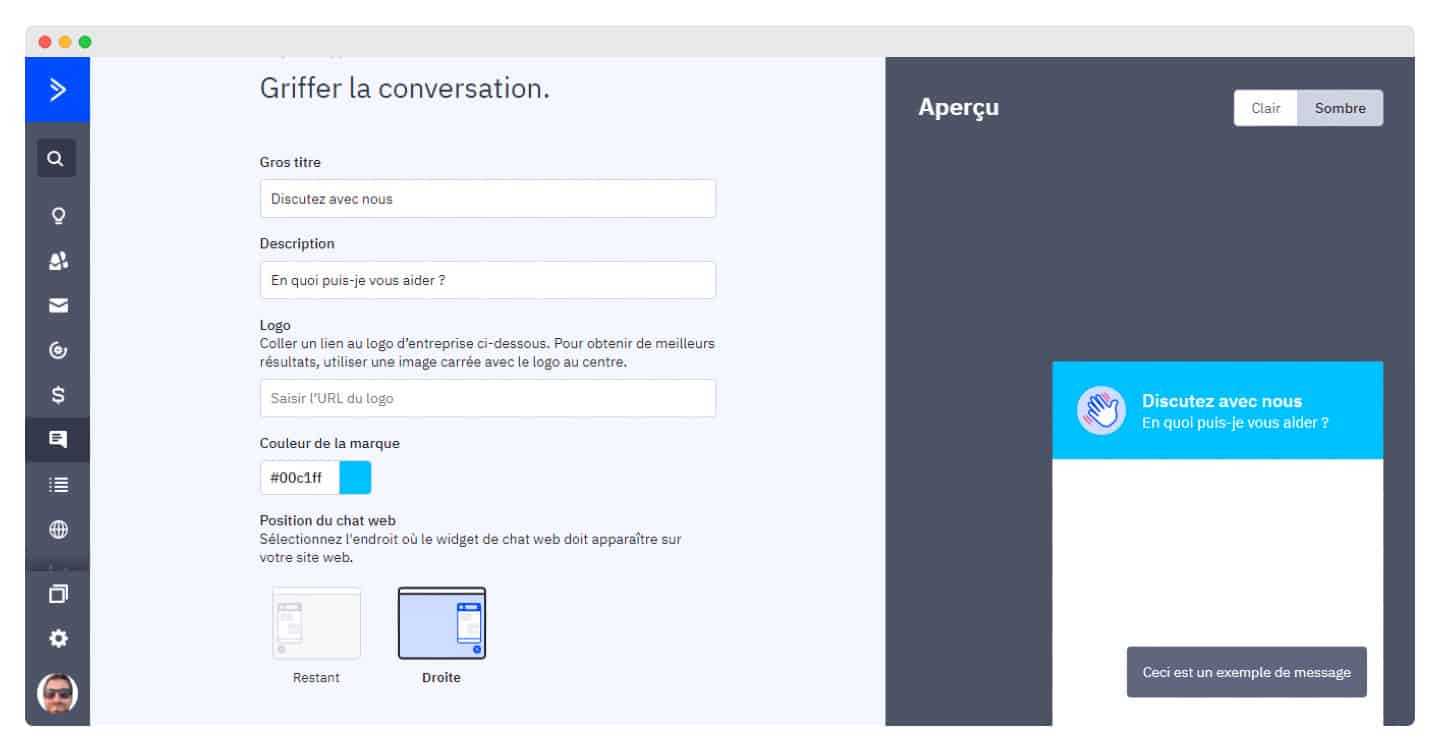 You can customise the live chat tools that are available on your site.
Finally, ActiveCampaign uses AI and machine learning: for email marketing campaigns, the software analyses each of your contacts and determines how they interact with your messages, then waits for the optimal moment to send them.
With machine learning, you can also write multiple versions of an email, send it, and ActiveCampaign then determines who is the best recipient.
Try ActiveCampaign for free
ActiveCampaign offers a 14-day free trial with access to all features to give you a good idea of the tool's capabilities.
Reporting on ActiveCampaign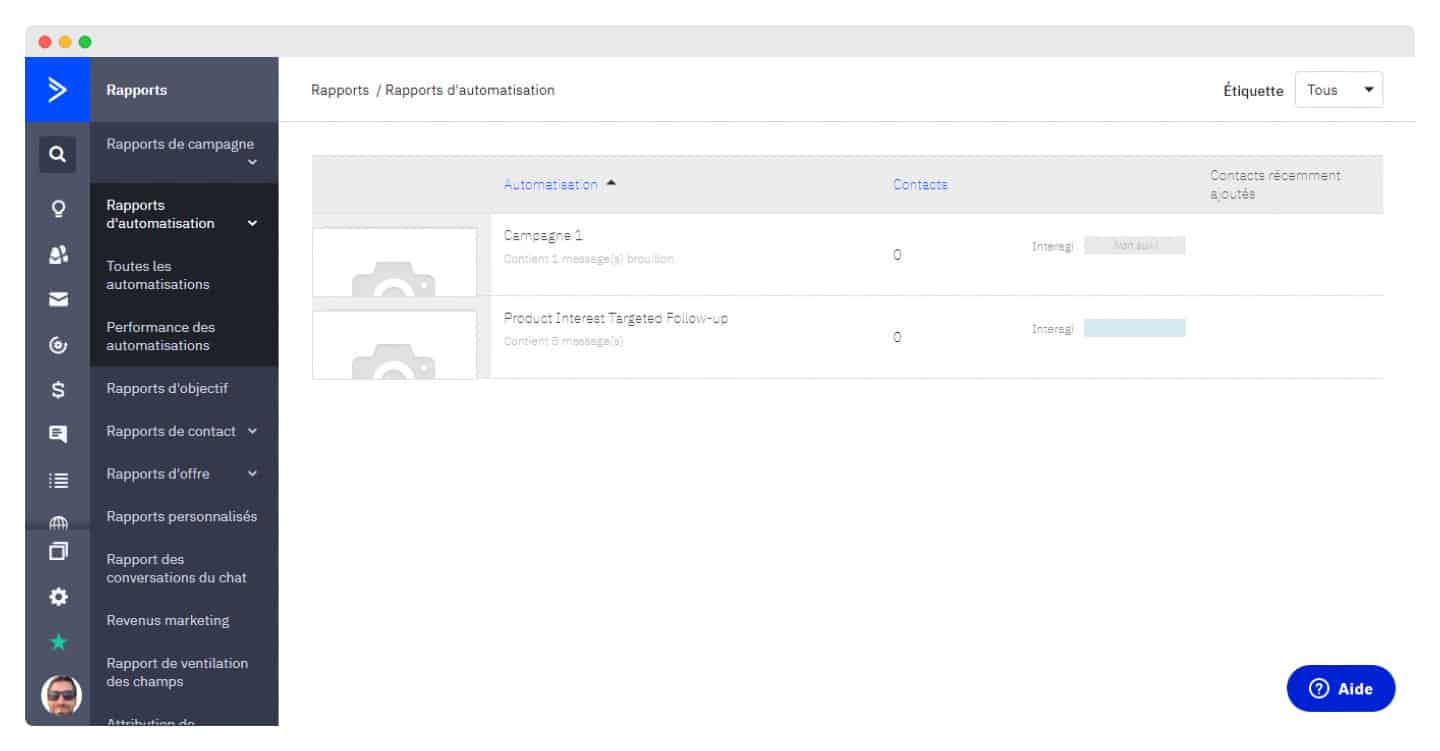 ActiveCampaign generates reports to see what's working and what's not. It analyses your numbers for Campaigns, Automations, Goals, Contacts, and Business. Unfortunately, custom reports are only available in the Enterprise plan.
All campaign reports deliver total opens and clicks. But you can drill down by selecting individual campaigns and analysing the :
Bounces
Email client
Location
Social sharing and mentions
Unsubscribe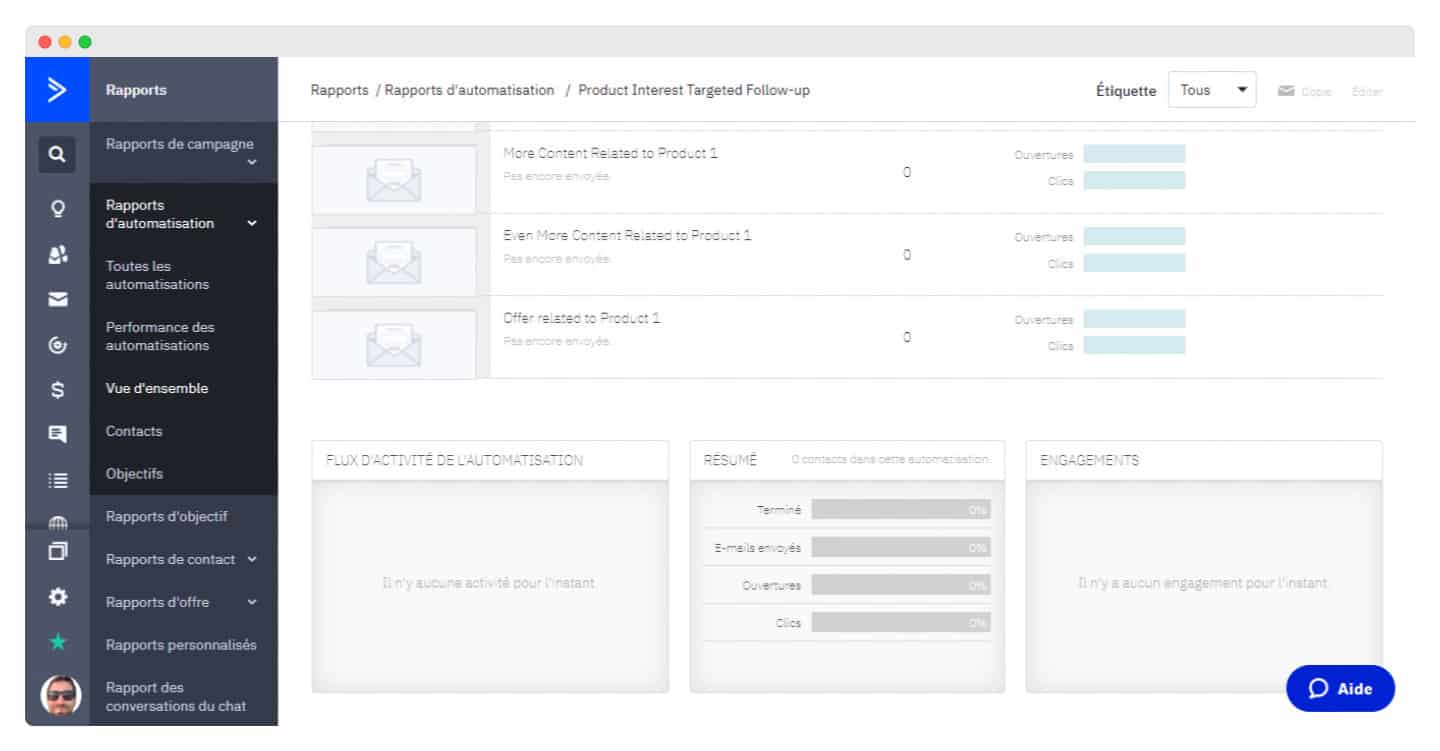 The report includes a dashboard that provides an overview of engagement, a graph of opening trends and an activity stream.
The "Recommendations for you" section suggests useful actions. For example, you can resend your campaign to subscribers who did not open your first email, or to new contacts who joined your list at a later date.
Try ActiveCampaign for free
ActiveCampaign offers a 14-day free trial with access to all features to give you a good idea of the tool's capabilities.
ActiveCampaign integrations: our opinion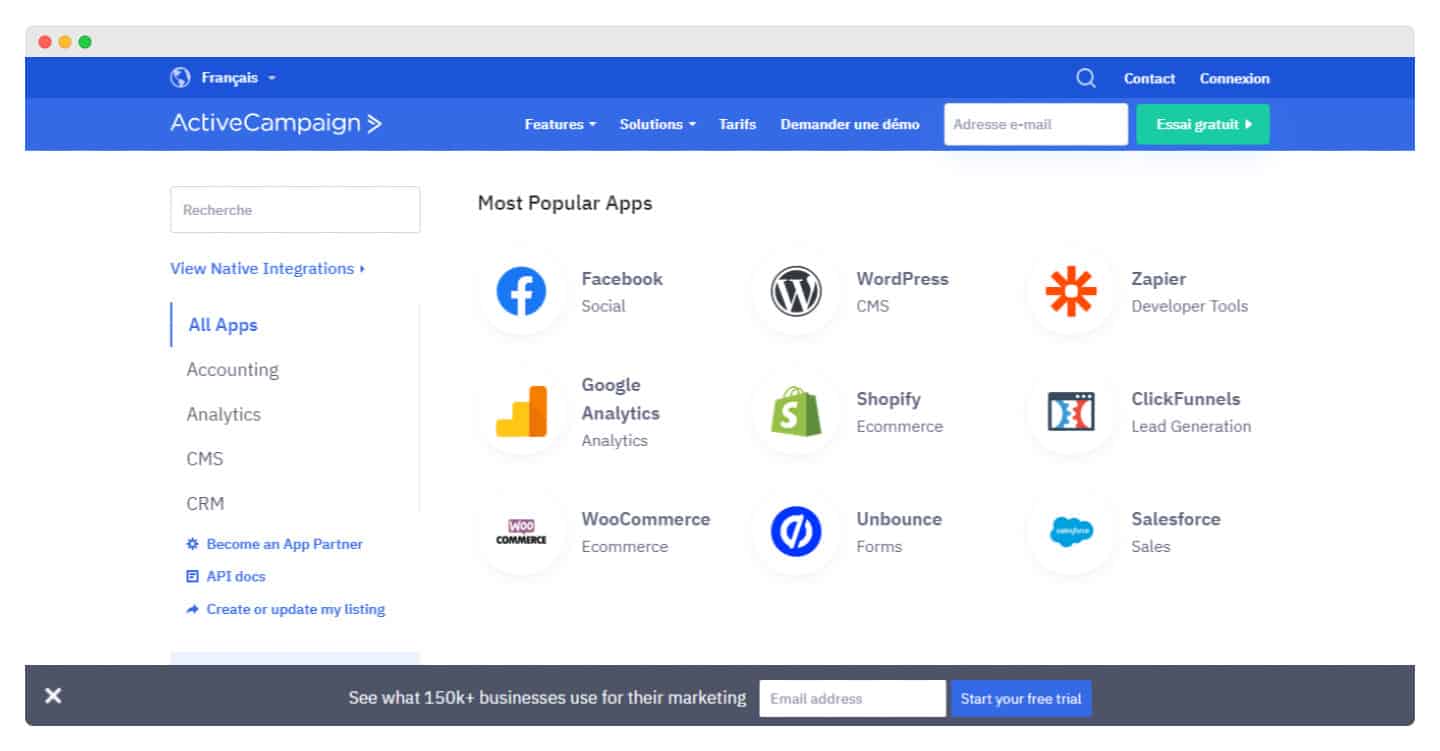 There are many ActiveCampaign integrations, especially since with Zapier or the open API you can integrate any (in-house) software.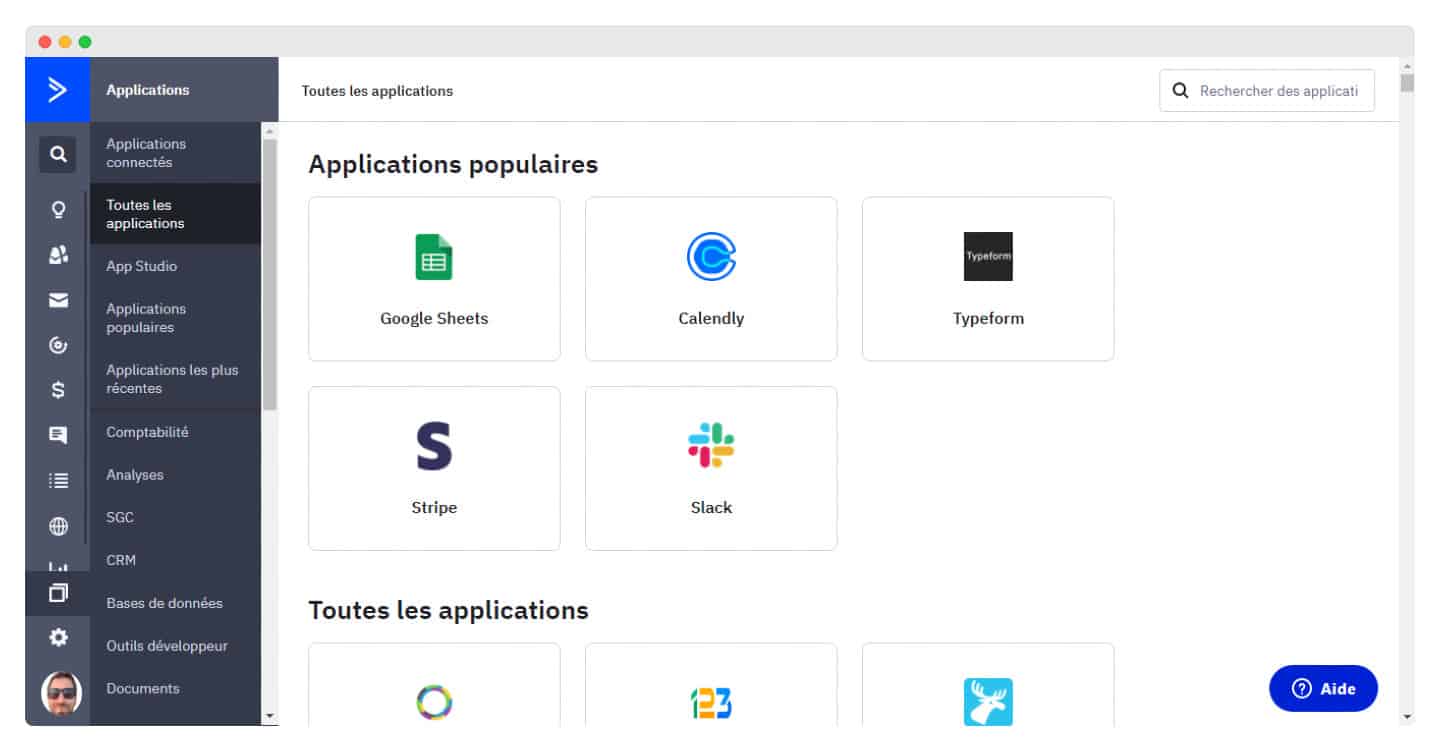 Some of the most popular integrations include:
Shopify, BigCommerce and Woocommerce: these are deep integrations that allow you to extract additional data, add additional fields to the contact record, get purchase history
BEE, email editor for ActiveCampaign
Facebook
WordPress plugin
Google analytics
Calendly
Basecamp
Customer reviews of ActiveCampaign
The main alternatives to ActiveCampaign
1. Sendinblue vs ActiveCampaign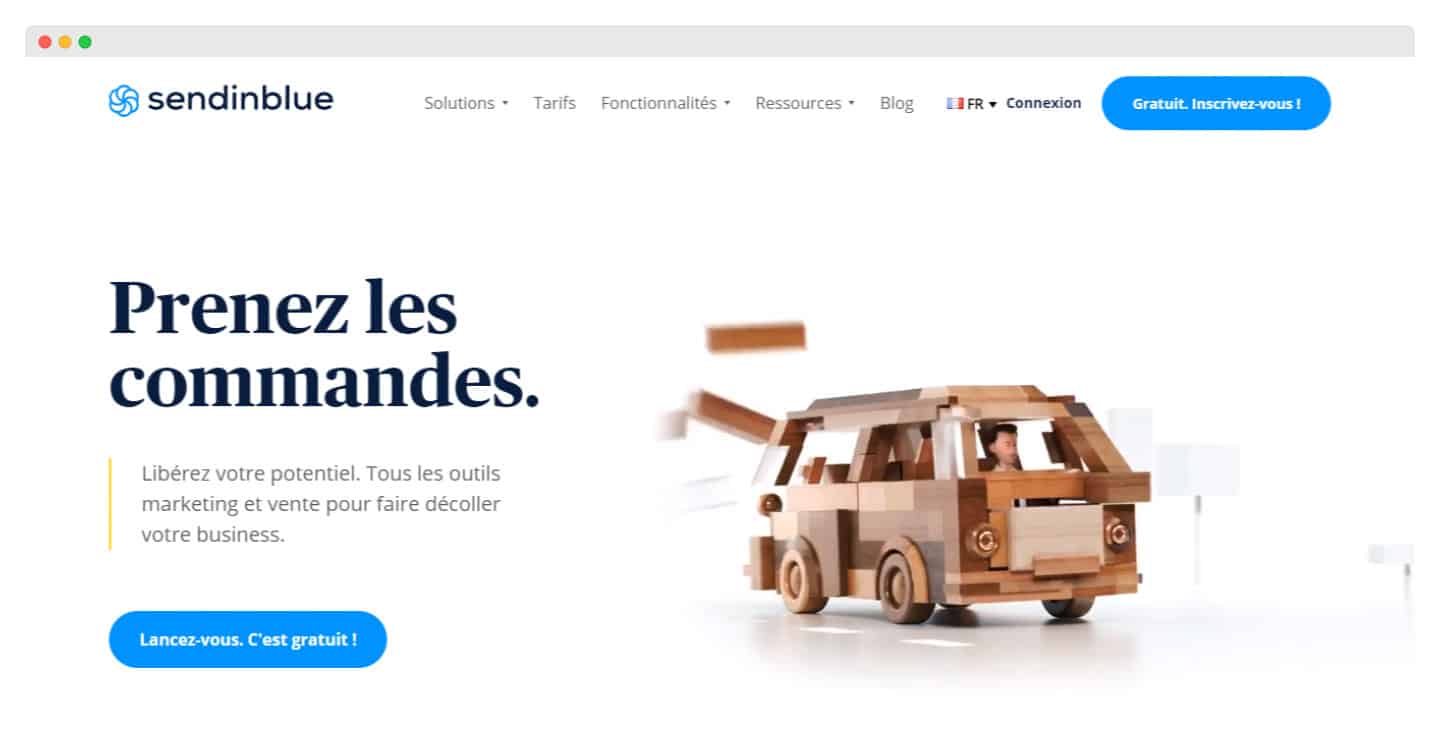 Sendinblue is an excellent choice if you are mainly interested in sending newsletters and do not need the advanced features of ActiveCampaign.
Very easy to use newsletter creator
Basic CRM
Excellent tool for transactional emails
SMS marketing
The software is less intuitive
The tool has less advanced functions
Try Sendinblue for free
Sendinblue offers a free trial with access to all the features to give you a good idea of the tool's possibilities.
2. Hubspot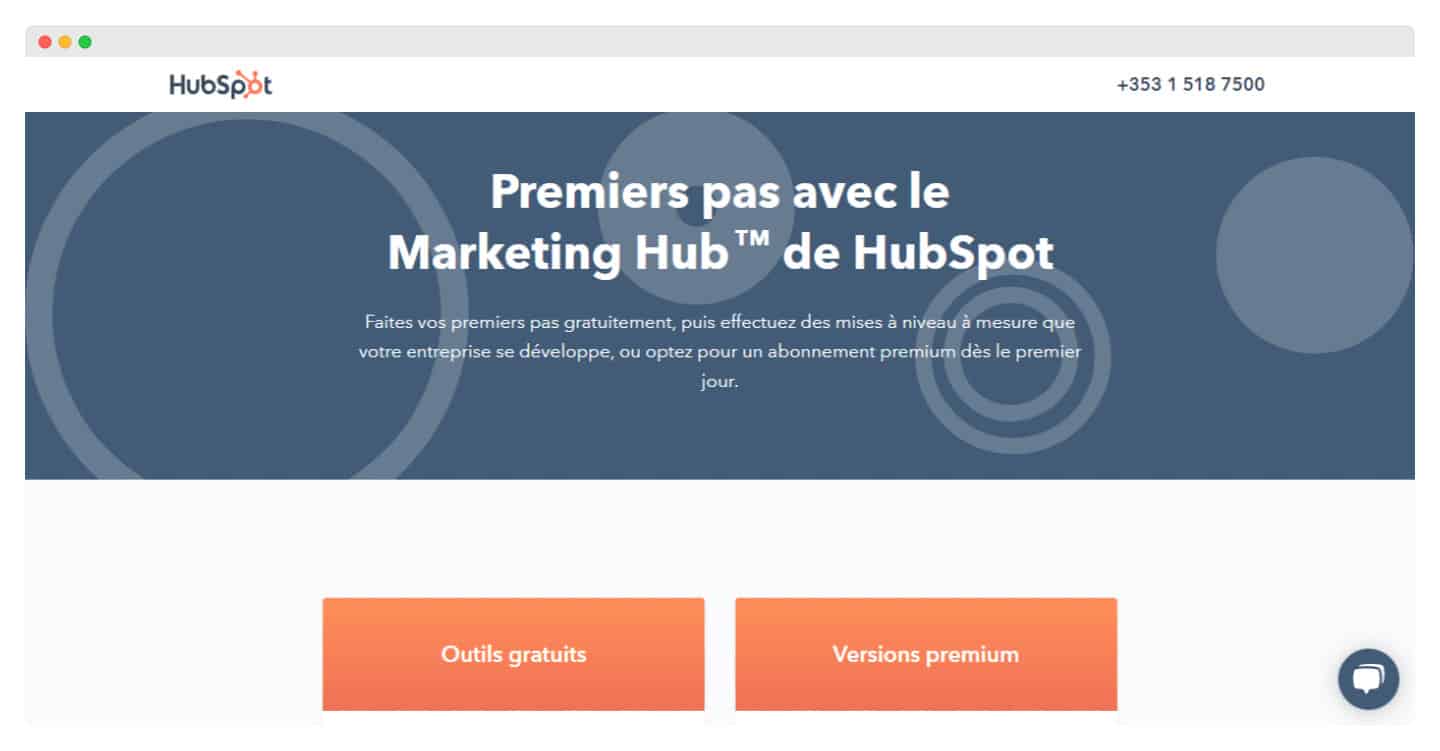 HubSpot goes beyond ActiveCampaign as it has a full suite of tools that help you optimise your organic traffic and conversions.
Free CRM
Livechat
Creation of websites (CMS) and landing pages
Marketing automation
Hubspot is more comprehensive but also much more expensive than ActiveCampaign.
Try Hubspot for free
Hubspot offers a 14-day free trial with access to all features to give you a good idea of the tool's possibilities.
3. Keap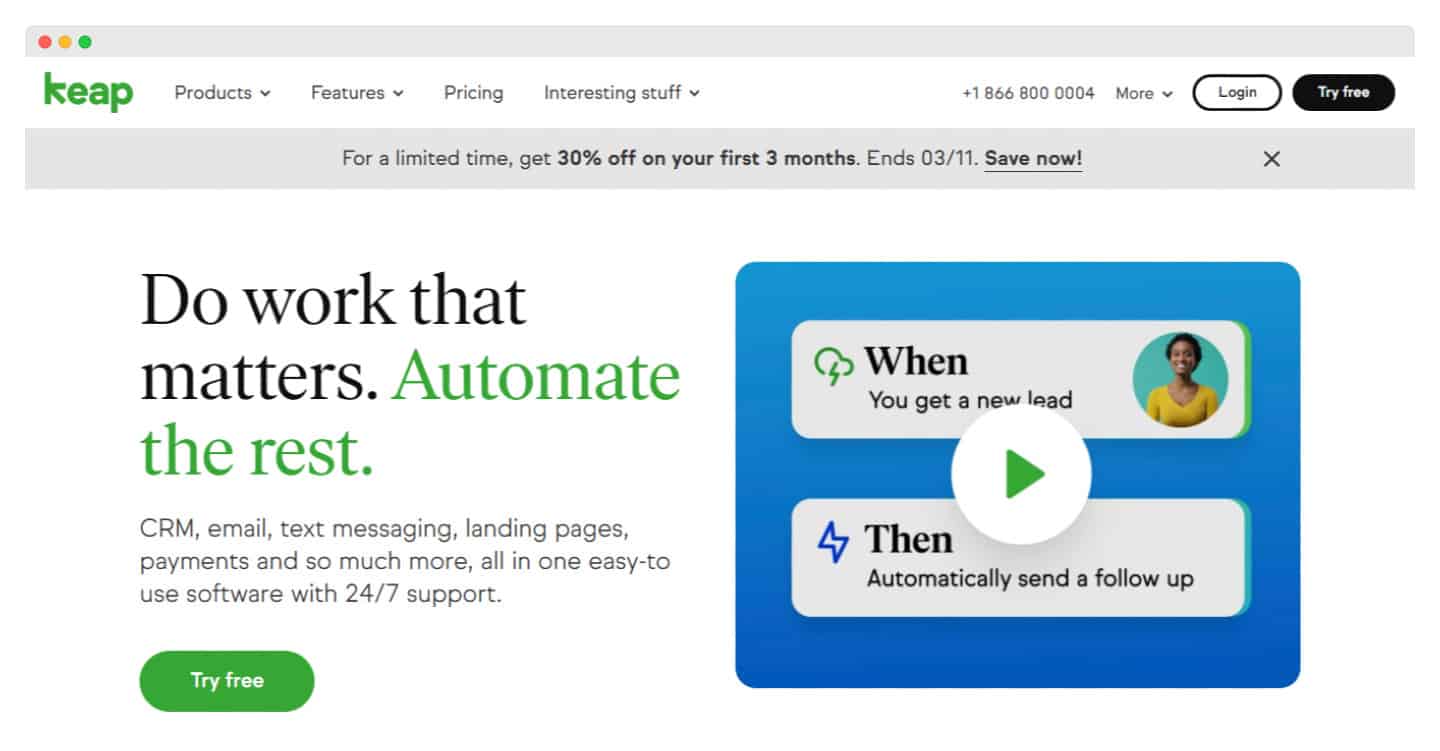 Keap (formerly Infusionsoft) is a combination of an email marketing tool and a CRM.
Invoices and payments
CRM for sales
Making an appointment
Marketing automation
Keap is quite complicated to learn. It will take time to master.
Try Keap for free
Keap offers a 14-day free trial with access to all features to get a good idea of the tool's possibilities.
Going further
Find our best articles on marketing automation:
Reader Interactions