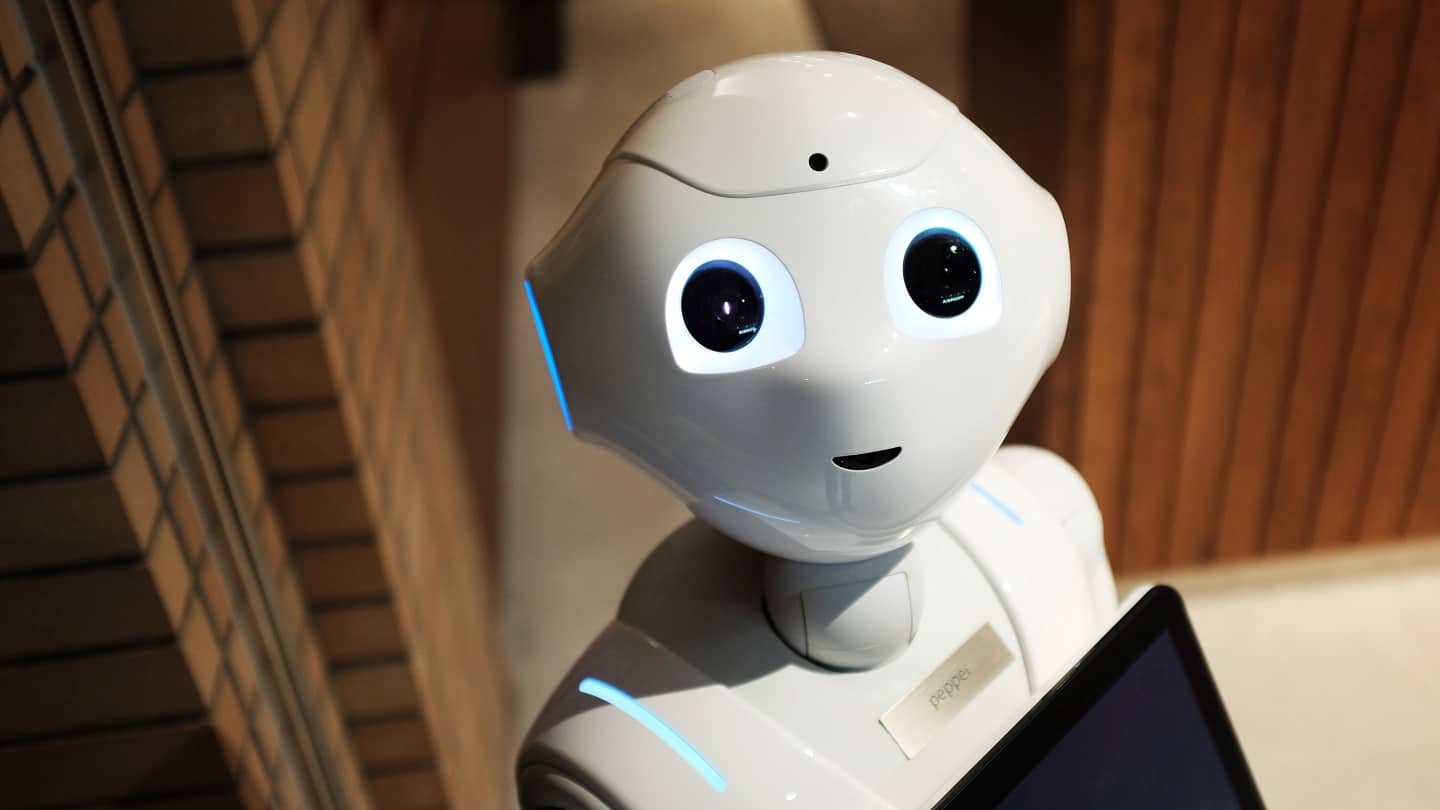 As the volume of customer data explodes, the tools to exploit it are increasingly numerous, differentiated, and comprehensive. In the marketing automation tools market, we see 3 segments gradually emerging:
The classic, complex and complete tools We find tools such as Pardot and Marketo, which are veterans that address a very mature market – large companies that have real challenges in managing marketing pressure, advanced segmentation needs, etc.
Lighter or mid-market tools: They focus on a relatively specific context and use case and develop more specific functionalities. Hubspot (inbound marketing), Klaviyo (e-commerce), or Customer io (SaaS) come to mind.
Ultra-lightweight tools: There are tools like Sendinblue, Activecampaign or Intercom, which focus on one-on-one conversations. For SMBs, marketing automation generates a relatively low volume of conversations, especially in B2B. This puts these companies in a tricky position, halfway between the need forautomation and conversation – and these software programs have understood this quite well.
We have selected for you the best marketing automation solutions on the market, and we present them to you from the lightest to the most complex to help you see more clearly!
How to choose your marketing automation software?
What to expect from a marketing automation software?
When we take the subject technically, a marketing automation software aggregates and transforms raw customer data into segments, then into marketing campaigns.
If you've been following the Martech press for the past few years, everyone wants to become the go-to Customer Data Platform (CDP). The idea is to be able to aggregate all data sources in one place, from which you can build your segments and generate campaigns.
Unsurprisingly, all software claims to be CDP, but with different arguments:
Show the power of their segmentation capabilities
Define itself as a key interface, by relying on the richness of its integration catalog. This is the case with solutions such as Segment, which lives up to its name, or Octolis, which allows marketing teams to keep control of their customer data.
Demonstrate their ability to leverage multiple channels, which justifies feeding them all your customer data to result in well-deployed marketing campaigns.
Key features of a marketing automation software
To choose the right solution, look at the features of the software on the following 3 points:
Input data aggregation capabilities: This is often the main problem of marketing CRM projects. The integrations offered by the software, with your CRM, with platforms like Google Ads or Facebook Ads, and their web tracking capabilities to generate relevant events, are a real differentiator.
Segmentation skills: Without going into theories of sets, you will have to make joints and more or less complex aggregates to constitute your marketing segments. All solutions allow this, but in a more or less simple and efficient way.
Ability to create outbound campaigns: Email is the core channel of all these programs, but more and more other channels are available: SMS, live chat, push notifications, Whatsapp, social networks, popups and other on-site devices, etc.
If we take our 3 segments of the marketing automation market:
Ultra-lightweight tools integrate well with many data sources, offer fairly limited segmentation tools, and multiply output channels to help small brands use the same tools as larger ones.
Mid-market tools bring more data sources and better segmentation tools, specializing a bit vertically.
The most complex tools offer very deep integrations (but are more cumbersome to set up), very advanced data and segment administration tools, and allow you to design much more complex campaigns, with pressure management, dynamic segments, etc.
Top 10 marketing automation software: Comparison table
#1 Sendinblue : The ultra-light marketing automation software made in France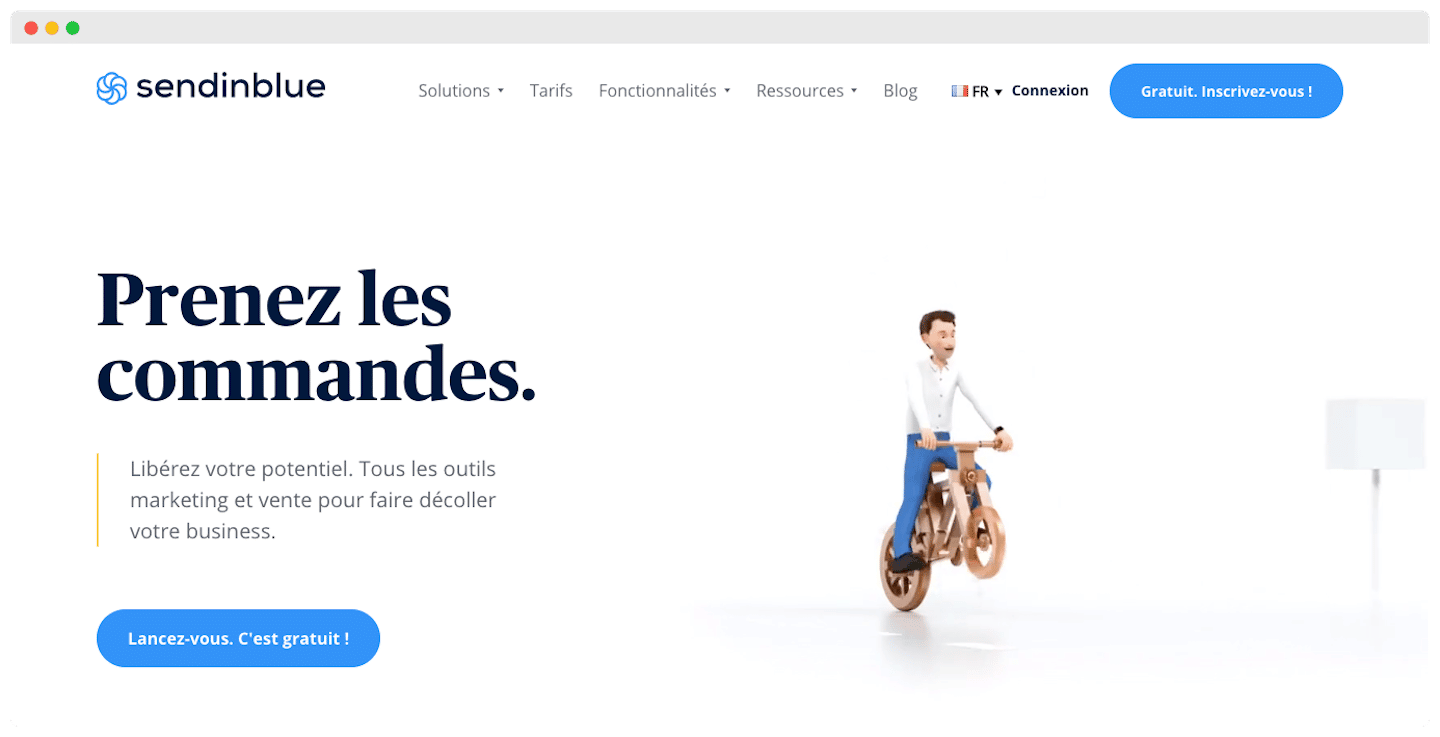 The French nugget Sendinblue started as a classic emailing software but they quickly integrated basic marketing automation features. Today, the solution is very complete but lacks a bit of linkage between each functionality, one of the key objectives for the next few years.
As far as integrations are concerned, it's quite strong and quite complete. The tool integrates quite well with most CMS, and released quite advanced integrations with most CRM software a few years ago. Salesforce Dot Com (SFDC) integration is only available for Enterprise plans, which is still affordable.
The segmentation tools are technically quite complete, but the user experience is really messed up. It's great for designing simple segments (with 3 or 4 conditions) but if you make it a bit more complex, you will get lost very quickly. And if you want to update a contact, it takes 4 clicks and 3 redirection pages – it's almost faster to import a CSV file.
Our opinion
If you design your segments on another tool (Octolis for example) and feed Sendinblue with these segments, it is an unbeatable tool. Otherwise, it will be very powerful to set up the fundamental sequences, but a little limited to go further
It is on campaign capabilities that Sendinblue shines. For an extremely low price, the tool allows you to use an impressive number of channels: email, SMS, live chat, inbox management, Facebook Ads… All this is well set to music on the automation platform, the events associated with each channel are well brought up in the tool, and exploitable to make conditions. This is very impressive, especially at this price.
All plans include an unlimited number of contacts. Sendinblue's particularity, the rates are expressed according to the volume of emails sent, and not the volume of contacts. For 20 000 emails per month, count 49 euros / month for the Business plan. Count 159€ / month to send 200 000 emails / month.
Try Sendinblue
Take advantage of Sendinblue's free plan to discover the tool!
#2 ActiveCampaign: A little more complex, and a little more expensive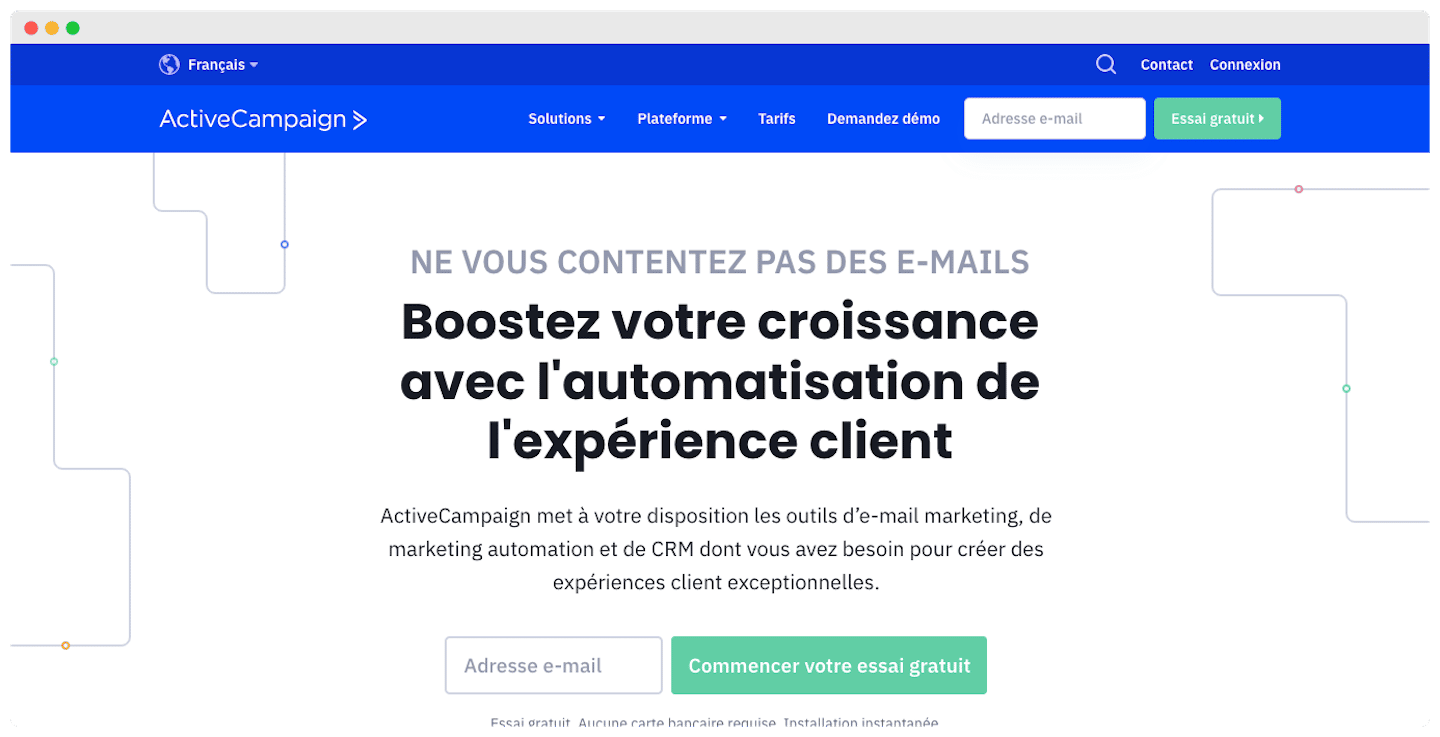 For integrations, ActiveCampaign goes one step further than Sendinblue, with a rich catalog of integrations that allows you to integrate with most CMS and CRMs on the market. The event tracking features are very effective.
In terms of segmentation, we are also moving up a notch. Lead scoring features allow you to continuously improve your campaign allocation and refine your segments effortlessly. We also like the features related to e-commerce (abandoned cart automation), available from the Plus plan.
In terms of output channels, ActiveCampaign offers something similar to Sendinblue, with email, SMS, Facebook Ads, live chat, popups…Above all, the predictive features for the content of the campaigns and their recipients are very powerful and are a factor of continuous improvement of your marketing strategy
For the Professional plan, which offers all the advanced features (including predictive), you should pay $149/month for 1000 contacts. We go up to $549/month for 20,000 contacts. You can benefit from a free one-month trial without credit card.
Try Active Campaign
Take advantage of the free trial of Active Campaign to discover the tool!
#3 Intercom: The Leader in Conversational Marketing for Small Business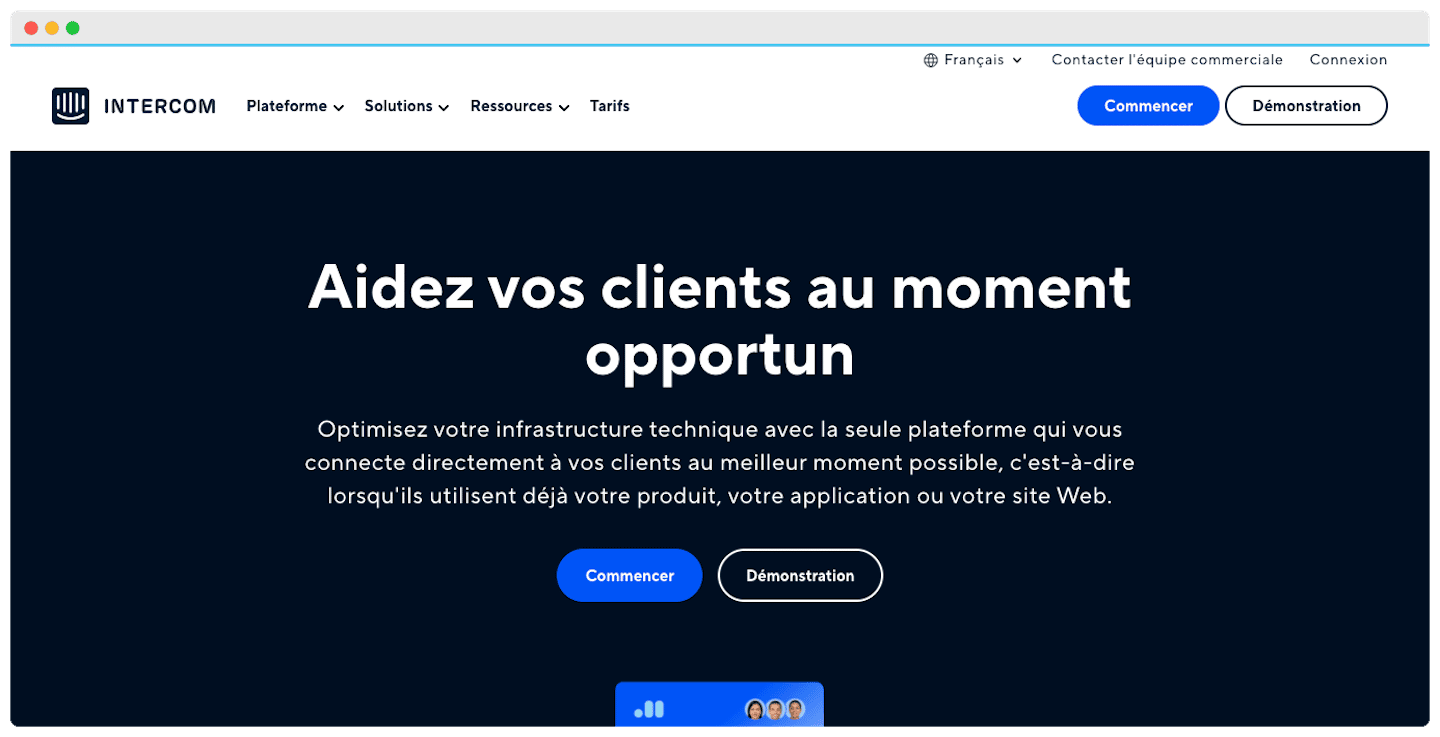 The catalog of integrations is very good – Intercom integrates with virtually everything – but it is especially for tracking and event creation that it is appreciated. It allows you to track events on your website very simply. It is a very popular tool for SaaS because it is very easy to deploy, but still allows you to be very fine-tuned in the events tracked.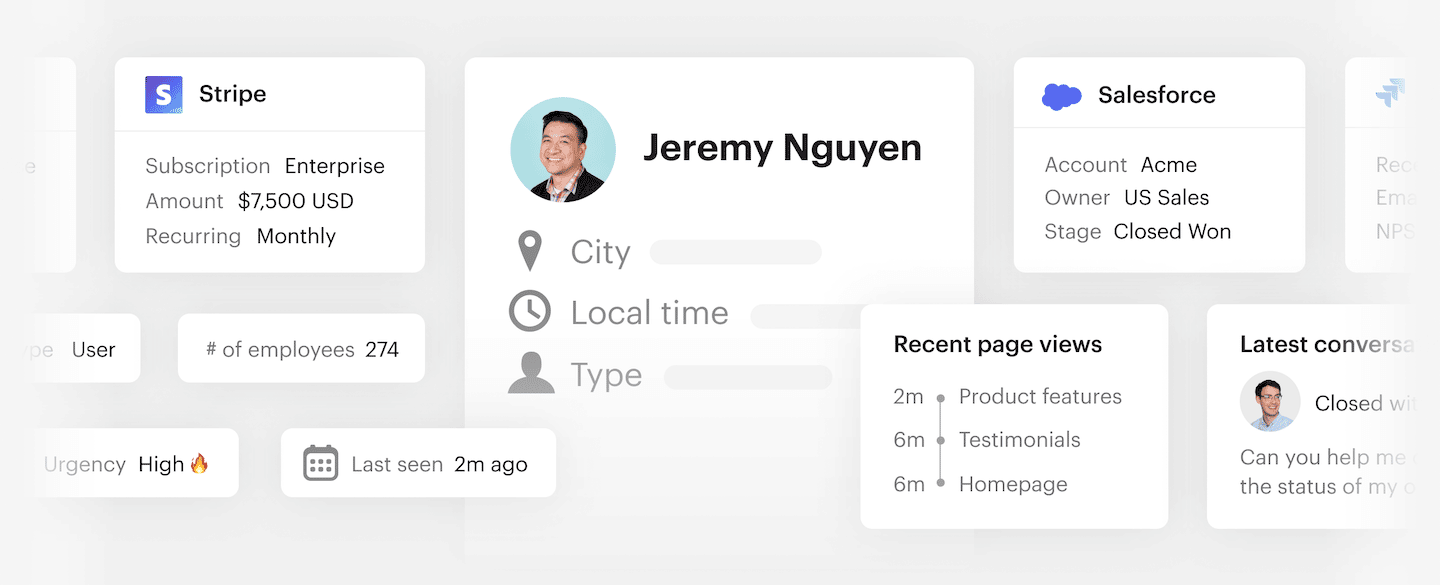 Intercom's segmentation tools shine. The segmentation engine is very powerful, and above all, very intuitive for those who are new to the field. The solution uses behavioral targeting to help companies better understand, engage and retain their customers. Live chat or targeted messaging are very powerful for this.
On the campaign side, Intercom is very much SaaS-based, so mechanically the channels are very much "on site", with the generation of rich-popups, chatbots, etc. The tool also supports email & SMS, but that's about it – which is fine, since that's what it's supposed to do.
In terms of pricing, Intercom splits its offer between "most businesses" and "very small businesses". For the former, the rates for the 3 plans Support, Engage and Convert are only available on request. For the latter, Intercom offers a Starter plan at 74 euros/month for 1000 contacts. A free trial is available to get an idea of the tool's possibilities.
Discover Intercom
Take advantage of the free trial of Intercom to discover the tool!
#4 Hubspot Marketing: The inbound marketing giant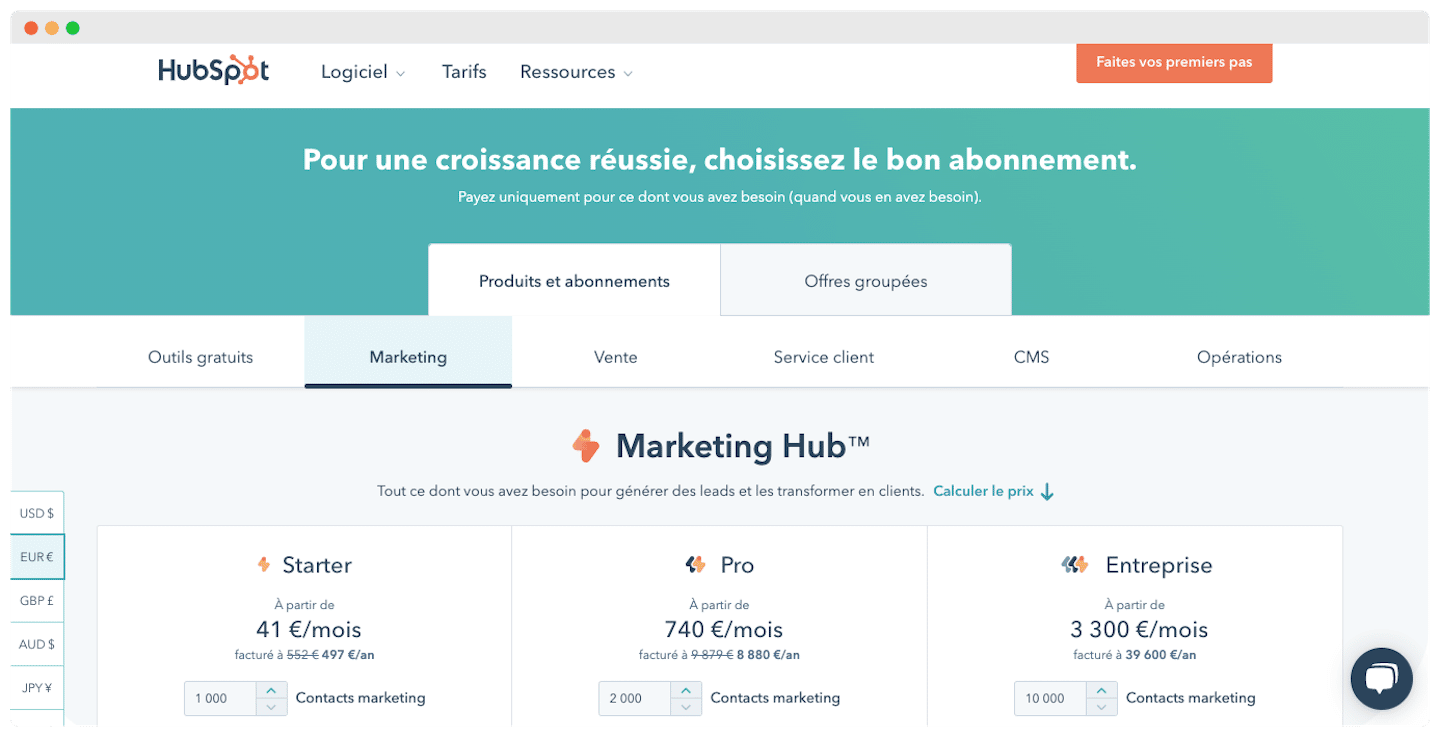 Hubspot Marketing goes pretty far in tracking, offers attribution tools, and even SEO tools which makes it an indispensable inbound marketing tool. A great strength of the Hubspot suite is that it obviously integrates very well with the CRM of the same name. Hubspot even offers a very complete CMS to build your website and take advantage of native tracking of all possible events from your site.
In terms of segmentation, it's quite powerful. We can find our way around, the objects are well distinguished as with Intercom (companies, leads, contacts, products, content, …) and it allows us to consider quite complex segments relatively easily. The lead scoring features allow you to continuously refine your segments.
In terms of campaigns, Hubspot is one of the most complete tools, with all channels (email, SMS, live chat, Facebook Ads and Messenger, popups). Reporting is also very advanced, with customized campaign reports and website traffic analysis.
For pricing, the Pro plan will allow you to access most of the features mentioned. Count 740 euros/month for 2000 contacts, and 1567 euros/month for 22 000 contacts. Hubspot Marketing offers a free plan, limited to 2000 emails per month and with Hubspot branding.
Discover Hubspot Marketing
Take advantage of Hubspot Marketing's free plan to discover the tool!
#5 Plezi : Mid-market marketing automation tool with a lot of support and made in France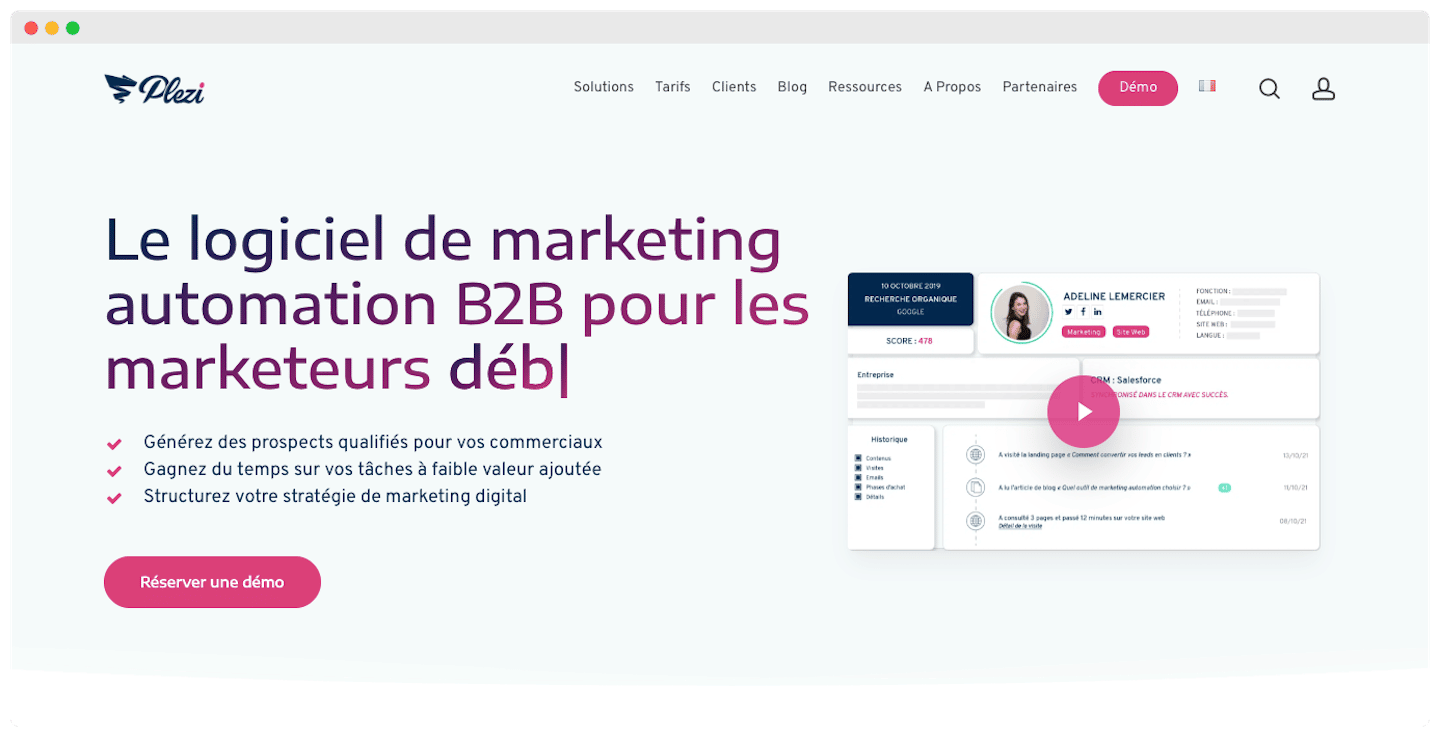 In terms of integrations, Plezi offers a large number of CRMs: Salesforce, Base, Zoho, Eventbrite, SAP, SumoMe, PipeDrive, GoToWebinar… Ideal for linking your sales and marketing teams. The event tracking is very good with a lot of content that can be imported very easily: ebooks, videos, white papers, blog articles…
The contact and lead manager is very good, with simple yet comprehensive contact sheets. With the lead scoring developed by Plezi, you can determine which leads should be sent to your CRM to be processed by your sales teams(lead generation).
On the campaign management side, the email newsletter editor is very good, close to Sendinblue or Mailchimp. Automated workflows based on pre-defined triggers allow you to continuously improve the marketing content sent to your contacts. We find all the other expected channels: landing pages and forms, social networks (Facebook, Twitter, LinkedIn…).
As for the rates, count 169 euros/month for the Plus plan with unlimited emails. To have access to lead nurturing and marketing automation, count 599 euros/month with the Iron plan. A free demo is available via email registration.
Discover Plezi
Take advantage of the free Plezi demo to discover the tool!
#6 Klaviyo: For e-tailers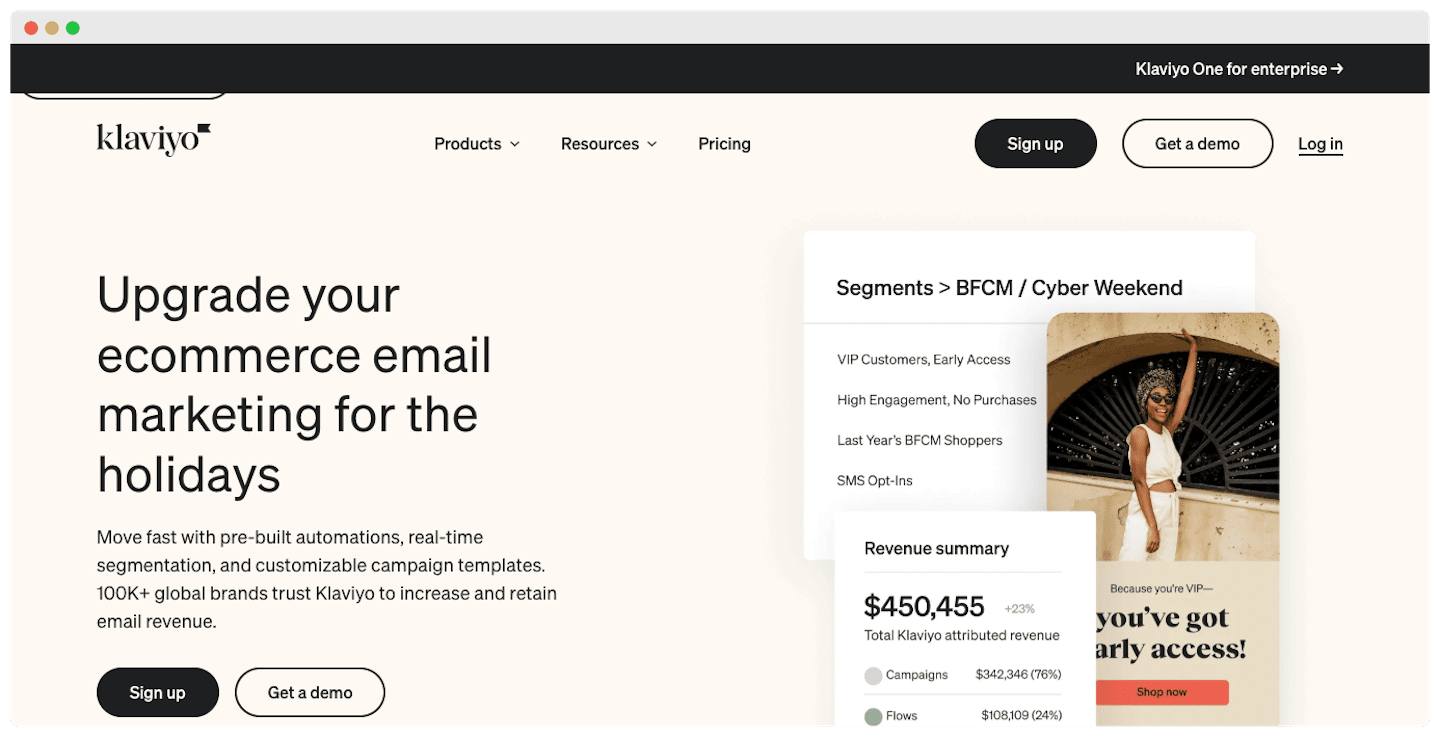 Klaviyo has a rich catalog of integrations. The developed API allows to connect almost all available CRMs. The offer is very focused on e-commerce, with Shopify, WIX, Prestashop, Magento Commerce, WooCommerce…
In terms of segmentation, Klaviyo is very strong. It separates your contacts between the most committed and the others to save you precious time. Most importantly, the tool uses your customers' purchase data and product table to design segments based on a contact's interests and likelihood to buy.
For campaigns, it's very classic, very mobile-first, and very B2C – hence its primary target, e-commerce players. Email is clearly the core channel of the software, but you can also do SMS, and push notifications.
For the rates, for 1000 contacts count 45$/month for the email channel, and 60$/month to add SMS/MMS. Rates go up to $400 and $415 for 20,000 contacts. Klaviyo offers a free plan with 500 emails per month and 150 SMS.
Discover Klaviyo
Take advantage of Klaviyo's free plan to discover the tool!
#7 Webmecanik : Open-source marketing automation solution with lots of service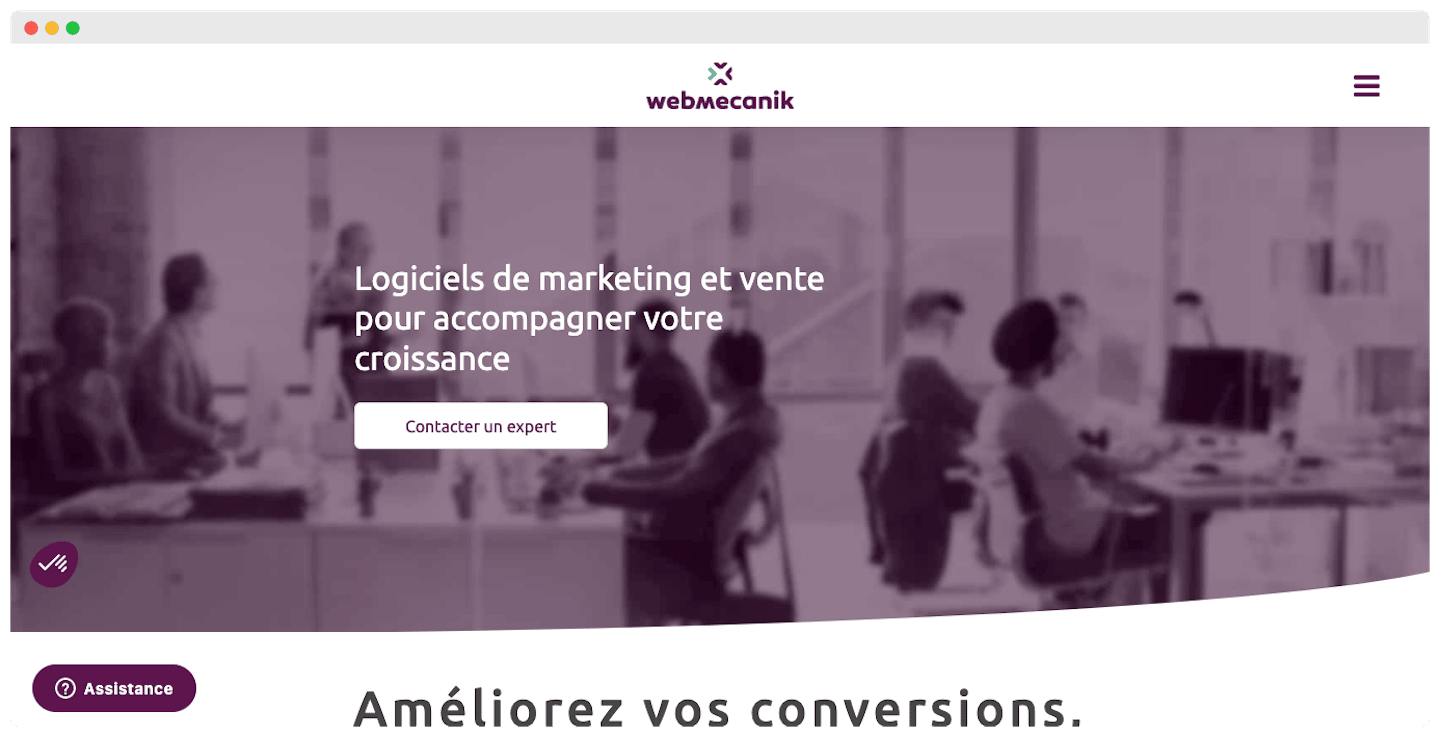 Webmecanik offers a SaaS marketing automation tool based on the open source platform Mautic. The strength of Webmecanik is in its personalized and 100% French support, for those who are not only looking for a tool.
Regarding integration, this is one of the strengths of open source: integrations are numerous, robust, and generally well maintained. Webmecanik also brings a big contribution on the subject to integrate most of the French CRM.
The French platform allows you to easily divide your contacts into segments that make sense for your industry. This segmentation is automated on the basis of numerous predefined criteria within the tool. You can, of course, customize these criteria to make them more relevant.
Another important asset of the tool is the large number of channels at your disposal to get closer to your prospects: s.
The Enterprise plan offers access to all features and unlimited emailing for 400 euros/month for 10,000 contacts. We go up to 600 euros/month for 20,000 contacts to manage. You can get an idea of the tool's capabilities with their Youtube demo.
Discover Webmecanik
Discover Webmecanik with their free demo!
#8 Customer.io : For B2B SaaS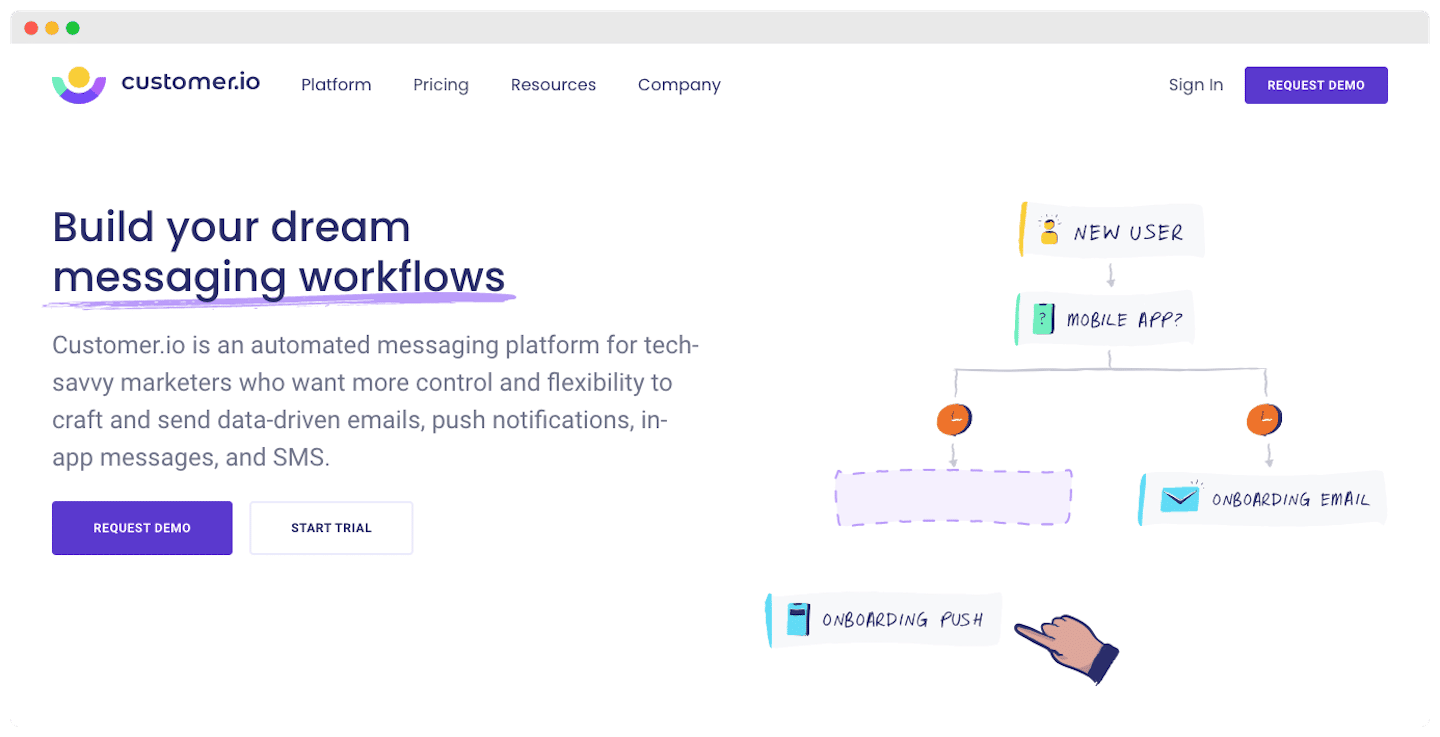 When it comes to data sources, Customer.io does it right. The catalog of integrations is very developed and the Zapier integration multiplies the possibilities. We particularly appreciate the functionalities of synchronization with the audiences of platforms such as Google or Facebook, synchronization with a data warehouse, automated deduplication.
For segmentation, Customer.io is very developed, and allows you to filter according to your needs and without limit. One of the strong points is that we can send raw events to Customer.io (example: X did such and such an action in the product), and build intelligent segments on this basis in the tool. This is ideal for SaaS and mobile applications.
In terms of campaigns, Customer.io allows you to deliver via the great classics (email, SMS, push notifications) and in-app messages on your site (popup, chatbot, etc). The best part is that it also offers iOS & Android SDKs that allow you to push in-app messages to mobile.
For the Basic plan, which gives you access to segmentation features, all their channels and email support, you should pay $150/month for 8,000 contacts. Rates for advanced plans are available upon request. A free trial is offered by the solution.
Discover Customer.io
Take advantage of the free trial offered by Customer.io!
#9 Pardot: For Salesforce B2B users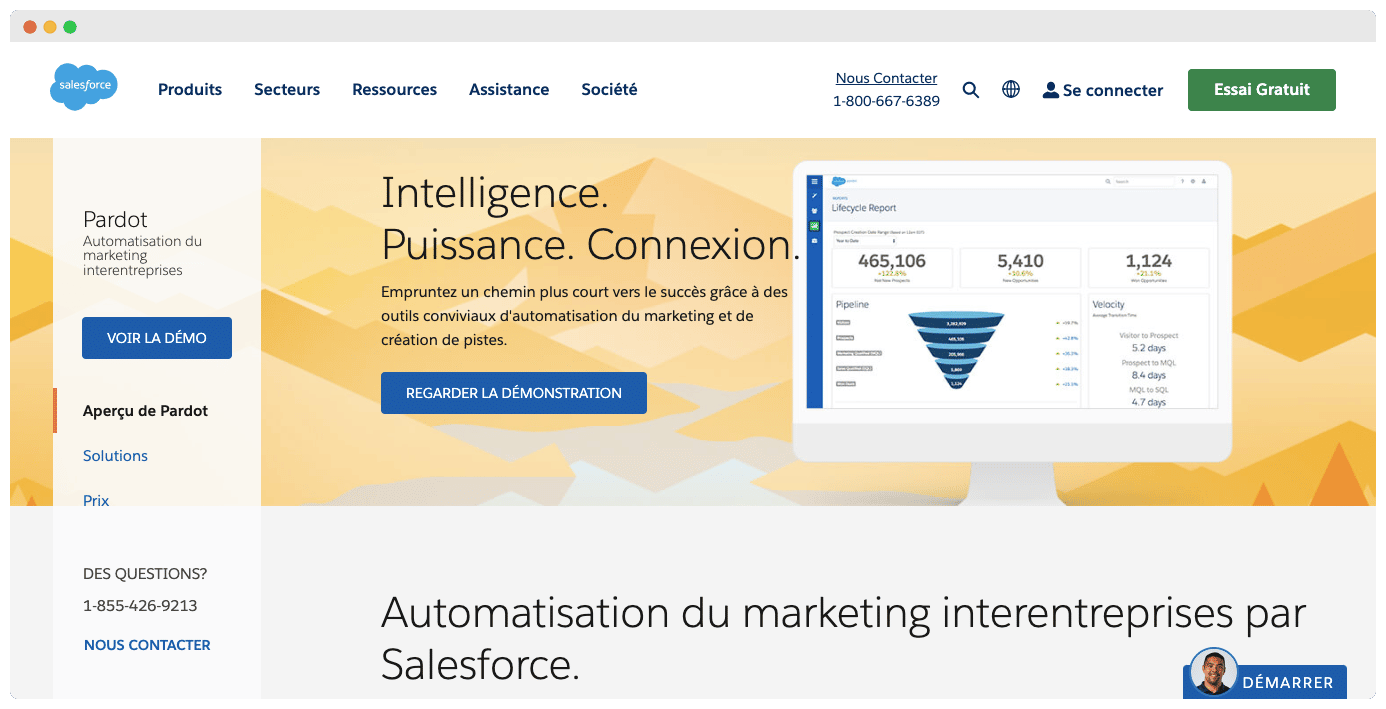 On the data source side, the SFDC integration is ideal if you use Salesforce as your CRM. The leads and actions you take through Pardot are automatically synchronized, which allows you to easily assign the leads to the right salesperson. The Google Adwords integration allows you to integrate all the interactions of your prospects with your campaigns in the global Pardot tracking. The social network connectors (Facebook, Twitter, Linkedin) are also present.
In terms of segmentation, the real strength is the very powerful Einstein Behavior Scoring developed by Salesforce. It identifies prospects who are close to making a purchase and assigns them a score to guide and refine your marketing campaigns. But Pardot shines especially when used as an account-based-marketing software
On the campaign side, journey builder and personalization tools allow you to target the best content and the best channels to deliver your marketing campaigns. The predefinition of customer paths and the sending of alerts according to predetermined critical thresholds allow for continuous improvement.
On the price side, the Plus plan is limited to 10,000 contacts and allows access to a good number of advanced features for 1250 euros/month. For access to Einstein Behavior Scoring, you can expect to pay 4,000 euros/month for 10,000 contacts.
Try Pardot
Discover Pardot and its features
#10 Marketo : Very advanced on segment management and campaign creation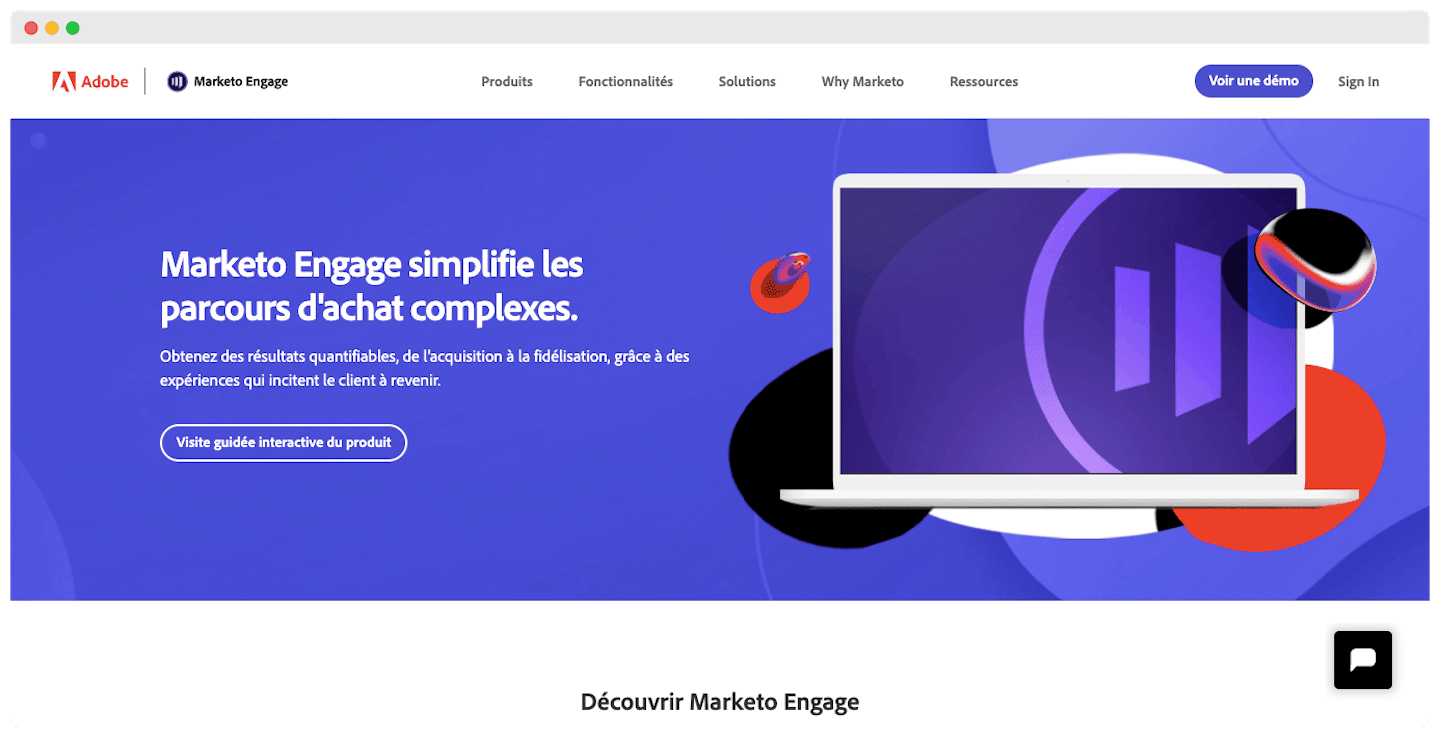 The solution is developed by Adobe, and it is the most advanced of our top. Marketo packs cutting-edge functionality into a platform that offers almost everything businesses expect from marketing software.
As for integrations, the lack of a native CRM is frustrating, but Marketo remains one of the best options for companies and offers a large number of CRM integrations (Salesforce, Microsoft Dynamics).
The segmentation is very advanced thanks to the AI developed by Adobe Marketo.
Most channels are available (email, SMS, mobile applications, social networks, pop-up, push notifications…)
As far as pricing is concerned, Marketo does not start small – the solution is aimed at structures with many contacts. Count on about 75 000€/year for 100 000 to 200 000 contacts, and more than 100 000€ per year for 1 million contacts – only for licenses.
Discover Marketo
Discover Marketo and its features
Reader Interactions