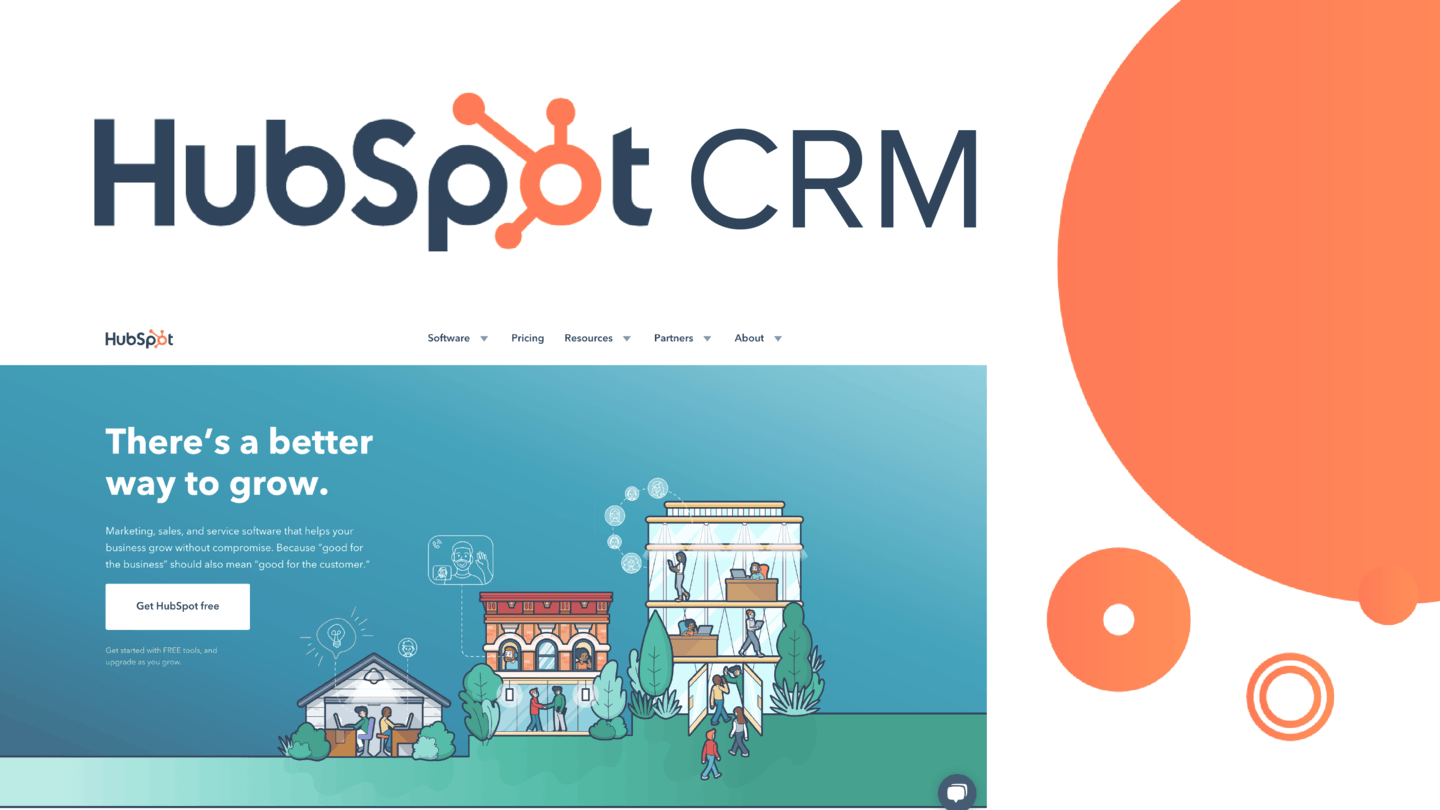 The CRM allows you to import your contacts from Gmail, Outlook, or your corporate email and web forms. Once your contact database is imported, the platform automatically updates the contacts and records all sales activities of your contacts.
HubSpot automatically crawls its database of more than 20 million companies and incorporates revenue, industry and other elements into contact information where possible.
Outside of the sales process, this information helps you segment your customer and prospect base to run more targeted and effective in-market campaigns. The platform supports up to 1 million contacts and companies, which covers the needs of most medium-sized companies, especially in B2B.
Salesdorado's opinion
If the contact filters could be more precise, the tool will not limit you on the number of imported contacts, which is an important asset when you deploy a CRM in your organisation for the first time.
Opportunity management on Hubspot CRM: Our review
HubSpot CRM is an excellent tool to help your sales team optimise their sales processes: the sales pipeline in "Kanban" view makes it easier to follow the evolution of leads within the sales funnel.
The solution allows you to create up to 50 different pipelines, which is very useful for organisations that have products or services with different sales processes.
For example, you can create a specific "upsell" pipeline for your existing customers or a pipeline for renewing expiring subscriptions.
As a deal progresses, it moves through your sales pipeline. You can create and save filters to quickly view deals of a certain size, deals that are expected to close this month, or deals in a specific area.
There is also a tabular display option, which is useful for sorting transactions by salesperson of record, by stage or by expected closing date.
HubSpot CRM gives you the ability to closely monitor your customers' behaviour. Once all the data is entered into the system, you start receiving notifications every time your prospects open their emails or click on a link or attachment.
Salesdorado's opinion
The highly visual sales pipeline is an effective tool for tracking the overall progress of your sales activity. The integration with Hubspot's marketing suite is also a powerful solution for pushing targeted marketing campaigns to your hottest leads.
The Salesdorado bonus
Our complete CRM software benchmark is available for download in excel format free of charge. You will also find a comparison of each tool on about thirty different features.
Ease of use & Ease of installation
Hubspot CRM's positioning is clear, the tool is mainly aimed at SMEs and is therefore designed to be quick to learn and to use its features without requiring hours of training.
The navigation is modern and intuitive, and will allow your sales team to become more efficient in many ways.
On the other hand, although the possibility of importing contacts from your email simplifies the configuration of the tool and speeds up the onboarding process, it is regrettable that the learning curve is so high for a tool that is intended to be light.
Indeed, when your organisation has been using the tool for a long time and your sales people are familiar with the main features, the use of the tool is smooth.
On the other hand, its adoption by your teams can be a challenge for your organisation as fully exploiting the possibilities of Hubspot CRM implies a "cultural" change in the daily work of your sales staff.
This adaptation time should not be neglected, as your teams will need time to become fully operational.
Once your salespeople have integrated the daily actions they need to perform to make the most of Hubspot CRM, the solution will make their lives much easier, especially in the following areas
Respond quickly to your prospects: You receive a pop-up alert when a prospect performs an action of interest (opening a presentation or going to your website) and simply click to get several options for interacting with the prospect.
Use it where you need it: In Gmail or Outlook 365, you'll get a pop-up window that allows you to see all the information related to the contact.
Access to powerful features: – In Gmail and Outlook 365, you can view your templates, email sequences, snippets, documents and meeting links. You will save a lot of time in writing your emails and in your customer follow-up.
Automation: The tool automates the scheduling of meetings, and with integration with your conference call software, you can reach your prospects quickly. HubSpot CRM can also integrate with Twilio, which allows you to make phone calls directly from the software, calls can be recorded directly in the tool which allows you to better track your prospects.
Salesdorado's opinion
Hubspot CRM is a very powerful tool but its deployment in your organisation is a long term commitment. You need to be aware that it will take time to adopt. If you are looking for a lightweight solution that is easy to install, we recommend Pipedrive or ActiveCampaign.
Customer reviews of Hubspot CRM
Hubspot CRM user feedback is generally positive, here are the ratings the software gets on the main review platforms.
We have summarized the main advantages & disadvantages cited by the users.
Advantages & disadvantages
The price of CRM: Users appreciate the opportunity to start for free and have the chance to grow before they have to pay.
Sales follow-up : Very good tool to manage your inbound and outbound sales communications: it allows you to record calls and send email sequences in just a few clicks.
Educational resources: Customers appreciate the fact that there are videos that allow users to learn about different marketing concepts.
Learning curve : Considered too long. Users regret that the training time is too long to be able to use certain features.
Hubspot CRM prices
Hubspot CRM free plan: powerful but not free for long
HubSpot CRM's unique freemium approach means that basic CRM functionality is free and you can access more advanced functionality for a fee, depending on your needs.
So it's great to be able to choose the add-ons you need without having to incur huge upfront costs for many features you wouldn't use.
The free plan includes the following features:
Contact Management: Get an overview of a contact's activity on your website. View page views, form submissions or any other activity from one place.
Contact Website Activity: Get an overview of a contact's activity on your website. View page views, form submissions or any other activity from one place.
Gmail and Outlook integration: Connect HubSpot CRM to your Gmail or Outlook inbox to schedule emails to be sent from the CRM.
Lead tracking: Use the lead tracking tool to find out which companies are visiting your website and view all the information available about them.

Email and notification tracking (up to 200 notifications): Track unique emails sent to contacts. Receive real-time notifications when they are opened or links are accessed.
Paying plans
To go further in your customer relationship management, there are three paying packages:
Sales Hub Starter: From €41 per month for 2 paying users, 8 hours of calls via the tool, unlimited email tracking, 1000 email templates, 1000 personal and team meeting links, 10 dashboards and 2 transaction pipelines.
Professional: From €414 per month for 5 paying users, up to 100 quotes per transaction with electronic signature, 100 inboxes, 25 dashboards and 15 sales pipelines.
Enterprise: From €1,104 per month for 10 paying users, 33 hours of calling, 50 dashboards, 50 sales pipelines and up to 1000 automation workflows to manage your team.
You can find details of the different formulas on Hubspot's dedicated page.
The Salesdorado opinion
As you can see, we don't really recommend Hubspot for small organisations that are just starting out, as the tool is aimed more at medium-sized organisations with already established processes. For organisations looking for a sales CRM to implement sales processes and manage their teams, we recommend Pipedrive, a more suitable software.
The Salesdorado bonus
Our complete CRM software benchmark is available for download in excel format free of charge. You will also find a comparison of each tool on about thirty different features.
Reader Interactions