Zoho's UX has recently been reworked to make it easier to use the tool. In terms of contact management, this translates into a chronological view that brings up priority prospects or customers through a very visual and pleasant interface!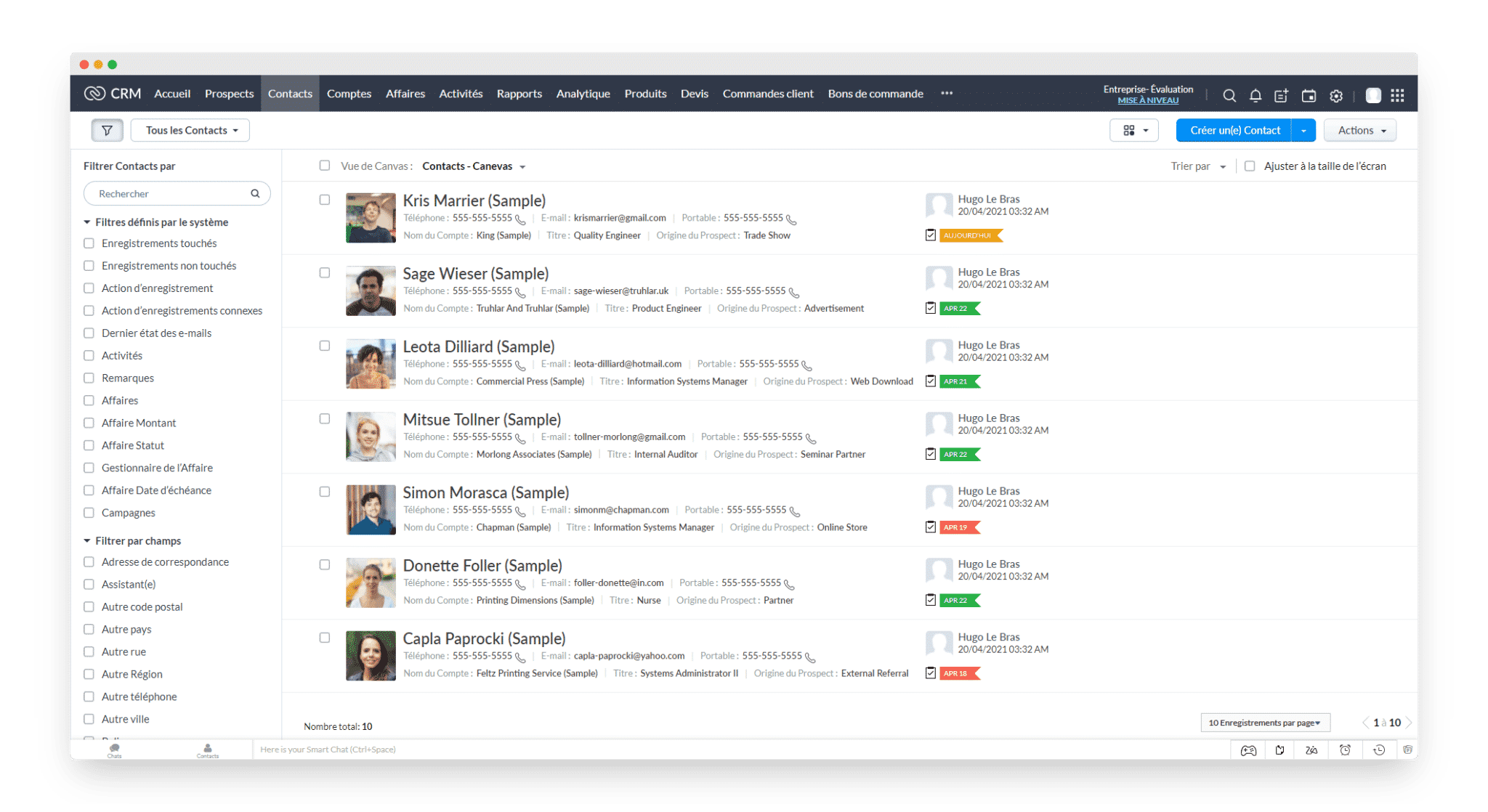 Salesdorado's advice
The coloured label indicates the type of action to be carried out for each prospect as well as its deadline, click on it to access the associated activity.
The tool provides you with a number of advanced filters to query CRM data based on tasks, notes, email exchanges and other activities.
If you want to develop your presence within an account, in anAccount Based Marketing logic, Zoho CRM offers you the possibility to create "company" accounts and then assign several individual contacts to them.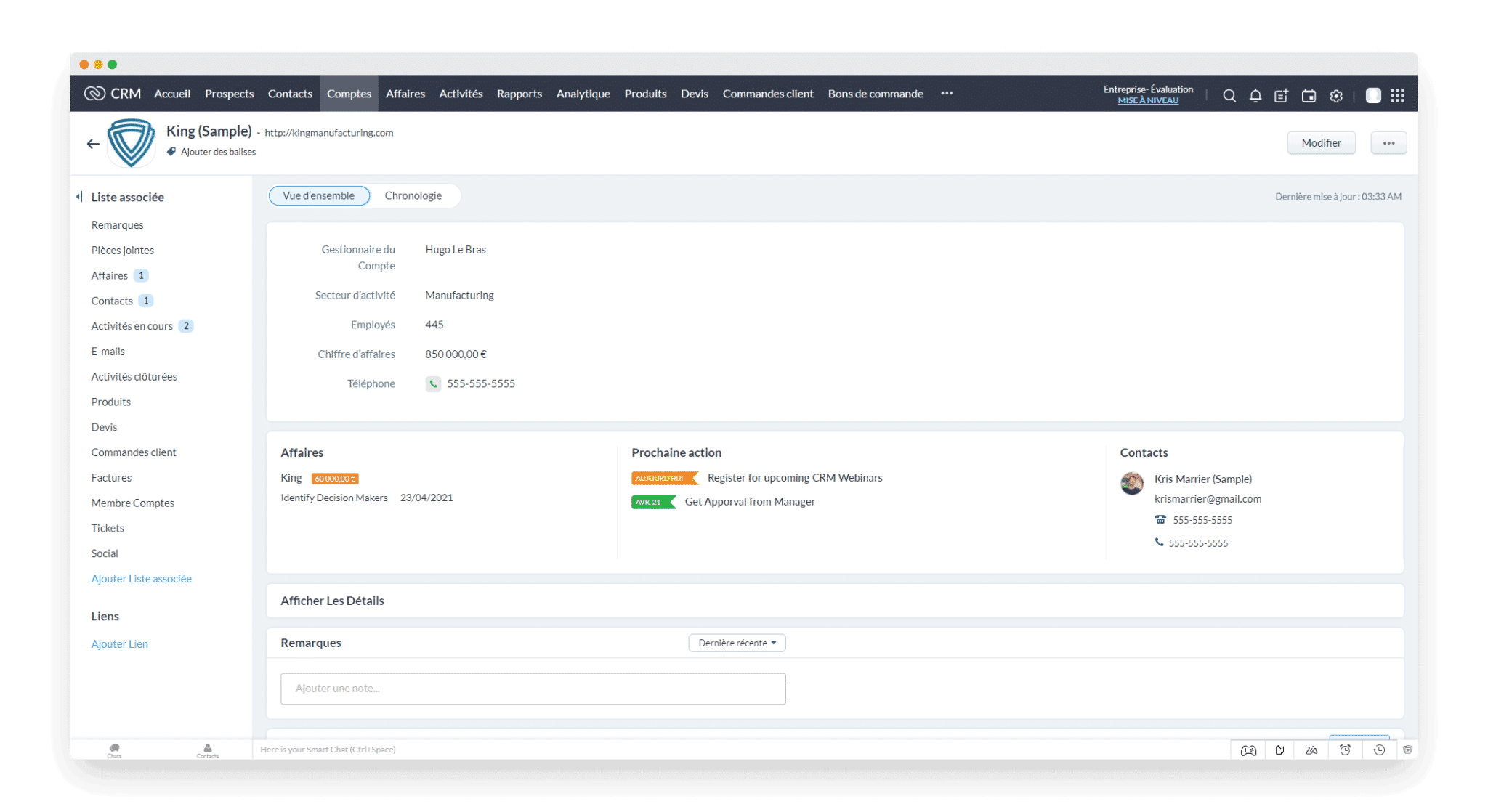 It is easy to organise people into active leads and assign them different classification categories. You can attach documents to individual contact records and thus display all uploaded files in the document library.
By following the link below, you will receive $100 in credits and a free 15-day trial to try Zoho CRM.
The Salesdorado opinion
Modular and adaptable to your organization, Zoho CRM will allow your sales people to manage and update their contacts easily on a daily basis.
Try Zoho CRM for free with $100 credits
Manage business opportunities in Zoho CRM
Zoho CRM's goal is to enable companies of all sizes to optimise their customer relationships throughout the entire customer lifecycle: from first contact to closing the deal.
With this in mind, the software provides you with all the tools you need to implement the right marketing strategies to move your leads through your sales funnel:
Management of your B2B email campaigns
Capturing leads
Segmentation
Monitoring of interactions
Assigning leads to the right sales people
New prospects start as leads and are converted into contacts when they are qualified. At this point, the company associated with that lead becomes an account. As with many of the features in Zoho CRM, you use what you need. If you are only generating a few leads, you can skip this step and have new names appear directly in the contact list.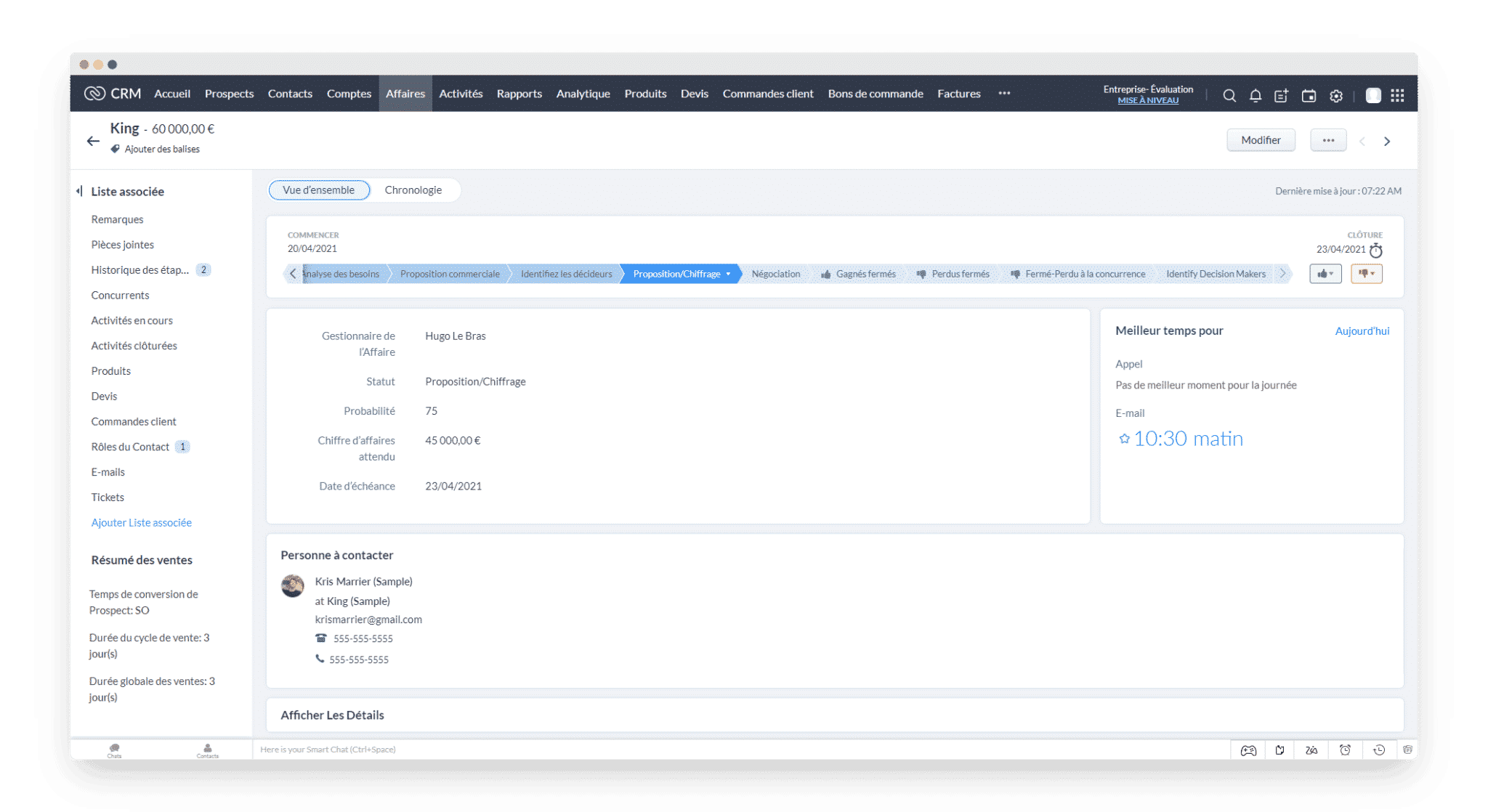 However, if you need to generate a large number of leads from multiple sources, Zoho helps you collect them using a feature called SalesSignals. This option allows you to monitor various sources: chats, emails, social networks. Then, get notified in real time when, for example, a prospect mentions your company on Twitter.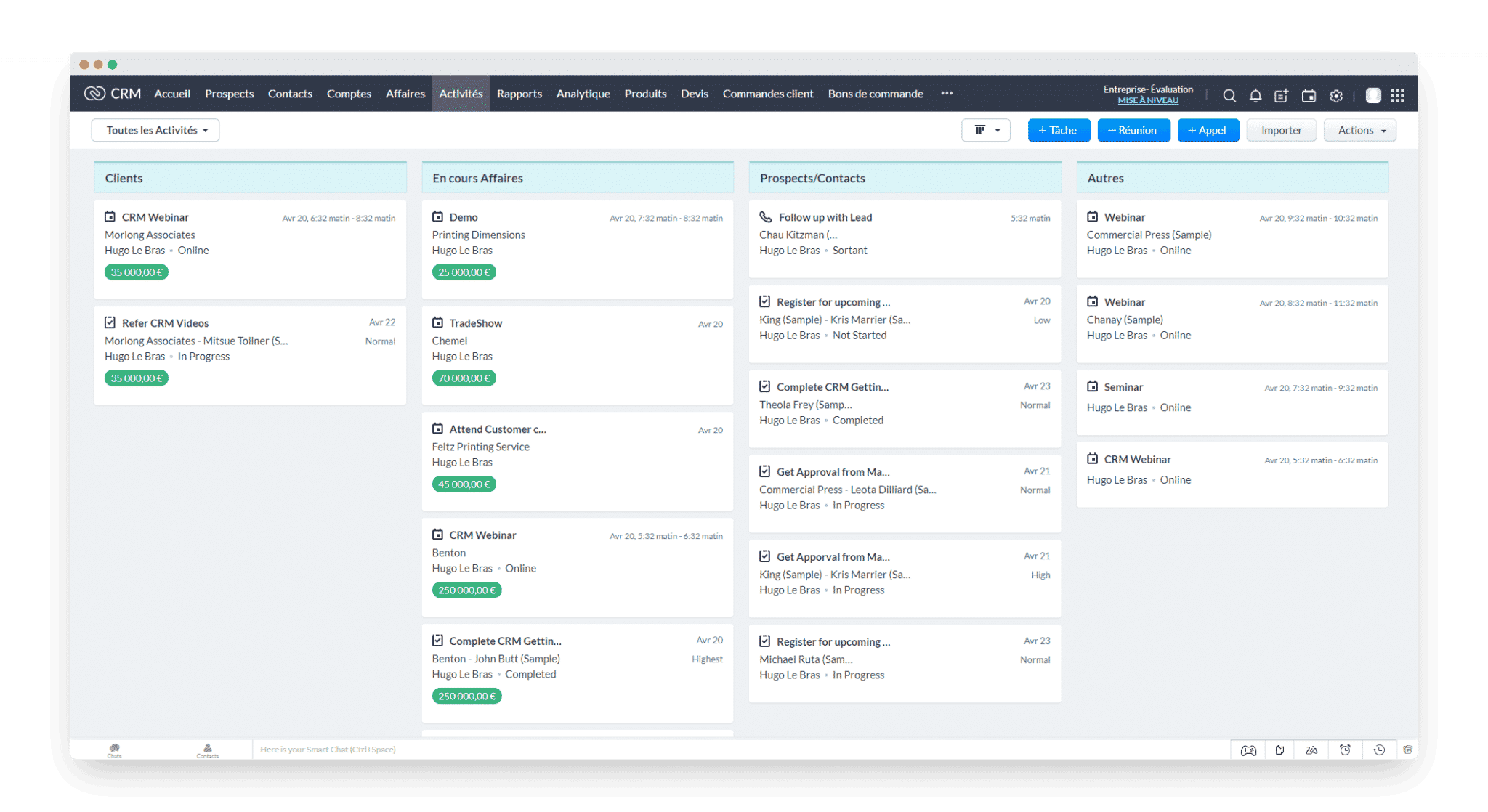 The "Activities" view above gives you an overview of the tasks you have in store for the next few days!
Salesdorado's opinion
Zoho allows you to track your leads across your entire sales funnel and across all your channels. Advanced lead tracking features from multiple sources make Zoho a solid opportunity management tool and will take your sales team to the next level.
Try Zoho CRM for free with $100 credits
Sales automation on Zoho CRM
Lead scoring
If you read us regularly, you will know that any well-structured sales organisation relies on lead scoring processes to focus its efforts on the most valuable prospects.
Zoho CRM gives you the keys to implement these sales processes, in the settings, under the heading "automation", you will find a link to the "scoring rules". By using the proposed criteria, you will be able to refine your sales strategy.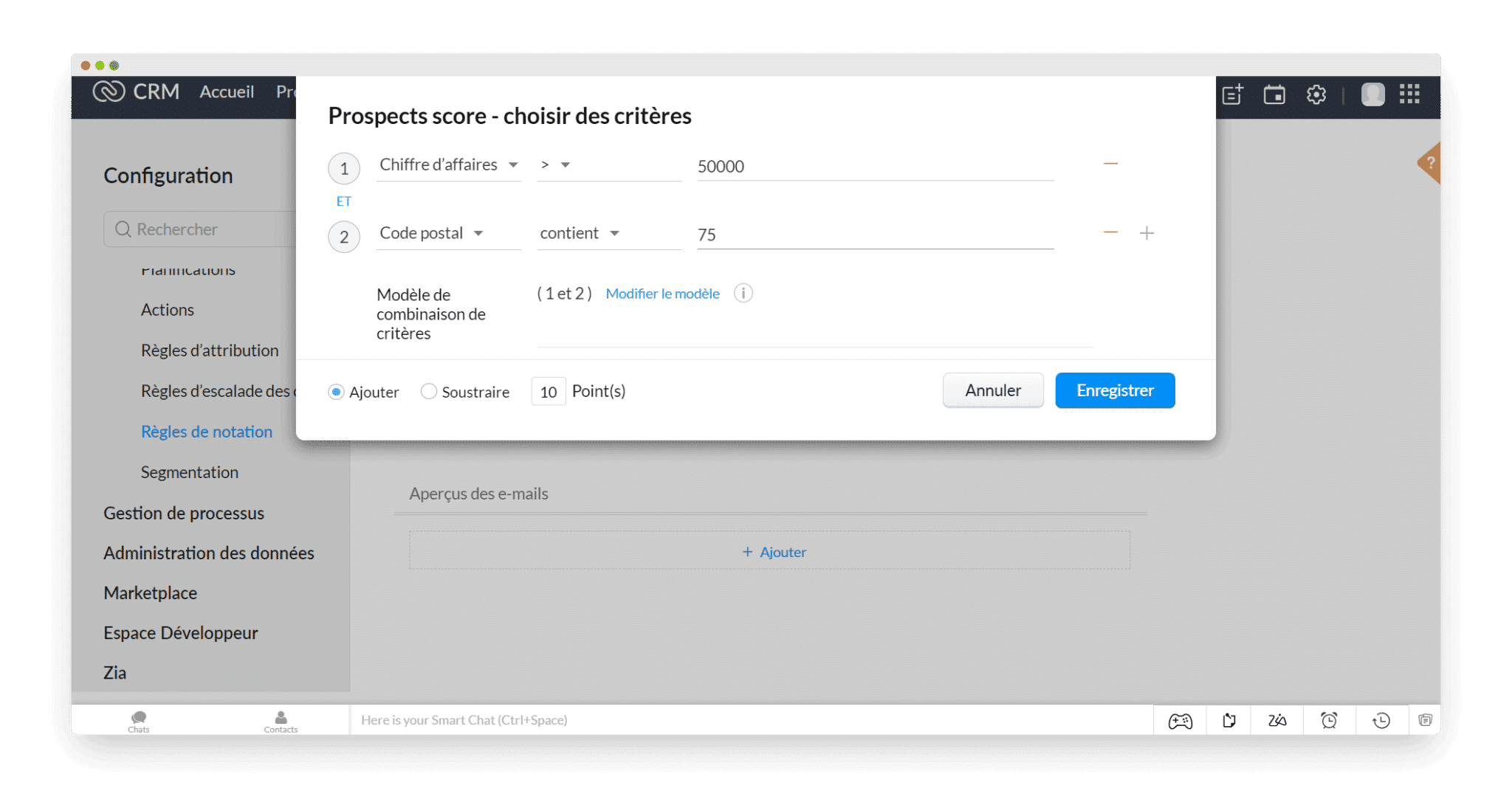 For example, the above rule will add 10 points to all your prospects located in the Paris region whose turnover is greater than €50,000. Once you have defined your criteria, they will be applied to your entire contact base.
To get quicker access to the leads you are interested in, you can sort your leads according to their score in the contact management tool.
Lead Routing
Lead routing or allocation consists of dispatching leads to the relevant sales representatives according to the sales organisation you have set up. Same process here, choose "attribution rules" and then start defining your criteria.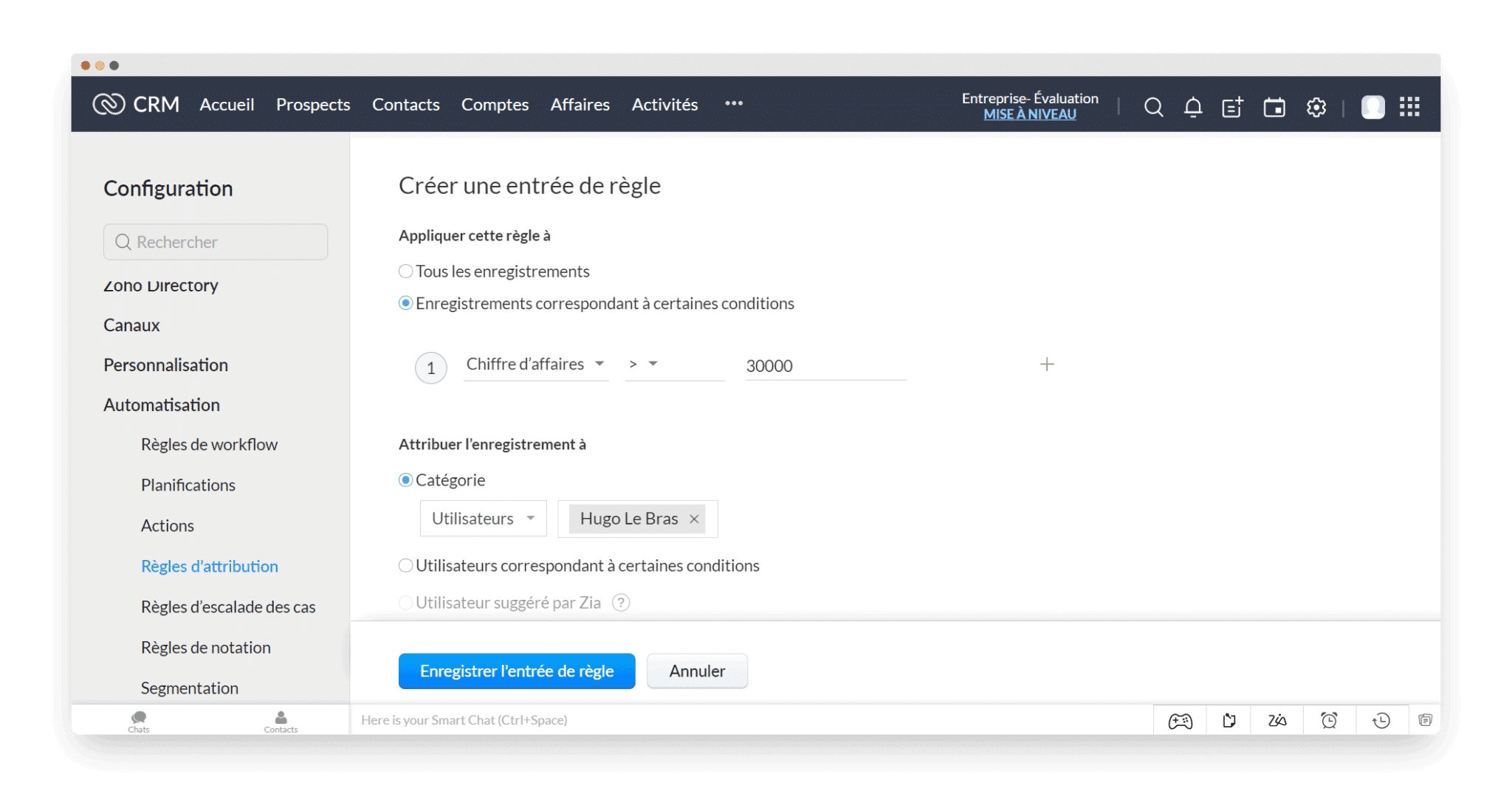 In our example, all leads with a turnover of more than €30,000 will be assigned to Hugo. We only had a few choices in our demo account, but this allows you to create more sophisticated lead routing rules and automatically allocate your leads to different members of your sales team.
Note that these rules are only applicable to leads imported or captured via your web forms.
Automated dunning sequences
Although sending automated email sequences is less essential in B2B than in B2C, you still have more important matters to deal with than chasing your prospects one by one.
With Zoho CRM, it is possible: always in the same part of the menu, select "worfklow rules". Then, the tool is easy to use, build your sales automation scenario by adding your conditions, triggers and actions. You can create up to 10 conditions for the same worflow.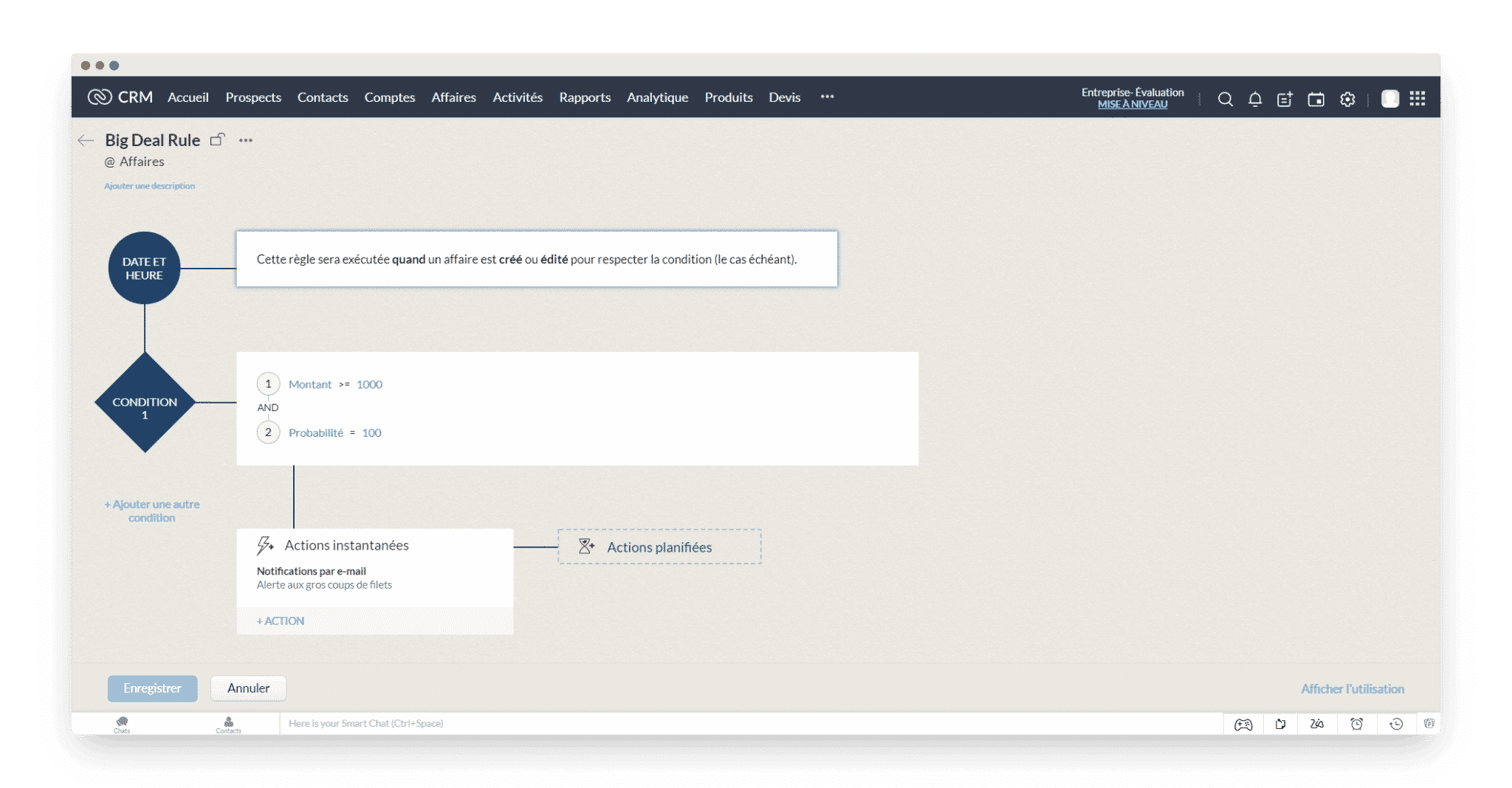 The above example is not suitable for a dunning scenario, but such a scheme is relatively simple to define: when X has not sent me an email for Y days, I automatically send him the dunning email Z.
Salesdorado's advice
If you are comfortable with the tool, go one step further and use lead scoring rules within your follow-up scenarios to feed your prospects with information according to their progress through your sales funnel.
Macros & integrations
Who hasn't dreamed of being able to automate certain actions without much added value that you carry out on your contact base? Even when we know that a feature of the tool must exist and allow us to go much faster, we are always afraid of wasting more time looking for it rather than carrying out these small time-consuming tasks by hand…
With Zoho CRM macros, you can trigger a series of automated actions for certain manual actions such as sending an email or updating a contact. As a bonus, thanks to AI, the CRM itself identifies these types of time-consuming tasks and suggests macros to save you time!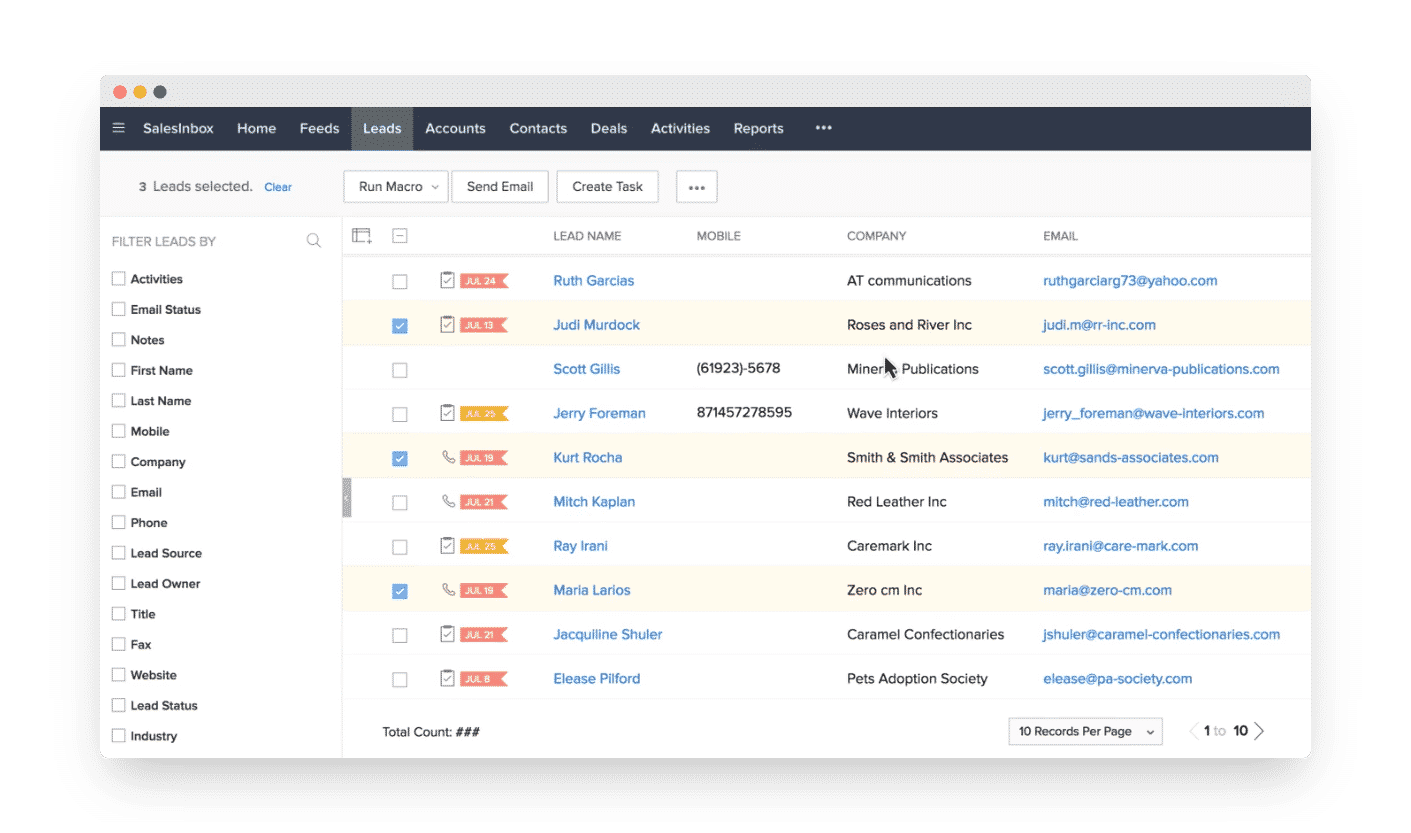 Moreover, when you want to automate certain actions that require the connection with third-party applications (for example, send a notification to your logistics department that a deal has just been won), Zoho CRM offers you "webhooks" that allow you to link these applications to your CRM.
The Salesdorado opinion
For an SME, the sales automation solutions offered by Zoho CRM are more than complete, you will not be limited in any way with this tool, you will optimize your processes with performance gains!
Try Zoho CRM for free with $100 credits
Usability & user experience on Zoho CRM
Users have long pointed the finger at the tool for its old school interface and its difficulty in providing a pleasant user experience, resulting in significant adoption in your teams… Good news, the Zoho CRM teams have listened to them and have evolved the software's ergonomics and the least we can say is that it is rather successful!
In terms of UX, a lot of work has been done to make it as easy as possible for you to access the various features. The follow-up of your leads, the actions to be taken for each of your accounts and even the worflow editor that we have just presented are easy to use.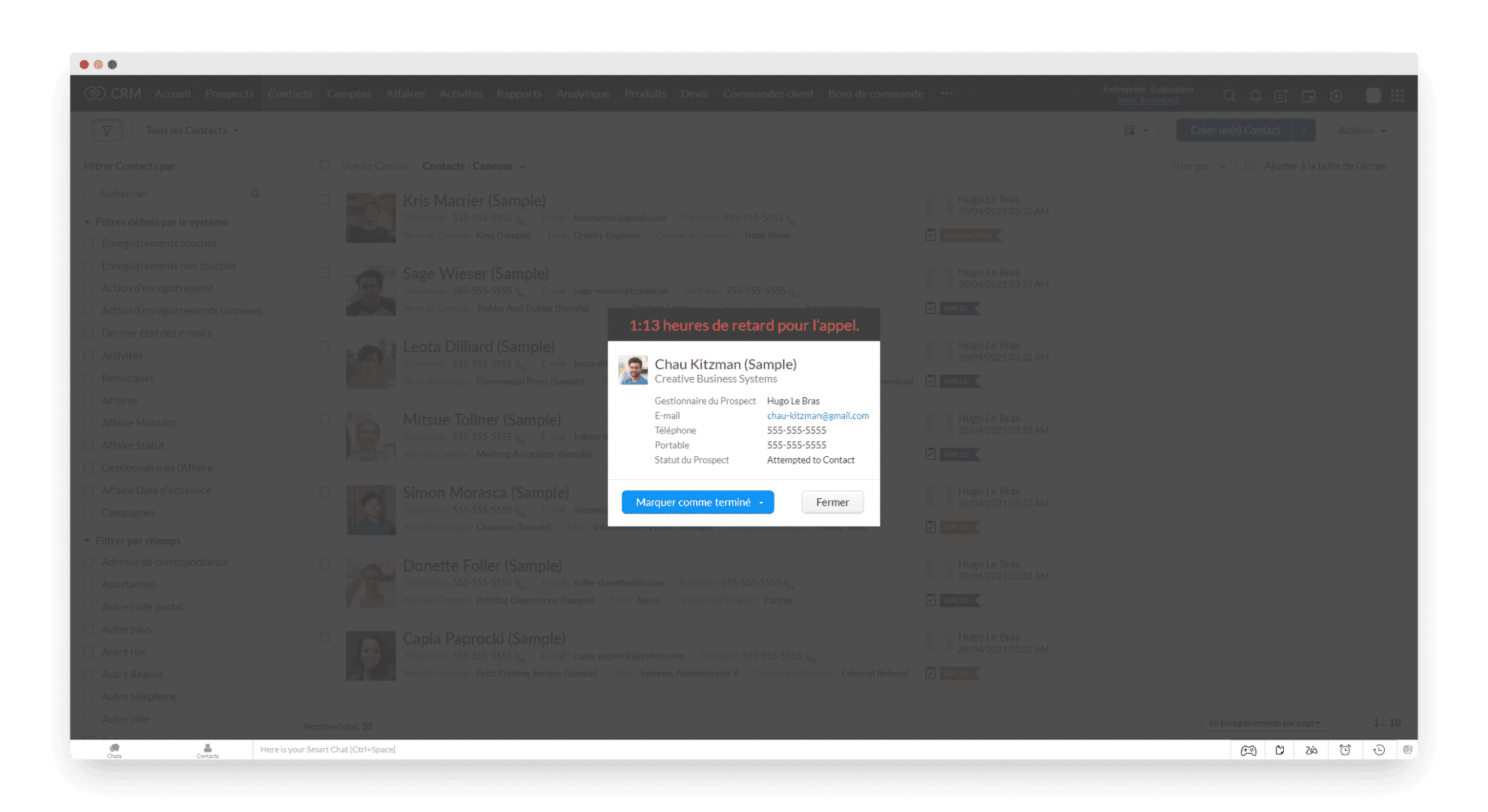 To help you not miss anything, the tool triggers automatic reminders based on the activities in your schedule. We also appreciate the well thought-out small optimisations thanks to AI, such as the macros proposed automatically, a turnkey tool to optimise all your commercial processes.
Salesdorado's opinion
Zoho CRM's UX overhaul was necessary and it feels good 🙂 The result is a tool that is fun to work with and that will win over your salespeople for increased adoption!
Try Zoho CRM for free with $100 credits


Integrations
Third-party integrations are available in the Zoho Marketplace and include all popular business applications, including G-Suite, MailChimp, Constant Contact, Evernote, ClickDesk, Microsoft Office 365, QuickBooks, Zendesk Support and GoToMeeting.
In total, there are over 600 integrations available, including 100 VOiP telephony providers.
Zoho CRM is a component of the Zoho suite of over 40 applications, including the following:
Zoho Webinar
Zoho Social for advanced social network management
Zoho Books: for accounting
Zoho Surveys: which allows you to create and send surveys to your prospects and contacts.
This is a real plus in that it allows you to deploy other elements of the suite very simply without going through other providers.
The Salesdorado opinion
If you don't want to use the other solutions of the Zoho suite, all the integrations to the essential applications are there!
Try Zoho CRM for free with $100 credits
Customer reviews
In terms of user reviews of the tool, Zoho CRM scores 3.9/5 on G2 & 4.2/5 on Capterra. We have summarized for you the main feedbacks from daily users of Zoho CRM :
Advantages & Disadvantages
Optimised lead tracking : It gives you all the functionality of the "leads" or "accounts" fields to record meetings, interactions, emails, phone calls, emails directly from Zoho…"; "It is a powerful CRM tool that allows for integrated internal chat and email marketing, including syncing with social networks, calendars and reminders.
Ease of use : "Zoho has a simple and easy to use interface compared to other software"; "It is user-friendly and easy to use for email, support and communication."
Small learning curve: "While the CRM filter settings are impressive, it can be a little difficult for new users to navigate. However, once you learn how to set up the filters for a custom search, it will become much easier."
Try Zoho CRM for free with $100 credits
Zoho CRM pricing
Free version
To allow you to get a feel for the tool and to test the various features, Zoho offers a free version for up to three users and access to the essentials: lead management, accounts and transactions.
Zoho Bigin
Zoho offers an ultra-light version of its product: Zoho Bigin. This tool is a small, pipeline-oriented CRM dedicated to small organisations.
Zoho Bigin is available from 7€ / month & per user (invoiced annually). The tool allows you to set up to 5 web forms, integrate your email, and create custom dashboards.
This can be a great option if you are just starting out, and it allows you to benefit from a real software that will follow you for a long time, at a very interesting price.
Zoho CRM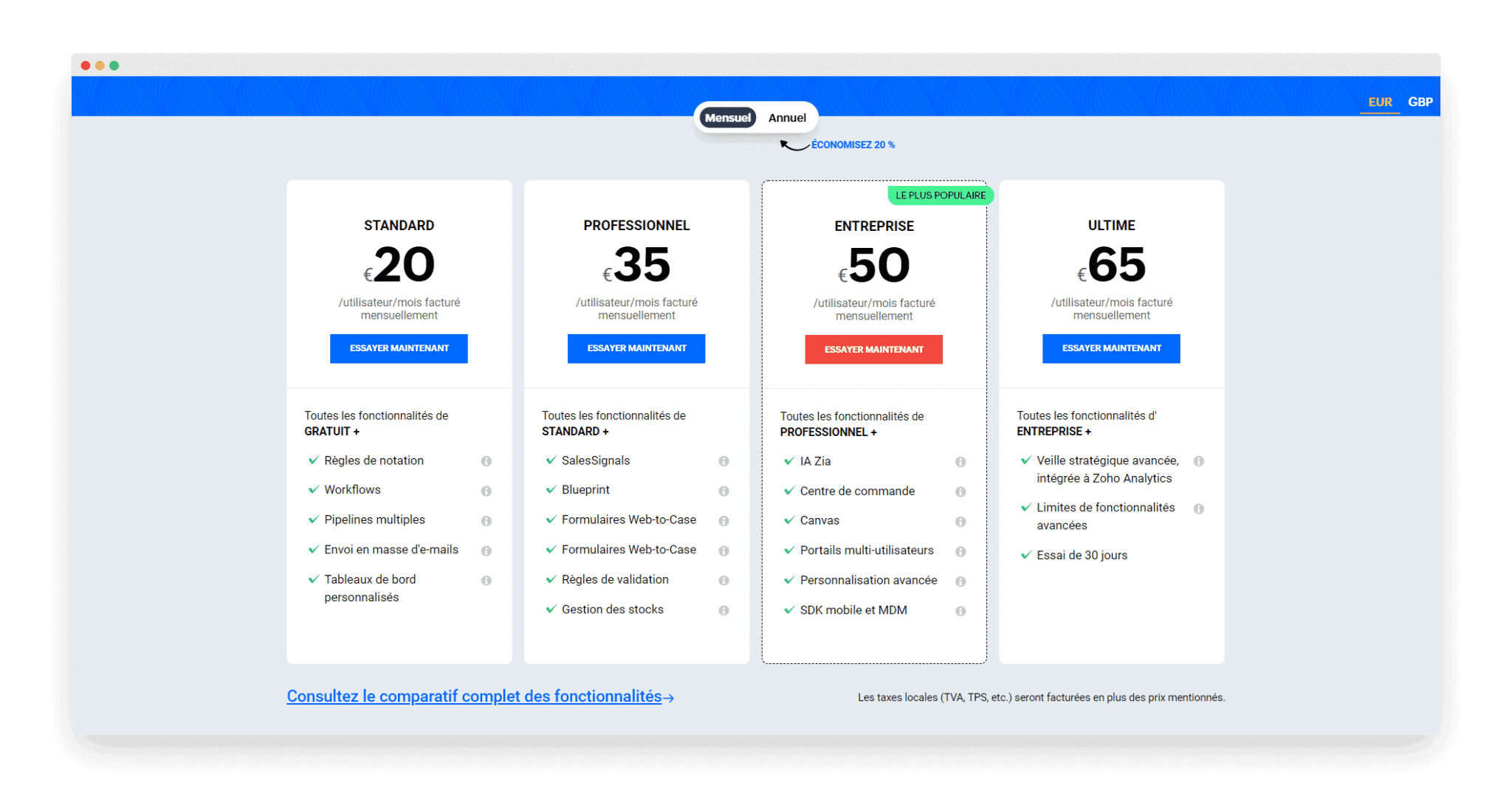 As you can see above, the Zoho CRM offering is based on 4 offerings:
Standard – £20 per user per month. This plan includes the lead scoring features we mentioned, automated scenarios, and the ability to create multiple custom sales pipelines and dashboards.
Professional – £35 per user per month. This level includes the Sales Signal tool for tracking your leads, forms integration and integrated inventory management.
Enterprise – €50 per user per month. This package includes Zoho's AI tool called "Zia", the multi-user portal as well as the mobile and MDM SDKs.
Ultimate –€65 per user per month charged annually, which mainly adds the advanced business intelligence solution offered by Zoho and integrated with the Analytics tools.
Try Zoho CRM for free with $100 credits
Do you use Zoho CRM? Give us your opinion on the tool in the comments! 🙂