Customer loyalty software collects key information about customer characteristics so you can take steps to improve the customer experience. It tracks customer satisfaction data and allows you to improve your customer retention strategies.
With your loyalty software, you can optimise your brand's interactions with your customers by personalising your emails, tailoring your offers and sending rewards at the right time.
But they also allow you to see the big picture, to understand what triggers customer dissatisfaction and to act before it's too late. In the long run, this data can help companies improve their internal processes.
The different types of tools to promote customer retention
With the right tools in place, you can be on your way to a healthy retention rate and more predictable revenues. 4 parameters are key to improving your customer retention strategy.
Service: Proactive, personal contact and empathy are all part of good customer service. Ensuring that your customers' needs are met is not a plus, it is a necessity.
Customer experience: The customer experience includes the entire journey with your company. If customers have trouble using your platform, or if the interaction is not optimal, they will unsubscribe. It's as simple as that.
Onboarding: Your customers need to be able to get to grips with your services quickly. A personalised welcome and effective onboarding will promote adoption and loyalty, while reinforcing the usefulness of your product.
Pricing: The choice of pricing should be appropriate to your service or product, and be understood by the customer. This will enable you to build customer loyalty and increase your revenue potential.
We present 10 software programs to help you build customer loyalty!
1. Zendesk to manage your customer support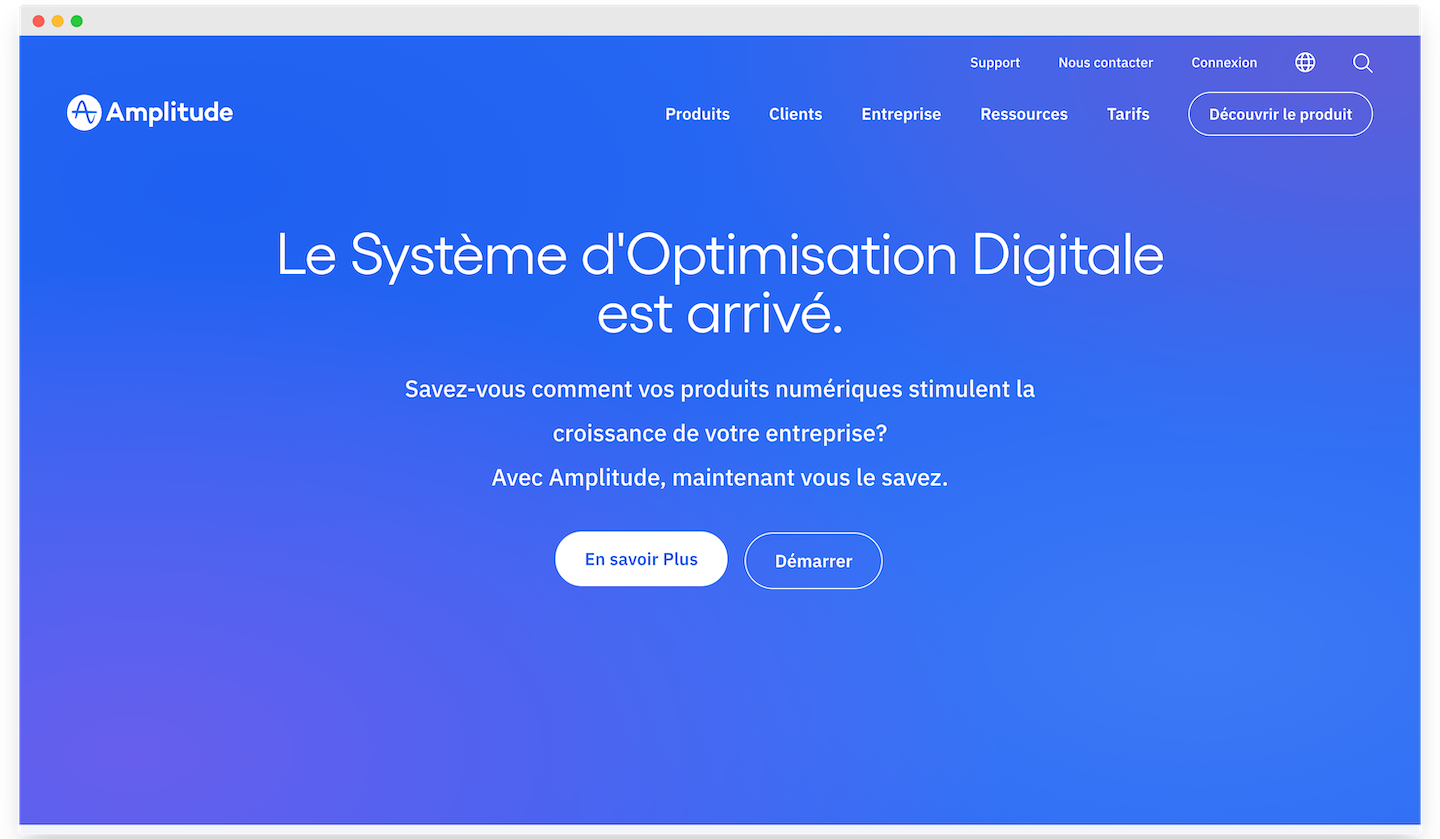 Amplitude is a digital optimisation service, mainly for SaaS or e-commerce platforms.
Service: The software analyses your customers' behaviour to try to find solutions to improve the customer experience on your platform. A lot of data is available, and Amplitude gives you advice on how to adapt to customer behaviour.
Customerexperience: Amplitude's operation is characterised by the triptych See-Do-Adapt. Amplitude Analytics analyses your performance, then Amplitude Recommend and Amplitude Experiment help you react and find new solutions.
Onboarding: You can start with a demo by the Amplitude team. Many resources (FAQs, articles, webinars…) are available to help you get started. A forum and a help centre are available.
Pricing: 3 plans, one of which is free, are offered by Amplitude Analytics. The other two are on quotation. Amplitude Experiment and Amplitude Recommend are also available by quotation.
Kissmetrics and Mixpanel are two solid alternatives. Mixpanel provides all the information you need about your customers: for example, it allows you to find out how long it takes for your new users to return and engage. With Mixpanel, you can determine the level of acceptance of new features of your digital resource and improve them.
Try Amplitude
Test the free Amplitude plan, the digital optimisation system.
5. Sprout Social: to respond to your customers on all networks
Social proof is super important in marketing, but to showcase your customers' comments, you need to collect their feedback. Questback software offers this service.
Service: Questback is one of the leading customer loyalty software that attempts to build customer loyalty through feedback. This web-based software automatically collects feedback from existing customers.
Customerexperience: Feedback is analysed to ensure that companies are meeting their customers' expectations in a way that maximises retention. You can therefore gain an in-depth understanding of what works and what doesn't work with customers.
Onboarding: The Questback academy will answer your questions by providing FAQs, case studies and resources to help you get started.
Pricing: A free trial of Questback is available, with a choice of 3 packages: Starter for 3 users, Business for 5 users and Enterprise for 8 users. Pricing is available upon request.
Alternatives include Hotjar and Delighted.
Try Questback
Start your free trial of Questback.
10. Thursday Thank you for thanking your customers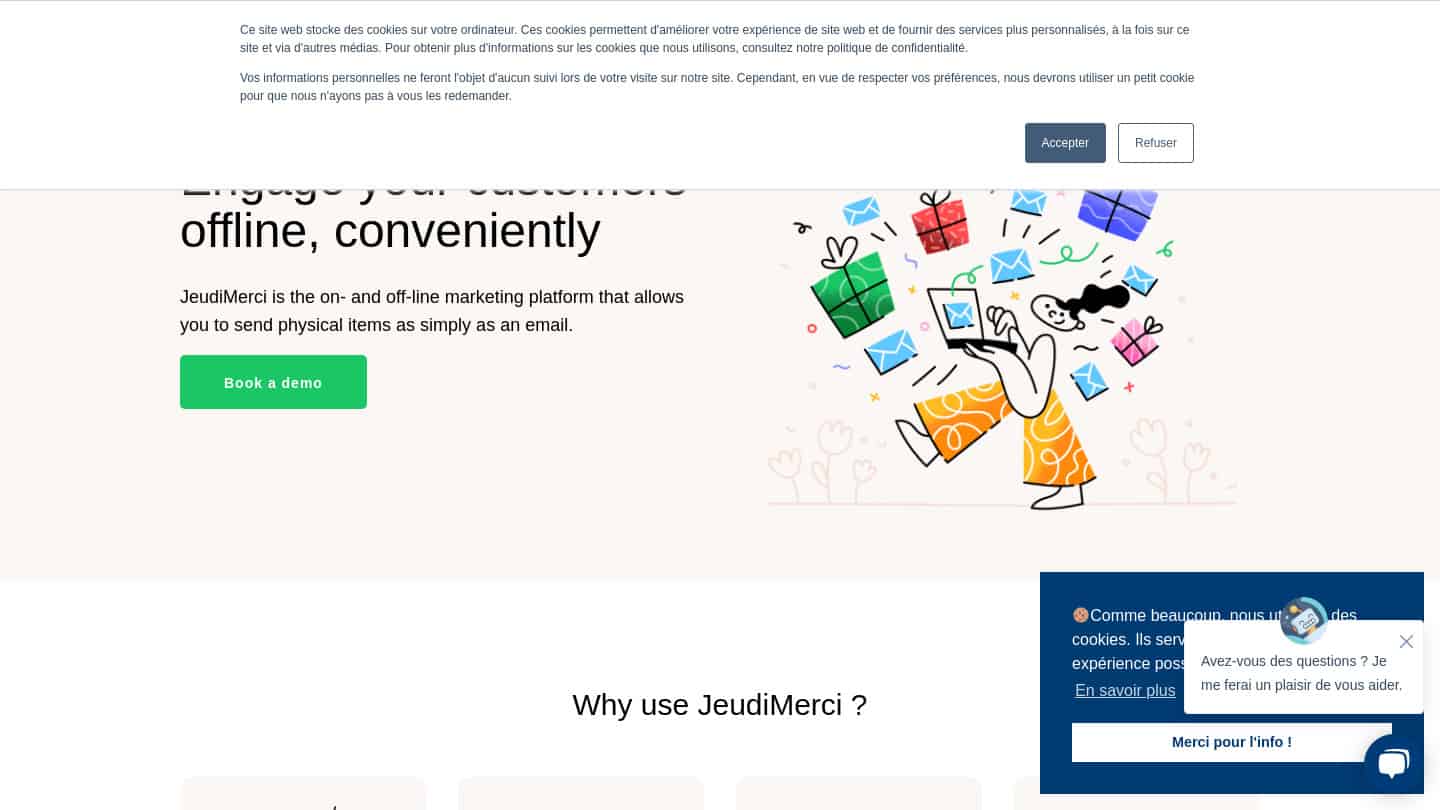 As we said, customers love personalised experiences. It's the key to building loyalty. Take advantage of Thank You Thursday to send them little gifts.
Service: The software allows you to define rules that will trigger the sending of special attention to a customer. Jeudi Merci even takes care of sending personalized packages.
Customerexperience: Thank You Thursday allows you to analyse the impact of each of your campaigns, and to transform your customers' experience into a business opportunity. You will considerably improve your relationship with your customers, and therefore your brand image.
Onboarding: A demo in French is available, as well as a multitude of resources on the site. The ergonomics of the software allows you to get started quickly.
Pricing: The Starter offer is free but limited in the number of sendings and possibilities. The Premium offer is €500 per month, with unlimited uploads and users.
You can also try Sendoso, an American competitor of Jeudi Merci.
Try Thursday Thank you
Thank your customers with Thank You Thursday!
Going further
We've got more articles for you to improve your retention rate!