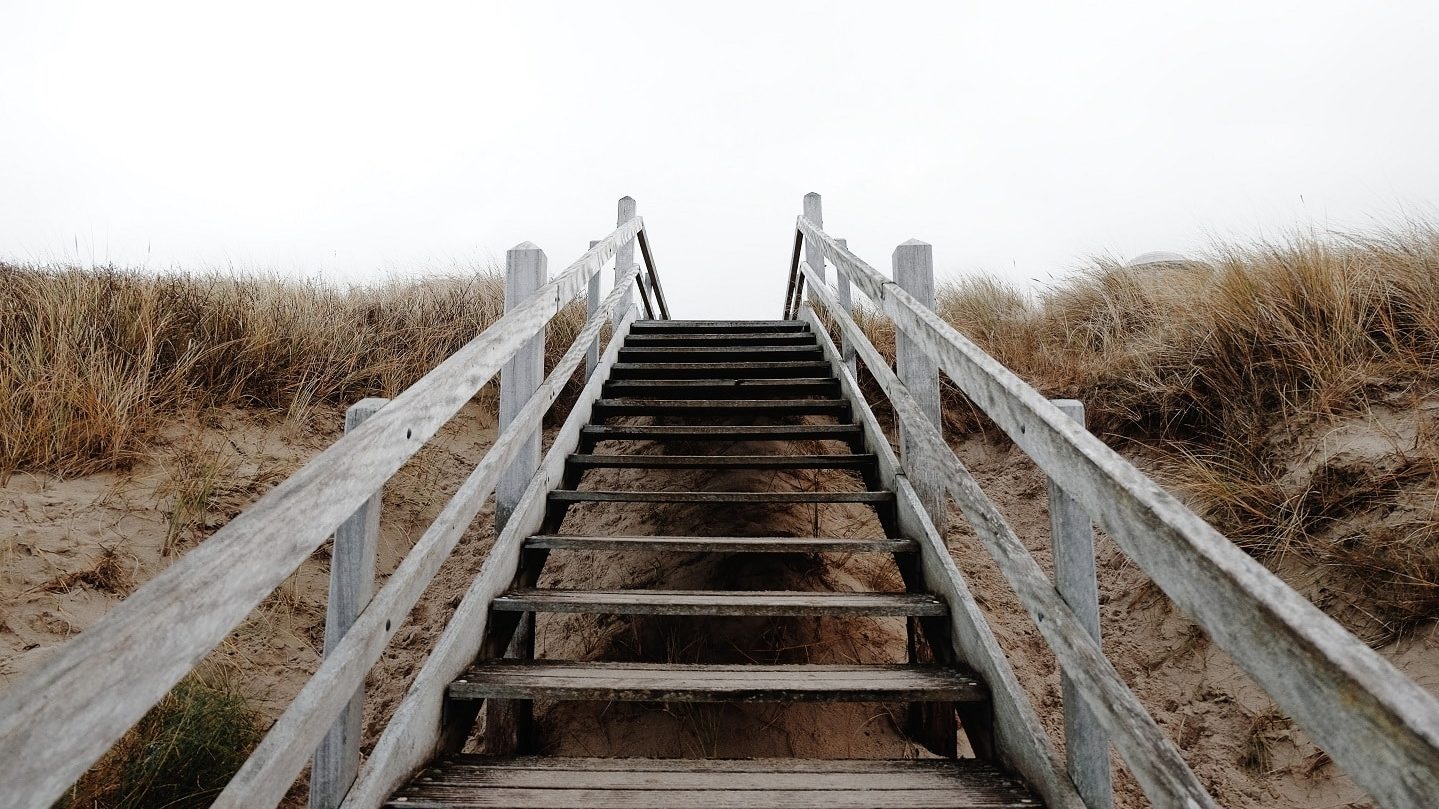 Upselling and cross-selling are often confused. They are both techniques for increasing sales from existing customers, but they use slightly different approaches to do so.
Upselling is selling an improved version of the product or service, while cross-selling is selling complementary products. In practice, the line is quite fine, especially in B2B. However, cross-selling techniques are generally known and mastered (bundling, add-ons, etc.), but upselling is generally less mastered.
In this article, we give you all its secrets: techniques, methods, tools, and best practices to maximize the monetary value of all your deals.
Upsell: definition
Upselling is a sales strategy that encourages customers to buy a product in a higher category than the one they were planning to buy.
This is based on a very simple principle: it costs you much more to acquire new customers than to keep the ones you already have and therefore sell them a more expensive product.
However, upselling should not be confused with cross-selling, which consists of selling products that complement the basic product purchased by a customer: for example, headphones to go with a computer, etc.
Upsell vs. cross-sell
These are both sales techniques that focus primarily on a company's existing customers rather than those it might acquire, but upsell will direct your customer to a higher-end product from your offering while cross-sell is about getting them to buy products in addition to the core product.
10 examples of unstoppable upselling techniques
1. Exploiting the anchoring bias
This is one of the most classic principles in upselling, it is about creating an anchor on one of your higher prices. The cheapest offers will look even cheaper, and the most expensive offers will look cheaper too. This is the classic "Most Popular" that you see on all pricing pages for example.
There are several types of tools for upselling in B2B: while they are primarily customer relationship management software, CRMs offer many features that can help you upsell. In the same vein, you can always use traditional help desk software, which allows the help desk to better understand customer needs.
Finally, customer feedback software that collects data from customers on NPS (Net Promoter Score), CSAT (customer satisfaction) and other measures of customer success, as well as more general comments on product satisfaction, functionality and direction – essential for building segments to work with in upsell.
The common features of these tools include the following:
Account management: This is similar to the functions found inaccount-based marketing software and many other sales tools. It includes history, feedback and engagement tools.
Tracking success metrics: the software tracks customer-specific KPIs and churn probability in addition to general metrics such as NPS, CSAT and Customer Effort Score (CES).
Opportunity management: Part of the responsibilities of customer success teams is to identify appropriate upsell opportunities. Customer success management software highlights areas of the customer's business that could benefit from additional products or advice.
Service management: The software includes service management functions that allow the creation of cases and work orders to solve problems that the client may encounter.
Intercom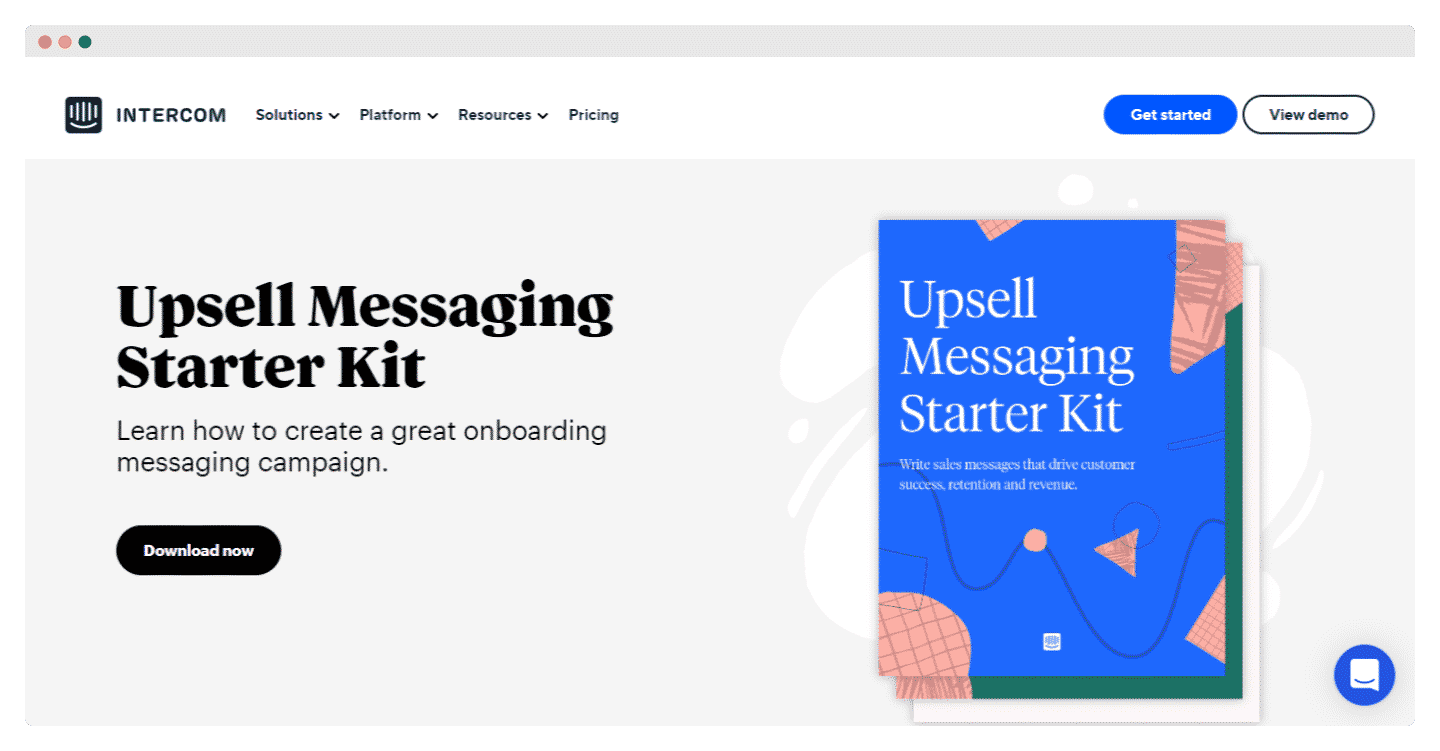 Intercom is a marketing automation tool that we really like, especially for its conversational marketing aspect. In terms ofsales organisation, it offers you the possibility of automatically qualifying leads via the use of chatbots but also of integrating your prospects into multi-channel message sequences (chatbots and email).
For upselling, it's a godsend: in fact, Intercom offers a free downloadable guide to help you develop upselling campaigns on its software.
Discover Intercom
Discover all the features of Intercom!
Planhat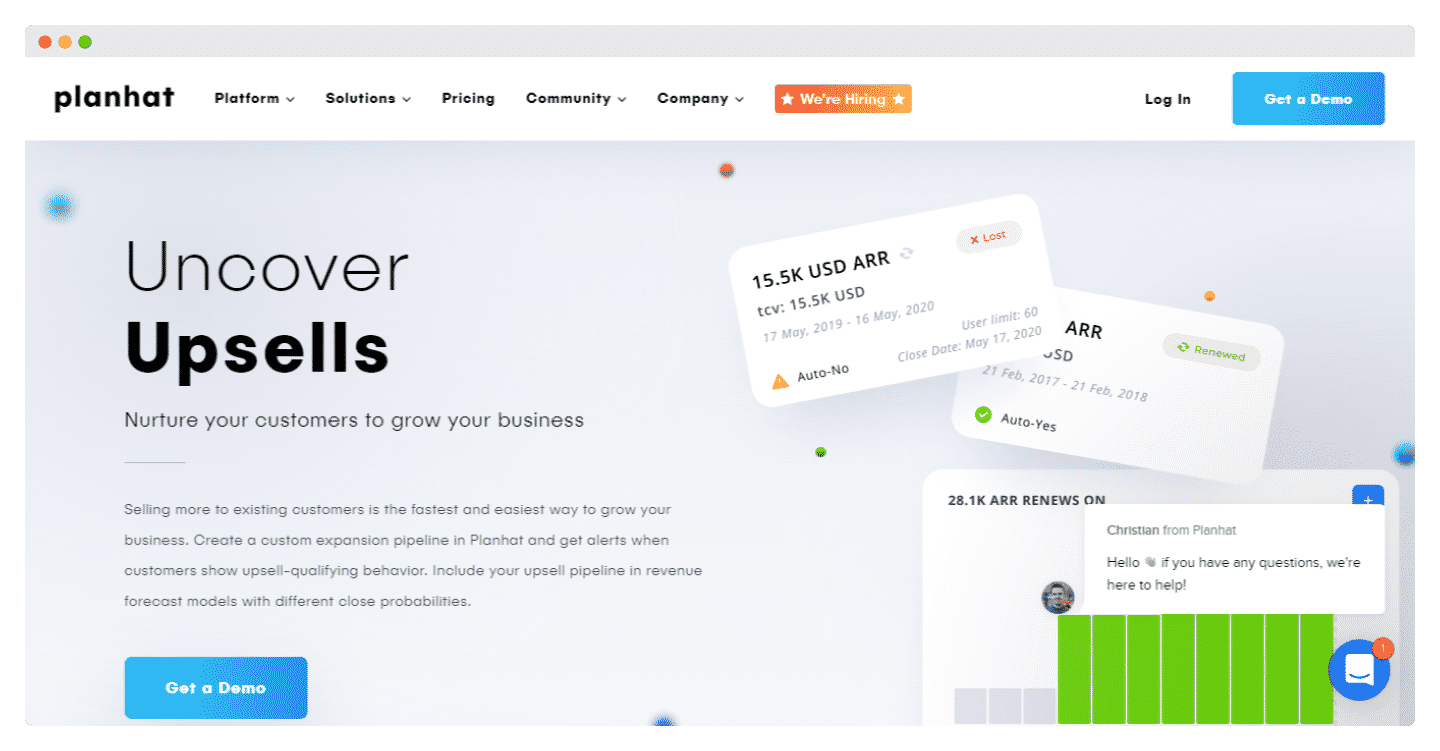 Planhat was born out of the ambition to modernise the classic CRM, with a focus on customer success: it helps you reduce churn, automate your tasks, but above all optimise the value and lifetime of your customers.
When it comes to upselling, Planhat allows you to identify upsells in usage patterns to understand and monitor their engagement. The tool also allows you to discover upsell opportunities: you can see when customers are reaching their subscription limits through product usage data, offer them new features, but also discover patterns in your customer base to find recurring revenue.
Discover Planhat
Planhat offers you a free demo!
Gainsight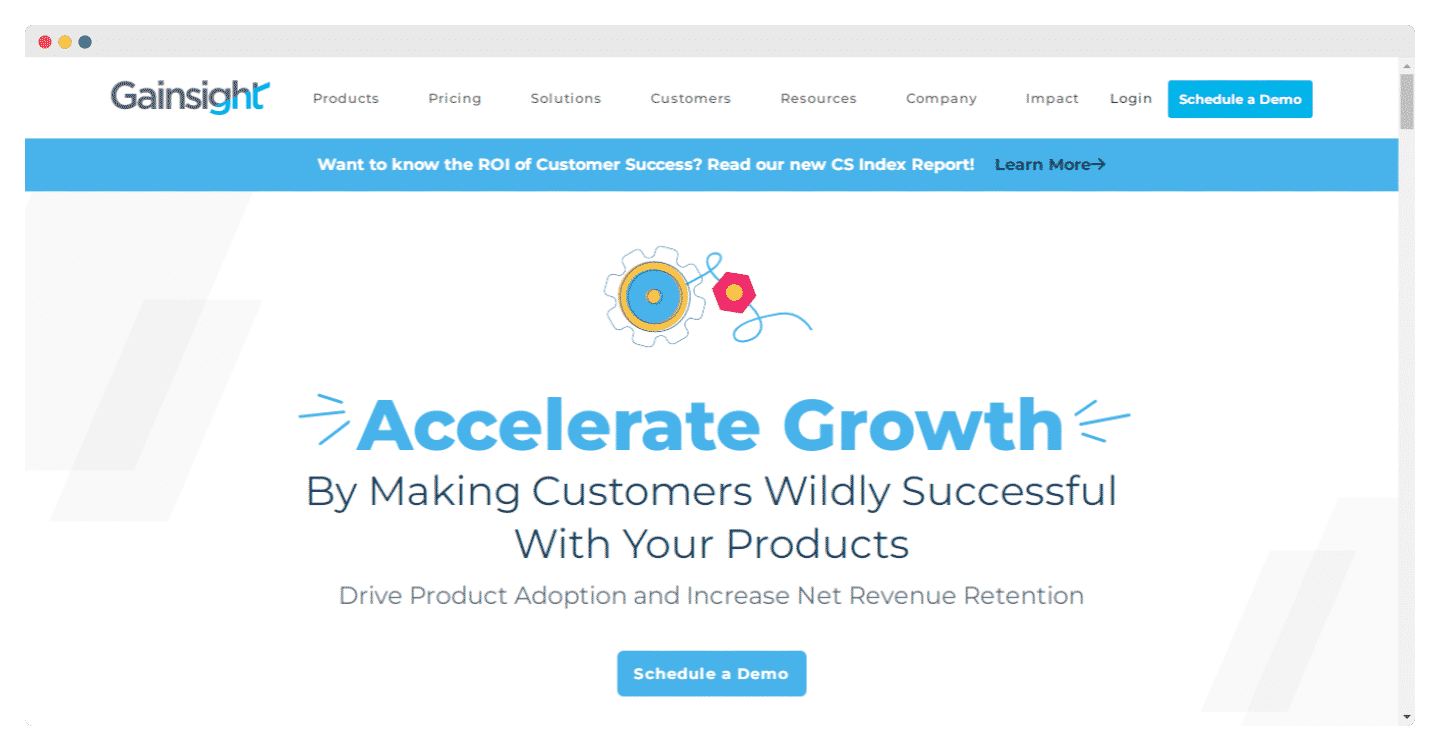 Gainsight is another CSM platform that collects all your customer data and analyses it using AI to help you boost your performance.
In concrete terms, this obviously translates into upsell and cross-sell practices: the software helps you proactively identify opportunities in your customer accounts and trigger CTAs to drive the conversation. Gainsight also allows you to accurately predict upcoming renewals and to make your customers aware of new enhancements through targeted product engagements.
Discover Gainsight
You can book a free demo with Gainsight.
ChurnZero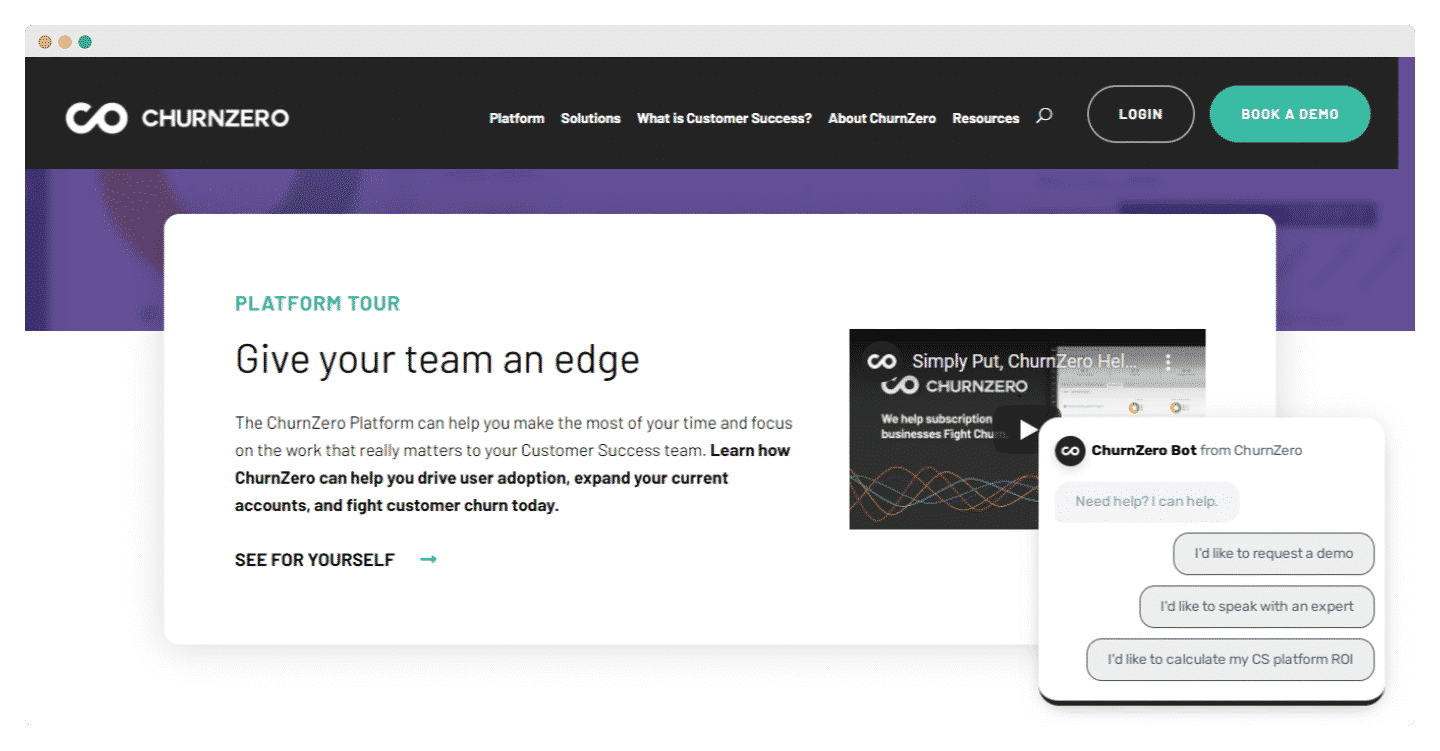 ChurnZero is a CSM software that offers holistic customer relationship management through a better view of the customer lifecycle.
Among ChurnZero's upsell features, the tool allows you to analyse your customers' usage data, but also to send targeted messages in the application that alert them to new add-ons that may be of interest to them: this allows you to engage customers at the optimal time, i.e. when they are using your product.
ChurnZero offers WalkThroughs to convert trial users: this consists of driving customers directly to your products in the application.
Discover Churnzero
Discover all the features of ChurnZero!
Profitwell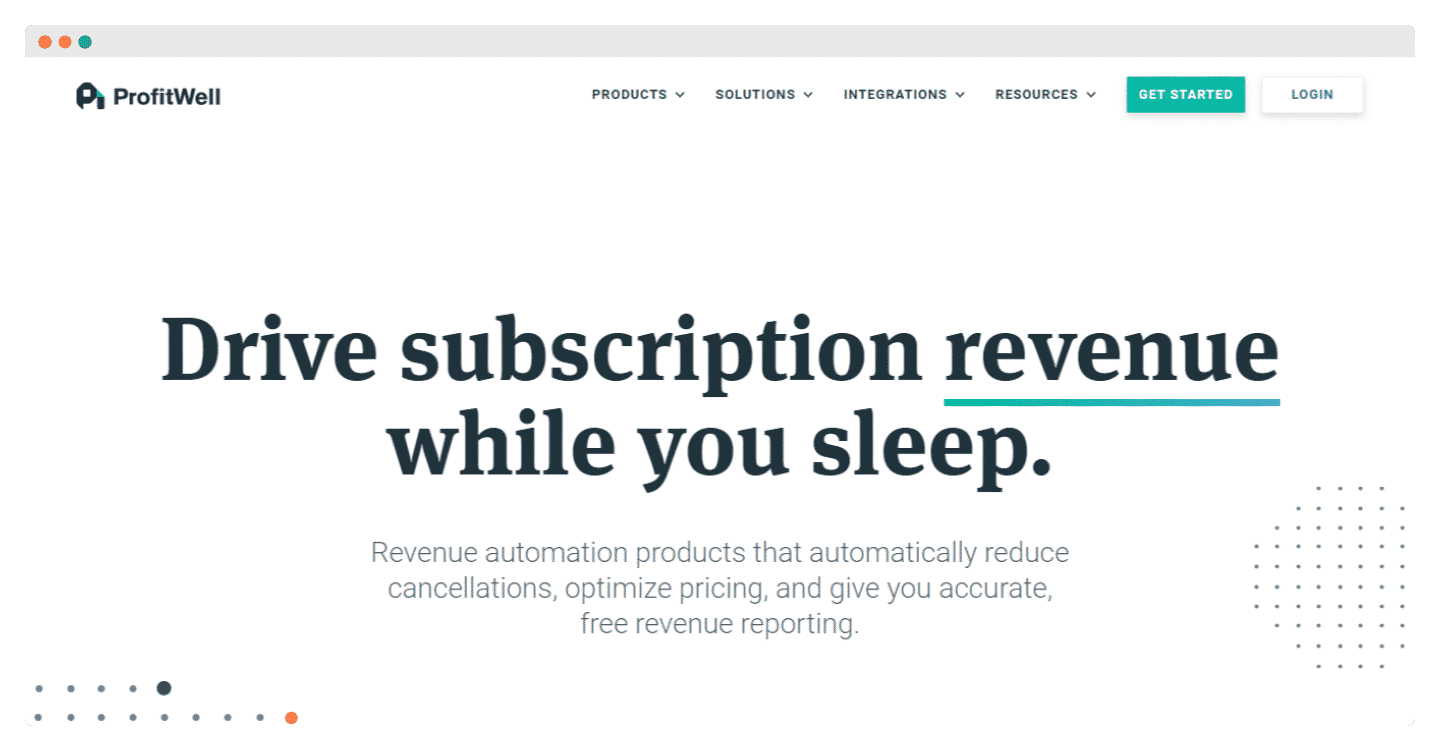 ProfitWell is a churn management solution designed to help businesses improve conversion rates and automate all aspects of churn reduction. Based on the data collected, ProfitWell automatically translates churn recovery messages to customers, sending them recommendations for credit/debit card reactivation based on churn risk.
While ProfitWell is not directly a CSM solution, it does allow you to implement upsell practices as it provides you with a wealth of customer data which then helps you identify upsell and cross-sell opportunities.
Discover ProfitWell
ProfitWell offers a free version.
How to upsell: 3 good practices
#1 Segmenter (SONCAS)
The SONCAS method dates back to 1993 and stands for Security, Pride, Novelty, Comfort, Money and Sympathy. The idea is that these 6 levers enable us to understand the needs of a prospect or customer, in order to trigger a purchase, taking into account their specific behavioural characteristics. Today we sometimes speak of SONCAS(E) by adding an E for "Environment" or "Ecology".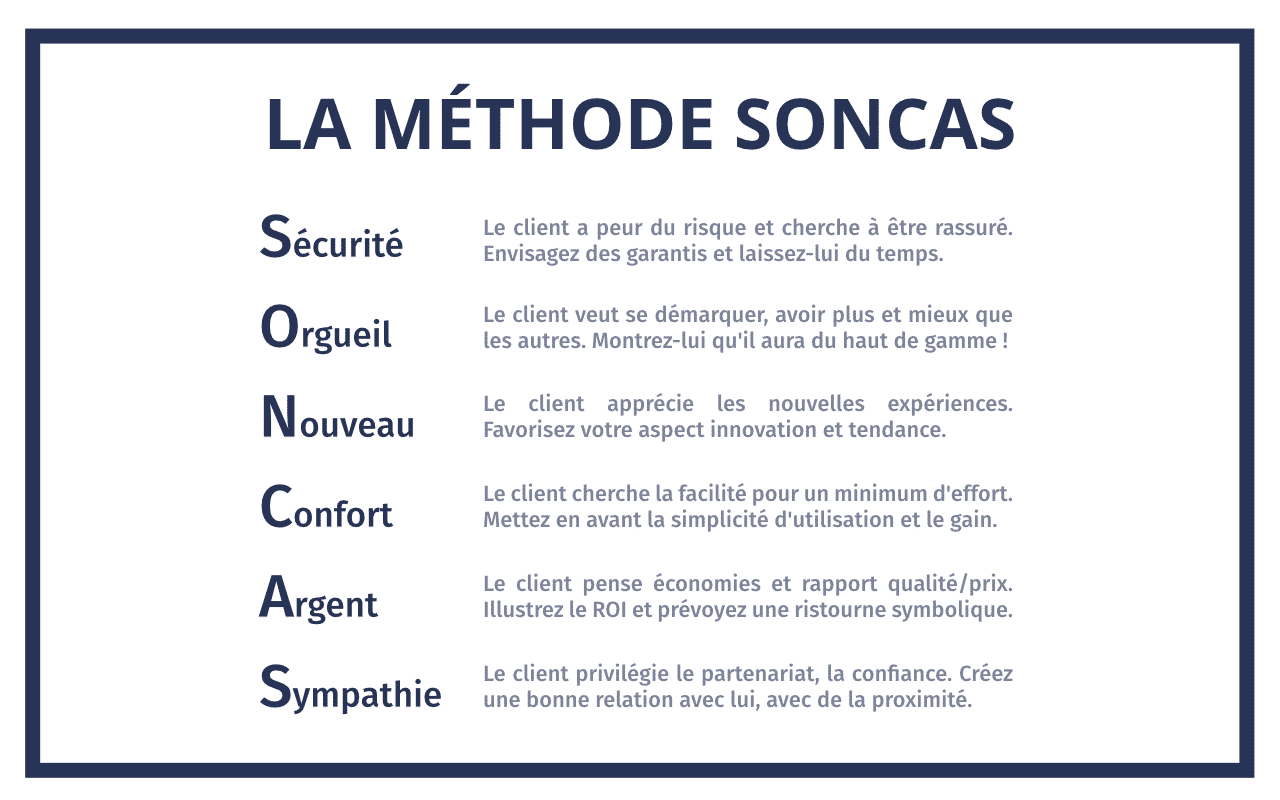 Source: Uptoo
The link with upselling is quite simple: once you have segmented your customers with the SONCAS method and therefore understood the specific needs of each segment, you are able to offer them adapted products and convert them more easily.
For example, for SaaS software, you will have a start-up plan for freelancers, then for SMEs, etc.
#2 Positioning upsell opportunities at the right time
The design of your product should encourage your customers to keep discovering new features: keep the barriers to entry low and keep the product simple enough for users to get interested quickly.
At the same time, you don't want your product to be so basic that users get bored. Design a product that has more to offer than it initially appears, so that they continually discover new features over time and are therefore willing to listen to potential upgrade options.
And finally, the ultimate advice is of course to manage your timing: you have to offer your customers the upsell when you know they need it the most: take the example of Zoom, which offers its videoconferencing services for free for a limited period of time and then, once this period is over, offers the paid subscription.
You can also offer upsells when customers successfully use your product or when you are about to launch a new and improved integration.
#3 Help your teams to value the upsell
The idea is to make it worthwhile for your sales team: as remuneration is an important factor in motivating your sales people, you really need to integrate upselling and cross-selling into the commissions they can earn.
At the same time, make sure your sales team is well trained in the products involved in the upsell. Rehearse the presentation techniques needed to demonstrate how a complementary or higher quality item benefits the customer to increase the chances of them saying "yes".
Reader Interactions