Your week is starting well. You have a potential customer who is interested in your product. You arrange a presentation to introduce your product in more detail. "I can't wait to hear more at the presentation," he says. To make this presentation successful, you will need a great business proposal.
We have compiled the best business proposals in B2B for you to help you create your own presentation. Take inspiration from these 7 presentations and you'll be well on your way to creating a customer-centric presentation.
Pro tip
Are you still using powerpoint for your propales? No wonder you spend hours on it. Discover our selection of the best tools to build a sales proposal to convert more, faster.
#1 DocSend : Tell a story with your business presentation
DocSend, a document sharing platform, found that only 17.5% of prospects who view their presentation do so until the last slide.
The company has revamped its presentation to make it an interesting narrative around the problem that DocSend solves. The company now shows that 65.4% of prospects who open the DocSend platform now click on the last slide.
DocSend's new presentation is not only visually appealing, it also captures the viewer's attention with its relevant storytelling, which allows the company to present itself as a problem solver.
DocSend identifies a change in the world of sales, and tells the story of how buyers can succeed in this new world with their product. In addition to creating a story, DocSend engages viewers in conversational language. Funny phrases like "once upon a time" make the viewer feel like they are listening to a colleague's entertaining story.
Things to remember
Use storytelling to weave a narrative that highlights the pain your customers are experiencing. Create a narrative based on what your research and data tell you about your customers.
#2 Zuora: Start with a macro approach, not with your product or service
Zuora's presentation is different in that it does not approach the subject through its product. Instead, the company takes a macro-economic angle with the new subscription economy. Sharing a development related to your industry allows you to gain credibility in the eyes of your prospects.
Zuora begins by explaining how subscription has changed the business plan of many companies. Asking this question allows prospects to ask themselves questions about their business and the opportunities that a subscription strategy could represent. Questions that Zuora will be happy to answer.
Things to remember
Research the major changes in your industry and how these changes might impact your potential customers. Then present this as an opportunity for your prospects, which your services will exploit.
#3 Appsflyer: Offer a before and after approach
AppsFlyer, a SaaS mobile marketing attribution and analytics platform, describes what the advertising industry looks like without their product. They then present what the world might look like and how their product helps companies integrate that world.
This gives them the opportunity to further leverage their product capabilities and the number of integrated partners to advertise to as many customers as possible.
AppsFlyer even labels its slides "Before" and "After". It's the perfect setup to explain in detail how AppsFlyer helps app developers, brands and advertising agencies (AppsFlyer's target customers) optimise their data.
The "Before and After" technique ensures that the impact of the AppsFlyer product is focused on the customer and their needs.
Things to remember
Apply the "Before and After" technique. Include information to help your audience see what their current world looks like without your product (the before), what it could be like (the after) and how your product or service contributes to the ideal configuration.
#4 ProPad: Address the prospect directly in your sales proposal
Prospects don't care what your company does – they care whether or not you understand their needs. The ProPad product management platform avoids the pitfall that many companies fall into with customer-centric language. The company uses terms such as "you" and "your" to show that it is truly customer-centric.
In addition to speaking directly to its audience, ProPad presents a series of questions that its prospects are used to asking about product planning. This approach allows prospects to feel concerned by the issues addressed and not only by what ProPad offers.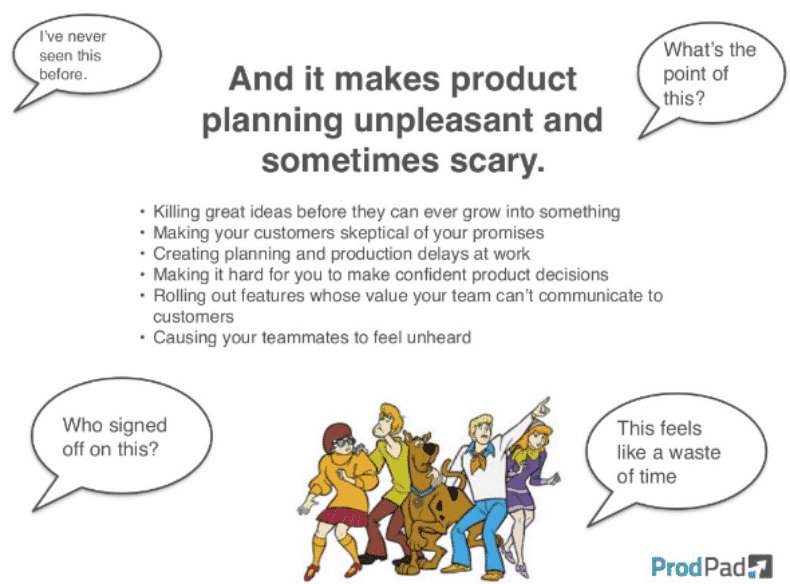 Things to remember
Again, the aim is to have a presentation that focuses on your customer rather than your organisation. By addressing them directly they will understand that they are at the centre of your concerns.
#5 Contently: Demonstrate the value of your product with social proof
Contently' s content marketing solution puts its successes at the heart of its business proposition.
The company presents case studies of satisfied customers – most notably Coca-Cola – who used Contently to produce content prior to the launch of Coca-Cola Journey.
With case studies in their business proposition, Contently gives their target audience a reason to trust them and their service.
Things to remember
Clearly explain the value your current customers get from your product or service in your sales pitch. Use case studies with quotes from satisfied customers and indicate what aspects of their business have improved because of your company. Be specific if you can and include figures to back up what you say.
Pro tip
Are you still using powerpoint for your propales? No wonder you spend hours on it. Discover our selection of the best tools to build a sales proposal to convert more, faster.
#6 Front : Highlight your value with visuals throughout your sales proposal
When your sales proposal is awash with text and bullets, it is difficult and distracting for your audience to read. Graphs and charts are a great alternative.
See how shared inbox platform Front uses visuals in its sales pitch. Rather than just inserting the statement "Maternal mortality rate has increased 5.4 times in the last 12 months", Front has included a graphic that shows what this growth and increase in the maternal mortality rate actually looks like. The value of their statement is still there, but the graph is much more compelling and visually appealing to absorb than the text.
Although Front uses visuals as a priority to accompany its commercial proposal, they do not banish text, which must always be present to make the raw data speak for itself.
Things to remember
Visuals can increase presentation retention by 10-65%. Work with your design team to insert logos, interesting flow charts, infographics. Insert text where needed to describe an image, and make sure all visuals align with your company brand.
#7 Moz: Insert a clear call to action at the end of your sales proposal
You have reached the end of your presentation. Now what do you want your audience to do with the information? Moz, a marketing analysis company, asks the question clearly on its last slide: do you want to be involved in the company's grand ambitions.
Moz offers a simple and straightforward CTA to close its business proposition. The audience may or may not invest in the company. You can do the same thing by inviting your prospects to perform a specific action after the presentation that will move them along your sales funnel.
Things to remember
Your audience should not be left wondering what you want from them. Explain your expectations in clear terms with a small sense of urgency to get them to make a decision.
#8. Single Music: Using visuals to get your message across
Single Music is a platform that allows artists to monetise their Spotify accounts. In its slide show, the brand presents its artist roster, placement and features.
Single Music communicates effectively using numerous icons and visuals. At 28 pages of slides, Single Music has one of the longest sales presentations presented here. If you want to create such a long sales pitch, however, make sure you only include relevant information, avoid unnecessary "balbla".
Things to remember

Remember that a picture is worth a thousand words! Your clients will remember your visuals more easily than your text, so don't neglect them when making presentations. Make sure your images clearly reflect your message, while being striking and memorable.
#9 LeadCrunch: Leveraging numbers & statistics
LeadCrunch specialises in B2B lead generation. They have created a sales presentation with statistics and graphics. They show companies how to prepare and personalise their sales and marketing forces.
Here key figures and important messages are highlighted in bold, large or glossy type. Their somewhat lengthy presentation is lightened by the insertion of visuals and data in the form of graphics. These elements attract the attention and interest of the audience.
Things to remember
The figures appear both concrete and reliable to your interlocutors. Highlight all the relevant statistics of your company, especially customer satisfaction and loyalty. To make it easier for your prospects to interpret and more pleasant to read, use graphs showing the evolution of your statistics.
#10 Keptify: Make a clear promise
Keptify starts its sales presentation with a catchy statistic. The brand then explains what is behind the data. This presentation is uncluttered, and does not overwhelm prospects with too much text. Keptify opts for graphics and visuals, which are quicker to understand and more dynamic for the audience.
By providing powerful information right from the start, Keptify confronts the prospect with the problem they are facing, and for which they want to find a solution. Keptify raises a specific question and proposes an effective solution to the problem. Then Keptify details page after page the details of its offer and the different ways to solve the problem.
All presentation pages provide an overview of the products and can easily be personalised and adapted to all potential customers of the brand.
Customised sales presentations pique the prospect's interest and increase the likelihood that they will actually buy from you rather than elsewhere.
Things to remember
Make sure you qualify your prospects and identify their problems before presenting your product. This will allow you to personalise your presentation with meaningful examples and practical cases that are very close to, or even identical to, the situation of the person you are talking to. Demonstrate precisely how your offer will solve your prospect's specific problem.
#11 Kimola: Mastering storytelling
Explaining a concept through a story or case studies can be persuasive. Kimola has chosen this approach to present its offer.
The brand begins by introducing its main character, "Jane", a potential customer of your company. It then shows how to obtain useful information about this character using the brand's software. Finally, Kimola details the main features of its software.
Through this narrative method, Kimola's prospects can see exactly how the software can help them reach their target.
Things to remember
Storytelling is an opportunity to bring together several of the techniques mentioned above. You can illustrate your story with visuals that reflect your brand and your message, and insert graphics and statistics. All this while imagining a practical case where the customer will recognize himself and find a solution to his problem through your products and services.
How to make a good business proposal?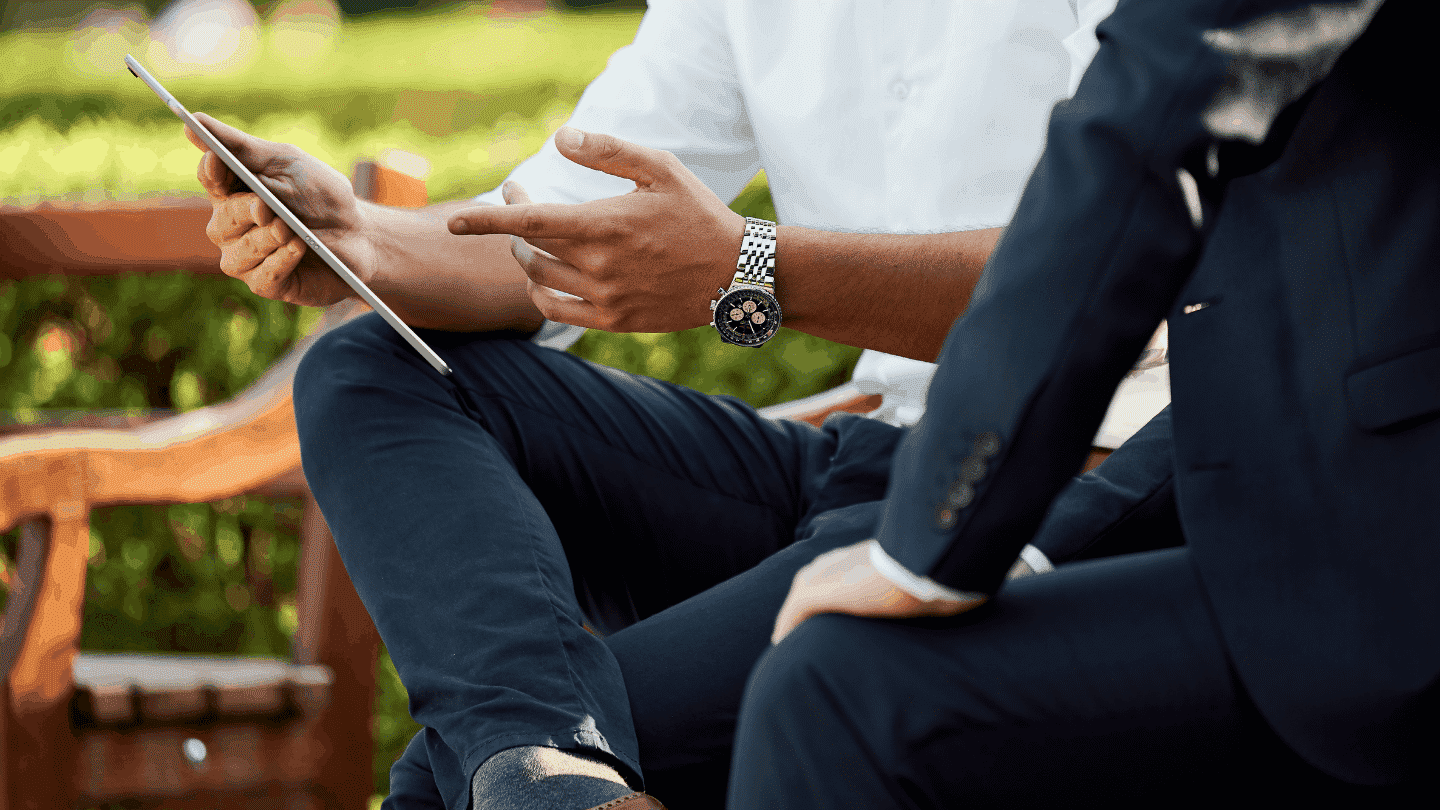 1. Start with solutions
Sometimes you have to offer your product to a customer who is already familiar with your brand, or your offer.
In this case, avoid overselling your company or products with an overly glowing presentation. This is one of the main reasons why sales presentations fail.
Instead, focus on the solutions you will provide to your potential customer, to structure your tailored sales proposal.
2. Use concrete case studies
After discussing the solutions you can provide, it is time to give your future client concrete examples.
Share exciting case studies in your presentation, where your prospect will be able to easily project himself. They will see the results obtained with your product.
This step builds trust between you and your prospect, and strengthens your credibility. It also brings your solution to life in a real-life context, and makes your presentation dynamic and attractive.
3. Validate each step of your speech
Product presentations often resemble a monologue by the salesperson. This can quickly become boring for the prospect. The prospect is likely to be distracted and miss your sales pitch and the benefits of your product.
To keep them engaged, remember to interact with your prospect regularly. Punctuate your presentation with questions ("Do you understand?", "Do you see how this could work for you?"…).
Asking questions not only keeps your customer's attention, but also helps you gauge their interest in your offer, anticipate their reluctance, and make sure they understand your pitch. This will help you close more sales after your presentations. Don't forget that this pitch is the penultimate step in your sales process before you close the sale!
Take advantage of any interruption from your prospect (question, remark, change of attitude, etc.) to start a dialogue. This is an opportunity to gather crucial information for the negotiation stage.
Never ignore these interruptions without responding to them, even though they may cut you off from your presentation and prevent you from getting to the point. It doesn't matter, focus on your prospect's concerns. Addressing their concerns is far more important than what you were about to say.
This time left to your interlocutor is already part of the negotiation techniques that will be to your advantage to conclude the sale.
4. Keep it short
Your presentation should be clear and concise. The shorter it is, the less likely you are to lose your prospect's attention.
Of course, you have a lot to say about your product and you want to share your enthusiasm with your future customer. But if you ramble on too much, and provide information that is not relevant to the customer, you risk missing out on a sale. Focus on the information that is useful to them, nothing more.
Feel free to test your presentation on a colleague, or someone you know, and encourage them to give you honest feedback, especially on its length.
Pro tip
You can also use qualification methods such as BANT, or FAINT to qualify your prospects and define their needs. Record and use the information obtained from your CRM tool to tailor your presentations to your potential customers.
Then classify your customers according to, for example, their issues, their size, their sector of activity… You can then easily create several standard presentations according to each category. All you have to do is make a few changes to personalise your slideshow before your meetings.
What tools should you use to create your sales proposals?
#1 Canva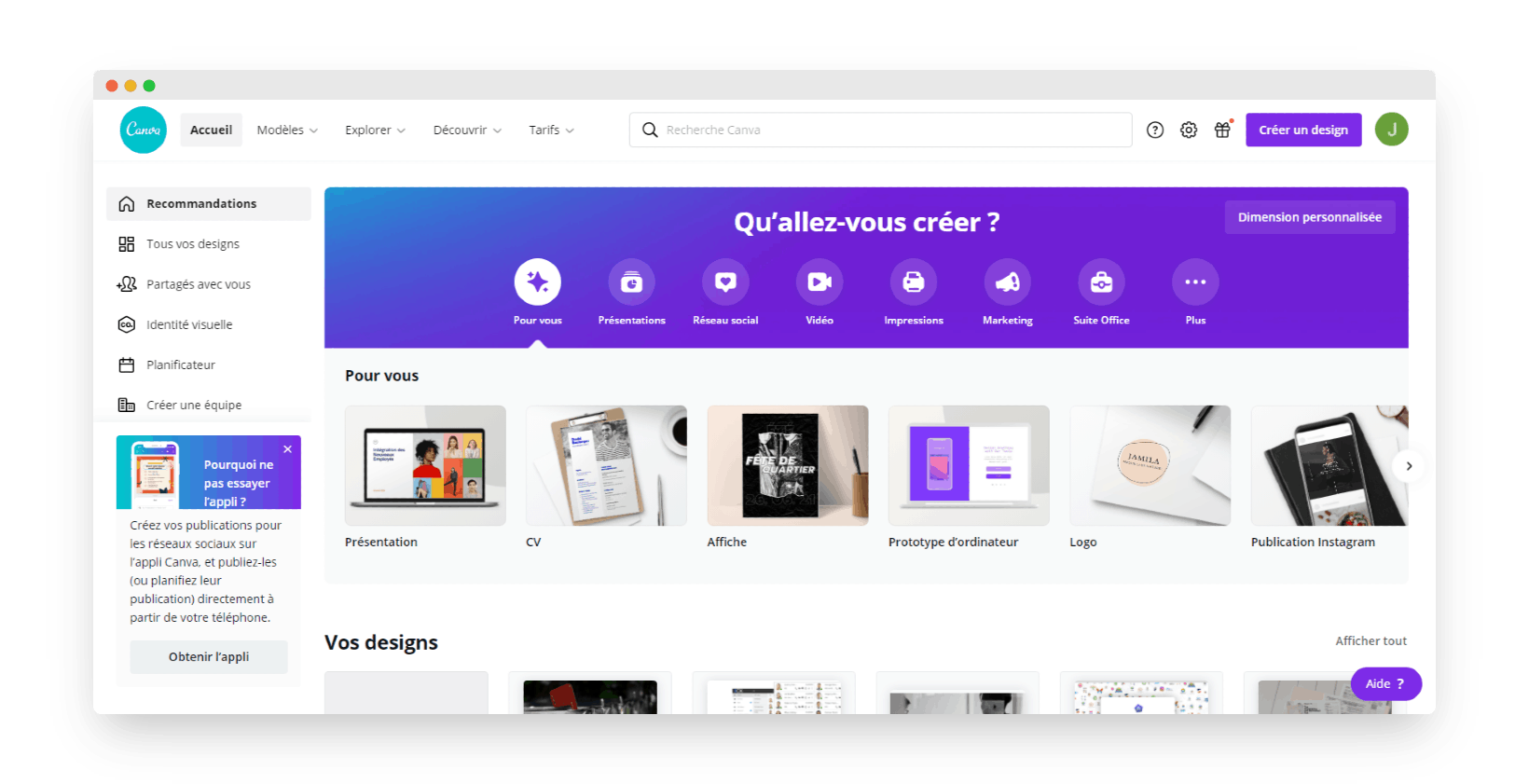 Canva allows the design of all kinds of graphics, including business presentations. There are countless templates available to get you started with your presentation. These templates are all editable at will.
File sharing and comment exchange allow teamwork to create presentations for multiple collaborators.
Try Canva for free
The free version of Canva includes many customisable templates, plenty of photos and illustrations to build your presentations, and the ability to collaborate as a team on your slideshows.
#2 Google slides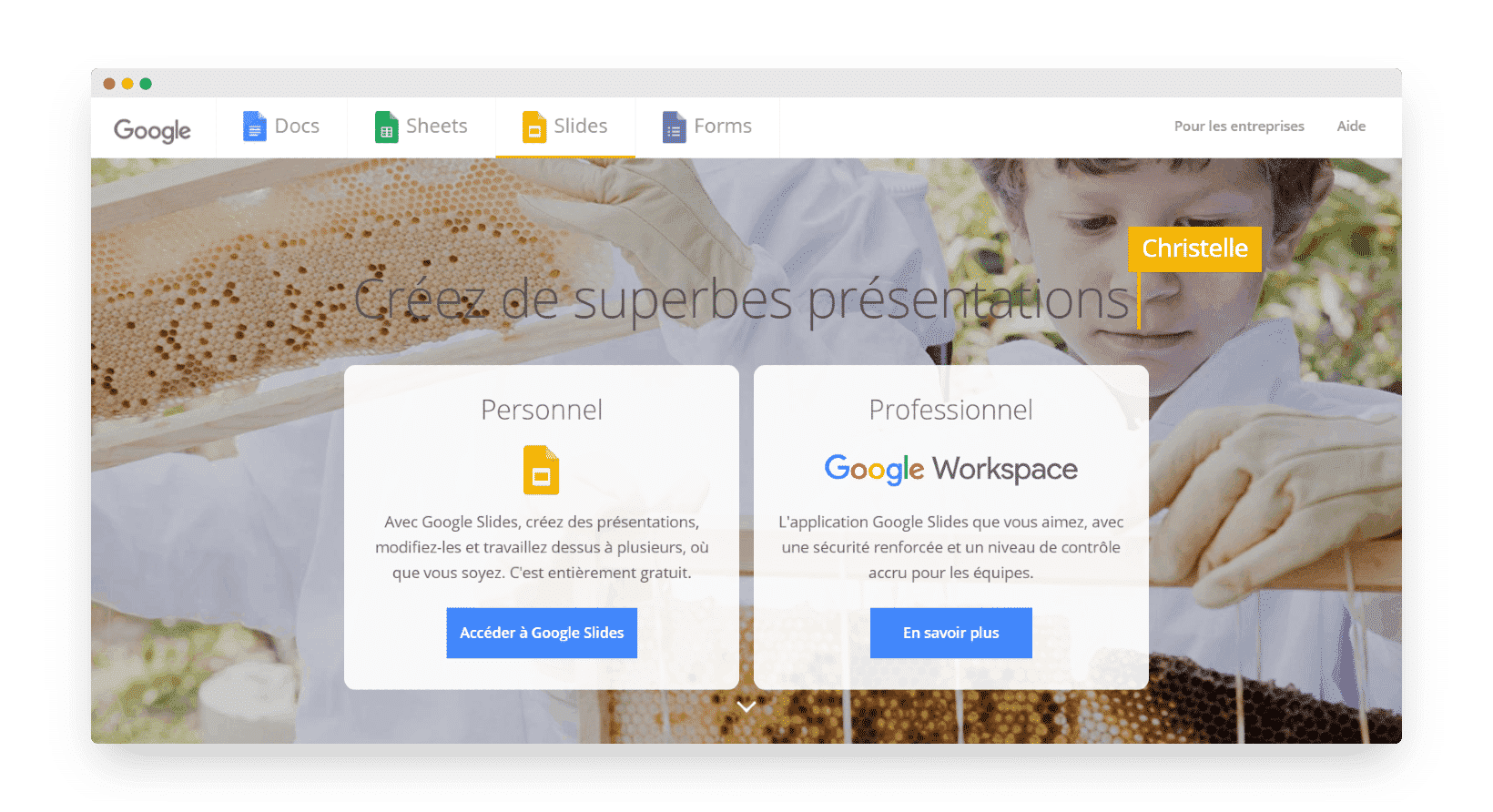 Google Slides is available free of charge, and allows you to easily create your business presentations. You can work together on your presentations, even remotely. This allows you to work as a team to create outstanding slides. Numerous options such as the use of web fonts (via Google Fonts for example), themes, videos and animations allow you to personalise your presentations.
This online tool allows you to create your slides in 16/9 format, directly from your web browser, and to project them directly as a slideshow, even from your mobile devices. All you need is an internet connection to find all your presentations on Google Drive.
Try Google Slides for free
Google Slides is completely free, as is Google Drive for sharing your presentations.
#3 Pitch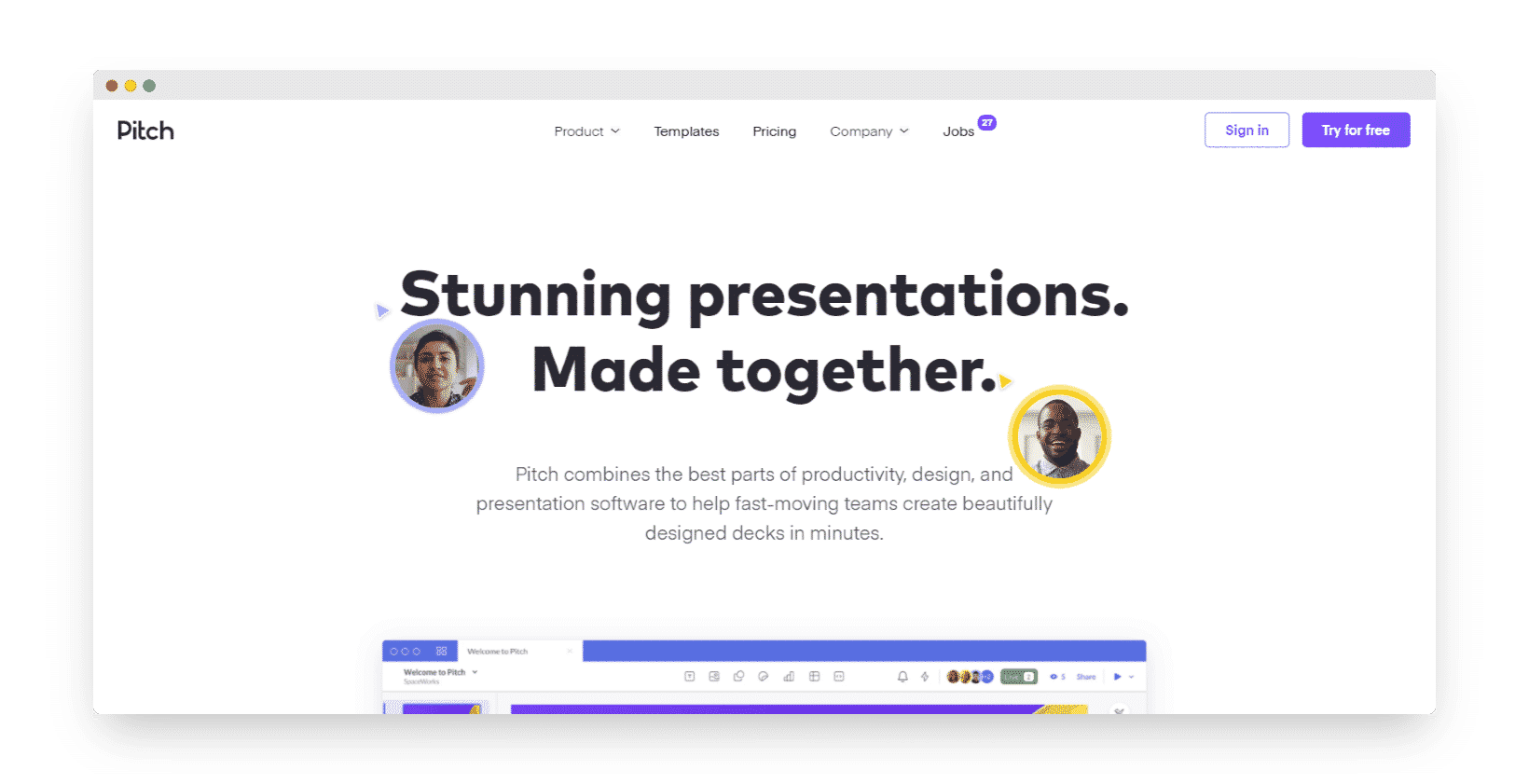 Pitch allows you to choose from hundreds of free customisable presentation templates.
Premium packages allow you to work as a team on your presentations.
Their collaboration tools offer the possibility of working with several people in real time on the same presentation, using videos and instant comments.
Try Pitch for free
A free version of Pitch is available, giving you access to an unlimited number of presentations, numerous customisable templates, and an instant video interface allowing all your collaborators to exchange in real time.
To go further
These different sales proposals are an excellent basis for building and presenting your own product or service to interested B2B prospects. Remember to focus your presentation and sales pitch as much as possible on your customers and tailor your product or service to their needs. Your concern for the success of your prospects' businesses will shine through, increasing your chances of closing the deal!
Are you looking for other ways to optimise your business processes?
Please feel free to use the resources we have made available to you