Notion is a highly modular and customizable project management software that promises to bring together all a company's information in a single tool. Thanks to its many layouts, it can be used by both individual users and large teams.
More than just a project management tool, Notion is an advanced document editor, storage and collaboration tool with numerous integrations. All these features make Notion one of the most comprehensive tools on the market.
In this article, we'll tell you everything you need to know about Notion, so you can make up your own mind!
Our opinion on Notion
Criterion
Note Salesdorado
Comment
Overall rating
Notion is a flexible, all-in-one project management tool, ideal for gathering all your company's knowledge in one place.
Ease of use
The tool is very easy to use, even if its great flexibility may confuse some users.
Easy to set up
Notion's modular block system is very intuitive and easy to set up.
Customer service
Although there is room for improvement, Notion's customer service can be reached in many different ways. Notion also offers a large database to help customers, and a dedicated community area.
Functional depth
Notion has most of the features needed for project management. However, reporting and customer communication functions are underdeveloped.
Integrations
Notion offers a wide range of integrations, increasing the software's functional depth and flexibility.
Quality-price ratio
Notion offers excellent value for money, with a host of features available right from the free version.
The advantages and disadvantages of Notion
Notion's intuitive interface is easy to navigate.
Notion offers a rich gallery of templates, very useful because of the flexibility of the tool.
Notion offers a wide range of integrations, and even lets you create your own.
Getting to grips with Notion can be tricky compared to other similar tools on the market, such as Trello.
Notion's reporting features are underdeveloped, so it is not intended for structures that need this functionality.
Notion: Features at a glance
Document editing
When you create a new page in Notion, the application opens a note with several buttons: by clicking on one of them, you can make this page a blank note, open a pre-designed template, or import a document.
Buttons can also be used to turn this note into a database: a simple table, a kanban table, a list, a timeline, a table, a gallery, etc. Simply press enter to obtain a blank note and make the buttons disappear.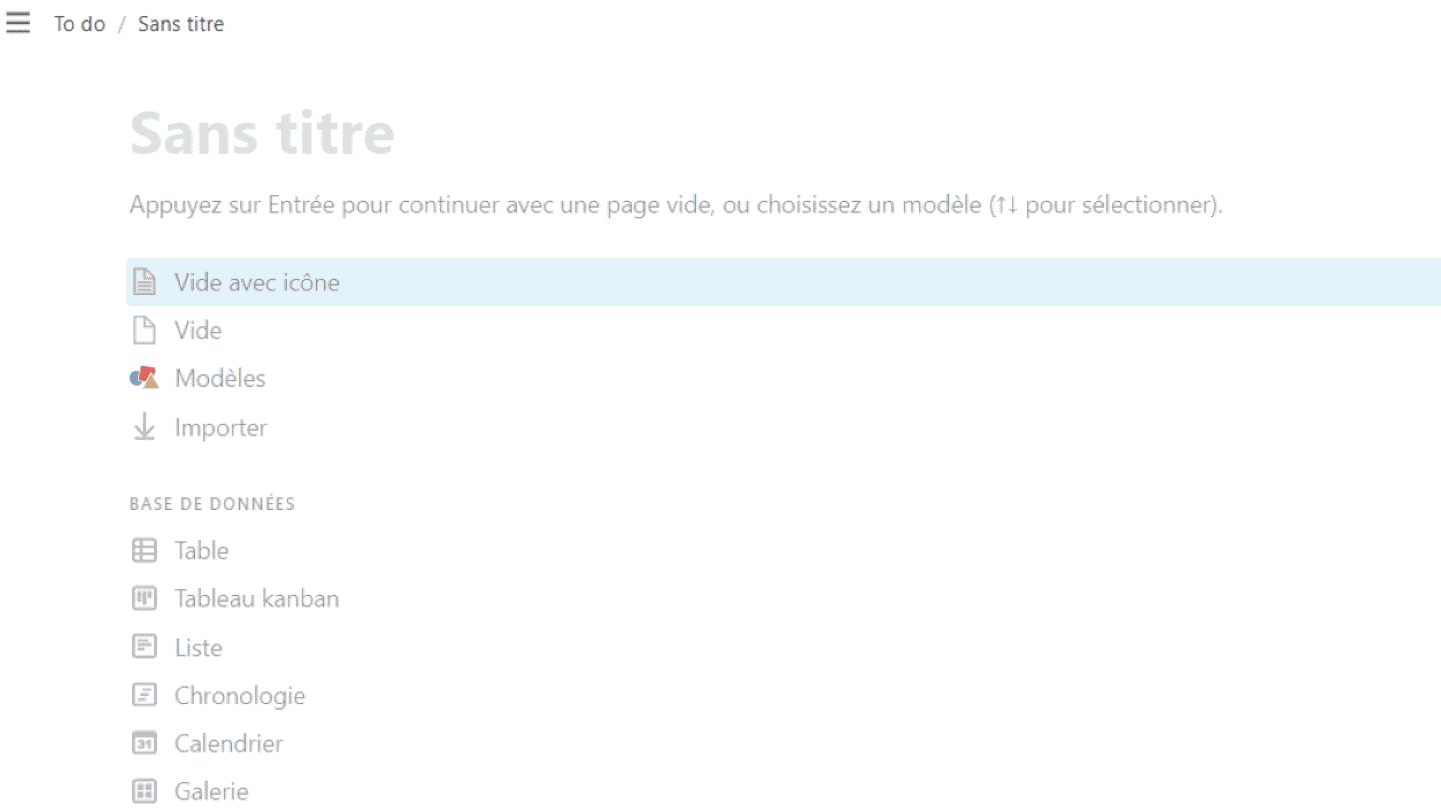 Notes in Notion use text blocks: each paragraph is its own entity, its own block. To the left of each block is a button (6 small gray squares) that lets you enter and move the block.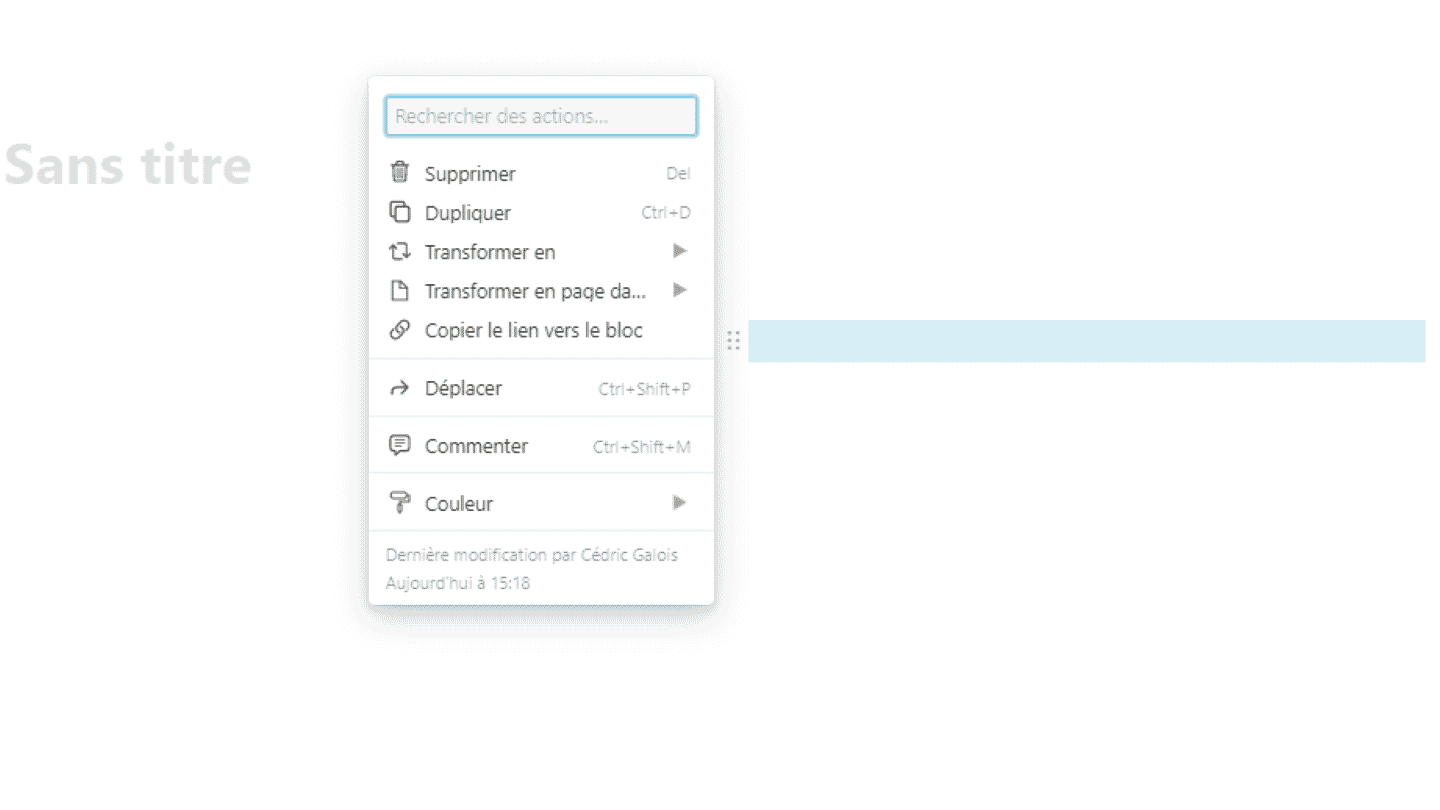 This button also lets you style the block and choose whether it will be simple text, a title (and title level), a bulleted list, a caption, a quote, a to-do list, or even a new page.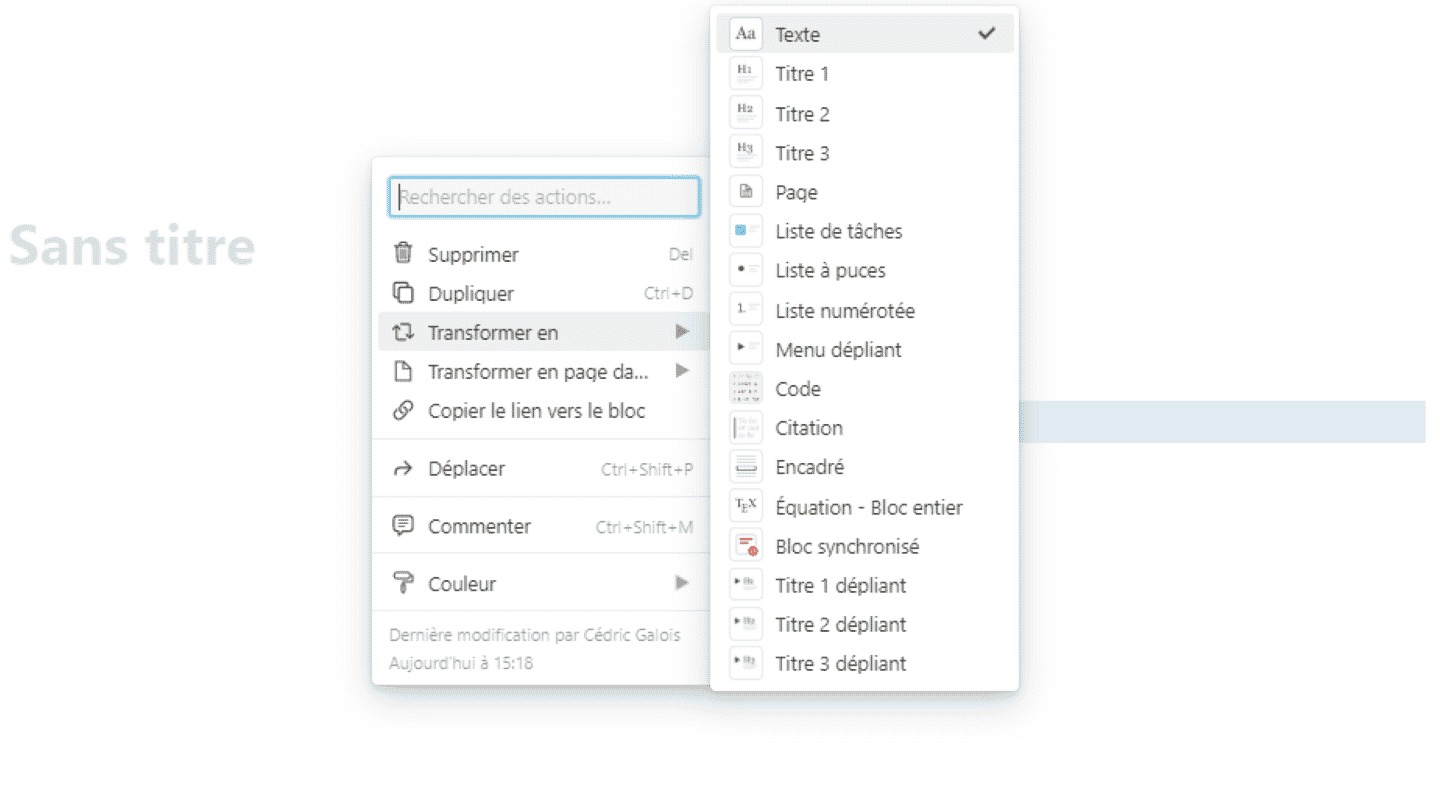 Layout is therefore carried out for each block, rather than at page level as in word processing software. This may confuse users accustomed to a formatting toolbar.
Discover Notion
Discover all Notion's features!
Collaboration and Communication
Notion can be used alone (mainly with the free version) or in groups (with the paid, collaboration-oriented versions).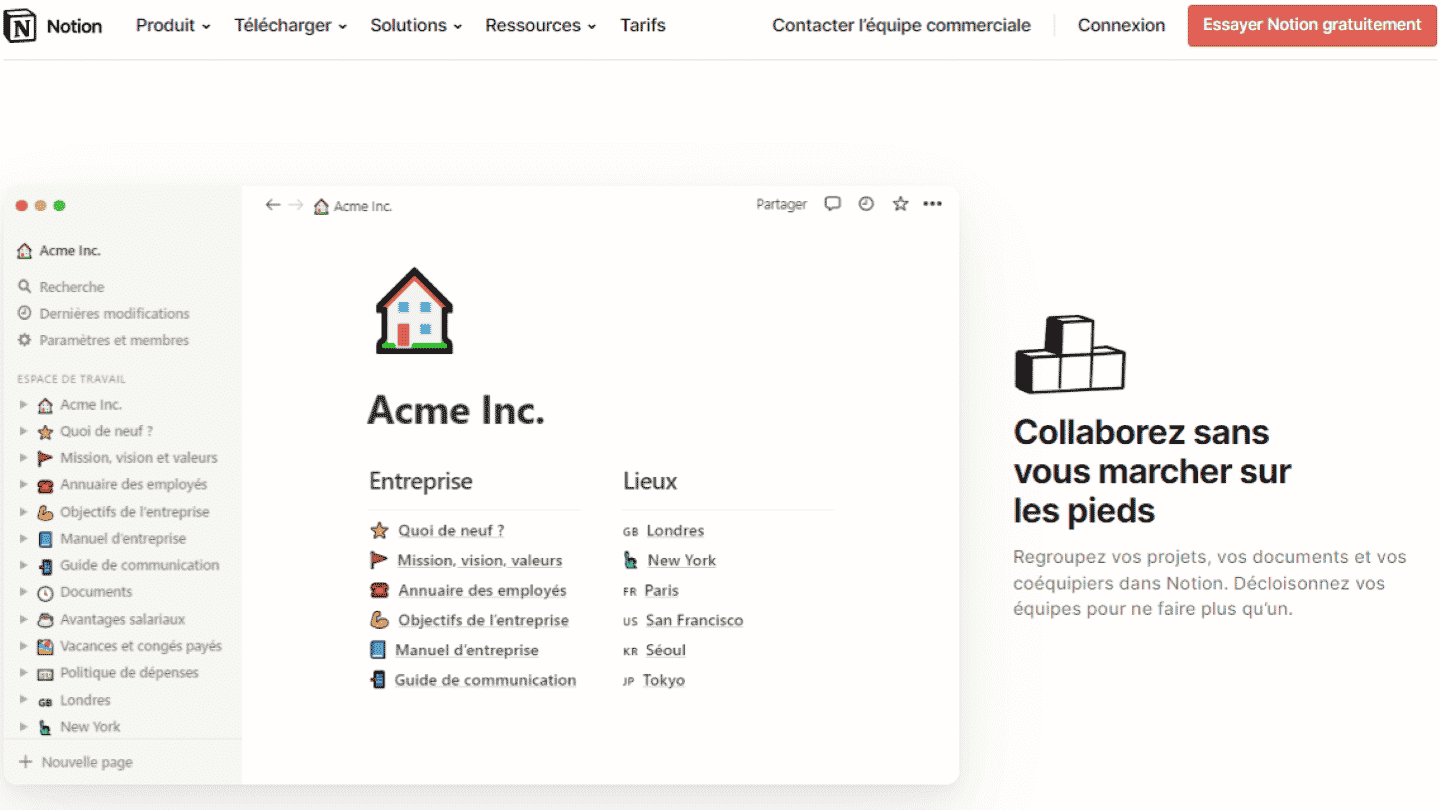 When several people are connected to the same workspace or note, their profile images appear at the top of the screen. Clicking on a collaborator's image takes you to the last block on which he or she was active.
Notion lets you follow pages to be notified of any changes on that page, and tag people in comments to attract their attention. Notes can be shared in read-only and comment-only modes.
Task management and planning
Notion is a highly modular project management tool. It makes it easy to perform basic project management tasks, such as scheduling, tracking tasks, or sharing documents and information.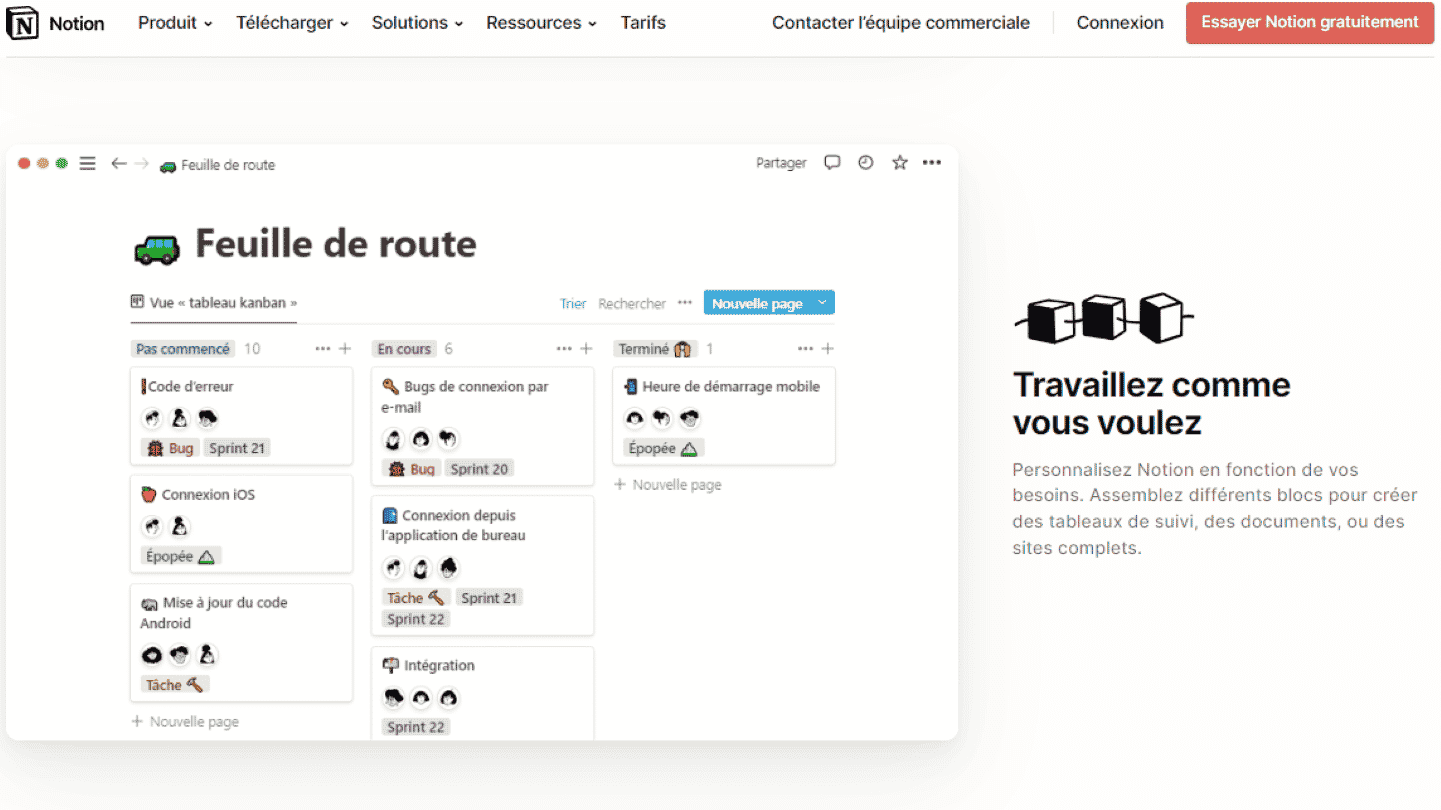 But Notion can also be much more sophisticated. The tool can adapt to the most complex projects, thanks to its numerous customization options (databases, different types of views, lists, filters) and integrations.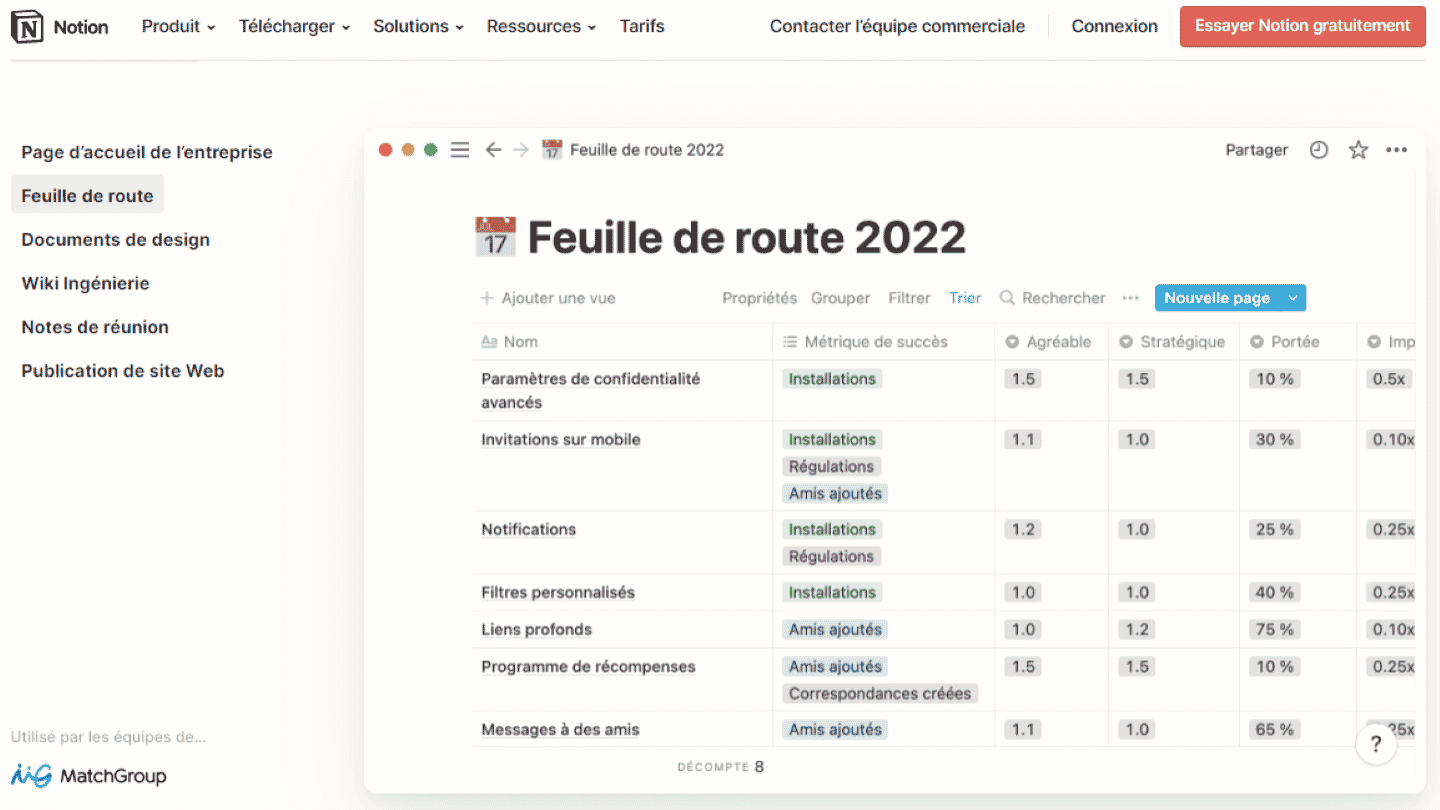 Customer reviews of Notion
Customers love Notion's flexibility, and the ability to customize their space and workflows. They also appreciate the fact that Notion can be used both as a database and as a project management tool.
Some users find Notion complex to use. Many complain about collaboration features, and limited task functionality, with recurring tasks very difficult to create.
Discover Notion
Make up your own mind about Notion!
Customer support at Notion
Notion's help center is very comprehensive. It offers a wide range of courses and guides organized by subject, so you can learn to master the tool according to your level of use.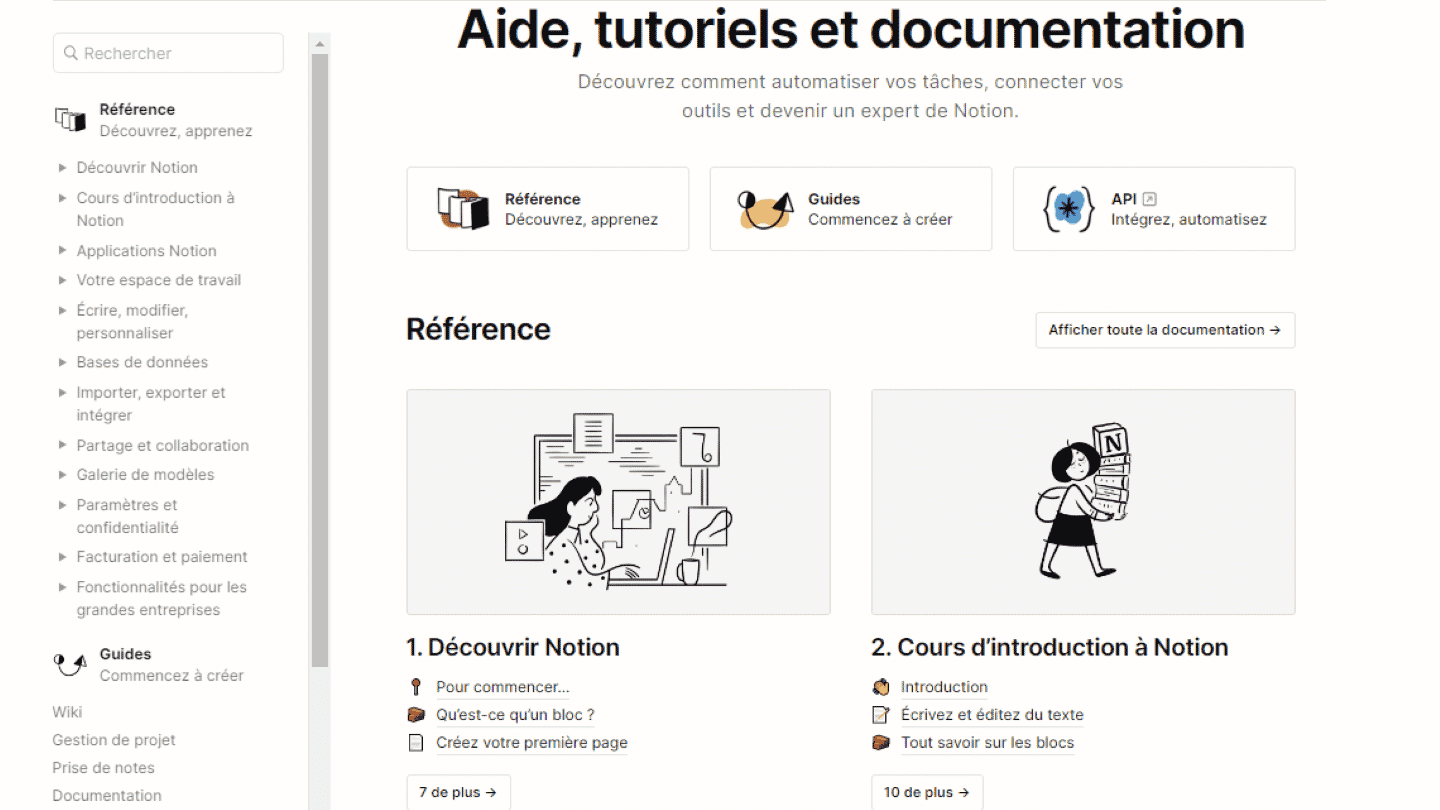 Customer service is available to customers of all packages by email, message and Twitter.
Finally, Notion offers a page dedicated to its community, with useful links, numerous events and meetings, template templates, and the spotlight on ambassadors and certified consultants.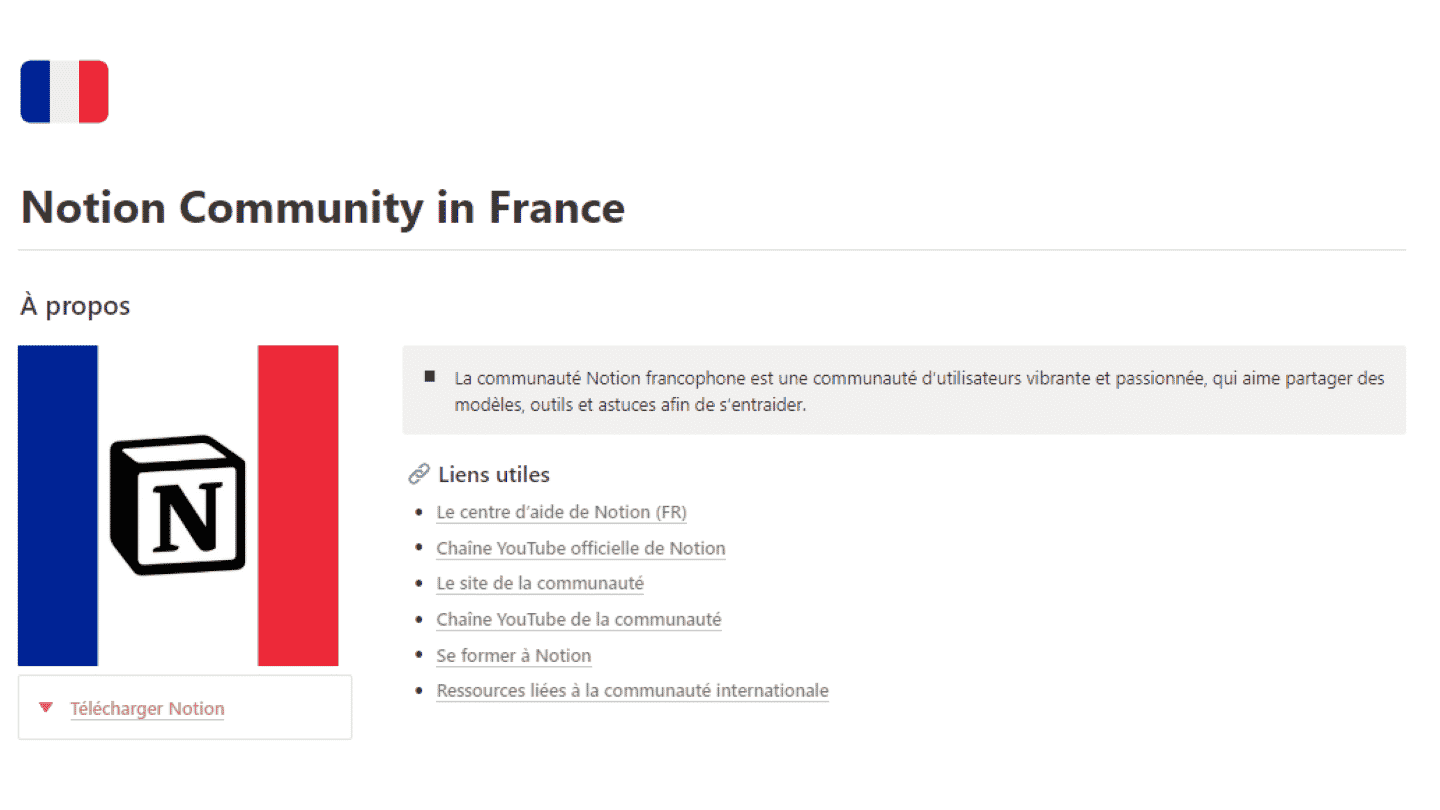 Discover Notion
Discover Notion's customer service and help pages!
The Notion integration marketplace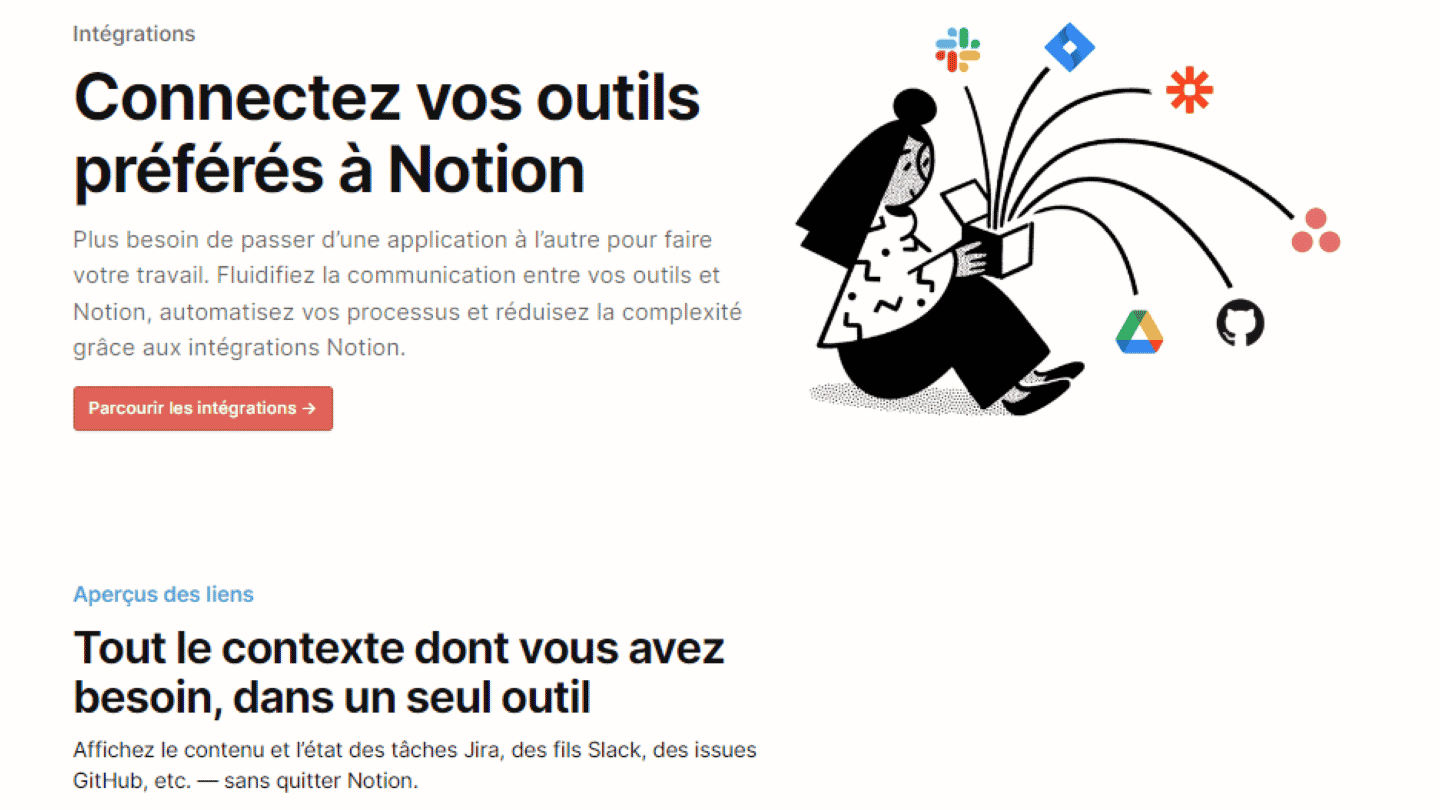 Notion offers a wide range of integrations:
Communication channels: Slack, Zoom, etc. As Notion's communication functionalities are relatively limited, integrations with these tools are very useful.

CRM
Notion: thanks to its API and integration with Zapier, Notion can be integrated with many CRM systems. These integrations are very useful for combining project management with customer support management.
Other project management software: Asana, Trello, Jira… Integrations with other project management software make it easier to collaborate with people using other tools.
Internal communication & collaboration : Dropbox, Onedrive, Google Drive. These integrations are also useful for easier collaboration.
What's more, Notion's API is open to the public, so developers can create their own Notion integration, whatever their package.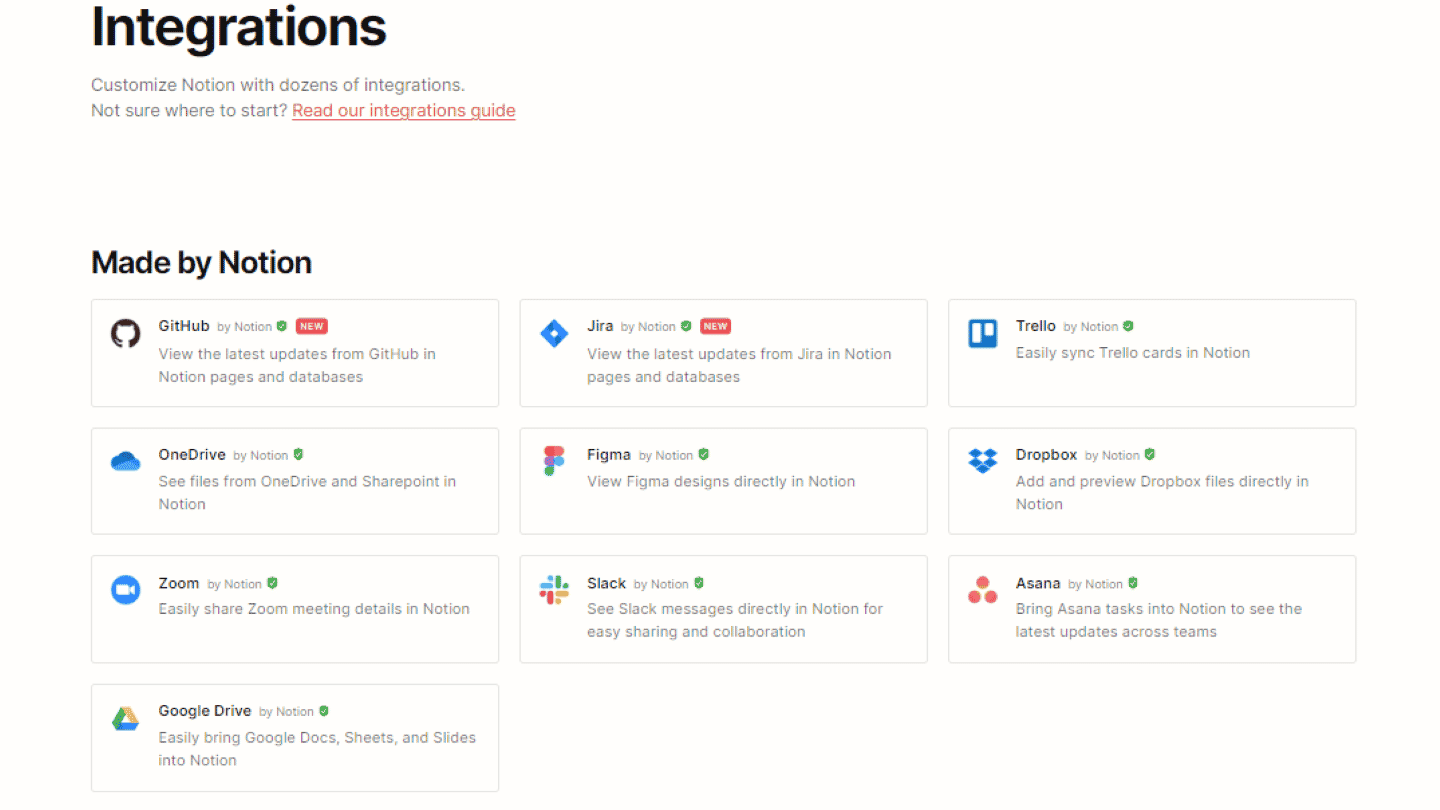 Discover Notion
Discover all the integrations available with Notion.
Notion: tariffs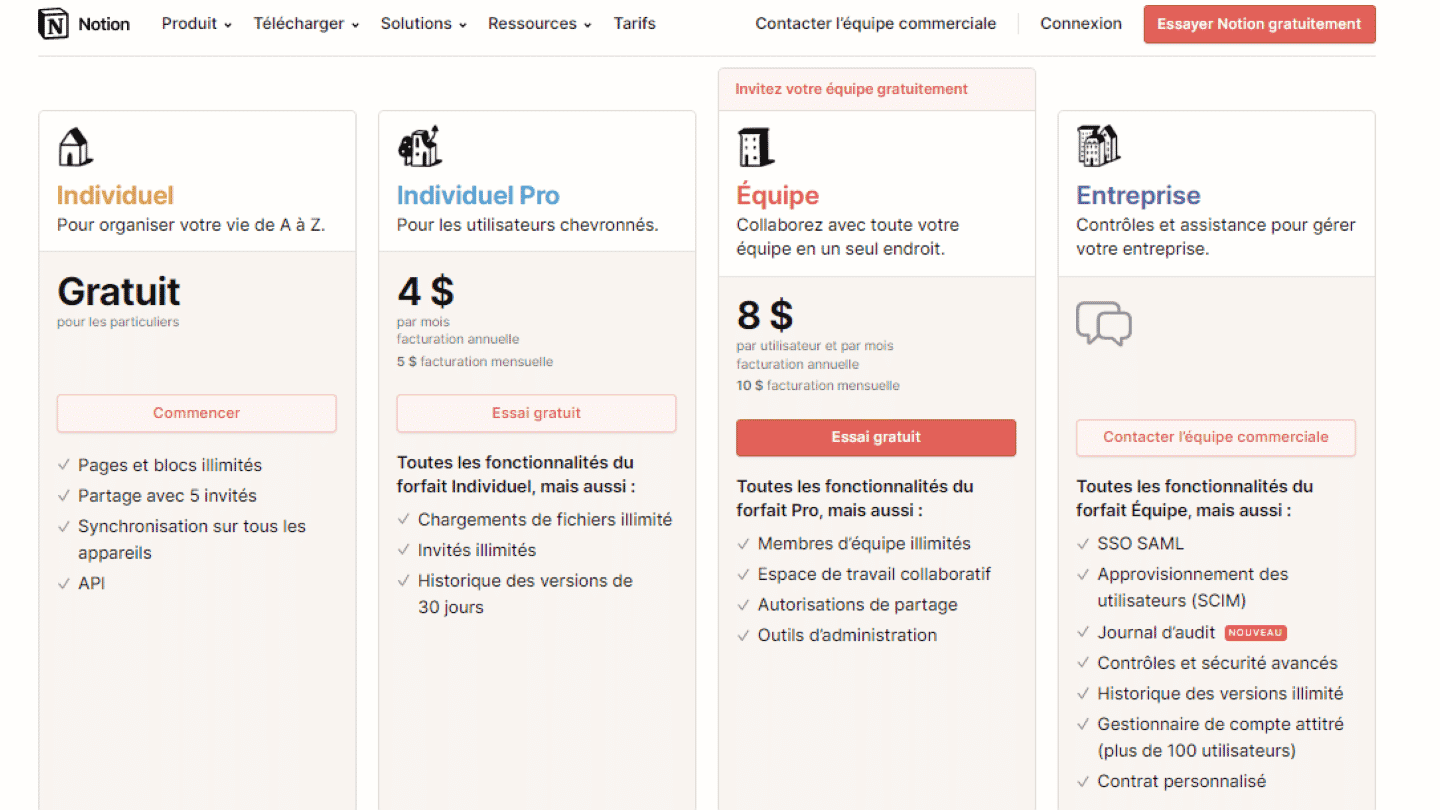 Notion offers 4 different packages:
Individuals: free of charge. Gives access to an unlimited number of pages and blocks, sharing with 5 guests, synchronization on all devices (web, mobile applications…), and APIs.
Individual Pro: from $5 per month for individuals. Opens access to unlimited file uploads and guests, and 30 days of note history.
Team: from $10 per month per user. Provides access to an unlimited number of collaborators, collaborative workspaces, administration and sharing features.
Enterprise : provides access to enterprise features for collaboration, user access and security management, an audit log, unlimited history, and a dedicated team to help set up the account.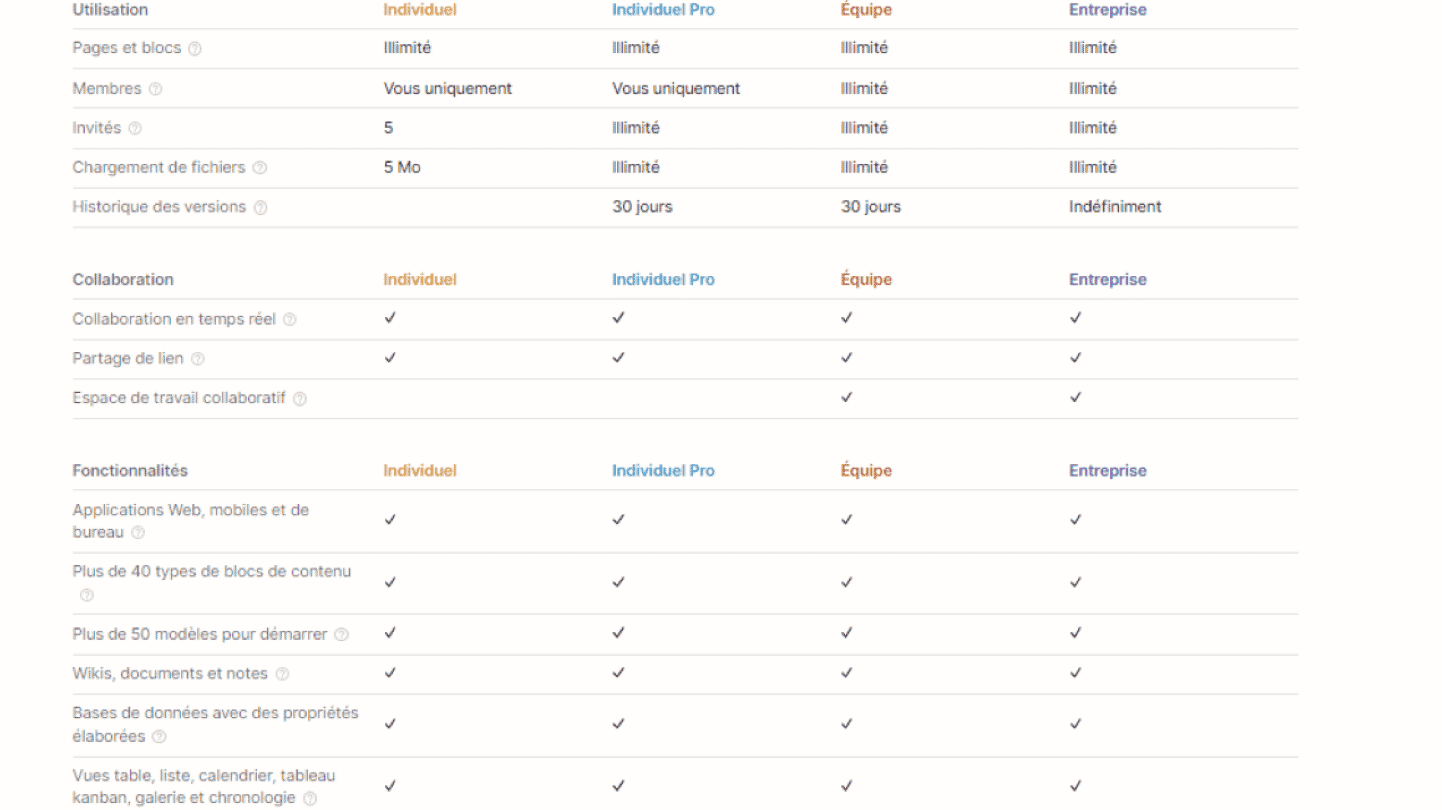 Pro tip
Notion offers a discount on the rates shown here for an annual subscription.
Discover Notion
Discover Notion's different packages!
The main alternatives to Notion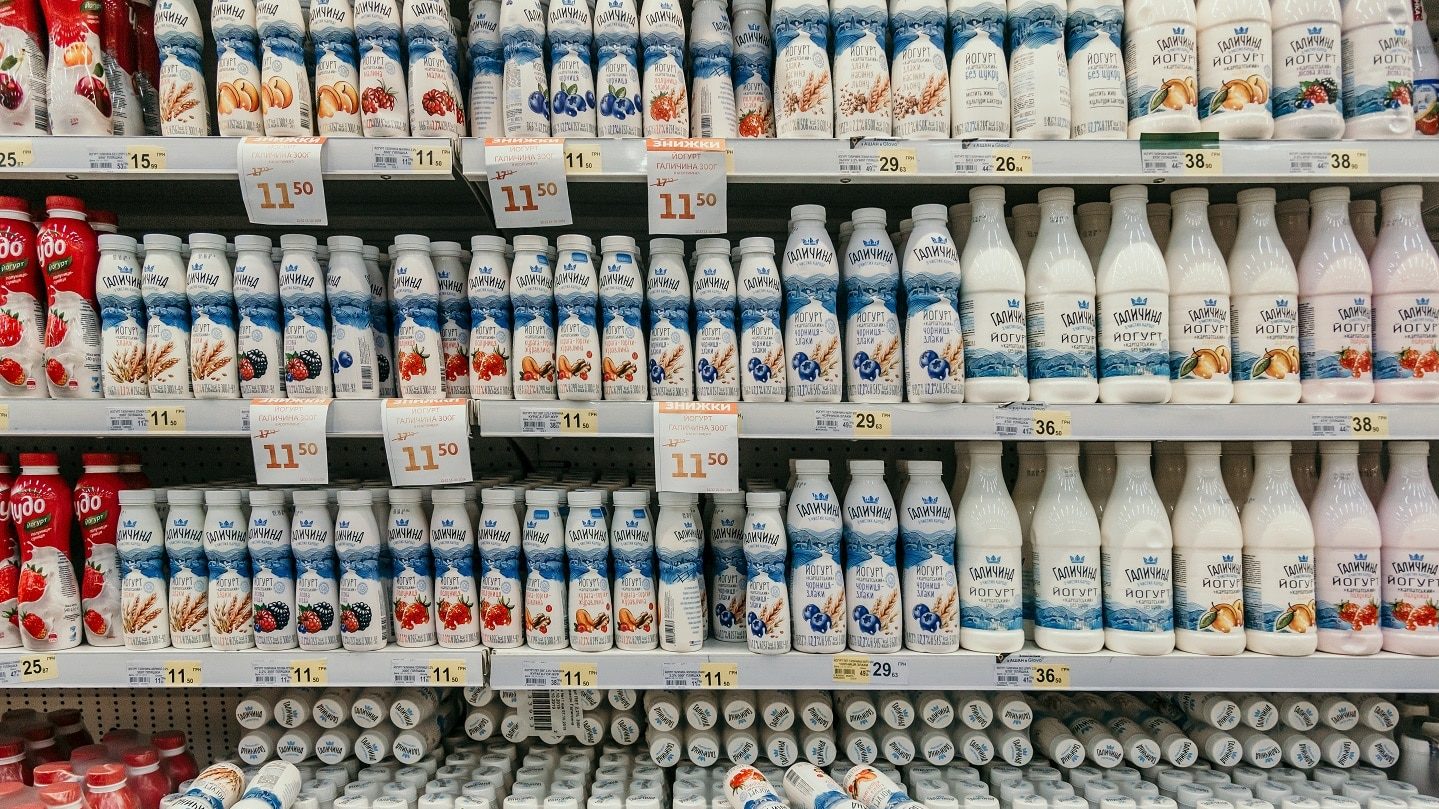 Notion's reporting functions are underdeveloped. For those looking for reporting-oriented project management tools, we recommend Basecamp or Jira.
For those looking for project management software that focuses on customer communication, we recommend Teamwork or CoSchedule.