Customer Relationship Management 101
The word CRM refers to both a technology, usually cloud-based, that allows a company's teams to track and therefore analyse interactions with their customers. This is known as a CRM system or solution.
But the word CRM also defines a strategy for managing your company's relationships with its customers and prospects.
Definition
CRM stands for Customer Relationship Management. It brings together customer interactions across all channels in one place. Centralized data management helps companies improve customer experience, satisfaction, retention and service.
In the space of just a few years, CRMs, which enable businesses to drive growth and profit, have evolved enormously. Affordable and much easier to integrate, implement and pay for, they have gone from being three-letter monsters to ready-to-use software for businesses of all shapes and sizes.
What are the different types of CRM software?
Commercial CRMs: to track commercial opportunities

CRM systems are, by and large, designed to sell products. But some of them put a particular emphasis on the sales cycle and offer very sophisticated tools explicitly aimed at increasing conversions.
Historical crm software manages the sales process from start to finish, encompassing sales leads, processes and teams. You can create a sales pipeline and see where your customers are in order to maintain sales leads, with opportunity management functions.
Lead and contact management tools collect information from emails, voice calls and other sources, and aggregate it to create unique and rich profiles of the people in your company's orbit.
Account management allows you to track customers: their activity, current business, payment status and associated contacts.
Quote management allows you to quickly create and track quotes in progress, which is very useful for sales forecasting and production process management.
You can also monitor the performance of your teams to increase efficiency.
Sales force automation streamlines your workflow by sorting information across channels, generating new data and tasks, informing you of follow-ups, order processing and tracking, and everything related to the phone.
Salesdorado's shortlist
For commercial solutions, the following CRMs are recommended:
CRM marketing: to better segment your contacts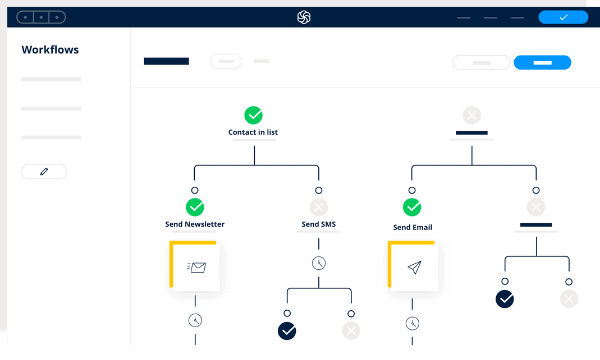 A marketing CRM will help you improve your marketing segmentation to boost your results: it can segment prospects into different categories, based on the time they spent on your website, the links they clicked and the type of personal information they shared on a form.
Marketing segmentation allows you to develop separate campaigns for different demographic groups, keeping your brand in mind until the prospect is ready to become active.
A marketing CRM also allows you to automate your campaigns across all channels, from sending emails to continuous reporting on the status of your emails, click-through rates, and using A/B testing to find the best strategy for your landing pages.
Salesdorado's shortlist
For marketing solutions, we have tested and recommend the following:
Operational CRM: for better conversations
Operational CRM software is the most common. In fact, the term "operational" is really a catch-all term, and there are many differences between CRMs in this category.
In general terms, it is simply software that focuses on streamlining customer interactions through sales, marketing and service automation.
The idea is to generate leads and then convert them into customers and contacts.
Salesdorado's shortlist
For operational CRM software, here are our top 3:
Zendesk: ticket management software with excellent reporting.
Intercom: the leader in conversational marketing.
Salesforce: more generic, this CRM offers an ultra complete tool.
Reporting and analysis software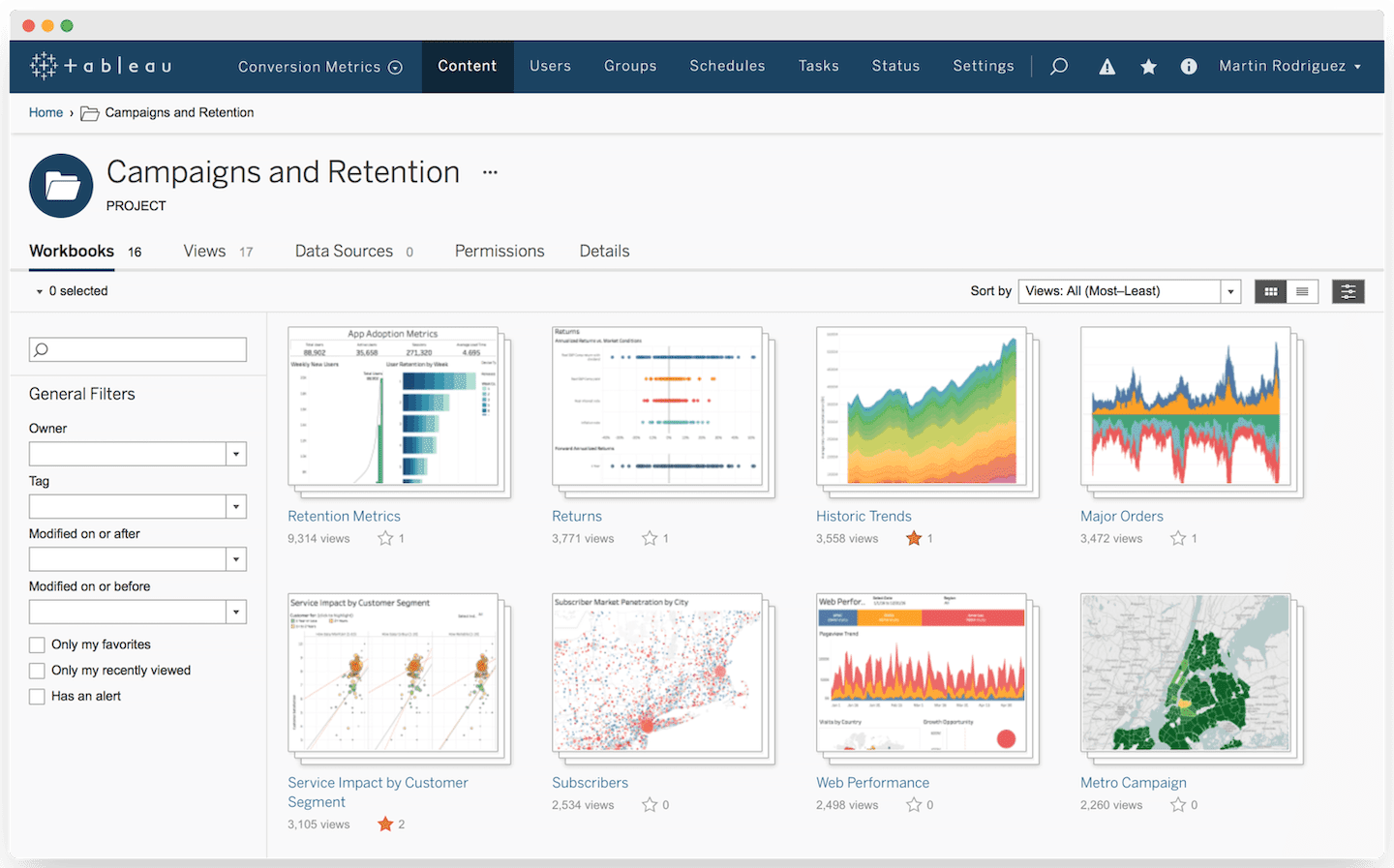 CRMs can enhance your marketing campaigns with powerful analytics tools that then provide meaningful models to leverage the information collected, allowing you to deliver effective, targeted advertising through marketing automation.
They are also powerful predictive tools, to determine a customer's buying habits and thus calculate the likelihood of them making a new purchase. It also gives you better visibility into opportunities that you might not otherwise have noticed.
Your CRM automatically updates data and indicators about your customers and your company, allowing you to improve all your business operations with accurate data.
Salesdorado's shortlist
Our preferred solutions:
Other types of CRM software
Launched in 2000, CRM platforms have long required a complete reorganisation of the workflow, from training all your teams to manually importing all your data.
Today, CRM is an extremely fashionable tool, with an explosion in the number of software packages that now offer attractive interfaces for companies of all sizes.
The cloud, automated data capture and cross-platform web/mobile functionality have all significantly improved the user experience (not to mention the customer experience). Prices have also come down, with open source or affordable solutions available.
This goes hand in hand with a growing CRM offering, sometimes in somewhat niche markets.
Mobile CRM software
Mobile CRMs perform more or less the same functions as traditional CRMs, but they are accessible from (surprise, surprise) tablets and smartphones, and therefore suitable for teams with flexible schedules or on the move. Some pure players like Yuto have even designed the whole experience around mobile.
Open Source CRM software
These are platforms with publicly available source code, often very well developed with already simplified customisation solutions.
But the idea is that you can then recalibrate this code: this is ideal when you are running a niche business and are looking for very specific functionality.
Above all, this software is often preferred by companies that wish to host their customer data (and the software that makes it usable) themselves.
You can find some open-source solutions in our comparison of free CRM software.
You can look at solutions such as Bitrix 24, which has a clean look, or vTiger. A solution like Odoo may also be suitable, but it is more of an ERP.
CRM software on Gmail
If, like most people, your personal and professional life is almost entirely dependent on Gmail (or Gsuite for the business side), you may want to consider a CRM that integrates directly with it, collecting all the data that flows through it, and requires less training since the Gmail interface is fairly well known.
Copper comes to mind, which is recommended and used by Google itself. Its design is based on the Gmail model, which also allows you to stay in a familiar environment.
You can also turn to solutions like Capsule, which is mainly aimed at start-ups or small businesses, or Streak, which is fully integrated with Gmail.
CRM software for social networks
Compared to traditional CRM, some CRM software focuses on social networks to manage customer interactions, from messages to comments, that take place on Facebook, Instagram, Twitter or Linkedin.
Here, you can turn to Sprout, an ultra-complete CRM software for social networks that allows you to analyze your data while automating your responses to your customers, or allowing you to discover influencers that may be of interest to your brand.
There is also Nimble, which is designed for use with Google Apps and the Microsoft family of programs but integrates with all social networks, or Zoho Social, which focuses on acquiring new leads, mainly from Facebook, Twitter and Google+.
CRM software that is not
The changing nature of work has altered the CRM software landscape: there are more and more non-sales funnel oriented platforms that handle everything from personal organisation to brainstorming ideas to managing contacts.
Airtable, an all-in-one collaboration platform that fulfils the basic functions of a CRM based on flexible spreadsheet functionality, with an emphasis on creativity and customisation, is recommended.
There are also many very strong templates on platforms such as Notion or Google Sheets that can also be used for this purpose.
What are the advantages of a CRM?
We are not teaching you anything, the advantages of a CRM in general are very similar to those listed in our customer file guide.
In detail, it's all about controlling your sales pipeline, marketing communications and customer conversations. But it also allows you to identify opportunities for growth and to homogenise your customer relationships.
#1 Better control of the commercial pipeline
If your growth engine is "sales-led", this is surely one of the most obvious benefits of CRM. If this isn't entirely clear to you, a quick refresher on the concepts of the sales funnel and sales pipeline can be found here.
All CRM software on the market offer a Kanban view of the pipeline with the different stages of the sales process that you have defined.
Three major advantages:
In a macro view, it allows a global view of the pipeline, and to identify the blocking points: where are the leads blocked or lost? It also allows you to anticipate sales performance over a complete sales cycle.
In a more micro view, it allows to study the velocity of each deal, to prioritise the most promising commercial opportunities, and for each sales person to have a clear vision of the tasks to be carried out to convert.
In an even more micro & operational vision, it allows to convert sales steps into commercial actions and to systematise the sales process to gain in velocity, performance and motivation.
#2 Better control of marketing communications
If you are even slightly interested in B2B marketing, you will have heard somewhere that segmentation is the key to success.
The job of a marketer is actually quite simple: align message, lead, and timing. The more the planets are aligned, the more your conversion rates will soar. And as long as you can convert in one segment, you can scale up by developing that segment.
Marketing CRMs are contact-oriented. The idea is to attach as much information as possible to an individual contact in order to build operative and efficient segments.
The licence prices of these solutions are generally based on the number of contacts rather than the number of users.
These solutions are much more common in the B2C world, and more generally in the low average basket, because they make it possible to manage segments of several hundred, thousands, or even millions of contacts with simplicity, and to design personalised campaigns at very large scales.
Pro tip
In B2B, this is quite common upstream of commercial CRM, to manage large volumes of fairly distant leads (newsletter, white paper downloads, etc.). Used properly with an inbound marketing strategy, it is formidable.
#3 Better control conversations with your customers
This is an absolutely huge and yet quite rare benefit of CRM. CRM allows everyone who interacts with a customer (including non-sales interactions) to have access to all important information about that customer.
If you've ever been to a fairly high-end hotel, you'll have noticed: everyone knows your name, knows which room you're staying in and until when, etc.
Fortunately, to deliver this kind of experience to your customers, you don't have to hire in the lap of luxury, you can put in place a whole set of customer relationship management processes with the right tool.
These customer support tools are a classic for B2B SaaS companies that want to provide a consistent experience for all users of the same customer account.
Having access to the whole history of requests that have been made, being able to answer that a colleague called XYZ has already asked a similar question and solved the problem like this or like that, etc.
Pro tip
Your customer service teams become more efficient by identifying the problem faster, customer satisfaction improves, and you build real insight into your customer accounts.
#4 Identify opportunities for growth
CRM analytics tools collect all the information your company needs, from sales data to financial data, so that your teams can use it. This translates operationally into the ability for you to identify :
High potential customer accounts
Customer accounts that have stalled (under-utilisation, gradual decline in income, etc.)
New business opportunities (e.g. acquisition, expansion of the XYZ team, internationalisation, etc.) and to anticipate rather than simply react.
More globally, by automating data collection and analysis, you also gain time and efficiency and optimise your business processes.
#5 Standardize your customer relationships
A good CRM allows you to better align sales, customer service, and marketing teams – both in a very operational & concrete way, but also in objectives etc. through collaborative workflows.
In concrete terms, this means permanent access to all the data available on a customer, knowing that it is automatically updated. Your teams can therefore offer your customers tailor-made responses, with the aim of homogenising customer relations.
Who are the main people involved in CRM?
Implementing an effective CRM strategy is not the work of one person (or department), and each of your teams will use it for different purposes.
For example, marketing teams use CRM to optimise marketing campaigns, while the sales team is more concerned with tracking the various interactions with customers throughout the sales cycle and features that allow them to streamline communication with customers.
This is why it is important to take a collaborative approach when developing your CRM strategy, so that every team can benefit. The main stakeholders are
The entrepreneur
Sales managers (VP of Sales, Sales Manager, Head of Sales)
The sellers
The marketing department.
You need to make sure that the software you choose is suitable for them so that they can then get value from it.
How much does it cost to implement a CRM?
Depending on the size and profile of your business, the total cost of implementing a CRM, from selection to training your teams, varies widely. We've written a fairly detailed article on the true cost of CRM software, but in outline:
Simple needs of VSEs or SMEs with about 10 users: count €18,300 the first year then about €5,000 / year
Intermediate needs of more advanced SMEs with around 50 users: around €76,000 in the first year, then around €40,000/year
Advanced needs of SMEs or ETIs which estimate about 150 users: around 360 000 € the first year, then between 180 000 and 200 000 € / year
Rule of thumb: the setup costs about a year's licence with a floor effect on smaller solutions. Year 1 costs 2 times year 2 (approximately).
How does CRM software work?
Marketing and sales force automation, contact and project management: these are the essential features of a CRM system.
At the contact management level, a solid CRM strategy provides an all-in-one solution to manage your team's voice, chat and email contact points. CRMs gather information from different channels (email, calls, social networks) to help you get more customers or manage the ones you already have.
It tracks leads, customer needs, offers and conversions in one place, and helps you optimise your website and launch advertising campaigns.
For example, as soon as you place a call within your CRM platform, it automatically collects data about that customer and their interactions with your company in a centralized database for contact information. This allows you to accurately track their progress through the sales pipeline.
CRM collects several types of data:
Zero party data, which your customers have provided voluntarily (unsolicited comments on social networks, requests to customer service, etc.)
"First party data", which you request from your customers (who are therefore the property of your company).
"Second-party data: basically, this is another company's publicly available first-party data (comments on a competitor's page)
"Third-party data", collected and published by research organisations, usually in state of the industry reports or similar documents.
Using this data, CRM software can automate many marketing tasks, from prospecting calls to sending marketing emails and reminders.
How to build a CRM strategy?
The best way to build an effective CRM strategy is to start by defining your customers' journey through your CRM and their different touch points in the system.
In short, this is done in 4 steps:
The customer's awareness: he has just identified his need, and your company can meet it. The role of the CRM is still secondary, but the collection of data can be used retrospectively
The consideration phase: your company must now make contact with the prospect in order to turn him into a lead. The role of CRM is decisive: subscribing to a newsletter, sending a welcome email, and analysing the data collected – all tasks that CRM can automate.
The buying phase: here the CRM identifies qualified leads and evaluates the best ways to convince them to close with your company, and assigns the customer a personalised adviser.
Customer service: a good CRM will be able to automate customer service and retention processes, while identifying opportunities for new sales or up-selling to take advantage of retention marketing.
In practical terms, you then need to break down exactly how each contact passes through your CRM from customer acquisition to establish a process roadmap. The most important questions to ask yourself when defining your customer journey are:
When is the first time an opportunity is registered in the CRM system?
The first part of your CRM strategy should dictate exactly when you put an opportunity into the system. How much interest do they have to show to be considered a lead? If you are coldmailing, you can add leads to your CRM before you have even made contact.
Or, you only add people who have shown interest in your brand by subscribing to your newsletter. There is no right way: you just need to set a rule around the process so that your team can follow it.
How do you put an opportunity into the system?
Secondly, think about how you want these opportunities to be captured in your system. In what format do you want the data to be presented, and what fields are you looking to fill in? CRMs will allow you to define the appearance of your data and ensure that automatic imports appear as you want them to.
For manual entries, your team should work from a standardised format.
Should you always create a follow-up task? Or can we rely on the system's automatic reminders?
An effective CRM strategy requires a follow-up strategy. You can manually create tasks that will remind you to follow up.
You can do this via your own calendar/scheduling software, ideally integrated with your CRM. Or you can rely on an automatic reminder from the CRM itself that will prompt you to follow up.
When should contacts be added to an account or company?
You need to decide when to add contacts to an already established account. For example, if you work with many large companies, do you automatically add all their contacts or do you expect them to be specifically relevant?
Is your objective a sale with a specific company? Do you collect the contact details of all the stakeholders and decision makers you can find and upload them all? Or do you wait until you have made the contact and only upload that person to the CRM? Again, both solutions are acceptable, but you need to set these rules to ensure that everyone is on the same page.
Three CRM trends for the decade 2020
1. The explosion in the volume of available data
CRM tools capture only a tiny fraction of the customer data generated today: from mobile to web, from online to offline, from shop to backend systems, from payment services to helpdesks, the singular concept of customer relationship has never been so fragmented.
However, from a technological point of view, CRM is not designed to ingest so much data. This leads to a fragmentation of the technological landscape with a growing number of tools.
CDP was born out of the need for new software that could bring together disparate data to build a single view of the customer.
Pro tip
The concept is not really new, and is based on companies' personalised databases, but CDPs will become indispensable in the future to let CRMs do what they were invented to do: manage customer relationships.
The explosion in the amount of data available and the importance of the customer experience in the buying process means that B2B CRM will continue to be the tool of choice for all employees, whether they are in direct contact with the customer or not, for many years to come.
By multiplying integration technologies, CRMs will encompass all phases of customer relations and will become the only tool for ensuring effective collaboration between the various teams, particularly marketing and sales teams, in a company.
This explosion of available data also makes it possible to simplify sales tasks: by retrieving certain data from the Internet, sales representatives can reduce the time spent on data entry and limit the number of questions they have to ask prospects during calls.
This makes the lead qualification process smoother and more flexible.
2. Automation at the heart of CRM
At this stage, you will have understood that the main advantage of a good CRM is the automation of tasks that are often tedious and time-consuming for your teams.
The good news is that in the coming years, this trend towards systematic automation will be reinforced: CRMs will be able, for example, to personalise your emails and choose the best time to send them. Examples of personalisation include the rise of video messages, which have a high engagement rate with prospects.
This will allow your salespeople to spend time directly with their prospects and improve the customer experience we mentioned above, by personalizing it as much as possible.
This automation also includes better management of the pipeline, which will become predictive. Indeed, without being able to make perfect predictions, we can make the CRM "intelligent" by integrating predictive models that will allow us to :
Bringing consistency to all the intent signals from prospects to move them through the conversion funnel at the right time.
Predict revenue and predict how many prospects will turn into customers.
Bring up updated lead data in reports with a few clicks.
Pipeline management in the future will cease to be a "reactive" process. Salespeople will be able to translate customer data into sales actions.
3. From Business to Business to Human to Human
This is the end of the traditional one-shot sales model: companies are now looking to build a strong, long-lasting customer relationship that will pay off much more in the long run.
This includes the development of subscription business models, which are based on retention marketing, and which are one of the major trends today. Basically, it is your existing customers that will increase your revenues, not the acquisition of new customers.
But it also makes the sales process much more complex, affecting all teams in a company, not just salespeople:
The marketing team must be able to respond to new customer needs to ensure conversion.
From the first sales, the Customer Success Team must maximise the chances of cross-selling and up-selling.
Finally, the product teams must offer a unique customer experience.
As retention becomes a critical issue, CRM is no longer simply a sales recording software but is becoming a holistic customer relationship management tool.
The sales process is moving from a linear to a cyclical process, which then takes place over months and continues well after the sale, requiring broader skills and deeper customer knowledge on the part of sales people.
The concrete application of this shift towards more human-centred relationships is that exchanges will be based on conversations rather than forms. There will be less coldmailing and more conversations, which will give the customer the choice to enter or not to enter the sales pipeline.
In summary
As more data becomes available, CRMs are evolving: with CDPs, they can refocus on their primary function of managing customer interactions and enable salespeople to deliver a much better, more personalised and sustainable customer experience.