We hear more and more about the need for alignment between sales and marketing in B2B. And rightly so. This is a fundamental question. We can also see that very few companies succeed in this alignment. The separation of the two functions – sales and marketing – remains the rule in most organizations.
How many salespeople complain about the poor quality of the leads sent by marketing? And how many marketing teams are passing the buck to the sales force? Conflicts between marketing and sales can be costly to the company. Conversely, a good alignment of marketing and sales can improve the quality of leads and boost conversion.
In this guide, we will see how to improve this alignment in a concrete way, on specific cases and in specific situations. But first, a few words about the issue of aligning the two functions in B2B.
Why is sales and marketing alignment so important in B2B?
The answer is simple: aligning the two functions allows the company to make more money, by increasing the value and conversion rate of leads. Here are some figures to support this statement:
B2B companies that have their sales and marketing functions aligned enjoyed 24% faster three-year revenue growth than other companies, and 27% faster three-year profit growth (according to a SiriusDecisions study).
If we look at customer retention, we see that companies that have both functions aligned have a 36% higher retention rate and a 38% higher conversion rate than other companies (according to MarketingProfs).
Act-On adds that 56% of aligned organizations meet their revenue targets and 19% exceed them. Conversely, only 37% of non-aligned organizations achieve their goals, and only 7% exceed them.
Sales and marketing have always been interdependent. This is not new. If we have only been talking about the necessary de-siloing of the two functions for a few years, it is largely because the habits and expectations of modern buyers have changed. As a result, the shape of the conversion funnel has changed and the division of roles between sales and marketing has become blurred.
Modern buyers are much better informed. All the information they need, or almost all the information they need, is available in a few clicks on the internet. SiriusDecisions has shown that 67% of the buyer's decision-making process is carried out on the Internet, even before the prospect has been contacted. This has contributed to the rise of the role of marketing as a provider of digital content. It is clear that many companies have not yet taken the measure of this evolution.
The buyer has changed more in the last 10 years than in the last 100 years. The buyer controls everything. We are in the era of the consumer, not the seller. The mindset now is more about HELPING than SELLING (Jill Rowley, Chief Growth Officer, Marketo).
If we go back to the traditional conversion funnel, we see that today buyers enter the sales cycle further downstream than before, and that, as a result, marketing manages more steps than before: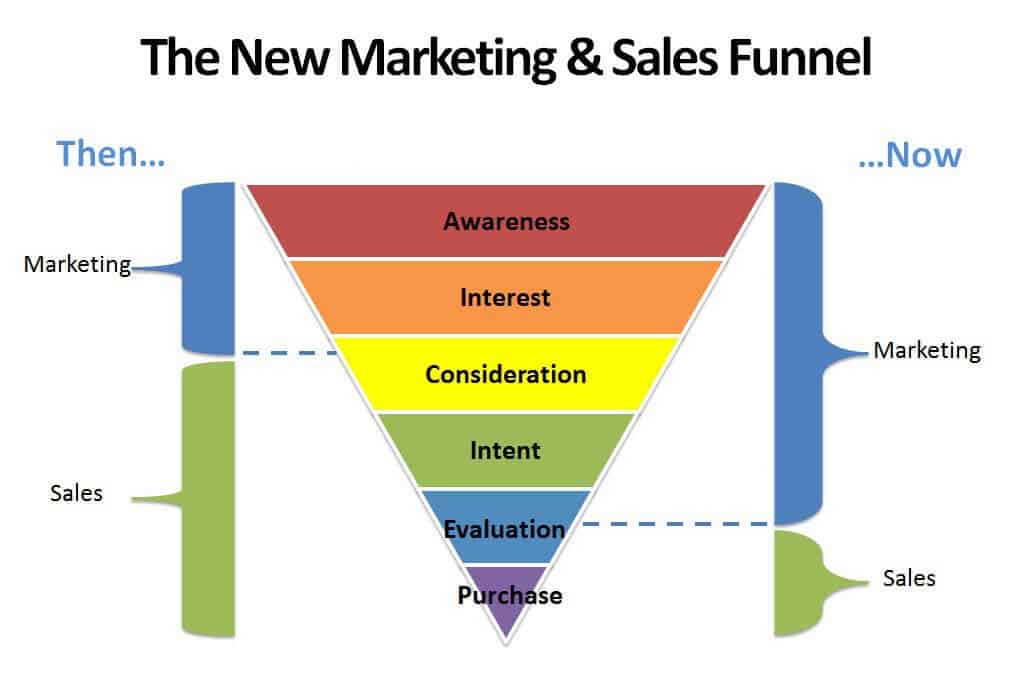 This evolution has greatly contributed to the blurring of roles between the marketing and sales functions. It is not clear who should do what – especially in the "Interest" and "Consideration" steps. This blurring implies rethinking the relationship between the two functions and, above all, strengthening their coordination. More than ever, the two departments must work together.
We will now present 7 concrete actions to improve sales and marketing alignment.
#1 Jointly identify the criteria of the prospecting target
Before talking about leads, sales and marketing must agree on the prospecting target, or target customer. Who is the company targeting? What type of companies? What size? What activity? etc. If marketing sends a lead to sales that does not match the company's target, it means: a waste of time for sales, but also for marketing. It is very important that sales and marketing are aligned on this point, that they have the same vision of what is an interesting customer for the company.
For lead scoring, two types of criteria must be taken into account:
Firmographic data: sector of activity, company size, location. Does the company belong to a sector in which you have obtained clients in the past? Is the company large enough to afford your product and take full advantage of your product? Does the company use complementary tools to the one you are marketing?
Demographics: contact title, role, responsibilities. Does it have decision-making power in the company? If the contact is not empowered to make the buying decision, the sales people will waste their time if you pass on this lead.
These criteria of what is an "interesting prospect" must be identified in common and shared between the sales and marketing functions. If you don't know what your ideal customer looks like, analyze your current and past customers. Identify the commonalities of your best customers (those who use the most services, who are very satisfied, who have been customers for a long time, etc.). Use this information to build a profile of your ideal customer.
#2 Agree on what a qualified lead is
Each company has its own definition of what a "lead" is. For some, a list of names is a list of leads. For others, whoever downloads an ebook becomes ipso facto a lead. Still other companies distinguish between hot and cold leads. Many of the conflicts between sales and marketing stem from a lack of understanding of what a lead is.
Can someone who has read an article on your blog be considered a qualified lead? You think not? This is your right. And if he has read 10 articles? What if they read an article and attended a webinar? What if they read an article, attended a webinar and downloaded an ebook? There is no objective criterion to say when a "suspect" becomes a "qualified lead". It depends on each company. On the other hand, it is essential that sales and marketing agree on what a qualified lead is, that both functions qualify together the level at which we can talk about a qualified lead. There is nothing to stop a company from opting for several levels of qualification, distinguishing between hot leads, warm leads, cold leads… The only thing is that marketing and sales agree.
It can be very beneficial to organize a meeting with managers from both functions to agree on the qualification/scoring criteria. At what point does a cold lead become a hot lead? What conditions must a lead meet to be classified as a "hot lead"? These are all questions to be answered together.
Let's summarize. Marketing and sales must agree on the prospecting target. This is the first point. They must then agree on what a qualified lead is, i.e. a lead that can be passed on to sales. This is the second point.
Discover our complete guide on lead qualification by marketing or sales teams (MQL vs SQL).
#3 Create an SLA for inbound leads
Inbound leads are a great opportunity. These are leads that come to you without any action on your part. What do the people want! The development of the Internet has allowed a tremendous growth of these leads. Except that automatically passing these leads to sales and crossing your fingers that a few of them will convert is not the best strategy to adopt. Unsurprisingly, inbound leads convert the least. In most organizations, these "internet leads" are the last priority.
To ensure a consistent strategy for inbound leads, we recommend creating an SLA between the two departments. The SLA, or Service Level Agreement, is a document that formalizes the commitments of the marketing and sales departments to each other. It would take too long to go into the details of the SLA. We refer you to HubSpot's excellent article on the subject, which explains the different points to address in your document.
Learn how to evolve B2B sales processes to meet the demands of the modern decision maker.
#4 Drop the channels that convert the least
There's no need to keep using channels that generate leads that don't convert: Facebook, Twitter, AdWords, etc. Even if these channels bring you tons of leads. If this idea seems shocking to you, it's probably because sales and marketing aren't aligned. Marketing specific KPIs are usually focused on lead volume, number of views, click-through rate. From this point of view, a channel that generates a lot of leads is considered a good thing – a priori.
But if you look at it from the point of view of the company's interest, you will quickly admit that it is absurd to spend resources on inefficient actions and that it would be better to reallocate these resources elsewhere, to generate a better ROI. What's the point of generating hundreds of leads if sales can't convert any of them…Both marketing and sales must have the company's best interest in mind: generating revenue. This mindset is essential to implement an aligned organization…and avoid wasting time and money.
Discover .
#5 Boost conversion with shared goals
A major reason for the misalignment of sales and marketing is that the two departments have different goals. Sales representatives are usually paid partly on commission or get bonuses linked to their performance (number of demonstrations, win rate…). On the other hand, marketing KPIs are often related to website traffic, click-through rates and number of leads generated. The marketer's objectives, by construction, are not always aligned with the company's objectives. As we have seen, generating tons of leads is not necessarily a "good thing".
One of the easiest ways to align sales and marketing is to use common goals related to conversion rates. If marketers' bonuses are tied to conversion rate rather than number of leads, you probably won't need to explain twice to them to drop a channel that doesn't convert…
#6 Retargeting cold or sleeping leads
This idea sometimes raises eyebrows: "Retargeting cold leads, i.e. people who have shown that they are not interested, what's the point?" We will see why this strategy is interesting and how its implementation implies an alignment of sales and marketing.
Here is the process. Together, sales and marketing can identify cold leads. Once these leads are identified, the first part of the "reactivation" work falls to marketing. Marketing is responsible for targeting these leads again, by sending them an email marketing campaign, by targeting them in display campaigns, by sending them a letter… Then, it is up to sales to take over, using their favorite communication channel: the telephone. In a retargeting strategy, the alignment of sales and marketing is the key success factor. Implementing such a strategy will allow you to better understand why some leads become cold. Maybe it's because they weren't part of your target audience?
Find out which B2B lead generation strategies work best.
#7 Participate in events
Attending events is expensive, but events like trade shows are a goldmine of qualified leads. You can physically meet hundreds of leads who are already qualified simply by virtue of attending the event. But to take full advantage of the events, it is fundamental that the sales and marketing teams are perfectly aligned and work hand in hand.
Let's take an example to illustrate this necessary complementarity. Let's assume that you are the head of the company's marketing department. You decide to attend a recruiters' fair in Paris. You start by researching the participants. You use social networks (LinkedIn) for this. You identify participants who might be interested in the services you offer. You make a list, indicating for each profile the job title and the location.
Find out how to become a pro at sales negotiation.
A few days before the big day, you send a personalized email to all the contacts on the list, explaining that you saw that they would be present, that you are delighted, that you propose solutions that could interest them, that you are also participating in the show, that you will have a booth, etc. You communicate the list of contacts to the sales representatives who will be on site the day of the event. Based on your research and the location of the various stands, you can even organize the visit schedule of each sales representative present. This is an example of effective collaboration between marketing and sales. When salespeople meet with prospects, they will have already heard of the company and will be aware of the value proposition. They are much more likely to agree to a coffee. In this case, you can even create a list of all existing or former customers present at the event, so that sales representatives can visit them on the stands (to strengthen the relationship or to reconnect).
This last example illustrates once again the value of aligning sales and marketing. More and more, the sales performance of companies will depend on their ability to make marketing and sales force work together. There is no doubt about it.