Salesforce is no exception to the CRM rule: to get the most out of it, it's best to be well trained to use all its features. But a CRM training course can quickly become expensive and there are dozens of them on the market.
That's why we try in this article to guide you a little. What's special about Salesforce is Trailhead, its own free online training platform that can help you in many ways.
But some will need a more structured training and here again, you have the choice: depending on your profile (beginner or not), your budget, your needs – administration, marketing campaign, reporting -, we list the 10 best Salesforce trainings.
Trailhead Salesforce Training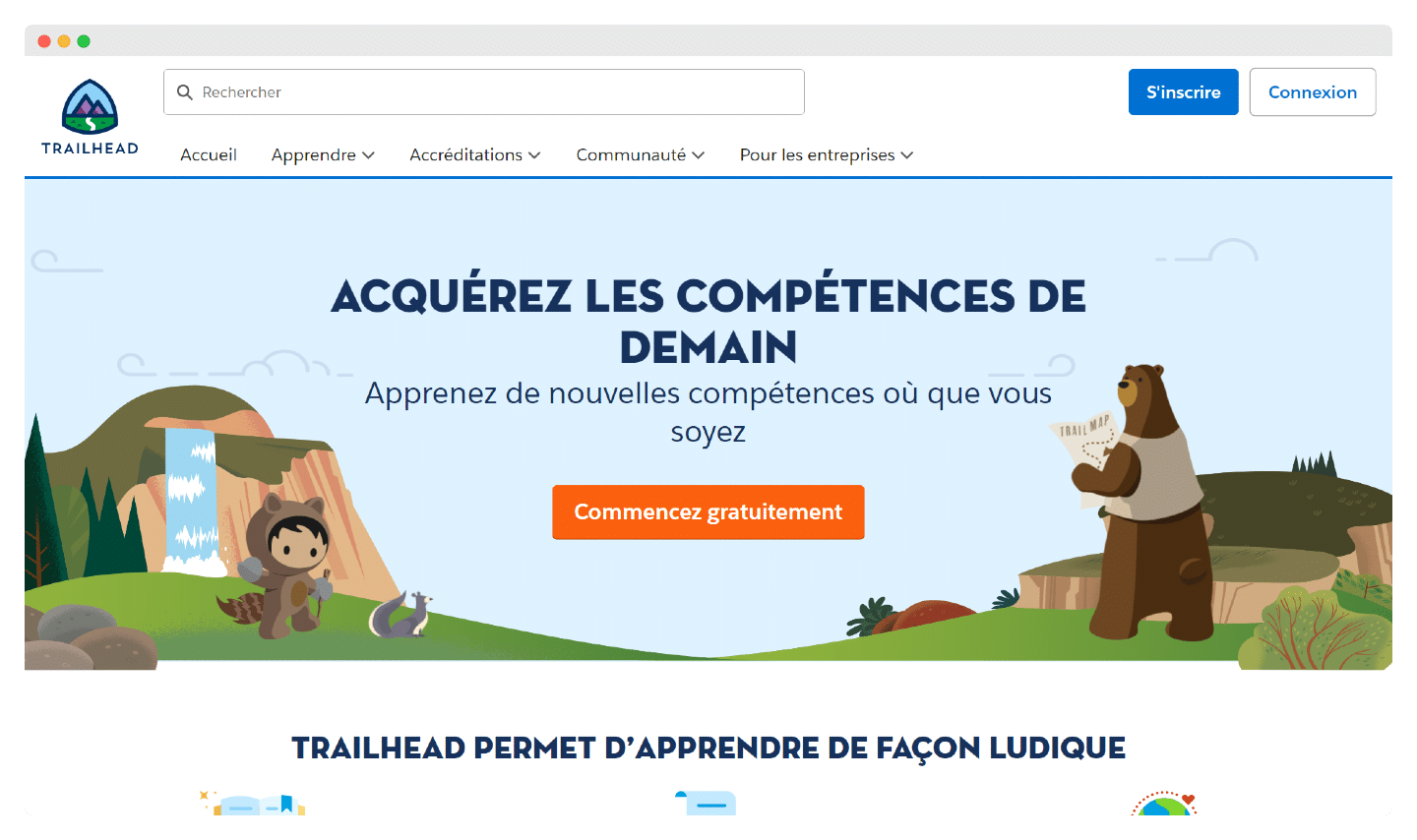 Anyone can train for free directly online with Salesforce Trailhead. Not only is it free, but the platform is really well thought out with different training courses that are quite fun, depending on the profiles and certifications sought.
The platform is ultra complete: in less than an hour, you can learn about almost any Salesforces subject thanks to their 448 modules, which will deal with a specific subject.
You can choose from more generalized courses, like this Salesforce Developer Overview, or very specific courses like Strategies for Difficult Customer Conversations or SOQL for Administrators.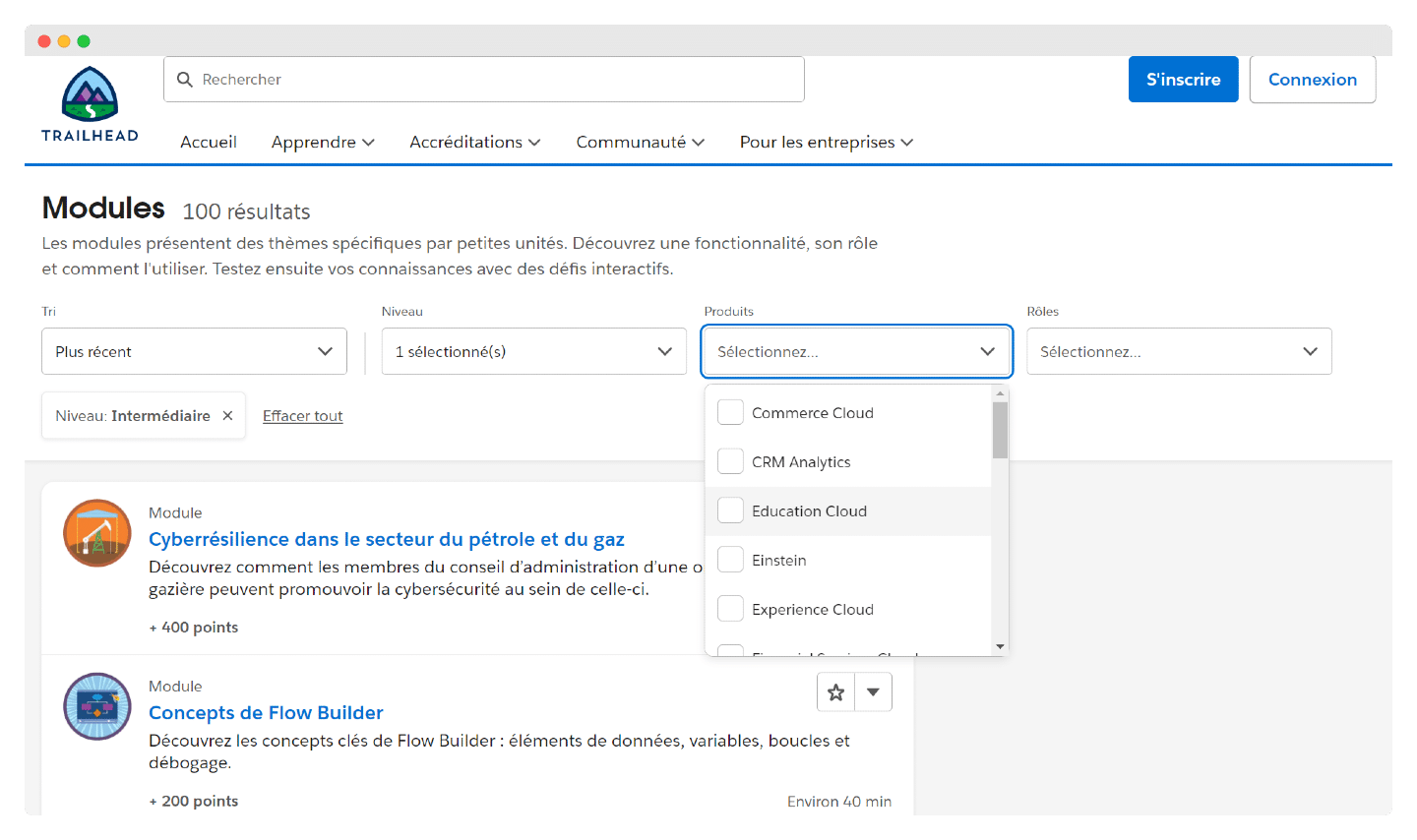 Another option: you can choose a pathway, consisting of a set of modules that deal with an issue or topic in depth.
For example, Administration tasks in Marketing Cloud, about 3 hours on a specific tool, or more general training like Discovering the fundamentals of B2B products, 5 hours 40 minutes.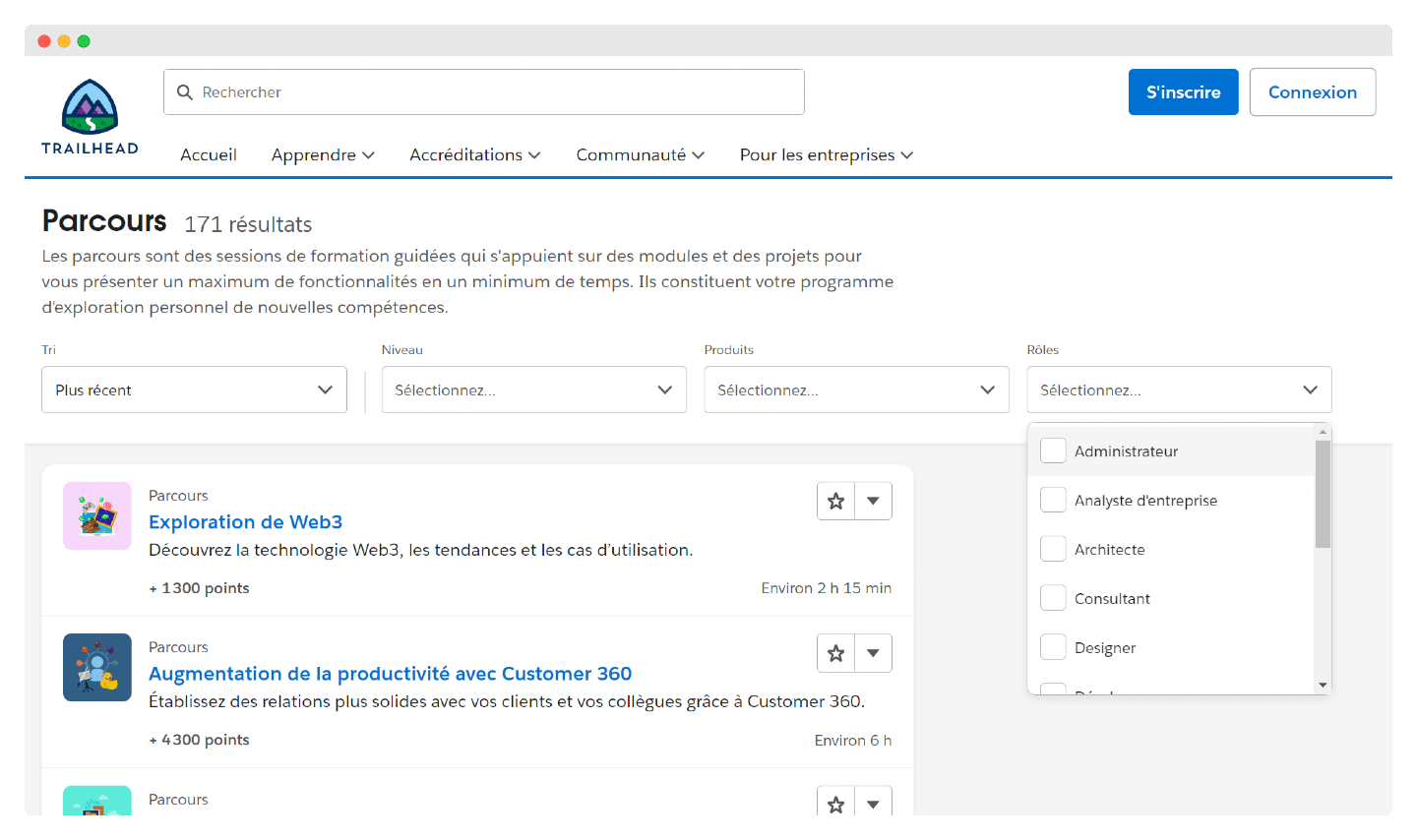 For those who need certifications above all else, you can choose to take trailmixes, which are customized paths to Salesforce certifying credentials.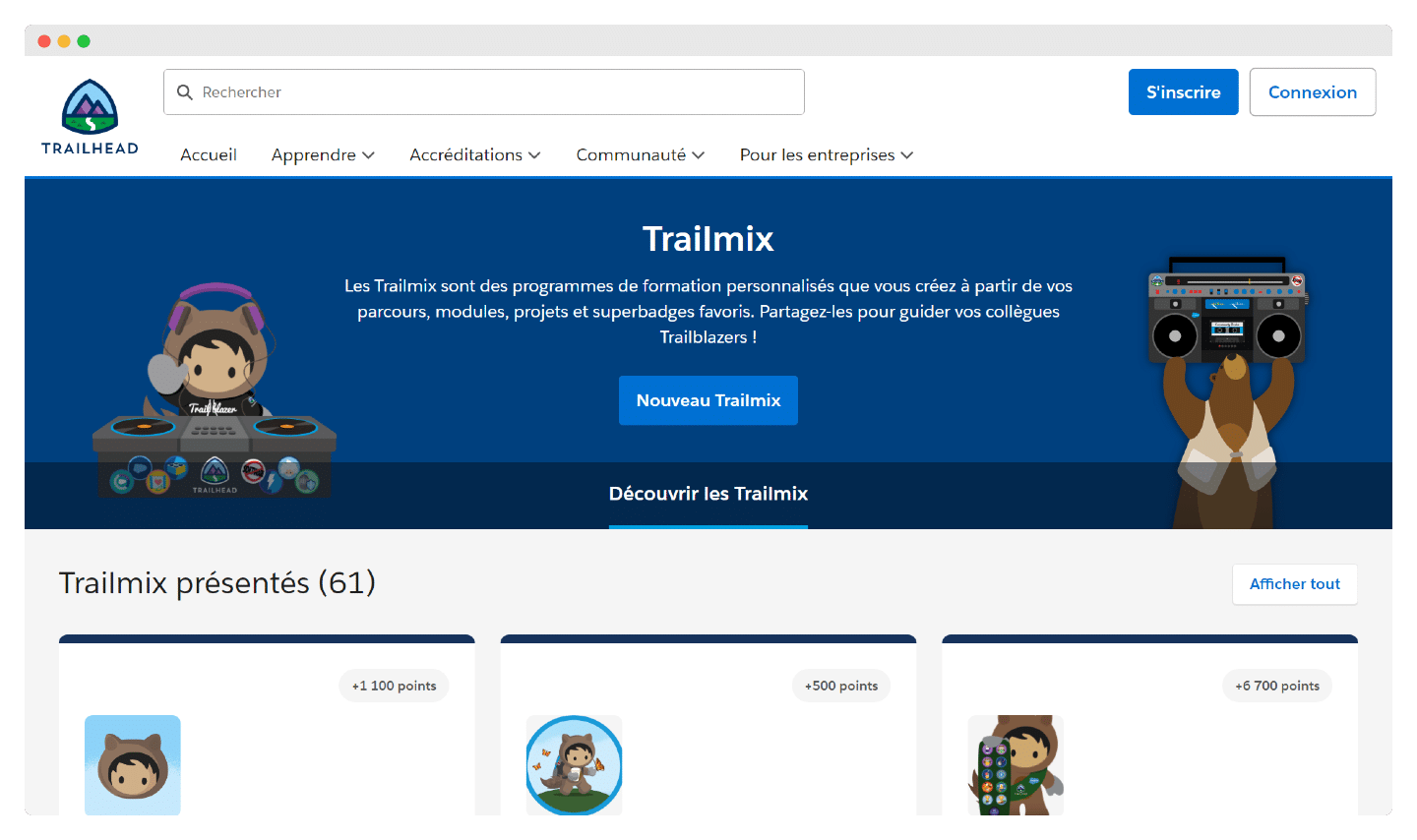 It's hard to list all the certifications available, but you can find them based on your Salesforce profile – administrator, designer, etc. For example, this course was specifically designed by Trailhead to be Saleforce Administrator accredited.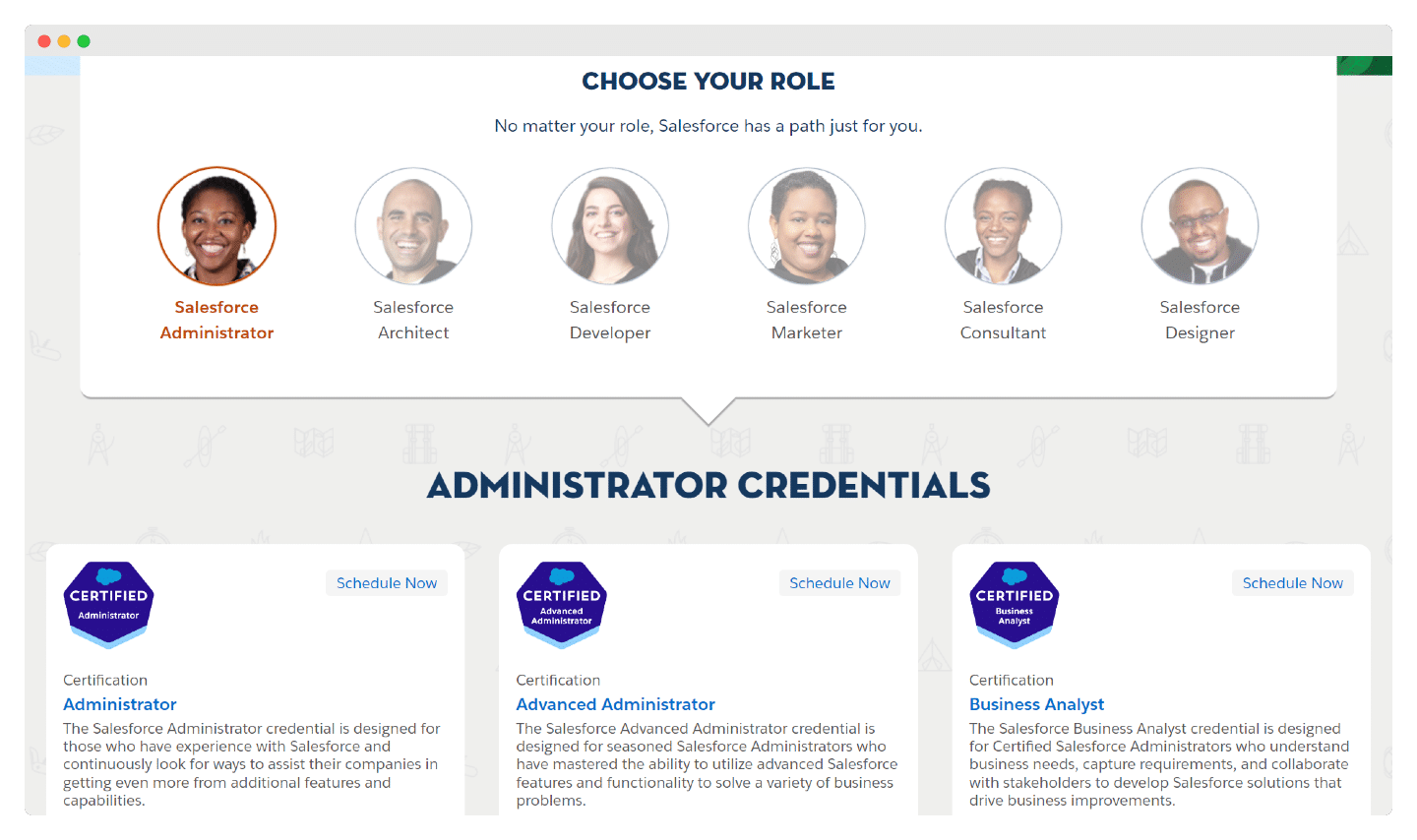 There are also regular webinars organized by Salesforce to help you prepare for an accreditation: they usually last half a day and allow you to meet other trailblazers who are preparing the same accreditation as you.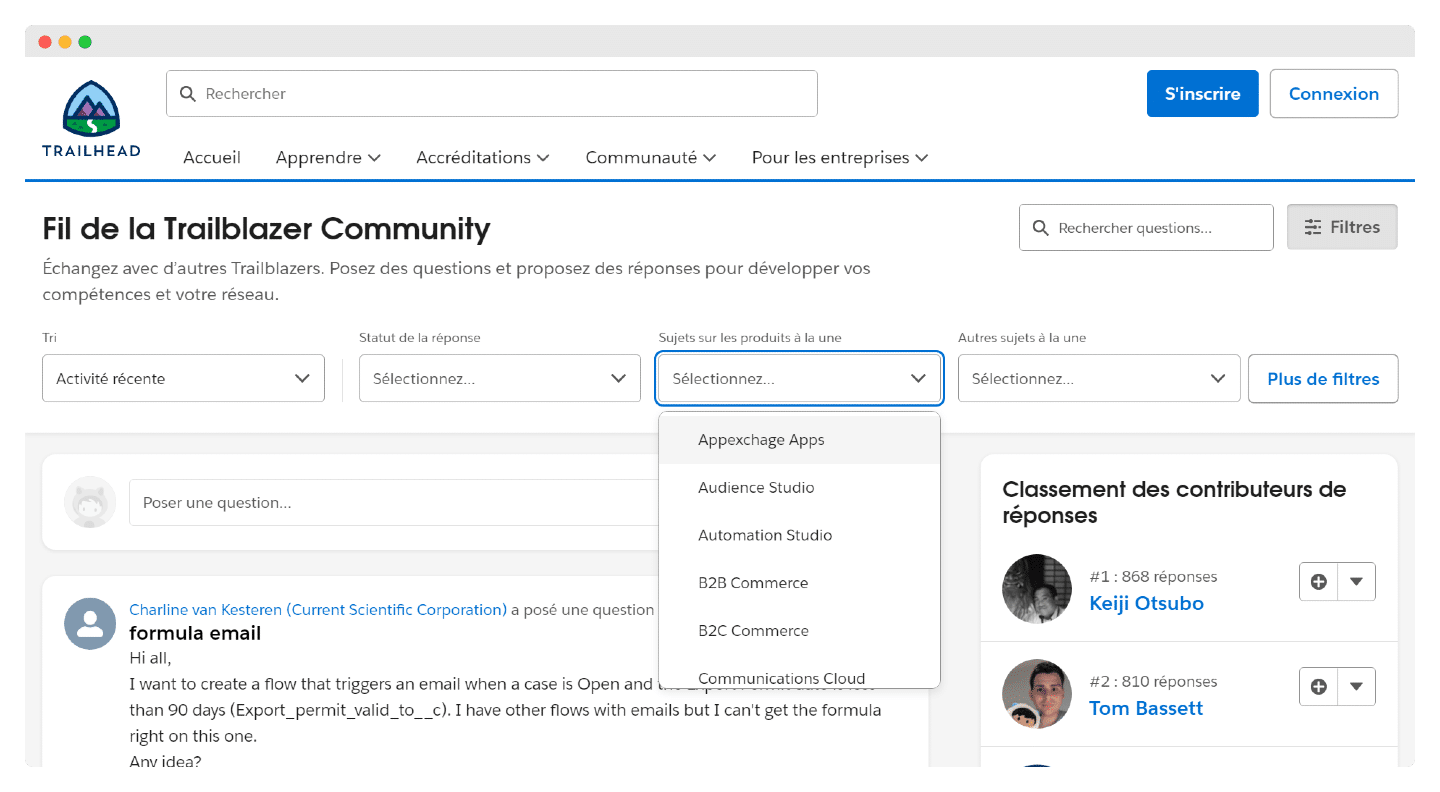 Finally, the real strength of Trailhead is their community: it is the biggest forum dedicated to Salesforce topics, very rich and quite active. This is where you can ask any questions you may have if you want to train independently, but also benefit from mentoring.
Top 10 Salesforce Training Courses: Comparison Chart
In this top 10 list, we present Salesforce training organizations such as EI Techologies or ISDI CRM as well as individual training courses provided by recognized .
Some are entirely online, others leave you the choice of face-to-face and are truly tailor-made.
#1 EI Technologies
The Salesforce partner in France since 2009 – An initiative of Cognizant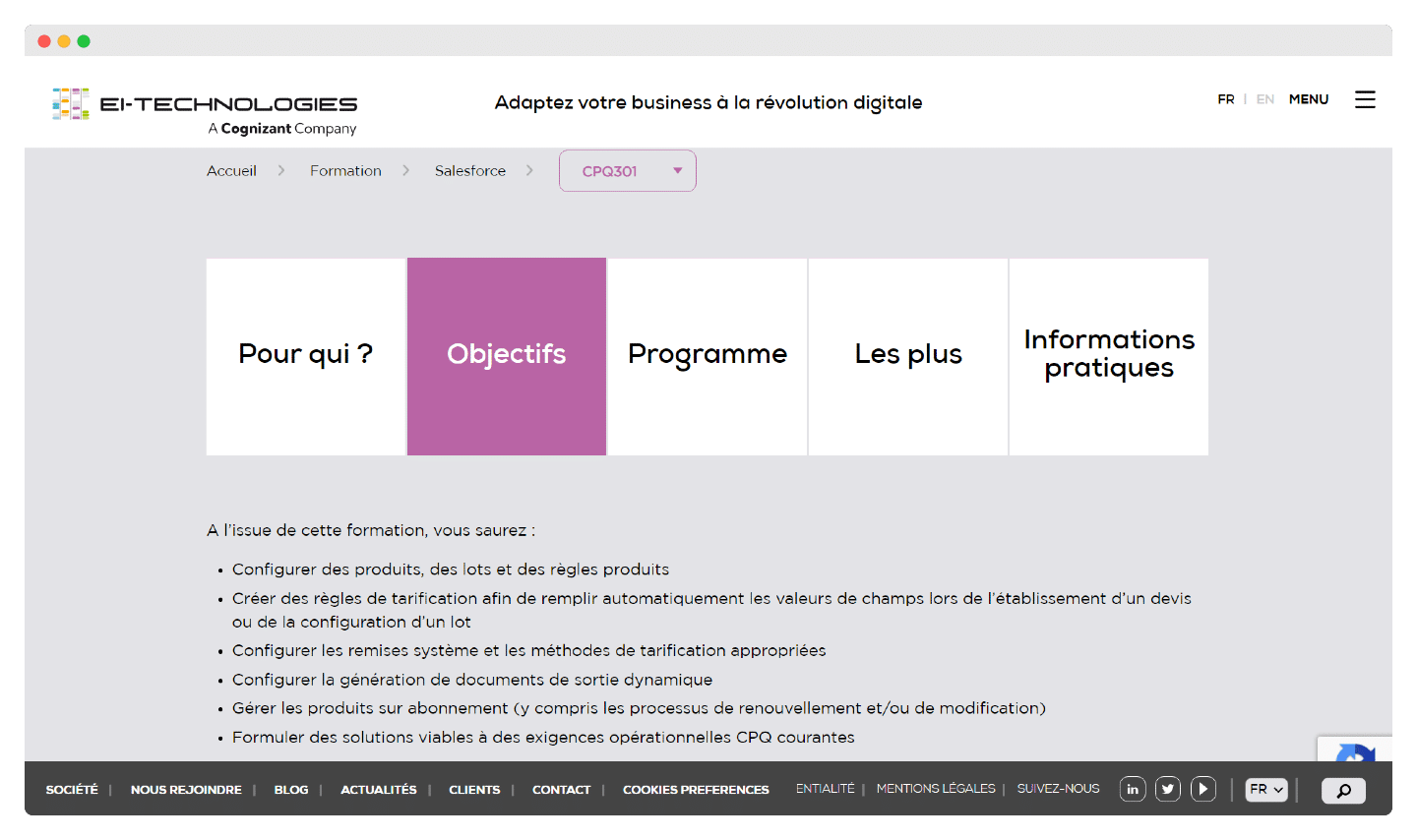 EI Technologies is a training center partner of Salesforce in France since 2009, created by the integrator Cognizant. They offer official Salesforce catalog training or customized training and will guide you through the certification process if you wish.
For example, we suggest the Configuration and Administration of a Salesforce CPQ Solution training. This 5-day course provides a detailed overview of Salesforce CPQ: how to set up products and pricing, manage subscriptions, and more.
Instead, it is designed for Salesforce administrators, business analysts, and implementation specialists who want to acquire the Salesforce CPQ certification. But anyone who wants to learn about all the Salesforce CPQ features can also attend!
Depending on the training, the rates vary from 2500 to 4000 euros HT.
Discover EI Technologies
EI Technologies is an official Salesforce partner since 2009!
#2 ISDI CRM
Official Salesforce partner training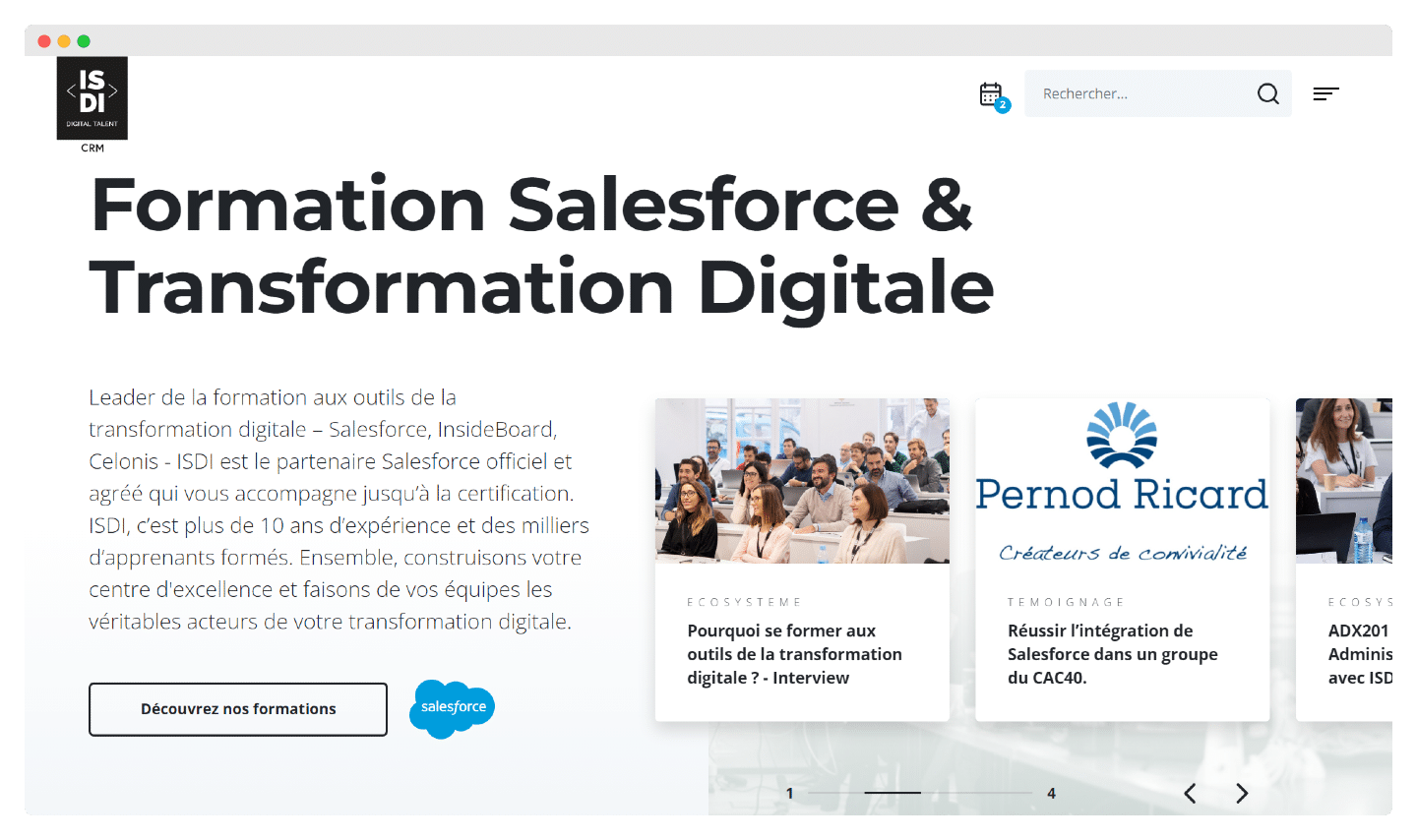 ISDI CRM is another Salesforce partner training center – meaning their trainers are Salesforce certified – that has been around for over 10 years. Prices start at 2,000 euros excluding VAT.
One of their highly rated trainings by trailblazers is "Tableau CRM Implementation and Management." : in 3 days, you learn how to develop a Tableau CRM environment with Salesforce and external data.
The course is in English and costs 2175 euros. It is primarily intended for integration specialists or Salesforce administrators interested in linking and securing data in Tableau CRM, but it can also be of interest to business analysts or developers.
Please note that it is recommended that you are already fairly familiar with CRM, and in particular that you have taken the following Trailhead courses: Implement and Manage Tableau CRM Pre-work.
Discover ISDI CRM
ISDI CRM offers quality Salesforce training on Tableau CRM.
#3 IB Training
Solid training in Salesforce administration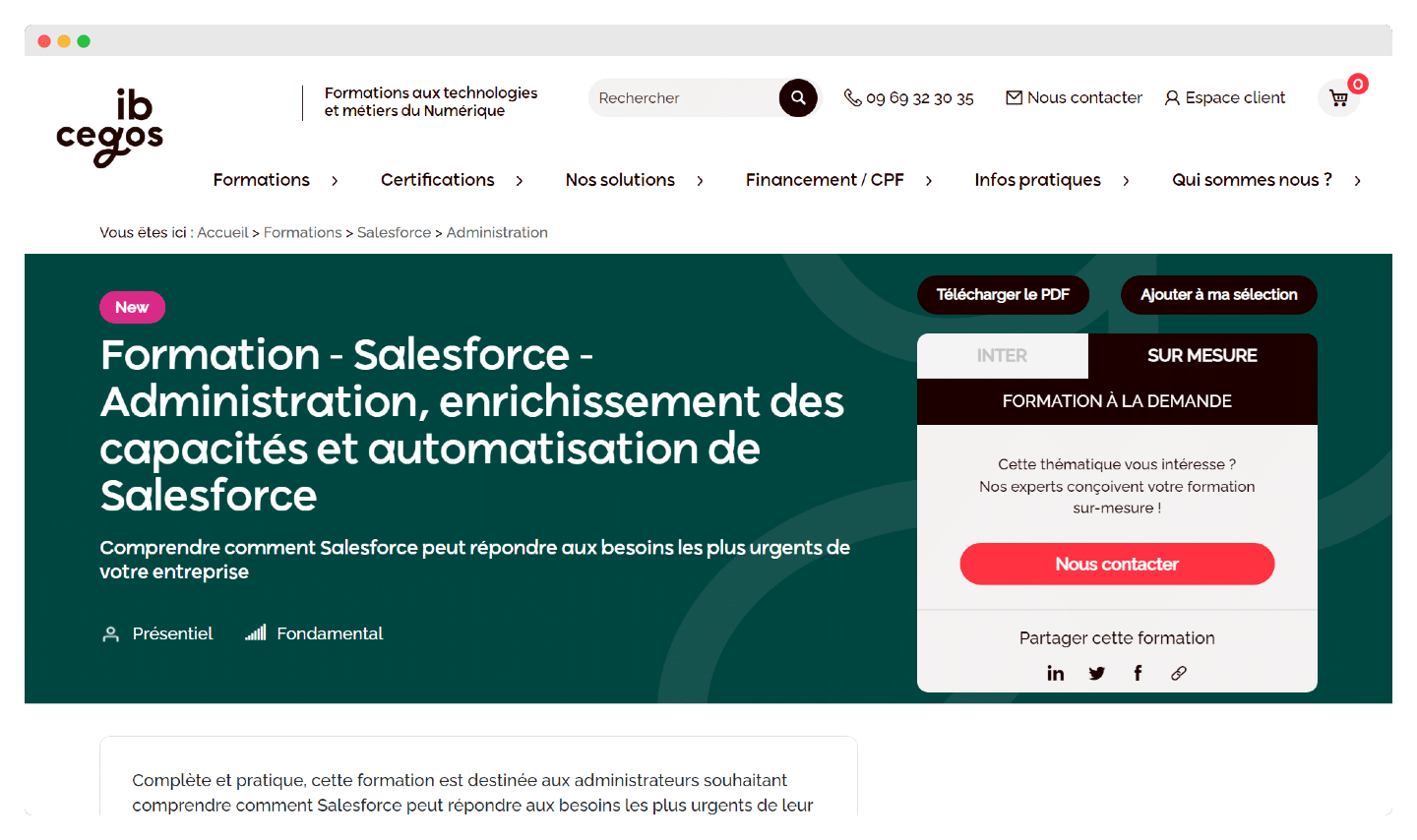 IB Formation is a training organization for digital technologies and professions that has a good reputation for Salesforce administration training, in Paris or online.
We recommend the Salesforce Administration, Enablement, and Automation course, which shows you how to use Salesforce to meet your most critical business needs.
Intended for Salesforce administrators with 6+ months of experience, this is a good foundation for those interested in the Salesforce Advanced Administrator certification. Her focus is on Lightning applications to extend Salesforce but also business process automation.
Spread over 4 days and held in Paris, it costs 2900 euros.
Discover IB Formation
Learn Salesforce Administration with IB Training!
#4 M2i Training
A complete training course on Salesforce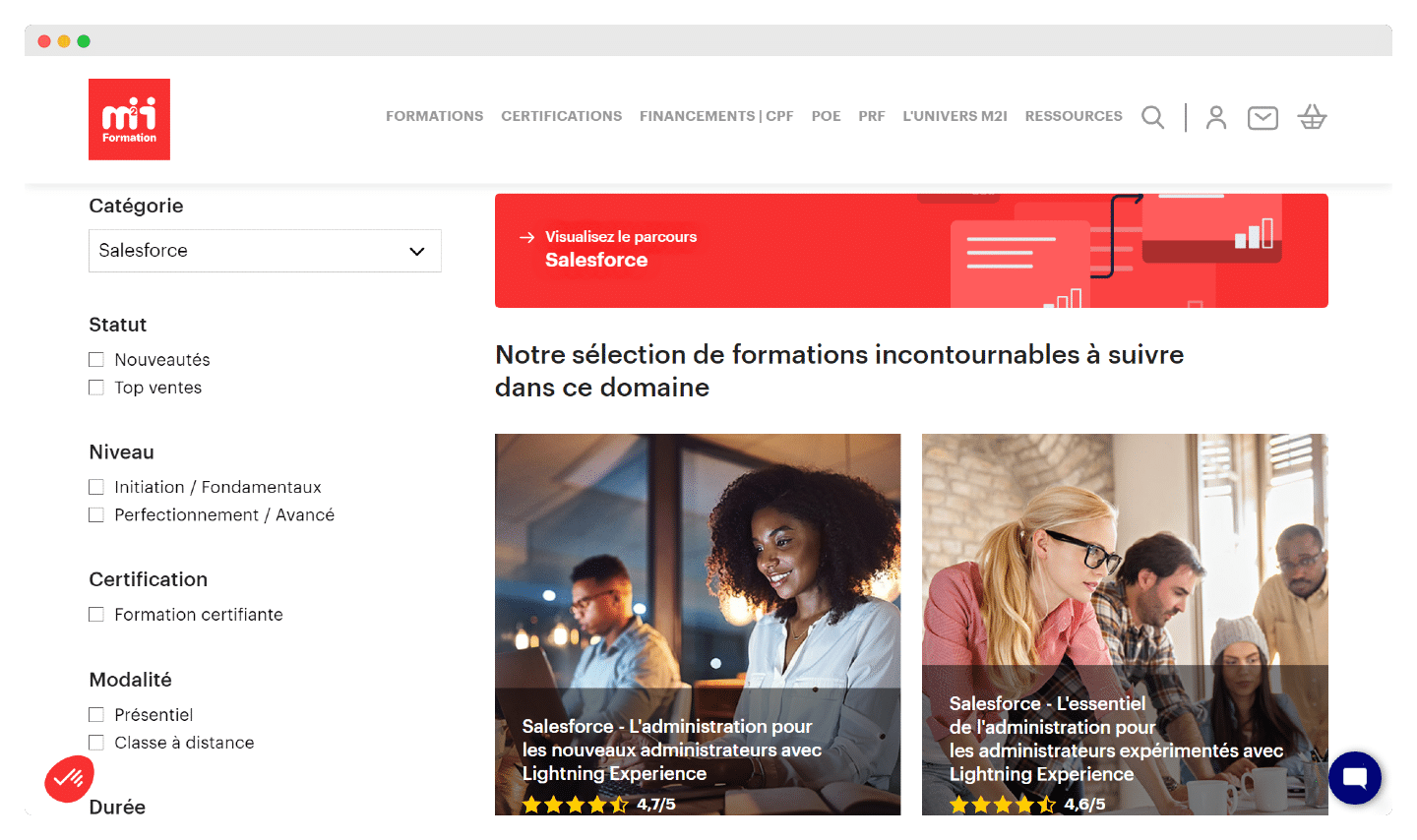 M2I offers a complete training course on Salesforce and other leading CRMs, from the basics to advanced features. There is something for everyone, whether you are an administrator or a consultant/specialist.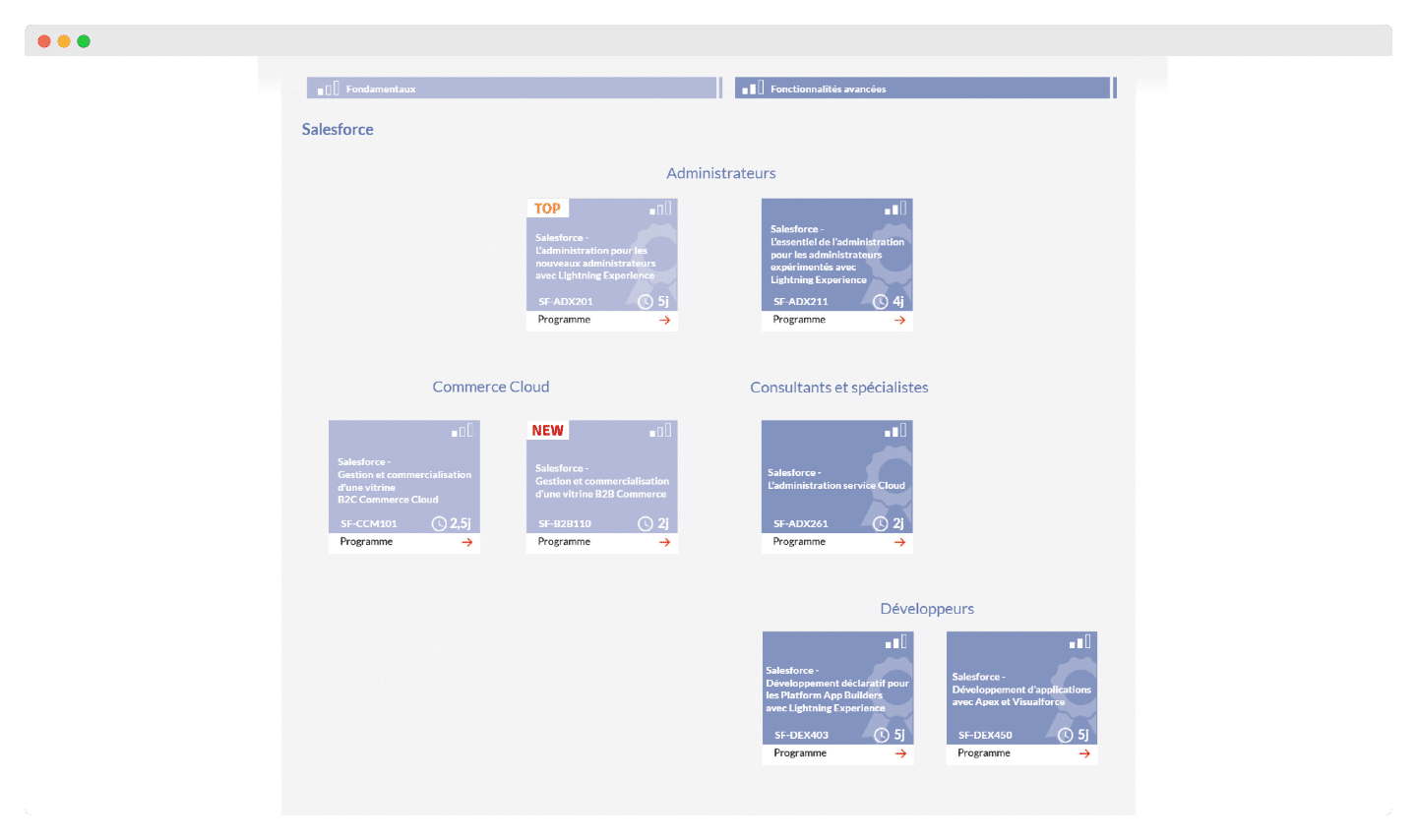 In the fundamentals, they offer a B2B Commerce Storefront Management and Marketing course, for Cloud Salespeople, among others, which teaches you the various features of B2B Commerce, from configuration to experience builder.
It was designed primarily for administrators, developers or marketers responsible for the maintenance and code-free customization of a B2B store.
For this training, it is recommended that you have previously taken the Trailmix Manage and Merchandise a B2B Commerce Store and the Trail Admin Beginner for beginners.
Delivered in English, this training lasts 2 days, and can take place in person or by distance learning. Pricing is on request but prices start at 2000 euros.
Discover M2i Formation
M2i offers ultra-complete training courses for Salesforce!
#5 Apsynergy Learning
A series of free online courses
Apsygenergy learning is different from its competitors because everything is free! The organization offers a series of online courses and videos, mostly taught by Raphael Wulff, an independent Salesforce partner and founder of Apsynergy.
The list of courses is still limited, but you can learn about Salesforce Flow's low-code capabilities, Lightning pages, and dashboard creation.
What's special is that there are also various Salesforce training courses aimed primarily at associations or NGOs that use Salesforce Non Profit Cloud.
Discover Apsynergy learning
Discover Apsynergy Learning's free training courses!
#6 PLB consultant
Salesforce Lightning Administration Essentials Training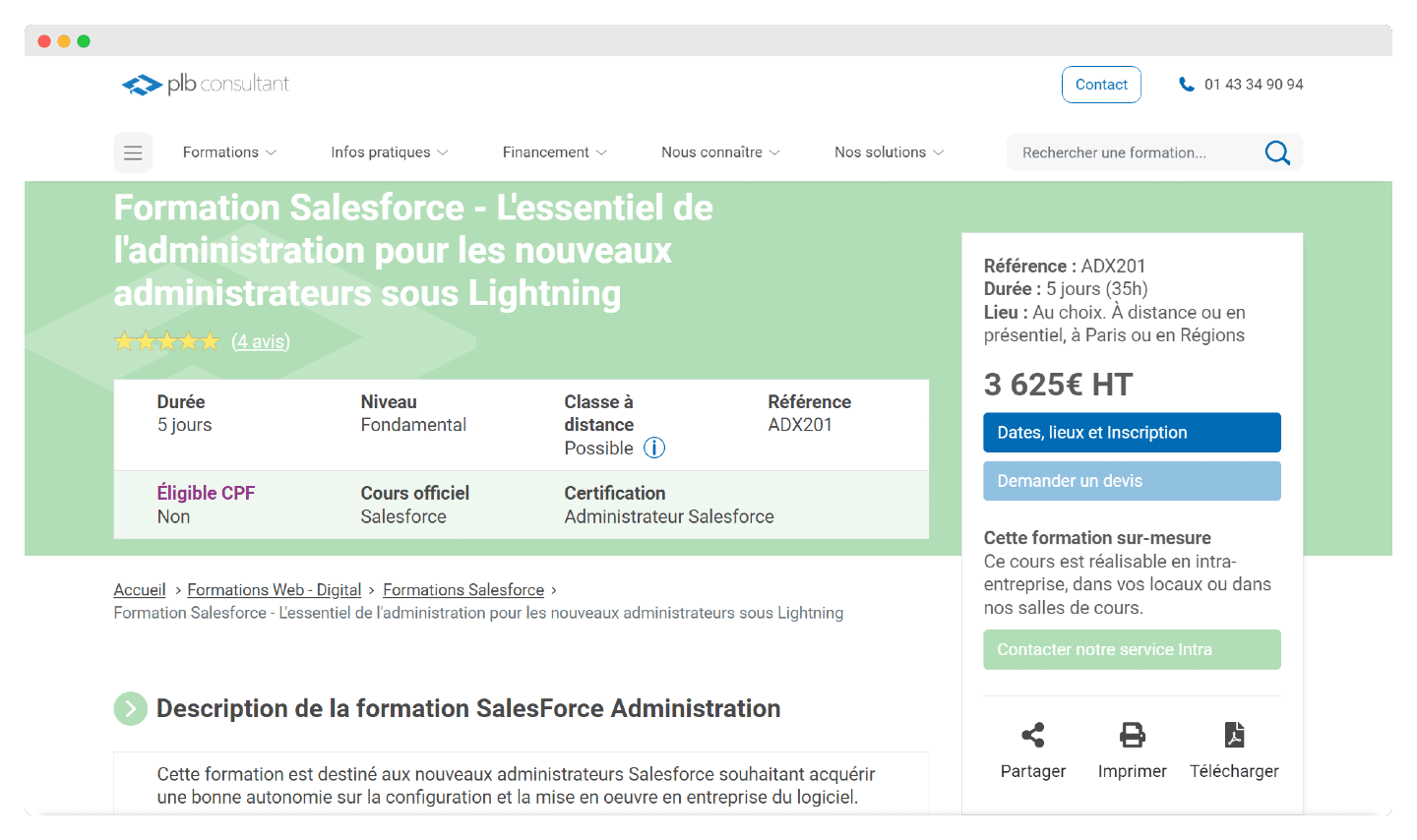 PLB Consultant is a training organization in Paris for IT professionals. They offer a variety of Salesforce training courses, including a fairly comprehensive one on the essentials of administration for new administrators on Lightning.
The goal is really to know how to configure Salesforce software so you can customize it, automate your workflow, etc. For this training, it is recommended that you have taken the Administrative Essentials for New Admins Prework trailmix beforehand.
Duration: 5 days
Price: 3625 euros (including the certification)
Eligible CPF : no
The most? This training prepares you for the Salesforce Certified Administrator exam, which is included in the cost of the training.
Discover PLB consultant
Learn the essentials of Salesforce Lightning administration with PLB Consultant.
#7 Skama
Free Marketing Campaign Training on Salesforce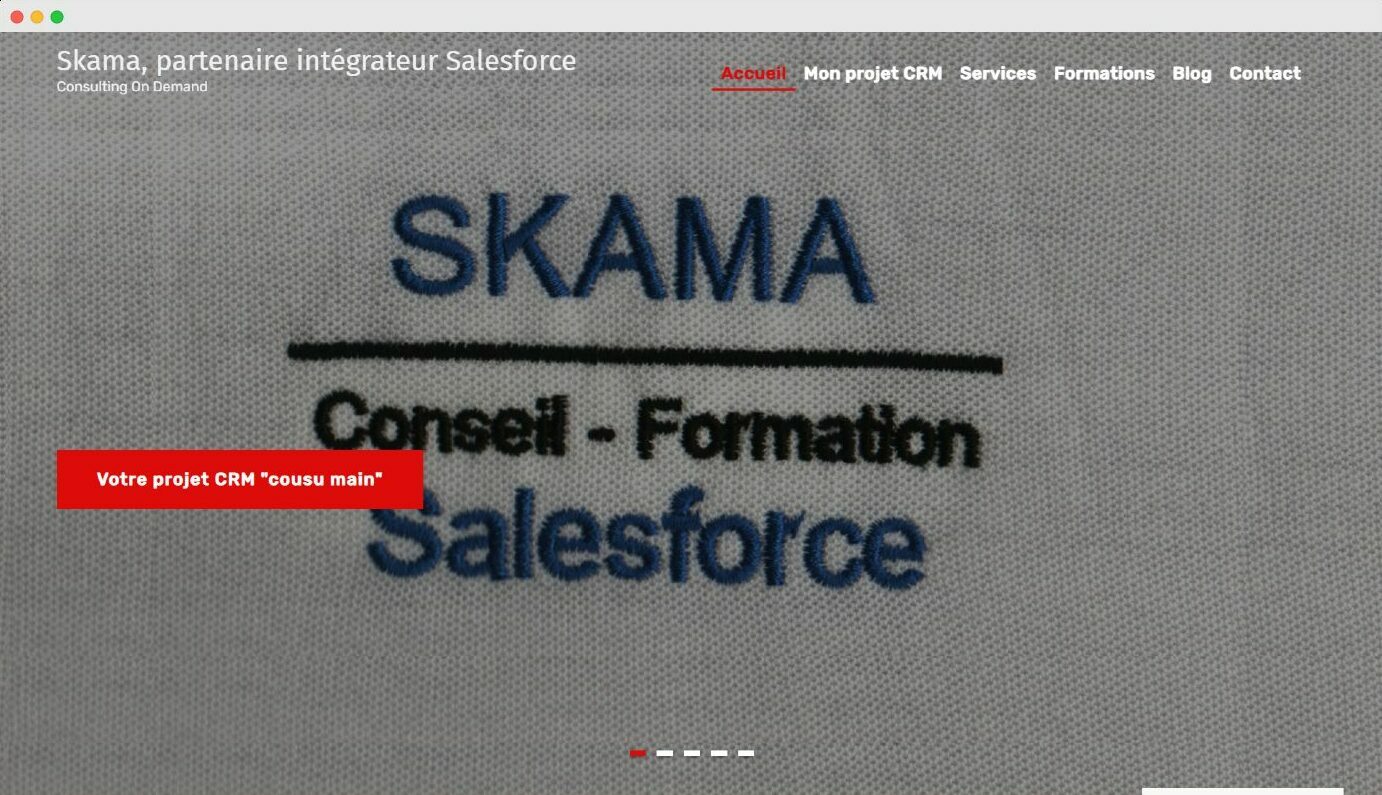 The particularity of this Skama training is that it is completely free. Skama is a that offers various Salesforce training courses – marketing, administration, etc. – to get the most out of its CRM.
At Salesdorado, we recommend the Salesforce Standard Campaign Modules training: it's a marketing campaign training on Salesforce, which goes far beyond an emailing campaign to your CRM contacts.
You will learn how to design a campaign from A to Z, from the creation of an email template to the evaluation of this campaign with indicators by calculating the ROI, etc.
Duration : ½ day
Rate : free
Discover Skama
Skama offers free training on Salesforce marketing campaigns.
#8 iCom Cloud
Customized training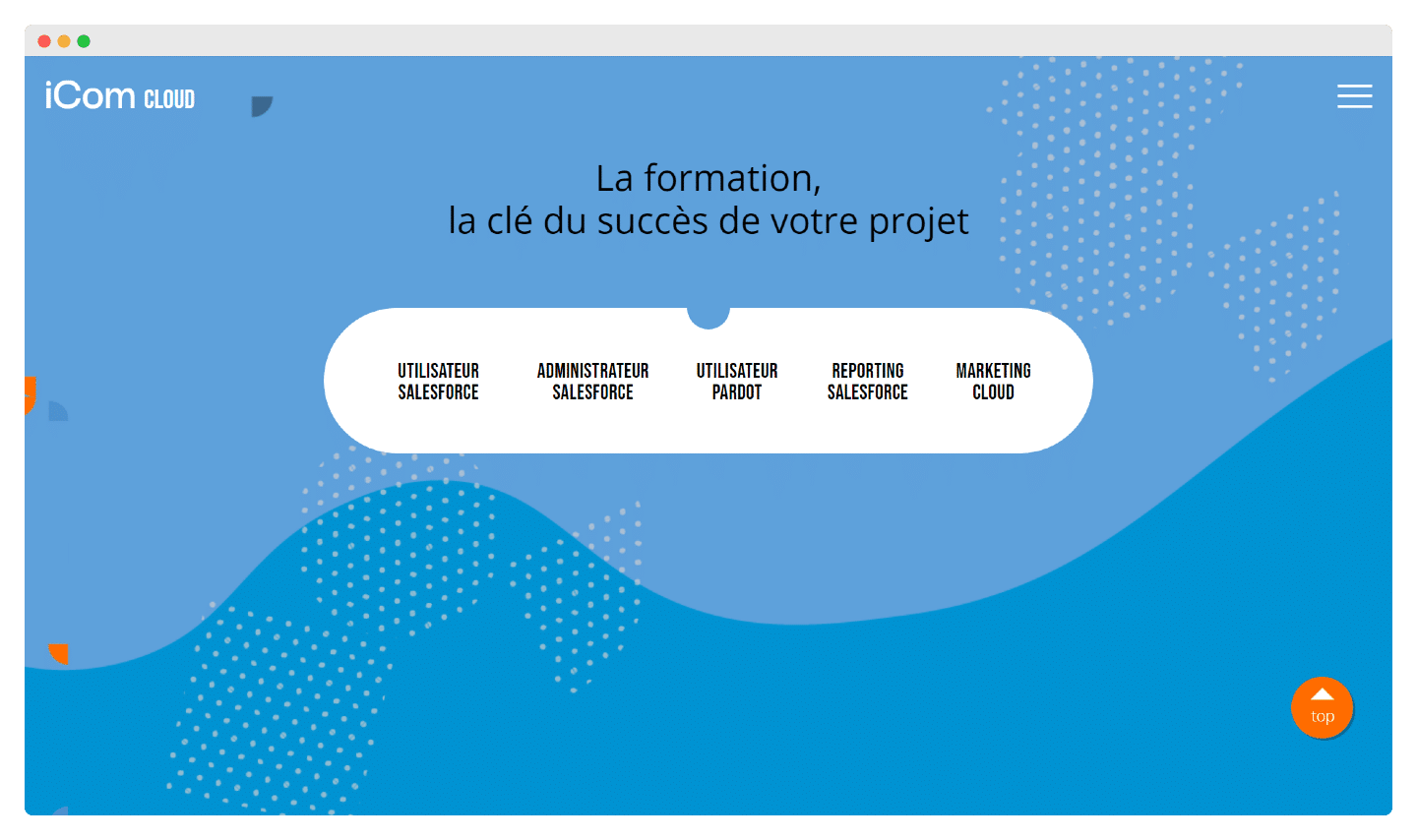 In Neuilly or remotely, iCom Cloud provides customized training on administration, reporting, or Pardot use. They also offer to train new users in CRM.
Depending on your profile, you can choose between 5 Salesforce training courses, from beginner to cloud marketing, including specific training on Pardot marketing automation software.
Duration: between 1/2 day and 5 days of training
Rate : Customized
Eligible CPF : no
Discover iCom Cloud
Create your own custom Salesforce training with iCom Cloud!
#9 Cloud Giraffe
A Salesforce integrator with extensive CPQ expertise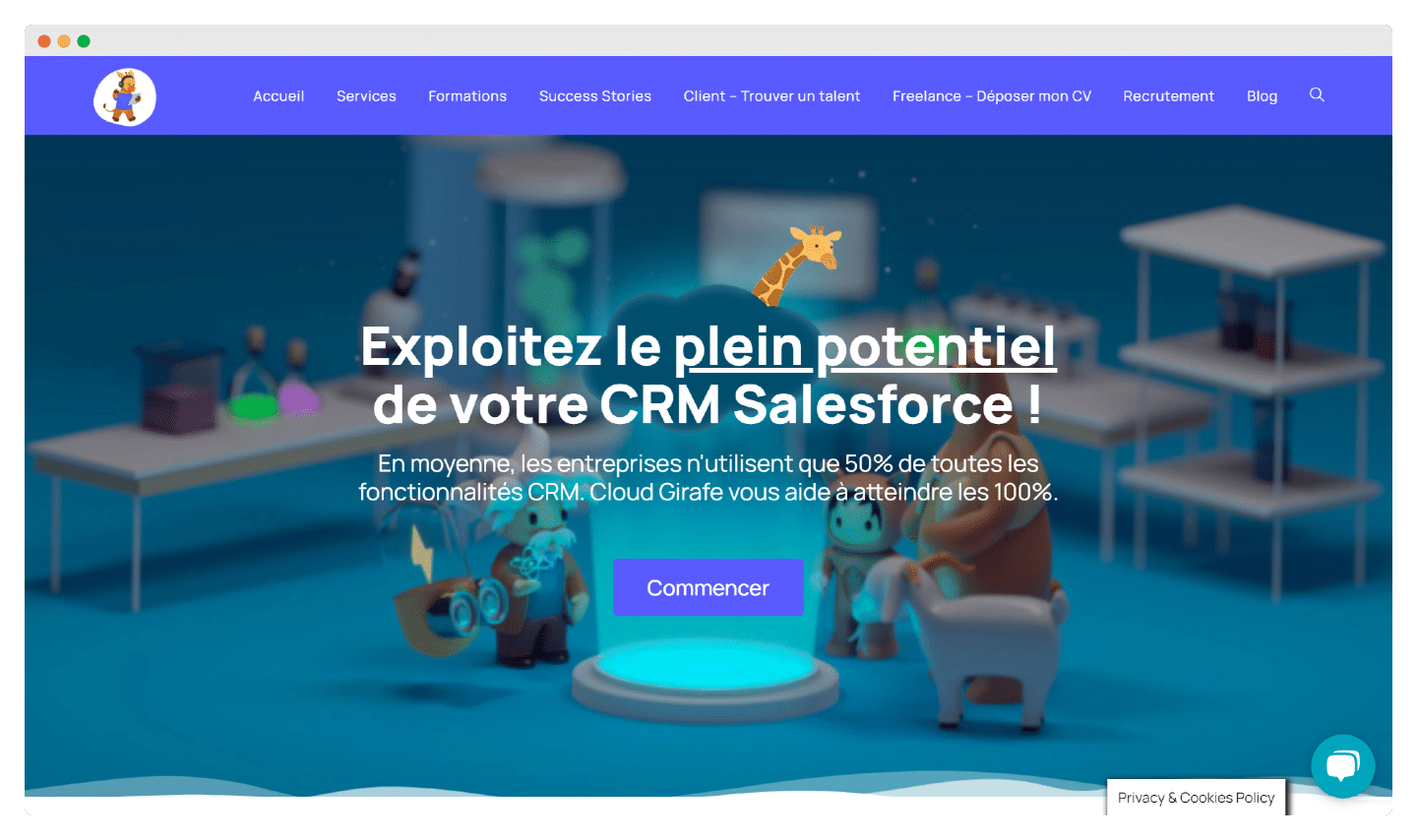 Cloud Giraffe is a .
Their Salesforce Administrator training is a group distance learning course in the form of a participatory webinar, with 25 hours of webinar and 10 hours of exercises to complete. No prerequisites are required.
The goal is to learn the key functions of Salesforce administration, from CRM customization to analytics. The training is spread over 5 days, from 9:30 am to 5 pm and alternates theoretical webinars and participative workshops with quizzes and MCQs.
Duration: 5 days
Price : 1200 euros HT
Eligible CPF : no
Discover Cloud Giraffe
Learn more about CPQ training with Salesforce Cloud integrator Giraffe.
#10 BizKor
Micro-trainings to address a specific topic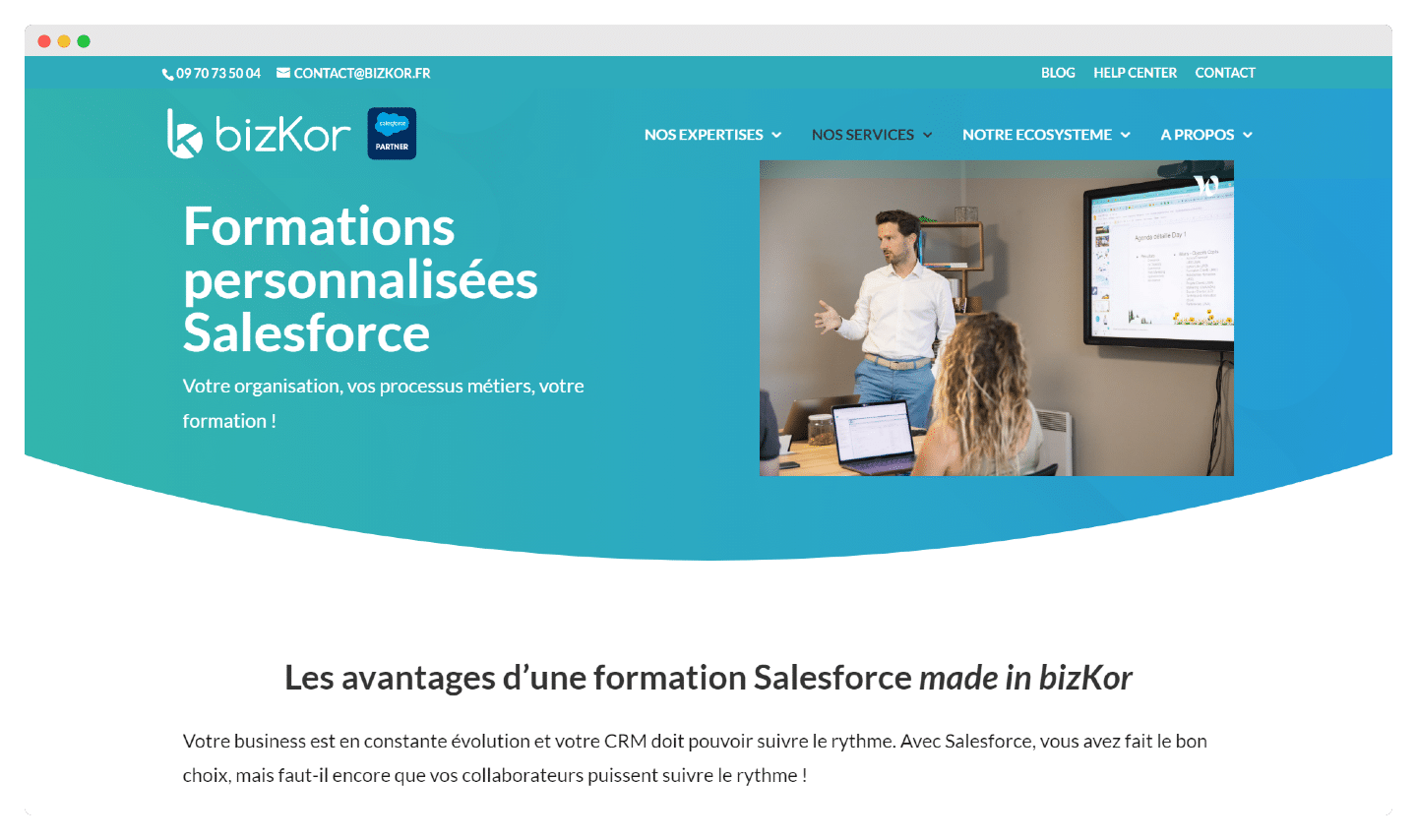 Bizkor offers training courses with a format quite similar to iCom Cloud: they are essentially micro-training courses over one or half a day to deal with a specific subject. The advantage is that they are quite short and you can create your own training path based on your needs.
There are about ten of them, on different subjects: reports and dashboards, administration, and Pardot, which is declined according to whether you are a beginner, intermediate or advanced user.
Duration: from 3h30 to 21h
Rate : About 1000€ HT / day
Eligible CPF : no
Discover BizKor
BizKor offers some pretty good micro-training on specific Salesforce topics.
Go further
Does Salesforce seem to be too much for your team to handle and are you afraid of training? We suggest you some CRM alternatives: