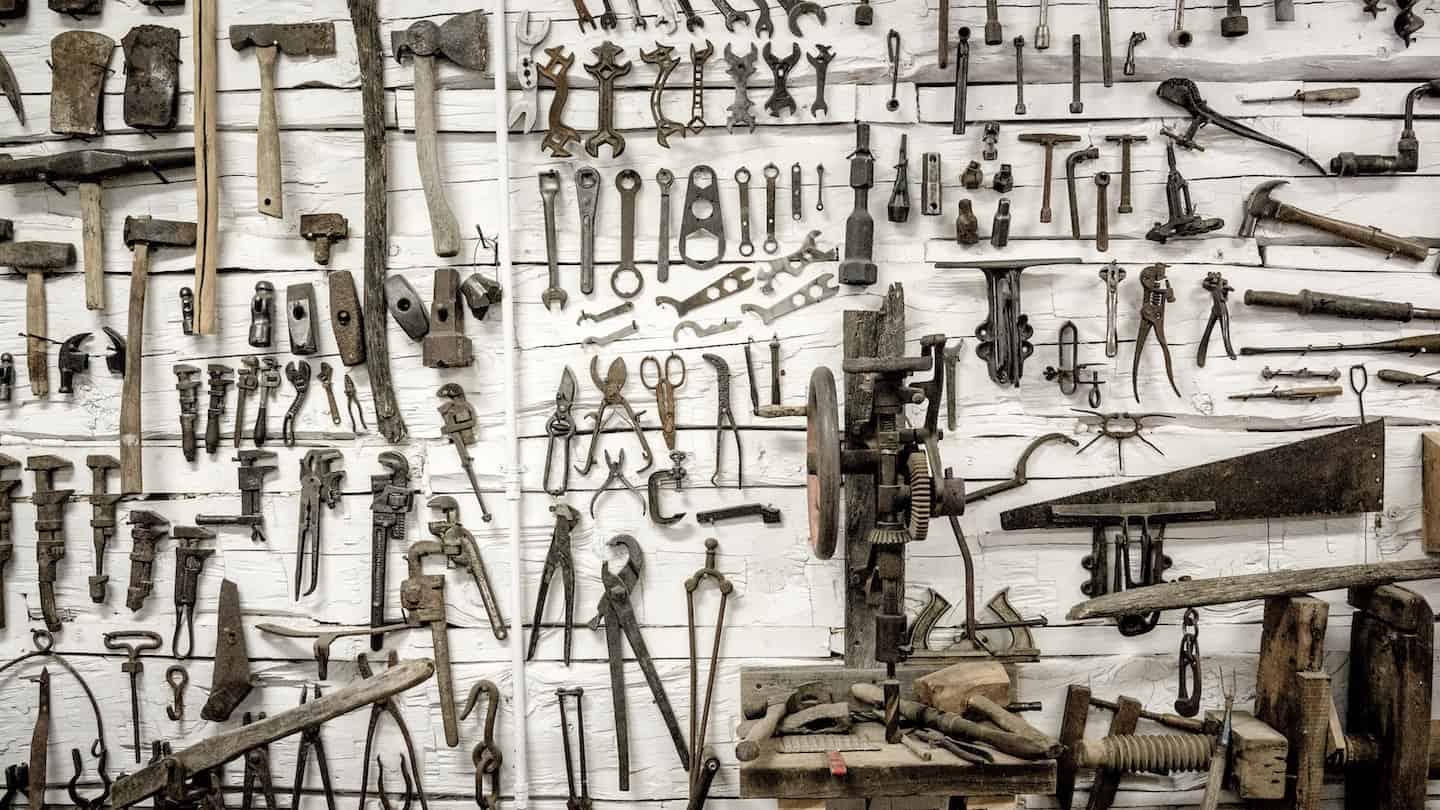 LinkedIn is a bit of an Eldorado for generating B2B leads, but it remains a human social network where poorly targeted messages can really tarnish your company's reputation.
Hence the importance of choosing your LinkedIn automation tools carefully so that your outreach remains relevant for your leads and effective for your business.
In this vast and growing market, there are different types of tools: sales engagement tools that go far beyond Linkedin, tools hyper focused on LinkedIn outreach and automation, and then simpler "micro-tools" for scraping or social selling.
What type of LinkedIn automation tool should I choose?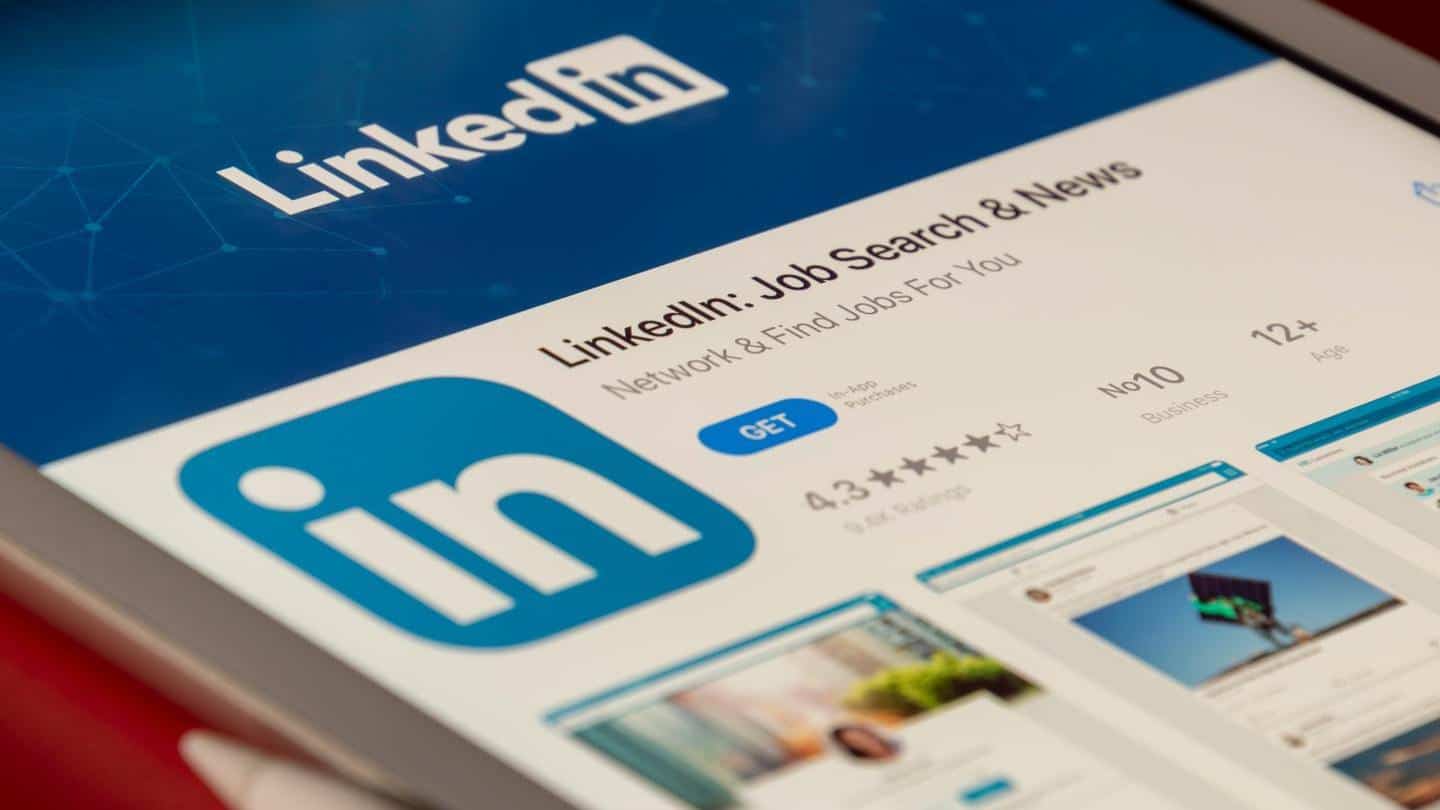 #1 Multi-channel prospecting tools
These are the tools we usually think of when we talk about LinkedIn automation tools, mostly because they are the most expensive and do the most marketing. The promise is an all-in-one tool that allows you to manage complex outbound campaigns over multiple channels: LinkedIn, email, phone, …
In reality, if you're just starting out it's very generally a bad idea to start big. Smaller, shorter iterations will allow you to get to the right message, channel, and target. Once you have that, you can move on to these kinds of tools. Tools like LinkedHelper, Waalaxy, or Closely come to mind.
#2 Automation tools
In addition to extracting data from the social network, these tools are able to interact with LinkedIn to create connections, send messages, etc. This is where tools like Phantombuster, or CaptainData would fall.
It's extremely powerful when you know what you're doing, and these tools are usually able to do a lot more than simply Linkedin. But if you want to launch complex campaigns with precise reporting and very personalized icebreakers, we wouldn't recommend those.
#3 Simple scraping tools
The purpose of scraping tools is to extract data from LinkedIn, to use it as you wish outside of LinkedIn. The oldest and best known by far is Dux-Soup, but we can also mention Evaboot for example.
#4 Social selling tools
These tools specialize in producing and promoting content on LinkedIn to generate inbound leads that then contact you on their own. ShieldApp is an analytics tool on your LinkedIn posts for example to do better, LinkedIn pods like Podawaa also help promote your posts (when done right).
Top 9 LinkedIn Outreach Tools: Comparison table
#1 Waalaxy
An all-in-one Linkedin outreach tool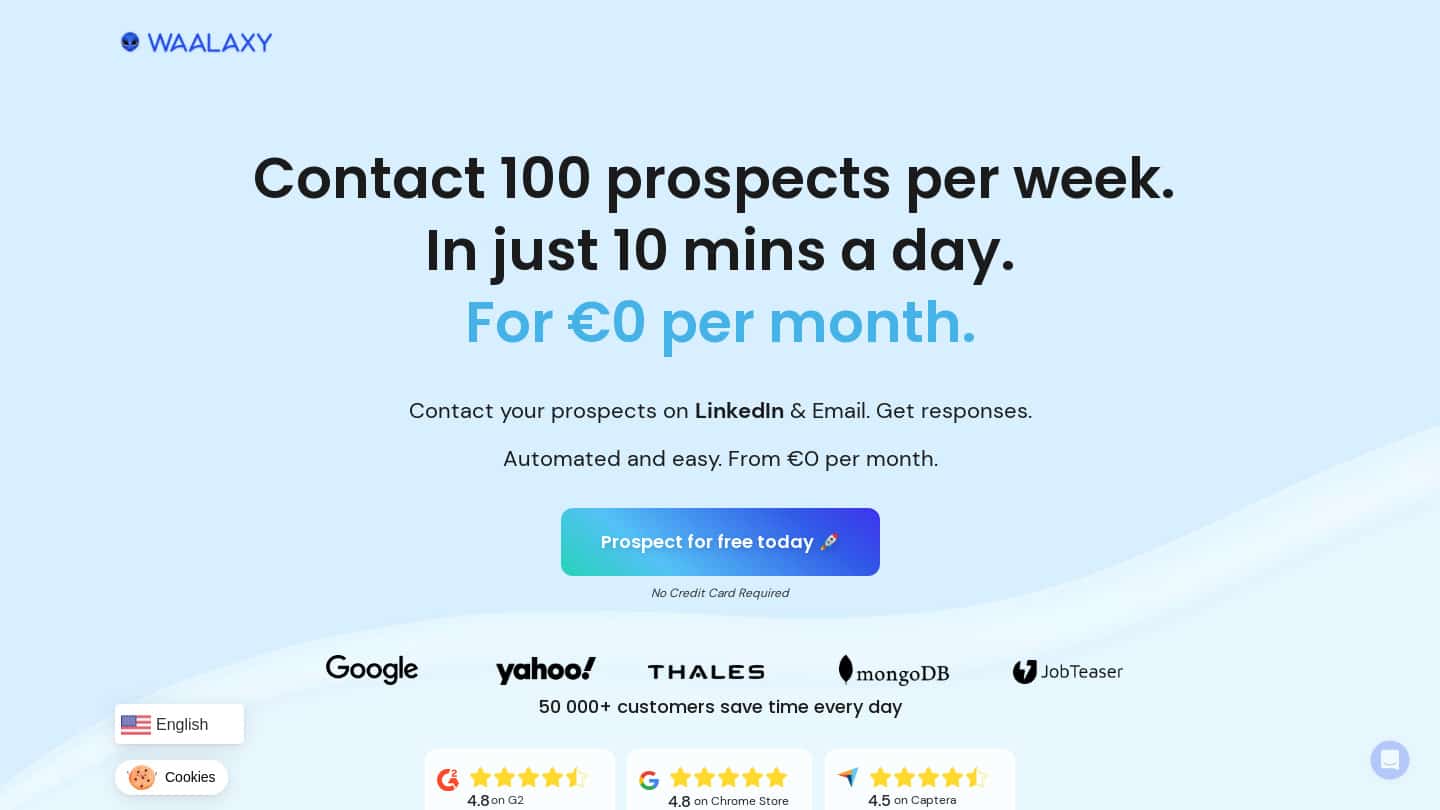 Waalaxy, formerly Prospectin, is an extremely powerful prospecting tool because it is not limited to Linkedin. As an extension for Google Chrome, Waalaxy allows you to set up multi-channel prospecting campaigns, especially via email and Twitter.
Among the interesting features is the ability to override the 100 connection requests per week limit imposed by LinkedIn since 2021. You can also run campaigns directly to LinkedIn profiles that interact with your posts or visit your profile.
A plus: you can check the upcoming functional evolutions on the Waalaxy public roadmap.
Pricing-wise, there are 4 plans are available:
A free plan, with all Linkedin features but limited to 100 Linkedin invitations per week.
The Pro plan starts at 35€ / month, and comes with up to 200 Linkedin invitations/week.
The Advanced plan starts at 69€ / month and comes with up to 2500 Linkedin invitations / month, and, critically, CRM synchronisation.
Finally, the Business plan starts at 99€ / month, and comes with an unlimited email finder to
Note however that their customer support is only available through livechat.
Discover Waalaxy
You can test Waalaxy for free (without even entering your credit card) here.
#2 Captain data
Automate any action on Linkedin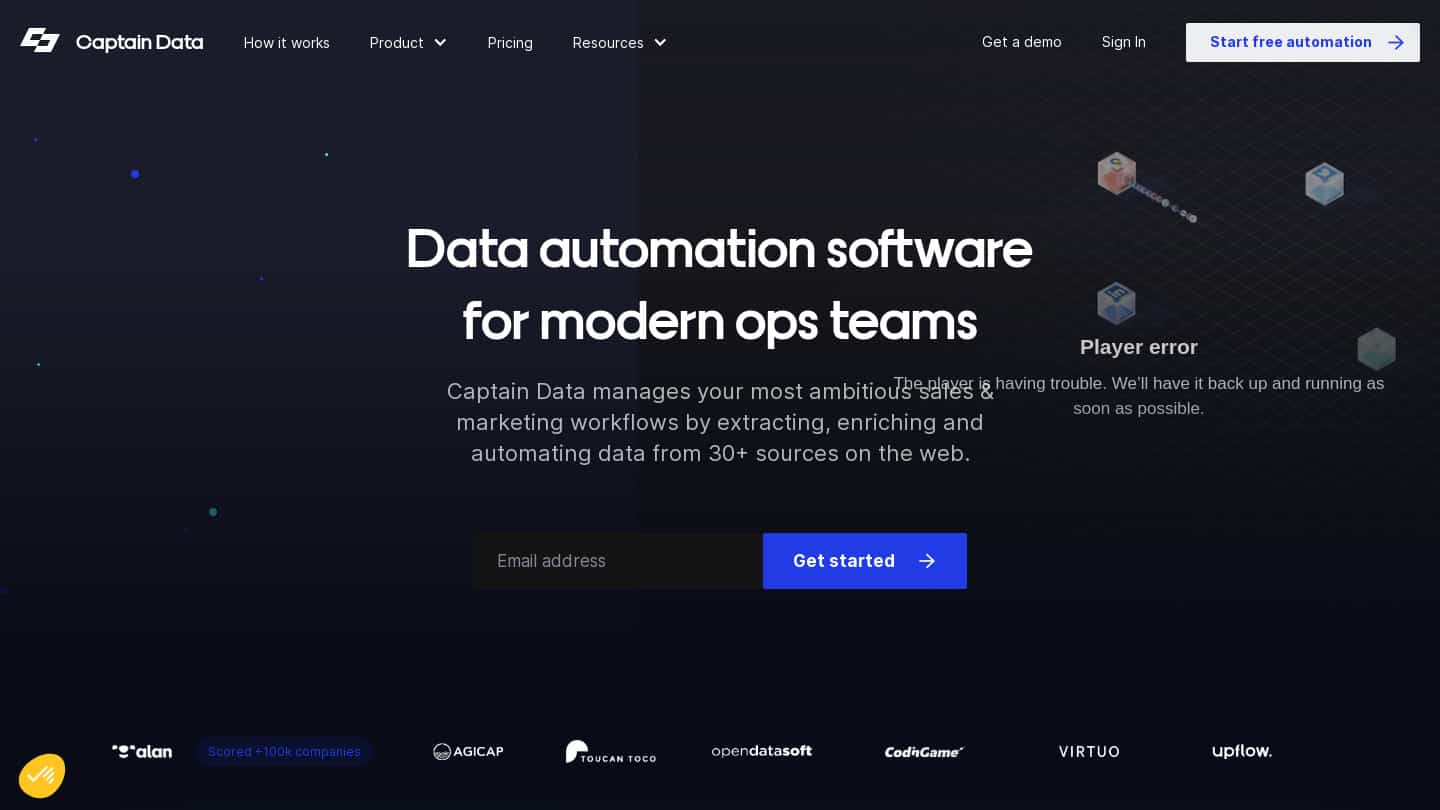 Captain Data is an ultra-powerful tool to automate the recovery of all kinds of data from the Internet. Including LinkedIn's.
The software allows you to extract and collect data from the LinkedIn profiles you are interested in and the companies they work for, but also to find their email addresses thanks to the email finder. The depth of the and data enrichment features is amazing.
Their site offers a wide range of case studies (how to enrich your campaigns with connections from your LinkedIn contacts, etc.) to help you use their tool.
At the pricing level, there are 3 plans:
A free plan, available for 14 days and limited to one user.
Growth Plan, at $399/month. It offers the automation of 25,000 tasks/month as well as integration with your CRM. It is limited to 5 users.
Enterprise Plan, at $2500/month. Intended for companies with more than 50 users of the software, it offers all the options mentioned above but in an unlimited and personalized version.
Since we are not simply using a LinkedIn prospecting solution, the tool is significantly more expensive than its competitors, but this is justified by the wide range of possible automations.
Discover Captain Data
You can test CaptainData for free for 14 days to get an idea of the tool (and this without entering your bank details). For paid plans, you can also request a demo.
Go further
We can only recommend our mini-series written with Captain Data:
How to to better qualify? The example of Captain Data
Building a : methods and techniques
6 good reasons to start
#3 Shield
Advanced reporting on your Linkedin content performance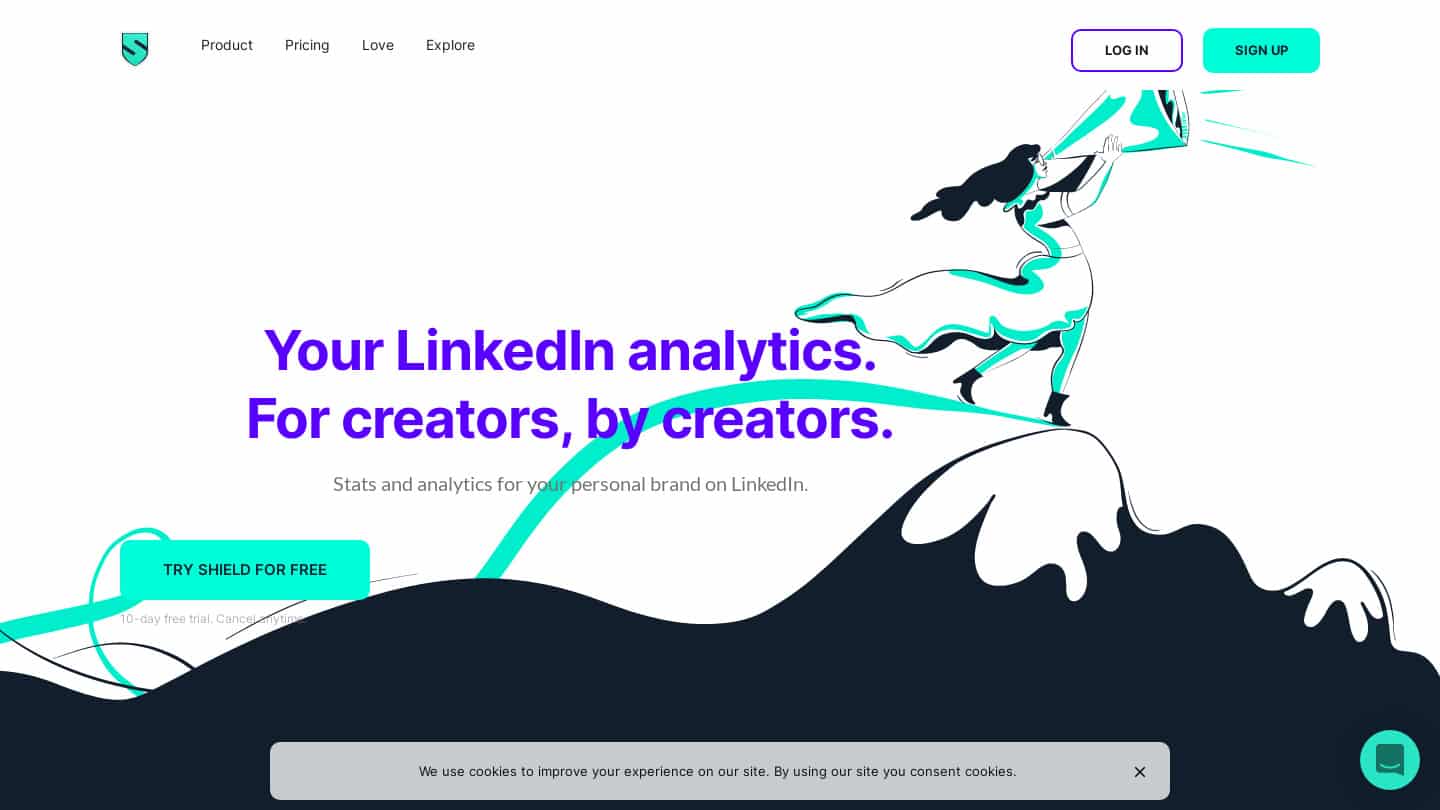 Shieldapp is a reporting tool specifically designed to analyze the performance of your content and actions on LinkedIn. It's a kind of Google Analytics but focused only on your LinkedIn data.
The advantage for prospecting is that the tool gives you a lot of information about what works and what doesn't, which then allows you to expand the reach and engagement of your posts.
ShieldApp pricing is based on 3 offerings:
Starter – $6/month for 1 LinkedIn account and basic features: content performance and profile growth.
Creator – $12/month for 1 LinkedIn account, all the features of the Solo plan, plus your audience demographics and csv exports.
Influencer – $19/month for an unlimited number of LinkedIn accounts, all the features of the Plus plan, plus aggregated data from various LinkedIn accounts and premium support among others.
Discover ShieldApp
ShieldApp offers you a 10-day trial to discover their tool!
#4 Linkedhelper
All-in-one Linkedin CRM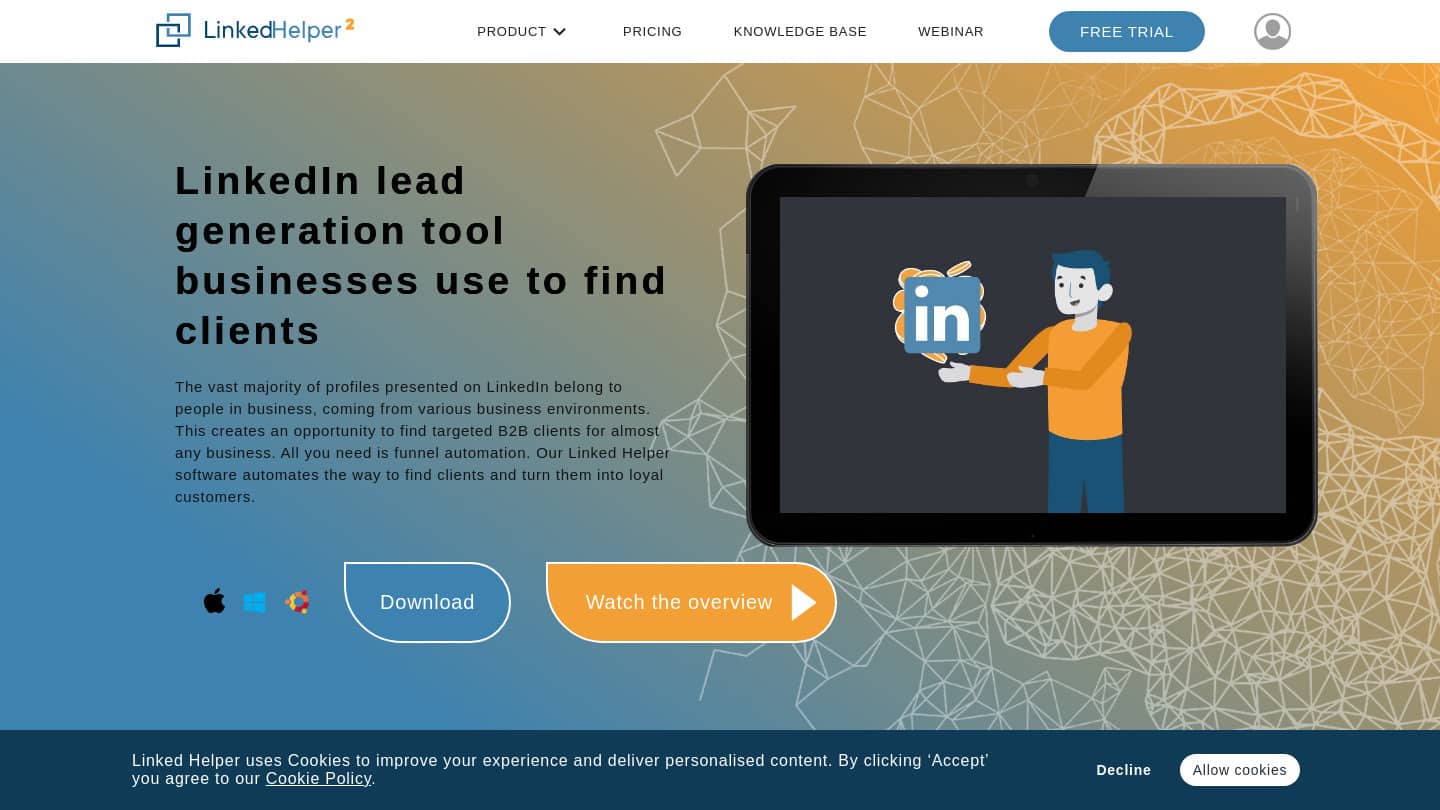 We can only recommend our full review of LinkedHelper, as the tool is so rich in features. I might as well warn you that this is sometimes at the expense of ease of use, but the FAQ and numerous videos can help you get used to the tool.
Note that it is an application to download on your computer, which launches a browser with a whole interface to launch campaigns. The good thing is that everything is done locally (even if the tool manages proxies), which makes all your actions much less suspicious for LinkedIn.
Among the key features, there is of course the automation of all your LinkedIn actions, but also prospecting and contact management functions directly integrated to their CRM: for example, on their application, you can import all your LinkedIn contacts in CSV without difficulty.
Two plans are available:
Standard at $15 per month: the plan limits you to 20 LinkedIn invitations and 20 messages per day.
Pro at $45/month: the features are the same as for the Standard plan but with unlimited access.
Both of these plans cost less if you take quarterly or even annual subscriptions.
Discover LinkedHelper
Take advantage of a 14-day free trial to discover all the features of LinkedHelper!
#5 Closely
All-in-one outreach tool to centralize your campaigns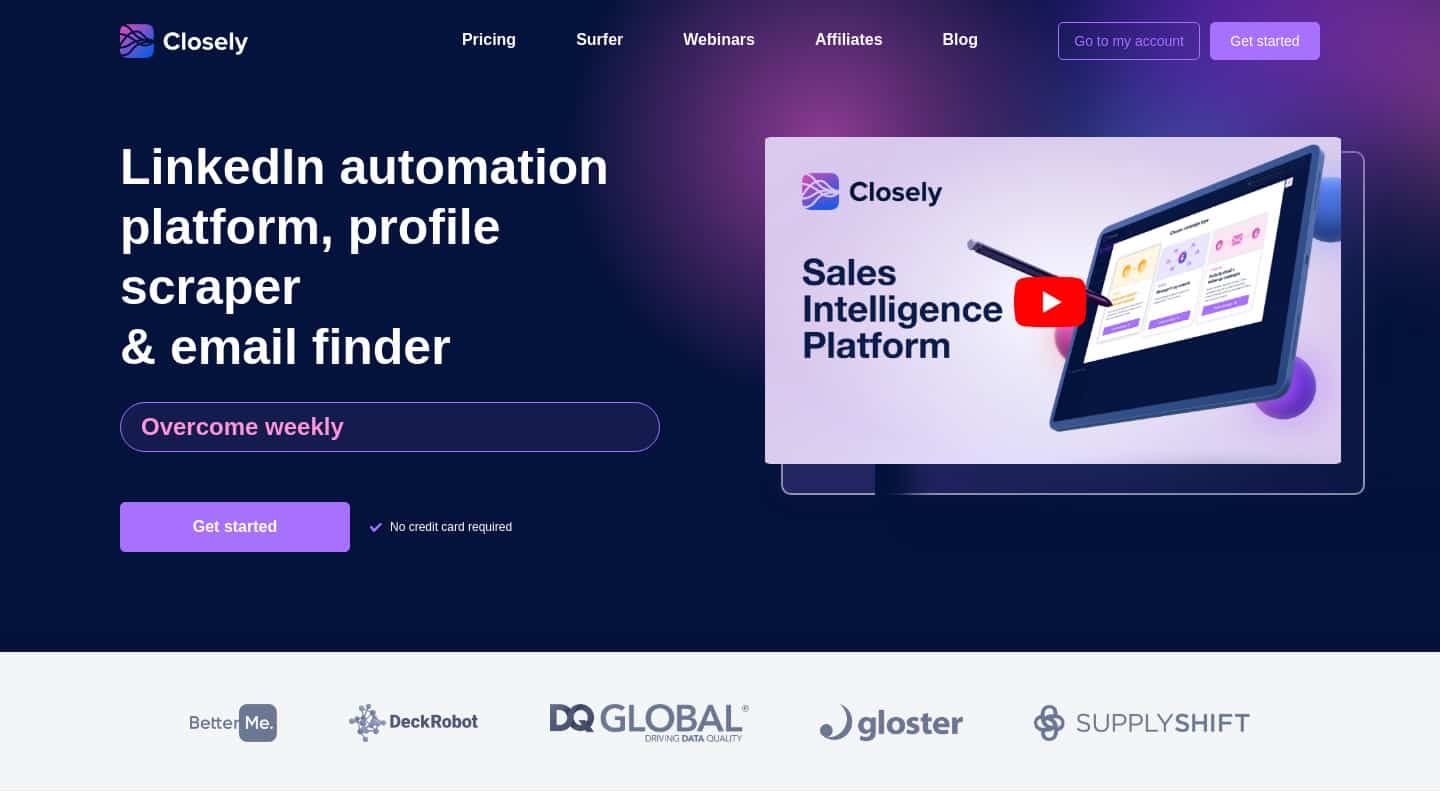 Closely is an all-in-one tool for prospecting on LinkedIn. It's a Chrome extension, but the software claims human intelligence that makes it undetectable by LinkedIn so it can exceed the invitation limit the social network imposes.
The tool is built around 3 key features:
Explorer: a tool that allows you to build advanced searches on LinkedIn (the equivalent of ) and to export all contacts in CSV with their email addresses.
Campaign creation: You can build email or LinkedIn campaigns, or both. The software offers a few templates and an intuitive editor to easily build your campaign.
Inbox: If you've ever worked a bit on LinkedIn you know how complicated it is to manage the inbox. Closely allows you to optimize that too, with a well-designed inbox and tags to qualify your messages.
But where the tool is very, very strong is that it allows you to manage a fleet of accounts, and to launch campaigns on each account from the same tool, and the same interface.
The tool is available for free with 150 credits per month. Then it starts at $50/account/month (but prices go down if you commit for more than a month). You can also buy credits directly, which are imperishable.
Discover Closely
You can test the tool for free with the 150 credits offered!
#6 Phantombuster
Flexible and easy to use Linkedin automation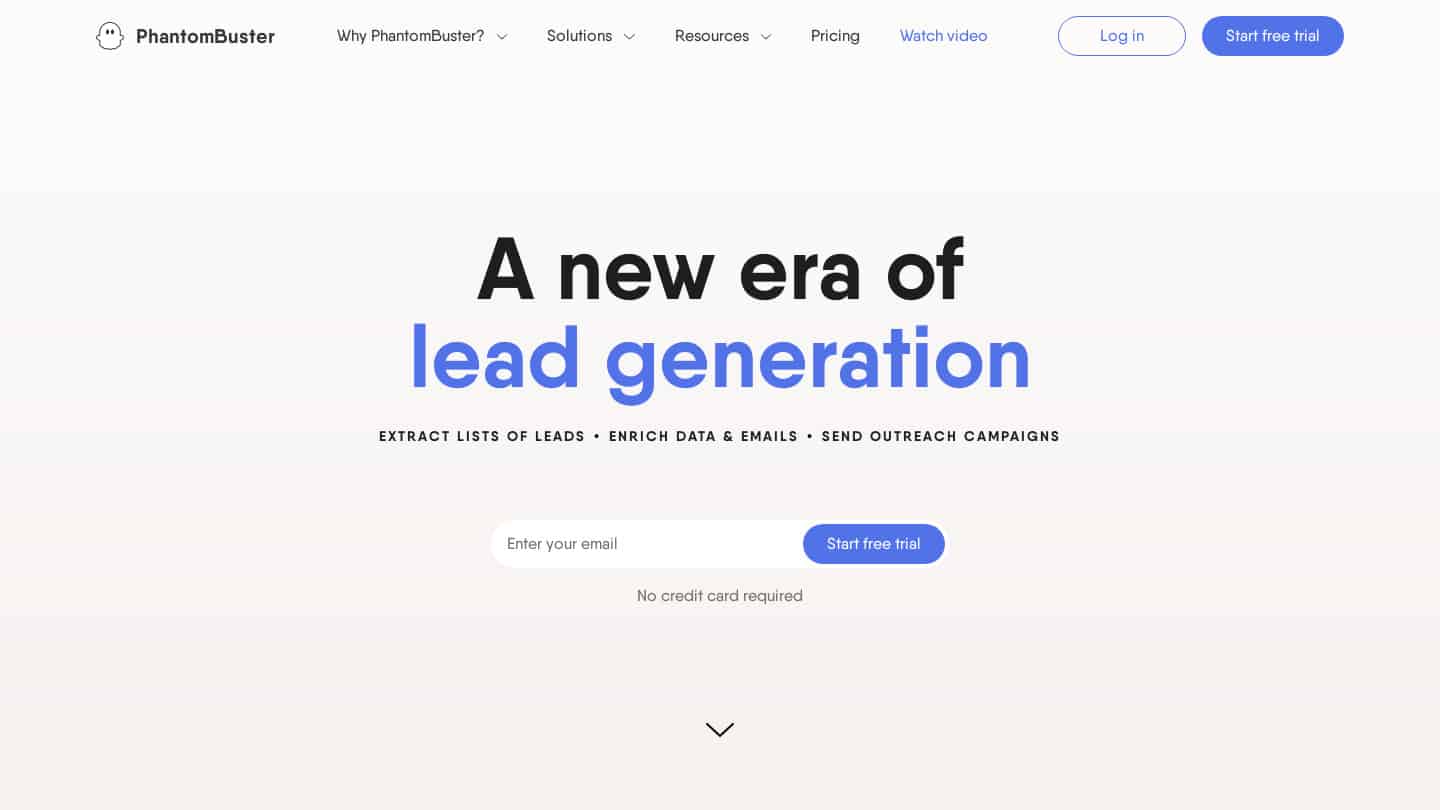 Phantombuster is a very interesting tool in that it doesn't work like other LinkedIn prospecting solutions: the principle of a phantom is a bit like an API route. You send an input, and it returns an output.
For example, you give the URL of a LinkedIn post, and the phantom returns a list of LinkedIn profiles that have commented on that post.
This allows you to automate a large number of LinkedIn actions, with almost infinite possibilities of customization. What we find particularly compelling about Phantombuster is that by importing all the data into Google Sheets, you can keep control over the automation with human validation processes.
The solution is therefore much more flexible than its competitors, although it also offers ready-made workflows for novices. The downside of this flexibility is that the tool is much slower than other software.
In terms of pricing, PhantomBuster offers 5 packages whose prices vary according to the time of use of the tool as well as the number of users within your organization:
Free Forever – Free. 2 hours of execution time per day and 5 slots. Bonus: 50 email credits.
Starter – $59/month for 20 hours/month and 5 slots.
Pro – $139/month for 80h/month and 15 slots. This plan gives you access to priority customer support.
Team – $399/month for 300h/month and 50 slots. In addition to priority customer support, you get a dedicated expert for your account. 10,000 bonus email credits/month.
Discover Phantombuster
Take advantage of a 14-day free trial without entering your credit card details to discover all the features of Phantombuster !
#7 Dux soup
Build B2B lead lists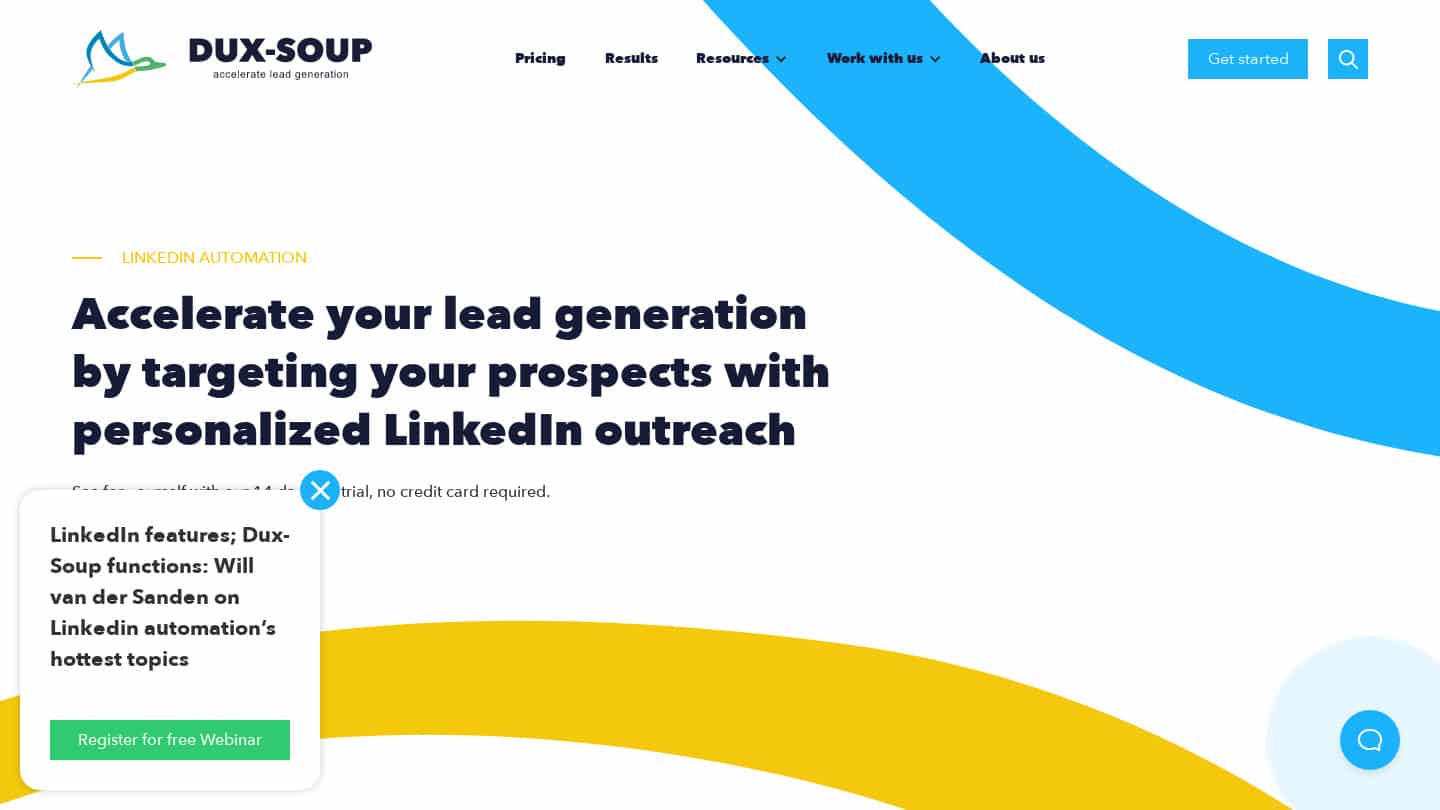 Dux-Soup is a Chrome extension designed for LinkedIn that stands out for its age and therefore its rather advanced understanding of LinkedIn algorithms and their evolution.
It is also a very complete LinkedIn prospecting tool that allows you to automate many actions, such as retrieving all the profile data resulting from a request, and visiting each of these profiles so that a notification – sign of your interest – is sent to them.
In its paid version, the tool allows you to export the automatically collected profile data into a CSV file to generate lead lists or to export the notes you have taken. However, we appreciate the low price compared to the functional depth.
In terms of pricing, for individual accounts, you have a free plan that gives you access to basic profile viewing and profile searches. Then there are two plans:
Pro-Dux: for 12,99 euros/month, you have access to all the functions of automation of LinkedIn actions and generation of lead lists.
Turbo-Dux: for 49 euros/month, in addition to the functions of the Pro-Dux plan, you have access to advanced LinkedIn campaign generation and lead management functions.
Discover Dux-Soup
You can take advantage of the free Dux-Soup map to discover all the possibilities of the tool.
#8 Evaboot
Scrape and export Sales Navigator data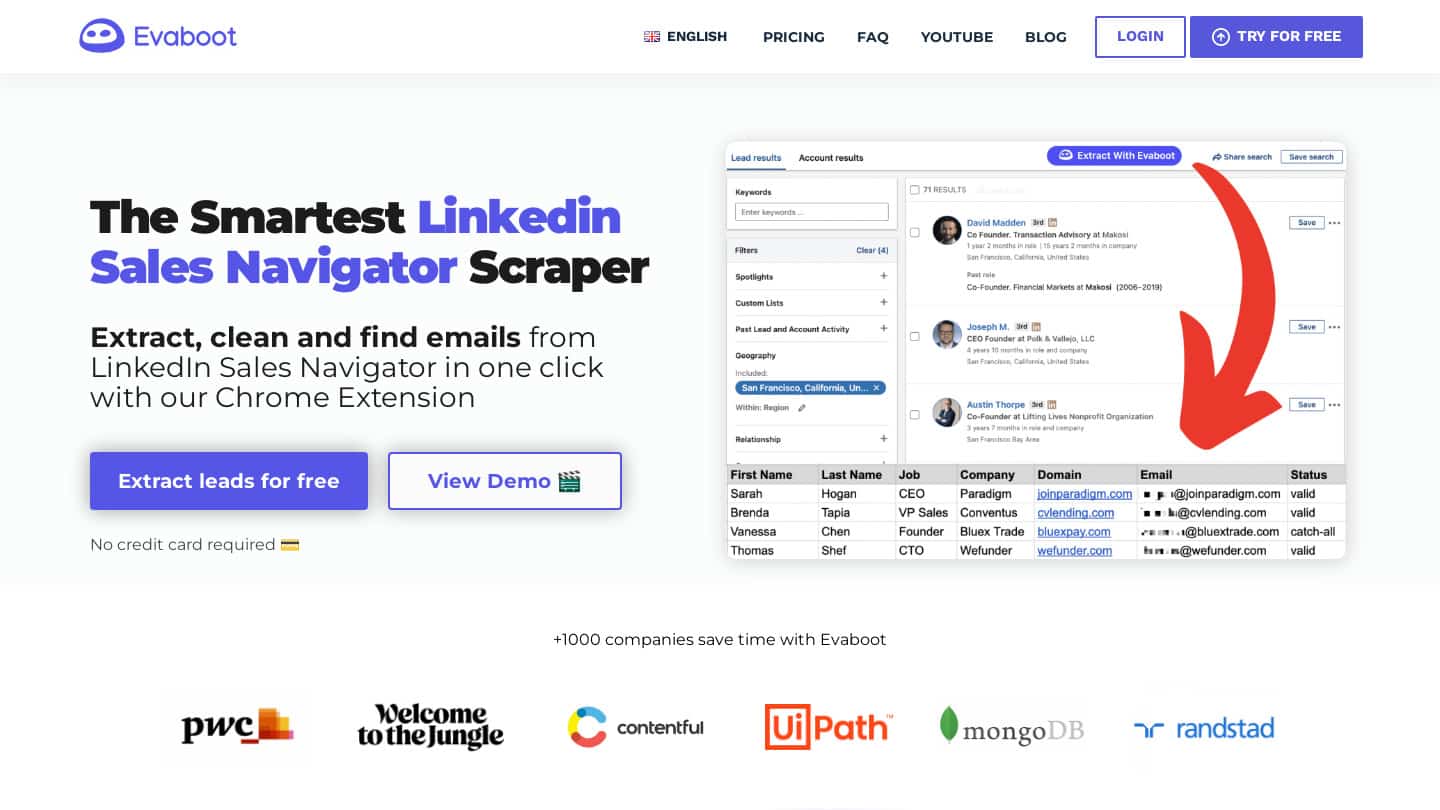 Evaboot is a Chrome extension that leverages the LinkedIn Sales Navigator goldmine to find your prospects' emails quickly. From your Sales Navigator searches, you can easily generate lead lists in CSV format.
The functions of Evaboot are therefore very simple:
Extract and enrich your leads from your search using Sales Navigator filters to obtain the LinkedIn profile URL and company information, including the website URL.
Clean up your data and generate a clean file: Evaboot removes duplicates and other special characters that could affect the quality of your data.
Filtering: the idea is to detect leads that don't match your Sales Navigator search to avoid misdirected messages.
Find and verify your prospects' professional emails: thanks to integrations with the main email Finder, Dropcontact or Hunter in particular.
Evaboot's plans are based on the volume of leads you want to extract from Sales Navigator:
Small: 45 euros/month for 2,000 leads per month (and professional emails).
Medium: 90 euros/month for 5000 leads and access to priority support.
Large: 181 euros/month for 20 000 leads. This plan also offers Sales Navigator coaching.
Discover Evaboot
Evaboot offers a free trial of its plans to get you started!
#9 Apollo
The best chrome extension and sales engagement tool for Linkedin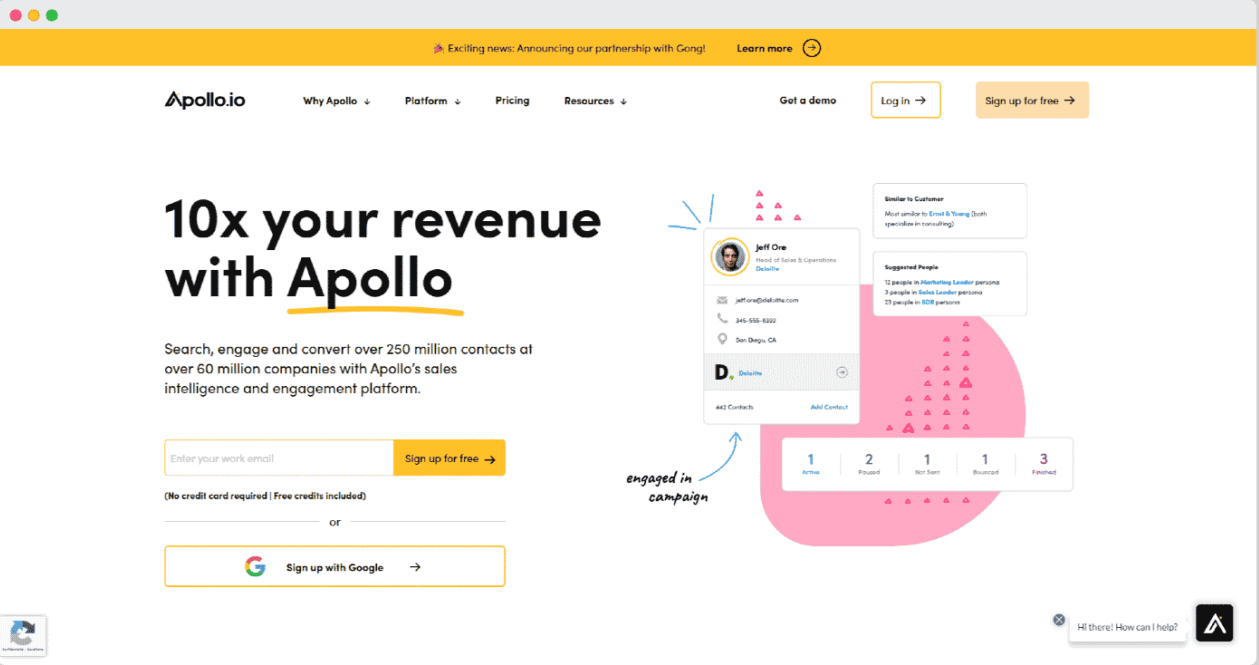 Apollo is one of the largest B2B databases in the world with nearly 200 million contacts. For LinkedIn prospecting, this is a particularly successful chrome extension, which allows you from any LinkedIn profile to access a phone number, and an email address.
But the tool doesn't stop there: you can write your email (using a template or not) directly from the LinkedIn profile of your prospects, with all the information in front of you. For the more experienced, you can also simply add them to your prospecting sequences. The tool manages email, phone, and reminders, and it integrates with all CRM software on the market.
It's a true all-in-one prospecting platform, accessible from LinkedIn.
At the pricing level, there are 3 plans:
A Freemium offer, which gives you access to the LinkedIn extension but is limited to 50 emails/month for prospecting
Basic: for $49/month, you get 200 emails per month,
Professional: at $99/month, this plan gives you access to an unlimited number of emails and 50 phone numbers.
There is also a customized plan available on request, to adapt the tool to your needs.
Discover Apollo
For paid plans, Apollo offers a 14-day free trial to get an idea of the tool's features!
Go further
Discover our best articles to optimize your LinkedIn prospecting:
Reader Interactions