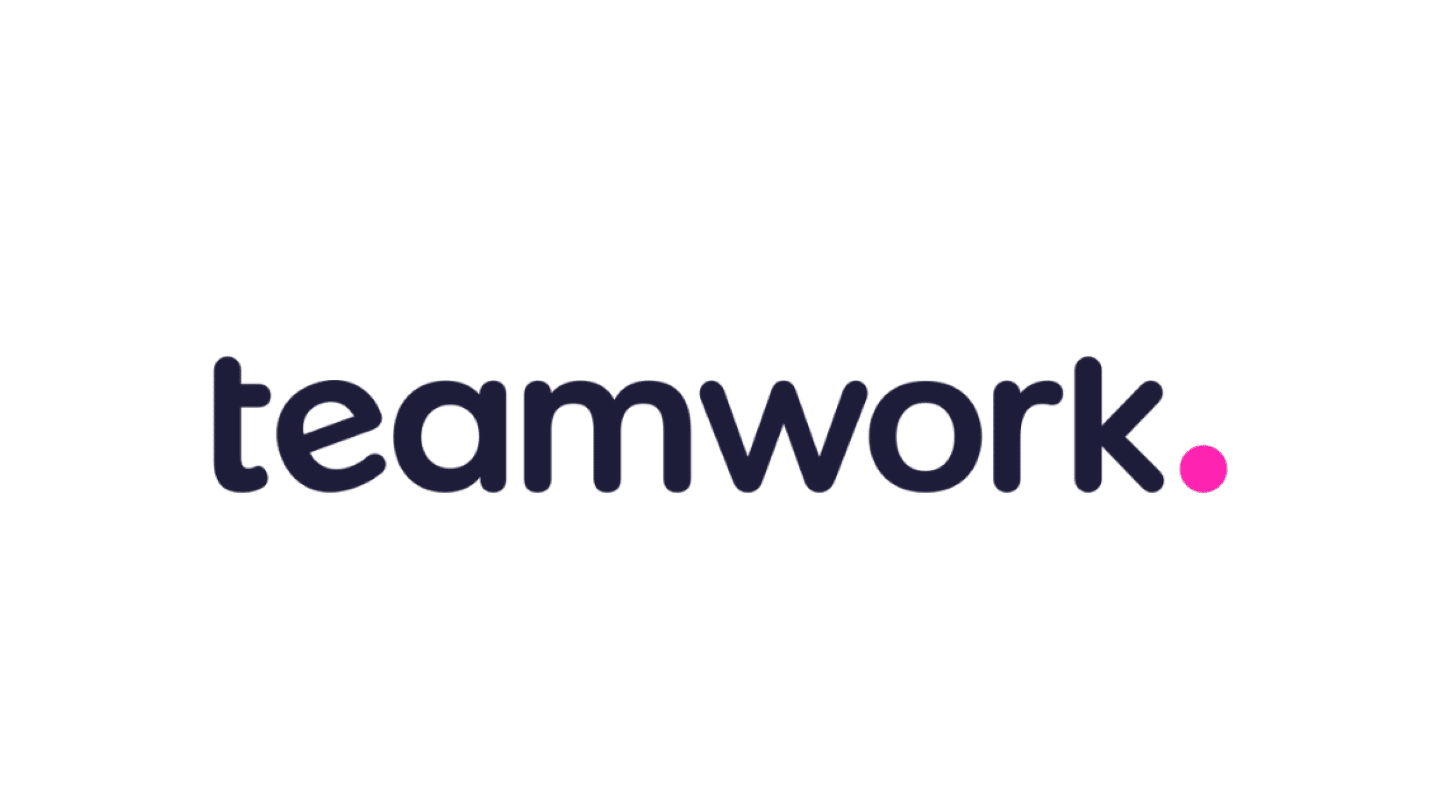 Teamwork presents itself as the only project management tool designed for its users to work with their own clients. Its target audience is therefore agencies and service companies.
To meet their needs, Teamwork has advanced collaboration, time tracking and invoicing features, which make it one of the densest software packages on the market.
In this article, we tell you everything you need to know about Teamwork!
Our opinion on Teamwork
Criterion
Note Salesdorado
Comment
Overall score
Teamwork is a complete project management software for agencies and service companies, with excellent time tracking and billing features.
Ease of use
Teamwork is quite easy to use, especially thanks to its numerous templates and limited customization possibilities.
Easy to set up
Teamwork's high level of detail and functional depth can make it difficult to learn, even though the tool is quite intuitive.
Customer service
Teamwork's customer service is complete (guides, videos, blog…) but not very reachable, and Teamwork does not animate a community around its tool.
Functional depth
Teamwork has a great deal of functional depth, especially for collaboration, billing, and client reporting functions.
Integrations
Teamwork has a very rich catalog of integrations, more or less accessible depending on the plan chosen.
Value for money
Thanks to its many features and integrations, Teamwork offers a very good value for money.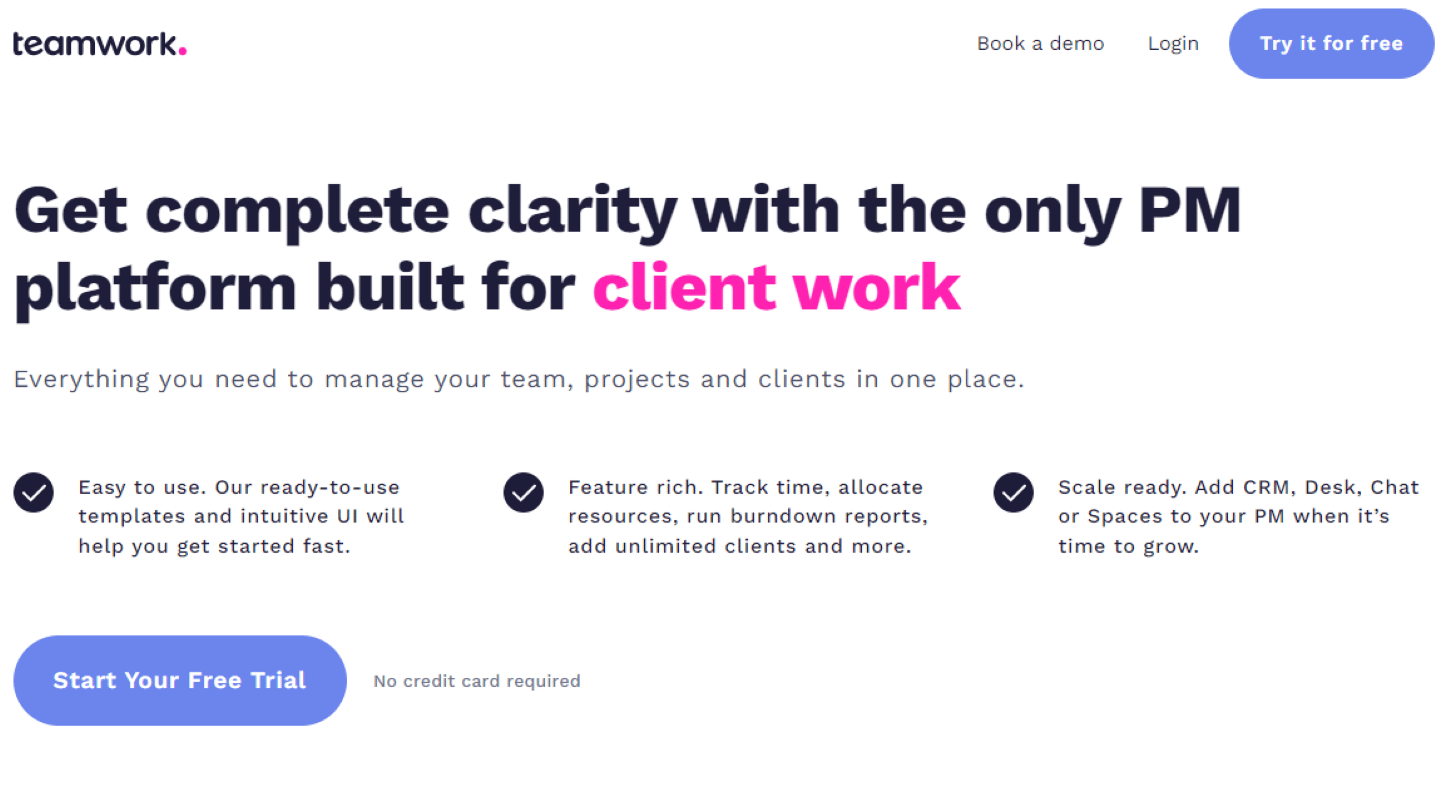 The benefits of Teamwork:
Functional depth: Teamwork offers many features. This can make it difficult to get to grips with the software. But its rich library of templates (from the paid plan) makes it easy to learn.
Extensive free plan: excluding time tracking, invoicing and client collaboration, the free plan offers all of Teamwork's features: a good start!
External communication and invoicing: this is the strongest point when choosing the paid plan: this is why Teamwork is appreciated by agencies and service companies.
Disadvantages of Teamwork:
Lack of flexibility: customization is more limited than with other tools. In addition, the tool's audience is very targeted (departments/agencies), so it is not very adaptable to other types of use.
Helpdesk: Teamwork's helpdesk is not the most comprehensive or clearest on the market, and is not available in French.
Teamwork: Overview of features
Project management and task planning
Teamwork offers many project management features, starting with the free version. The tool allows you to create tasks and subtasks, grouped in lists.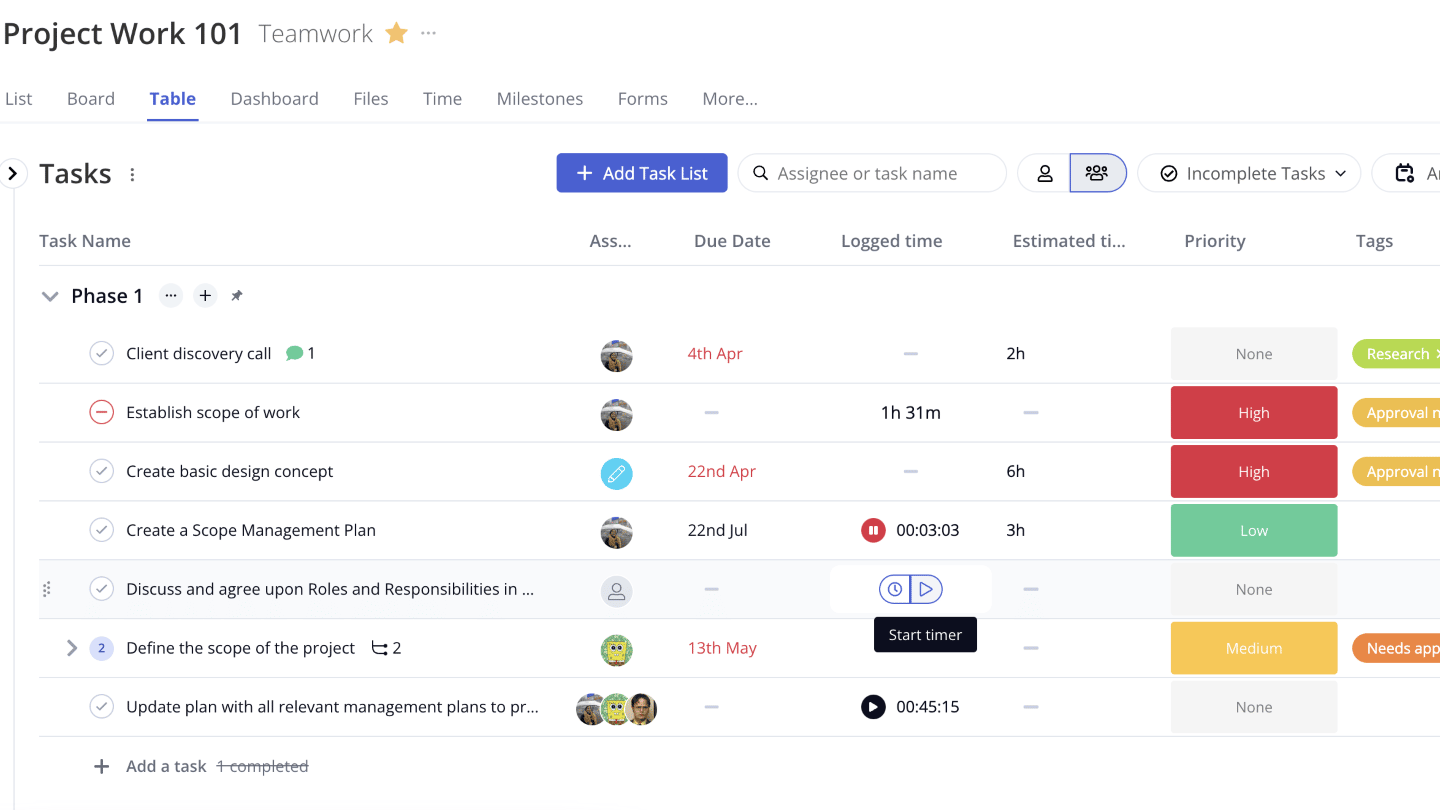 To keep track of tasks, you can assign "followers" to projects who can monitor progress or stay in the loop without having tasks of their own. You can also receive notifications when a task is completed.
The milestones feature provides a dashboard view to measure your planned timelines against your actual results, and to track your business growth.
Teamwork offers numerous dashboards and views to manage your projects and collaborate with clients: Kanban board, Gantt chart, Tableau view…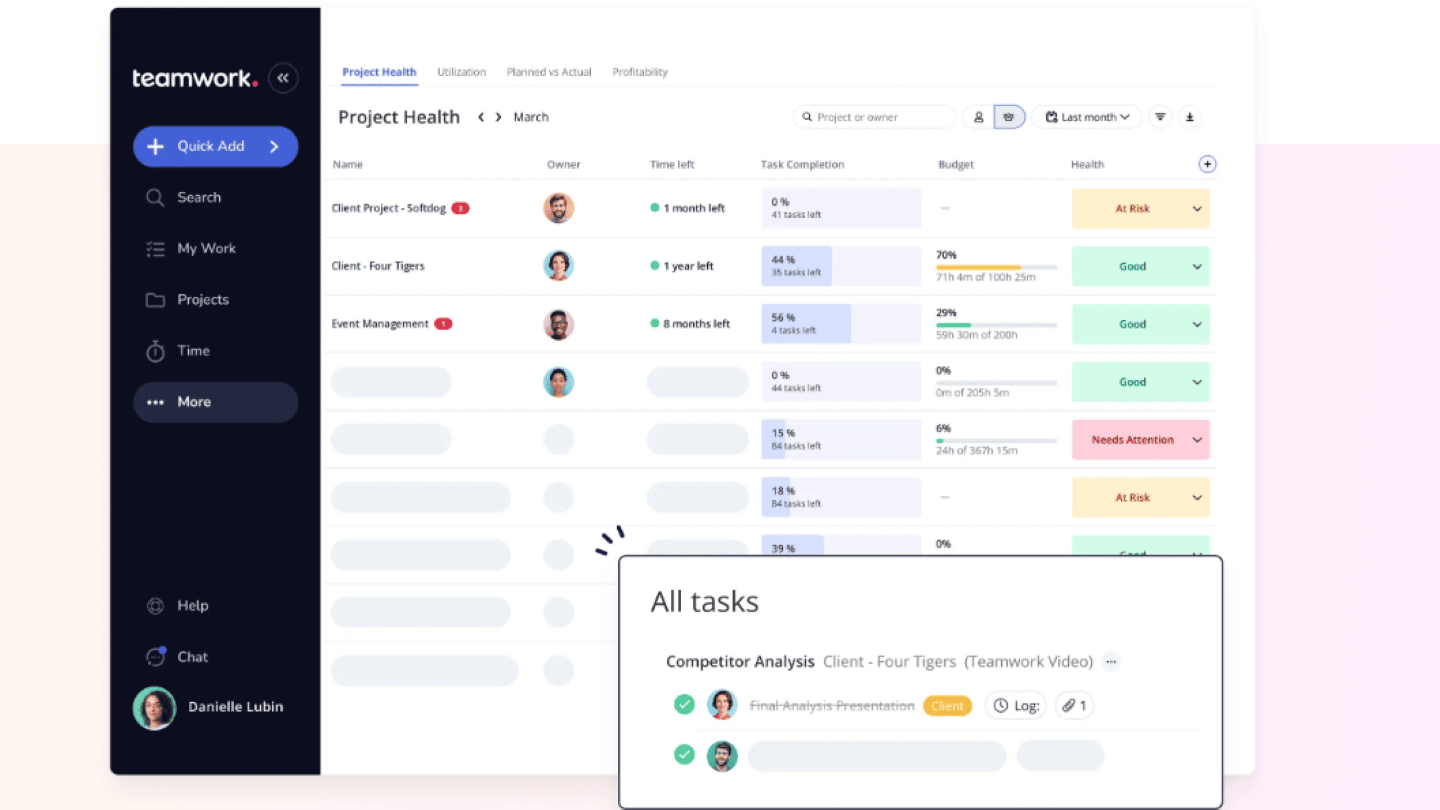 Time tracking and billing follow-up
Present only in the paid plans, Teamwork's time tracking and invoicing tools are one of the major assets of the tool, which explain its success with agencies and service companies.
The integrated time tracking system is an excellent motivational tool for your team and a valuable generator of data and business intelligence. It is also useful for clients who require greater transparency on billable hours.
With Teamwork, you can easily add recorded time to exportable invoices, and easily create customized invoices.
Invoices can be based on fixed prices or they can change automatically as expenses, materials, labor or other costs change.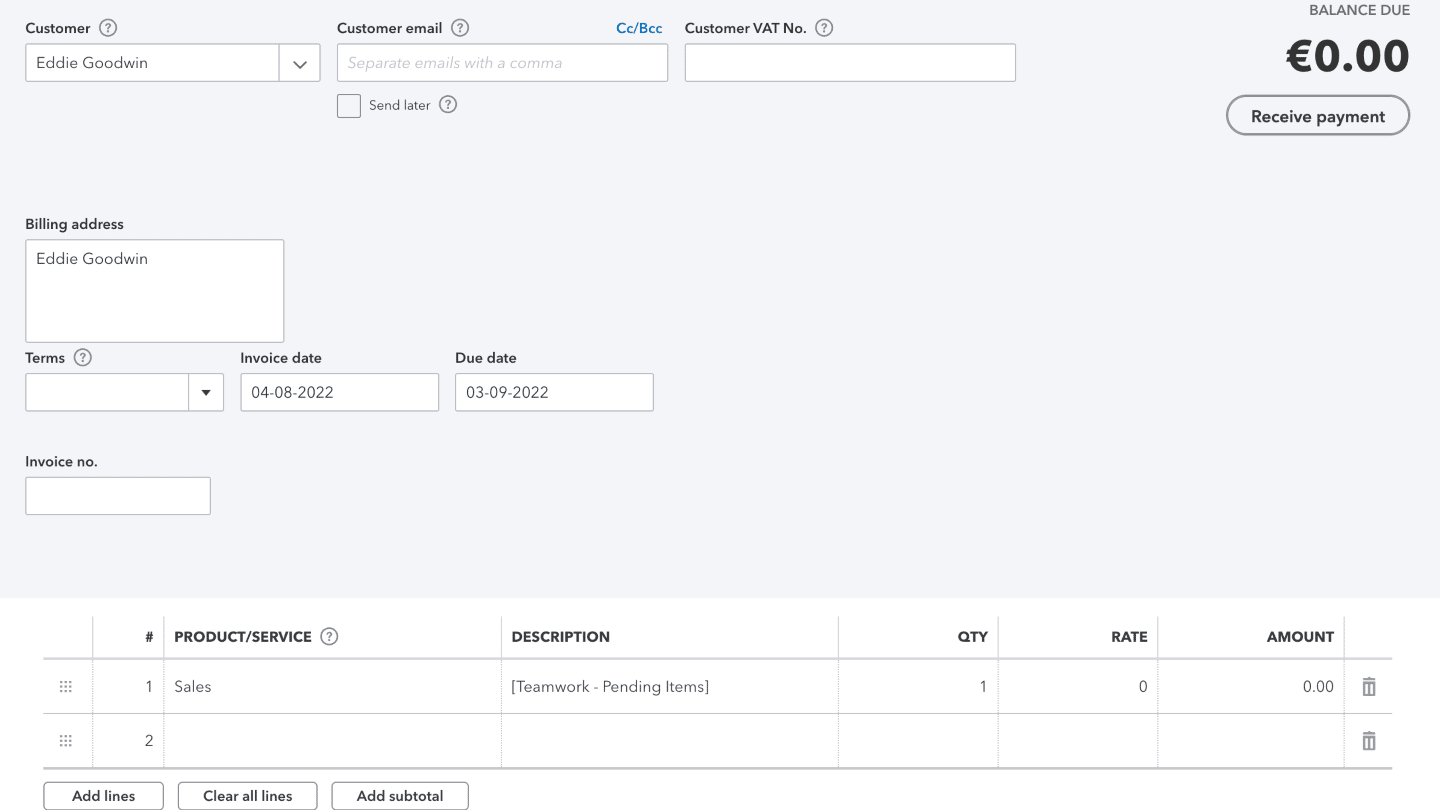 External collaboration tools
The reason why Teamwork is so popular with agencies is that it allows you to work directly with your clients. You can define them as simple followers of a project, so that they can follow the progress without interfering, or give them more access rights.
Teamwork also has integrated support software, so that its users can respond directly to the needs of their clients, notably via a ticketing system.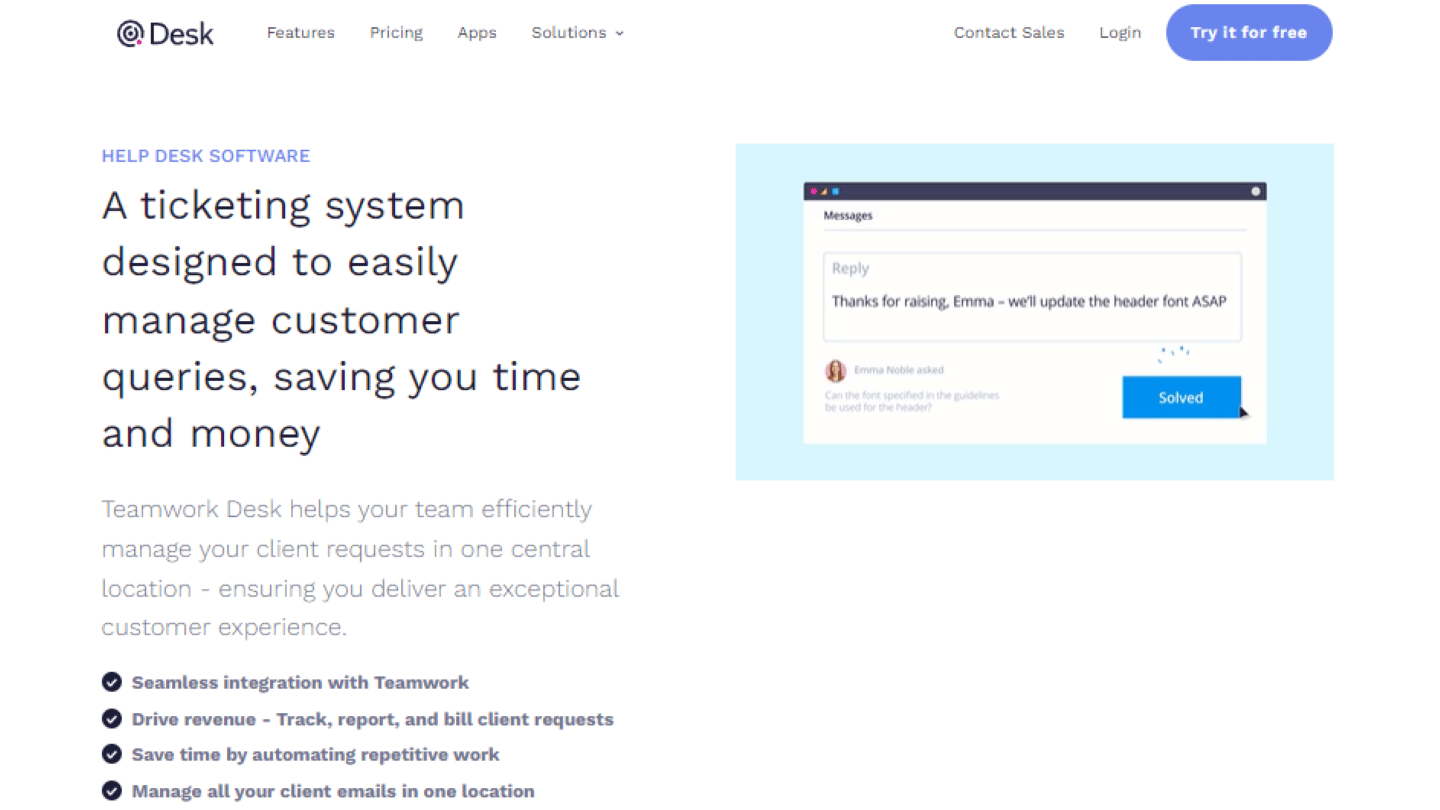 Internal collaboration tools
The internal collaboration features of teamwork are also very developed. In particular, the tool allows you to create teams, and even sub-teams. Teams can be based on a department, such as HR or creative, or on a project or a client.
Included in the free version, Teamwork's chat feature makes it easy to sort your conversations by project, and you can follow team members, partners, clients or freelancers who are also participating in the conversation.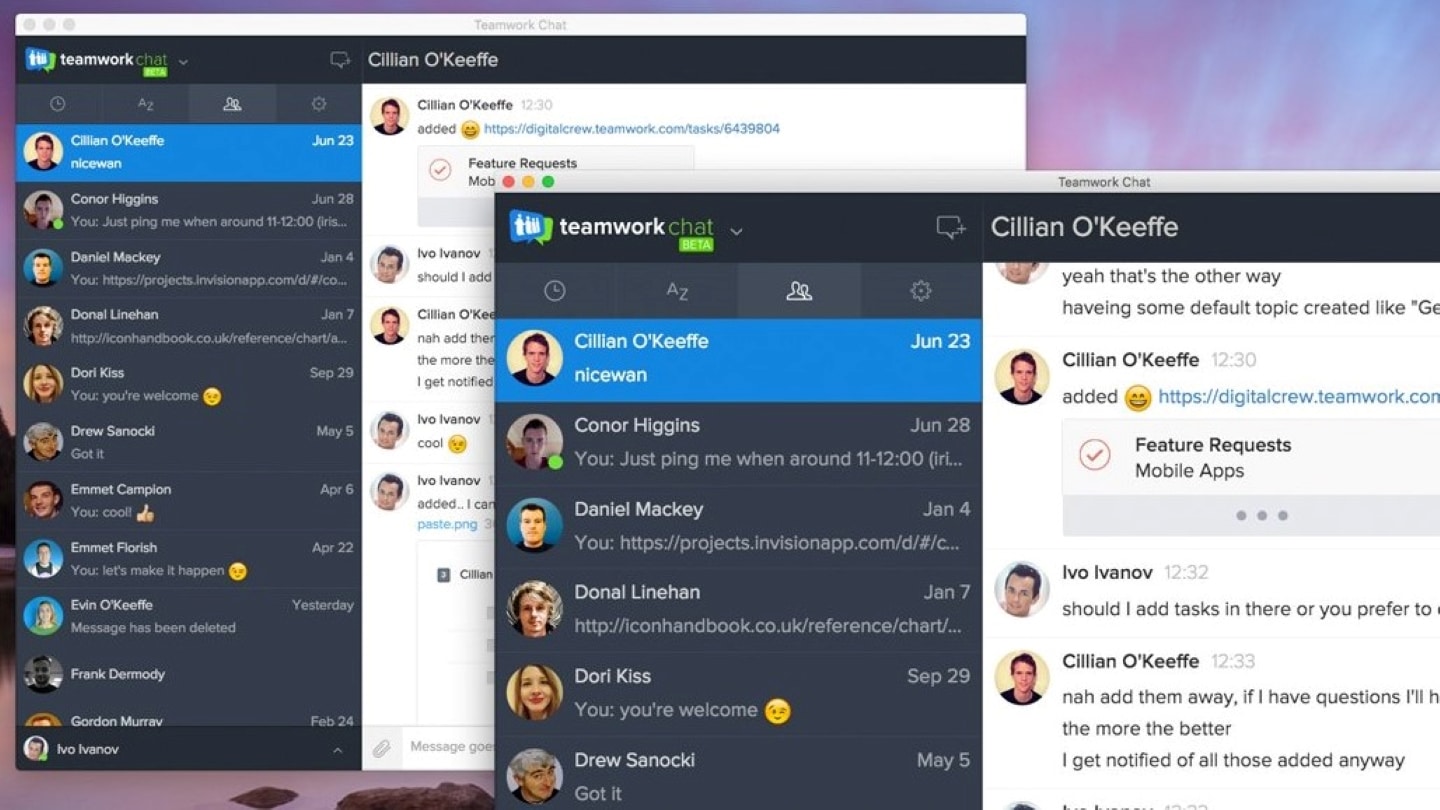 Teamwork's plus: the mobile application!
Available on iOS and Android, it is praised for its ease of use. It contains all the basic tools to track and manage your daily tasks, stay on top of your projects, and stay connected with your team and clients.
Discover all the features of Teamwork
Teamwork offers a totally free version: don't hesitate to try it!
Customer reviews of Teamwork
Teamwork users generally appreciate the tool's level of detail and its efficiency, thanks to the tasks, milestones and alerts. They also appreciate all the project management features: collaboration, time tracking, task boards, reports…
However, some customers find that the teamwork interface is sometimes slow due to its level of detail, which can also make the tool complicated to use. Some also find that the CRM and the API of the tool are not yet up to par.
Make your own opinion about Teamwork
Teamwork offers a totally free version: don't hesitate to try it!
Customer Support at Teamwork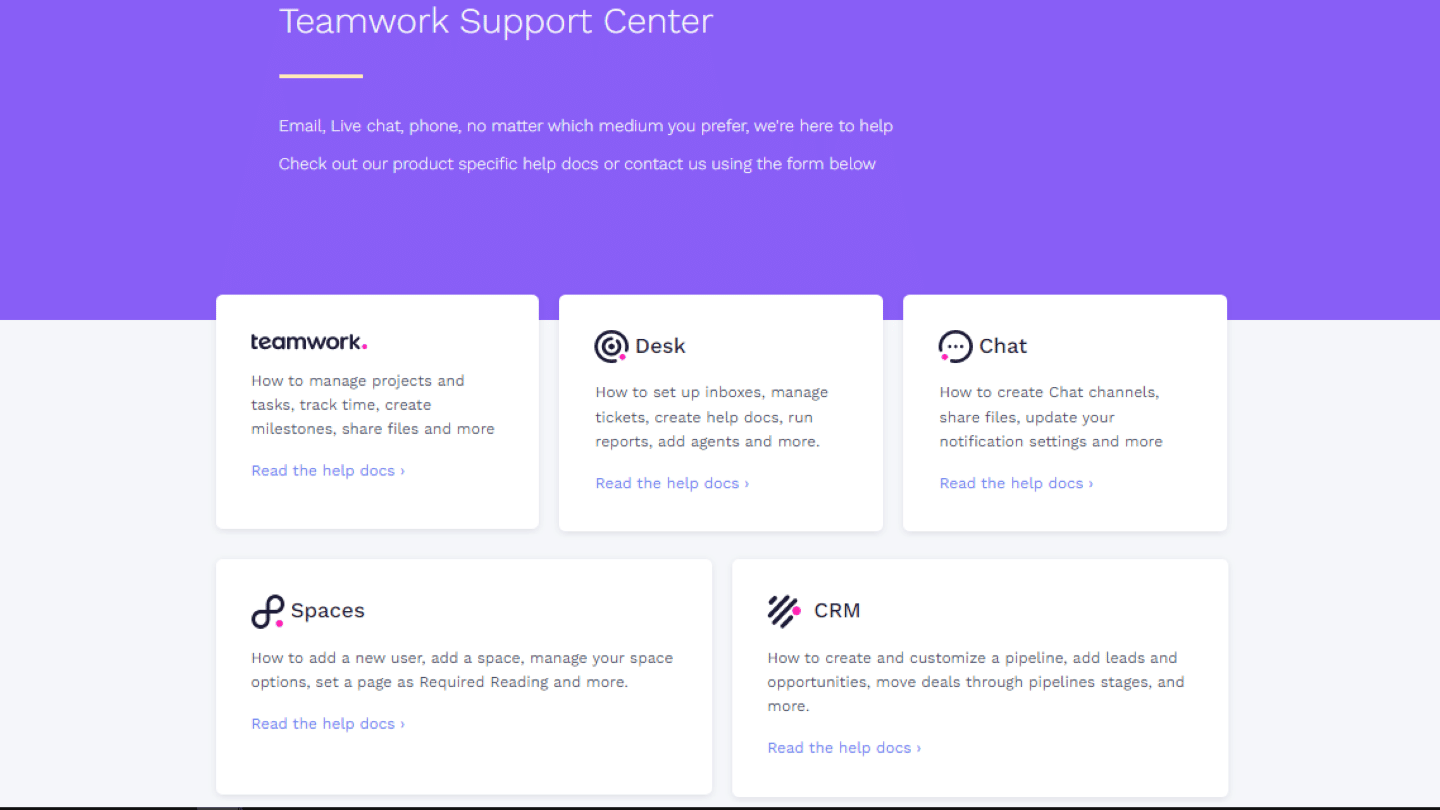 Teamwork's customer service is available from Monday to Friday, from 7am to 12pm. It can be reached by contact form, email, live chat, or telephone.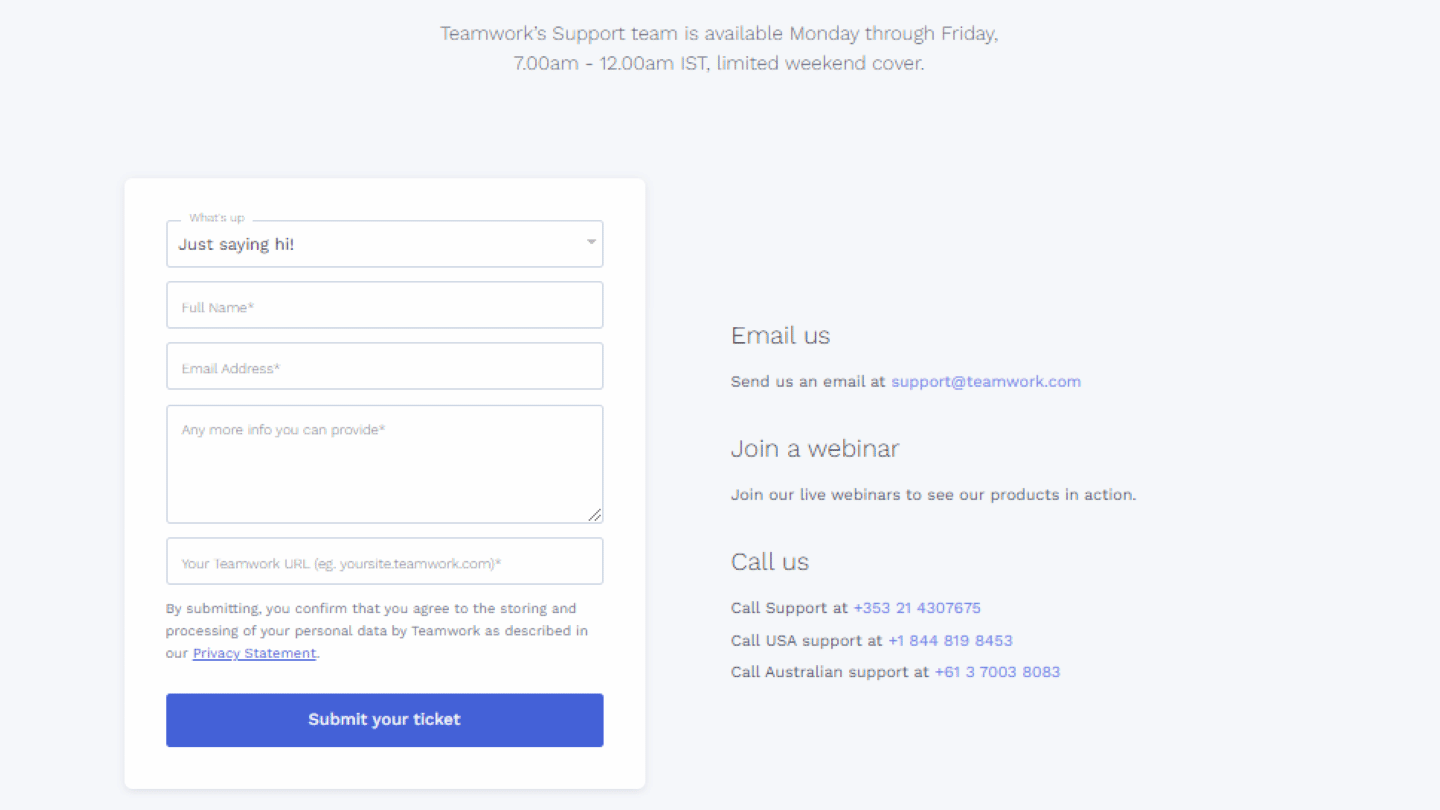 Teamwork offers many support resources: specific documents for each feature, videos, webinars, interactive guides, and a blog with many articles.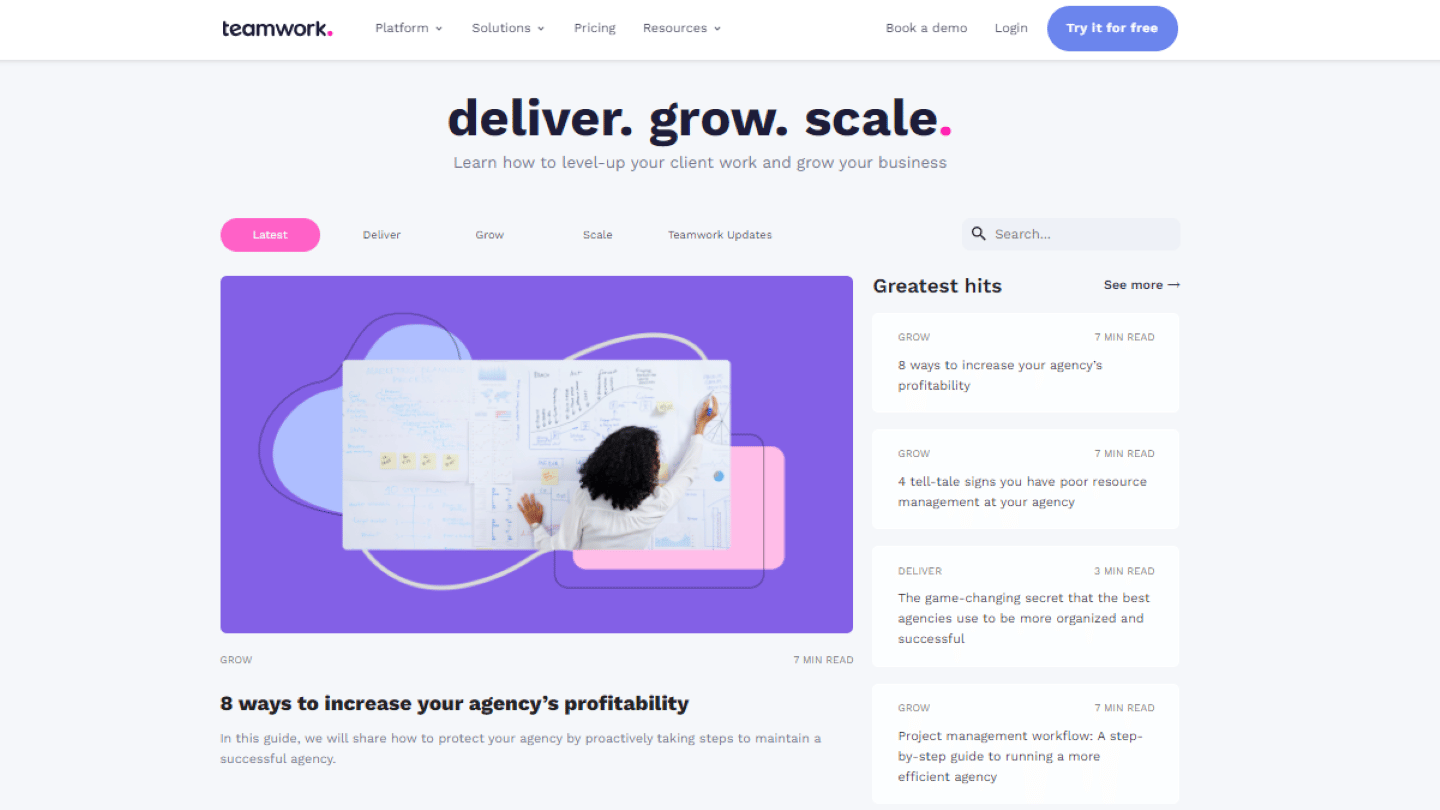 All these resources are gathered in a comprehensive resource center, clear and easy to navigate thanks to precise search filters. However, these resources are not translated into French.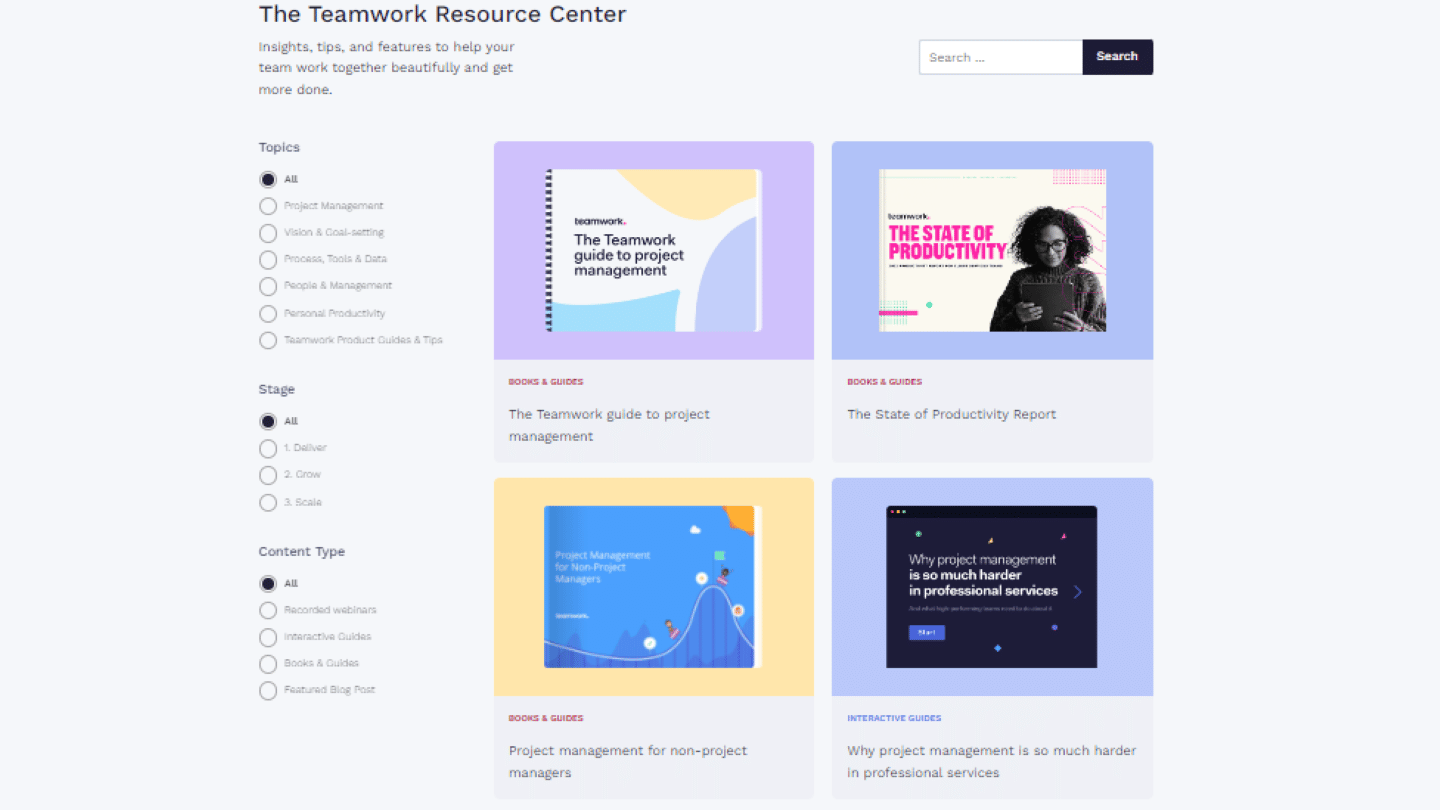 The Teamwork integration marketplace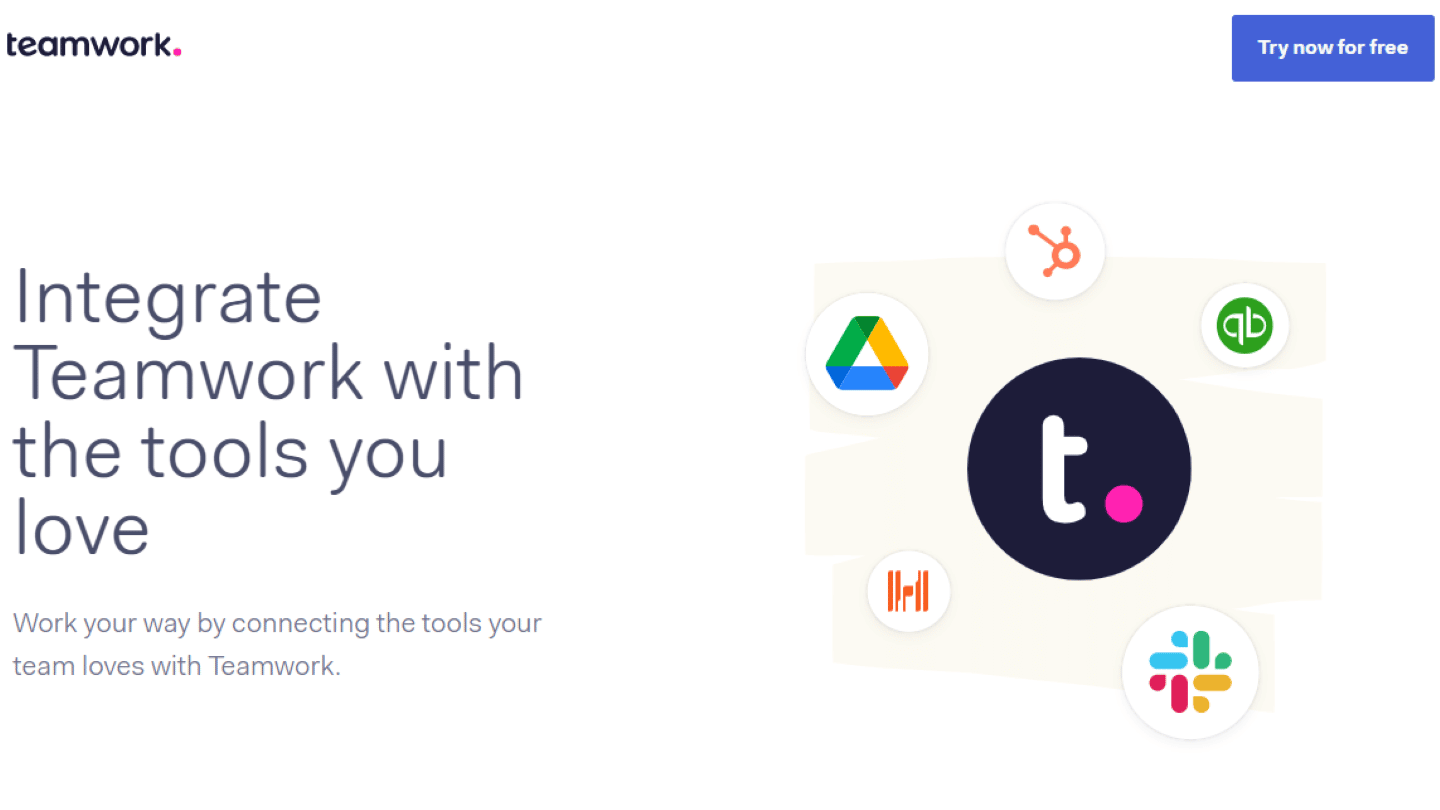 Teamwork has a marketplace of integrations covering all the fields necessary for project management and customer relations:
Communication: Gmail, Mailchimp, Outlook, Slack…: these integrations are useful to collaborate more easily with your team members, as well as with your customers.
Reporting: Databox, Numerics, Zoho Projects…: these integrations allow you to obtain a lot of information through reports.
Marketing tools: Hubspot, Mailchimp: these integrations will be very useful for Teamwork's main target customers: agencies and service companies.
Time tracking: Clockify, Harvest, Toggl: these applications are essential to track the time spent by teams on a project and thus evaluate the efficiency of the processes, and to invoice the client based on this information.
The Teamwork CRM add-on module: this module is a real plus for Teamwork, very useful for combining project management with customer support management
Discover Teamwork
Discover Teamwork's customer support center!
Teamwork : rates
Teamwork offers 4 different plans:
Free forever: this free plan is a good start, but it does not include some of Teamwork's major assets, such as templates and billing functions.
Deliver: For 13.99 euros per month per user, this plan provides access to billing functions, team-level chat, project templates, an unlimited number of clients and collaborators, and numerous integrations.
Grow: for 24.99 euros per month per user, this plan allows you to create teams at the customer level, set budgets, define tags at the project level, and gives access to a history of changes and all integrations.
Scale This plan provides access to all project management, collaboration, and billing functions, all project templates, 10,000 automated actions per month, and an unlimited number of projects.
Pro tip !
You can benefit from a discount on the above rates for an annual subscription, do not hesitate to take advantage of it.
The main alternatives to Teamwork
Those who are looking for a very customizable software might be disappointed by Teamwork. If you have a strong need for customization, we recommend looking atAsana or Notion instead.
Teamwork is a software that is very focused on internal and customer collaboration. For those looking for tools that are more focused on task management than collaboration, we recommend Monday, Trello or Wrike.
Reader Interactions