Do you know Monday as a project management application? It's appreciated for its clean interface that puts collaboration tools at the heart of your teams. It allows you to bring workflows together and streamline tasks.
But Monday is also a credible alternative to more traditional CRMs. But under what conditions can you really use Monday as an effective CRM for your sales teams? In this article, we give you our opinion on Monday's ability to become a successful CRM.
Monday CRM in a nutshell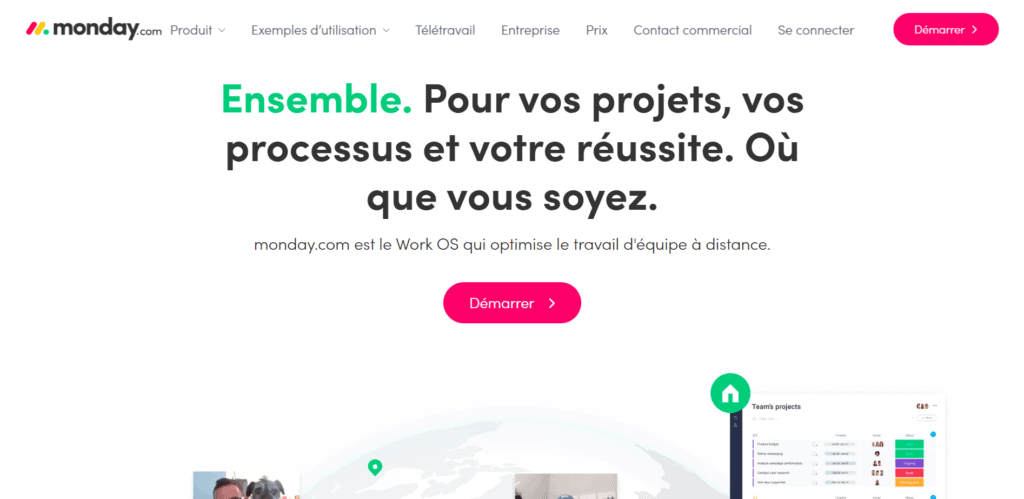 Monday is first and foremost one of the most popular team productivity tools on the market.
One of the many features it offers is a CRM function, which allows you to add a dashboard to your project management boards, and manage your leads in a very visual interface that is not common to other typical CRMs.
As a comprehensive product for both small and large companies, Monday has created a comprehensive tool with a wide range of features to meet the different needs of an organisation, making it a top choice in recent years. Although not a CRM tool at its core, it is an excellent option for smaller companies, particularly for service companies that operate very much in project mode.
Getting started with Monday CRM
Let's start to go into the details of the solution with Monday's great strength: its design and simplicity of use. Indeed, with this tool, we are far from the image of the counter-intuitive CRM.
With Monday the CRM design includes a colour scheme and several tables on one screen with different colours and headings, making it easy to understand which leads are at which stage at a glance. The overall design is ideal for people who work visually.
Create your first table
After signing up, it can be a little confusing to figure out where the CRM actually is, since you get the main project management tool when you first sign up. When you open the program, Monday offers a set of pre-designed tables to help you get started quickly. The tables dedicated to CRM can be found in the Sales & Customers area.
To go further
You can also take inspiration from the other tables to set up efficient sales processes! They are also very complete and allow you to manage the commissions of your sales representatives for example.
This may be a lot of information to start with, but it is enough to play with the tool to realise how easy it is to use.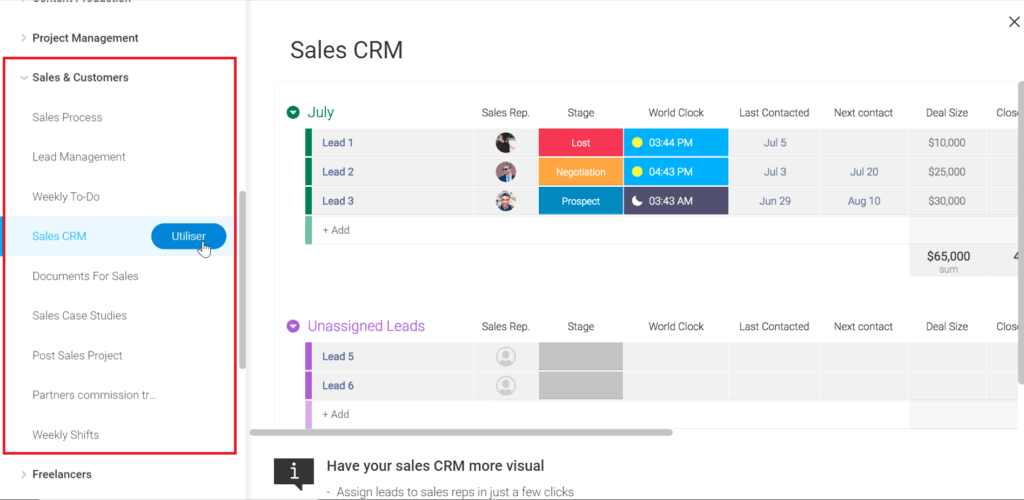 As the CRM has a very intuitive and colourful drag and drop interface, it is very easy to use and understand. The design clearly shows how to add contacts and columns to your list, and how to edit and move your contacts.
For the example below, we add a first customer: just click on the location in the table and a pop-up window appears allowing you to edit all the information related to your customer.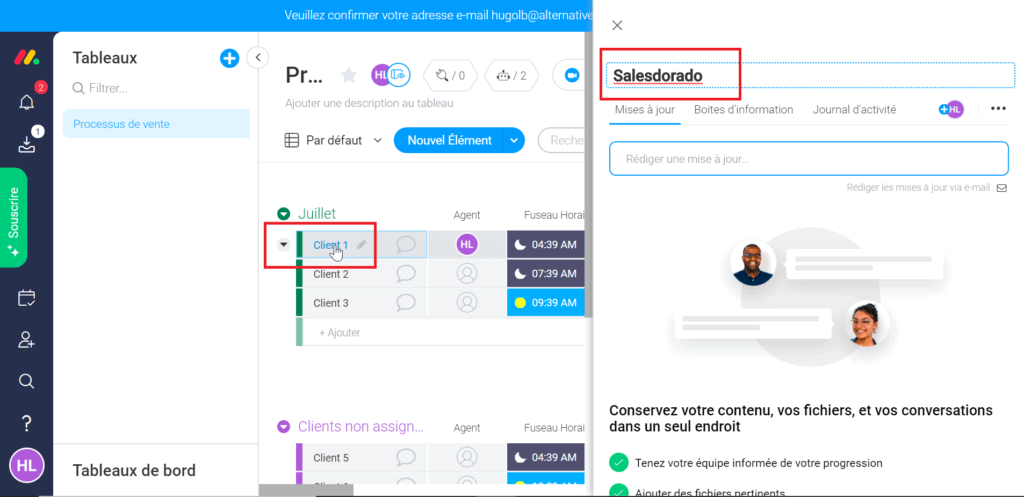 Daily management
As can be seen below, it is possible to add all the information you want for each lead. Monday's sample table includes business potential, probability of closing the deal and expected amount. Once again, we appreciate the intuitive aspect of the solution: each type of information is customisable and allows you to build very visual and pleasant follow-up tables for your teams.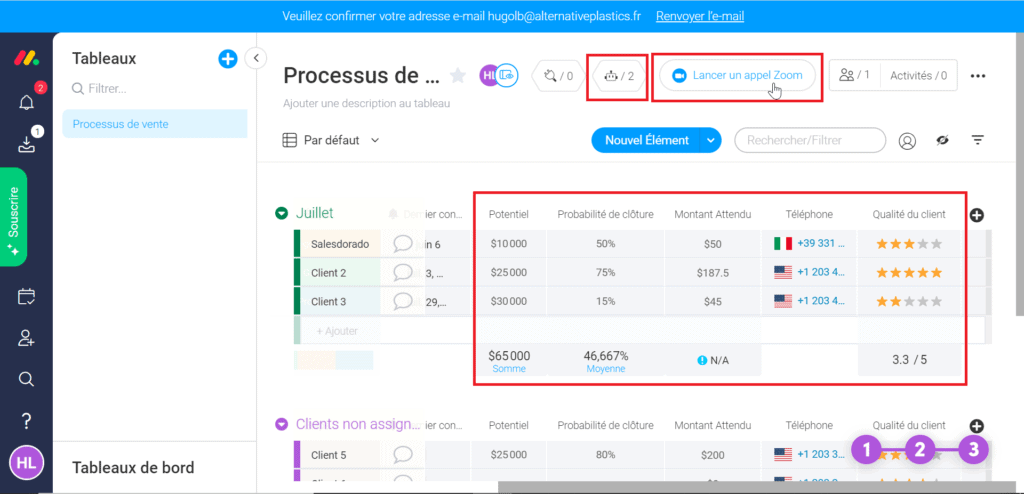 You can also log in with your Zoom account, which will make your life much easier if video calls are part of your business process.
Automate tasks
To make your life even easier, Monday also allows you to automate the follow-up of your leads. This means you can automatically send notifications to your team based on an event; to assign a new lead, however.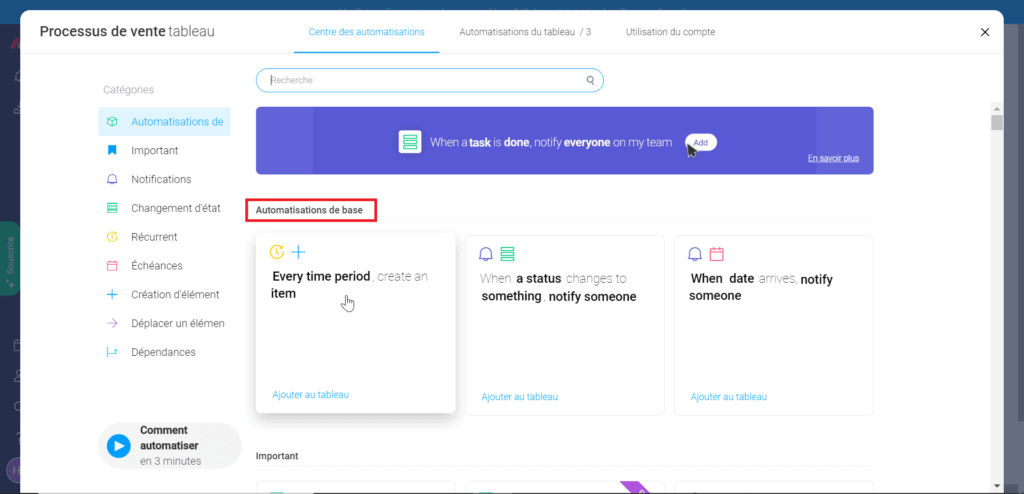 Management of reporting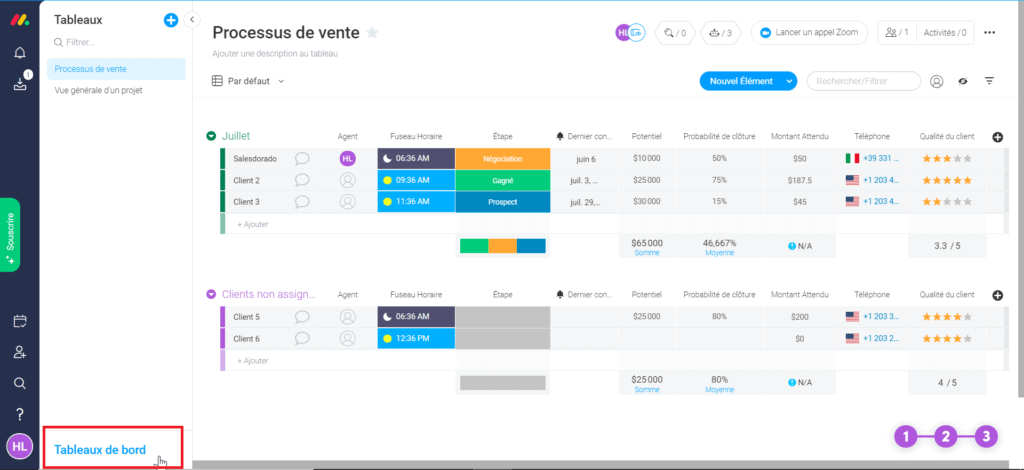 Although Monday does not offer the traditional automatically generated reports that most CRMs do, it is designed to allow any user to create any specific report they require. The reports are very flexible and can help to visualise both the big picture and the small details related to the project.
For example, you can create reports that focus on a team's performance or a team member's progress, track a specific user's effectiveness across multiple projects, or take a detailed look at one or more projects at a time. To do this, you can easily create your own reports via the Dashboard tab at the bottom left of the main menu and then by adding the widgets that speak to you most. In the example below we have chosen the Chart widget, we select the chart we are interested in and the data is injected.
14 day free trial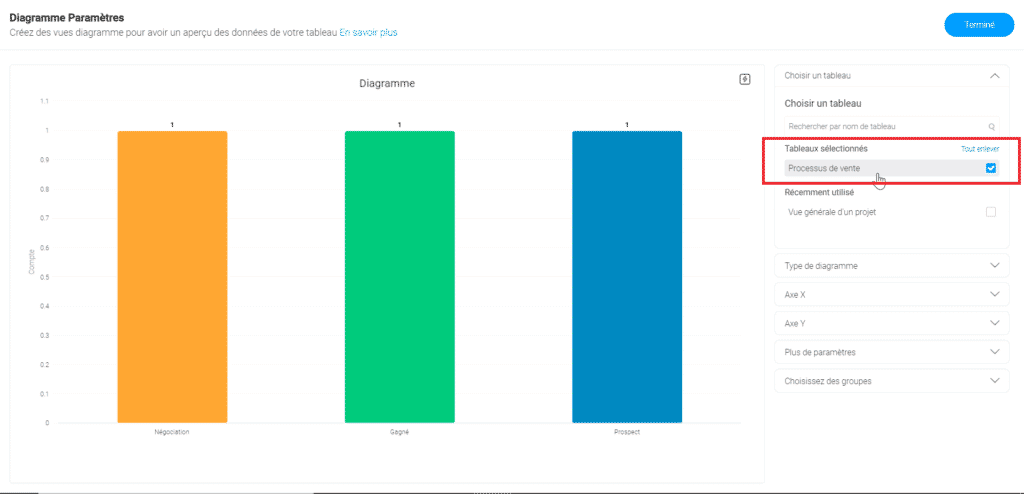 Monday CRM: Offers & Prices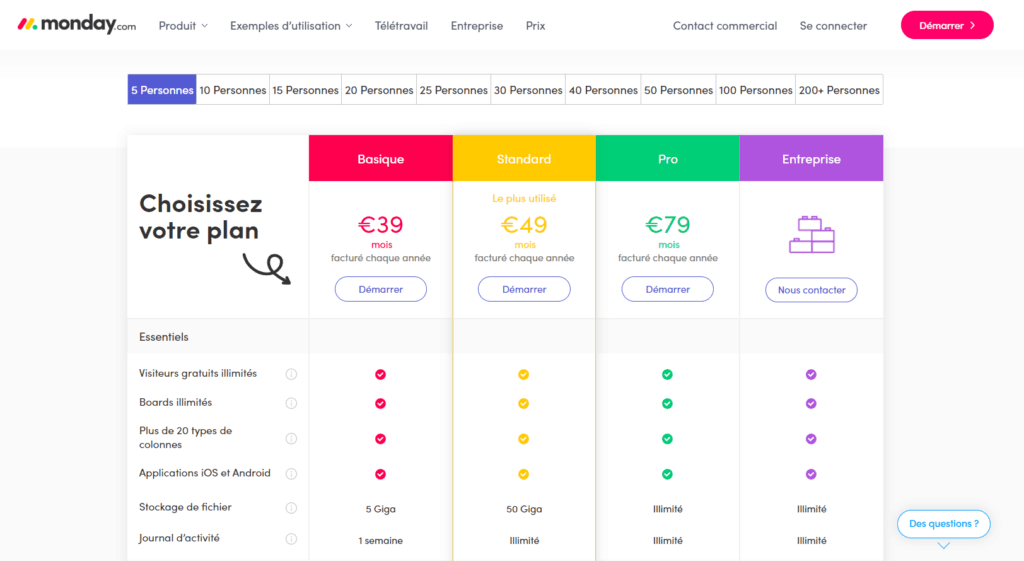 Monday offers a basic free package with limited functionality. It includes a CRM, which is added as a table to your user interface. Additional functionality is available in the paid packages, which also include extensive project and team management capabilities.
It is important to note that these packages increase according to the number of people in your team. Here you have the details of the rates for 5 people:
Basic
This plan starts at €39/month for 5 users. Features include:
Unlimited number of team tables
Basic search
Full collaboration, messaging, notifications and Wiki boxes
Native iOS and Android applications
5 GB of storage
Basic filter on people
Basic search
Standard
This plan starts at €49/month for 5 users. Features include all basic features, plus :
Shareable forums with guest access
4 guests cost as much as a regular user
Advanced search in tables and files
Advanced map filters
External integrations
Basic usage statistics
50 GB of storage
Pro
The Pro plan starts at €79/month for 5 users. Features include all Standard features, plus :
Private advice with restricted access
Unlimited number of guests
Advanced statistics on usage and engagement
Unlimited storage
24/7 support
Basic usage statistics
Customisation of the user's profile
Company
By quotation only.
Features include all Pro features, plus :
Audit log
Advanced security features
Higher API rate limit
Dedicated account manager
Personal training for team members
For all packages, if you have more than 200 users, you will need to contact the monday.com sales team for a personalised quote.
All packages are invoiced monthly, annually or every two years. Annual packages include an 18% discount, and two-year packages include a 32% discount.
Integrate Monday CRM with your existing tools
The software is somewhat limited in terms of integrations, so if this aspect is really important to you, consider it carefully. Fortunately, the tool integrates quite well with Zapier and its alternatives.
The tool still connects with a number of business applications such as :
Google Drive
Trello
Slack
Asana
Google Calendar
Jira
DropBox
Microsoft Excel
You can find a full list of Monday CRM integrations here.
Overall, if you don't want complicated CRM features and integrations, Monday.com is an excellent choice and is free to try. It's great for businesses of all sizes, but it's best suited to commercial organisations with small lists and simple processes that are easily managed through a visual interface.
The drag-and-drop feature sets it apart from many other CRMs. It's a great choice, especially when you can use it seamlessly with their project management tool for your entire team.
To go further on the subject
Here are some resources to help you make the right choice for your business