How to personalise a prospecting email without looking like Big Brother? If you don't know how to write to prospects who have never heard of you and don't know how you got their email address, this article is for you!
Discover how to send personalised prospecting emails without scaring your contacts.
The 3 types of personalisation data in a prospecting email
Personalisation is always based on data. It is the data that allows us to personalise a prospecting email or a marketing campaign. What data are we talking about? What types of data can be used to personalise a prospecting email? There are three types of data.
Firmographic / demographic data
All marketers work with firmographic/demographic data. This is the basic information without which it is impossible to address your prospects. Most prospects know that marketers have this information. There are no surprises.
Demographics are used when it concerns a contact, a person, a representative of the prospect company. The main demographic data are :
Name and surname
The position held by the contact, his/her status in the company.
The email address.
The telephone number.
The firmographic data concern the prospect company itself. The main firmographic data are :
The sector of activity / the profession
The products marketed
Turnover
The workforce
Geographic location
The technologies used by the company
Without this data, again, it is impossible to engage with your prospects. Fortunately, this is the easiest data to collect (although sometimes you can't be sure of its veracity). Without firmographic and demographic data, all marketing efforts are in vain. Would you, for example, send an invitation to a webinar on the subject of shipping management to a prospect who publishes a SaaS solution? The answer is obviously no. In the world of SaaS, physical delivery issues don't mean much… But precisely, to avoid making this mistake, you need to know a minimum of your prospects. In this case: information about the prospect's business and products.
Firmographic and demographic data are the least sensitive. You won't scare your prospects by exploiting them in your prospecting emails. This is basic data.
Find out how to write the perfect prospecting email.
The opportunity data
This second type of data is difficult to name. This is all the data relating to events connected with the company and which could, as such, constitute an opportunity for you. This data is more difficult to find. Here are some examples:
Fundraising
Redundancies / recruitments
The benefits
Mergers and acquisitions
Changes in the management/leadership of the company
Events organised by the company
Some of this information is easily accessible, as it is publicly available. However, it is sometimes necessary to contact a company representative to obtain this type of data. The use of this data for personalisation purposes is more delicate, more "tricky" as the Anglo-Saxons say.
Discover .
Intent data
This is clearly a minefield. The use of intent data, when done "wrong", can scare your prospects. Intent data is activity data that informs about the purchase intent, need, and interests of prospects. Here are some examples:
Search history
Read articles
Downloads
Time spent on the page
Metrics related to social network activity
Here is an example of a prospecting email using intent data. This example is provided by DiscoverOrg.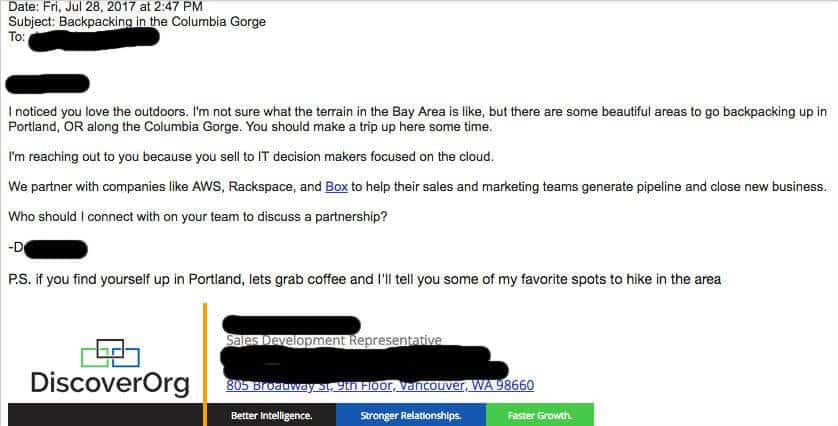 Translation of the email :
I noticed that you like the outdoors. I don't know what the Bay Area is like, but there are some really nice places to hike around Portland, or along the Columbia Gorge. I'd recommend you take a trip there sometime.
I am contacting you because you sell cloud-based solutions to IT decision-makers.
We partner with companies like AWS, Rackspace and Box. We help their marketing and sales teams manage their pipeline and make more sales.
Who should I contact in your company to discuss a possible partnership?
D*****
PS: If you're ever in Portland, stop by my place for coffee. I'll show you some of my favorite places to hike.
Let us note that this is an American prospecting email. The tone is much more friendly and informal than in the prospecting emails we are used to reading and writing in France. But it doesn't matter, it's not the subject that interests us. It is worth noting that this prospecting email exploits two types of data. On the one hand, firmographic data: "you sell solutions to IT decision-makers, based on the cloud". But also intention data.
The company behind the email also used data on social networking activity. The author of these lines went to Facebook to identify one of the prospect's favourite pastimes: hiking. Intent data can be found by doing a few Google and social network searches. But it is difficult. You usually have to go through a third-party data provider. In this email, we put ourselves in the shoes of the prospect who will read it and we feel a little uneasy…
Obviously, the person who reads this email will suspect that the sender has searched his Facebook profile. This can be very badly seen and very badly taken and produce the opposite effect of that sought by the personalisation… The exploitation of intention data makes it possible to go very far in the personalisation of your prospecting emails, but it involves significant risks.
Here is an example of what not to do.
Discover our tips for emailing a prospect who no longer responds.
Looking for more and better leads? Try Apollo, the leading sales intelligence & engagement platform
What not to do in your prospecting emails
Opportunity and intention data must be used with great caution. We have said this. Let's take an example. Let's say you sell performance management software (CPM). You see a very interesting piece of information pass through your feed aggregator:

A prospect has just committed funds to the development of Corporate Performance Management. You are excited. You immediately take to the keyboard and start writing your prospecting email: "I've just seen that your finance department has allocated new budgets to implement CPM software…". Big mistake. You really shouldn't start like that…That's exactly what you shouldn't do. Don't start with a sentence like "I hear you have plans to implement CPM software, etc.".
More generally, do not start with sentences like :
I know you work…
I heard that you have a new project…
I see that you are looking for…
If you send a prospecting email that starts this way, chances are the prospect will never respond. And if they do respond, their first reaction will be:
No, this is not the case.
How do you know that?
Where did you get this information?
Remove me from your list immediately!
Put yourself in the prospect's shoes. Imagine you receive an email from a stranger who starts by saying, "I know where you live and what you like. I can even tell what you're eating now! Is the sandwich good? You don't like mustard much, do you? It's slightly creepy. When faced with an email like this, the natural attitude is a defensive one. Let's face it: no one likes to feel like they're being watched. It's very unpleasant, in a professional context as much as in a private one.
But how do you exploit this formidable piece of data? How do you write the prospecting email?
Discover 40+ powerful email objects, essential for successful email marketing.
What you need to do – or the art of personalising a prospecting email without being scary
To be successful in your prospecting email, you need to tell yourself that a piece of intent information is simply there to tell you that it is the right time to contact the prospect. But this information should not be explicitly mentioned in the email.
In short, the prospect should not know that you have it. Intent information gives the timing and context of the message, but should not be the content of the message. Rather than the example first sentences mentioned above, you could write something like: "I'm contacting you because I'd like to introduce you to something that might be of great interest to you".
Here are some examples of interesting approach phrases:
Many companies in your sector start thinking about [X] when they reach your size. Maybe this is something you are currently thinking about.
I meet dozens of companies every day that are struggling to implement [X]. I have some ideas on how to remedy this. If you too are having trouble implementing [X], I may be able to help you.
Identify your prospects' pain points (by exploiting intent data) and seek, in your prospecting emails, to help them solve it. You need to position yourself as a "solver" and as an expert. This is the best approach to take. This is the approach that will allow you to turn your leads into customers.
But, obviously, it is very easy to pretend to be an expert in a prospecting email. It is within everyone's reach. You have to show credibility and use what the English call "social proofs". Give references, examples of companies that you have already accompanied. Take care, of course, to choose companies belonging to the same sector of activity as your prospect.
Give concrete examples of assignments you have done. Be relevant. And don't scare your prospects. You can and should use the information you gather about your prospects in your prospecting emails. If the information is public, accessible to all, for example, information relayed in a press release, you can mention it explicitly in the email. But if this information is not supposed to be known to you, do not mention it in the email.
Finally, as you will have understood, writing a good prospecting email means knowing what to say in the message, BUT also knowing what not to say!
Looking for more and better leads? Try Apollo, the leading sales intelligence & engagement platform