In France, 97% of mobile searches and 82% of computer searches are done on Google (2020, source: webrankinfo.com). It is the reference platform on which your prospects and customers will look for information about your products or services.
Google geolocates each user through each connected device. Thus, for each search, we get proposals according to our location. Even when we do not include any geographical criteria in the search.
Google Business is the tool that will allow you to manage the image of your company or business on google for free. Indeed, it allows you to edit the result that appears on google maps & on google when your customers type your brand name or close keywords.
In this article you will find all the important information to understand Google My Business and how to make your business easily identifiable, and to make the most of this opportunity to develop your business.
What is Google Business for?
Develop your business
Google includes Google Maps in the "local" search results and therefore shows the corresponding shops and businesses around the place where the search was made.
With Google Business, you will be able to appear on these searches. By appearing in the top results, you will drive traffic to your website and increase your sales volume.
Today, 50% of searches are done on mobile phones. With one click from the Google result, your customers and prospects can contact you directly by phone. Having an optimised and up-to-date Google My Business listing is therefore essential.
Controlling your image
Google Business allows you to enter the following information:
Address
Telephone number
Opening hours
Your last offer
Your customers' opinions
A photo of you or your business
This information associated with your brand is crucial in the quick choice your prospect will have to make between you and your competitors. You have control over this content and therefore choose the information you share.
Qualifying contacts
As explained earlier, by optimising your Google My Business listing, you can feature a phone number to increase your inbound call volume.
But the objective is not to generate leads in volume but to obtain qualified leads. Prospects whose needs correspond to the offer you are proposing. Because the more qualified a lead is, the more likely you are to turn it into a customer.
Find our complete guide to lead qualification.
Thus, the elements that you choose to put forward via your Google Business listing will allow you to make an initial sorting according to the contacts that you wish to obtain. In other words, you take back control of the reason for contacting you.
How to optimise your Google Business listing
Step 1: Go to the Google Business site
Go to https://business.google.com/ or go to Google and type in "google my business". This will be the first result you see.
Step 2: Click on the blue "Manage my profile" button
If you're not already signed up for Gmail, it will ask you to sign in. Make sure you're signed in to the Gmail account you want to associate with your business listing.
Step 3: Enter your company name
Once logged in, enter your company name. You may already be registered, if so you should see your company listed as below.
If your company does not appear, click on the result that has the text under your company name that says: Create an establishment with this name.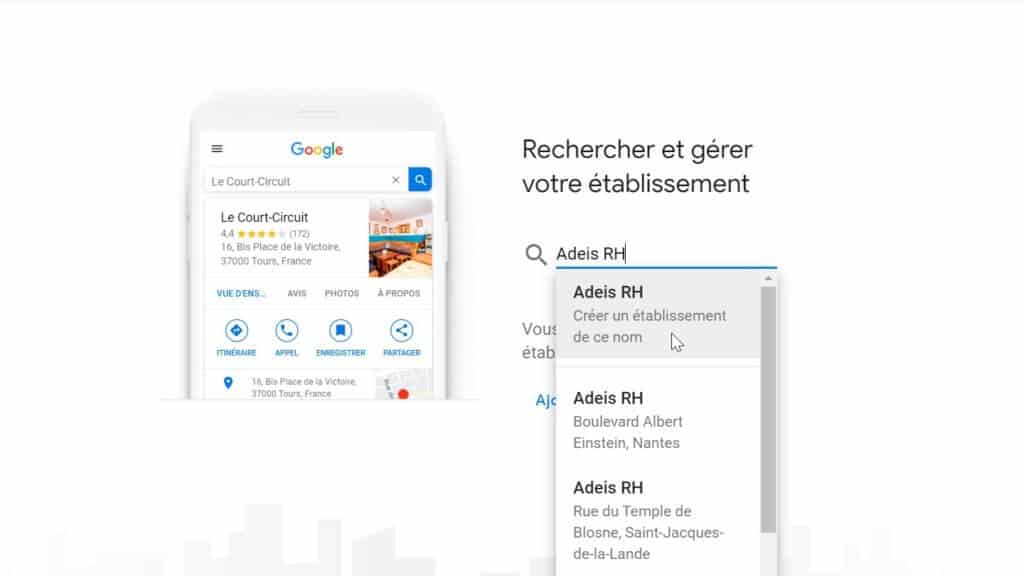 Then click on next.
Step 4: Select an activity type
This step is crucial if you want to appear in the Google results page when potential customers search for a product or service you offer. When you set up your 'categories' in Google My Business, you can define primary and secondary categories.
Type in your type of activity and then choose from the drop-down menu that appears the category that best matches the services you offer.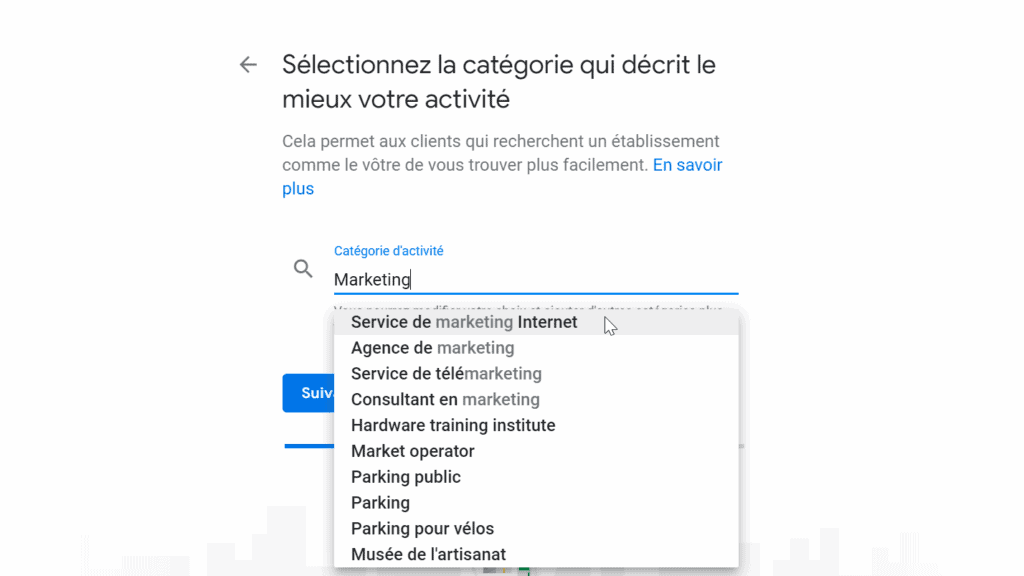 How to choose the best Google My Business category
If you are not sure which category you belong to, do a google search to see which categories your competition has selected.
If you see a trend among all these categories, this is the category you should choose.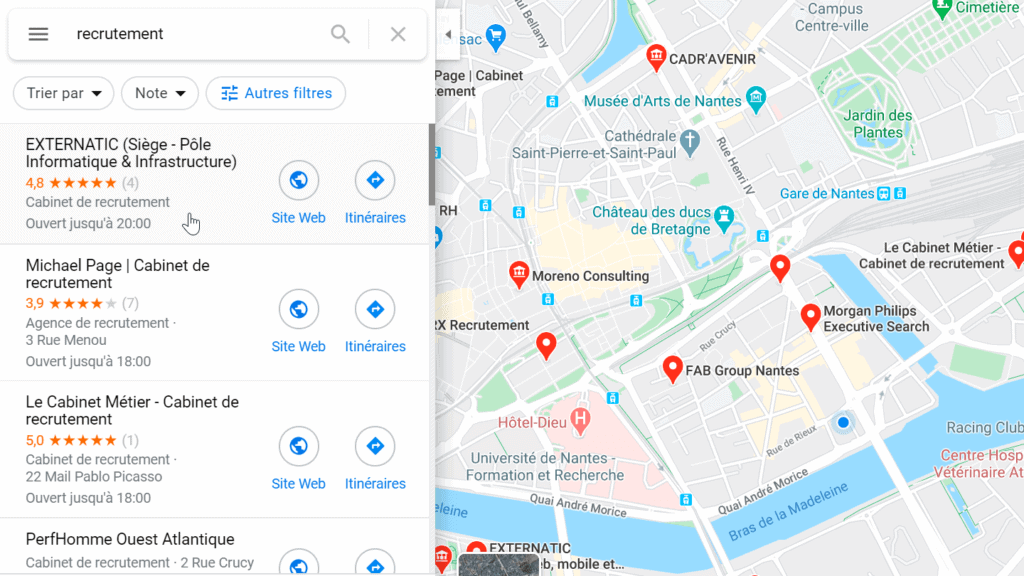 In the example above, most of the recruitment companies in Nantes have categorised themselves as "Recruitment agency".
Do not hesitate to be specific if you provide a specific type of service.
Then add the other categories related to your business.
Step 5: Enter your company address
Enter your company's address and click on Next.
Secondly, you must indicate whether you offer your services to customers outside this establishment.
What types of activity are concerned?
A company that visits the customer's premises or provides a service, but does not "supply" its customers at its business address:
Landscapers
Plumbers
Roofers
If you serve customers at your business address and also deliver :
If your activity corresponds to one of the above cases, check "Yes".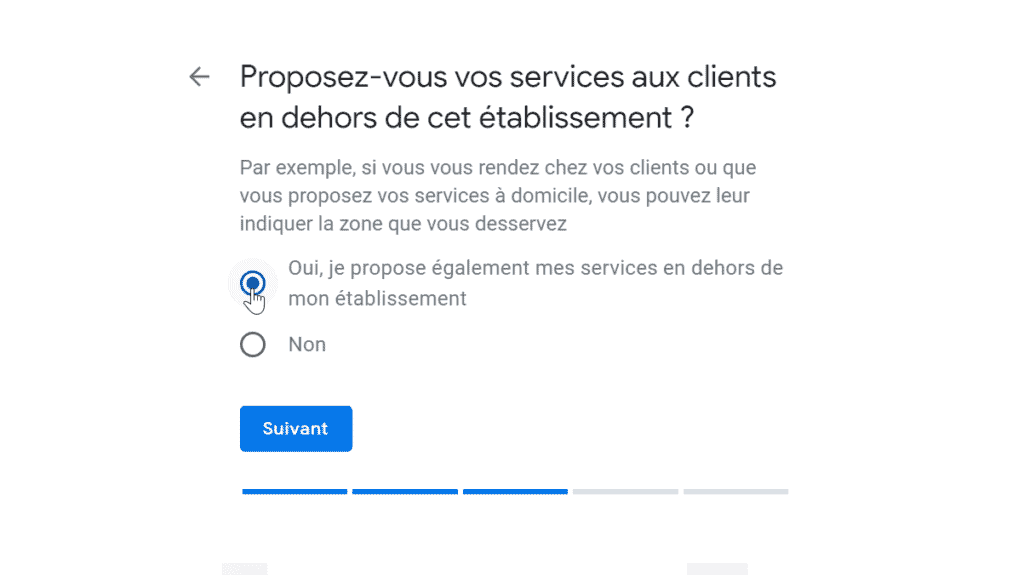 Step 6 (optional): Specify the area you serve
If you checked no in the previous step, this step does not apply to you.
This step involves letting Google know in which area you serve customers.
How do I define my service area?
You can define your service area according to the following criteria:
City
Postcode
Department
Region
Country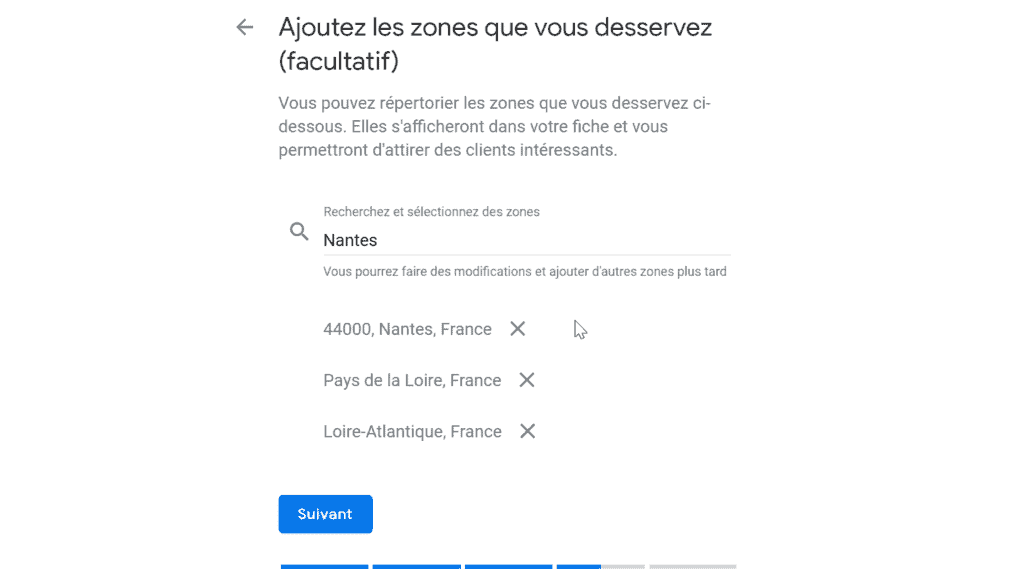 Step 7: Choose the information you share
Adding this information to your Google Business listing is optional, but highly recommended.
Adding your website has the obvious advantage of potentially driving a customer to your site where you can more easily convert them into a lead.
By providing your telephone number, you offer your customers a direct way to reach you.
Tip
You will get a small boost in your local ranking from Google every time a visitor visits your website, gets directions, calls you, sends you an SMS, etc. from a local search.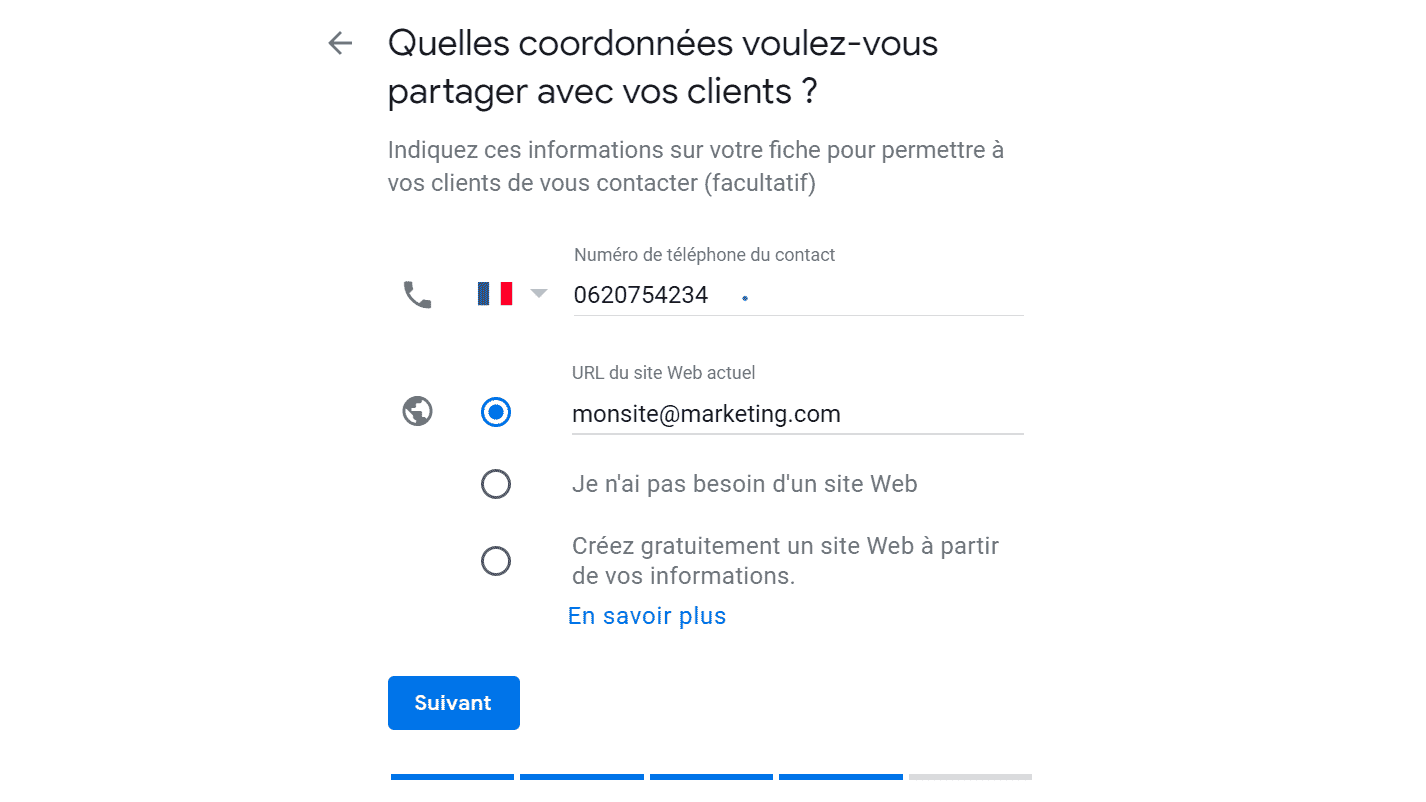 Note
If you do not have a website, you can select the option "I don't need a website" or the option "Create a free website with your information".
Don't have a website? Find 5 examples of successful landing pages to inspire you!
Important:
Make sure that wherever you put your website online (in a Google Business listing, Yelp, the yellow pages, etc.), you use the same URL structure for your website.
Also make sure that if you use the same "http" or "https" structure.
Secure your website, which will require the installation of an SSL (Secure Socket Layer) certificate.
Once you have filled in this information, press the "Next" button once more!
Step 8: Finalise your registration
Be patient, you are not finished yet!
Make sure all the boxes are checked and then click Finish. You will then be redirected to your google dashboard.
To go further
Take care of your photos
Google is above all a visual medium. Impactful photos, taken with your smartphone or by a professional, are essential for a good first impression and are the key to making potential customers want to contact you. Google Business allows you to upload your best photos and videos to encourage customers to visit you.
Get customer reviews
91% of consumers read online reviews, and 84% of people trust reviews as much as personal recommendations from friends. One of the key aspects of appearing in the top results is to have customer reviews that you can trust. Don't try to write fake reviews, Google will detect it.
Important
Recent reviews are always much more valuable to Google than older reviews. It is therefore important to put processes in place to ensure that you receive regular reviews.
For example, you can offer a bonus to your sales people if they get a google review from a customer, or send a personalised card to your customers after a few months followed by an email a week later asking for a google review (with no apparent connection). It is important to integrate this practice into your sales funnel.
Find out how to boost the effectiveness of your sales funnel.
The Google dashboard provides key information about customer activity and interaction. It will help you to better understand your community and therefore provide a more targeted offer.
Keep control of your information
The information about your business that is available on Google is the information that people who write about you will find first. The information you choose to share on your Google Business listing will therefore be found on other media.
To go further, do not hesitate to contact the websites that mention you to correct or add certain information. You can also contact websites that do not mention you yet if you think it is relevant.
Bear in mind that no website is free, and you may have to pay for it, but it can be a good way to develop your online presence and control your image.
Online, your image also depends a lot on your management of social networks and especially Facebook. Find out how to use Facebook Ads for B-to-B marketing.