A true content marketing and lead management tool, the webinar is no longer necessary as an effective solution for presenting expertise, a new product or a production process.
Webinars are an effective way to generate qualified leads quickly and easily. But not all webinar software is created, promoted and facilitated equal!
In this article, we compare the 10 best solutions on the market.
Going further
At Salesdorado, we distinguish between webinar software and video conferencing software by a very simple feature: whether or not everyone can speak via video and audio. If you want one or more hosts to make a presentation to an audience, you are looking for webinar software. If you want everyone to be able to speak during your event, you are looking for video conferencing software.
Webinar software comparison table
Solution
Rates
Reporting & Lead enrichment
Webinar experience
Free trial
Clearly the leader in this area
Lead enrichment
CSV export
CRM integrations
Webhooks
Replay accessible online
Accessible (easily) on mobile
Confirmation emails & reminders
Free 7-day trial
From €89/month
Replay available online
Drawing tool
Confirmation emails & reminders
CSV export
Access to the
Webikeo
audience
Replay available online
Confirmation emails & reminders
CSV export
CRM integrations
Replay available online (40€ / month extra)
Free 14-day trial
From €15/month
Free 30 day trial
From €26/month
Possibility to charge for access
Mini CRM integrated
Frequent connection problems
Interface not very user-friendly
Free 40mn up to 50 participants
From €14.85
Pre-recorded webinars only
From 46€ / month
Much more expensive
CSV export
CRM integrations
Facebook & Youtube live integration
Pre-recorded webinars
Replay available online
Super host side interface
What is the best webinar software?
#1. Livestorm: Our favourite webinar platform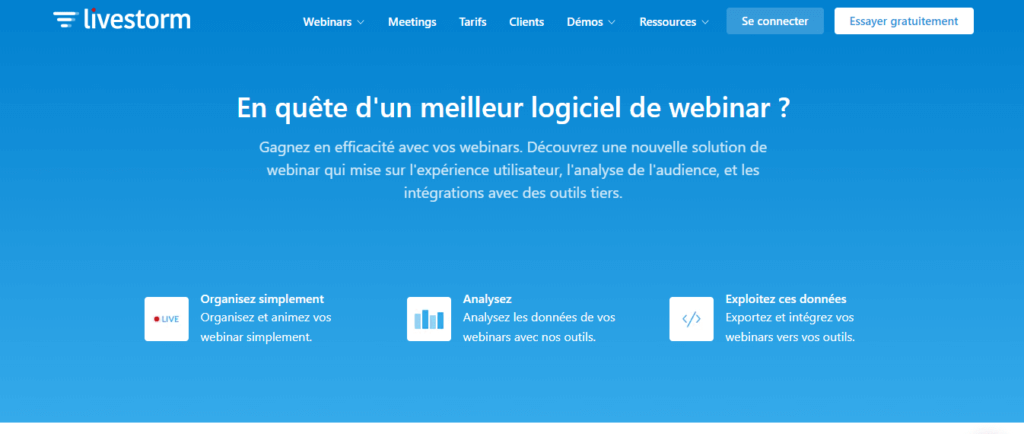 Livestorm has many strong points that make it our favourite for the implementation of webinars.
This tool is very easy to use, but also has a lead data enrichment and a conversion-optimised signup page.
Livestorm webinar software makes it easy to organise your webinars with a free version that is already very comprehensive.
This software has many great features that make the overall experience easy to access.
For example, unlimited webinars and replay with no time limit on viewing, chat and live invitations are some of the features to consider when choosing a tool.
You can also manage the pre webinar and create your registration pages, customise automatic emails and analyse participant data.
And after the webinar as Livestorm integrates with over 1500 apps that allow you to send data to your CRM software, send emails, etc., for the paid version.
All the features of the paid version are available in the basic version, only the maximum duration of the webinars is limited to 20 minutes and the number of participants is limited to 10.
When you upgrade to the paid version, your webinars can last up to 4 hours and the number of participants will be relative to the rate you choose.
The rates are therefore evolving from 89€ to 200€ per month.
Livestorm is a very complete tool with a large number of features available in the free version.
The duration of the free webinars is very short, which does not allow you to get to grips with the tool before moving on to the paid version.
#2. GoToWebinar: The Low Cost Webinar Software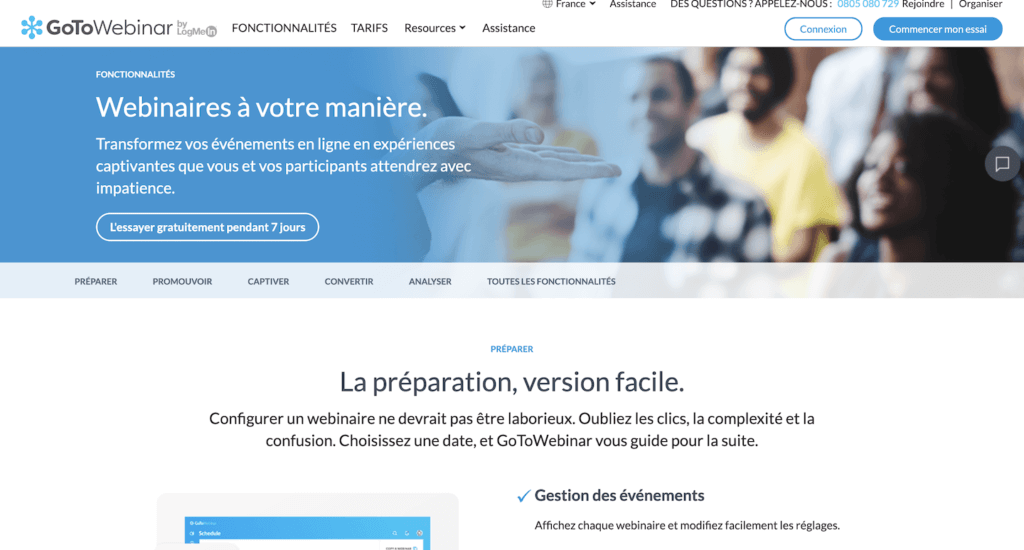 GoToWebinar is one of the best known webinar platforms.
It is probably its ease of use that makes it so well known.
The GoToWebinar platform offers 3 packages: Starter, Pro and Plus.
After a 7-day trial period, the basic "Starter" version offers more or less the same functions as the other tools, i.e. screen sharing and an unlimited number of webinars.
The platform offers a large number of features from the initial package, including registration, the possibility of making questions/answers, document management, survey tools, etc.
The "Pro" version then offers the same features plus the possibility of replay, participant management and an integrated drawing tool, but also the possibility to invite participants to your webinar via a personalised link.
The number of participants will increase further with the "Plus" version which is an enhanced Pro version.
Each of the packages offers progressive rates ranging from €89 to €429 per month for an annual subscription and a number of participants ranging from 10 to 1000.
The Starter version makes it easy to get started with the webinar.
Expensive when you want to access more participants.
#3. Webikeo: The webinar platform made in France
With Webikeo, the French-style webinar platform, you also have very complete features.
Webikeo holds a good position with its intuitive and easy-to-use no-download webinar software.
The tool is complete with virtual conference rooms for organising your webinars where you can host up to 1000 participants and up to 6 speakers at the same time.
The advantage is that all speakers can be seen and heard via video, and can share all types of media.
However, the participants cannot speak but have access to a chat room to communicate.
The pre webinar is facilitated by the platform promoting the events directly via theiremailing lists, which is a real plus at the beginning of the experience but goes round in circles after a while as their audience does not grow fast enough to renew the leads.
The post webinar experience is interesting because the data of registrants and participants is available for speakers and replay for 7 days as well as the documents proposed during the conferences.
Webikeo is an "à la carte" paying tool with rates that will be adapted according to your needs identified with one of their advisors.
A free trial period is offered after an exchange with the platform and the preparation of your quote.
Very easy to use for all participants and stakeholders.
#4. Zoom: Video conferencing software for webinars
Zoom is a very well known tool primarily for video conferencing that is now adapted to webinar formats.
Like the other tools, Zoom allows you to create virtual conference rooms for your webinars that can accommodate up to 500 participants for the "enterprise" version.
Its ease of use and flexibility are the main assets that make it one of the most used software in the webinar era and one of the fastest growing applications in the world.
Although its offer is very accessible, you will have to pay a certain budget to get all the features and you will also have to create your own Landing Page (internal link)
Some of the features Zoom offers are screen sharing or a single speaker in full screen, live chat, HD quality webinar, replay available but also the ability to schedule meetings.
Zoom starts with a free version and then offers a Pro solution at 13.99€ and a Business/Enterprise solution at 18.99€ per month.
Its design is easy to use and intuitive.
Zoom requires an installation for each webinar.
Get started for free with Zoom
#5. Zoho Meetings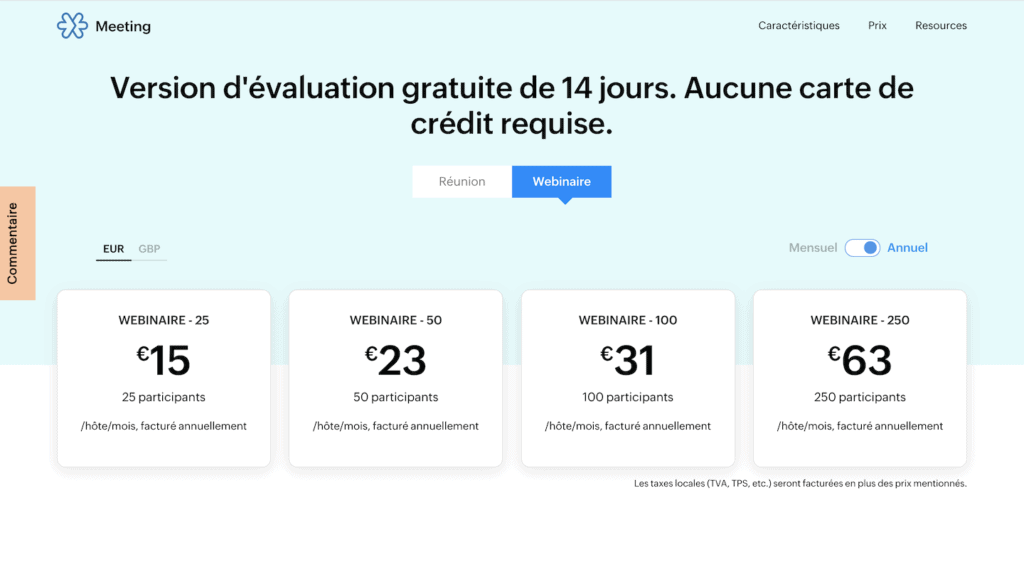 Zoho offers a simple & efficient solution to manage your video conferences and webinars. The tool naturally integrates very well with the other tools in the Zoho suite (the CRM software in particular), and offers an overall very successful experience. It's not the ultimate in webinar lead generation, but it works well.
In terms of price, the tool is very affordable: 39€ / month for up to 100 participants. You can try it for free for 14 days
A simple & affordable tool, ideal for beginners.
Good reporting module.
Limited to 250 participants
Quite limiting in terms of customisation
Get started for free with Zoho Meetings
#6. ClickMeeting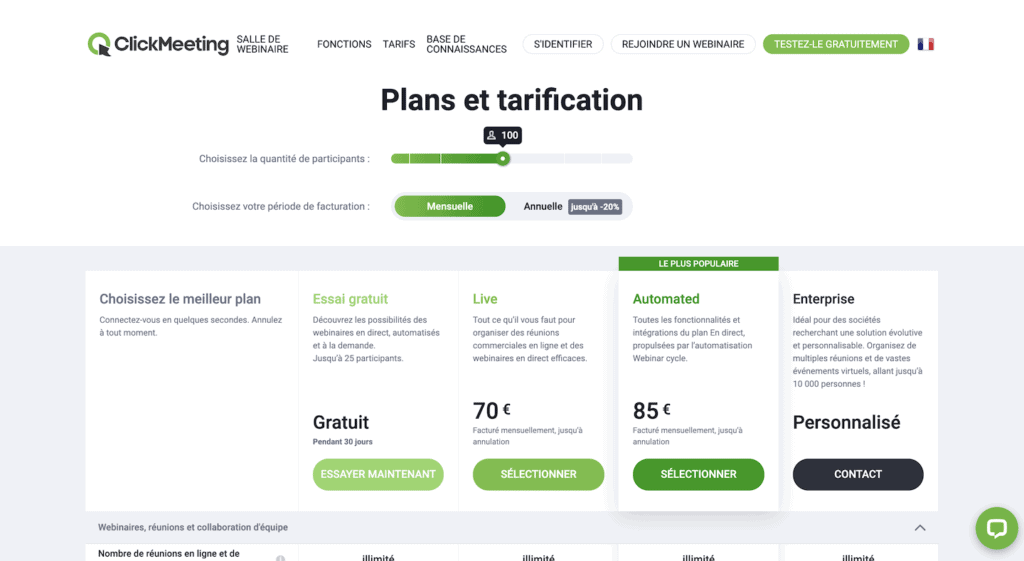 ClickMeeting is objectively a very rich tool, which contains many features. In particular, the tool allows you to manage paid sessions and to generate customised waiting rooms. However, the interface is not very intuitive, and your audience may find it difficult to navigate
In terms of pricing, the tool starts at 26€ / month (for only 25 participants). For 100 participants, you can expect to pay €70/month. You can benefit from a free 30-day trial
Many features
Support for paid sessions
Bad experience for the audience
Many technical problems
Get started for free with ClickMeeting
#7. Cisco Webex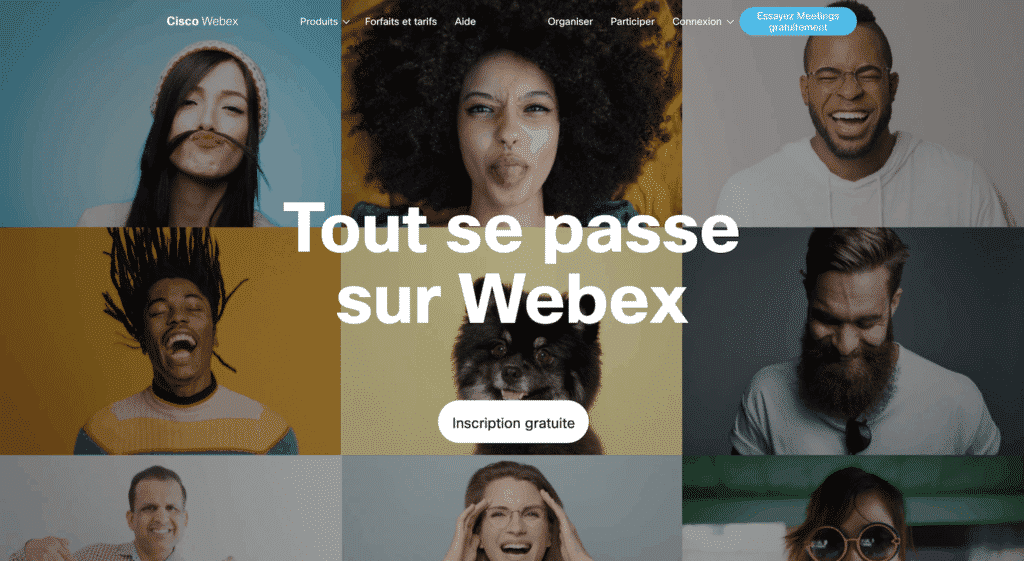 Cisco, traditionally a publisher of large, complex software, has made a great bet with Webex: simple, effective, and affordable software. The integrations are successful, the features are there, and the experience for the audience is there. The only thing missing is the lead generation, enrichment & scoring features…
The tool is absolutely free up to 100 participants for 50-minute webinars. After that, it remains very affordable, starting at €14.85/month for up to 100 participants.
Generous free plan & affordable rates
Good experience on the audience side
No lead management functionality
No technical integration
Get started for free with Webex
#8. Everwebinar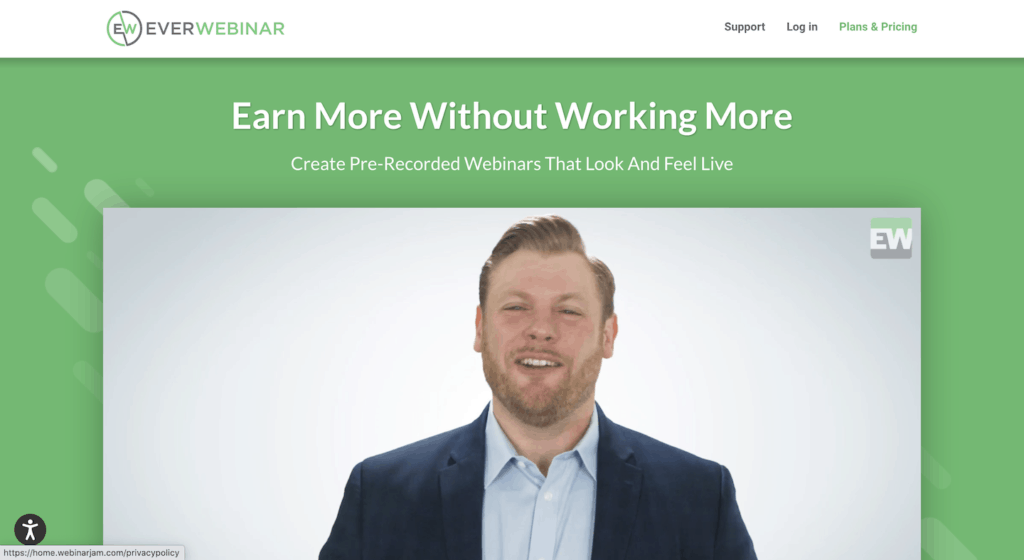 Everwebinar offers a slightly different package to the other webinar software presented here. The tool allows you to pre-record a webinar, to save you time. The tool even goes quite far with the idea, offering bots that interact in the chat to create engagement. Depending on your niche, this can be an interesting solution, although it is always a bit risky.
In terms of pricing, the software is only available as an annual commitment, with a minimum of $499. There is no free trial, but the tool does provide a 30-day money back guarantee.
Quite advanced in terms of lead generation features
Very easy to set up webinars
Does not support direct webinars
Risk to your image
#9. Adobe Connect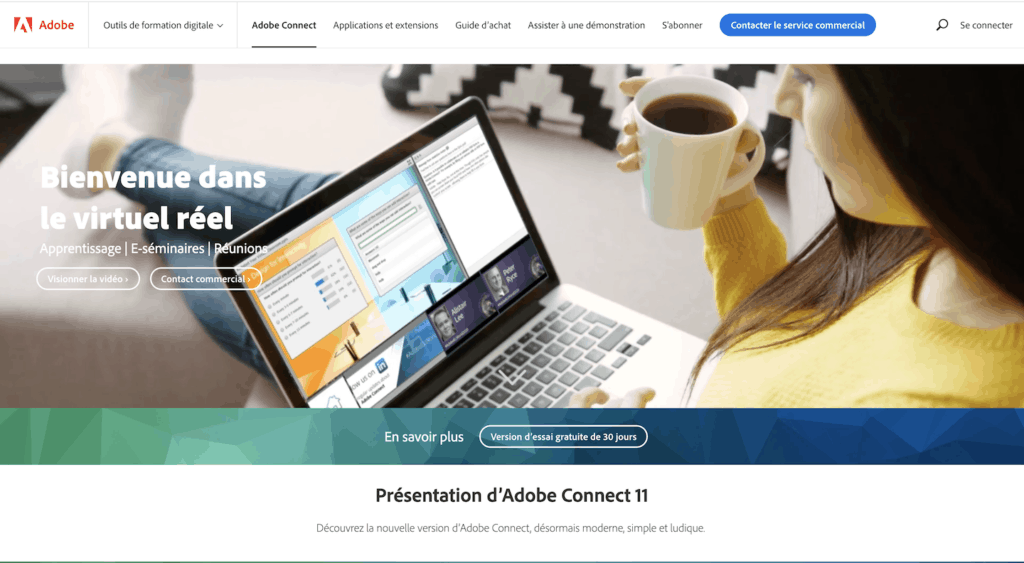 This is Adobe's video conferencing & webinar tool. Objectively, it is very feature rich, and allows you to do many things. In particular, it supports videos if you want to present them.
However, when it comes to pure lead generation, the tool is not wired for that.
Adobe connect is available from 46€ / month for up to 25 participants. For up to 100 participants, it costs €120 per month. You can try the tool for free for 30 days.
Quite advanced in terms of video functionality
Robust performance solution
Expensive compared to the competition
#10. BigMarker
BigMarker is finally a very solid option, which offers a lot of integrations with most CRMs on the market, which works 100% on a browser (like Livestorm) and which is very very rich in features. You can broadcast your webinars on Facebook & Youtube Live, host several videos to create a course or a mini-series, etc.
The problem is that everything is in English, and the company clearly states that SMEs are not really a priority. This is not necessarily a problem in itself, but it can quickly become one if something goes wrong…
As far as pricing is concerned, the solution is in line with the market: free 7-day trial, and $79/month for 100 participants.
Feature-rich
Affordable rates
Approximate support for small customers
100% English
#11. Tame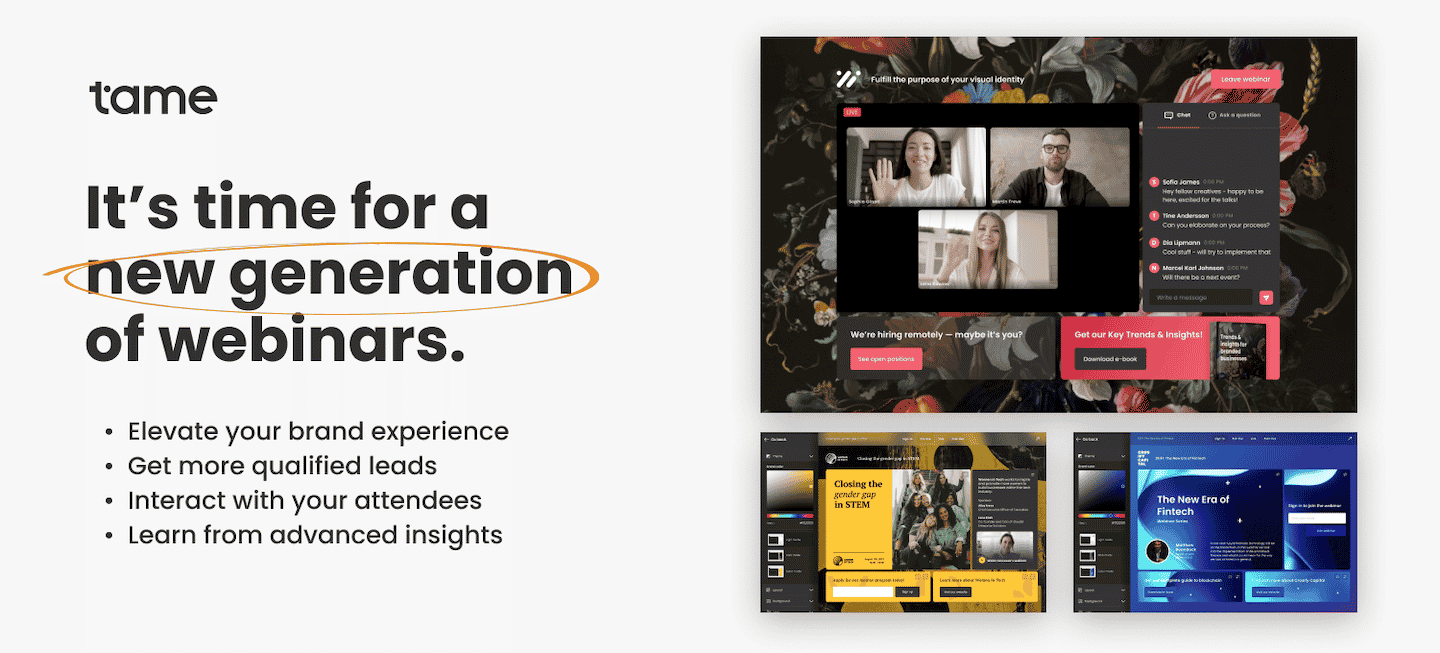 Tame is a webinar software built for those who host webinars: marketing teams. The software allows you to host webinars that are easily accessible to anyone from a browser (including mobile), and offers simple and very effective landing page and webinar experience customisation options.
During the webinar, the experience is enriched by the ability to share content or call to actions directly to the audience's screens. The host experience is really simplified so you don't have to worry about sound problems and panic on board 5 minutes into your first webinar.
Finally, the reporting tool is very complete and allows you to export the list of participants in XLSX format. We particularly appreciate the registration form, which is very successful and easy to set up.
The prices are a bit high but in line with most of the software in this comparison, with the Basic plan at 199€ / month which allows up to 150 listeners per webinar, and the Professional plan which starts at 499€ / month to go up to 1000 listeners.
Very simple and very effective
Possibility to record webinars easily
Made in Europe (and hosted in Europe) – a plus for the RGPD
Rather high prices
100% English
To go further
Involving your prospects/collaborators in your webinars is a great way to gain scale on your lead generation campaigns without going to expensive campaigns.
It is also a more effective way to qualify leads by creating content that is relevant to your target audience.
Thanks to strong and targeted partnerships, webinars are a great alternative to develop your lead generation technique in a fast and powerful way but above all at low cost.
Read our detailed guide to lead generation.