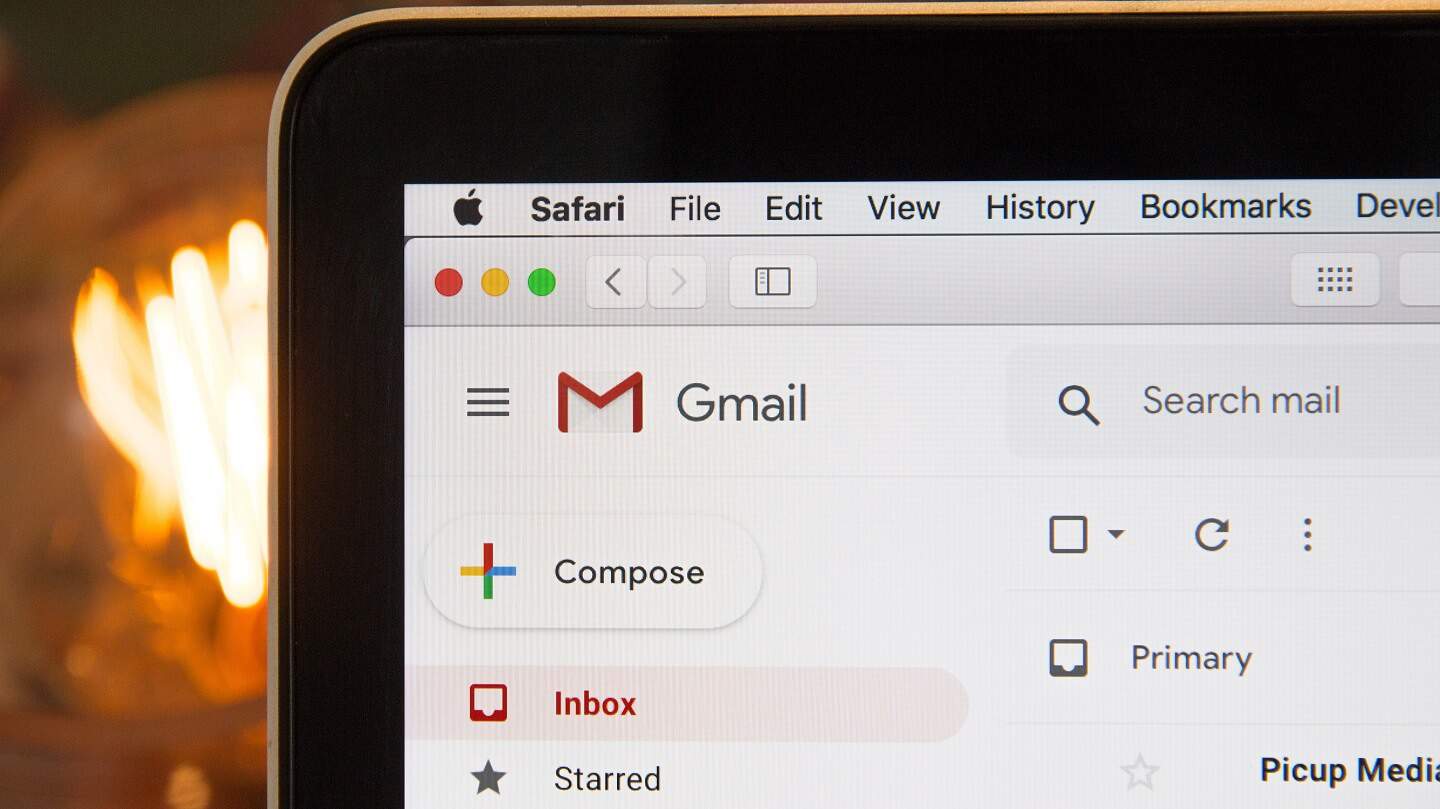 In this article, we detail 6 techniques to find anyone's email address, for free.
We've classified these 5 techniques from the simplest to the most complicated to help you get straight to the point without spending a fortune 😁 It's often easier if you pay (a little) but you can always manage to find an email, even for free.
If you come across a case where you can't find an address with our methods, let us know in the comments & we'll take a look!
1. How to find someone's email simply?
The first tip on this list is the simplest. It is simply to search directly on the Internet for your target's email. It is very likely that the email you are looking for has already been mentioned on the web.
Go to Google and type in the first and last name of your target. You can also add @domainname.tld for a more precise search. If you're not already familiar with it, try the advanced google syntax. Check out our article on xray-search – it's full of sample queries to find anything you want
Check their Linkedin, Twitter, github, facebook, … profile for an email address or a personal website. For Linkedin, there is a "Contact Information" section that is often forgotten… On twitter, if there is nothing in the bio, try searching on allmytweets with ctrl+F.
Finally, if you still haven't found what you're looking for, check the top 10 google results carefully.
Pro tip
If you search on Linkedin, sales people are typically more eager to be contacted than others. So you are more likely to find a contact if you focus on sales people. Once you have an email address, you've won, we talk about that in
method number 5
.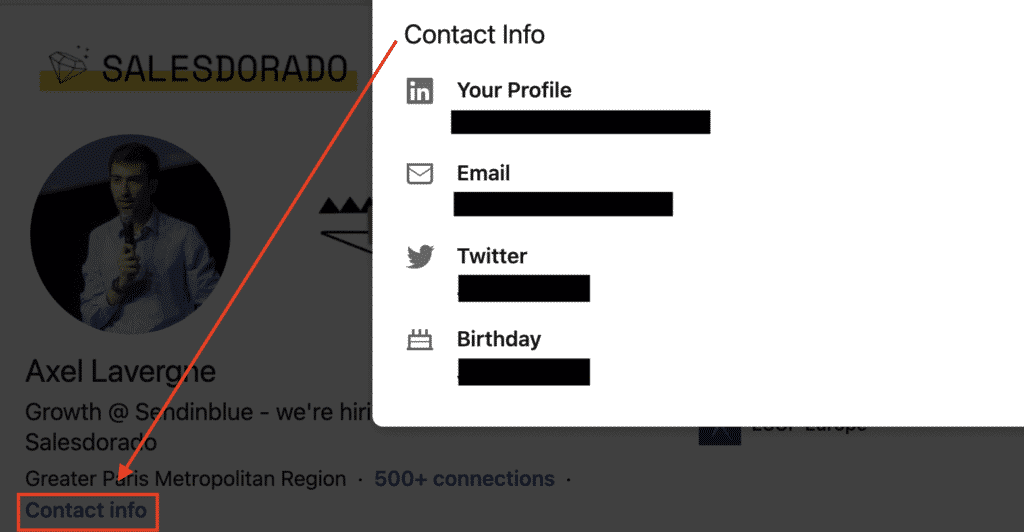 This trick is really the simplest. It won't always work, and it will get you obsolete email addresses from time to time. But when it does work, it is extremely efficient!
Pro tip
Tired of Excel files? A good CRM software allows you to take your prospecting to the next level. Discover our selection of the best free CRM software
2. How to find someone's email address on Linkedin?
Well, if people don't put their email in linkedin, how do you do it?
Basically, you have two options:
1. Use an email finder. The simplest is a chrome extension like apollo, kaspr, or lusha. We recommend Apollo which allows you to write your email directly on linkedin in 2 clicks. It is very powerful and you get 50 email addresses / month for free. The others are very good too, but it may quickly become expensive. These tools are very good to find a phone number, so each contact is quite expensive…
2. Using Societeinfo
In concrete terms, you can search for any name on Societeinfo and obtain contact details in two clicks.

3. How to find someone's email address with an email finder?
To find an email address, you can also use a prospecting tool called email finder. At Salesdorado, we recommend Societeinfo for its affordable rates and the quality of the data on professional emails.
The tool works very well to enrich a contact list (e.g. linkedin) with valid emails. But it can also be used to identify contacts (and email addresses) from a list of websites (domains).
Societeinfo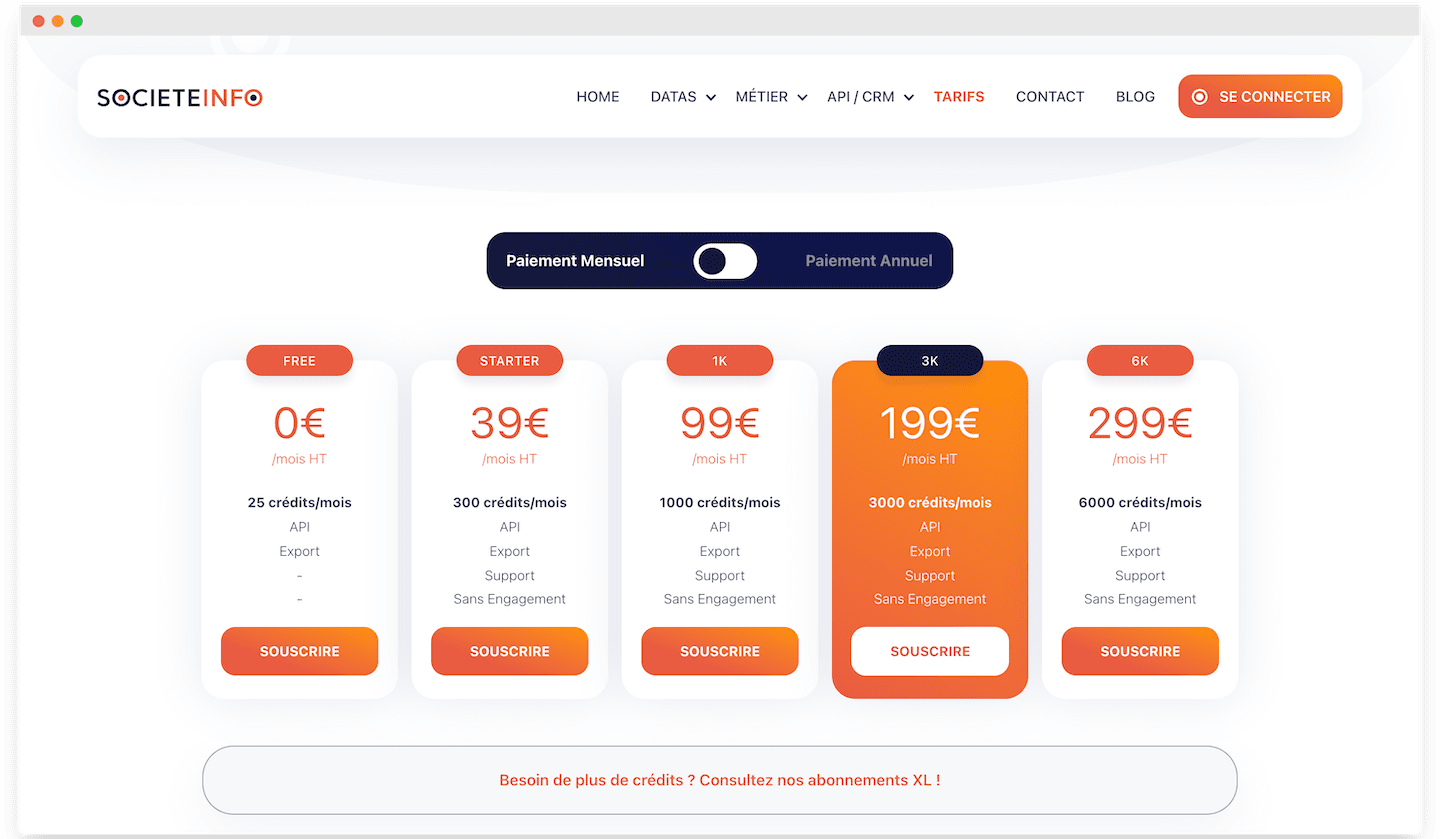 Societeinfo goes significantly further than a simple email finder with many more data qualityQualification of email addresses, normalisation of first names, extraction of signatures from your contacts, deduplicationThe aim of the project is to create a new type of company.
But the tool also offers a very efficient email finder on the French market, and allows to enrich contact files with a valid email address.
Societeinfo is also (by far) the cheapest solution on the market at 99€ / month for 1000 contacts.
Try Societeinfo with 25 free credits
Apollo.io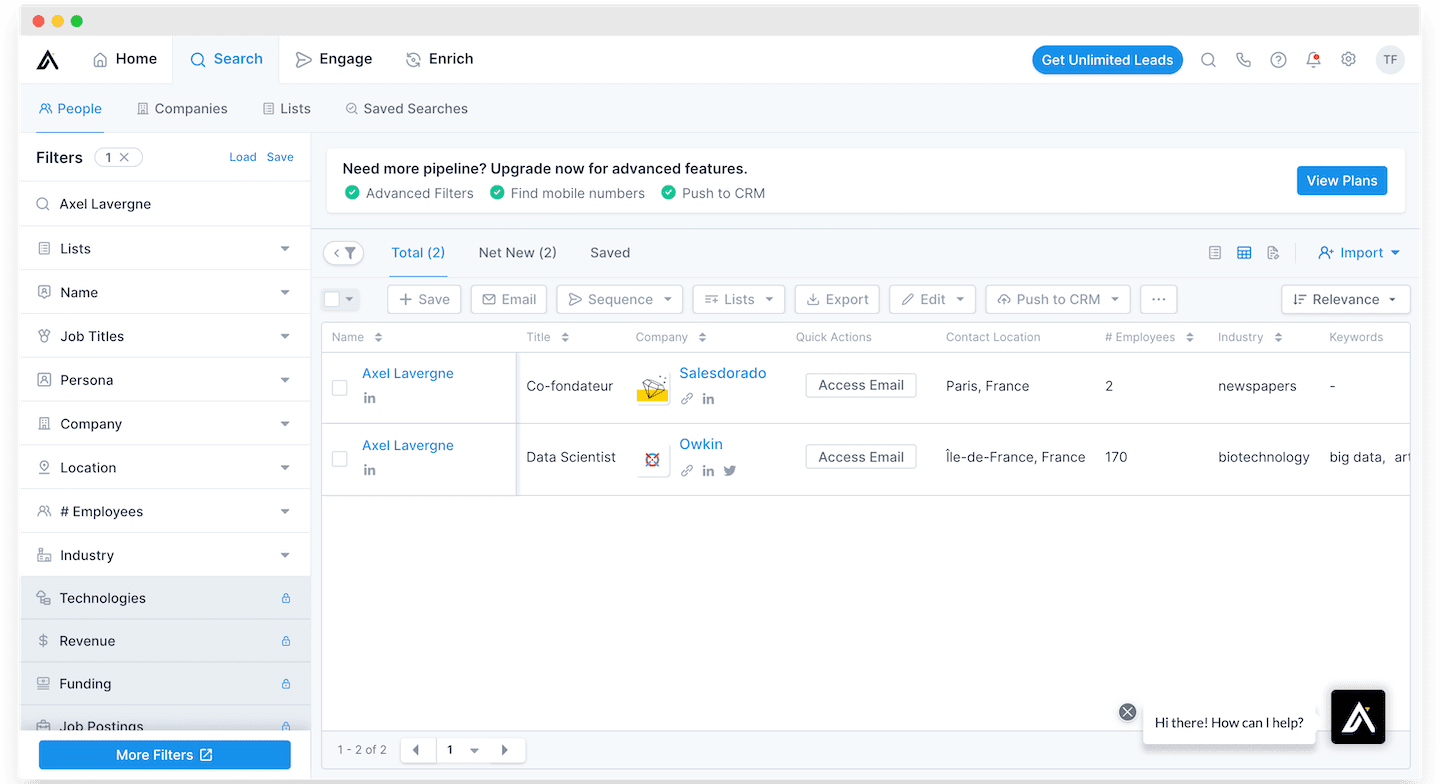 Apollo also offers a simple & effective email finder. The tool suggests the most plausible email address, and tells you where it was found on the web. The tool also offers advanced domain searches to retrieve all email addresses associated with a website. You can filter by industry and choose only personal or generic emails (or both).

In terms of data quality, Apollo is a little less accurate than Societeinfo on the French market, but the database is very impressive on foreign markets. They offer a free plan that allows you to obtain up to 50 email addresses. After that, the paid plans start at $9/month for 200 email addresses. A solid and efficient tool, which continues to prove itself after years.
In reality, there are dozens of quite similar tools, which offer quite similar results because they are often based on identical (or almost identical) methods. We won't list them here, but we can mention a few:
ColdCRM which is one of the best value for money (# unlimited emails for $79 per month)
Kaspr which is pretty good on phone numbers, and has a nice google chrome extension
Lusha also quite good on mobile
RocketReach, Snov.io, Skrapp.io, Clearbit, etc.
The Salesdorado email finder
If you are targeting micro-SMEs, artisans, freelancers, or very young startups, there is a good chance that they will work in zero-inbox (an email "read" is an email processed). Generic emails ([email protected], [email protected], [email protected], [email protected], etc.) are therefore sometimes more relevant than personal emails.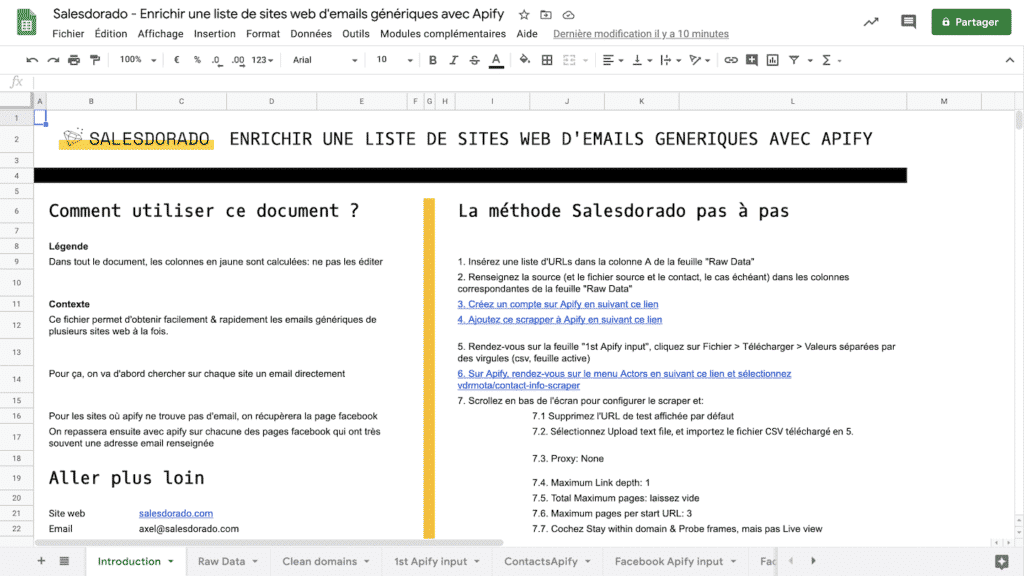 We've developed a fairly effective method for retrieving generic emails from a list of websites. The idea is simple: we set up a little robot that goes to each website, and looks for an email address. The little extra is that the robot also retrieves the facebook page (and linkedin & twitter, but less usable for generic email) on each site.
And for a few years now, Facebook has been pushing those who have a professional page on it to fill in an email… very often generic. The same robot can then go on each facebook page to get an email for the sites where it did not find one.
And it works quite well, we have success rates ranging from 70 to 95% on the small tests we have done.
The best part? It's all free and we've made a little excel file (google spreadsheet) to detail the method and structure the steps.
4. How can I use the recommendation to get someone's email?
Referrals are still the most effective way to obtain a person's email address.
Once you have identified your "target" type their name into Linkedin and/or Google to find relationships you may have in common.
If you don't have one, it is likely that one of your own contacts is already connected with this target. Contact them and ask them to put you in touch with the person in question. This is really the best way to get in touch with someone and be sure to get a response.
Pro tip
Add the person on Linkedin without an introduction message. If the person accepts, you will have direct access to their email address.
You may not be familiar with this technique, but it is a very effective way to get your Linkedin contact's email. First of all, log in to your Linkedin account and go to this page. Then :
In the "How Linkedin uses your data" section, click on "Get a copy of your data".
Then check "My contacts" to get all your Linkedin contacts' information
Once the file has been uploaded, you will receive an email from Linkedin
Download the file in question in order to have access to the (public) emails of your contacts.
This technique is the most effective on this list. On the other hand, it takes a lot of time to set up. If you want to get a referral, you will have to build a real relationship with the person. If you want to get all your Linkedin contacts' emails, you will have to add each person you target and, again, this takes some time.
For the more advanced
We've written a little linkedin robot that works wonders if you have a premium account (SalesNavigator), but the interface is a bit rough (terminal…). It is available here if you feel like it!
Pro tip
Tired of Excel files? A good CRM software allows you to take your prospecting to the next level. Discover our selection of the best free CRM software
5. How to find the email structure of a company?
In this fifth tip, we look for the email address structure of an organisation.
Beware, this is a technique to be avoided if the first or last name of the person you are looking for is compound. Indeed, this adds a lot of possible versions to the structure of the email, and reduces the number of possible sources (there are fewer people with compound names and/or surnames than the reverse).
To start, just type the company name into Google. For example, if you search for Michel Martin, a sales executive working at Ubisoft :
Type "Ubisoft" in Google. This will give you the domain name of Ubisoft. In this case, the domain name is "ubisoft.com". So far, so good.
Once you have retrieved the domain name, type "*@domainname" into Google (without forgetting the inverted commas and the star). This will give you access to all the email addresses with the domain name behind the arobase in Google. To take our example, we type "*@ubisoft.com".
All you have to do is browse the various links provided to find an email address. The easiest way to do this is to do a search on each page (cmd / ctrl + F) with "@".
With this method, you will have access to all the email addresses with the domain name you are looking for. Other examples of queries are also possible, by playing on the most common first names & surnames:
[email protected]

[email protected]

[email protected]
Once you have found the email structure you were looking for, the hard part is done. Simply go to the email permutator and make a copy of this document. This technique is effective if you are looking for people with common names. If you're looking for a compound name or surname, skip it.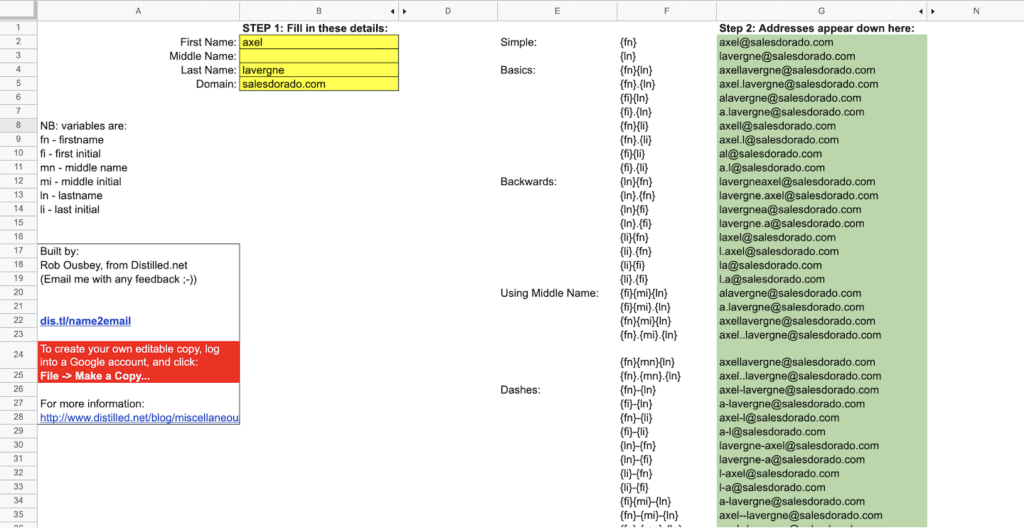 The wrong idea
Some people use this method to generate all possible emails, and then seek to validate them with email cleaning tools. On paper, why not, but in real life, these tools are rarely more reliable than a simple email finder, and even if they are quite significantly cheaper, you consume a lot more credits, so you rarely get anywhere.
6. How to validate an email address?
Now that you have a list of email addresses in your possession, it is important to check the validity of your email list.
For this, we recommend bouncer, the best email list cleaning tool in our opinion. The tool offers 100 credits for free. Then you can either buy credits that don't expire (from 1000 credits for $5) or subscribe from $20 for 10,000 email validations per month.
Try Bouncer with 100 free credits
Next steps
You now know a lot more about how you can get anyone's email address.
If you are not targeting anyone in particular, but rather a relatively clear persona, you can also look into webscraping. Webscraping, also known as web data mining, is the process of retrieving or "scraping" data from a website.
Unlike the time-consuming process of manual data extraction, web scraping uses intelligent automation to retrieve hundreds, millions, or even billions of data from the Internet. Overall, it is much easier to find the email of a persona (who meets certain job, industry, seniority, etc. requirements) than the email of a specific person.
If you are looking for prospecting files, you have two options: Get a custom file or Download one of our free prospecting files
Reader Interactions