In this (long) list you will find 50 prospecting tools to manage and improve your B2B prospecting. Don&/en/8217;t be surprised if you don't find LinkedIn and a complete list of all the CRM software on the market, we assume that you are already familiar with all this.
Here you will find tools to improve your prospect research, to be more efficient on the phone, to send better emails, to automate certain tasks related to your B2B prospecting, etc. To make it easier to read this top, the tools are grouped by category. You can access the categories that interest you by using the summary on the right or the summary table below 🙂
Summary table
Categories
Presentation
Tools
Find contacts
(Go to)
We don't teach you how to use LinkedIn Sales Nav here (obviously essential). Only really powerful tools to get real contacts (mobile number, direct email, …) in a few clicks
Telephone Prospecting
(Go to)
Cold calling is a numbers game. But you don't have to drag your conversion rates around all your life: there are tools that allow you to (really) turn a corner.

#1 Aircall
#2 Ringover
#3 RingDNA
#4 CallTracker.io
#5 A good script

Prospecting by email
(Go to)
Probably the most talked-about topic. We've gathered our favourite tools on the subject – and we've tested a lot of them (!)

#1 YAMM
#2 Woodpecker
#3 Datavalidation
#4 BombBomb
#5 ChiliPiper

Prospecting on LinkedIn
(Go to)
It's all the rage, but it has to be done right for it to work. Use the best tools on the market to put all the chances on your side!

#1 Prospectin
#2 Dux-Soup
#3 Podawaa
#4 ShieldApp
#5 Piwaa

Lead Relationship Management
(Go to)
Our favourite deal-oriented CRM software for prospecting: simple, efficient, and ergonomic, with a touch of automation and a pinch of salt.
Enrich your leads
(Go to)
The best solutions for enriching company or website databases. A must if you generate lists from competitors, meta databases like SIRENE, or from linkedin.
 
Closeyour leads
(Go to)
Webinars, animated sales presentations and electronic signatures: the complete stack for closer, faster.
 

#1 Zoom
#2 Prezi Video
#3 Proposify
#4 Livestorm
#5 Yousign

Save time
(Go to)
Lightweight chrome app or extension to speed up small processes and shine in front of colleagues and prospects with wow effects!
 

#1 LinkClump
#2 Screely
#3 FrontApp
#4 Loom
#5 Thank You-App

Optimize
(Go to)
The best data viz and project management tools to optimise your business processes and improve performance.
 

#1 Table
#2 Gong.io
#3 AutoKlose
#4 Monday
#5 Guru

Get trained
(Go to)
The best free & paid sales training courses on the market, the Salesdorado newsletter and a great Youtube channel to discover.
 

#1 Business Development 3.0 (Rocket School)
#2 Boost your sales force (Uptoo)
#3 The Salesdorado newsletter
#4 The SalesGame (Elric Legloire)
#5 Scalezia Outbound Academy
Find contacts
We won't insult you by mentioning LinkedIn Sales Navigator in our selection of tools for identifying your prospects, as we know that you already use it very well!
Before you dive into the tools below and get started on your own, take a look at our ready-to-use company files sorted by city or sector.
#1 Societeinfo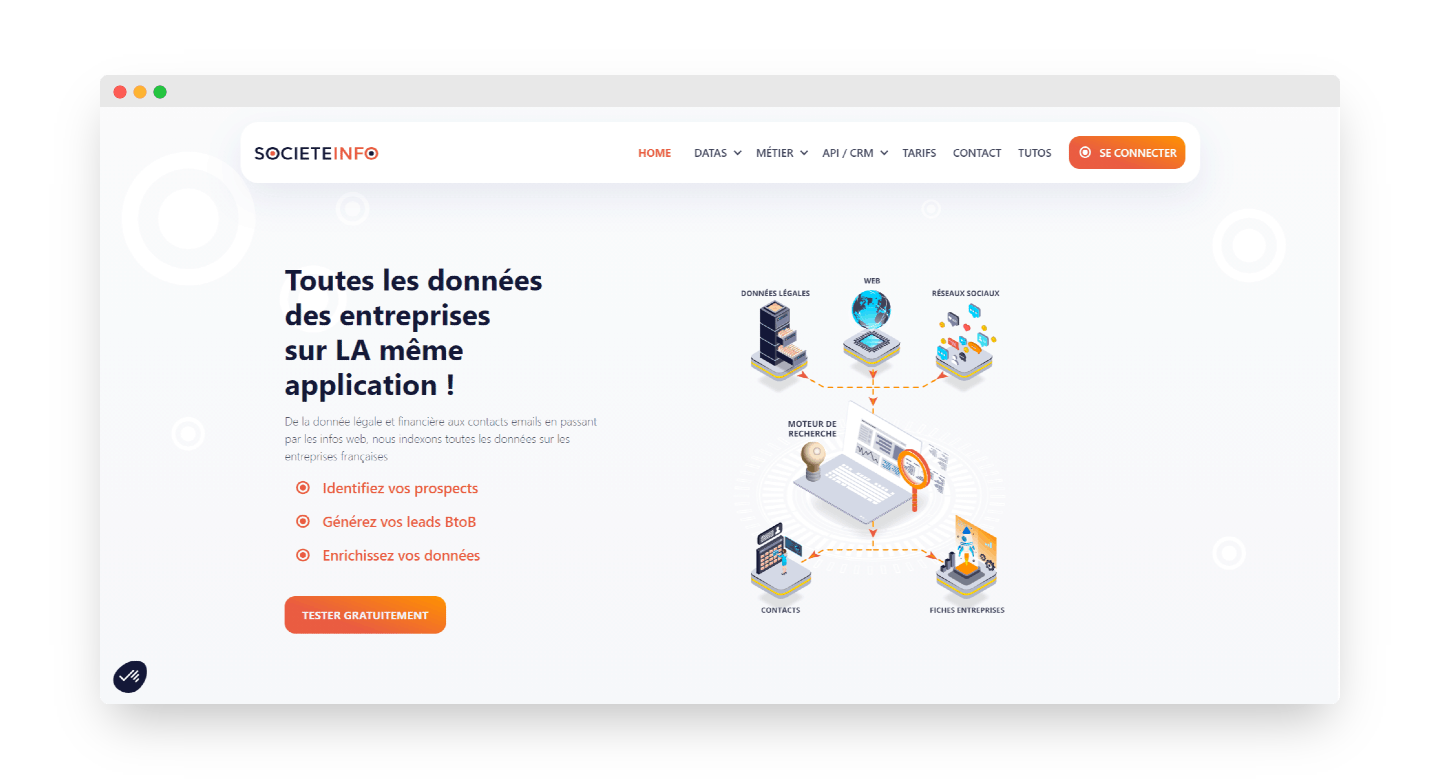 SocieteInfo allows you to generate highly qualified prospect lists based on one of the best meta-bases available in France. Coupled with a very powerful and intuitive SaaS search engine, you get a quality tool to enrich your CRM or extract prospecting files.
Responsive, efficient and in French!
Excellent value for money
Data richness and quality
We also appreciate the transparency of the proposed rates, count between 0,03€ and 0,06€ for a company file and between 0,10€ and 0,20€ per contact of a manager.
#2 Apollo.io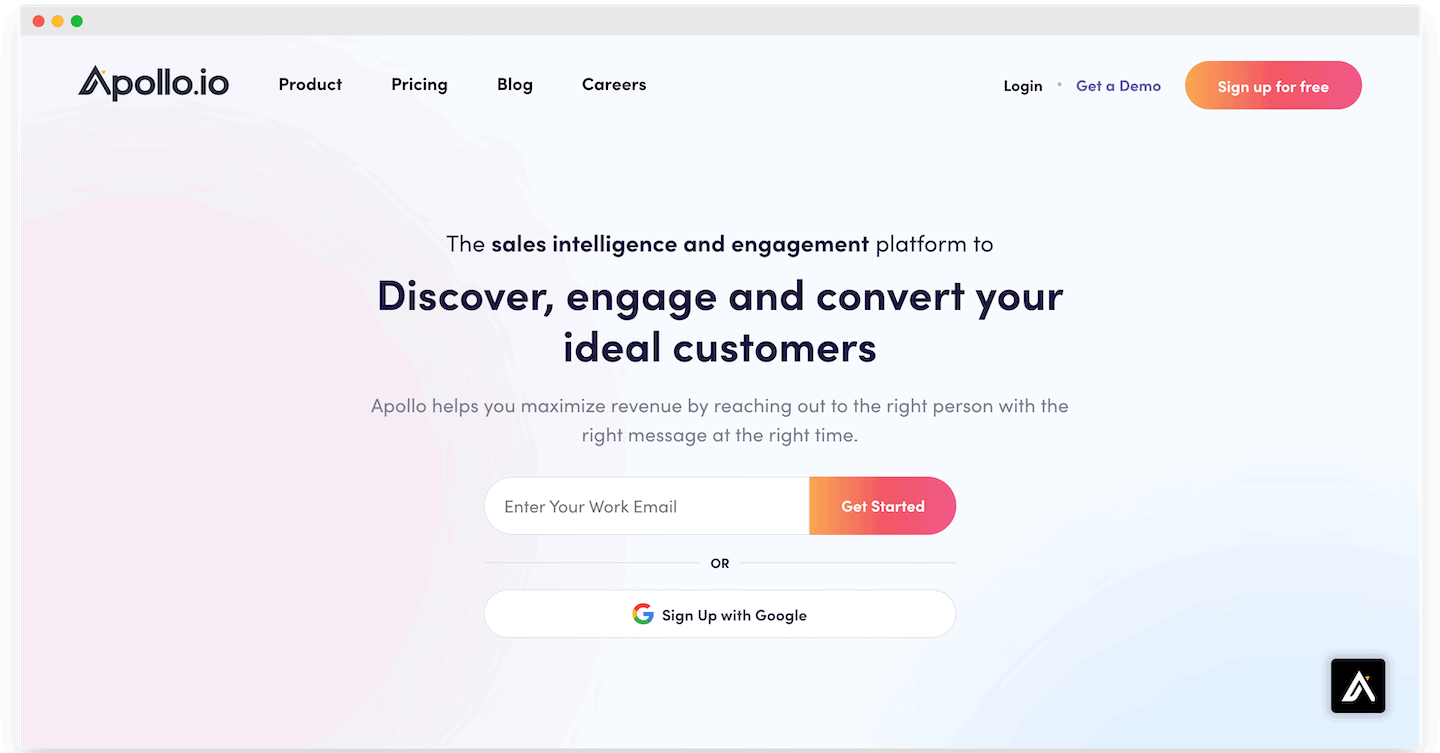 Apollo is one of the largest B2B databases in the world with nearly 200 million contacts. The tool gives you access to advanced filters to make ultra-precise searches based on the tools used by the target companies, the fundraising carried out, the recruitments in progress, etc.
But the tool does not stop there! You can launch cold mailing campaigns directly from the platform. They also have a great google chrome extension that allows you to send an email directly from a linkedin profile, enrich your gsuite box with lots of information, and even give you lots of context when you browse a website. A real all-in-one ally for prospecting, which also integrates with the main CRMs on the market.
Incredible functional depth
Huge global database
Richness of available data
The best part is that you get access to all of this for as little as €49/month per user. Frankly, it's amazing.
#3 mList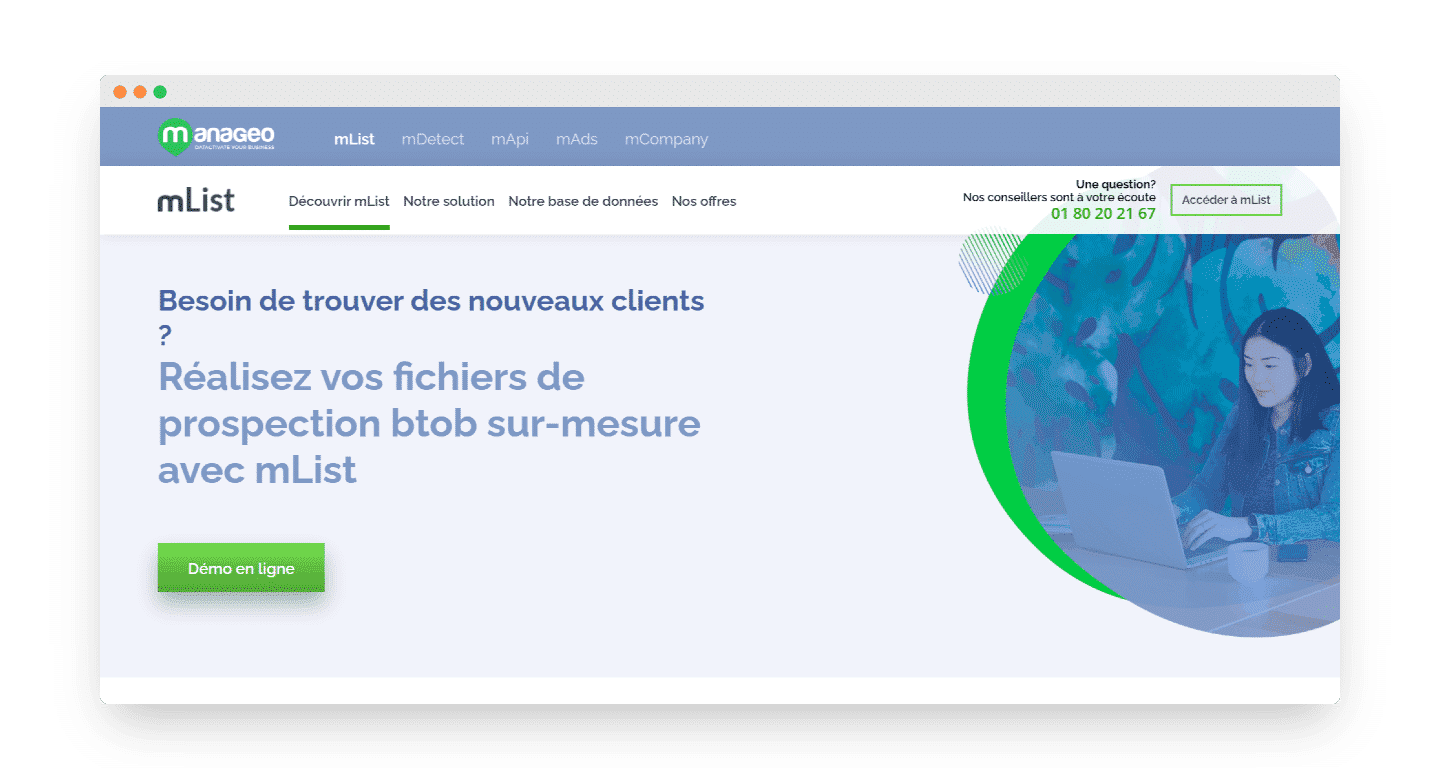 mList gives you access to one of the most important B2B databases on the French market. By crossing data from official sources (INSEE, RNCS,…) with the digital activity of companies (websites, social networks,…) you obtain quality prospecting lists.
Nice interface with many filters to segment your lists
Ability to export data to your CRM
Dedicated support from the Pro plan
mList's offer starts at 5€ HT / month for the one-off purchase of files, access to the platform requires the Pro plan, at 57€ HT / month.
#4 Kaspr (chrome extension)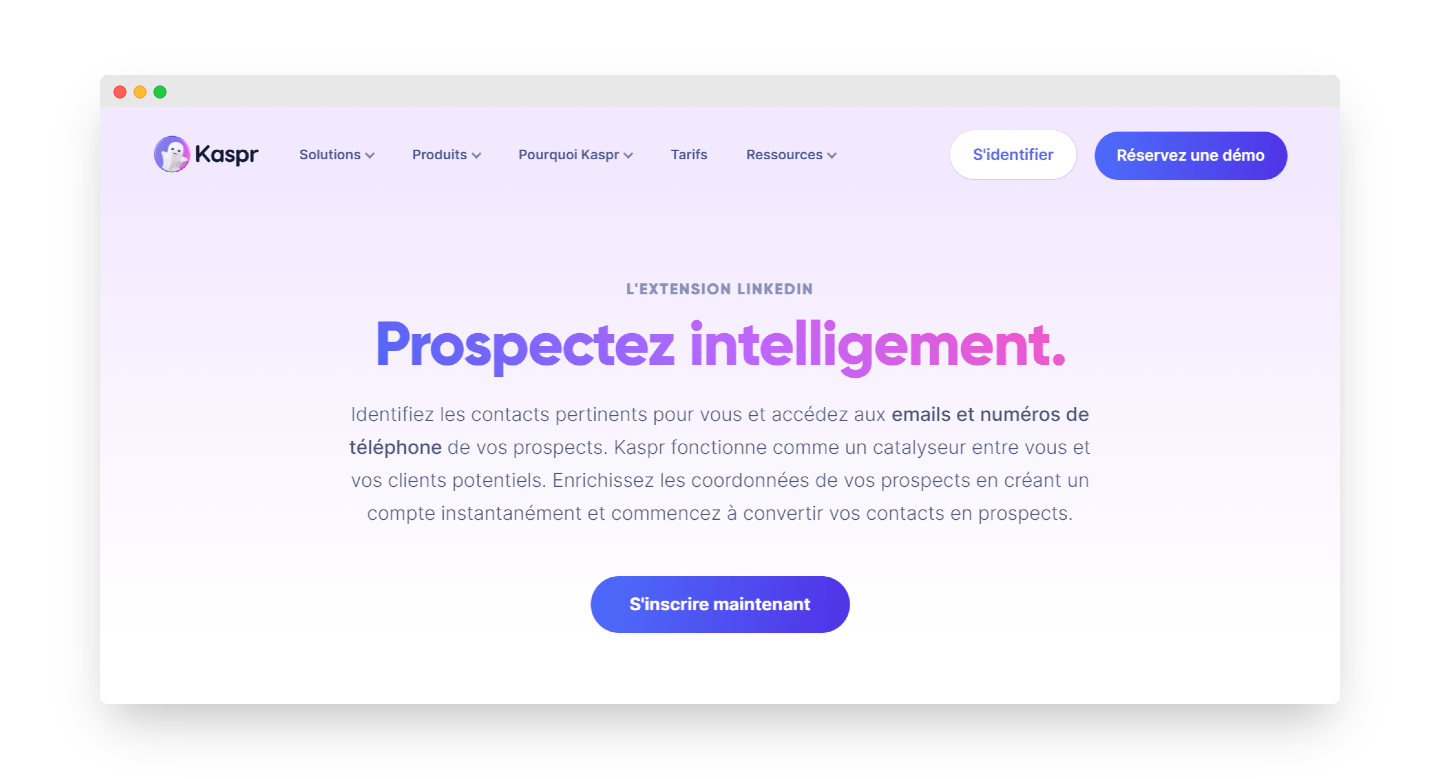 On B2B contact identification, Kaspr offers a chrome extension that allows you to access the email addresses and phone numbers of your prospects on LinkedIn. The data collected is updated in real time to maintain a high level of data quality.
Kaspr offers 5 free credits per month, the paying packages start with the start-up package at €30/month/user.
#5 Captain Data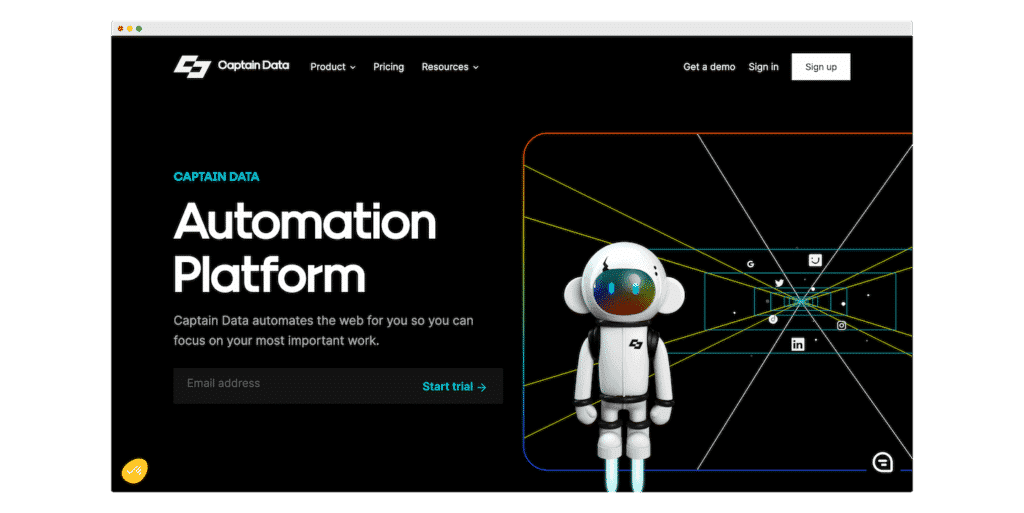 Captain Data is a powerful tool that allows you to do several things:
Scrape the directories we know (yellow pages, tripadvisor, leboncoin, indeed, …), linkedin, google, etc.
Enrich the data retrieved directly with the appropriate email finders (dropcontact, etc.).
Lots of other things to enrich, clean, and synchronise your data
It's very powerful, and very quick to set up.
The turnkey aspect is a real plus
Integration with leading email finders
Intelligent & business-oriented scenario proposals (finding contacts, building audiences, …)
You can get free access for 14 days by following the link below 👇. After that, count €100 entry fee to go up to 3 workflows, and 20,000 operations.
To go further
Feel free to use the resources below to find other solutions to identify your contacts
Prospecting on the phone
#1 Aircall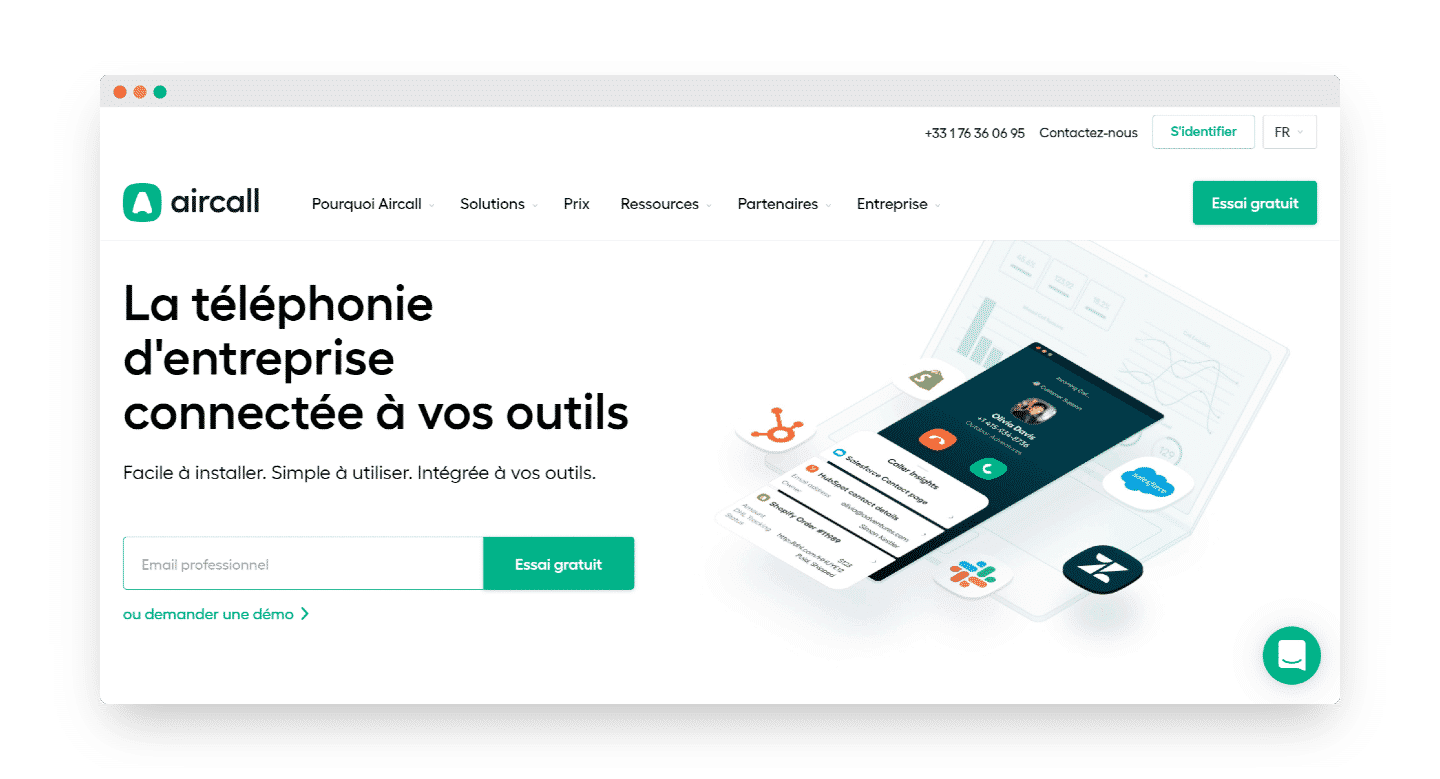 Aircall is an IP telephony solution made in France, which has proven itself in a few years to become a reference thanks to a very simple installation and solid integrations with the main CRM software.
Easy to handle and install
Impressive quality of service/support
Very successful mobile application.
Count 30€ / month and per user, for an unlimited use.
#2 Ringover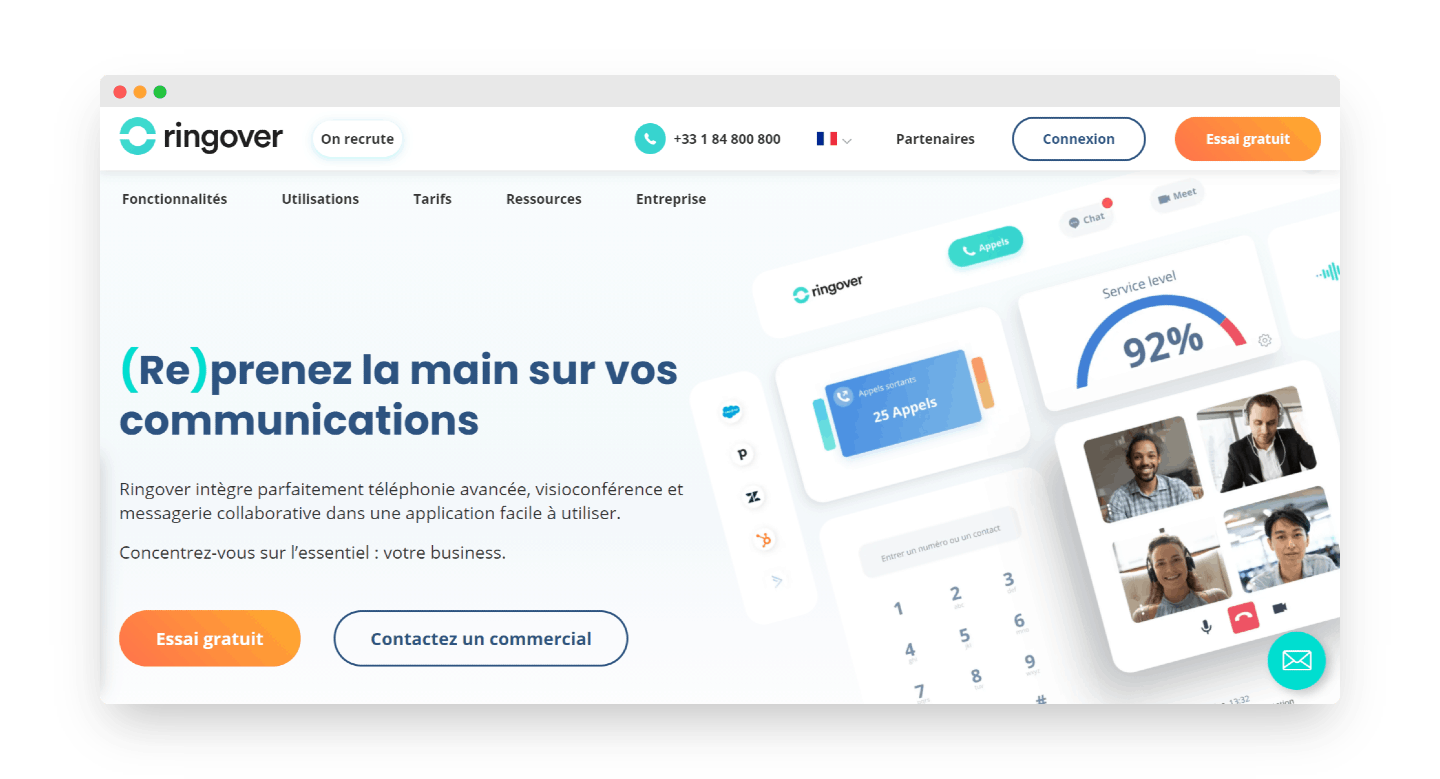 Ringover is a VOIP platform that allows you to centralise the management of calls from your sales team (in particular). Phone calls are managed through a simple, ergonomic web application, which allows you to keep track of calls in a commercial context and to allocate them to a lead via your CRM.
Ease of use & deployment
Transparent pricing
Affordable, high performance solution overall
Ringover is a very affordable solution overall, with two offerings:
Smart, at €19/user/month to simplify your business telephony.
Power, at €39/user/month to increase the productivity of your sales teams, especially with the 15+ CRM integrations available.
#3 RingDNA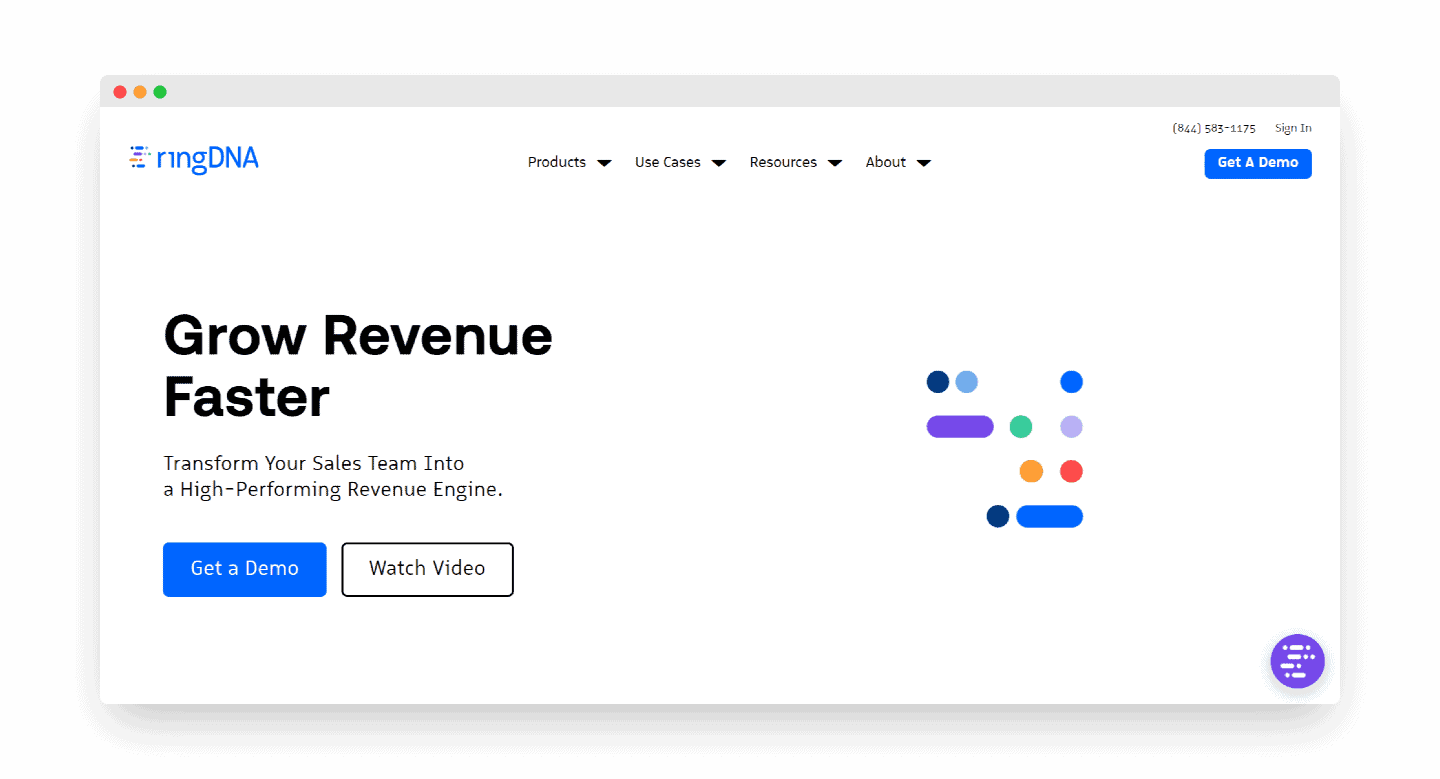 RingDNA is a sales platform focused on managing and enhancing phone conversations. The tool integrates with Salesforce, allowing contacts, data and tasks to be synchronised in both tools.
During a phone call, RingDNA pushes contextual data about the lead (conversation history, emails sent, messages left on the answering machine…) retrieved from Salesforce to the sales representatives.
Depth of integration with Salesforce
Optimised lead tracking
Customer support at your service
Rates are available on request only.
#4 CallTracker.io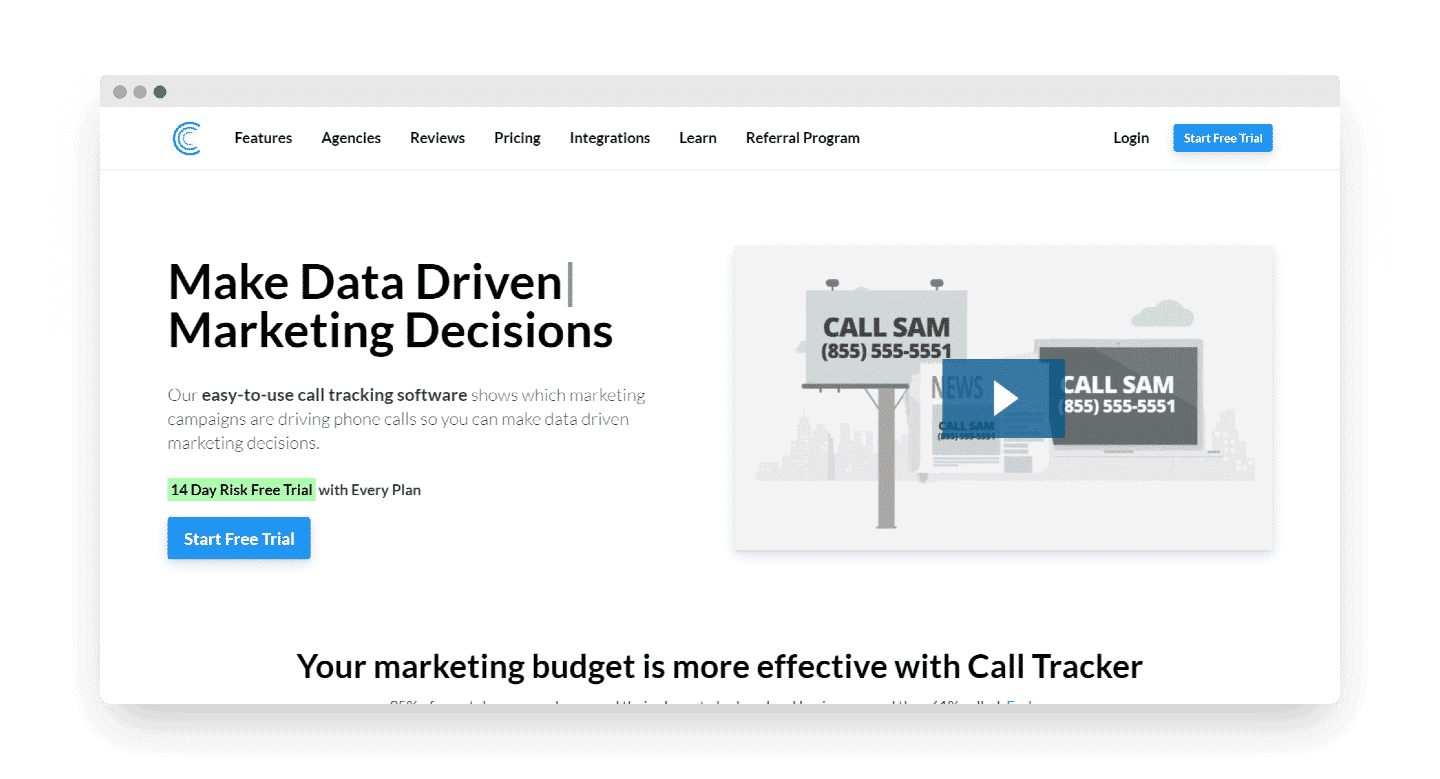 CallTracker is a call tracking tool that identifies which marketing campaigns generate calls that convert.
The tool assigns and displays a unique phone number based on the marketing campaign, and then routes all these different numbers to your business phone number.
Powerful tool to strengthen your customer knowledge
Comprehensive reporting
Easy to set up and use
Calltracker.io offers affordable rates, starting at $37 per month.
#5 A good script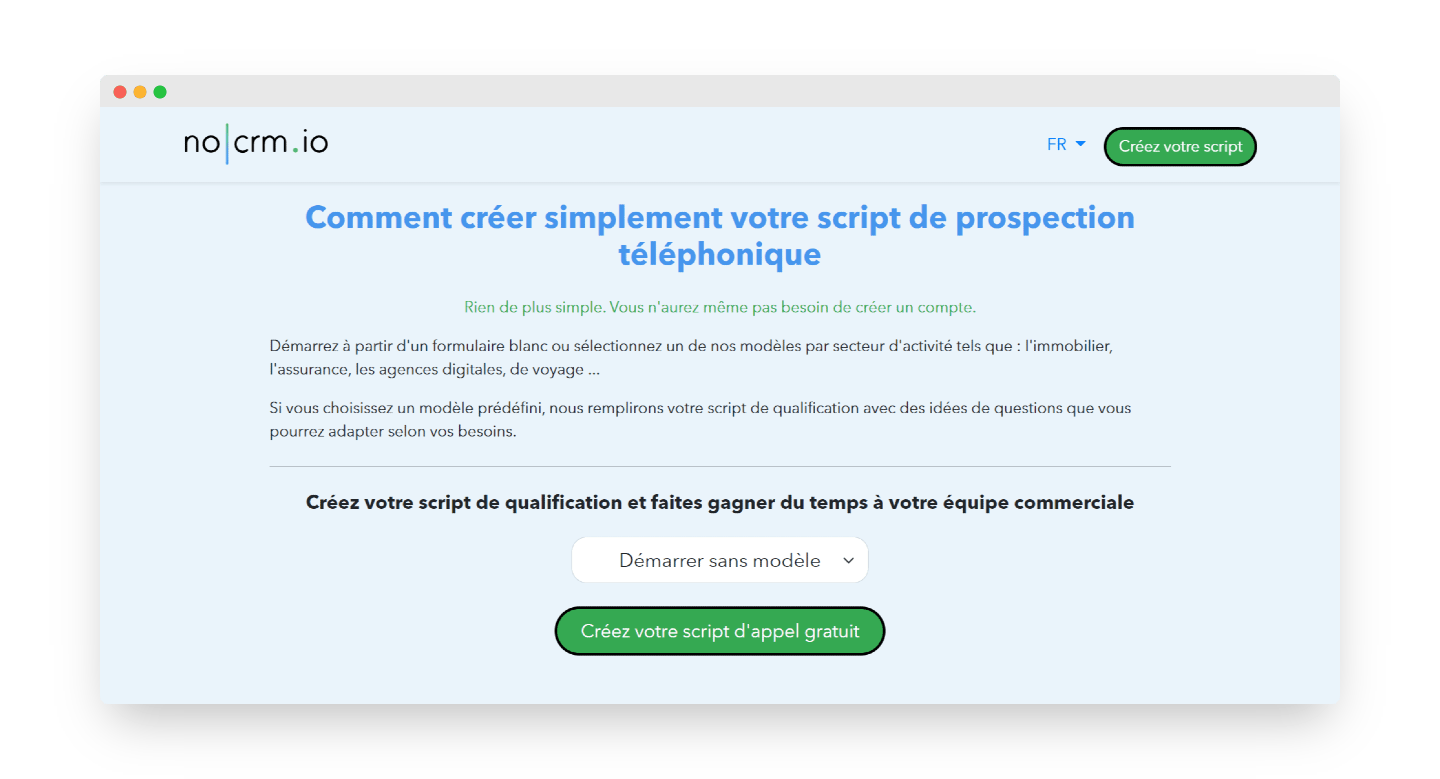 We have already introduced you to Nocrm as one of our favourite CRM software, but here we will focus on the functionality that allows you to generate easy to fill in phone scripts, with timer, call score, and everything else you could wish for to improve your cold calling results.
Very intuitive solution
Possibility to export the call result in 1 click
Feature available for free
The call script generator is available from the first "Start Kit" formula at 10€/user/month.
To go further
Want to take your cold calling to the next level? Take a look at the resources below:
Prospecting by email
#1 YAMM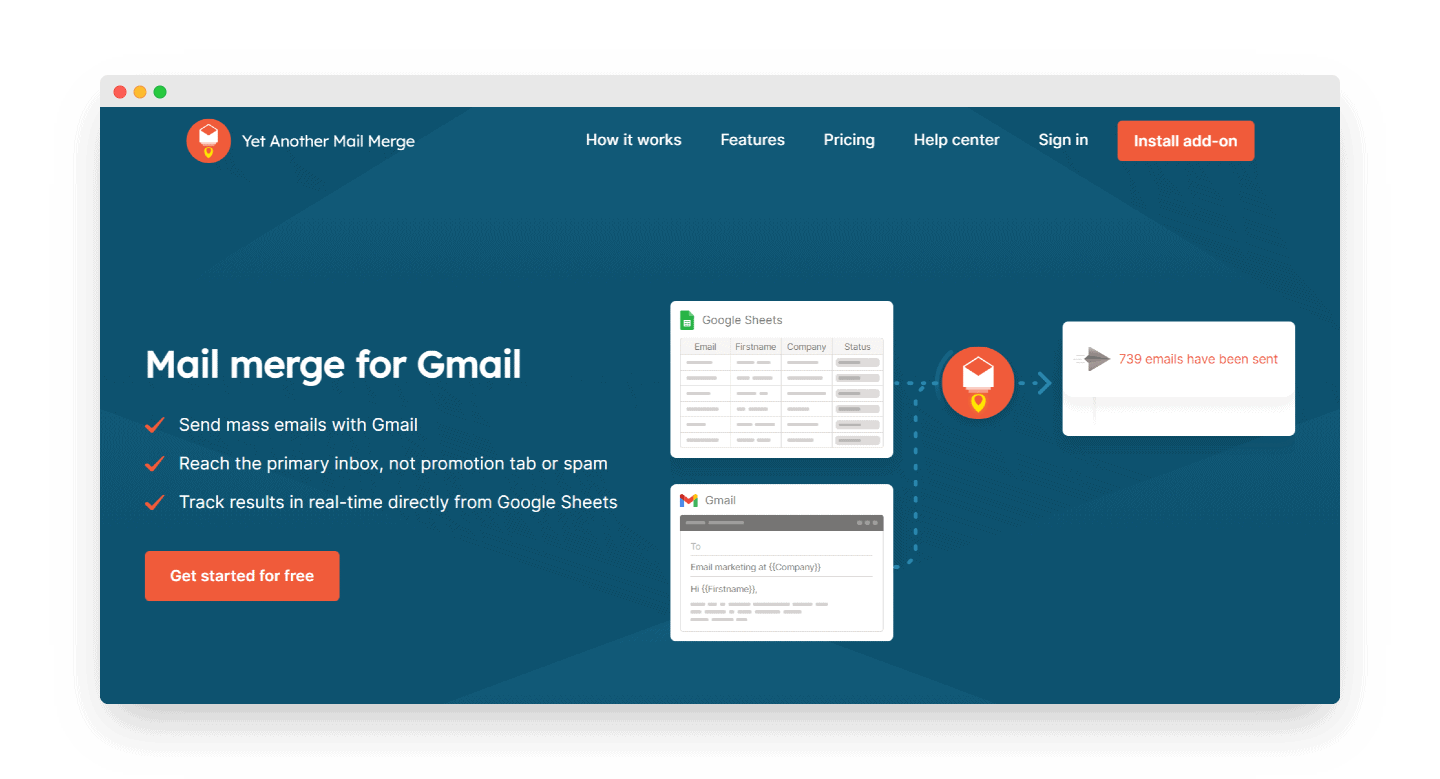 Yamm or "Yet Another Mail Merge" is a personalised emailing solution based on the Google suite of tools. You create youremailing lists on gsheets, create your email templates via your gmail account, then YAMM allows you to push the campaigns.
Very easy to use solution
Real-time campaign performance monitoring via gsheet
Very effective for "small" campaigns: you are (almost) sure to avoid spam
It is largely possible to use the tool by playing with the sponsorship options, the free plan allows 50 sendings per day, then the "personal" plan at 20€/year allows 400 sendings/day.
#2 Woodpecker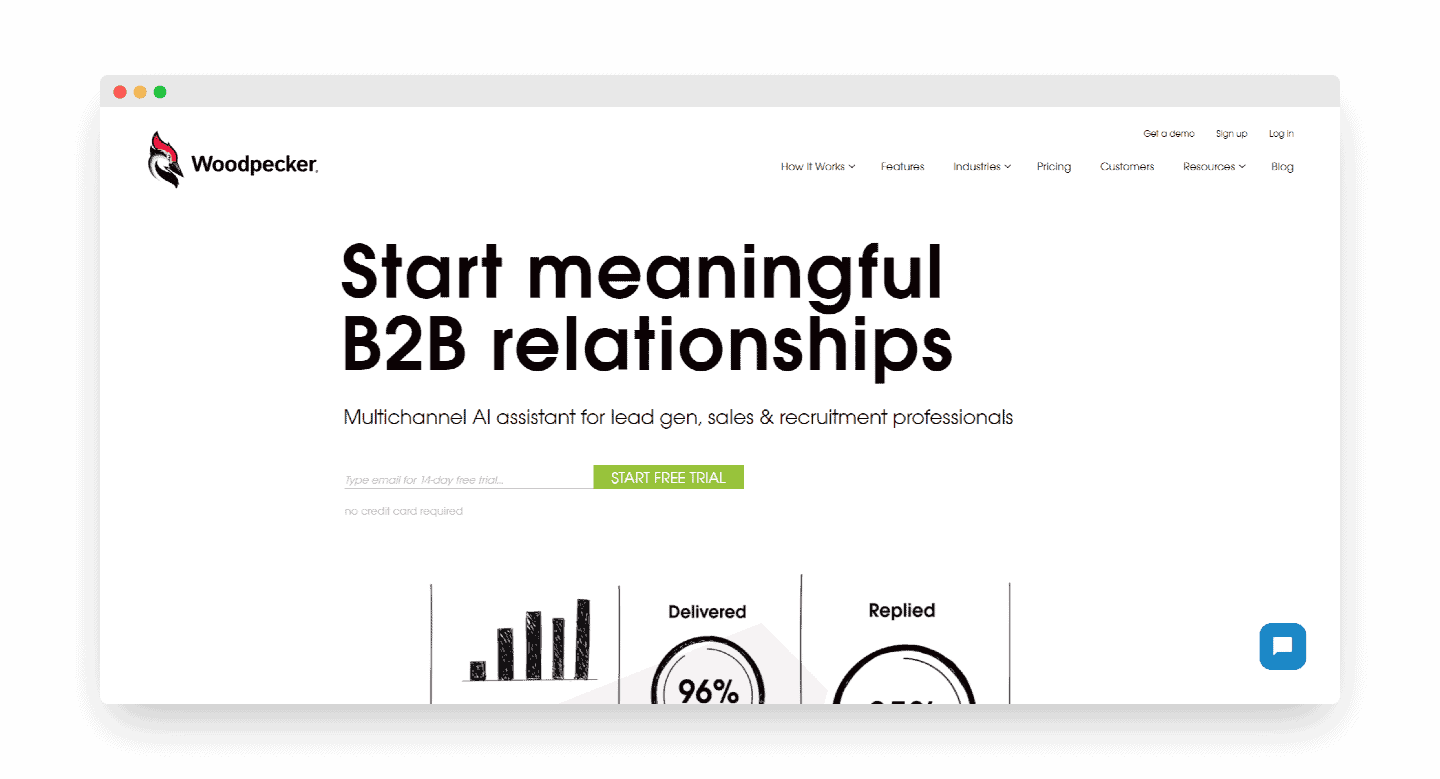 Woodpecker is one of those tools that has been able to focus on a small enough use case to provide an absolutely excellent experience. The tool essentially allows you to schedule email prospecting campaigns with automated follow-ups.
Automated reminders are very easy to set up
Management of sending rates to mimic human behaviour
Clear and efficient reporting
The prices are all sweet as we like: count 40$ for a single user (a sender). By default, on a Gmail or Gsuite box, Woodpecker recommends 300 to 500 emails / day. If you make a sequence of 4 emails, this allows you to treat 75 to 125 contacts / day. For each additional user, add $40 (about €35) / month.
The only big drawback of the software in our opinion is that everything is in English.
#3 Datavalidation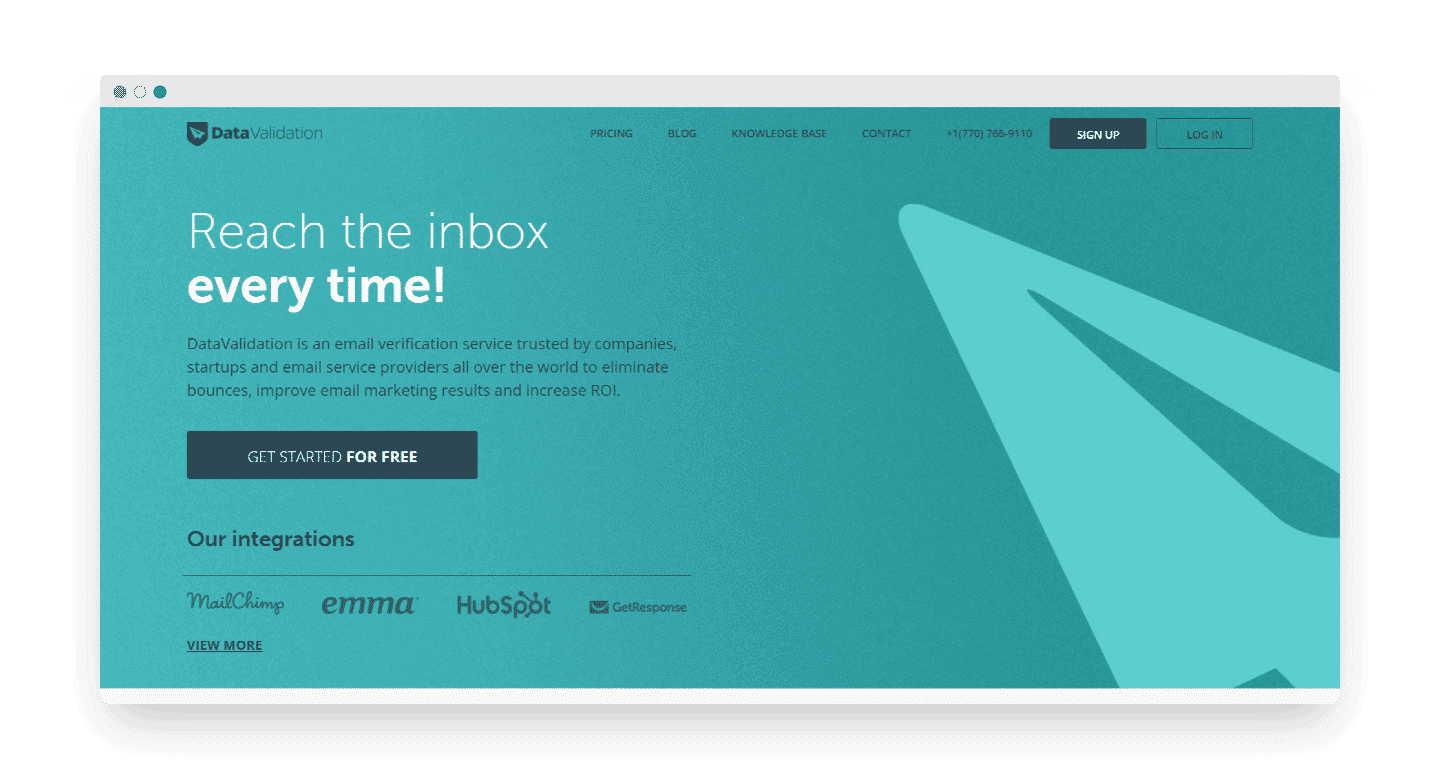 As the name suggests, Data Validation is a tool that allows you to increase your deliverability rates and therefore the performance of your email campaigns by checking the validity of the email addresses in your contact base.
Good user experience
Statistics available on your entire database
Integrations with CRM software, including Hubspot
Datavalidation allows you to verify up to 500 email addresses for free, and then the prices increase gradually. To give you an idea, from 500 to 10,000 emails, you are charged $0.007 per verified email.
#4 BombBomb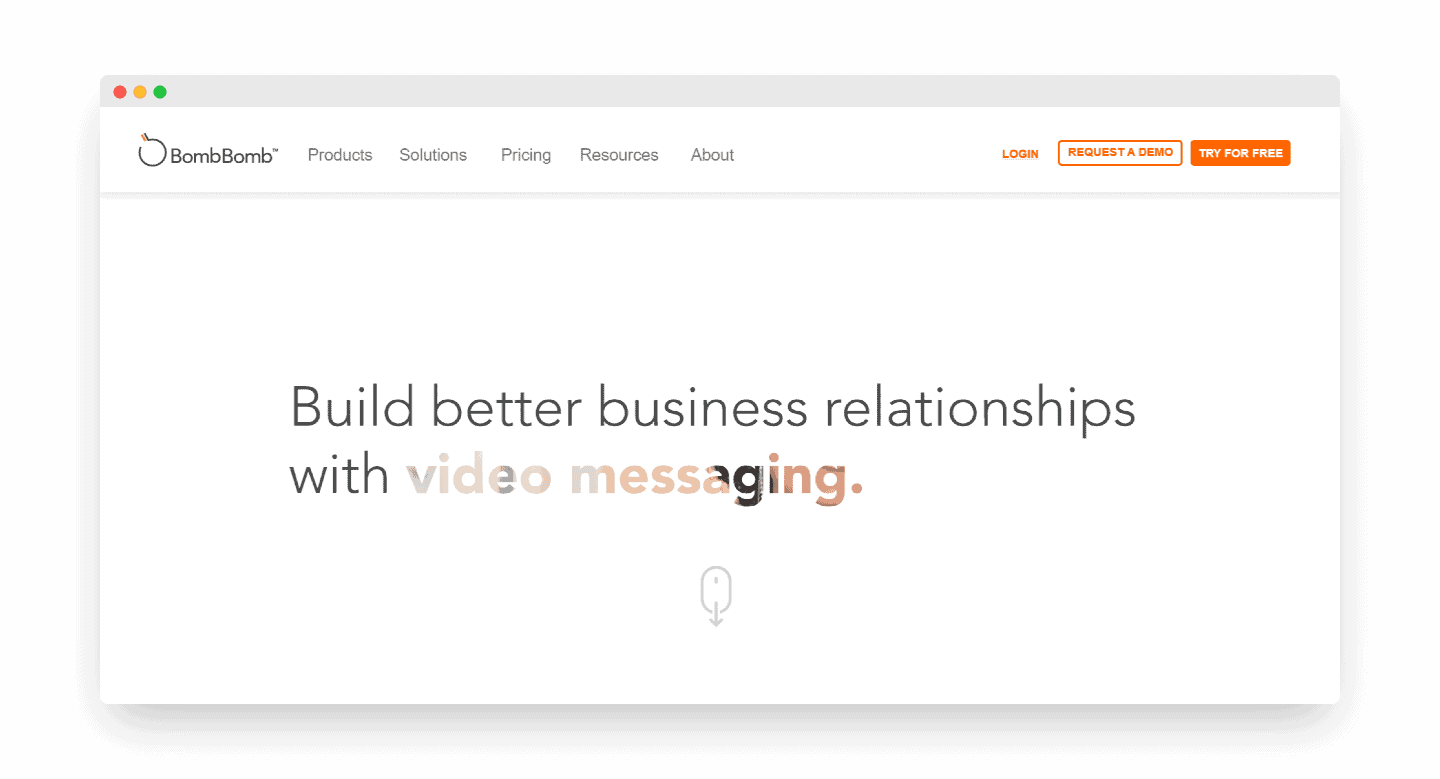 BombBomb is a very simple to use tool that allows you to record, send and track the performance of videos in your emails, messages and on social networks.
Shoot videos directly from your computer or smartphone. BombBomb integrates with Gmail, Outlook, Salesforce and dozens of other platforms.
Ease of use via a super intuitive interface
Many resources and tips to guide you
Multiple integrations
Prices: between $39 and $49 per month, with a free 14-day trial
#5 ChiliPiper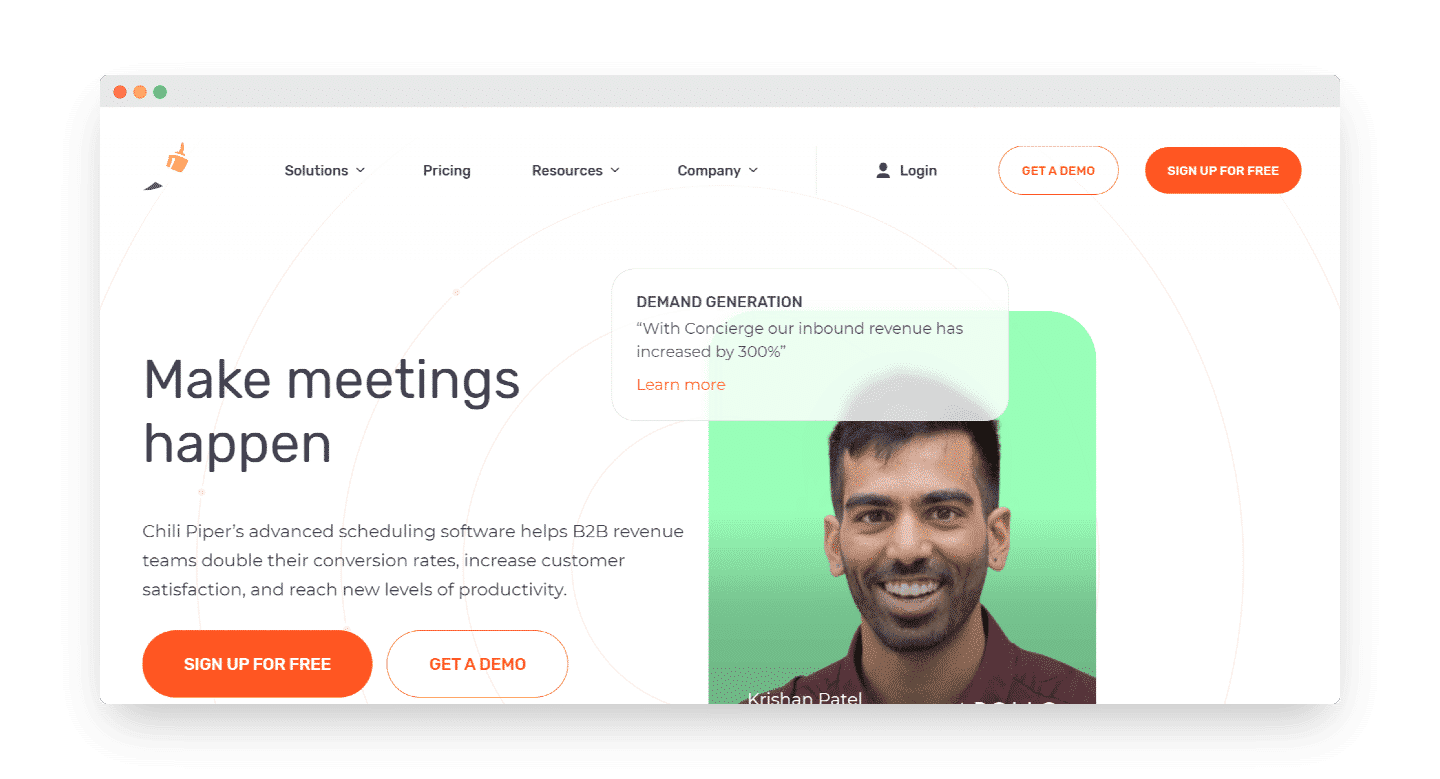 Chili Piper is a suite of automated scheduling tools that help revenue teams convert more leads into qualified meetings. The intelligent "Concierge" scheduler offers inbound leads a simple way to book a meeting or initiate a phone call immediately after submitting a form on your website.
Significant time savings
Increase in conversion
Responsive and efficient support
On the calendar management part only, Chili Piper offers a free package, the first paid offer "Spicy" is $15/month. For the "Concierge" offer, prices start at $150/month.
In addition to Chili Piper, as far as planning tools are concerned, we also like Calendly and Pick.co
To go further
Find our favourite tips and tools to boost your email marketing:
Prospecting on LinkedIn
#1 Prospectin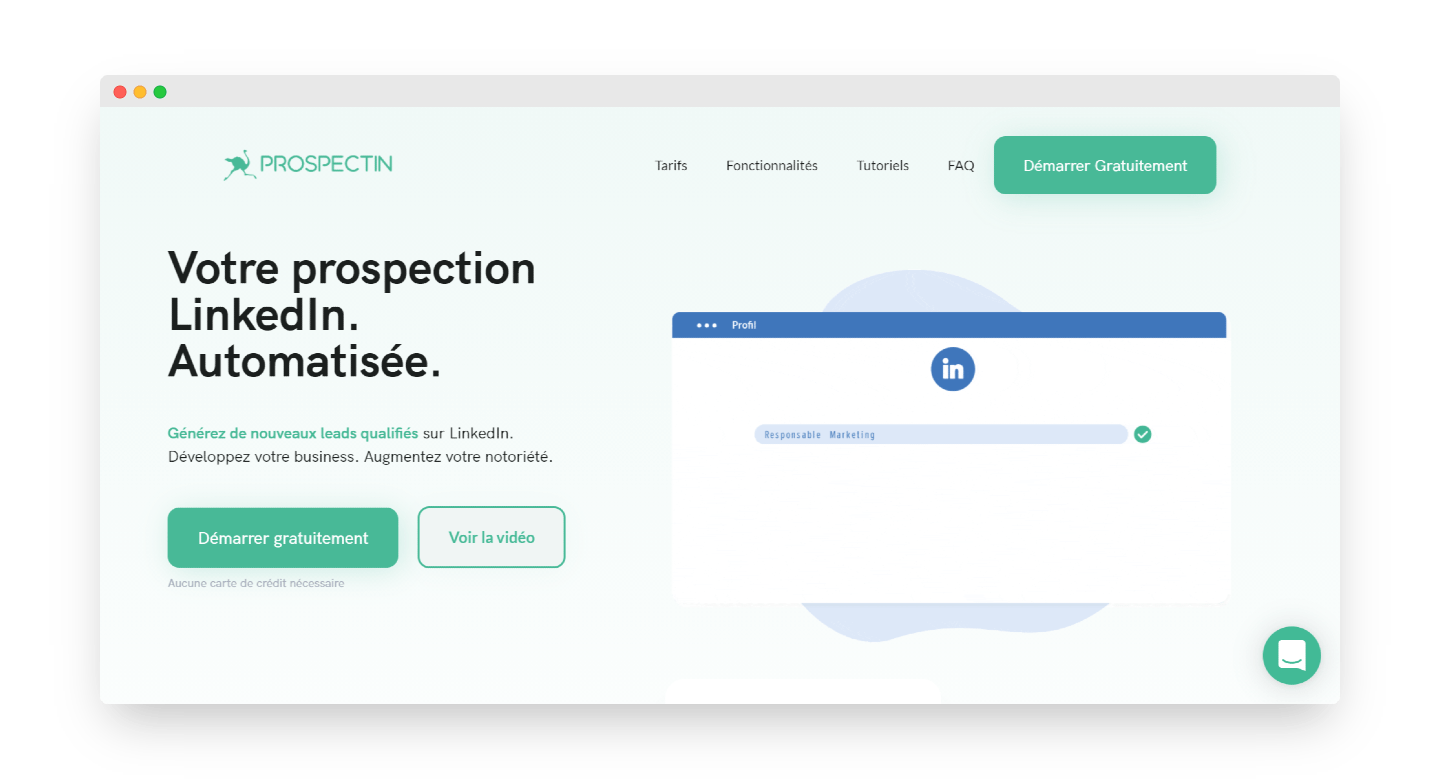 Prospectin is a very simple & powerful tool that allows you to generate leads on LinkedIn, easily. It's made in France, and it's awesome.
The tool allows you to develop your network according to advanced search criteria, and to launch automated sequences: liking a post after 3 days, sending a message following a given action, visiting profiles etc.
Quick and easy to set up with resources, including videos
Simplified use through pre-configured scenarios
Respecting the quotas so as not to lose your LinkedIn account
Propsectin offers a free plan that allows you to test the solution at low volumes (15 actions per day), and you can scale up from 24€ per month. As a bonus, you get a 50% discount on an annual commitment(!).
#2 Dux-Soup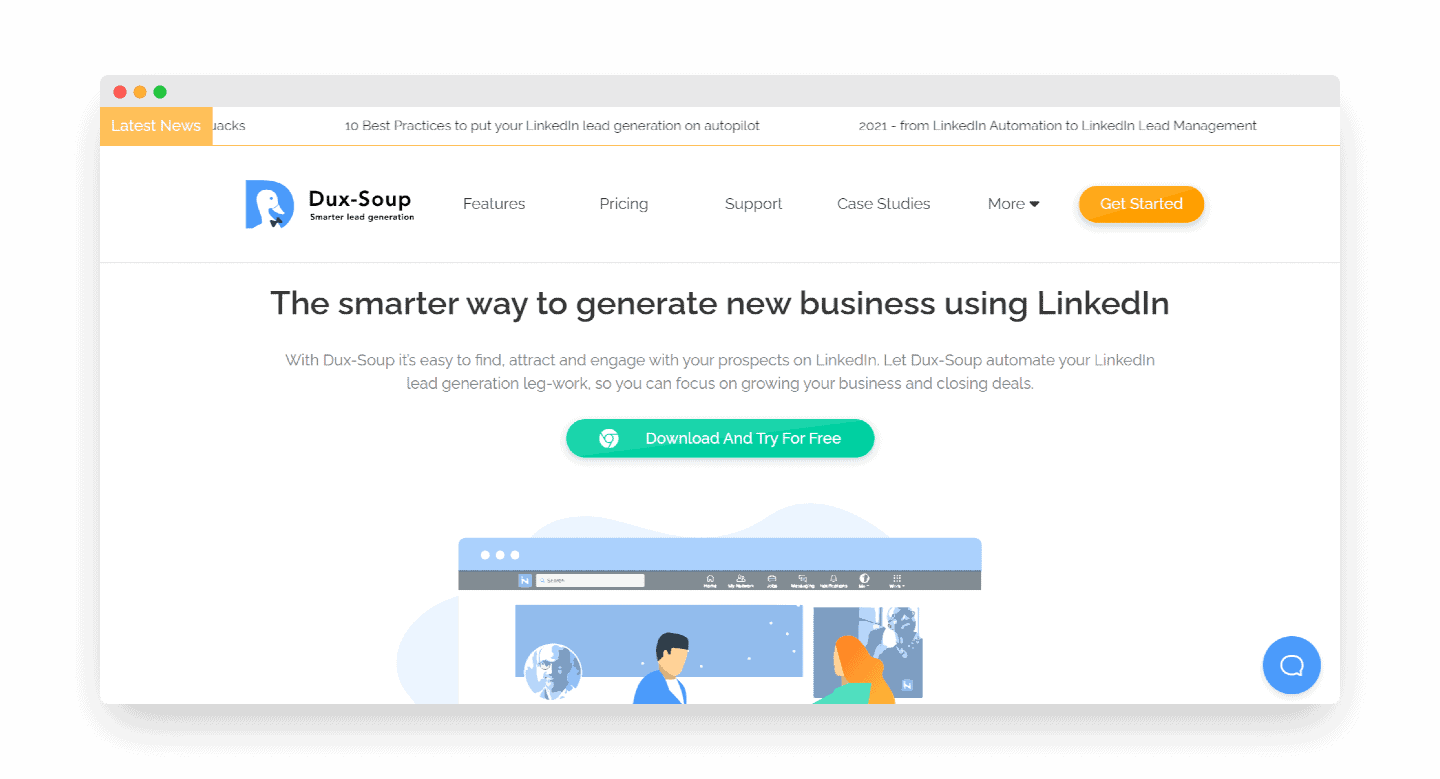 Dux-Soup is a very powerful tool that allows you to visit thousands of LinkedIn pages at once and send out your invitations with one click. You can tag prospects and take notes, and then export the data to an Excel file or directly into your CRM.
Very simple installation of the extension
Excellent value for money
Very responsive support
The free version of the tool allows you to track 100 visited profiles or 100 members of a group each day. The $15/month paid version offers you the possibility to export the data related to the identified profiles in CSV.
#3 Podawaa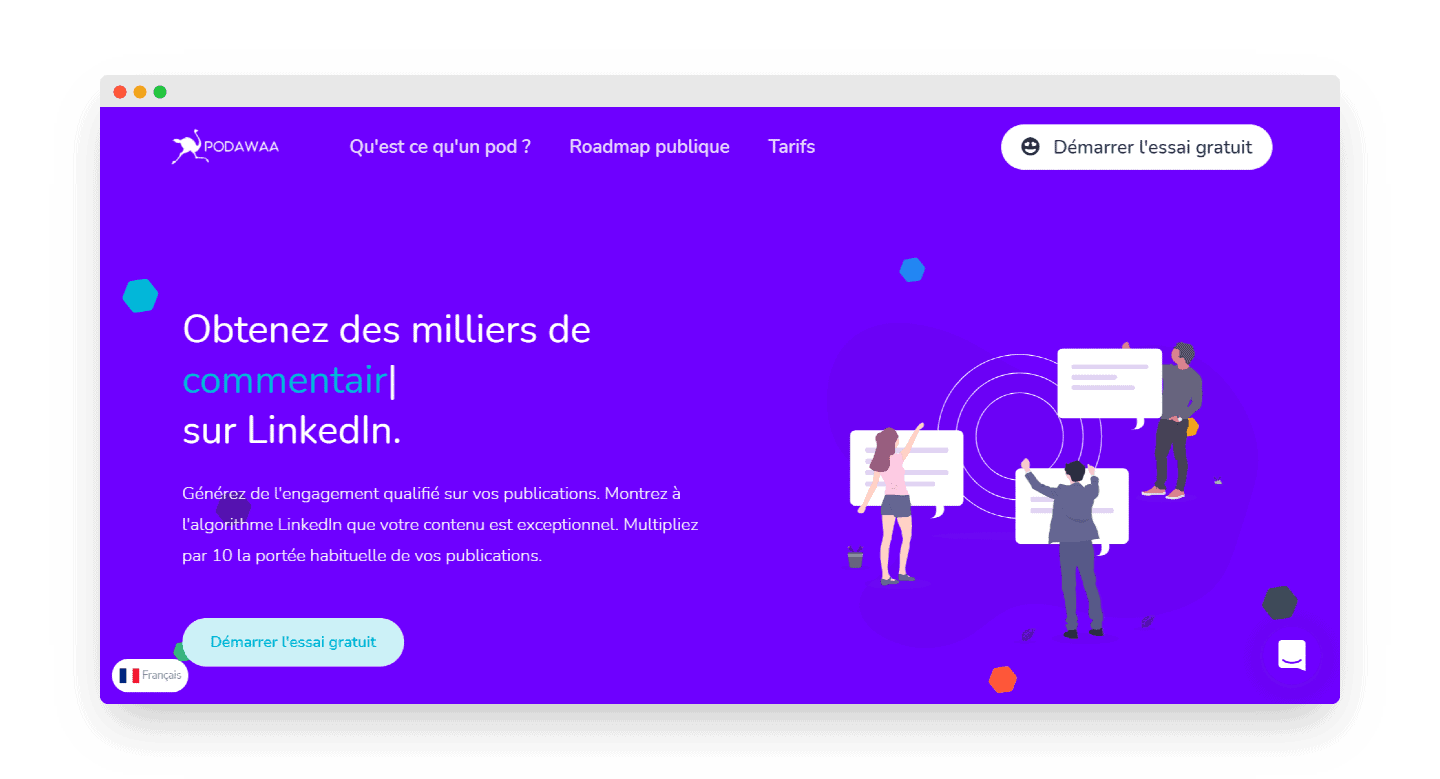 Part of the Prospectin suite, published by Waapi, Podawaa allows groups of individuals to join forces by automatically liking and commenting on posts on LinkedIn. In return, depending on your activity, you also get interactions on your posts, which makes them more valuable to the algorithm.
Value for money with the free version
Quick to deploy and easy to learn
Optimised engagement for a target audience
Podawaa offers a Freemium version, the first paying formula is 9,99€/month and per user.
#4 ShieldApp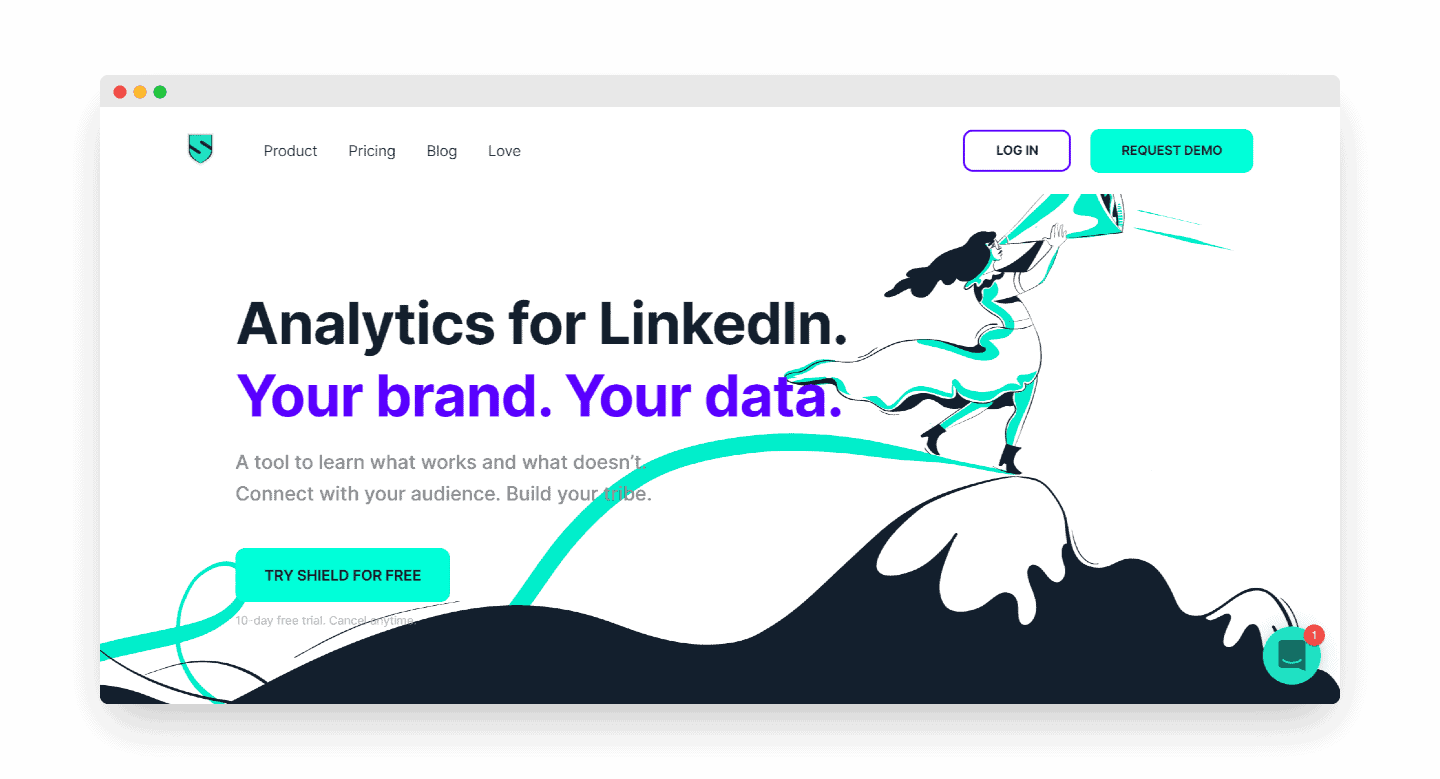 Shieldapp is a reporting solution created to measure the impact of your content publication and more globally, of your actions on LinkedIn. Shieldapp allows you to A/B test your best performing actions on the social platform and thus gradually develop your visibility.
Intuitive dashboards and reporting
Real-time data
Simultaneous management of multiple LinkedIn accounts
Shieldapp offers a 10-day free trial, the first "Shield solo" plan is $12 per user per month.
#5 Piwaa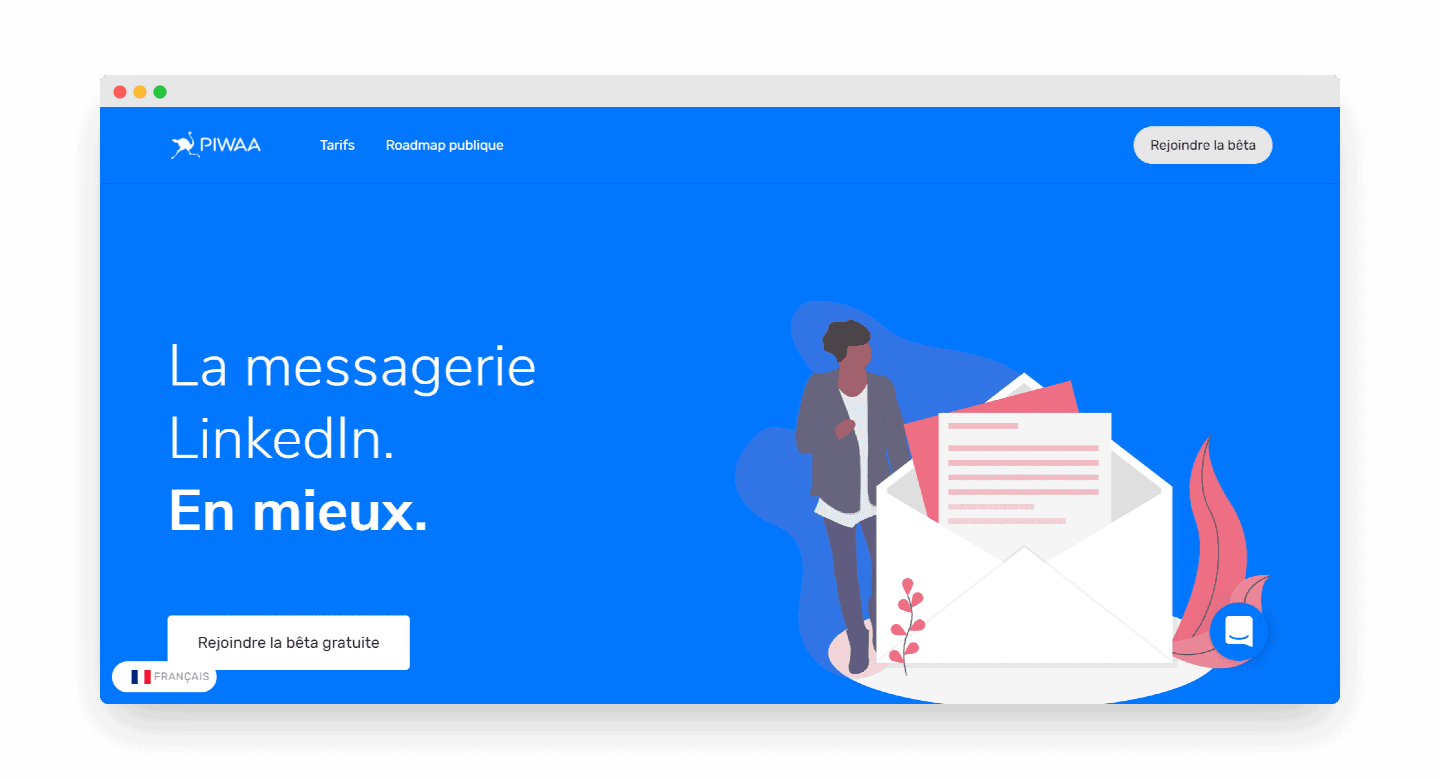 Piwaa is also integrated with the Prosectin suite, which makes it easier to use the unfortunately unintuitive LinkedIn messaging system. The tool also offers you pre-configured responses, automated follow-ups and lead tags to easily track their activity on LinkedIn.
Considerable time savings
Optimised lead tracking via note taking
Integration with CRM via Zapier
Piwaa offers a free plan to try the tool. Paid plans start at €4.99/month per user.
To go further
Is your prospecting on LinkedIn not optimised? Discover our key resources on the subject:
Lead Relationship Management
#1 NoCRM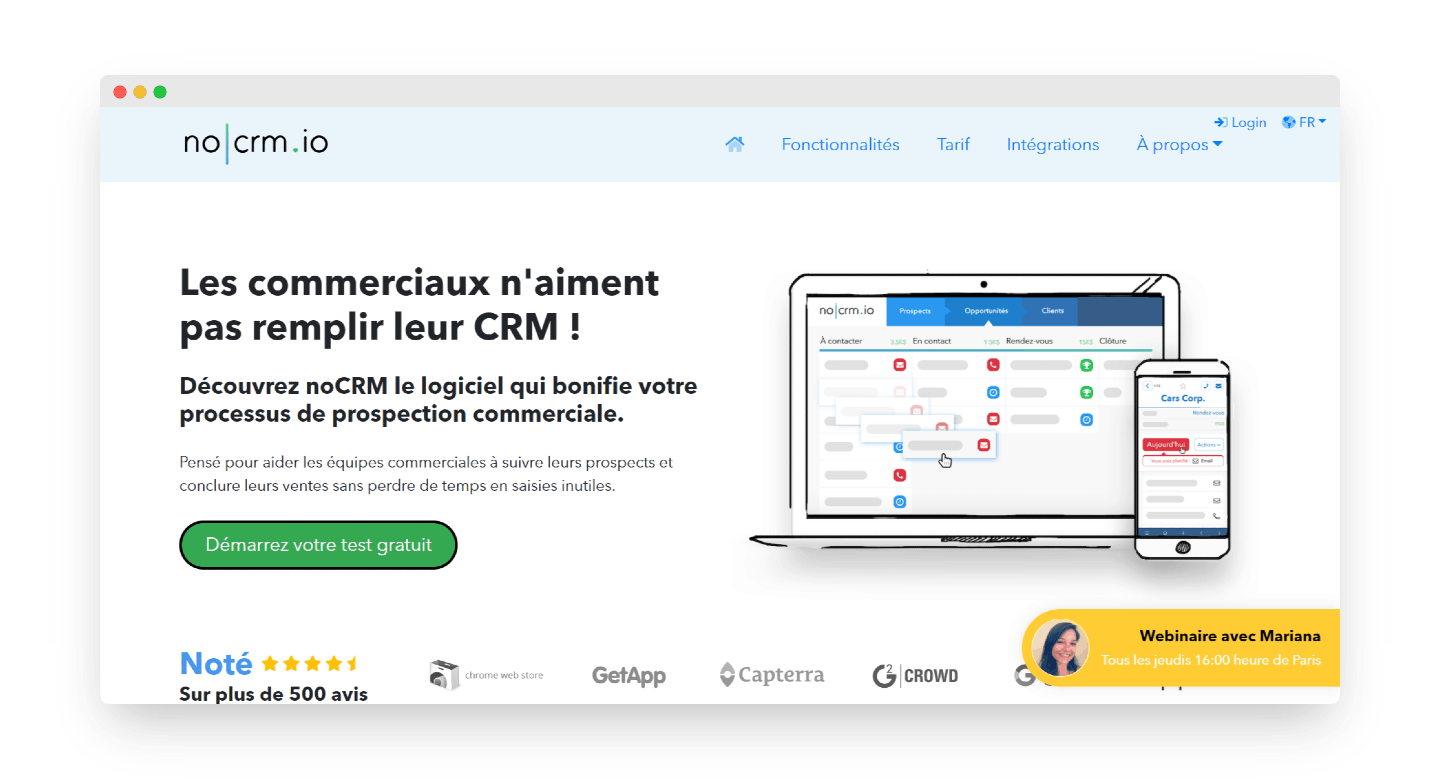 NoCRM is a very good and well thought-out lead management tool for your sales people. Lightweight and easy to use, it is particularly suitable for small and medium-sized sales teams. The highly visual and simplified sales pipeline optimises the follow-up of leads and opportunities.
Easy to set up
Ease of use
Quality/price ratio
NoCRM allows you to test the tool for free for 15 days, then you have to upgrade to the Starter Edition, at 12€ / user / month.
#2 Pipedrive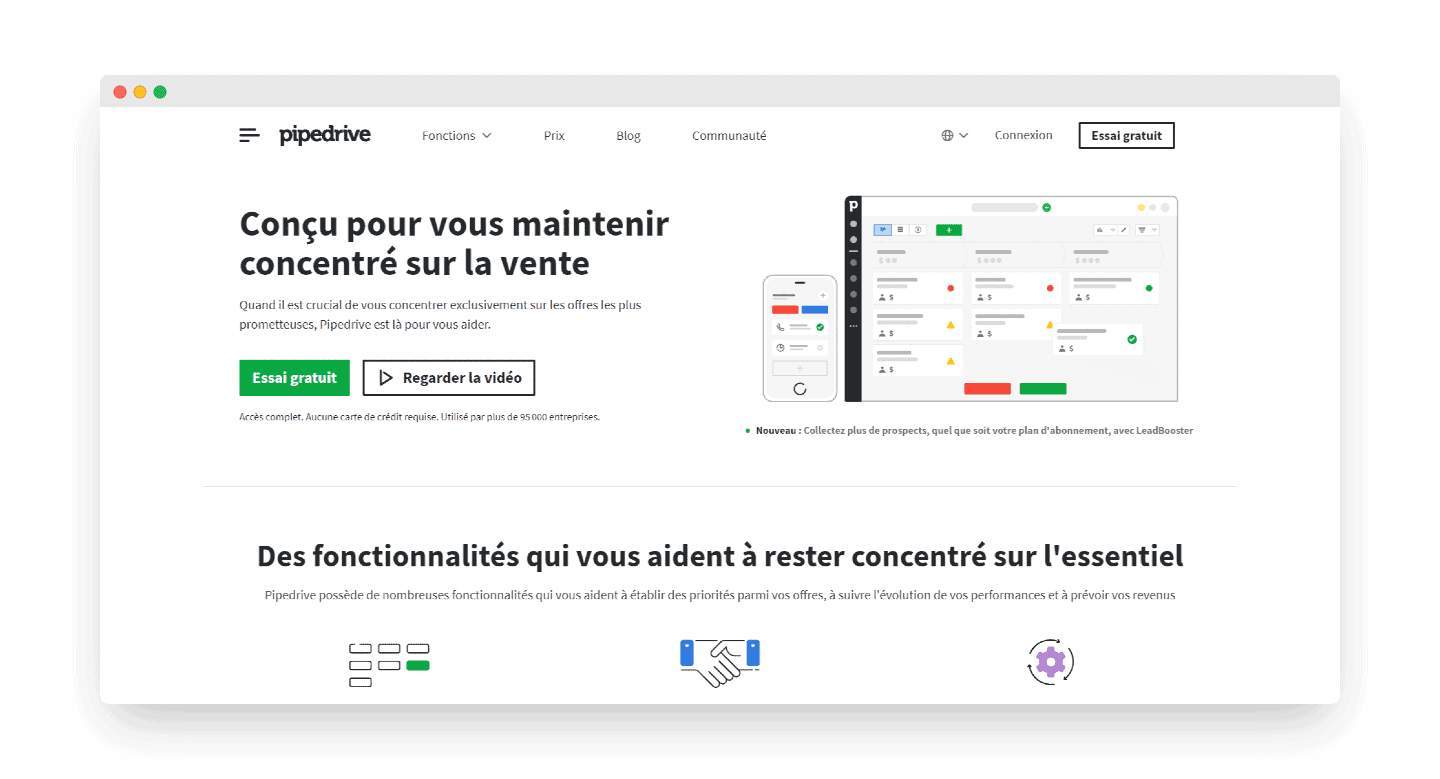 Pipedrive is one of our favourite CRM software, easy and pleasant to use, it will be quickly adopted by your sales people and will allow you to quickly structure your sales processes. The main strength of the tool lies in its very visual sales pipeline which allows you to follow the progress of your leads and the actions of your sales people.
Super intuitive sales funnel
Facilitated adoption
Mobile application to follow your leads everywhere
It is possible to try Pipedrive for free for 14 days without commitment, paid plans are then available from 15€ / user / month, to access the integrated email management, the advanced plan is 29€ / user / month.
#3 Hubspot CRM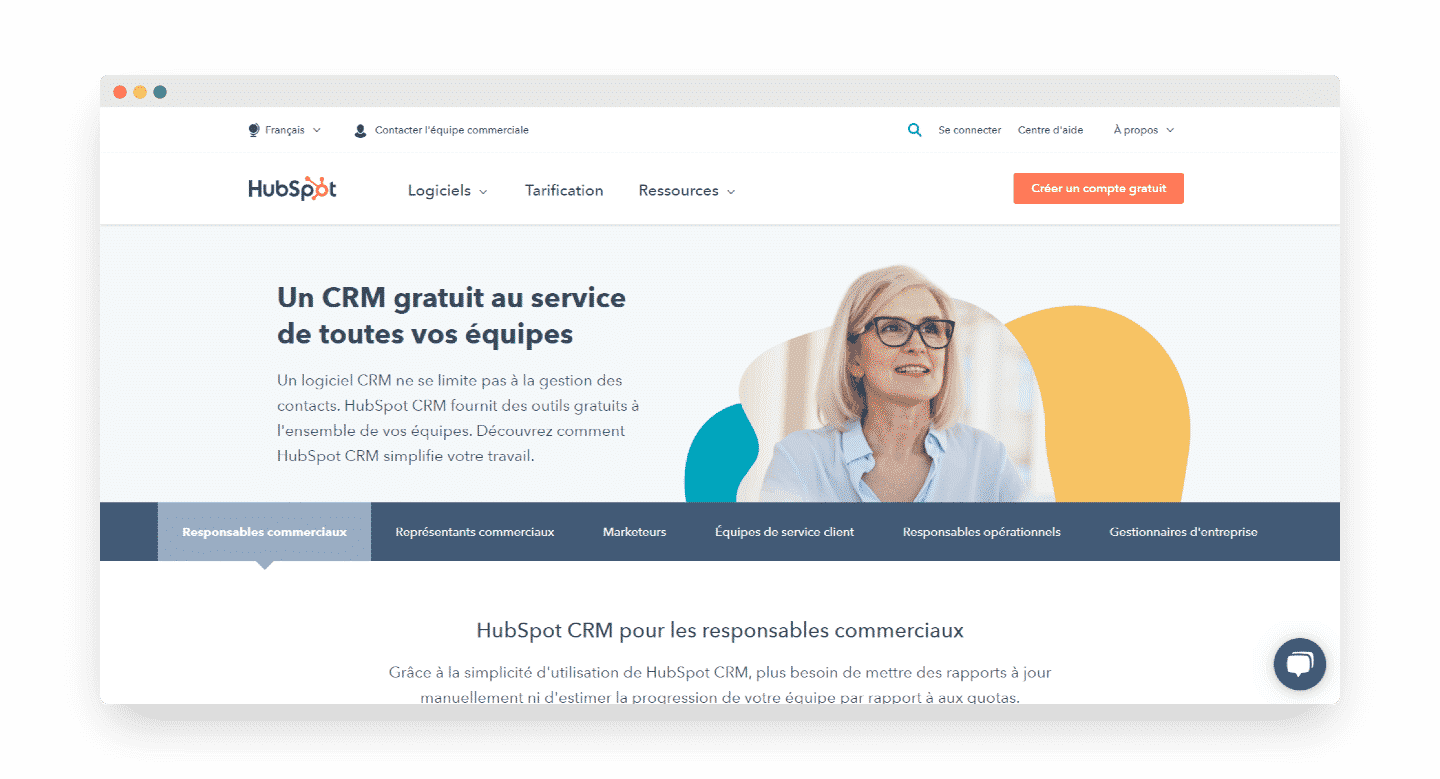 Hubspot's
commercial CRM
suite is very user-friendly: the interface allows easy access to all key actions. The free version of the tool is very well suited to start-ups, the advanced package is rich in complex features but it comes at a cost… which may deter you.
Numerous and deep integrations
Powerful sales automation options
Very visual sales pipeline
Hubspot offers a very interesting free plan and is a relevant solution for advanced needs as well. Between the two, for SME needs, it is a bit less adapted and the Starter plan at 41€/month remains expensive.
#4 ActiveCampaign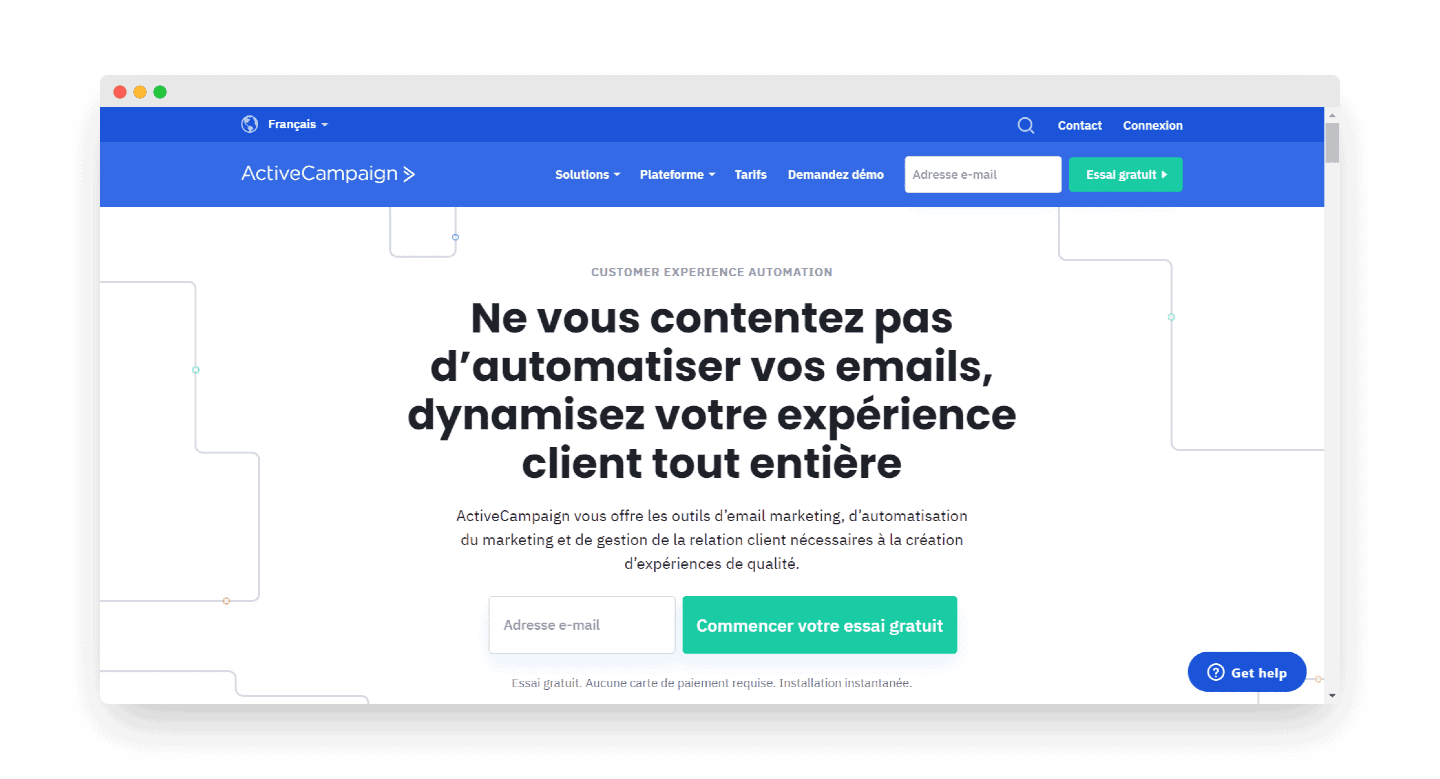 Active Campaign is more of a lightweight, affordable marketing automation tool than a true CRM. However, its commercial CRM module is particularly effective and suitable for small organisations with simple commercial processes.
Advanced automation options
Powerful reporting solution
Optimised contact management
Active Campaign offers a free 7-day trial, after that it costs $9/month for 500 contacts.
#5 Axonaut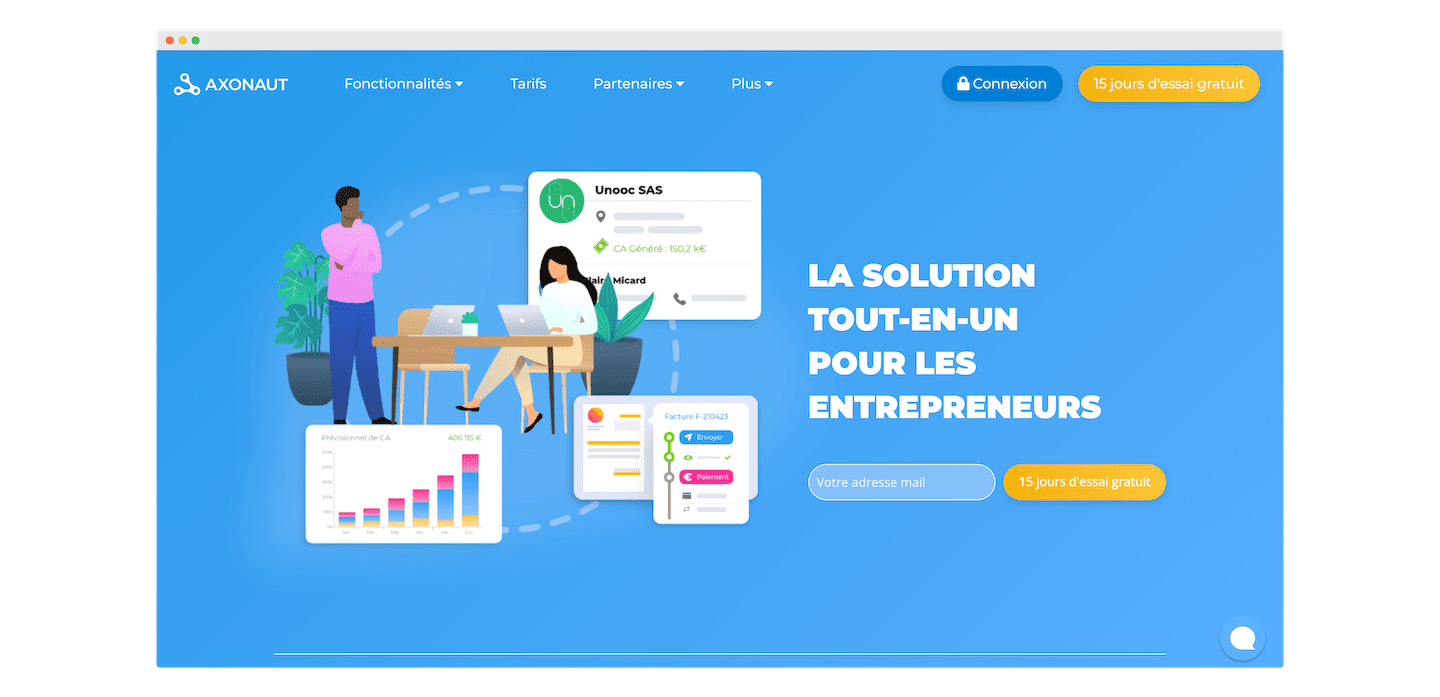 When it comes to prospecting, Axonaut can become a real war machine. The French software offers the classic features of deal-oriented CRM software (contact management, sales pipeline, etc.) and also offers a tool for editing quotes and invoices (which can even be paid online), and a module for monitoring cash flow.
Many features
Excellent customer support in French 🇫🇷
Lots of resources to get the most out of the tool
To go further
Your
commercial organisation
Not yet using a solid CRM software? Browse our resources before making your choice:
Enrich your leads
#1 DropContact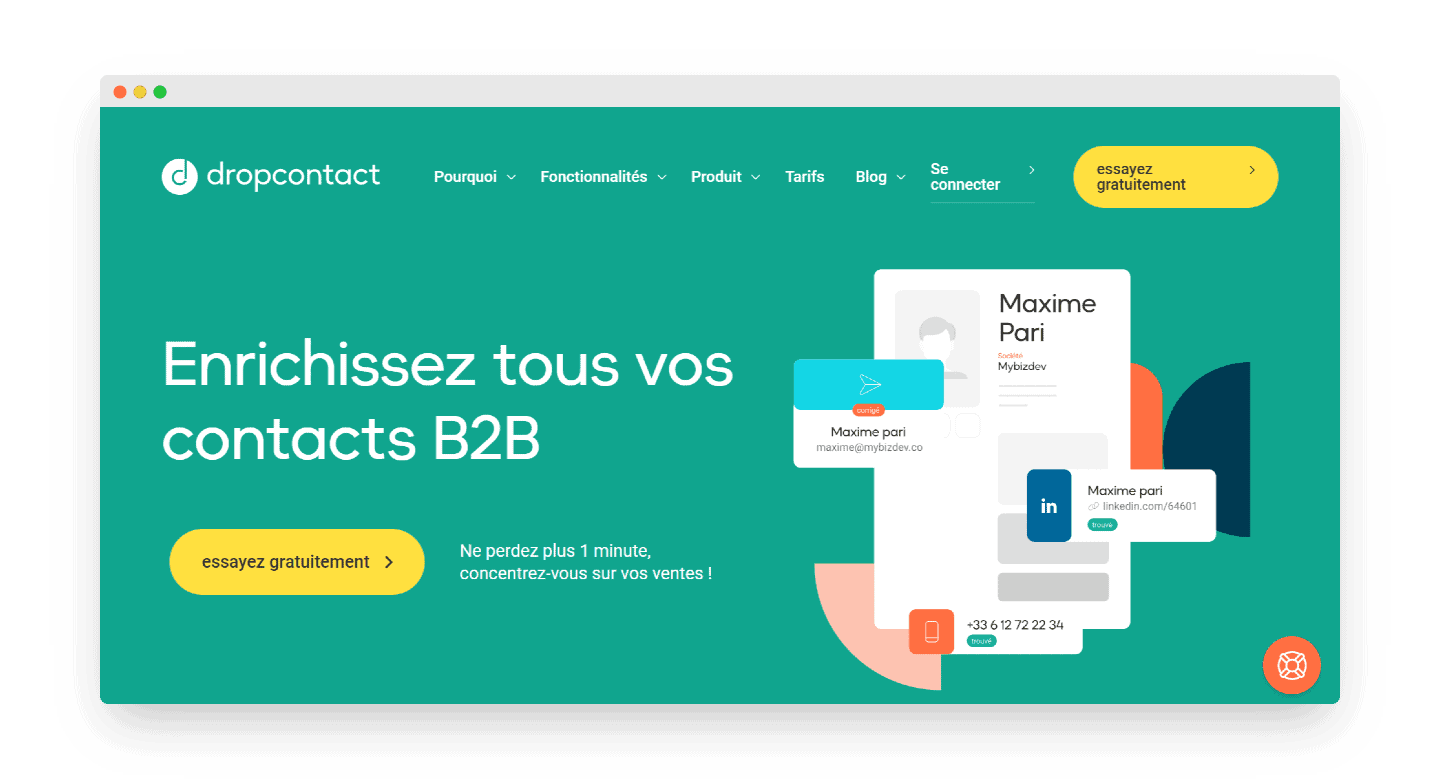 DropContact is a very simple to use tool designed to help you find information about the contacts on your list. The data is very rich, especially for finding a prospect's email address.
The tool also integrates with most CRM software, and they are very clever in offering regular prospecting workflows based on LinkedIn in particular. We recommend them, if only for the quality of their content.
Deep integrations with most CRM software
Interesting preconfigured workflows
Richness of the data offered
The tool starts at 16€ / month for 1000 enriched lines with decreasing rates.
#2 ColdCRM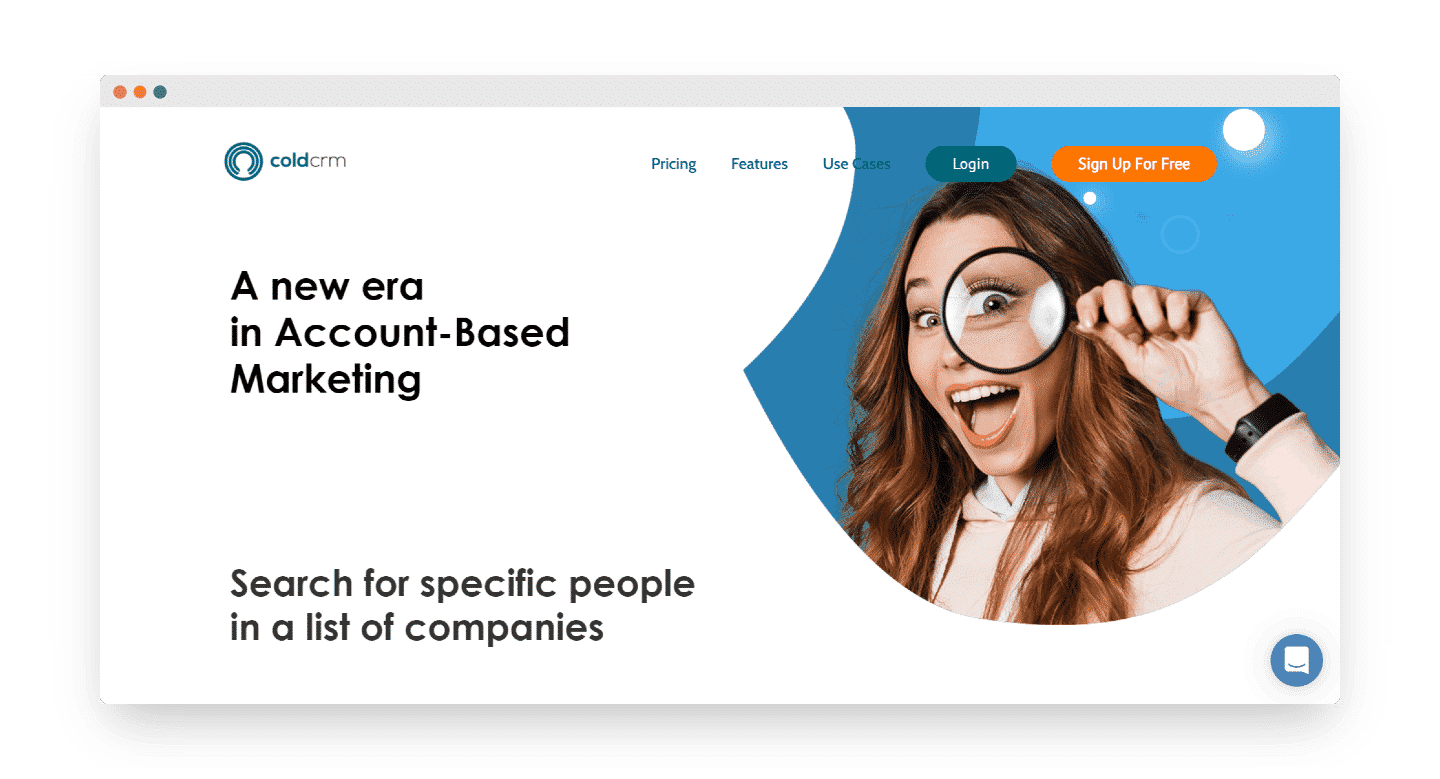 ColdCRM is a global data enrichment solution. The solution is based on a B2B database of 43 million companies worldwide. Its main strength lies in the quality of its individual data, which is generally very good, although this is not so much the case with the company data.
Excellent quality data available worldwide
Easy to use (self-service approach)
Transparent pricing
The tool offers a free trial version limited to 3 phone numbers and 50 e-mails. After that, it is necessary to upgrade to the "Start Up" plan, for €79 per month for one user only, 120 phone numbers and an unlimited number of e-mail addresses.
#3 Kaspr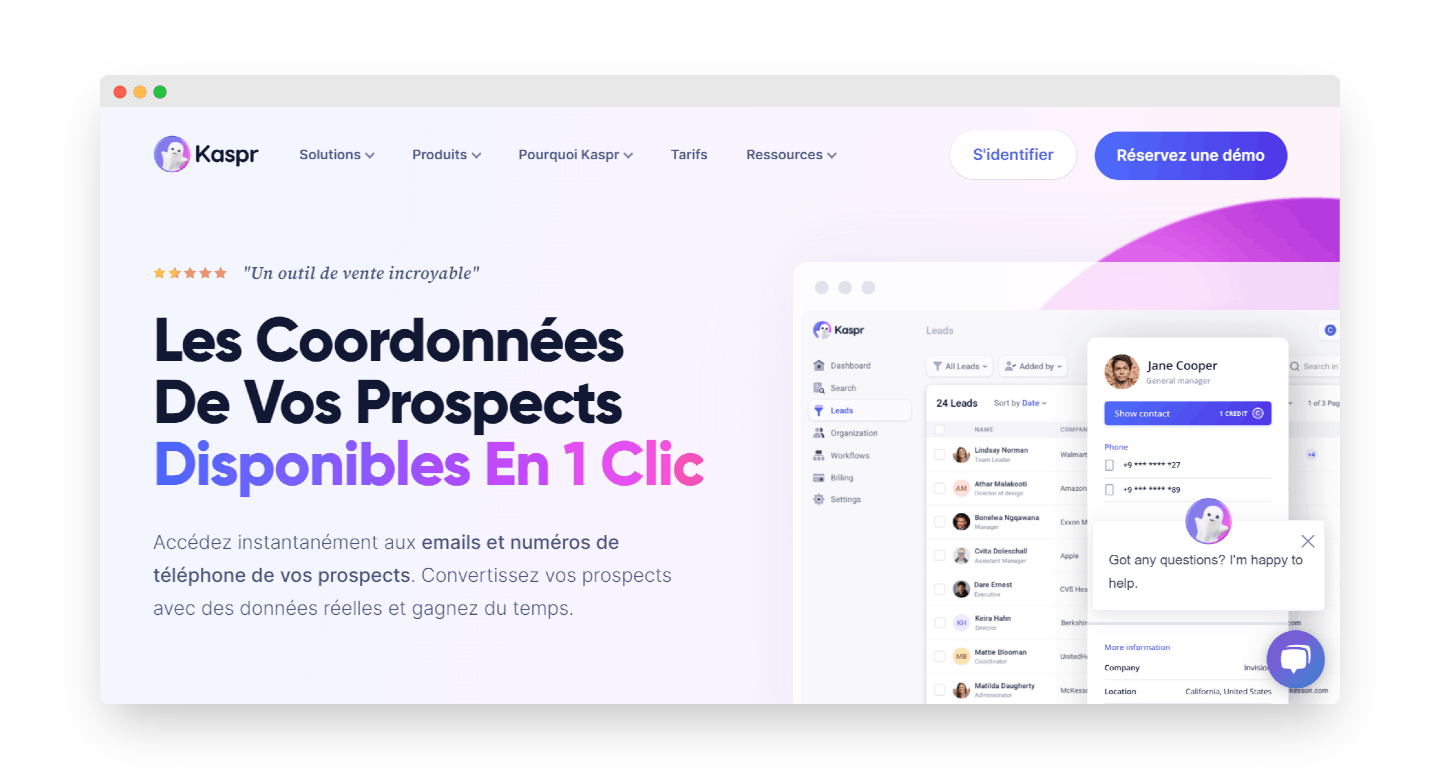 More than just a chrome extension that identifies your prospects, Kaspr is a true data enrichment platform. Kaspr collects data related to the digital activity of your target accounts to provide relevant and qualified information.
Easy to use
Data quality
CRM integration (from the Enterprise plan)
1 credit is equivalent to the contact details of a prospect, the free plan allows you to test the tool with 5 credits/month. You then need to switch to the Start-up plan at €30/month/user for 50 credits.
#4 Societeinfo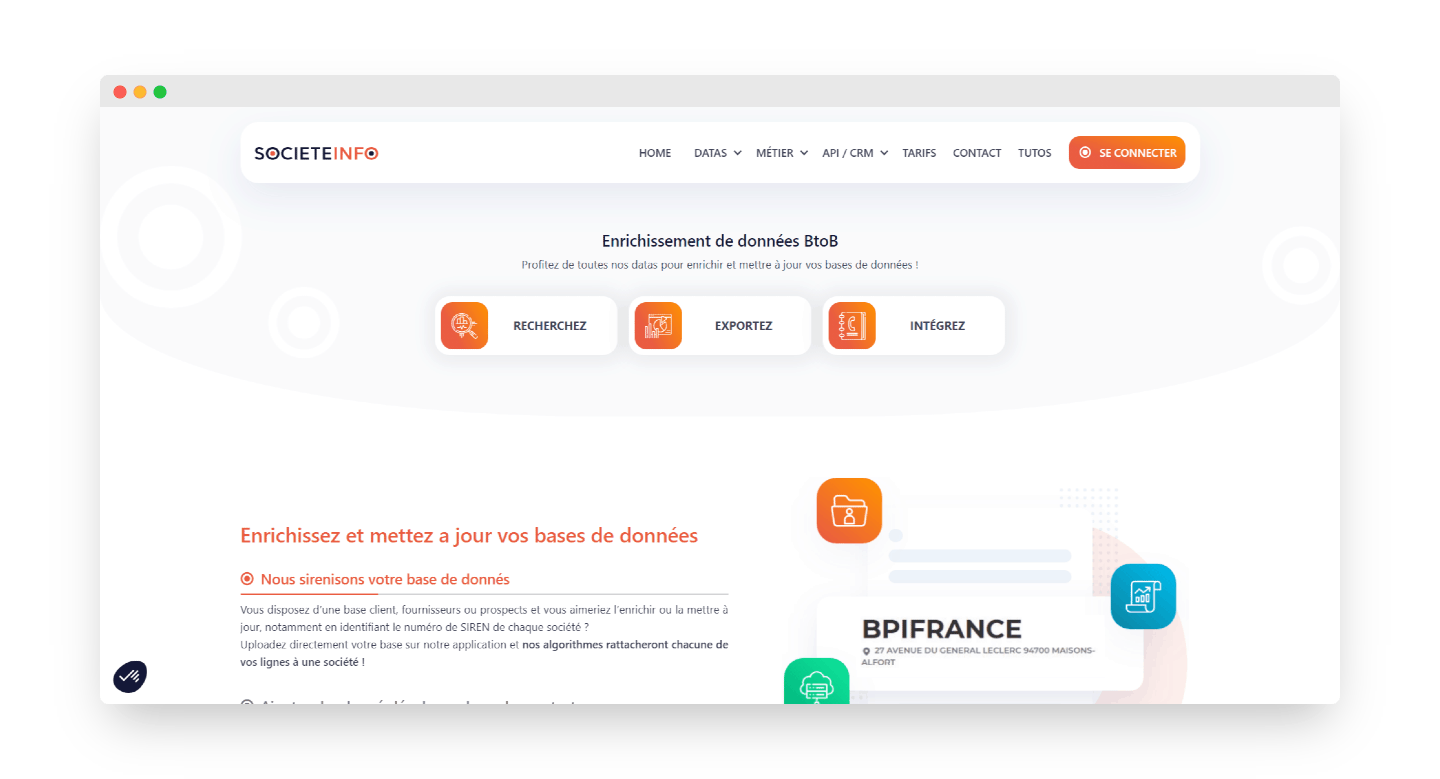 Societeinfo is a B2B data enrichment and prospecting file generation platform. How do you do it? It is probably one of the best meta-bases on the French market, and the interface and search engine are very successful.
Self-service approach
Price-quality ratio
Impressive depth of the database at French level
We particularly appreciate the self-service approach and the affordable rates, which start very low: from 39€ / month. Try it for free with 25 leads / month.
#5 Lusha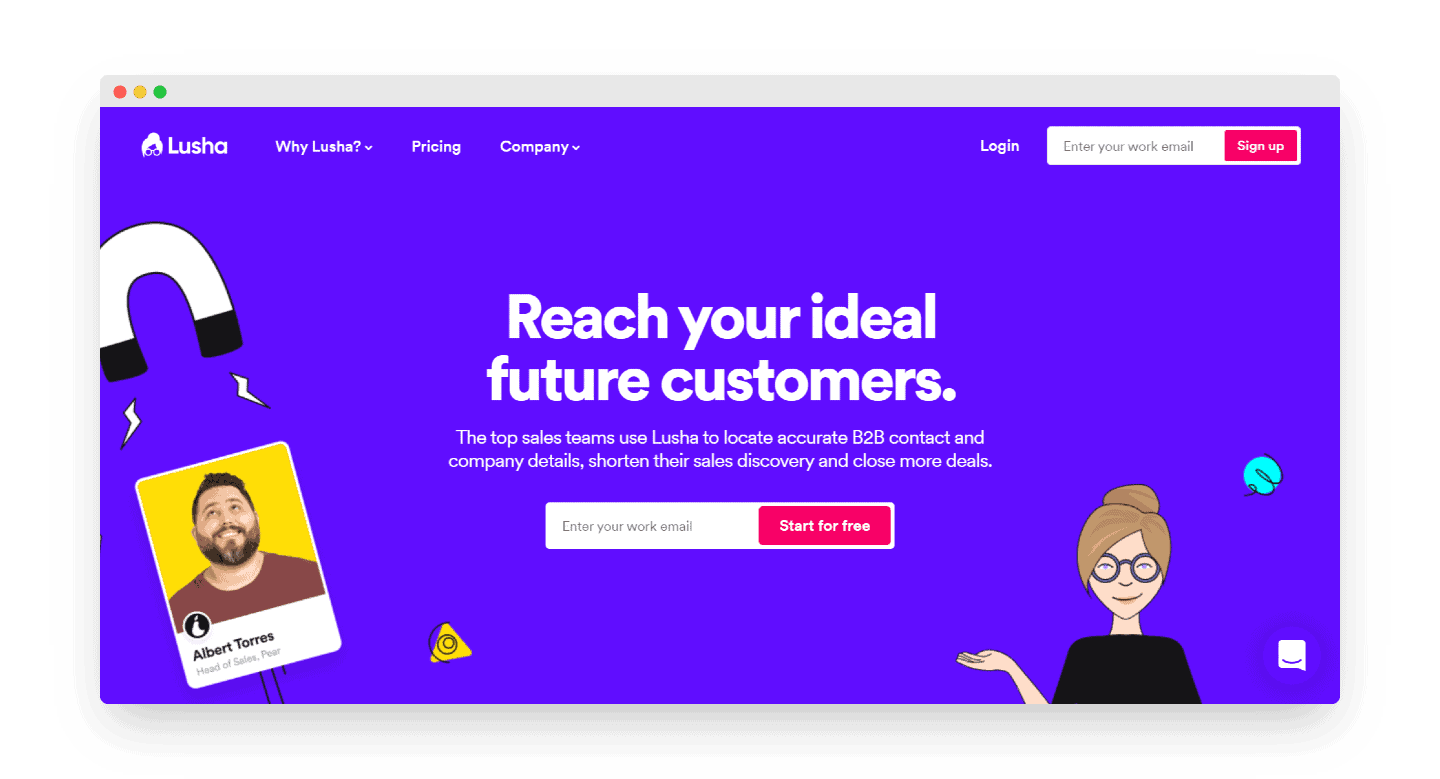 Lusha is a tool available to sales teams that allows you to obtain the contact details of your prospects and in particular their telephone numbers on networks and especially on LinkedIn. The integrations then allow you to follow these prospects via your CRM or to build your own lists.
Super easy to use chrome extension
Quality of the data, very rich
CRM integrations
Lusha offers a free plan for only 5 credits per month, then prices rise to $79/month, up to 3 users for the Pro plan.
To go further
Looking to enrich your databases for more qualified leads? Here are our resources on the subject:
Close your leads
#1 Zoom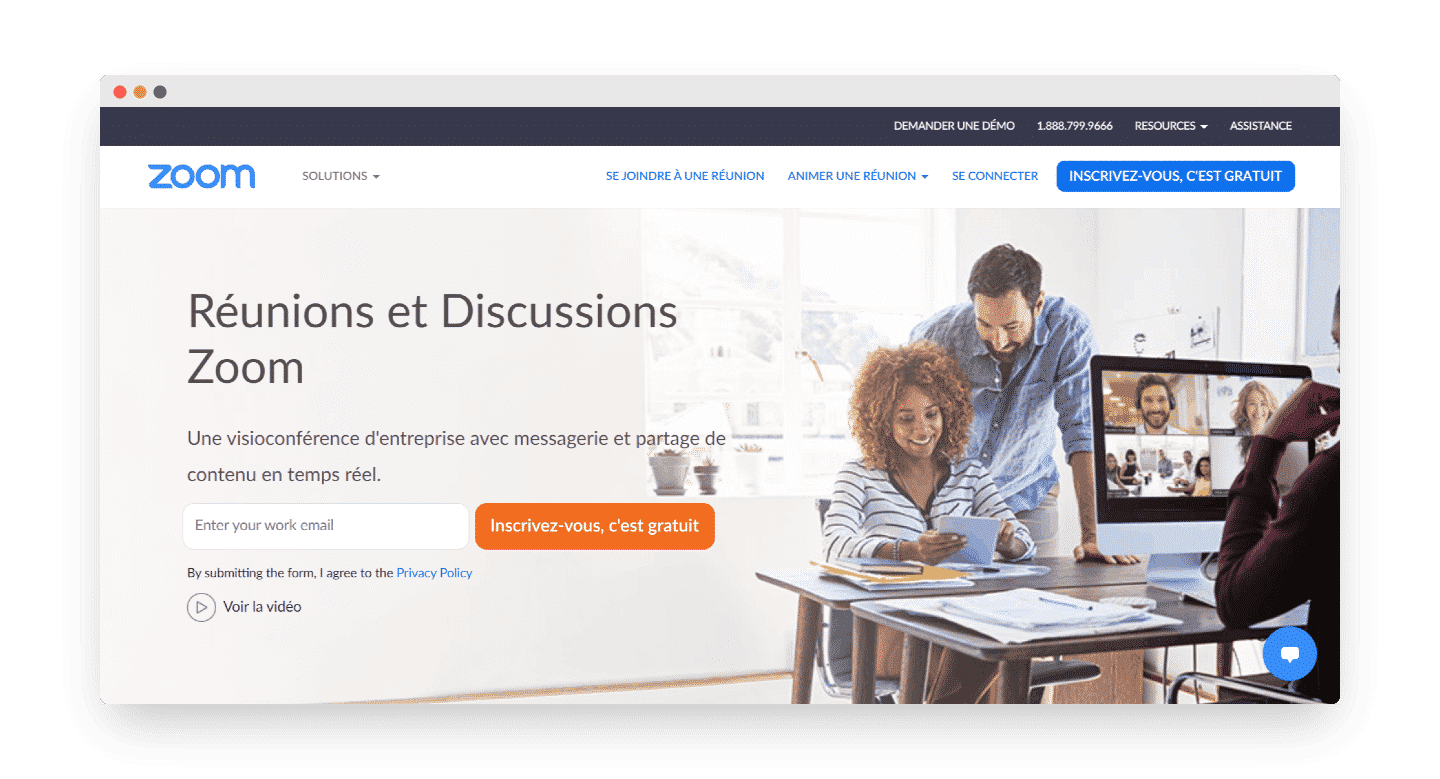 Zoom has become a key player in the organisation of videoconferences and also offers features adapted to the webinar format. The tool allows you to hold webinars with up to 500 participants and to create dynamic and interactive content (chat, replays, etc.)
Easy to handle
Large user base
Advanced solutions to engage your audience
Zoom offers a free version and then the Pro solution at €13.99 and a Business / Enterprise solution at €18.99 per month.
#2 Prezi Video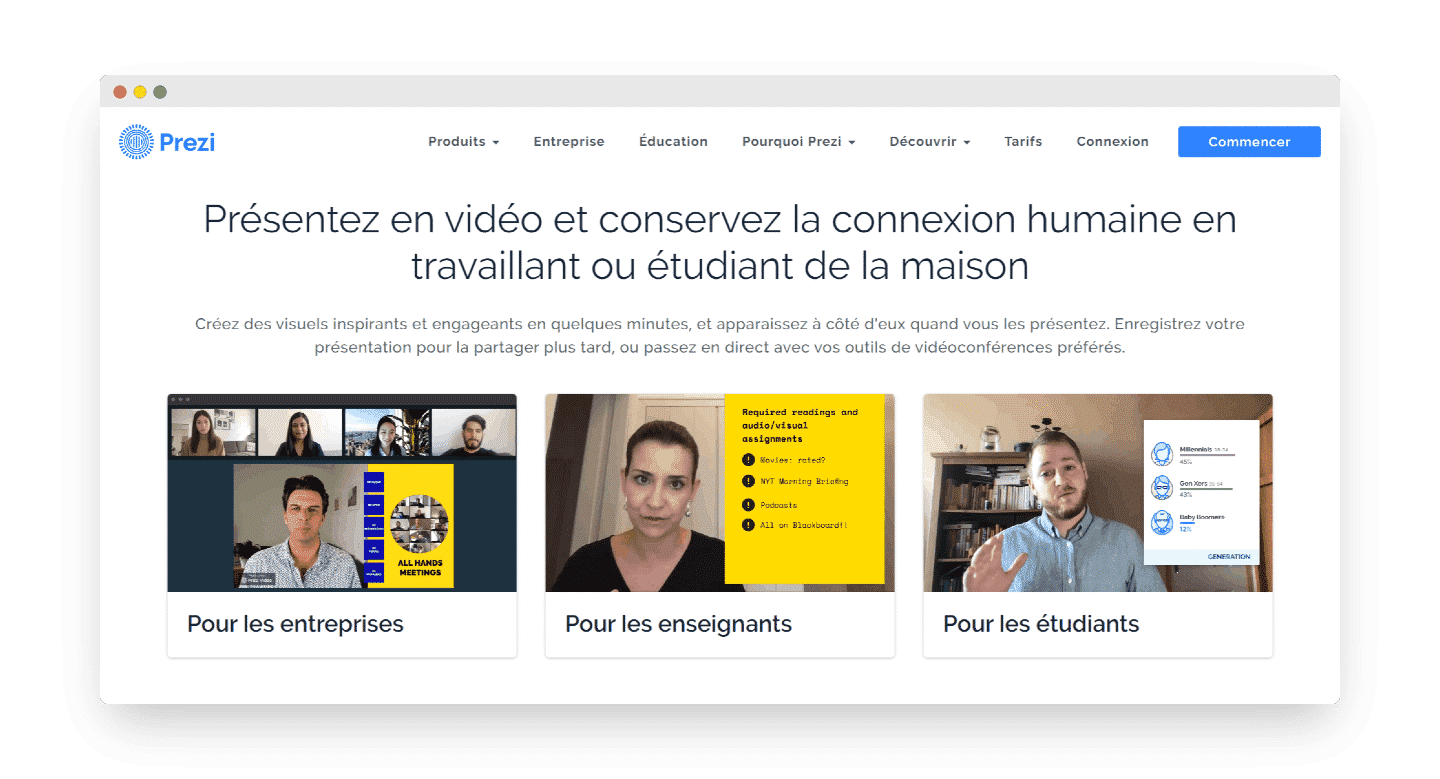 Our younger readers will remember Prezi as a tool used to create stunningly designed animated presentations. Today, Prezi has evolved into a tool that puts video back at the heart of the presentation experience.
Unique tool for a guaranteed "wow" effect
Integration with your communication tools (GotoWebinar, Zoom, Google Meet,…)
Multiple templates to get started easily
Prezi video can be tested via the free 14-day trial version, then consider the standard plan at €7/month.
#3 Proposify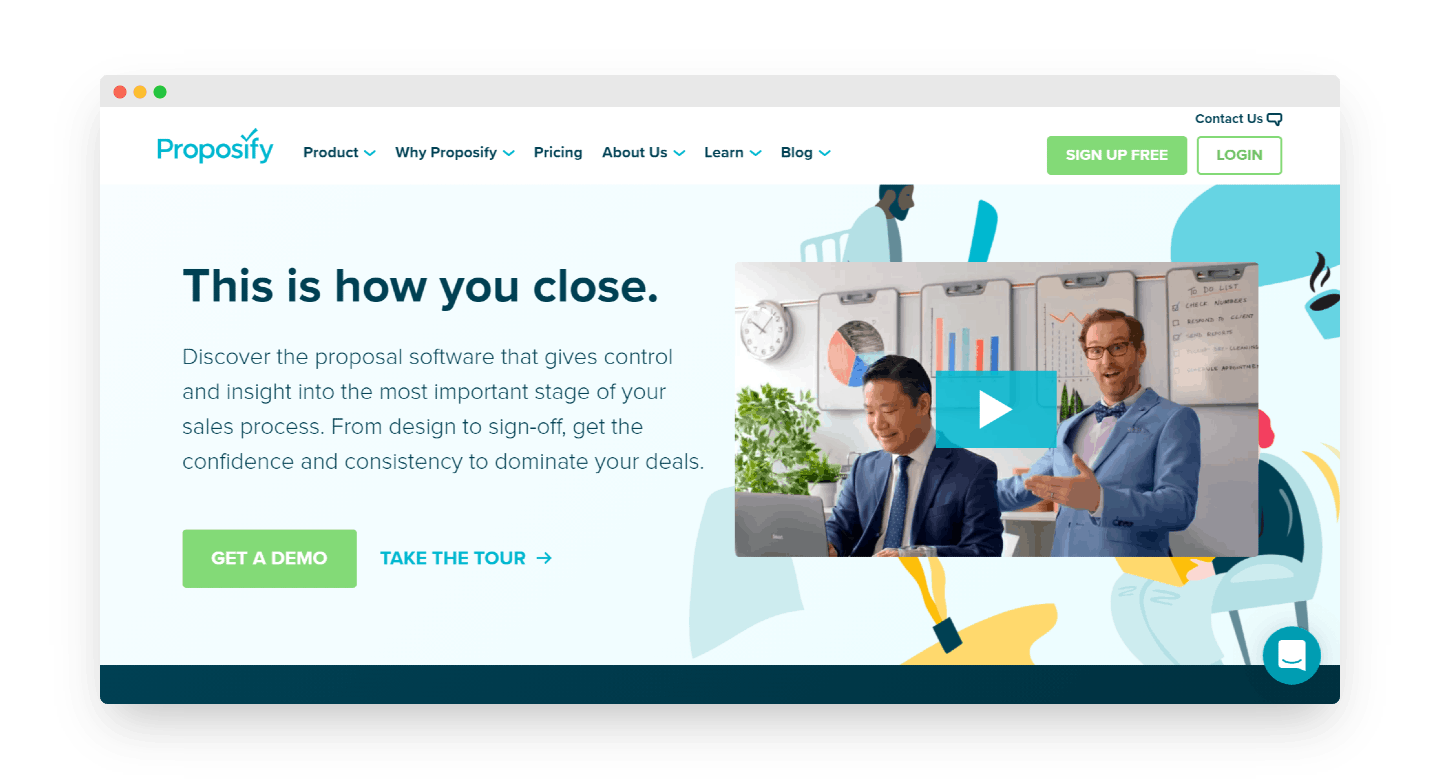 Proposify is a tool that allows you to quickly & easily answer pre-sales questions. The tool allows you to select sales proposals from a range of models or customise proposals to suit your needs.
The proposal editor allows users to control fonts, add videos, images, shapes, change the layout and include interactive fee tables.
Multiple templates to draw on
Deep CRM integrations
Important time saving
The tool offers a free 14-day trial version, after which it is necessary to access the "Tall Plan" for $19 per user per month for up to 5 simultaneous proposals.
#4 Livestorm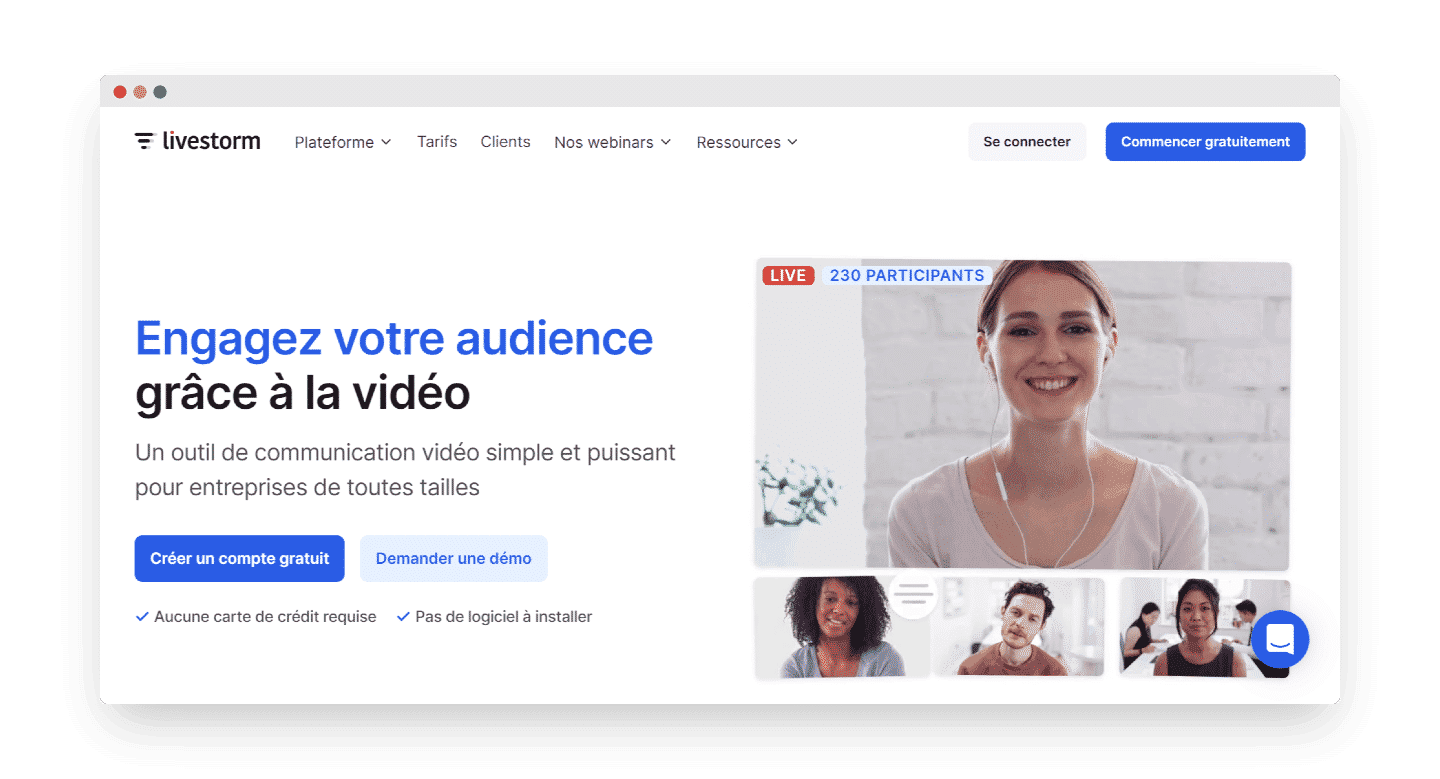 Livestorm is a great tool that allows you to turn your webinars into real lead generation machines. Create webinars quickly and automate the registration and follow-up of your prospects before the event. During the webinar, the tool offers all the options to engage your prospects: chat, quizzes, surveys,…
The webinar is not only a lead generation tool but also a solid solution to use to establish expertise and therefore a very effective way of convincing, especially by using case studies, etc.
Advanced data analysis and enrichment tool
Numerous interaction options
Automated dunning sequences
Livestorm offers a free version and allows you to test all the plans for free. The cheapest plan starts at 99€ / month for 100 participants and 4h sessions maximum.
#5 Yousign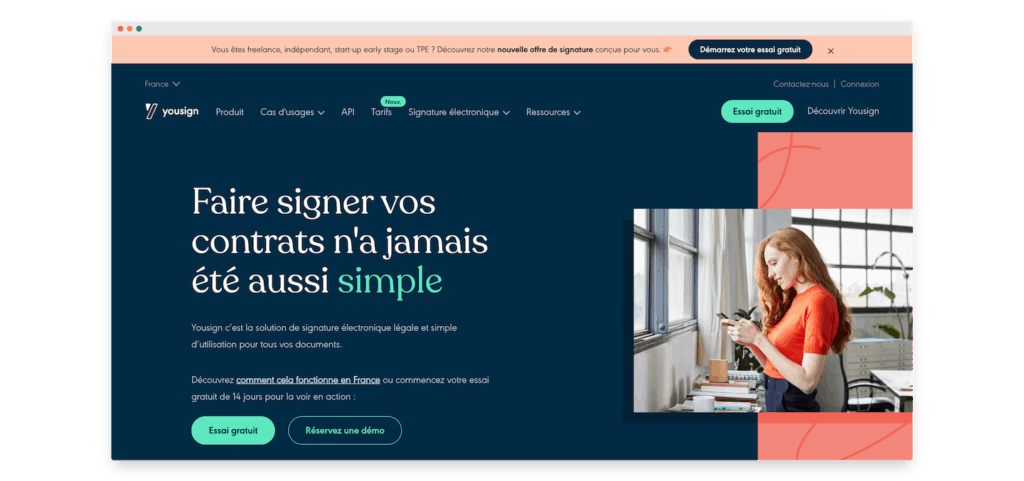 Yousign is one of the most popular electronic signature tools on the market. It is based on a rich set of features: optimised deal tracking, compliance with legal requirements, automatic capture of key information which is then archived and available on your account.
Excellent connector to Salesforce
Super simple signature on mobile
Standardisation of your business processes
It is possible to try Yousign for free for 14 days. Then the "One" offer, starting at 9€ / month for one user & 10 signed documents per month.
To go further
Leverage our available resources to optimise your business processes and close more deals
Save time
#1 LinkClump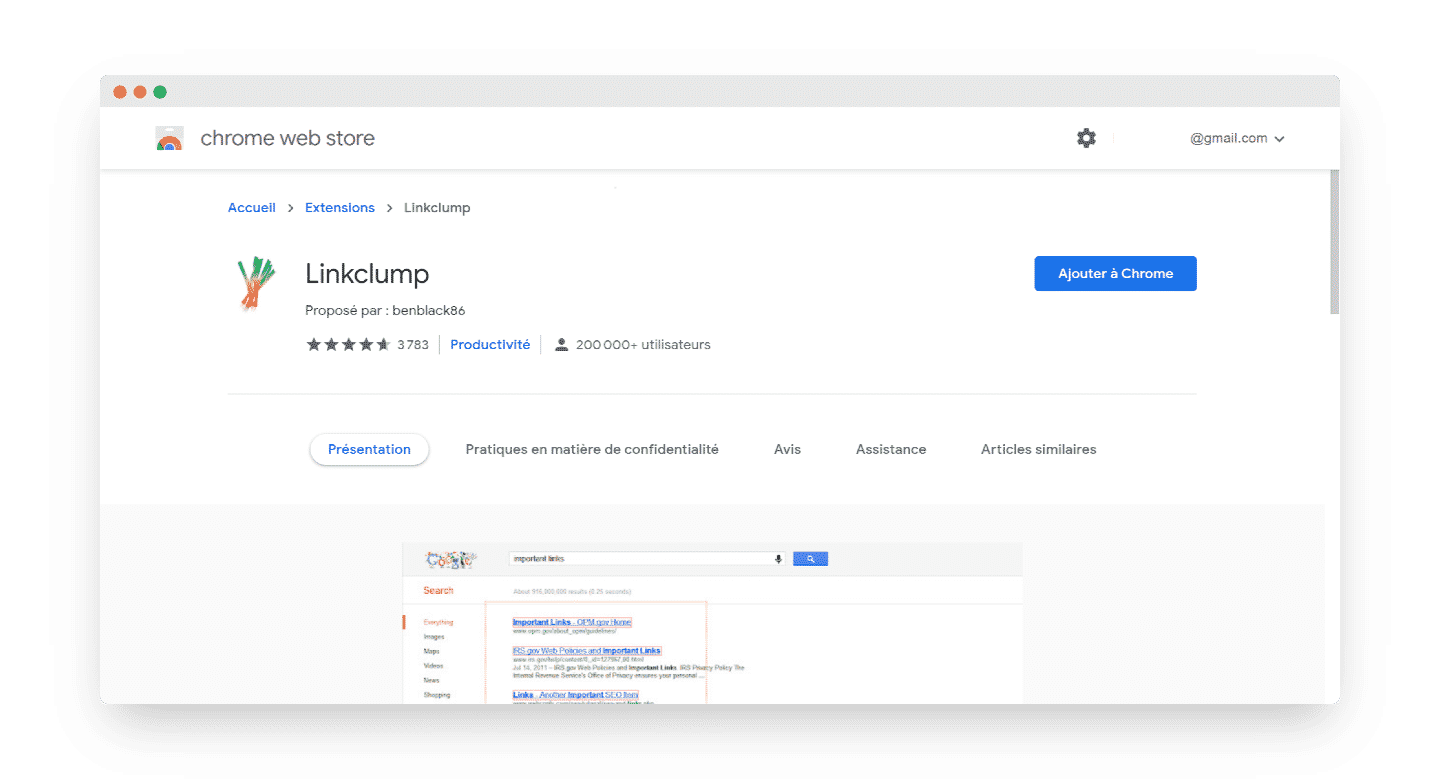 LinkClump is a chrome extension that, when used properly, will allow you to gain a lot of productivity. The tool allows you to automatically collect links quickly, identifying only relevant links on specific pages.
Ease of use
A lightweight Chrome extension
Ability to download large amounts of data quickly
LinkClump is completely free.
#2 Screely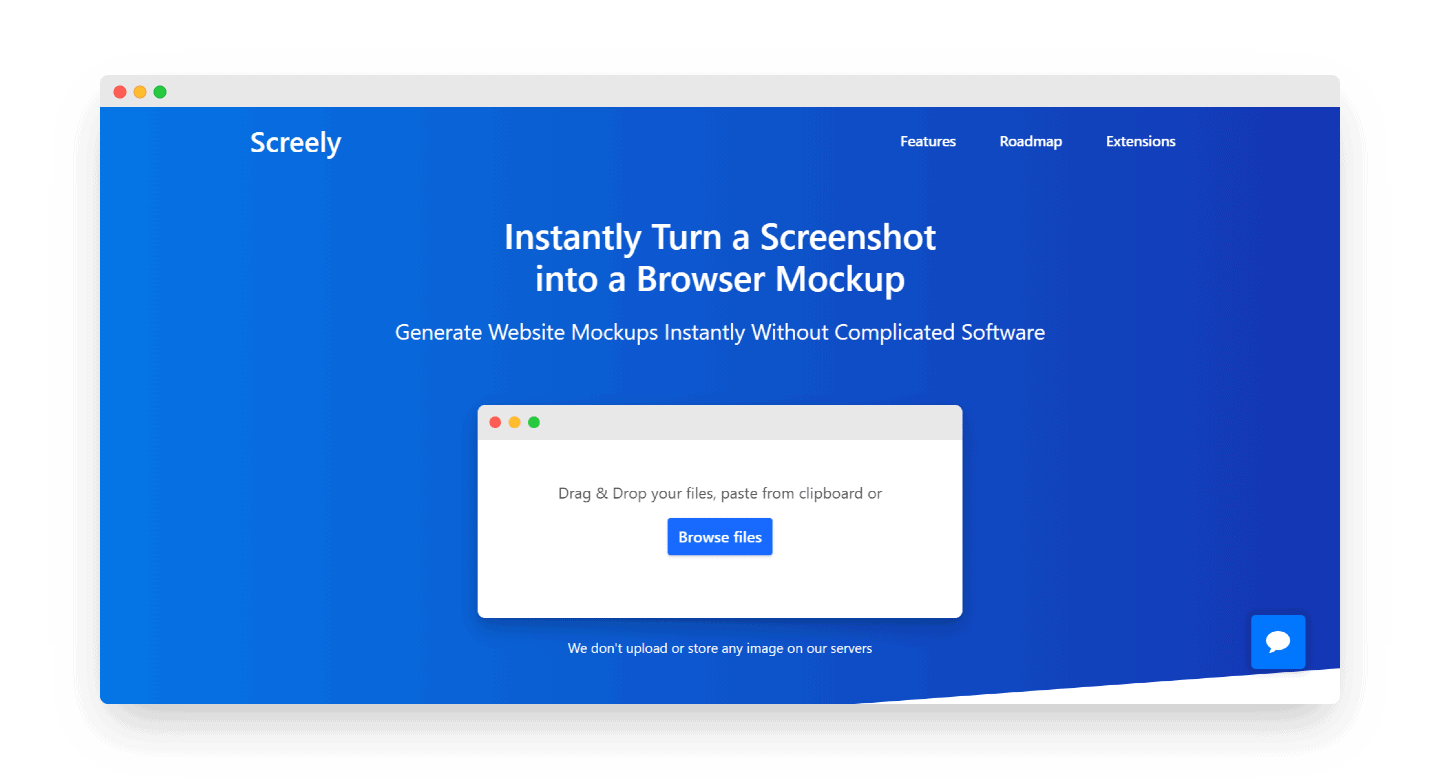 Throughout this article you have been wondering where our great screenshots come from? Screely! This is a chrome extension which allows you to instantly create search engine mockups based on your screen prints. In a few seconds, the tool allows you to change the image size and adapt the few options according to your taste.
The tool is completely free.
#3 FrontApp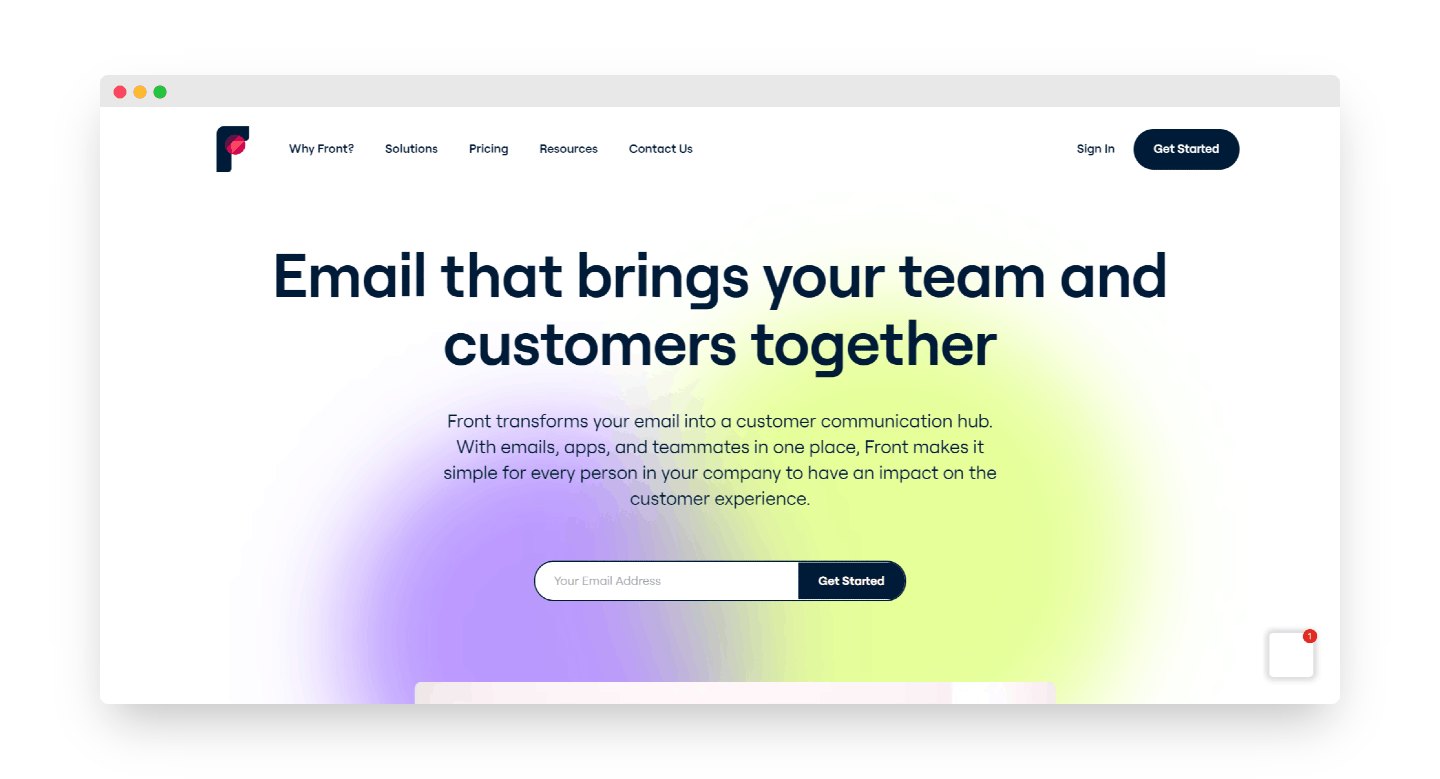 Frontapp is a collaborative messaging tool that facilitates teamwork. The tool allows you to create shared inboxes to avoid being overloaded with messages. Emails sent to generic addresses are then allocated more easily. Frontapp also simplifies internal collaboration and exchange through the ability to comment on actions and mention colleagues.
Optimising productivity
Super ergonomic interface
Possibility to modify CRM data directly from the app thanks to integrations
There is no possibility to test the tool for free here, the first "Starter" plan starts at $19 per user per month for up to 10 people.
#4 Loom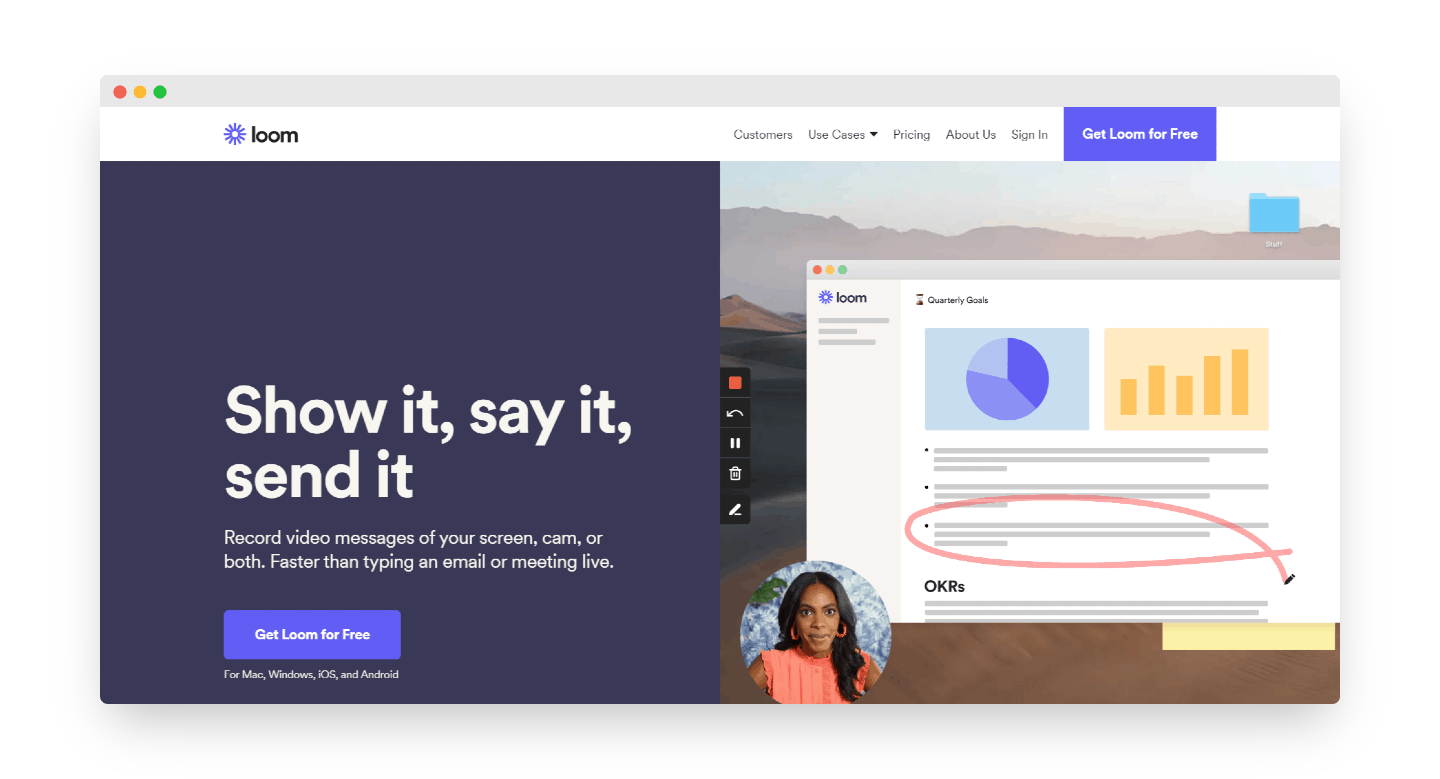 Loom is a tool that makes it easy to record and share video screenshots. Loom allows you to share your videos via an online platform without having to download large files, to customise them to highlight certain aspects and to receive notifications each time you view them, which is very useful in a sales or customer support context in particular.
Quality/price ratio
Easy to use
Facilitates communication via video
Loom offers a free plan that works very well for up to 100 videos/screenshots, after which it is necessary to opt for the Business plan from $8/user/month.
#5 Thank You-App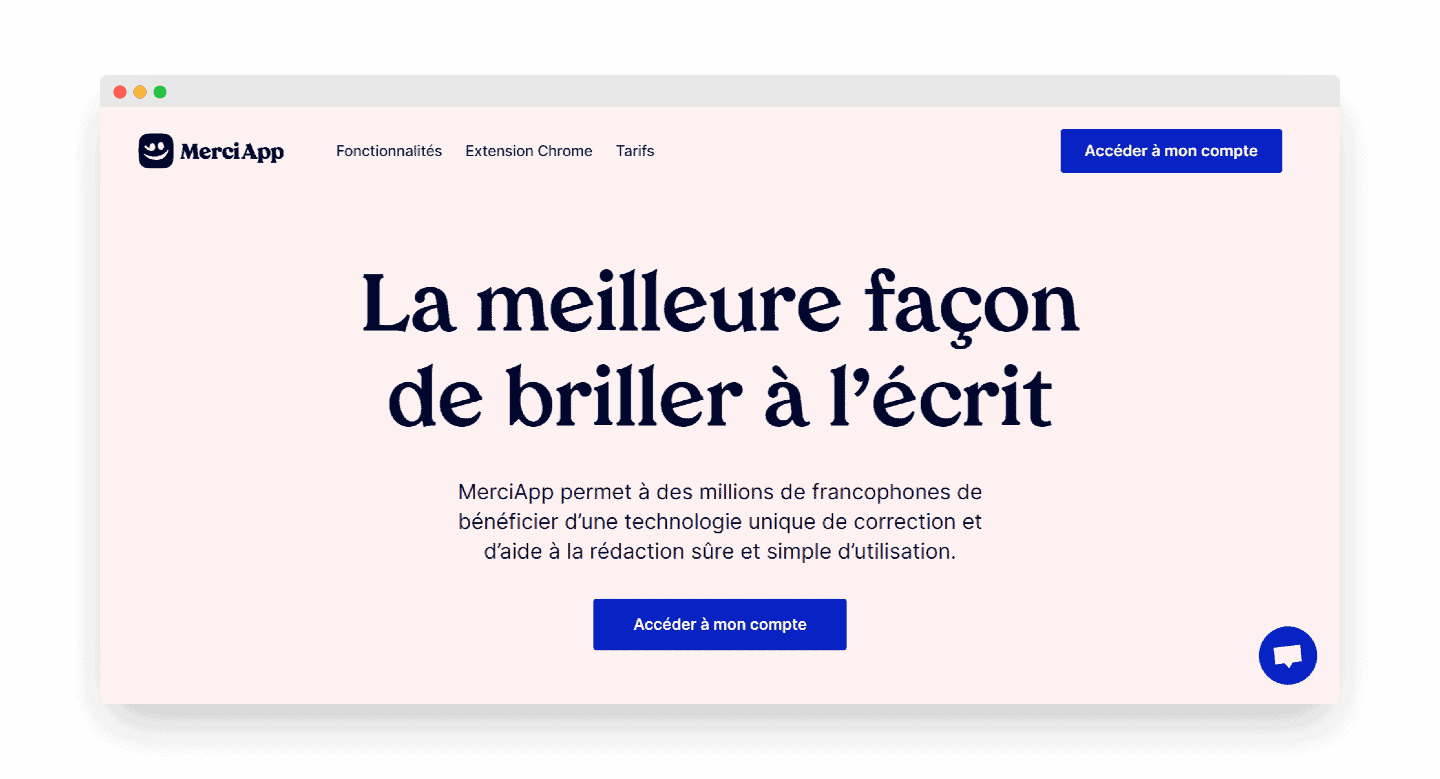 You didn't find any spelling mistakes in this article? It's normal, the Salesdorado editors use Merci App, thechrome extension that automatically corrects your spelling mistakes but also syntax and suggests alternatives.
Integration of gdoc in particular
Ability to upload entire documents
Super light chrome extension
The pro version of Merci app can be tested for free for 15 days, then you fall back on the free plan which identifies your mistakes without suggesting better options. The first paid plan is 8€ / month.
Optimise
#1 Table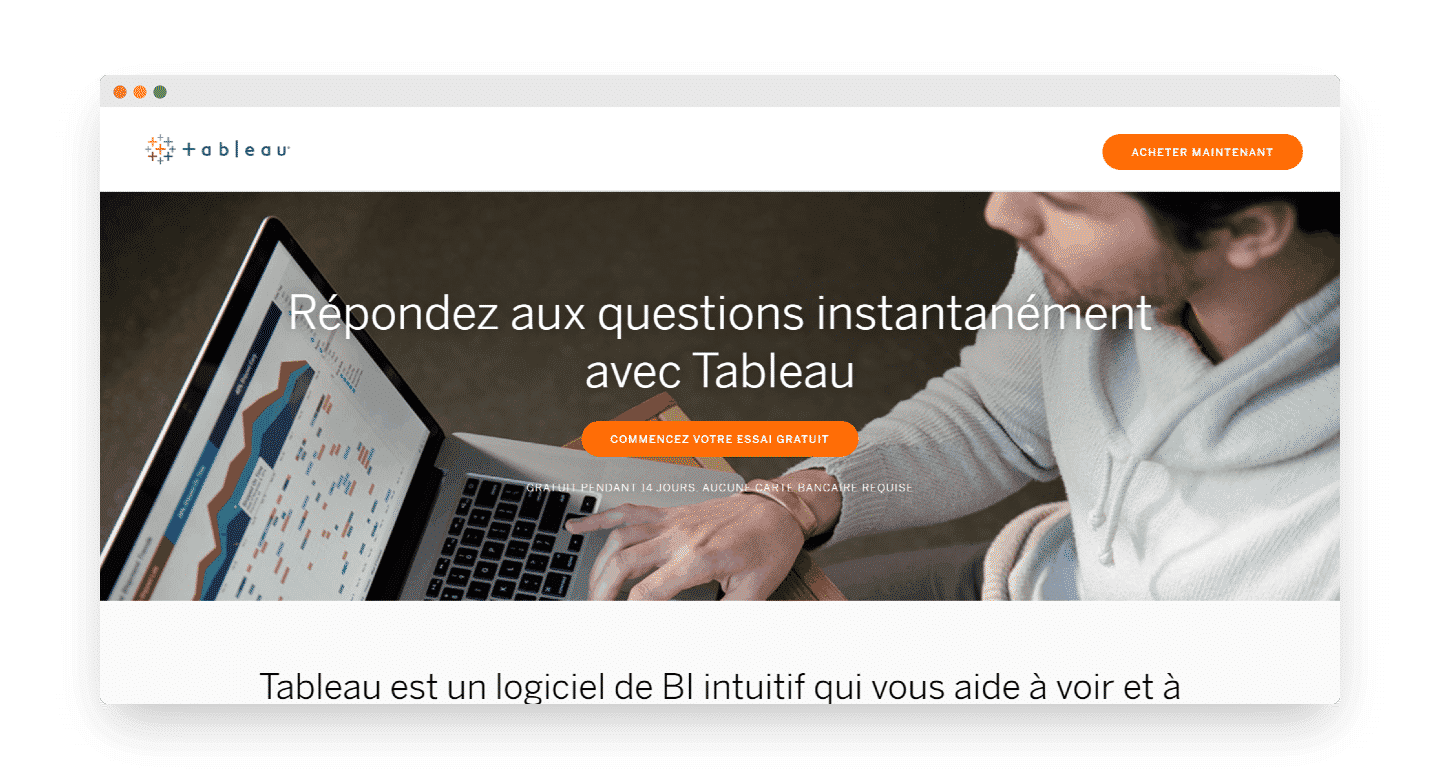 Tableau is one of the leading business intelligence tools on the market. Super intuitive and visual, the tool allows you to visualise your data through a SaaS platform that does not require any technical skills. Tableau allows you to base your decisions on advanced dashboards and reporting tools by connecting to GA, Salesforce or SQL databases.
Easy to deploy
High performance
Numerous integrations
Tableau offers a free 14-day trial, then for an individual user the price is $70/month. There are lower prices available but they only allow you to view the reforming tools, not create them.
#2 Gong.io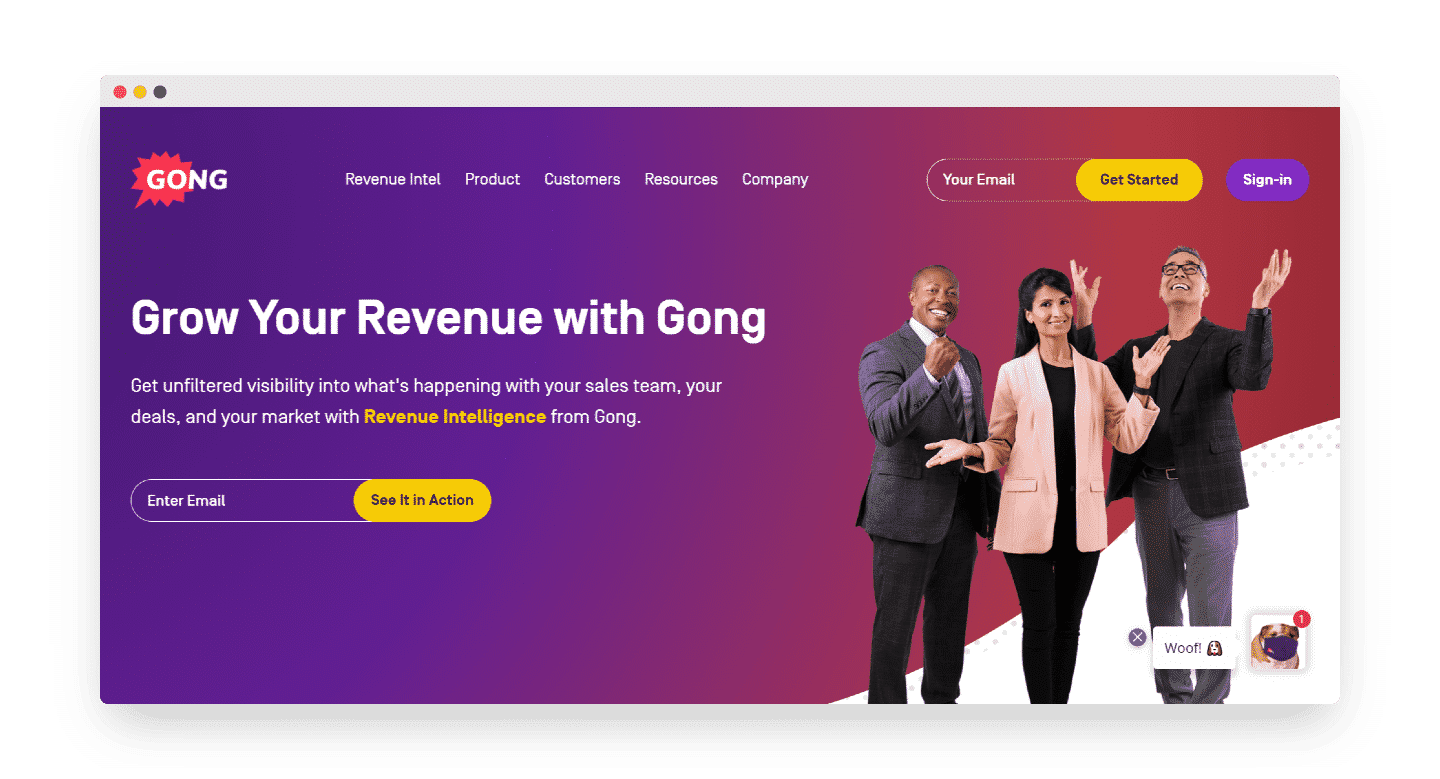 Gong.io allows you to optimize the performance of your sales calls. The tool automatically records & analyses with artificial intelligence all your calls. Used properly, it can improve your phone interactions, optimise sales pressure, and better understand your market and perceived position.
Powerful analysis tool to optimise your business processes
Advice from the virtual coach
Easy to install and use
Gong rates are available on request only.
#3 AutoKlose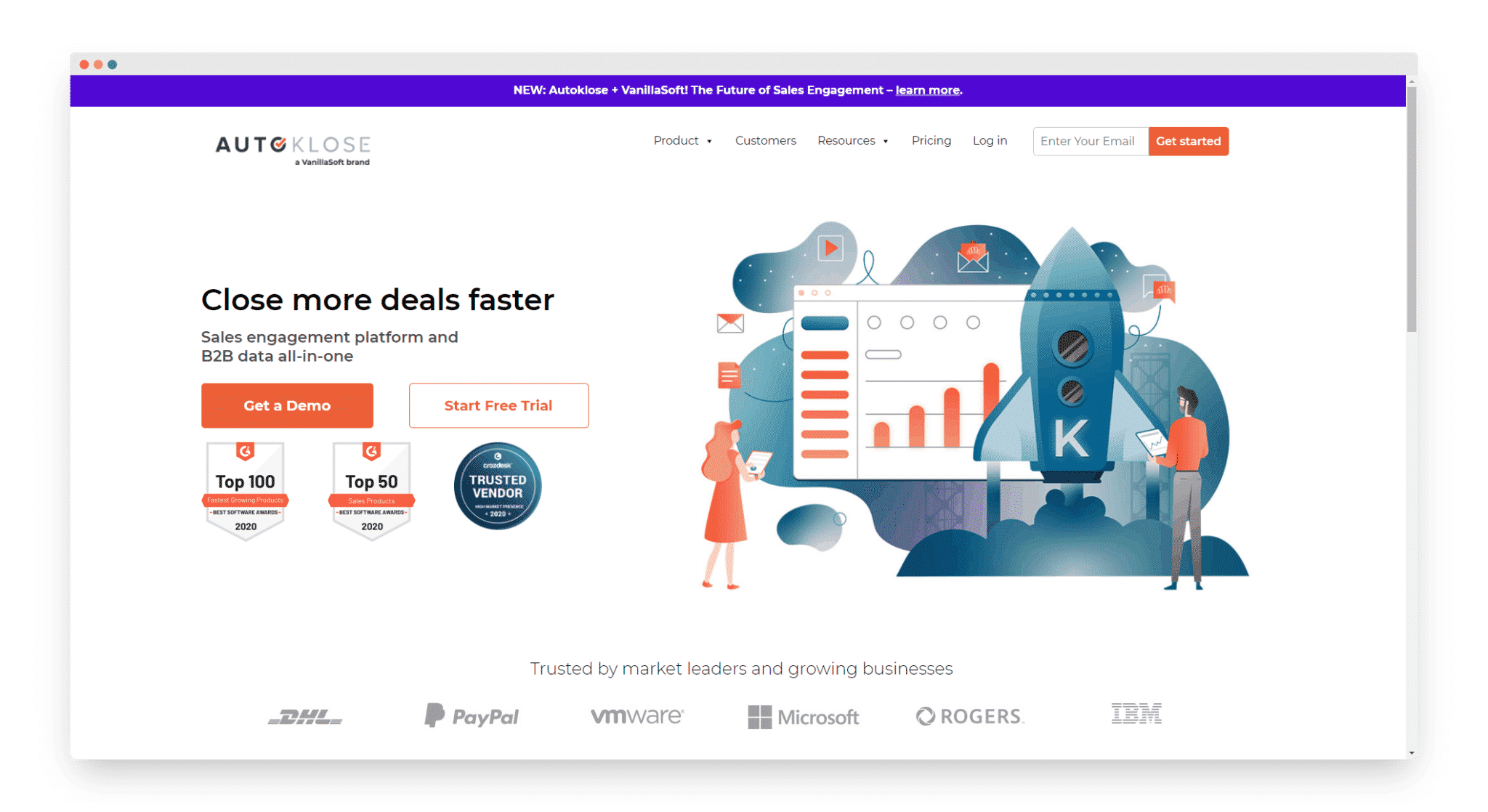 By leveraging a very large, qualified B2B database, Autoklose allows you to identify leads from industries that interest you, engage these prospects by sending automated and personalised email sequences, and manage your team's sales performance via a centralised platform.
Nice interface
Very rich database
Powerful automation tools
Autoklose allows you to use its tool free of charge for 14 days, after which the Starter plan amounts to $49.99 / month / user.
#4 Monday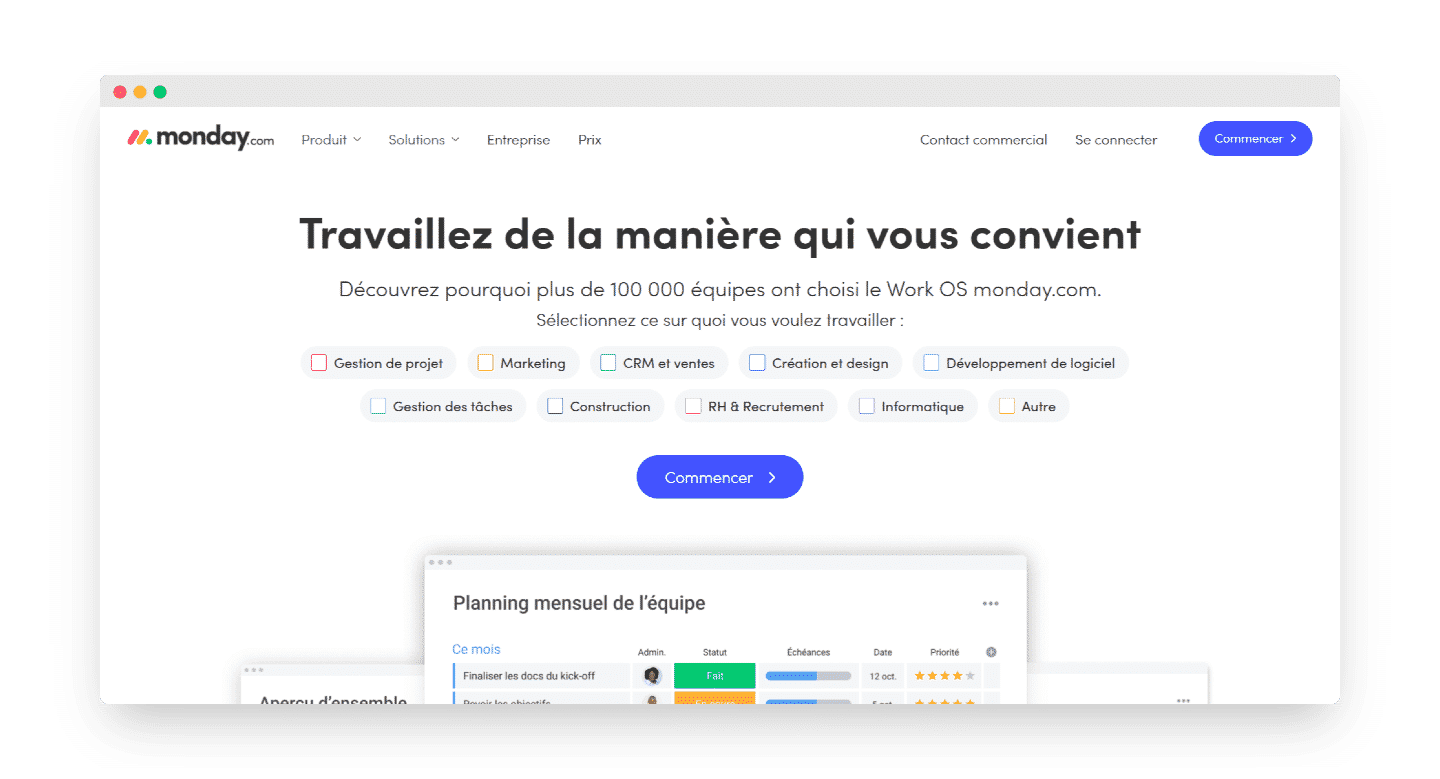 Monday is a project management solution that combines the simplicity of Trello and the functional depth of Asana, the perfect mix! Used extensively in digital project management, Monday allows you to automate simple actions to save time and to edit very intuitive dashboards. The collaborative space that allows you to exchange with your colleagues related to each project is also very useful.
Powerful search engine
Ergonomic interface
Automation options
Monday offers a free 14-day trial, and then it goes up to €17/month for 2 employees.
#5 Guru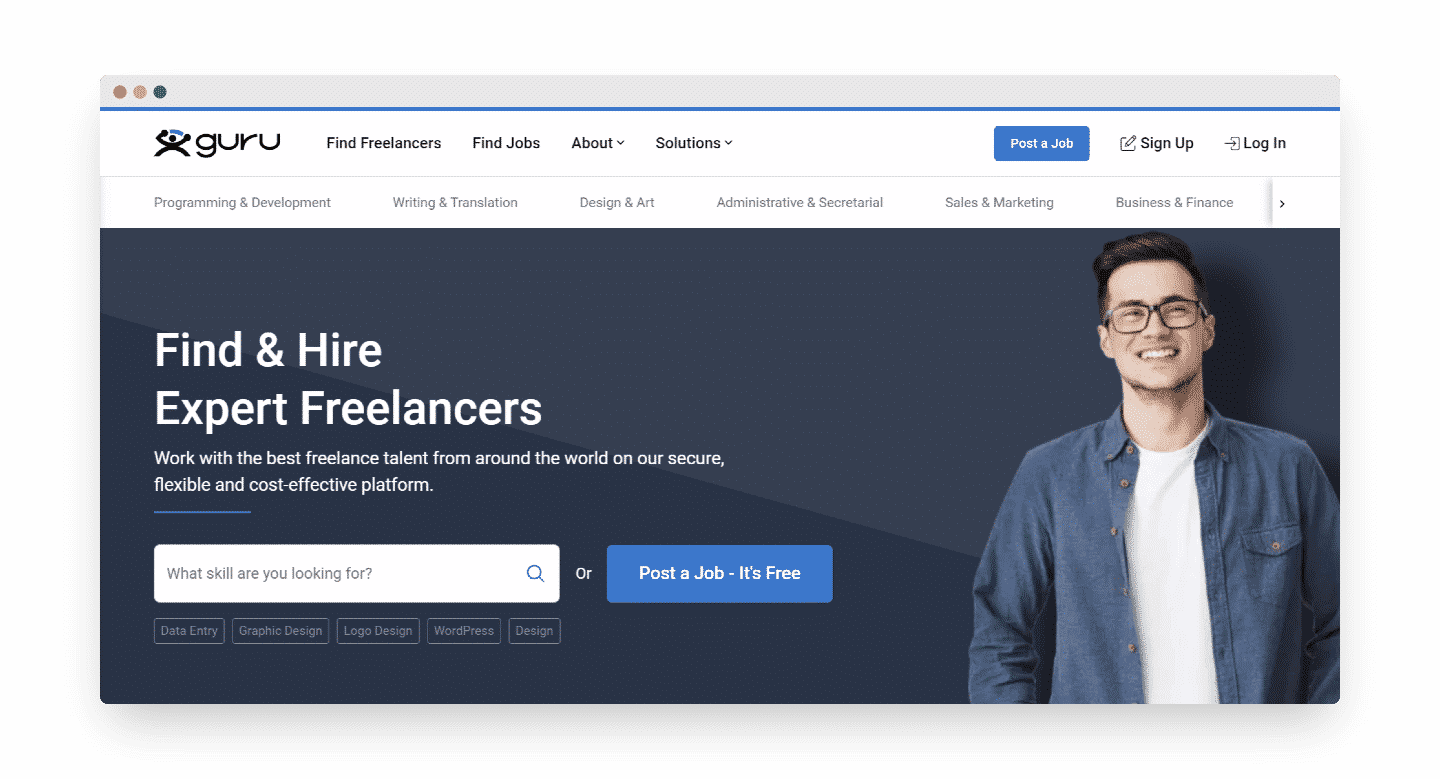 Guru is a platform for connecting freelancers and companies, and is more geared towards experienced professionals, particularly in project management. The fees on Guru are higher than on other platforms on the market, which is intended to encourage both parties to make a long-term commitment.
Qualified freelancers
Professionals available worldwide
Time tracking option to monitor freelance activity
As an employer, you do not pay a fee for posting an offer. Then, for each transaction related to an assignment, you are charged 2.9%.
To go further
Feel free to use our resources below to optimise your business processes
Training
#1 Business Development 3.0 (Rocket School)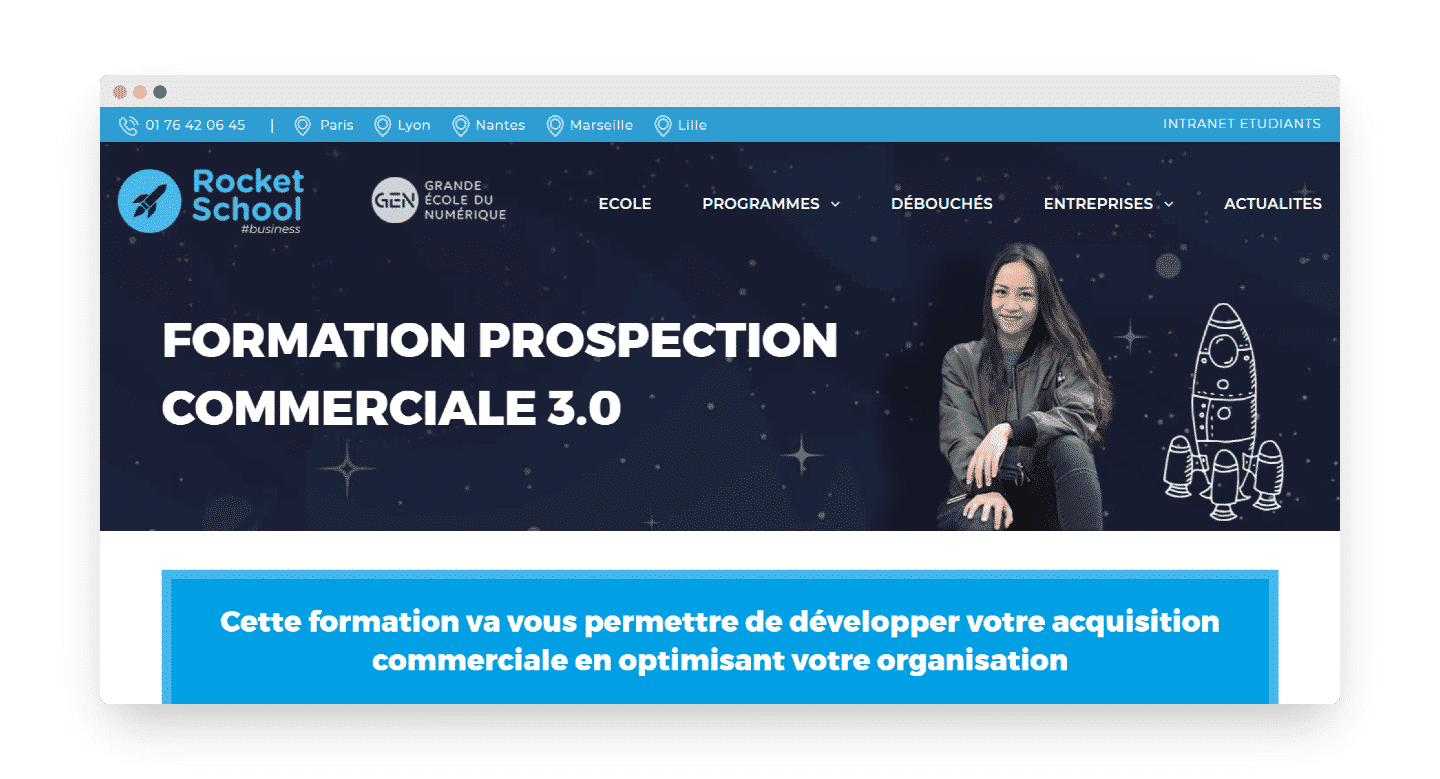 With a strong focus on sales prospecting, this 3-day crash course from Rocket School is a great starting point for learning how to use the tools that make a difference in acquisition and start structuring your sales qualification processes.
Mastering new approaches to prospecting
Organise your acquisition strategy
Get to grips with the latest industrialisation tools
The cost of this course is 1650€.
#2 Boost your sales force (Uptoo)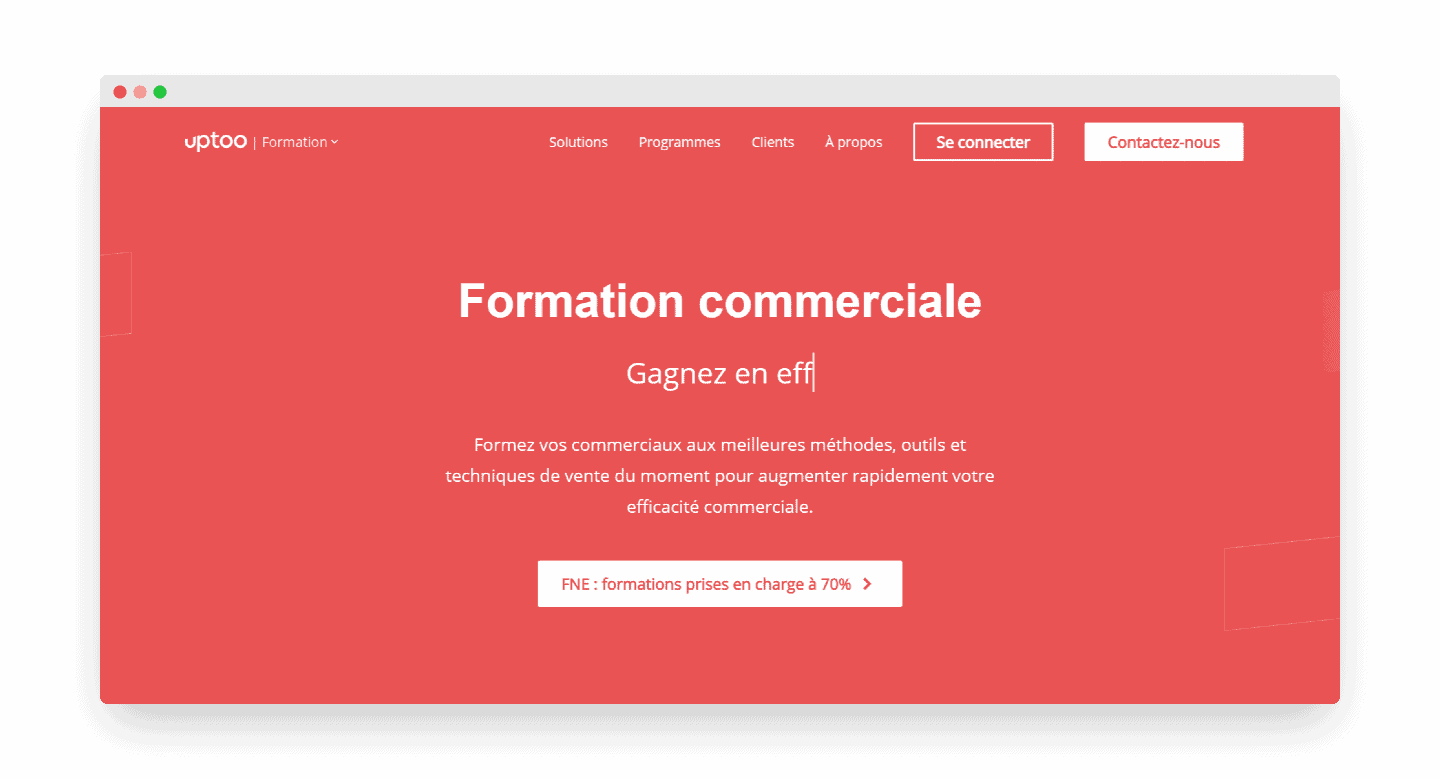 More intense, this sales efficiency training course developed by Uptoo provides the fundamentals of sales on prospecting, qualification of needs, negotiation as well as the mental approach linked to this very specific profession. The training is given in three sessions lasting a total of 10.5 hours, plus two and a half months of e-learning training.
Evolving training, always at the cutting edge in terms of tools
Validation of acquired skills via tests
Intensive programme
The cost of this training is only available on request.
#3 Salesdorado newsletter 😇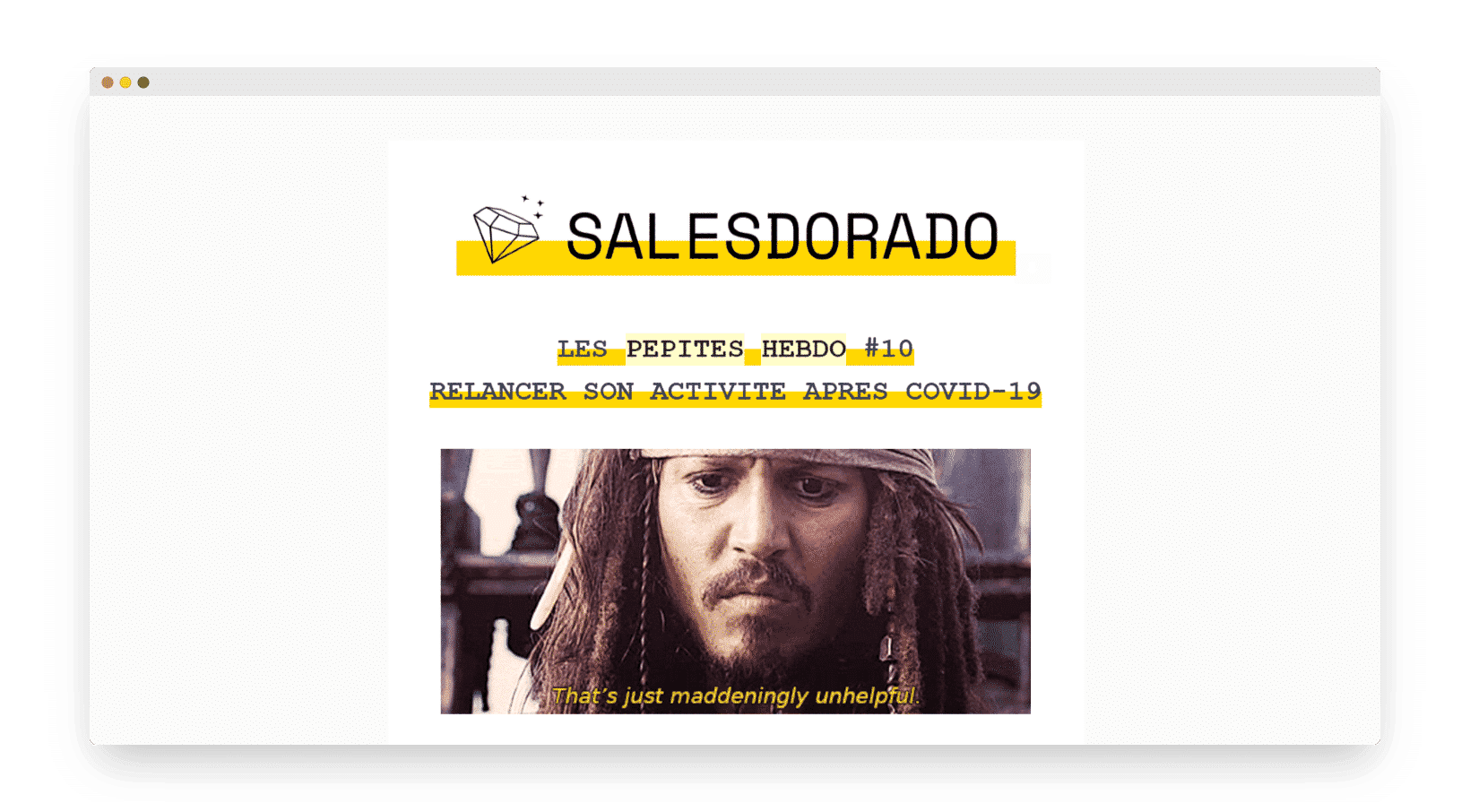 #4 The SalesGame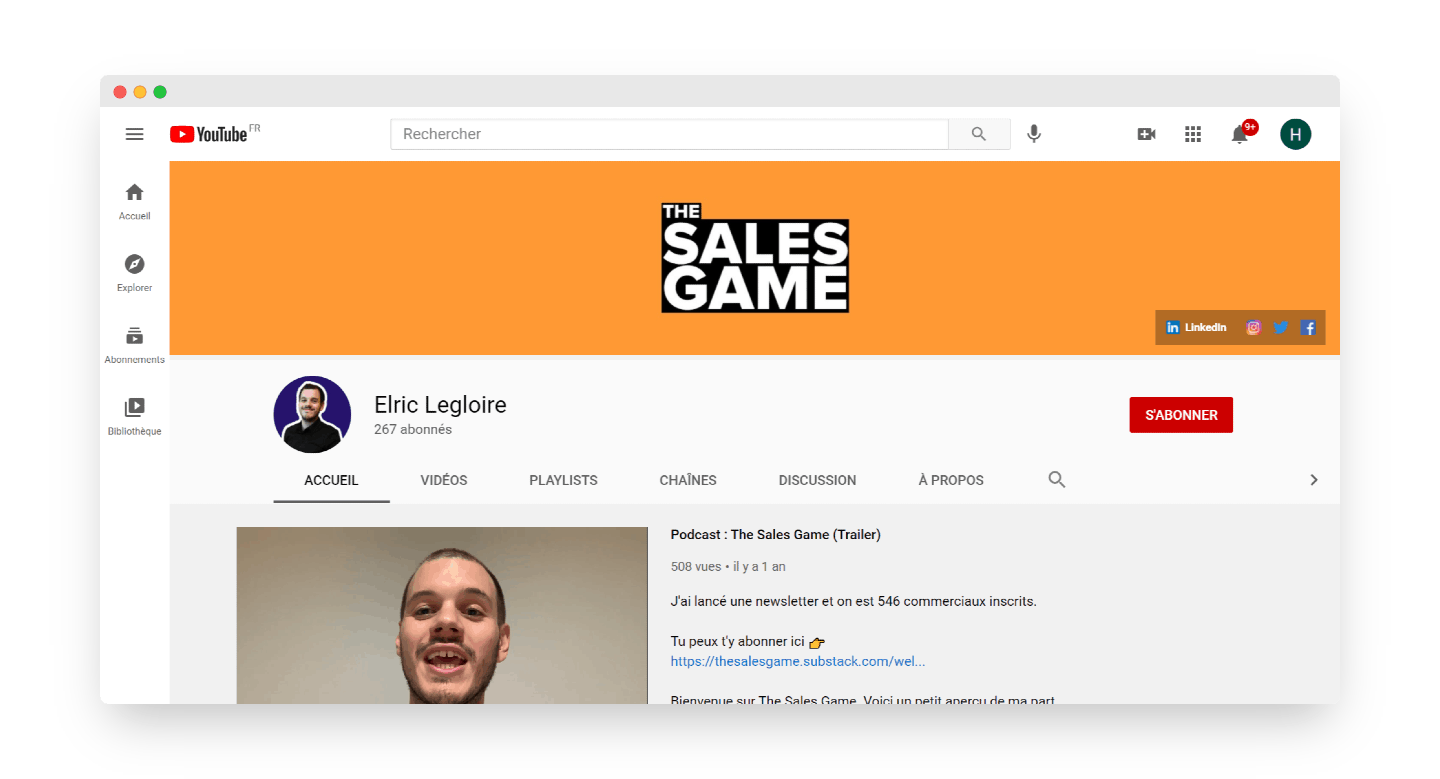 Real good SDR's are hard to come by, with his YouTube channel, Elric does a great job of sharing real tips that are close to the reality of the business. He meets the crème de la crème of B2B sales, gives tips on selling and talks about books that have inspired him.
VIP guests
Tips that are really from the reality of the trade
Practical content and very well done demos
Elric's channel is free to access, with some (many) Youtube ads 😉
#5 Scalezia Outbound Academy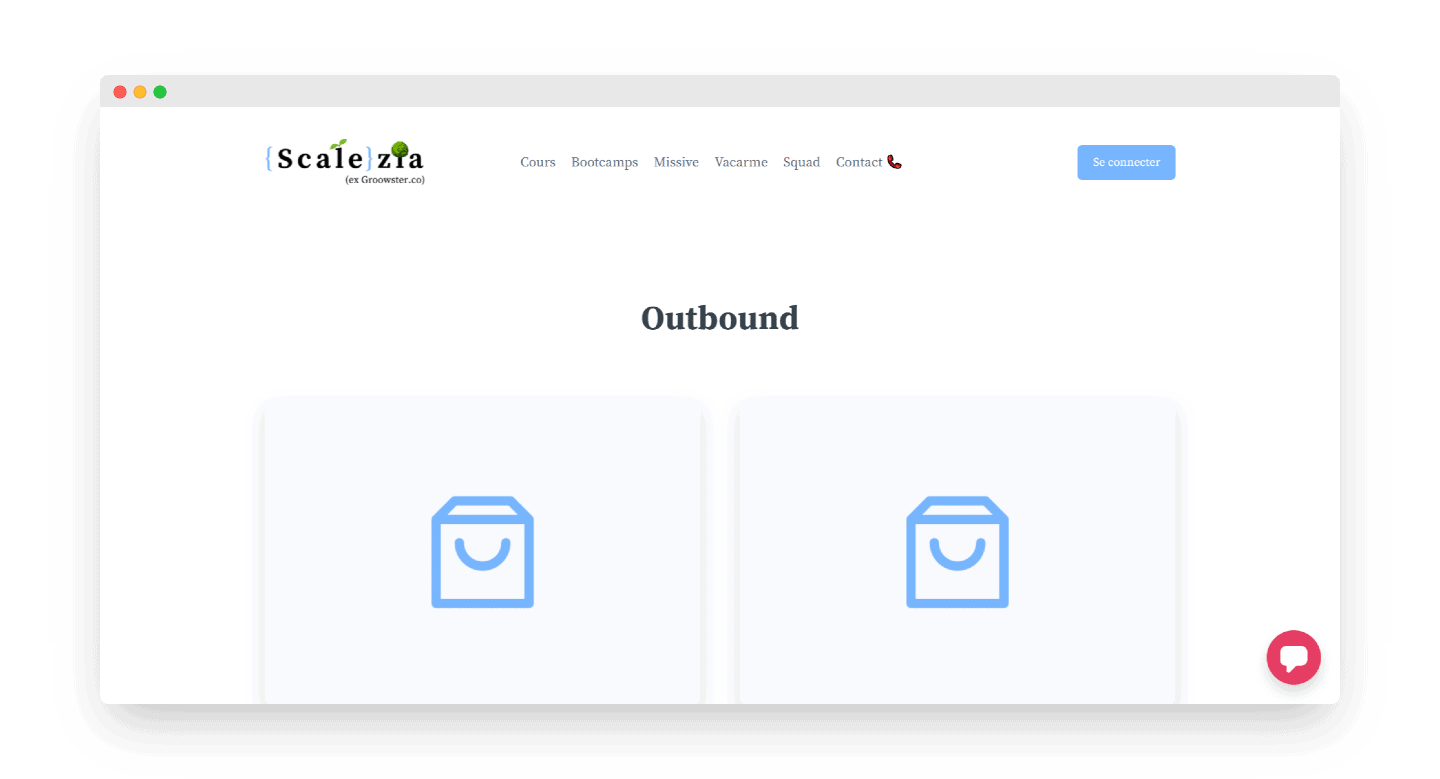 Scalezia offers "micro-courses" with almost free access (you have to give your email address) that are very relevant and practical on the different tools and strategies that get results in outbound.
Quality/price ratio
Well-written and easy-to-read content
Comprehensive training on outbound tools
100% free 🙂
To go further
Do you want to take your sales team to the next level? Discover the best training courses & approaches in the field: