In this article, we present the 10 most suitable CRM software for Gmail users in our opinion.
These programs offer different levels of integration with Gmail and serve different needs. Some of them are aimed at Gmail users who want to optimize their time and benefit from CRM features directly from their Gmail inbox or through a sidebar. Others are more suitable for those who work in teams, with sometimes more limited functionalities.
How to choose a CRM for Gmail?
Choosing a CRM for Gmail can be based on the level of integration it offers. Based on this criterion, we can identify 3 categories of CRM:
CRMs that fully integrate with the Gmail interface and allow you to access all your prospect data without leaving the Gmail inbox. This type of CRM is very useful for those who work permanently from their Gmail box and want to save time.
CRMs that integrate your data and give you access to certain features from your Gmail inbox, thanks to a sidebar. This type of CRM has the advantage of not changing your Gmail interface, but the integration is less extensive. On the other hand, these CRMs offer advanced features in automation, sales analysis, prospect targeting, etc.
Shared inboxes that allow you to connect your Gmail account to their platform to work with multiple users. This type of software is recommended for collaborative projects.
Top 10 best CRM for Gmail: Summary table
#1 Streak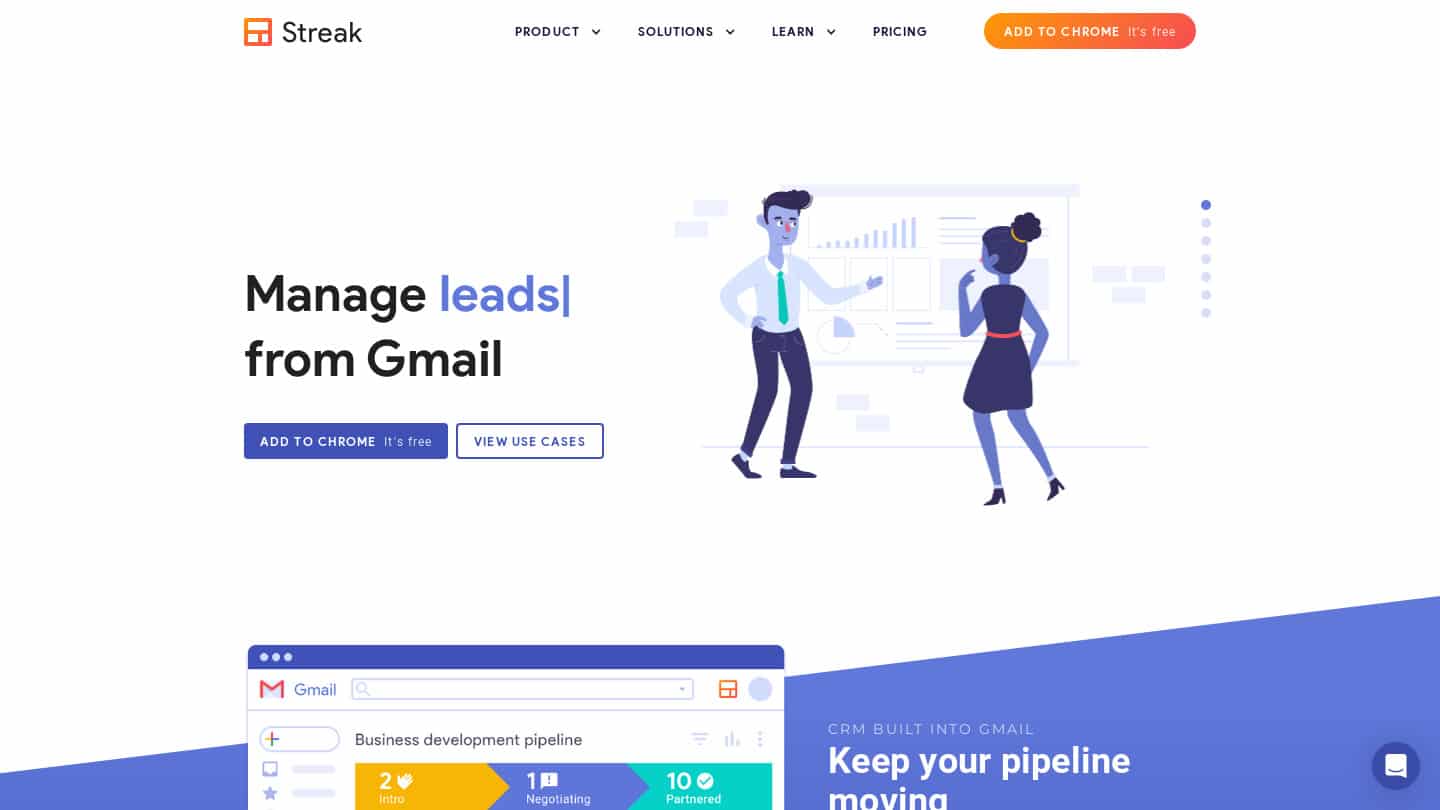 Streak is a software that is fully integrated with your Gmail interface that allows you to manage your workflow without leaving your inbox.
This tool allows you to track everything and have contextual information about your pipelines, contacts and tasks right in your inbox.
It is a very easy to use software that works on both phone and computer.
Streak offers integration with G-Suite and Zapier.
Streak is limited to one sales pipeline per project and there is no automation of sales or emailing.
The tool also does not allow you to import data from another CRM tool.
Streak offers a free plan that provides basic CRM and integration with Google Workspace suite software. If you want more and more advanced features, you can opt for the first paid plan, at $19/user/month. The plan above is $59/user/month and is for those who want advanced CRM functionality. For all plans, the mail merge limit for Gmail accounts is 400 emails per day.
Try Streak for free
Streak, the CRM software that integrates seamlessly with your Gmail interface, offers a 14-day free trial with access to all features to get a good idea of the tool's capabilities. Try it!
#2 Nethunt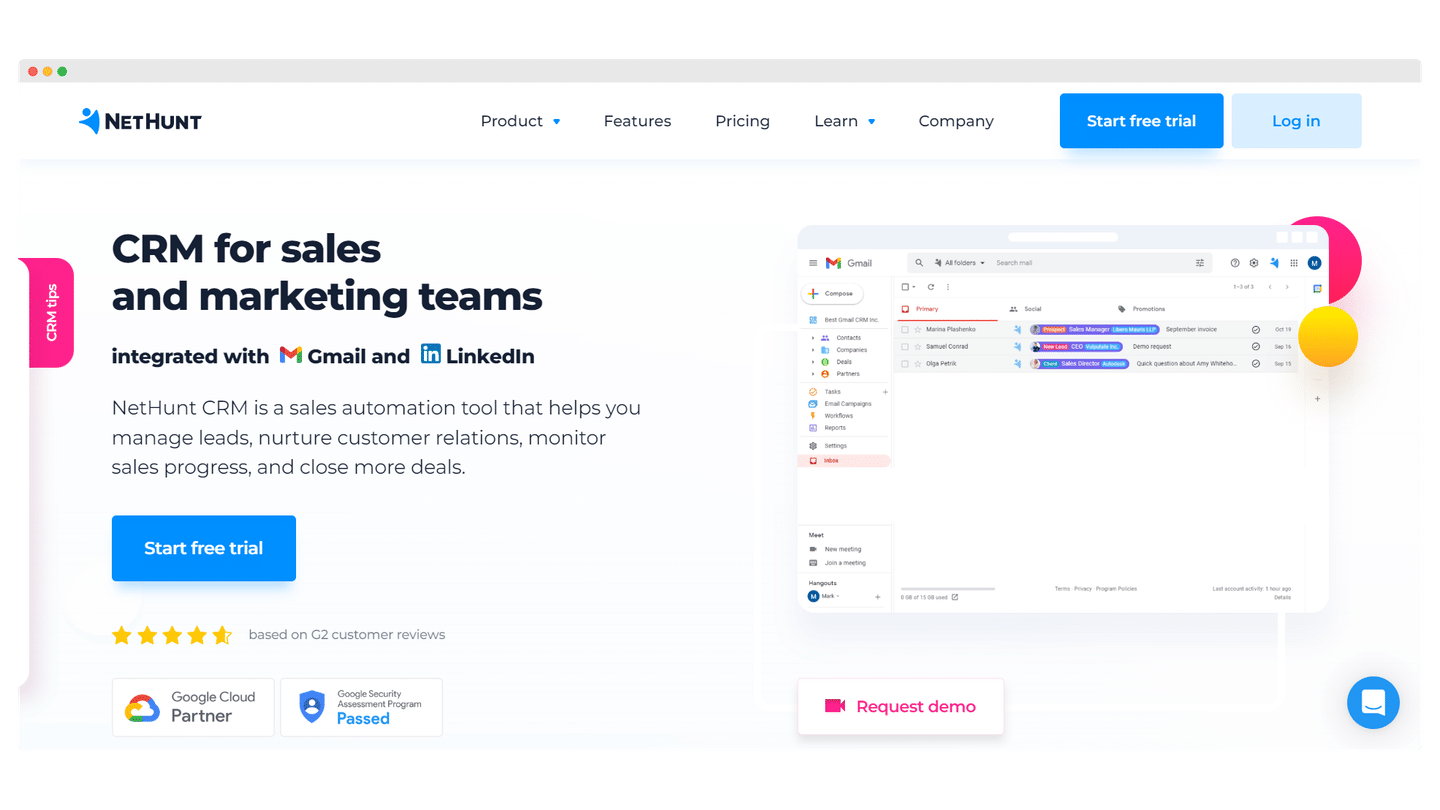 Nethunt is a software that is fully integrated with your Gmail interface and ranks among the best on the market in this category.
Nethunt offers advanced contact management and sales features that allow you to view key customer details in each email.
You can also create leads in one click from emails, social profiles and chat messages.
This software offers quite advanced marketing features: personalized email campaigns, ability to land in the right inbox, automatic data updates based on the results of email campaigns.
Sales automation features are also powerful, especially in terms of lead capture and data entry.
It's easy to use, has a user-friendly interface and offers super responsive customer support.
Nethunt offers customization features, but they take a long time to set up.
Native integrations are still a bit limited for the moment. For example, you need to use Zapier to connect to other applications.
Nethunt does not offer a free plan, but free trials for all its plans. The first package is $30/user/month. It is primarily aimed at teams looking to organize their customer base, build sales pipelines and send email campaigns. It allows integration with the tools of the Google Workspace suite. The Business plan, at $60/month/user, is primarily designed for teams that need to track business performance and automate routine tasks.
Try Nethunt for free
Nethunt is one of the best CRM software integrated with Gmail. You can try its features for free for 14 days, don't hesitate!
#3 Copper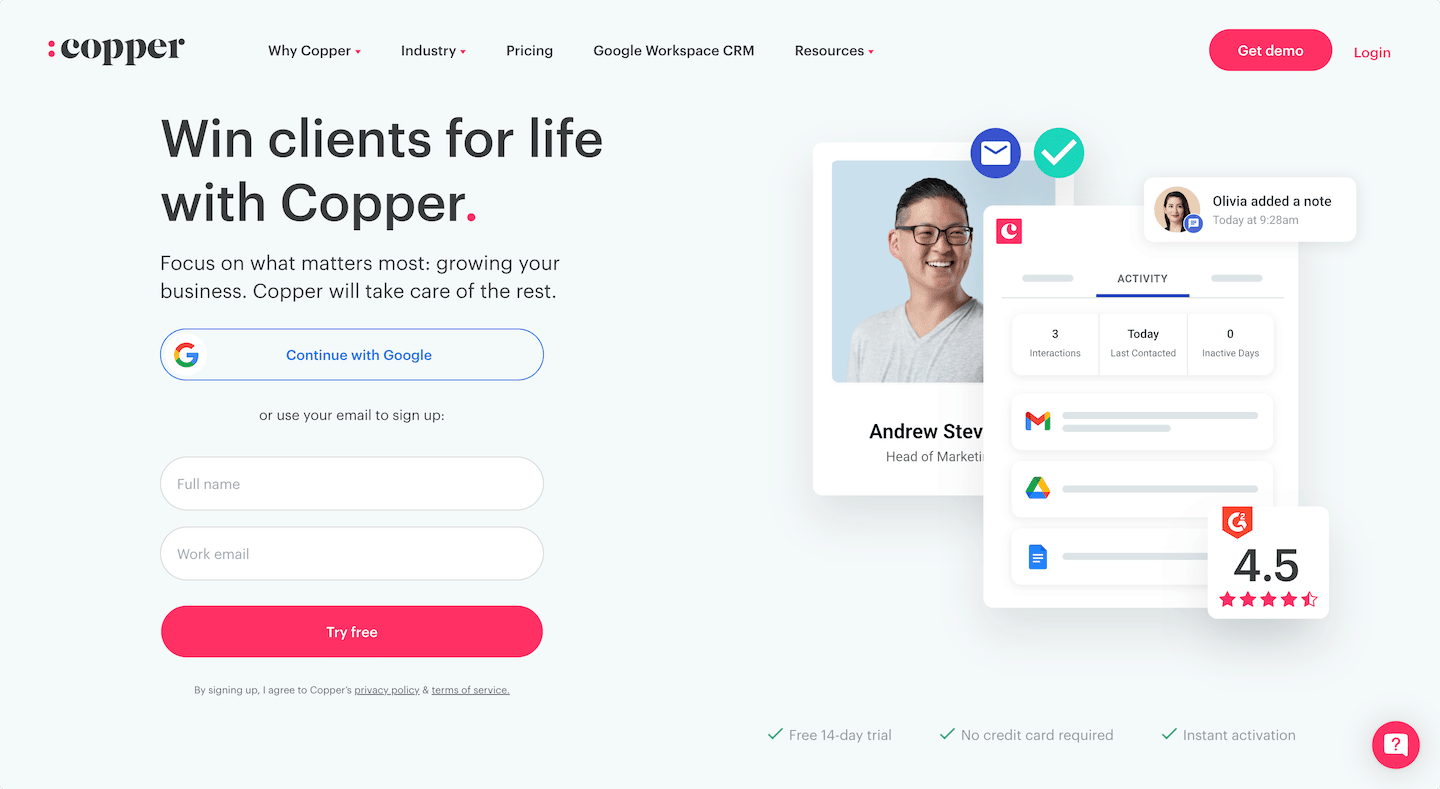 Copper is a CRM software that offers to integrate your data and benefit from CRM functionalities from a sidebar.
Copper is built with Google Material Design. This means that when you are on the software, all the contact management elements look like G-Suite.
With Copper's Chrome extension sidebar, you can quickly access all the important information about your contacts.
Copper offers powerful features through AI, including automation: automatic recording of emails, calls, events and productivity documents.
This tool has already been adopted by millions of users and is recommended by Google itself.
Beware, the Cooper CRM is a Chrome extension, and is not fully integrated. So you'll have to switch tabs and go back to the CRM tab for an overview of the data.
As for its use, there is a steep learning curve.
Copper does not offer a free plan, but a free trial for all its plans. The Basic plan, at $29/month/user includes up to 2,500 contacts and integration with the Google Workspace suite. This plan is especially for small businesses that want to get organized quickly. The Professional plan, at $69/month/user, is useful for growing businesses, especially with workflow automation features and integrations with their usual tools.
Try Copper for free
You can take advantage of a free 14-day trial to discover the features of Copper, the software built with Google Material Design, don't hesitate!
#4 Hubspot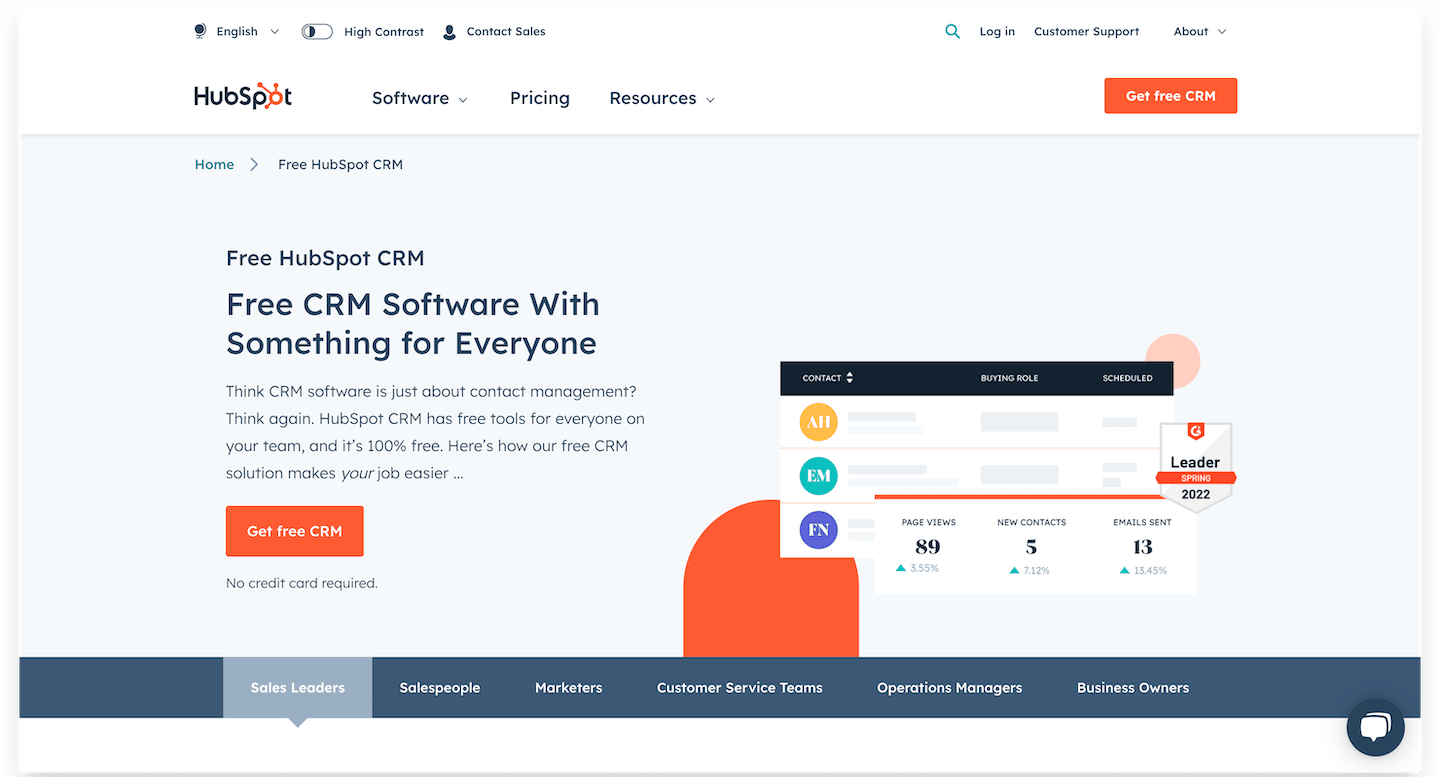 Hubspot allows you to take advantage of its CRM features from a sidebar, directly from your Gmail inbox.
Husbpot's Chrome extension allows you to have a Hubspot portal directly in your Gmail account.
This CRM tool is designed to optimize email marketing and sales and offers powerful features to help achieve these operations: customizable email templates, automated sending of prospecting emails, simplified scheduling of meetings, sales pipeline management, etc.
The Gmail integration allows you to save your emails sent from Gmail in Hubspot CRM with a single click, track email opens in real time, and access a range of tools you need to work efficiently in your inbox.
The contact management and reporting features are also very advanced, but you have to leave your inbox to access them.
The integration with Gmail is a bit superficial: the look and functionality of your inbox changes very little.
In terms of customization, the possibilities are limited, and generally speaking, the learning curve is long.
Hubspot CRM offers a free plan that allows integration with Gmail, but with the Hubspot logo affixed to your emails. To take advantage of the integration without too many limits, count on Hubspot's Starter plan, from 20€ / user / month.
Try Hubspot for free
Hubspot is one of the most used CRM software due to its numerous features. You can try the tool with their free plan
#5 Folk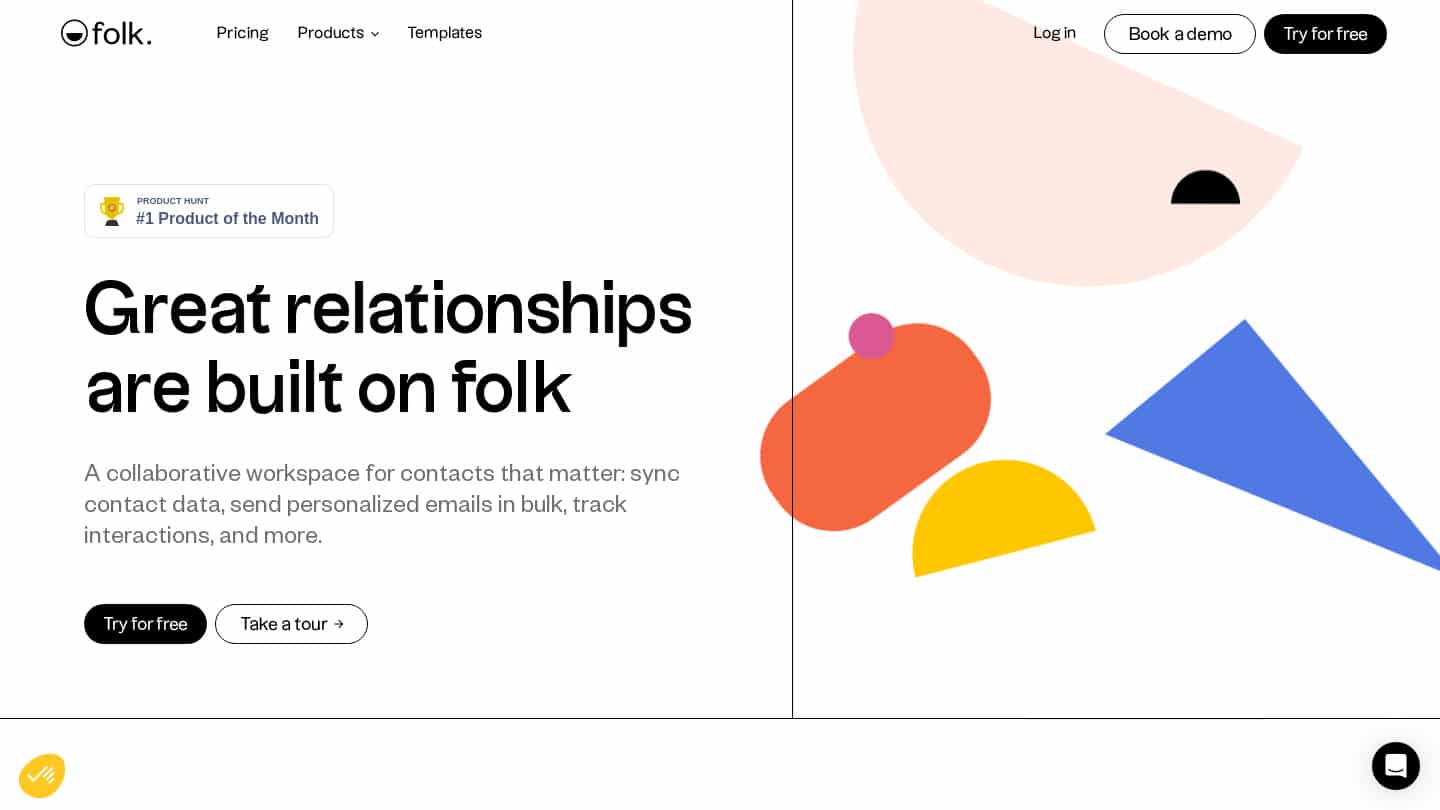 Folk is a CRM software that offers integration with Gmail from your inbox, thanks to a sidebar.
Folk allows you to import your contacts directly from Gmail, extract your Gmail contact data in one click, create contact lists with your team.
You can add notes, personal information, tags and automatically view your interactions with all your contacts.
Folk offers limited reporting and marketing features.
Folk offers a free plan, and a first free plan at $19/month/user. It includes unlimited contacts, 500 messages/month and the Chrome extension that allows you to add your contacts in one click from many sites, including Gmail.
Try Folk for free
You can try Folk for free, the software that allows you to import your Gmail contacts in one click, don't hesitate!
#6 DragApp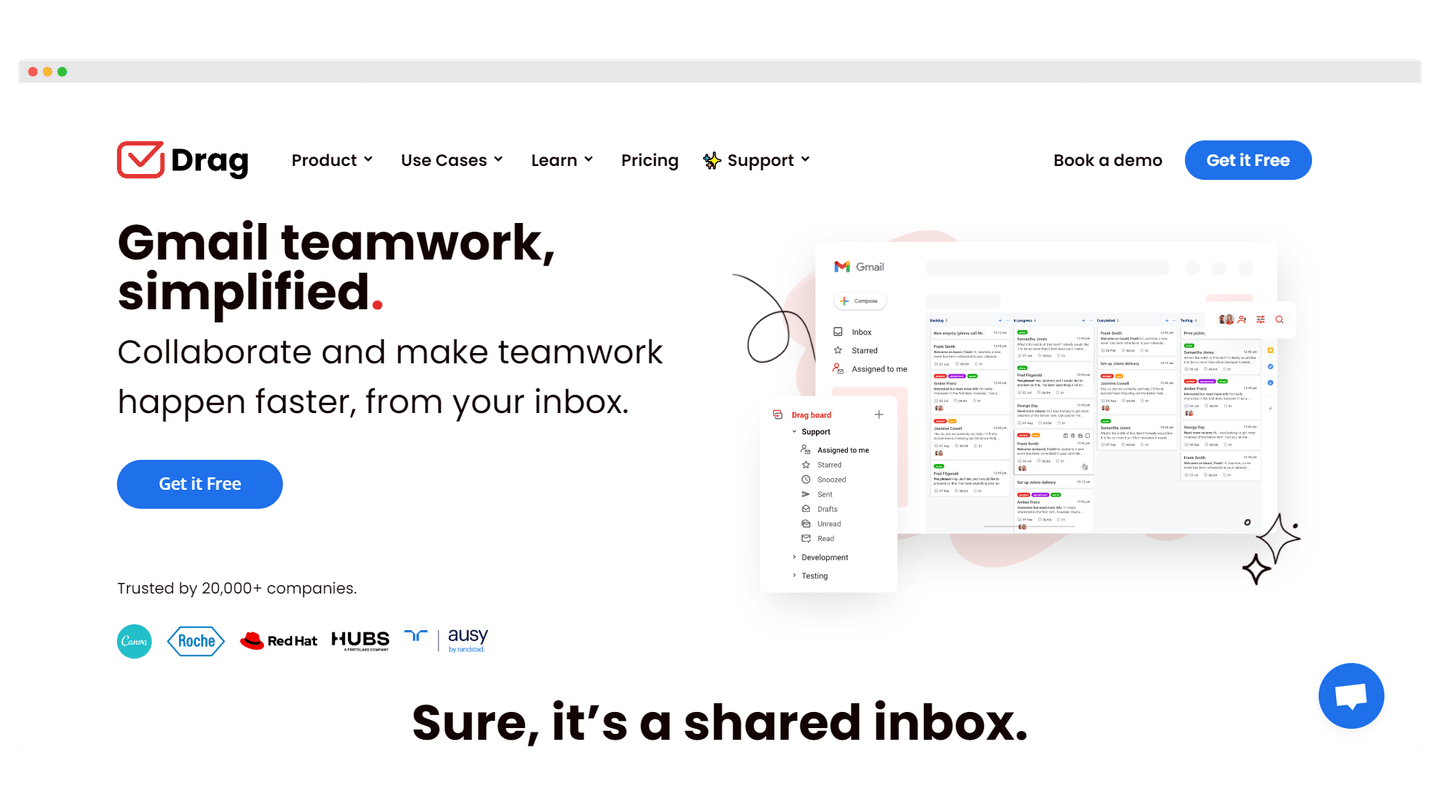 DragApp is a bit different from the other solutions in this top. The solution does not live in Gmail and does not integrate with it, but allows users to connect their Gmail to the application. This tool is part of the shared inbox.
DragApp is a collaboration tool that allows you to connect real accounts or Google groups to Drag boards and share them with your team, clients or contractors.
It's also a productivity tool that turns your Gmail into a Kanban board and allows you to have an overview of the tasks to be done, deadlines and others.
DragApp offers a free plan, which includes Gmail integration, and includes classic CRM features. The Starter plan, at $10/user/month, is designed for teams that need a single shared inbox. You can use it on phone and computer. At $12/month/user, the Plus plan offers 10 workspaces and slightly more advanced collaboration, productivity, integration and workflow features. Perfect for teams that want to automate and expand their work.
Try DragApp for free
Discover for free during 14 days the features of DragApp, the tool designed for collaboration
#7 Pipedrive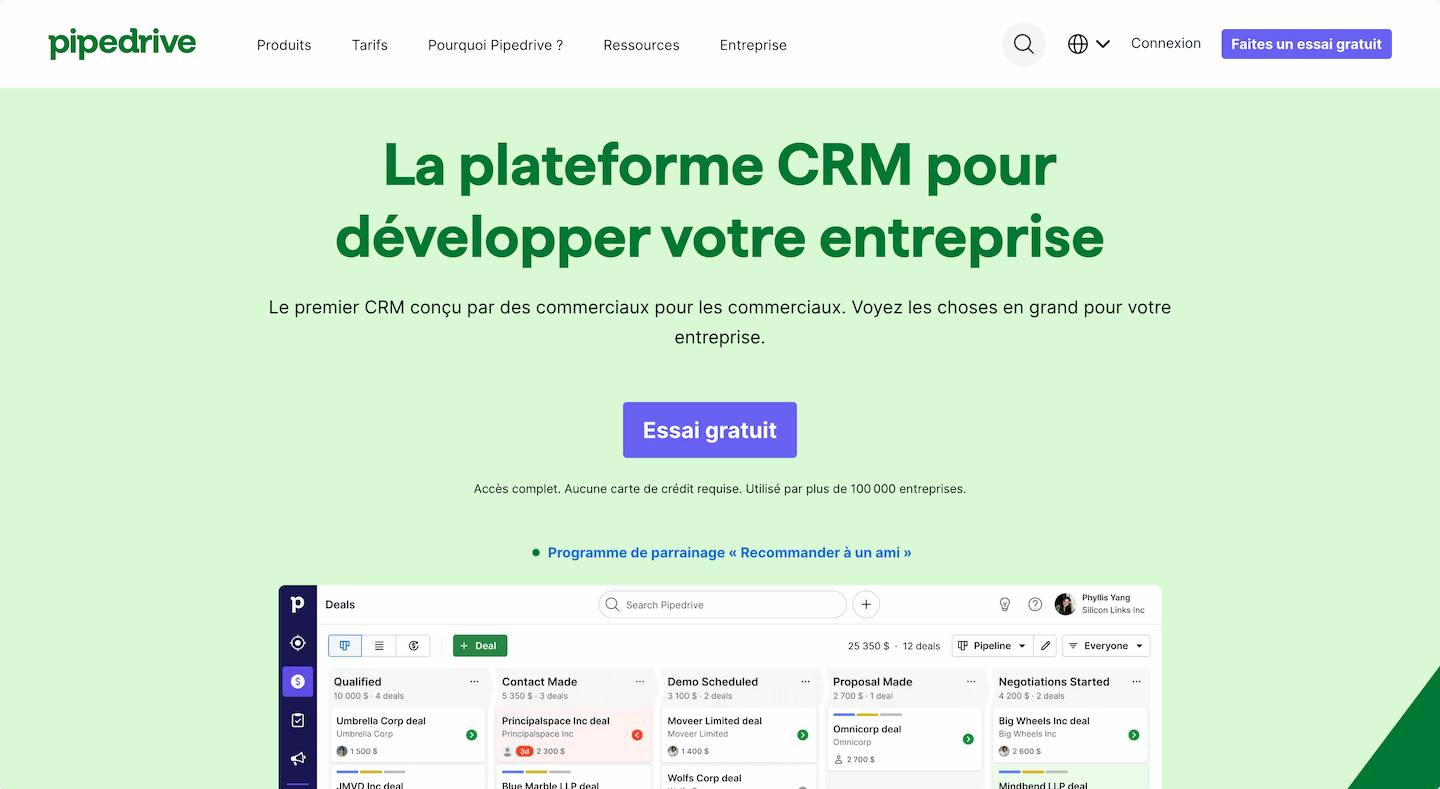 Pipedrive allows you to benefit from its CRM features from a sidebar, directly from your Gmail inbox.
Pipedrive is a very solid sales management tool, relevant if you manage a lot of deals and you want to have advanced features in sales analysis.
The Gmail Pipedrive extension works as a scheduler and task list for its users. It displays all the tasks and activities scheduled for the day when the user logs in to the system.
The Gmail extension works in any browser.
With the extension, you can have access to the complete history of your contact relationships, with full text about your customers or prospects, as well as the transactions and activities that are associated with them.
Pipedrive is an interesting sales management tool, but it lacks some essential marketing features, especially the email marketing functionality. The poor integration of Gmail is partly due to this. The integration with Gmail is indeed quite superficial, in the sidebar of Gmail.
The Gmail integration is not included in the plan subscription, it is an add-on. This means that you can only place a Pipedrive application in the sidebar of your Gmail inbox, and have functionality for scheduling sales, taking notes and adding contacts from Gmail to Pipedrive.
The Gmail integration does not offer automatic creation of records from received emails, but you can manually create new contacts in the CRM. Once a connection already exists in your Pipedrive database, all subsequent emails from that person are automatically linked to the record.
Pipedrive does not offer a free plan, but a 14-day free trial is available for all its plans. The first paid plan is 19.90€/user/month. The Professional plan costs 59.90€/user/month and is mainly aimed at those who need to boost their performance and income.
Try Pipedrive for free
Pipedrive offers a free trial for 14 days, discover its features and the Gmail extension
#8 Zoho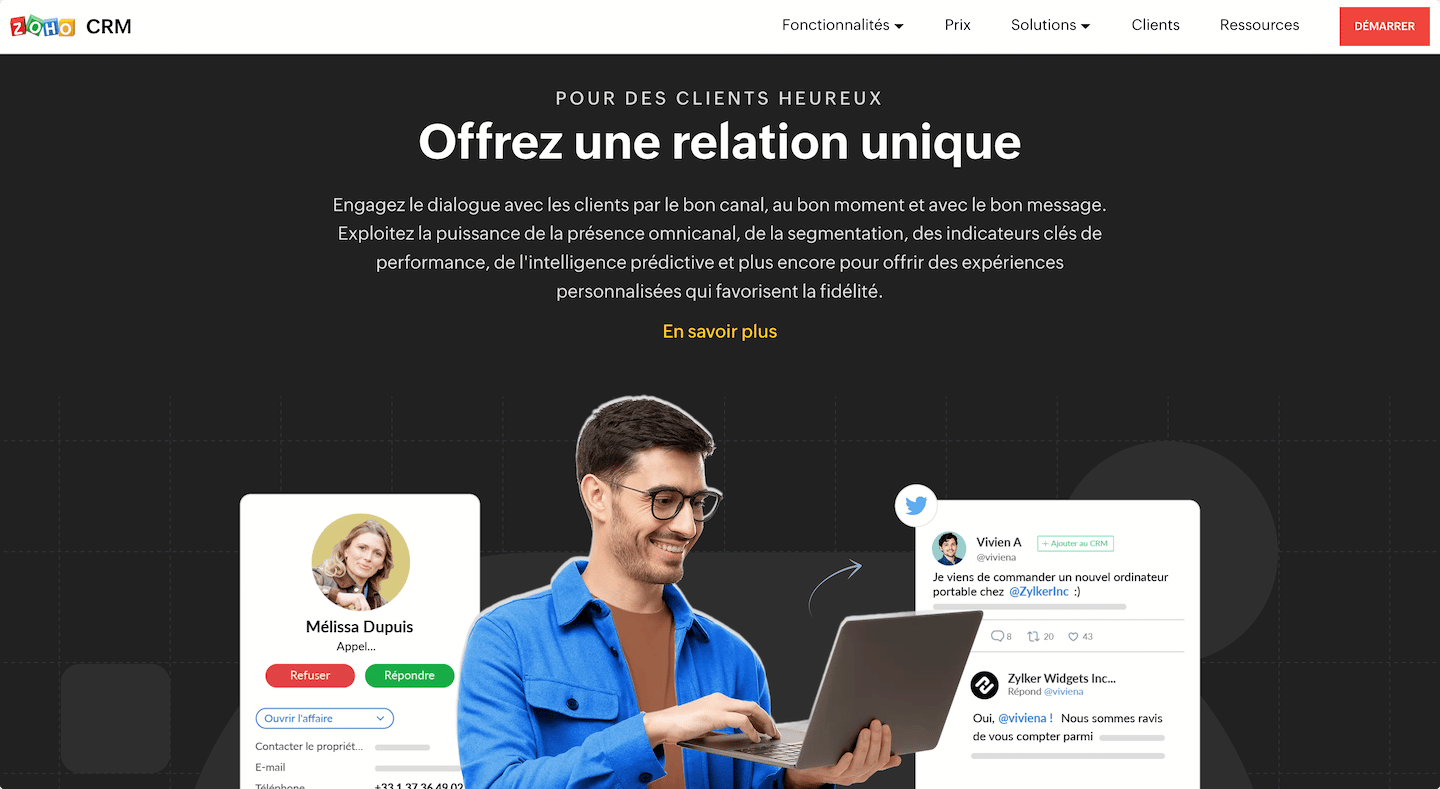 Zoho allows you to benefit from its CRM features from a sidebar, directly from your Gmail inbox.
Gmail integration allows you to quickly manage and add leads and contacts to the Zoho CRM system, while providing quick access to lead and contact details for each profile.
The Chrome extension also allows you to synchronize and record tasks, events and calls with customers between the CRM and your inbox.
Zoho offers a free version, but with limited functionality.
Zoho offers more features than a small or medium-sized business needs, and offers fairly limited Gmail integration. The extension simply allows you to create new leads and contacts from within Gmail.
Weakness 2
Zoho offers a free plan for up to 3 users but does not include Gmail integration. The first paid plan is 20€/user/month. It includes Gmail integration and classic lead scoring features, the ability to create multiple sales pipelines and custom dashboards. The Professional plan, at 35€/user/month, includes the Sales Signal tool that allows you to track your prospects' activity, integrate your forms and an integrated inventory management solution.
Try Zoho for free
For 15 days, discover for free the features of Zoho, the CRM par excellence, directly from your mailbox
#9 FrontApp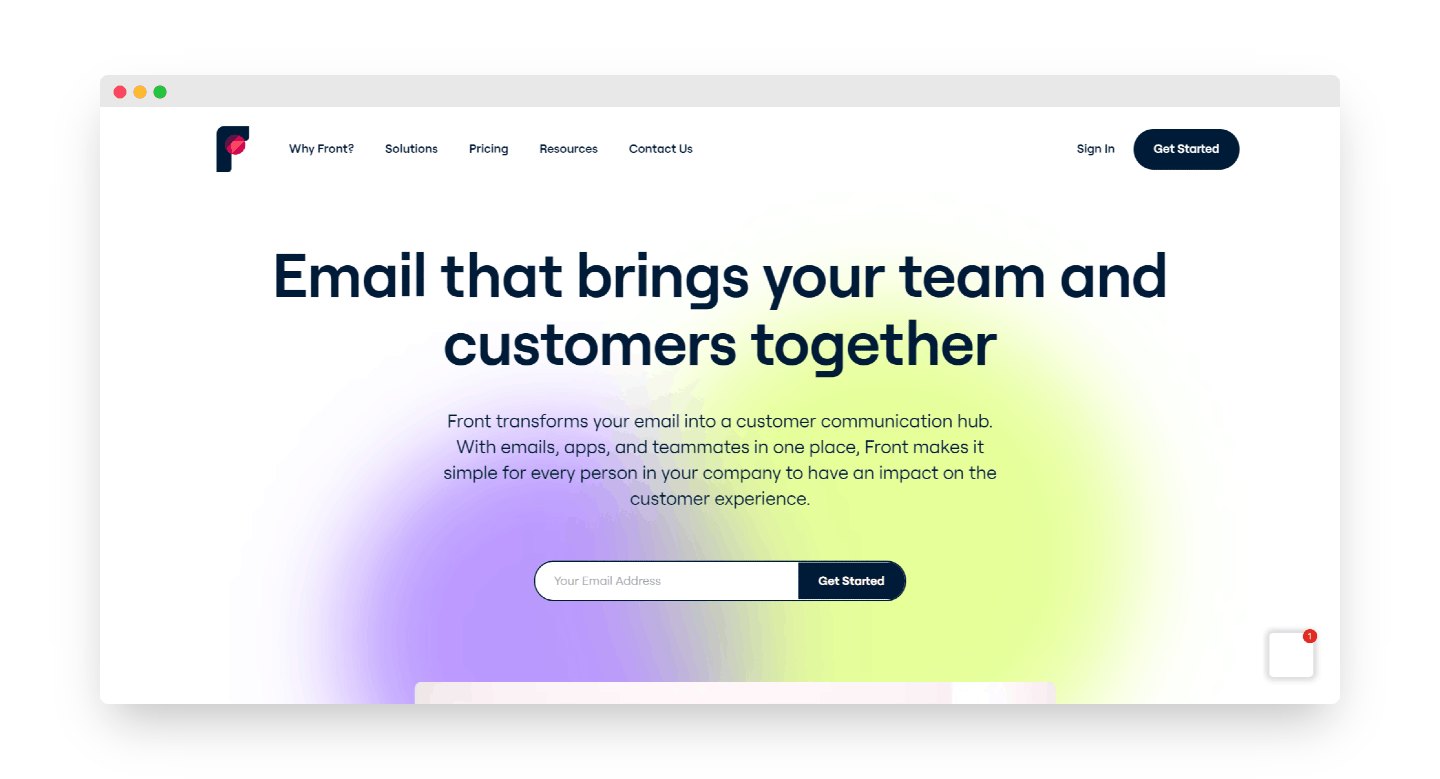 FrontApp is part of the shared inbox.
It is a very relevant tool for collaboration and is highly recommended for those who work in teams.
Front app allows to centralize group emails, individual emails, but also SMS and live chats in one place. Users can manage emails collectively.
Front offers a $19/user/month plan that is aimed at teams that need to quickly control message overload. They offer the classic features of this type of software: omnichannel messaging, team collaboration on customer messages, calendar and meeting planning, as well as numerous integrations.
Other plans are available for teams with more significant customer experience needs. Count between 49$/user/month and 99$/user/month. Please note that the first plan does not offer CRM integration.
Try Front app for free
FrontApp is one of the very good shared inbox solutions, you can discover it for free, don't hesitate!
#10 Dex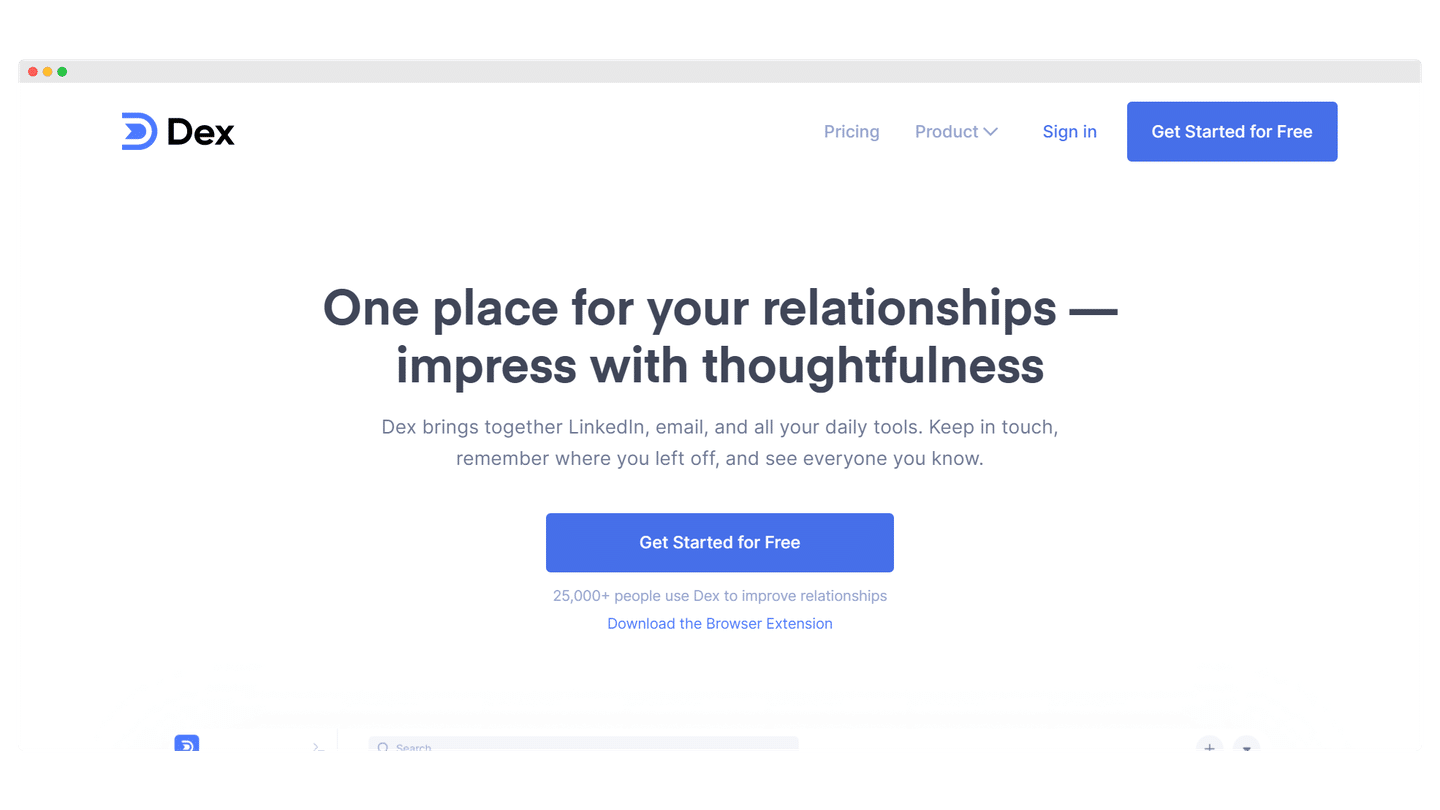 Dex is a CRM software that offers many integrations, including Gmail, and solid data management features. It is a CRM focused on contact management that allows you to import your data and sort your contacts according to their importance. With Dex, you have access to the CRM features through a sidebar.
Beyond Gmail, you can import your data from various social networks (Facebook, Linkedin…) and email accounts. Dex manages to gather relevant data from different platforms and makes it easier for the user to manage their most recent social contacts. It is a tool particularly adapted for those who wish to deepen their networks.
Dex offers a free version and a first paid plan at $12 per month.
Try Dex for free
Discover for free Dex, the CRM software focused on contact management and offering many integrations