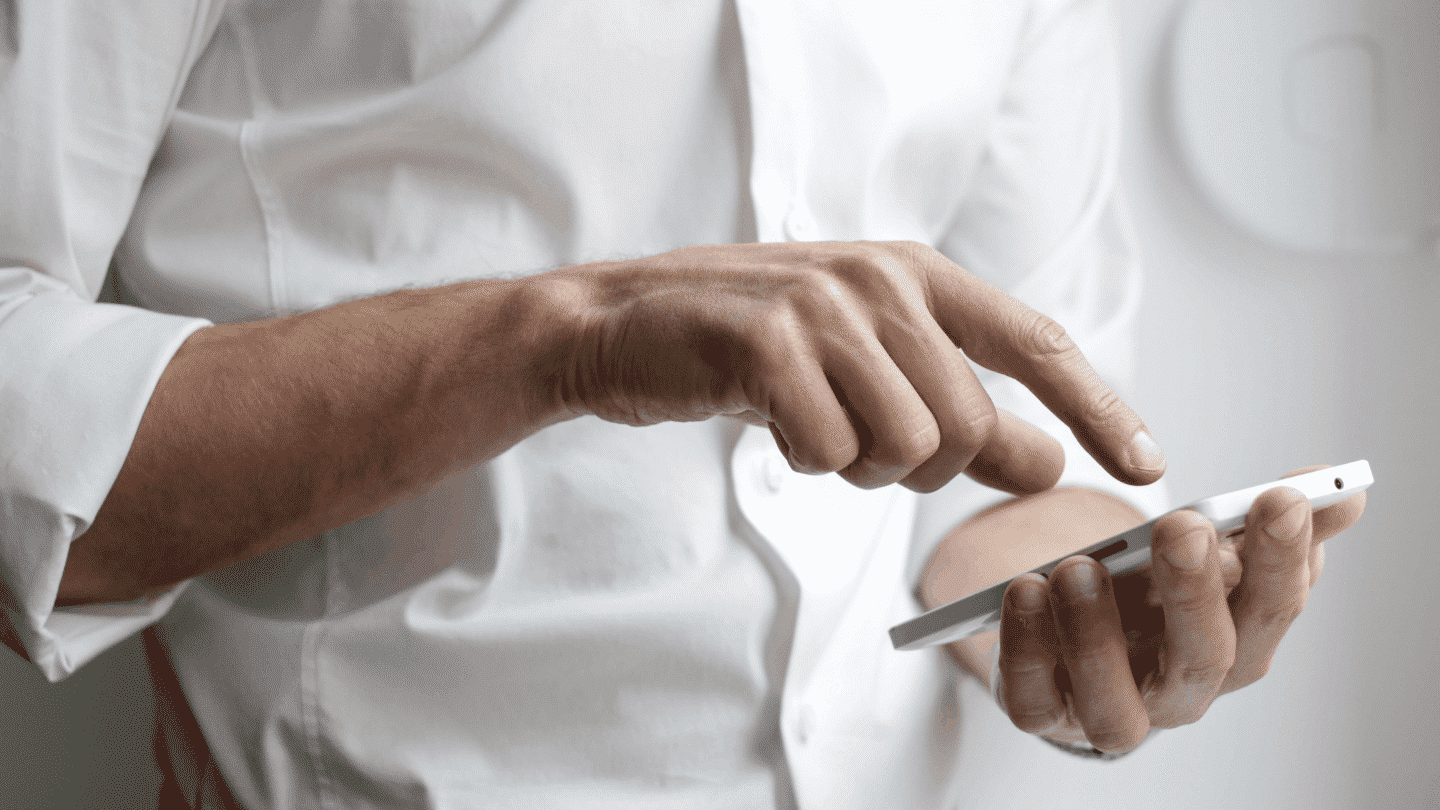 CRM software is usually evaluated and compared on its desktop version. This is the standard usage in sedentary sales organisations, and indeed in most sales organisations.
In this article, we focus only on the mobile version of the selected and evaluated CRM software, for mainly mobile uses. We start by reviewing the features that we believe make a good mobile CRM, to support our methodology, and then we present the solutions that we believe are the best mobile CRM software:
Zendesk Sell
Nutshell
Copper
CRM capsule
and FreshSales
What is a mobile CRM?
A mobile CRM (or M-CRM) tool allows field teams and remote workers to access and complete the information in the CRM from a smartphone, tablet or laptop with an internet connection.
In this way, sales and technical staff on the road remain productive and keep their colleagues informed of the progress of the projects for which they are responsible.
Mobile CRM software therefore allows sales forces and marketing teams to consult and enrich customer relationship data at any time.
What makes a good Mobile CRM: key features?
#1 Contact management
A mobile CRM must provide access to all contact information and allow it to be modified or completed remotely.
Thus, each employee must be able to open the customer files, and be able to find the customer's complete contact details, as well as the URL of their website, the history of telephone and email exchanges, previous and future appointments, as well as the products purchased or offered.
#2 Smooth scanning
A mobile CRM application is designed to make it easier to contact prospects at any time. Immediate download of contact information from a business card is essential, and reduces the need for time-consuming manual entry.
With easy numbering you also do not risk losing information when re-entering it into your CRM tool. On top of that, the quick registration of information allows a whole team to have immediate access to the customer file and to add elements to it.
#3 Lead management
Lead management allows you to identify and manage hot prospects in order to close as many sales as possible, thanks to lead scoring.
A good mobile CRM tool allows the sales force to focus on the most interesting prospects. It also makes it possible to automatically update customer data in real time as soon as additional information is added, or new contacts are added to the CRM tool.
#4 Transaction management
This key feature of a mobile CRM solution allows employees to identify and manage ongoing transactions. By filtering transactions based on their potential to turn into an actual sale, you know instantly which transaction to act on immediately to close the sale, and which ones you still need to follow up.
#5 Integrations with Gmail and Outlook
Integration with your email inbox is essential for a CRM tool. It allows you to generate notifications when you receive a message from one of your customers, and to respond immediately while keeping track of this activity in your CRM.
This way, you share with your colleagues the essential information from your exchanges with your customers, and you avoid duplicate responses (in the event that one of your colleagues also responds to the prospect), even when you are on the move.
#6 Transparent interface
The mobile interface of a CRM solution must be different from that of a desktop version. Indeed, on mobile, the CRM must be easy to use, and be designed for a mobile experience. It is not a version copied from the desktop interface. On the one hand, it must adapt to the medium used (smartphone, tablets, etc.), and on the other hand, it must provide useful functions on the move.
Needs on the move are often slightly different from those in the office, for example you may frequently need to take voice notes, receive push notifications, or quickly find a customer's phone or physical contact details.
Comparison table of the best mobile CRM software
#1 Pipedrive: the most successful mobile CRM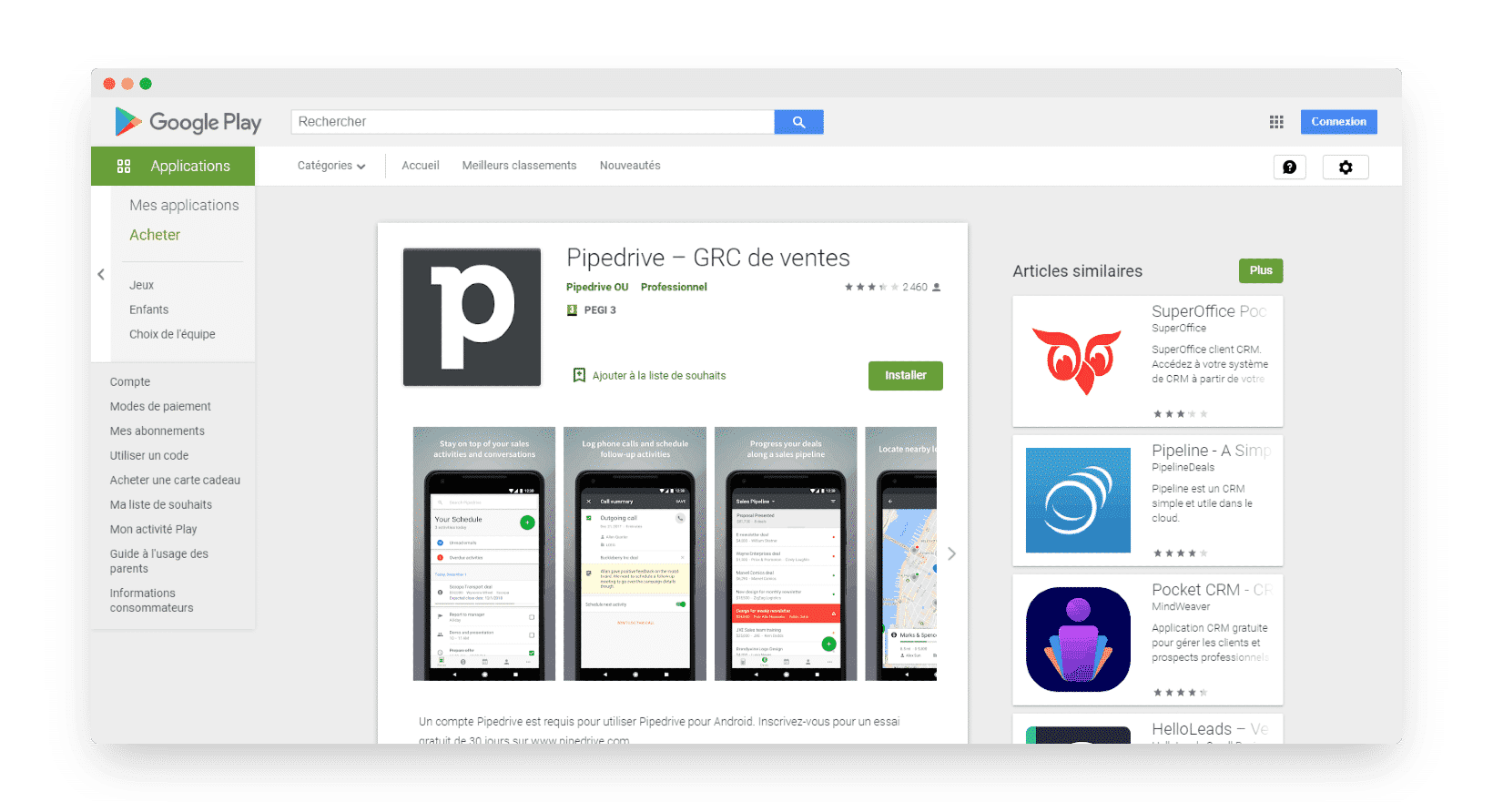 Pipedrive 's mobile CRM is as easy to use as the desktop version. Its strength lies mainly in the visual experience of its pipeline. Its interface is minimalist, and focuses on the essential functions of the CRM tool. In this way, Pipedrive's mobile CRM is more pleasant to use than a richer mobile CRM such as Salesforce for example.
If you don't need a lot of customisation, nor too many integrations, you will benefit fully from the mobile CRM and the desktop version of Pipedrive. When you open the mobile version, you will find all the useful functions at a glance when you are on the move. However, all Pipedrive features are accessible from the mobile version.
Advantages & Disadvantages
As soon as contacts are created in the system, the caller ID function tells your users the value of that contact in terms of open offers and the organisation to which it belongs.
Recording of calls and your notes to keep track of every call.
The visual pipeline is clear and the experience is excellent.
Addresses entered in the main desktop version will not be displayed correctly in the mobile application unless they match a valid address on Google Maps.
Application not yet very stable.
Difficult to manage email on mobile phones.
Rates
Essential : at €12.50 per month per user, to implement streamlined sales processes.
Advanced : at €24.90 per month per user, to increase your team's performance through robust and easy-to-use automation.
Professional : at €49.90 per month per user, for access to advanced analysis tools and to quickly increase your turnover.
Enterprise : at €99 per month per user to get a highly collaborative CRM tool with unlimited customisation and access to a dedicated support service.
Try Pipedrive for free
Pipedrive offers a 14-day free trial to test all features before making your choice.
#2 Monday CRM: the reference CRM for small agile teams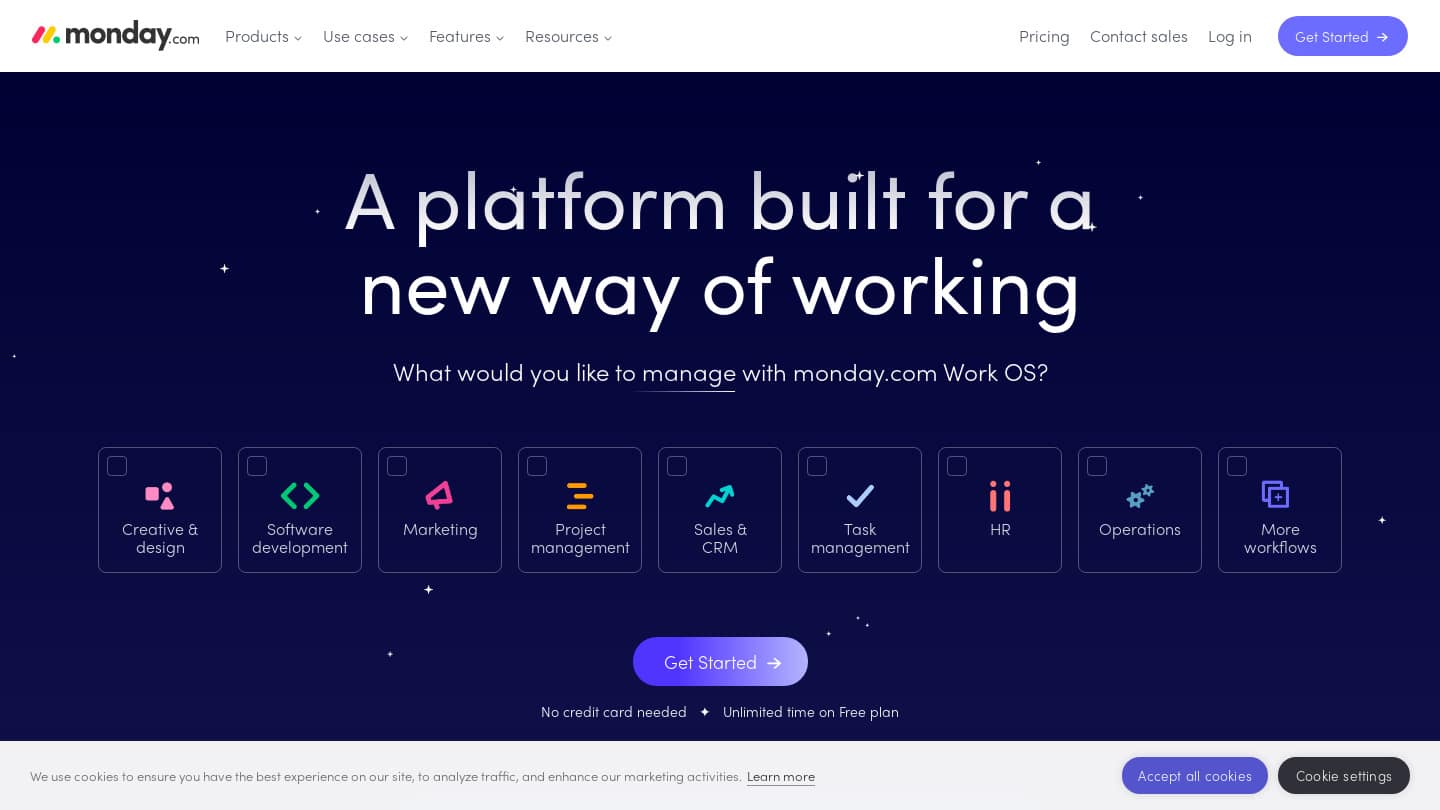 Monday is basically a project management software, with a strong emphasis on ease of use, information sharing, and excellent visibility into multiple workflows at the same time.
So much so that more and more sales teams have been using it as a CRM, and they've been quick to formalize a whole bunch of things to provide a true CRM experience for small, agile & fast teams. It's a far cry from the advanced reporting on Salesforce, but really, almost no one needs those reports anyway.
Their mobile app is really a reference for all B2B software. Just because we deal with complexity doesn't mean it has to be complicated to read.
Advantages & Disadvantages
The mobile application is super complete
Ergonomics is unmatched on the market
The software is free up to 2 users
Reporting does not go as far as on solutions like Pipedrive or Hubspot
No scanning of business cards (yet?)
Rates
Monday offers a free plan (forever) for up to 2 users. No fake freebies or limits that are reached after 3 days, this is a real free CRM, our favorite even. On the other hand, to access the mobile applications, you have to switch to the Basic plan, which starts at 10€ / user / month.
Then there are 4 paying plans:
The "Basic" plan at 10€ / user / month: it gives access to mobile applications, advanced reporting, and the creation of templates to save time.
The "Standard" plan at 14€ / user / month: it allows access to many automation features and integration with other software. The goal is to gain in productivity.
The "Pro CRM" plan at 24€ / user / month: more reporting, calendar synchronization, dashboard, sales pipeline review, … Real CRM features.
The "Enterprise" plan for large structures: prices are on request, but we are very far from the 300€ / license that SFDC displays.

Try Monday for free

Axonaut offers a very complete free plan. To access the mobile applications, you will have to pay 10€ / user / month.

#3 Axonaut: the mobile CRM / ERP made in France

Axonaut is a tool made in France, in Toulouse to be precise, which offers an impressive suite of functions: CRM, invoicing software, project management, HR management, cash management. The software has all the features of a real ERP, with the simplicity of a tool designed for small and medium-sized businesses.

Axonaut's mobile application allows you to access all your company's business data directly from your Android or iOS mobile phone: access all your contacts, current opportunities, and trades in seconds. The app also allows you to record your expense reports by taking a picture of them.

Advantages & Disadvantages

The mobile application allows access to a lot of things available on the SaaS version
Digitization of expense reports is a real plus
Very easy to use

Some users regret that the application is not adapted for tablets
Lack of options on how to manage ongoing opportunities
No scanning of business cards (yet?)

Rates

Axonaut offers a single, simple price: €49 per month + €14.99 per additional user. From 10 users onwards, the rate increases to 199€ / month + 14,99€ per user. For example, for an Axonaut account with 3 users, you will pay 49€ + 30€ = 79€ / month.

In addition, Axonaut rewards (a lot of) loyalty. Benefit from a 30% discount if you commit yourself for one year, and 40% if you commit yourself for two years.

Try Axonaut for free

Axonaut offers a free 14-day trial to discover the tool's capabilities.

#4 HubSpot CRM: the mobile CRM software that focuses on customer care

Hubspot CRM is easy to get started and easy to learn. From the free version of Hubspot, you get access to dozens of tools, a chatbot and a mobile app. The mobile app features a business card scanner, so you can automatically integrate your new contacts' information. The user interface is clear, with a condensed list of features and easy-to-understand tabs.

The email tracking feature added to the "Activity" tab of the mobile application available on iPhone and Android allows you to keep an eye on your email exchanges with your customers. If you use Outlook or Gmail, you can track the status of your sent email (you will know if it has been received and opened). You can also see if your prospects have viewed your attachments.

Advantages & Disadvantages

Real-time notifications of the follow-up of sent e-mails.
Integrated dialling and calling function.
Ability to make calls, record meeting content and update all meetings from the mobile app.

Functionally limited application compared to the desktop version.
Not adding to an email sequence from the mobile app: Although you can select templates, you do not have the ability to add a lead to a sequence from your mobile device.
No possibility to send SMS from the application.

Rates

Starter : from €41 per month to use Hubspot with 8 hours of calls, unlimited email tracking, 1000 meeting links, 10 dashboards and 2 transaction pipelines.
Pro : from €414 per month to make 100 quotes per transaction and offer electronic signature to your customers, use 100 inboxes, 25 analysis dashboards and 15 sales pipelines.
Enterprise : from €1104 per month for access to 33 hours of calls, 50 sales pipelines, 50 analysis dashboards and 1000 workflows to support teamwork.

Try Hubspot for free

Hubspot offers a free version with all the basic features for customer relationship management.

#5 Salesforce: the undisputed leader in CRM software

Salesforce has been around since 1999 and is now a leader in the field of CRM tools. Thanks to acquisitions such as Tableau in 2019, Salesforce offers powerful tools with almost unlimited functions. Salesforce's interface is customisable to create bespoke sales processes that fit your needs and work habits. Mobile integrations allow you to use Salesforce on the go.

The mobile app for iPhone and Android is very comprehensive, but a little busier than other mobile CRM solutions. It has all the Salesforce features, including live chat, queries and dashboards.

Advantages & Disadvantages

The seamless mobile experience.
Easy to update tasks and accounts on the move.
Access to offline data via the application.

Too many options and features that sometimes interfere with navigation.
Limited options to change the status of opportunities and quotes via the Salesforce mobile app.
From the application, accessing a lead's history and sharing its URL is difficult.

Rates

Essentials from £25 per user per month for a ready-to-use CRM tool for up to 10 users.
Professional from €75 per month per user for a complete CRM tool regardless of the size of your team.
Enterprise from €150 per month per user for a CRM that can be customised to suit your needs.
Unlimited from €300 per month per user for a CRM tool with unlimited functionality and access to dedicated technical support.

Try Salesforce for free

Salesforce offers a free trial to discover its possibilities.

#6 Zendesk Sell: CRM, Leads and Sales Tracker

The minimalist interface of Zendesk Sell is one of the most attractive available. It is clear and the navigation on the different tabs is fluid. The features are sufficiently numerous and relevant, allowing, for example, to send SMS and make calls directly from the mobile application. The value for money of the entry level is reasonable, although the higher ranges can be quite expensive and go up to 99€ / month and per user.

The Zendesk Sell CRM mobile application is available on Apple store and Google Play. It provides a very good user experience. It is modern, elegant and easy to use. The main drawback to using Zendesk Sell is that integrations are minimal compared to other mobile CRMs.

Advantages & Disadvantages

Recording of SMS exchanges and calls(call tracking).
Automatic SMS follow-up if you cannot reach a prospect, very practical.
Clean and modern design of the application, pleasant to use.

The map view of customer accounts is only available via the mobile phone application.
It is not possible to copy and paste a customer's address from the "address" field in the application.
Limited reporting capabilities via the mobile application.

Rates

Sell Team at €19/month per user for access to a ready-to-use CRM including a full mobile application, email integration and 1 sales pipeline, for up to 3 users.
Sell professionnal at 49€ / month and per user to have access to a pre-configured and customisable CRM and all the options of the Sell Team plan for an unlimited number of users.
Sell Enterprise at €99/month per user for the same options as the Sell Professional plan and detailed activity reports, as well as the ability to send bulk emails.

Try Zendesk Sell for free

Zendesk Sell offers a free 14-day trial to test all the possibilities of the CRM tool.

#7 Zoho CRM: Sales & Marketing

Zoho CRM offers flexible pricing plans that allow you to test the application and scale your offering as your needs and business grow.

The Zoho CRM mobile application has a good range of features. It offers a dashboard on the home screen that reminds you of your meetings, tasks and calls to make. Your leads can be sorted by contact names, email addresses, status (converted or not), etc. Zoho CRM on mobile allows you to make calls or exchange SMS directly from the application. You can also use the mobile version to view your performance statistics, and keep an eye on your activity.

Advantages & Disadvantages

Very mobile friendly and easy to use tool
Mobile application that allows you to send emails, create tasks and modify any customer / prospect data.
Very useful business card scanning option

Mobile application only available via paid plans
Difficulty downloading files from the application
Poor call tracking features

Rates

Standard at 14€ / month / user for a CRM tool with essential features, as well as multiple dashboards, pipelines and workflows.
Professional at 23€ / month per user for a standard CRM and notifications on lead activities, after sales service follow-up by tickets, and stock follow-up of your products.
Enterprise at €40/month per user for a professional grade CRM and the ability to create customer and supplier access portals, advanced customisation tools, and bespoke mobile applications.
Ultimate at 52€ / month and per user for a high-end CRM integrating advanced analysis tools.

Try Zoho CRM for free

Zoho CRM offers a free 30-day trial with access to all CRM features to get an idea of its capabilities.

#8 NoCRM: the lightweight mobile CRM software with advanced prospecting capabilities

With its "kaban" view, noCRM is a customer relationship management tool designed for salespeople. NoCRM boosts the productivity of your teams by allowing you to quickly create leads and manage the sales cycle from start to finish, which is not possible with all CRM tools on the market. Managers and salespeople can easily monitor the status of sales from an easy-to-use visual pipeline.

The noCRM mobile application can be accessed from iPhones and Adroid through a simple connection with your user IDs. You can use the application offline and synchronize your work with the server once the connection is re-established. Only the administration functions are not available from the mobile application. You will have to log in from your computer to make the settings you need.

Advantages & Disadvantages

Very good user experience.
Allows you to update and track activities even during appointments.
Possibility to easily scan business cards and then follow up with the contact by phone or email.

Integrations only with essential tools.
Few customisation options.
Limited functional depth for larger organisations.

Rates

Starter Edition from 10€ per month and per user for access to a CRM allowing the management of your sales opportunities without advanced integrations, nor after-sales follow-up.
Expert Edition from €16 per month per user, for a complete CRM tool with analysis tools for accurate forecasting and several integrations.

Try noCRM for free

noCRM offers a 14-day free trial to discover all its features.

#9 Nutshell: one of the most successful mobile CRM applications

The Nutshell iPhone application was redesigned and relaunched in early 2020. It now includes a map viewer available on most mobile CRM tools. This feature allows you to geo-locate your prospects. The map view is useful when you want to quickly schedule appointments with your customers, or keep track of where your key prospects are located. You can also quickly segment your prospects according to the criteria that matter to you (status, creation date, products, etc.).

It also has a business card scanner, to save valuable time when creating a new contact. The ability to initiate calls and send emails from the application, as well as the ability to take quick notes after a meeting or call, are all features that facilitate the work of sales teams.

Advantages & Disadvantages

Deep integrations with Google and Quickbooks.
Very intuitive and easy to use application.
Nutshell team always available and responsive.

Application not compatible on iPad.
User experience of the mobile application still needs to be improved on IOS.
Application not yet very stable (many bugs reported by users).

Rates

Starter at €19 per user per month for a simple CRM solution, equipped with essential features for entrepreneurs and sales teams to start selling quickly.
Pro at £35 per month for a full-featured CRM tool with sales automation options to help your teams seize every sales opportunity.

Try Nutshell for free

Nutshell offers a 14-day free trial to access all its features and evaluate its performance as a CRM tool.

#10 Copper: CRM software for G Suite

Copper has a perfect integration with Gmail, which allows you to synchronise all your exchanges and customer contacts on the same CRM application. You can, for example, import your Gmail contacts into Copper CRM with one click. This makes it very easy for you to keep track of your exchanges with your leads.

This CRM solution focuses on the essential features and offers a flexible and easy-to-use tool. Its mobile application allows your teams to be highly mobile and to follow up on leads at any time, even during external meetings.

Advantages & Disadvantages

Automatic synchronization with Google calendar and Gmail
Keeps track of calls.
Copper is very intuitive and smart… whether it's adding leads, contacts, businesses or updating activities via the app.
The mobile application allows you to make calls and send messages.

Impossible to send emails to several potential customers on one mobile.
Email tracking not available via the application
In the mobile dashboard, there is no way to see the details or record the activities of a meeting.

Rates

Basics at $25 per user per month for a lightweight CRM tool fully integrated with Google Workspace, limited to 3 users.
Professional at $59 per user per month for an easy-to-use CRM tool for growing teams.
Business at $119 per user per month for established companies that want to keep track of their customers and prospects in order to sustain their business with the help of a powerful and customizable CRM tool.

Try Copper CRM for free

Copper CRM offers a free 14-day trial to test its performance within your company.

#11 Capsule CRM: the ultra light & powerful English CRM software on mobile

Capsule is a CRM for companies that need to store a variety of customizable information about their various contacts. To easily find your contacts, you can assign them categories with keyword tags that can be used as search filters. Each data tag can be enhanced with additional information such as the customer number. You can also add your customers' social networks, as well as all kinds of data needed by your teams.

The Capsule Cases storage feature allows you to keep all the documents that are important to your business. You can define access levels for your teams, so that your employees can more easily adopt CRM with options that are really useful to them. You can define Cases for Marketing, Cases for Sales & Success teams for example, so that the information available is tailored to the real needs of your team members.

Advantages & Disadvantages

Very customisable application, especially for contact management (tags, etc.).
Customer support very attentive to its users.
Very easy to use, especially with the "getting started buttons".

Very slow calendar management functionality via the application.
No integration with Google calendar.
No push notifications to alert of upcoming tasks and events.

Rates

Enterprise at $54 for a CRM with premium integrations, a dedicated account manager and priority access to technical support.
Teams at $36 for a CRM tailored to growing businesses with the ability to segment data and track your business performance with analytics.
Professional at $18 for a CRM with essential features for small businesses that want to organise their sales processes to increase their performance.

Try Capsule CRM for free

Capsule CRM offers a free 30-day trial to try out all the available features.

#12 Freshsales: the mobile CRM that focuses on telephony

Freshsales offers a mobile CRM application that makes it very easy to email and manage appointments with customers while on the road. It also combines complementary services such as Freshdesk Contact Center (a call centre solution) and Freshchat (a live chat tool). It is an all-in-one tool.

The mobile version of Freshsales integrates easily with your email boxes. This feature is particularly useful if you are often in the field. Recording a call or making an appointment is also a breeze with Freshsales.

Advantages & Disadvantages

Automatic call window to record notes on the mobile app after calling a prospect is extremely convenient.
Access to the complete database via the mobile application.
Task reminders synchronised with your mobile calendar.

No access to offline data.
Mobile application not sufficiently developed and intuitive.
Campaign performance tracking not available from the mobile application.

Rates

Free : free version giving you access to chat and email integration, as well as the mobile version to organise your sales teams and effectively engage your prospects.
Growth : 15€ per month per user to automate customer relationship management to avoid repetitive work from your sales team when your business is growing.
Pro : 39€ per month per user, to manage the work of several sales teams, and guarantee the growth of your turnover.
Enterprise: €69 per month per user to access a highly personalised CRM tool and keep control of your business.

Try Freshsales for free

Freshsales offers a free 21-day trial to test the CRM tool.
Reader Interactions