#1 Hubspot
Becoming a reference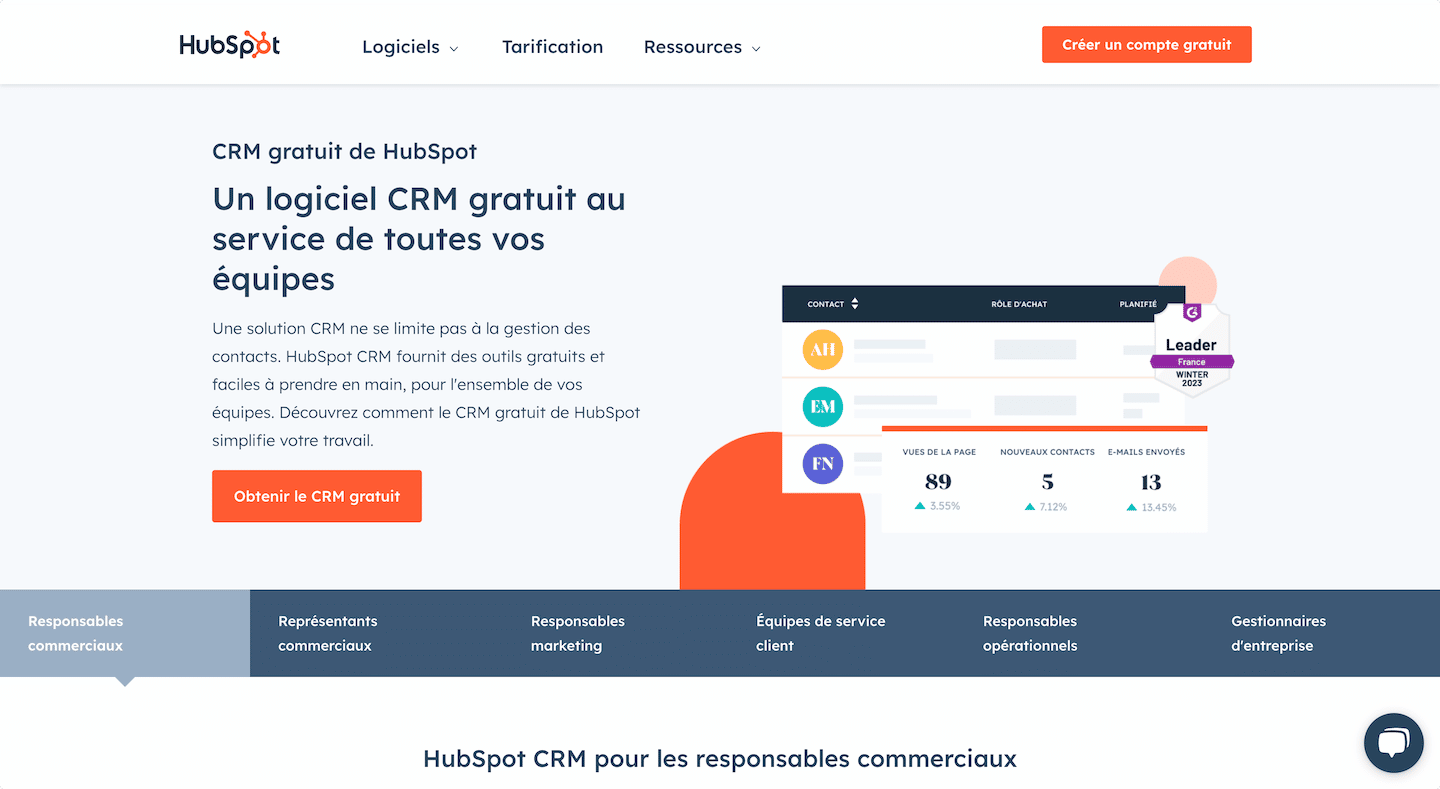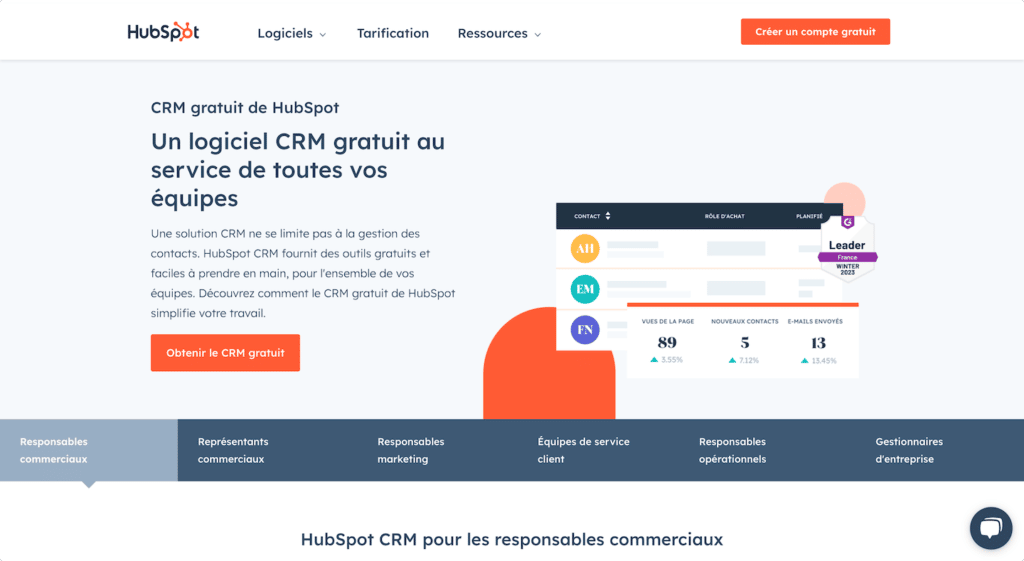 Excellent integrations
Powerful automation features
Good vision of the sales pipeline
Quite expensive after the free plan
Learning curve not to be overlooked
No support in French.
HubSpot has made a name for itself in recent years, focusing on marketing features like marketing automation and social media campaign management. He is also the inventor of content marketing.
The CRM obviously integrates very well with other HubSpot products. For SMBs that need a reliable, well-maintained platform without a lot of training overhead and a freemium pricing model to boot, HubSpot CRM is a good choice.
Hubspot is one of the only CRM software of this comparison to offer a real free version.
Hubspot CRM is one of the few free CRM software. Even if the software does not stay free for long, it is still one of the best value for money solutions.
The Enterprise plan at $110 per month per user really does provide exceptional functional depth at rates that are still affordable.
Between the free plan and the Enterprise plan, other solutions of this benchmark may be more convincing on some particular points: adoption, automation, pricing, …
Try Hubspot for free
Hubspot offers a free plan with no time limit. The free plan allows you to go quite far if you are just starting out. After that, you will have to switch directly to a paid plan. Depending on the complexity of your organization, you will certainly need to select a for the CRM implementation.
#2 Monday CRM
The ultra-light and customizable CRM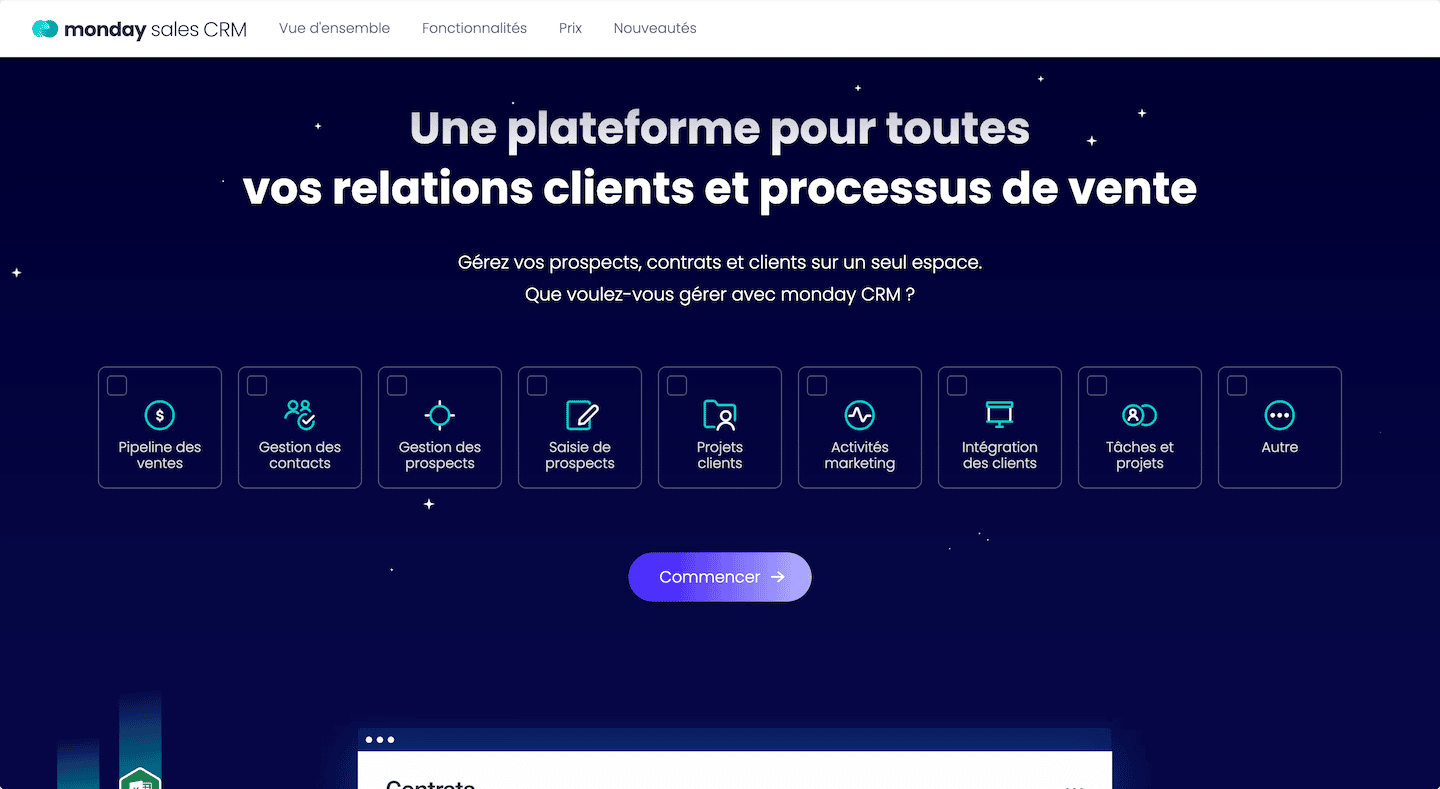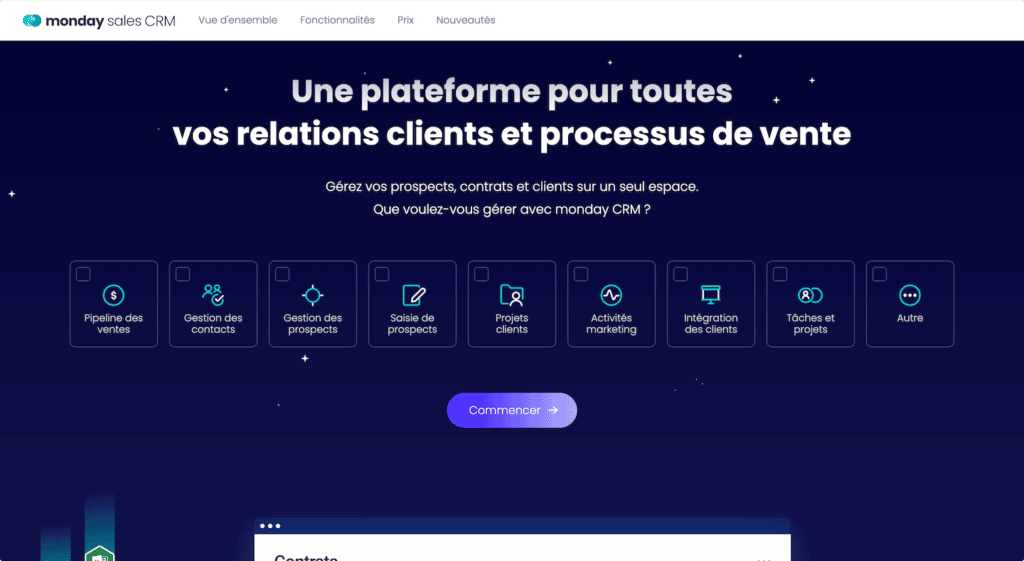 Easy to use.
Ergonomics and experience.
Flexibility of the tool.
A bit light functionally, especially on reporting.
Customer service a little light.
Monday is first and foremost a project management tool that is currently very popular. We're a long way from JIRA and Asana, they've focused on the user experience to offer a hyper-flexible tool that adapts to every conceivable process.
From a product standpoint, this is impressive.
On the CRM side, it is necessarily a little light on reporting and pipeline reviews, but the tool is very pleasant and very affordable. This is a great solution for those who don't have a proper CRM yet and are looking for an intermediate solution that is easy to implement.
Try Monday CRM for free
Monday offers a free plan for up to 2 users. Then, it's from 8€ / user and per month. It's hard to beat that.
#3 Pipedrive
The CRM software with the best adoption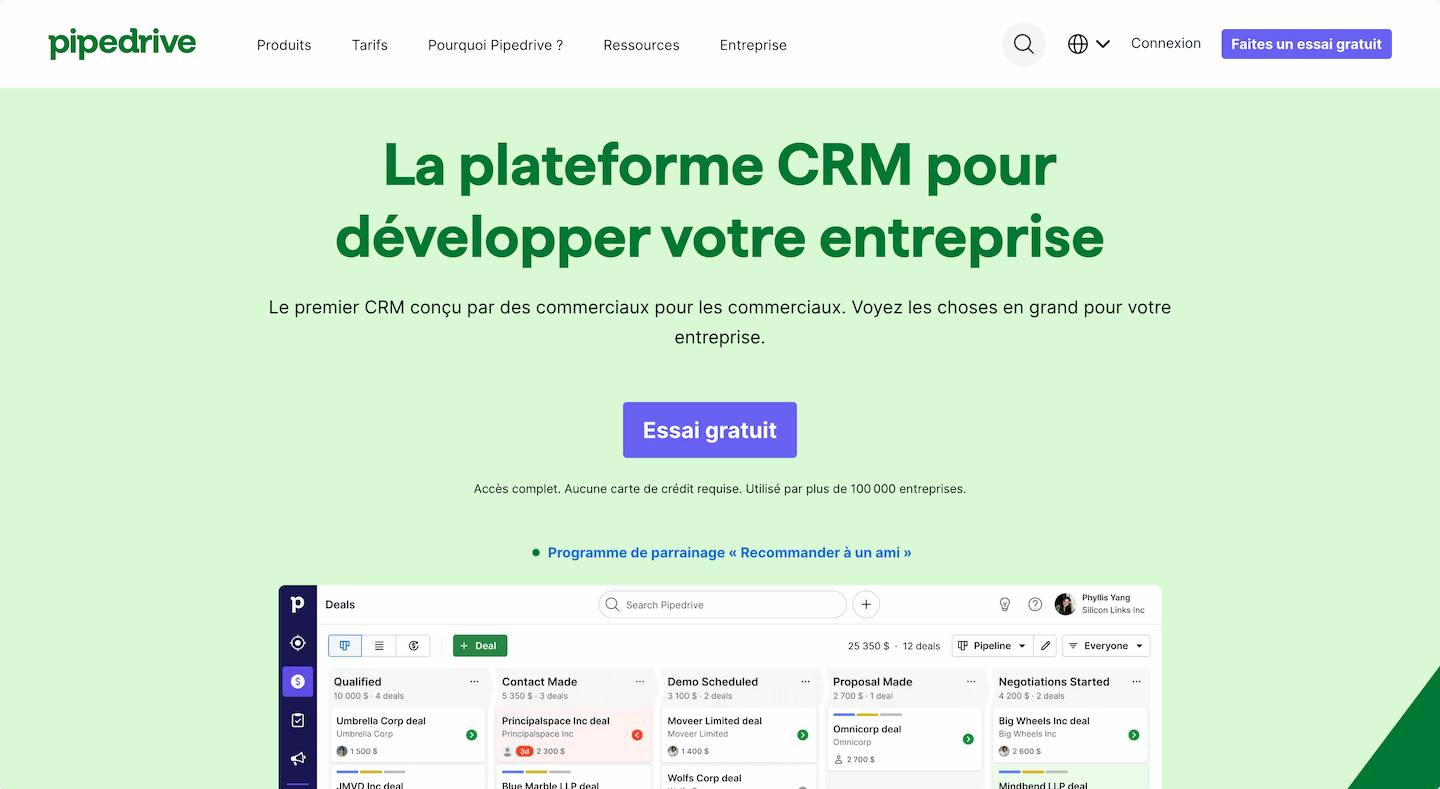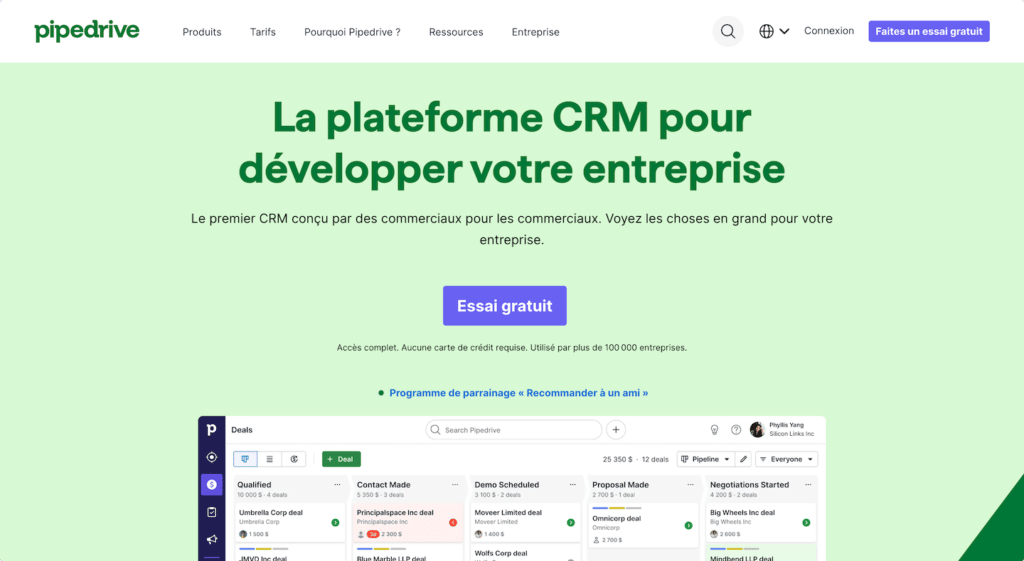 Very detailed training to get the tool in hand
Pipedrive is very solid for a small team that structures its processes
Excellent 24/7 support
No free unlimited package
The top-level Essential plan includes the brand logos
Pipedrive is highly customizable and brings many features to your business management.
The app is user-friendly enough that most sales teams will love it, and offers a great mobile app. You can also easily integrate it with google and/or microsoft productivity tools.
Pipedrive offers 4 pricing plans ranging from 14,90€ to 99€ per month and per user.
For a normal use of the CRM, count on the Advanced plan which starts at 24,90€ / month, and if you wish to integrate the telephony, you will have to pass to the plan at 49,90€ / month.
Try pipedrive for free
Get a free trial extended to 30 days (instead of 14) by following the link below. You can also read our detailed review of Pipedrive
#4 Salesforce
The undisputed leader in CRM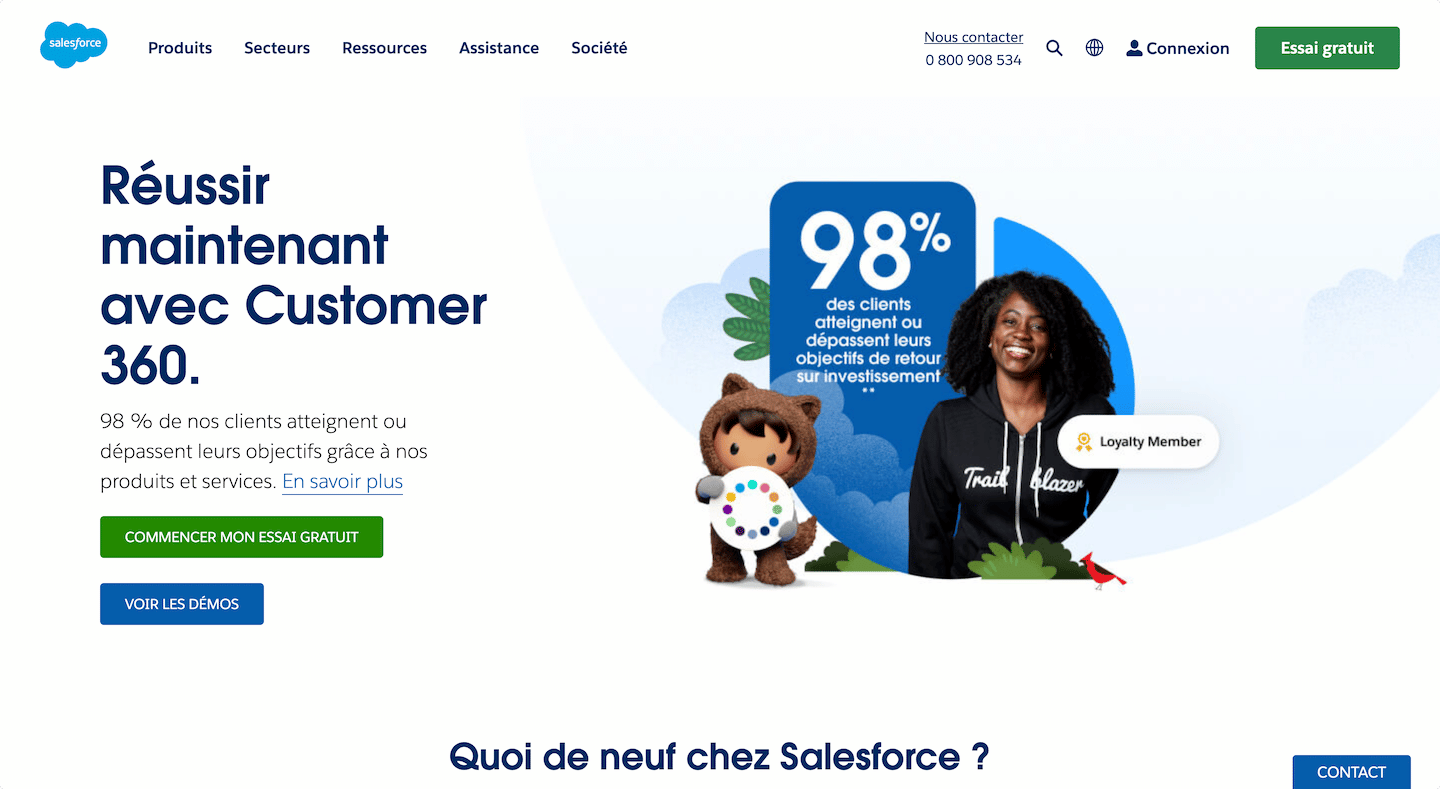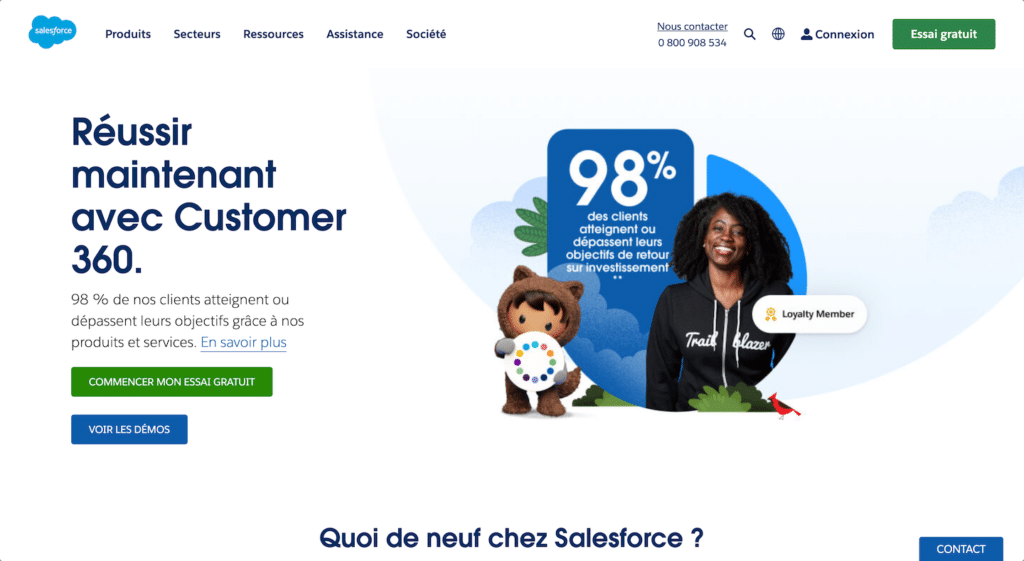 Salesforce offers a range of enterprise products that integrate seamlessly with each other.
Very well known, and very rich in integrations.
Functionally, no software goes that far.
Deployment & adoption to be taken seriously
Salesforce's "lighter" offerings are rather less attractive than their advanced offerings.
With nearly 20% market share, Salesforce is the first name that comes to mind when you mention customer relationship management (CRM) solutions.
But the question of whether or not to include Salesforce in this comparison was raised, at length… This is probably not the best solution for a simple business organization. But an organization can grow and become complex quickly, and in those cases, Salesforce is pretty much a must-have.
In addition to offering a rich set of integrated features, Salesforce offers a comprehensive ecosystem of products that go beyond CRM software tools. The ability to create order management systems, automate B2B marketing pipelines, and manage field employees while dealing with a single SaaS vendor (Salesforce) makes it a behemoth at the heart of most advanced organizations' sales processes.
Let's be serious, Salesforce's real prices are quite far from the catalog prices.
The professional plan (75€ per license per month) is starting to differentiate itself from some solutions, but is still within the range of most competitors.
Especially if you're considering the Enterprise or Unlimited plans, Salesforce is pretty much inevitable. Despite the steep price tag, you really get the depth of Salesforce and what makes it the leader.
Learn more about Salesforce
Salesforce Dot Com (SFDC for Salesforce Dot Com) doesn't offer a free trial, but you can find a lot of information & some video demos on their site. You can also make an appointment for a personalized demo. But we recommend that you go directly to a , who, despite a somewhat biased discourse, will be able to answer all your questions.
#5 Zoho CRM
A very complete and versatile CRM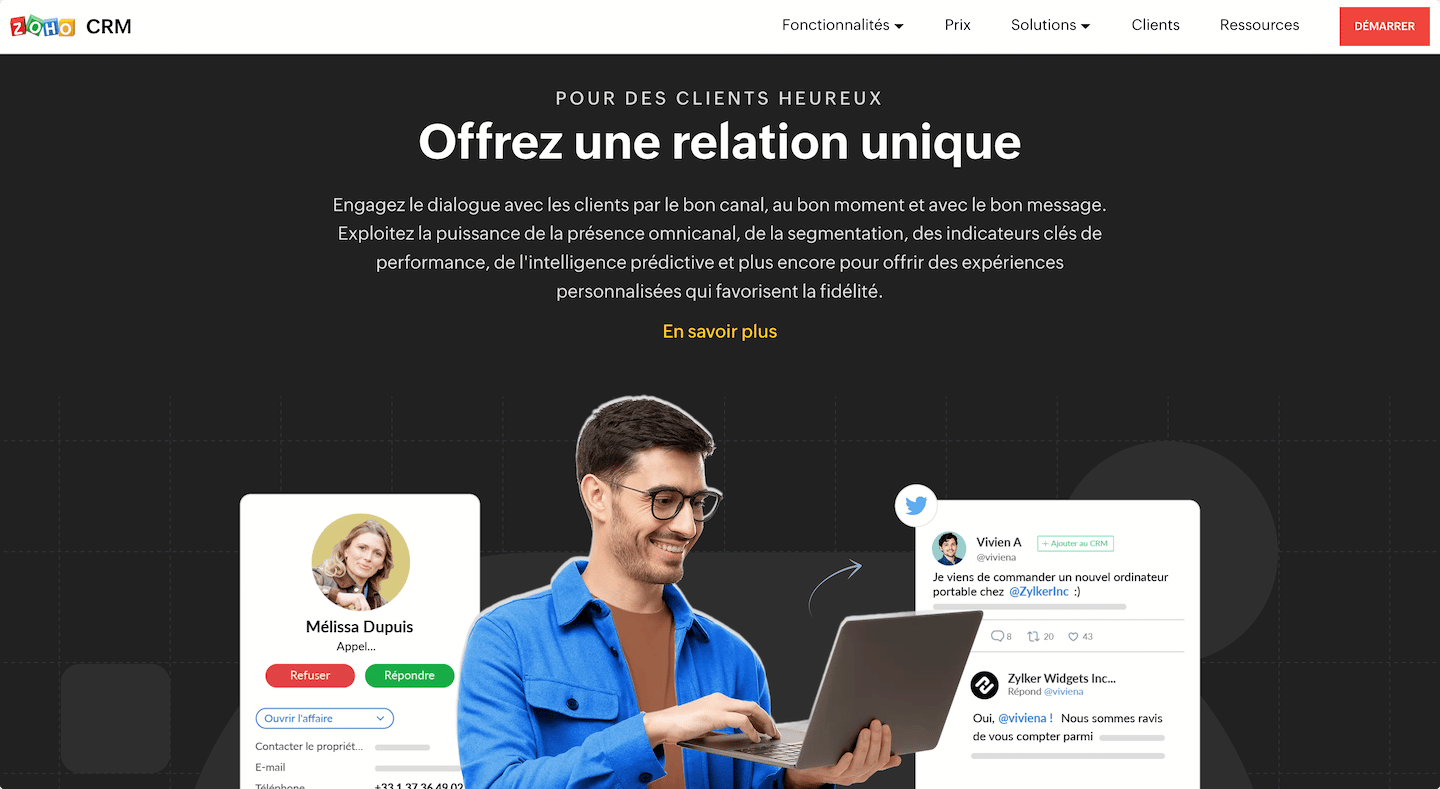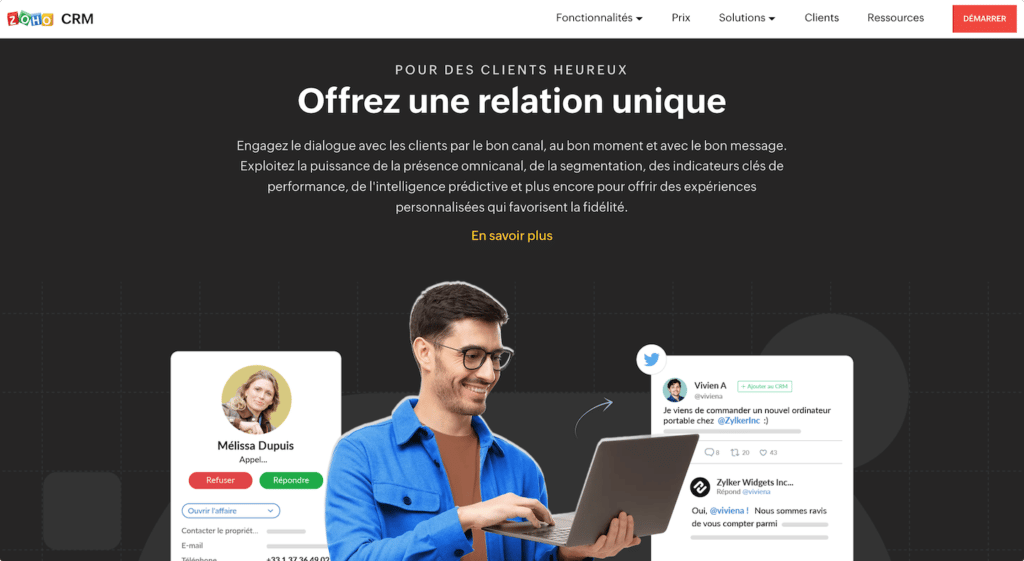 Many tools in the zoho suite
Efficient CRM and good value for money
Zoho Canvas allows you to customize your lead sheets
Complex price list: many add-ons
Weekday support only.
High dependency on the Zoho ecosystem
As part of the Zoho SaaS family, this CRM solution can be used alone or in tandem with other Zoho applications and services, giving small business owners the ability to create complete cloud systems to manage all aspects of their business.
This CRM software is affordable, easy to use and does not require a computer science degree to implement.
Of course, the more customizations you opt for and the more integrations you need, the longer the implementation process will take, but the basic set-up and operation is easy.
Zoho offers an ultra-light version of the software (Zoho Bigin) which is free for a single user, and starts at 9€ / month per license.
For the real Zoho CRM suite, it starts at 20€ per license per month, but the Enterprise version of the software (more interesting) is 50€ / month and per license. It's not a Salesforce or a Zendesk, but it allows you to go pretty far, and the rates are very attractive.
Try Zoho for free
By clicking on the link below to create a Zoho account, you will receive a $100 credit on all Zoho products. Zoho CRM offers a free 15-day trial, but also a lighter version: Zoho Bigin.
#6 Microsoft Dynamics
Often unavoidable in the industry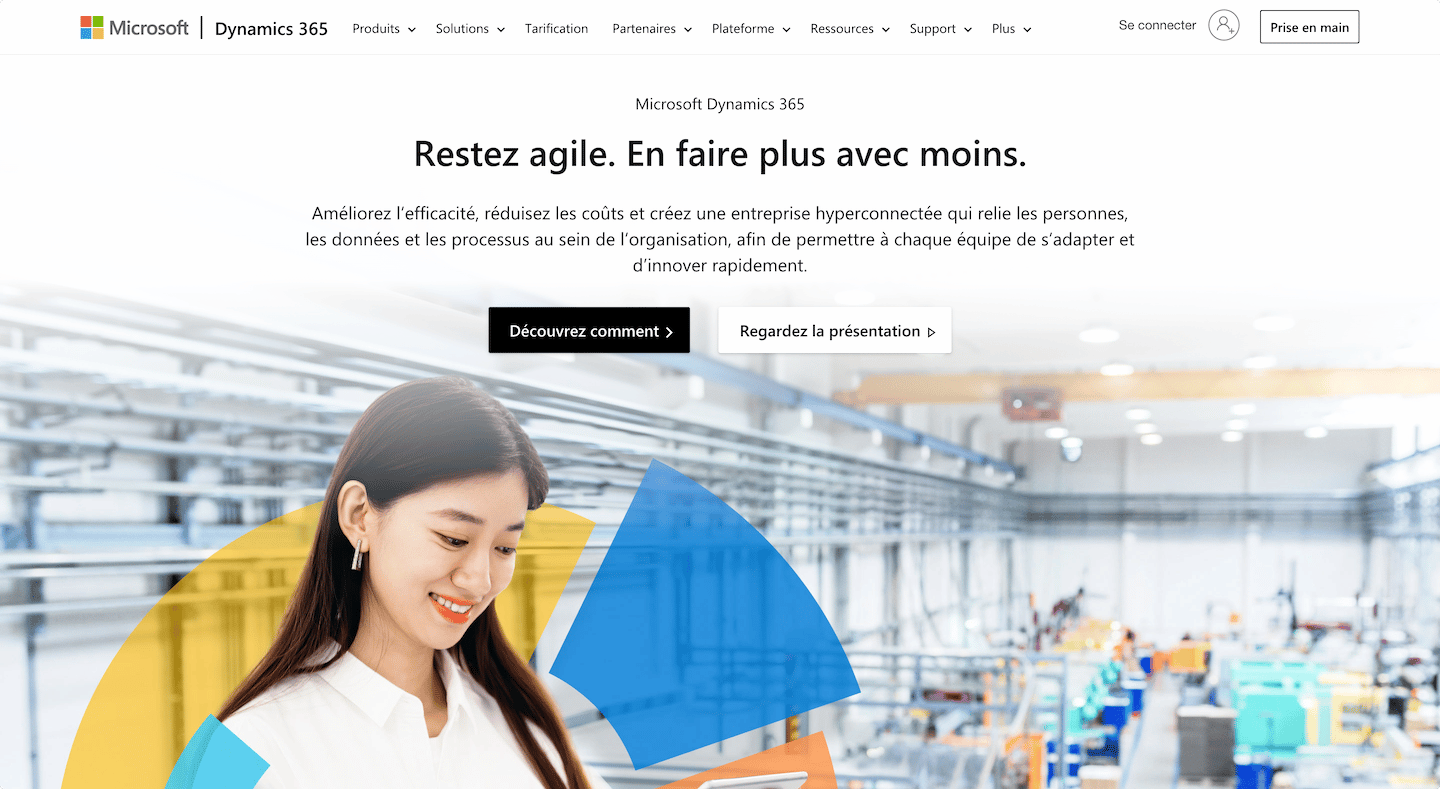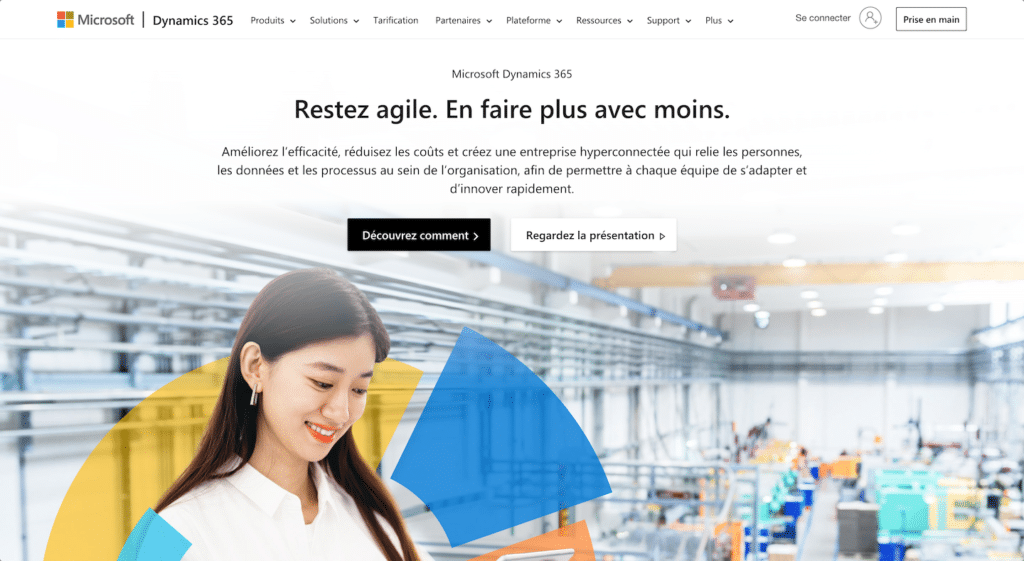 Microsoft Dynamics 365 Sales is a CRM that offers you very detailed information about your prospects.
Microsoft Dynamics 365 does a fantastic job of aligning your sales and marketing processes.
Lack of marketing functionality.
If you are not already working with Microsoft products, you may be put off by the interface.
Microsoft Dynamics 365 is a bit dusty and some would say a gas plant, but it remains a true industry standard. The great strength is obviously in the powerful integrations with the entire Microsoft 365 suite.
In short, Dynamics 365 for Sales is an adaptive and intelligent tool that will enable your sales team to monitor, harvest and leverage the customer data you receive.
The Dynamics 365 Sales Professional plan starts at $65 per month per user. This is the basic integration between sales force automation and Microsoft 365. Then it goes up to $162 per month with a minimum of 10 users.
Learn more about Microsoft Dynamics CRM
At Microsoft, no free trial for MS Dynamics, but you can access a detailed video demo on their website. For a complex installation, you will have to go through a who will be able to guide you and answer all your questions.
#7 noCRM
The CRM angled prospecting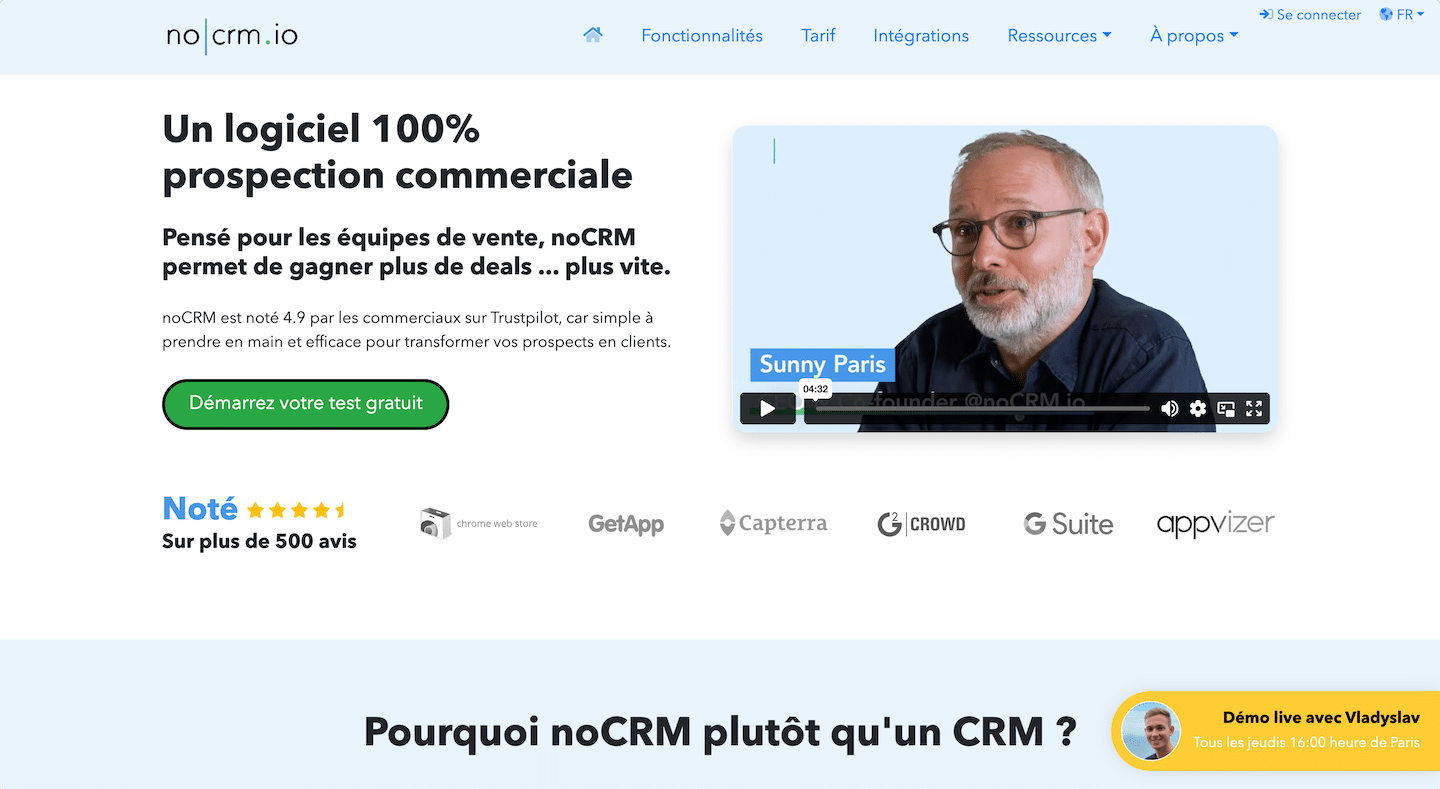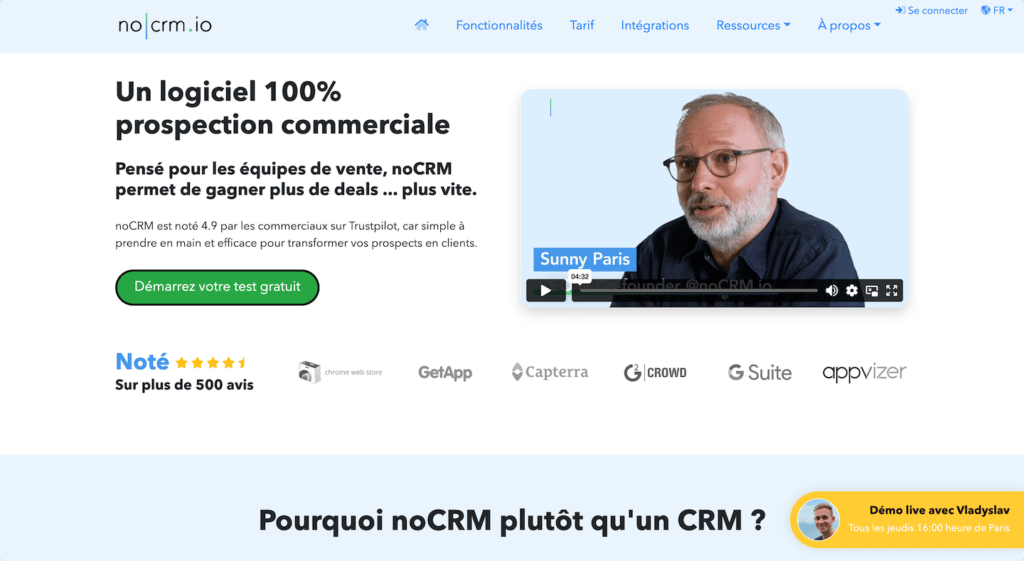 Excellent customer service in French
Very successful interface
A CRM focused on prospecting above all
No marketing features
No account-based vision
NoCRM is an excellent, lightweight tool for small to medium-sized sales teams. It allows you to optimize your business processes and gain in performance and efficiency.
It is a very light and simple tool to set up, resolutely turned towards prospection. If you have relatively short sales cycles, this may be the ideal tool to take your performance to the next level.
Try noCRM for free
NoCRM offers a free 15-day trial with access to all features.
#8 Freshworks CRM
CRM is very much focused on automation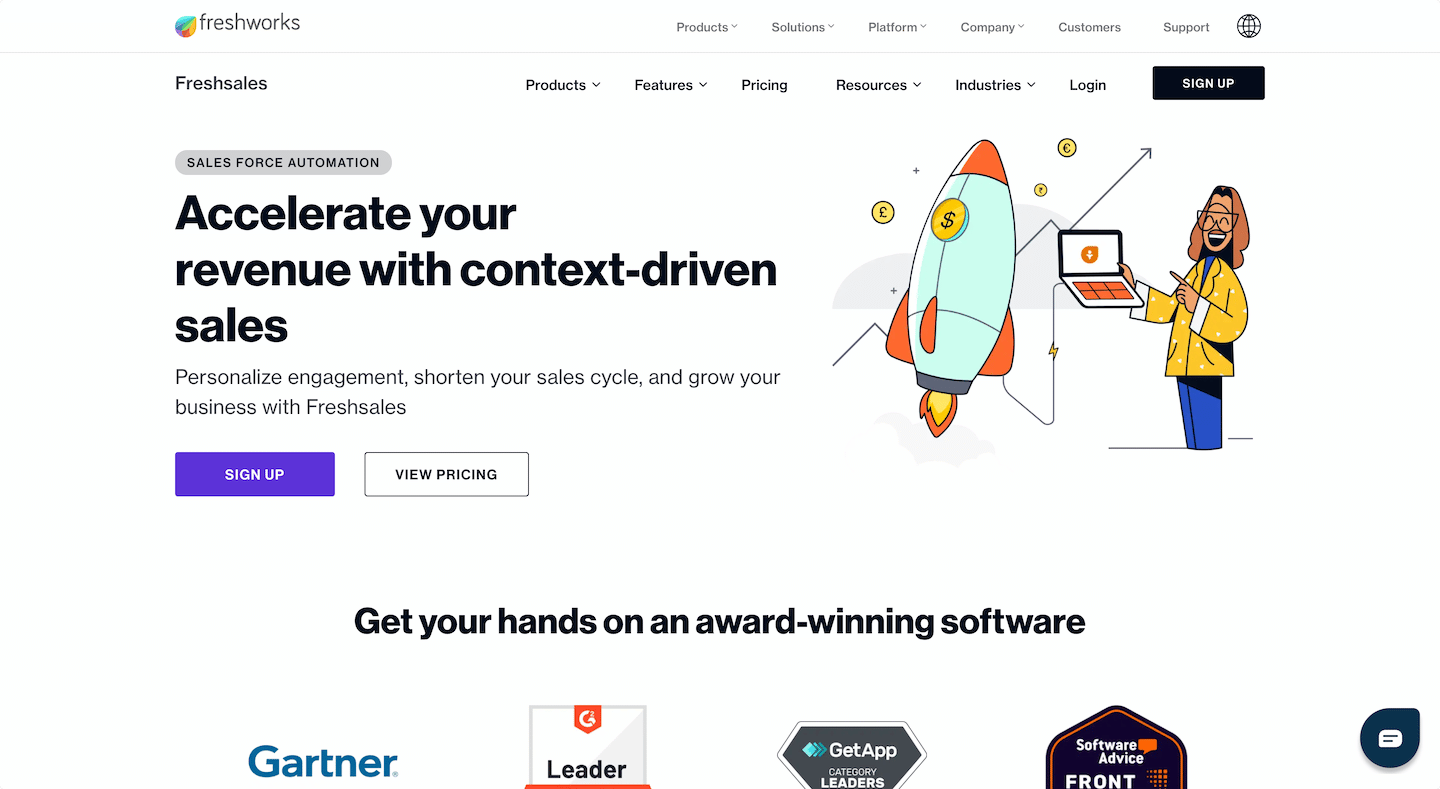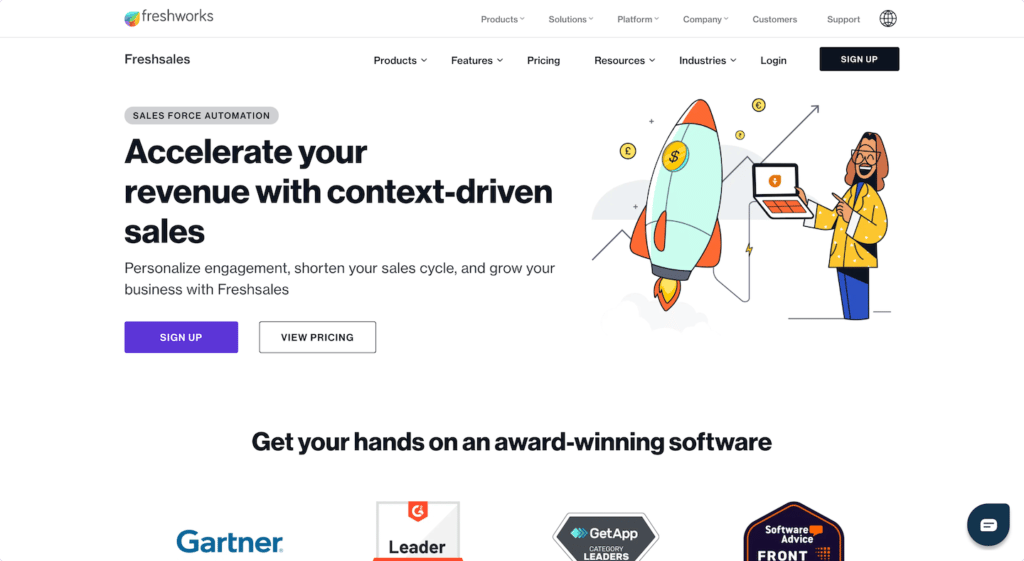 Offers a variety of native and third-party integrations.
Excellent customization capabilities.
Intuitive interface.
Free version available.
Fewer third-party integrations than the competition.
Reports not available in the free package.
This application is rather intended for small and medium-sized enterprises (SMEs) because it combines a reasonable price with an easy-to-learn interface.
Freshsales has been working on building a unified platform so that the CRM tool works with other business platforms. They added more integrations, as well as workflow automation and sales intelligence features.
The software is available in more than 30 languages, including some that can be read from right to left such as Hebrew and Arabic. It also supports multiple currencies.
The prices at Freshworks are all sweet: they offer a fairly comprehensive free plan, and then it starts at 15€ / month per license, and most importantly, the Enterprise plan that allows you to go very far is only 69€ / license per month (83 on a monthly commitment).
A bit like Zoho, you get a very complete suite with marketing tools, customer support, and a real CRM well built with a great ergonomics.
Try Freshworks CRM
Freshworks offers a 21-day trial on its CRM software.
#9 Copper CRM
CRM built for Google Suite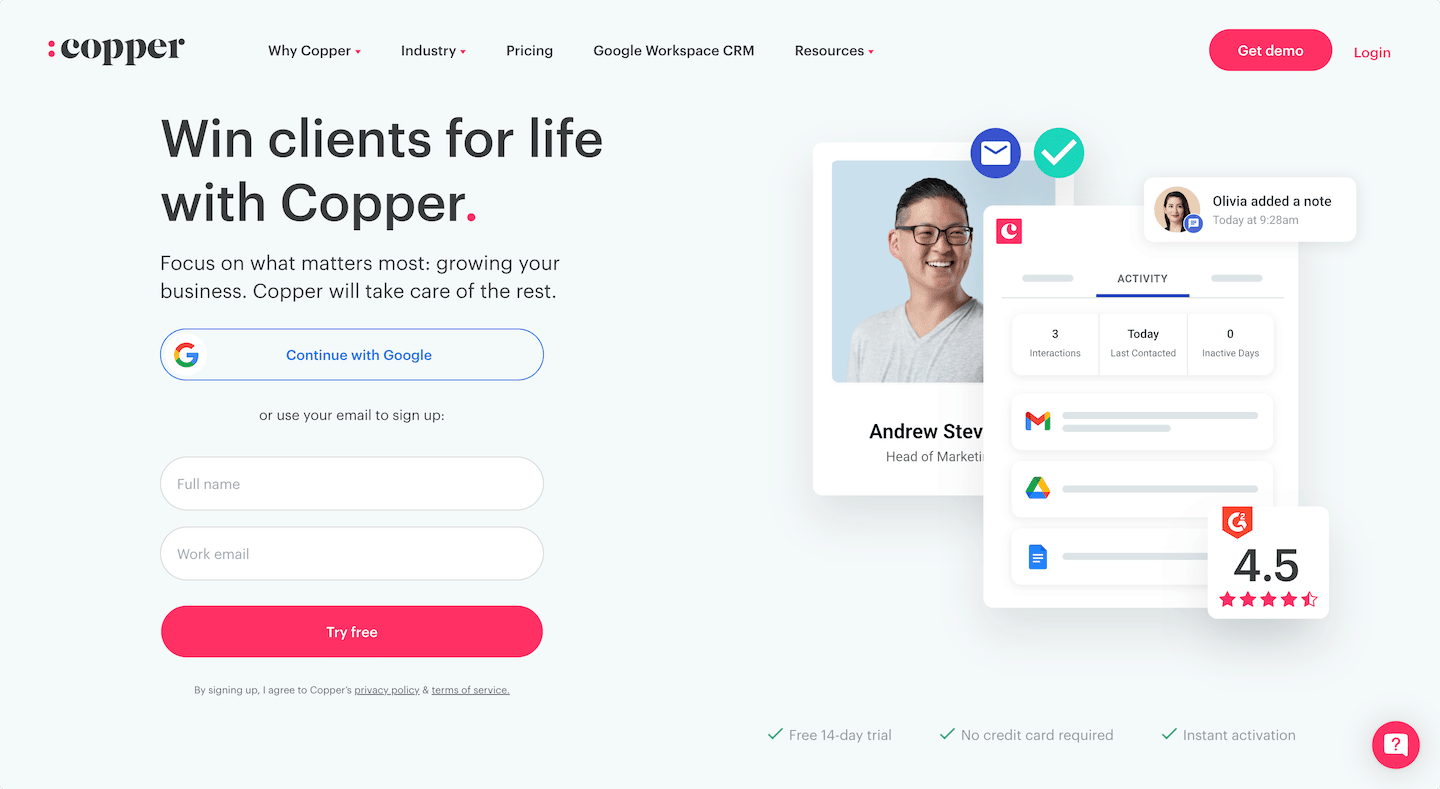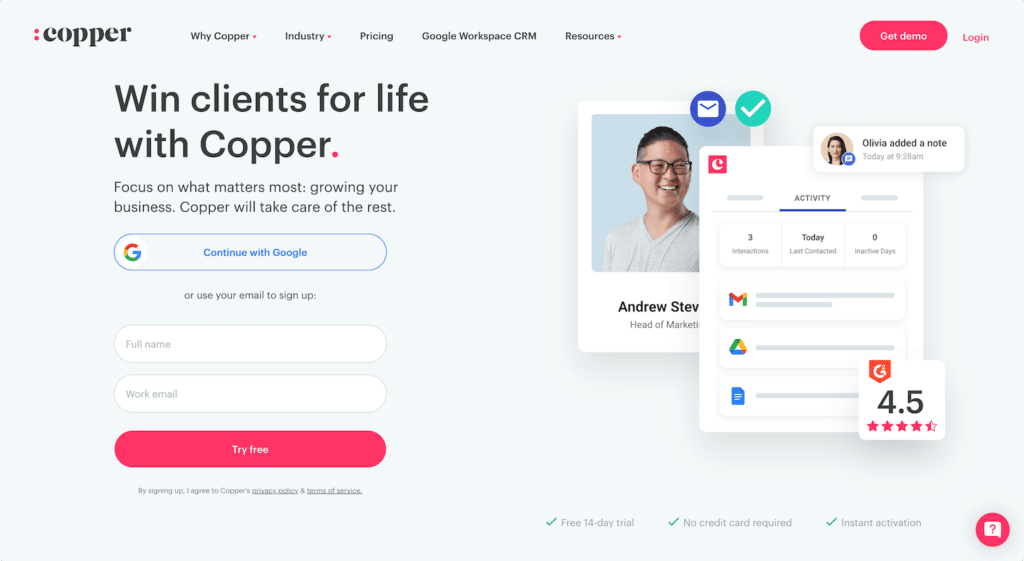 Full integration with Gmail, Google Calendar and other G-Suite products.
Many features are directly accessible from Gmail.
You can extract new leads from your email and place them directly into your lead management list.
Pipelines cannot contain qualified leads.
Some problems with integrations have been reported.
Copper CRM is built for Google Suite (Gmail) users. Add leads, search for past interactions, create Google Calendar events etc. directly from Gmail.
It's a remarkably powerful solution, but manages to remain super light to install, and simple to use.
Copper is not among the cheapest CRMs, simplicity has a price! Rates start at $25 per month per user with the Basic package. You will be limited to 2500 contacts and 3 users.
After that, it goes up quite fast, to $119 / month per user.
Try Copper CRM for free
Copper CRM offers a free 14-day trial.
#10 Zendesk Sell
The CRM suite from the leader in help desks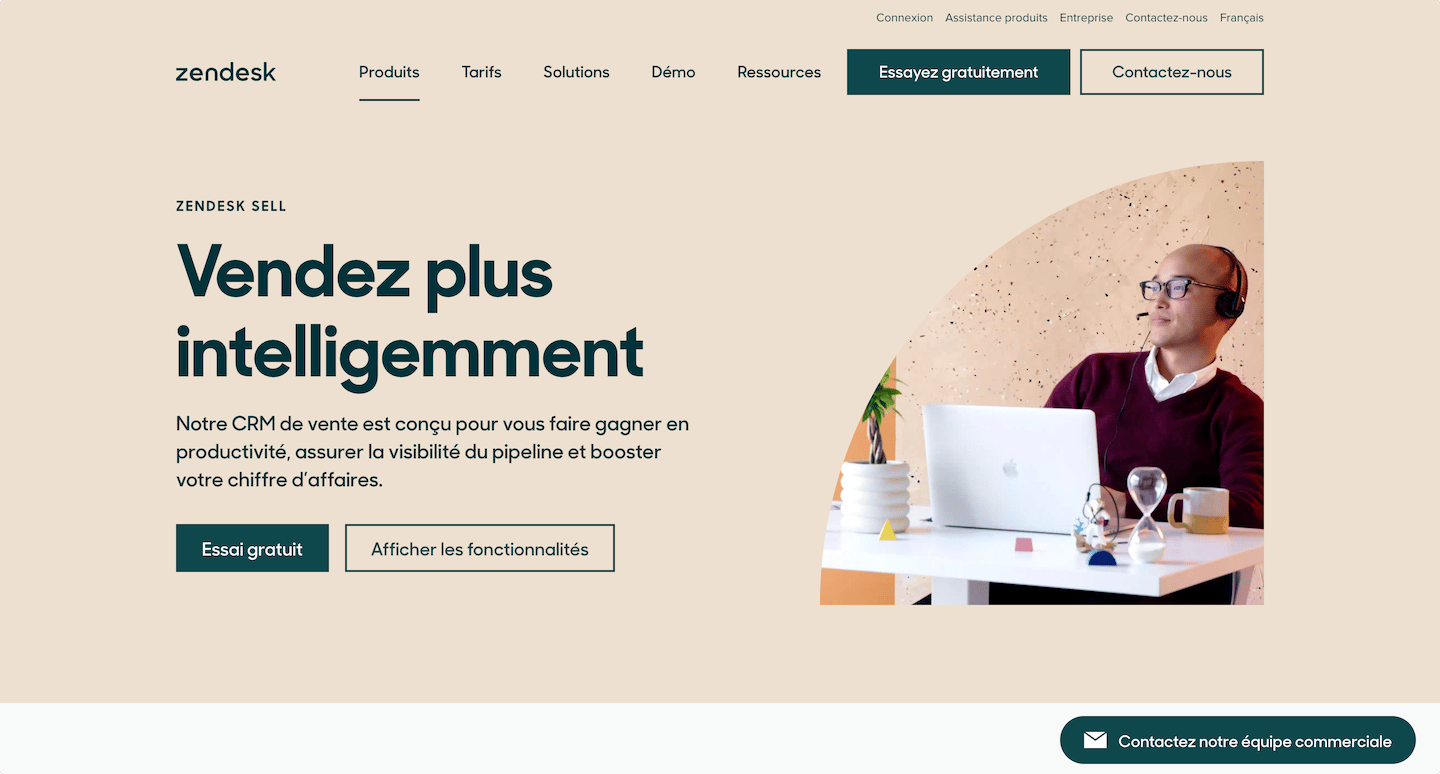 The overall experience with Zendesk Sell is pleasant
Powerful reporting
Integration with Zendesk Support
The configuration and customization of the interface is not very intuitive.
Quite expensive and complex
Few marketing features
Leverage every opportunity with Zendesk Sell, a CRM platform designed specifically for salespeople. Create and manage a pipeline tailored to your business, turn conversations into conversions, track your leads and their evolution in one place, adapt your strategy based on real-time data and more. Zendesk Sell is a powerful CRM that will allow you to improve the processes of your sales teams in order to increase your productivity.
Pricing starts at 19€ per license per month with integrated messaging and basic reporting. But Zendesk Sell shines especially from the Enterprise package (99€ / license per month on catalog) which allows to fully exploit the integration with thecustomer support tool of the same name.
Try Zendesk Sell for free
You can access a free trial or demo video on the Zendesk website.
#11 Active Campaign
A marketing automation platform with a fairly successful commercial CRM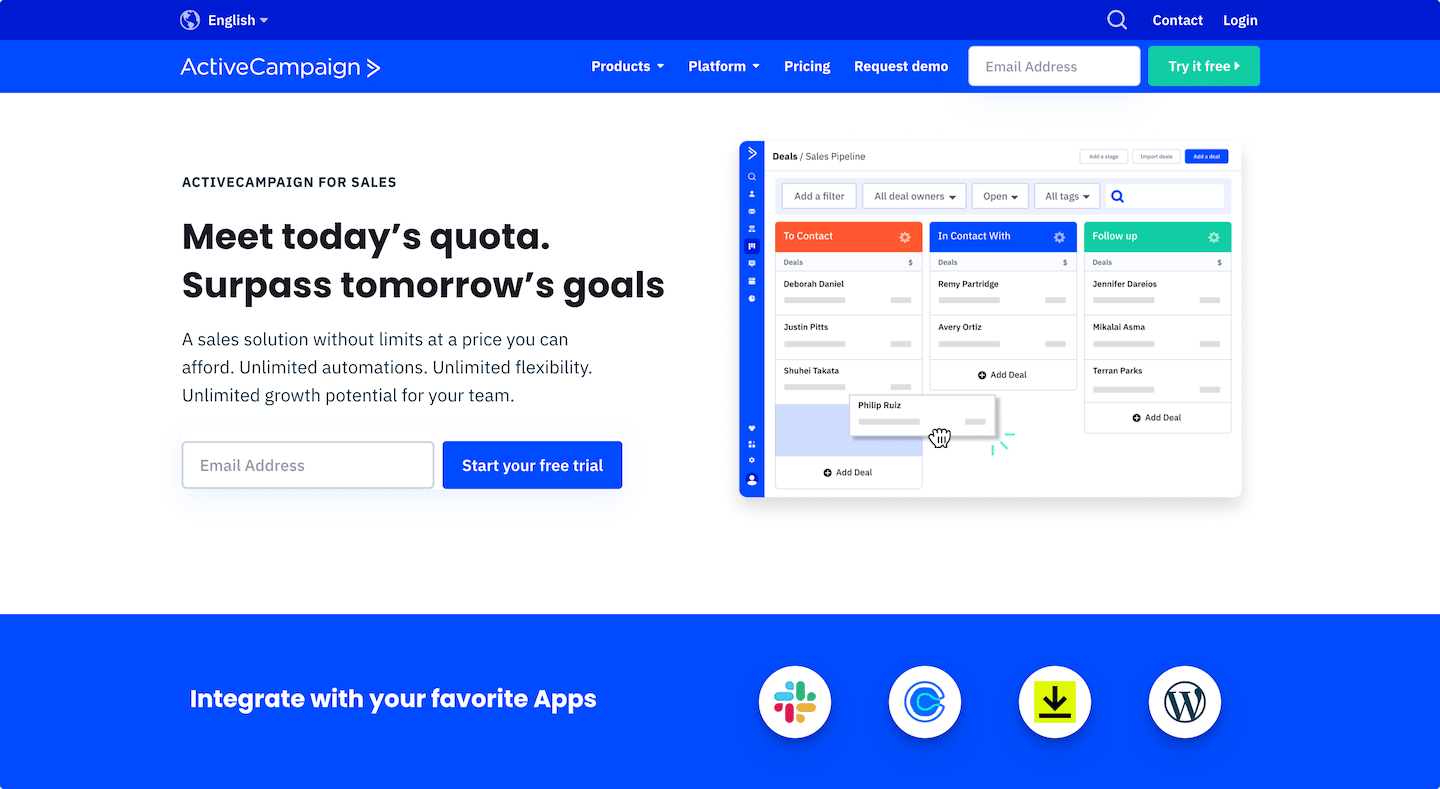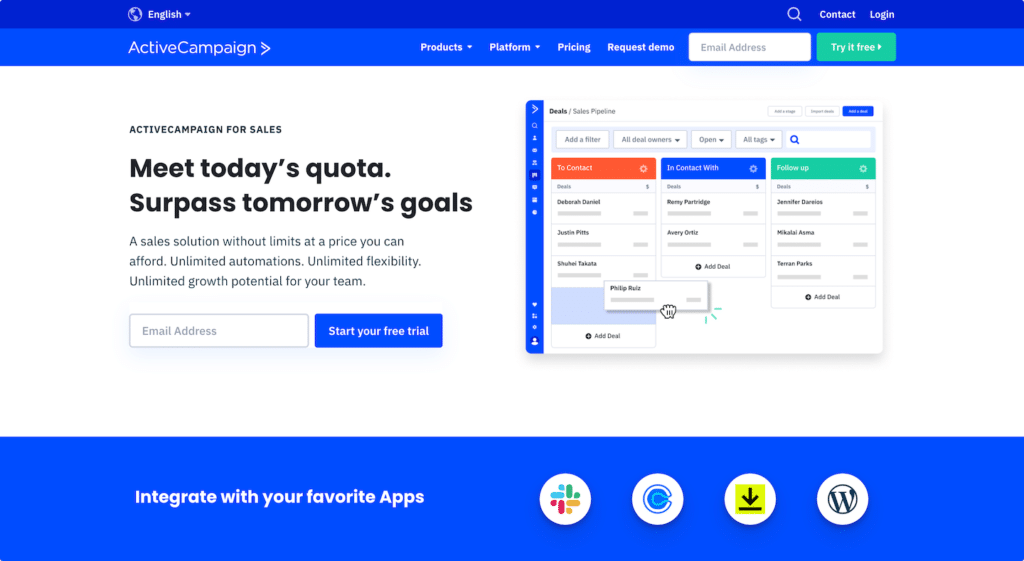 Very easy to handle
All your contacts and transactions are managed in one place
The tool simplifies the automation of tasks between sales and marketing
Although the CRM is quite comprehensive and provides information on conversions, goals etc., the statistical reports in ActiveCampaign are quite complicated and it can sometimes be difficult to find what you are looking for.
ActiveCampaign is a tool you can use as a CRM, mainly for lead management. Prioritize your leads, track the most important tasks, and automate your contact management so nothing falls through the cracks. See your entire workflow at a glance and track every interaction between your prospects/customers and your salespeople. Features such as lead scoring or automated segmentation, combined with Marketing Automation, will turn your sales team into a deal closing machine.
ActiveCampaign pricing is based on the number of contacts, not the number of users. It is above all a marketing automation software. The software is not among the cheapest, but it is an all-in-one solution for your customer communications.
It is highly suitable for small and medium-sized organizations that are very mature on automation. For serious use, it starts at $49/month for 500 contacts (and up to 25 users), $149/month for 5000 contacts, and $379/month for 25,000 contacts.
Try ActiveCampaign for free
ActiveCampaign offers a 14-day free trial with access to all features to get a good idea of the tool's capabilities.
What is CRM software? Definition
CRM software is designed to optimize Customer Relationship Management (CRM).
Customer relationship management in the strict sense refers to the tools and processes that an organization uses to manage its customer relationships. But CRM can (and should) also be used to manage relationships with all of your company's external contacts. For example, in a CRM you can find:
Subscribers to your newsletters
Leads at all stages of the funnel
Your customers
Your partners
Your candidates
… etc.
Customer relationship management includes guidelines on how direct interactions take place. But also tools to organize and track all the relevant information you need to :
Find and convert leads
Making deals
Build customer loyalty
Improve customer satisfaction
Develop your partnerships
Optimize your recruitments
Overall, the goal is to make your organization's (and your brand's) relationships with your ecosystem more effective.
Internally, a CRM can help salespeople automate their sales activities and managers track the performance of their team. With a good sales CRM, you'll know when to contact your prospects, what to say and how to say it.
Do you need a CRM?
More concretely, there are generally three main uses of CRM.
#1 Managing a sales tunnel
You are in this case if you are primarily looking to organize and structure your sales team. This use of CRM is very close to the commercial processes. It is essentially a matter of setting up lead attribution rules and follow-up processes for commercial opportunities.
These software programs make it easier for your teams to do their jobs and systematize the processes with a layer of automation and data enrichment (sequences, automated 3-day reminders, etc.).
This is the most common use of CRM software, and yet the furthest from the initial definition of the concept: it is much more a question of transforming leads into customers through commercial action than of working on customer relations as such.
#2 Manage large accounts and multiple projects at once
This is the classic usage of B2B service companies: consulting, web agencies, marketing agencies, CRM integrators (inception…) etc.
If your business is close to this type of company, you know how essential it is for your business development to be aware of everything that is being done & said at your customer's. You systematically sell a different, "custom-made" product, and the challenge is much less in the assiduous follow-up of each commercial opportunity, than in the preparation of a convincing commercial proposal, the edition of a custom-made (and often complex) estimate, etc.
#3 Develop a unique client repository
The idea is simple: it is about centralizing
all
customer data in one place: all contacts with your teams, purchases (online or offline), behaviors on your website, activity on your product (if you sell software).
The goal? Manage all your customer relationships on a large scale and according to clearly defined processes to gain in quality, better identify upsell potential signals, and invest the energy of your sales teams in the right place.
That's in the best of all possible worlds. In the real world, this kind of proposal often boils down to a (really) complete customer file – which is already huge.
What makes a good CRM software?
We'd like to tell you that there is only one among hundreds of programs that is really worth it. But that would be pretty dishonest. In reality, it all depends on what you want to do with your CRM, and the price you are willing to pay.
#1 If you are looking to optimize your sales tunnel
If you recognized yourself in our first scenario, the most critical aspect of the CRM software you install will be its adoption, and the time it saves your salespeople.
It is therefore recommended to over-prioritize the user interface & the ease to manage daily business tasks (note taking, call, email, calendar, …). It may sound trivial, but if you want to optimize your sales tunnel, these are the very tasks you are looking to optimize.
To simplify your life, our opinion:
If you are doing "one-off" sales (Prospecting – Sales), noCRM is simply great at managing sales tasks.
If you are selling on longer cycles (i.e. more than 3 months), Pipedrive is more robust on tracking and automation features and the task management interface is still among the best on the market.
If you're considering Salesforce or Hubspot for this use case, change your mind, or your use case.
#2 If you are looking to better manage a few key accounts
In this scenario, to put it simply, you have to manage a lot of complexity, with relatively few customers.
For this, project management software is king. Overall, if your sales are complex enough that you consider them "projects", take on the project side all the way.
#3 If you want to build a unique client repository
If you are in the process of creating a unique customer repository, we strongly recommend that you start by identifying the "inputs" – the sources of customer data – and the "outputs" – the levers that can be activated thanks to the centralization of customer data.
Generally, your customer data comes mainly from the human relations ensured by your sales teams, and the challenge is mainly to expose this data to the agents in communication with a customer, and to exploit it in marketing automation campaigns. In this case, the main issue for commercial CRM is data quality.
Salesforce, in addition to leading one of the deepest solutions on the market, is backed by a powerful community of integrators & experts who know the tool and its potential inside and out.
We're not presenting the others here, as they're traditionally reserved for a much smaller audience, but download our full benchmark so you can compare Salesforce to other enterprise CRM leaders.