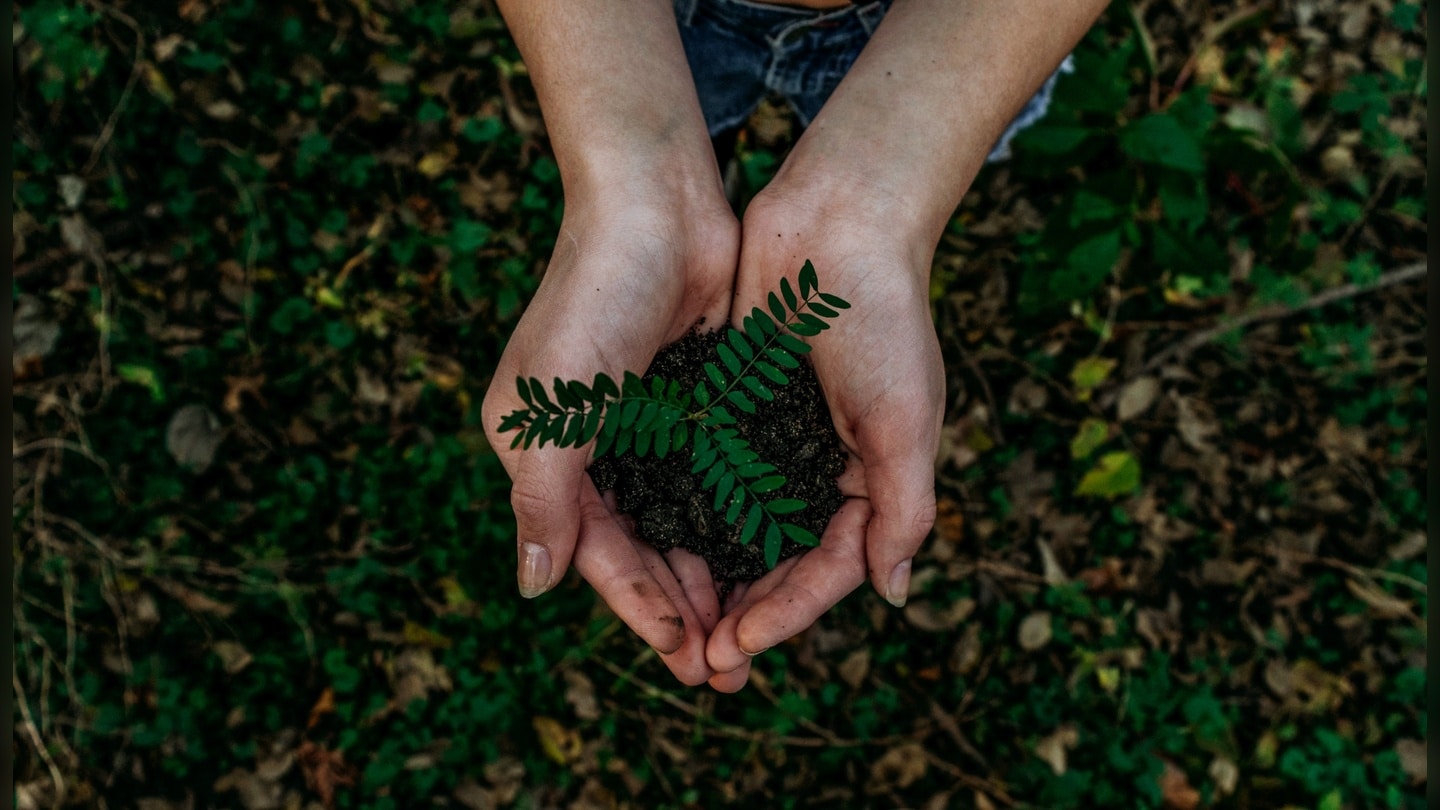 In this article, we present 10 CRM softwares that we think are the most suitable for start-ups.
Some of these software packages offer more advanced features than traditional CRM software, especially in terms ofautomation and marketing. They are perfectly suited for start-ups that are growing fast and need to process a lot of data.
Others offer more limited functionality, but retain their place in this top, especially thanks to their ease of use, value for money and the integrations they offer.
How to choose your CRM when you are a start-up?
To have a CRM software that suits you, its functionalities must be able to evolve at the same time as the needs of your start-up. It should be robust enough to grow rapidly and allow you to increase your number of contacts, sales pipelines to manage or your number of users. In short, the data is becoming increasingly complex and the volumes increasingly large.
Be sure to select software that is easy to learn and use. Startups recruit a lot and go very fast, a bad ergonomics is very expensive in training. And the main value of a CRM is the centralization of customer information. If your teams don't fill out customer records, or don't know how to access them, the software generates much less value.
Another important criterion is that a good CRM software should allow easy integration with other software. This is essential to allow start-ups to centralize all their customer data in one place. Some leading CRMs offer integrations with specialized applications, such as Salesforces.
The fourth criterion for choosing a CRM software is its functionality. Most start-ups evolve very quickly, so the tools for organizing and tracking sales must be flexible enough. Also make sure to check that the are robust so that you don't lose time if your startup is hyper-growing.
Last but not least, the CRM software's customer service must be of sufficient quality to meet the needs of growing start-ups that manage a lot of sales and customer data at the same time, without always having the technical resources to handle the problems alone.
The 10 best CRM for start-ups
#1 Hubspot
The most popular free CRM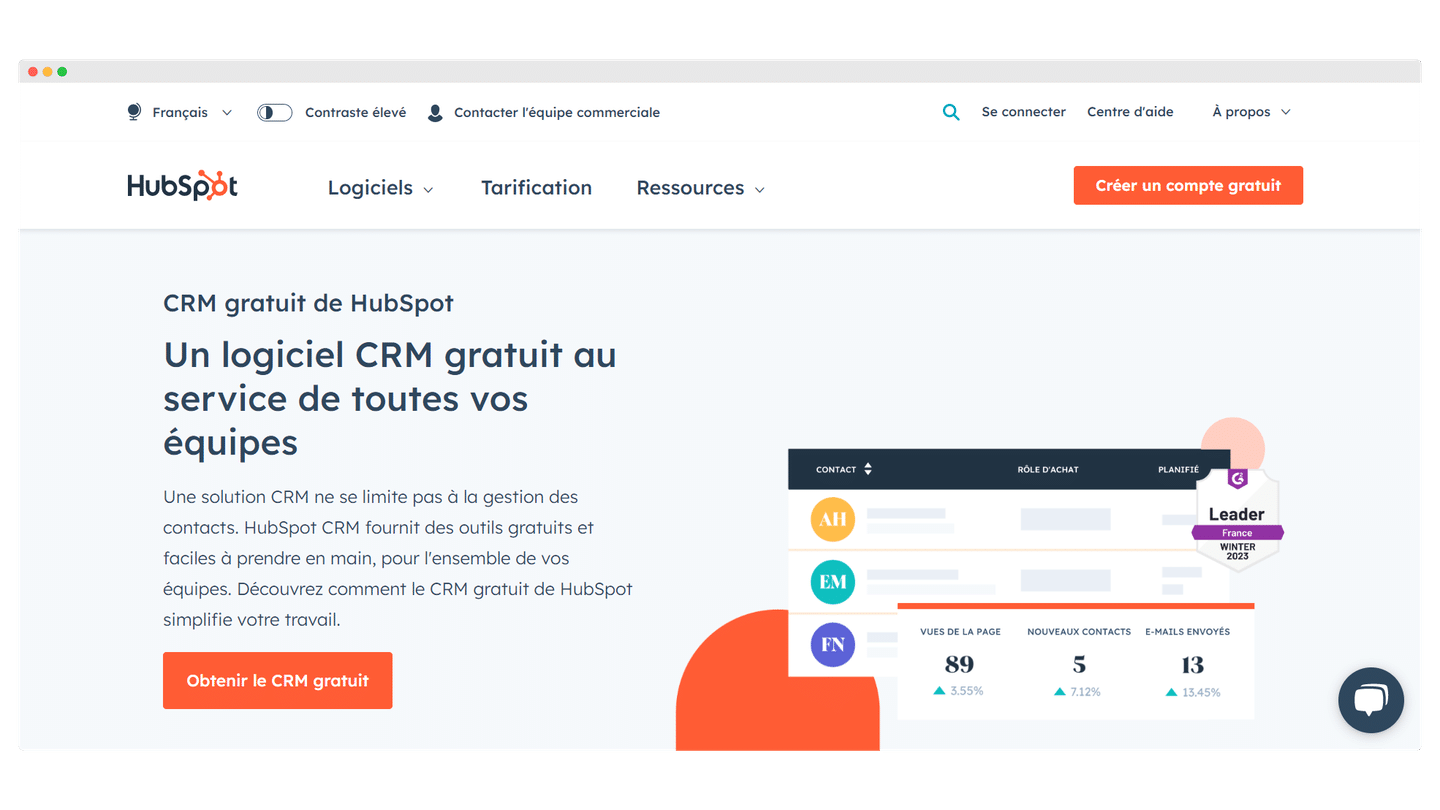 Hubspot offers a very easy to use interface.
The tool integrates easily with G-Suite, Microsoft Office and thousands of other tools through Zapier.
Hubspot gives sales managers and executives a complete view of sales: the ability to assign and track leads, keep track of the sales process, and record customer interactions across all channels.
Hubspot is free, so you can get started at no extra cost. Paid plans offer more advanced features, such as reporting, artificial intelligence and advanced automation.
The free plan is extremely limited. Most startups will need to upgrade to a paid plan or an entirely different service as they grow, which can be tedious.
Customization options are limited. This can be a problem for specific startups.
Customer support is not available for the basic packages, but it does offer videos and tutorials for the implementation and operation of CRM.
Hubspot offers a free plan, and a first paid plan starting at 41€/month for two users. The Professional package costs €414 per month for 5 users, and the Enterprise package offers a monthly rate of €1104 for 10 users.
Try Hubspot for free
Hubspot offers a free plan to get a feel for the experience they offer, take advantage of it!
#2 Salesforce
The indestructible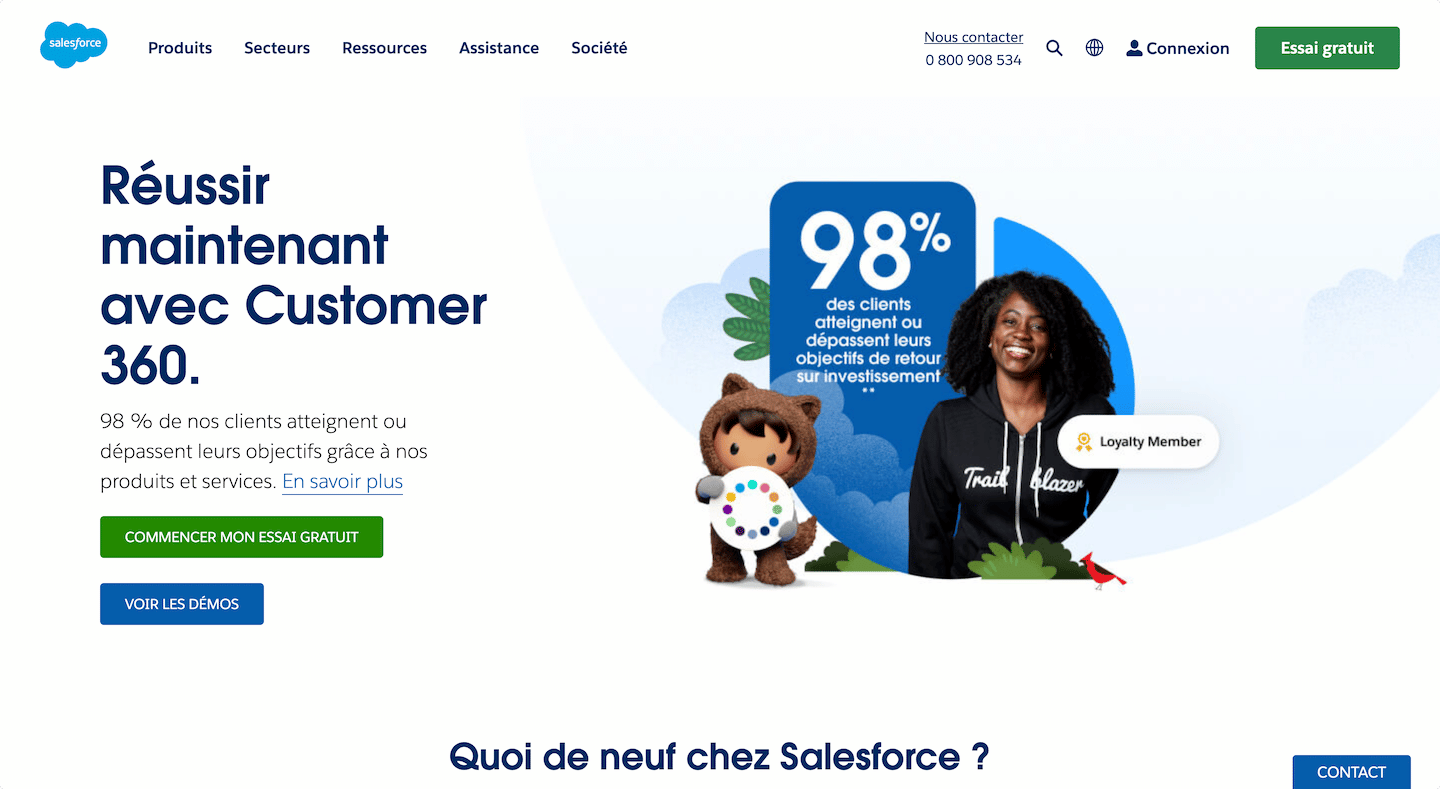 Salesforces offers many integration possibilities.
It offers powerful automation tools to streamline the sales process and boost productivity.
The software offers many "Add-Ons" to get even more value from the Salesforce platform.
Salesforce is not very intuitive. You'll need a dedicated team member or consultant to help configure and maintain the system and this can be expensive, especially since the first plan does not include customer support.
Salesforce is not the cheapest option and hides many additional costs in add-ons and upgrades.
Salesforce offers a first plan starting at $25/month/user. The most expensive plan costs 300€/month/user.
Try Salesforce for free
Salesforce is the undisputed CRM on the market but requires technical skills. You can get an idea of the tool thanks to the 30-day free trial, take advantage of it!
#3 Pipedrive
The deal-centric CRM par excellence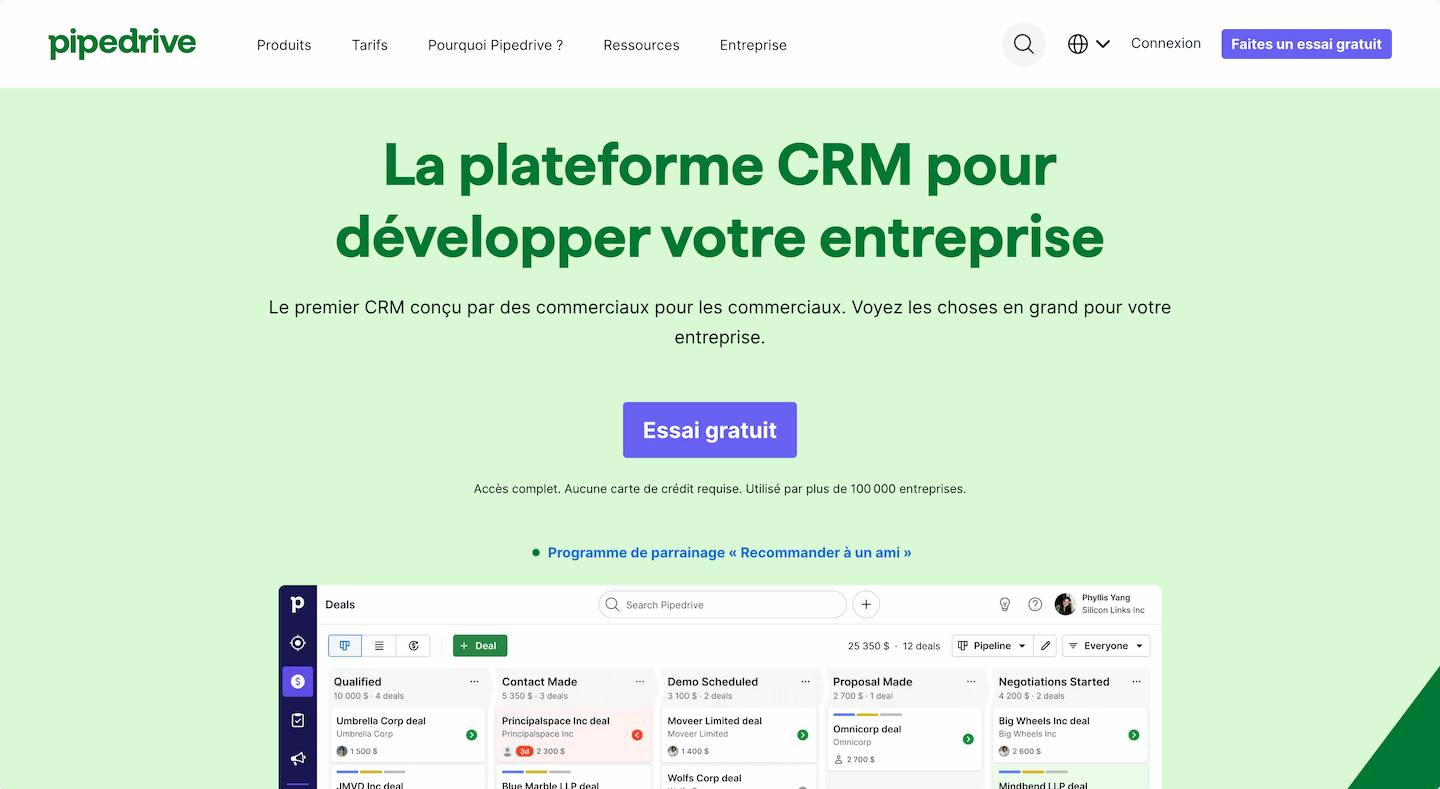 Pipedrive offers a very visual and intuitive interface that allows its users to see their entire sales funnel.
The low learning curve accelerates the pace of implementation.
Reminders, notifications and tracking alerts let you automatically keep your head where it belongs.
Phone support is only available on the highest packages, which makes integration tricky.
Pipedrive is made for selling. Those looking for a multi-purpose tool will be disappointed.
Pipedrive does not offer a free plan.
Pipedrive offers a first paying plan at 14.90€/month/user and an Enterprise plan, the highest, at 119.90€/month/user. Pipedrive offers a 14-day free trial for all its plans.
Try Pipedrive for free
Take advantage of a free 14-day trial to discover the functionalities of Pipedrive, the transaction-centric CRM!
#4 Close
An intuitive and easy-to-use CRM designed for start-ups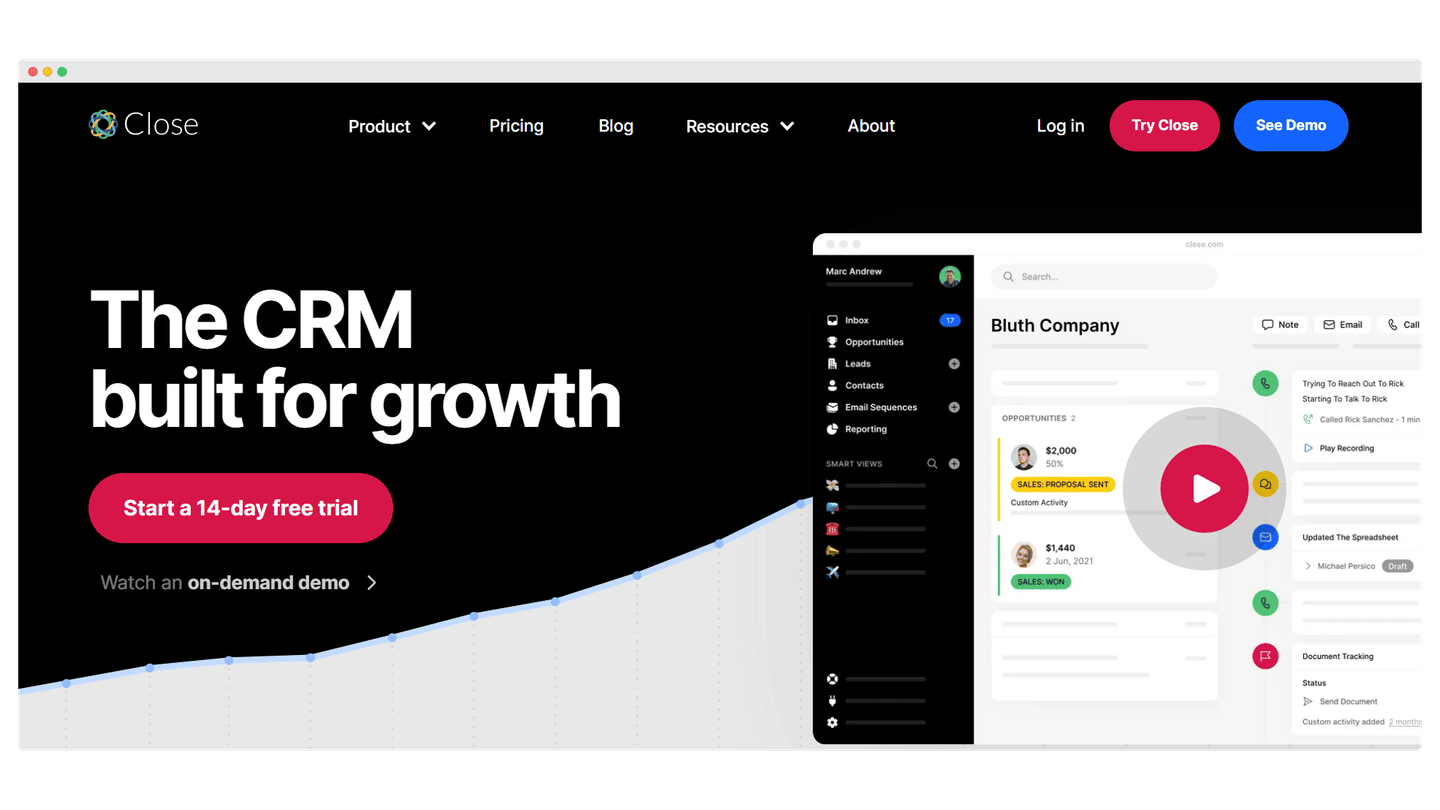 Close offers a startup-friendly CRM and provides a complete view of the pipeline, voice calls (including call recording), SMS, reporting, and email marketing features (including custom email sequencing) in one place.
Close includes help with the implementation of the software and customer support starting with the free package.
It offers many useful integrations with other platforms, including Mailchimp, Slack, Zendesk, Google Sheets, Facebook and Zapier.
Close offers free support and migrations to all its customers.
Close does not offer a free plan.
The first paid plan of Close costs 23€/month/user. The Business plan costs 129€/month/user.
Try Close for free
Close is the CRM software designed for start-ups. Discover it for free for 14 days!
#5 Copper
A highly visual CRM directly integrated with Google Suite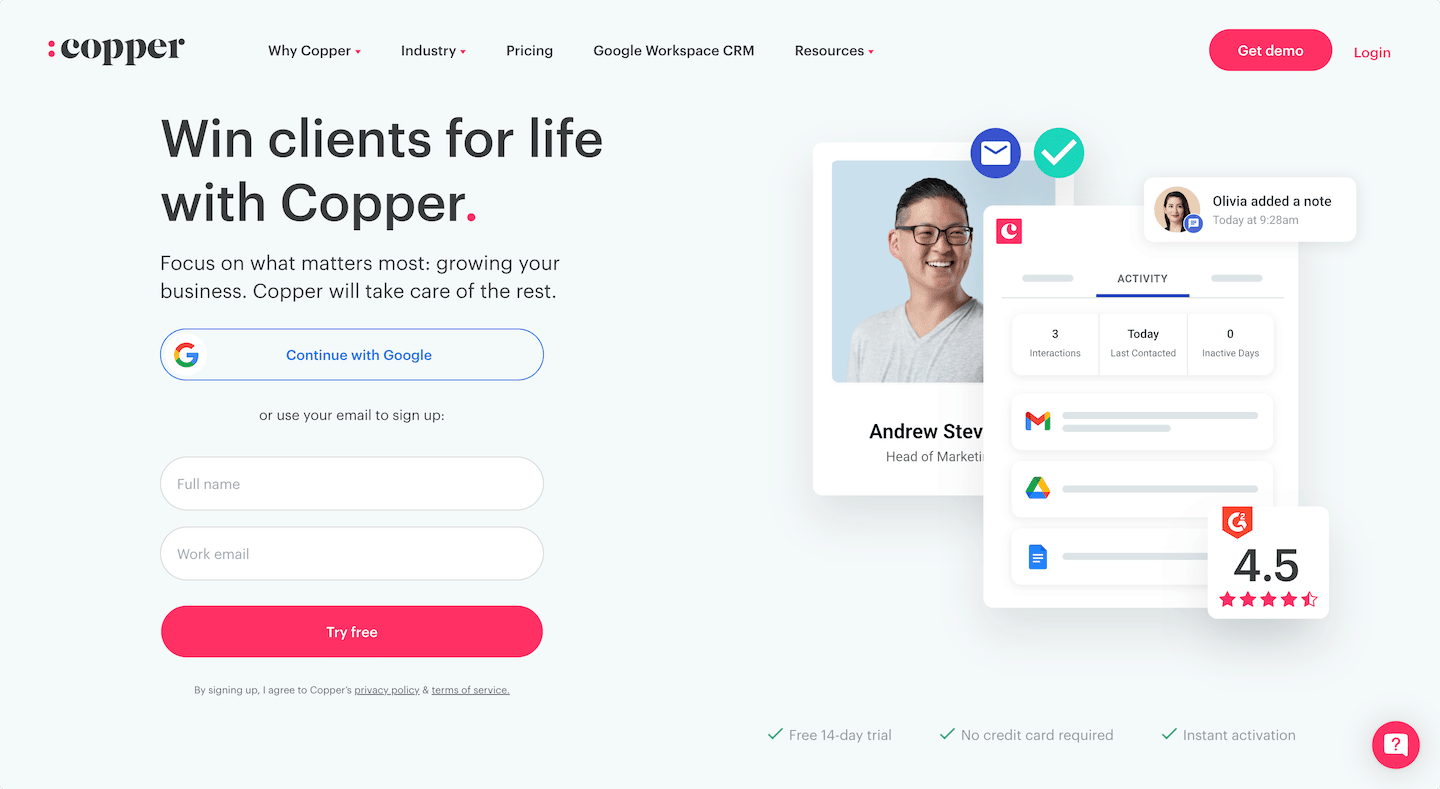 Copper provides an engaging sales pipeline to help track and manage leads throughout the qualification process.
It offers native integration with G-Suite, which means that importing data is seamless from Gmail and other Google tools you (probably) use every day.
The software offers startup-friendly features such as automated data entry, intelligent identification, lead and customer tracking, and contact and sales opportunity optimization.
There is a certain learning curve, so adoption can be quite long.
Importing data from Excel can be problematic, which means you will have to manually enter the information into Copper.
Copper offers a first paying plan at 23€/month/user. The Professional package costs 46€/month/user, and the Business package costs 93€/month/user.
Try Copper for free
Copper offers a free 30-day trial to get an idea of its features, so don't hesitate to discover the software integrated with Google Suite!
Le benchmark 2023 des logiciels CRM
L'intégralité de notre benchmark des logiciels CRM (30+ colonnes et 32 solutions étudiées) est disponible en format tableur gratuitement. Vous pouvez filtrer, ré-ordonner, et / ou exporter toute la donnée au format CSV pour en faire un vrai document de travail sur excel ou Google Sheets.
#6 Salesflare
A very prospecting-oriented CRM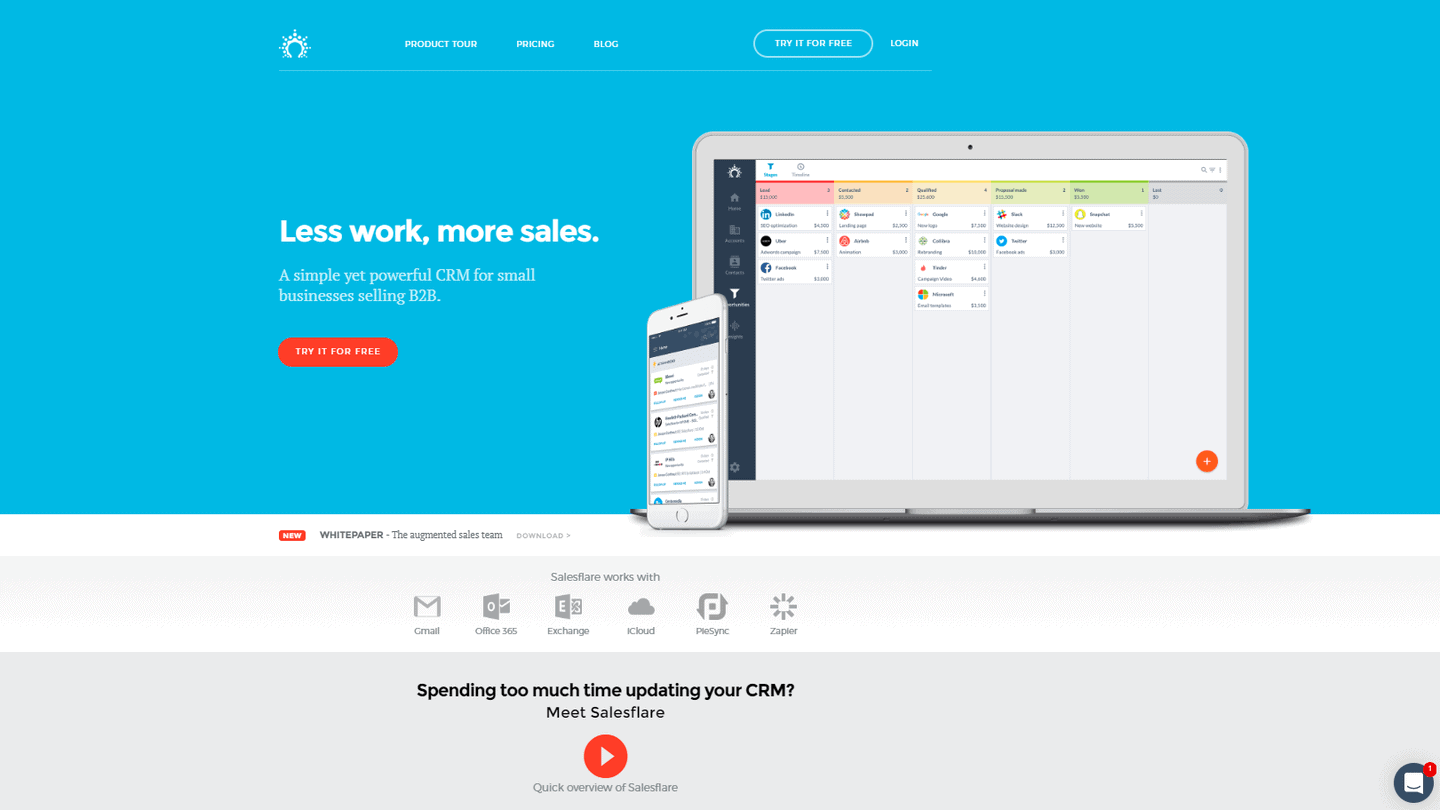 Salesflare integrates with a variety of other tools, including calendar apps like Google Calendar, email marketing tools like Drip, and Zapier.
The tool connects to your current communication channels. It then uses the data acquired from your mailbox, calendar and cell phone to update the records.
Salesflare allows you to automatically create CRM records for the people you contact via email signatures and publicly available information. This significantly reduces data entry tasks.
Some users find that Salesflare can be difficult to use over time, and that some features take more time to learn than expected.
Salesflare lacks many of the features that fast-growing startup salespeople need, such as a built-in dialer or endless customization options.
Salesflare offers a first paying plan at 29€/month/user. The Professional plan costs 49€/month/user, and the most expensive plan offers a 99€/month/user package.
Try Salesflare for free
Salesflare offers a free 30-day trial to get an idea of the tool's features, take advantage of it!
#7 Freshsales
An ideal easy-to-use CRM with strong automation features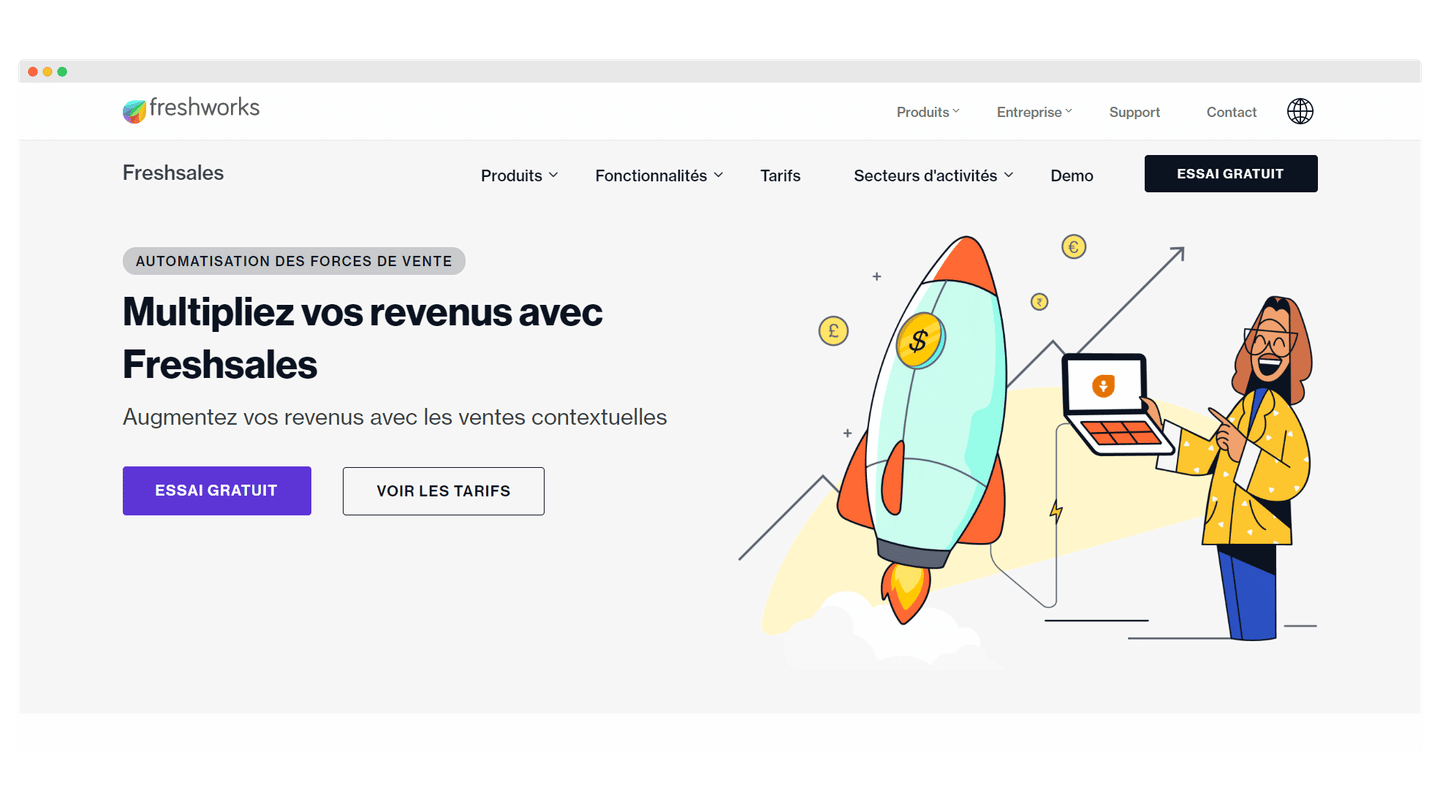 Freshsales has basic CRM functions, such as contact management, which are easy to use.
Customer data is a strong point. Users can automatically collect lead information from emails and add it to their CRM records. It saves time in data entry.
There is a "free forever startup plan" for up to 10 users and 10,000 registrations.
Once you begin to expand your use of Freshsales and access more complex functions, there is a significant learning curve.
Freshsales offers a free plan and a first paid plan at 29€/month. The Pro plan costs 39€/month and the Enterprise plan is 69€/month.
Try Freshsales for free
Freshsales offers a free 21-day trial to get an idea of the tool's features, take advantage of it!
#8 Zoho
A low cost CRM, easy to use and that goes far enough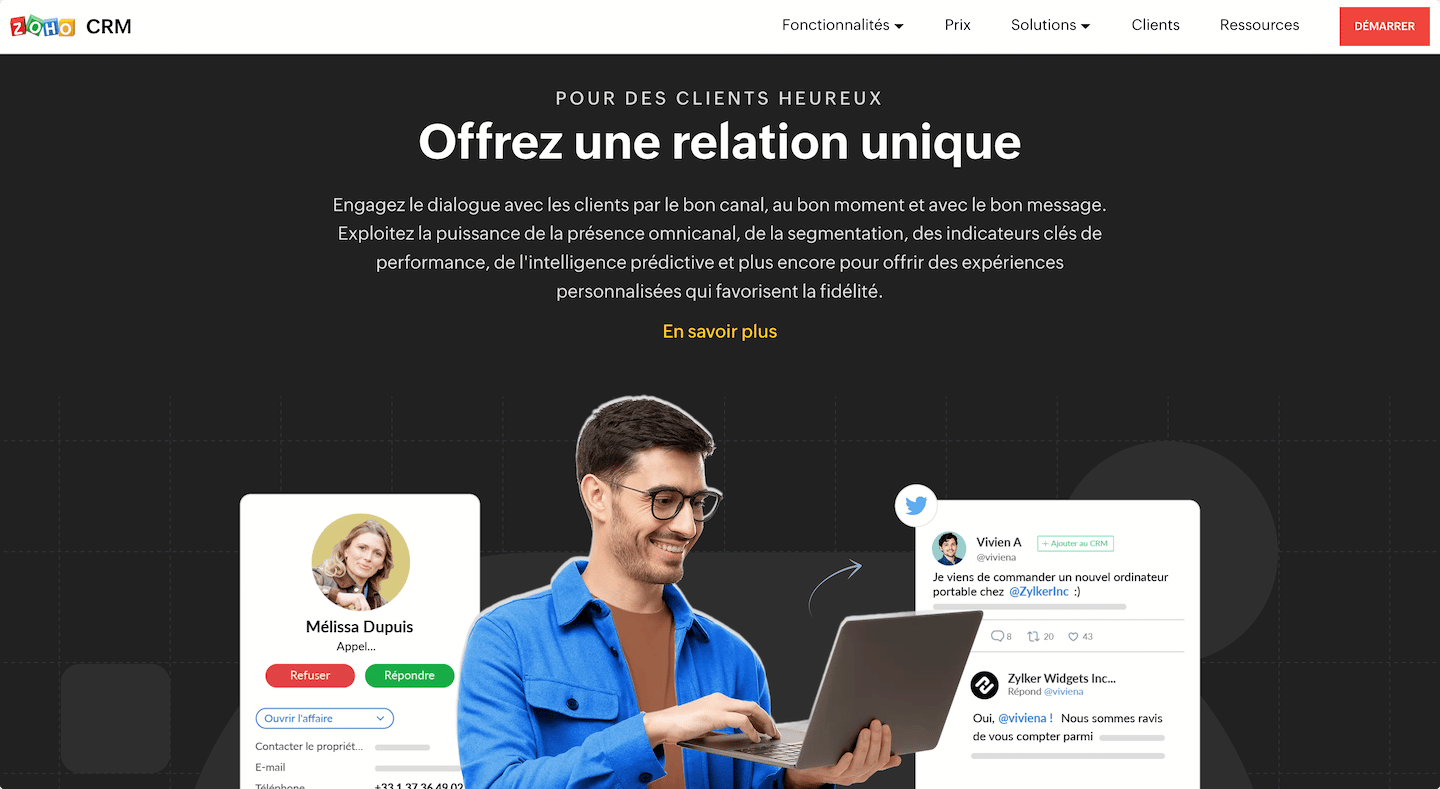 Zoho CRM is easy to use, which means startups can get started quickly.
It offers integration with social media platforms for social selling purposes.
The tool has a data porting feature that allows you to easily transfer information from spreadsheets to the CRM.
Zoho CRM offers a free plan, but it is very limited. Users will eventually need to upgrade.
Some features are considered "Add-Ons", which can make Zoho CRM quite expensive.
Zoho does not offer individual email tracking or individual lead notifications, which can be limiting if you rely heavily on individual engagement.
Zoho offers a first plan for 14€/month, a professional plan for 23€/month and an enterprise plan for 40€/month. The most expensive formula is 52€/month.
Try Zoho for free
Zoho offers to discover its features for free during 15 days. It has excellent automation features, don't miss it!
#9 Keap
A sales CRM that offers solid direct marketing tools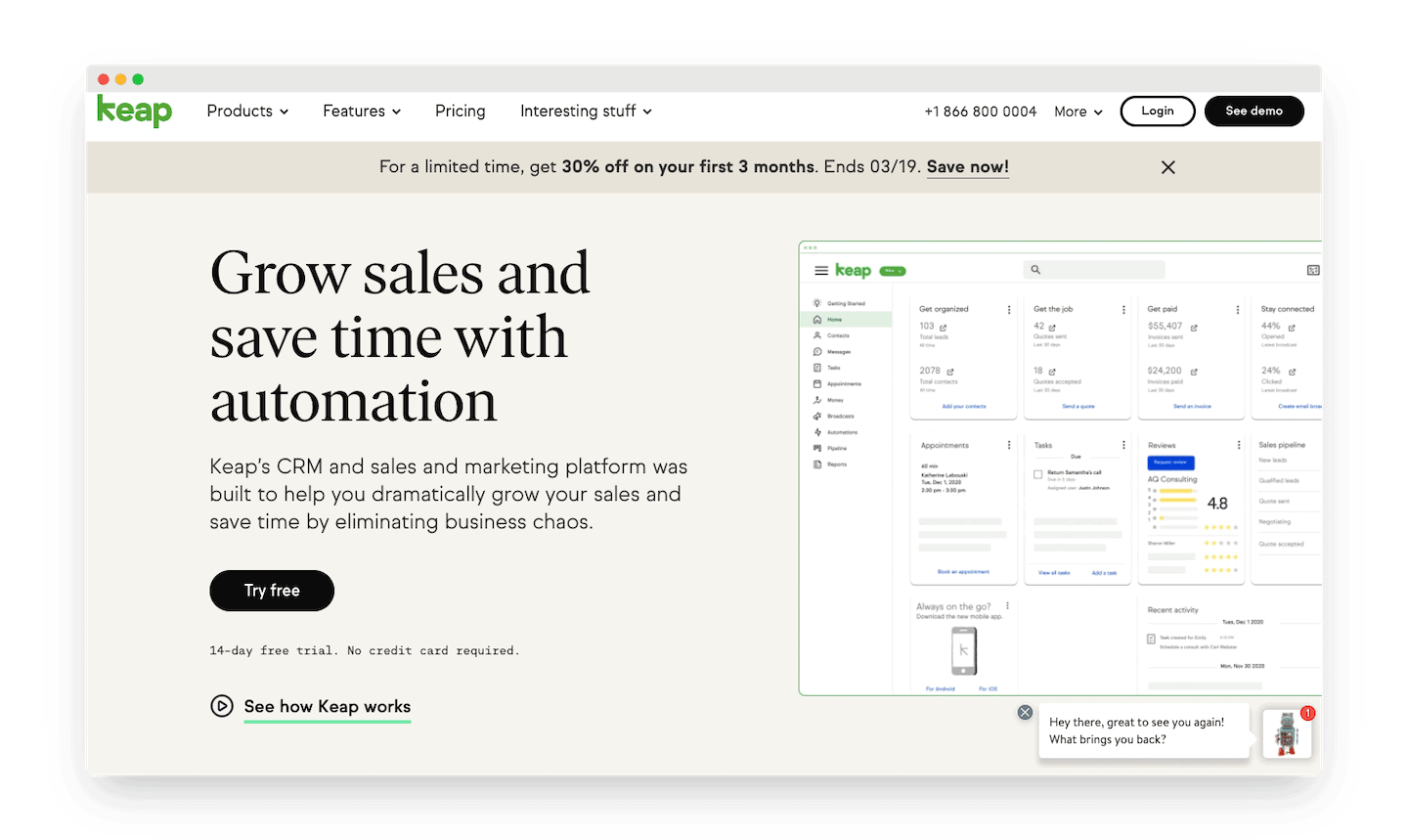 Keap allows users to import contacts from spreadsheets, other CRM platforms, custom website forms, etc., making it easy to centralize customer data.
Automation is an important part of the software. Users can leverage the tool's drag-and-drop functionality to create customized marketing campaigns and streamlined sales processes.
Keap offers many marketing features. If you invest in a CRM for your sales team, you may not need all of these tools. Unfortunately, you will still have to pay for them, which can be more expensive than other solutions.
Keap offers an entry price of 140€/month for 1500 contacts and two users. The Max plan costs 188€/month for 2500 contacts and three users.
Try Keap for free
Keap is a popular solution for those who have important marketing needs. You can try the software for free for 14 days, don't hesitate!
#10 Folk
A contact-first, flexible and customizable CRM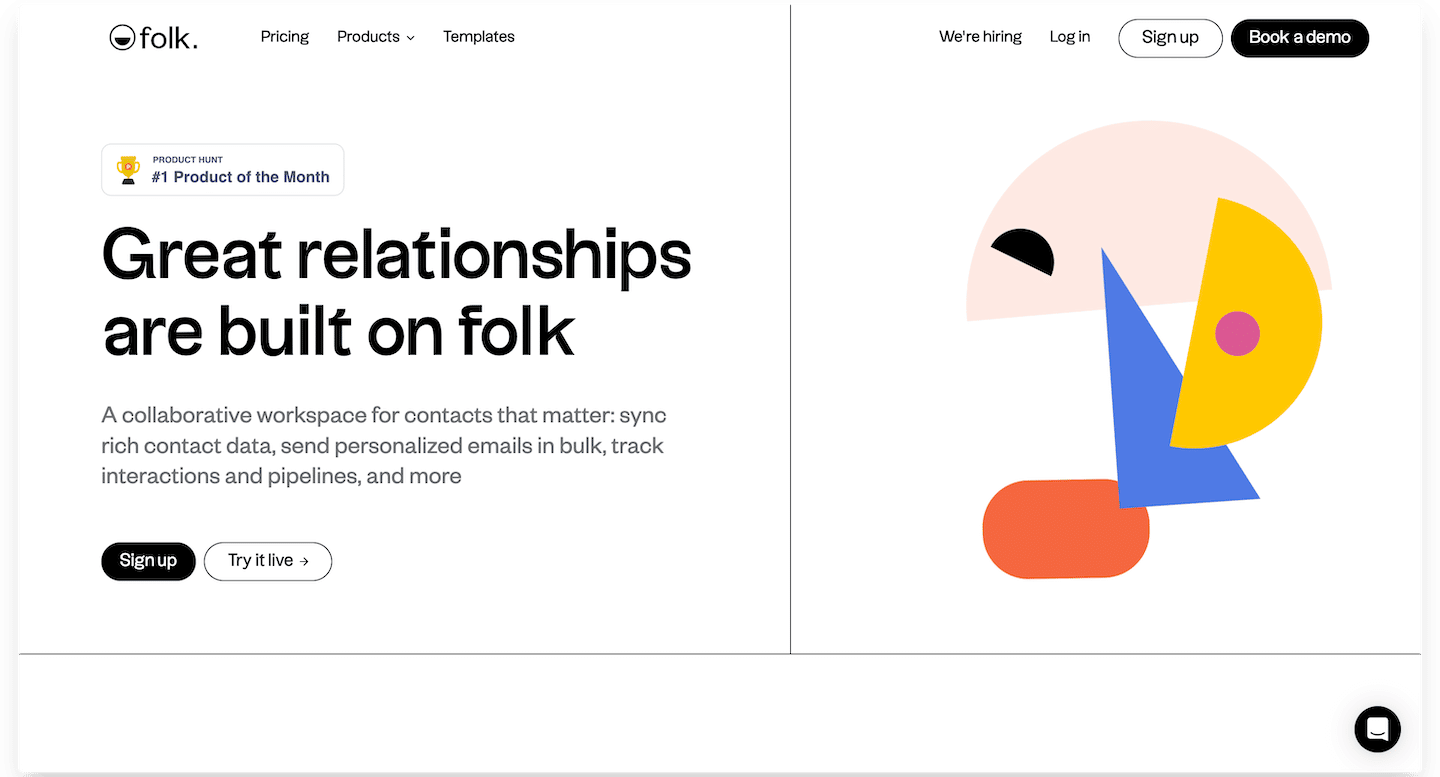 Folk is a flexible and very easy to use software.
It allows you to integrate all the contacts of a company into the database, not only the customers or prospects.
It integrates perfectly with G-Suite.
Folk offers limited sales and marketing reporting capabilities.
There is still a lack of integration.
Folk offers a free first plan at 13€/month/user. The Unlimited plan costs 27€/month/user.
Try Folk for free
Folk offers a free 14-day trial to get an idea of the tool's features, so take advantage of it!
Go further
Don't hesitate to read our different articles if you want to know more about CRM!
Reader Interactions