PlayPlay is a video creation platform dedicated to helping marketing and communications teams turn their messages into engaging videos.
If you want to produce video content at the level of what we're seeing from the biggest brands on Linkedin, Twitter, Instagram, Youtube, and on more and more landing pages, it's definitely worth the detour.
Our PlayPlay review at a glance
Reviews are almost unanimous: PlayPlay has struck a great balance between tool power and accessibility.
Their tool, which uses AI to create even faster and simpler videos from GPT-4, is really impressive.
Endless customization options for those who want to create videos that reflect their own image and graphic style.
Negative comments lament the high price of this tool, which makes it inaccessible to smaller structures.
PlayPlay: Getting started & features
#1 The template bookshop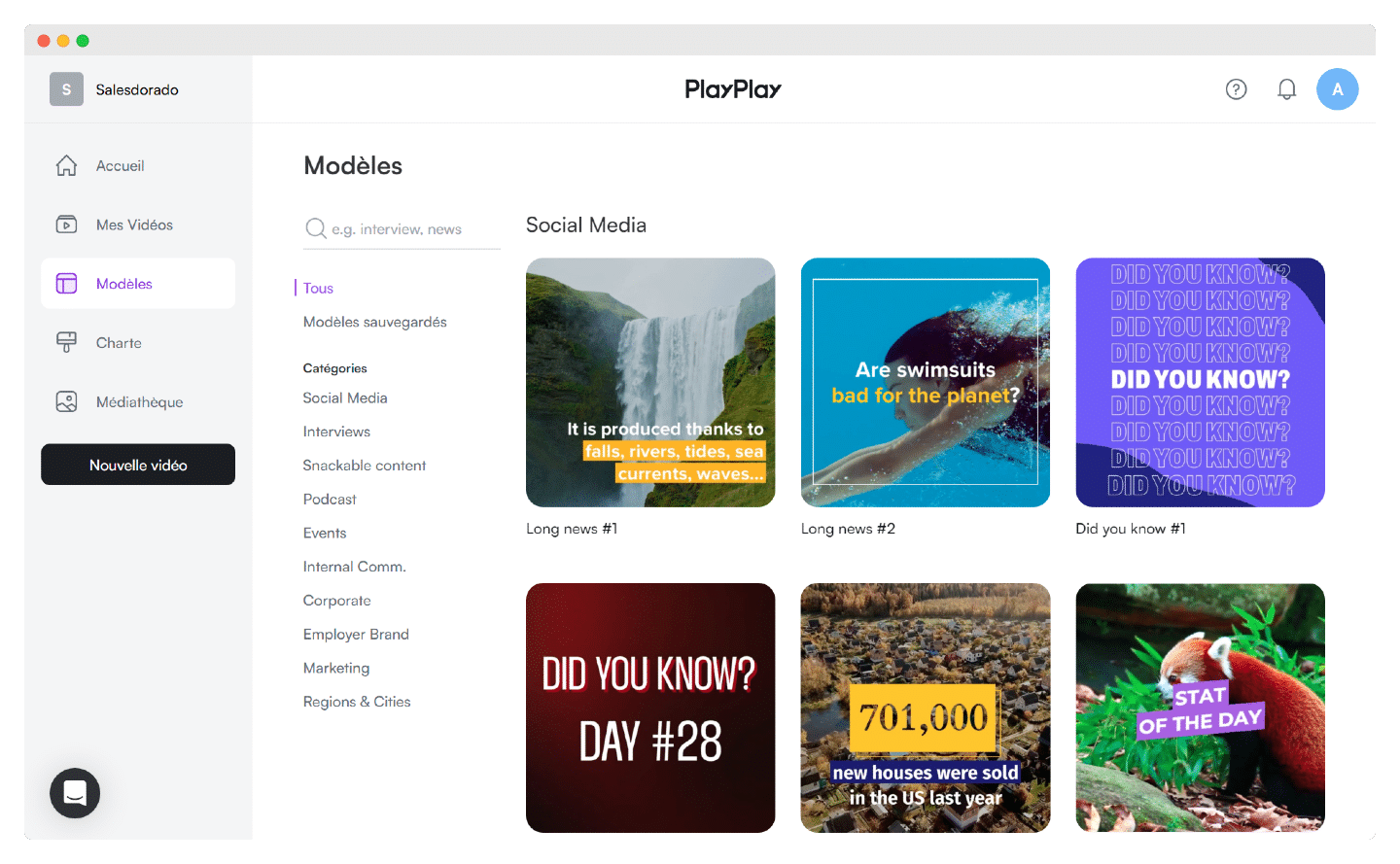 PlayPlay is designed above all to be intuitive, even for someone who knows nothing about video editing, and this is clear from the outset, with over 300 templates to choose from.
The difference with other software of this type is that the templates are really high quality, and you can then customize them ad infinitum.
For a beginner, it's extremely simple: depending on the message and video content, you can choose your template by following the categories suggested by PlayPlay.
Podcast, internal or external communication (project launches, partnership announcements, etc.), marketing (customer case studies) or varied content for social networks (tutorial videos or competitions, you can even have fun reproducing the short formats of media such as Konbini or Brut), there's honestly just about anything you want.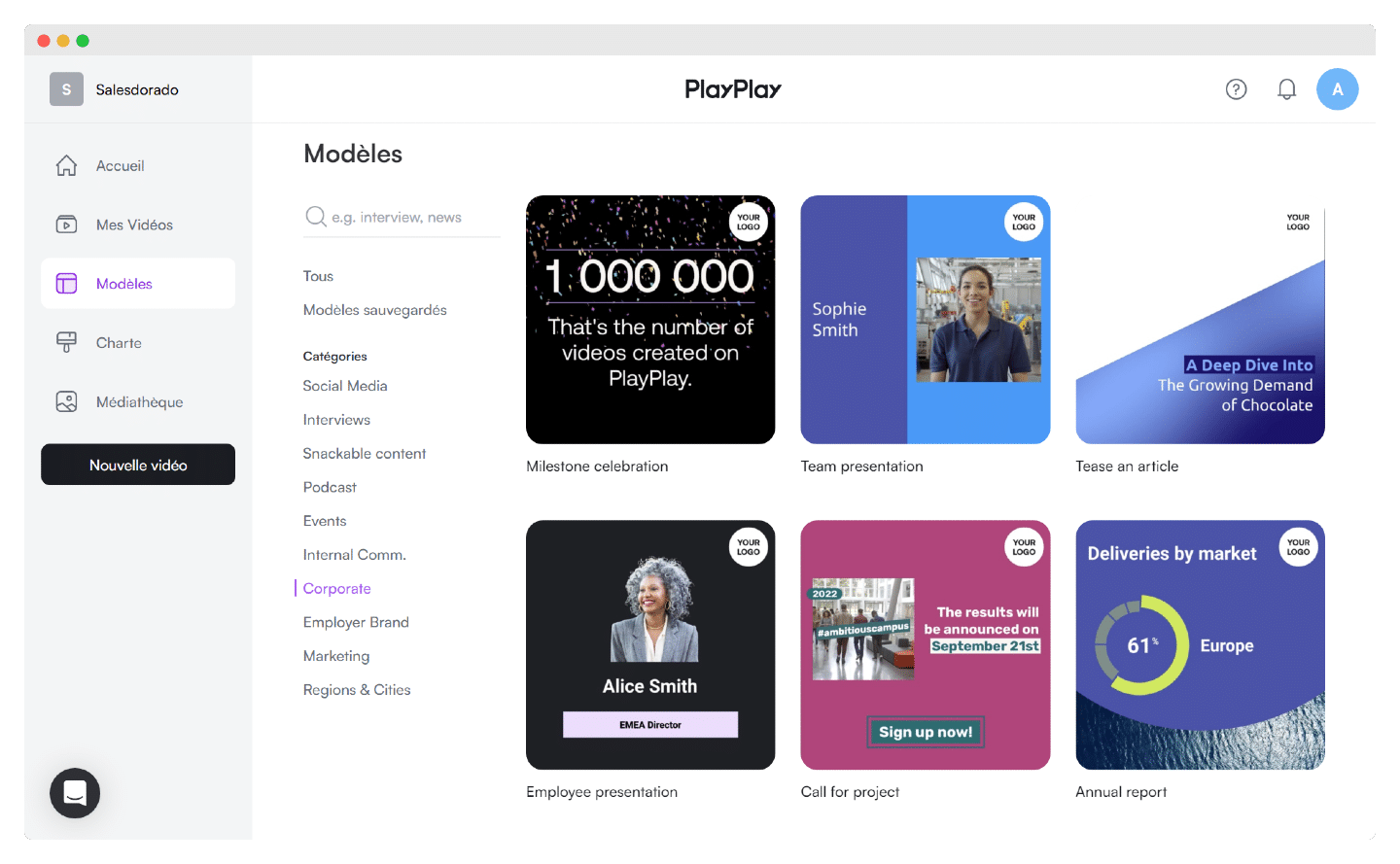 PlayPlay doesn't just help you with video editing: the advantage of these categories is that they guide you right from the start of your project in defining your message and structuring your content.
For example, for anything corporate, you can choose between a team or employee presentation, a call for projects or the celebration of a milestone for your company. PlayPlay also offers video templates to make classic presentations such as annual reports more dynamic and therefore easier for your staff to follow.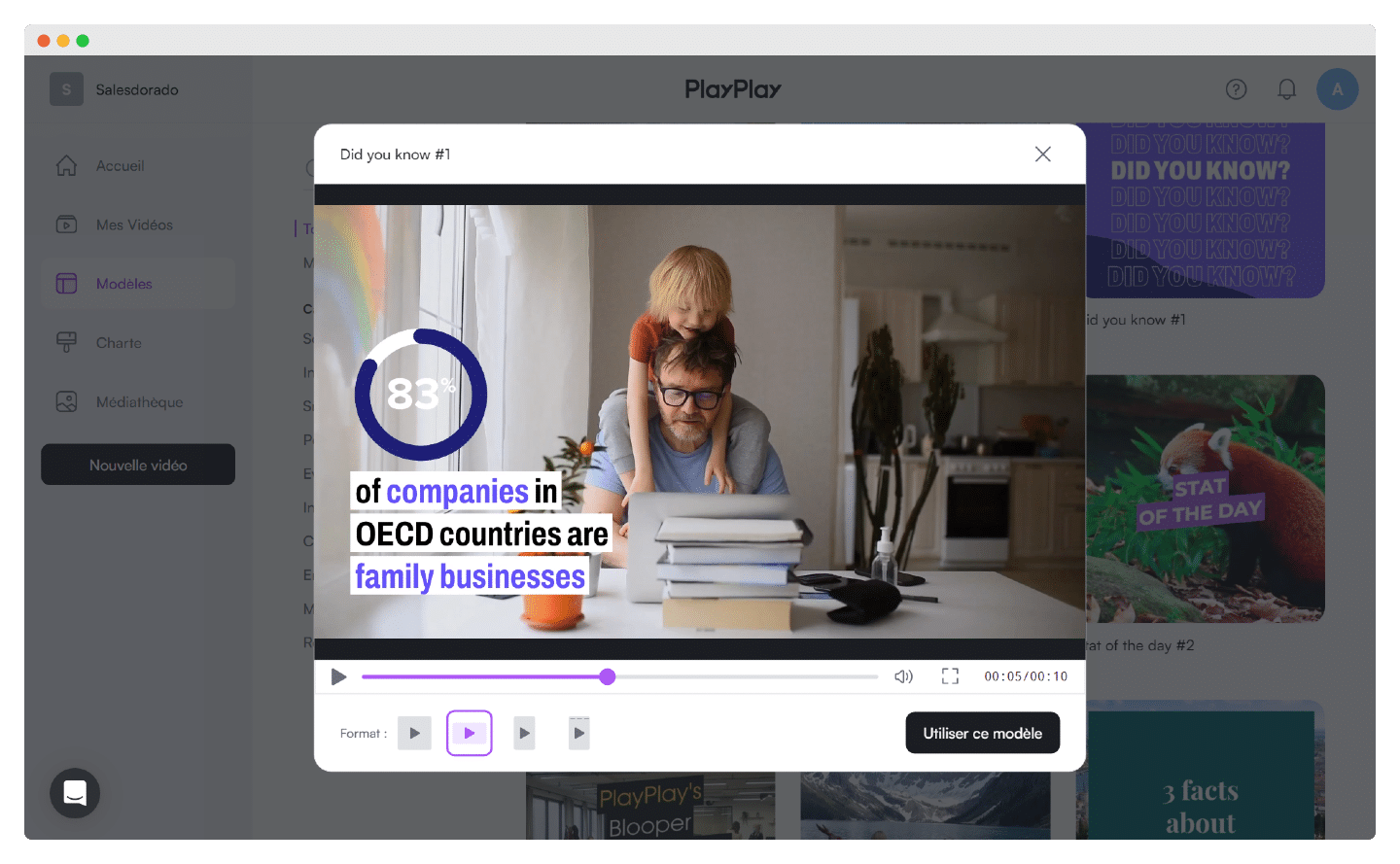 Once you've chosen the template, you define the format you're interested in (landscape, portrait or square) according to your video's distribution channel and device (desktop, mobile, tablet) and you can start editing your video.
Try PlayPlay free of charge
Discover all PlayPlay templates with our free trial!
#2 The PlayPlay video editor
When it comes to video editing, PlayPlay stands out for its ease of use and accessibility, even for those who shun more advanced software such as After Effect or Final Cut. And you can get a great result very easily.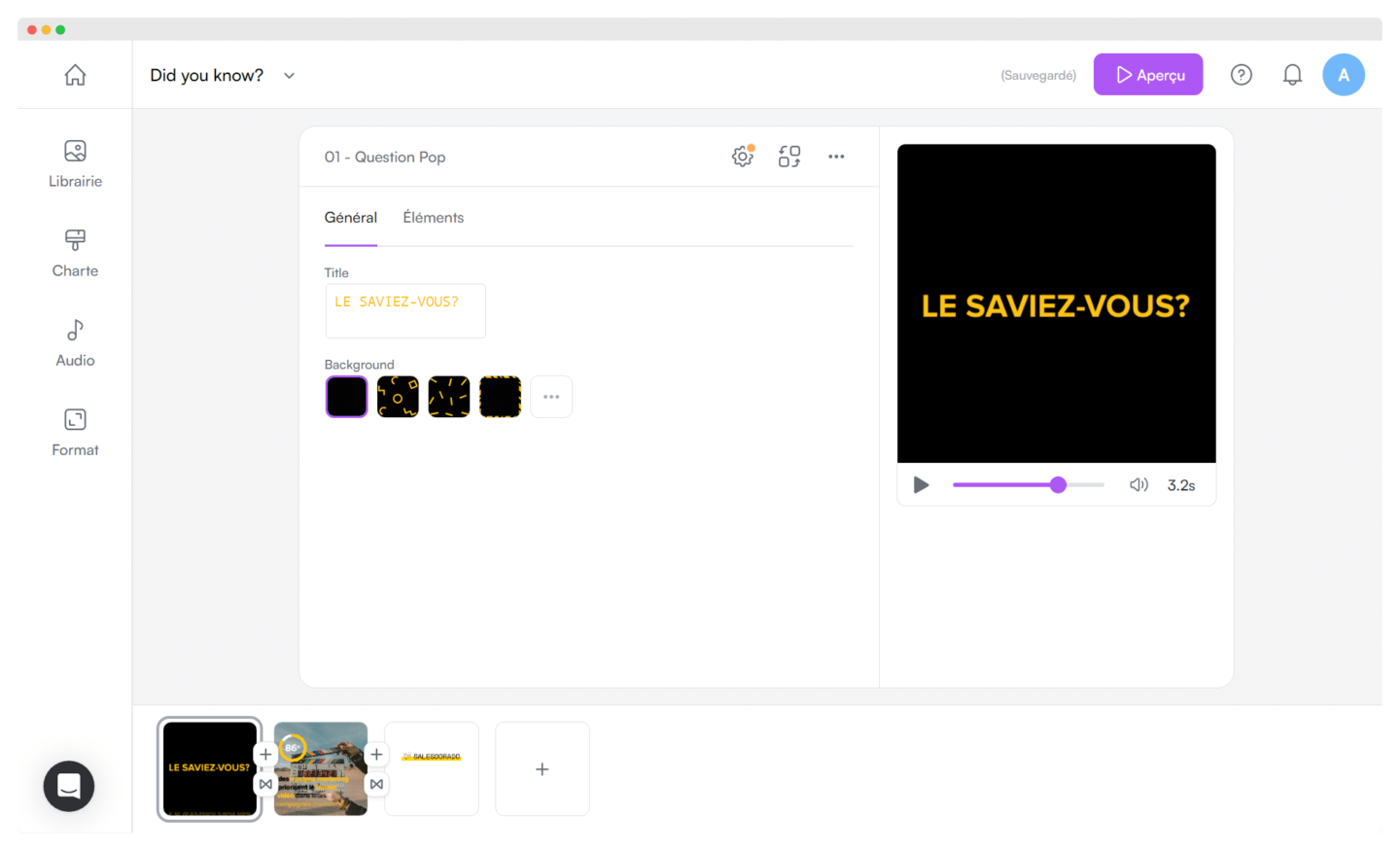 Once you've chosen your model, you can start customizing it. It couldn't be simpler: just like a Powerpoint presentation, each video thumbnail appears, and you can modify it: change the background, title, increase the sound and duration, and so on.
You can cut or crop videos, merge them or convert them to MP4, etc. In "Elements", you can add your own elements, logos or images.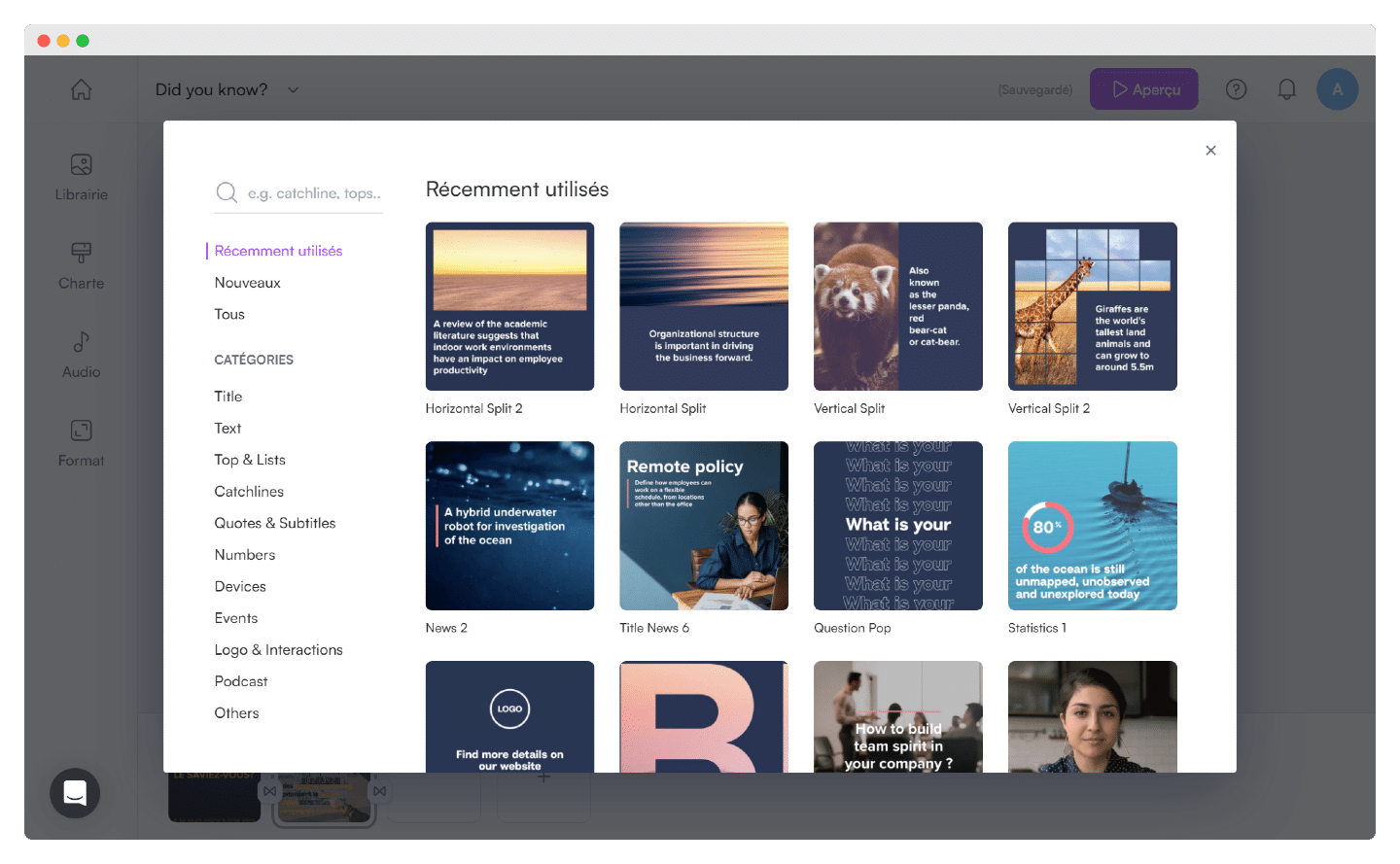 The video templates suggest thumbnails and content to insert – a question to start the video, statistics to introduce your subject, a contact address at the end – but you're free to change the structure of the video.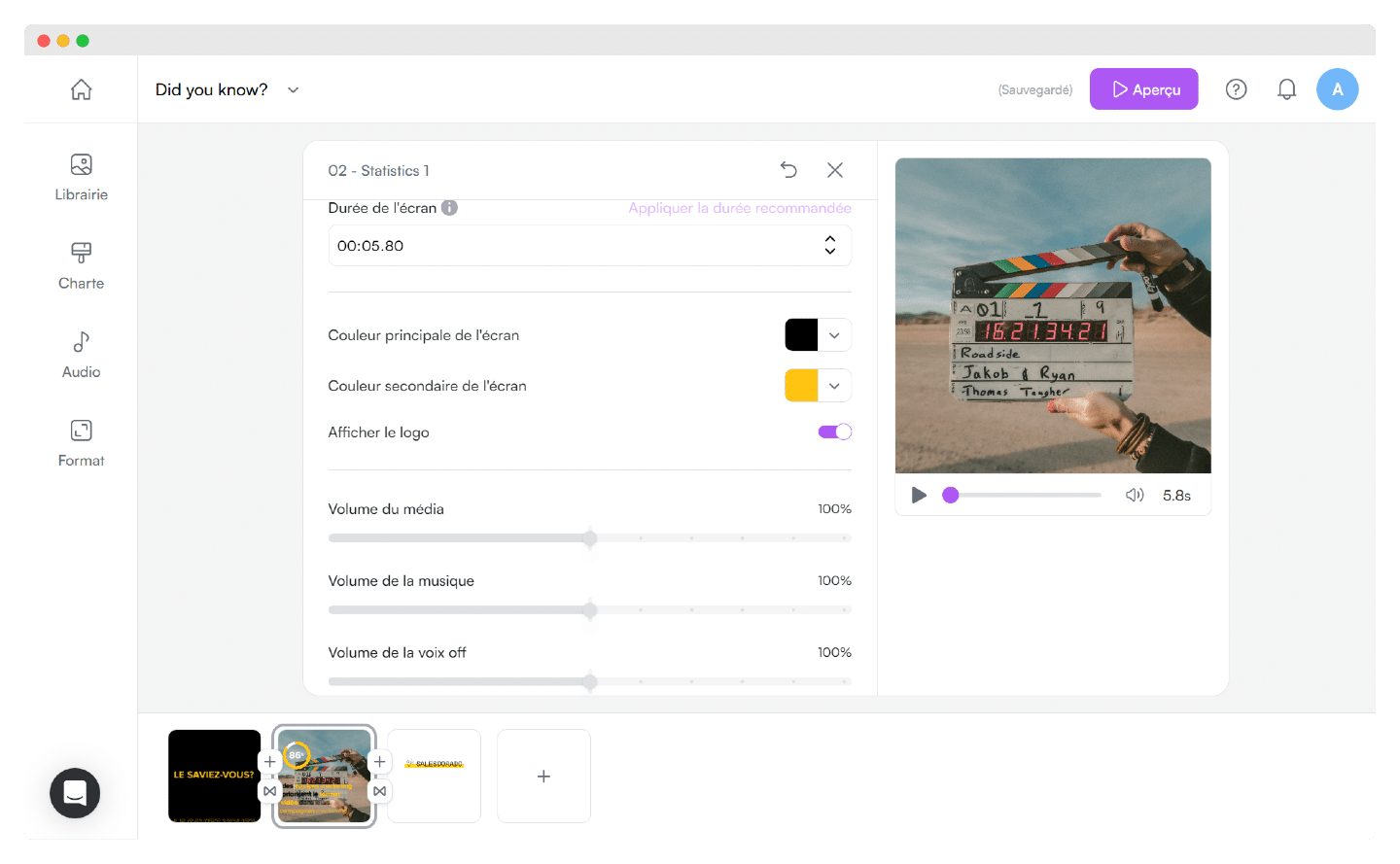 The most? Many recommendations, such as the screen duration here, so you don't get too confused if it's your first time in video editing.
Screen duration, main and secondary screen color, logo, media volume, etc. You can change EVERYTHING. Including choosing a transition from the twenty or so available.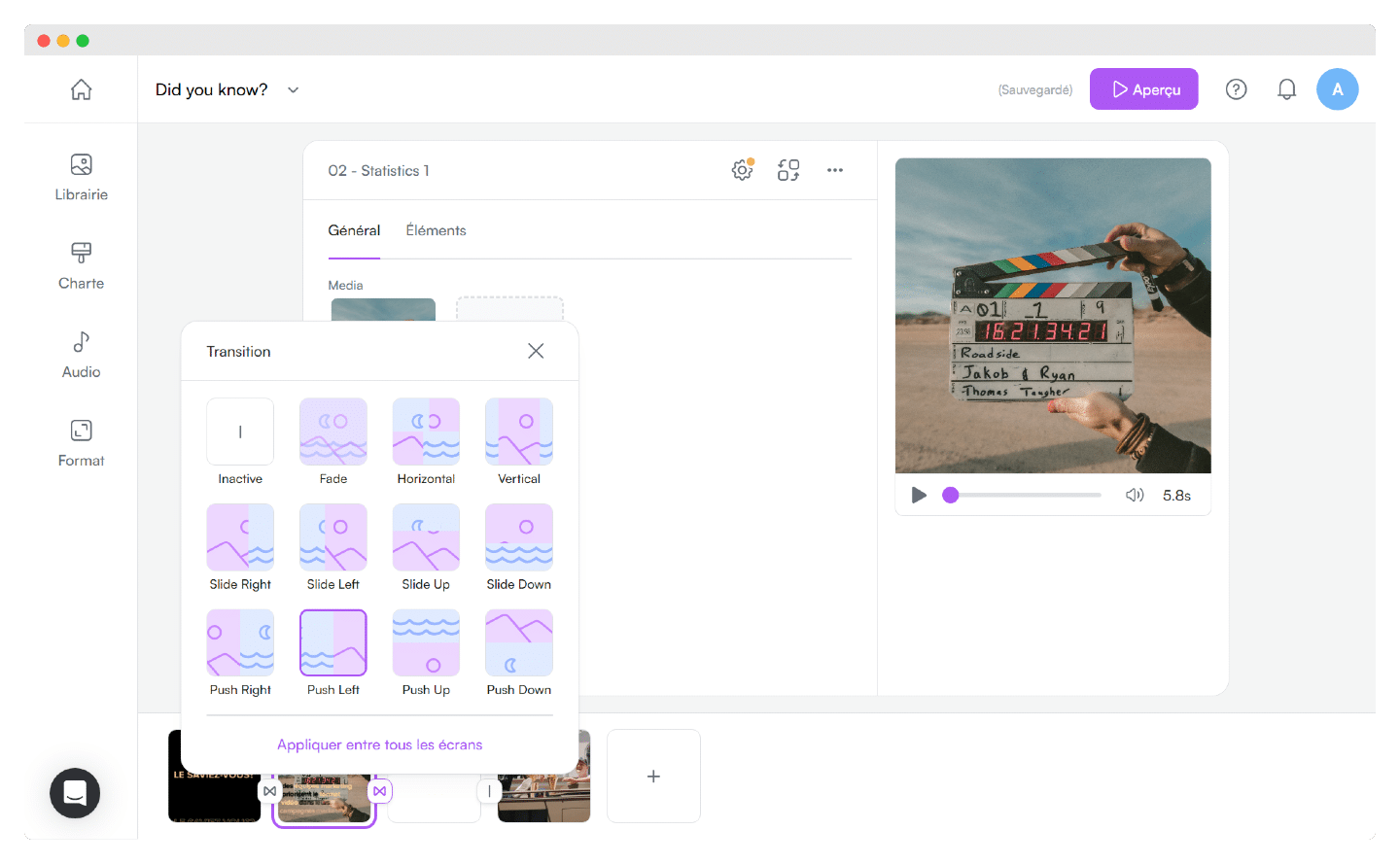 Advanced features include the ability to automatically subtitle and translate your videos to make them easier to watch, move the text around to suit your needs, and choose your cutaways to highlight the most relevant parts of the video.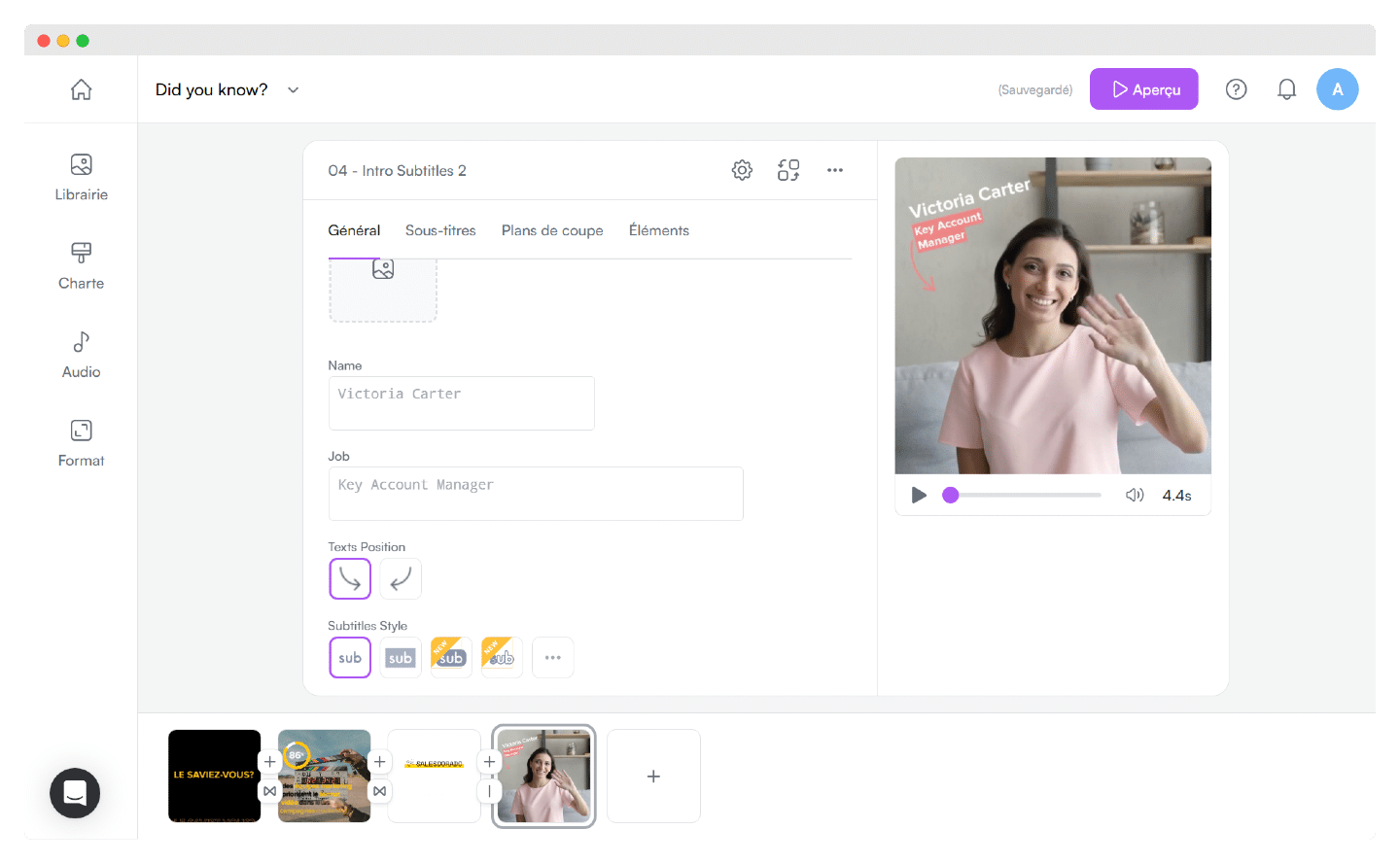 #3 Image, video and GIF libraries on PlayPlay
This is a real plus for PlayPlay: the library of images, videos and GIFs is hyper-complete, allowing you to enrich your videos with much more than just your own elements, which you can import.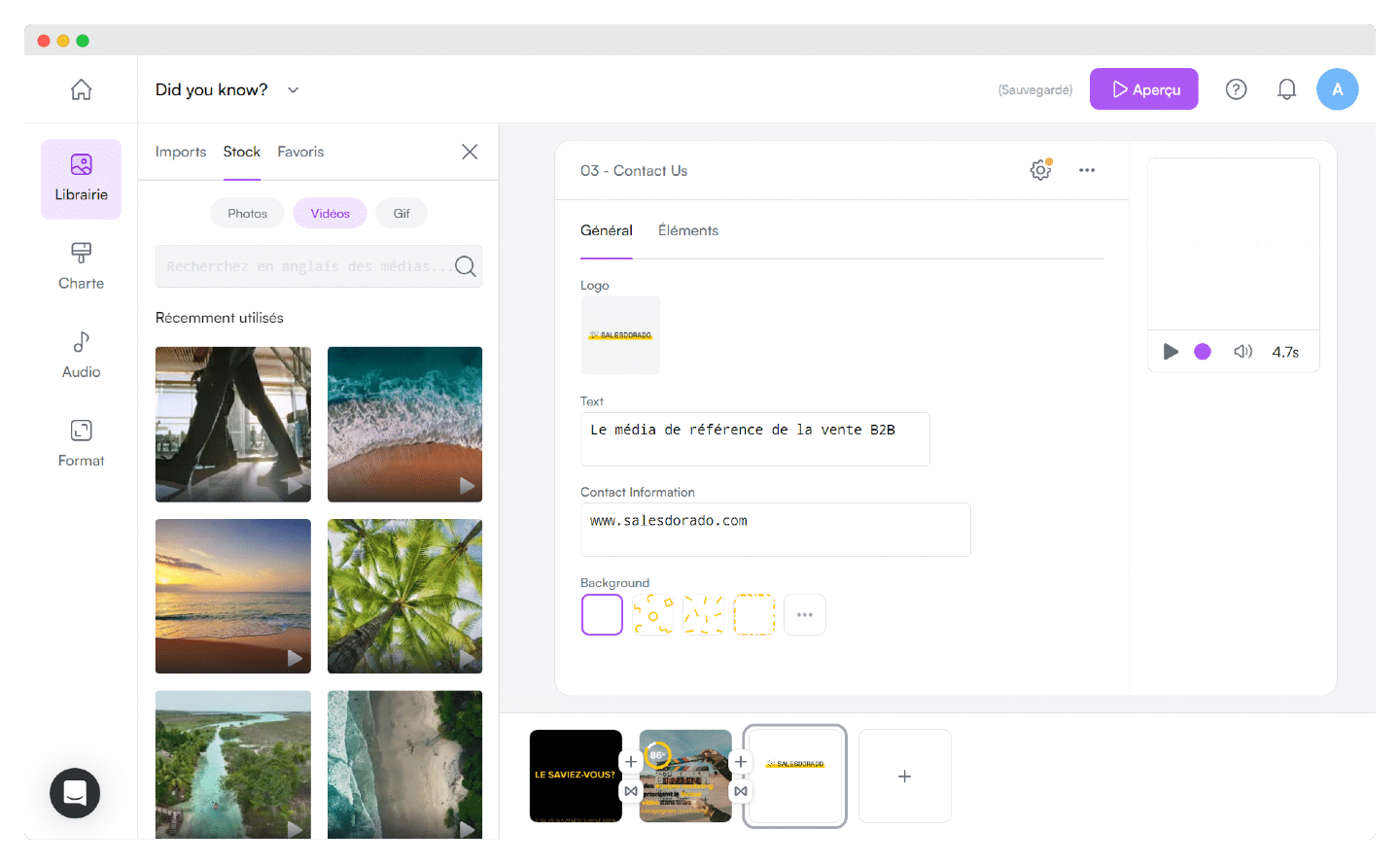 Here again, once you've chosen a GIF, for example, you can modify it further with filters to get 100% personalized content.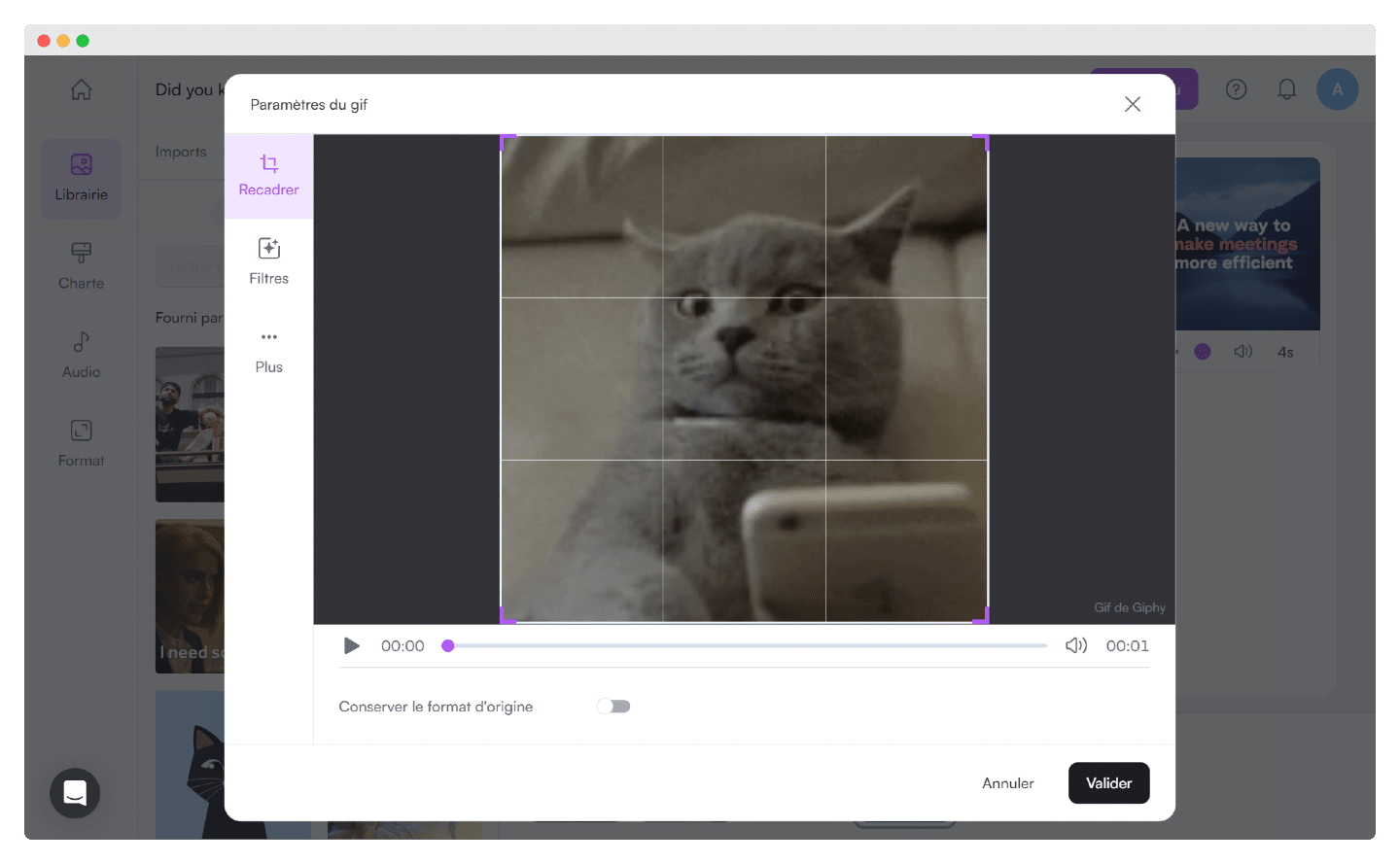 Of particular note are the advanced import options, which make it very easy to retrieve media from your phone using a QR code, or from your colleagues.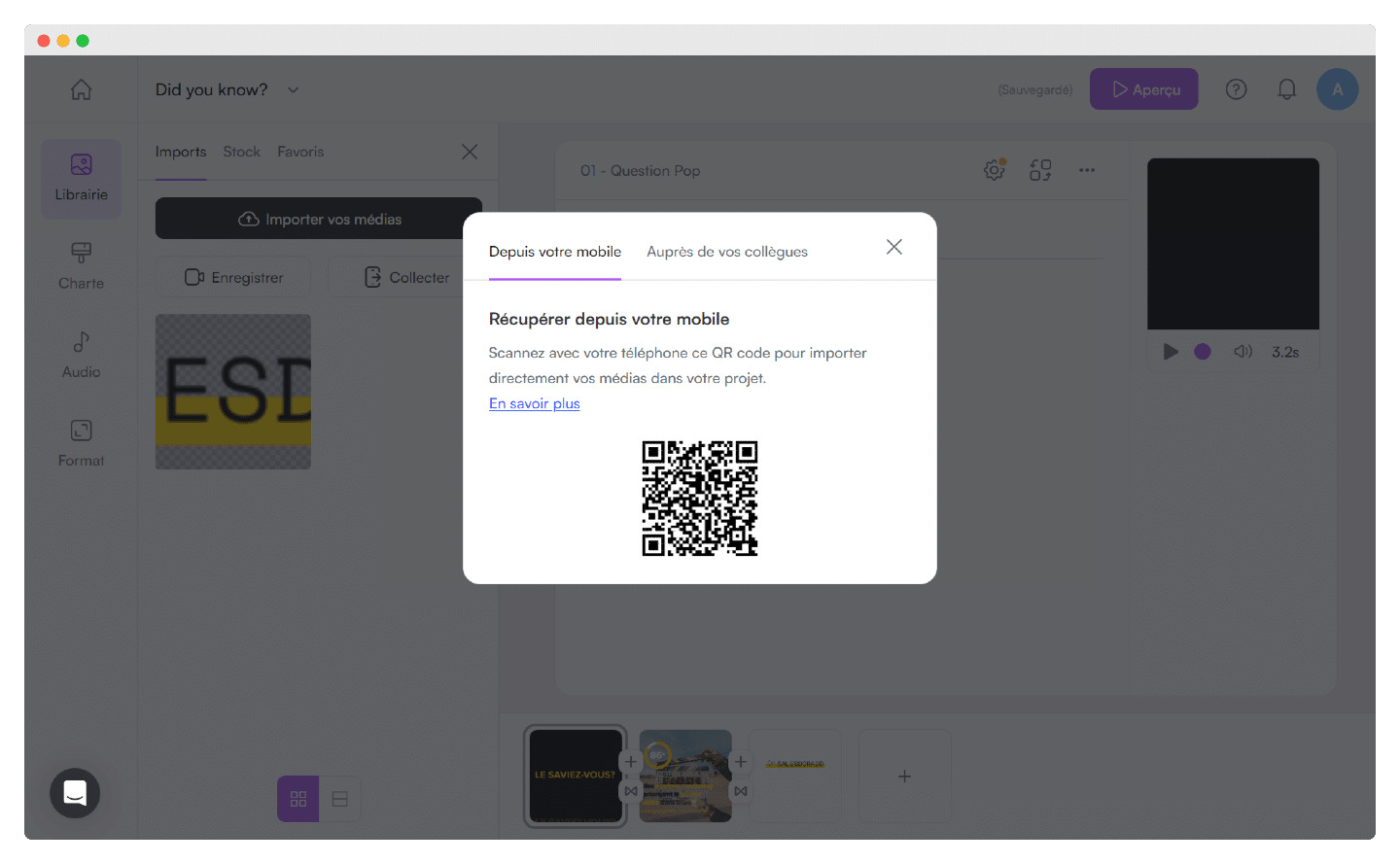 Or you can integrate a video that you've recorded yourself from your computer: this is often very practical for a tutorial video, so you can show your listeners live what you're doing.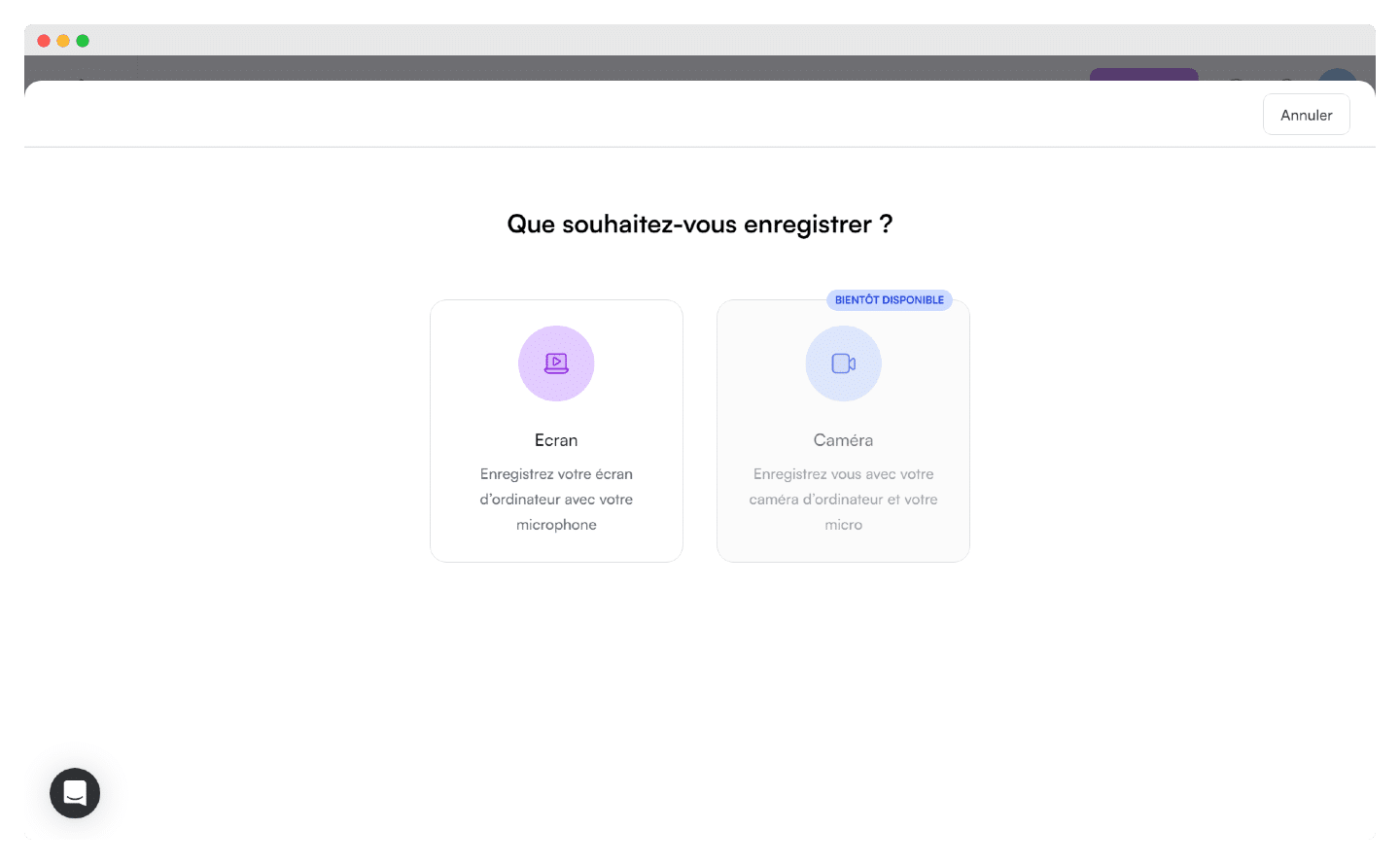 With audio, it's exactly the same: there are lots of different styles and possibilities, and you can do just about anything you want.
You can choose music from the catalog or import your own. Here again, there are music categories to help you choose: corporate, or you can pick from a monthly selection.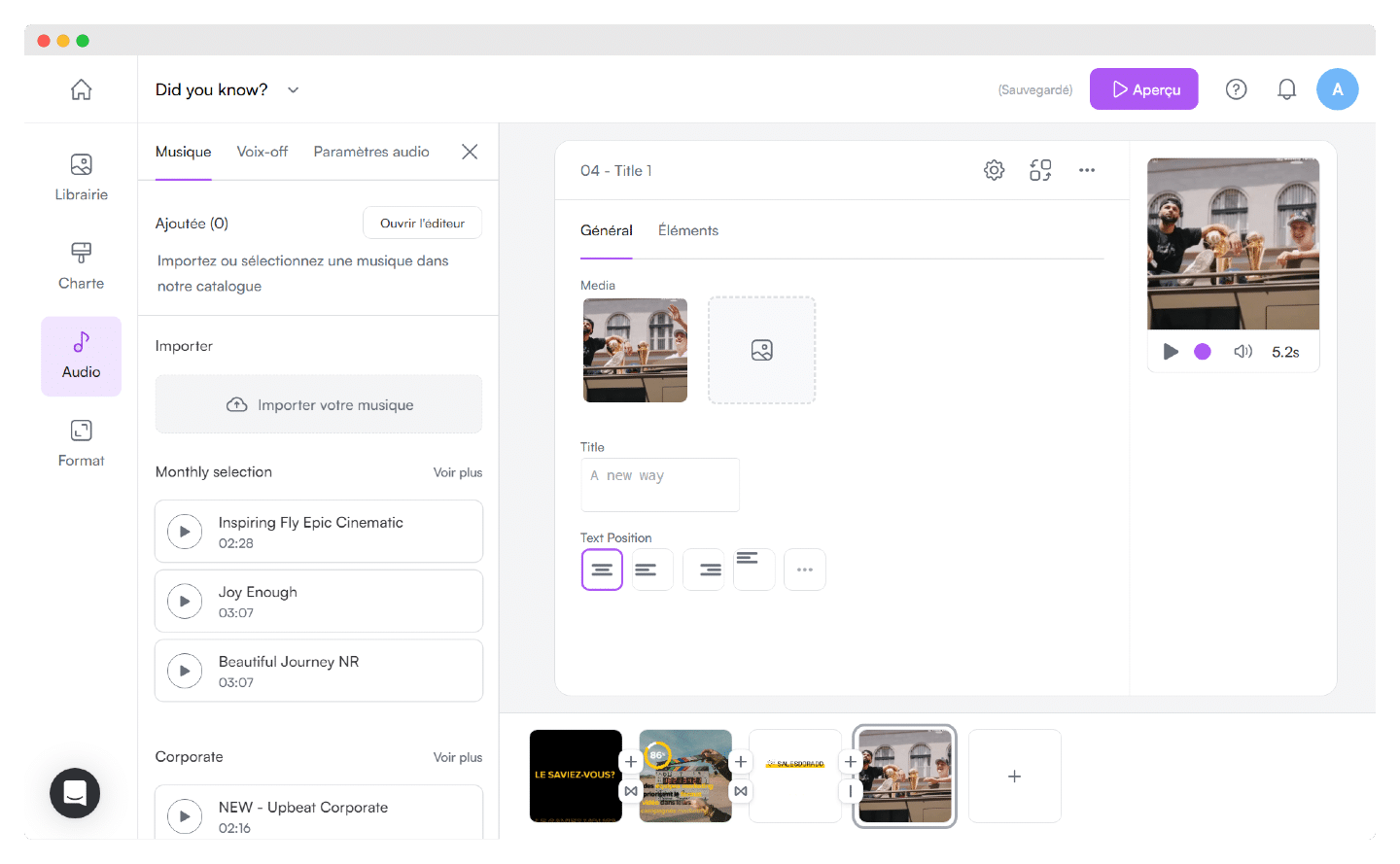 If you need a voice-over, you can add it by importing an audio file or recording yourself.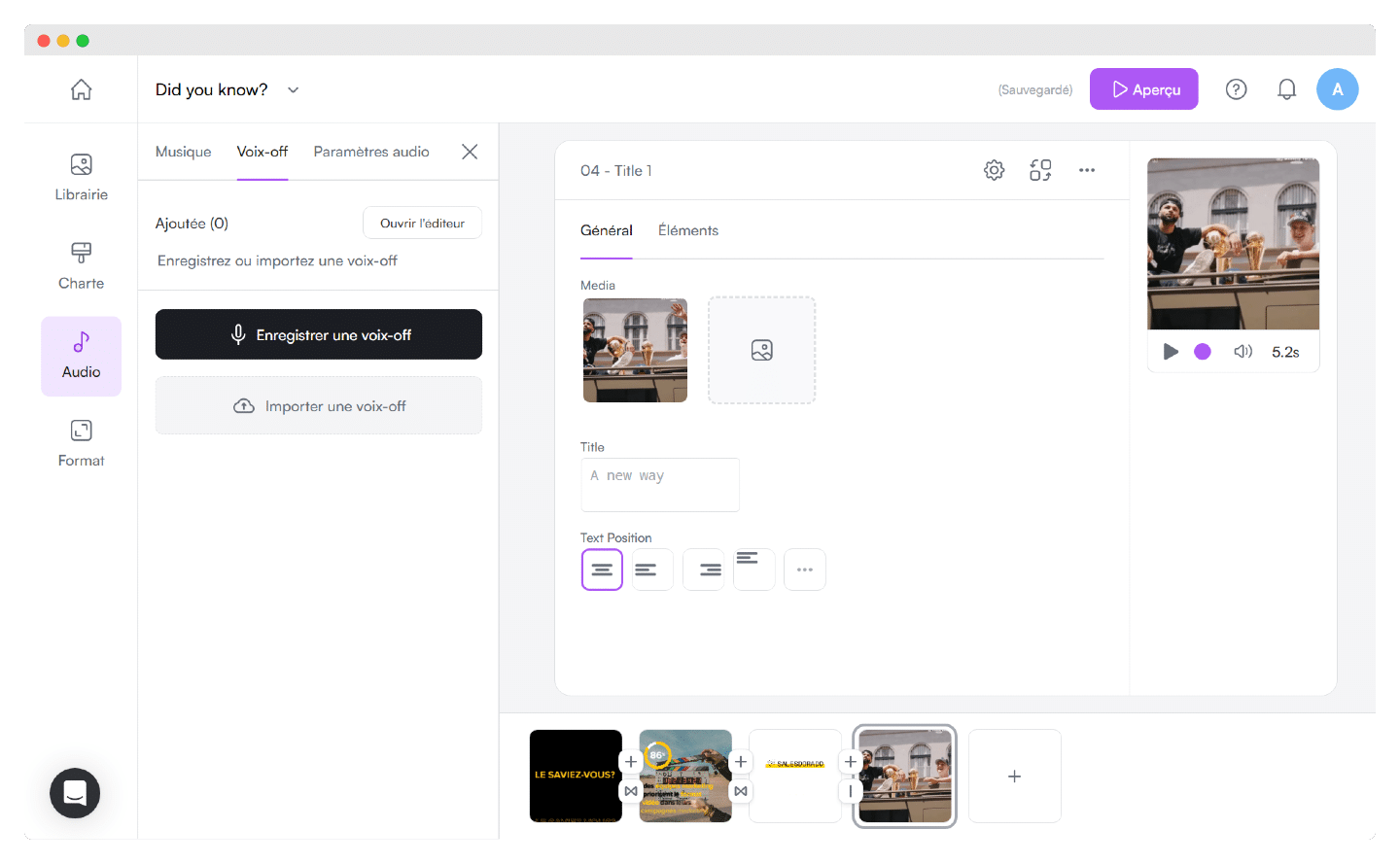 And the audio customization parameters are just as varied as for videos: you can play with the volume of the music and the voice-over, as well as manage transitions and fades between the different audios. It's amazing to have such an easy-to-use tool with so many customization options.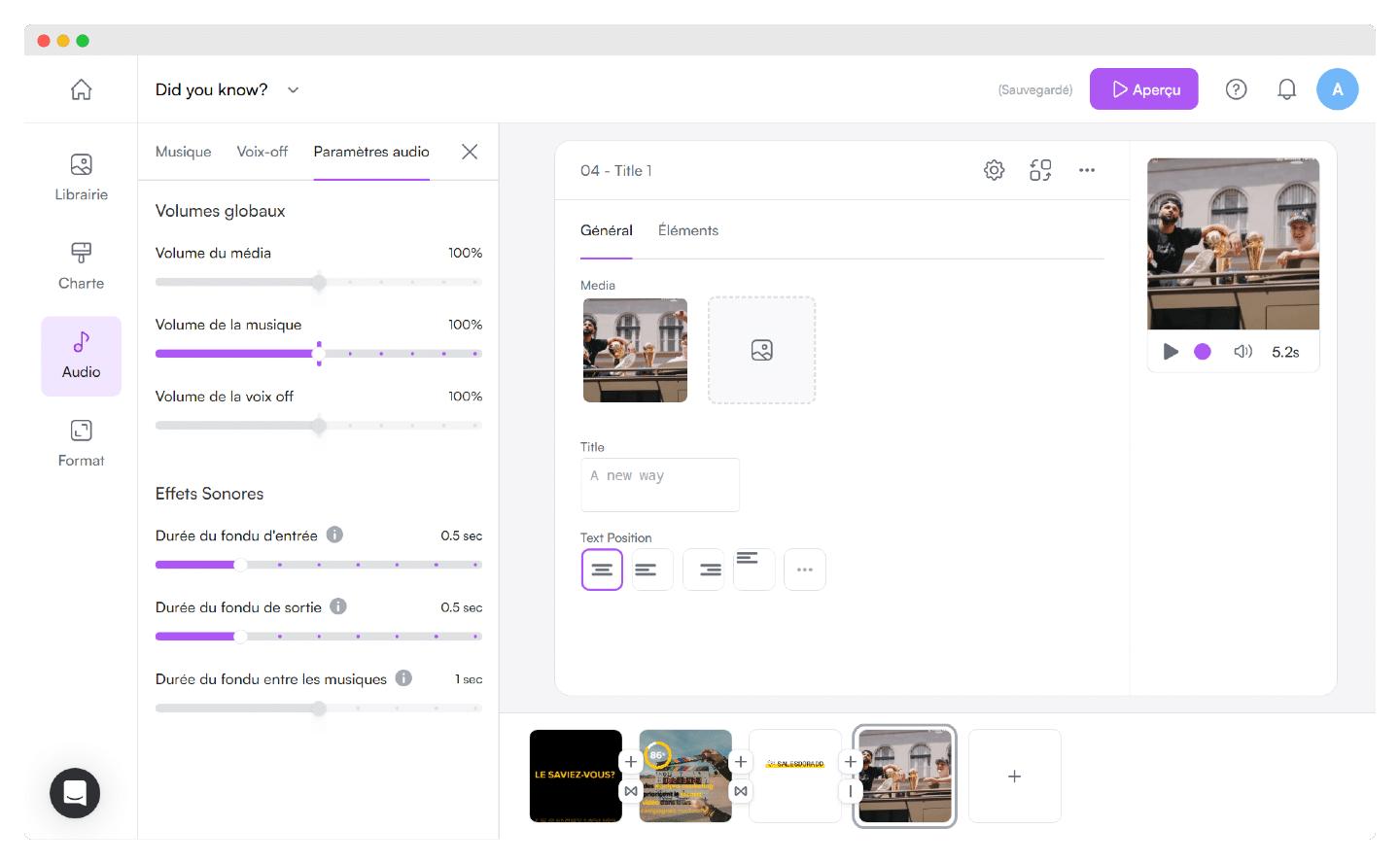 #4 Define your graphic charter
PlayPlay is a tool that can be used by both private individuals and companies, so if you're using it for professional purposes, you can add all the elements of your graphic charter.
In the editor, you can select colors for the entire video, or for each shot if you're more comfortable.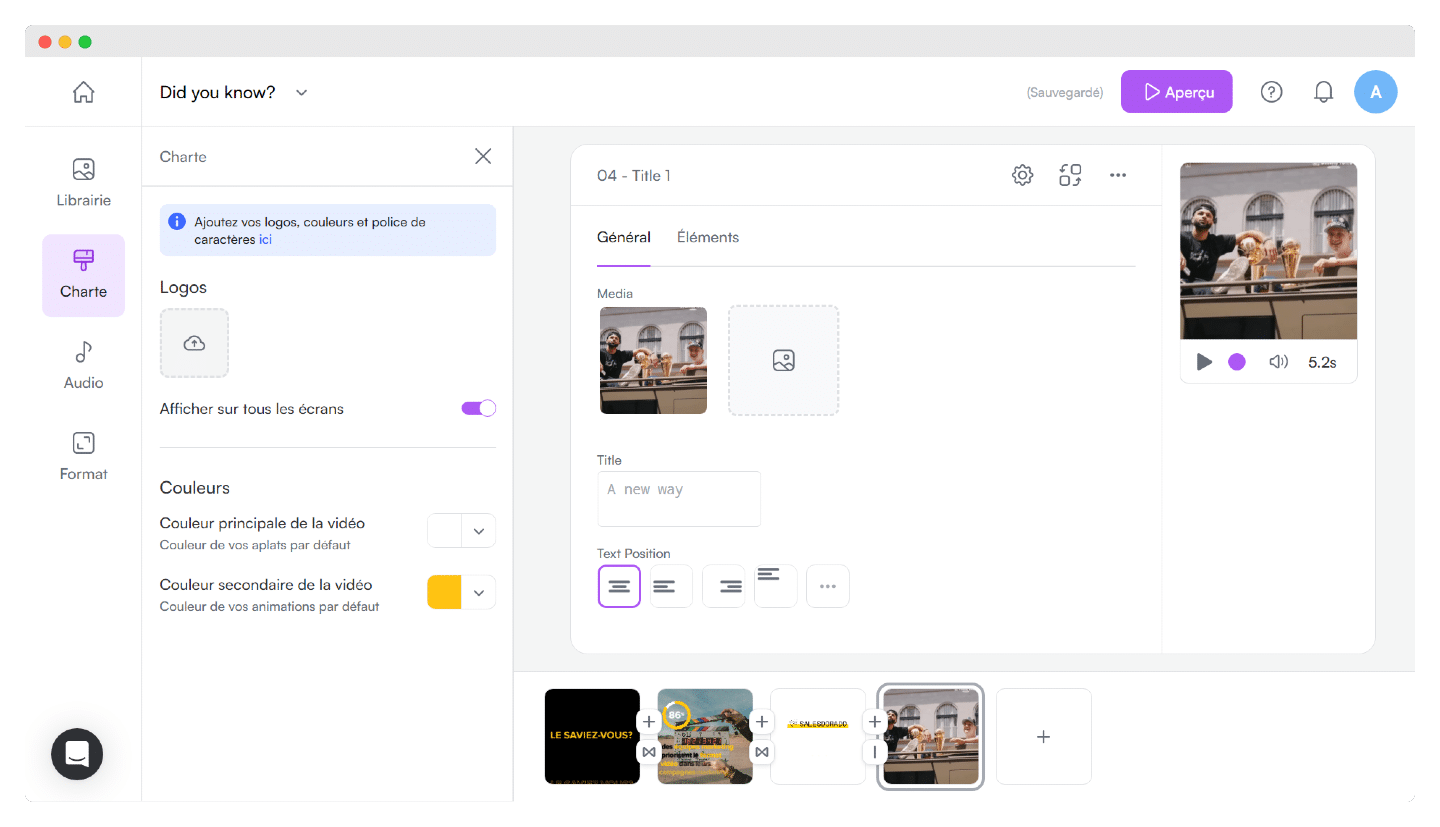 But PlayPlay lets you set these colors for the whole account, so that all your productions will respect your graphic load. This is one of the tool's key features for ensuring that all your video productions are consistent with your brand. No need to find the hexadecimal codes every time, no mistakes, and it goes a long way to making the creation experience much simpler and faster.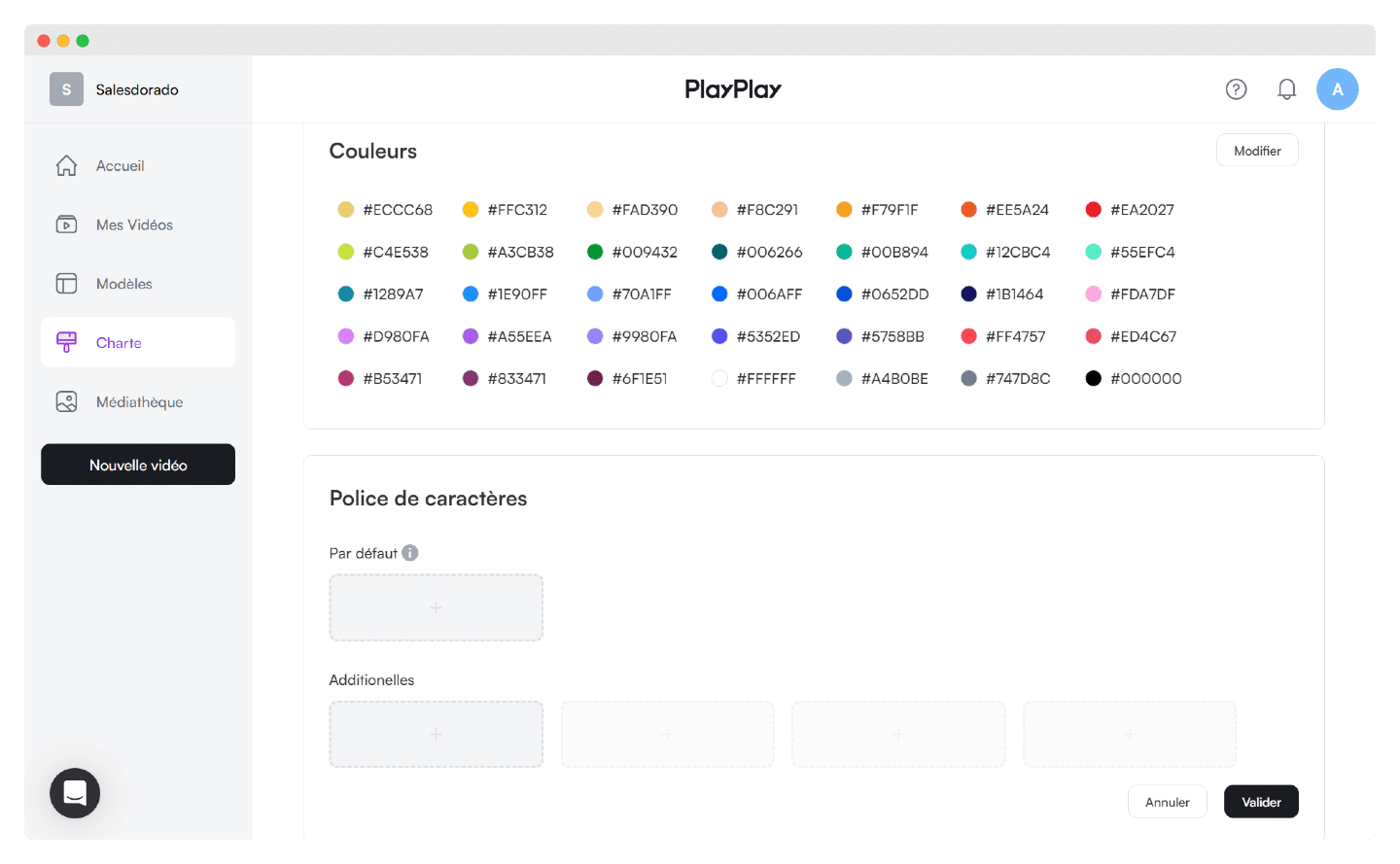 You can define logos of different shapes & colors, a color palette for use in the video editor, and text fonts.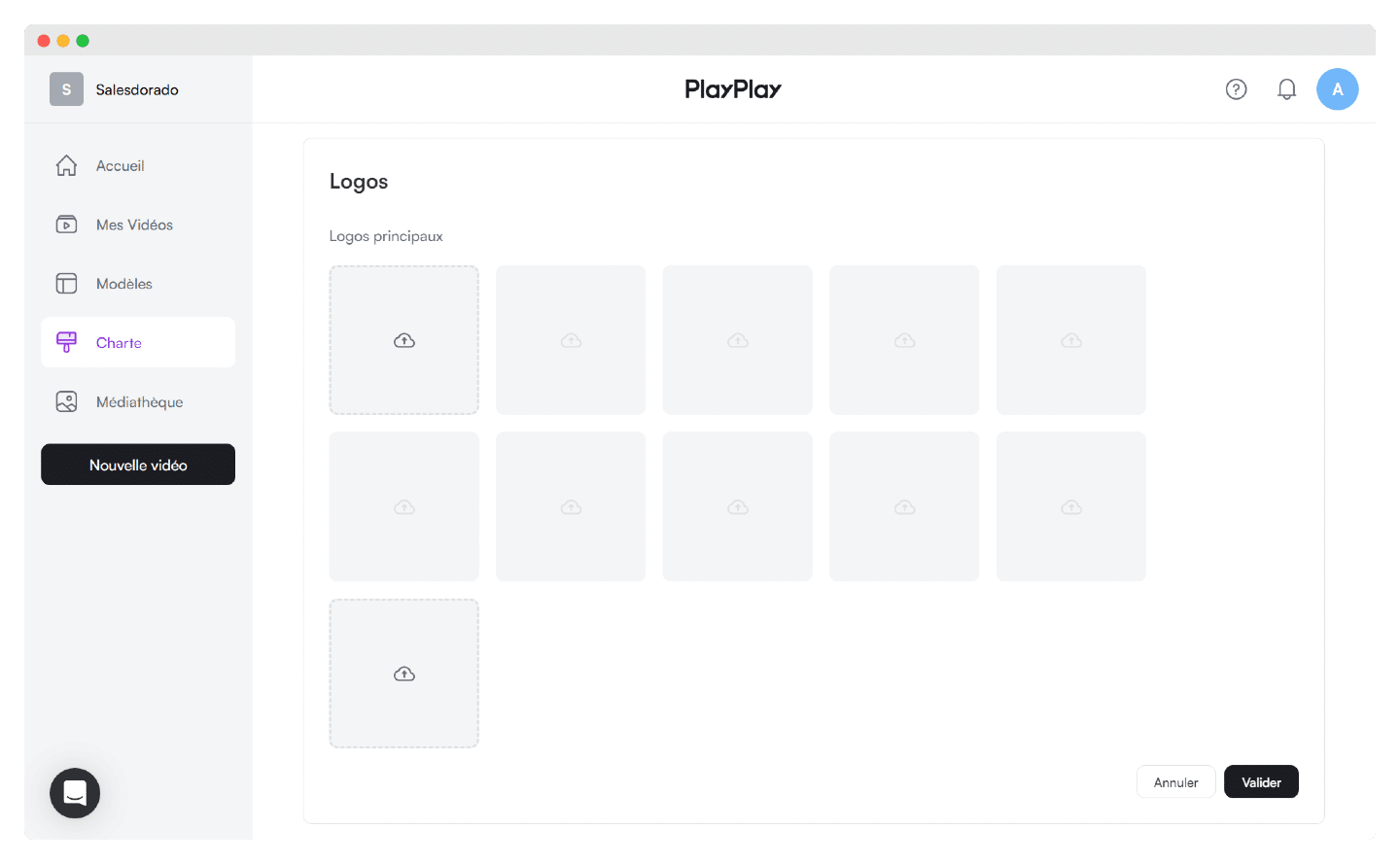 Here, too, the software allows more advanced users to go even further by offering customized backgrounds.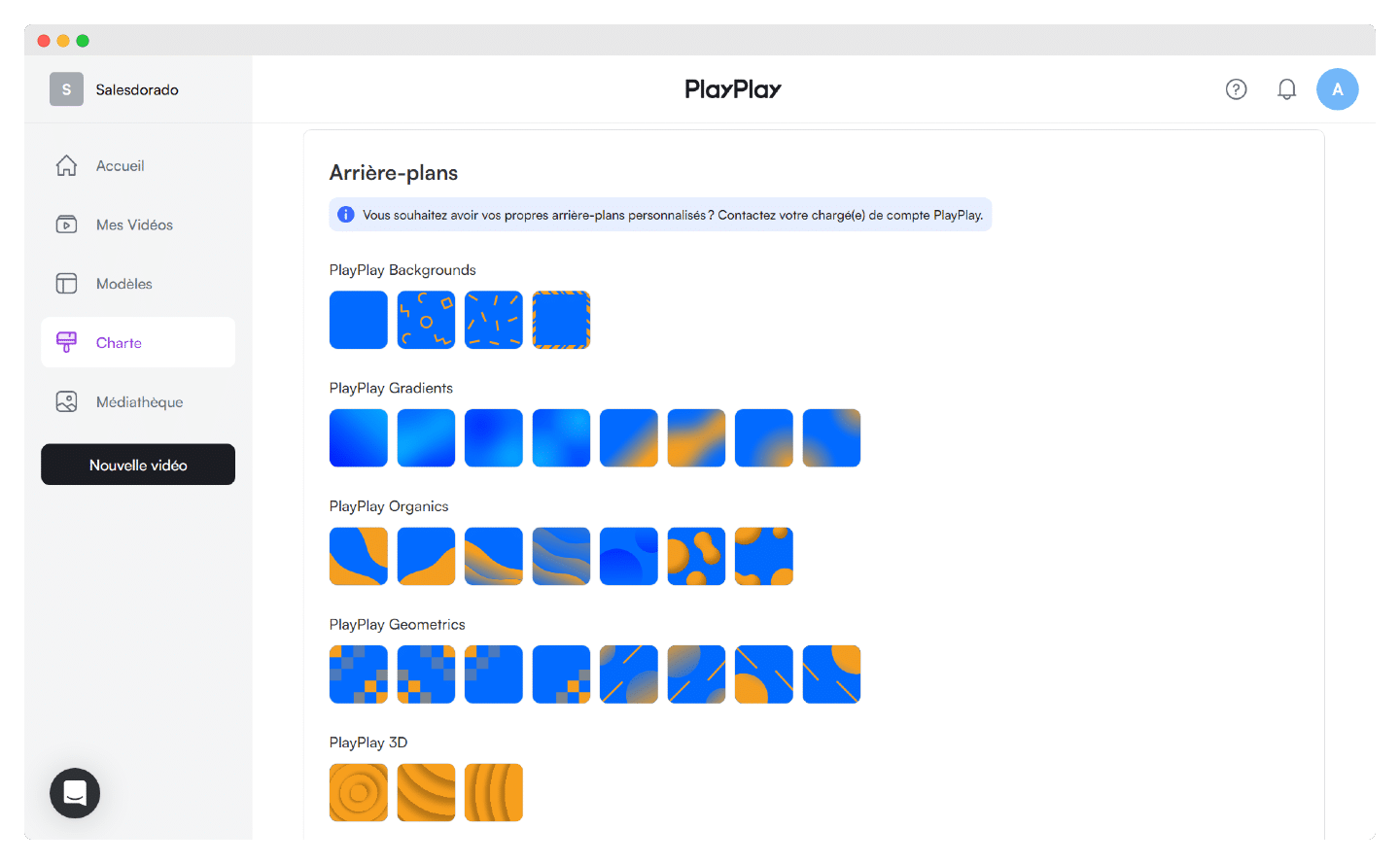 Try PlayPlay free of charge
Discover all PlayPlay's customization options with our 7-day free trial.
#5 Video sharing and library
Once you've generated your video, you have several options for exploiting it: you can download it in MP4 format and then import it into just about any social network, or into your content scheduling tool. The videos generated are in high definition.
Alternatively, you can generate and download a GIF. GIF – Graphics Interchange Format – doesn't allow for sound, but it can be looped several times, or ad infinitum. It's also significantly lighter than a video in MP4 format.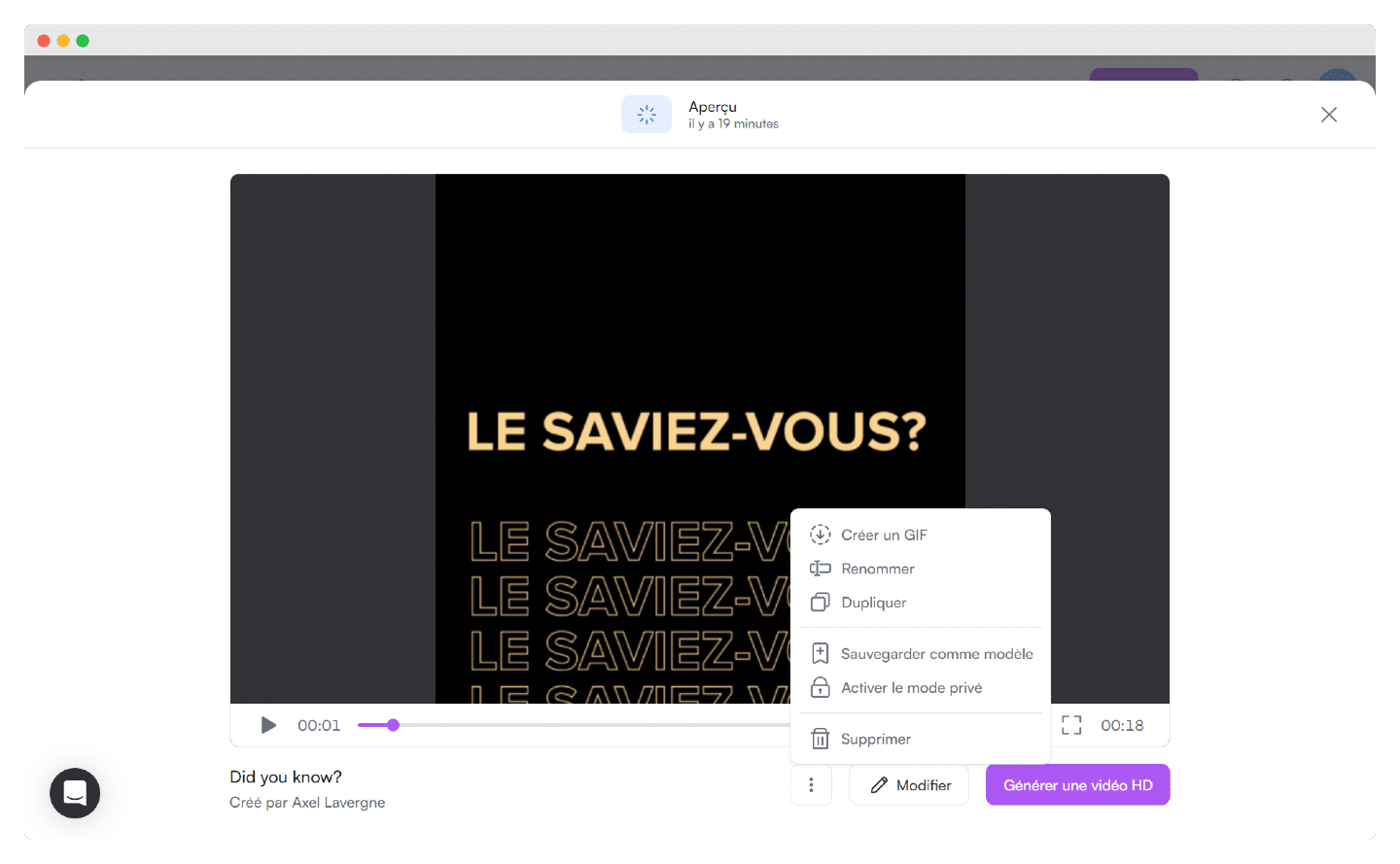 The sharing and collaboration options are easy to use, so you can share your video with your colleagues.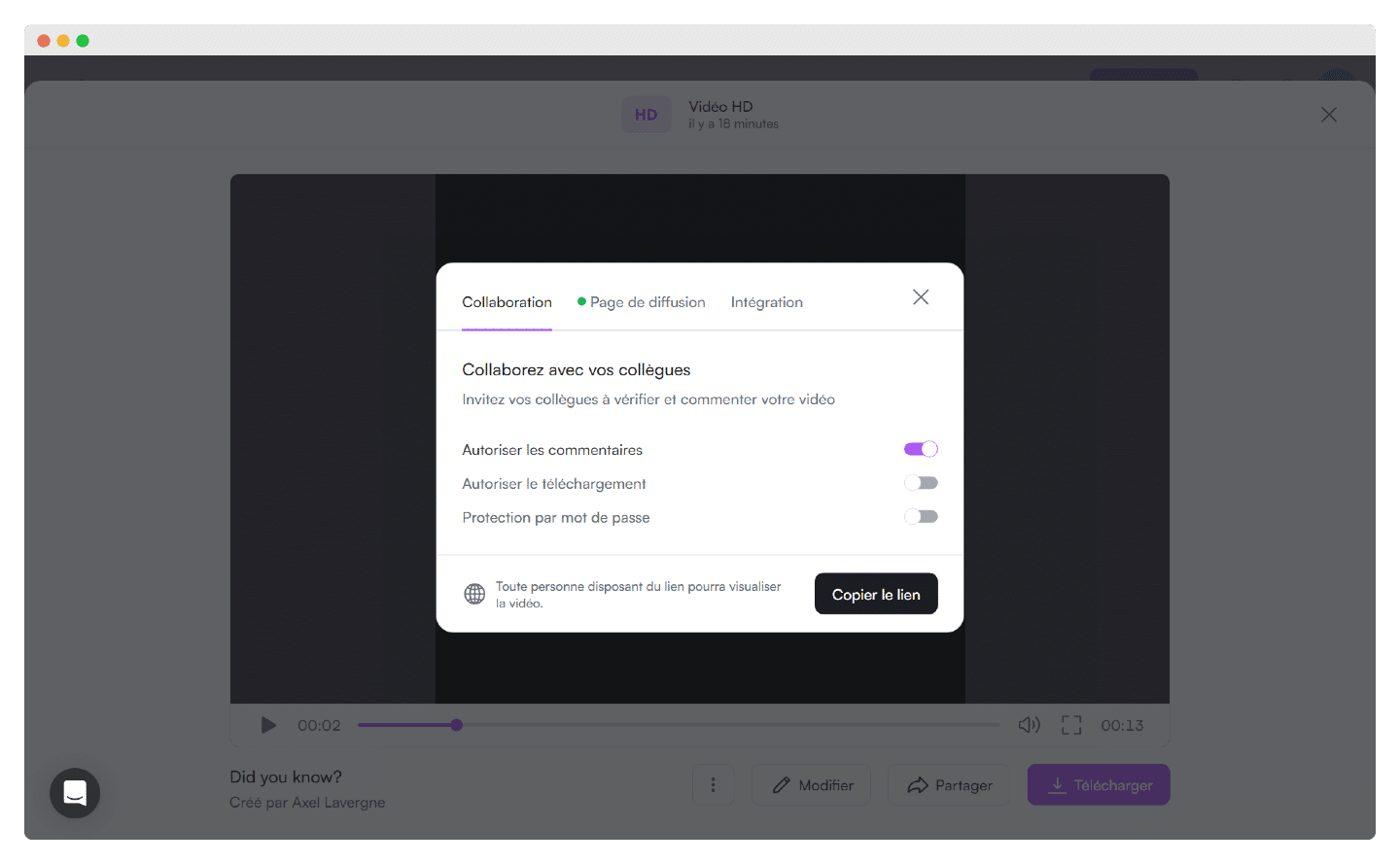 PlayPlay offers its own player, so you don't need to host the video somewhere (Youtube, Vimeo, etc.) to add it to your landing pages or blog posts. Integration is child's play: simply copy and paste a piece of HTML code into your article. The player has nothing to envy from those of the video behemoths, keyboard shortcuts are respected, video adapts in real time to the screen and Internet bandwidth, and all the essential functions are present.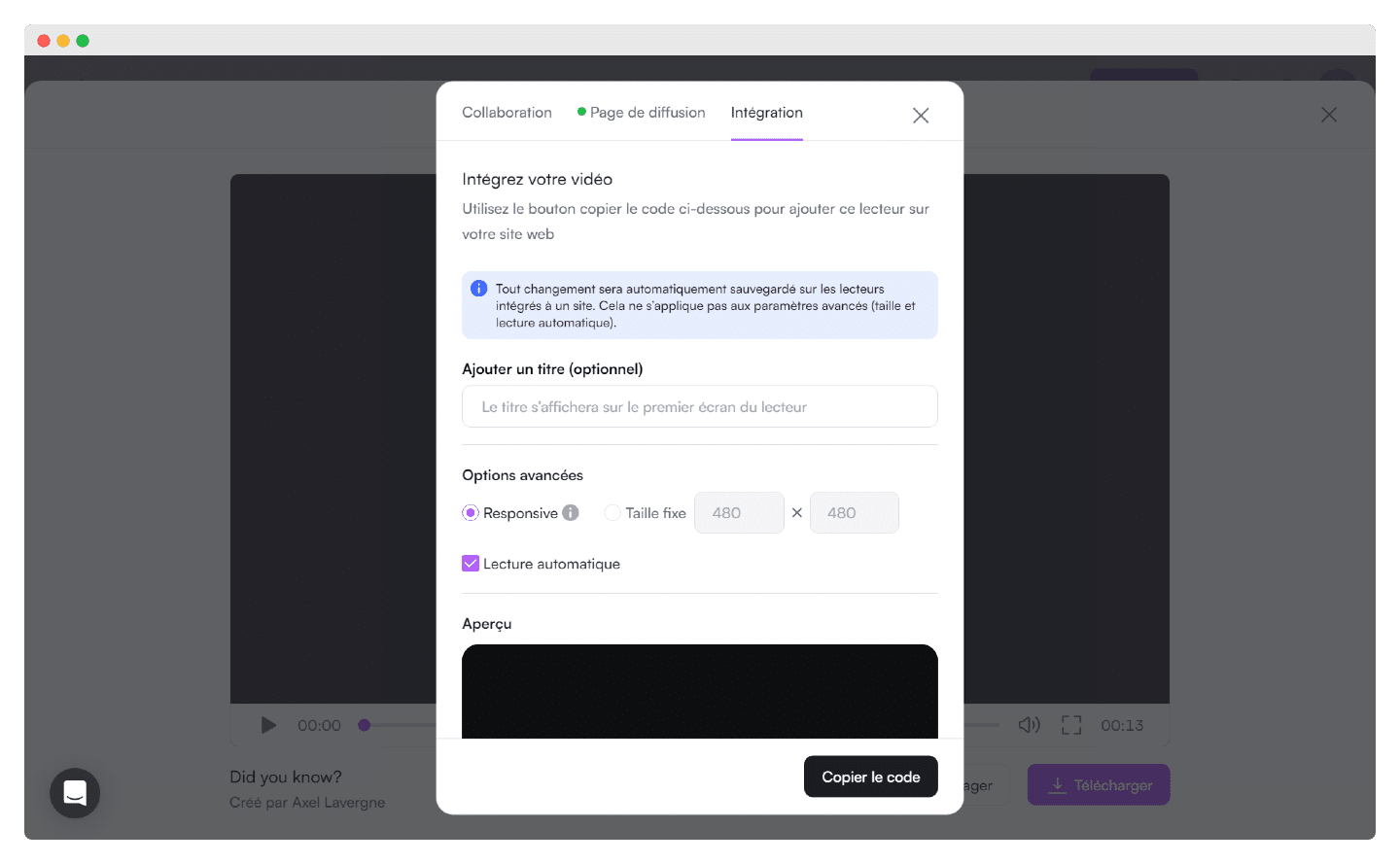 Last but not least, PlayPlay even lets you create a sharing page, where you can share a simple link to access the video. Here's an example. For longer videos such as tutorials or guides, this can be very useful.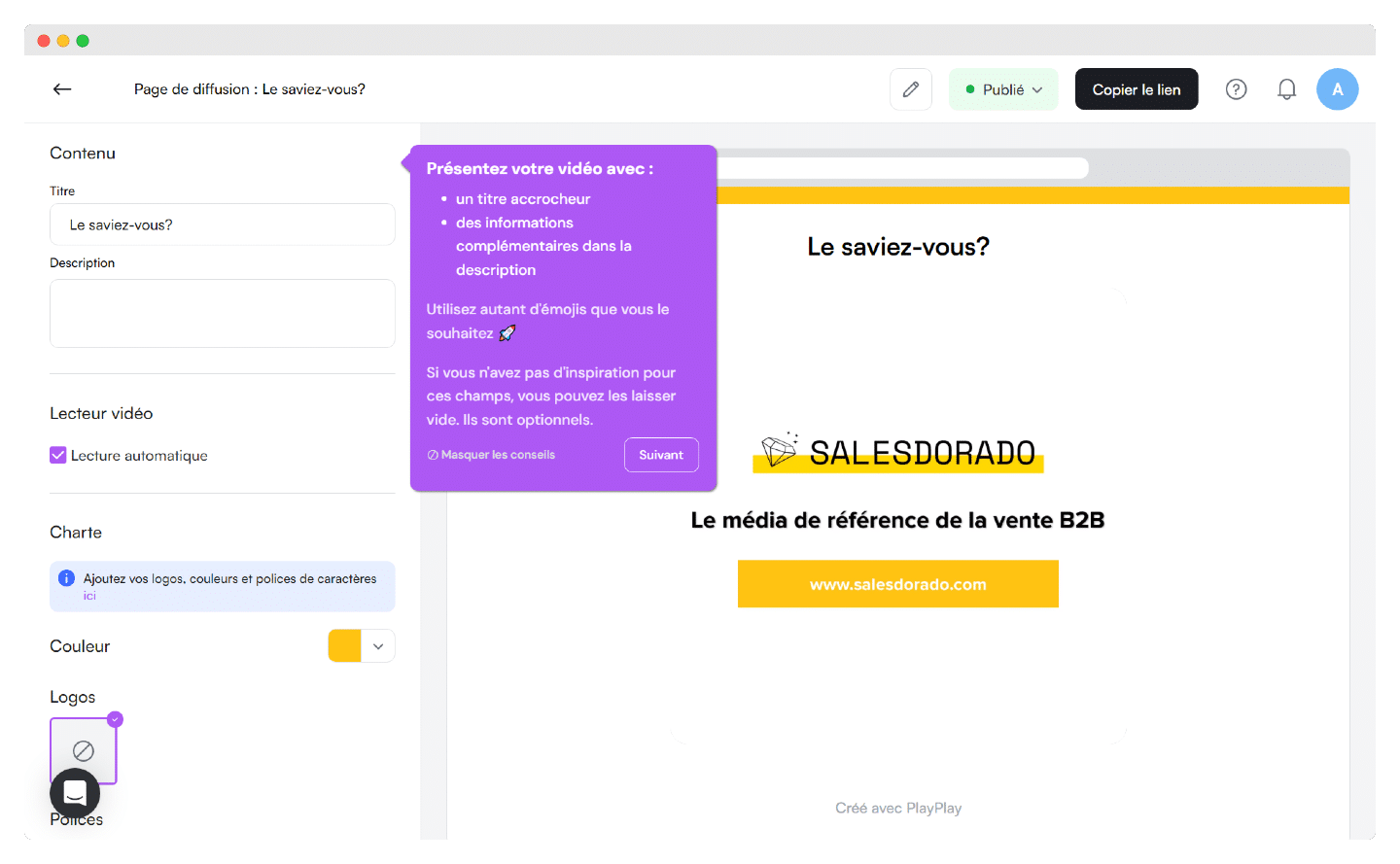 PlayPlay's AI-based video creation tool
Clicking on the AI Video Wizard gives you access to fairly advanced video generation functions based on context sentences you've written, just as with any GPT or AI tool.
Here, PlayPlay uses GPT-4. You write a text expressing exactly what you want your video to do, what its purpose is, and what message you want to get across. Once again, PlayPlay provides you with examples of ready-made phrases to show you the interesting elements to provide to the artificial intelligence in order to offer you the most relevant video.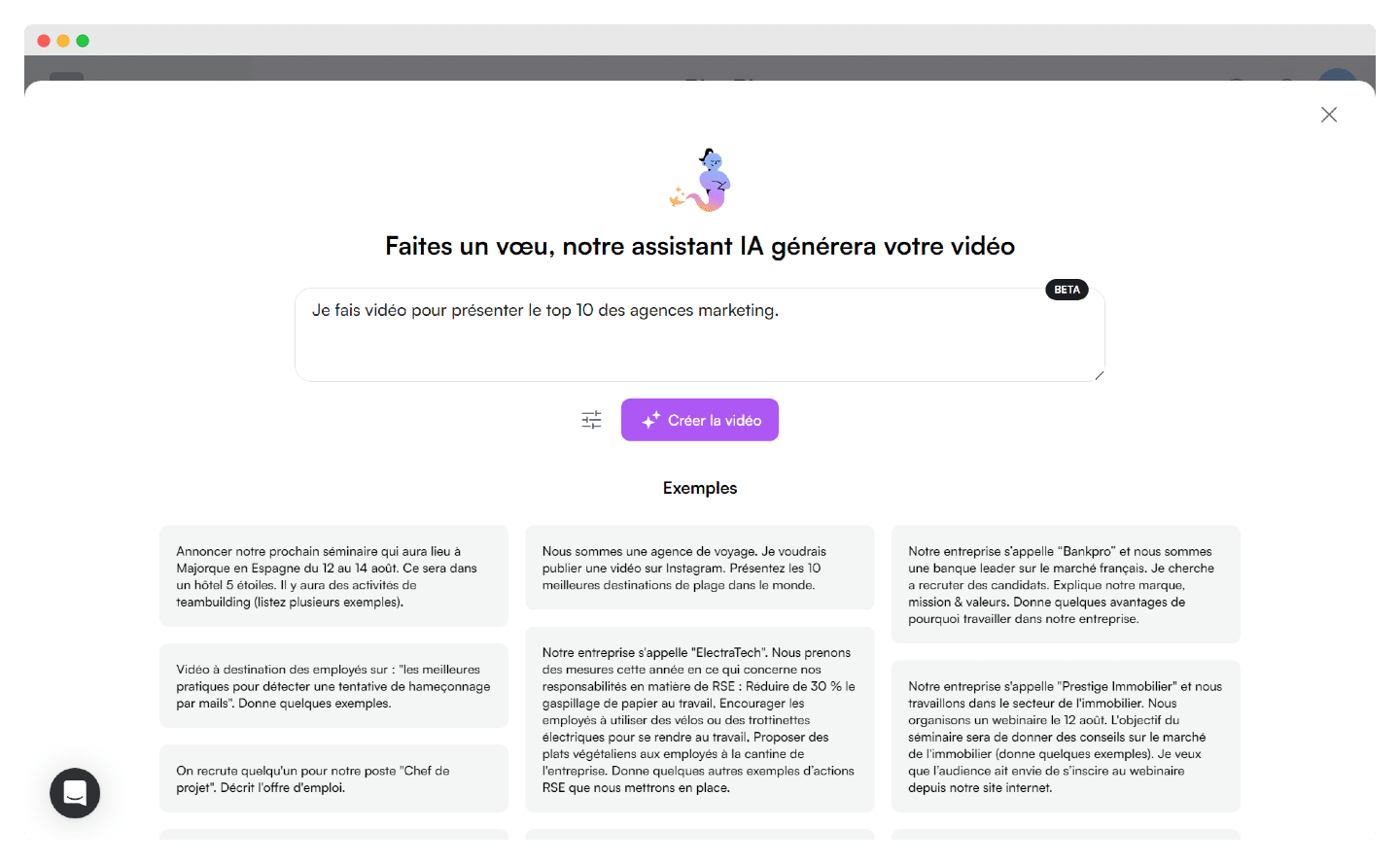 You can supplement your description with background information on your sector and your audience, the language and the tone you're aiming for.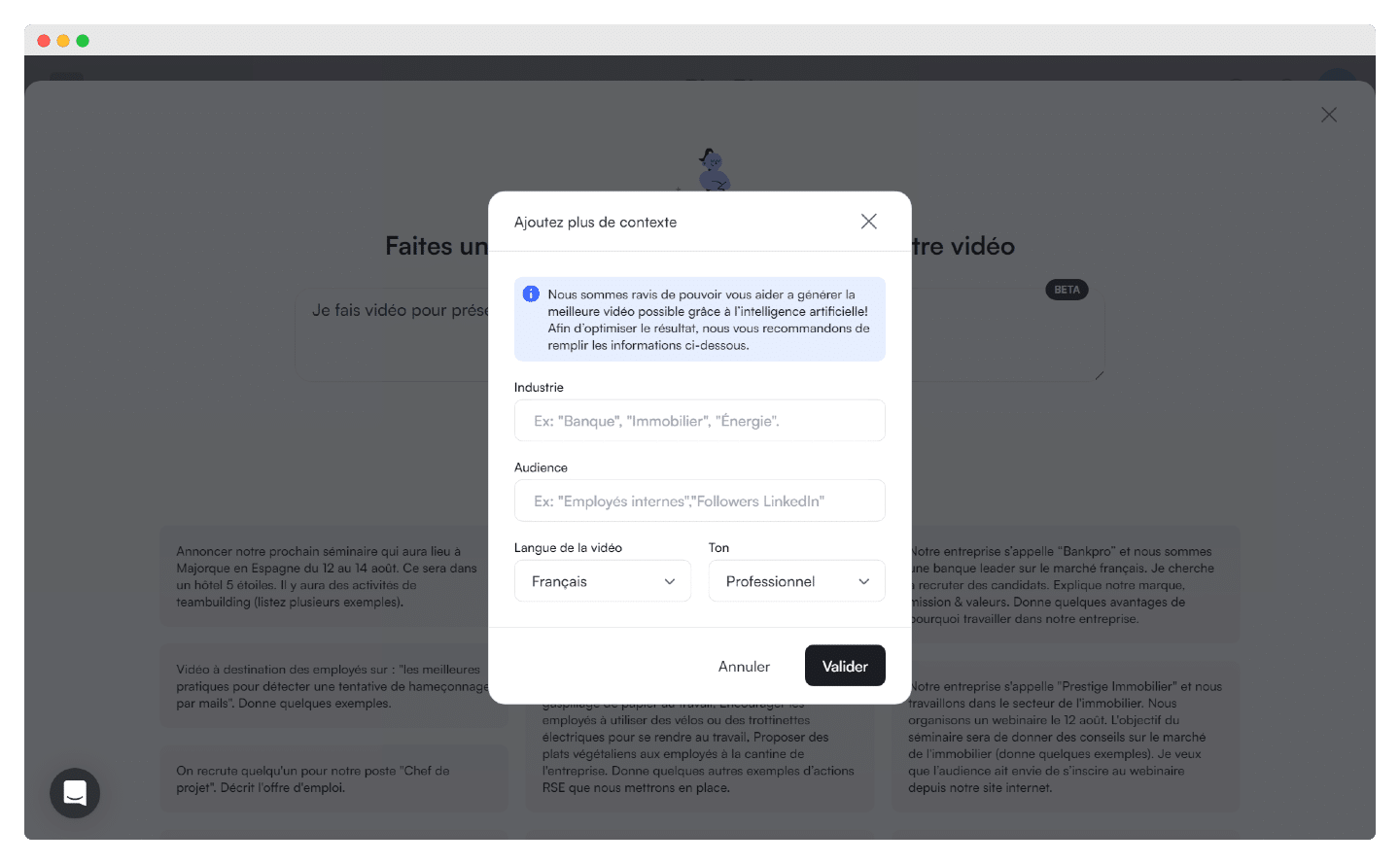 For example, here we wanted to make a video presenting the Top 10 marketing agencies. Thanks to AI, PlayPlay offers a short video with a background introduction, followed by a list of marketing agencies.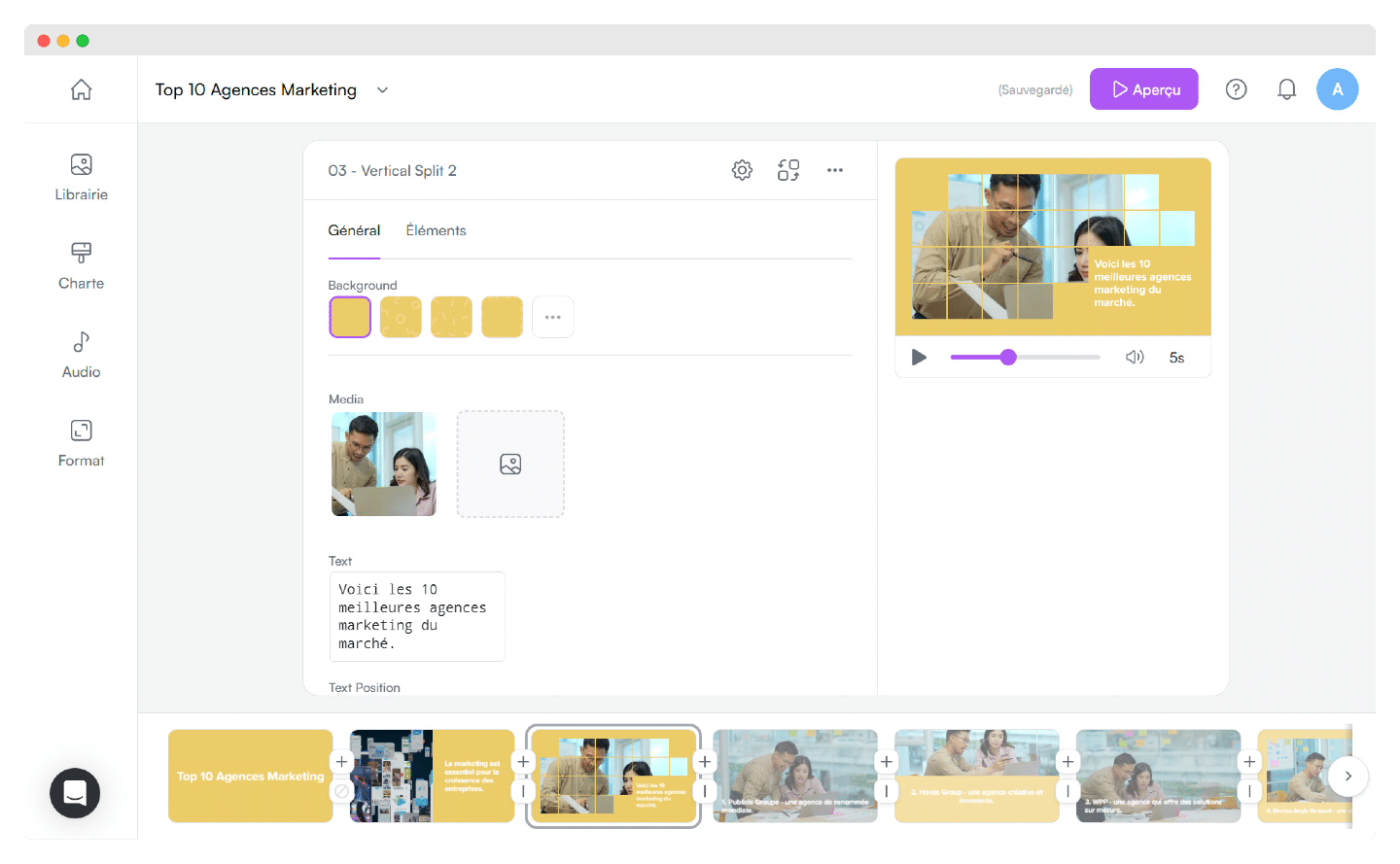 PlayPlay: customer reviews
PlayPlay reviews are full of praise for its ease of use, especially in view of the quality of the videos produced. Even those who had difficulty using a function eventually found the solution on their own. The only downside is the price, which may be too high for small structures.
Try PlayPlay free of charge
PlayPlay offers a 7-day free trial, which requires no bank imprint. Make the most of it!
Customer support at PlayPlay
PlayPlay customers are usually assigned an account manager, who is a privileged point of contact for all your questions, and whose role is to help you get maximum value from the tool. The team can even help you personalize your PlayPlay graphic identity, create customized animations, organize workshops and more.
The tool is extremely intuitive, with assistance at every stage of video creation and editing. They also have a blog with numerous articles, including various tutorials in the form of webinars or checklists to guide you through the tool, or in a more macro way to advise you on content creation.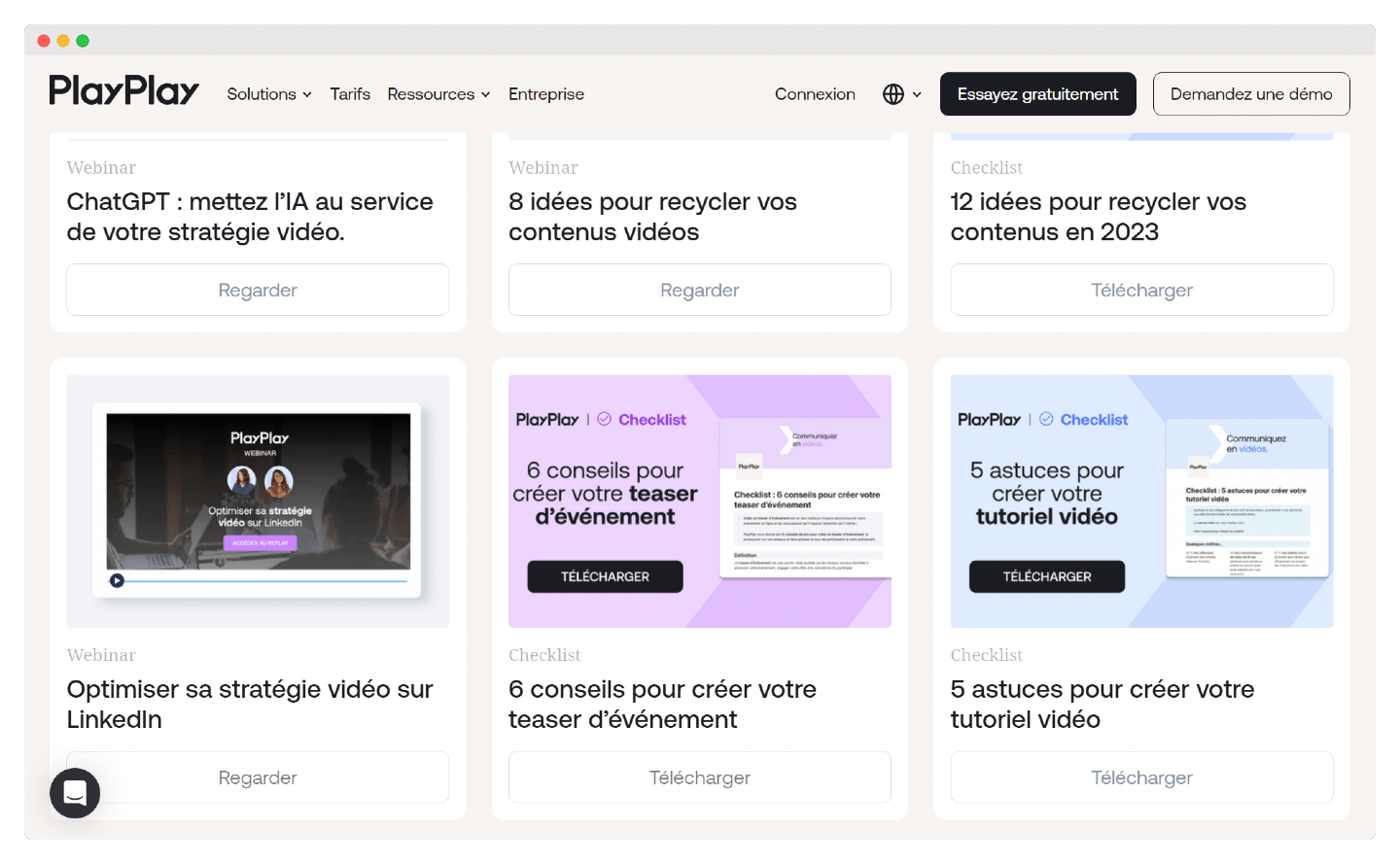 Their Youtube channel is also a great resource to help you with certain functions, such as subtitling videos:
PlayPlay rates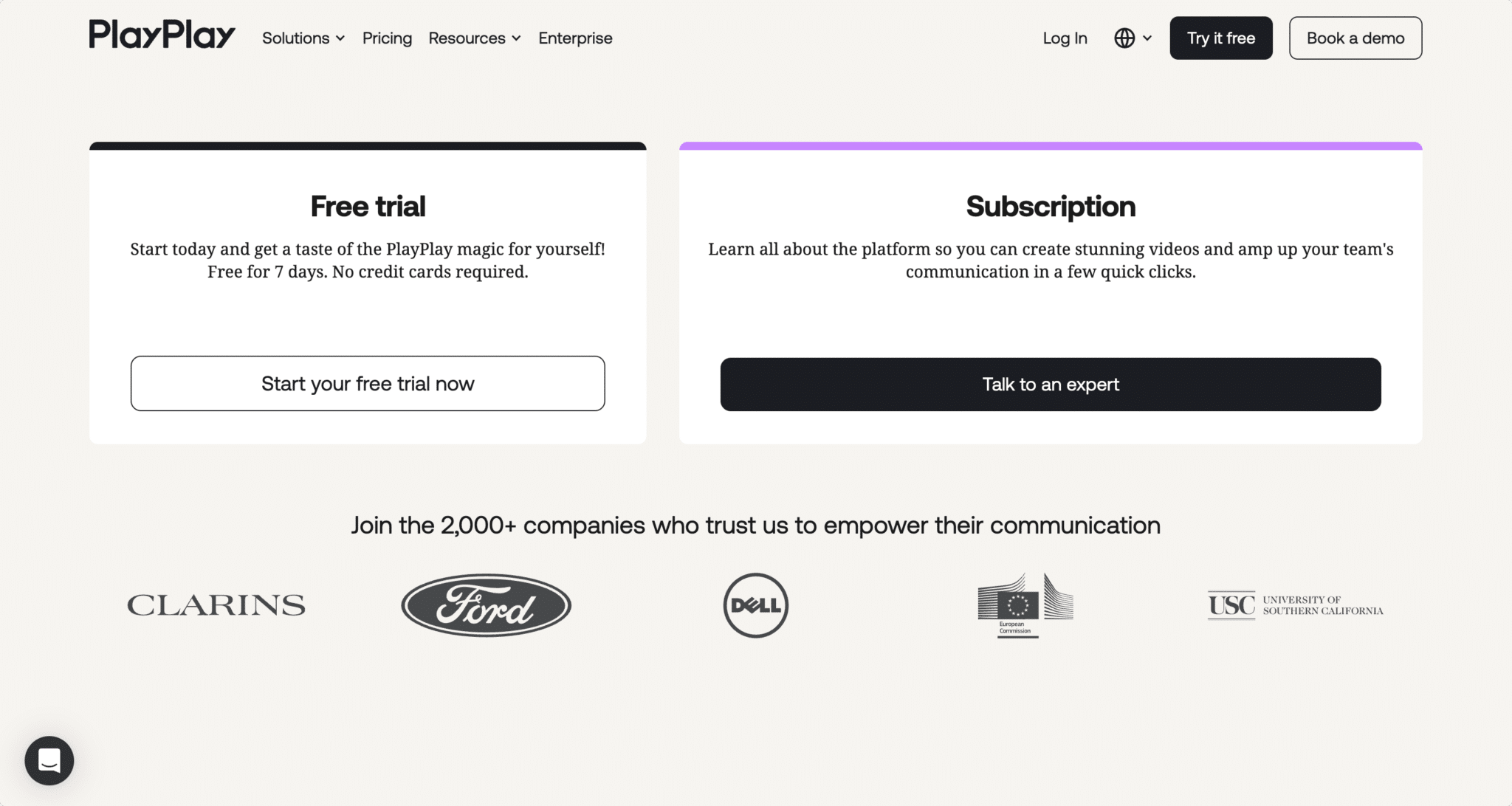 Unfortunately PlayPlay is now one of the many companies that hide their prices, but they do offer two plans: a "Standard" plan and an "Enterprise" plan.
If you'd like to get an idea of the tool's capabilities, you can take a free 7-day trial. But to get a price quote or to buy, you'll need to make an appointment with their sales team.
The Standard plan lets you create as many videos as you like, integrating your corporate identity and giving you access to the standard media library. It's when it comes to video editing and customization that it's more limited.
The Corporate Plan gives you access to the following functions:
Video editing: cutaways, automatic subtitles (and automatic translation), dynamic elements, voice-overs, animations and premium backgrounds.
Customization: customized backgrounds, icons and fonts, unlimited number of colors, logos and graphic charts
Access to the Getty Images library
Collaboration: more advanced team video validation process management
Customer assistance and support: priority assistance, dedicated account manager, ongoing personalized training.
Please note: there's no limit to the number of videos in any shot.
Try PlayPlay free of charge
PlayPlay offers a free 7-day trial of its Standard plan, with no bank charges. For the Enterprise Plan, you can request a demo.
Going further
In our opinion, PlayPlay is an excellent tool for video novices that can change your life. We can recommend others: