The newsletter is a bit like the zero level of lead nurturing. It's a long way from prospecting emails, but sending out a regular formatted newsletter creates an expectation, and a regular meeting with your customers & prospects.
The simplicity of the process makes it a weapon of choice for B2B marketing teams, and the market has grown rapidly, to the point where there are now several dozenemail marketing solutions.
In this article, we compare the best software on the market to set up an effective newsletter easily.
The wrong idea: do it yourself
Creating your own newsletter is possible, but very complicated. The end result could be detrimental to your company, by impacting your brand image, statistics and therefore your strategy.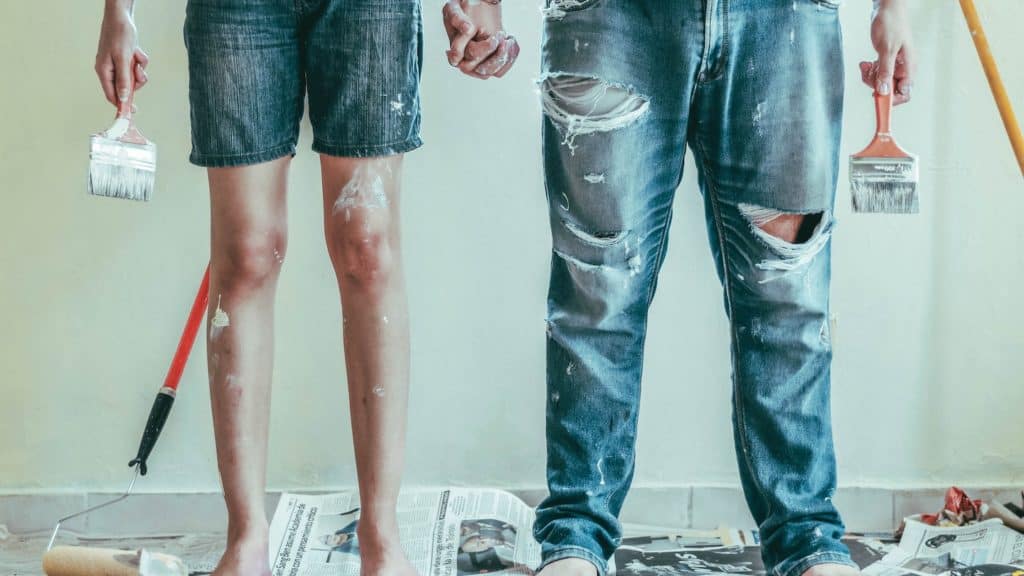 There are many reasons for this. It is difficult to achieve a professional design if you are not a specialist in the sector. Sending a newsletter with a poor UX (user experience) will impact the click-through rate and the conversion rate. It could also cause delivery problems: your emails could end up in SPAM. The sending itself also quickly becomes very complex. Inboxes have very aggressive filters by default. A professional newsletter sending tool allows you to take advantage of all the configurations, and mutualises your reputation as a sender with other clients who send the same type of email.
If you get past these barriers, there is also the issue of tracking and reporting. Analysing statistics (email opening, click-through rate, conversion rate) is essential. However, from scratch, you won't have any tools to understand what worked and what didn't and you'll miss out on new email addresses.
Pro tip
If you want to do something to send out your newsletter, it is clearly possible. There is a lot on offer and you will find a lot of literature on the subject. But if you ask us, there is no point in doing a newsletter in itself. The objective is to keep a regular point of contact with your customers & prospects, and it is really better to mourn and accept to cough up twenty euros a month for a professional solution that will allow you to get something out of the newsletter. Especially as there are many very solid solutions available today, at objectively very low prices.
The best newsletter creation software: comparison table
#1 Sendinblue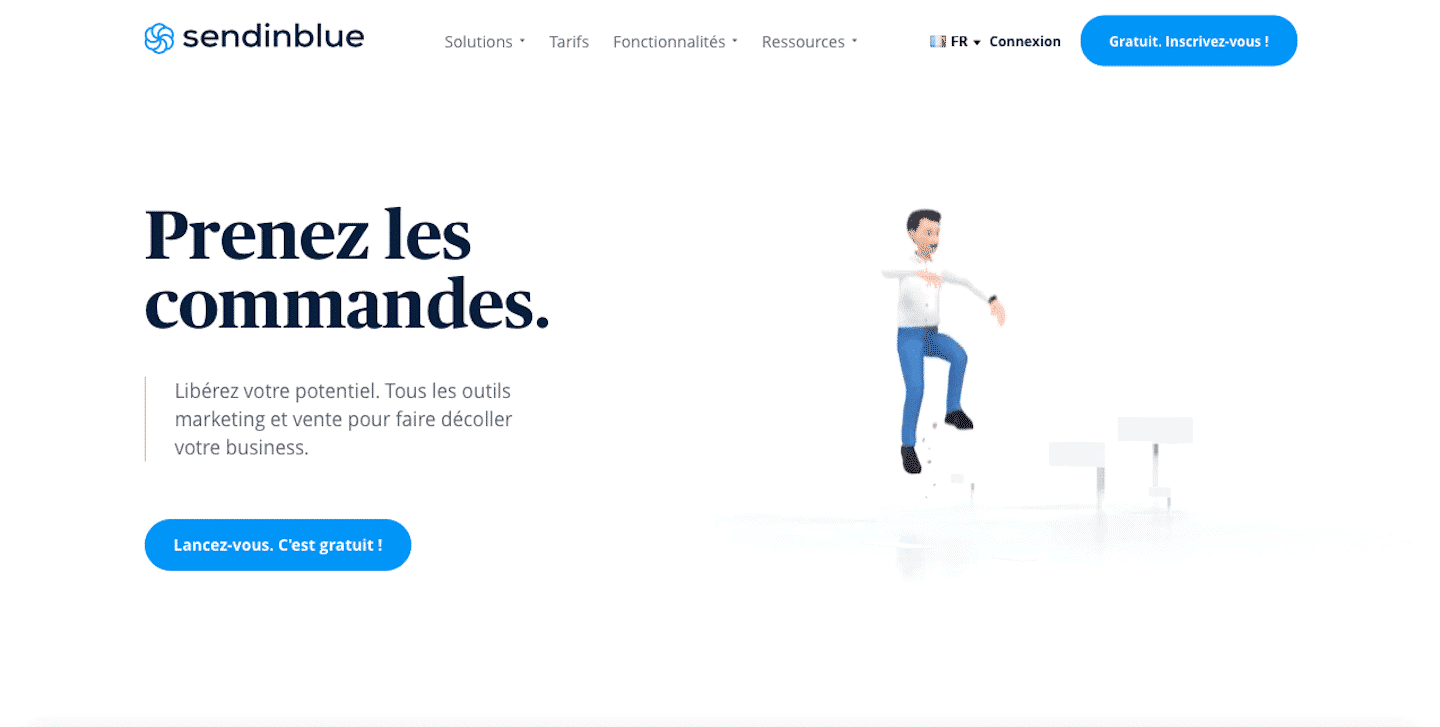 Sendinblue is a well-known software that targets small and medium-sized businesses wishing to turn to a tool that allows them to carry out relationship marketing operations, for an affordable budget. 100% French, this software also has the advantage of keeping user data in France. Naturally, customer service is available in French. The offer is complete and allows you to automate numerous marketing operations, such as creating a live chat or developing SMS andemailing / newsletter operations.
On the other hand, the capture and lead generation tools are less efficient than those offered by some competitors. Some problems with data reliability were also reported, but the team is working on this and, in 2021, the results are rather better. Finally, customer support is sometimes a bit limited.
Sendinblue offers several pricing solutions:
Free: 0 euro per month, with 300 mails per day, it is our favorite free emailing software
Lite: 19 euros per month, for a minimum of 10,000 emails, with no daily sending limit
Premium: 49 euros per month for a minimum of 20,000 emails per month, with marketing automation, Facebook ads or telephone support
Company: on quotation
#2 ActiveCampaign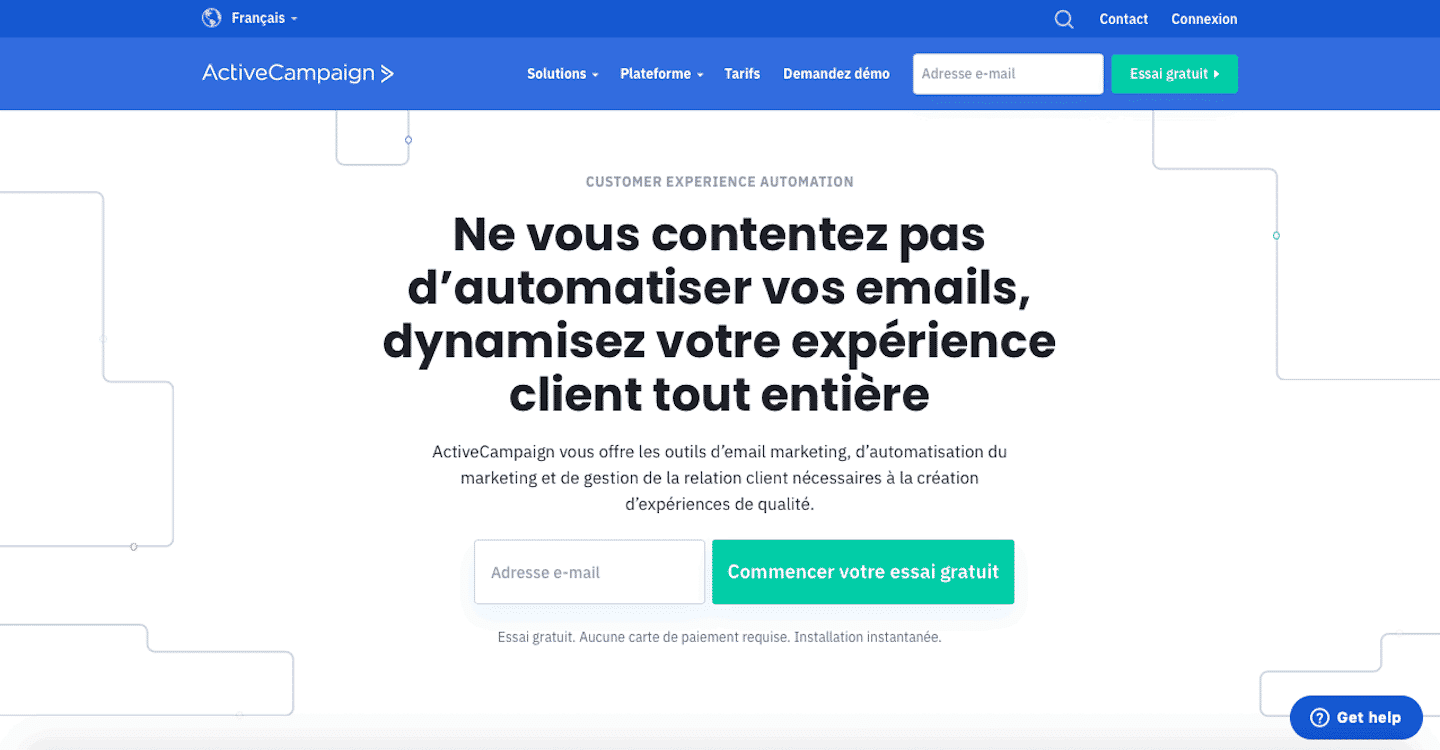 Ideal for digital companies (e-commerce, digital companies and B2B), ActiveCampaign targets companies looking for a tool with advanced automation features (email marketing, sales automation, marketing automation and customer service).
The interface is easy to use and allows you to create newsletter campaigns quickly using drag & drop. Finally, the tool is ideal for capturing and generating qualified leads.
On the other hand, prices tend to rise quickly and any additional functionality adds to the bill. Also, the interface seems a bit complicated at first, especially if you are only planning to create newsletters.
Lastly, customer service is not available in French.
ActiveCampaign offers a variety of pricing plans (in dollars). The basic one, for 500 contacts, is :
Lite: $9/month plan
Plus: $49/month package
Professional: $129/month
Corporate: $229/month package
#3 Mailchimp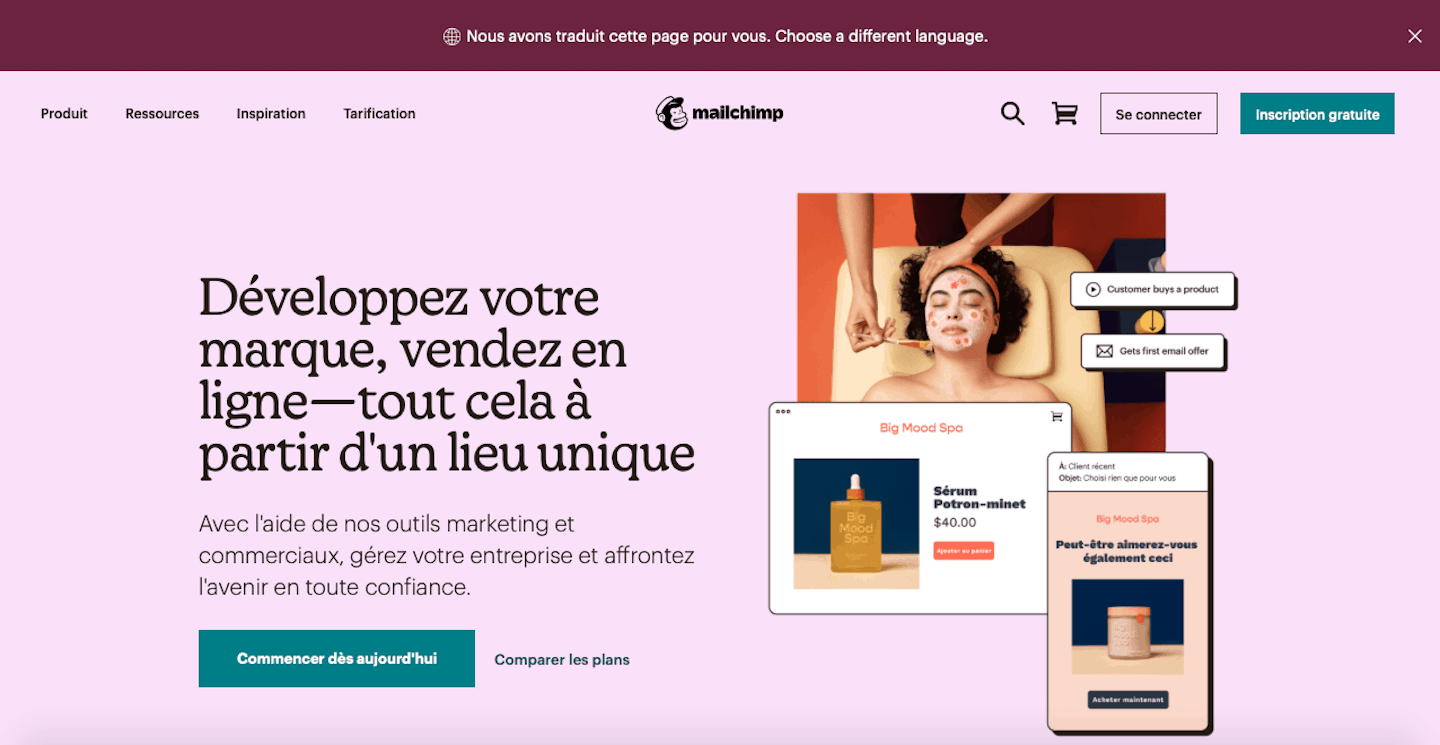 Recognised in the market, Mailchimp is praised by marketers who have been using it for many years. A software that also attracts novices, who want to turn to a functional and easy to use tool. This is one of Mailchimp's strengths.
The design and UX have been carefully thought out, making it quite pleasant to use. The reporting is clear and there are many templates to choose from, making it possible to create beautiful newsletters. For these reasons, the tool has quickly established itself as one of the market leaders.
Despite this status, the proposed rates seem a bit disproportionate. Also, if the design aspect has been worked on, the newsletter campaign creation interface is a bit peculiar and it takes time to master it. Finally, the complete approach of Mailchimp (email, website etc…) can quickly be confusing and can help to get lost. We generally recommend alternatives to Mailchimp.
For the marketing aspect, Mailchimp proposes several offers:
Free: 0 euro
Essentials: starts at 9.99 euros for 500 contacts
Standard: starts at 14.99 euros for 500 contacts
Premium: starts at 299.99 euros for 10,000 contacts
#4 Hubspot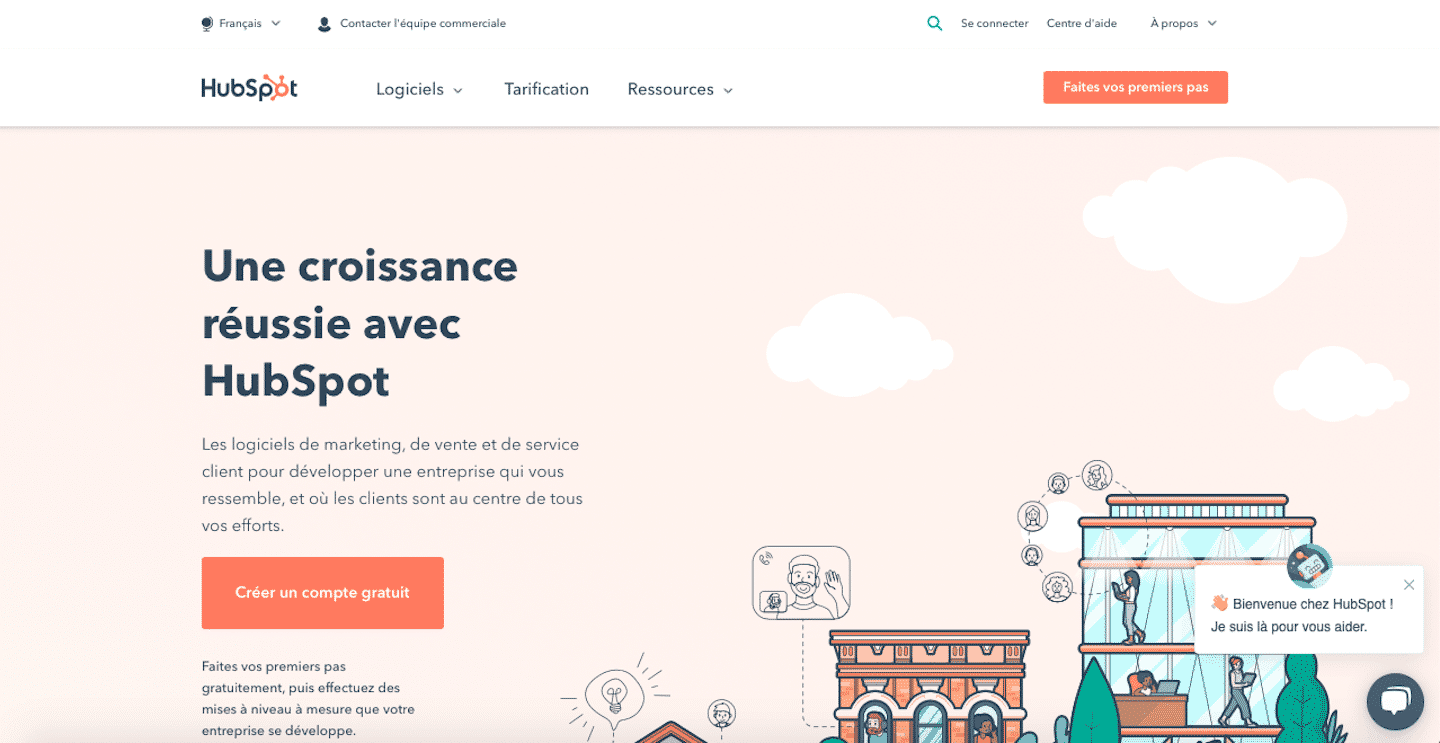 The Hubspot newsletter tool is natively integrated with Hubspot CRM. It is therefore free for those who use it. A powerful and complete tool that offers many features to automate your marketing, via the creation of landing pages, newsletters, workflows or solutions to host your documents.
The leader in inbound marketing
Hubspot is one of the market leaders when it comes to implementing inbound marketing strategies.
However, the tool quickly becomes very expensive. This is an important point, especially when you consider that the mailing/eldorado/ creation functionality is one of the least well-developed in the suite, to the point of being a little light compared to some competitors. Finally, the integration of newsletter and emailing campaigns into marketing automation workflows is rather difficult to achieve.
Hubspot offers several pricing options:
Starter: from €41 per month
Pro: from €740 per month
Company: from €2,944 per month
#5 Moosend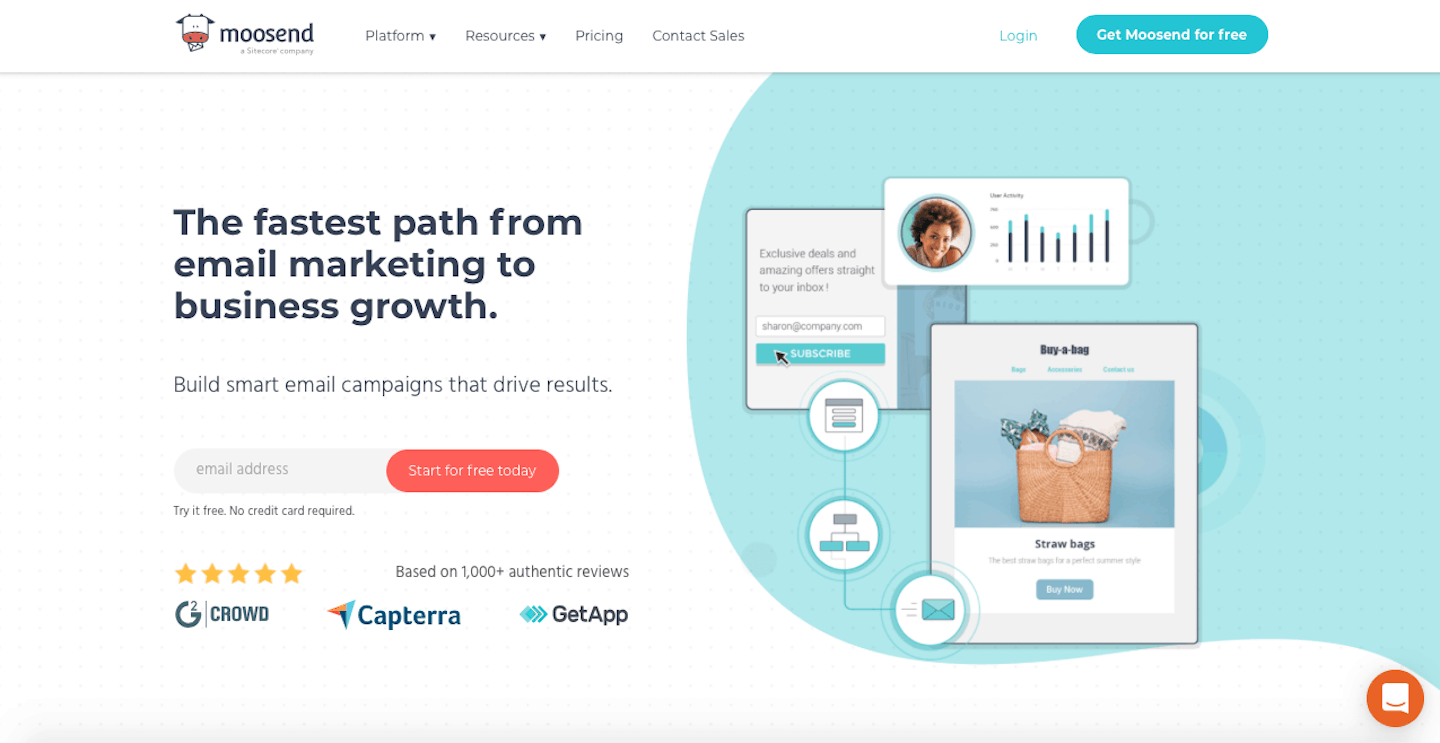 The cheapest newsletter creation tool on the market, Moosend has the advantage of having a very serious and complete reporting. Detailed, it makes it easy to determine if your campaign was a success. Finally, it is very easy to manage your contact list.
On the other hand, compared to some competitors, the interface is dated and does not really make you want to dive in. Finally, Moosend only offers a few templates. You have to use the few available or work around your own.
Moosend offers several price plans (in dollars), which evolve according to the number of contacts:
Free: $0, up to 1,000 emails
Pro: from $8/month
Company: on quotation
#6 MailerLite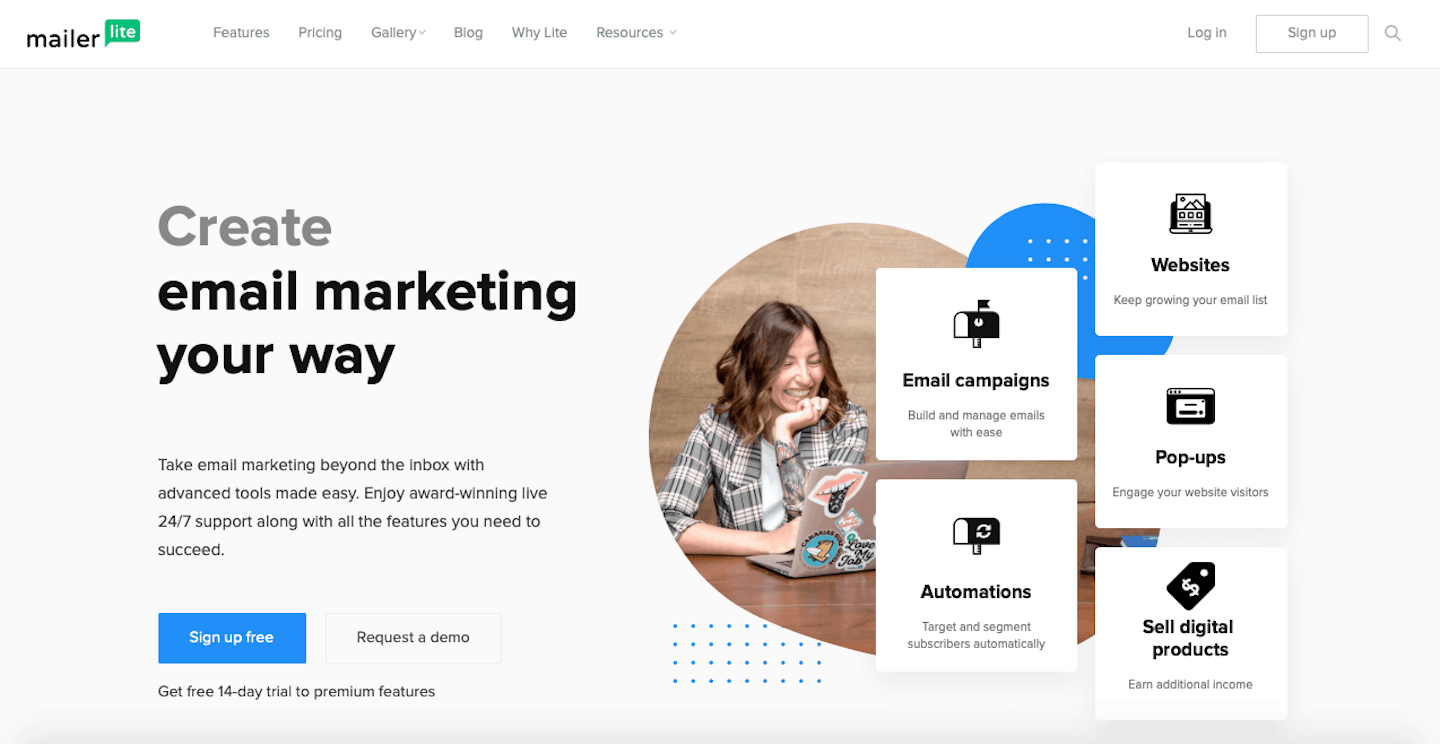 A European solution, MailerLite offers a large number of integrations (Paypal, Squarespace etc.). The interface is quite successful and makes you want to concentrate on it. Finally, MailerLite offers a series of tutorials explaining how to use and create newsletters. Very relevant and up to date explanations.
Unfortunately, the software only offers a few integrations on the CRM side (Shopify, WordPress, WooCommerce and Zapier). The landing page creation tool is rather limited compared to other features offered. Finally, there are several issues related to the reliability of the reporting data.
As far as prices are concerned, MailerLite offers several packages.
9 euros/month for 1 to 1,000 subscribers with unlimited emails
13 euros/month for 1,001 to 2,500 subscribers with unlimited emailing
26 euros/month for 2,501 to 5,000 subscribers with unlimited emails
44 euros/month for 5,001 to 10,000 subscribers with unlimited emails
#7 ZohoCampaigns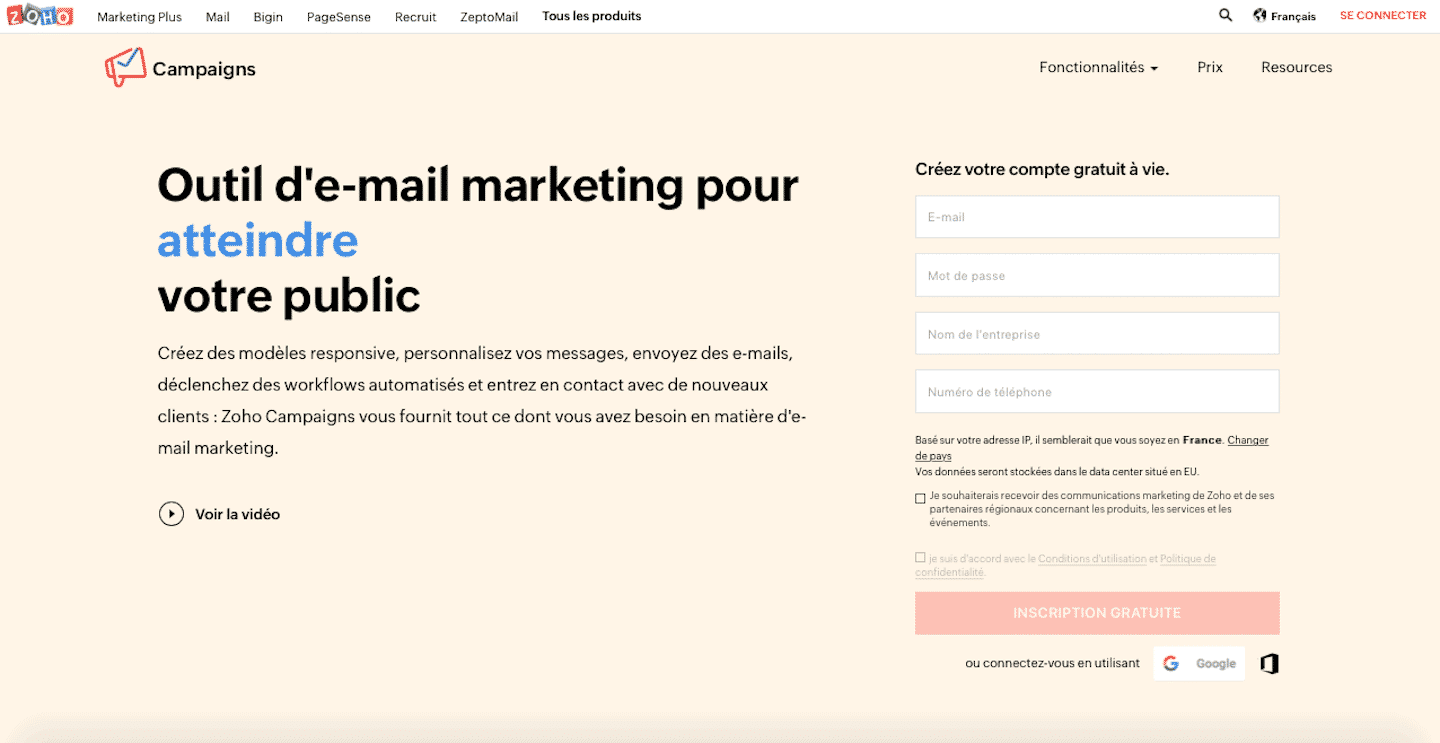 ZohoCampaigns is the ideal tool for marketers and professionals already using Zoho's natively integrated B2B CRM. It offers efficient, comprehensive and detailed reporting as well as an excellent contact management tool.
However, the interface is somewhat dated, naturally impacting the user experience. The capture and lead generation tools are less efficient and developed than those offered by the competition. Finally, the interface for creating mailing campaigns is perceived as being somewhat limited.
ZohoCampaigns offers three billing options:
Email-based formula: 3 euros per month for 250 contacts and 500 emails
Subscription-based formula: 4.50 euros per month for 500 subscribers
Formula by email credits; 7 euros per month for 250 credits
#8 GetResponse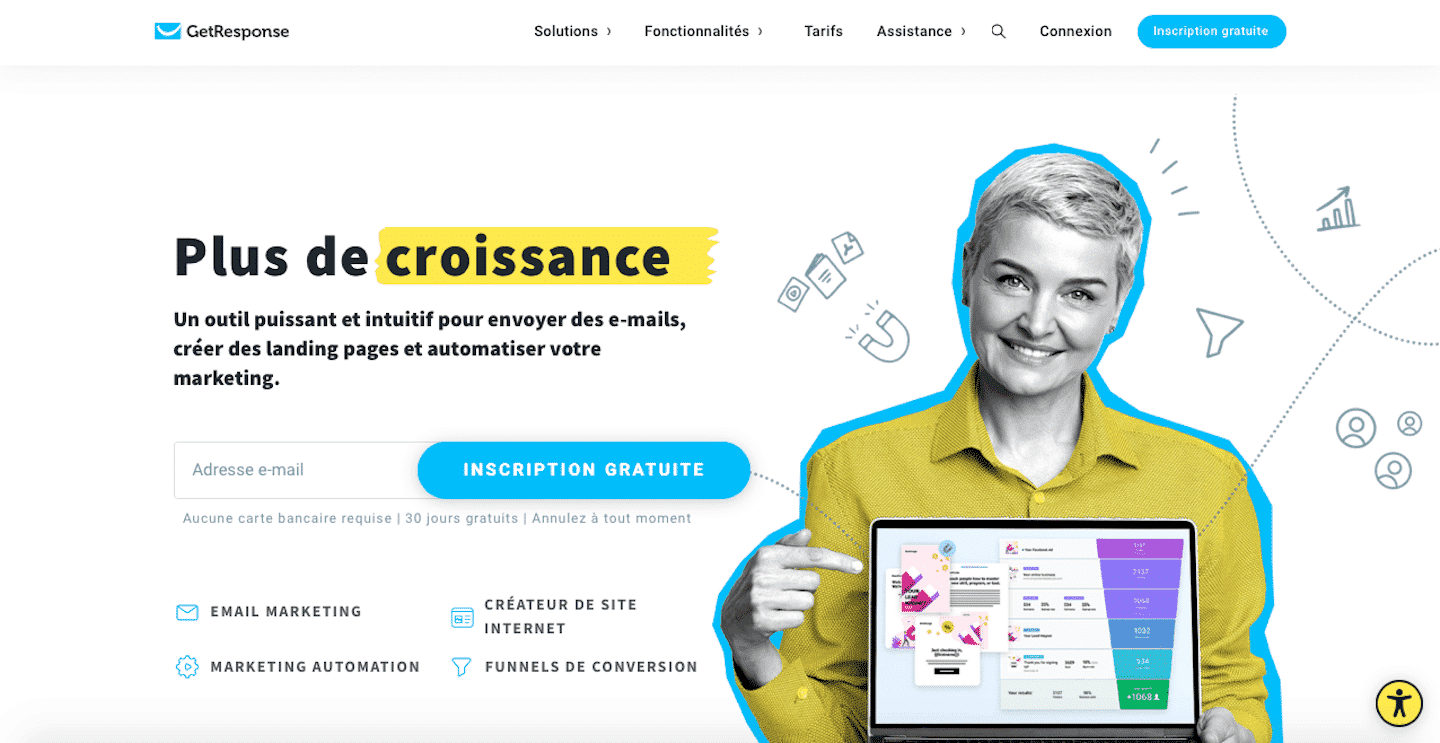 GetResponse allows you to create newsletters with an impeccable design. The tool offers numerous templates and designs, all of which are perfectly designed for optimal results. The interface itself is pleasant to use and the different functions of the tool are very well interconnected.
However, GetResponse only offers a few integrations and those that do exist are fairly shallow (Prestashop, Shopify, WooCommerce). The reporting tool is also a little light and doesn't really go into detail. Finally, the customer service has a bad reputation, especially for the slowness of its answers or the total absence of them.
Regarding the tariffs, several offers :
Basic: from 9.10 euros/month
Plus: from €31.50/month
Professional: from 62.30 euros/month
Max: on request
#9 Convertkit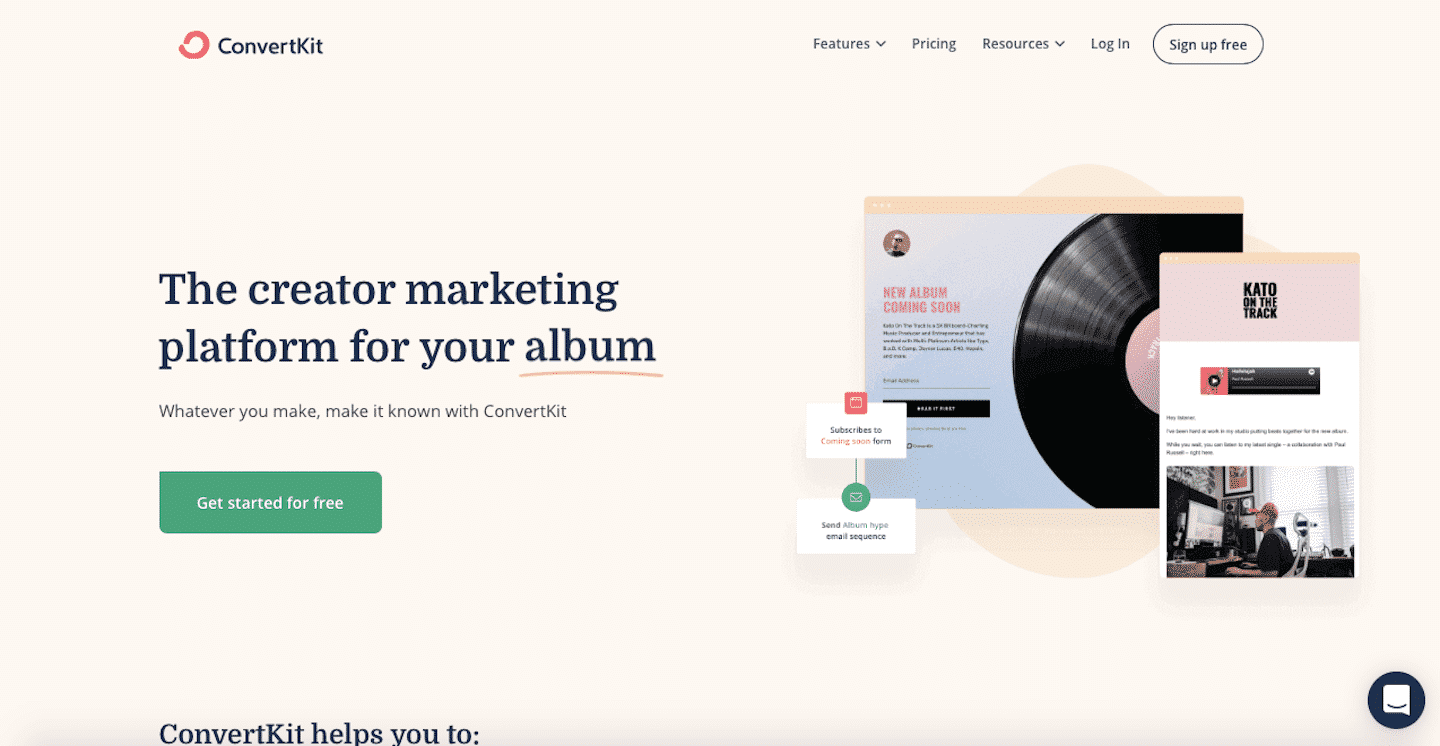 Convertkit is an ideal marketing and emailing automation software for professionals who want to turn to a complete inbound marketing suite. The reporting is detailed and relevant, allowing you to analyse your strategy as well as possible. Finally, the contact management is quite flexible, facilitating the management of its subscribers.
On the other hand, it takes some time to master the tool, as the interface is complex. It is very easy to get lost and to be overwhelmed. Finally, Convertkit is a rather expensive emailing tool, which could discourage some.
For a base of 1,000 subscribers, Converkit has three offers (in dollars):
Free: from 0 euro/month
Creator: from $25/month
Creator Pro: from $50/month
#10 Email Benchmark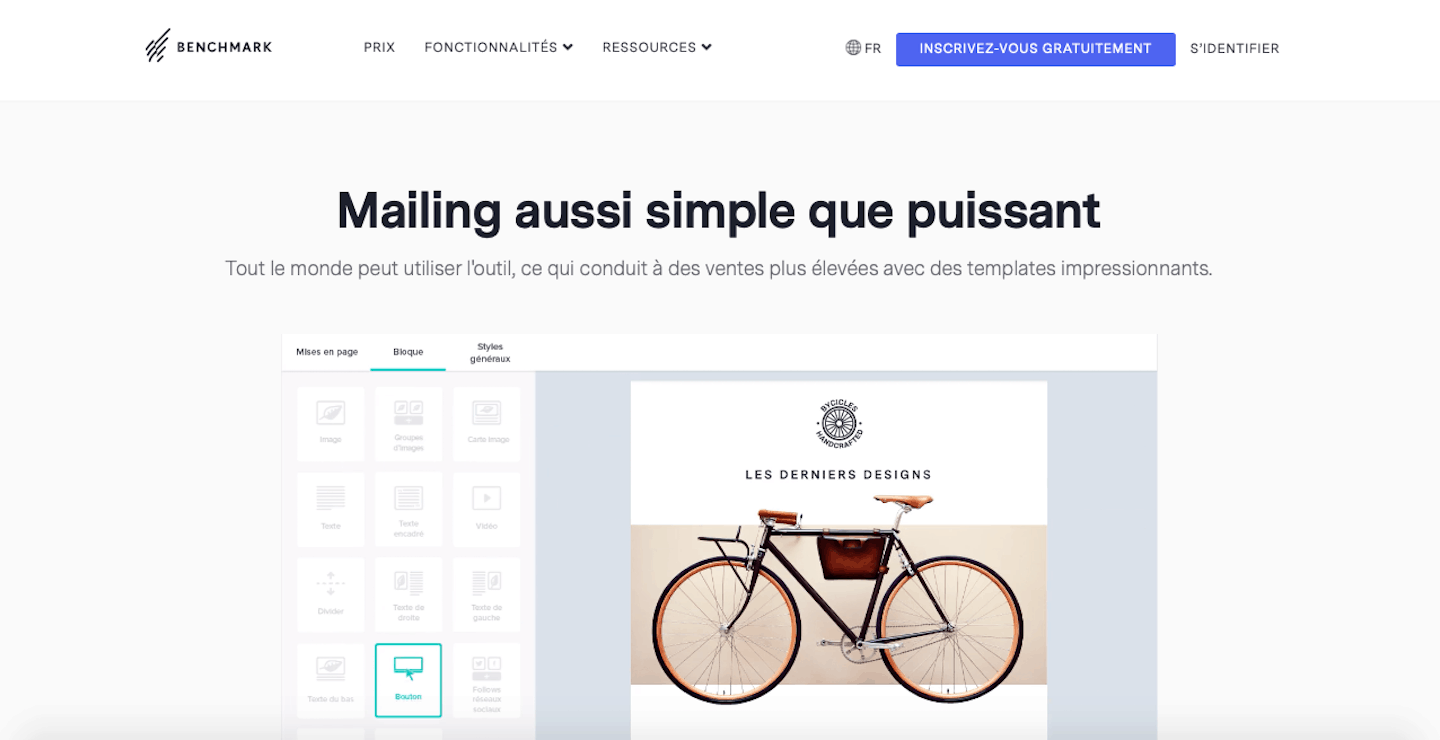 Benchmark Email is ideal for professionals who are used to creating email campaigns and who want an easy-to-use solution at a good price. The interface is relevant and allows you to create great email campaigns at very competitive rates.
On the other hand, there are some doubts about the actual deliverability of emails and their rendering, which is sometimes not optimal. The support department has been accused of being uncooperative, but when you dig deeper you find hidden costs that can add up.
For a base of 500 contacts, Benchmark Email proposes three offers:
Free: at 0 euro per month, for 250 emails
Classic: at 11 euros per month, for an unlimited number of emails
A quotation for all features
#11 SendX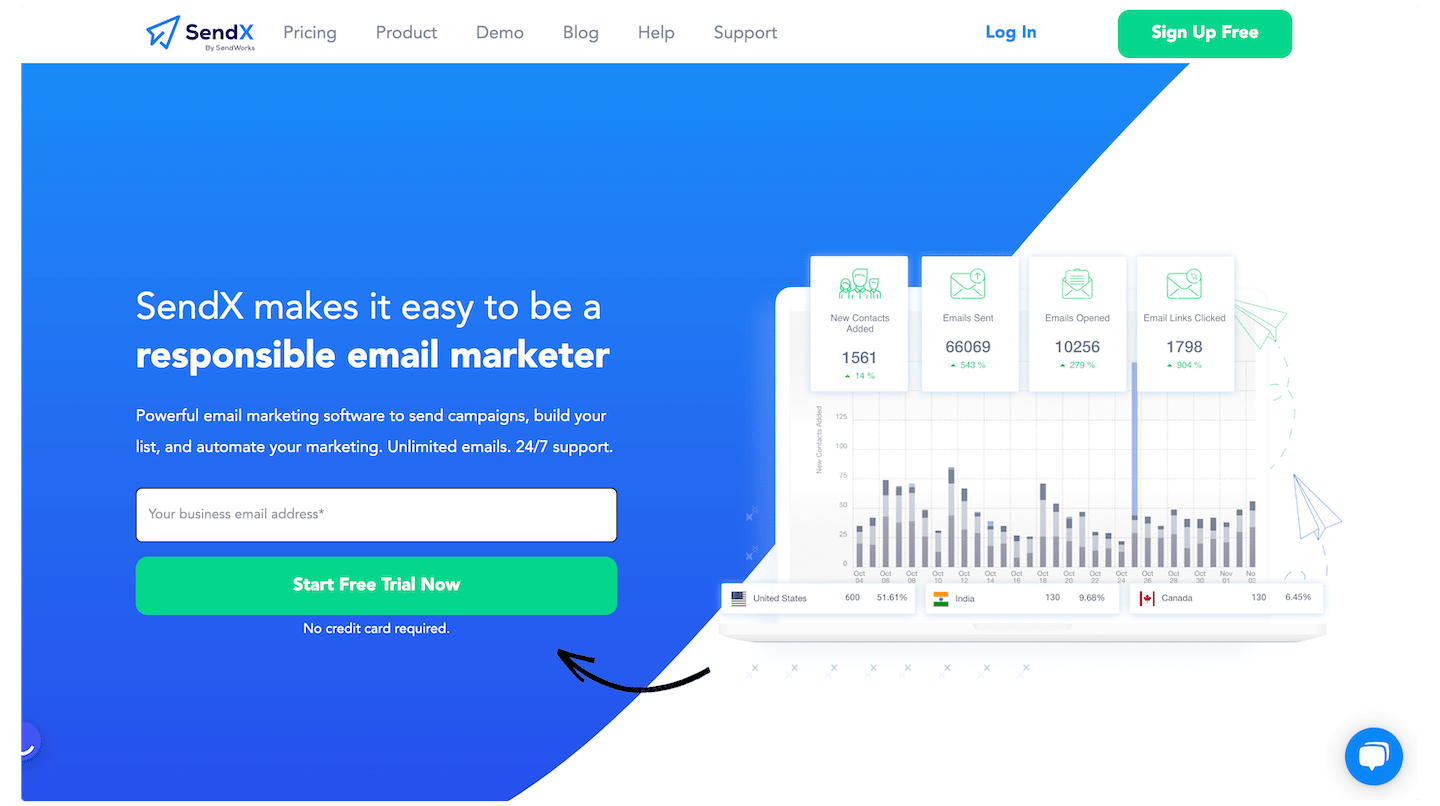 SendX is a newsletter creation tool adapted to VSEs and SMEs. The strong point of SendX is that the software is very affordable, gives access to all the necessary features, and the support is available 24 hours a day, 7 days a week, every day of the year by email or chat.
The WYSIWYG editor allows you to customize the colors and structure of your emails and offers a lot of conversion optimized templates. It's very easy to use and solid.
In terms of reporting, SendX provides access to all the usual statistics, and also offers a "Heatmap" to see precisely where clicks are concentrated in your emails.
We regret the absence of advanced marketing automation workflows, and the solution is not yet available in French.
SendX offers a unique plan starting at $9.99 / month for 1000 contacts with unlimited features and emails