The exponential growth in the number of users and interactions on LinkedIn has seen a new kind of influencer marketing develop in recent months: LinkedIn influencers!
Sales gurus, marketers and star start-ups have all realised that by posting (very) regularly on the platform, and for several years, it is possible to increase your number of subscribers and therefore the reach of your messages.
In this article, we ranked for you the top 15 B2B influencers on LinkedIn based on their number of followers, the frequency of their publication and of course the relevance of their content to our sector, B2B sales 🙂
Why follow these LinkedIn influencers?
We have compiled this list of 15 B2B influencers on Linkedin taking into account specific criteria:
Regularity. People who create content consistently on the platform. We don't suggest following people who only post once a quarter.
Original content. It's really easy to automate content publishing, using tools like Buffer… We didn't want any of that on this list. So the people you'll see here are publishing ORIGINAL content – not just sharing articles with little or no context as to why they shared it.
Engagement. Linkedin influencers with high engagement (likes, shares, comments) are highlighted. This is a good way to evaluate the effectiveness of shared content and methods, such as the use of Linkedin pods for example.
Perspective and viewpoint. Some of the influencers on this list don't necessarily have exceptional engagement rates. But, their content and perspective are truly unique.
# Top 15 LinkedIn B2B influencers
John Barrows 🇺🇸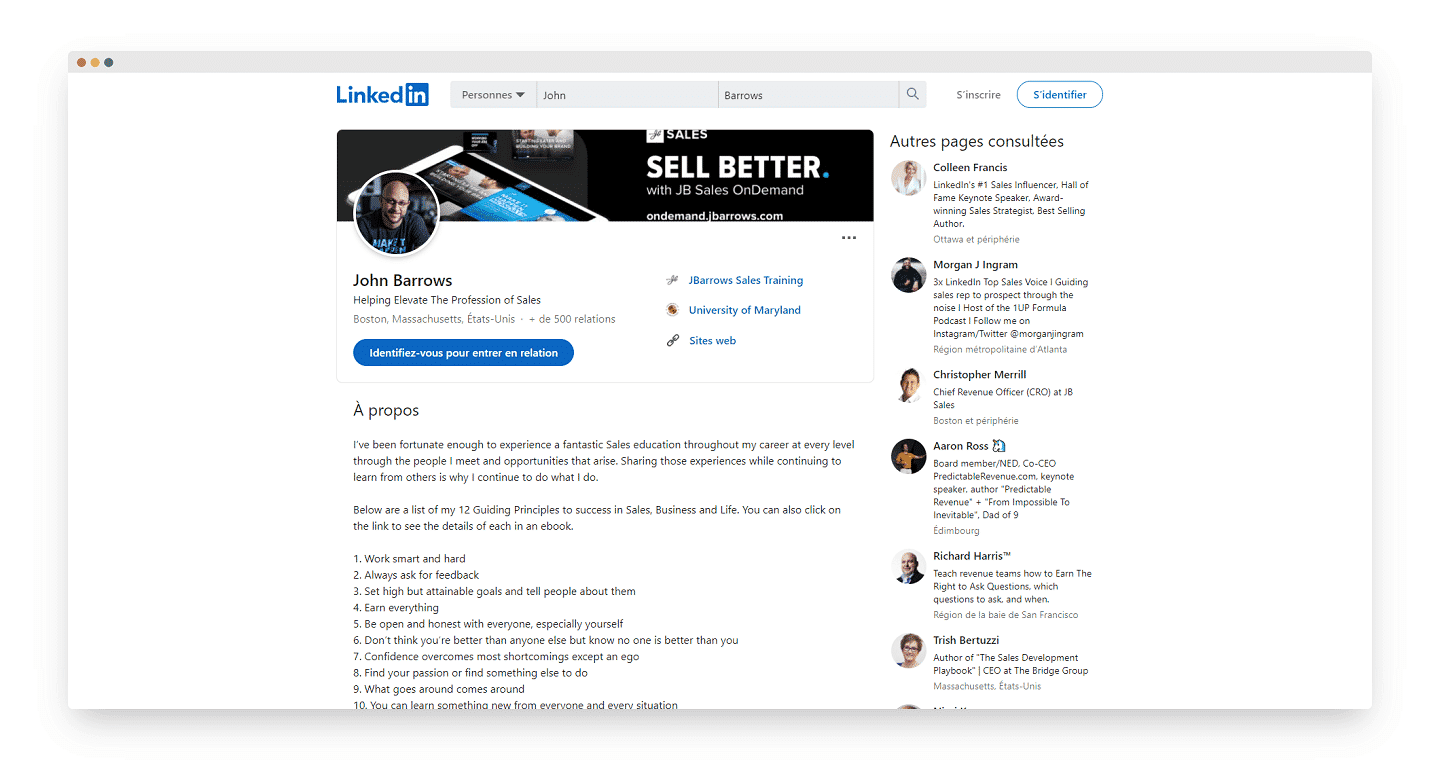 Eight years ago, John founded JBarrows Sales Training, where he provides personalised sales training and consultancy services. John Barrows describes himself as someone who wants to "contribute to raising the standard of the sales profession".
Through books such as "I want to be in sales when I grow up" John shares his experience and advice in Sales through almost daily videos on Linkedin.
💡Points to remember:
Number of subscribers: 373,024
Posting frequency: every day (or almost every day)
Trainer of salespeople and author of books on the subject.
Grégoire Gambatto 🇫🇷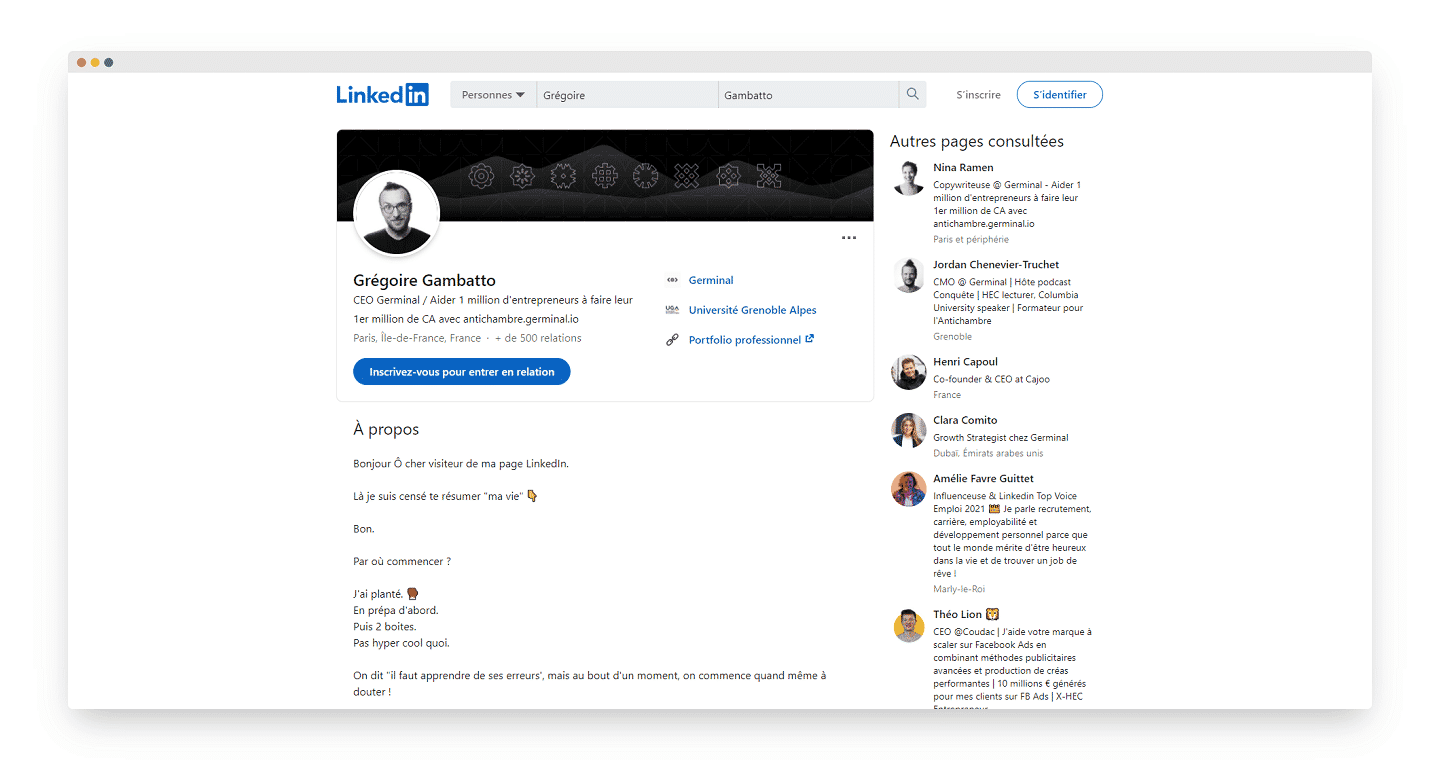 Author of "Le Growth Hacking" published by Dunod, Grégoire, CEO of Germinal, helps companies to grow their business through online acquisition. L'Oréal, La Poste, Unilever are some of his references in growth hacking.
This lecturer at HEC Paris is very active on Linkedin where he tells his story of his life as an entrepreneur with maximum transparency.
💡Points to remember:
Number of subscribers: 86,655
Frequency of posts: 3 or 4 times a week
HEC speaker and TedX Speaker.
Go to Grégoire Gambatto's profile
Oussama Ammar 🇱🇧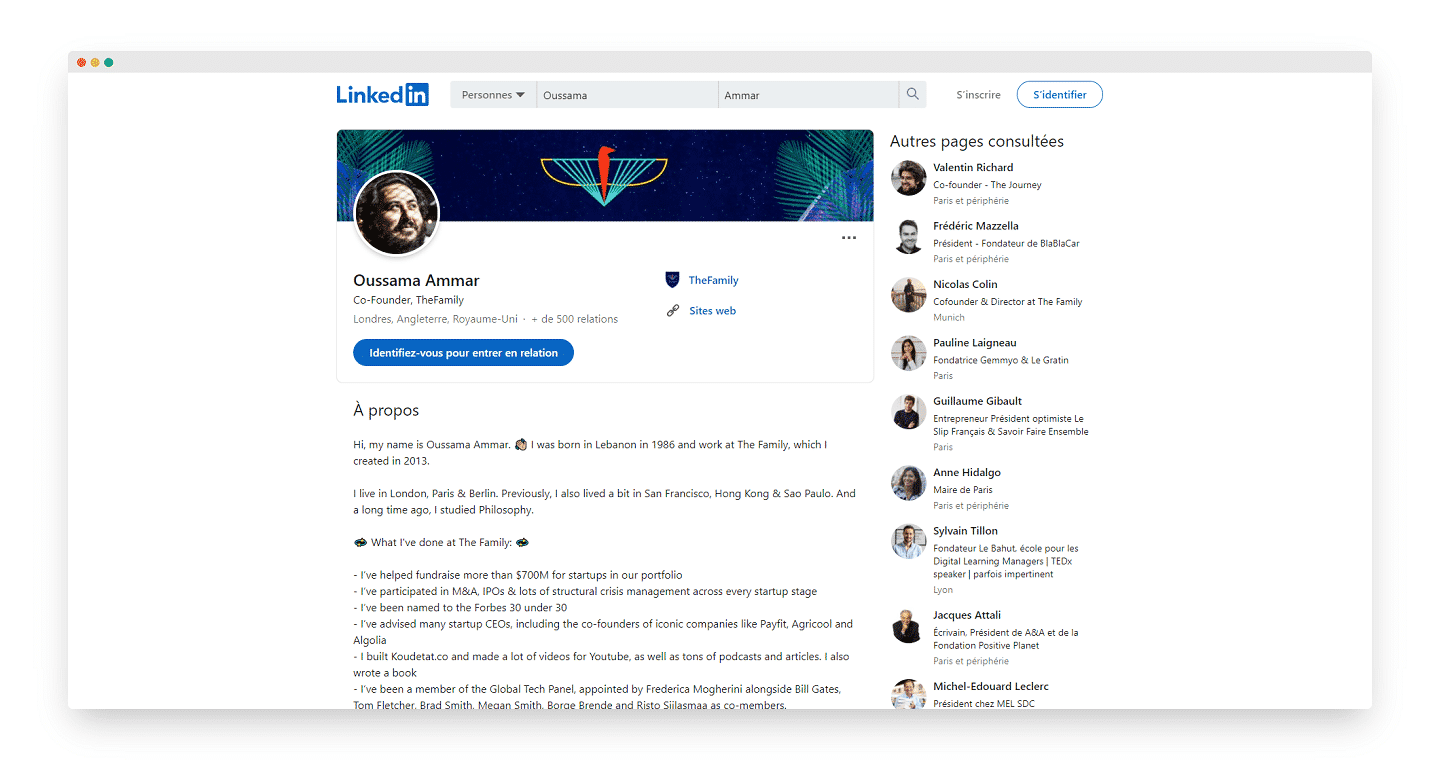 Oussama founded The Family 8 years ago. The Family educates, protects and finances ambitious entrepreneurs. His company has raised over $700 million for the start-ups it supports.
A Forbes 30 nominee, advisor to numerous CEOs, and member of the Global Tech Panel alongside Bill Gates, Osama shares content highlighting ambitious start-ups as well as valuable advice on the world of entrepreneurship.
💡Points to remember:
Number of subscribers: 74 473
Frequency of posts: every day (or almost every day).
Lecturer at Science Po, Oxford, Cambdrige.
Go to the profile of Oussama Ammar
Colin Cadmus 🇺🇸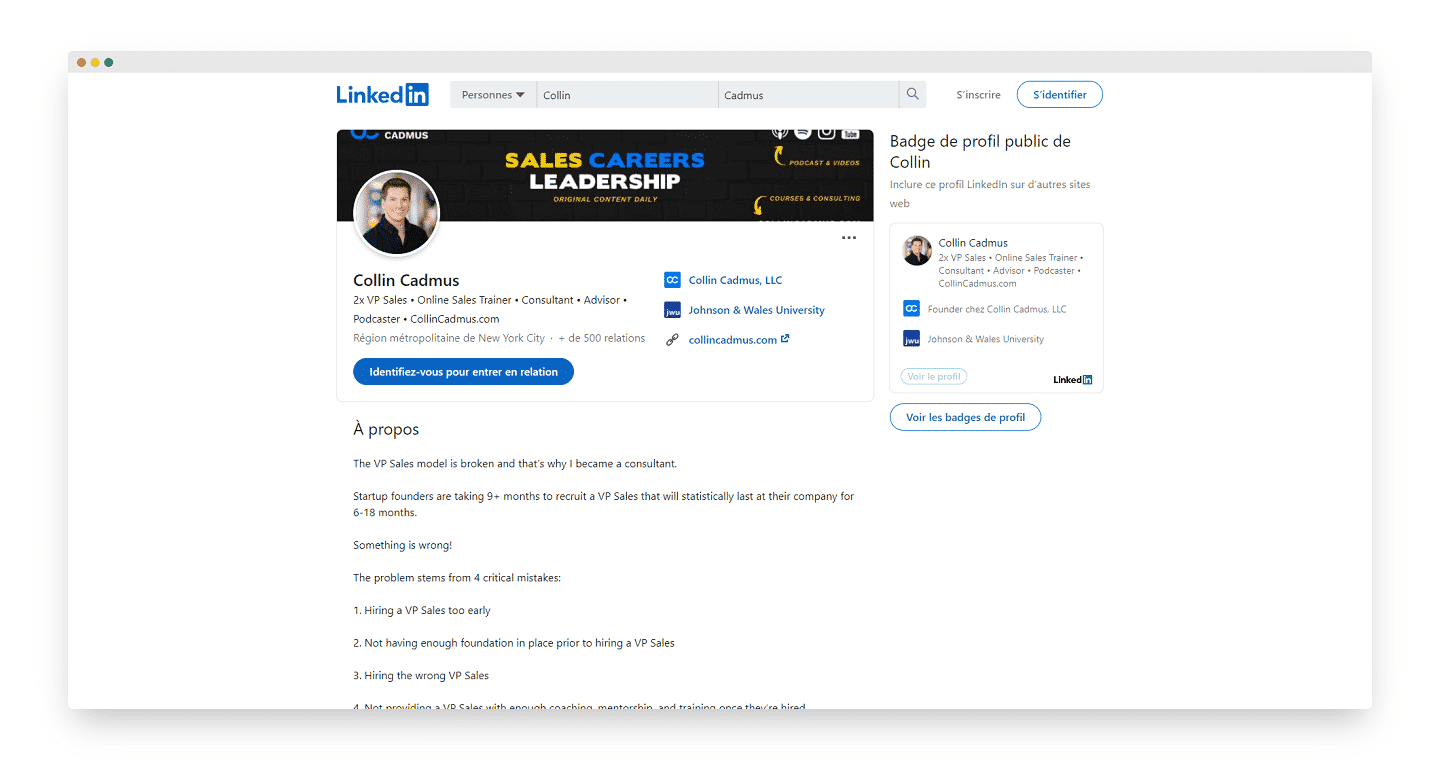 Colin Cadmus helps to create and develop high performance sales teams through personal advice and coaching. In the near future, Colin will also offer online sales courses.
Colin, VP of Sales at Aircall, regularly shares video content but also numerous surveys related to prospecting on Linkedin and the Sales side of companies.
💡Points to remember:
Number of subscribers: 69,306
Frequency of posts: every day (or almost every day)
Responsible for the training of the sales staff in SinglePlateform.
Dale Dupree 🇺🇸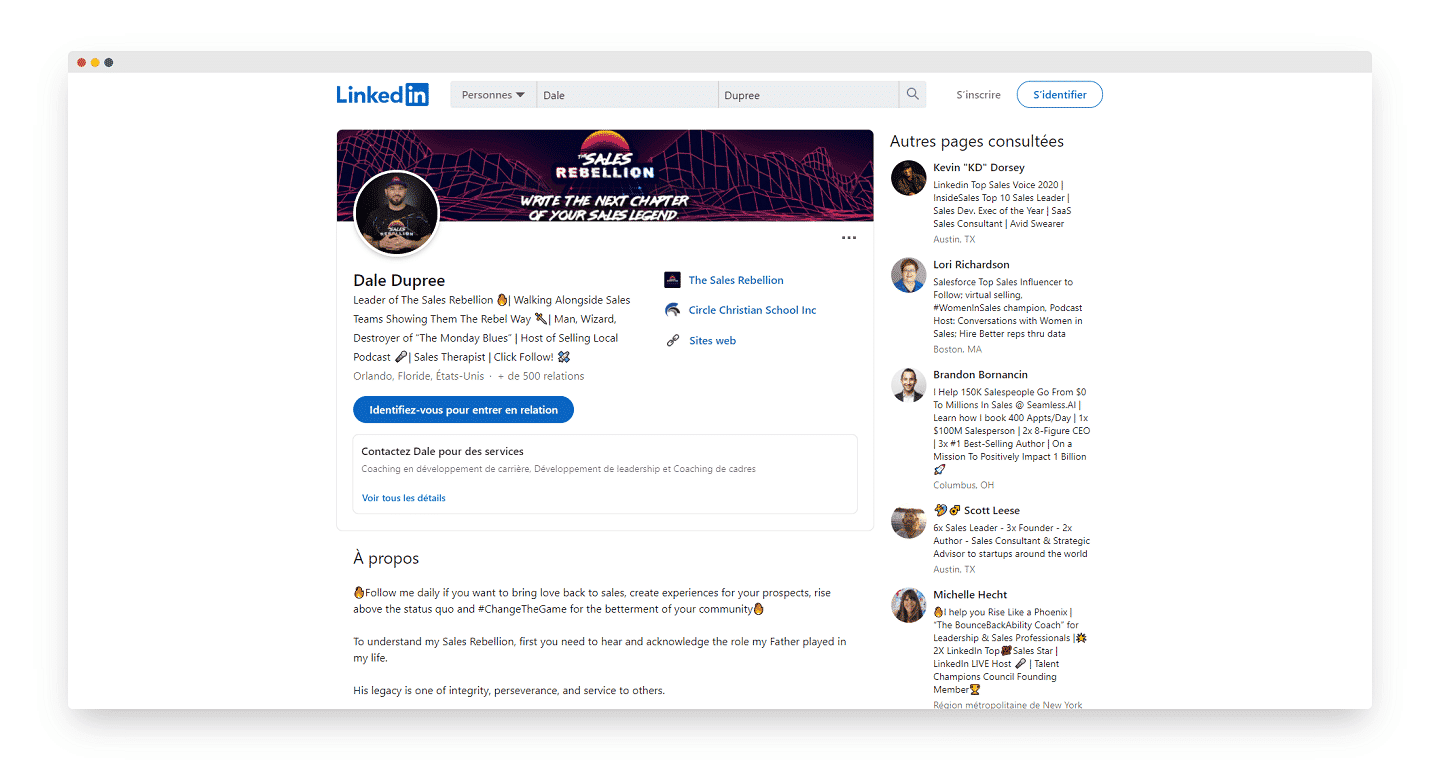 Dale, founder of The Sales Rebellion, shares his love of sales and his own experiences in lead generation. A trainer and teacher of sales techniques, Dale knows how to educate prospects quickly and believes that a good relationship is worth more than a good product.
Dale is very active on Linkedin and shares engaging posts every day about his own experiences but also about sales facts that "we don't talk about enough".
💡Points to remember:
Number of subscribers: 55 543
Frequency of posts: several times a day.
Founder and CEO of "The Sales Rebellion".
Chris Walker 🇺🇸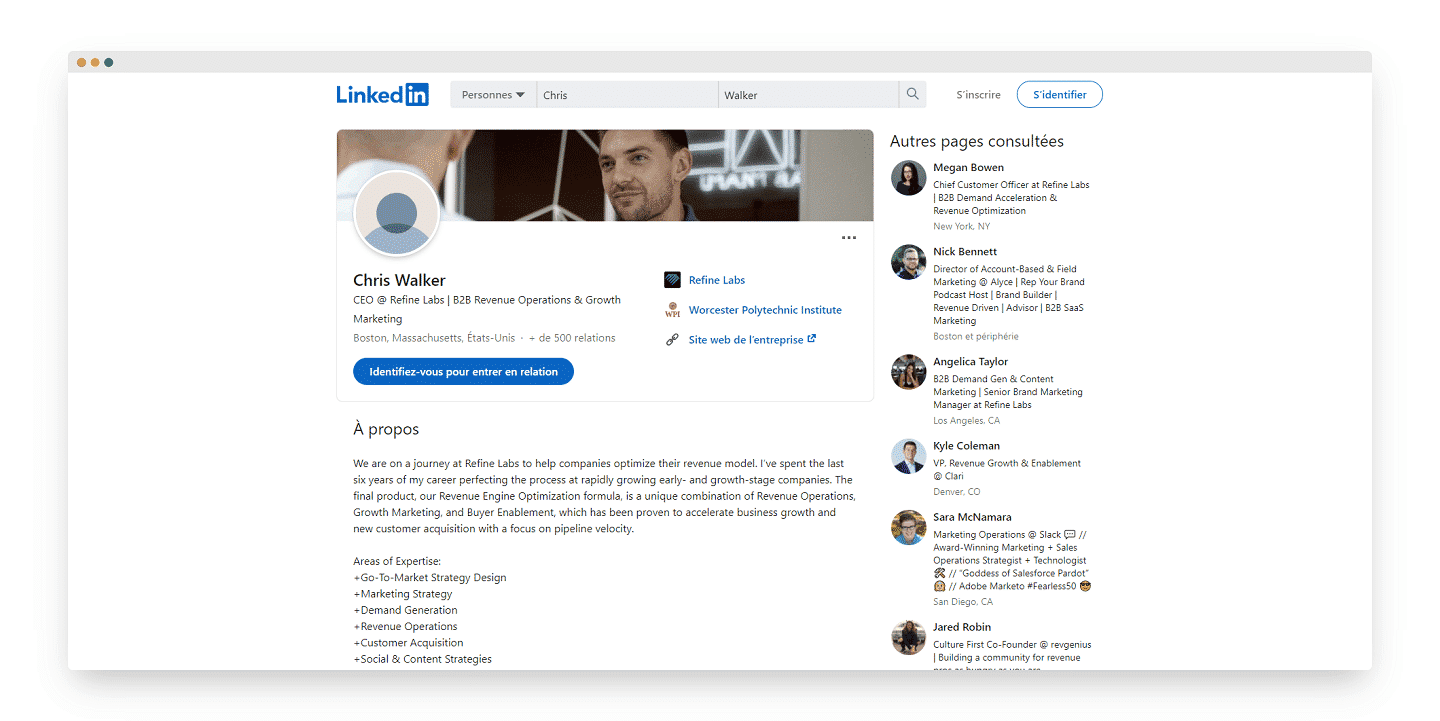 CEO of Refine Labs, Chris Walker helps companies optimise their revenue model through demand generation.
Chris shares, several times a week, videos where he gives tips on the world of marketing, but also onAccount Based Marketing, revenue generation, growth hacking, the best tools to prospect on Linkedin etc.
💡Points to remember:
Number of subscribers: 63 394
Frequency of posts: 3 or 4 times a week
CEO of Refine Labs.
Max Altschuler 🇺🇸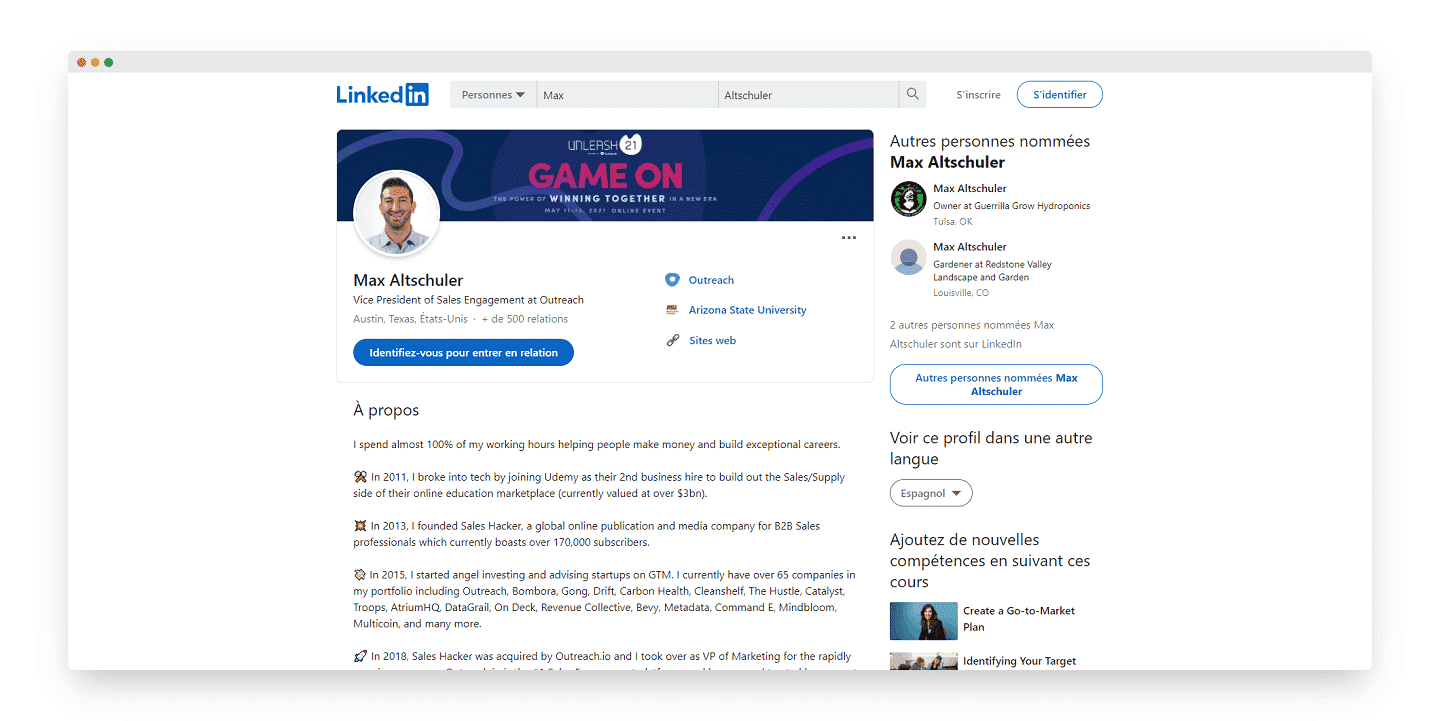 Max Altschuler spends almost 100% of his time helping people "make money". Founder of Sales Hacker in 2013, Max is now VP Marketing of Outreach.io, the number 1 platform in Sales Engagement.
Published by Forbes or Salesforce, Max has been named one of the best Linkedin influencers in 2018. Once a week, he shares his tips and tricks related to his Sales activity.
💡Points to remember:
Number of subscribers: 53,409
Frequency of posts: once a week
Published by Forbes or Harvard, he is the author of several books on Sales.
Go to Max Altschuler's profile
Caroline Mignaux 🇫🇷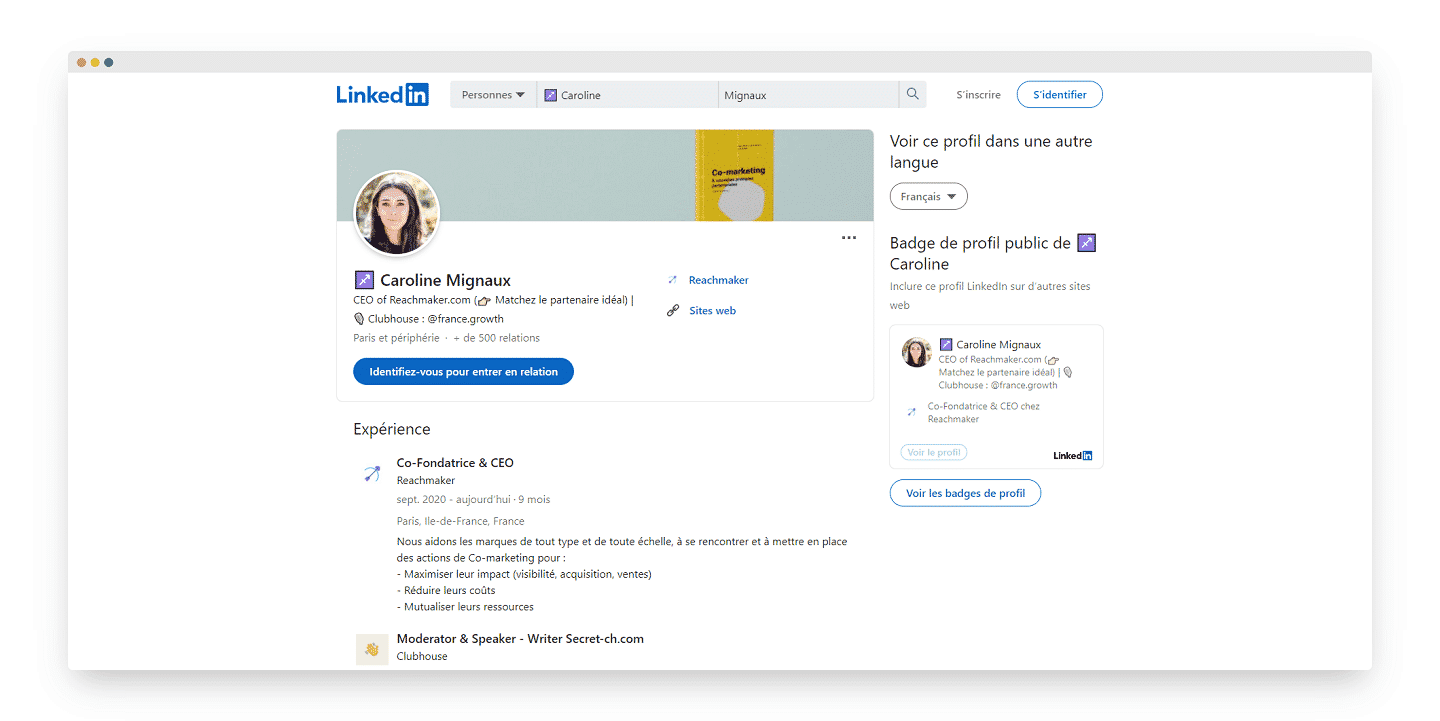 Caroline Mignaux, co-founder of ReachMaker (a platform for brands to meet and collaborate), has more than 10 years of experience in growth marketing in radically different sectors (media, music, food, transport etc.).
Her extensive experience allows her to develop a smarter, more frugal and more sustainable marketing model. She is active every day on Linkedin where she shares tips, surveys and best practices on marketing and entrepreneurship.
💡Points to remember:
Number of subscribers: 34,870
Frequency of posts: daily
She is co-founder of a SaaS called ReachMaker.
Go to Caroline Mignaux's profile
Grégory Logan 🇨🇭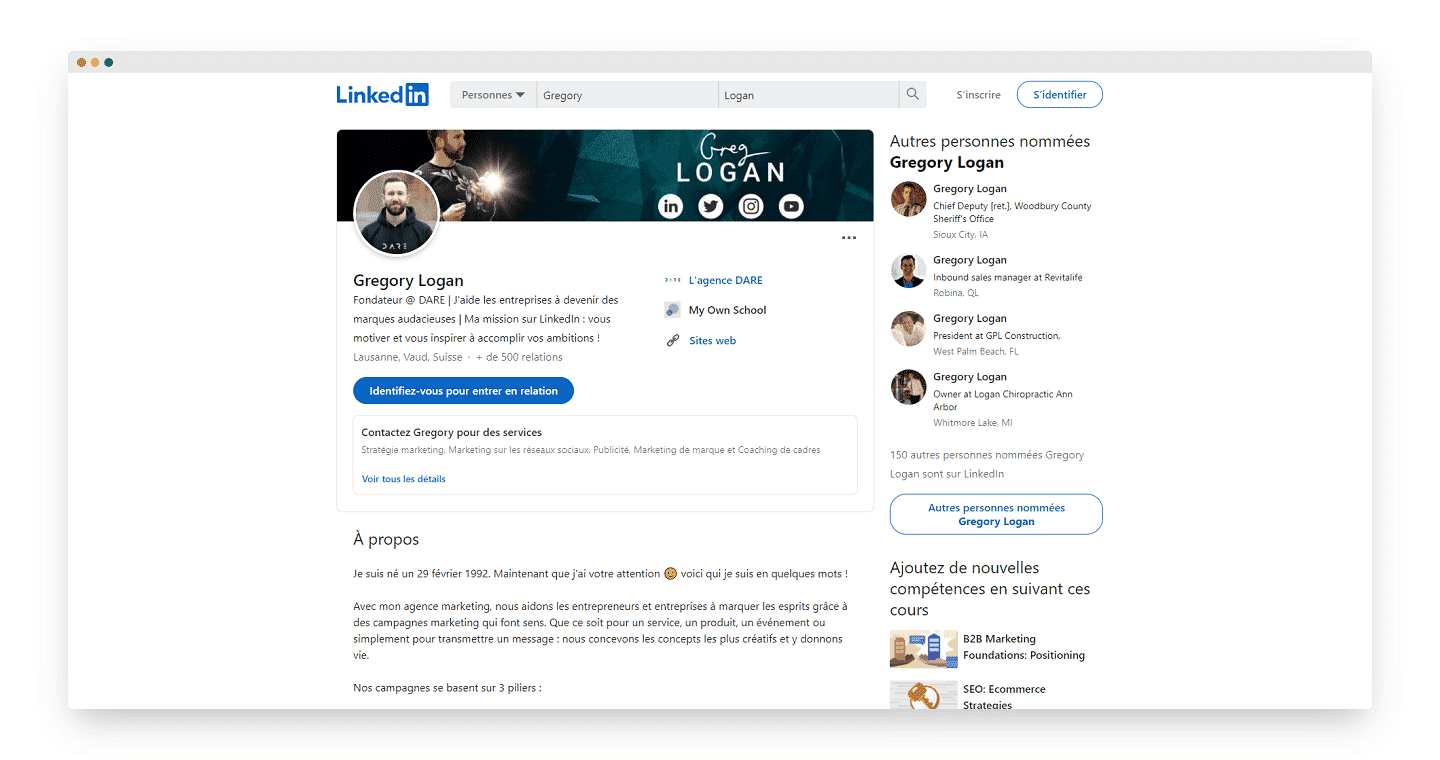 Founder of DARE, "Switzerland's most daring marketing agency", Gregory helps entrepreneurs and companies make an impression with meaningful marketing campaigns.
On his Youtube channel, Gregory Logan releases 2 videos per week where he gives advice on productivity, entrepreneurship and personal development. These tips can be found on Linkedin about once a week.
💡Points to remember:
Number of subscribers: 188,142
Frequency of posts: once a week
He has a Youtube channel where he is very active.
Jean-Pascal Mollet 🇫🇷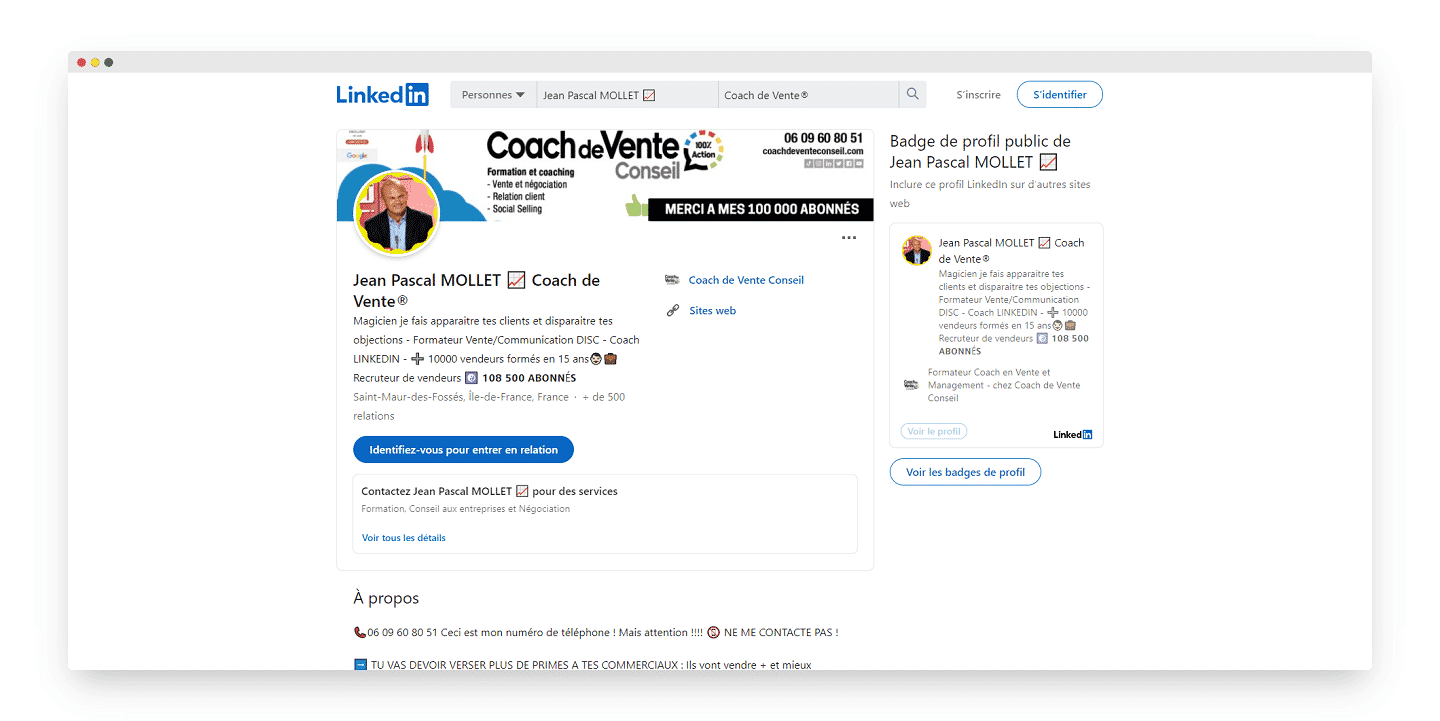 Jean Pascal Mollet has been a sales and management trainer and coach for over 15 years. He puts his experience at the service of others through his training courses in commercial negotiation, customer relations and communication.
He shares, almost daily, videos and best practices to become a "better salesperson" and make objections disappear. Jean Pascal has trained more than 10,000 salespeople over the past 15 years.
💡Points to remember:
Number of subscribers: 108,598
Frequency of posts: every day (or almost every day).
An original and offbeat approach in his posts, videos etc.
Go to Jean-Pascal Mollet's profile
Emmanuelle Petiau 🇫🇷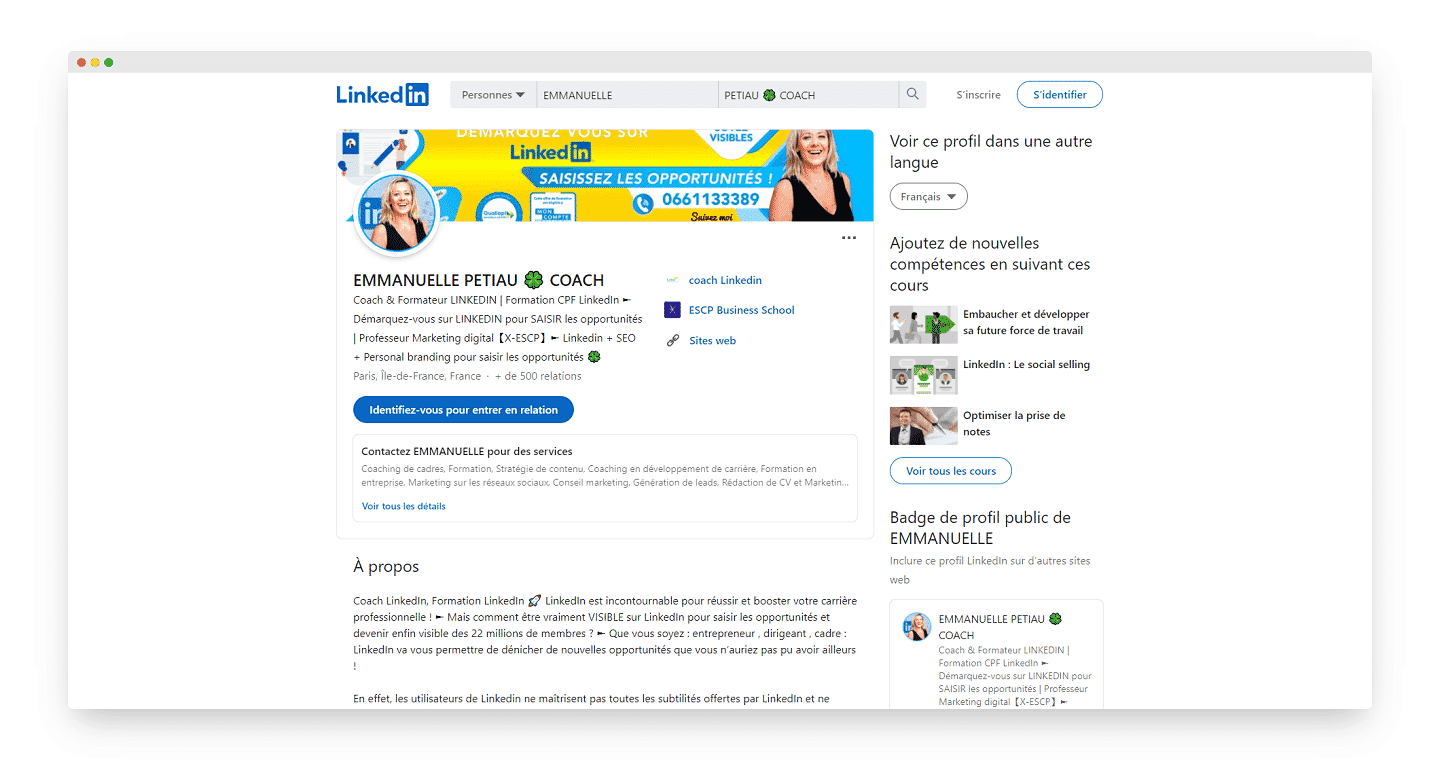 Linkedin coach and trainer, speaker at Kedge Business School, Emmanuelle shares her professional experience to help companies become truly VISIBLE on Linkedin.
Emmanuelle takes her clients' Linkedin profiles to a high level with Linkedin training, personal branding, and other QUALIOPI certified training.
2 or 3 times a week, Emmanuelle shares news, best practices and gives her opinion on topics 100% dedicated to Linkedin.
💡Points to remember:
Number of subscribers: 51,991
Frequency of posts: 2 or 3 times a week
Teacher at Kedge Business School.
Go to Emmanuelle Petiau's profile
Benoît Dubos 🇫🇷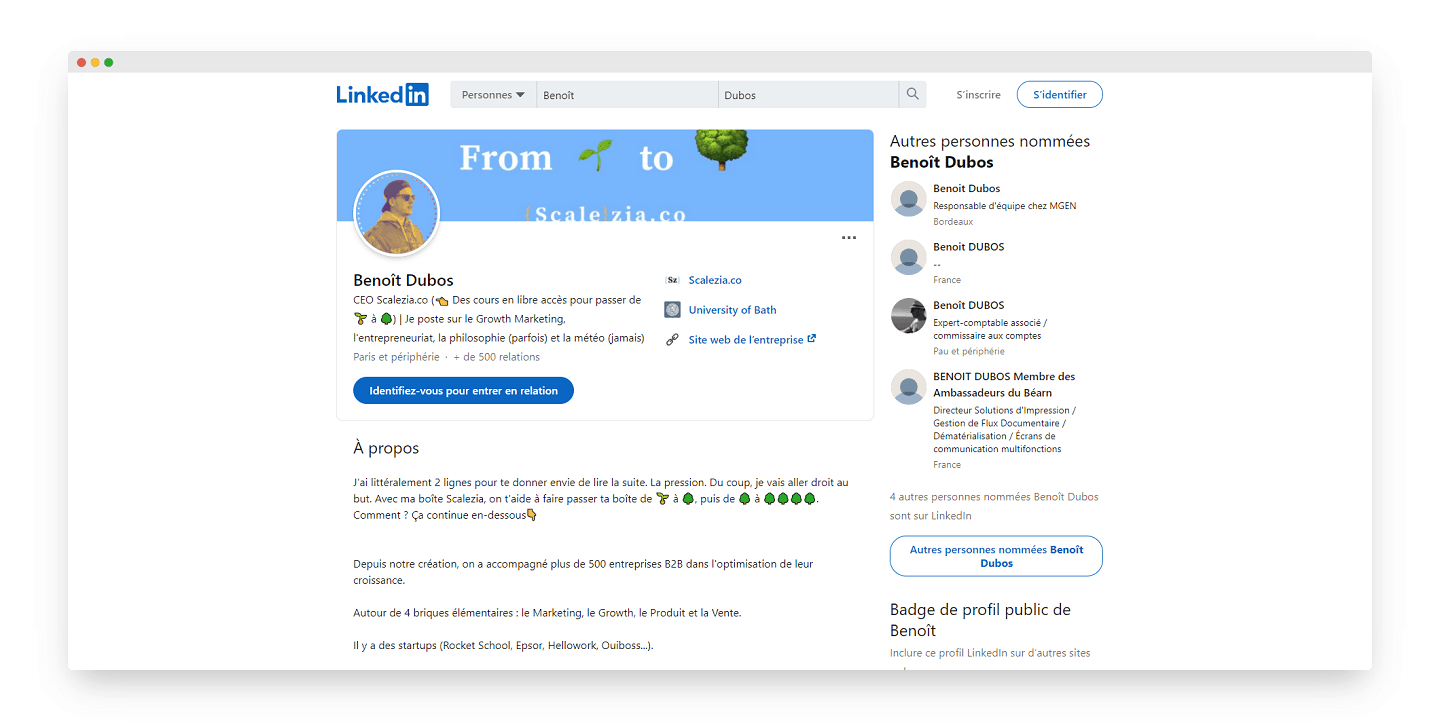 CEO of Scalezia, Benoît Dubos and his team help B2B companies to optimise their growth. At Scalezia, it is the whole team that relays their resources & articles on Linkedin, a great example of putting together several Linkedin profiles for the benefit of an organisation. We recommend you also follow Christian François & Benjamin Maffé to see how they take turns in sharing (and get inspired 😇).
Scalezia offers training and online courses on various themes and levels of difficulty. Sales, growth, SEO, automation etc. the whole range of digital marketing is covered.
They also offer a show called Vacarme to learn about digital growth marketing with the best experts from Scalezia. On Linkedin, Benoît also shares best practices related to growth hacking.
💡Points to remember:
Number of subscribers: 35,855
Frequency of posts: daily
CEO of Scalezia, the agency that accelerates business development.
Guilhem Bertholet 🇫🇷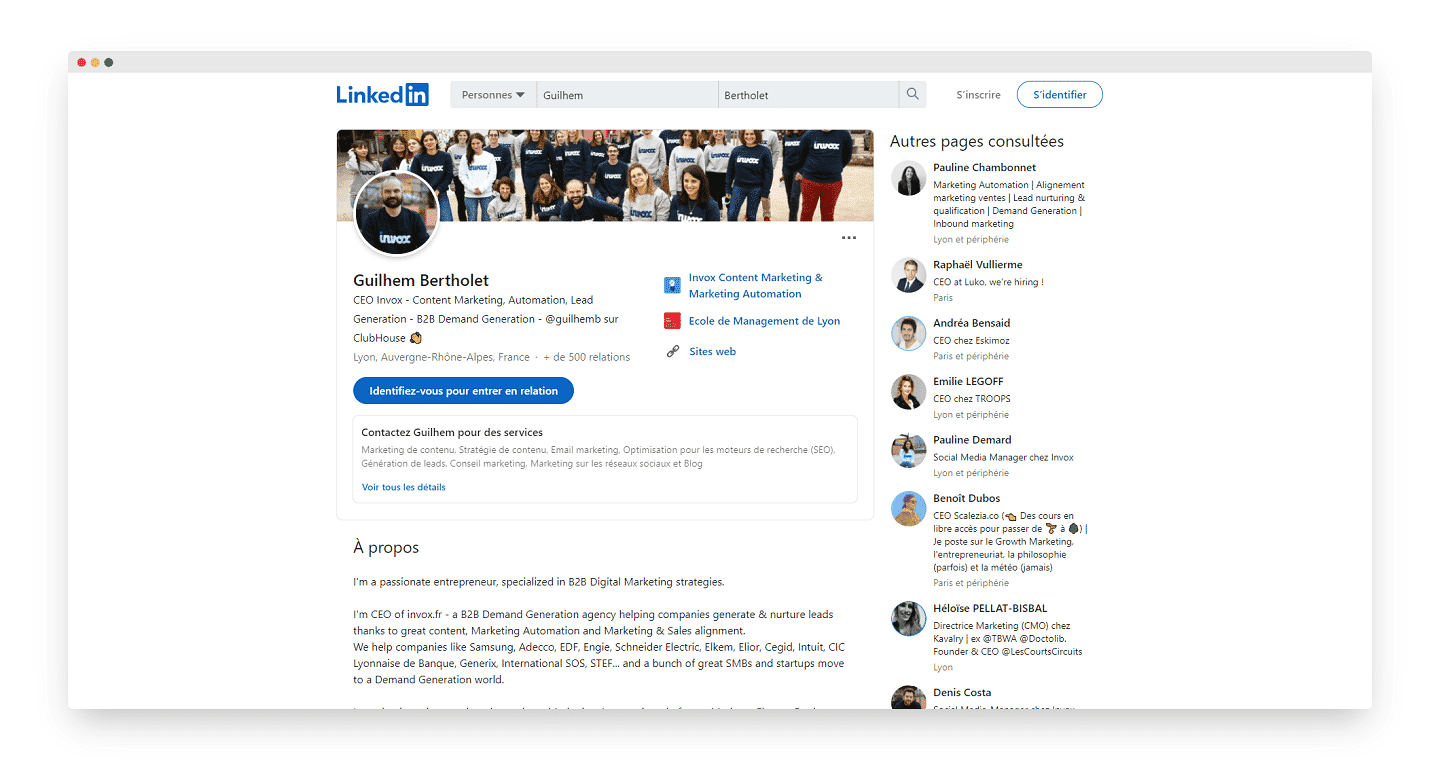 Guihem is an entrepreneur specialising in digital marketing strategies for B2B. After working at Microsoft, he launched the start-up accelerator at HEC Paris (before becoming a speaker) and hosted several BlendWebMix conferences.
Guilhem did the experiment of posting "2 months at full speed on Linkedin" to observe the results. From the first month, the impact is huge with +1040% views and +705% likes. He came to the conclusion that the content that works the most are lead magnets, carousels and more "personal" topics.
Although the results are interesting, the conclusion is that it takes a lot (too much?) of time for someone who doesn't have a model of selling their own time or Linkedin training.
Now CEO of Invox, a B2B Demand Generation agency that helps companies generate and maintain leads, Guilhem shares his experience and news several times a week on Linkedin.
💡Points to remember:
Number of subscribers: 15,726
Frequency of posts: 2 or 3 times a week.
Extensive experience with the world's largest companies.
Go to Guilhem Bertholet's profile
Christel De Foucault 🇫🇷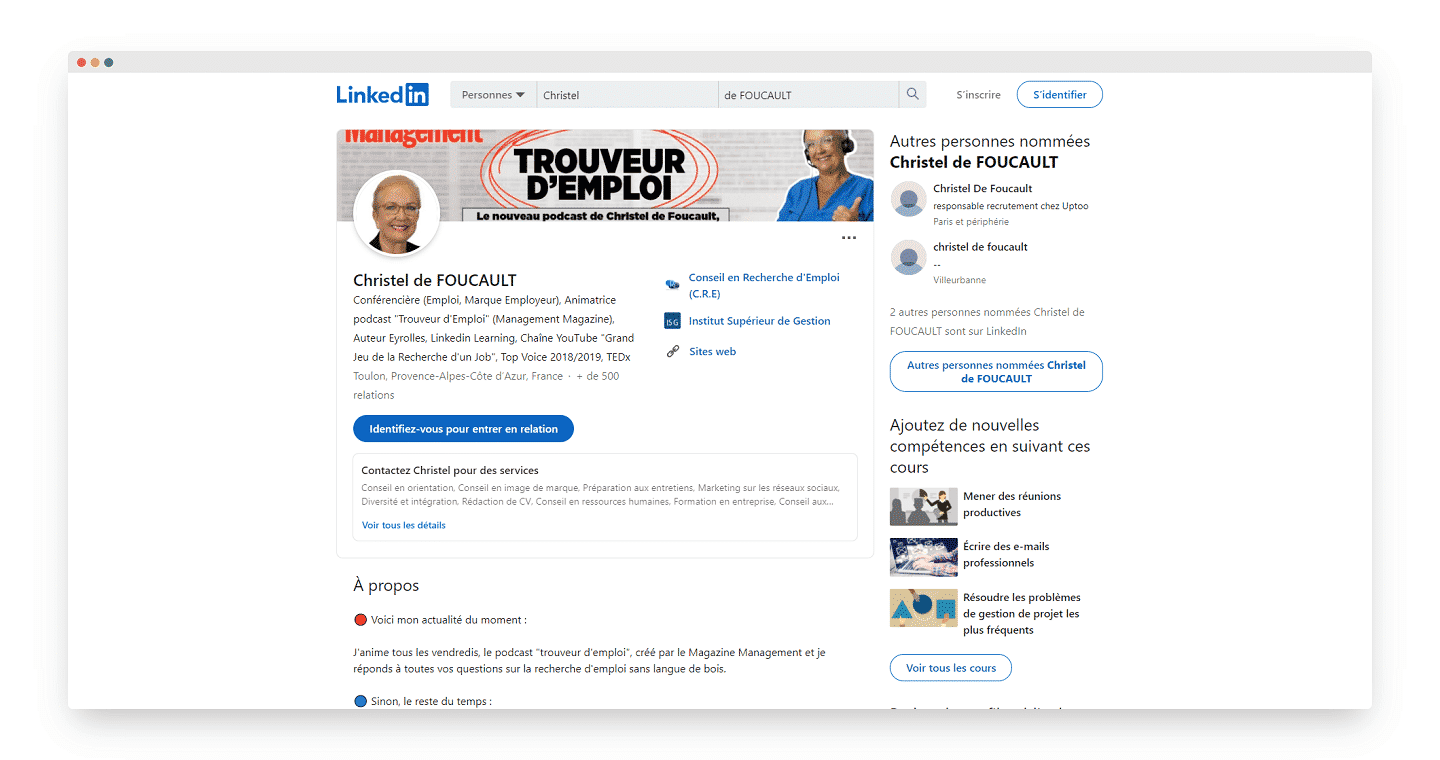 Christel de Foucault is a speaker and trainer on job search, employer brand, candidate brand and personal branding on Linkedin.
Author of several books on recruitment and job search, Cristel also has a Youtube channel "Le Grand Jeu de la Recherche d'un Job" (The Great Job Search Game) where she gives, in a slightly offbeat way, advice on job search.
💡Points to remember:
Number of subscribers: 209,426
Frequency of posts: once a week.
Very active podcaster and youtuber.
Go to Cristel De Foucault's profile
Andrea Bensaid 🇫🇷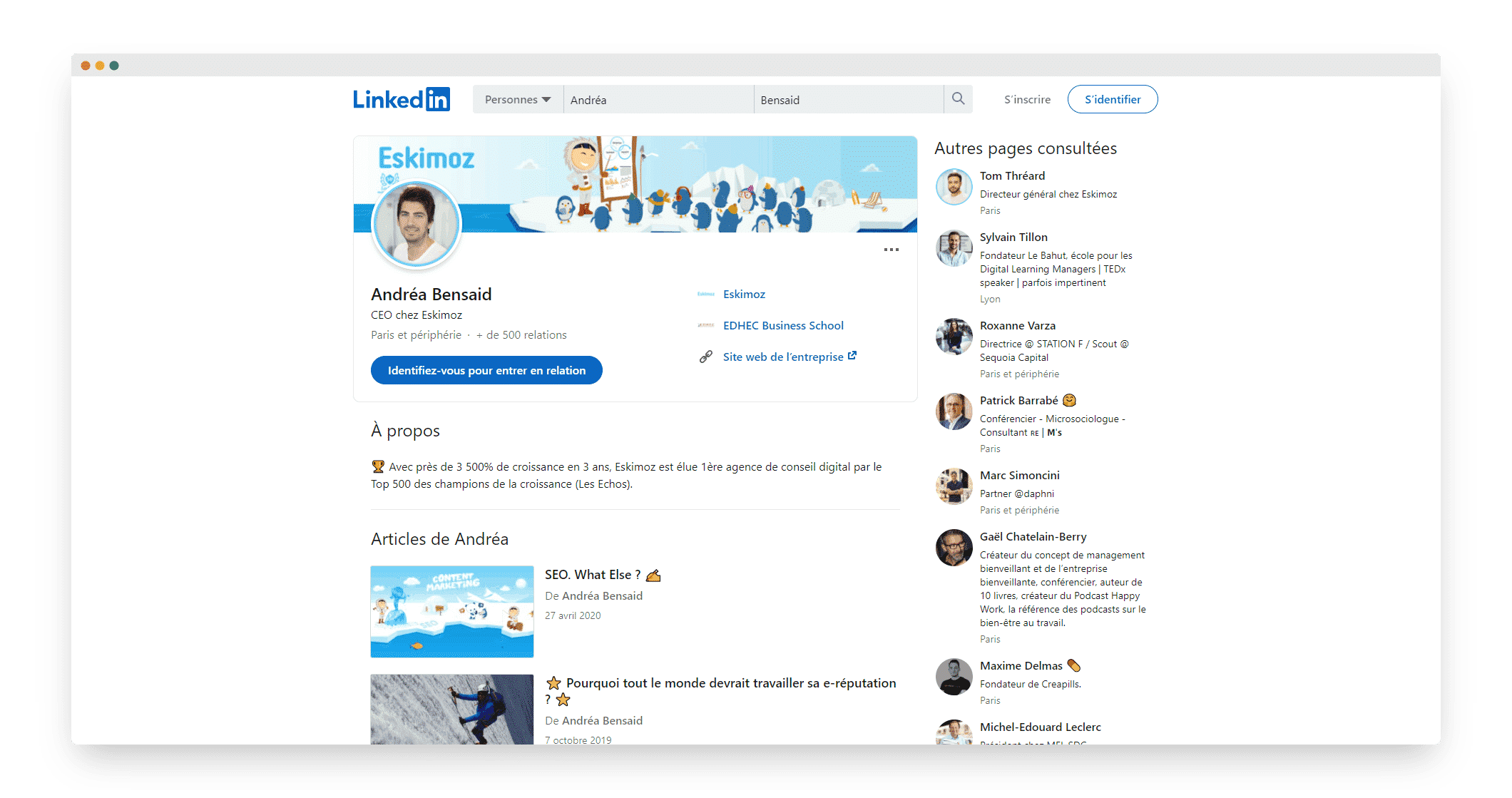 CEO of the 1st digital consulting agency (Les Echos), Eskimoz, Andrea is a specialist in natural referencing.
On Linkedin, Andrea regularly shares videos from her agency Eskimoz but also feedback and useful tips for entrepreneurs or digital professionals.
💡Points to remember:
Number of subscribers: 61,368
Frequency of posts: once a week.
CEO of one of the leading SEO agencies in France.
Go to Andrea Bensaid's profile
Sylvain Tillon 🇫🇷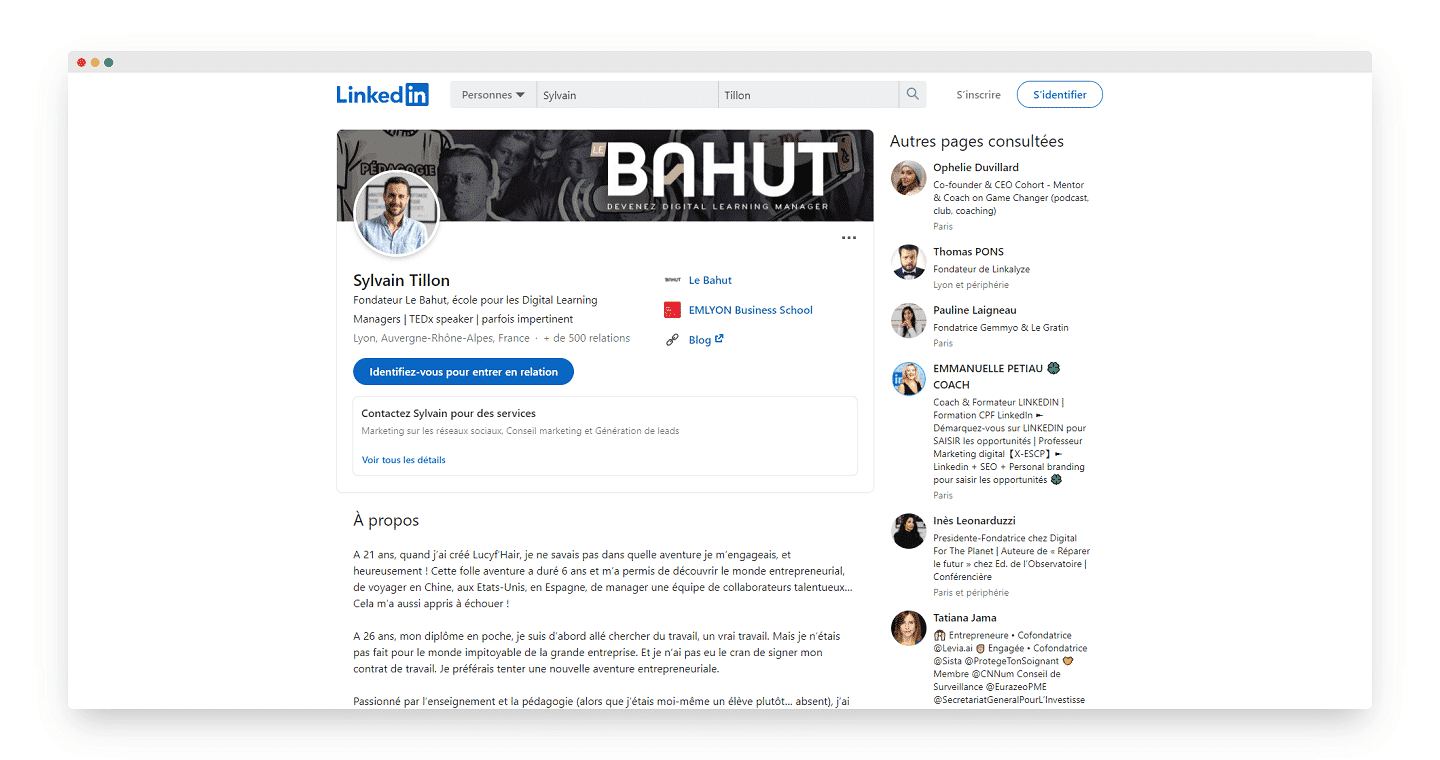 Founder of "Le Bahut", a school for Digital Learning Managers, Sylvain Tillon is a speaker at TEDx and also a contributor to CopyPost, which lists copy and paste publications on Linkedin.
Several times a week, Sylvain talks about his news, denounces certain dubious practices on Linkedin and gives advice on recruitment (on the recruiter's and candidate's side).
💡Points to remember:
Number of subscribers: 48 803
Frequency of posts: 2 or 3 times a week.
Entrepreneur and contributor to CopyPost.