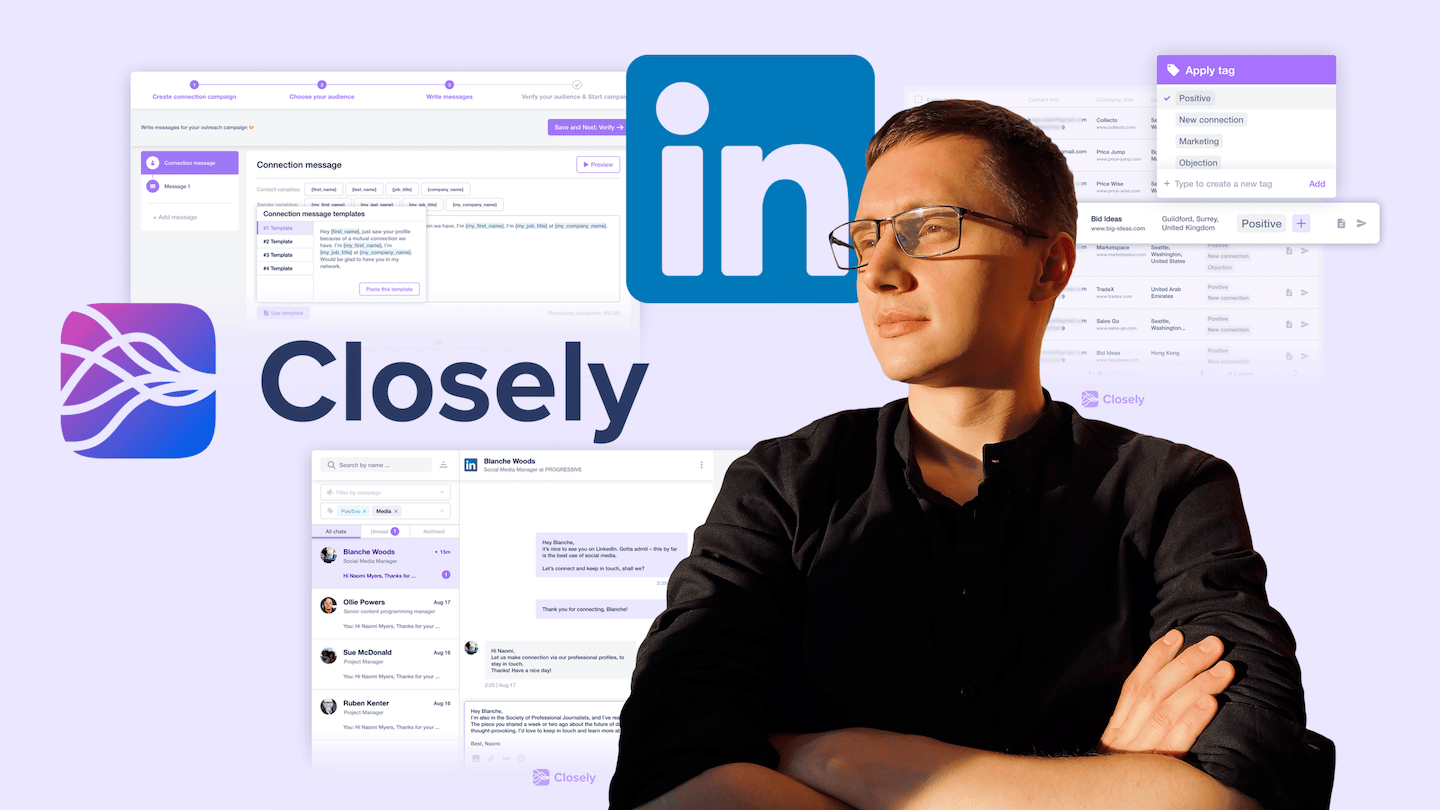 Your LinkedIn network allows you to find many prospects and customers. It also allows you to retain your new customers, by keeping them informed of your latest news, for example your recent updates.
To communicate with your contacts, you can simply send them an individual message. But it is more difficult to address a group of people: LinkedIn does not allow you to create lists or filters according to your criteria.
So you have to search for these people manually using the filters offered by LinkedIn, and then enter them manually into a spreadsheet or CRM software. All this adds to your work process.
Closely promises to solve this problem, by gathering all the prospects in your network into specific groups according to your criteria. This tool then allows you to easily access any group, and contact it directly on LinkedIn, or elsewhere.
In this article, we show you how to turn your LinkedIn account into a CRM for free with Closely!
1. Create segments in your Linkedin network with Closely
The first step to better manage your contacts is to create segments, based on different criteria:
For example, depending on the needs of your contacts: need for two-factor authentication, need for integration with HubSpot, etc.
Depending on the stage of the sales funnel they are in: prospects, hot leads, MQLs, SQLs, PQLs, existing customers, satisfied customers, etc.
According to the type or name of a campaign: for example to send new messages to contacts of an old campaign.
According to the events during which you could have met new contacts, for example a trade show.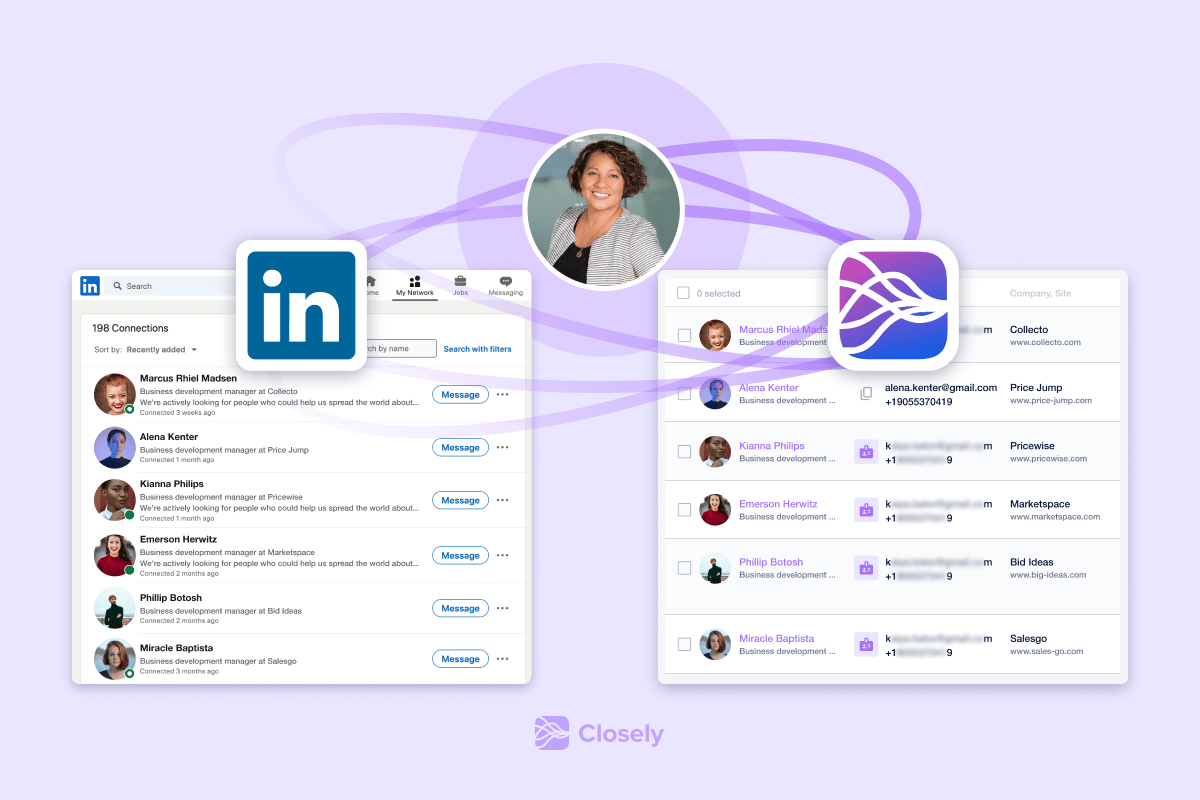 For all potential customers or prospects segmented in this way, you can create an automatic campaign in Closely, and thus get them into your sales funnel.
Having a CRM system to manage this network simplifies the work: this type of system makes it possible to collect the various profiles and to assign them a label, for example "conference name".
Thanks to these tags, you can access the desired contacts, and personalize your message, for example by mentioning the event at which you had crossed paths. You will be both warmer and more efficient.
2. Connect Linkedin to your CRM
You can of course do all this in a LinkedIn CRM. But you have to manually upload your network members.
You also need to update their contact information if you don't want your CRM to keep outdated information. All these repetitive tasks are very time consuming and not very creative.
3. Keep your CRM and Linkedin network alive
Closely offers many features to keep your CRM and LinkedIn network alive. Closely's "unread" filter allows you to filter unread messages based on campaigns and tags.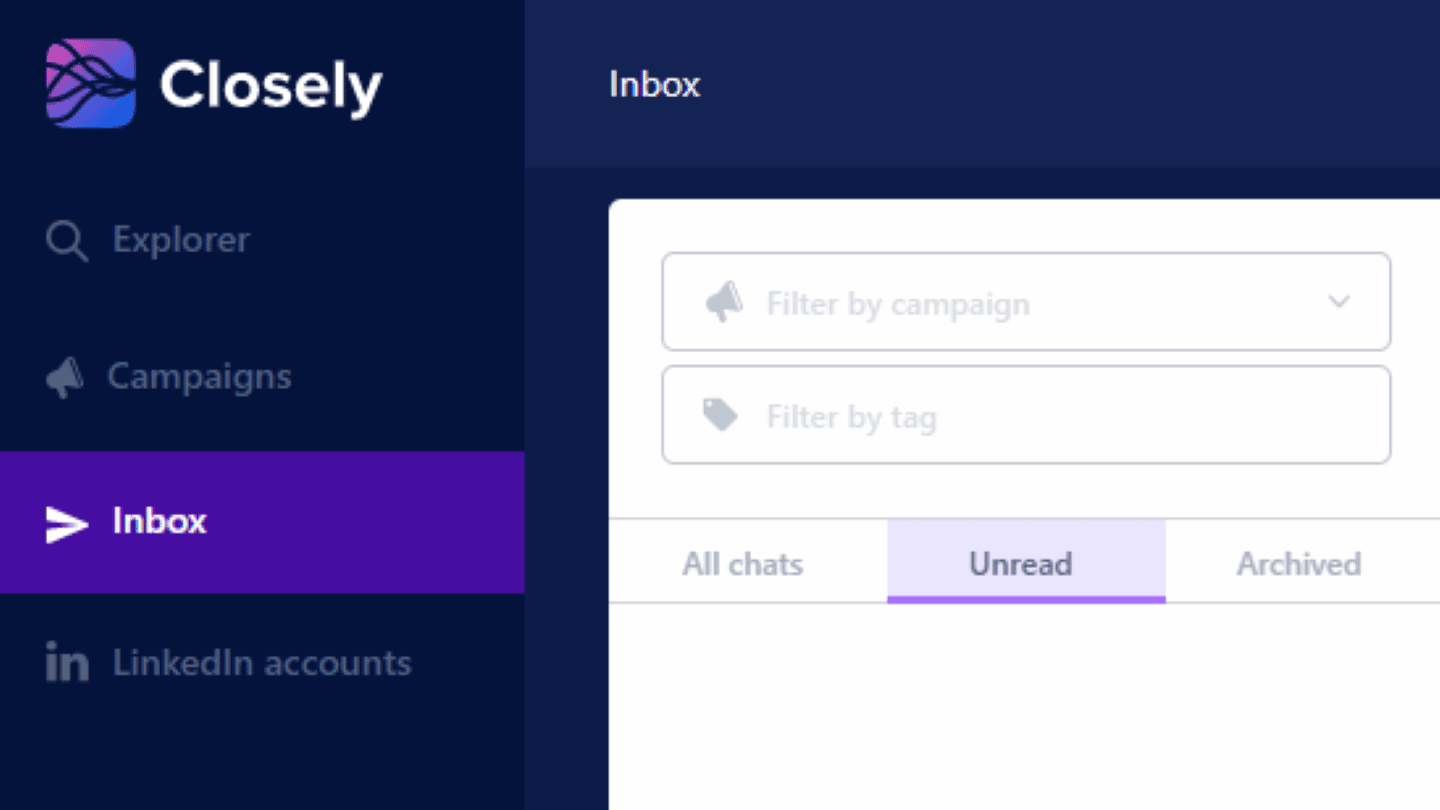 With tags you can assign specific labels to different groups of customers or prospects. You will then be able to address more easily the group you want to communicate with, by filtering your contacts according to the tags.
If you sell software, you can for example add a tag for each customer informing you of their need for a specific feature. You can then send a message to all these customers when the new feature is available.
Tags also allow you to evaluate the performance of your campaigns. You can add a tag to a prospect or customer with the nature of his response, for example "positive", "neutral", or "negative", and generate statistics thanks to these tags.
Tags also allow you to sort conversations by campaign, making it easier to manage multiple campaigns in parallel, and in multiple contexts.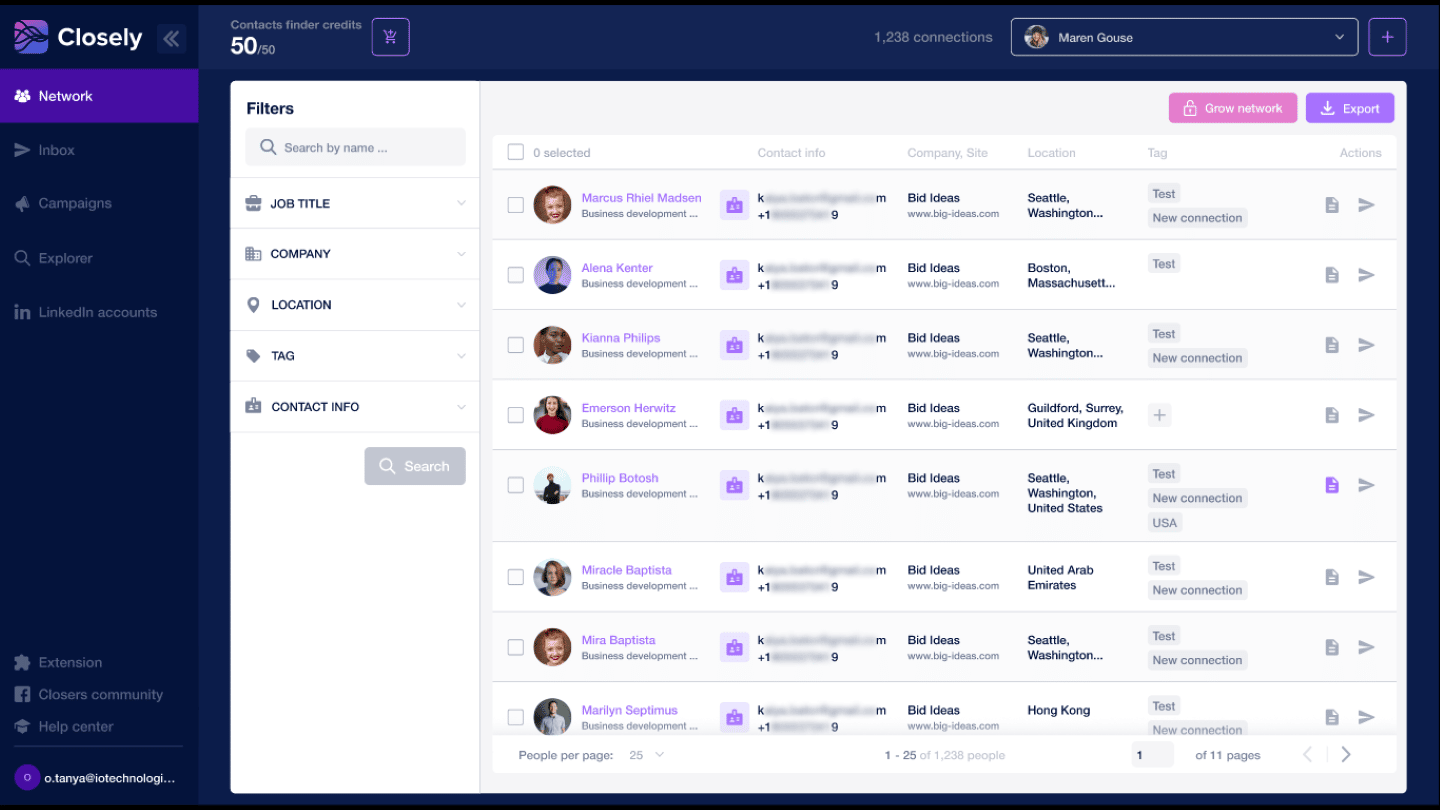 You can also use tags when you search for a person among your contacts. The search in Closely allows you to use tags as a filter criteria. This search feature is very efficient to segment your audience.
Closely also offers a "notes" feature linked to contacts. This allows you to write down personal information about them, for example, to create a link more quickly and warmly if you contact them again a few months later.
With notes, you can also gather the important details of a conversation. If you resume a conversation after a break, you don't have to reread the entire conversation to find the main points.
Discover Closely for free
Discover all the Closely features for free! As a bonus, you can get one month with all the sales automation features using the code Salesdorado for only $1.
Explore it, to find anyone's email address
Need to contact your prospects by email or phone? Closely My Network allows for additional contact information such as email, phone number, Facebook profile, and other company data points.
Closely's Explorer allows you to build advanced searches on LinkedIn (the equivalent of Xray search), and to search for prospects based on job title, industry, and even country.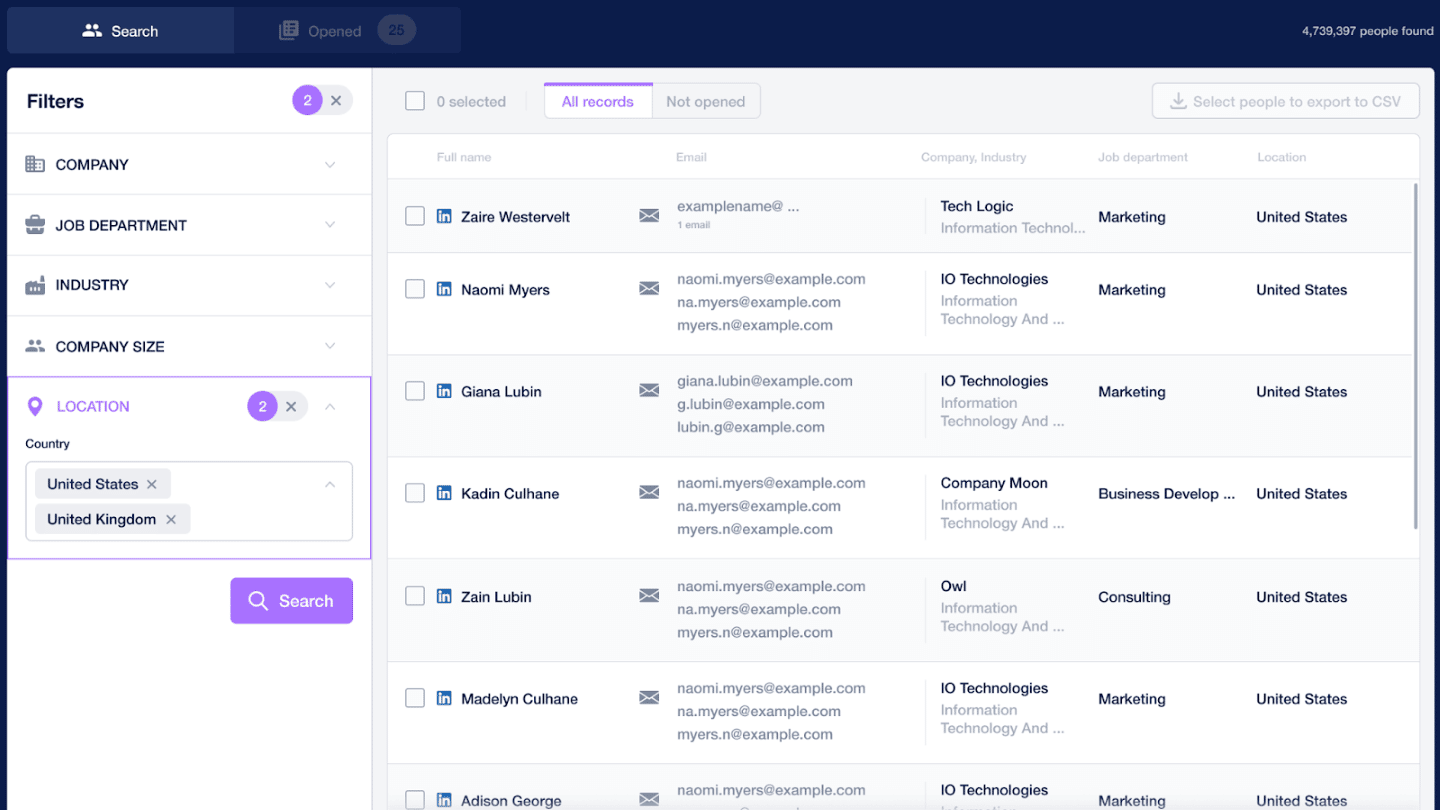 With the Explorer you can then export all the contacts found in CSV, with their email address. It is therefore the ideal tool to find the email address of anyone, and to display all the contacts in the mailbox with a single click.
Closely's Chrome extension to scrape Linkedin in 2 clicks
Closely'sChrome extension provides a one-click CSV with all LinkedIn lead data.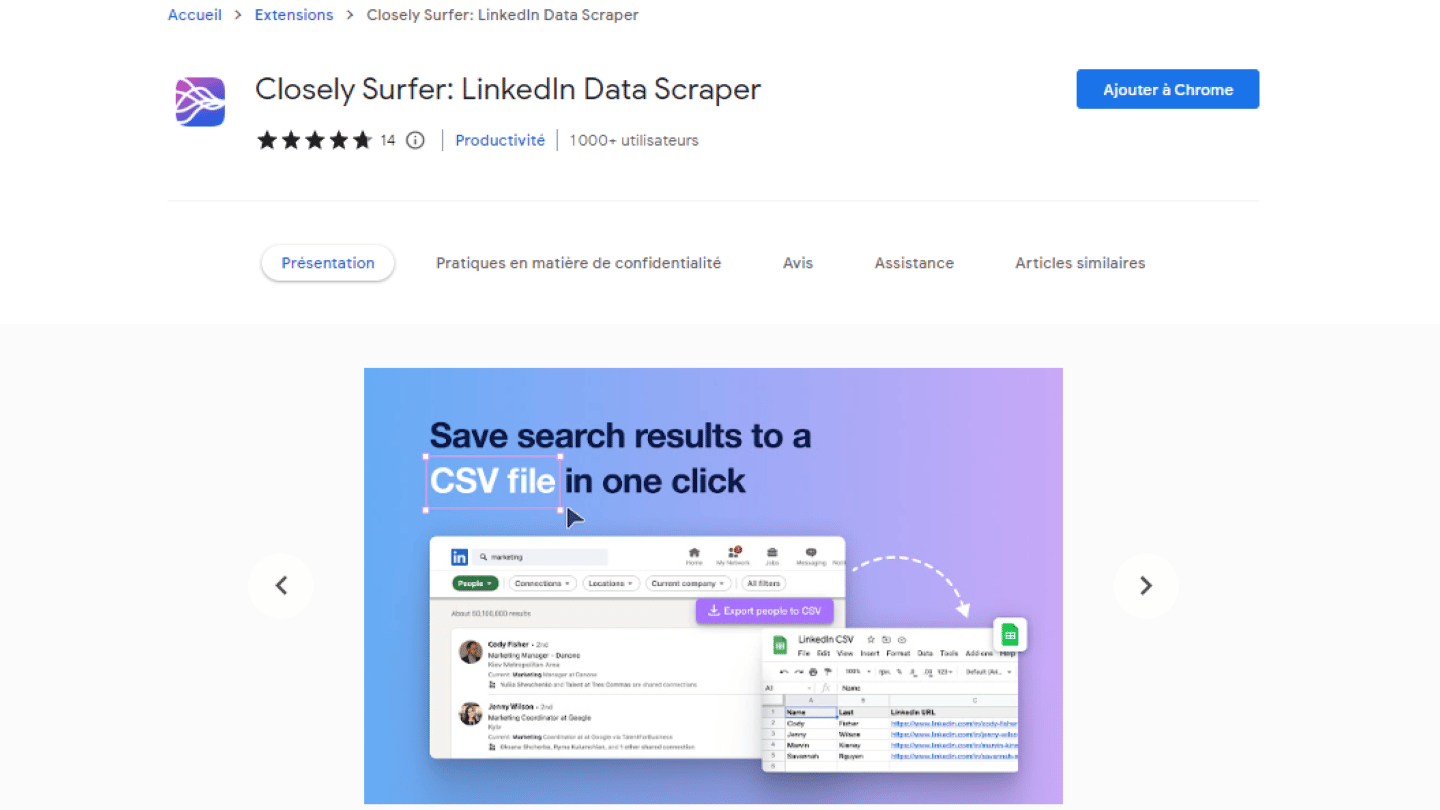 Indeed, you just have to do a search on LinkedIn, then click on the extension. It gives a CSV file with the result of the search.
Develop your network with Closely's automated sequences
Closely offers 3 types of automated sequence campaigns:
Connection campaigns: This first type of campaign allows you to send numerous connection requests, and to schedule a follow-up message for those who have accepted the invitation.
My networks campaigns: This second type of campaign allows you to send messages directly to people who are already part of your connections.
Deep Enrichment campaigns:This last type of campaign allows you to collect multiple data points about prospects in your network to then use as variables in your outreach, or simply know more for better prep.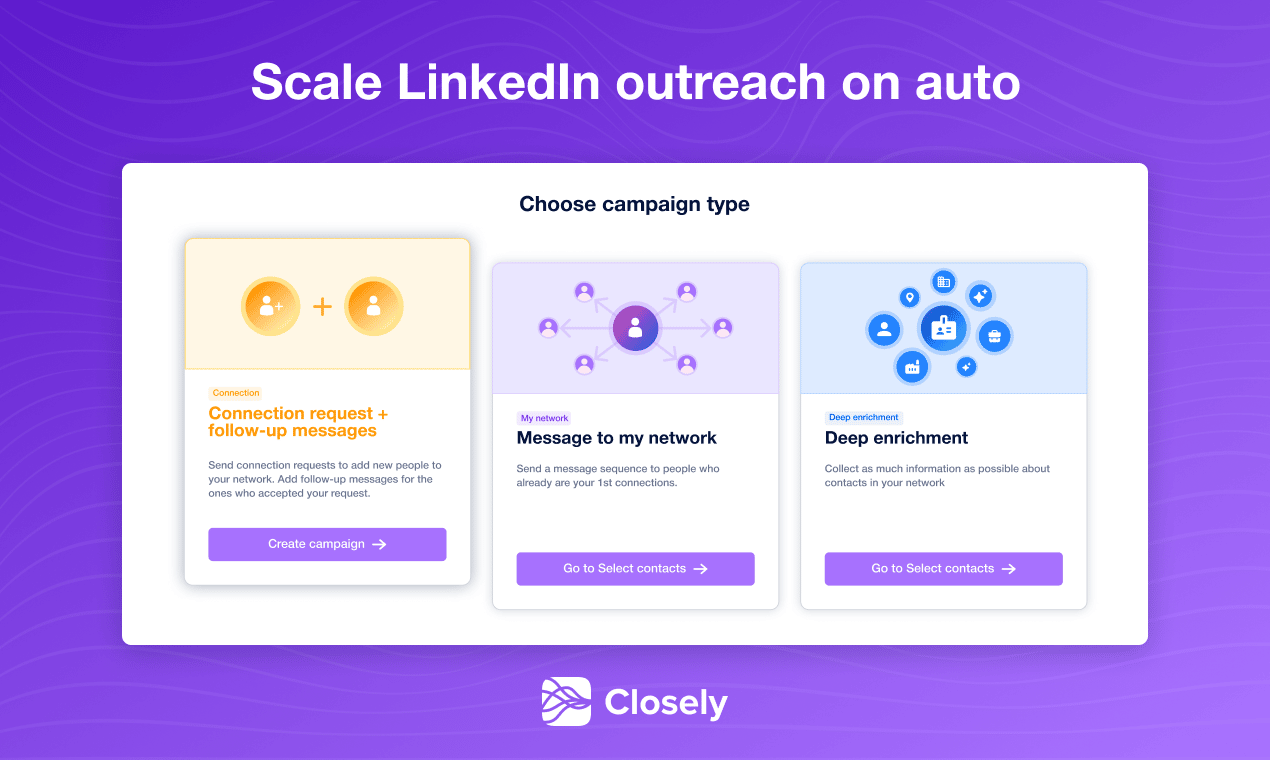 Closely allows you to manage multiple accounts in your LinkedIn network and to launch multiple campaigns simultaneously on each account: you can create a real war machine to develop your network.
Closely also integrates some reporting features. Indeed, the campaign creation page gives some figures on the performance of the campaign.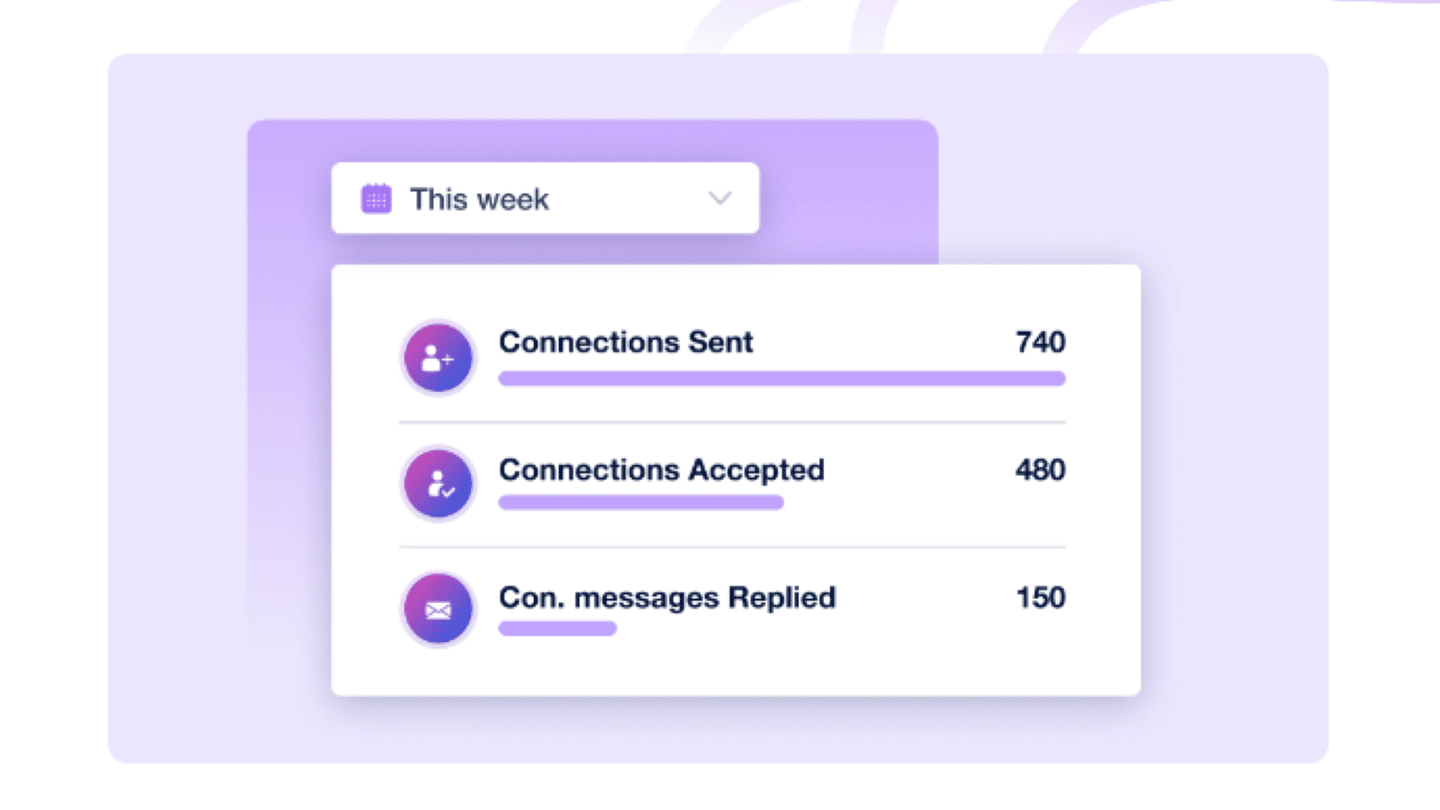 Discover Closely for free
Discover all the Closely features for free! As a bonus, you can get one month with all the sales automation features using the code Salesdorado for only $1.
Reader Interactions