Let's be honest, if you're out there, it's because you don't just have recent and/or opt-in email lists. As a direct consequence, your deliverability/bounce rate exceeds 1%, at the risk of damaging your IP/sender domain reputation.
If you want your emails to reach the inbox, email list cleaning tools are probably your best bet. In order to maintain good deliverability, you need to keep your bounce rate low and do everything possible to avoid trap addresses.
Once your sending domain/IP has been identified as "dangerous" or "spammy" by ISPs(google, hotmail, etc.), it is extremely complicated to improve your reputation. Let's say you are convinced and want to clean up your email list: which tool should you choose?
There are many email list cleaning tools. I found more than thirty of them during my benchmark. It's not easy to compare them all as they all work in a similar way, but some are clearly ahead of the competition.
Let's say we want to check if "[email protected]" is a correct email address. The tools all work in much the same way:
1. They will start by checking whether the basic syntax is correct
2. Next, they will check whether "@dupont.com" has a valid MX record, which is the same as checking whether the sending domain is set up to accept emails.
3. Finally, they will send an SMTP request (which works almost like an email) to verify that

[email protected]

exists, which seems to be the trickiest part.
4. Only some tools(Zerobounce in particular) work with partners who send a lot of email (ESPs in particular) to let you know if

[email protected]

has opened or clicked on an email recently.
On the user side, it's pretty simple. I upload my CSV, wait for my list to be processed (this is usually a few minutes process, depending on the size of your list) and download the results.
#1 MailnJoy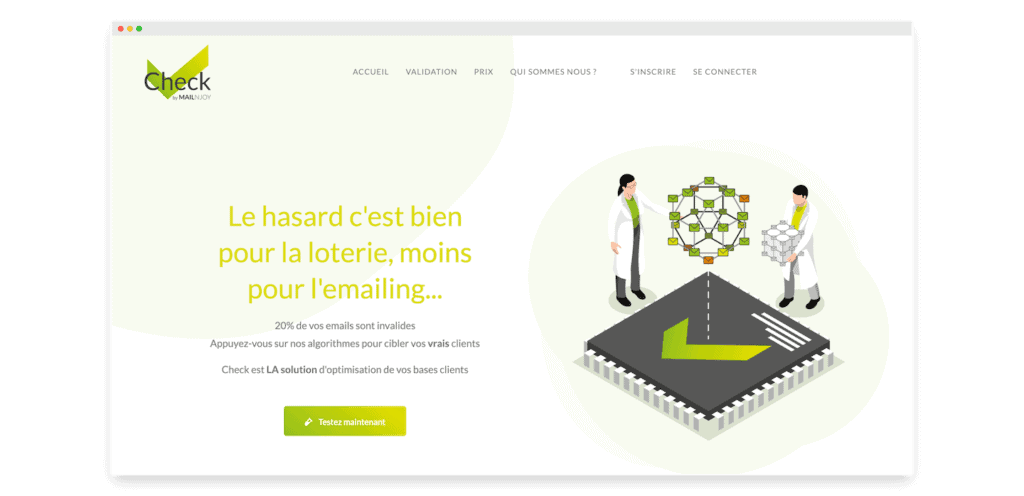 "Check" by MailnJoy is a 100% made in France product, and they offer a very high quality service at very attractive prices.
Their data centres are ISO 27001 certified, the data processing is RGPD compliant, and the validation methods go quite far:
Detection of disposable emails, spam-traps and catch-alls
Detection of aliases
Identification of free or professional hosts
Detection of blacklisted emails or emails appearing in data leaks
Detection of new or suspect domains
The tool allows you to process lists by CSV import or by API. The interface offers a very clear data visualisation of your files.
For those who are interested, MailnJoy then allows you to download a PDF with the results of the cleaning operation. This PDF can be customised as a "white label", which makes it very easy to resell a cleaning service based on their technology.
Features
Highly detailed and qualitative validation
100% Made in France 🇫🇷
Customised support available (in French!)
Awards
Free up to 200 emails
For 10k emails – €15
For 100k emails – €125
#2 Bouncer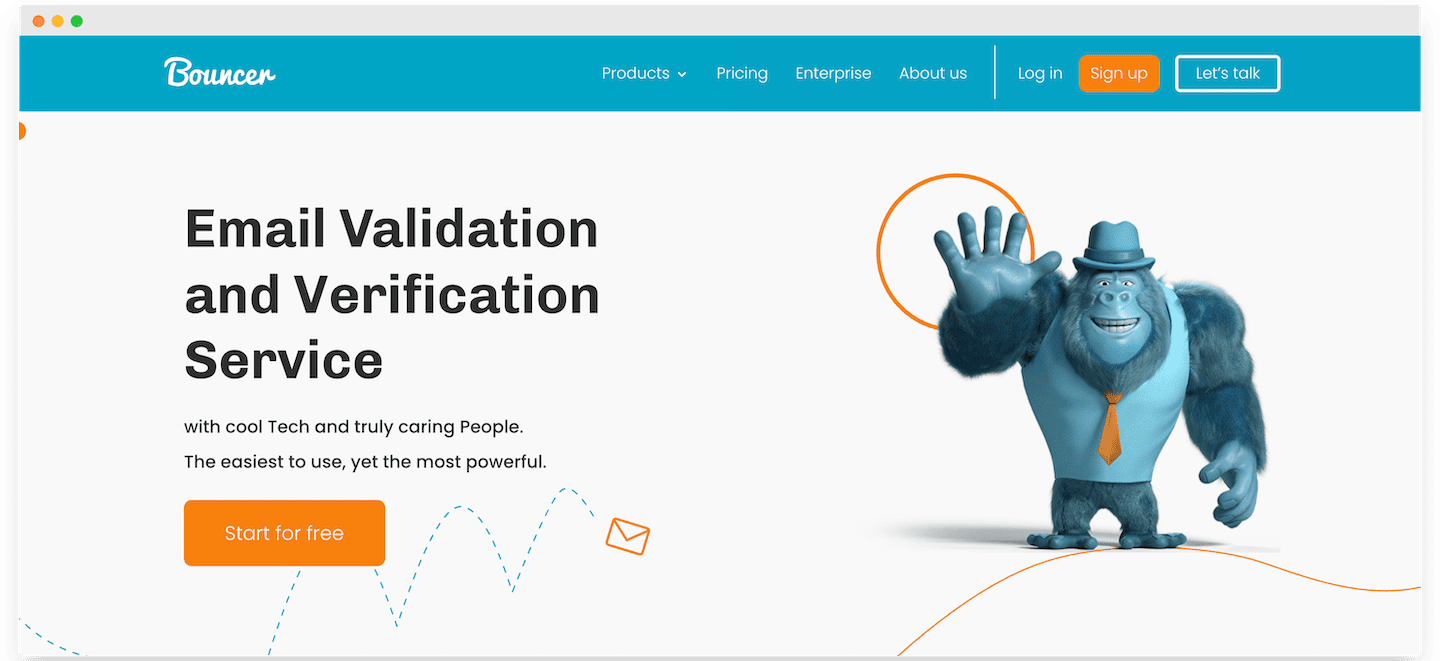 We really like bouncer because of the ease of use and the quality of the validation they offer. It's by far the least dusty email validation interface, and validating a single email is super simple to access.
The validation data is very detailed, without drowning us in the technicalities of email deliverability.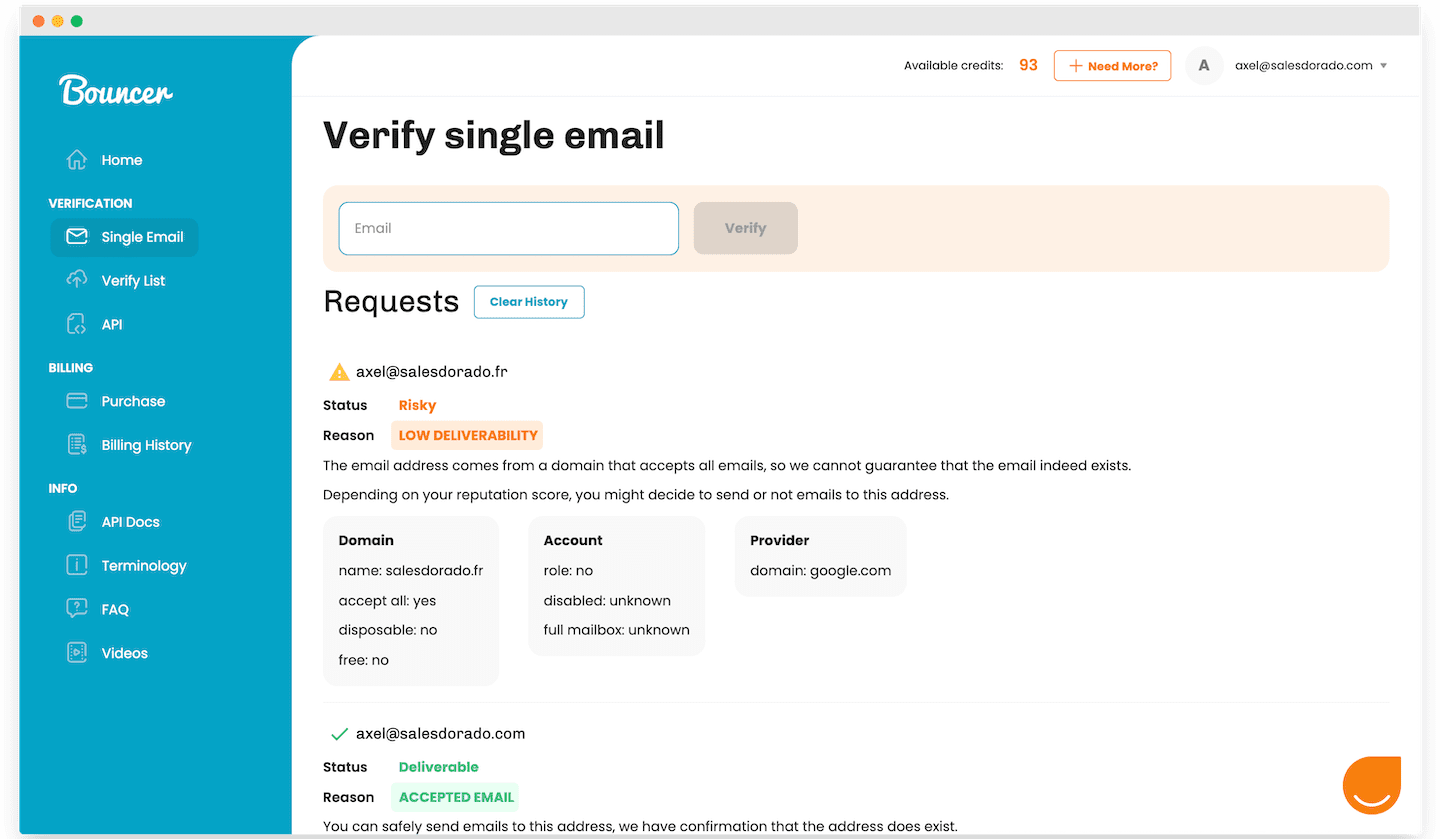 Importantly, all data is stored in the EU, and your email lists are anonymised on the Bouncer side upon import to strictly comply with the RGPD.
The tool works for both small and large requirements. CSVs of several tens of thousands of lines can be imported. Bouncer also offers integrations with almost all cold mailing software and newsletter tools.
Last but not least: The API is robust, well documented, and very easy to implement.
In terms of price, it is one of the cheapest tools on the market.
Features
Details of the analysis results for each email address
Risk score to help you make the right decisions in case of uncertainty
The email validation tool with the best integrations
Rates
100 free credits
For 10,000 emails – $30 in credits, or $20 in subscription (monthly)
For 100,000 emails – $200 in credits or $170 in subscription (monthly)
Try Bouncer with 100 free credits
Bouncer offers 100 credits for free with no time limit
#3 Zerobounce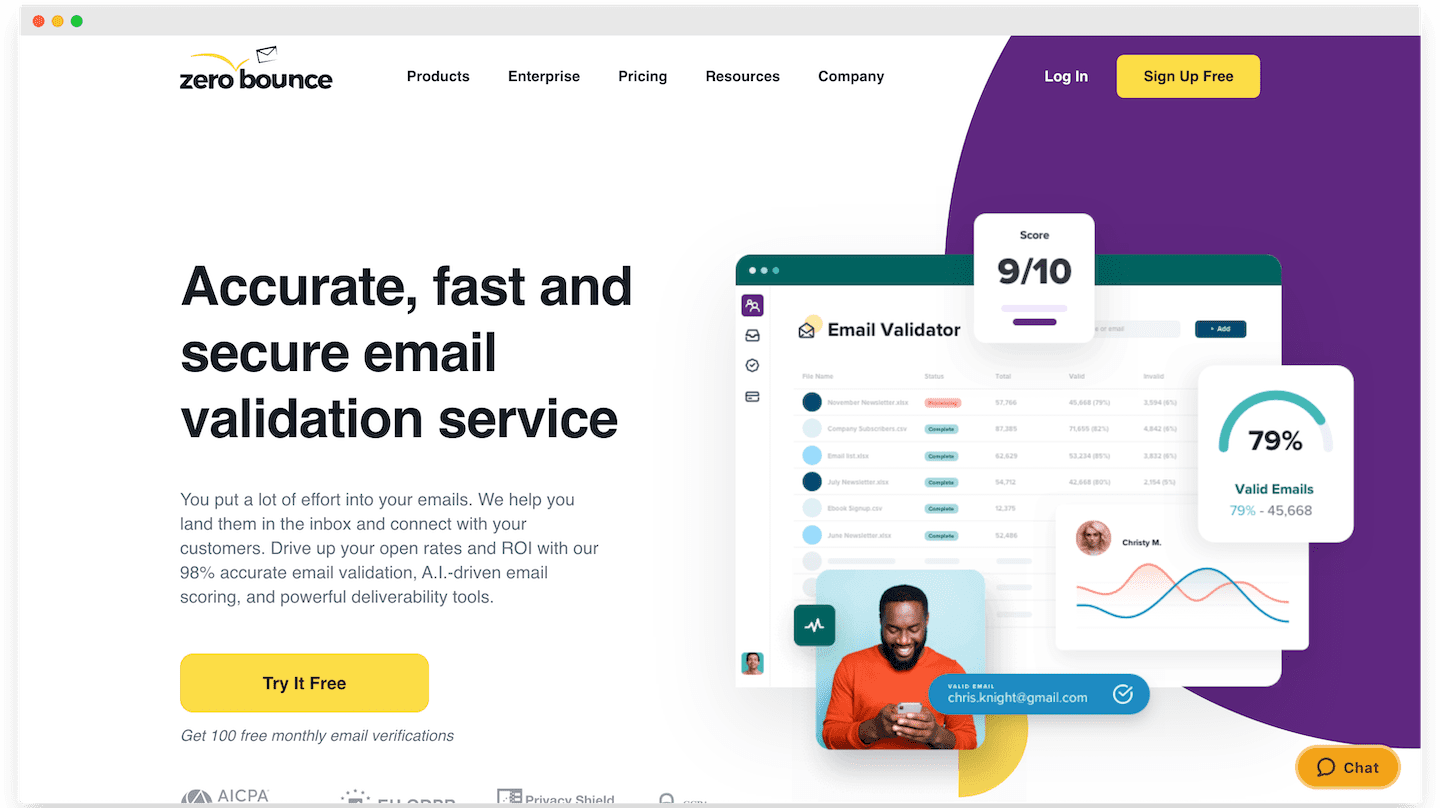 Zerobounce is certainly one of the best email cleaning tools. There are several reasons for this.
First, Zerobounce not only tells you if the email is valid or not, it also gives you an activity score for each email address (it seems they have partnered with marketing professionals who send a lot of emails…). This behavioural data is key when you want to work on a list of inactive email addresses.
The second reason why I consider DataValidation to be the best tool is the functional depth. The tool goes much further than just validating emails, and allows you to track your domain and detect if you appear on a blacklist, test your email campaigns before sending,
The third reason is the reputation and team at ZeroBounce. They are true professionals in email deliverability and work for some of the largest ESPs in the world helping them to score email lists downloaded by their own users.
Of course, this quality and professionalism comes at a price, but Zero bounce is still one of the cheapest email list cleaners in this comparison.
Last but not least, the Zerobounce API is able to handle large volumes of requests and files (we have had feedback on this from an ESP) and is, of course, well documented.
Features
Cleaning and behavioural data provided
Detailed results for the list and email addresses
Loadable CSV, API and various ESP integrations
Awards
For 100 emails – Free
For 10,000 emails – $65
For 100,000 emails – $390
#4 Debounce.io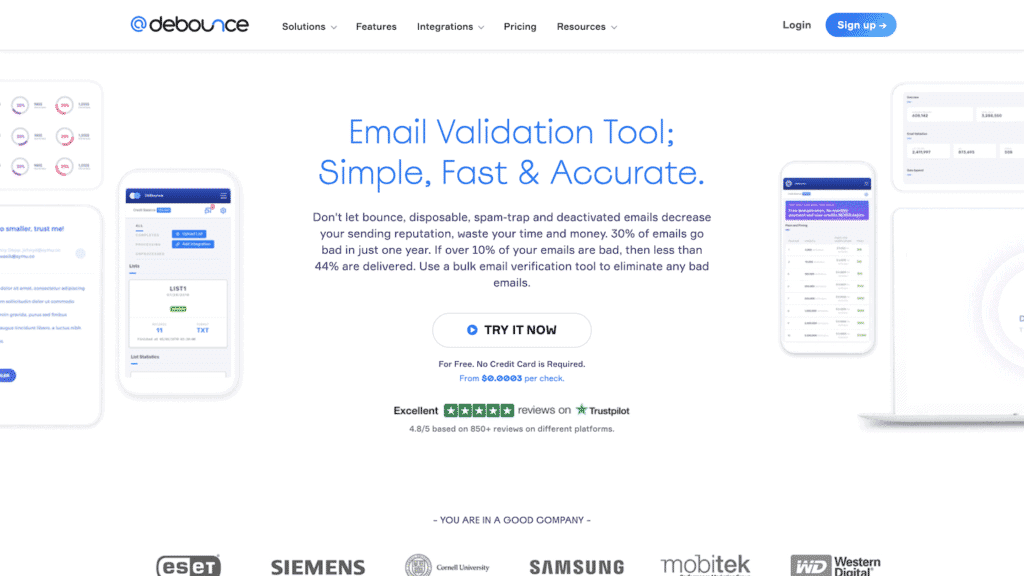 Debounce.io is an email list cleaning solution. We like it for its (many) integrations with theemailing software of the market. The tool actually integrates with over 100 solutions of all kinds:
Emailing tools
Cold mailing tools
Form editors
And even google spreadsheets
In terms of quality of checks, the tool uses just about every known method, and even identifies spam-traps (closed email addresses that ISPs keep in operation) quite well to detect spammers.
It is also one of the cheapest solutions on the market.
The API is well done and well documented, but we especially appreciate the validation of email addresses directly in the form, thanks to their integration with the landing page & form editing tools.
Features
Classic cleaning tool with detailed results
Very many good integrations
Real-time address validation module for your forms
Awards
100 free credits
For 10K emails – $15
For 100K emails – $90
#5 EmailListVerify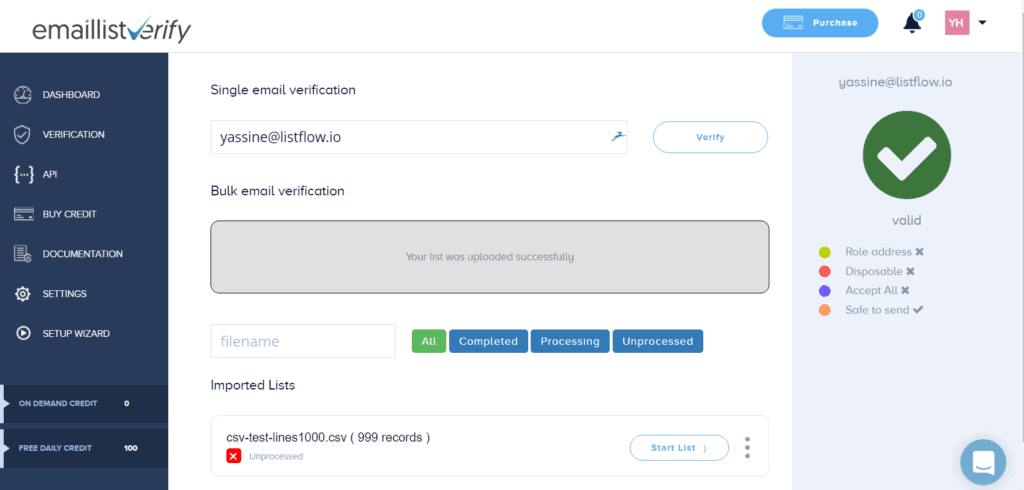 EmaiListVerify has quickly become one of the leading email list cleaning tools, and not just because the name is suggestive.
Launched in 2003 by a Hong Kong-based company, they have built a powerful cleansing tool that includes some "original" steps such as semantic risk scoring or a "complainers database matching" to eliminate email addresses.
Like most of its competitors, EmaiListVerify allows users to upload their email list in CSV format, use their API directly and connect to a Mailchimp account, which is a bit more original. The API is basic but quite well documented. Last but not least, the price is very competitive, which is a big part of their success.
Features
Classic cleaning tool with detailed results
CSV loadable, API or Malichimp connection
API available in PHP, Python, NodeJS, etc.
Awards
Free up to 100 emails
For 10k emails – €22
For 100k emails – €159
#6 Bounceless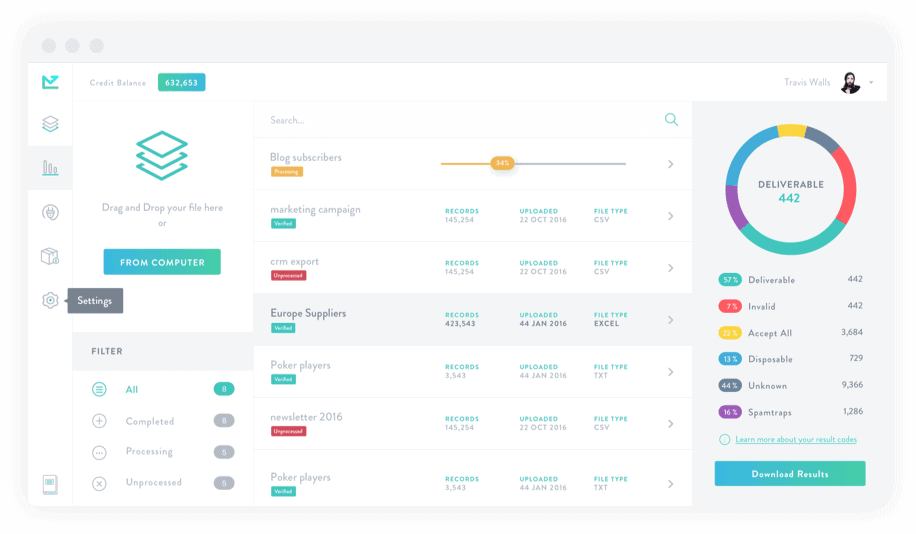 Launched in 2015 by a Californian start-up, Bounceless is one of the new players in email cleaning. Bounceless offers a classic yet powerful email cleaning tool, from syntax checking to SMTP queries. You can either upload your email list from the user interface, or use the API. We haven't tested it, but the documentation is pretty light… Bounceless differentiates itself from other tools with a very nice user interface and Mailchimp integration. Bounceless is also competitively priced, but is far from being the cheapest.
Features
Checking syntax, DNS and messaging
Loadable CSV or API
Up to 500k emails in one CSV download
Awards
Free up to 100 checks
For 10k emails – €46
For 100k emails – €250
#7 Email Hippo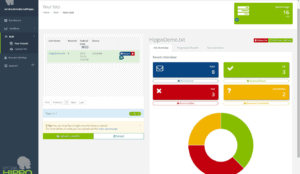 Launched in 2005, Email Hippo is a very fast, reliable and popular email cleaning tool. Like most other tools, it can clean up your email lists by detecting invalid or non-operational ones, improve deliverability and eliminate soft and hard bounces. The advantage of Email Hippo is that they are ISO27001 certified, which is a significant security measure. They are also able to process large volumes of data (over 40 million email addresses per month) which is very useful, especially when you are working with large companies. Their API  is well supplied. For all these reasons, they have worked with several thousand customers and have good references. Email Hippo's prices are still quite high.
Features
Checking syntax, DNS and messaging
CSV loadable, API
Up to 500k emails in one CSV download
Awards
Free up to 100 emails
For 10k emails – €77
For 100k emails – €366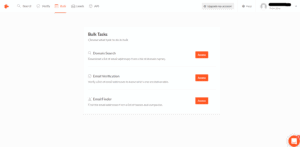 Email Hunter hunts down email addresses for you. With their cleaning tool, you can not only check if the email address is correct or not, but you can also find any email address from the site you are visiting or from the profile of a LinkedIn contact.
Email Hunter is known for its power and simplicity. For example, they offer a plug-in on Google Chrome that allows you to find all the email addresses of the site you are visiting! A button will also appear on your LinkedIn interface to quickly find the email address of a profile. This extension, moreover, is free. On the other hand, the quality of the data is not really there…
You can either upload your email list from your user interface, or use their API directly, which by the way is quite well documented. Email Hunter has a fairly high price tag.
Features
Checking syntax, DNS and messaging
CSV loadable, API
Free Google Chrome extension available
Awards
Free up to 150 checks
For 5k emails – €79
For 50k emails – €319
#9 Neverbounce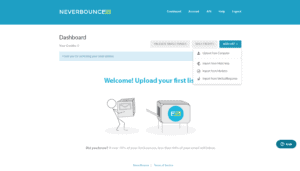 Based in Cleveland, Ohio, Neverbounce is a reliable and easy-to-use email list cleaning tool. It just so happens that it is possible to perform a real time verification thanks to their validation service. Their main advantage is their speed of execution which is one of the highest on the market: they are able to verify 10,000 email addresses in less than 10 minutes and 100,000 addresses in only 45 minutes. The way they work is fairly standard, although in Neverbounce's case it is broken down and structured into 12 clearly defined steps, from accessing basic results on email addresses (which ones are valid, invalid, unknown, etc.) to MX or domain name validation, to a de-duplication process, etc. Their API remains fairly standard and well documented. Neverbounce's prices are also quite high.
Features
Checking syntax, DNS and messaging
CSV loadable, API
Detailed results for the list and email addresses
Awards
Free up to 1000 monthly checks through their API
For 10k emails – €47
For 100k emails – €376
#10 XVerify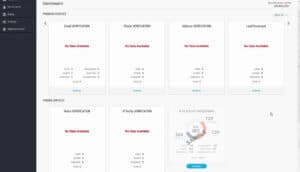 XVerify is a tool that allows you to verify email addresses, phone numbers and postal addresses. It is therefore a very complete tool with the ability to verify email processing in real time. Please note that postal address verification is only available if you live in the US or Canada. XVerify offers a hybrid approach combining both data verification and the deployment of tools to keep your data clean. In addition to the standard email list cleaning process, XVerify has built a database of risky email addresses to remove them from your list and avoid addresses that are a risk to your deliverability. Their API is quite complete.
Features
Data verification system and tools in place to keep them clean
CSV loadable, API
Ability to simply drag your files from your desktop into their web tool
Awards
No installation costs
For 10k checks (email, phone, addresses) – €94
For 100k checks (email, phone, addresses) – €941
#11 Verifalia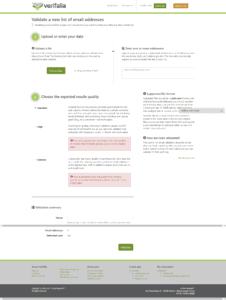 Verifalia is an email address validation service developed and regularly updated by Cobisi, an Italian software development tool provider founded in 2005. This company is known for being one of the pioneers in the field of software development through various industries (Microsft, Renault,…). Verifalia is a fairly comprehensive email address cleaning tool. Its strength lies in the fact that they have developed a web-based verification and validation service that allows you to download and verify lists of email addresses quite simply. All you have to do is upload your list, in one or more folders, and the tool will output which addresses are valid and which are not. It also gives you a fairly detailed report. If you want to learn more about this email cleaning tool, their API is quite well documented.
Features
Syntax, DNS and MX record check
CSV loadable, API
An HTTPS-based RESTful API hosted email cleansing solution
Awards
Free up to 125 checks per day
For 10k emails – €57
For 100k emails – €339
#12 Kickbox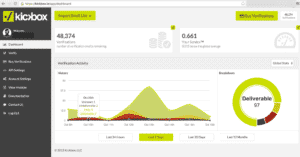 Kickbox is the latest email cleaning tool on our list. Based in Dallas, Texas, it is one of the leading tools in the industry, but also one of the oldest (it has been around for almost 10 years). This tool is capable of verifying and validating millions of email addresses per day. It allows you to quickly separate risky addresses from quality ones, thus protecting your reputation. Indeed, Kickbox has developed a scoring method called Sendex which can be very useful. In addition, Kickbox has also developed a "Recipient Authentication" which confirms to the user that the email address they want to check really exists, preventing it from being sent to fake email addresses and protecting their reputation, and all this for free! Last but not least, Kickbox also offers a proportional refund if you are not satisfied with their services. Their API is well documented. When you use Kikcbox, you get what you pay for. Quality comes at a price: their prices are quite high.
Features
Checking syntax, DNS and messaging
Loadable CSV, API and various ESP integrations
API available in PHP, Python, NodeJS, etc.
Awards
Free up to 100 checks
For 10k emails – $70
For 100k emails – $400