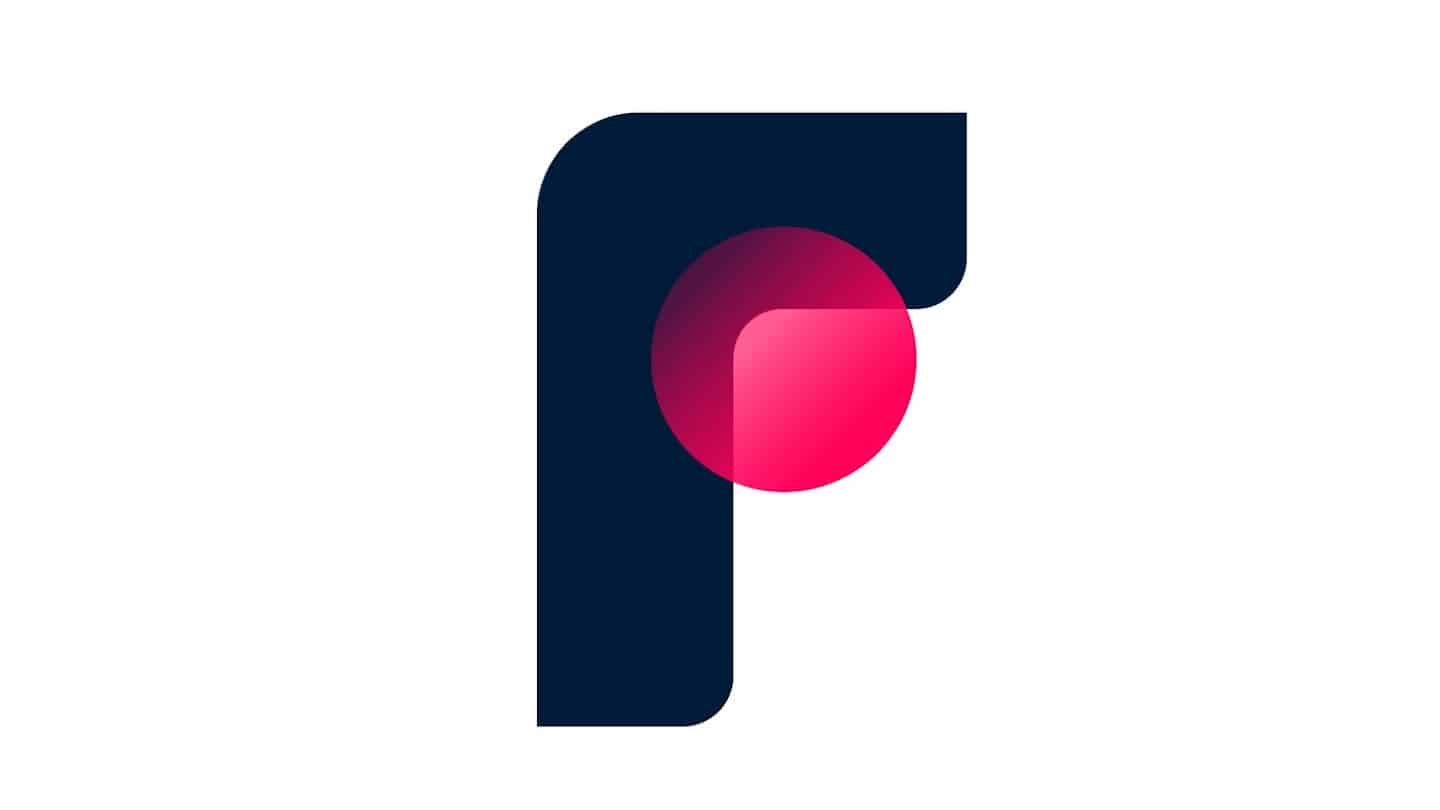 Amongst customer support software, FrontApp is the ideal platform for small organisations with exclusively text-based support who are looking for an easy-to-use and simple to install solution.
French software that arrived in 2014, it has quickly made a place for itself on the market with great references among its clients such as MailChimp, Posthaven or KISSmetrics.
Front facilitates your internal dialogues around external communication, without the customer noticing. It does everything you would expect from a customer support software: support ticket management, internal communication, automation, various integrations, developed helpdesk.
This is the best way to boost your performance and improve your customer satisfaction rates.
Pricing, features, customer reviews: we detail the features of FrontApp in this article!
Discover FrontApp
Discover the features of FrontApp with their demo video!
Our opinion on FrontApp
Criterion
Note Salesdorado
Comment
Overall score
Simple to install and intuitive to use, it is quickly adopted by support teams. There is no free trial, but a 30-minute demo video should familiarise you with the tool.
Functional scope
All the features are there (support ticket management, internal communication, various integrations, developed helpdesk). But automation is limited and incoming phone calls are not supported.
Reporting
The reporting is intuitive and quite extensive. But it is not available for the Starter plan, and only to a limited extent for the Prime plan.
Accompaniment/Support
A helpdesk that can be reached by email or by chat from the Prime plan. The helpdesk platform is clear, and the Q&A on each article allows users to help each other.
Integrations
A very extensive catalogue of integrations (project management software, communication, CRM, channels, etc.), even if the VOIP or CRM type integrations are only available from the Prime plan. Gmail integration is a real strength of the solution.
Value for money
The prices of the plans are in the middle range: it is neither too cheap nor too expensive. But in relation to the range of features, it is not the best value for money on the market.
The advantages & disadvantages of FrontApp at a glance
Benefits
The software is easy to access for teams unfamiliar with this type of tool. We appreciate its modern, sober and efficient interface.
More intuitive than some heavyweights on the market (Zendesk, Freshdesk), you save a lot of time in training and onboarding new recruits. Overall, you facilitate adoption by your teams.
It can be customised to suit your needs. With the API, you can create the customer management software you want that allows your teams to be the best they can be. And thanks to their extensive catalogue of integrations, you don't need to be a professional developer to do it.
Disadvantages
It lacks some advanced features (advanced automation like Zendesk's Answer Bot), and some shortcuts to gain speed. For larger structures, it can be a no-go.
It is regrettable that FrontApp does not offer management of the telephone channel. Even if the social network integration is efficient and effective, the lack of incoming call management can be a drawback for organisations that use this channel a lot.
Discover FrontApp
Discover the features of FrontApp with their demo video!
FrontApp: Functional scope
#1 Omnichannel management of all customer communications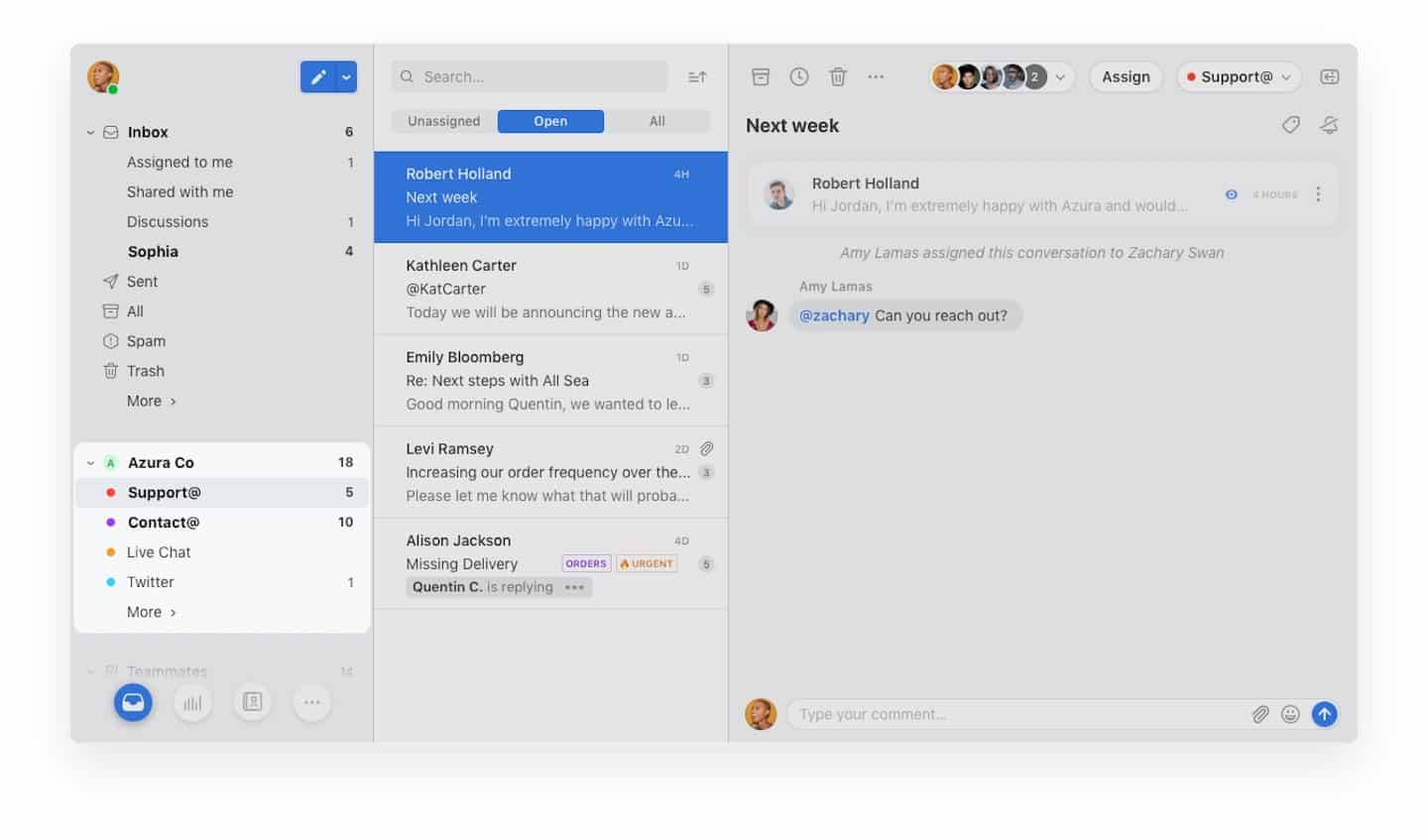 FrontApp allows users to generate support tickets via different channels: email, social networks (Facebook and Twitter) and chat applications (WhatsApp). Please note: Front does not have inbound call handling functionality.
All your customer communications are centralised: you save time and avoid oversights or duplications. Your teams can focus on solving the root causes of problems and meeting your customers' needs.
Some features we liked:
Standbyfunction: An option to activate to put your mailboxes to sleep when you are not available.
Acknowledgement function: A function similar to an acknowledgement of receipt, but which allows you to know in real time whether your reply email has been read by the customer.
#2 Collaboration tools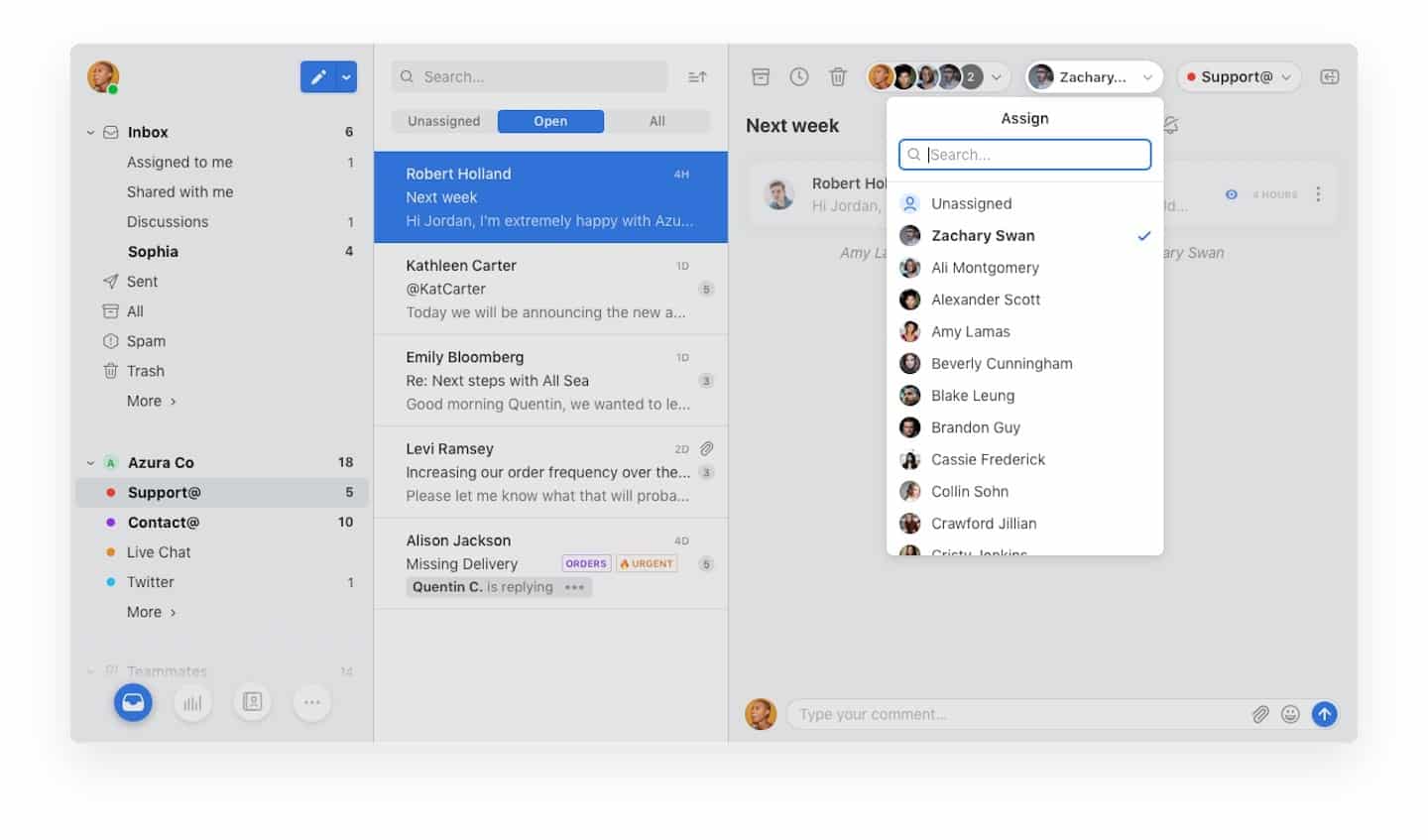 In addition to centralising your customer communications, FrontApp facilitates work within your teams. Under each discussion thread, a comment space allows your agents to exchange views in order to provide the best response to the problem raised.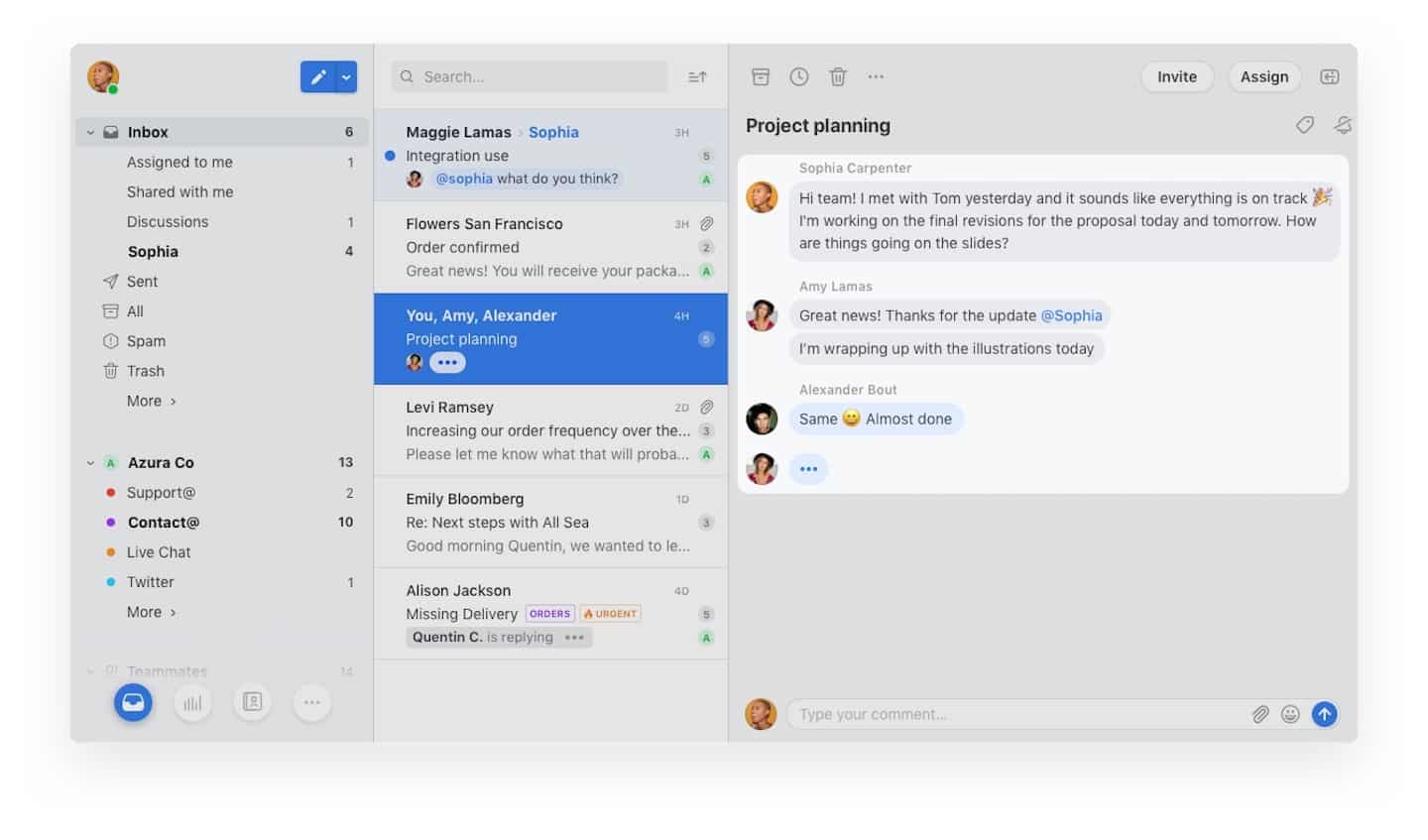 Distribute incoming emails within your team to increase efficiency:
When a support ticket is generated, you can assign it to a particular agent.
You can add a tag to put it in a category that you have predefined.
Each email received is moved to the inbox of the relevant team using drag-and-drop.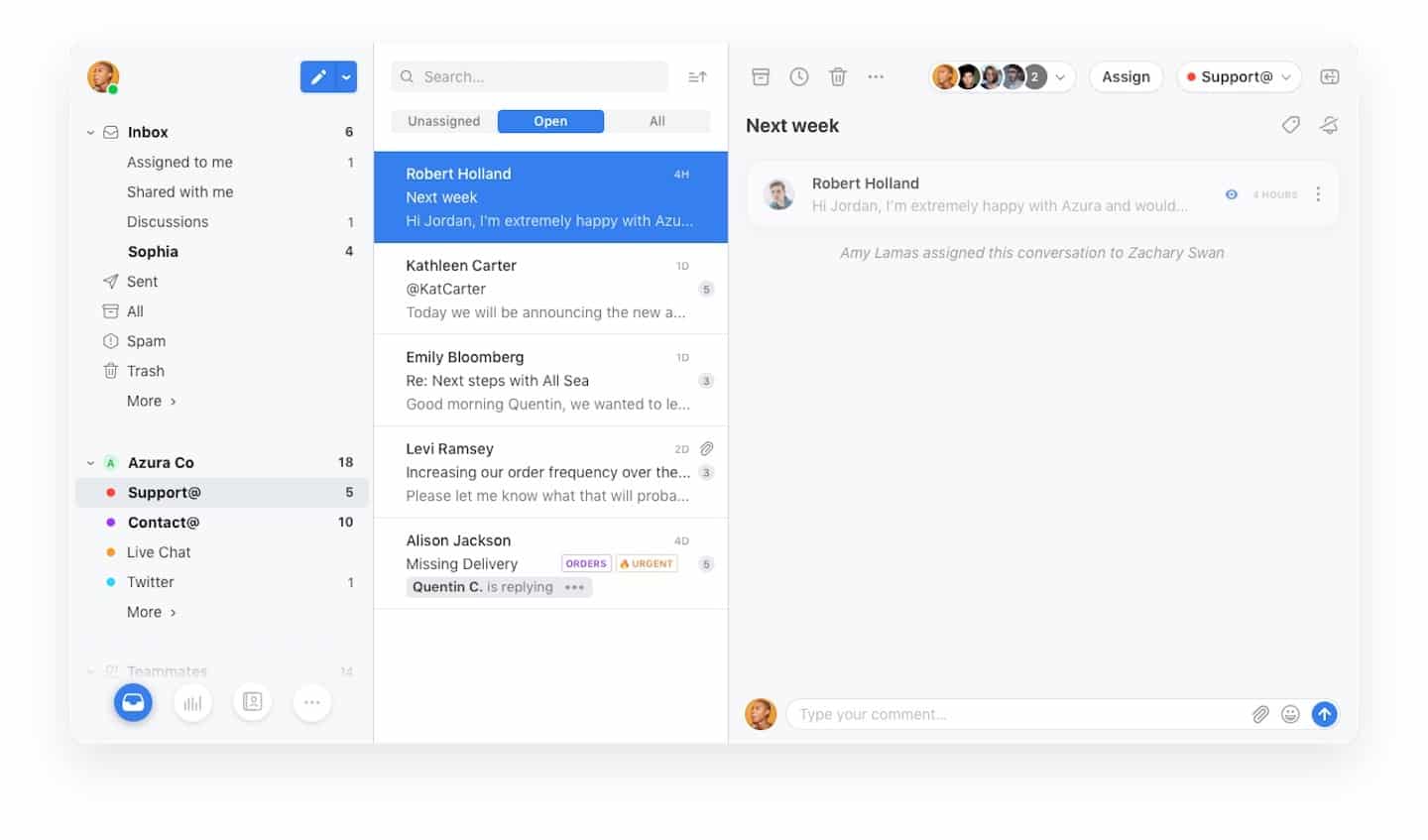 Our opinion
The plus: If an agent leaves your team, you reassign all their emails to another agent in one click. And when a new member arrives, he or she has immediate access to the entire history of customer communications and internal comments.
#3 Automation tools
Save even more time and efficiency with FrontApp's automation features:
Improve the assignment of emails by automatically generating them.
Define standard responses to the most common problems.
Automate the collection of customer information: save your staff this repetitive work and improve the management of your customer file.
Discover FrontApp
Discover the features of FrontApp with their demo video!
Reporting on Front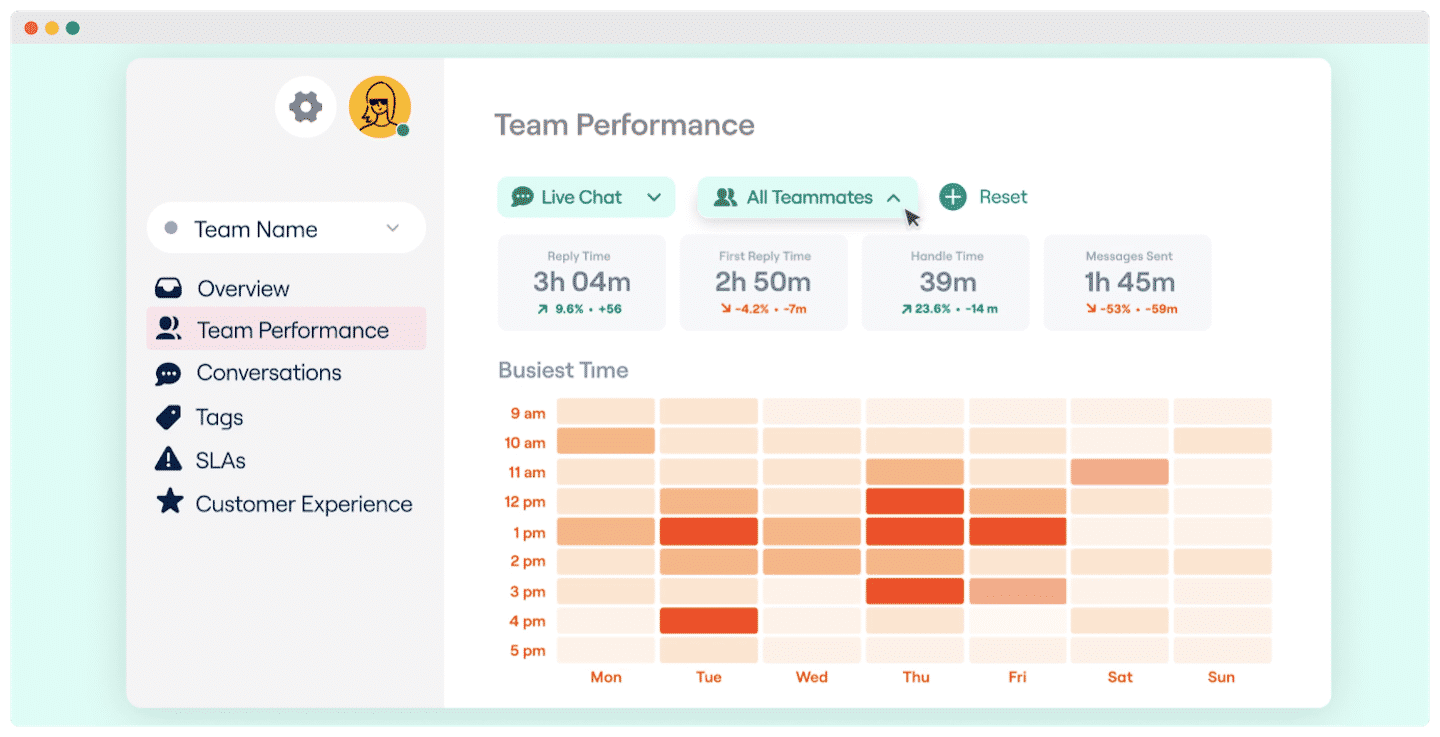 Front's reporting tool provides you with detailed analyses to improve your teams' work and your customers' satisfaction.
You can consult the analyses by category:
Customer experience: Check the satisfaction of your customers with detailed statistics based on their opinions.
Team performance and workload: How many emails you receive, who answers them and how long it takes on average.
Internal conversation statistics: Most discussed topics, participants and time to resolution.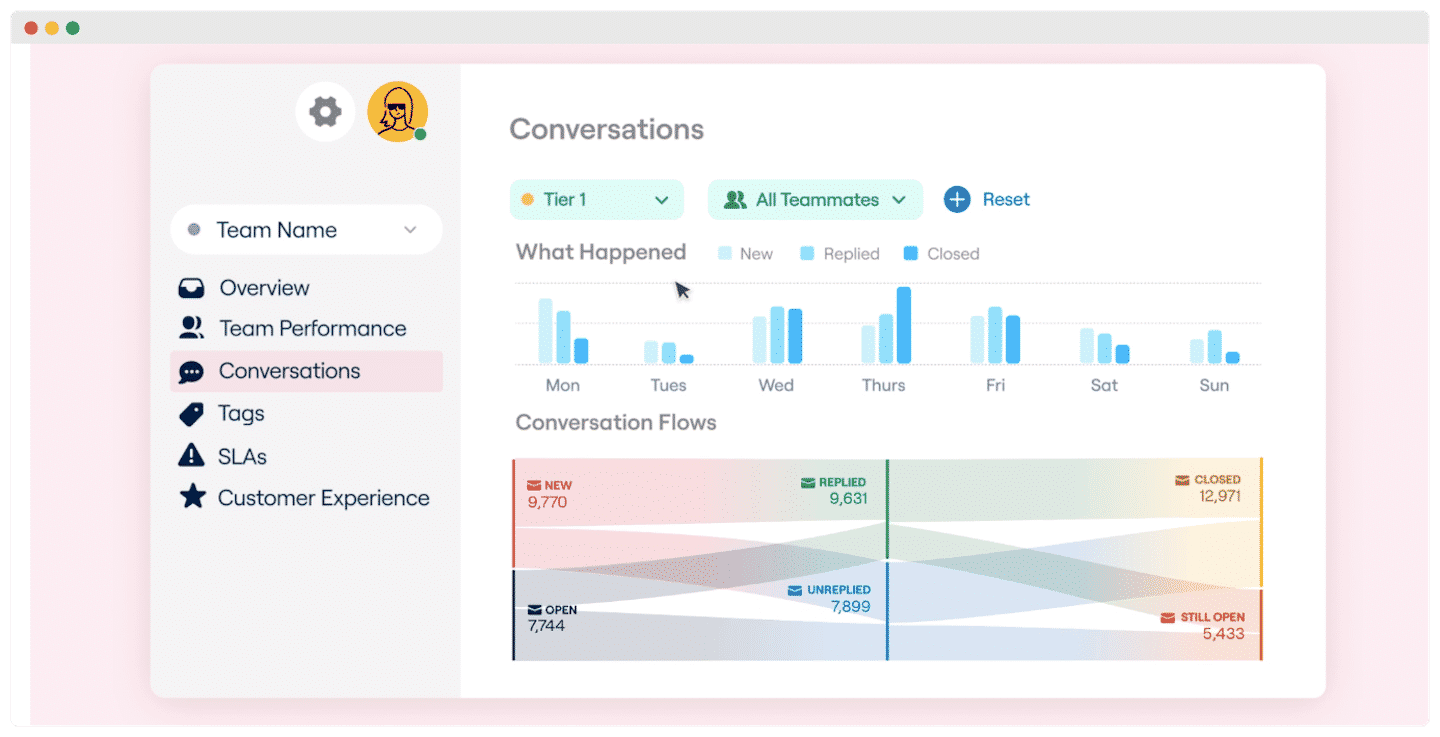 Attention
Reporting is only available from the Prime plan ($49/month per licence), and only with basic functionality. To have access to everything, you must subscribe to the Enterprise plan.
Discover FrontApp
Discover the features of FrontApp with their demo video!
FrontApp: customer reviews
Overall, customers are very satisfied with FrontApp's advanced features and ease of use, which improve both internal and external communication. Some regret that a few details (English language only, difficulty in synchronising with certain software) make the tool sometimes limited.
Discover FrontApp
Discover the features of FrontApp with their demo video!
Customer support at FrontApp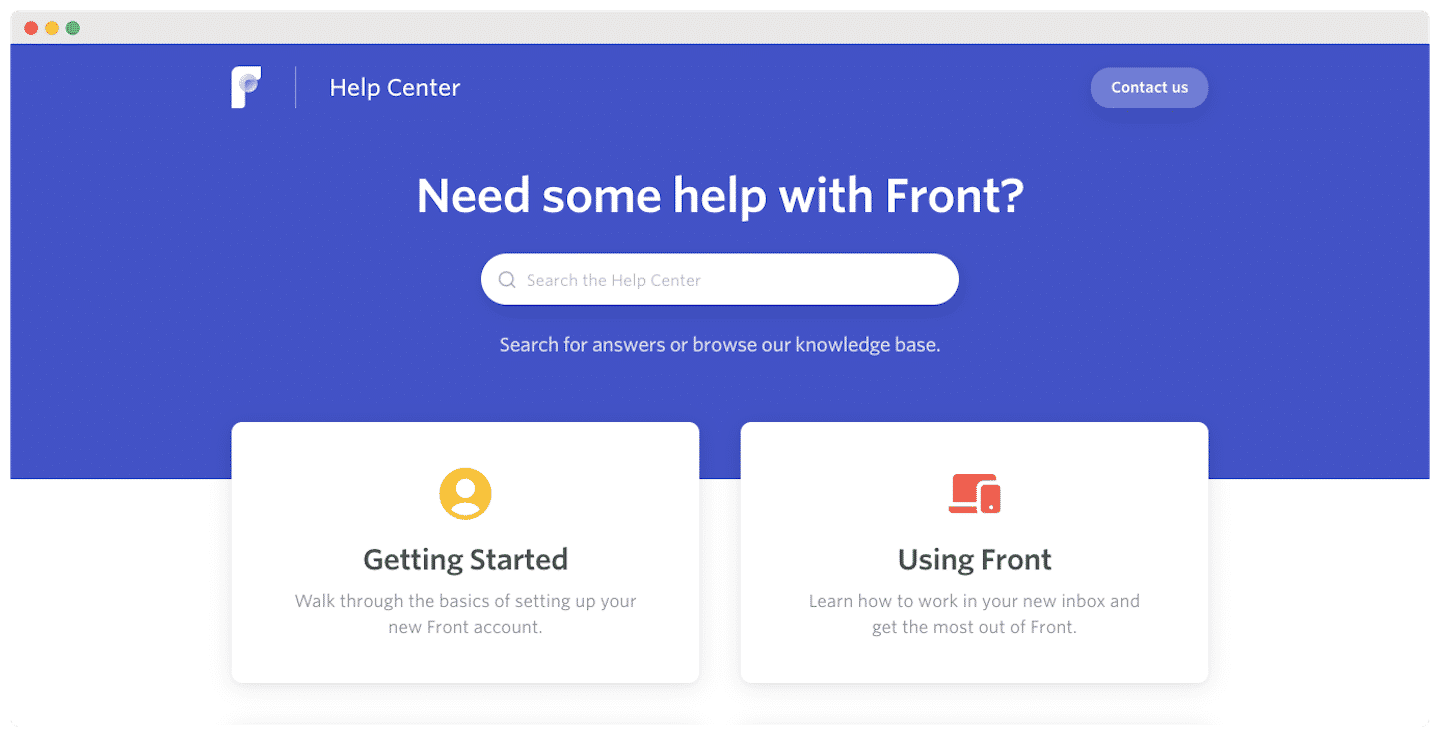 Front App's helpdesk is quite efficient. Their agents are available 24 hours a day, Monday to Friday, and provide a rapid response. We regret that the modes of communication remain limited: only via email for the first two plans, and via chat for the Enterprise plan.
The help centre is quite well supplied and clearly organised. It is appreciated that the support evolves with the degree of familiarity of the user: assistance to start with, help in case of software updates, then optimization of practices…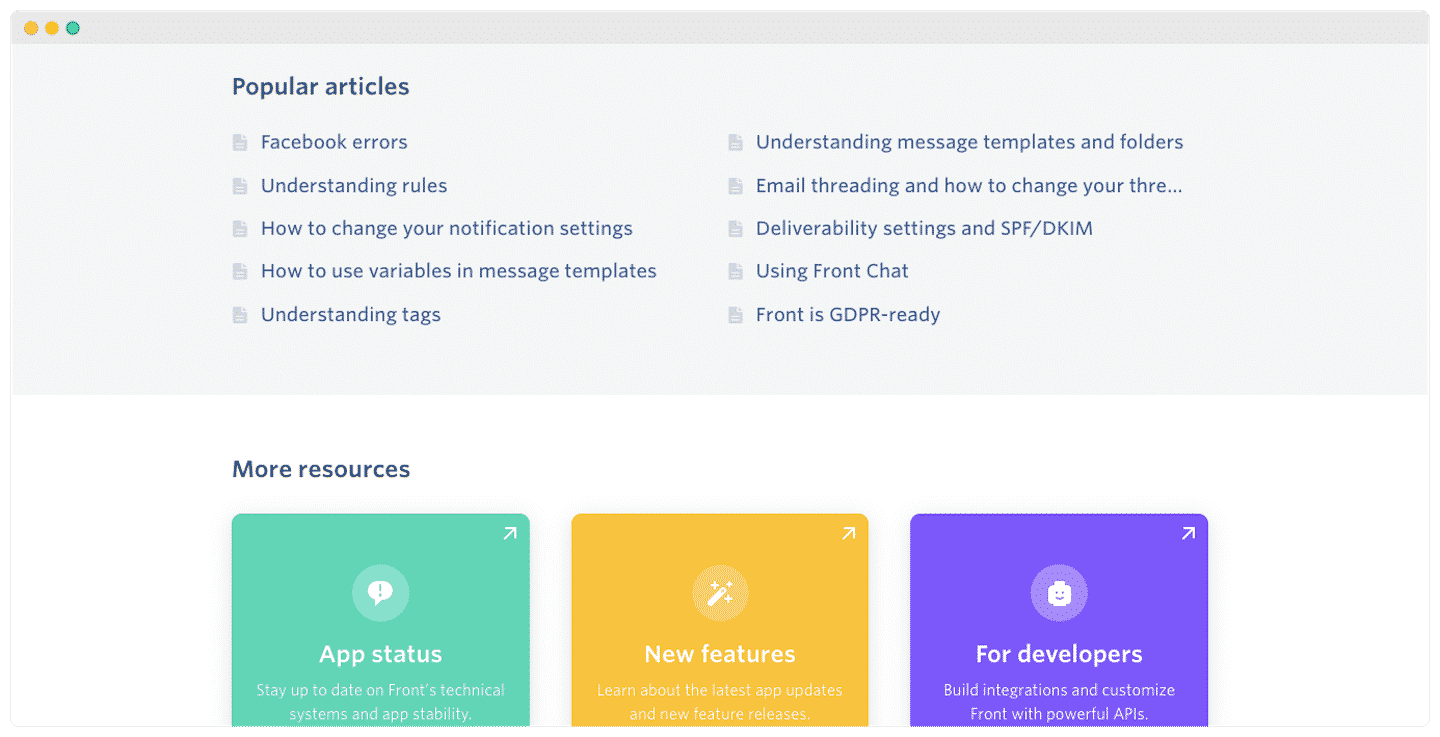 The FrontApp user community is well developed, as evidenced by the Q&A sections under their articleswith a lot of mutual help on the most common problems.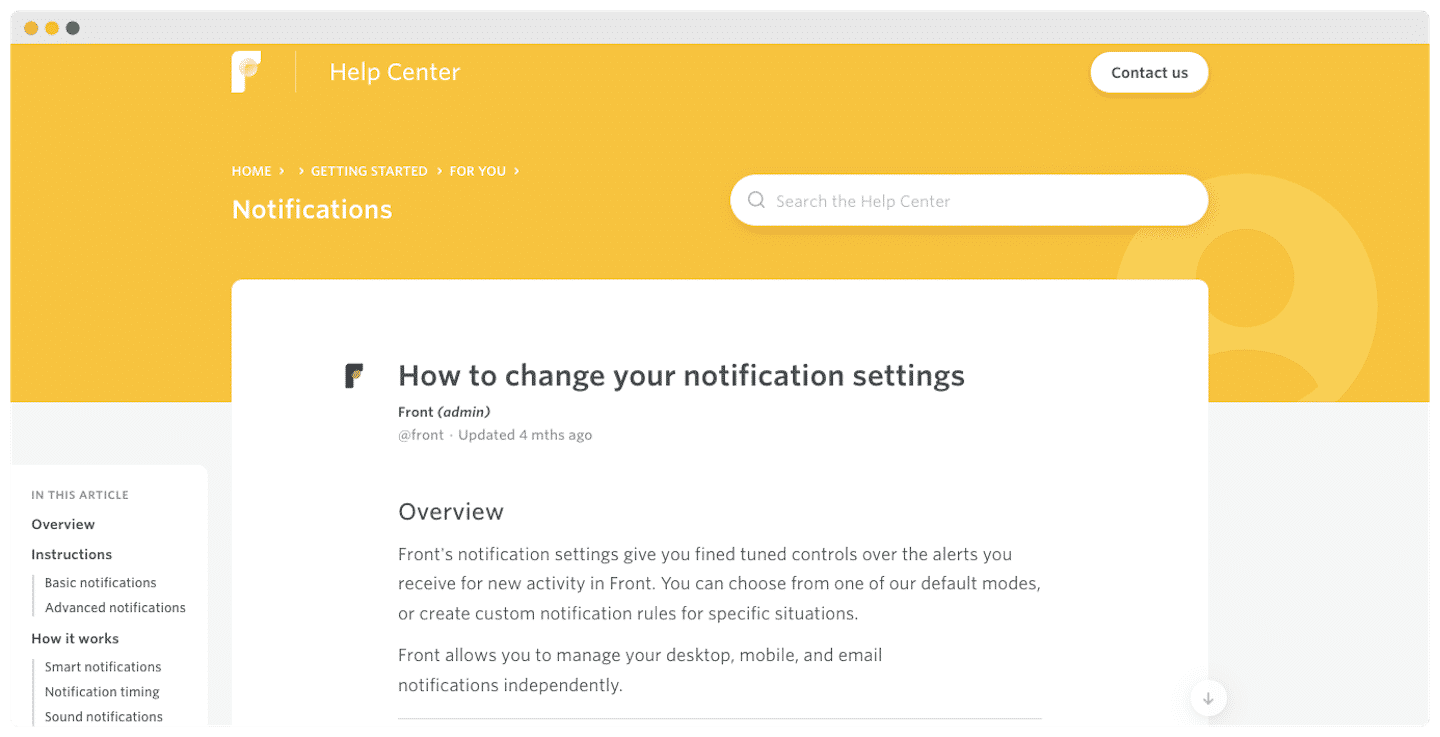 Discover FrontApp
Discover the features of FrontApp with their demo video!
Integrations at FrontApp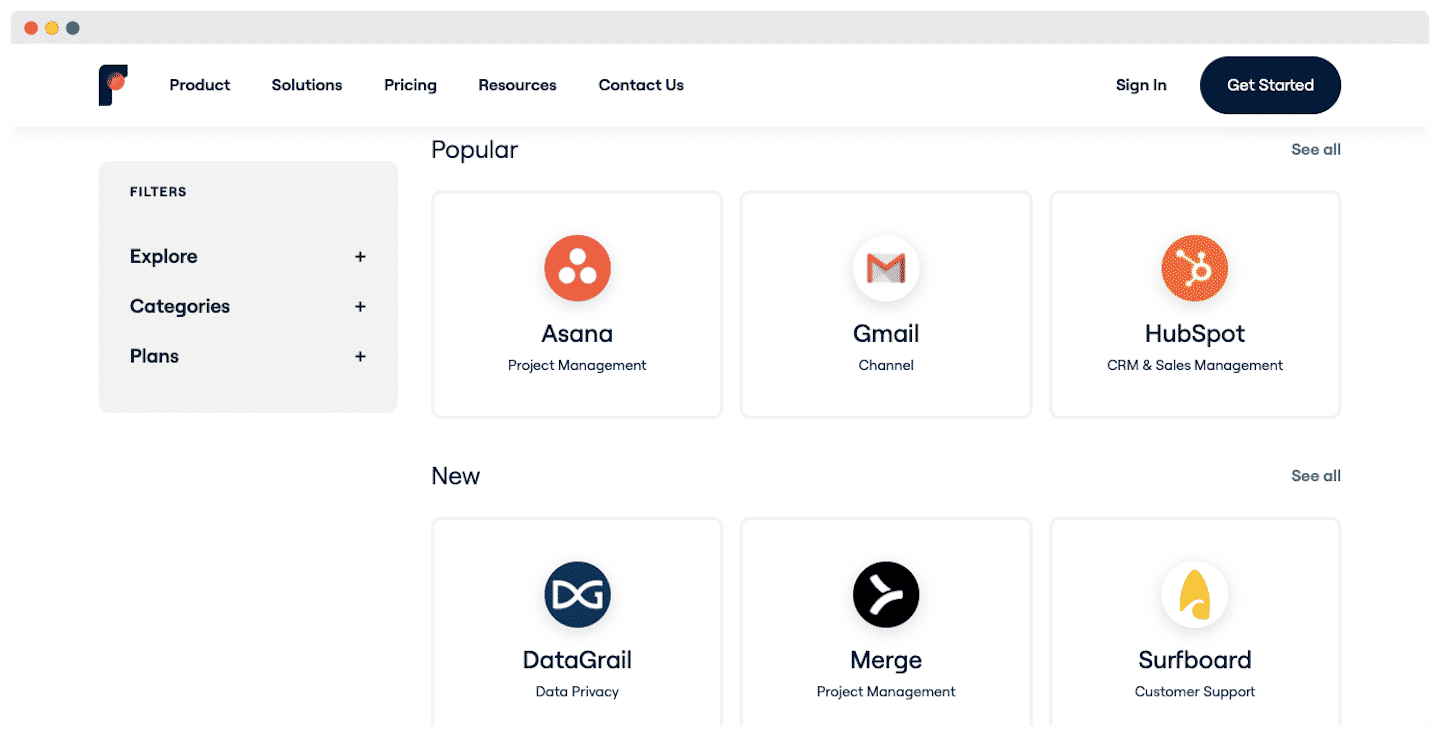 One of the strengths of FrontApp is its extensive catalogue of integrations, which allows you to customise the platform to the best of your ability and solve your most common problems.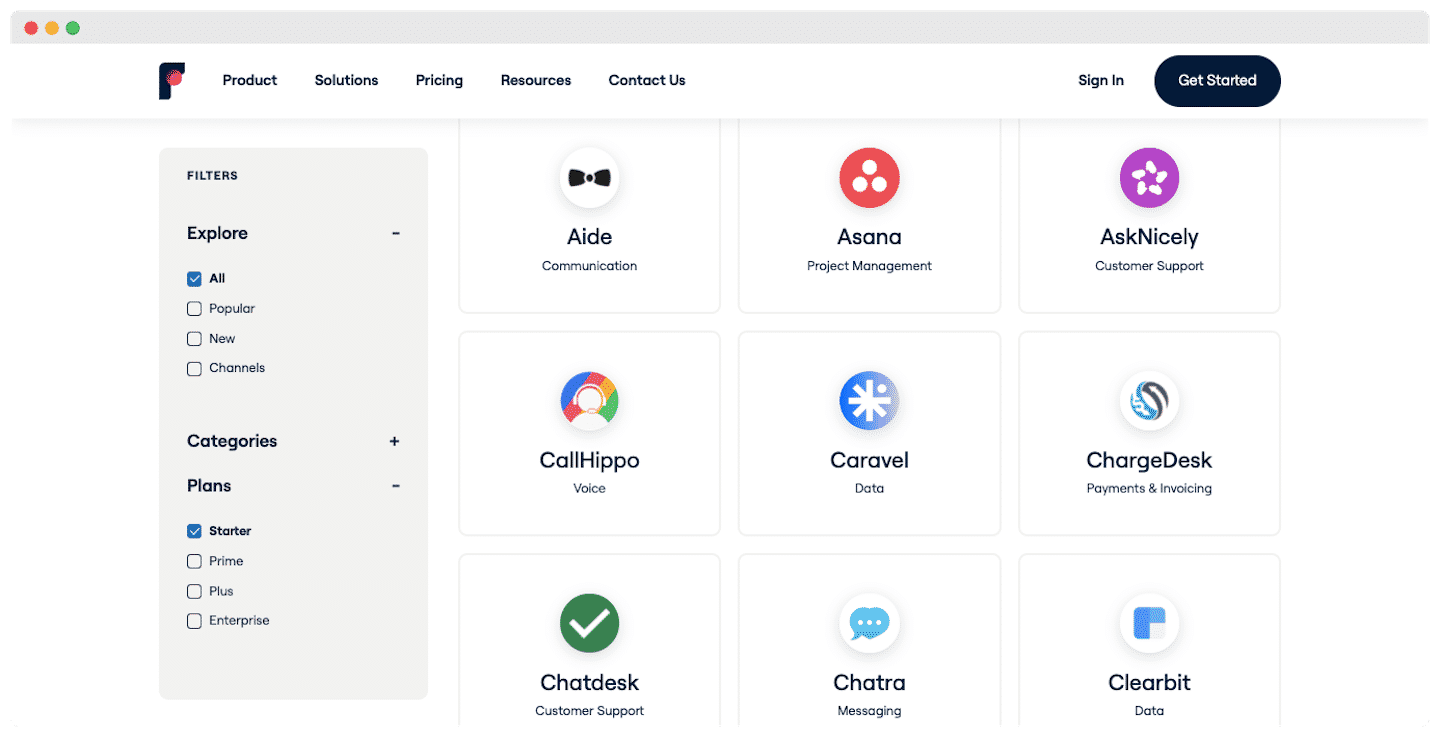 With the Starter plan, enjoy basic integrations (Facebook, Jira, Trello, Shopify). And with the Prime and Enterprise plans, you can access VOIP, Automation (Zapieretc.) and CRM (Salesforceetc.).
Some of the key integrations:
Channels (Facebook, Instagram, Gmail, Whatsapp): Respond instantly to your messages through automatic syncing with FrontApp.
CRM(Hubspot, Salesforce, Pipedrive): Update your contacts, transactions and activities in your CRM software directly from Front.
Project management software (Jira, Trello, Surfboard): Manage your projects without leaving your inbox.
Internal communication & collaboration (Slack, Zoom): From FrontApp, initiate video meetings with your colleagues.
L'intégration FrontApp < > Gmail / Gsuite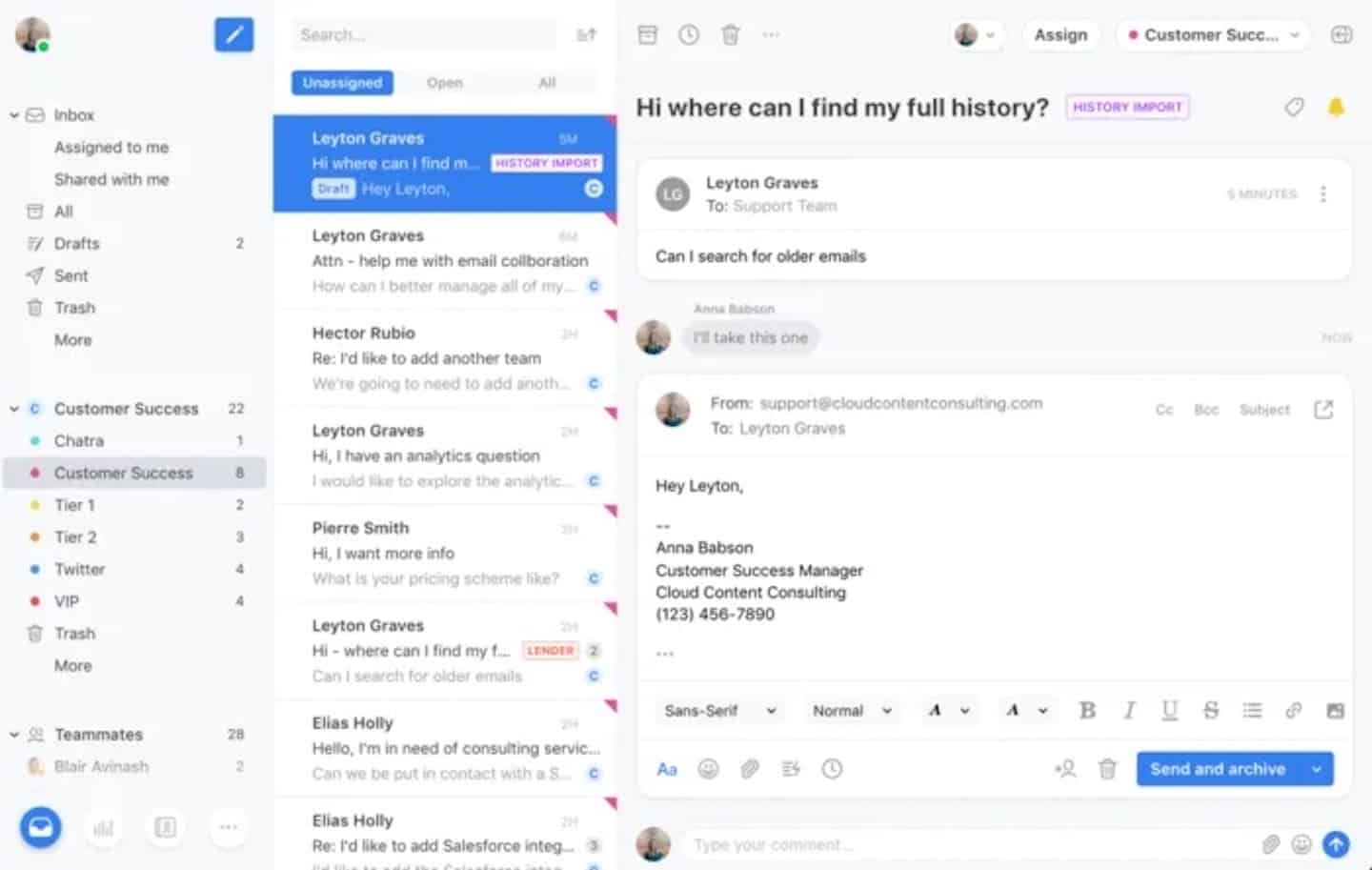 One of the most powerful integrations. You process your emails to answer faster and avoid duplicates:
Create Gmail channels in Front for instant, two-way email synchronization
Use specific email addresses, such as

[email protected]

or

[email protected]

, to create shared channels for your teams
L'intégration FrontApp < > Salesforce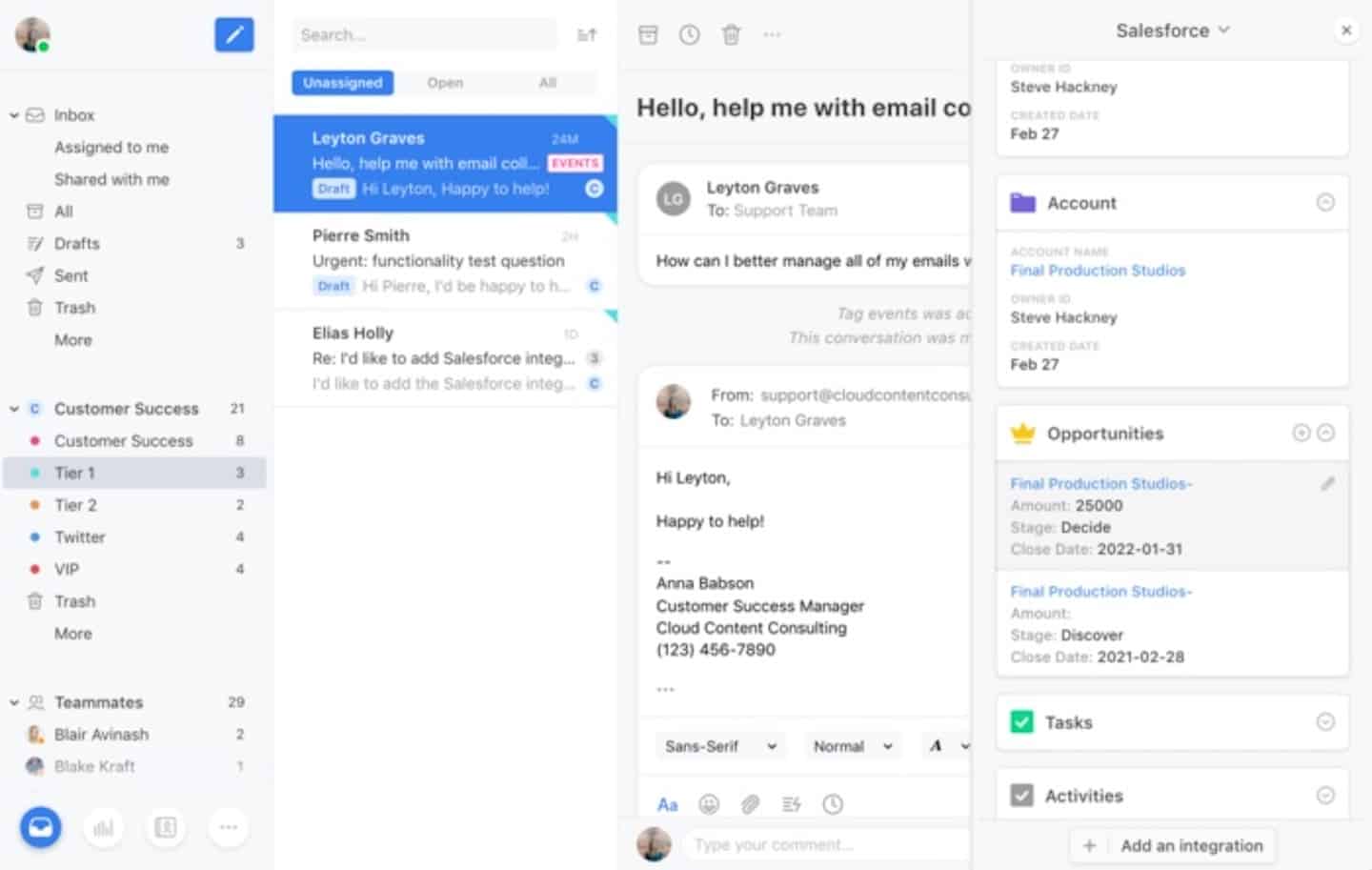 With Salesforce integration, your sales teams can do their work up front: view and edit Salesforce data directly from Front.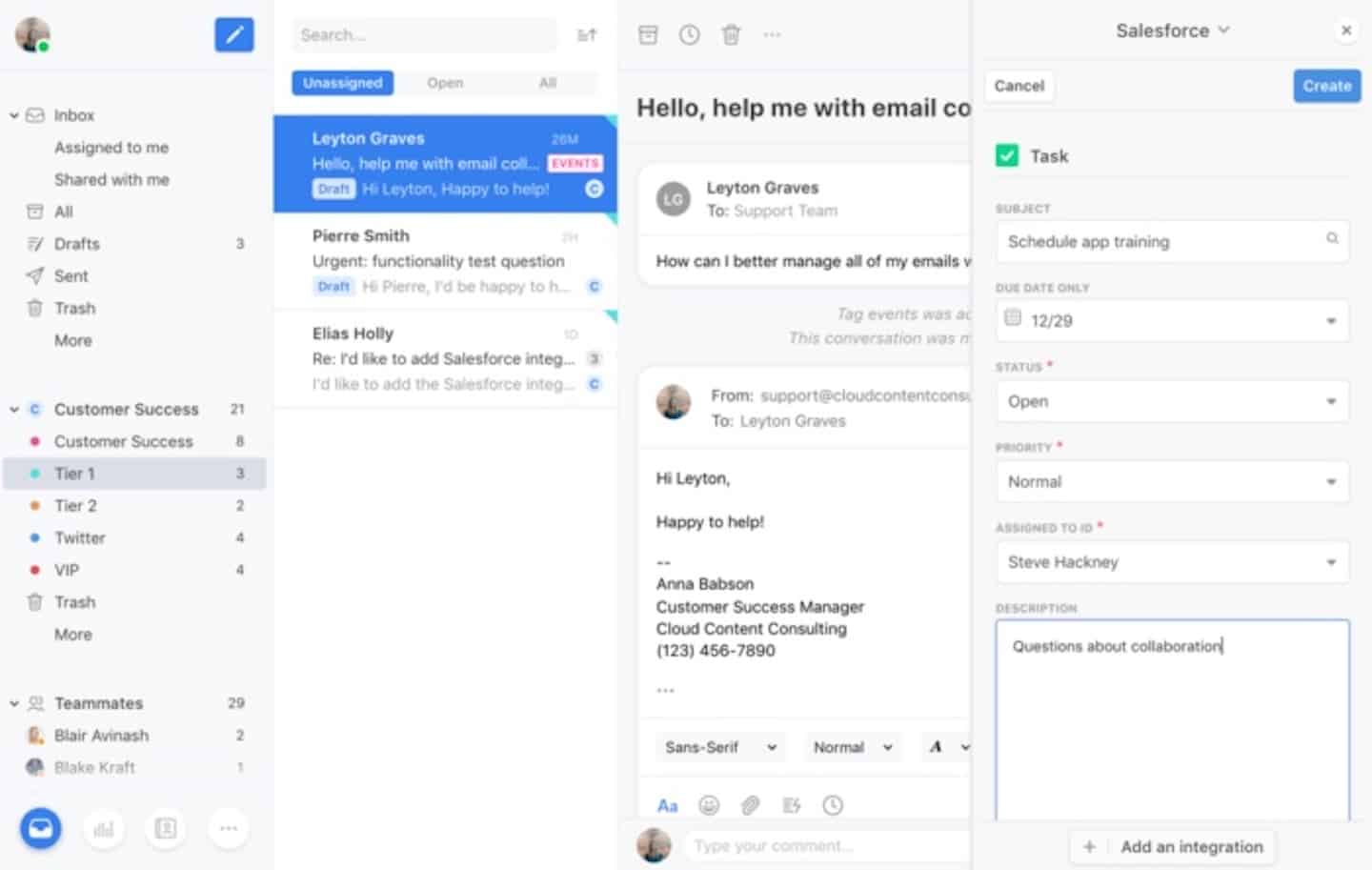 Your sales data (reports and forecasts) are always up-to-date thanks to automatic synchronisation.
Attention
Please note: only available from the Prime plan ($49/month per licence).
Discover FrontApp
Discover the features of FrontApp with their demo video!
FrontApp: Prices and plan details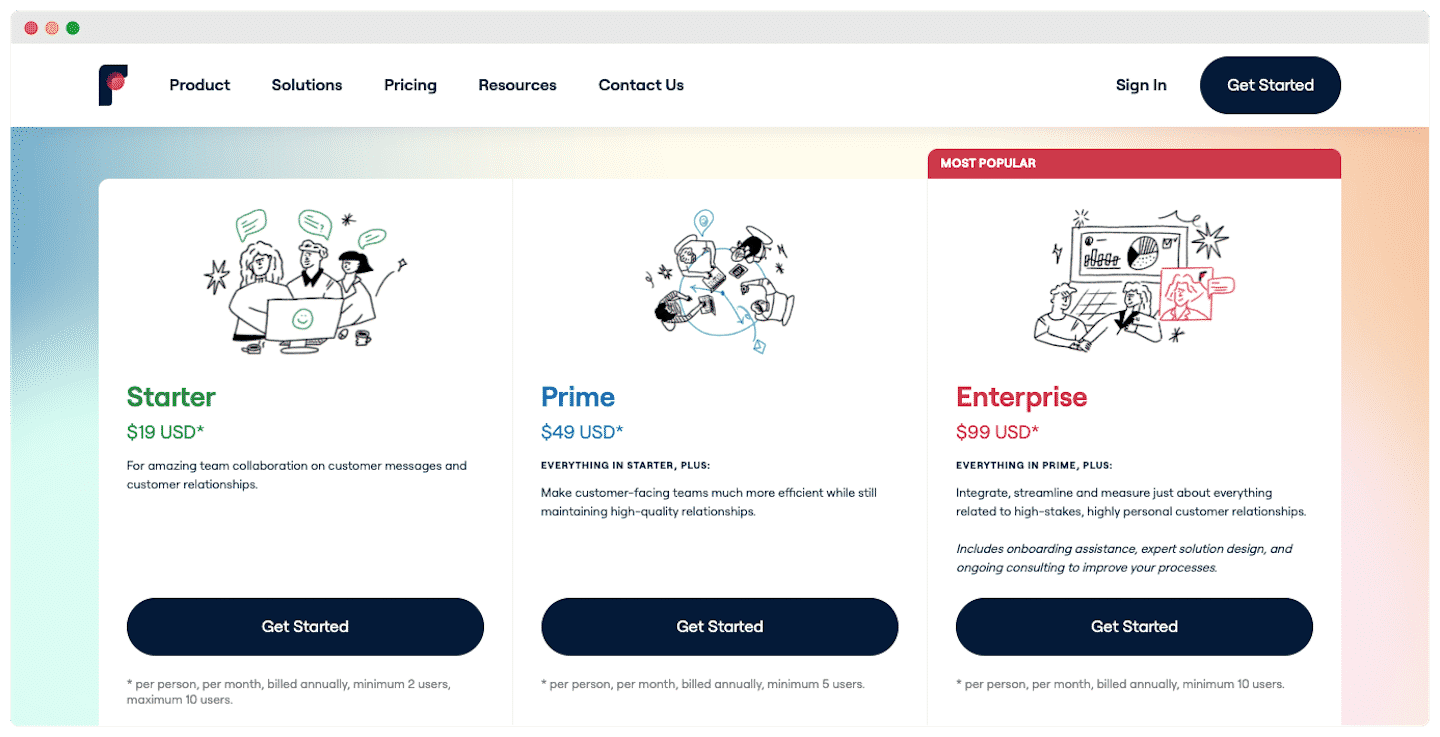 FrontApp does not offer a free trial or a free plan, but you have access to a 30-minute demo to get an idea of the tool's possibilities.
Starter ($19/month): Live chat, multi-channel communication with customers (except via phone), one-click appointment scheduling, access to basic integrations (native and third-party: Facebook, Gmail, Trello, Dropbox)
Premium ($49/month): More complete integration offer (CRM like Hubspot or Salesforce, Automation via Zapier) and access to basic reporting
Enterprise ($99/month): Access to advanced reporting and the possibility to have a dedicated FrontApp manager (onboarding, team management, change management)
Discover FrontApp
Discover the features of FrontApp with their demo video!
Alternatives to FrontApp
With Front, the same communication solution can be used by the sales, support and even operational teams (finance, logistics, etc.) to have a very controlled customer communication.
But even if the tool is very good, Front may not be the ideal solution for everyone. It is relevant when you need to collaborate a little but not too much on each request, and especially when customer communications are asynchronous (not over the phone).
We give you an overview of potential alternatives to FrontApp.
#1 Zendesk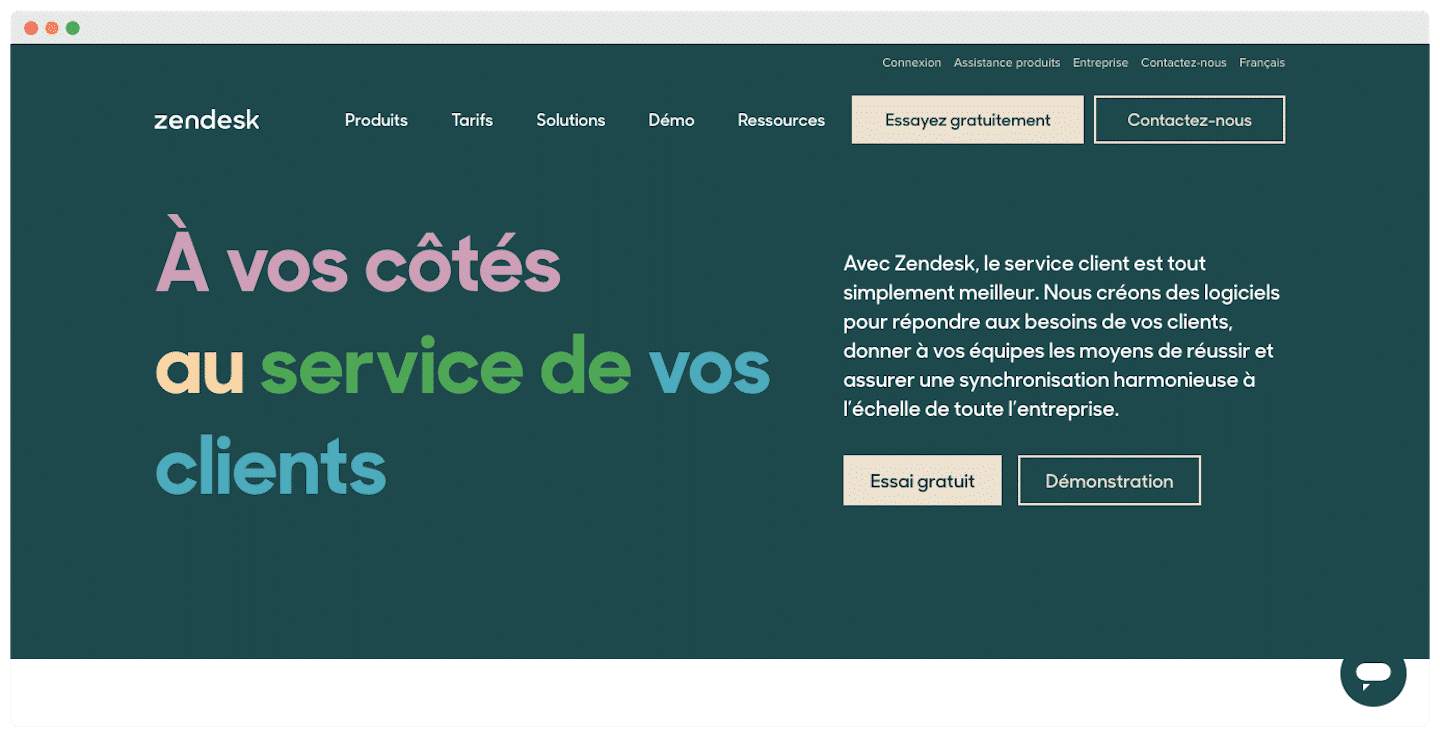 FrontApp is a very good customer support software, UX friendly, with a modern design, and above all more accessible than Zendesk, which requires a more advanced onboarding process.
But Zendesk remains the leader with many more features that allow you to go much further, in particular with the integration of telephony, and highly developed automation (Answer Bot in particular).
In terms of customer support, Zendesk is also much better, with a more solid help desk. And generally speaking, customers are more reassured to use the tool of a company that has been a leader for several years.
#2 MissiveApp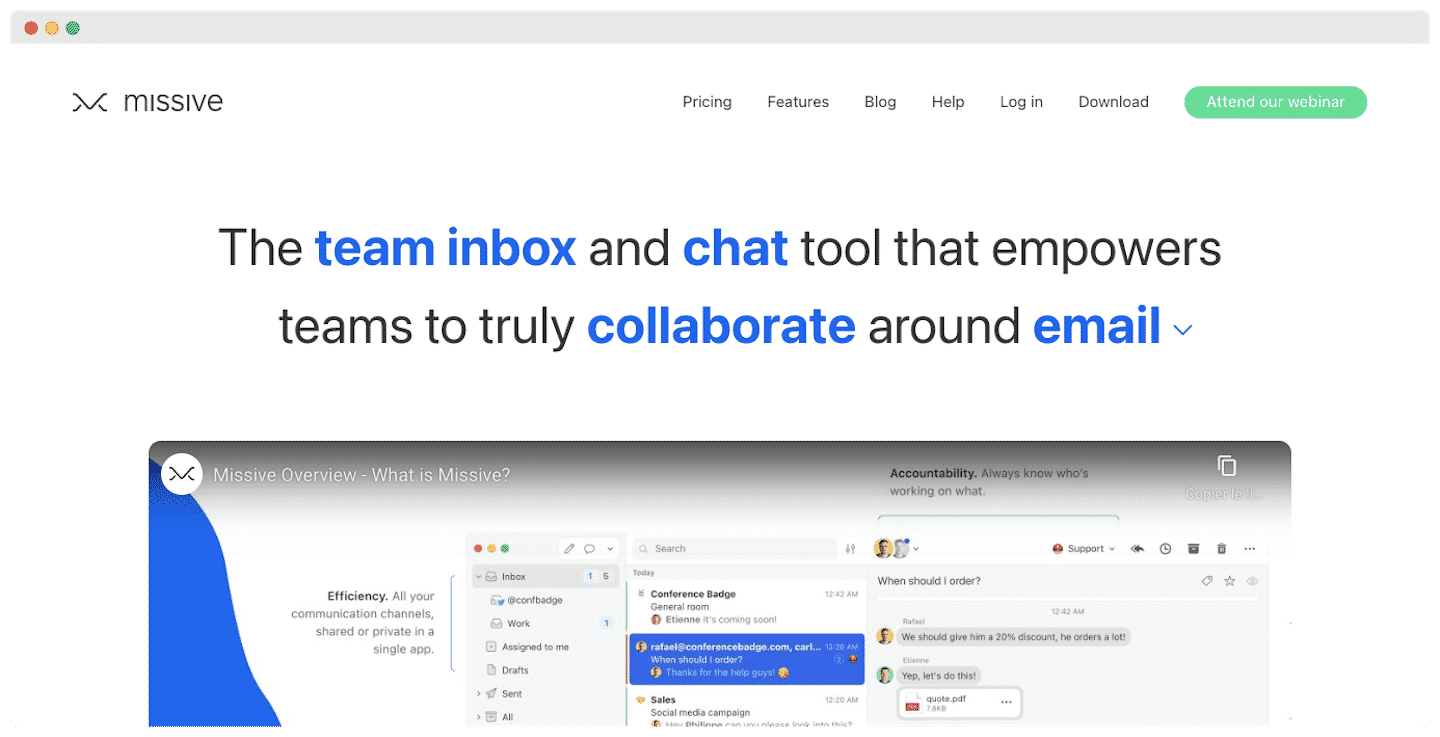 MissiveApp describes itself as a messaging service, whereas FrontApp is more of a customer support software. So logically, the communication features are more advanced for the former.
For service companies with a high density of emails, MissiveApp is more suitable. Thanks to a large number of shortcuts and an efficient layout, you gain in speed.
Another advantage: MissiveApp offers a completely free plan with up to 3 users.
#3 Drag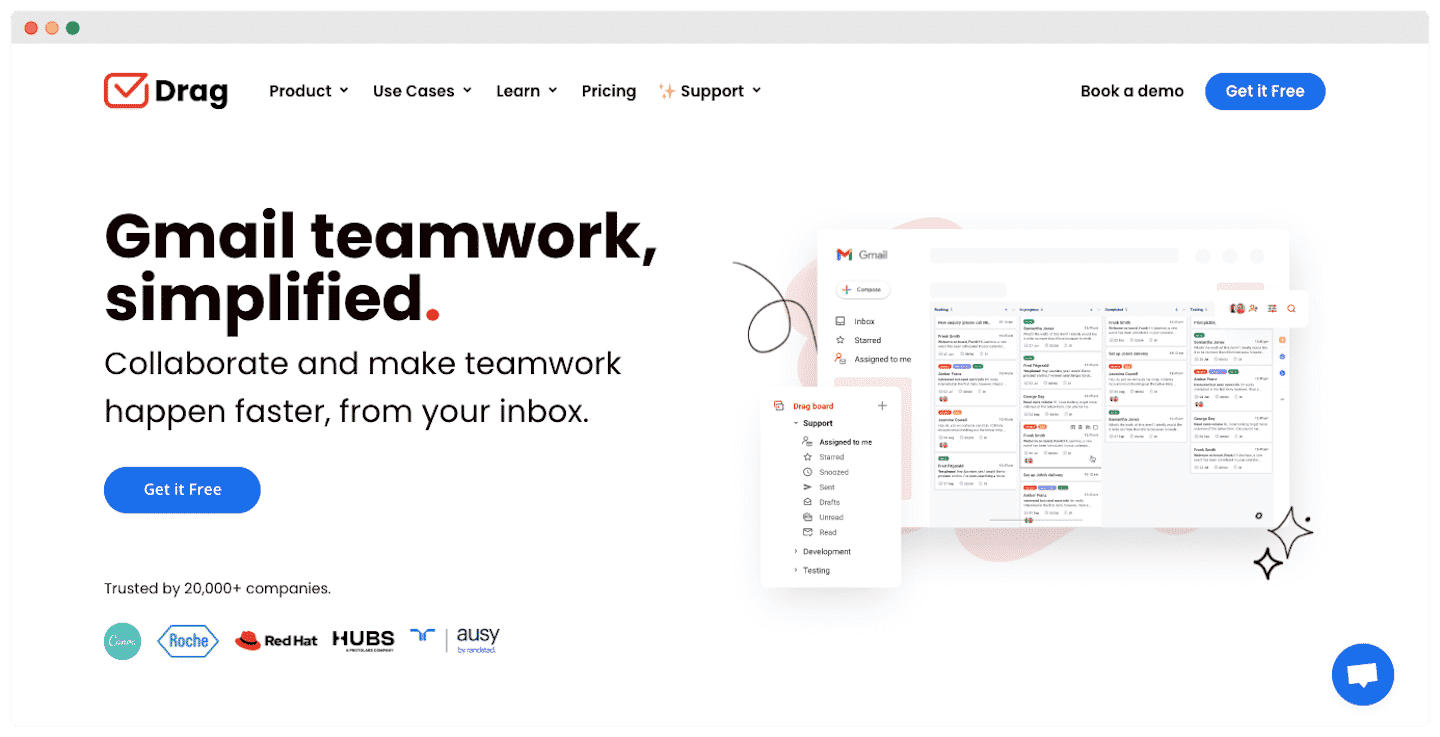 The big strength of Drag is that it works directly on Gmail. Gmail then becomes your help desk, CRM, task manager…
The use of the customer service software is simplified: no need to switch from one interface to another, easy sorting by file/tag… Overall, it avoids having to familiarise yourself with a brand new platform.
Drag also has a major advantage: its price. Free for individual users, its $99/month plan is valid regardless of the size of your organisation.
Discover FrontApp
Discover the features of FrontApp with their demo video!
Reader Interactions