6 questions to help you choose the right software
All support software includes ticket management, collaboration and customer communication functions. But in detail, here are a few pointers to help you identify the 2 or 3 software packages that best match your existing processes.
#1 What kind of support do your customers expect?
Do your customers need advice and best practices, or highly technical, precise and concrete support? Can they find the answer on their own, or do they need to interact with a support agent?
#2 Which channels do you want to use?
Live chat lends itself well to micro-quests that can be solved in a few quick exchanges. Email or the ticketing portal are more suitable for more complex requests. Telephony is also an option, and only certain software packages can really manage it. Are social networks an important source of customer communication? Is Whatsapp the right channel for your customers?
#3 How do you organize your response to a customer question?
Automated distribution ensures that incoming requests are always routed to the right department. It also ensures that all requests are answered. If you need complex rules (expertise, languages, etc.), turn to established solutions such as Zendesk or Salesforce Service.
#4 What do you want to automate, and how?
Beware of gimmicky automation, but suggesting articles or answers, whether on the agent or customer side, is a real performance lever.
#5 How can you help your customers find the answer themselves?
Calling support is often a waste of time, as customers are looking for speed. Focus on FAQs, forums and chatbots. Having a knowledge base with all processes explained can save you a lot of time.
#6 How will you integrate the software into your data ecosystem?
Make sure that the system you choose has active integrations with the tools you like to use on a daily basis, especially those related to customer data: commercial CRM and marketing automation tools.
#1 Salesforce Service Cloud: Salesforce's customer support tool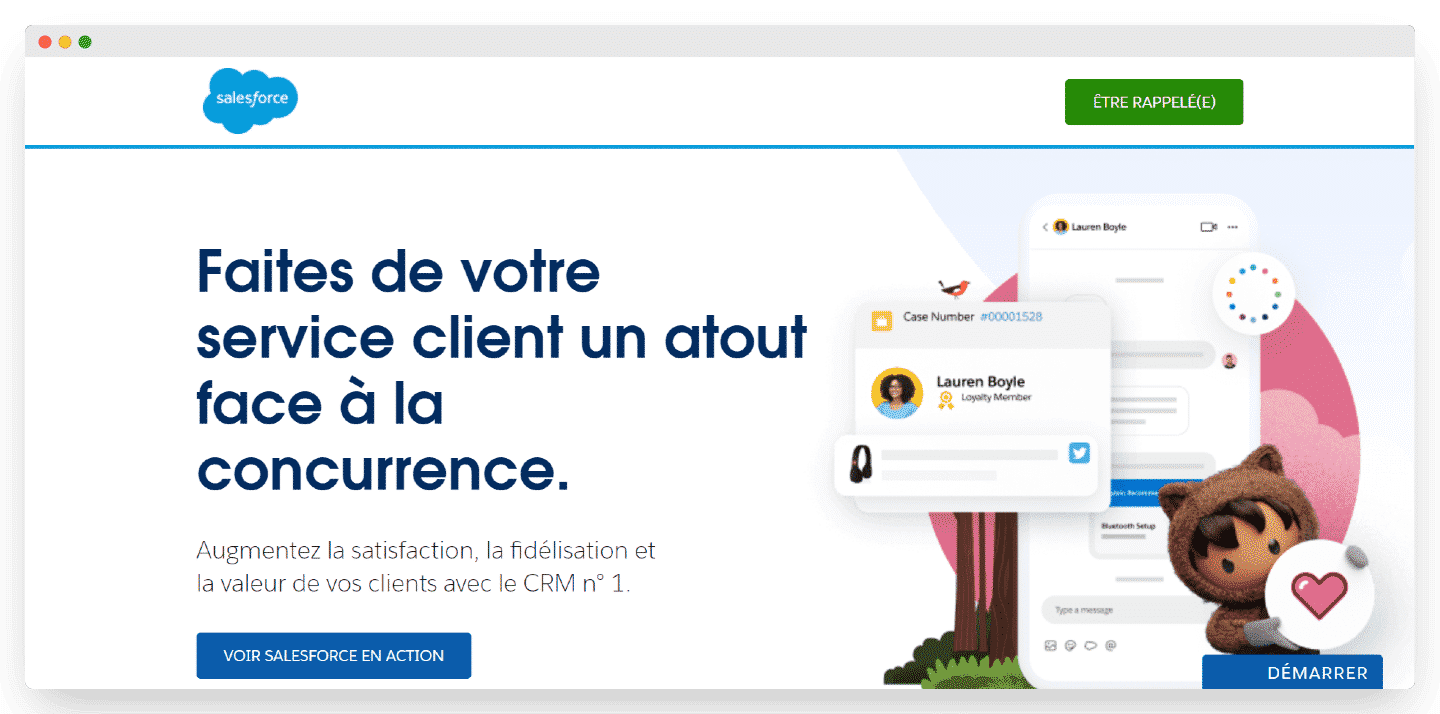 Salesforce Service Cloud is a high-performance software package. For example, it lets you leverage all your customer data with the powerful AI tools in the Salesforce suite. The downside is that prices are quite high.
Salesforce offers a one-month free trial to familiarize you with the solution. Offers are negotiable and tailor-made, but will not be less than €25/agent/month.
Software available in French.
Try Salesforce Service Cloud free of charge
Take advantage of a free one-month trial before requesting a quote.
#2 Zendesk: The established leader in customer service software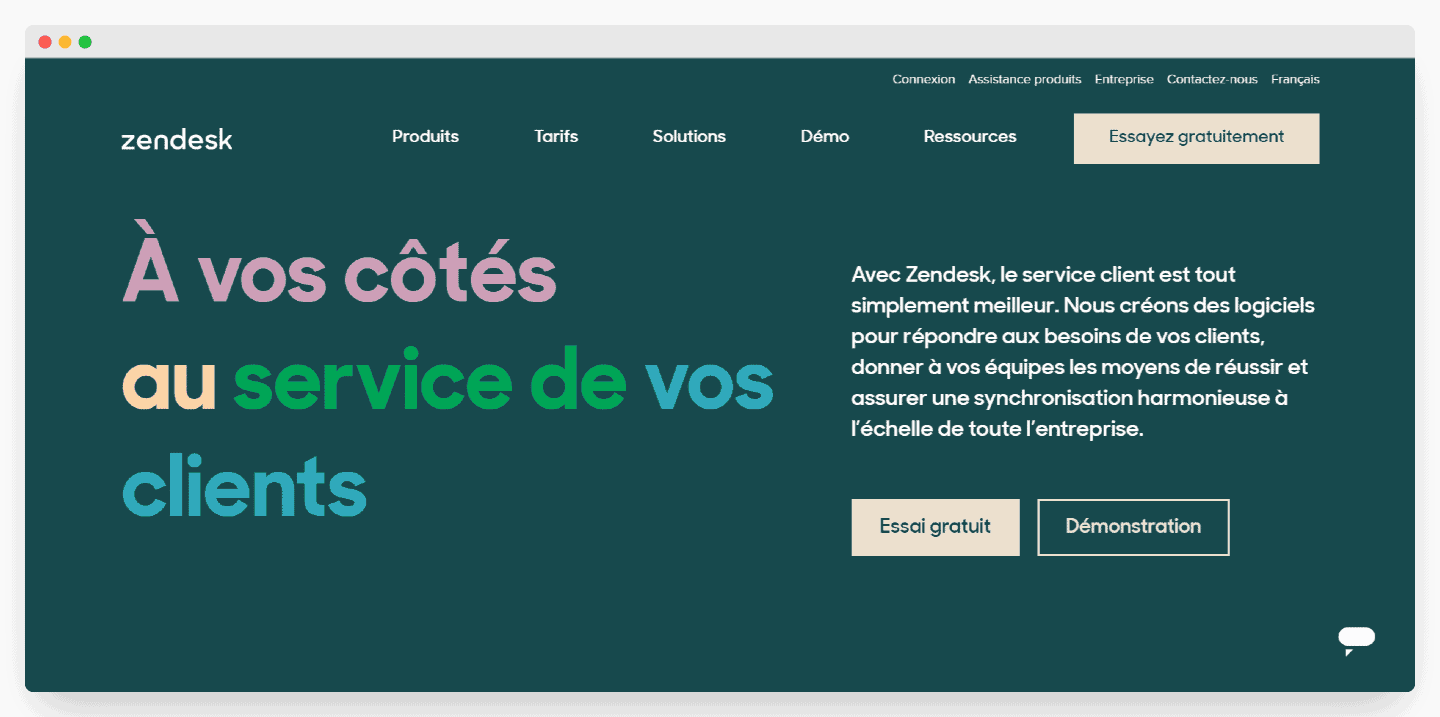 Zendesk is the must-have customer service software. A help desk leader for many years, it includes many automation features (macro), top-notch reporting, impressive multi-channel management (email, live chat, etc.) and solid knowledge base management. Zendesk now includes an additional CRM with Zendesk Sell.
For basic support, 3 offers are available: Team at €19/agent/month, Professional at €49/agent/month and Enterprise at €99/agent/month.
For complete customer service software, Zendesk offers a 14-day free trial to choose one of 5 packages:
Suite Team at €49/agent/month: This package includes basic functions such as a contact form for an unlimited number of email addresses, ticket attachments, automatic translation…
Growth Suite €79/agent/month: This offer includes 5 help centers, with answers in over 40 languages, and 100 chatbots, compared with 50 for the Team Suite.
Suite Professional 99€/agent/month: This suite lets you group your agents into more than 50 departments, compared with 2 for previous offers, with skills-based routing, teleconferencing capabilities, call listening by managers…
Suite Enterprise €150/agent/month: the main features of this package are more than 1,000 bots, more storable data and more automation.
Custom Edition €215/agent/month: Tailor-made offer to be discussed with Zendesk.
For a complete "full featured" service, including 10 agents and all functionalities, expect to pay €1,500 per month! Website and support available in French.
Try Zendesk free of charge
Zendesk offers a 14-day free trial to give you an idea of the tool's capabilities.
#3 Freshdesk: Customer support software with a good mobile version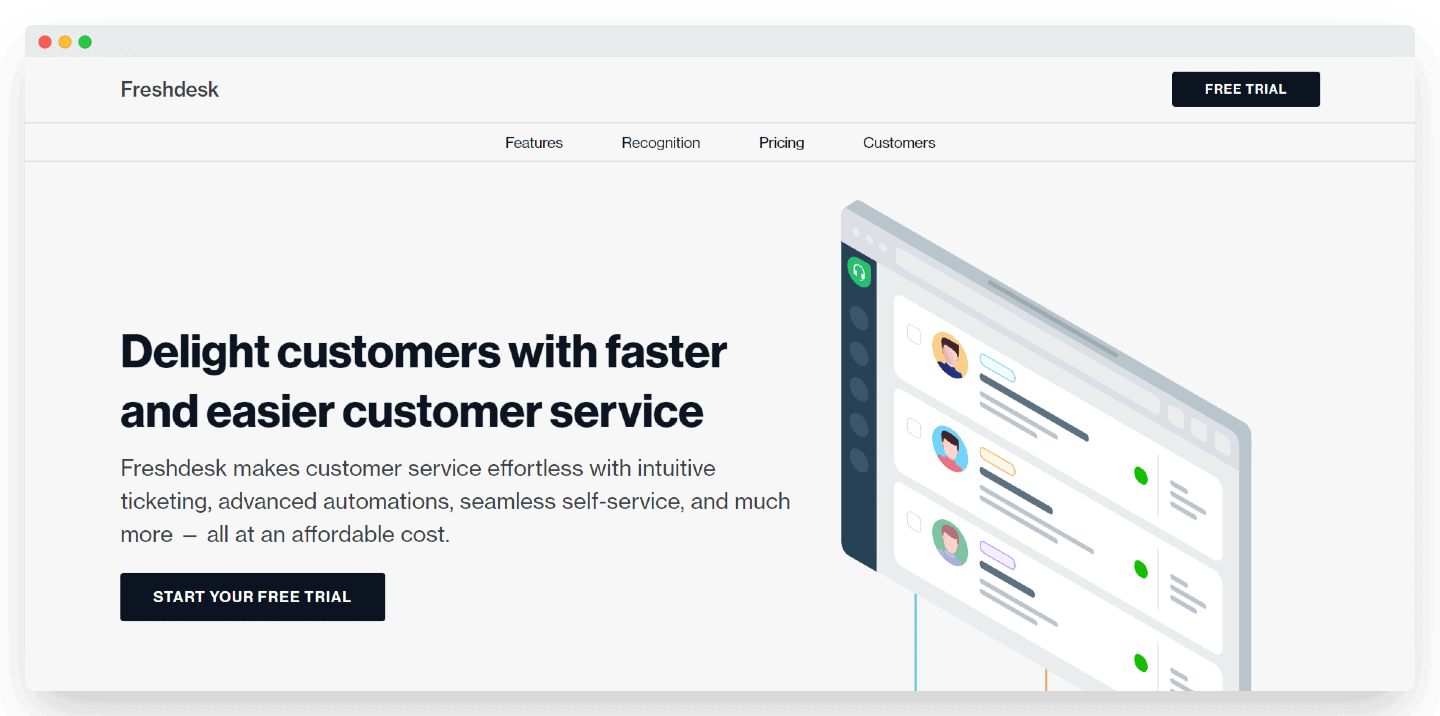 Freshdesk is part of the FreshWorks suite. The software is fast, simple and solid. It's a good solution, especially for small, highly digital teams, because it offers automation right from the first offer.
You can try the paid versions of Freshdesk for free for 21 days before selecting one of the following offers:
Growth Omnichannel for €29/agent/month: 2000 bots, automation and more.
Pro Omnichannel for €59/agent/month: 3,000 bots, possibility of extending API limits.
Enterprise Omnichannel for €99/agent/month: 5000 bots, voicebot, email bots.
Full featured solution: €990/month.
The site and support are not yet available in French.
Try Freshdesk free of charge
You have 21 days to test Freshdesk for free!
#4 LiveAgent : The leader in live chat support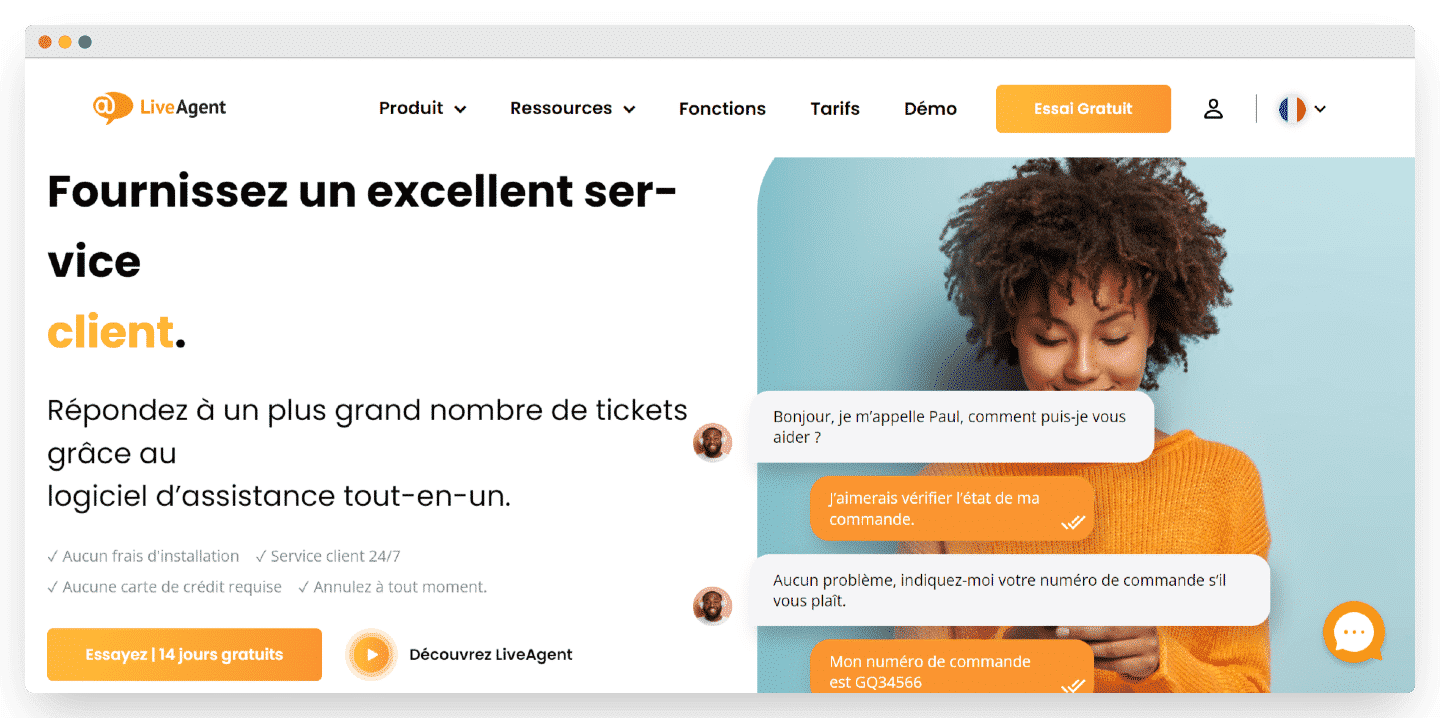 LiveAgent is a software package designed to manage customer service exclusively via live chat. It's become a complete solution, with social networking, telephone management and a ticketing system to orchestrate your customer interactions. The software is very e-commerce-oriented in its integrations, and LiveAgent works well with Pipedrive, for example.
LiveAgent offers a limited free version, with the option of creating a customer forum. A 14-day free trial is available to try out the other offers:
Ticket for €13/agent/month: unlimited ticket history, unlimited number of e-mail addresses, API, integration…
Ticket+Chat for €25/agent/month: Unlimited number of chat buttons, social network integration, satisfaction surveys…
All-Inclusive for €44/agent/month: Call center assistance, including video calls.
Full-featured service: €440/month
Software available in French
Try LiveAgent free
Choose the offer that suits you best after a 14-day trial.
#5 Hubspot Service Hub: The free customer support software from the Hubspot suite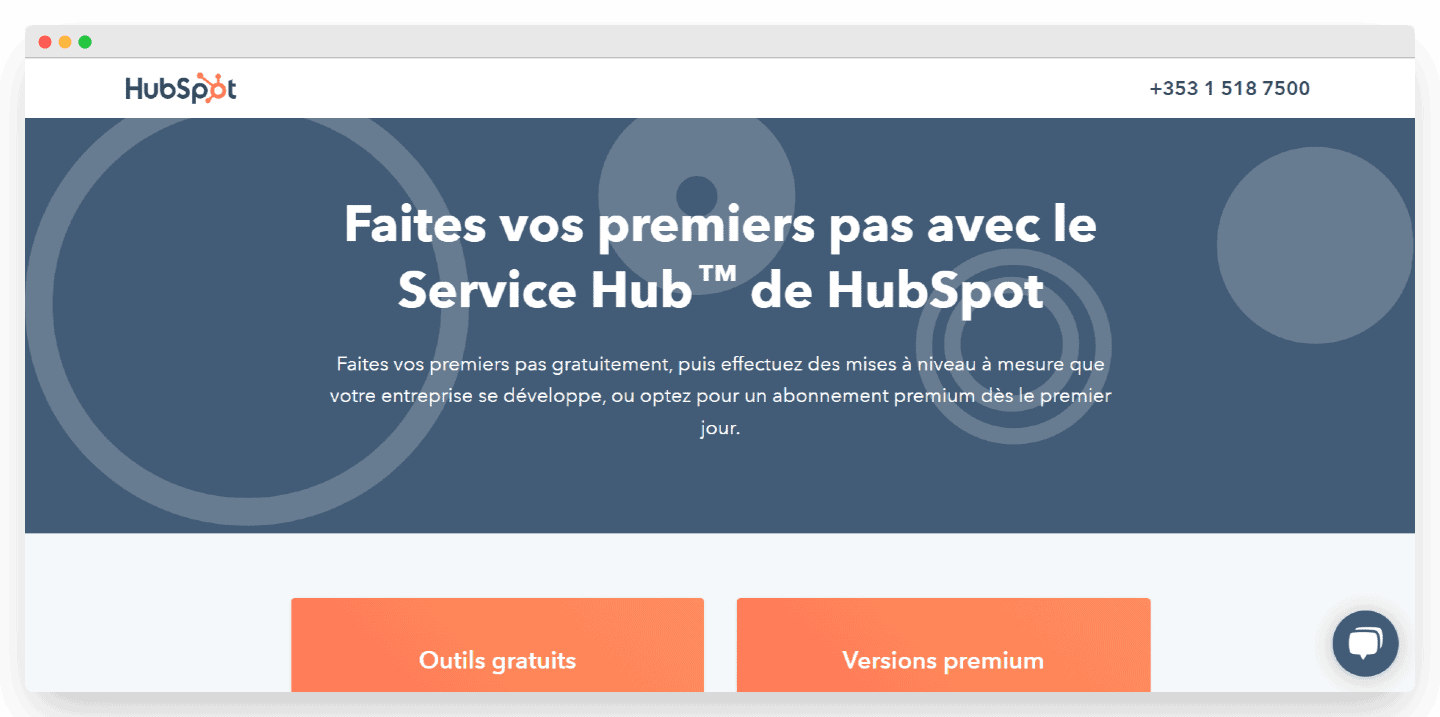 Hubspot Service Hub offers useful features such as ticket management and live chat, even in the free version. The software's offerings include automatic ticket routing and the automation of numerous functions.
The software offers a free plan and 3 offers with no trial period:
Starter at €41/month: simple automation, multiple ticket pipeline, conversation transfer…
Pro at €331/month: unfortunately, this is the only offer that gives you access to a knowledge base. Fortunately, there are solutions such as HelpDocs, dedicated to the creation of knowledge bases.
Enterprise at €1104/month: This full-featured offer adds conversational guides and improved team management.
Website and support available in French.
Try Hubspot Service Hub
Visit Hubspot Service Hub to select your offer!
#6 FrontApp: If you manage customer support by email only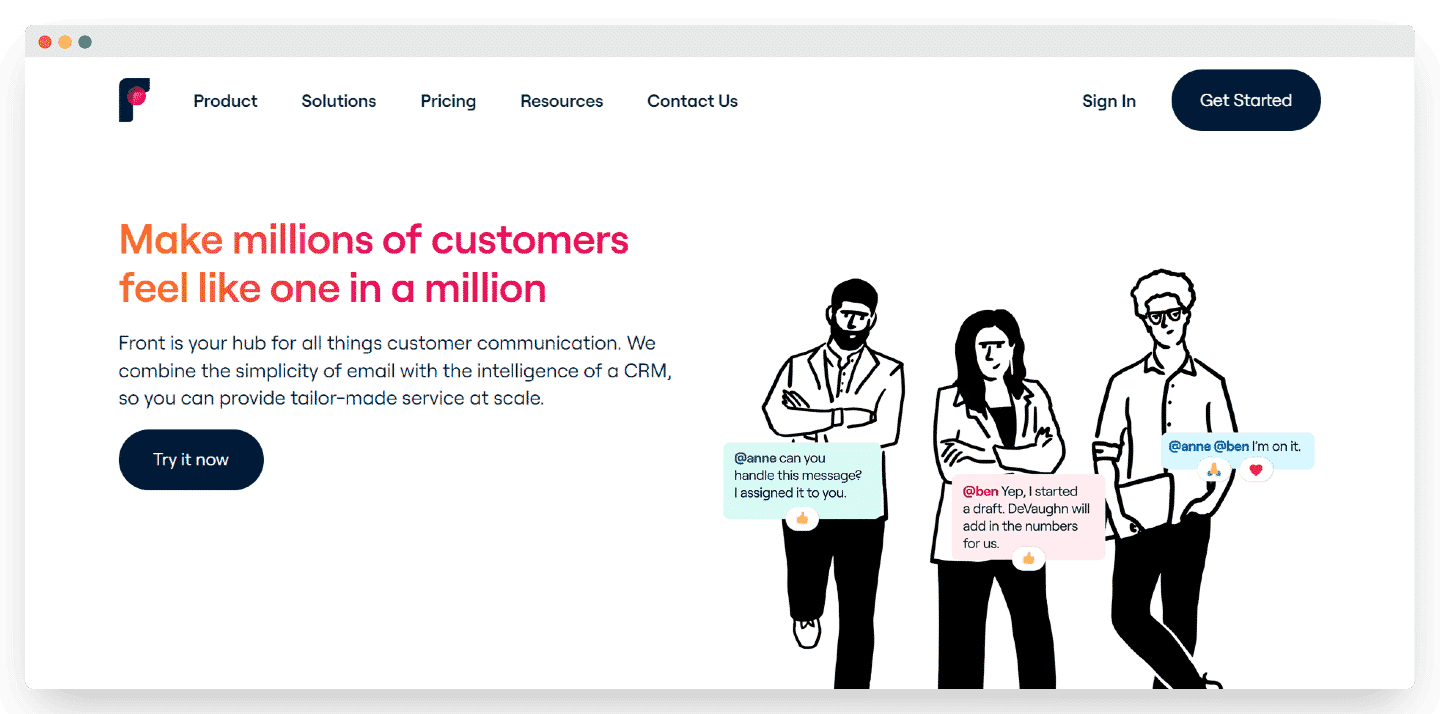 FrontApp is a specialized tool for managing incoming e-mails. The software turns your email into a helpdesk for even more personalized customer support. It's super-simple to use and will save you an incredible amount of time.
Three packages are available without the free version:
Starter for $19/agent/month: connect your emails and social networks to Front, some integrations possible.
Bonus for $49/agent/month: unlimited integrations, ability to collect extensive data.
Enterprise on quotation: Tailor-made offer to suit your needs.
Full featured service: $490/month.
Software available in French, not support.
Try FrontApp
Choose one of FrontApp's customer support packages!
#7 Helpspot: A great customer service solution with a free version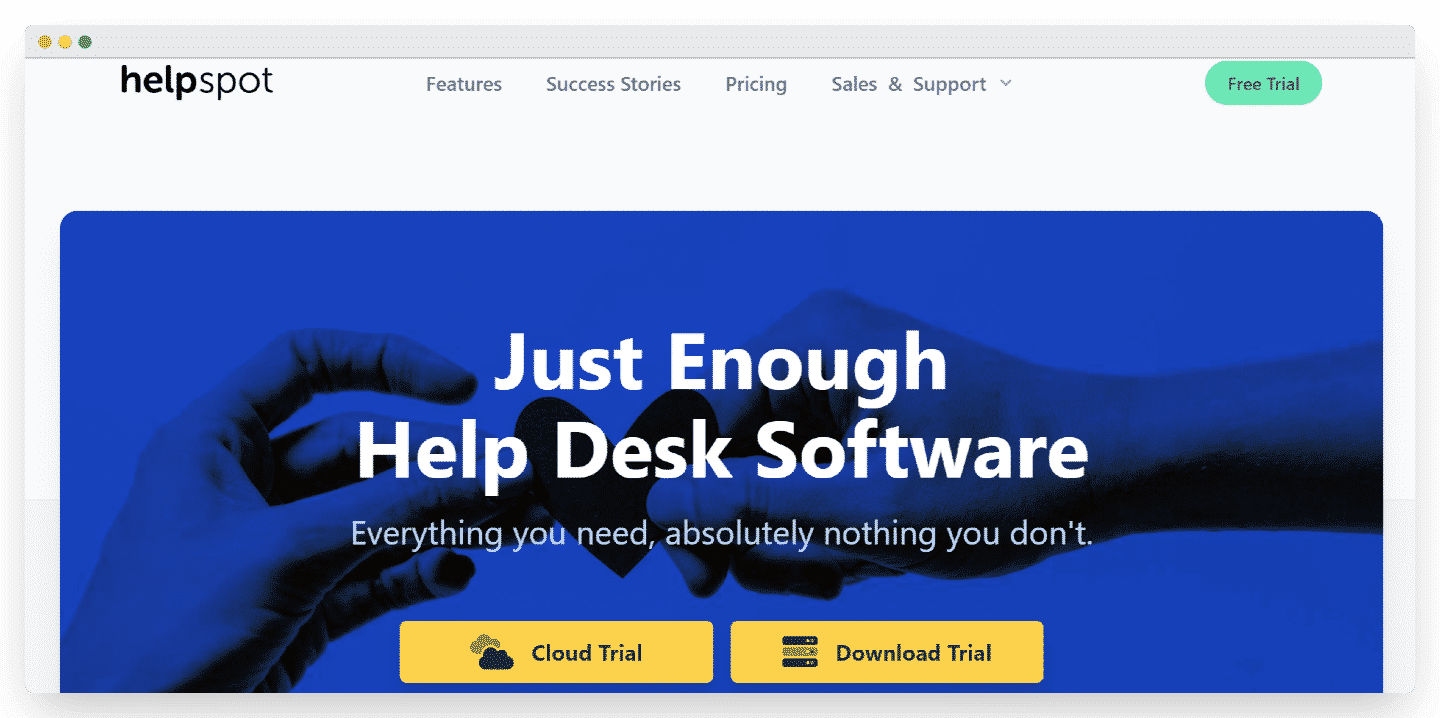 Helpspot is a complete ticketing suite like Zendesk, with reporting, management of incoming tickets and more or less automated ticket allocation. The advantage is that there are many unlimited features, with 0 hidden costs. It is also possible to host the software yourself (on-premise).
You can test the software for 21 days free of charge. The one-off offer costs $11/month and only $1,299/year for 10 agents.
The site and support are not yet available in French.
Try Helpspot free of charge
Helpspot offers a 21-day free trial to test the solution.
#8 Help Scout: Software for the largest customer support teams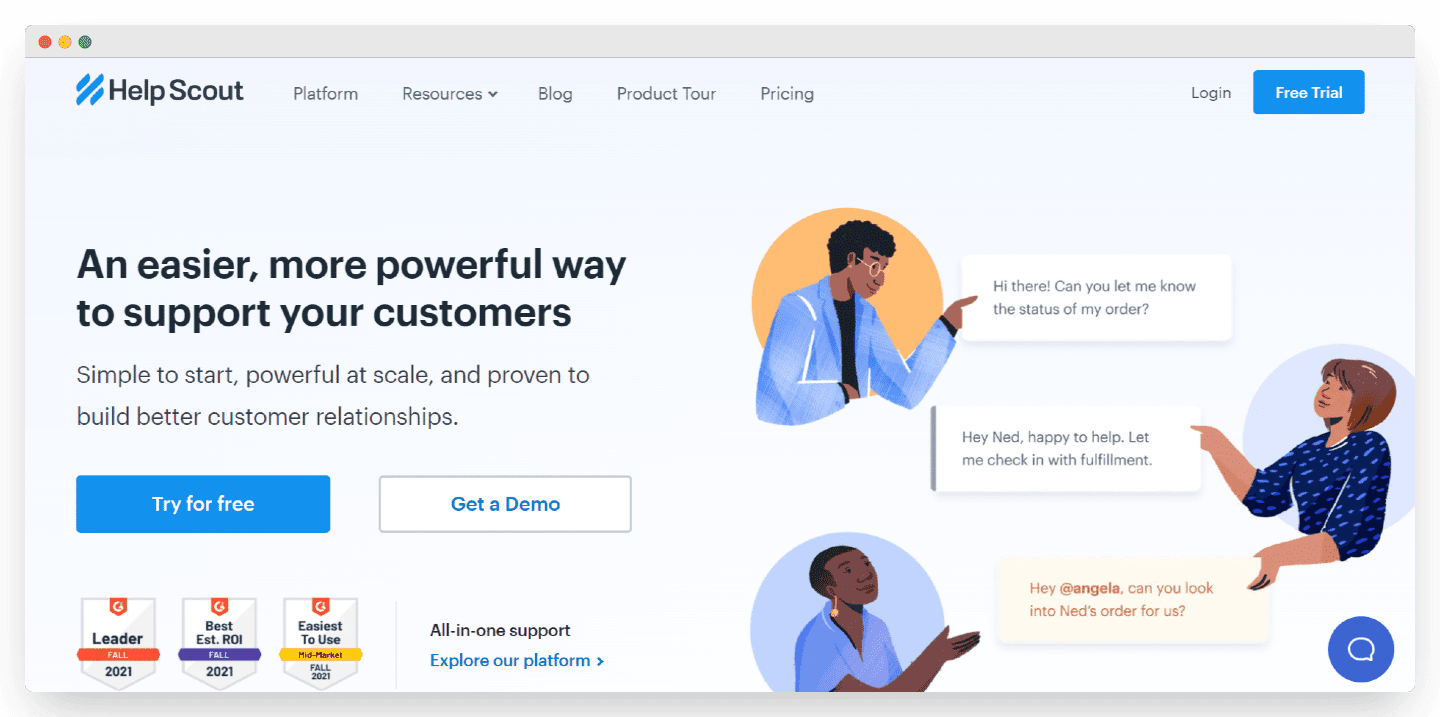 Help Scout is the super-fast-to-adopt, easy-to-use software. It offers an aggregation of all customer history in the interface, as well as a tool for collecting customer feedback (forms, pop-ups) to engage in conversation with your customers.
Help Scout offers free 15-day trials to choose between 3 offers:
Standard for $20/agent/month: 2 mailboxes, maximum 25 agents.
Plus for $35/agent/month: 5 mailboxes, unlimited agents,
Company for $60/agent/month: unlimited package with the most advanced features.
Full featured service: $600/month.
The site and support are not yet available in French.
Try Help Scout free of charge
Choose a Help Scout offer after a 15-day free trial!
#9 Intercom: All-in-one customer communications software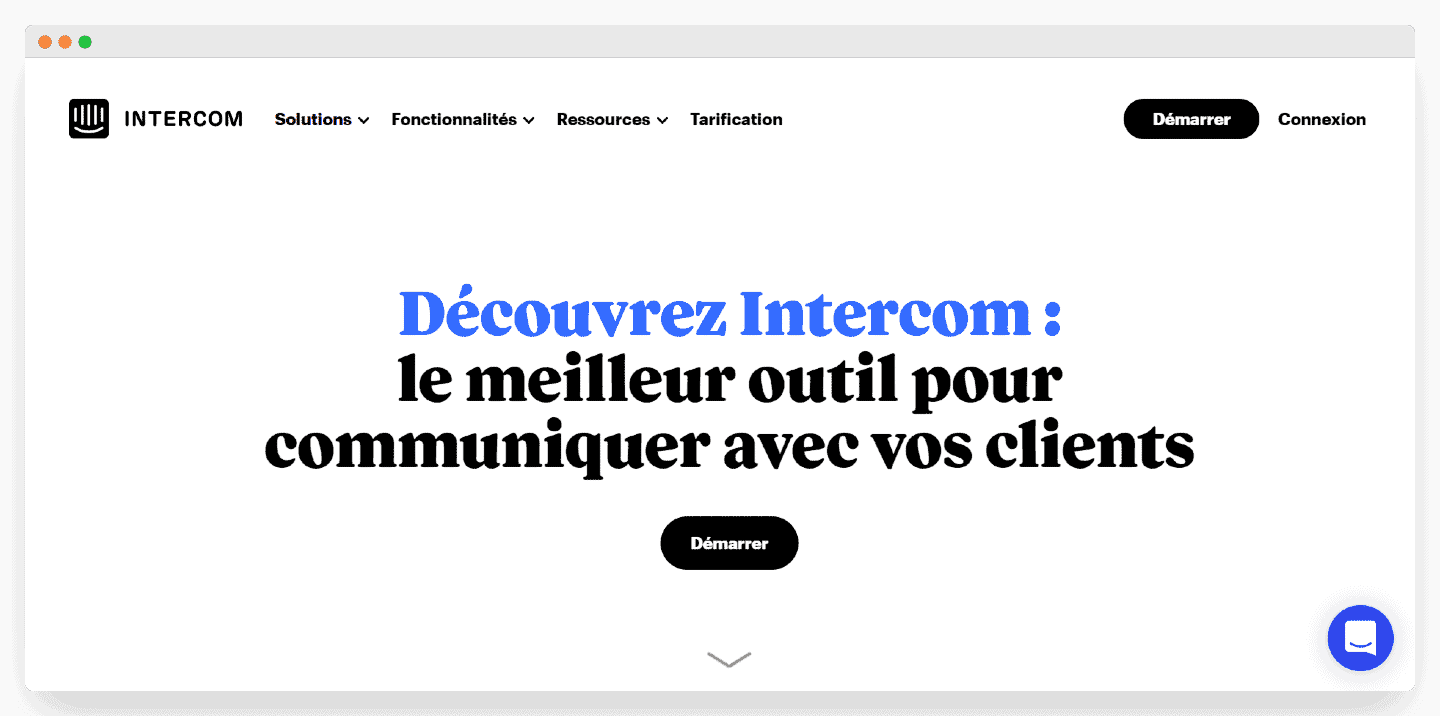 Intercom is more of a pure marketing automation/customer communication tool, but it's so complete that customer service software use is not uncommon. In particular, the software enables you to set up live chat, propose intelligent contextual messages to your customers, and build a knowledge base.
Tailor-made rates after a free trial.
Website and support available in French.
Try Intercom free of charge
A great classic for B2B SaaS (Software as a Service), this is a super-powerful tool for managing all your customer relationships.
#10 Happy Fox: A comprehensive helpdesk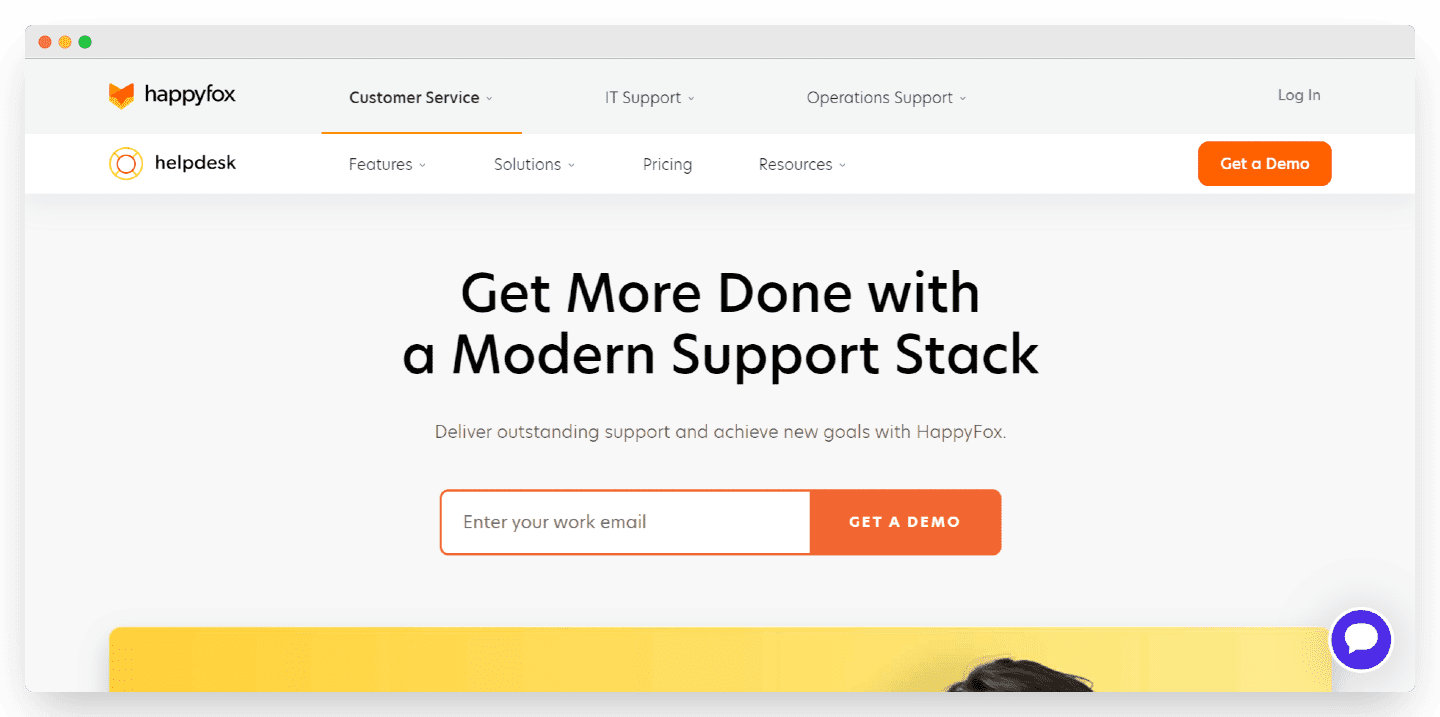 Happy Fox is a full-featured helpdesk with all the key functions: ticket management and multi-channel ticket creation, knowledge base, customer feedback, automation and reporting. Bonus point: we love the hyper-complete integration with Slack.
There are 4 packages available, each with a 30-minute demo:
Mighty for $29/agent/month: reporting, automation, knowledge base.
Fantastic for $49/agent/month: add satisfaction questionnaires, ticket queuing mainly.
Enterprise for $69/agent/month: complete task management, enhanced reporting…
Enterprise Plus for $89/agent/month: 24/7 omnichannel support.
Full service: $890/month
Available in French as part of the Fantastic package.
Try Happy Fox
Request a free Happy Fox demo.
#11 Kustomer: The omni-channel customer support tool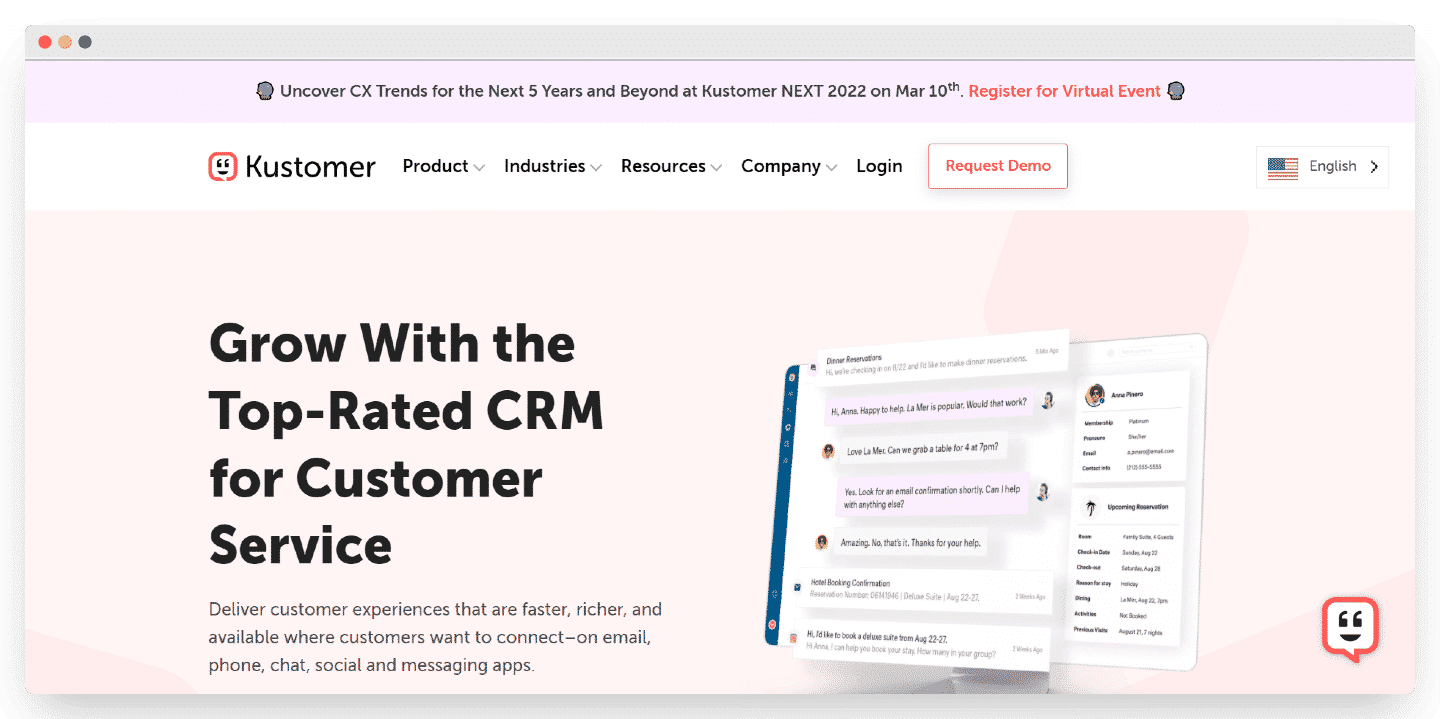 Kustomer is a customer support tool for all channels: live chat, social networks, emails and forms on your site, calls and SMS. The software is very comprehensive, and helps boost the performance of your customer service teams.
2 offers are available without a free trial:
Enterprise for $89/agent/month: all channels, integration, 5 languages supported, satisfaction survey…
Ultimate for $139/agent/month: everything in the previous offer + other options such as real-time agent auditing, API extension…
Full featured service: $1390/month
Software available in French, not support.
Try Kustomer
Choose your Kustomer offer!
#12 Social Sprout: If you manage customer support on social networks only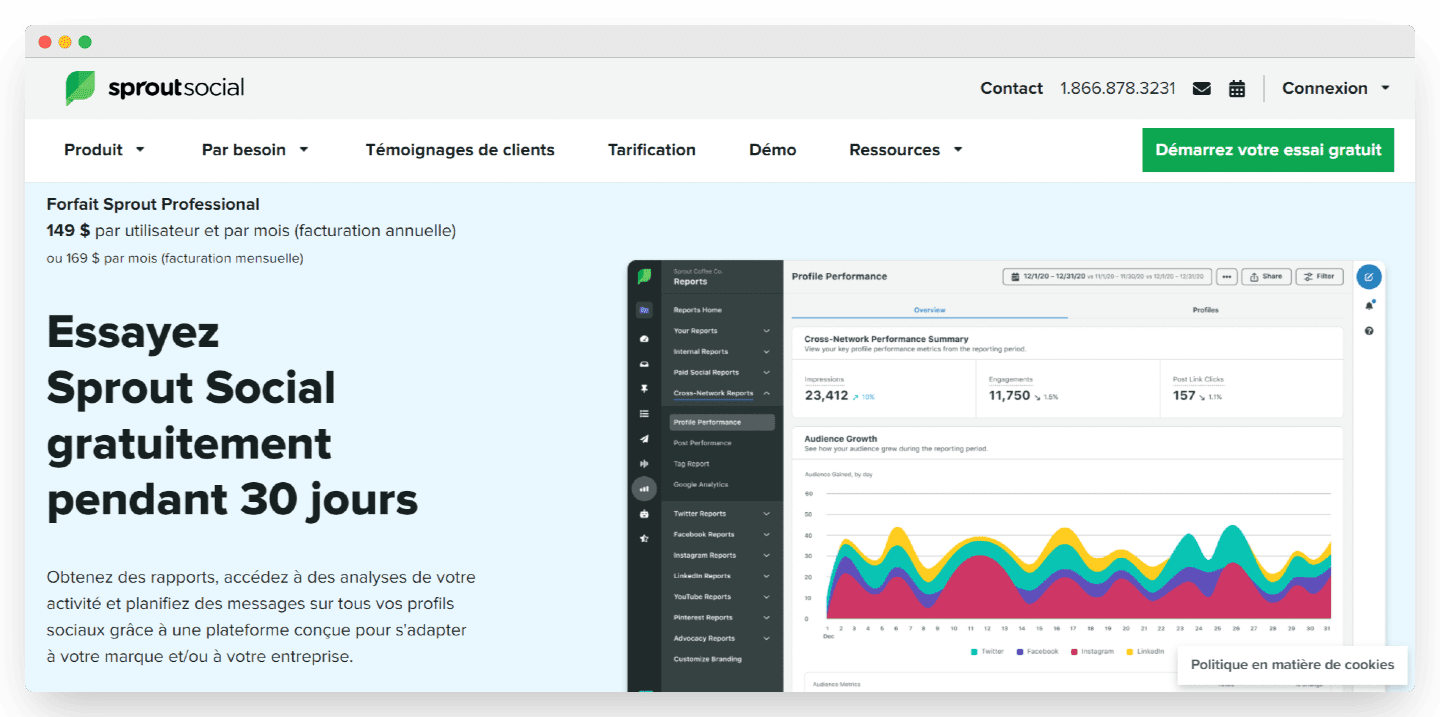 Sprout Social is a social network management platform designed to transform your organization. The software is very useful for converting your customer interactions on social networks into opportunities to communicate about your brand.
You can test Sprout for free for 1 month before choosing one of the three offers:
Standard for $89/agent/month: 5 social network accounts, social network advertising tools, all-in-one inbox
Professional for $149/agent/month: 10 possible accounts, competitive platform analysis, dispatch planning.
Advanced for $249/agent/month: 10 possible accounts, peak activity alerts, chatbot.
Full featured service: $2390/month.
Software available in French, support in English.
Try Sprout Social for free
Enjoy a free month of Sprout Social!
#13 Aircall: If you manage customer support by phone only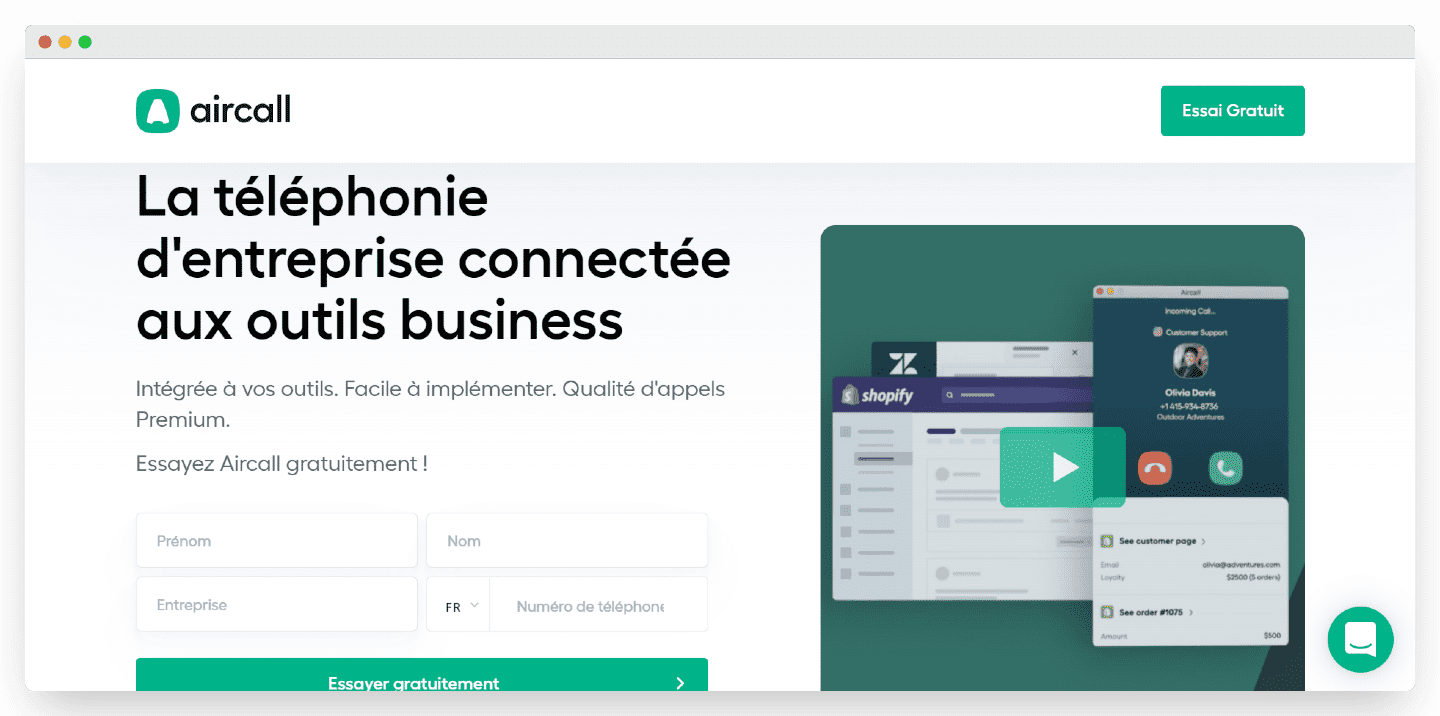 Aircall is a VOIP (voice over IP) software package that lets you manage incoming calls with a queue and allocation to available agents, for example. It has all the features essential for sales and customer support teams handling a large number of calls every day.
3 offers are available after a free 7-day trial:
Essentials for €30/agent/month: unlimited incoming calls, 1000 min national outgoing calls/agent/month, SMS sending and receiving, possible integrations.
Professional for €50/agent/month: unlimited national inbound and outbound calls, Salesforce integration, real-time dashboard
Custom on request: unlimited international calls, personalized statistics.
Full featured service: €500/month
Software available in French, including support.
Try Aircall free of charge
You have 7 free days before choosing your offer.
#14 HelpDocs: Software for creating a knowledge base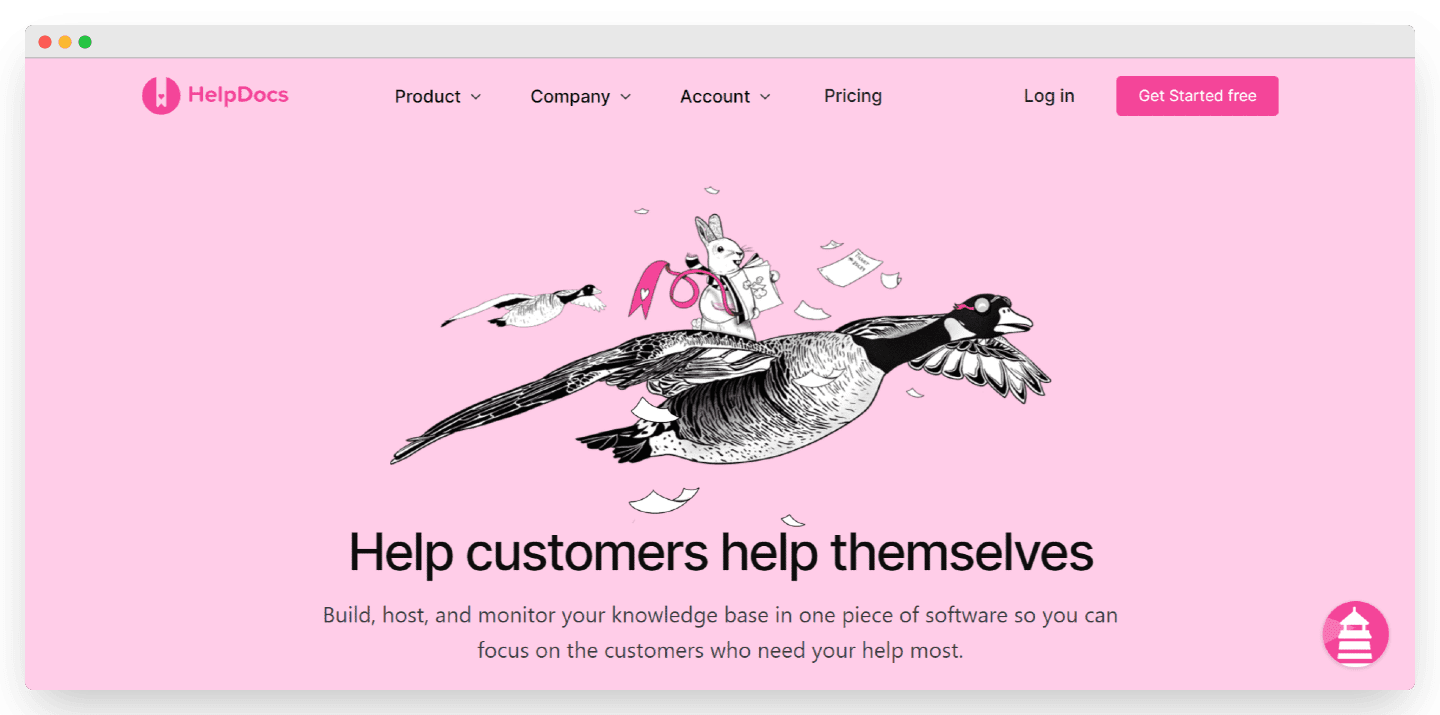 HelpDocs is the specialist software for creating knowledge bases. It's a true CMS (Content Management System) with really well thought-out search functionalities.
After a 14-day free trial, 3 packages are available:
Start for €40/month: up to 5 accounts, monthly usage statistics, limited integrations.
Build for €80/month: up to 15 accounts, 3-month statistics, multilingual support
Grow for €160/month: up to 50 accounts, 6-month statistics, HTML templates…
Full featured service: €1,600/month.
Software available in French, support in English.
Try Help docs free of charge
Choose one of the 3 formulas after a 14-day test.