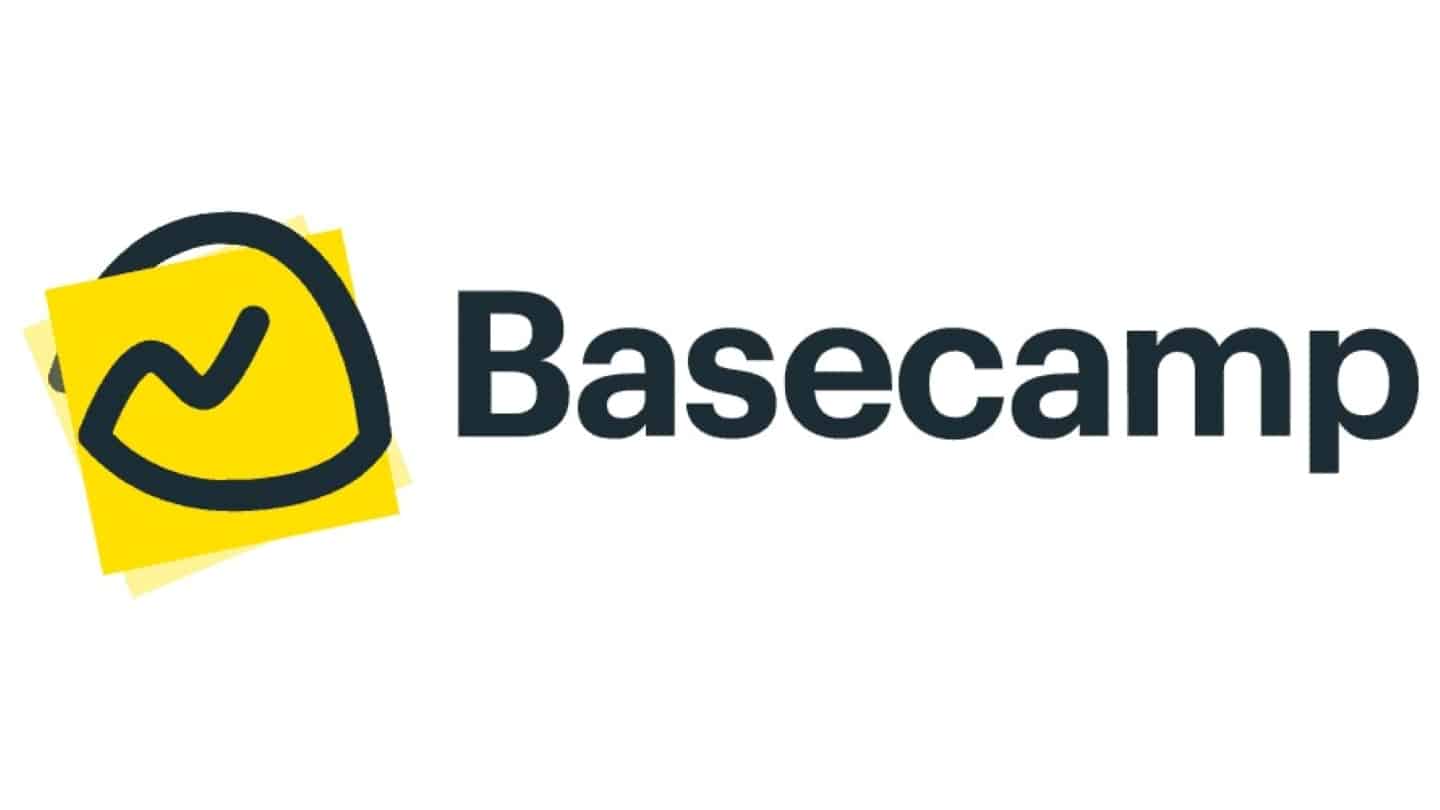 Launched in 2004, Basecamp is the veteran of project management software, and is therefore a must-have in the field. It has been developed in different versions: Basecamp classic, Basecamp 2, and Basecamp 3.
Very complete, Basecamp boasts features that are unique to other software, and can replace Slack, Asana, Dropbox, and the entire Google suite, for example.
It is the ideal tool for large teams looking for a proven scheduling software.
In this article, we tell you everything you need to know about Basecamp!
Our opinion on Basecamp
Criterion
Note Salesdorado
Comment
Overall score
A veteran of planning software, Basecamp is a very complete software, mainly dedicated to large teams and medium complexity projects.
Ease of use
Very intuitive, Basecamp is easy to use
Easy to set up
Basecamp is very easy to learn, even for large teams.
Customer service
Basecamp's customer service is easy to reach, and its help center is very complete, but Basecamp does not animate a community around its tool.
Functional depth
Basecamp offers a lot of features, especially for communication and collaboration, but can be too light for complex projects.
Integrations
Basecamp offers many different integrations, and the integration with
Zapier
, gives access to more than 4000 additional integrations.
Value for money
Basecamp is the only project management software charged per team and not per user. Its price-performance ratio is therefore more interesting for large teams than for small ones.
Advantages and disadvantages of Basecamp
Communication and collaboration: Basecamp offers both live chat for internal collaboration and client access to the software for external communication.
Ease of learning: Basecamp is easy to learn, which is great for teams who are new to this kind of platform.
Task management and visualization less developed: Basecamp is very strong on communication and collaboration, but less so on task management, scheduling…
Basecamp is too light for complex projects: the functional depth of the tool is more limited than some of its competitors (e.g. Monday).
Basecamp : Features overview
Communication tools: Basecamp's real strength
Campfire is Basecamp's chat feature, which you can use to communicate with your team members in real time. Each project and team has its own Campfire room.
This is really Basecamp's social network, dedicated to internal use. It can be used for work, but also for more informal discussions.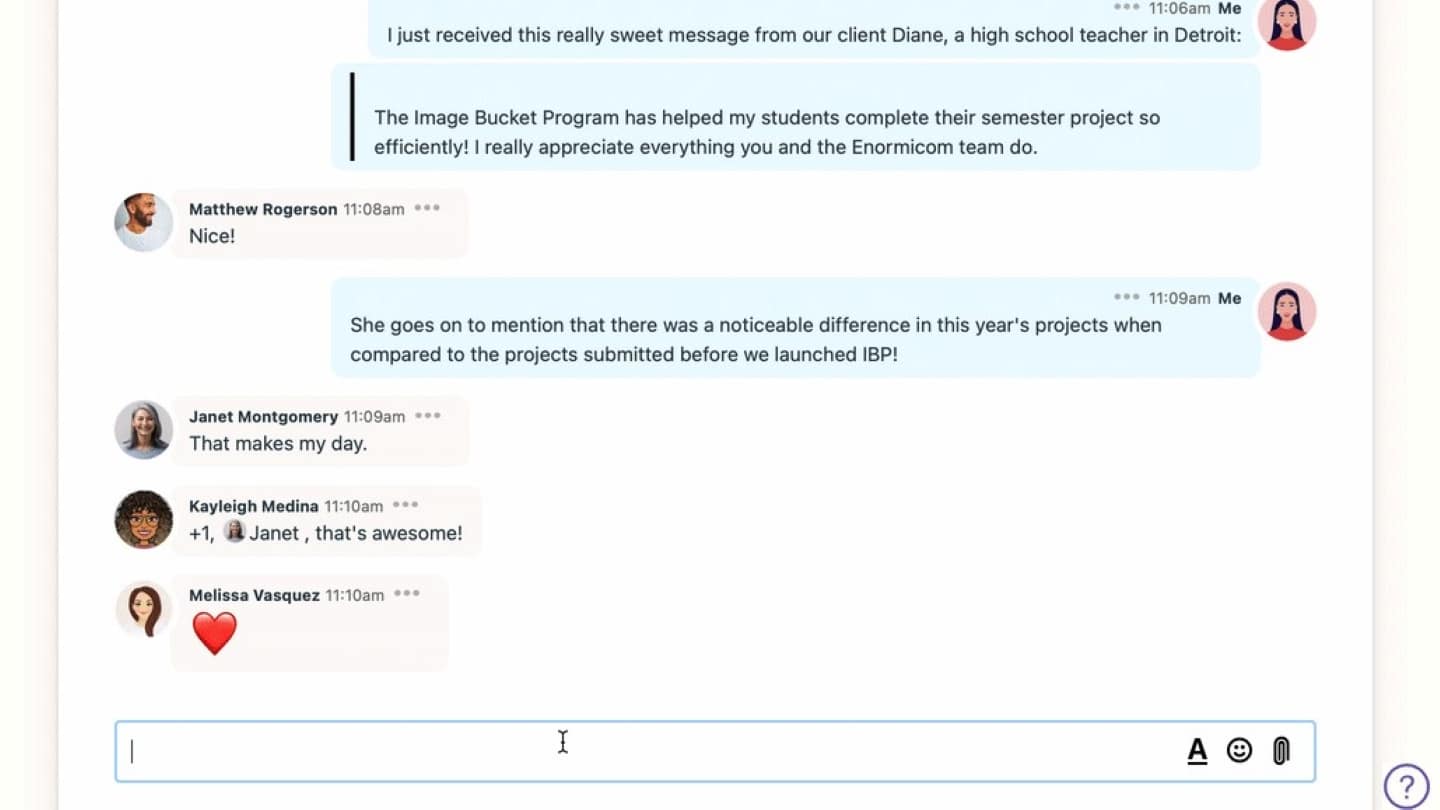 Campfire supports sounds, and is very customizable: a toolbar allows to put bold, italic, colors, hyperlinks, bulleted lists, emojis… It is also possible to tag a person directly, by preceding his name with an "@".
For communication, Basecamp also offers "Pings", which are private discussions with one or more people accessible at any time from the navigation menu.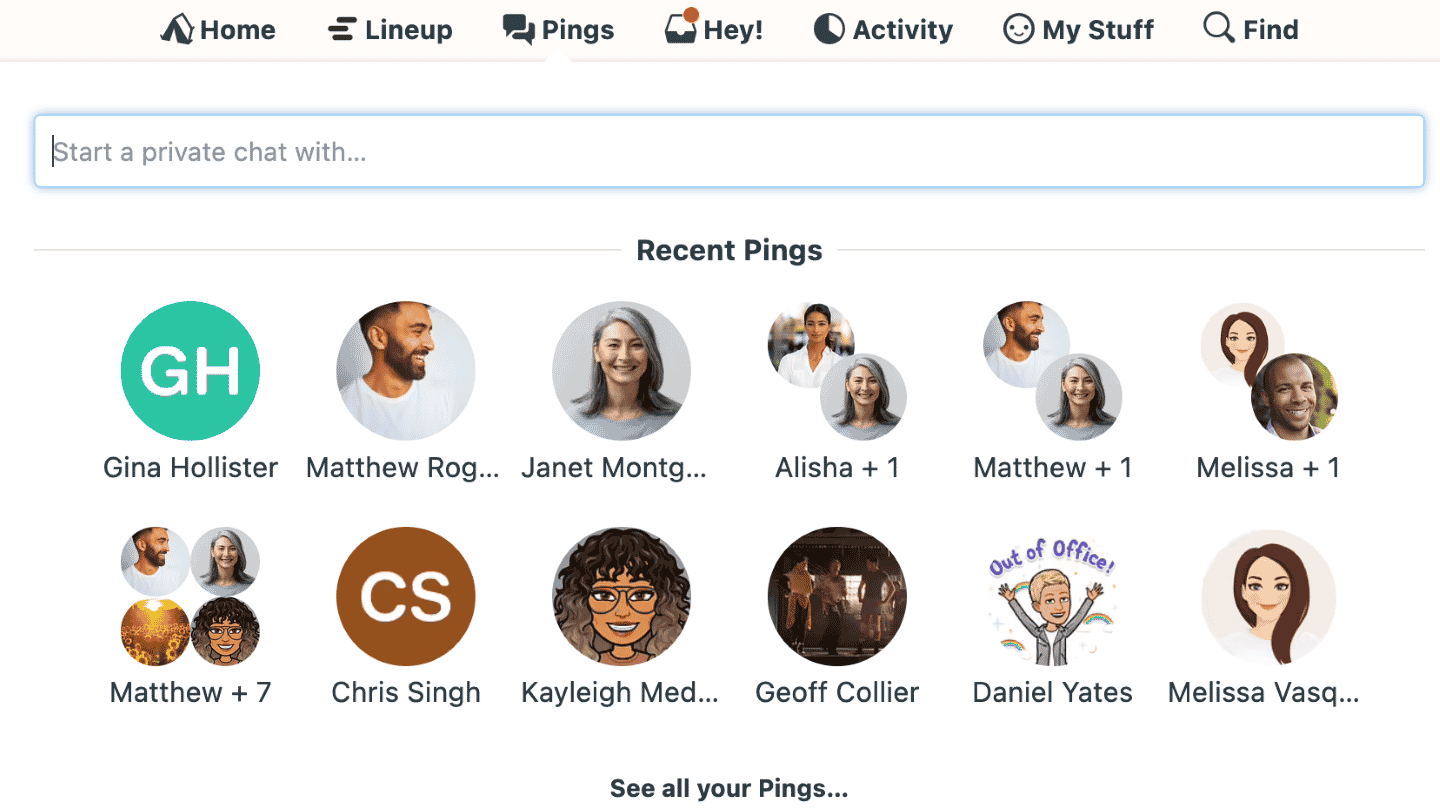 Collaboration between users
In Basecamp, each project or team has its own bulletin board. It's a space dedicated to announcements, ideas, questions and feedback.
All messages exchanged on the bulletin board are related to a specific project or team. This board allows any message to be passed on to all team members.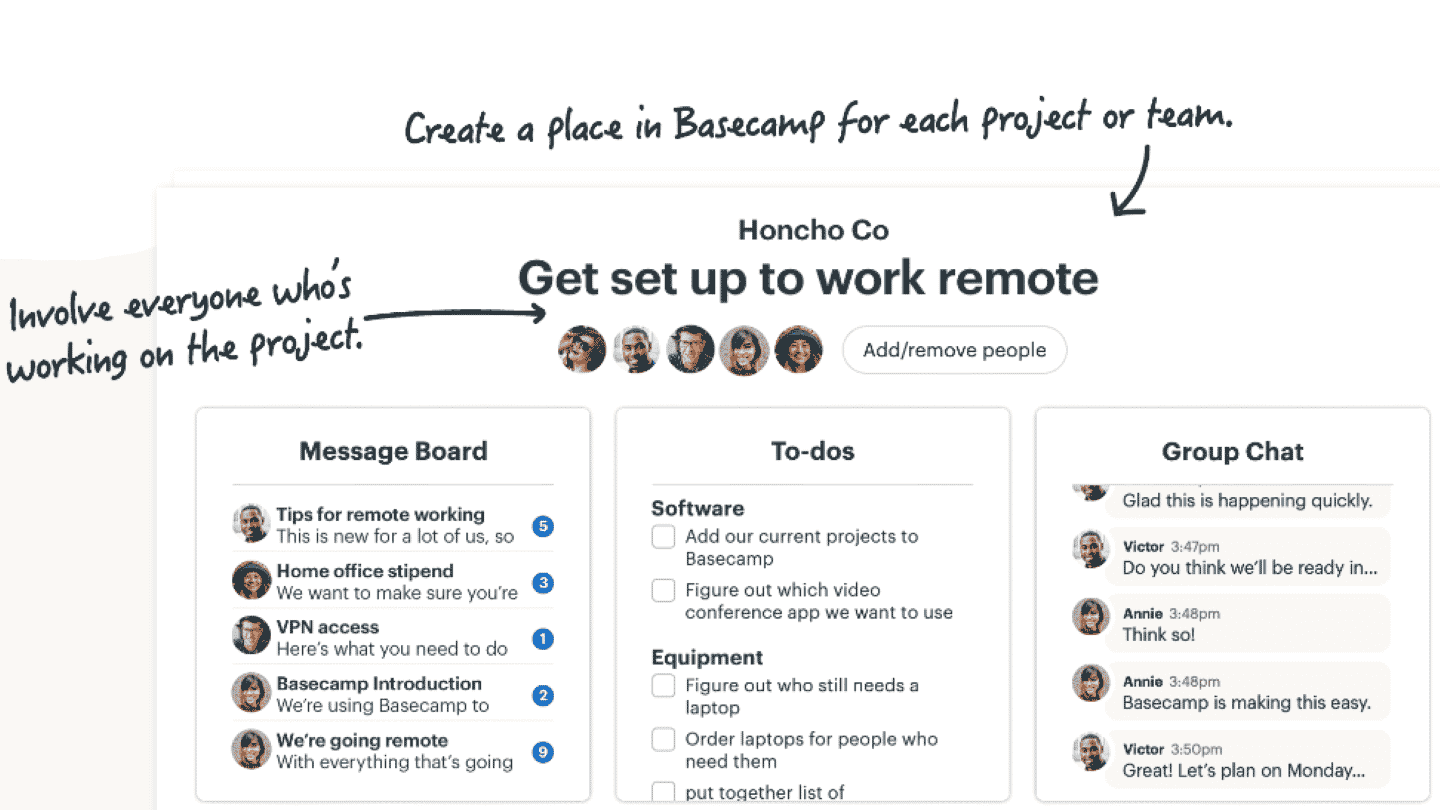 It allows to classify messages in customizable categories, to filter messages by category, and to change the sorting order (by date, alphabetically…).
This bulletin board is also customizable: You can change the text color, highlight it, add headings and bulleted lists, and even embed images.
Project management
Basecamp has many tools for project management. Each new project or team has a default Calendar feature, which allows you to see all the tasks to do and all the upcoming events.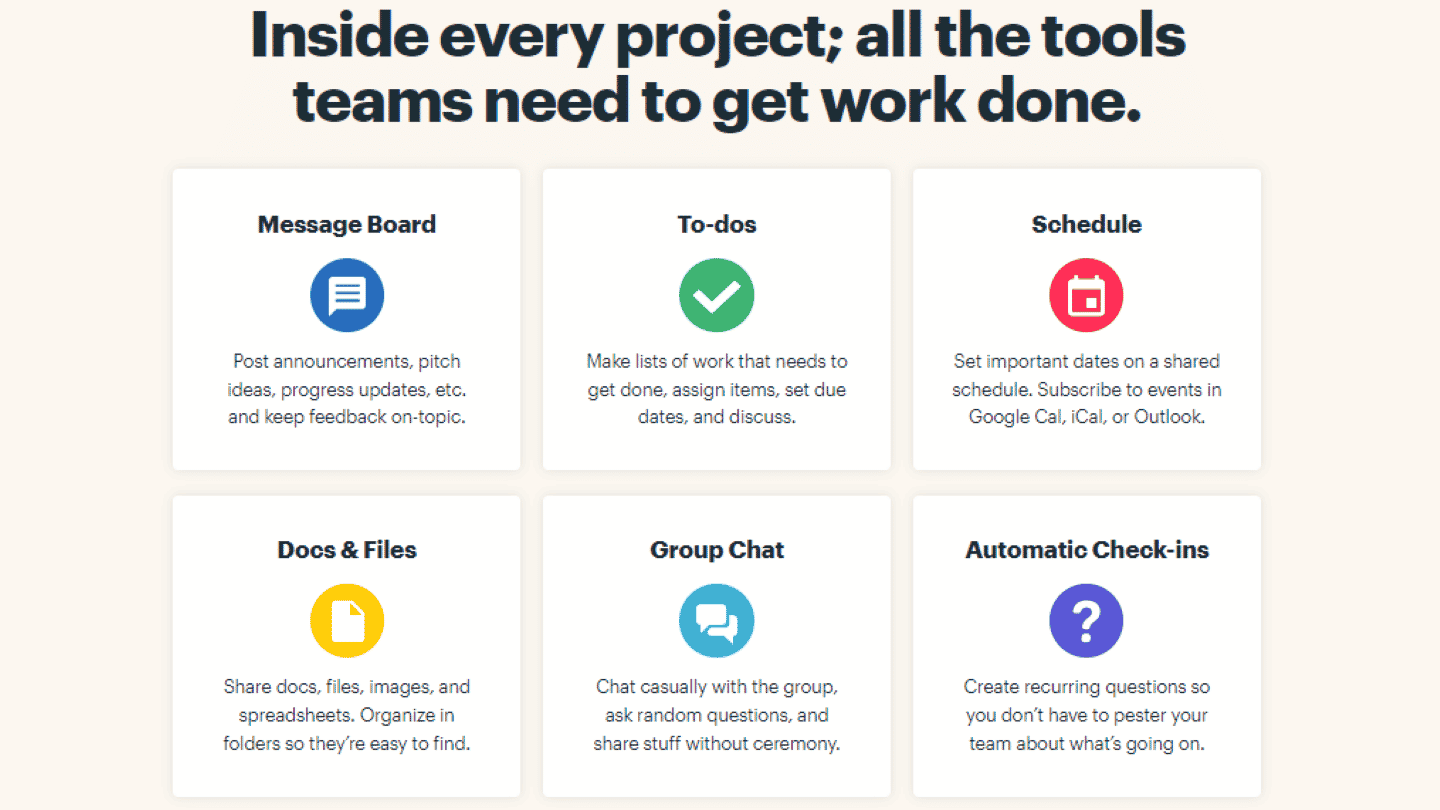 A new event can be added directly from this page, and by clicking on a given date, you can see all scheduled tasks and people involved.
Events can last one day or several days, and can be recurring. They can include notes to inform other team members. Simply mention a collaborator in the event and he/she will receive a notification.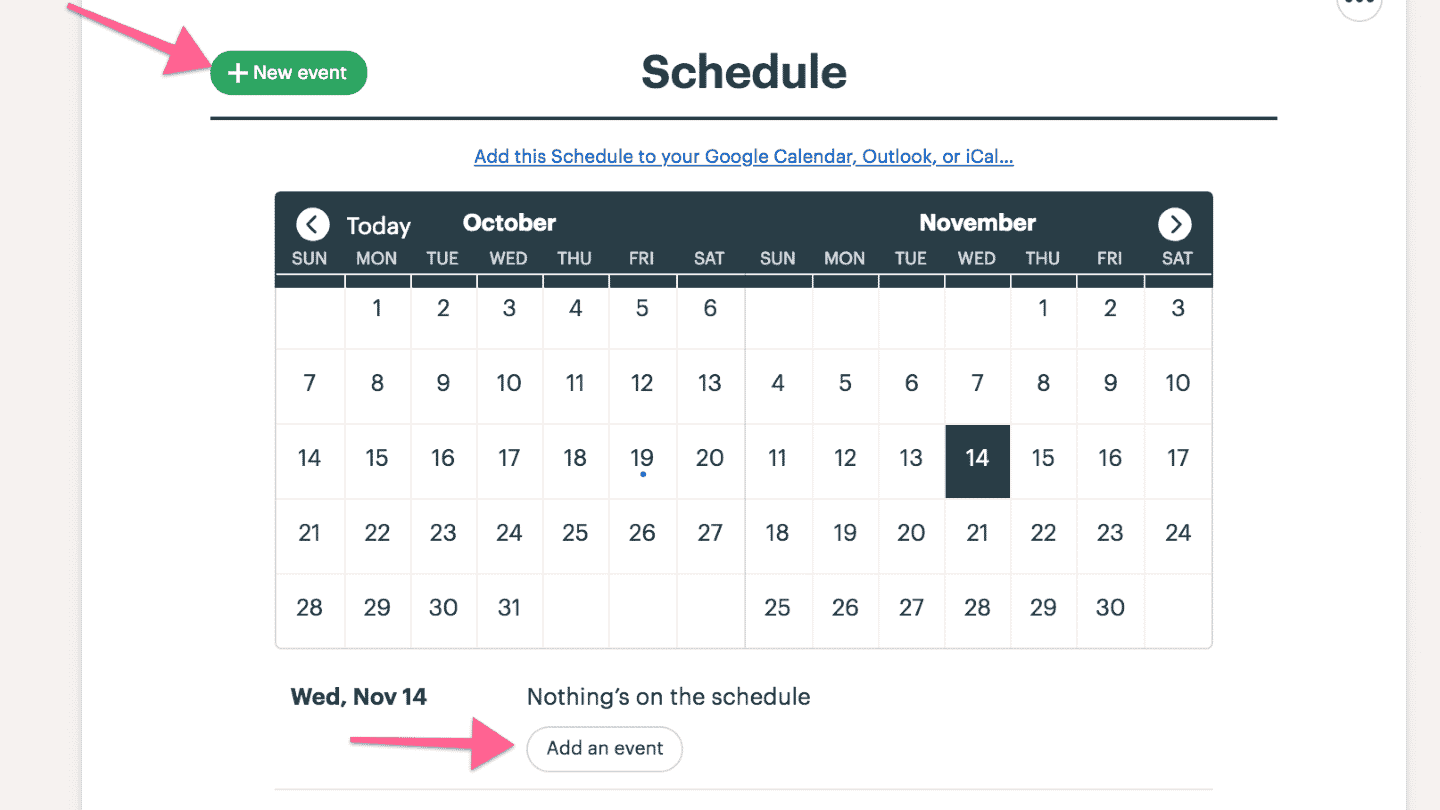 It is possible to synchronize the entire calendar with an internal calendar platform such as Google Calendar, Outlook or Apple Calendar, and to synchronize individual events.
Basecamp has an "Automatic Check-Ins" feature. It allows managers to create personalized questions that team members can answer on their own time.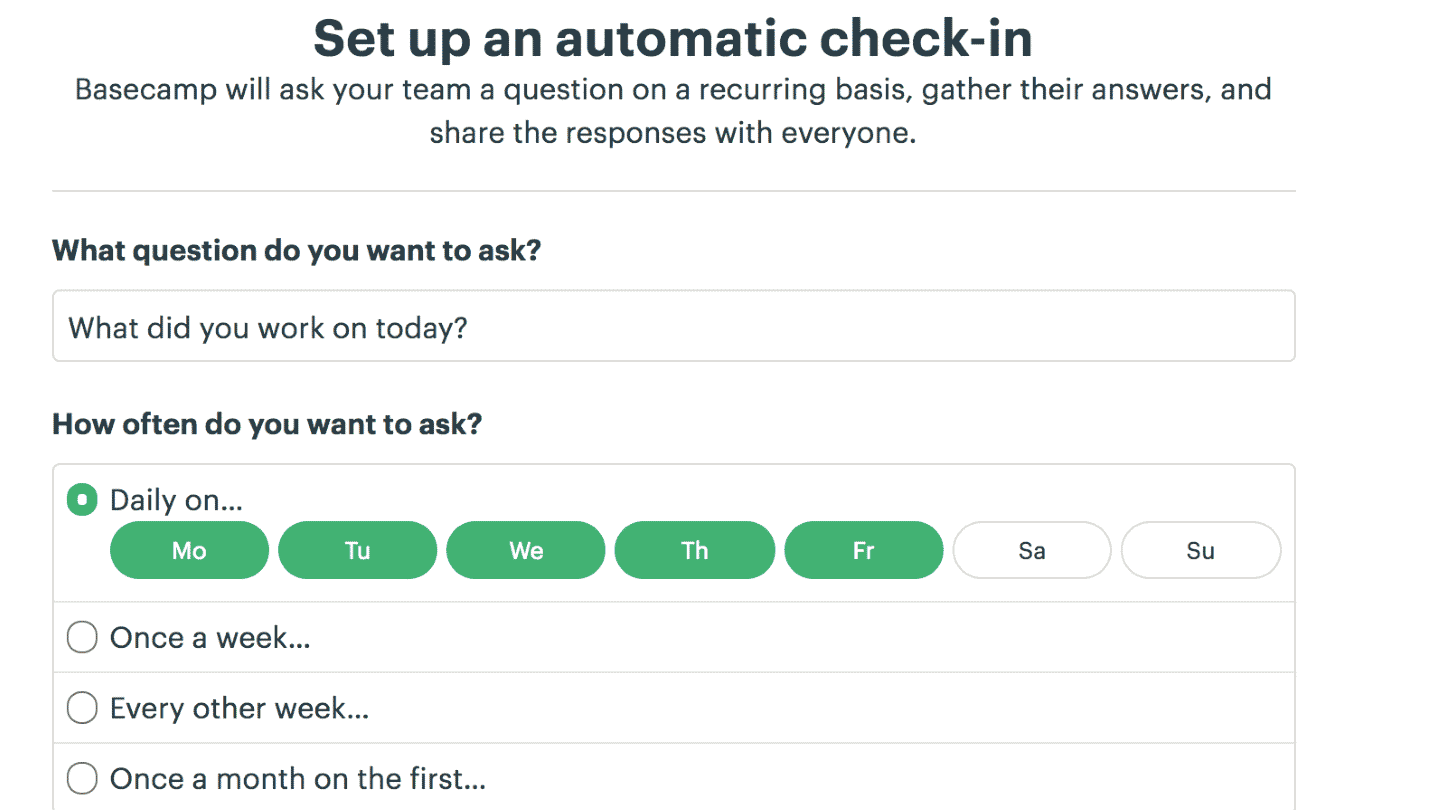 You can ask questions on a daily, weekly or monthly basis. It is also possible to filter who can see the questions, and to ask questions to your whole team, specific members or particular groups.
For example, you can send daily check-ins to ask team members what they are working on today. This feature is great for avoiding wasting time in meetings.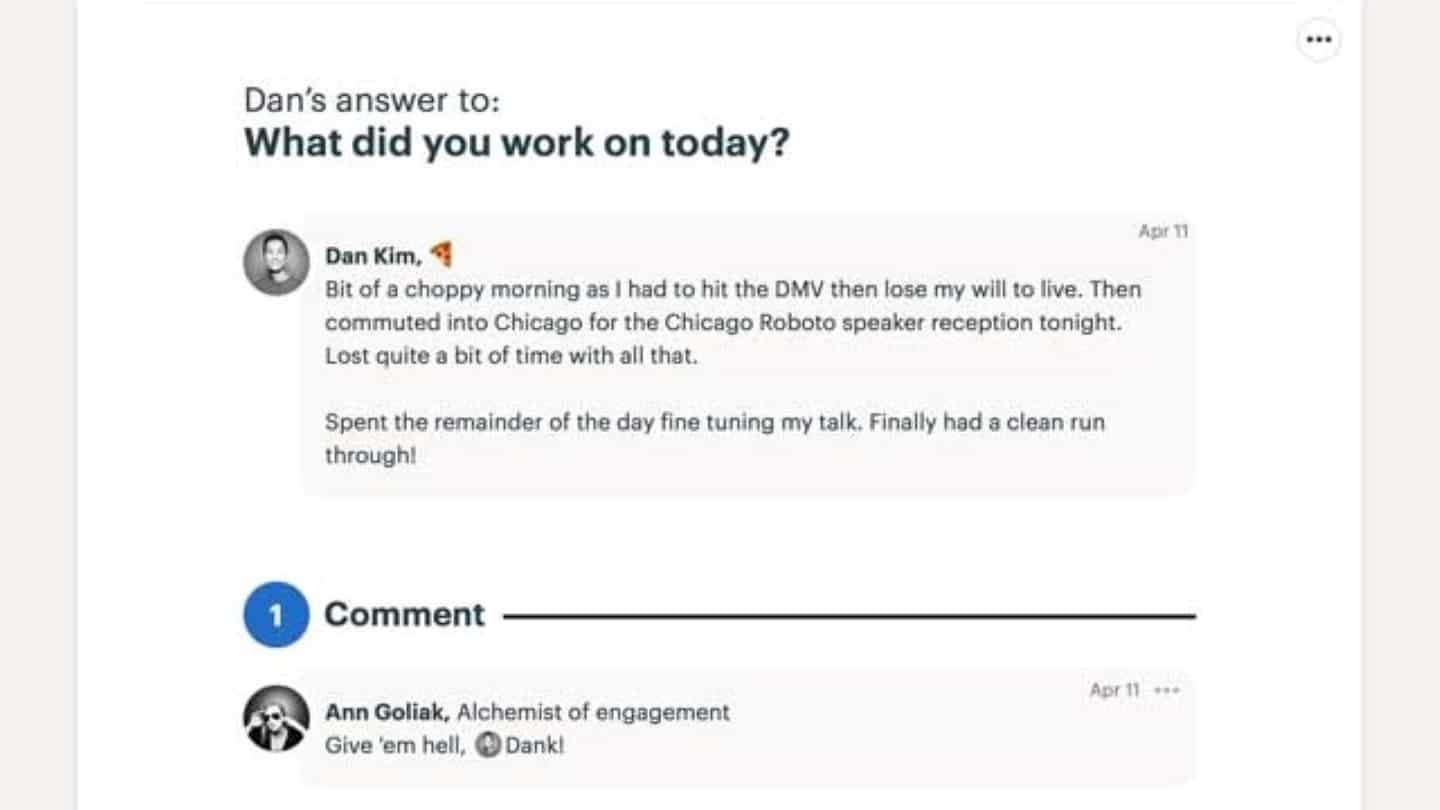 Lineup is a new visual timeline view, recently introduced by Basecamp. It allows you to see what you've been working on in the last few weeks, what you're currently working on, and what's next in your project.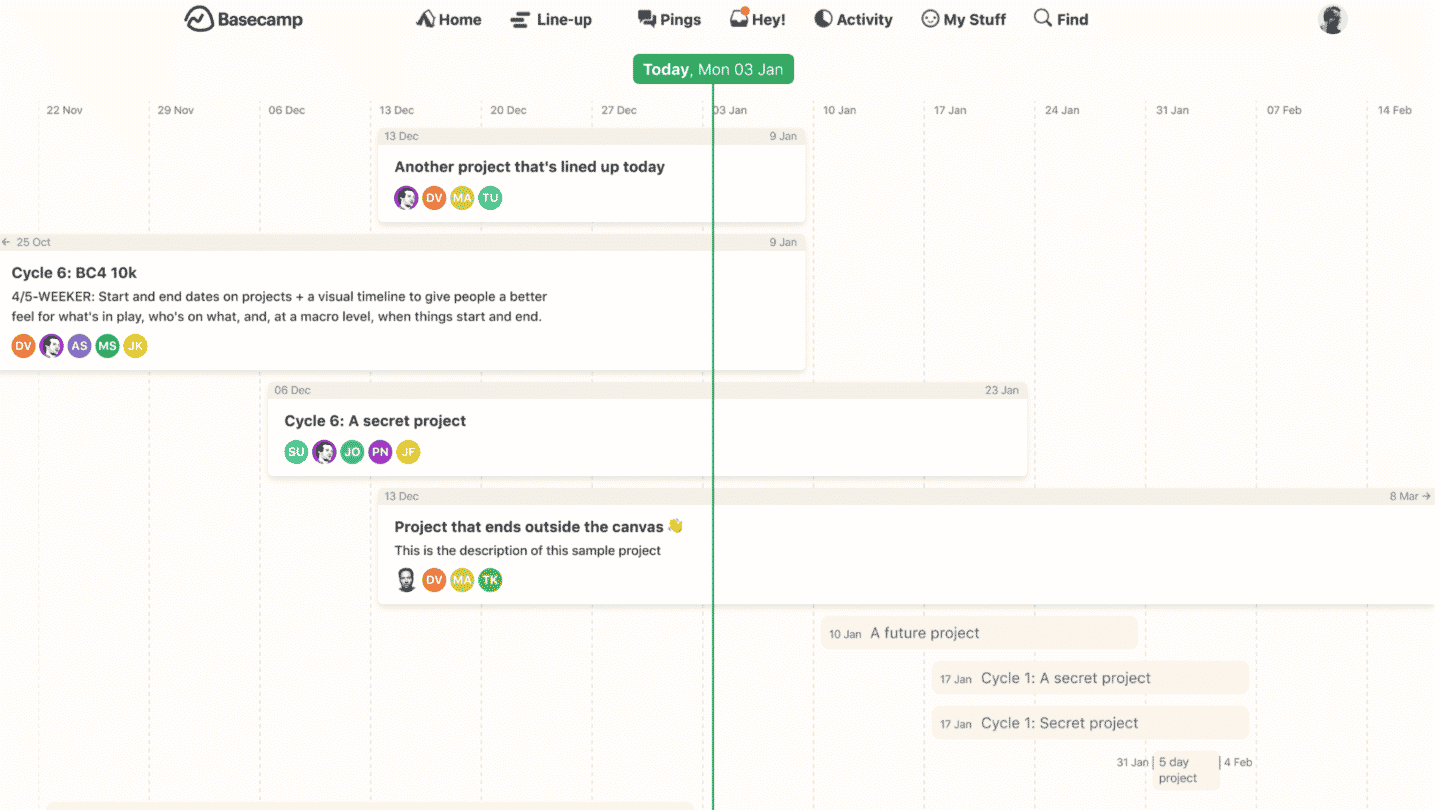 Thanks to it, you can see all projects with start and end dates in one place. Lineup shows 13 weeks at the same time: you can see the last six weeks that have passed, the six weeks to come and the current week in the middle.
This is a must-have feature if you are managing multiple projects and want to stay on top of everything that is happening across all projects.
Discover Basecamp
Discover all the features of Basecamp!
Customer reviews of Basecamp
Customers generally appreciate the ease of use of Basecamp. They emphasize the customization and the possibility to create spaces for each team. They also appreciate the communication and collaboration features.
However, some customers complain about the lack of functionality in different versions, which can be a problem for complex projects. They also find that the different versions of Basecamp make it difficult to understand the tool.
Discover Basecamp
Make your own opinion about Basecamp!
Customer support at Basecamp
The customer support page allows to contact directly the support team only through a contact form. The response time is short (a few tens of minutes), and the service is available 24 hours a day from Monday to Tuesday, and from 9am to 6am on weekends.
To solve problems independently, the customer support page also offers various "How-to guides", which explain how to use the tool, how to manage a project, or how to work with customers using Basecamp.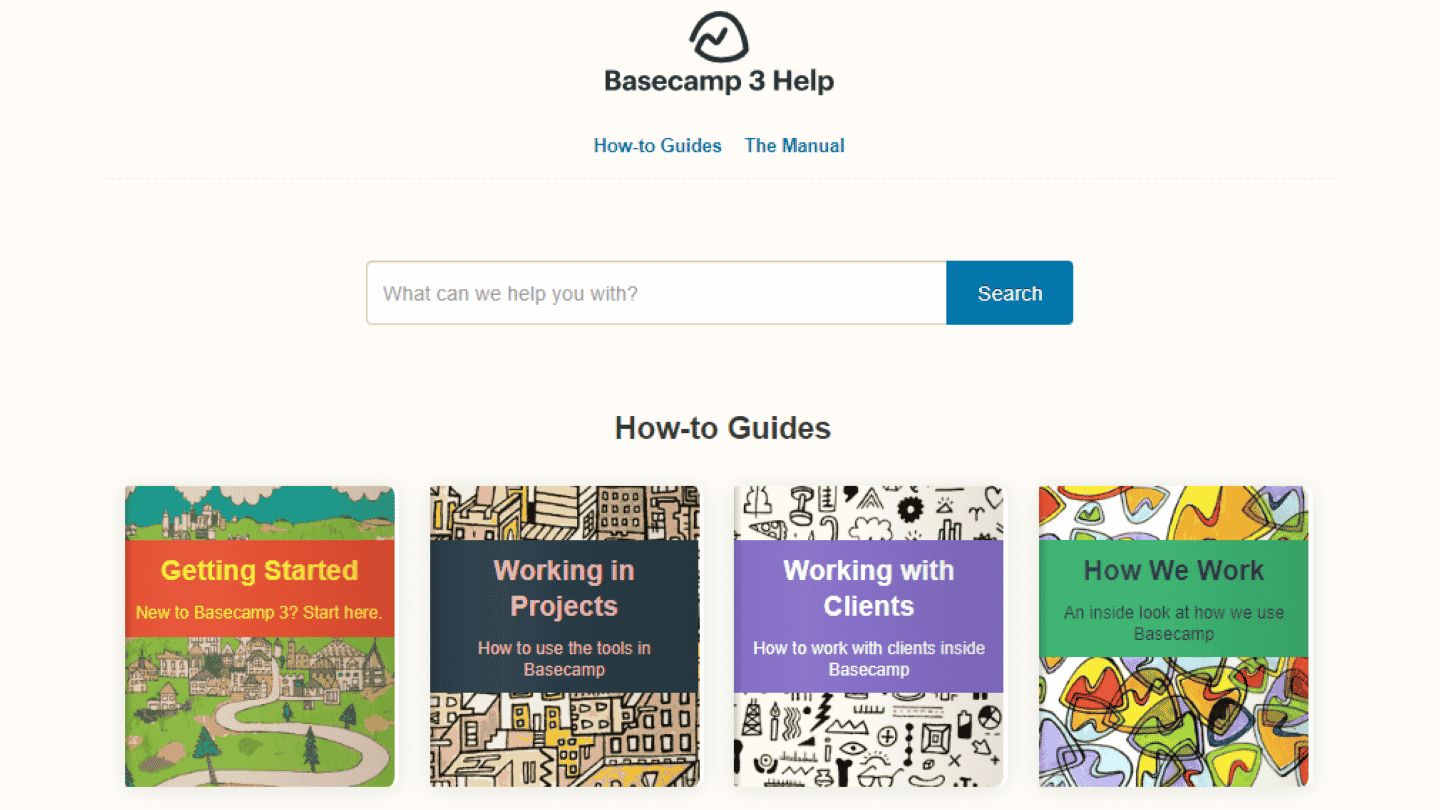 This page also contains manuals about different topics, such as billing, applications, and personal settings.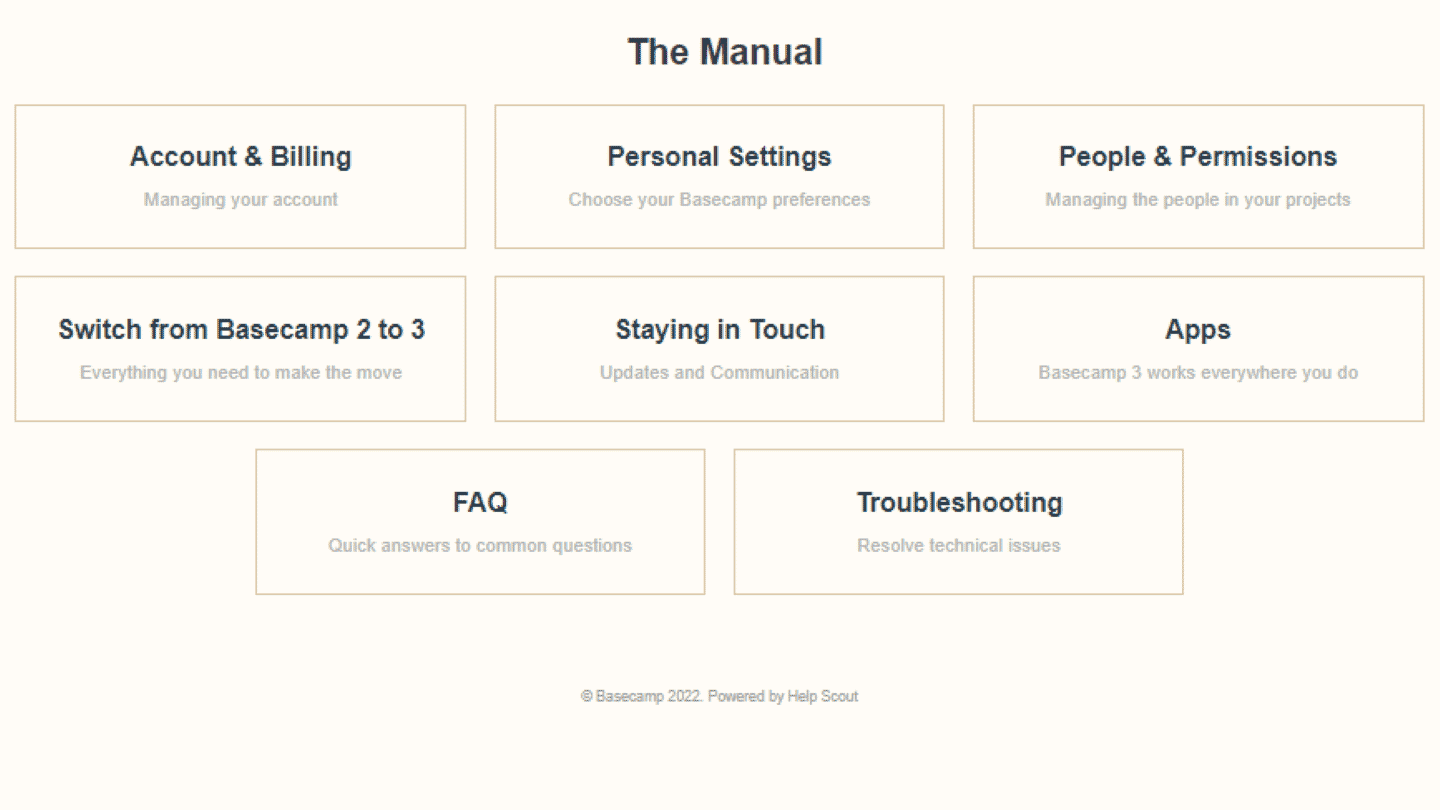 The Basecamp help page also contains many videos to learn how to use the tool independently.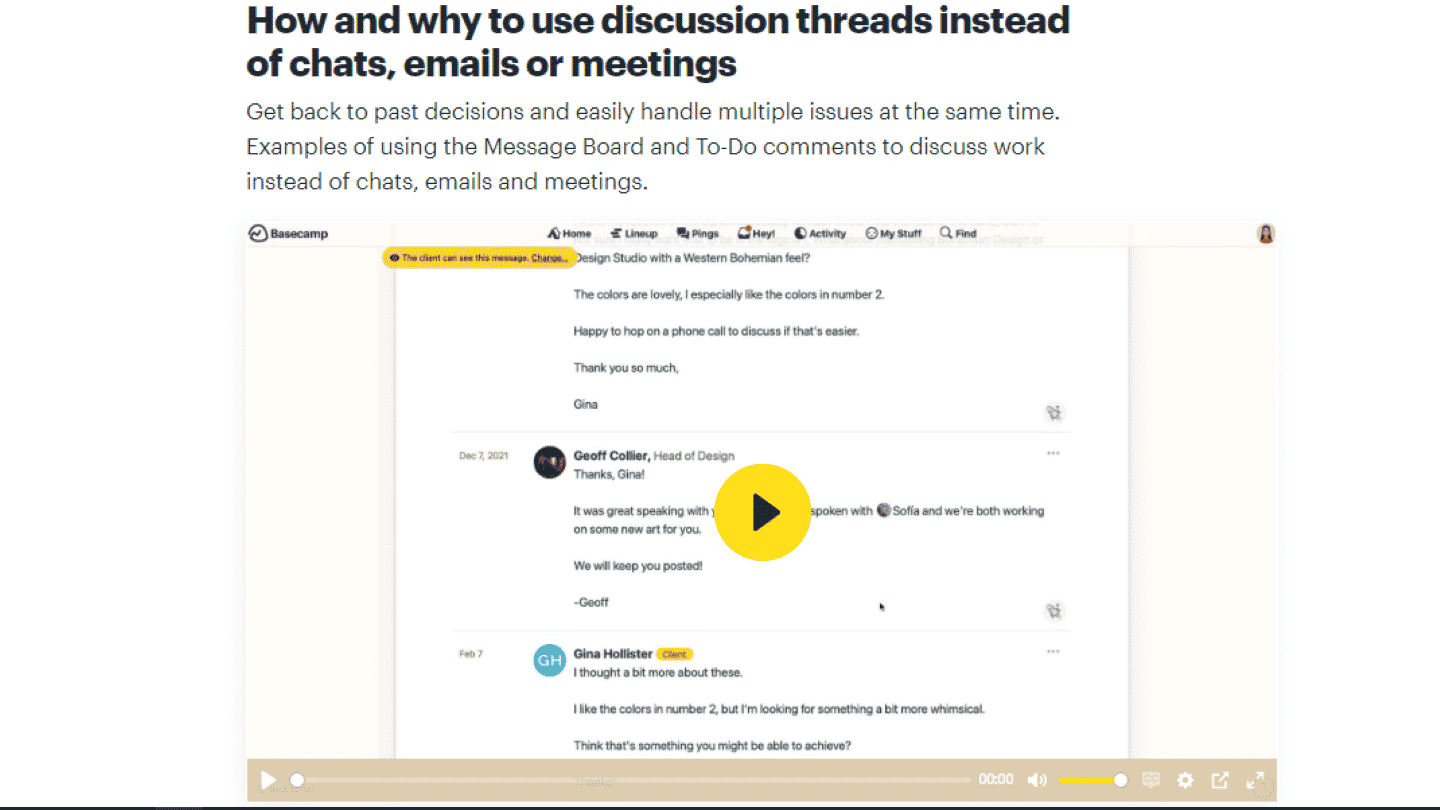 On the negative side, Basecamp doesn't have a community around the tool, which would allow people to share tips and techniques for solving problems directly.
Discover the Basecamp Help Center
Make your own opinion on the Basecamp Help Center!
The Basecamp integration marketplace
Integrations are necessary to facilitate the connection with other tools used by the teams or customers, and to facilitate collaboration.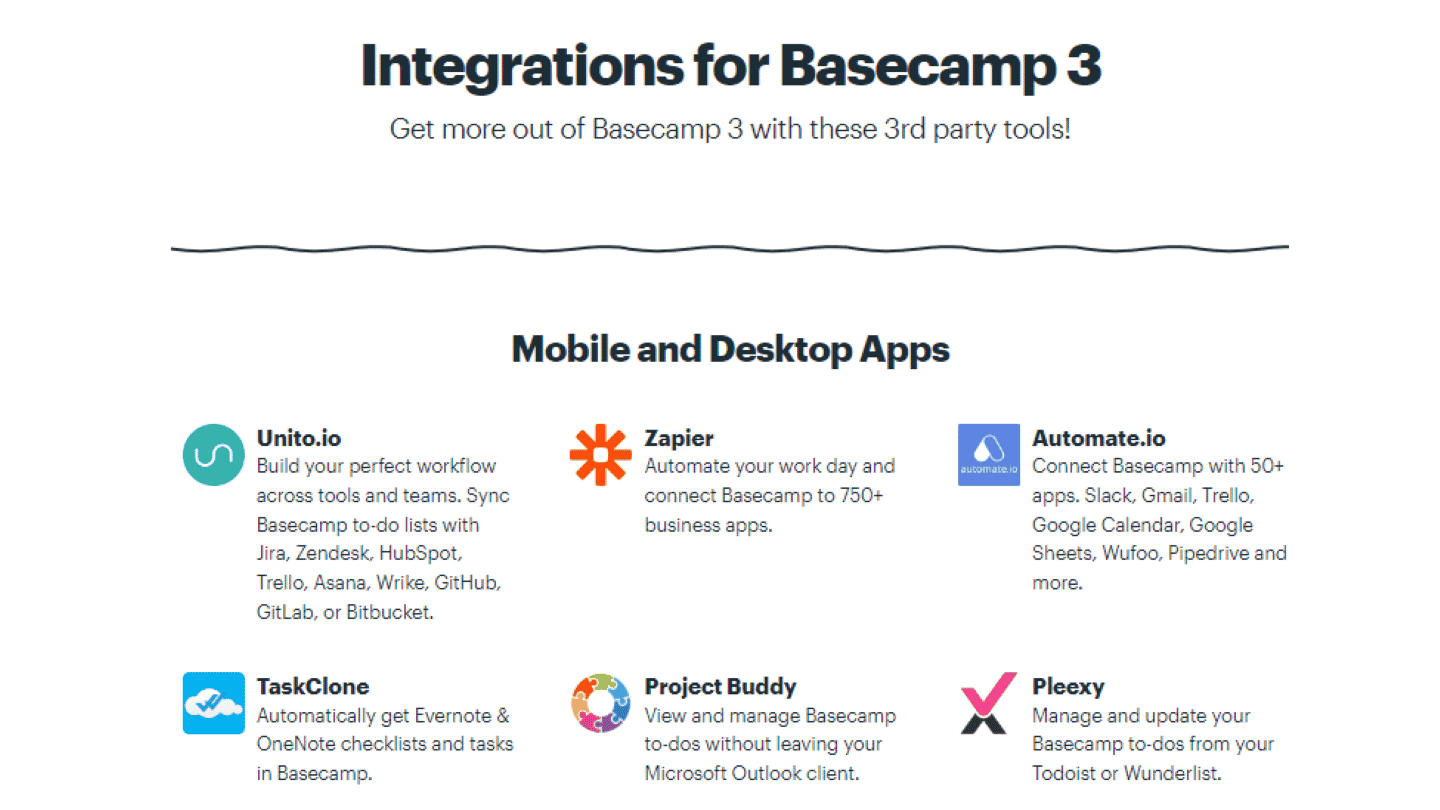 Basecamp offers a marketplace of integrations covering all the fields necessary for project management:
Time tracking & invoicing: Clockify, Toggl, Timely… These applications are essential to track the actual time spent by teams on a project, and to invoice the client based on this information.
Scheduling and reporting: DNS Check, Ganttify, Easy Insight, Slickplan… These integrations allow you to go further than Basecamp's scheduling features, and to get a lot of information thanks to reports.
Web development: Git Helpers, Saber Feedback, Instabug, OAuth.io… These integrations will be useful to all those whose activity has for object, or requires web development.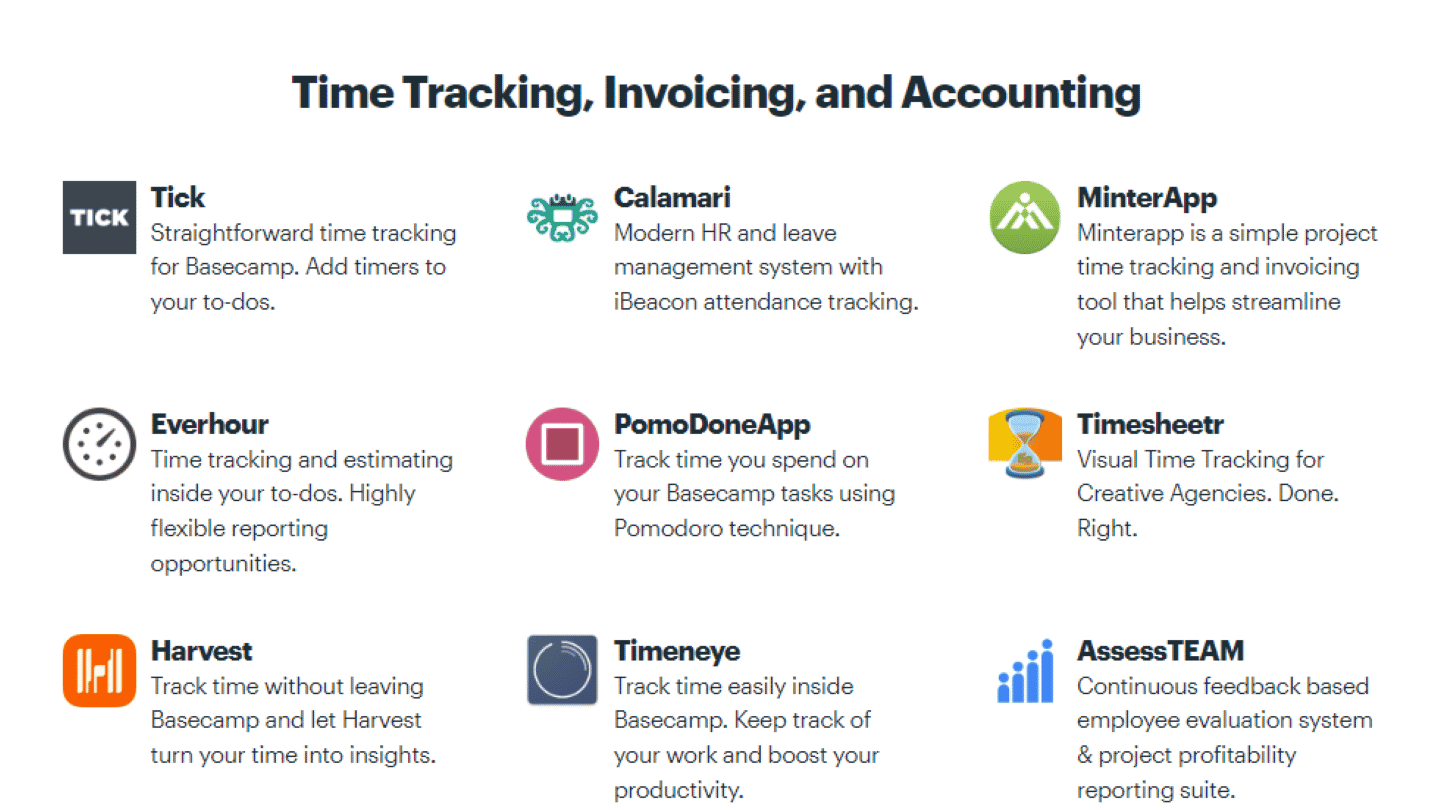 Thanks to the integration with Zapier, Basecamp has more than 4,000 third-party applications available for integration. Basecamp 3 also allows developers to directly integrate their product.
Basecamp : prices
Among the best project management software, Basecamp is the only one that doesn't charge per user but globally for a whole team. This is an advantage for large structures, but it can be a disadvantage for small teams.
Basecamp offers two different plans:
Basecamp Business: $99 per month, per team.
Basecamp Personal : free.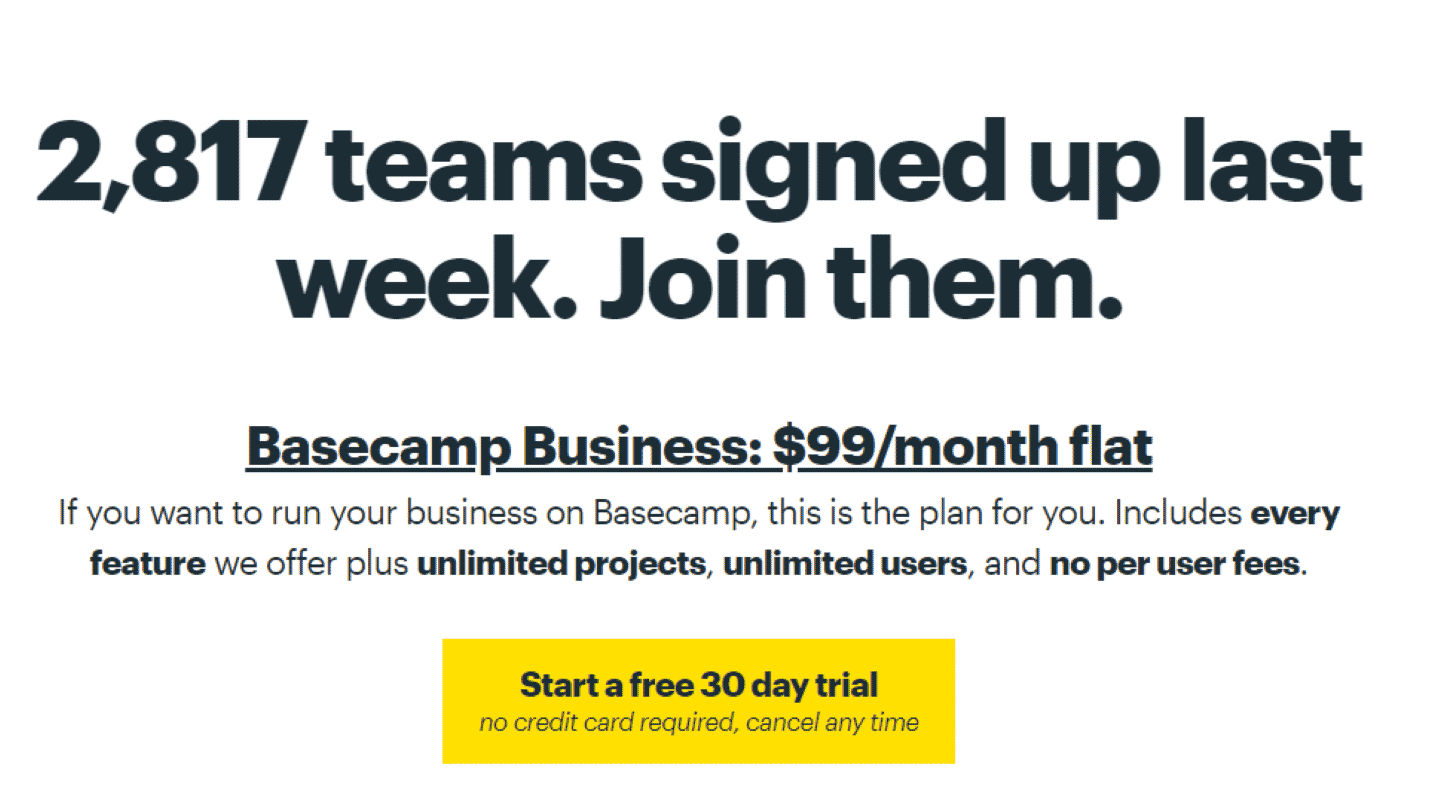 Basecamp business includes all the features of Basecamp, for an unlimited number of projects, users, and customers. It also provides access to 500 GB of storage and priority support.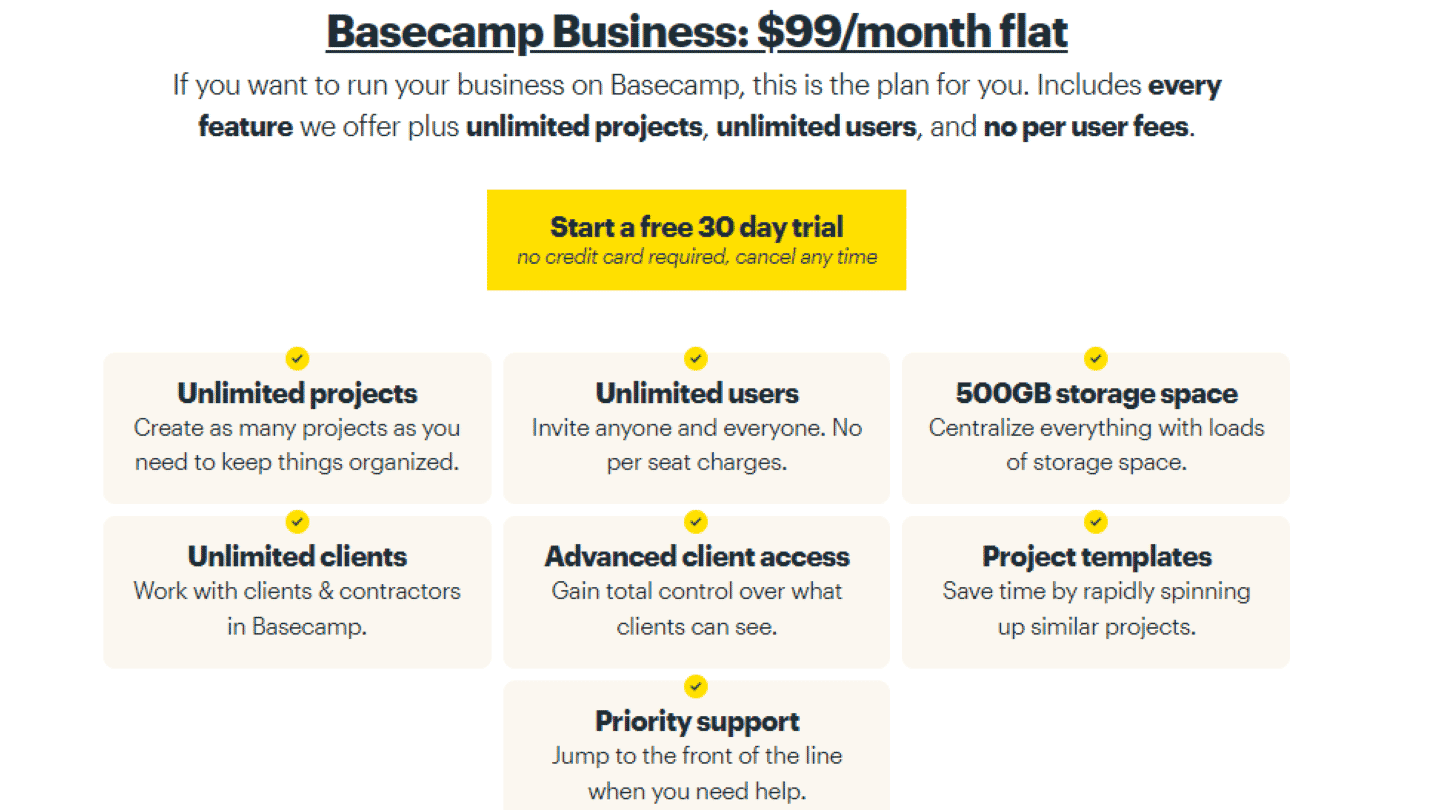 Pro tip
The price of Basecamp Business may seem high, but you have to take into account the number of team members: the bigger the team, the more profitable Basecamp will be compared to a software that you have to pay for each user.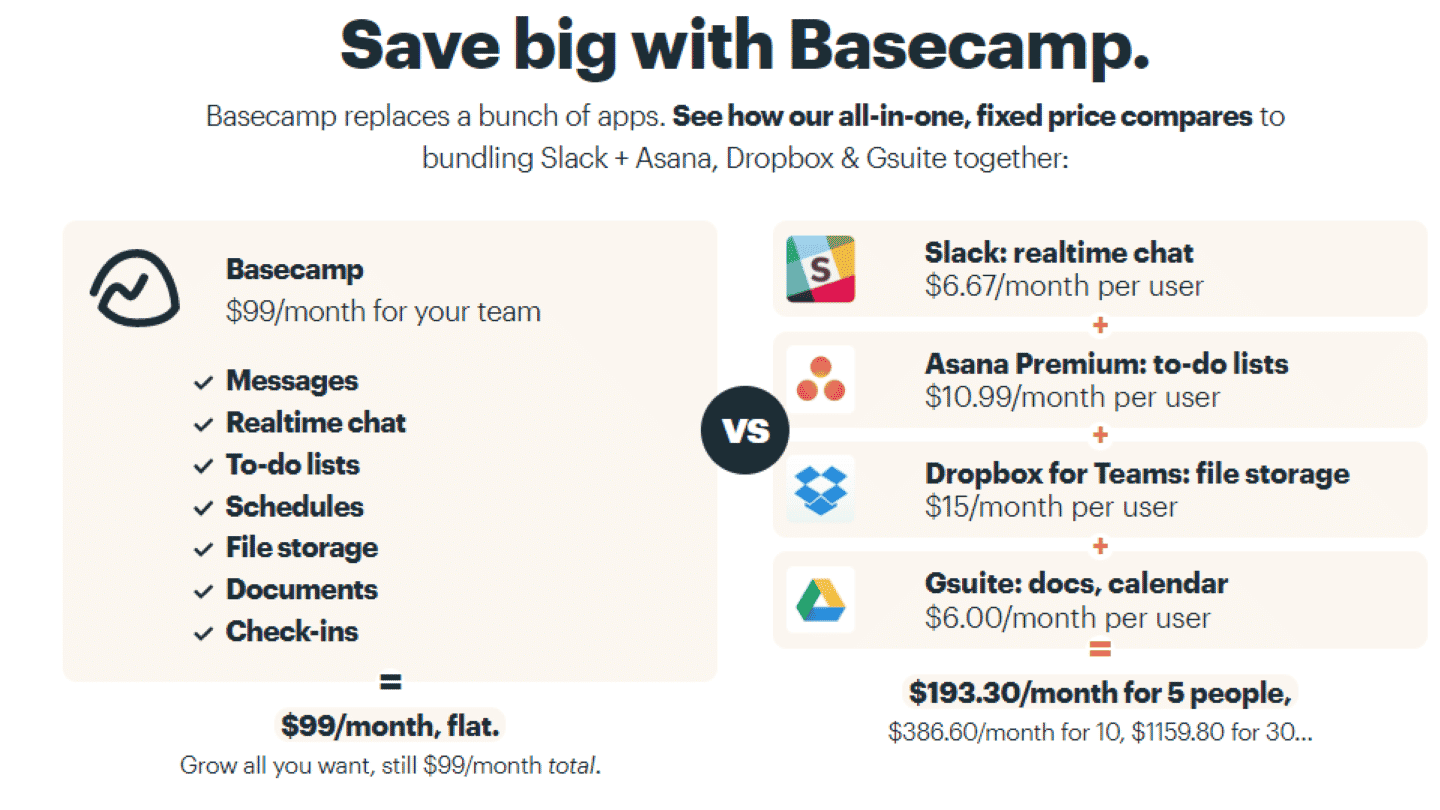 Basecamp Personal is free, but limited to only 3 projects, 20 users, and 1 gig of storage.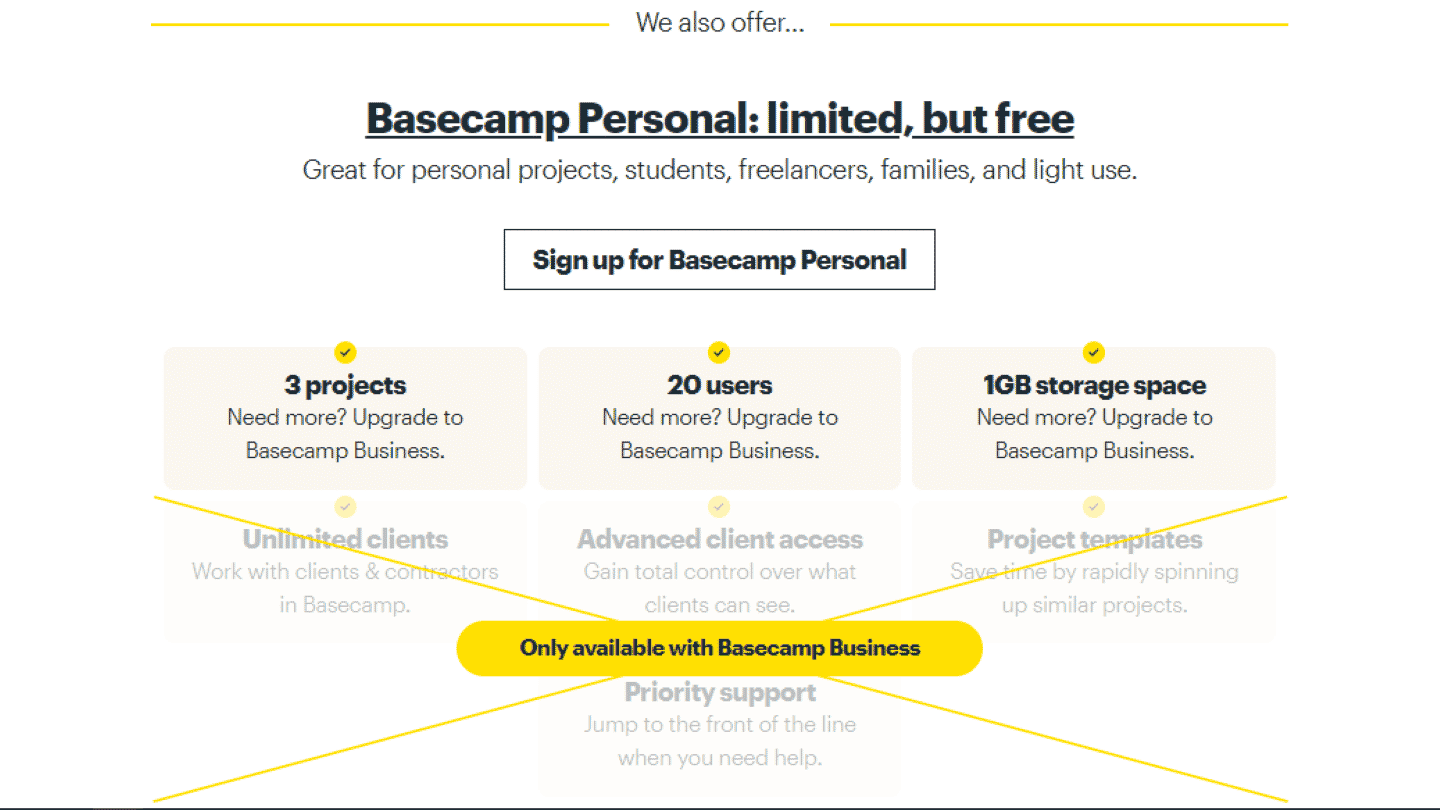 Try Basecamp for free
Basecamp offers a totally free version: don't hesitate to try it!
The main alternatives to Basecamp
Basecamp's functional depth can sometimes be too limited for complex projects. For teams with very complex projects to manage, we therefore recommend tools with greater functional depth, such as Monday, and Hive.
For those with a small team and a smaller budget, we recommend considering Zoho Projects or Asana.
And finally, for those who have planning needs above all, you can look at Notion, or Trello.
Reader Interactions