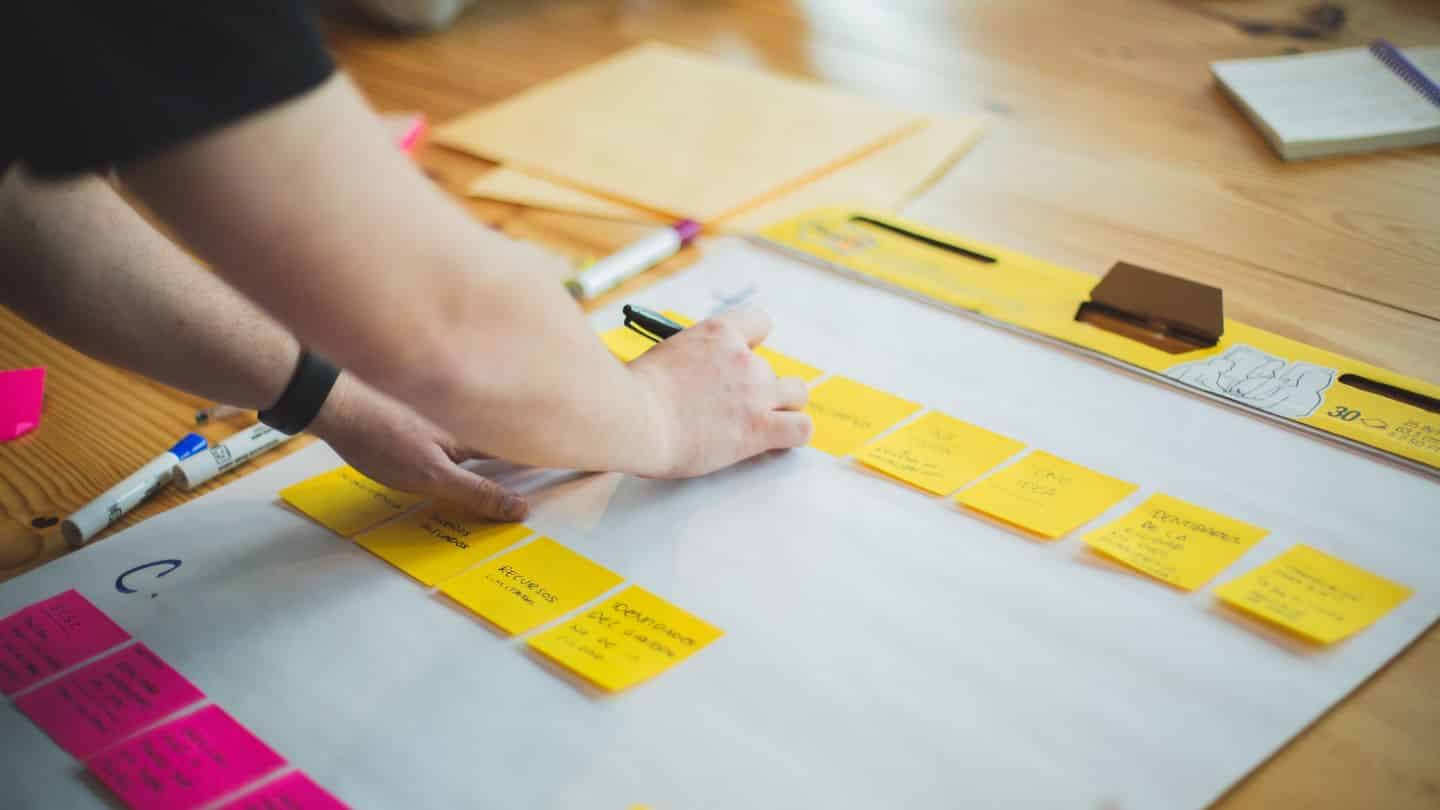 A good planning software is essential to the good management of a project. There are hundreds of software packages available, some with similar functionality.
However, these tools differ in their philosophy, their target (small or large team, or company), the degree of advancement of their features, and their prices.
They often offer a free version or a trial period that gives access to limited features. They then offer several paid plans that feature advanced automation, reporting and collaboration capabilities.
We give you all our secrets in this article, so that you can choose the planning software that will best suit your teams!
What is scheduling software?
A planning software is a tool that aims to organize the work, taking into account all the factors of complexity of a project (coordination of teams, deadlines to respect, given budget, as well as other factors on a case by case basis). 
This type of software allows you to centralize the different elements of project management in a single solution and avoid having to navigate between different software and interfaces, which could lead to a loss of information. 
These tools also make it easier to visualize the work of teams, which is particularly useful for managers.
There are different types of scheduling software:
Software oriented towards annual planning
They propose strategic and operational plans outlining specific goals, objectives, activities, and roles over a given period of time (usually one year).
They assist in decision making, budgeting, and evaluating the human resources needed for a project.
Software oriented towards continuous planning
These more flexible software programs continuously adapt to new data.
They help assess strategies, budgetary and HR capacities, and priorities. 
The best software includes scenario planning and what-if analysis. 
Software oriented towards project planning
They focus on the scope, risks and resources for a project. 
They integrate work distribution, reporting, and resource management functions. 
Key features of planning software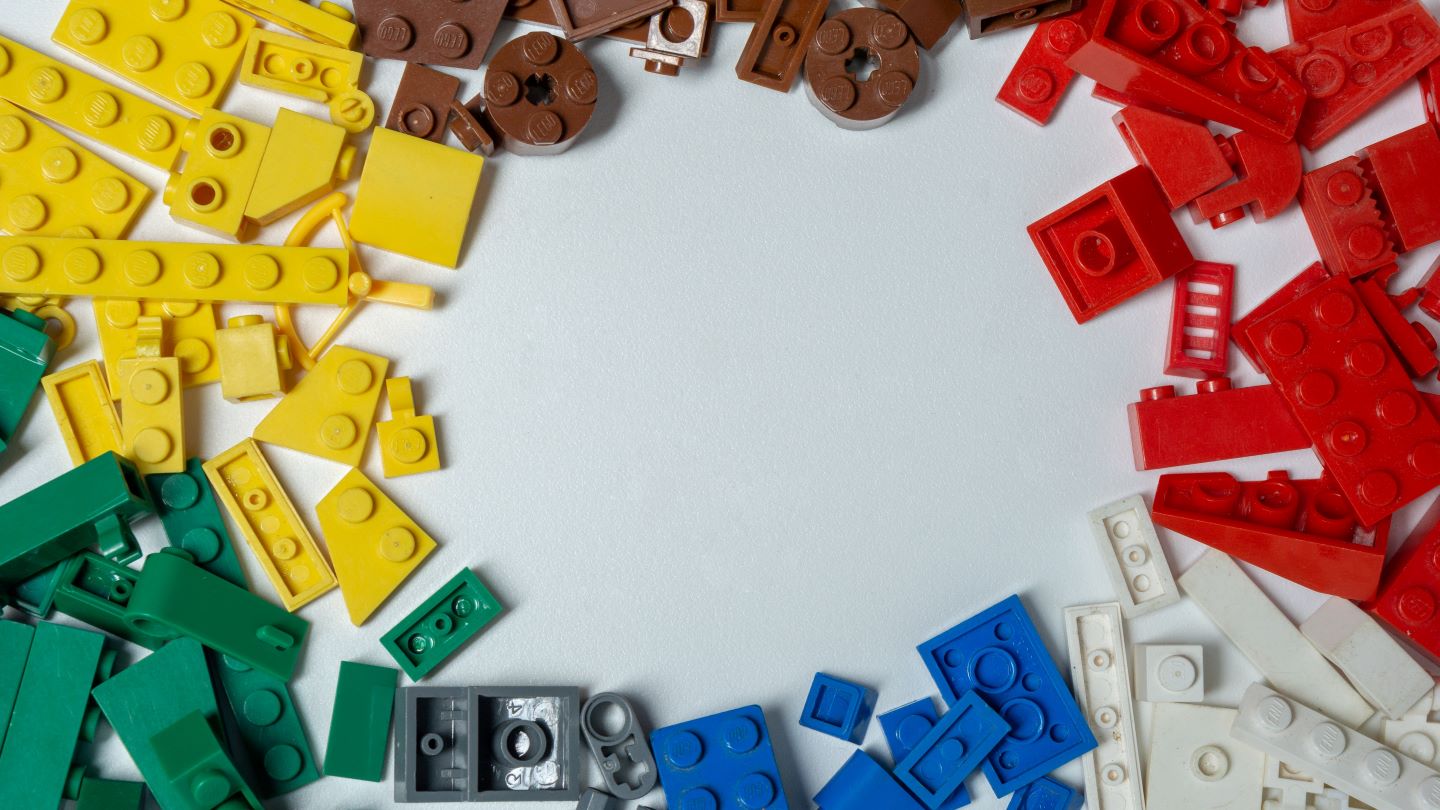 Planning software has many features dedicated to project management. They are differentiated by the features they offer, but also by the degree of advancement with which they can be used. 
The main features of these softwares are :
Task management: allows you to break down a project into tasks and steps, and to organize the tasks in a calendar or a Gantt chart, as needed.
Internal collaboration: management of information sharing (collaborative comment space), task distribution within and between teams, and reminders. 
Visualization: this feature provides an overview of a project, or of the activity of a team or of the company over a given period of time (month, year, etc.). It allows you to identify difficulties that could prevent the project from running smoothly.
Reporting: This functionality aims to provide data on projects (deadlines, budget and team capacity) and on the performance of a team or the company over a given period of time, to facilitate future forecasting. 
Integrations: almost all tools offer a catalog of integrations to facilitate the connection with other tools used by the team and to facilitate real-time collaboration on documents. 
Automations: the best tools also include a large number of automation features to save time.
Pro tip
When choosing a software, it is important to take into account its ease of use: depending on the familiarity of your teams with this type of tool, the learning curve can be more or less short.
Why choose a planning software?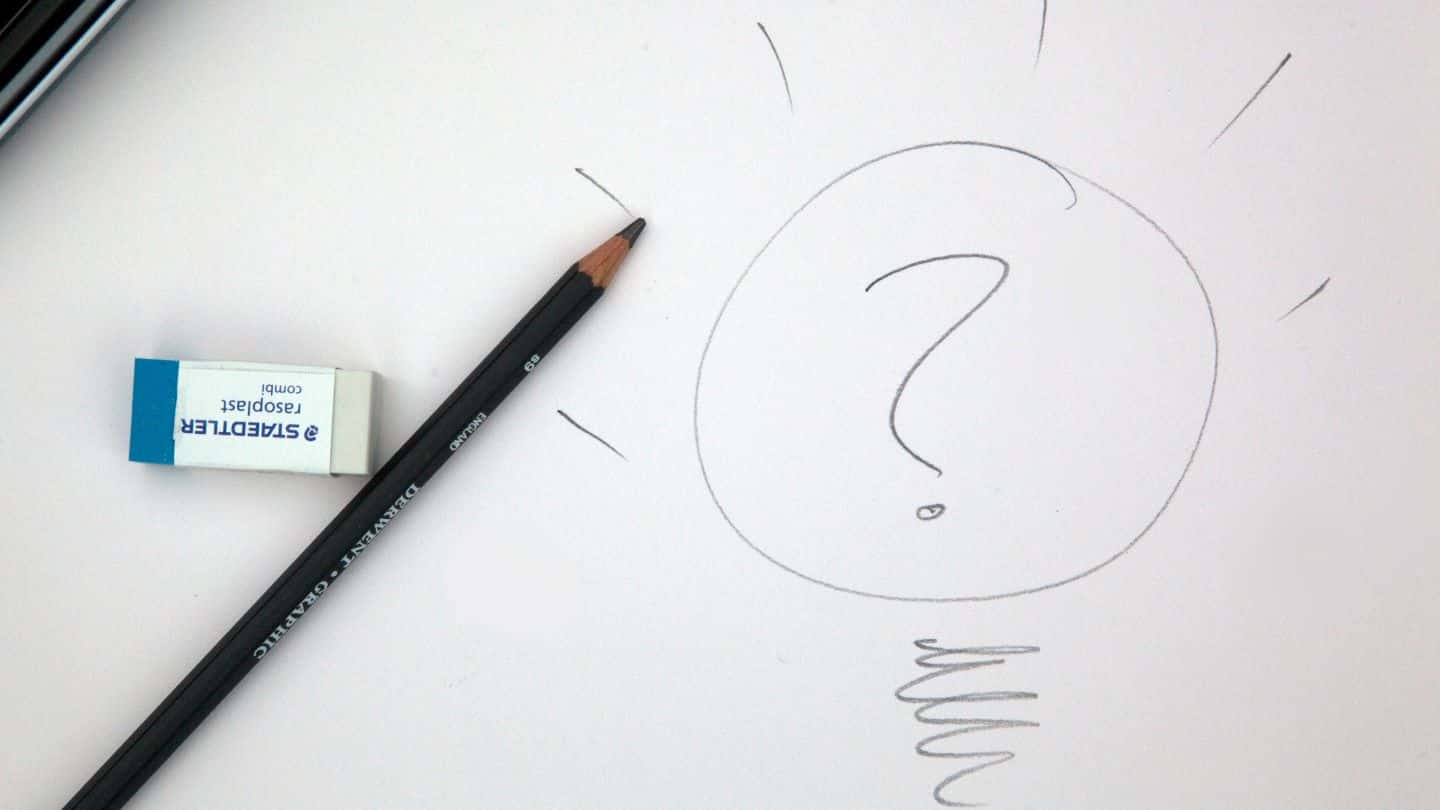 The main objective of planning software is to gain forecasting capacity for future projects. These tools allow you to work more efficiently as a team and avoid navigating between different interfaces.  
Here are some of the main advantages of these programs:
Better visibility: view, track and manage individual and team workloads, skills and current and future availability.
Facilitated communication and collaboration: these software programs act as a shared resource center, helping with decision-making and work distribution.
Risk management: including visualization and reporting functions. 
Internal archive view: these tools allow you to keep an eye on the work done in the past to facilitate the forecasting of future projects.
Our top 10 planning software
#1 Monday: Easy-to-implement software for everyone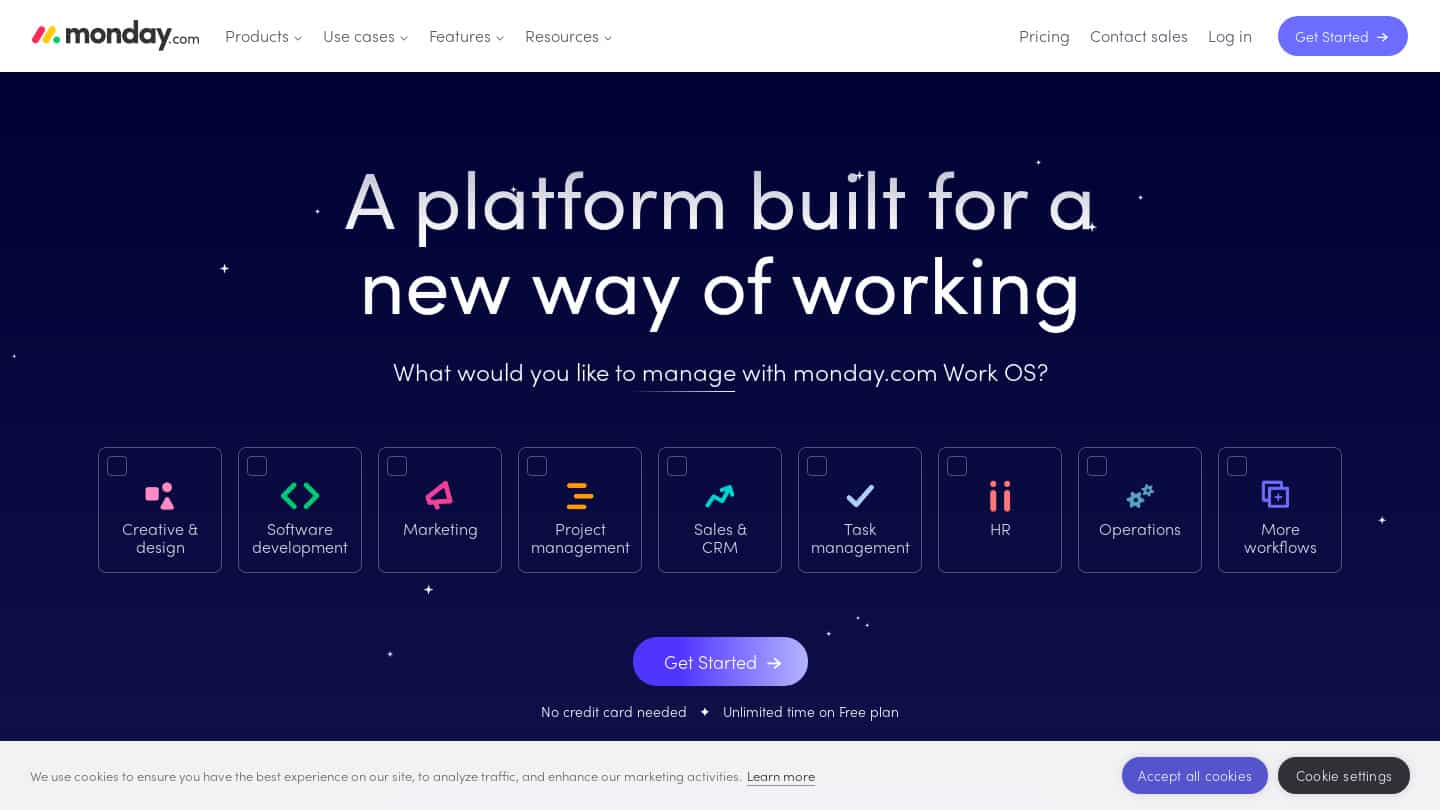 Monday is ideal for efficiently planning and executing complex projects. Its clean interface and numerous features and integrations bring workflows together and streamline tasks.
Monday allows you to display the team's schedule over any chosen period of time. The tool also offers project management via a collaborative dashboard, and numerous integrations.
The free version can be used by 2 employees. The basic version at 9 euros/month/users offers unlimited tasks and projects. The Standard version at 12 euros/month/users gives access to various views, automations and integrations.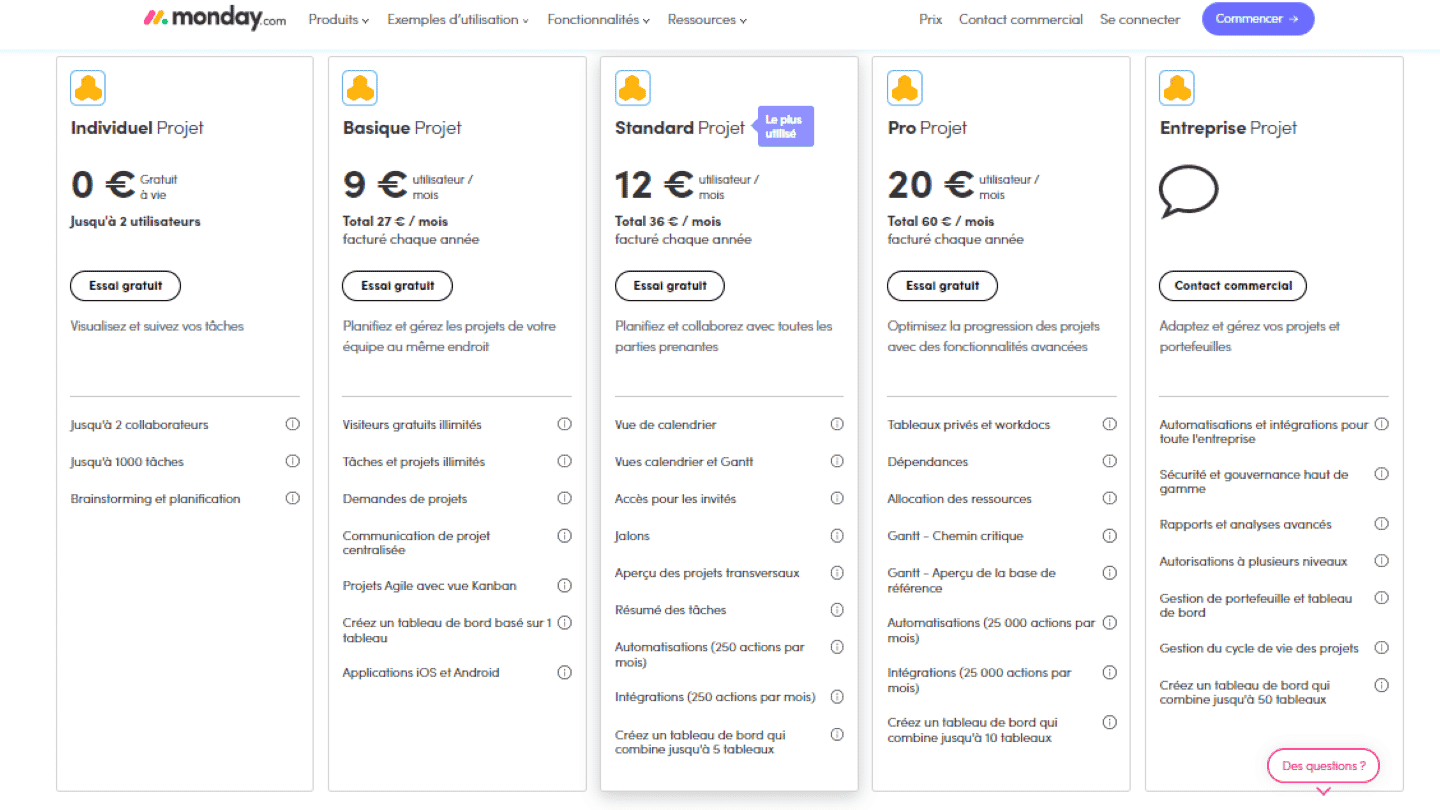 Try Monday for free
Monday offers a totally free version: don't hesitate to try it!
#2 Wrike: Excellent for complex projects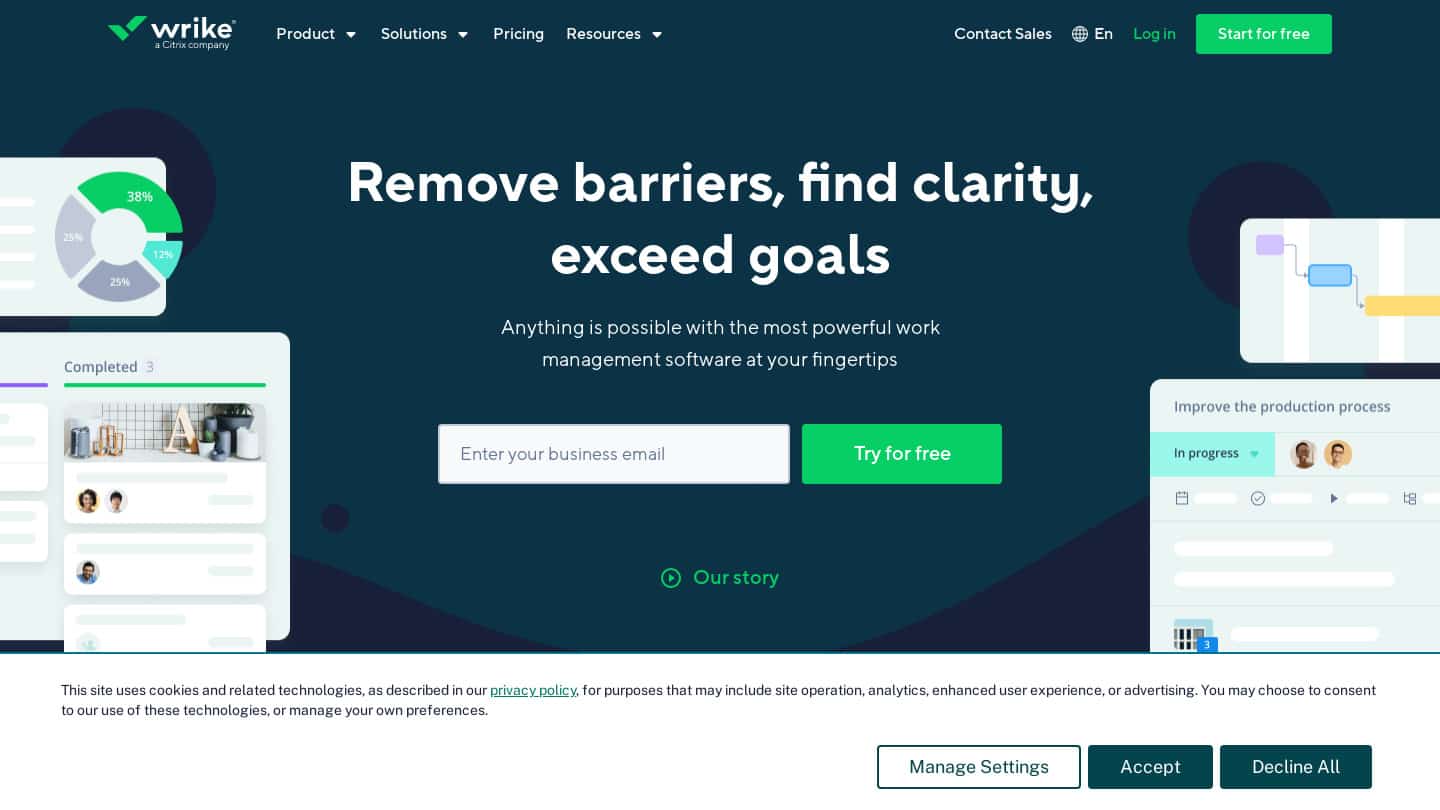 Wrike is the perfect software for both small and large companies, who are looking for an easy to use software. Easy to use, Wrike is indeed ideal to quickly initiate small or medium projects. 
This tool offers most of the features needed for project planning: Gantt charts, Kanban Dashboard, integrations, and time tracking tool.
The free version of Wrike provides access to web, desktop, and mobile applications that allow you to work with internal and external collaborators.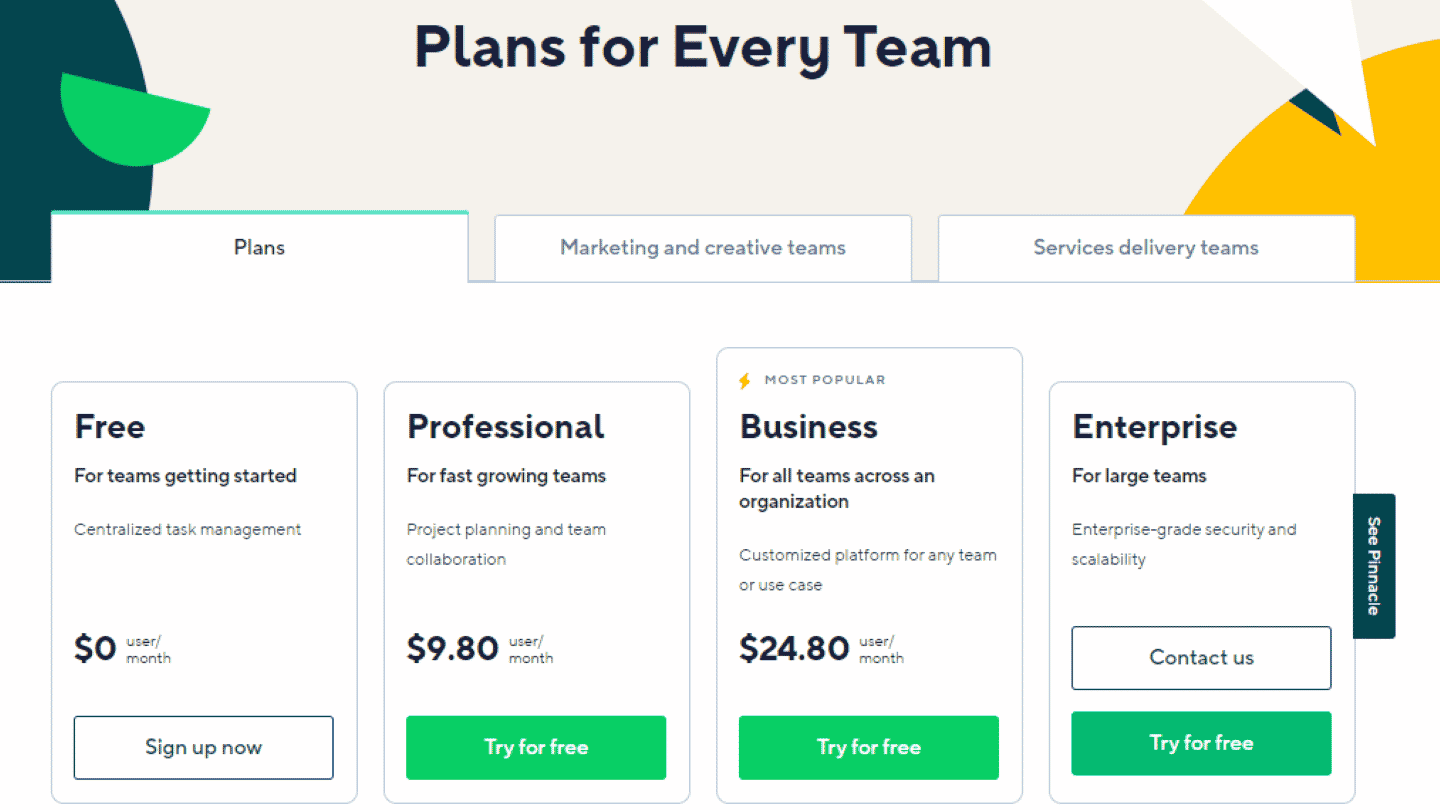 In its professional version, at $9.80/month, Wrike offers shareable dashboards and integrations. The Business version, at $24.80 per month per user, provides access to automation and time-tracking solutions.
Try Wrike for free
Wrike offers a totally free version: don't hesitate to try it!
#3 Trello: simple tool for basic projects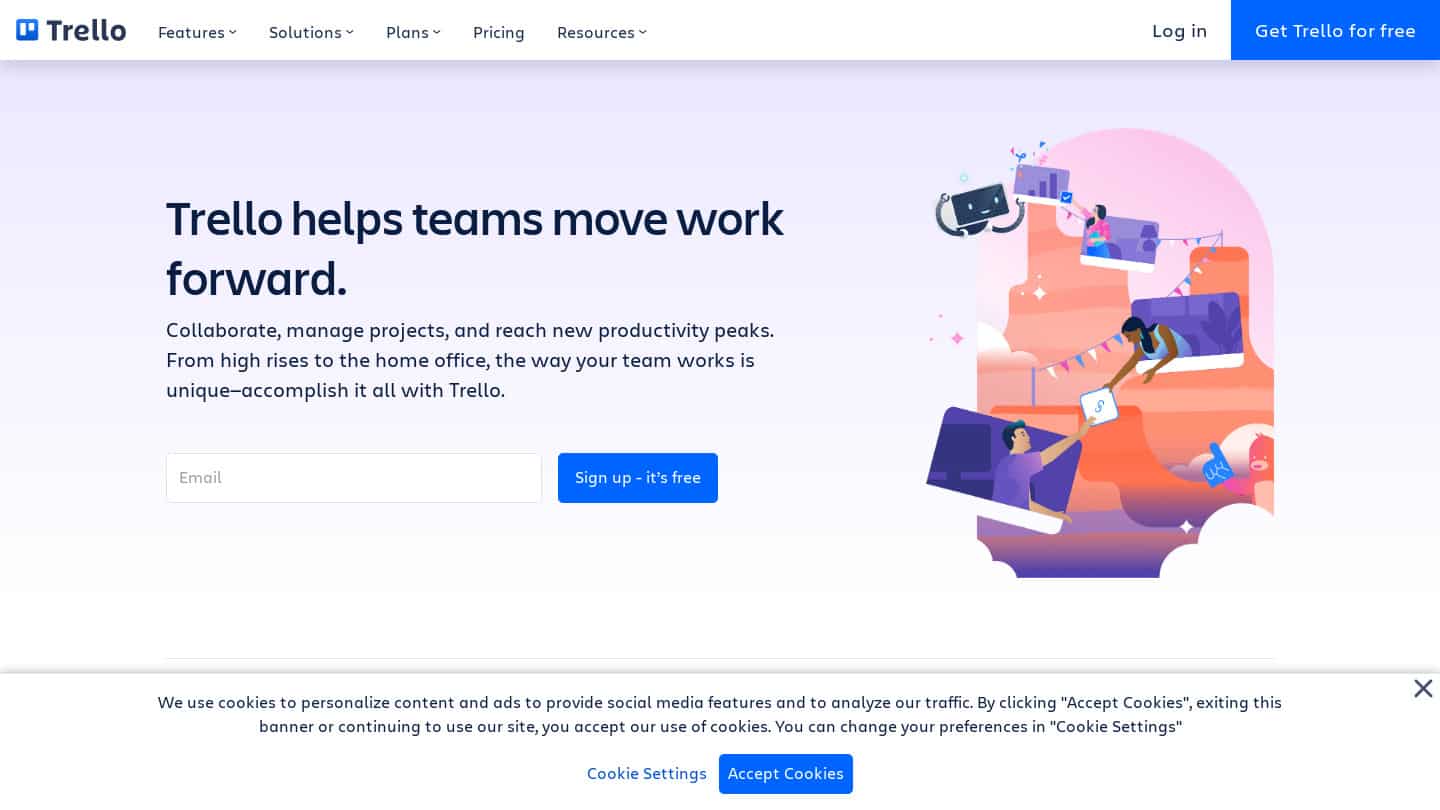 Trello is designed for those looking for a quick way to manage projects that are not very complex, or managed by small teams.
Trello is built around the Kanban method, with moveable cards. The cards can carry a lot of information (dates, location…), but this intuitive method is rather adapted to basic project management.
In its free version, Trello is accessible on mobile, and allows you to create up to 10 boards per workspace with unlimited cards and power-ups, but only offers one integration per card.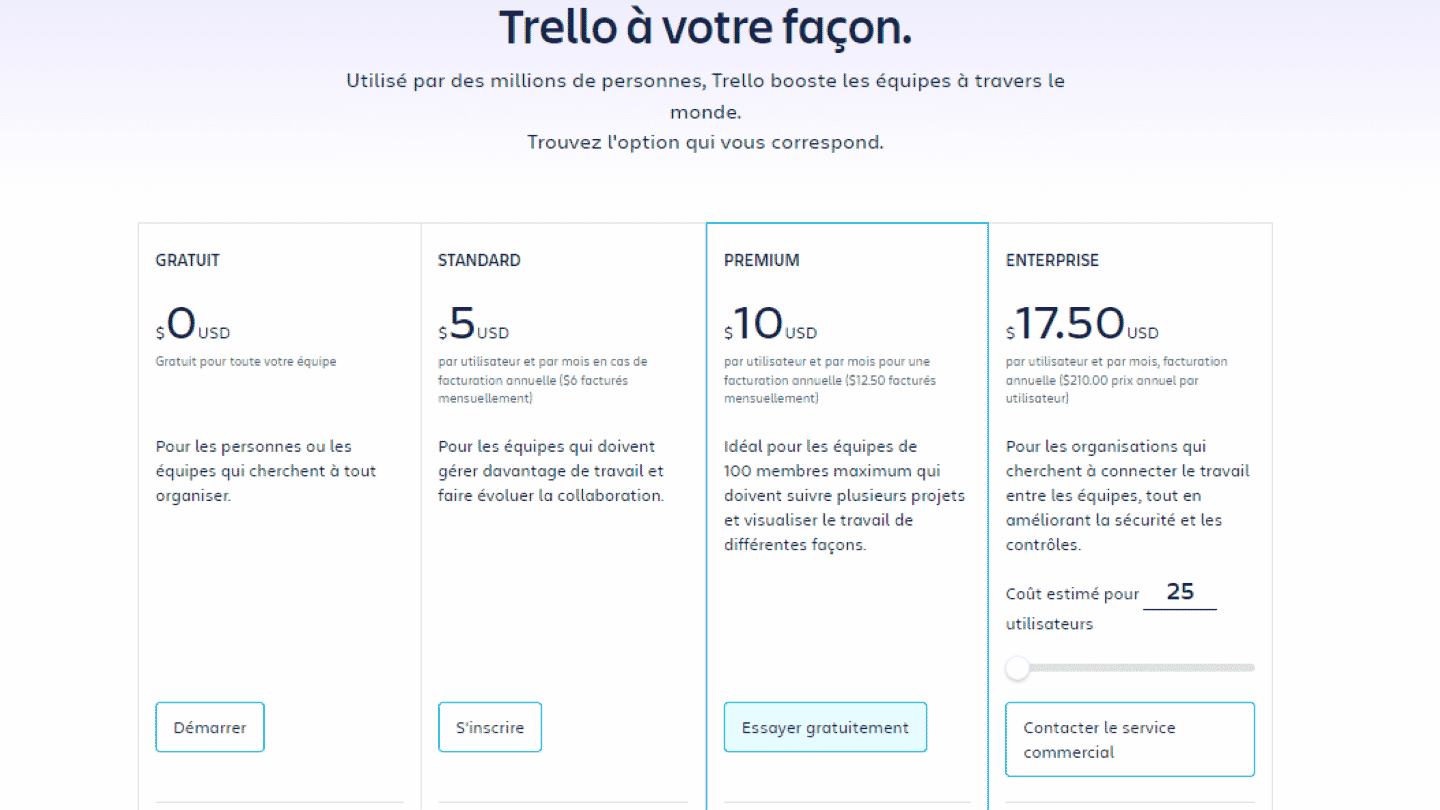 Starting at $5/month for the standard version, Trello offers an unlimited number of boards. With the $10/month premium version, Trello offers different views (dashboard, timeline, table, calendar, plan, etc.).
Try Trello for free
Trello offers a totally free version: don't hesitate to try it!
#4 Teamwork: Planning with clients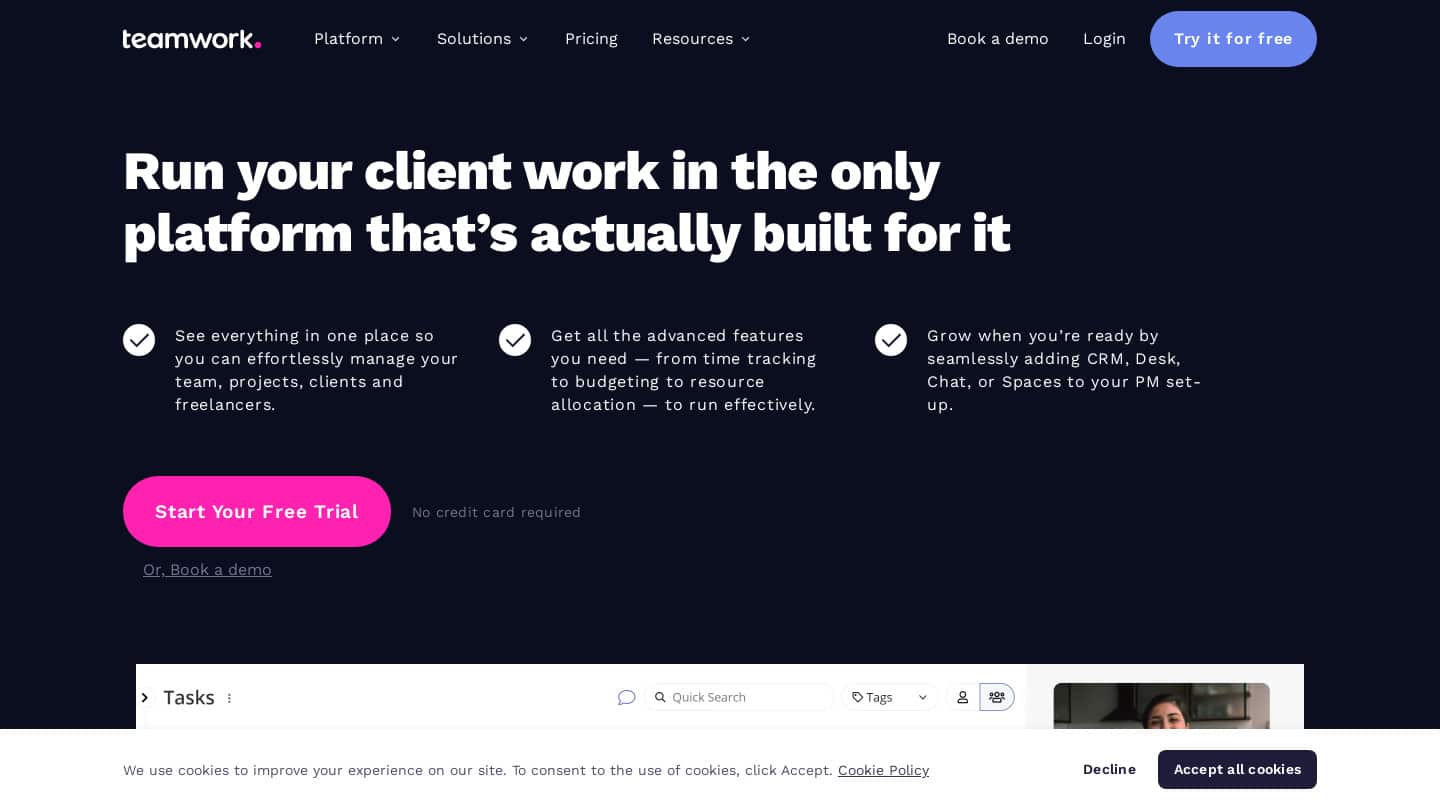 Used by more than 20,000 companies, Teamwork is the only tool dedicated to teams seeking to plan with customers.
Designed to maximize productivity when working with clients, this tool offers an invoicing tool, for example.
Limited to 5 users, the free version of Teamwork allows you to use basic project and task management tools and time tracking solutions.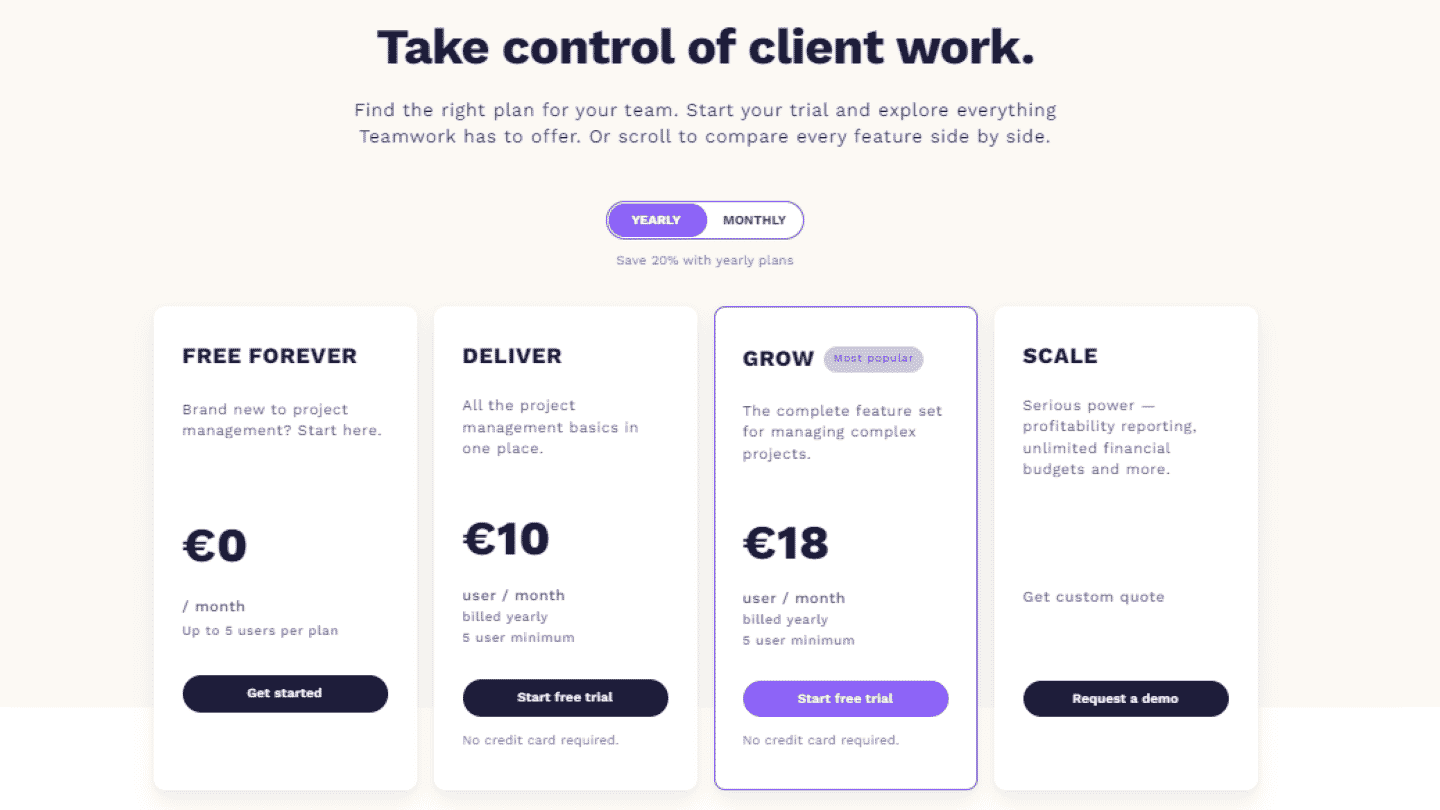 At 10 euros per month per user, the basic version offers the billing system and a messaging system. At 18 euros per month, the most popular version offers numerous templates, reports, different views and the possibility to create a team with customers.
Try Teamwork for free
Teamwork offers a totally free version: don't hesitate to try it!
#5 Notion : The Swiss Army knife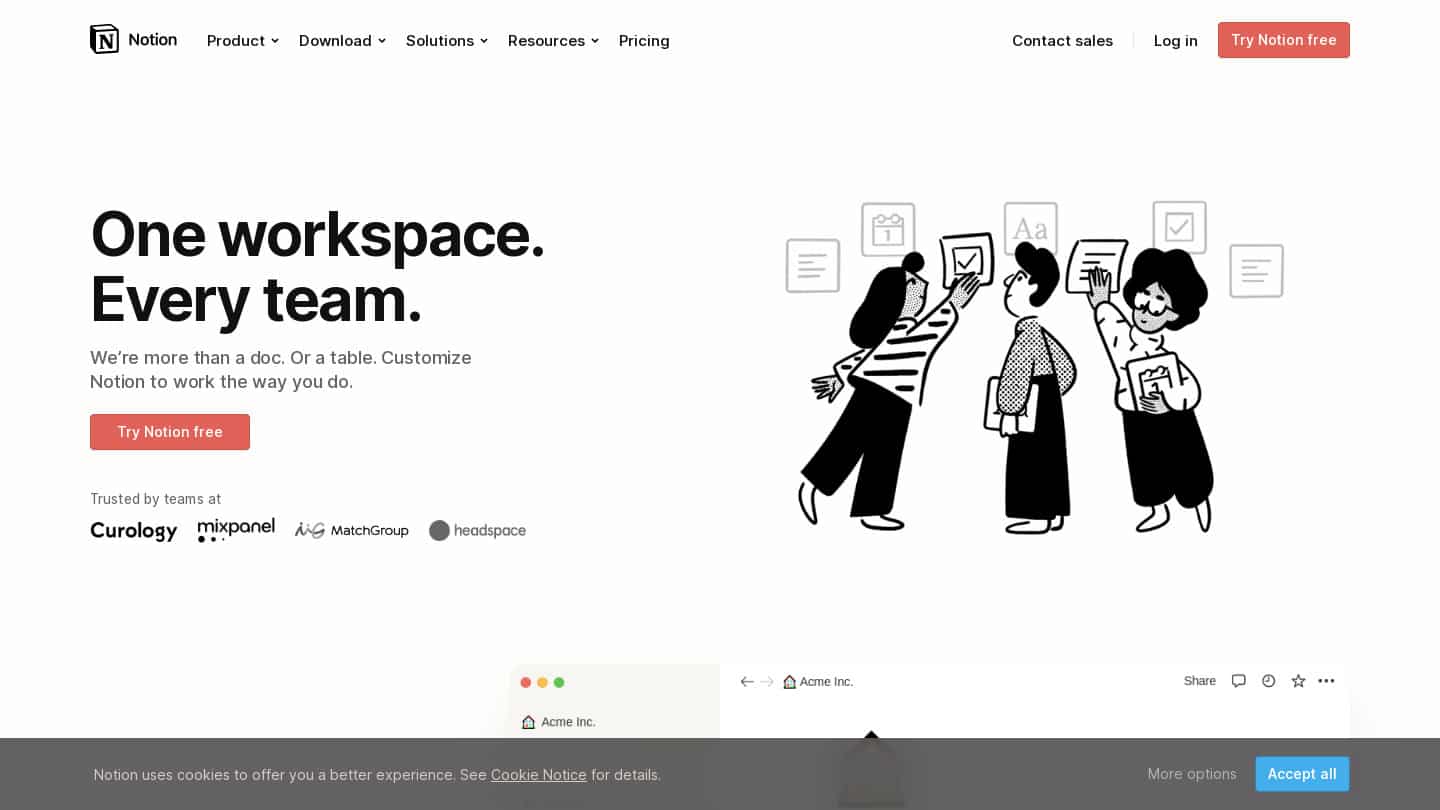 Notion is dedicated to structures that are looking for an all-in-one digital workspace that can be adapted to their needs. Notion is ideal to gather all the company's information on a single tool.
Unlike most other tools, Notion does not work with a task system, but with a system of customizable blocks in page, text, list, calendar, table…
The free version of Notion is designed as an individual tool: sharing is only possible with 5 guests, but the number of pages and blocks is unlimited, and synchronization is assured on all devices.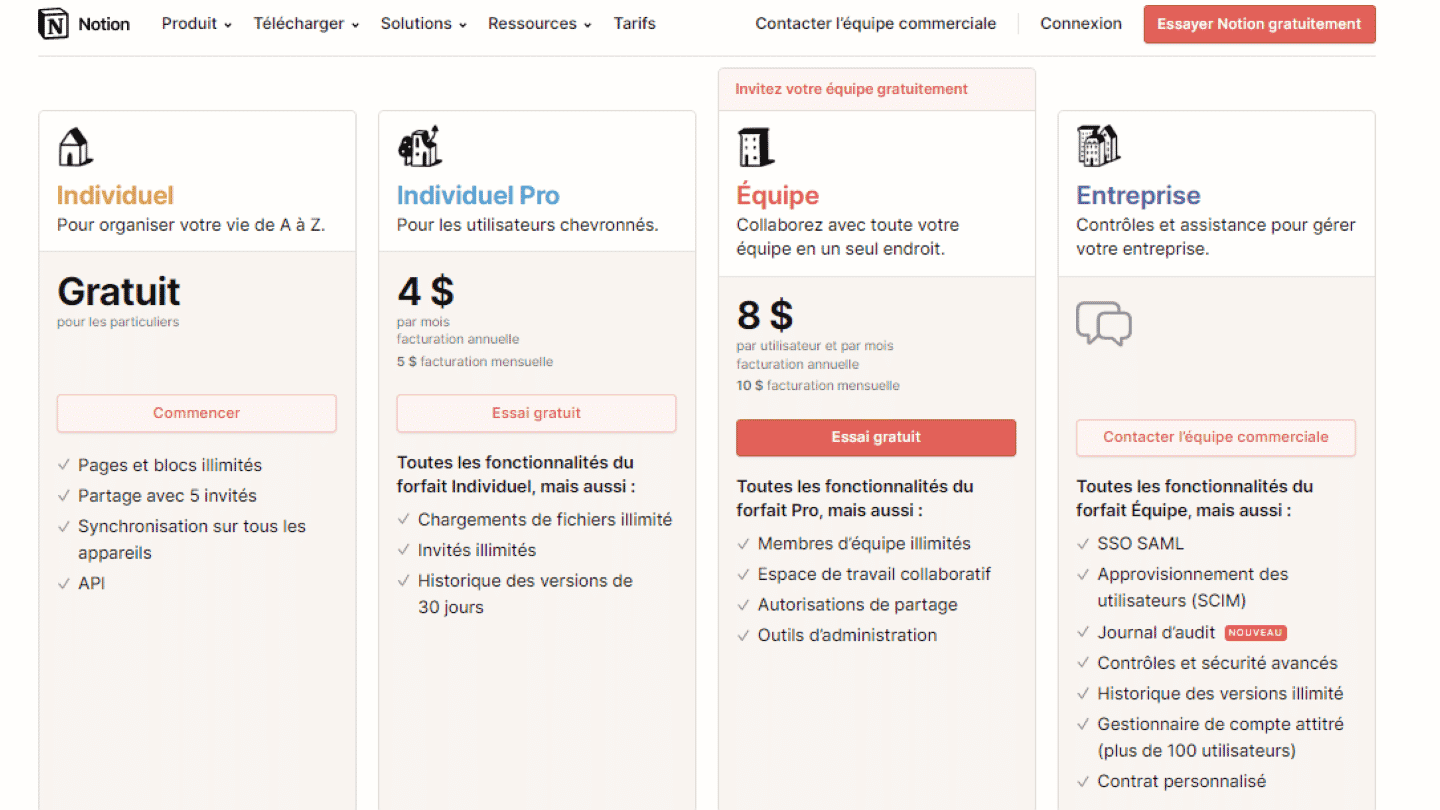 Starting at $4 per month, the individual "pro" version allows unlimited file uploads. The first "team" version costs $8 per user per month, and opens access to collaboration features for an unlimited number of collaborators.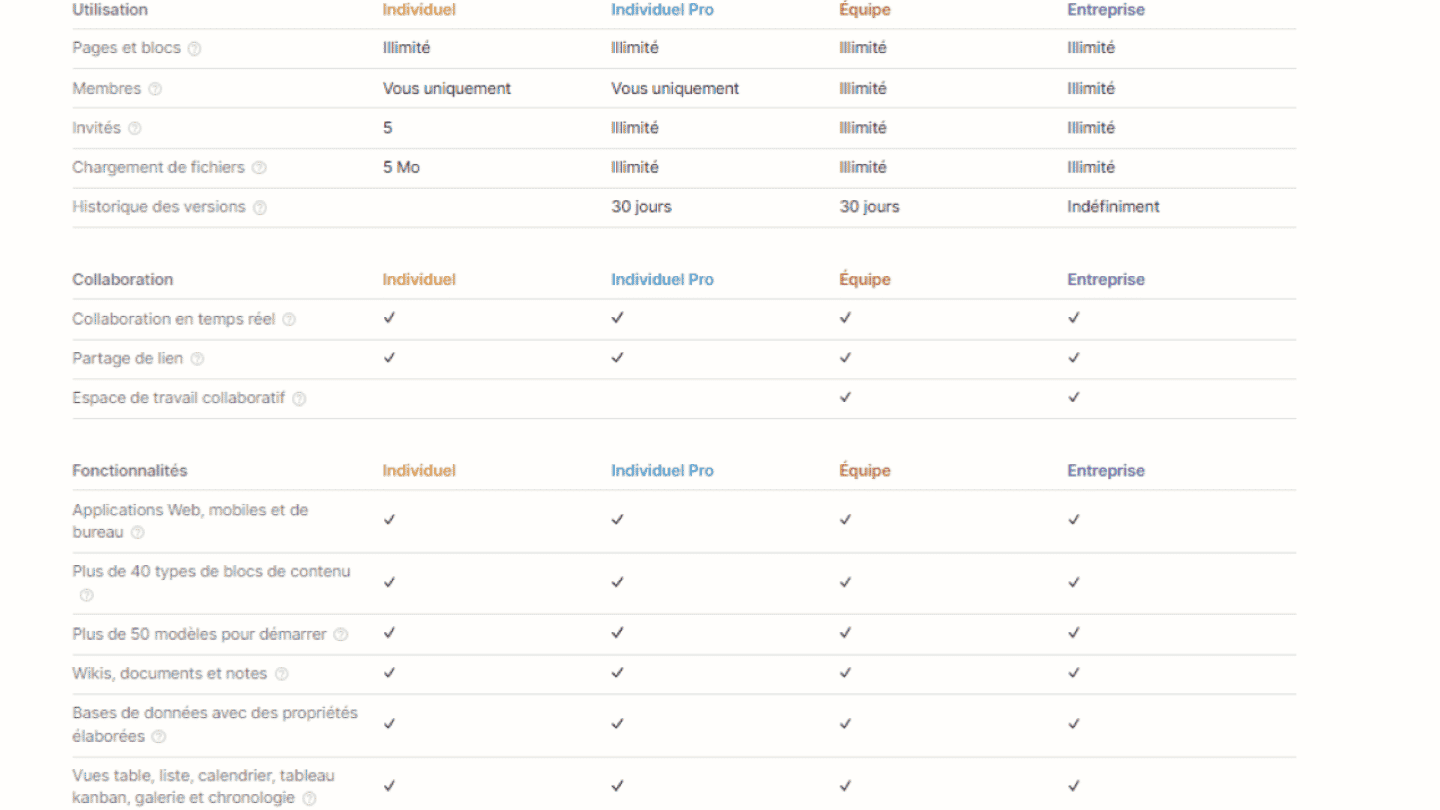 Try Notion for free
Notion offers a totally free version: don't hesitate to try it!
#6 Asana: a comprehensive and scalable planning tool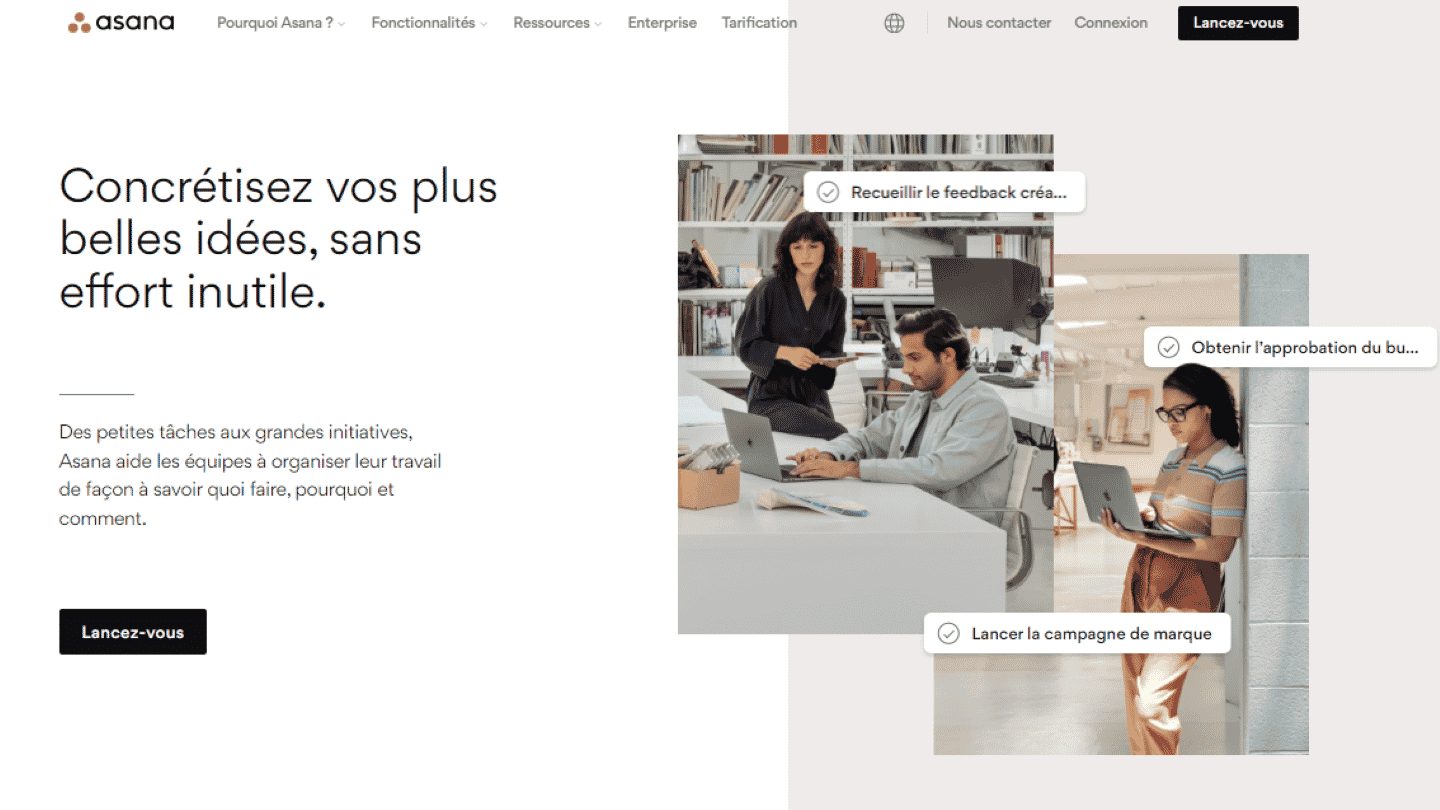 Asana is the right tool for teams of any size looking for a comprehensive and customizable tool.
Asana has 4 main features: kanban board, lists, calendar, and timeline. Unlike Trello, this software makes the features communicate and allows for example to organize a list of tasks in a chronological way.
The free version offers an unlimited number of projects, project visualization in different views, and integrations. But it limits teamwork to 15 people, and the number of projects in the dashboard.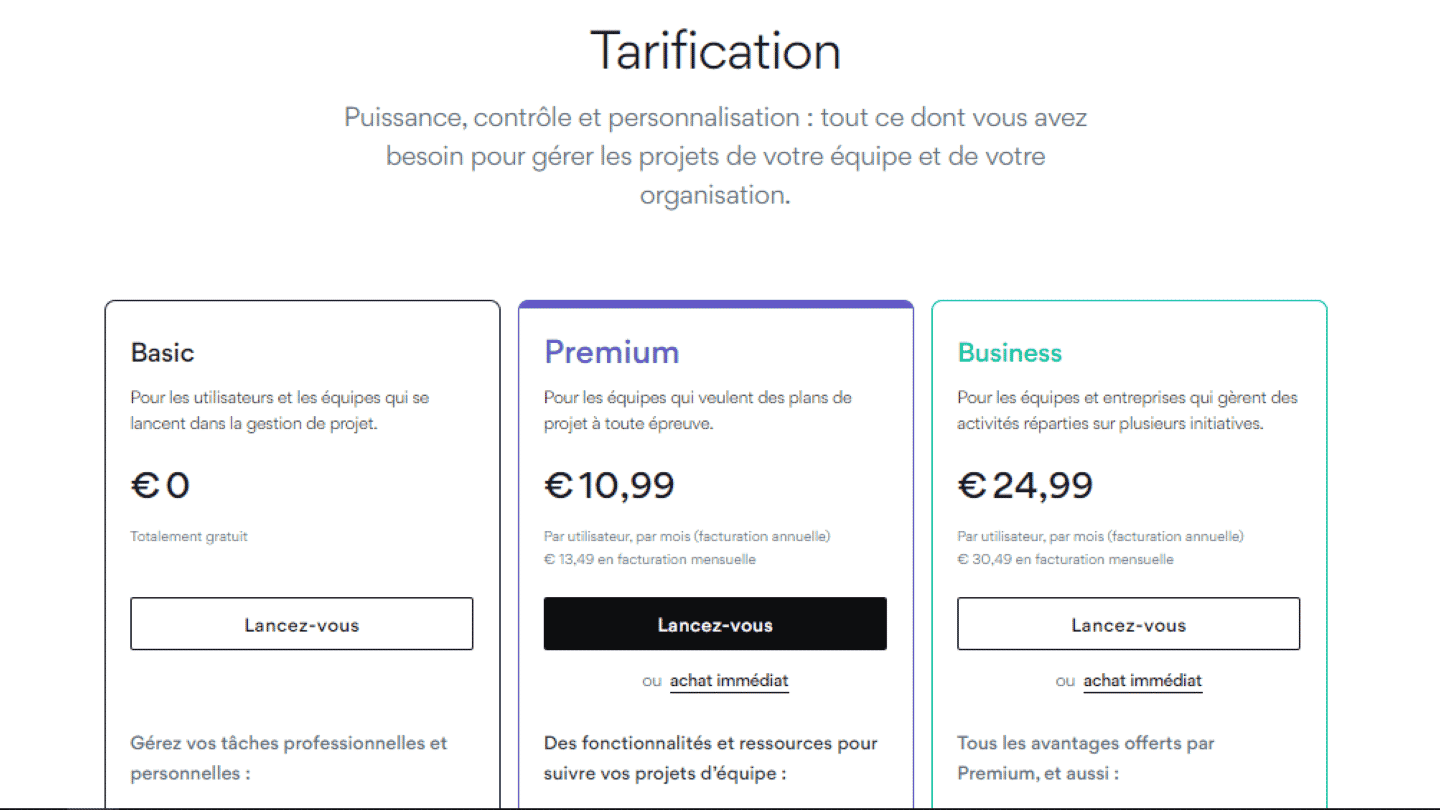 For 10.99 euros per user per month, the premium version offers unlimited project creation, with unlimited free guests. For 24.99 euros per month per user, the business version offers advanced features, such as portfolios and goals.
Try Asana for free
Asana offers a totally free version: don't hesitate to try it!
#7 Teamleader : Planning, time tracking, and billing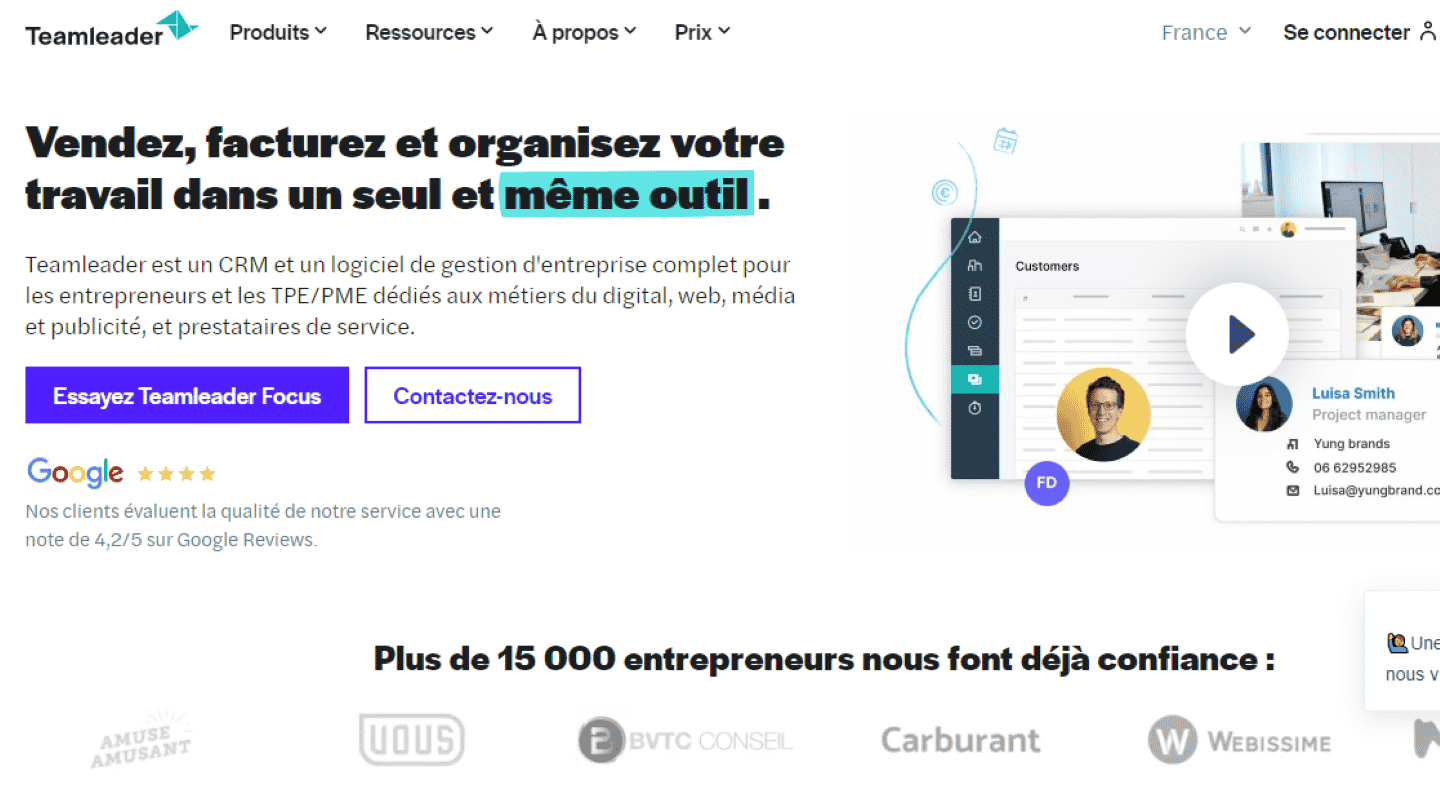 Teamleader is the perfect tool for those who are looking for a software that combines scheduling, time tracking and billing features. 
Designed for teams, Teamleader offers two different versions of the software: 
Teamleader Focus: dedicated to teams of 1 to 20 employees.
Teamleader Orbit: dedicated to teams of more than 20 employees.
Teamleader Focus does not offer a free version, but 3 paid versions at 15, 20 and 30 euros per month per user.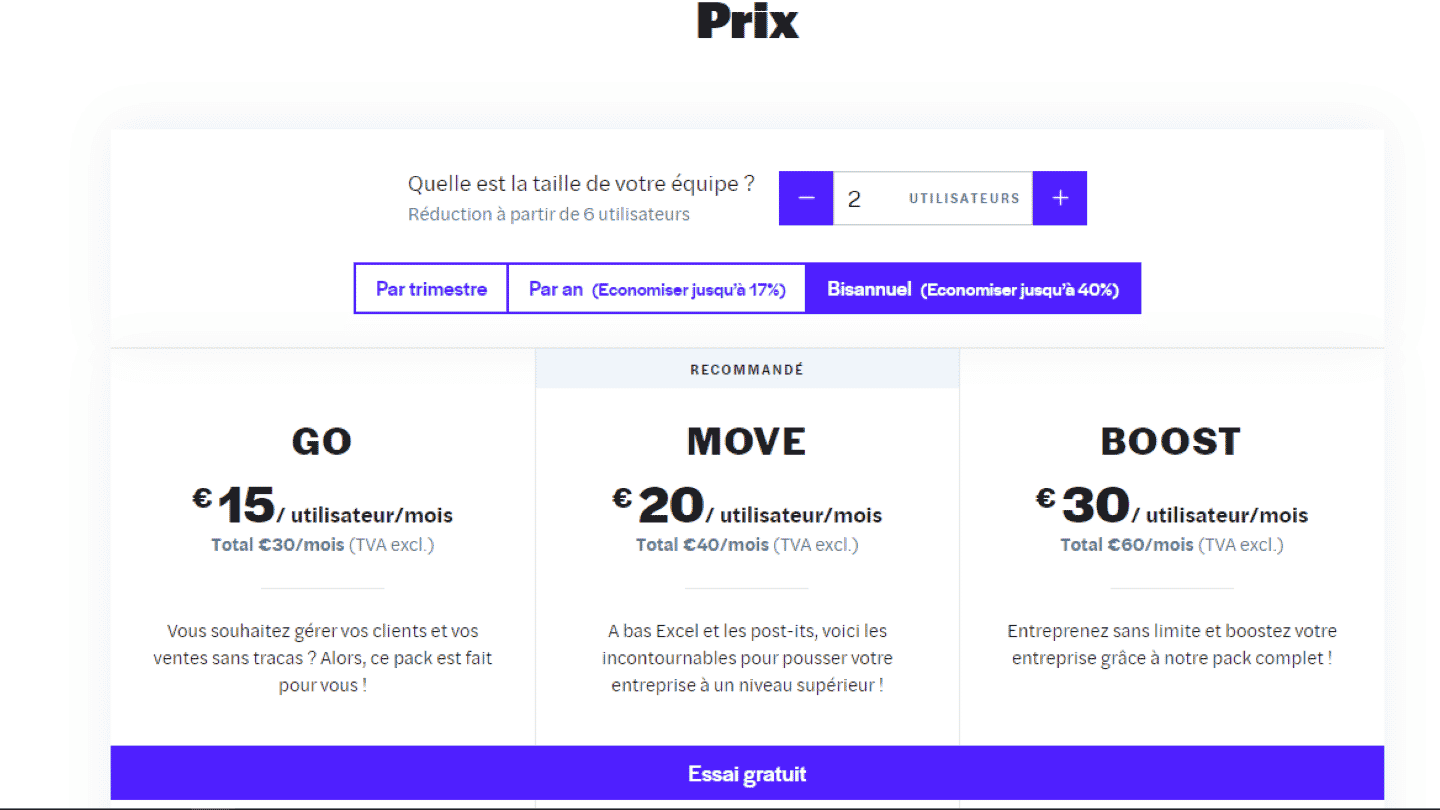 Teamleader Orbit does not offer a free version either, and offers a single version at 50 euros per month per user.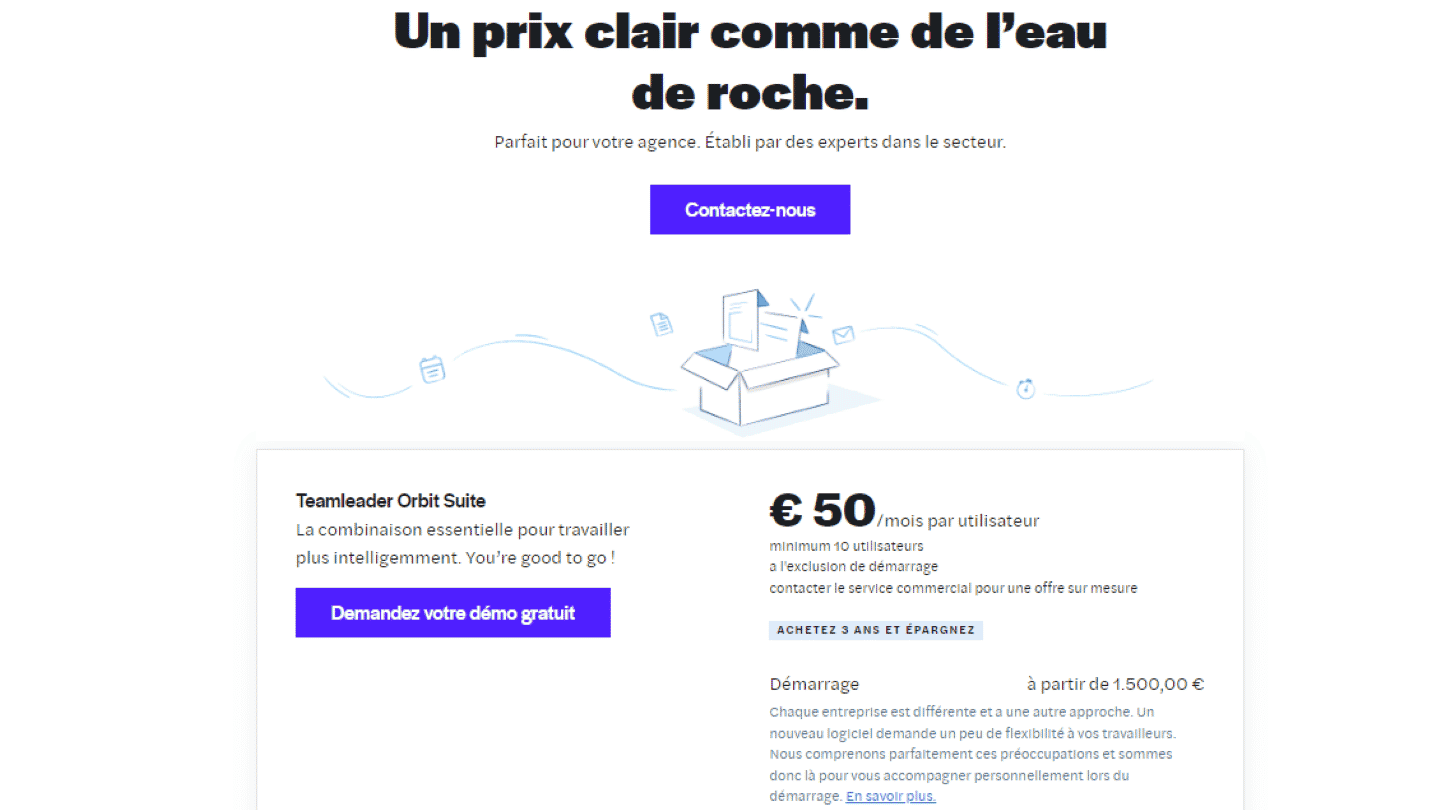 Try Teamleader for free
Teamleader offers a free trial to get an idea, take advantage of it!
#8 Toggl : A simple tool by Toggl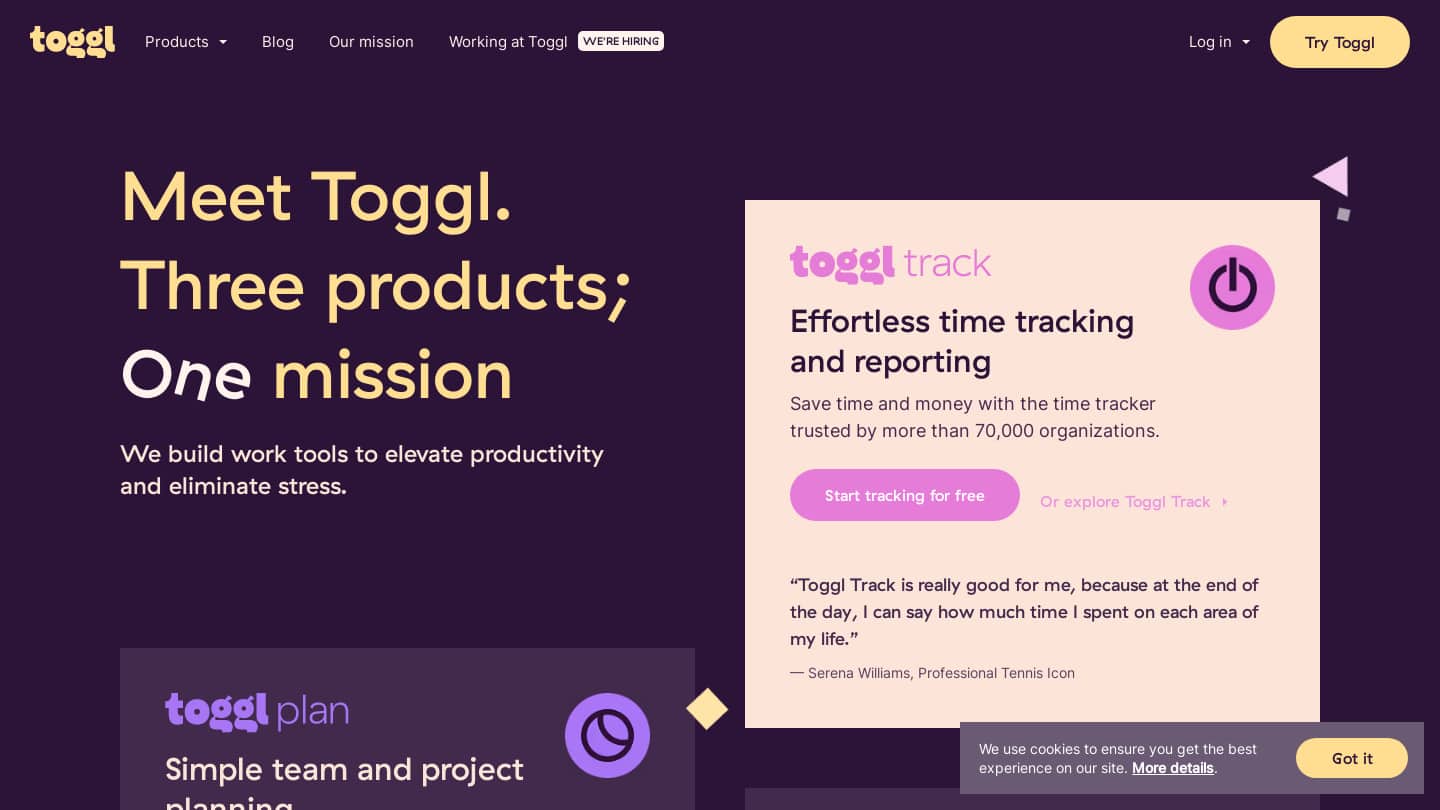 Toggl Plan will perfectly suit structures with a need for simple project planning, and who are fans of the Toggl ecosystem.
This online planning tool allows access to Toggl Track, Toggl's time tracking tool.
Toggl does not offer a free version, but 2 paid versions, which can be tried for 14 days. For 8 dollars/month/user, the "Team" offer gives access to team timelines, unlimited dashboards, recurring tasks, and integrations.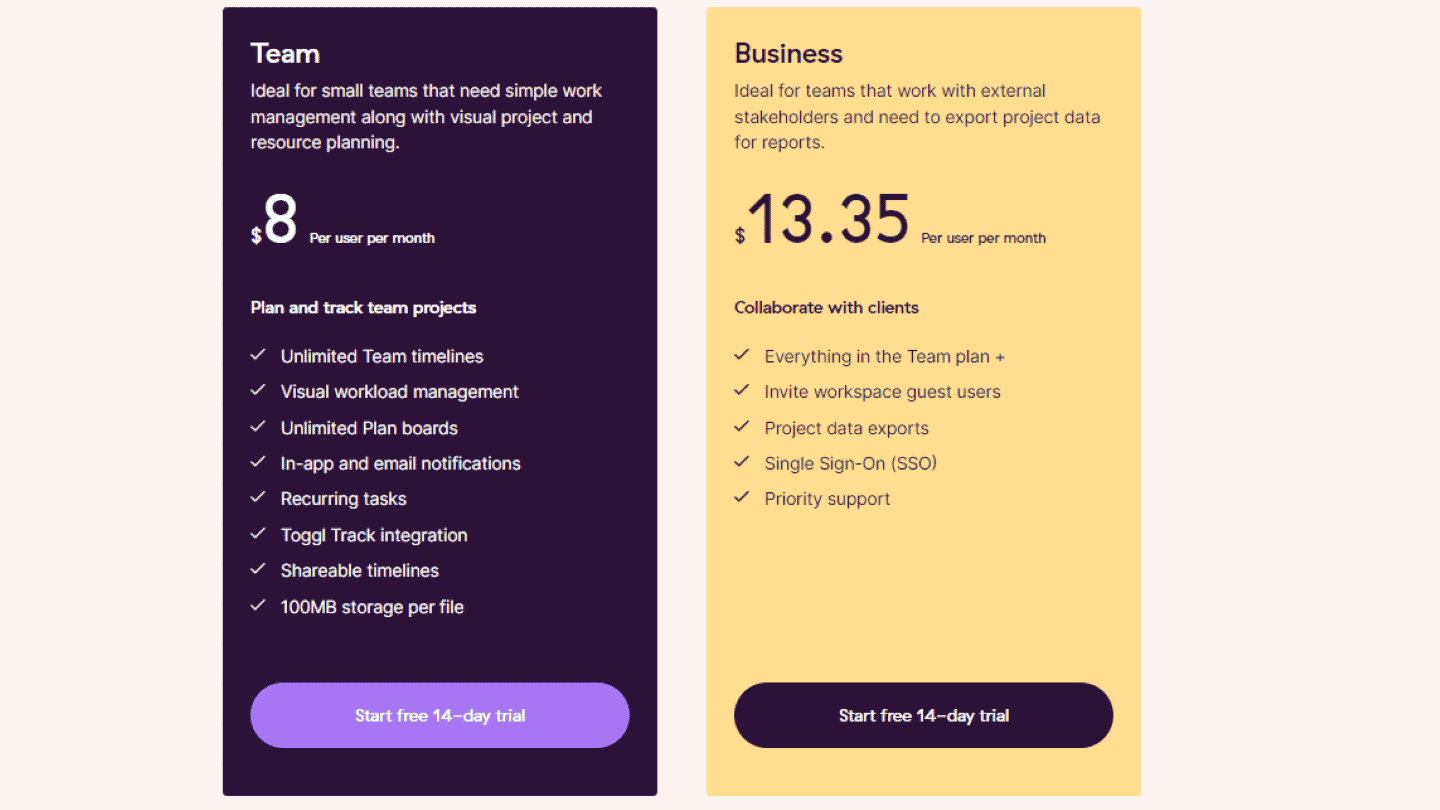 For $13.35/month/user, Toggl Plan "Business" allows you to invite users to workspaces, export project data, and get priority support.
Try Toggl for free
Toggl offers a free 14-day trial to test the tool, take advantage of it!
#9 Meistertask : complete alternative to Trello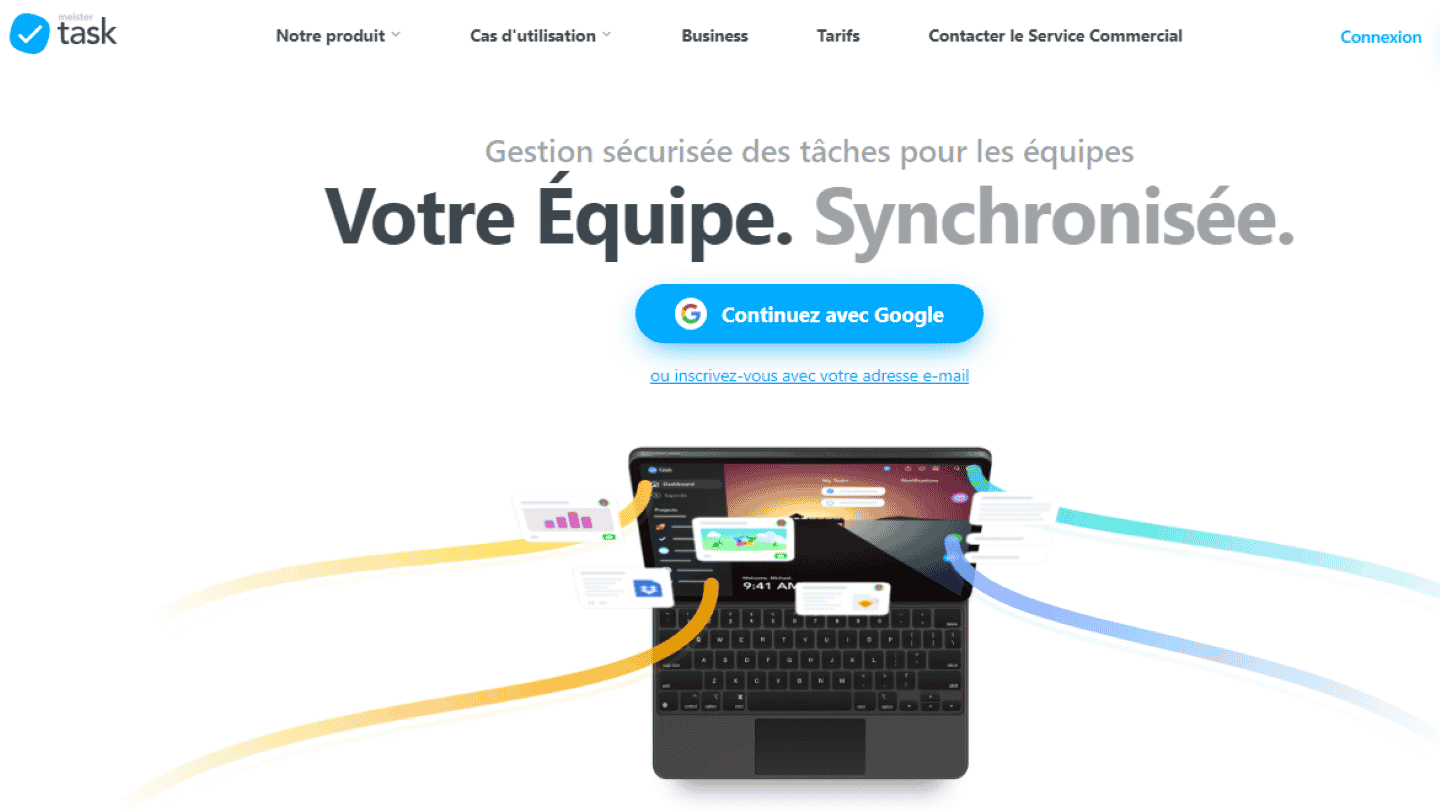 Meistertask will suit companies looking for a complete alternative to Trello.
Built like Trello around the kanban board, this cloud-based tool also allows you to organize projects in the form of a table, tasks, comments, due dates…
The basic version of Meister Task allows you to plan up to 3 projects with customizable project boards, but offers limited integration possibilities and does not allow you to create a calendar or agenda.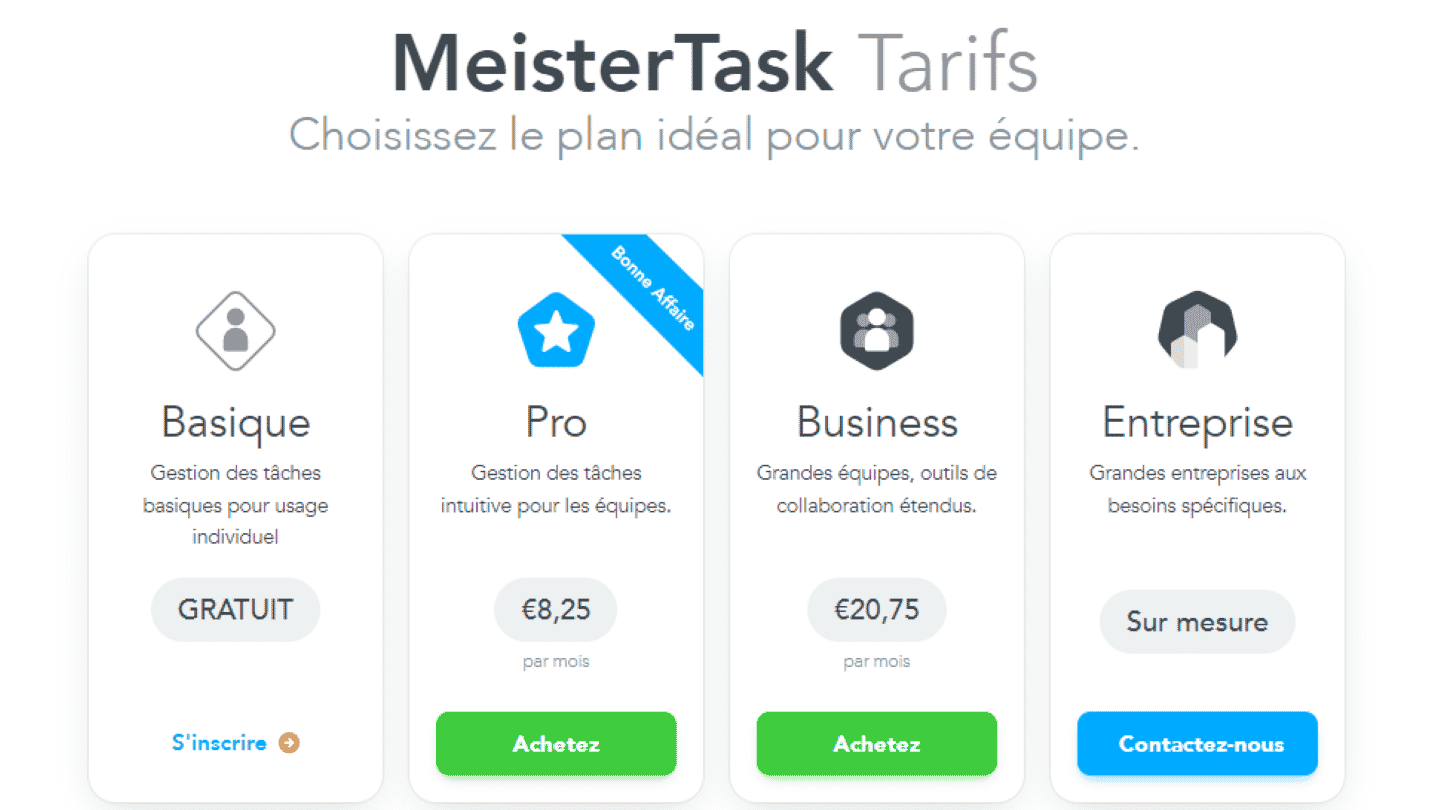 At 8.25 euros per month, the Pro version includes an unlimited number of projects and integrations, and automations. At 20.75 euros per month, the Business version offers a timeline, advanced collaboration features, and priority support. 
Try Meister Task for free
Meister Task offers a totally free version: take the opportunity to discover the tool!
#10 Zoho Projects: Comprehensive, efficient, and easy to set up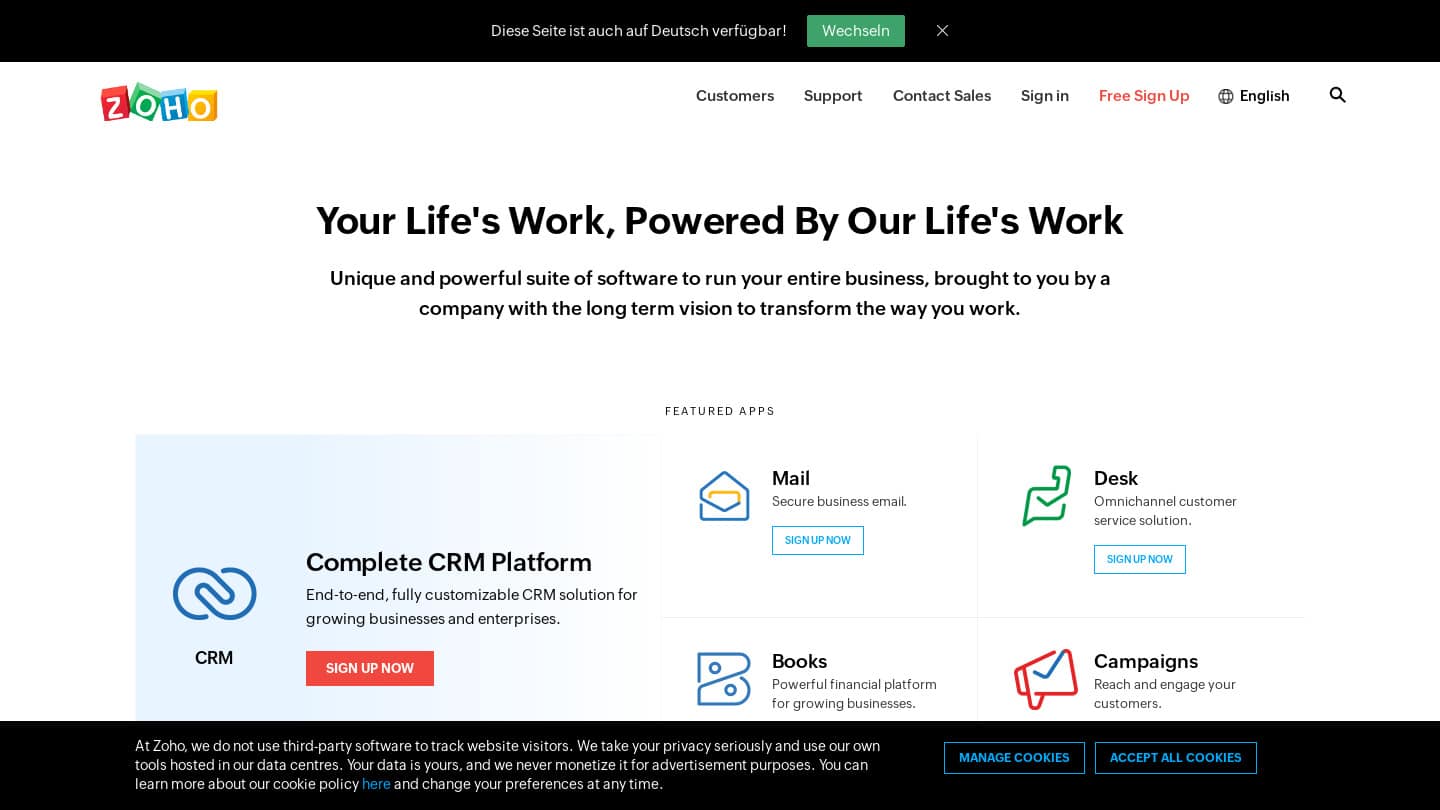 Zoho Projects is a collaborative scheduling application that will appeal to those who are looking for a comprehensive software package that is easy to set up and efficient to use – and who appreciate the Zoho ecosystem. 
Zoho allows you to manage documents, and to visualize the project in different forms. The timesheet module allows you to record billable and non-billable hours.
Limited to 3 users and 2 projects, the free version allows you to manage your tasks through different views, project flows and forums.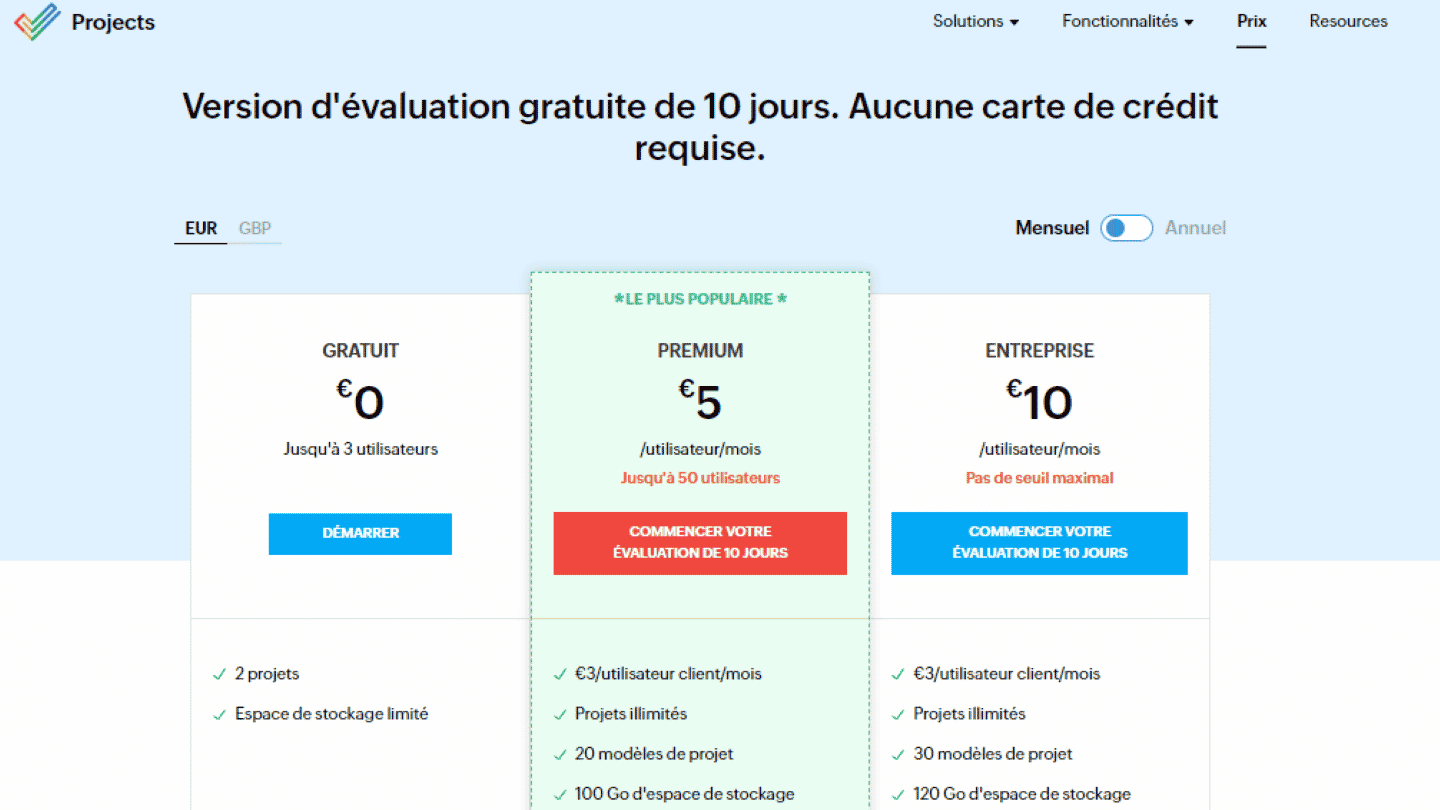 At 5 euros/user/month, the Premium version gives access to unlimited projects and task automation. At 10 euros per user per month, the Enterprise version gives access to advanced features, such as the portfolio dashboard. 
Try Zoho for free
Zoho offers a totally free version: don't hesitate to try it!
Reader Interactions