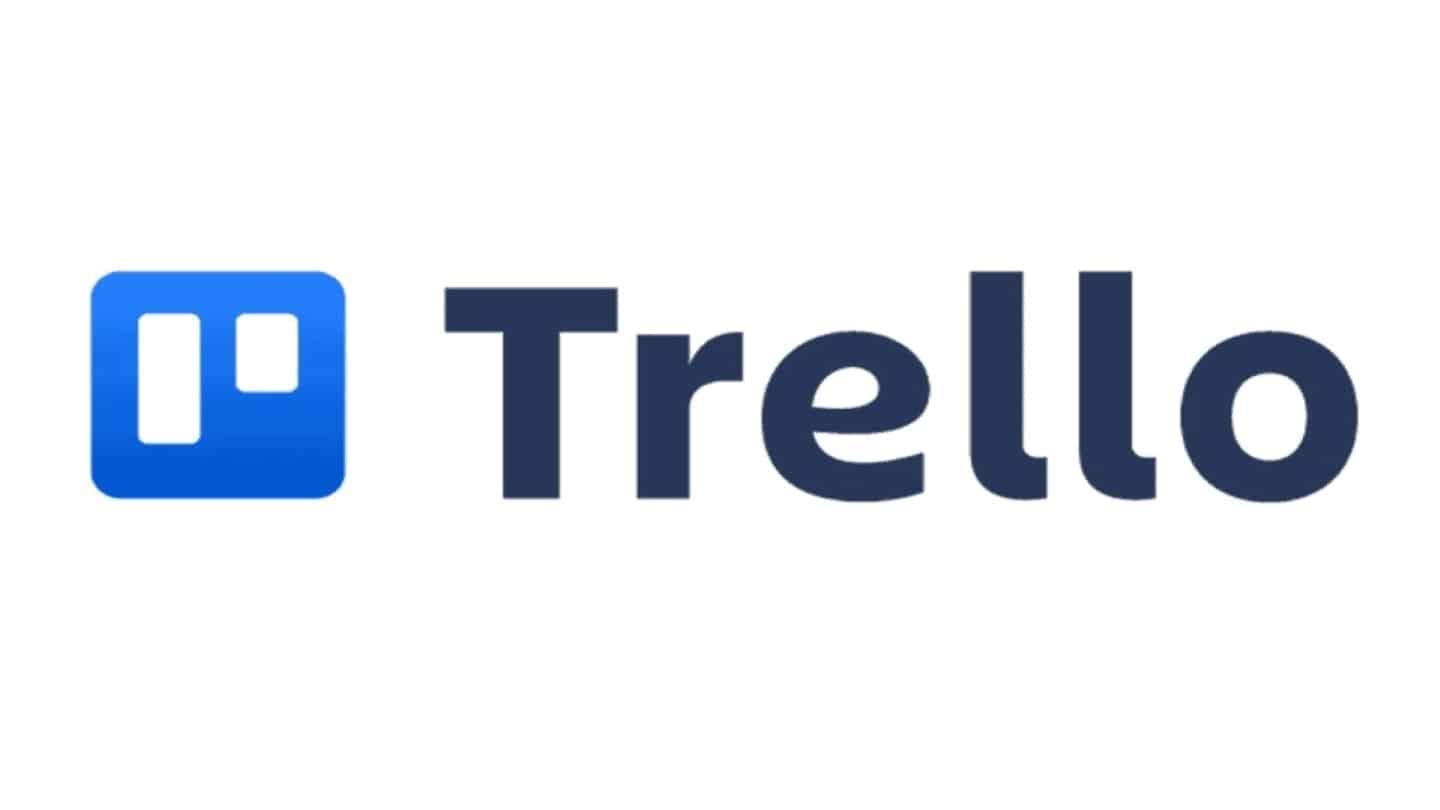 Developed by Atlassian around the Kanban board method, Trello is a must-have tool on the project management software market.
Naturally appreciated by fans of Kanban software, it is also used by companies with Agile processes, who appreciate its ease of use.
Trello is not limited to the Kanban function: it also offers many other views and features for managing projects and tasks. However, this tool will quickly become limited for large teams or complex projects.
In this article, we detail everything you need to know about Trello!
Our opinion on Trello
Criterion
Note Salesdorado
Comment
Overall score
Trello is the reference tool for the Kanban method. Ideal for light and Agile projects, it is less adapted for complex projects.
Ease of use
Trello is very intuitive, especially thanks to the templates offered by the tool.
Easy to set up
Trello is easy to learn and to set up within a team.
Customer service
Trello's customer service offers many resources (tutorials, videos, community…), but can only be reached by contact form.
Functional depth
Trello has the main project management features, but has a functional depth that is more suitable for light than complex projects.
Integrations
Trello has many integrations, but we regret the absence of some important software.
Value for money
With an already rich free plan and comprehensive paid plans, Trello has excellent value for money.
Trello benefits:
Kanban visualization: Trello is the best tool on the market in this area, with all the features related to Kanban boards and many automation tools.
Flexibility: Even if Kanban remains at the heart of Trello, the tool offers other possibilities for organizing and visualizing the workflow. It is therefore suitable for any type of activity and any size of structure.
Very rich template gallery: Trello offers many templates to create cards quickly. This is very efficient for a regular and easy to anticipate process (like IT tickets for example).
Trello's drawbacks:
Limited free version: Trello is one of the only tools to offer automations in its free plan. But this plan remains very light (only 10 boards per workspace) and adapted to non-professional uses or small businesses.
Trello: Feature Overview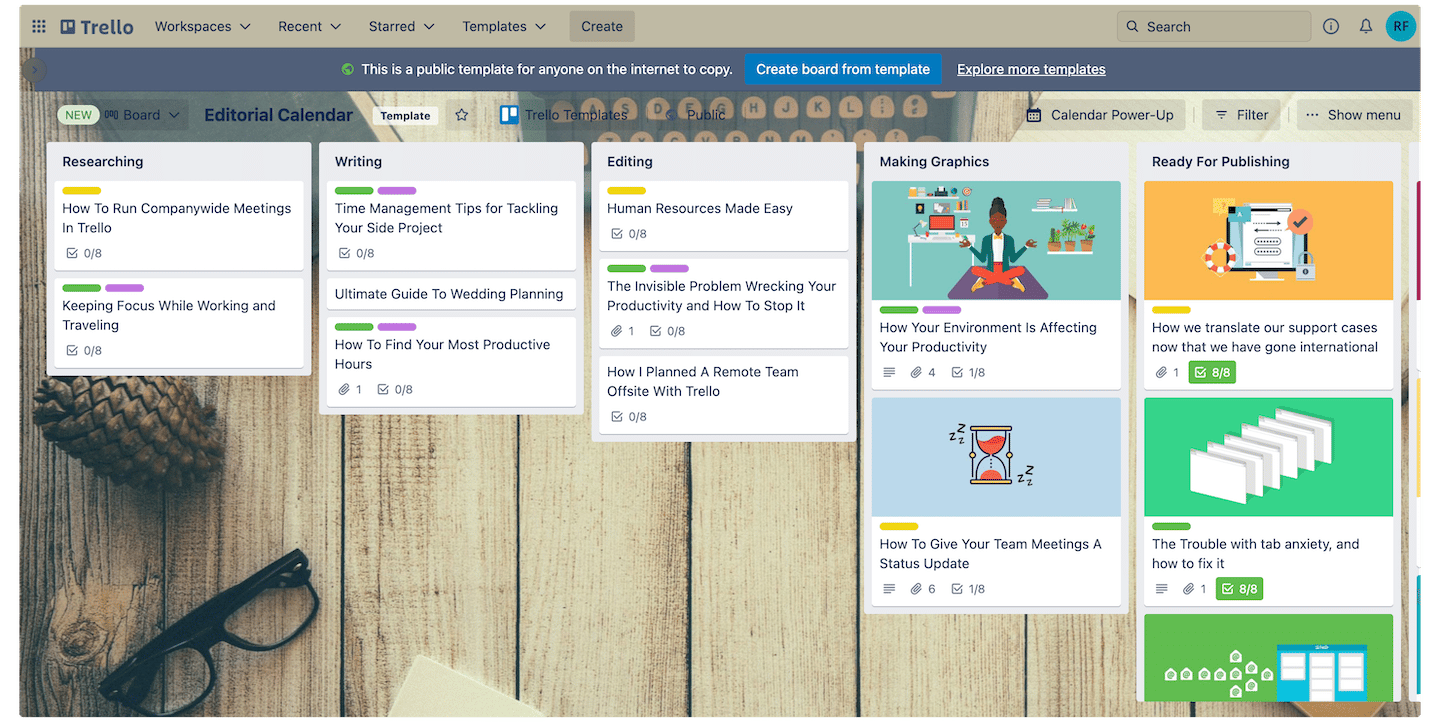 Project management and task planning
Trello cards are a direct application of the Kanban method: they allow you to visualize and manage the tasks of a project in the form of a table, with different columns indicating each stage of progress in the project.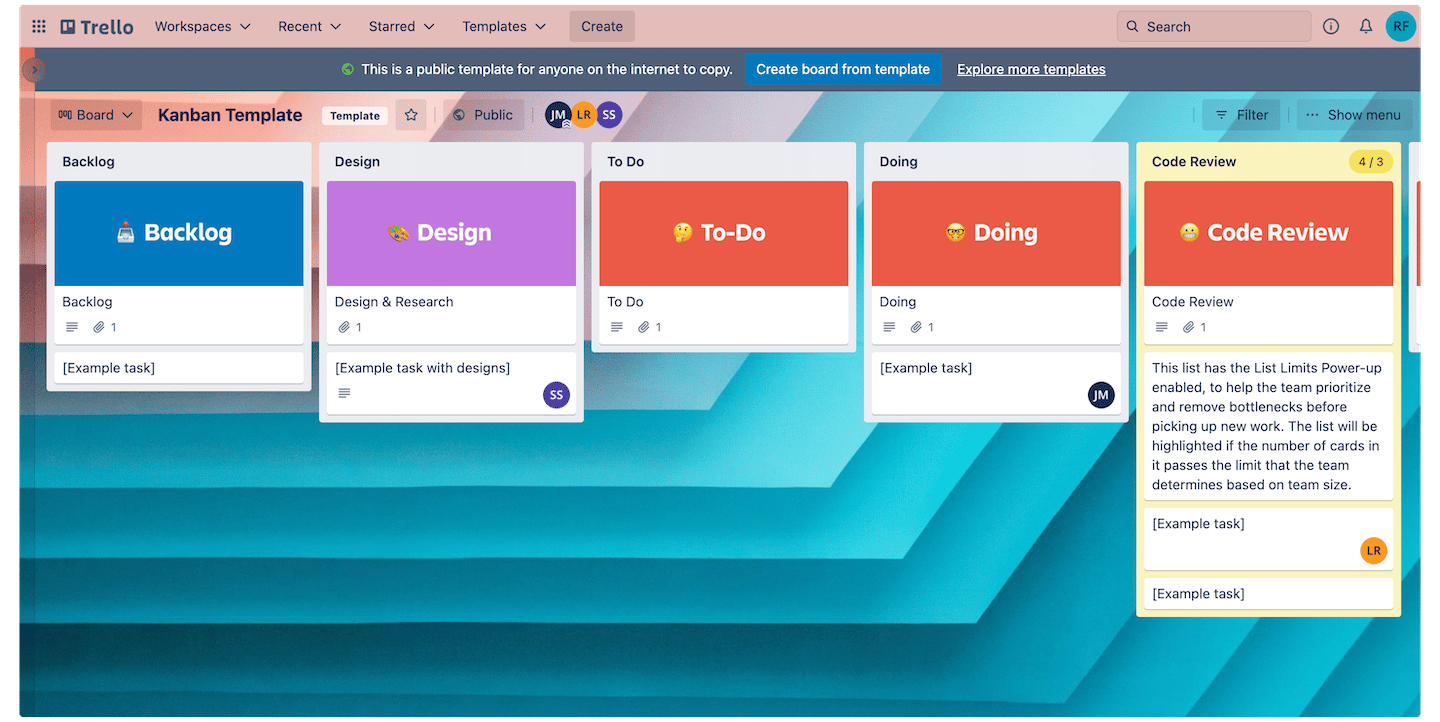 The cards represent tasks to be accomplished. They are moved from one column to another according to their degree of progress. The most basic version of the Kanban board has "to do", "in progress", and "completed" columns, but there are more complex ones.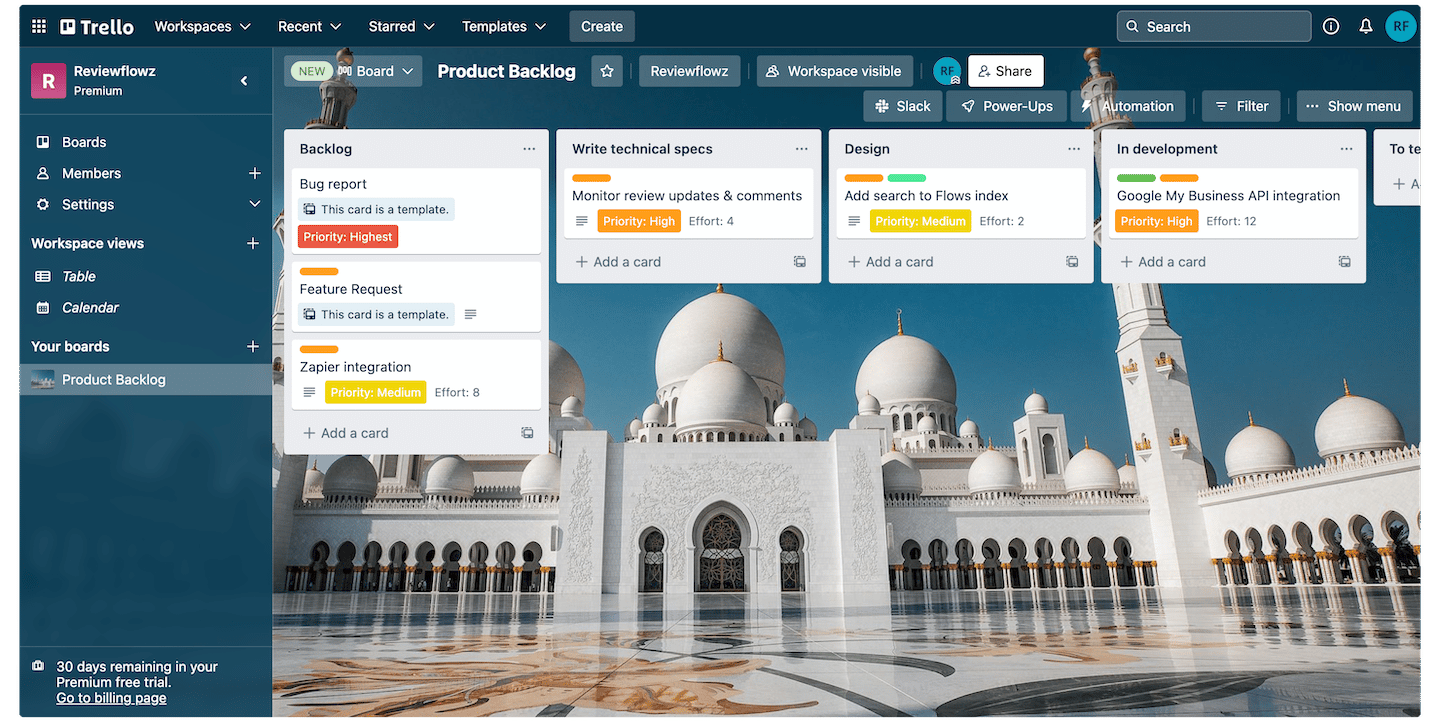 Checklists are the small elements of a larger task. As each card represents a task, they are located inside the cards.
The advanced checklist feature allows you to assign a due date and a person to individual checklist items.
All the checklist items you have assigned appear in your home screen. This makes it easy for employees to see all of their assigned items in all tables, so they don't miss out on tasks.
Salesdorado's opinion
We appreciate that Trello and its features are also available on a mobile application (rather well developed by the way).
Visualization tools
Even though the Kanban board is at the heart of the Trello method, the tool provides access to other modes of workflow visualization through the Views feature (available with the Premium and Team paid plans).
This adaptability of Trello to fit the needs and preferences of each team is one of its real strengths.
In addition to the Kanban view, you can visualize your work as a timeline, chart, calendar, dashboard and map.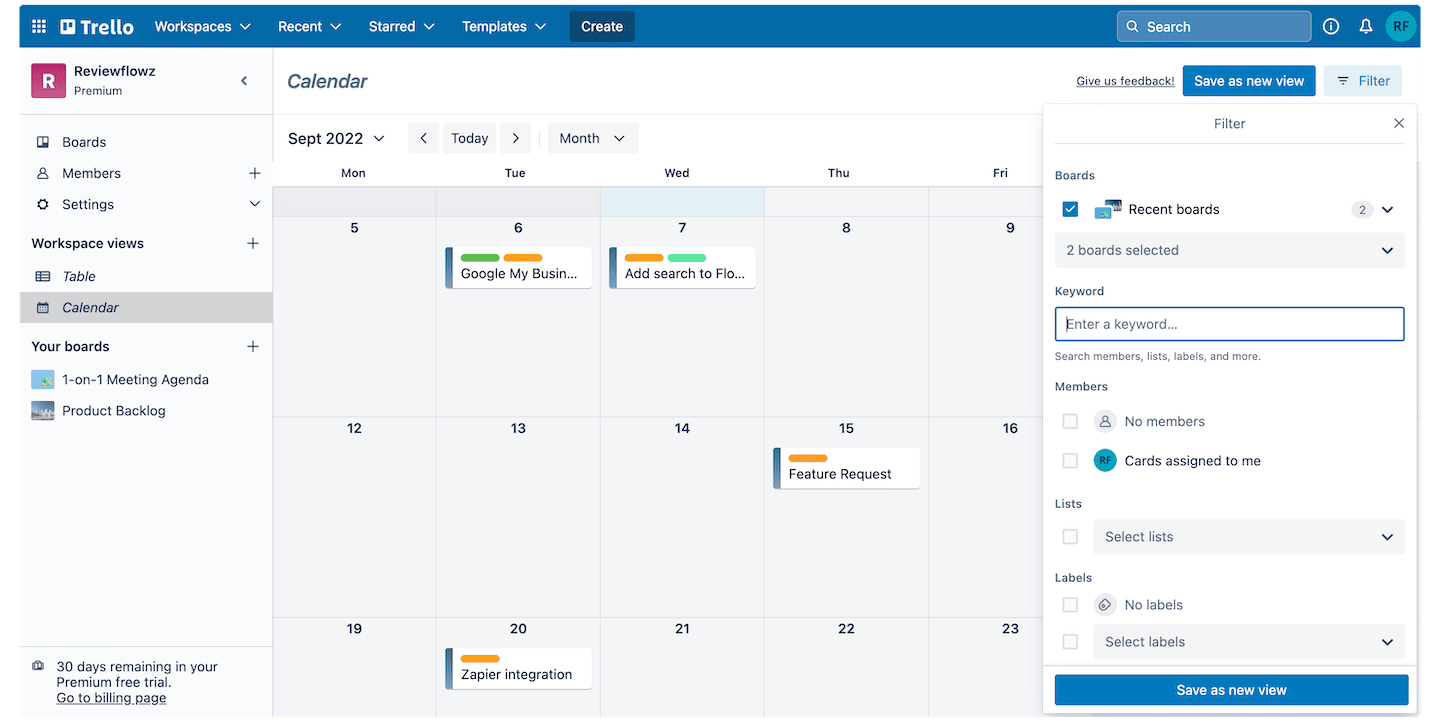 The timeline and calendar views allow you to see how the team's work is organized over time and to anticipate blockages. The table view gathers cards from different tables in one place to get an overview.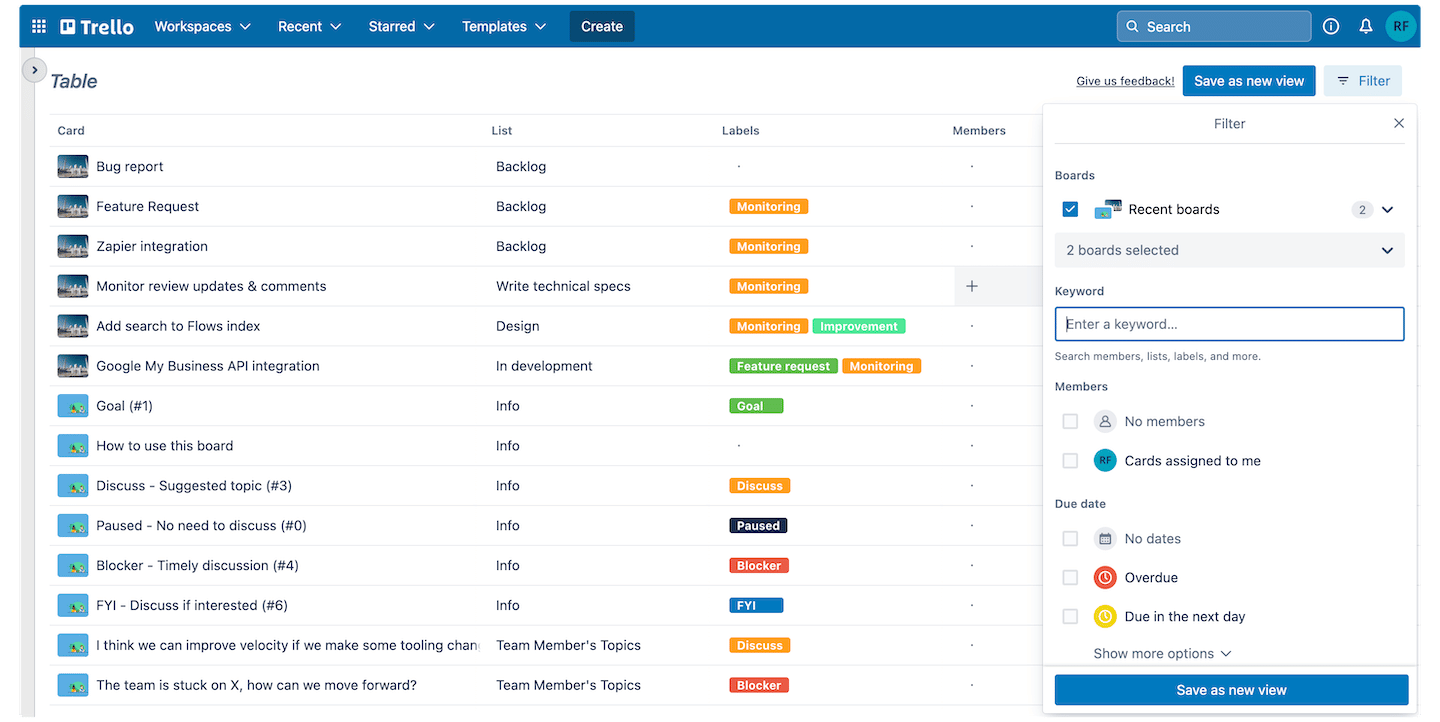 Automation: Trello's real strength
Trello has a built-inautomation tool called Butler. It saves time doing repetitive tasks and allows you to accomplish more things more efficiently.
Butler allows you to define rules that follow one action (the trigger) by another action, for example moving cards from one list to another, sending notifications, or synchronizing advanced checklists.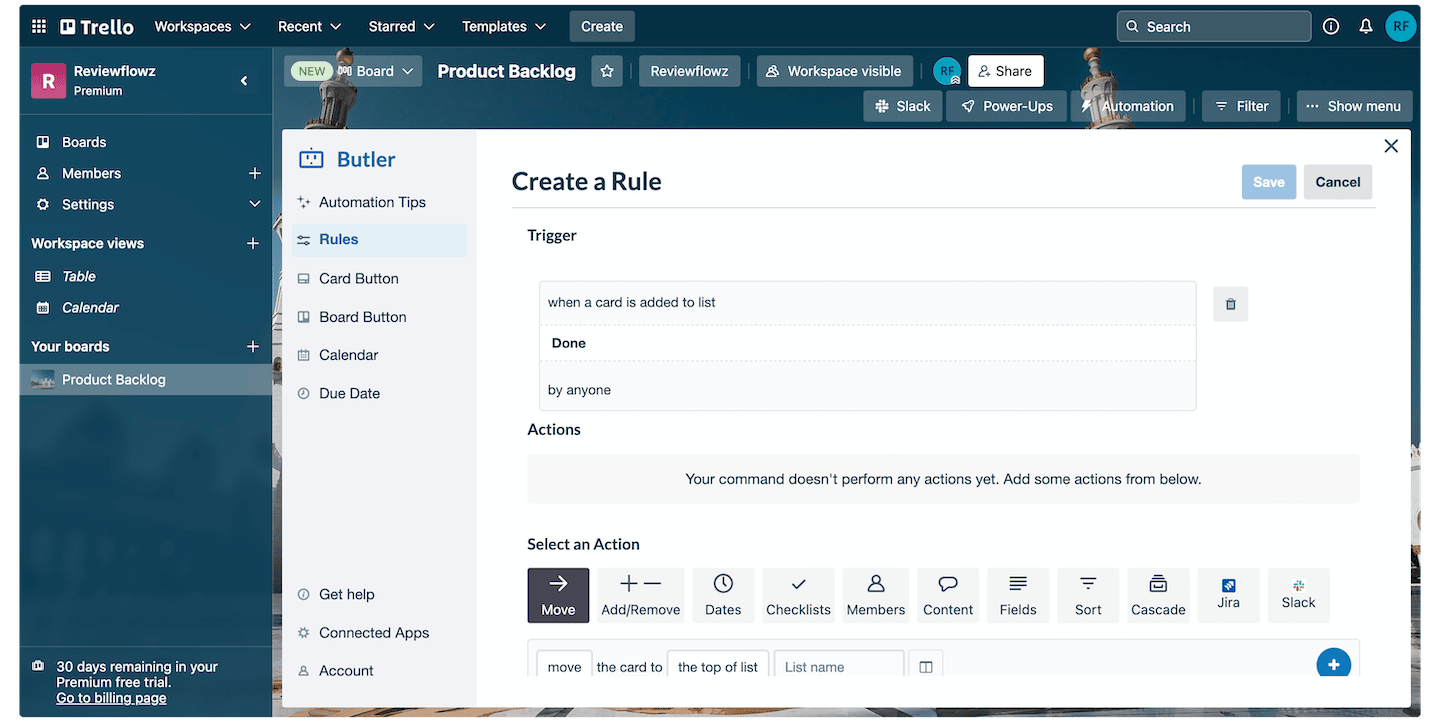 Automations on Trello also work through a system of buttons. For example, you can create a button that, when clicked, moves the work to the next step in the process by moving it to the next list.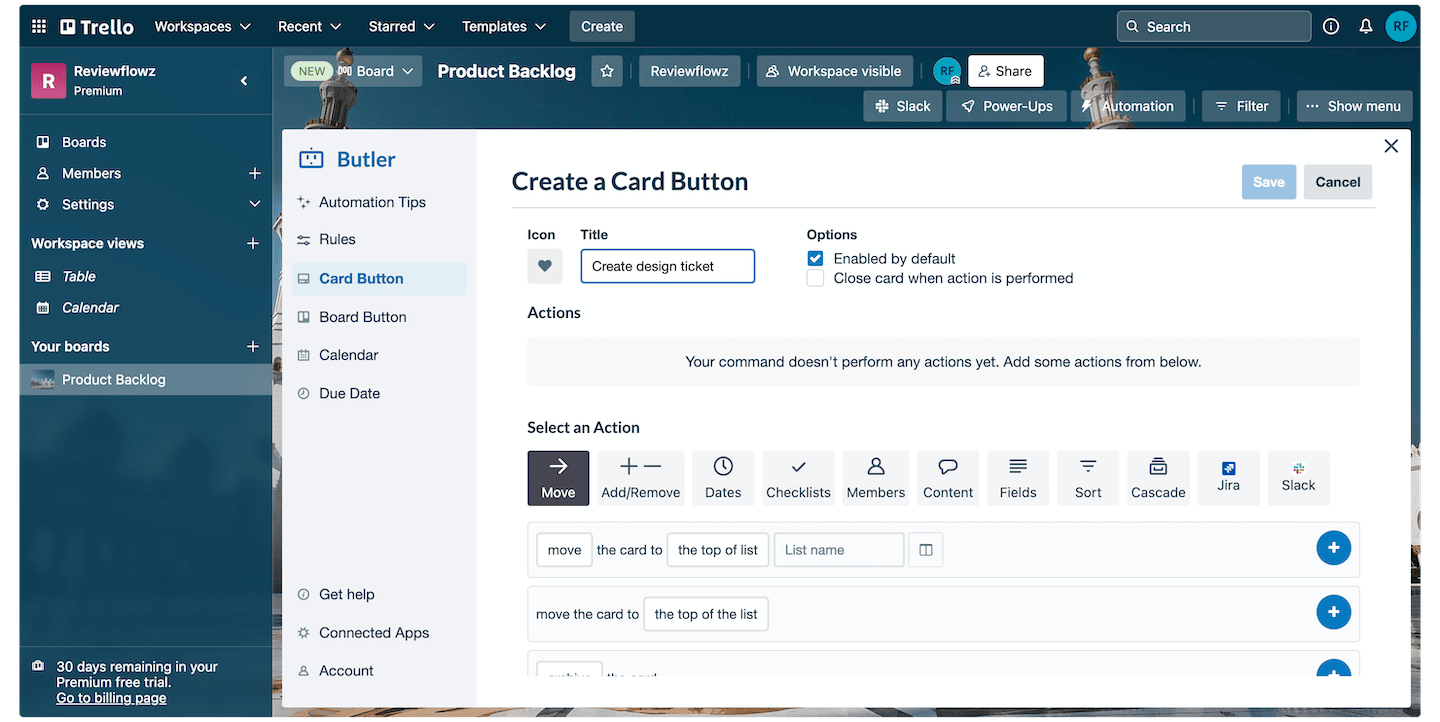 Butler also allows you to set up calendar commands. For example, you can automate recurring tasks and set up a calendar command so that all cards in the "Completed" list are archived every Monday at 8:00 am.
You can also use the due date of a card as a trigger to perform a series of actions. For example, you can set up a command to move a due card to the top of the list.
Finally, Trello allows you to create automations for emails and integrations, which can be useful if you share updates with external collaborators or clients.
For example, you can set up a rule that customers will receive an email informing them that a feedback is needed every time a card is swiped in the "Need feedback" list.
Discover all the features of Trello
Trello offers a totally free version: don't hesitate to try it!
Customer reviews of Trello
Users generally appreciate the ease of use of Trello. They value the tool's features that allow for shared accountability and ease of data sharing and management.
Some clients find the task management system poor for complex projects, and when projects enter an operational phase. Some regret the lack of communication and collaboration features.
Make your own opinion on Trello
Trello offers a totally free version: don't hesitate to try it!
Customer support at Trello
The Trello helpdesk is developed by Atlassian, and is accessible on their site. It gives access to documentation, to the Trello community, to a page indicating in real time the state of operation of Trello tools, and to FAQ, notably on invoicing.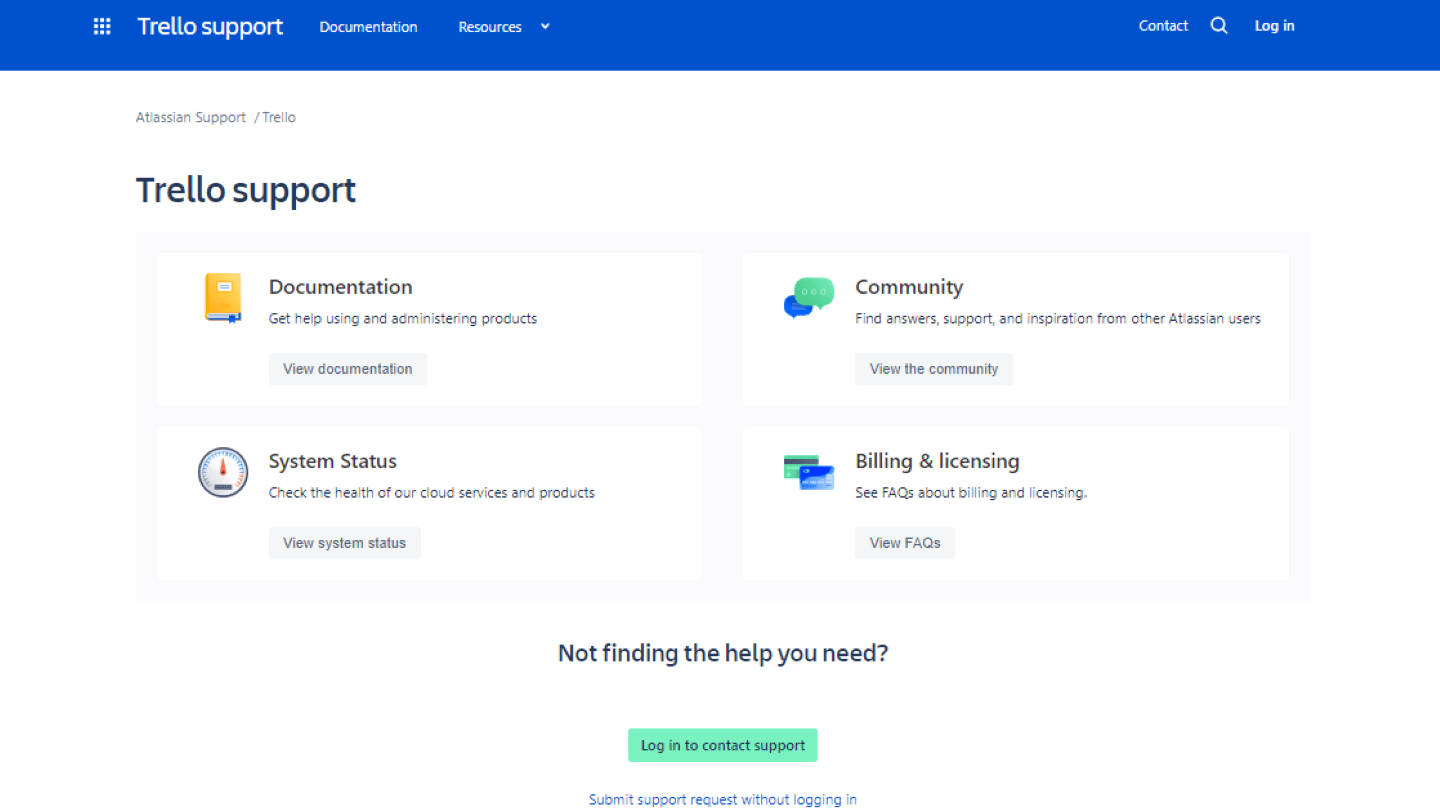 The resources offered by the Trello Help Center are numerous, well organized, and easily accessible through the search bar. These resources are complemented by Trello's Youtube page which contains many tutorials and informative videos.
The Trello community is also a real plus for the tool, for sharing tips and best practices between users.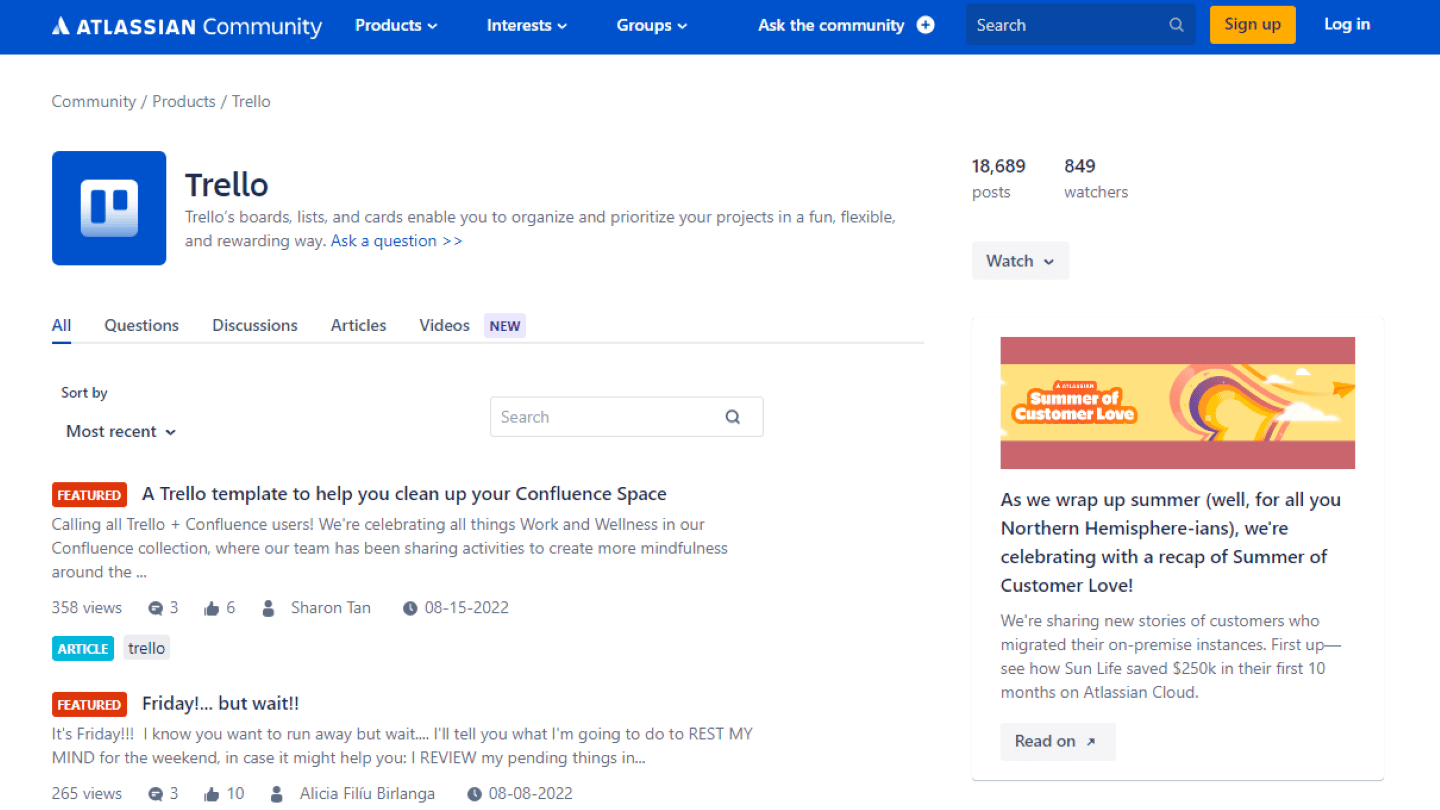 However, we regret that Trello's customer service can only be reached by contact form, which is rather limited.
The Trello integration marketplace
Trello offers many integrations:
Internal & external communication: Gmail, Slack, Hangouts… Since Trello is not focused on communication, these integrations will be very useful for those who manage projects with large teams, or who need to collaborate.
Automation: Focuster, Make, Autopilot, Zapier… Trello already has automation features, but these integrations are necessary to go further and automate your processes in conjunction with other tools.
Social networks: Twitter, Mailchimp, Evernote… These integrations are a real plus for all teams working on projects requiring communication or information gathering on social networks.
Developer tools: Pegasus, Dashworks, Github… A real plus for those who want to combine the project management advantages of Trello with those of developer tools: ideal for web projects!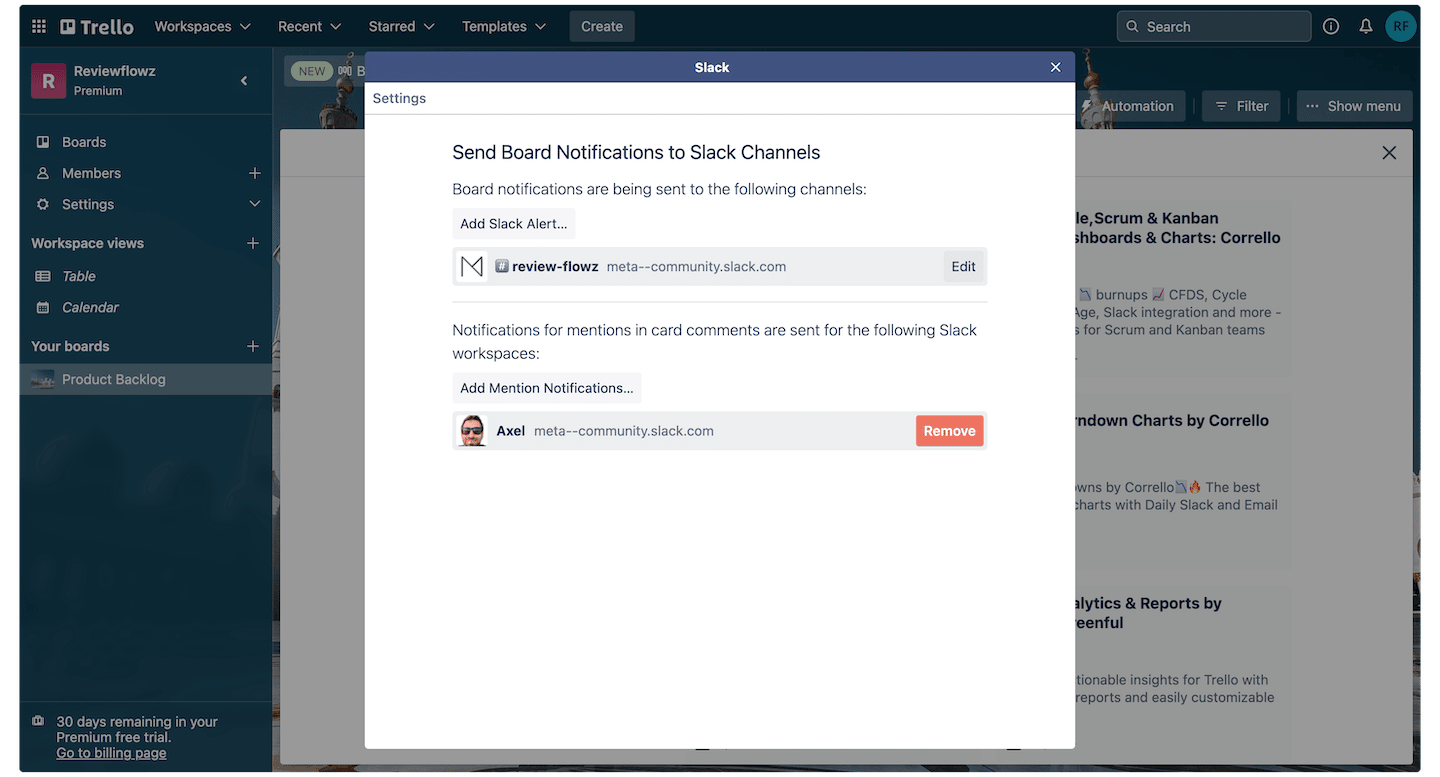 Salesdorado's opinion
We appreciate that all integrations are available from the free plan! We regret however that the Microsoft suite is not available…
Trello : prices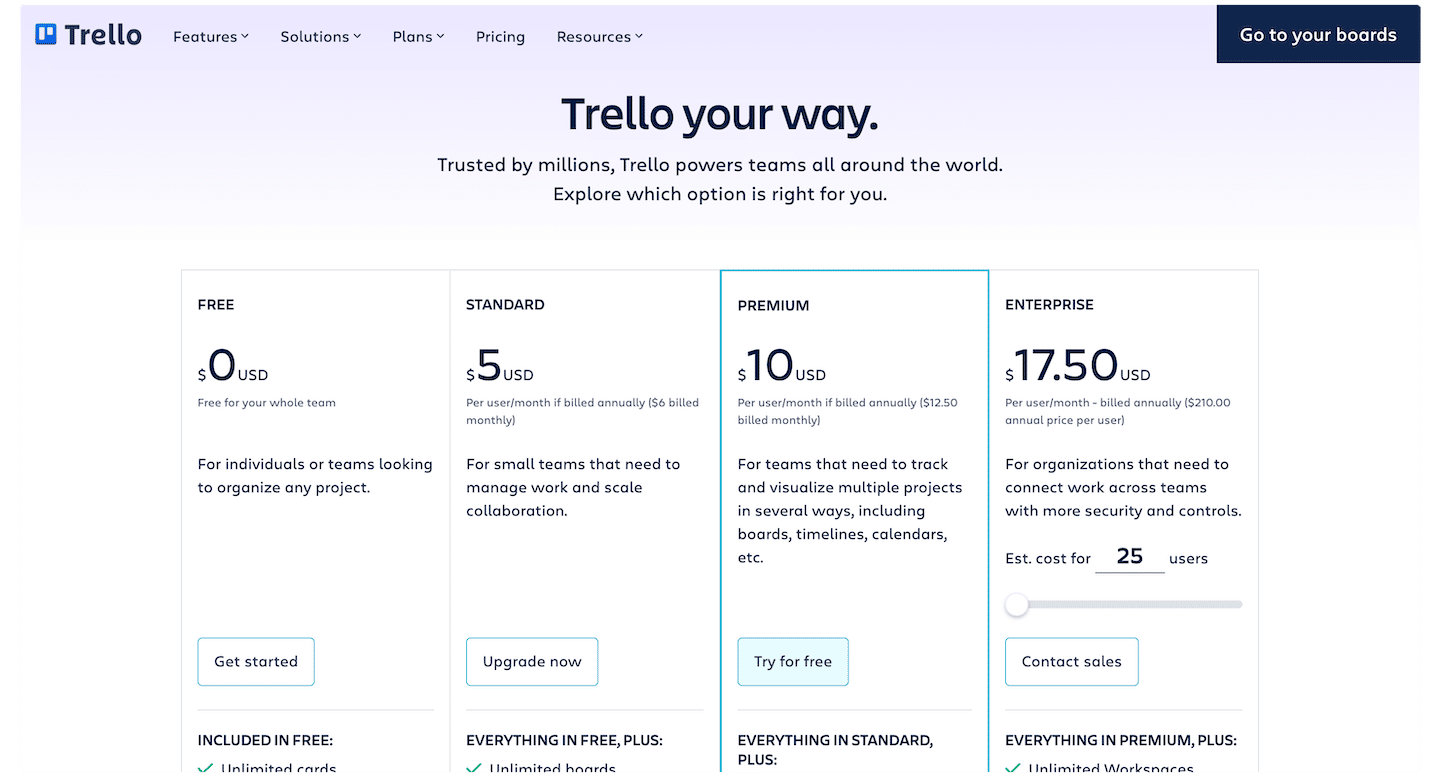 Trello offers several different plans:
Free: This plan allows for unlimited boards and automations on the web and mobile apps, but is limited to 10 boards per workspace. It is mostly intended for small teams or simple projects.
Standard: at $6 per month per user. Compared to the free version, this plan adds unlimited boards, increases storage and automation possibilities, and allows inviting people to the boards
Premium: at $12.50 per month per user. This version allows you to take advantage of all possible views (calendar, timeline, spreadsheet, dashboard and plan), access to administration and security functions, and templates.
Enterprise: at $17.50 per month per user. This plan adds unlimited workspaces, and organization-wide permission, administration, authentication and sharing features.
Pro tip !
You can benefit from a discount on the above rates for an annual subscription, do not hesitate to take advantage of it.
For the features and time saved, investing in the paid version is a winning calculation in our opinion!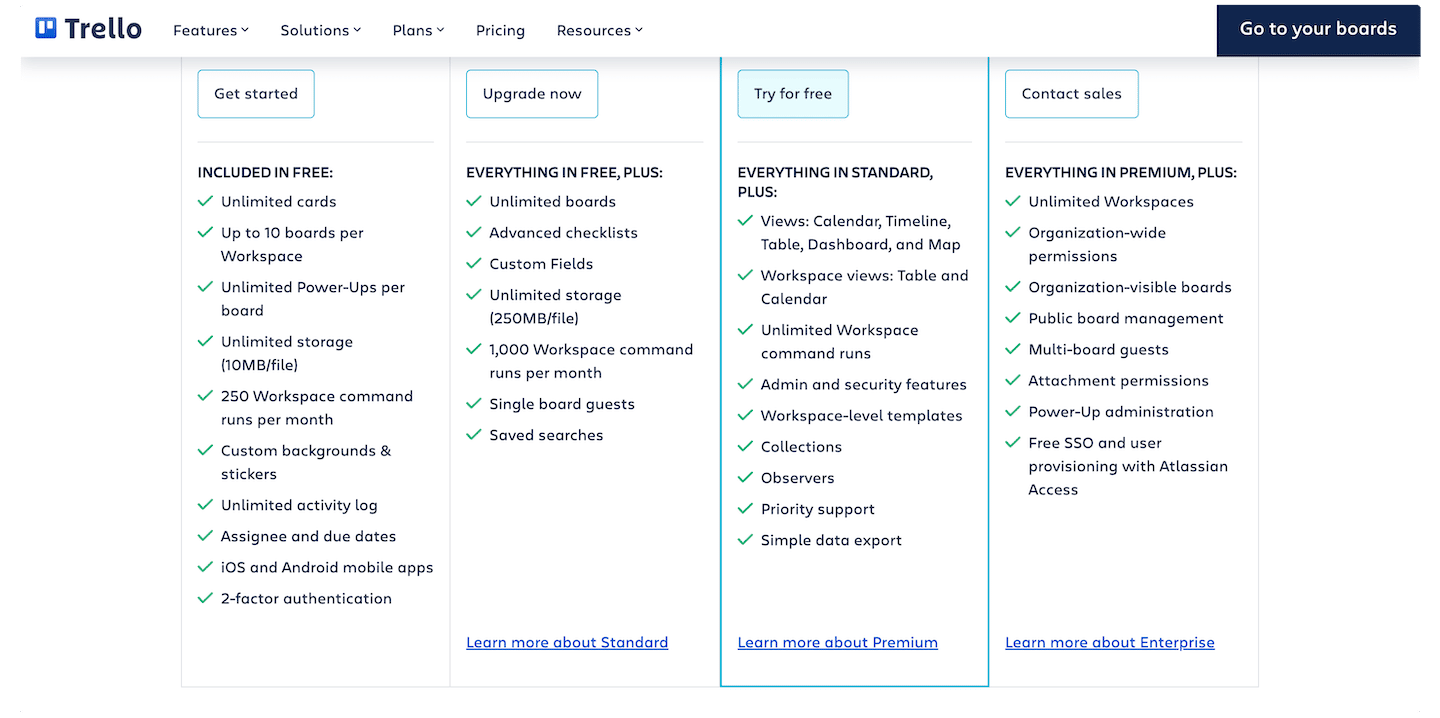 Salesdorado's opinion
We really appreciate that Trello offers a 75% discount on its rates to NGOs and charities.
The main alternatives to Trello
Trello is suitable for small teams and Agile projects, but less so for complex projects. Among the alternatives to Trello, we recommend more complete software, such as Wrike, Jira or Monday for large teams with complex projects.
And for those who are looking for an internal communication and collaboration tool more than a project management tool, we recommend you look at Notion or Basecamp.
Reader Interactions