We know Sendinblue very well at Salesdorado. I worked there for a little over 3 years, when we went from 100 employees to 500 employees sort of times. You could even say Salesdorado was born in Sendinblue's Paris office, that's where I met the Cartelis team.
At its core, Sendinblue is a very powerful and feature-rich direct marketing tool with very affordable pricing. But the overall experience is a little less polished and the support is probably a lot more technical compared to other tools. The fact that Sendinblue offers support to free users has a lot to do with that in my mind.
If you have a decent idea of what you're doing and what you want to do, or if you like to learn on the job, Sendinblue will be a great fit.
Our review of Brevo (Sendinblue): summary table
Criterion
Salesdorado's grade
Comment
Overall score
All in all, Sendinblue is a great solution to use upstream of your sales CRM. You could call it a "Lead Relationship Management" solution. You can set up efficient
nurturing
very easily, the contact management and unlimited contacts on every plan – including the free plan – allow you to manage large volumes of leads in a fairly fine-tuned way, the reporting is very precise, and the downstream integrations are powerful. The only downside is lead capture. The offered solutions (forms, landing pages) are not robust enough, and the upstream integrations (e.g. WordPress) are too light to manage complex lead capture campaigns. With an external solution for lead capture, it can be a very powerful tool.
Functional scope
From
email marketing
to
lead management
to marketing automation, Sendinblue offers impressive functional depth that covers almost every aspect of digital marketing.
Reporting
The tool comes with many features to measure the effectiveness of your marketing actions. From the classic email reports (opens, clicks etc.) to more advanced stuff (heatmap, a/b test), Sendinblue provides all the statistics you need.
Getting started
Sendinblue is a relatively easy tool to learn. Whether it's the navigation or the creation of personalised templates, everything is fluid and smooth for users.
Customer support
Online resources, support ticket, email or phone support etc. finding help on Sendinblue can be done in many ways. Let's be honest though, if you're hoping their support will help you improve your marketing campaigns, they won't. As far as getting the software to deliver on what you need, they're responsive and generally accurate. Anything more, not so much.
Integrations
The level of integration offered by Sendinblue depends greatly on the type of tool you wish to integrate. The integrations are weak on the lead generation side, correct on the CMS side and really good on the CRM side.
Value for money
Sendinblue's price/performance ratio is excellent. One of the biggest differences is that Sendinblue charges "per e-mail sent" and not based on the number of contacts. In the vast majority of cases, Sendinblue will end up being a lot cheaper than its alternatives – but if you have really high email pressure (daily emails to your whole list for example), it might not be. For what it's worth, it helps users focus on what matters: better contact information and better segments instead of more email pressure.
#1 Functional scope of Brevo's marketing suite
Overall, the functional depth is impressive (emailing, B2B CRM, marketing automation…) but Sendinblue is not really a complete B2B marketing automation solution.
The desire to remain generalist and affordable makes it a somewhat lightweight tool for the more advanced requirements. However, these can easily be met with complementary tools.
Email marketing
Although Sendiblue has developed a lot in terms of functionality over the past few years, its core offering remains email marketing.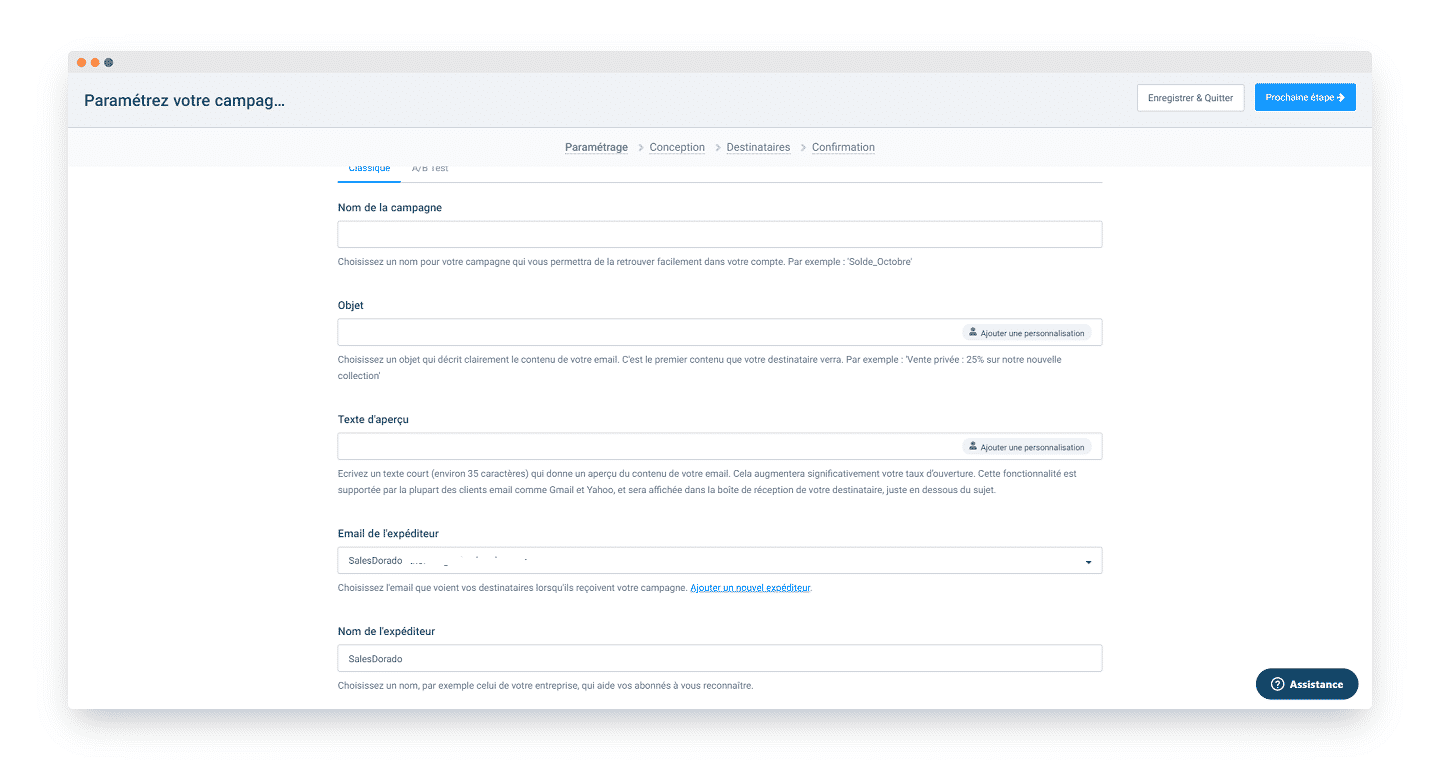 Creating and setting up a campaign is easy, directly from the Campaigns tab in the main menu.
After setting up the campaign, the creation of the visual can begin. The editor comes in the form of blocks that you can drag and drop where you want (we'll come back to this later in the article).
Once the visual is complete, select your list of contacts and, possibly, an ideal time to send your campaign. Once the campaign is sent, the first detailed statistics will arrive a few minutes later.
Overall, the sending statistics are quite deep. The clicks report is very useful, and allows you to quickly identify the links that have been clicked the most. The tool also gives you access to the list of all openers & clickers of each campaign and you can export it easily (and even dynamically thanks to the webhooks in the automation scenarios).
On the tracking side, however, you can either set the parameters for each of your links or use the default UTMs proposed by the tool. If you wish to customise at the level of the campaign, a template, a particular type of link, etc., you will have to be more cunning.
My opinion
On the whole, Sendinblue makes it possible to run e-mail marketing campaigns very cleanly and easily, but as soon as you get into more advanced needs, you have to tinker.
Contact management & segmentation
On Sendinblue, contact management is simple and streamlined. To import a list of contacts into Sendinblue, 3 options are available:
Import a .CSV or .TXT file,
Copy and paste contacts from a list,
Enter the contact information manually.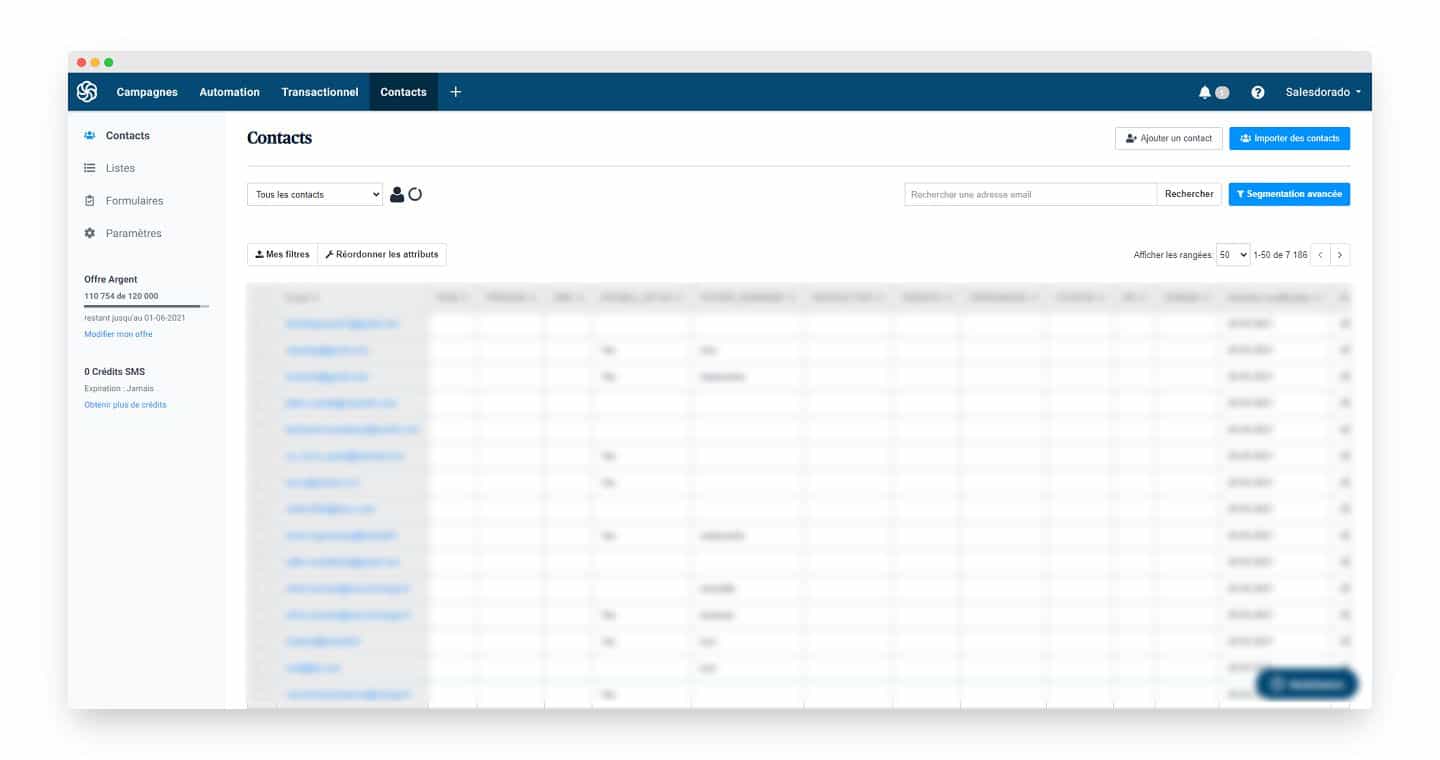 It is also easy to add new fields and change field attributes and types. For example, you can add other characteristics such as the date the contact was added to the list and whether or not the contact has opened an email.
Finally, automatic triggers are available for contact management and segmentation. This practice helps to personalise the content of e-mails according to the actions of your contacts.
My opinion
Some people regret the lack of tags. We don't. We were never really limited by this absence. The segmentation engine is pretty good, except for a few UX glitches that make the experience a bit painful (no keyboard shortcuts for multi-selection, loading a new page to get more details on a contact, …).
Landing pages & Forms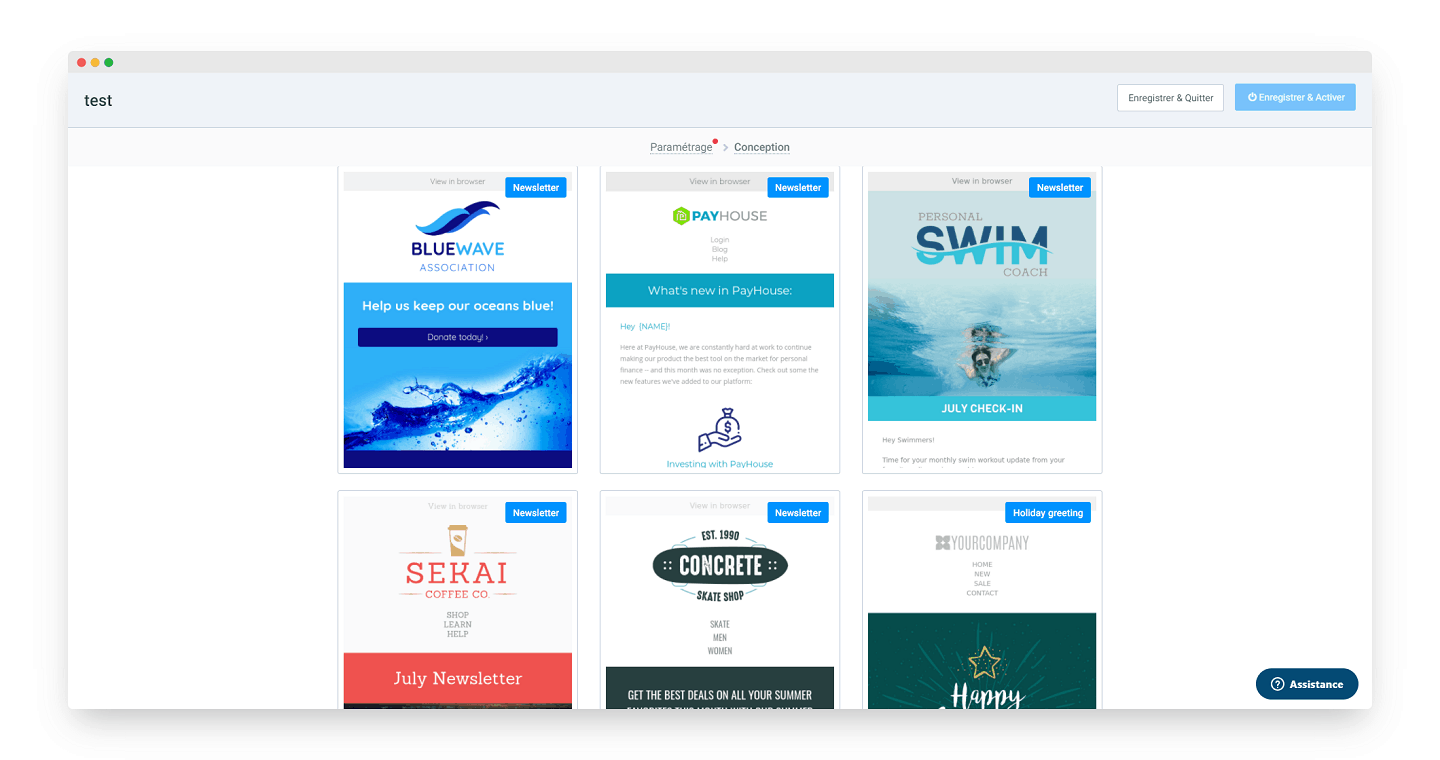 The templates offered by SendinBlue for the creation of forms and landing pages are numerous but a little dated. Your personalised creations are carried out via a drag-and-drop editor.
In a matter of seconds, colours, images, text, font etc. can be changed. You can also add as many different fields as you like to your forms – you are completely free to choose what information you collect.
Drop-down lists,
Text fields,
Radio button.
etc.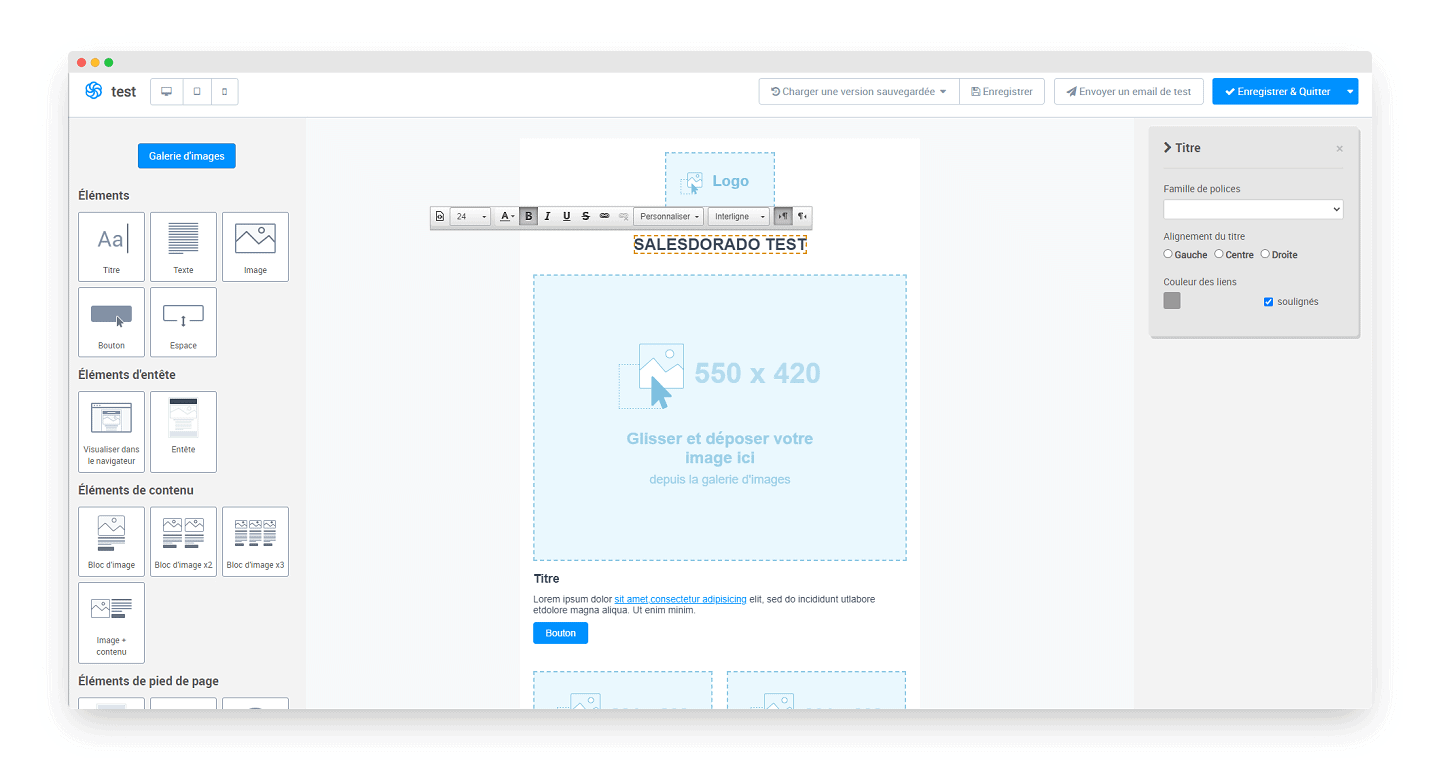 The integration is done with a copy and paste HTML code. In order to comply with the regulatory requirements of your market, it is possible to define a single or double opt-in process.
Be careful with double opt-in: Sendinblue does not provide validation of collected emails and instead requires captchas to be installed on the capture site (to the detriment of your users' experience, therefore).
If your visitors play around with invalid emails on your forms, Sendinblue will send double opt-in emails to those addresses, resulting in hard-bounces that can cause your account to be blocked. Unfortunately, the only solution offered is to slow down your site, or drastically reduce the capture experience with a captcha.
My opinion
This is probably the biggest weakness of Sendinblue. Despite the various templates and an easy-to-use form or landing page editor, the restrictions on email capture are too restrictive, and put the burden of validation on the users. Real shame.
Lead management
Lead management and Sendinblue are technically compatible. But in practice, it is quite complicated to fully exploit this functionality.
Unfortunately, you have to do almost everything yourself. For example, there is no integrated lead scoring functionality.
Instead, you can use lists to organise your contacts according to any criteria you choose. This could be demographics, where the leads are coming from, where they are in the sales funnel, etc.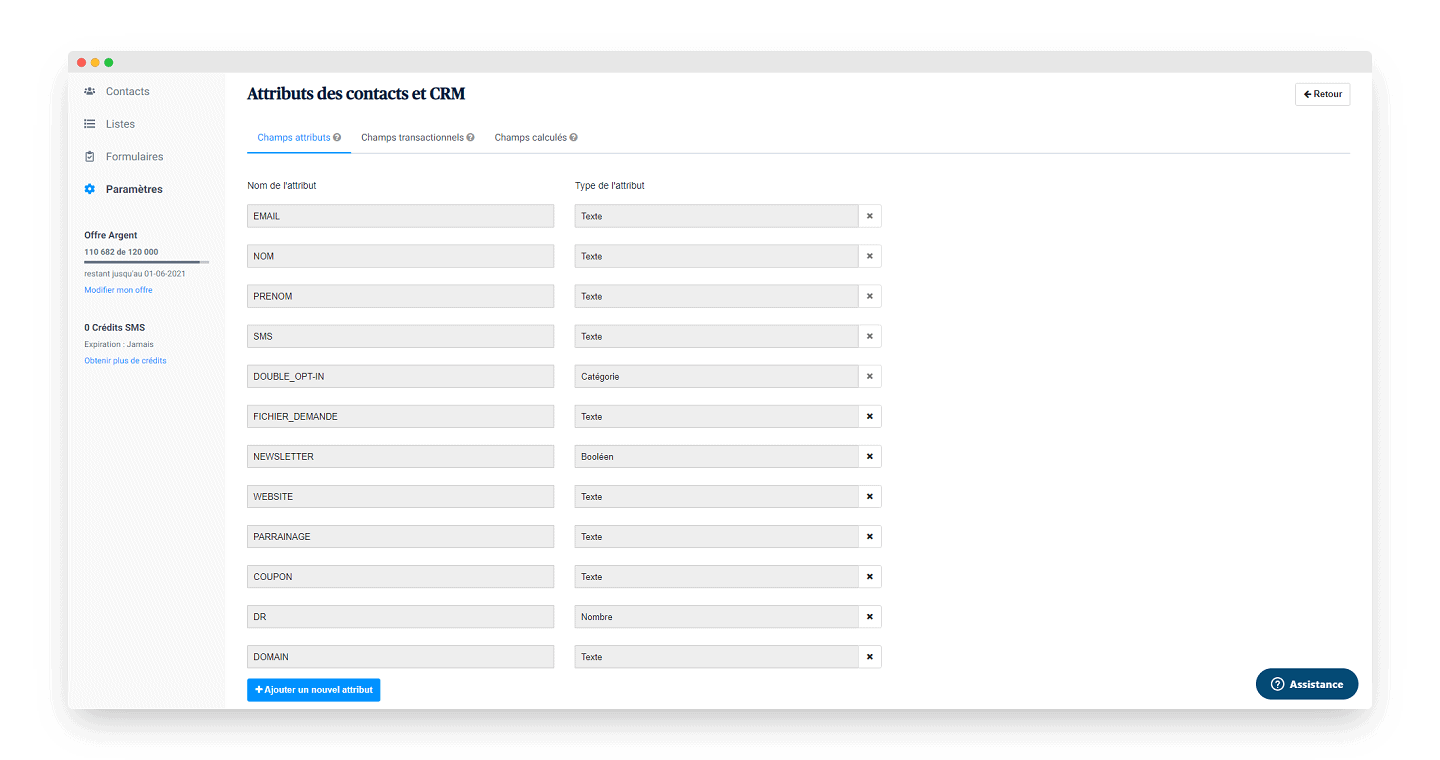 Thanks to Sendinblue's integrated CRM, you can find all your leads' information and plan your follow-ups in one place. You can set up lead nurturing sequences in addition to classic campaigns thanks to the automation platform. The amount of information collected by the tool is impressive.
My opinion
When it comes to lead management, Sendinblue can do it all. On the other hand, if you are looking for a solution that can manage lead management "out of the box", prefer solutions like
Activecampaign
or
Hubspot
.
Live chat & Whatsapp
The promise is powerful. Especially for smaller organizations. Emailing is at the heart of customer relationship strategy, and live chat connects operations and day-to-day reality to marketing. This is a hyper-powerful brick for a tool like Sendinblue.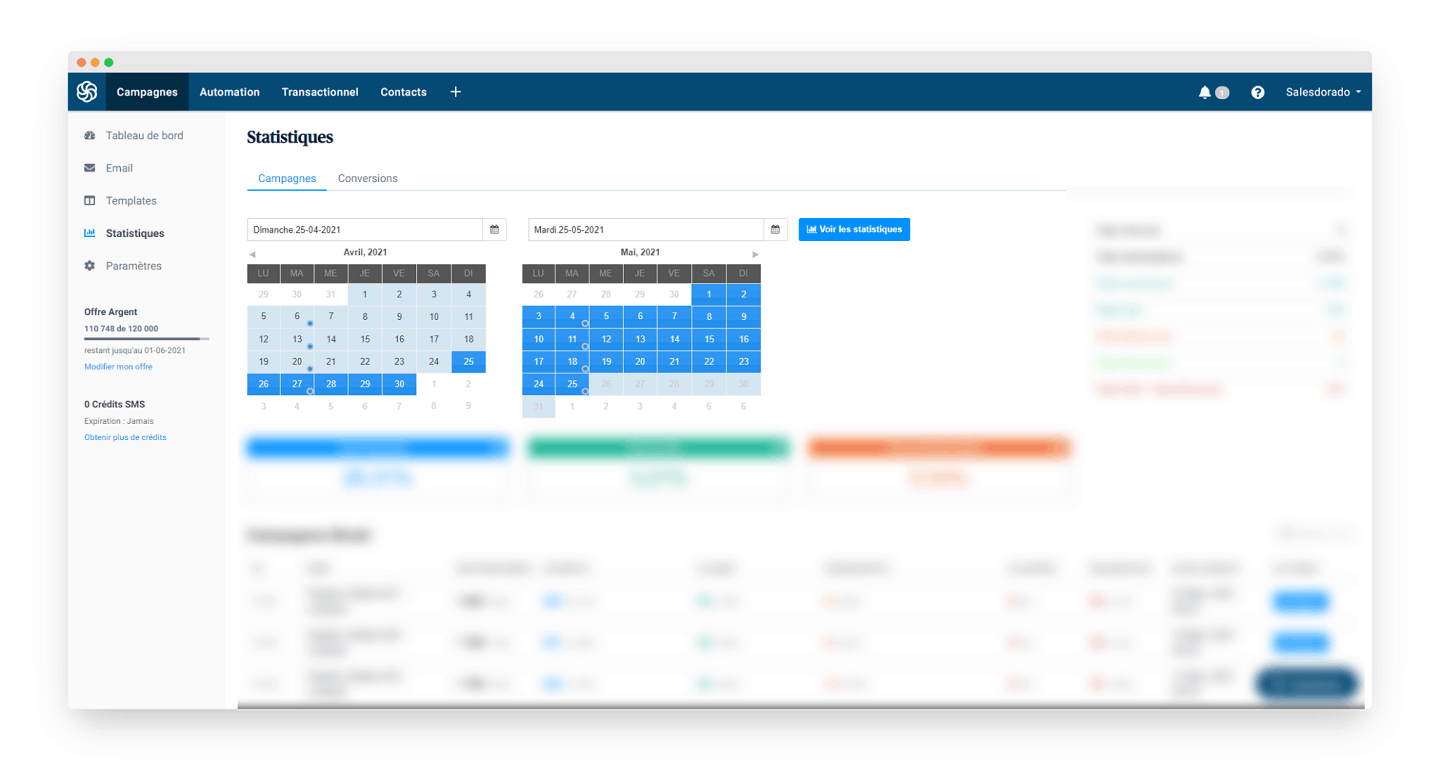 It is also possible to filter the reports by geographical area and by the e-mail providers used by your contacts.
The reporting capabilities don't stop there. Two other features are interesting to improve your marketing strategy:
The heatmap,
A/B testing.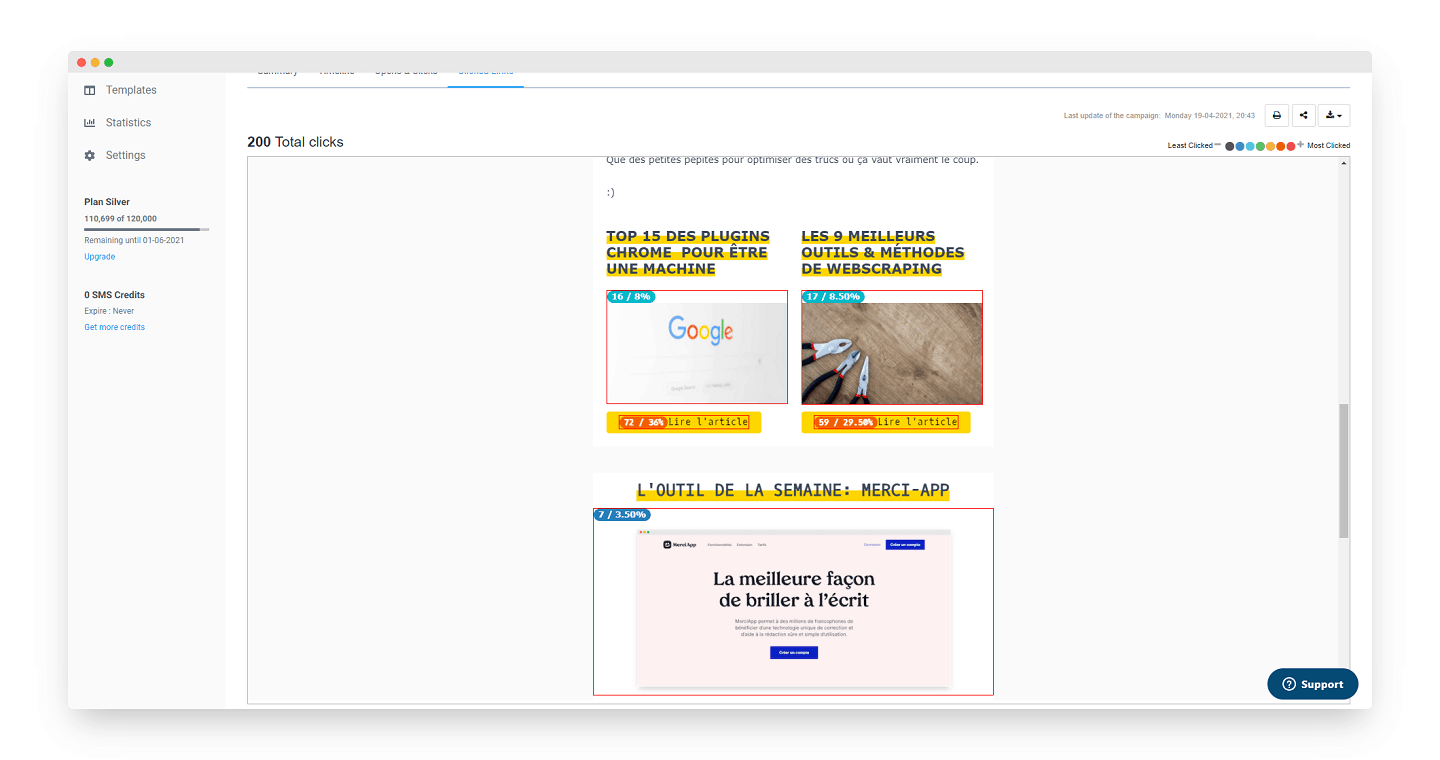 The heatmap helps to visualise how your contacts engage with your emails. You can see which sections they pay attention to and which they ignore completely. With this information, you can customise your templates to generate more interest.
For A/B testing, simply create two different emails and test them. The A/B test report will tell you which one performs better.
My opinion
The reporting tools offered by Sendinblue are very useful. Thanks to its advanced features (heatmaps, A/B tests, filters of all kinds, etc.), identify the statistics that interest you and Sendinblue will provide them.
#2 Brevo (Sendinblue) : CRM
Sendinblue's B2B CRM is fairly basic if I'm honest, but it does have the main features you'd expect to manage your sales better: Tasks, a deals kanban view, and contact details and history.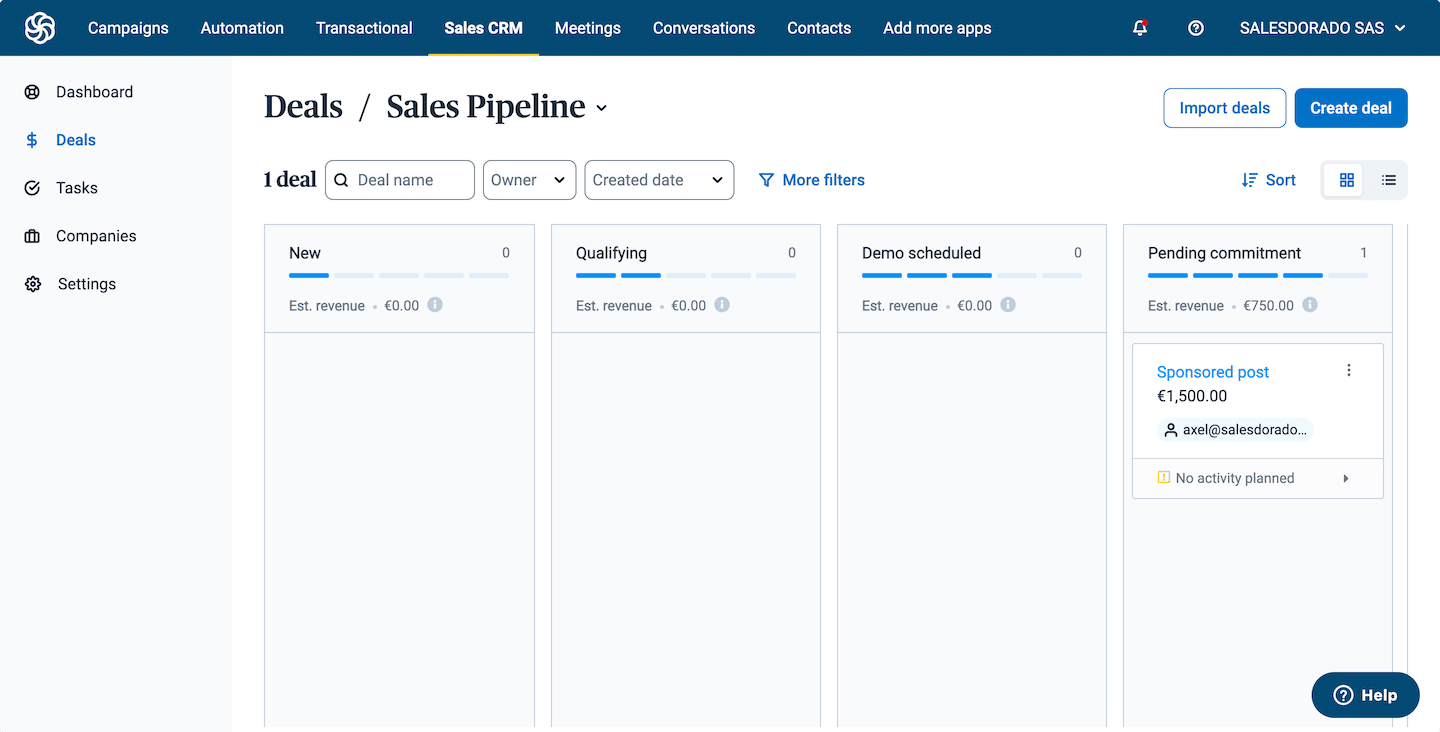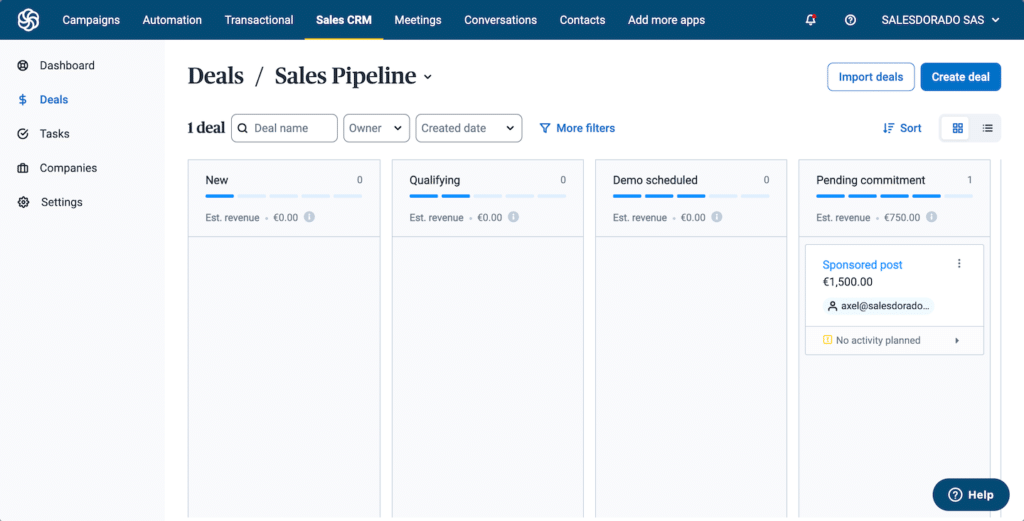 Specifically, it's entirely part of the Sendinblue ecosystem, and anything going on with your contacts, email campaigns or nurturing flows is directly connected to it. No need for sales ops, or very basic sales ops. Anyone can set up very advanced automation logic with Sendinblue and that's a massive advantage if you're a small business.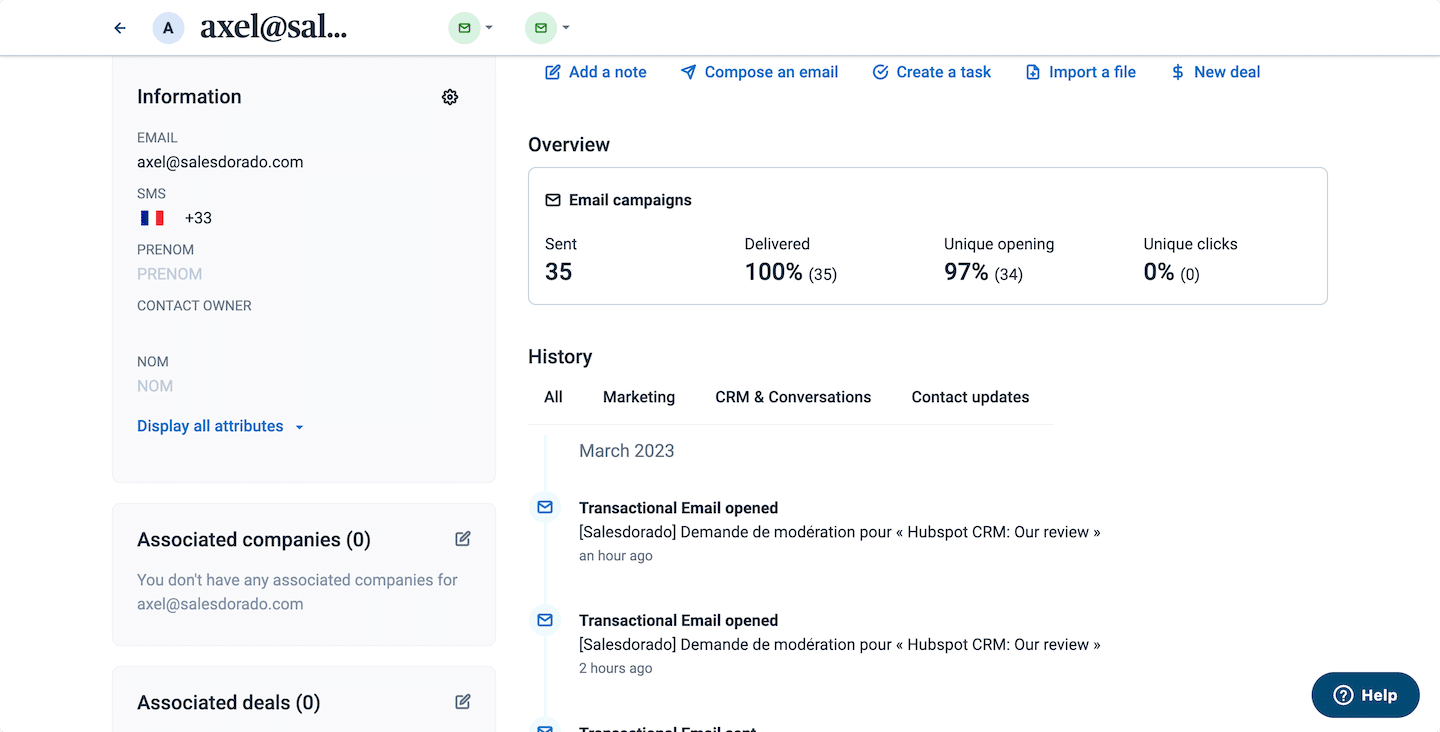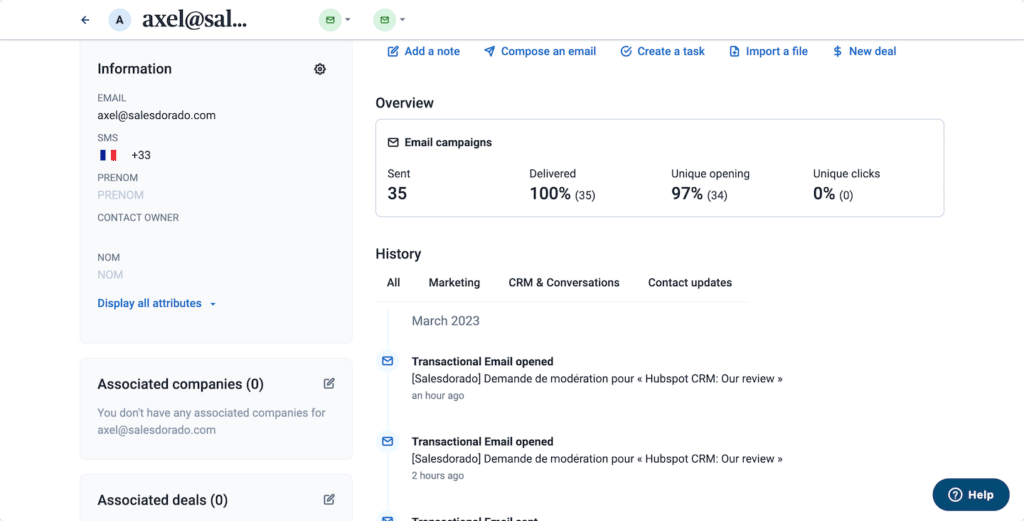 Sendinblue also comes with two key features that make its CRM a lot richer:
Meetings: You can connect to your Outlook or Google Suite calendar and set up a meeting link, much like you would on tools like Calendly. Connect, define office hours, the type of meeting you'd like to offer, and voilà, you have a pretty neat "book a meeting with me" experience
Conversations: This is the other big one in my mind. You can set up a chat widget really easily on your website and manage conversations with your visitors, leads, customers, users, … Like all things Sendinblue it's simple, easy to set up and connected to the rest of Sendinblue. So you get the whole conversation history in your CRM. You can even use the same it to chat across Whatsapp, Facebook, Instagram, or your chat bubble on your site.

My opinion

Overall, Sendinblue's CRM is an incredibly efficient (and free) option if most of your sales are driven through marketing activities. The conversations and meetings features make it a very complete option to set up and optimize sales funnels.

A note: they're working on allowing their customers to accept payments directly through Sendinblue, which will also be a massive edge on the small business, easy-to-use-and-not-too-expensive CRM segment.

#3 Getting started

Sendinblue's user interface is easy to understand and to get used to. The main menu, located at the top, groups together the Sendinblue features (Campaigns, Automation, Transactional, Contact Management).

As for the side menu, it allows access to statistics, templates, sent e-mails and also to the global parameters of the tool.

To create emails, the heart of Sendinblue's offer, (and we have already mentioned it above), the design tool is very easy to use. To send them, Sendinblue will guide you step by step towards your final objective: to communicate.

My opinion

Sendinblue is very easy to use. Thanks to its main and side menus, navigating to find what you are looking for is quick and easy.

#4 Customer support

Sendinblue has support to use to find help related to the tool's features. If you are a beginner, you will find many resources to make the onboarding process easier.

The topics are categorised: from how to set up an account and launch an e-mail campaign to how to manage contacts and automate your marketing actions.

There is also a search function to quickly find the topic you are interested in.

If online resources do not help you solve your problem, there are several other options:
Create a support ticket,
Contact customer support via a form,
Call a free support number (only for Premium plans).
It is important to note that telephone support is only available to users with a Premium account.
My opinion
Ticket, telephone or e-mail support, written resources, etc. Sendinblue offers many options to solve the problems encountered by its users.
#5 Brevo (formerly Sendinblue) : customer reviews
Sendinblue has been able to conquer a very diverse customer base, from e-merchants starting out on Shopify, to agencies and media sites on WordPress, to more complex software or platforms.
And overall, online reviews of the company are very positive. Simplicity and affordability are among the most frequently cited upsides.
On the negative side, it is mainly the validation issues of the email lists that cause concern to the less satisfied users. Sendinblue is indeed very demanding on the quality of its customers' contact bases. As a signatory of Can-Spam and as a European company, the French solution has little choice but to refuse to send emails to scraped or purchased lists. If you're hoping to send cold email, check out our selection of the best cold email tools.
#6 Integrations
Recently, Sendinblue has been offering solid integrations that we'll break down into 3 categories:
Lead generation and email capture: Unfortunately, few integrations are designed and maintained by Sendinblue. Most lead generation tools integrate with Sendinblue somewhat because they have no choice: Sendinblue is a major solution in the email marketing market, and one of the only European solutions.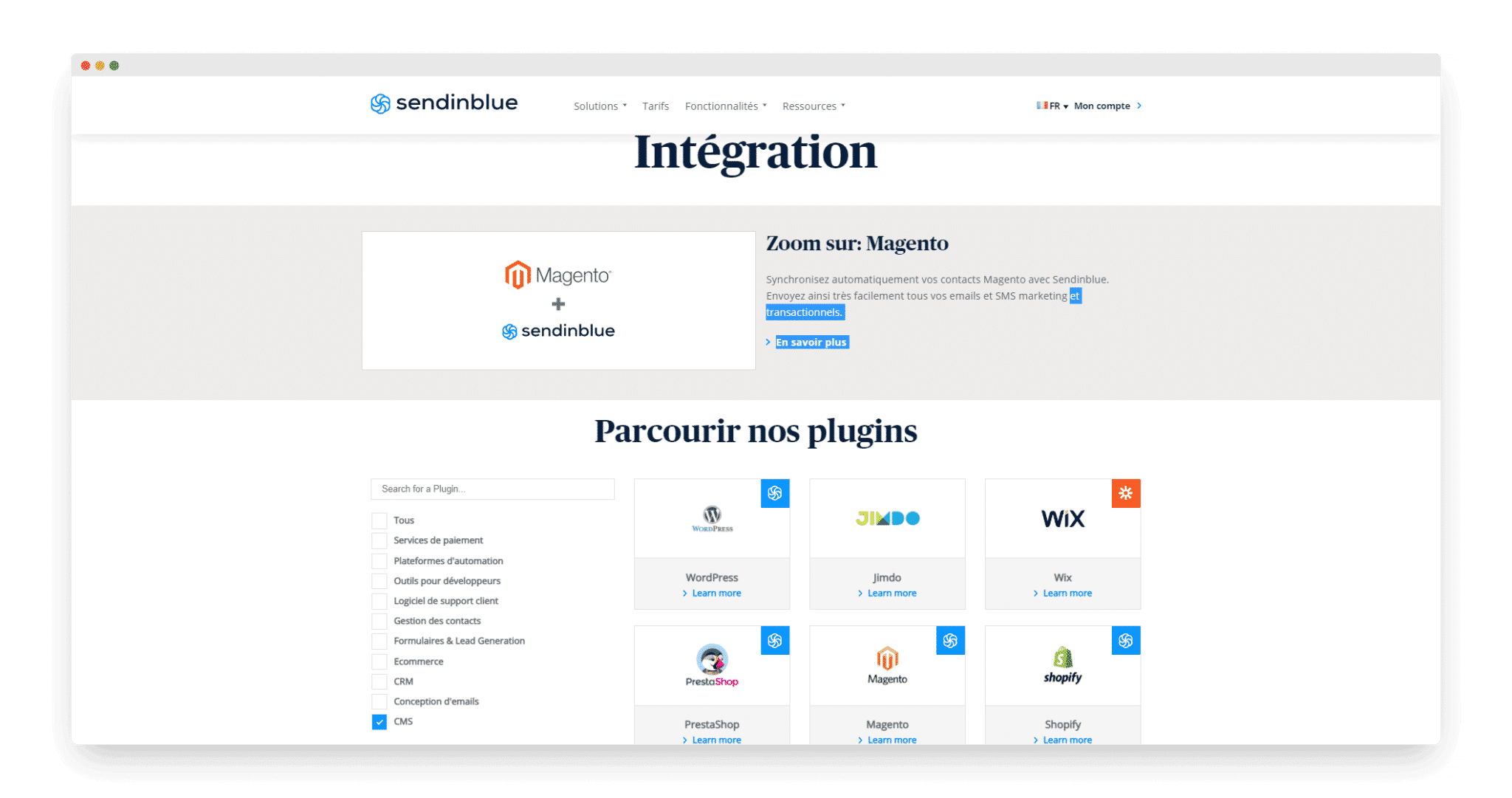 CMS: The e-commerce integrations are pretty good, but on the B2B side there is nothing interesting. Too bad, the wordpress plugin is not bad, but has aged badly and is a bit of an empty shell to integrate marketing automation easily on your site. It's no less than most of the competitors though, who don't do anything very well either.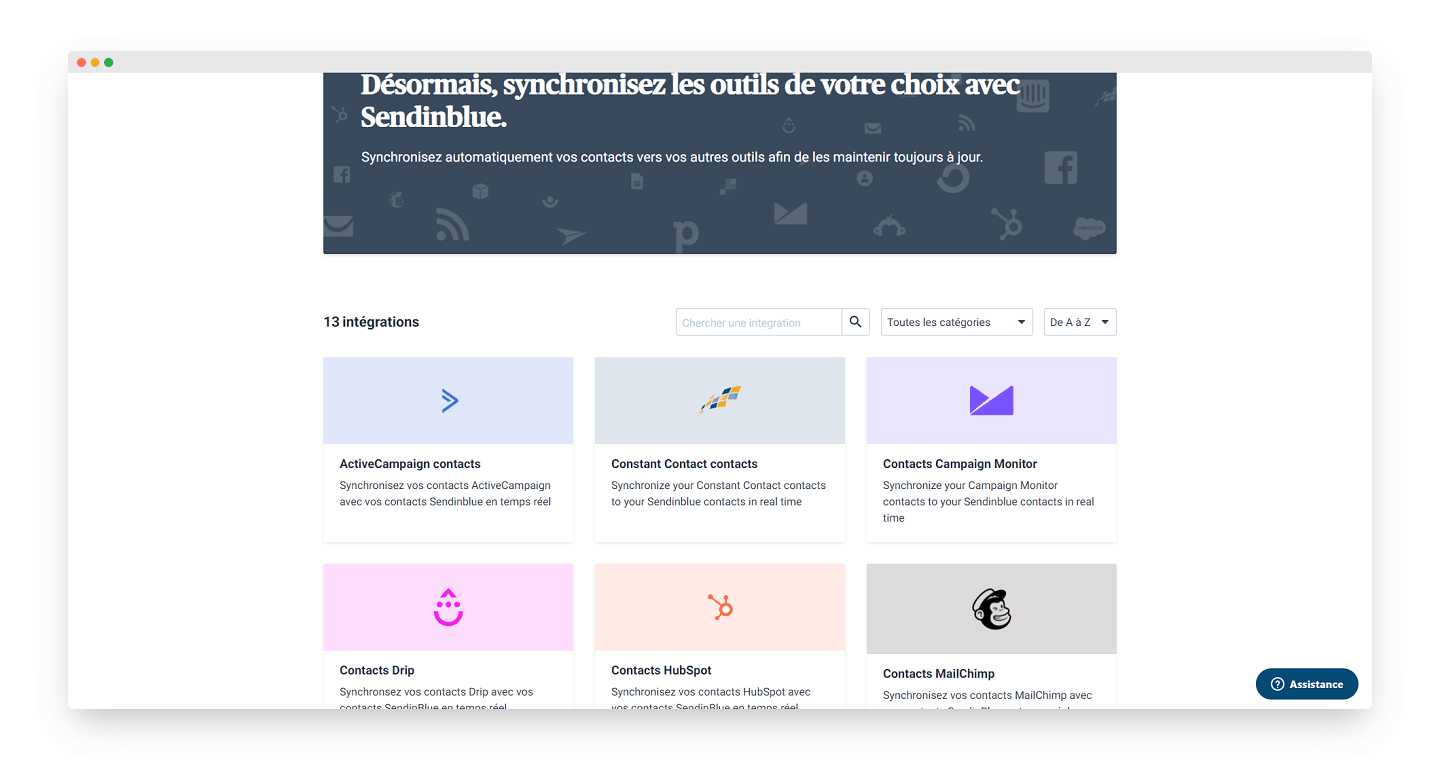 Commercial CRM: What is – very – interesting about Sendinblue is that the number of contacts is unlimited. The tool could therefore be used as a Lead Relationship Management platform. A sort of "mass" CRM upstream of the sales CRM. The (recent) integrations with most commercial CRMs on the market are an important step in this direction: Pipedrive and Hubspot in particular. Unfortunately, the integration with SFDC(Salesforce) is not up to scratch. We therefore do not recommend it at all.
My opinion
Sendinblue offers very solid integrations. Thanks to the unlimited number of contacts, it can be used as a Lead Relationship Management tool to set up a lead nurturing and
lead scoring
strategy upstream of your
CRM software
. Too bad the tools & processes for capturing and validating emails are not up to par.
#7 Brevo (Sendinblue) : pricing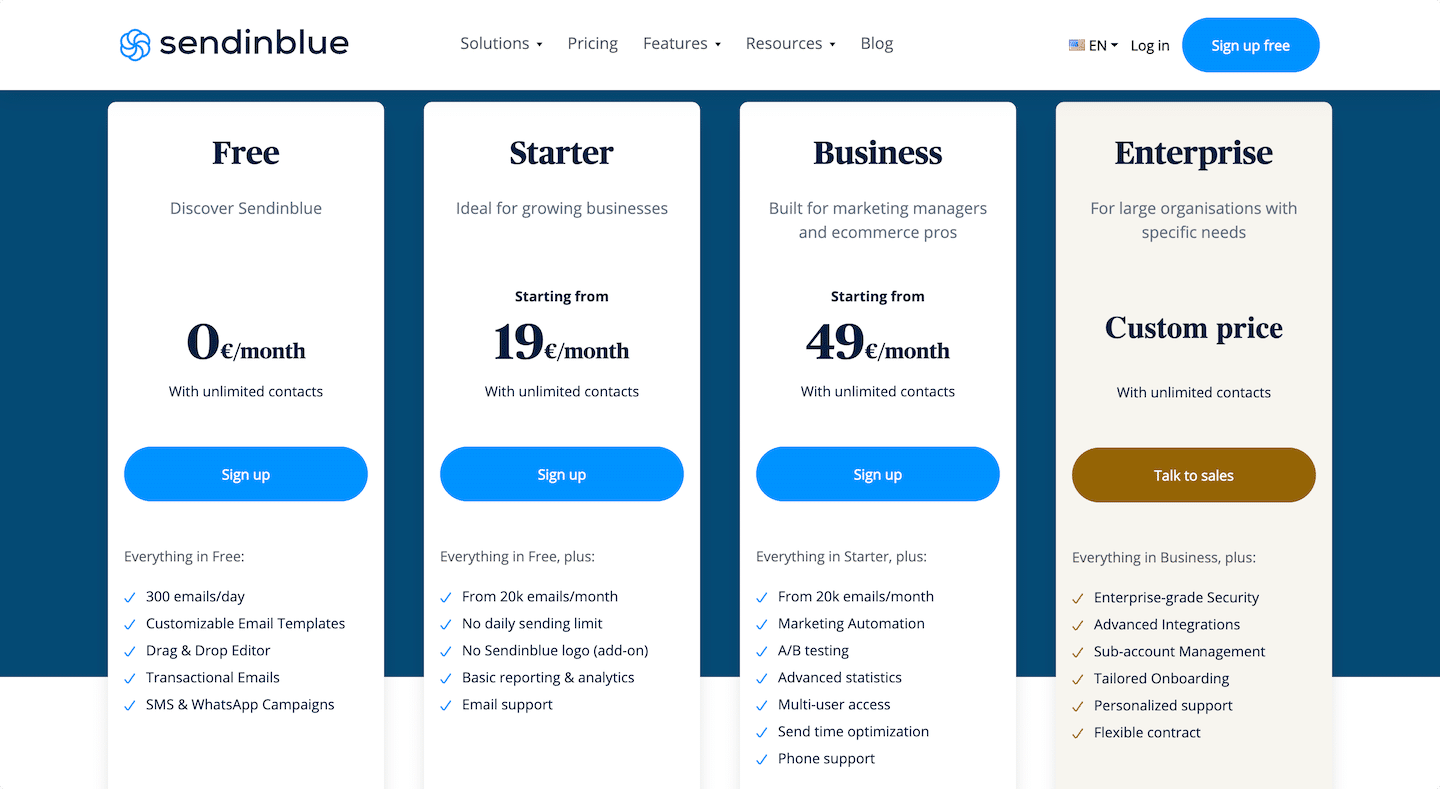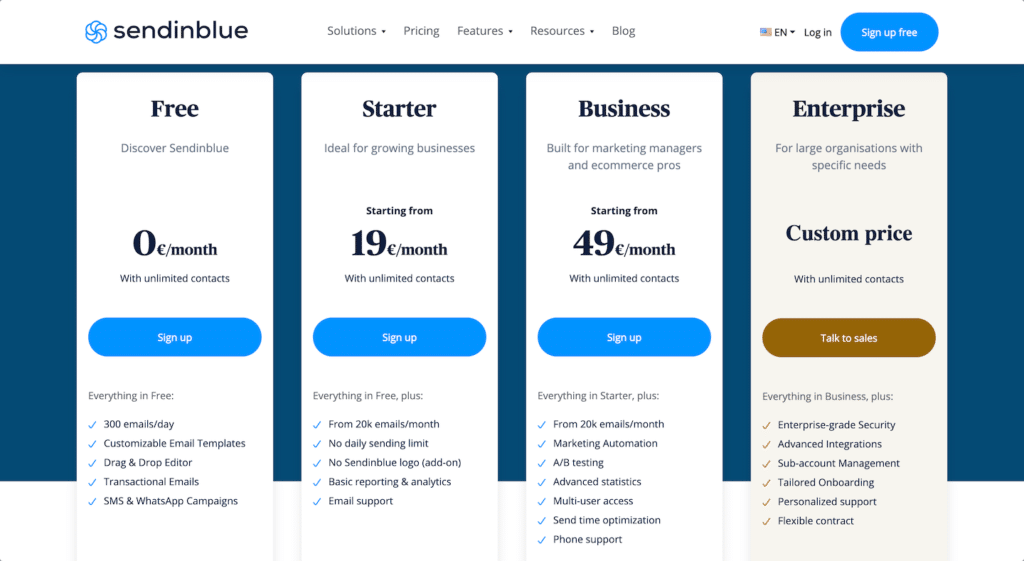 Sendinblue charges "per email sent" and not according to the size of your contact list. It doesn't matter if your list consists of 100 or 1,000,000 contacts, Sendinblue doesn't charge extra for this.
Sendinblue also offers a free plan where the ceiling is 300 emails sent per day. This is a good starting point for testing the tool and setting up some automations. Don't count on it to send your newsletter for free though.
The value for money is excellent and very different from other solutions that charge by the number of contacts rather than emails sent. Overall if you have reasonable marketing pressure (one or two emails / contact / month), Sendinblue will very likely offer the best bang for buck on the market.
Sendinblue's pricing is divided into 4 different use-cases:
The marketing suite is the traditional suite of tools Sendinblue offers with email marketing, marketing automation, etc. and the "per mail sent" pricing which differs greatly from other tools
The chat pricing: They now offer a pro version for the chat, which mainly allows you to connect to Whatsapp and Facebook / instagram
The sales CRM is still free for now, but you can expect a Pro plan or something similar to show up next to that free option very soon
Transactional emails: One of Sendinblue's specificities is it also handles transactional emails (password reset, welcome emails, purchase confirmation, etc.). It's a brilliantly simple way to connect your customers' activity to your marketing activity, and their pricing on that front is among the cheapest on the market. While the API & libraries aren't exactly to par with pure transactional solutions like Sendgrid or Sparkpost, the added value of centralising all of your customer communication in a single tool definitely makes up for it.

My opinion

Sendinblue's value for money is excellent for those who use it with a lot of contacts, and a relatively low marketing pressure. In terms of feature levels, a

true

automation platform at 49€ / month is hard to beat. The only one that manages to do so is

ActiveCampaign

at $39 / month, but the rates go up as soon as you exceed 2500 contacts.