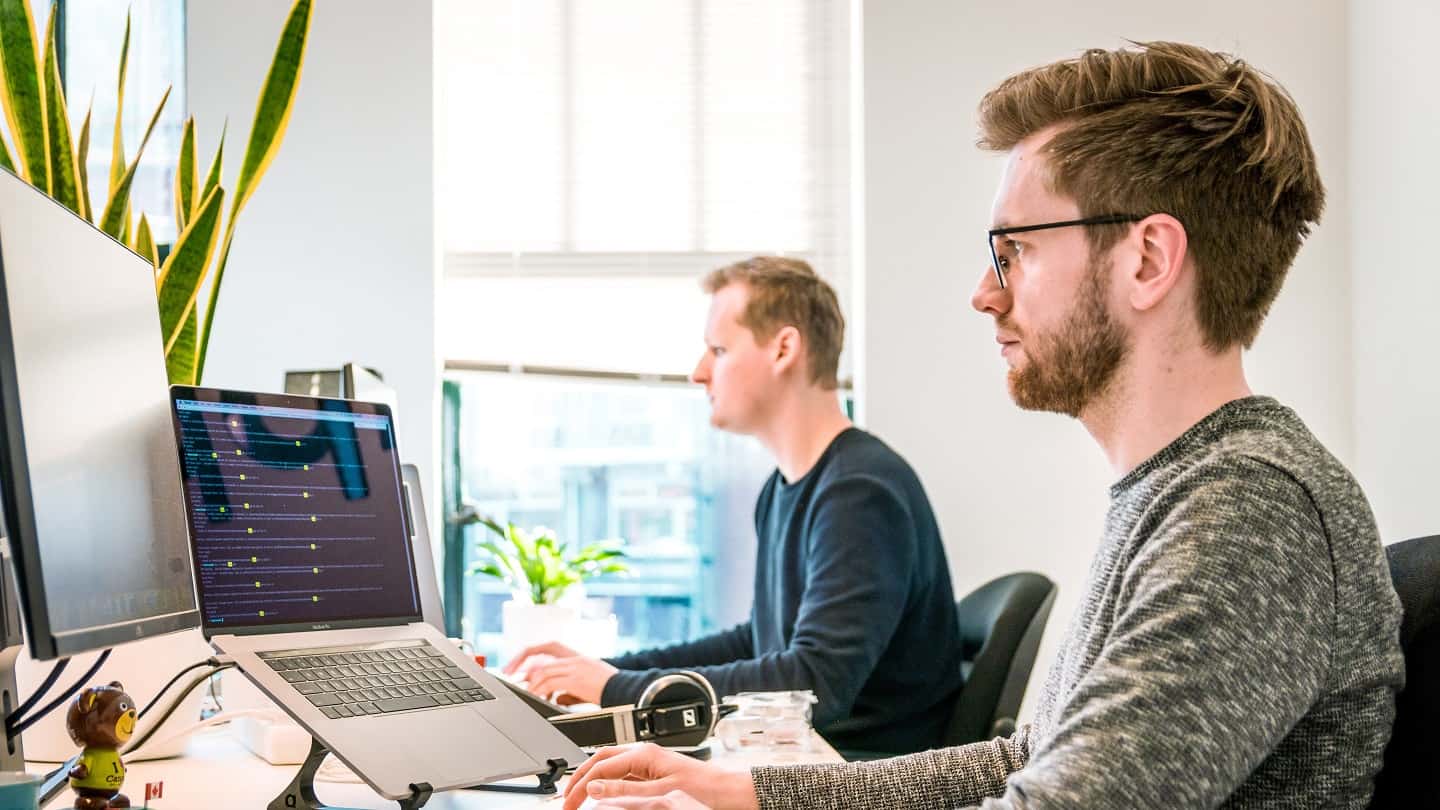 In recent years, customer experience has become a very important part of company sales and with it all the customer support tools. Among the software that can help you set up good interactions with your customers are livechat and chatbot.
What are the differences between the two? Why use them? What are the most popular livechat and chatbot software?
In this article, we will introduce you to 10 chat software for businesses.
Chatbot software and livechat tools: the differences
There are two types of software depending on your needs:
Chatbots: these are conversational tools developed from robots that respond to your customers. This allows you to multiply interactions with your customers.
Livechats: they meet the same objective, but here it is members of your team who respond to customers. The advantage is that the answers are more human but this limits the number of interactions.
However, chatbot tools very often offer livechat software for businesses, and vice versa. We offer you our selection of the best B2B chatbot software.
The 10 best chatbot software: the summary table
Drift is a professional chatbot software that allows you to create personalised messages targeting specific accounts or individuals, thus increasing engagement.
When target accounts arrive on your site, they will be greeted with an automated, personalised message from their sales representative. Your sales rep will then receive a notification that one of their accounts is currently on your website.
You can use Drift for free. If you want more features, such as personalised conversations, choose the Premium or Enterprise package. However, prices are only available on request.
Many tasks can be automated,
This tool can be integrated with the best CRMs on the market,
A free version is available.
It is impossible to see how long each of the conversions takes,
No keyword search functionality within the chats.
Try Drift for free
Drift offers a free version.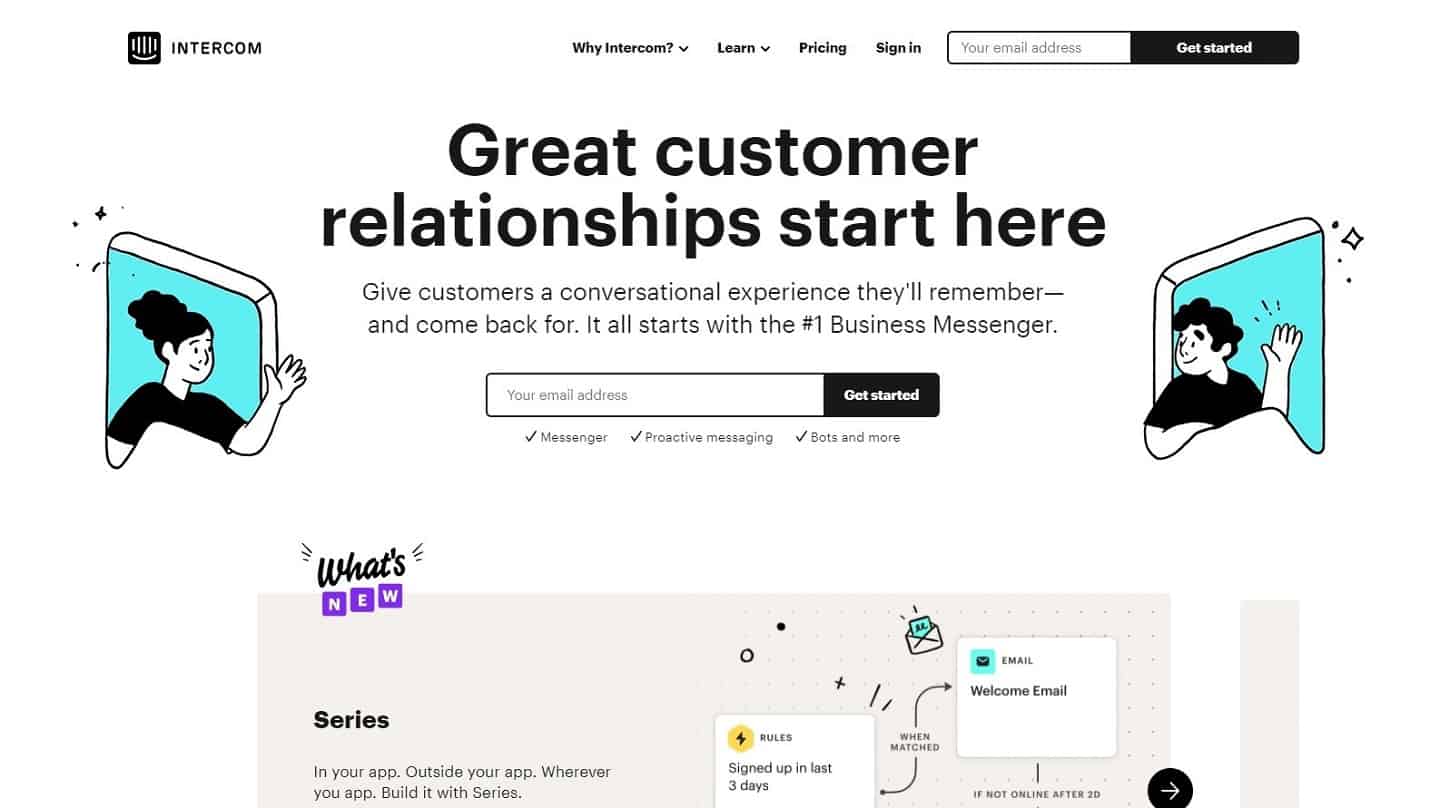 Intercom is a perfect complement to the best lead generation tools. With Intercom, you can route your leads to specific sales representatives, but also target contacts based on their browsing behaviour.
In addition, it integrates with software such as Slack, Zoom, HubSpot, etc. Its main feature is its intelligent routing and lead qualification. Intercom uses chatbots to automatically qualify leads, route them to sales people and also take bookings, for example for demonstrations, when your team is not online.
As far as prices are concerned, Intercom offers 4 subscriptions:
For basic needs, the $39/month Start or $99/month Grow packages are sufficient.
For larger needs, there is the Accelerate package at $499 per month and the Scale package at $999 per month. You will have access to performance reports for your teams, numerous integrations and a dedicated manager for your account.
It is an ideal chatbot software for smaller companies,
Many integrations available,
Possibility of assigning leads to specific sales representatives.
The learning curve is a bit longer than with other tools. But, you will have to go through this to use this high-end tool.
Try Intercom for free
Read our review here.
With Pure Chat, you can start using the chatbot for free for 30 days. This chatbot software has many advantages such as the possibility to customize the chat, numerous CRM integrations, alerts as soon as a new conversation is initiated or information about your site visitors.
For pricing, you can try Pure Chat for free for 30 days. For larger teams, the Growth ($39/month) or Pro ($79/month) plans offer real-time analytics, visitor tracking and detailed statistics.
Free 30-day trial to test all features,
PureChat integrates with software such as Google Analytics, HubSpot, Infusionsoft and Axosoft,
You will be able to create predefined answers to save you time.
Customisation, although it exists, is rather limited,
Try Pure Chat for free
Pure Chat offers a free 30-day plan.
Olark helps you personalise your chats by seeing which page the contact has already visited, but also by retrieving previous conversations if they have already chatted with you. In addition, Olark collects information from visitors before a chat begins, providing your salespeople with the context they need to have a productive conversation.
As far as pricing is concerned, Olark is keeping it simple. For one month, the rate is $19 per month per agent, for one year it will be $15 per month per agent and for two years it will be $12 per month per agent. At this rate, you can add modules, called PowerUps, in order to have the most complete service possible.
Olark is ideally suited to large teams because of its ability to monitor the performance of individual agents,
Subscriptions are very flexible,
No possibility to pre-define the most common answers,
Keyword search within a conversation is not available.
Try Olark for free
Discover Olark here.
Userlike helps salespeople create personalised conversations, plain and simple. When a person provides their email address, the chat solution turns this anonymous data into contacts, with a dedicated profile. Visitors to your site will be able to choose which department of your company they want to talk to and which skills they are looking for. If a person has already visited your site and chatted with someone they like, Userlike will promote that salesperson and give them the ticket.
Userlike offers 4 different packages:
You can opt for the free version,
The Team version is €90 per month,
The Corporate package at €290 per month will offer you multi-channel messaging with advanced features,
Finally, the Business package at €720 per month will give you a large-scale messaging system with advanced routing and business intelligence.
A very intelligent tool, which analyses each and every data it receives,
Although the automatic ticket allocation system is very efficient, you can still do it manually.
The free version does not offer much of interest,
Many problems with integrations were mentioned.
Try Userlike for free
Userlike offers a free version.
This chatbot software allows you to communicate quickly and easily with your website visitors. Because it's closely tied to one of the best CRMs on the market, HubSpot, you'll know exactly who you're chatting with and their history with your company. Having this context before you enter into a discussion makes it easier for your employees and improves the user experience.
In order to use Hubspot Live Chat, you need to choose one of the packages offered by Hubspot. Prices start from €41 per month with the Starter package and go up to €2944 per month with the Enterprise package.
You can create targeted welcome messages that automatically appear on different pages of your site at different times,
Take advantage of the power of Hubspot,
The conversations are recorded directly in Hubspot CRM.
Using Hubspot Live Chat alone can quickly become costly,
Try Hubspot Live Chat for free
Discover Hubspot here.
Zoho Desk is a chatbot software that automates the easiest parts of the customer conversation. You will be able to define attribution rules for each of your communication channels so that your sales people can work more efficiently.
In addition, Zoho Desk automates the slowest parts of the process, such as collecting contact information and answering common questions with standardised responses.
You can test the tool for a period of 15 days. After that, you can choose to stay with the free version (limit of 3 agents), switch to the Standard version at €12 per month per agent, to the Professional version at €20 per month per agent or to the Enterprise version at €35 per month per agent.
You have the possibility to define standardised answers,
Zoho Desk offers a "comment" function for prospects to give feedback on the service provided,
The free version can be very useful.
You may spend a lot of time getting to grips with all the features,
The customisation of cats is very limited.
Try Zoho Desk for free
Zoho Desk offers a free 15-day plan.
Tidio is an all-in-one chatbot software designed for e-commerce businesses looking to interact with their website visitors, generate leads and increase sales. One of its main features is that all the responses you collect will arrive in a single inbox. This is ideal for your agents to solve problems collaboratively.
Let's move on to pricing. Tidio has a free version limited to 3 operators. For larger needs, you can choose the Email Marketing version from €10 per month or the Chatbots or Communicator packages from €18 per month.
A very interesting free version,
All of your prospects' responses will arrive in one place,
This tool is (almost) unanimously accepted, and this is rare enough to be highlighted.
Try Tidio for free
Tidio offers a free plan limited to 3 users.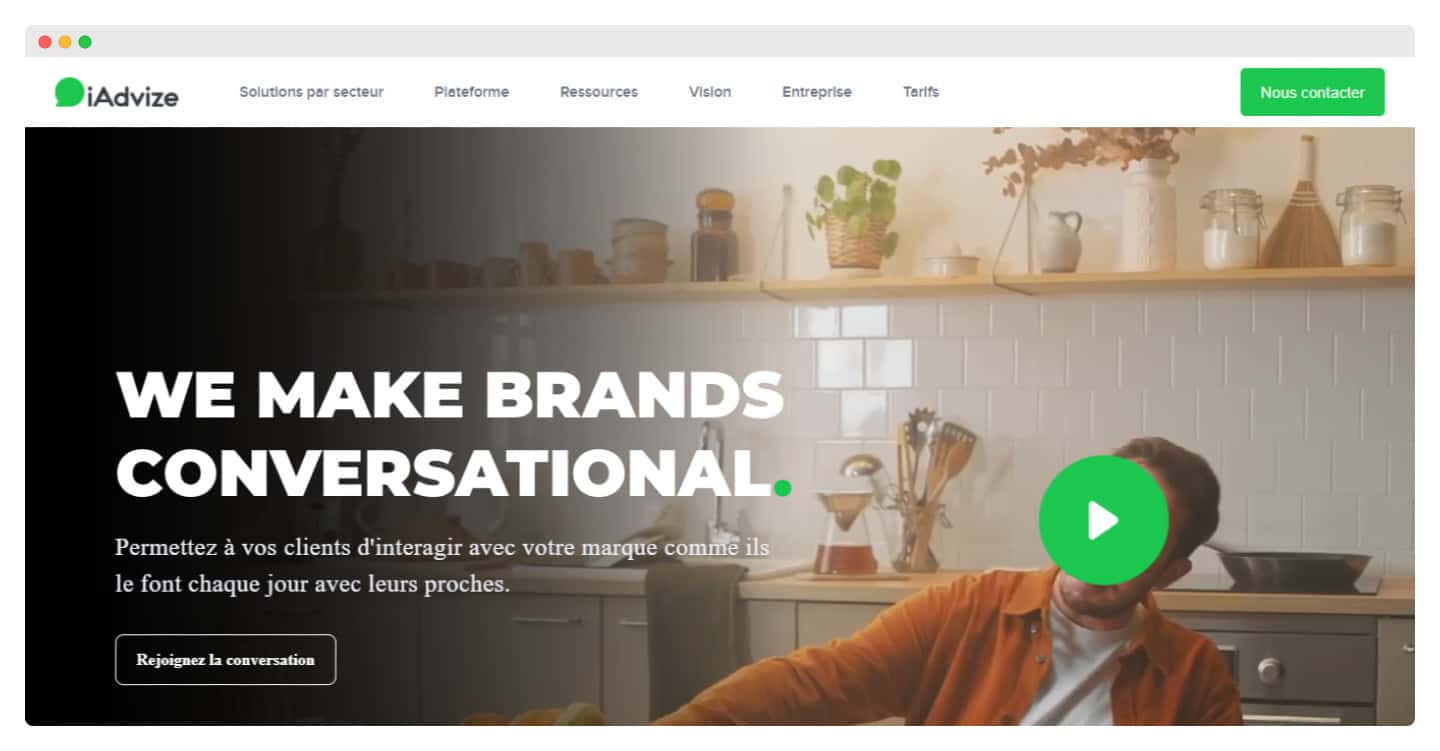 iAdvize is a high-end solution that helps companies build a cost-effective and scalable conversational strategy. One of iAdvize's strengths is its blend of human and AI to help your marketing, sales and support teams at scale. The unified messaging interface allows agents and experts to manage customer queries via chat, calls, videos in a single conversation thread, whether the conversation started on your website, app or social networks.
iAdvize offers 3 packages depending on your needs. However, only the entry-level "Starter" package is available. It is €550 per month. For the Professional and Enterprise packages, rates are available only on request.
A community of experts will provide you with advice 24/7,
Mirroring and integrations with industry-leading CRM software give your agents a rich context for a personalised customer experience,
iAdvize offers advanced reporting to track over 150 KPIs.
Quite complicated to handle,
The rates are high.
Try iAdvize for free
Discover iAdivze here.
Reader Interactions