We have already done so for prospecting tools, here is a rather long list of lead generation tools that are essential for boosting your turnover in 2021. Outbound and inbound, you will find here software and solutions that allow you to diversify your ways of generating leads.
Generate lead lists, prospect, nurture, qualify or capture your prospects... it's all there! To identify more quickly the type of tool you need, you can access the categories that interest you by using the summary on the right or the table below 🙂
Generate lead lists [Outbound].
The tools presented below can be used to generate lead lists. These are a selection of outbound tools only.
SocieteInfo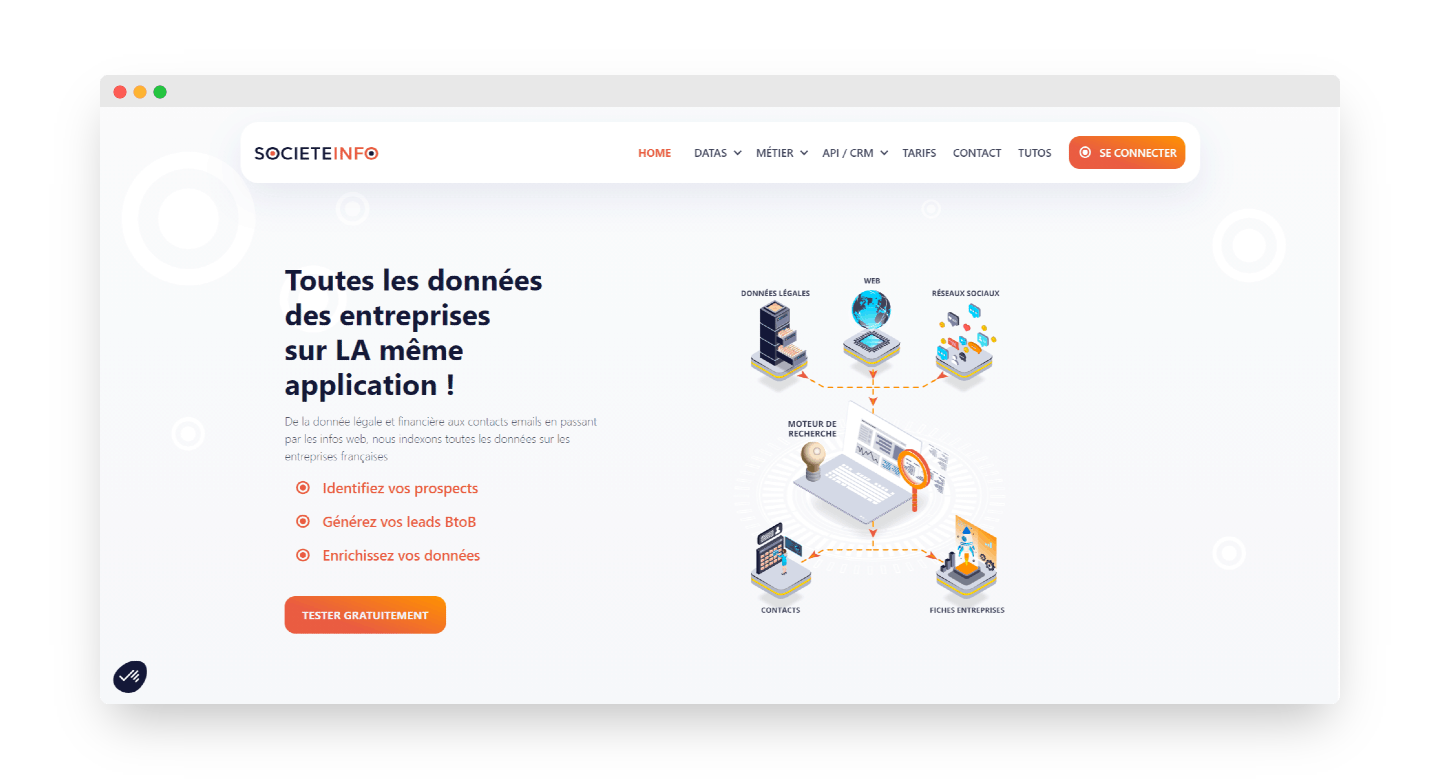 SocieteInfo is a SaaS tool for generating prospecting files to enrich the data you have on your customers and prospects.
The tool has two main strengths, starting with its extremely powerful search engine. It offers quick access to clear and structured B2B data. This makes it easy to enrich its files with reliable information.
Its price is another major advantage. It costs between 0.03€ and 0.06€ for a company file and 0.10€ to 0.20€ per manager contact.
A clear and aggressive price list, which allows you to budget your prospection in the best possible way. This is a real step forward.
Discover SocieteInfo
We discuss SocieteInfo and all its features in a special article. A complete review that will allow you to learn more about this tool.
LinkedIn Sales Navigator
Sales Navigator, LinkedIn's lead generation solution, helps you reach the right type of prospects using search and filtering features. Sales Navigator also provides actionable insights and information that can pave the way to a better understanding of prospects and leads.
This allows you to connect with your prospects on a much more personal level by offering personalized content, customizations, discounts and offers.
It is complicated to generate large lists of prospects that can be easily used. However, coupled with solutions such as DuxSoup and Phantombuster, which will be presented in more detail later in this article, Sales Navigator is very effective!
A free one-month subscription is available via Sales Navigator before a monthly fee is offered. Prices vary depending on the size of your organisation. Prices range from €9.99/month to €99.99/month.
Discover LinkedIn Sales Navigator
LinkedIn Sales Navigator is one of the most powerful tools to work and optimize your social selling!
Datavalidation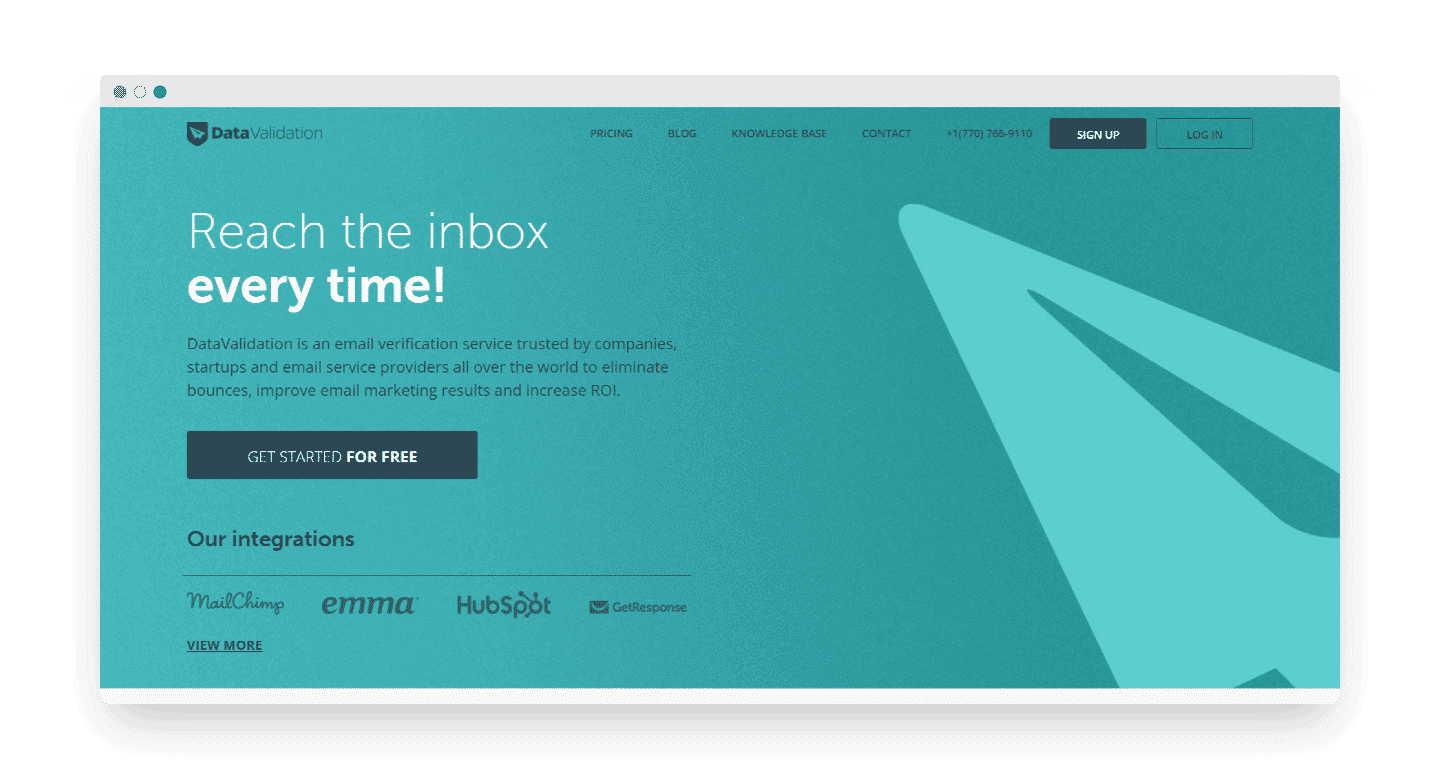 Data Validation is a tool for verifying the email addresses of your prospect list. It confirms the data presented and informs about their viability.
How many addresses are good, how many are bad? Issues targeted by Datavalidation. The ultimate goal is to reduce the bounce rate of campaigns.
The tool offers a free map. It allows you to get an idea of the quality of your list and its reliability. To clean up your email list by downloading it directly from the tool's servers, you should opt for the paid plan.
The rates vary according to the number of email addresses on the list. It is necessary to count between 0.007 cents and 0.00125 cents, per email address to be checked.
Discover Datavalidation
Datavalidation is an excellent tool for checking email lists. Check out our list of other software that performs similar operations.
Lusha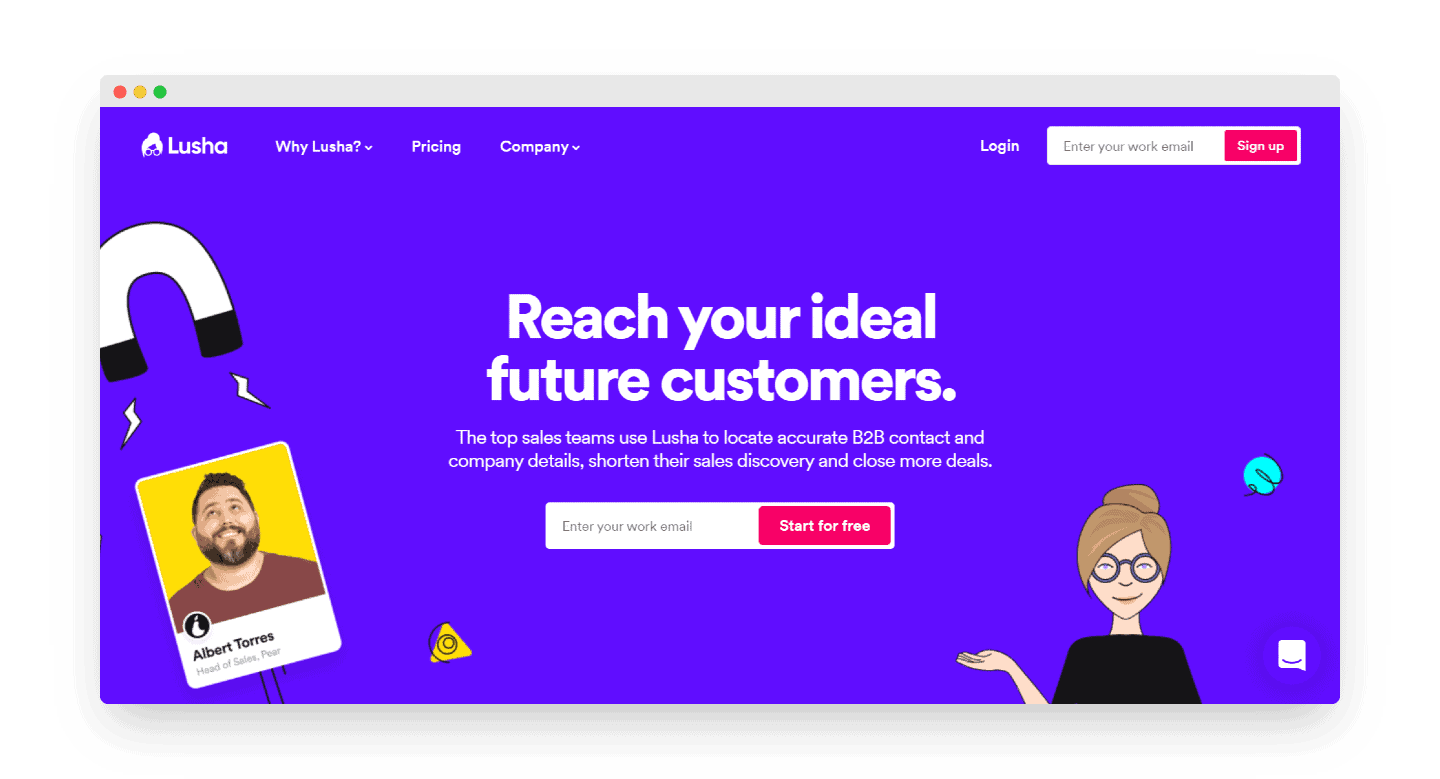 Designed to support sales, recruiting and marketing professionals, Lusha is a super easy-to-use chrome extension that allows you to get your prospects' contact information (mainly their phone numbers) via social networks and especially LinkedIn.
The integration tools then allow you to follow up on the prospects via your CRM. You can also build your own lists.
Lusha offers a free plan for 5 credits per month. After that, the rates go up. The Pro plan costs $79/month for 3 users.
Discover Lusha
Lusha is on our top 10 list of email finder. Feel free to check out our full list for more tools on the subject.
Dropcontact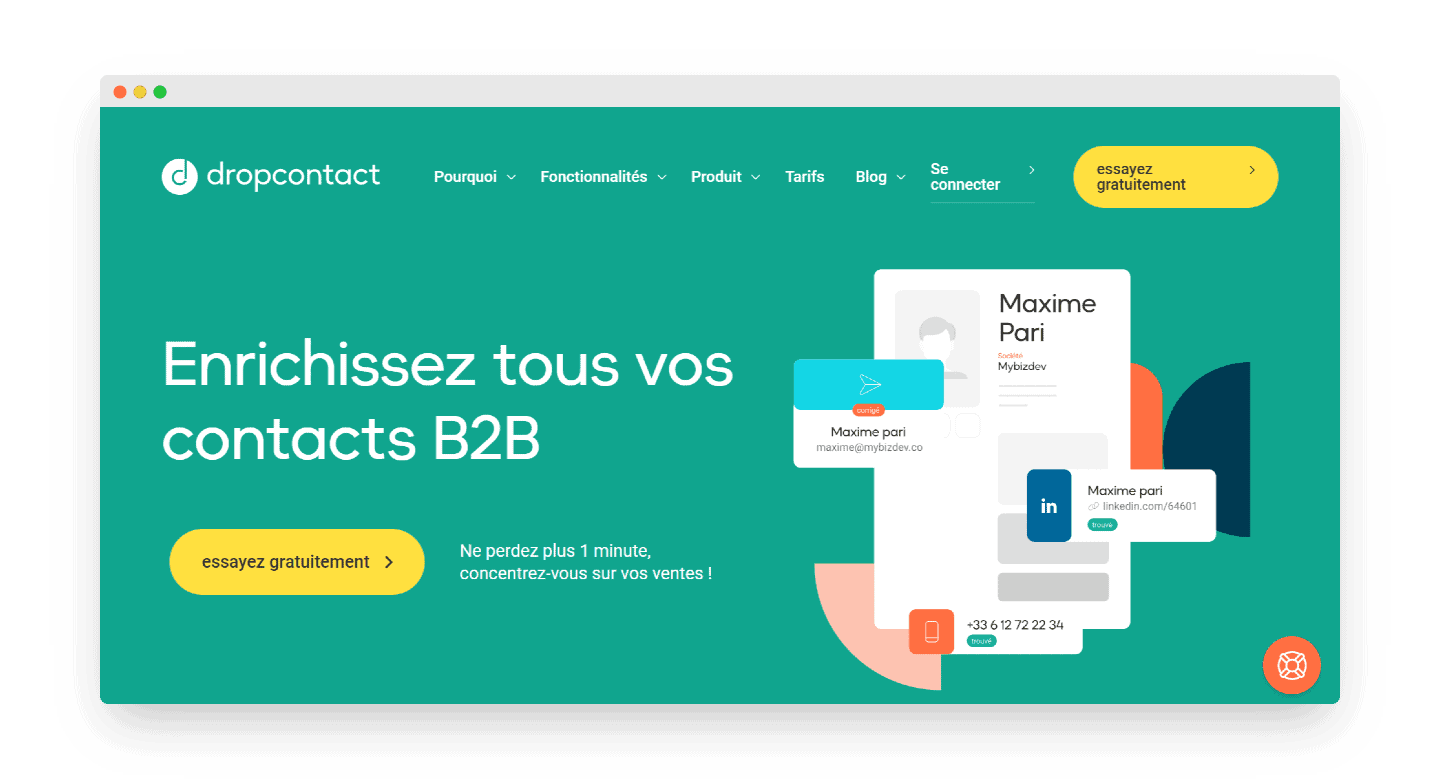 This tool connects to your CRM to ensure that your contacts remain up-to-date. Dropcontact automatically corrects errors or outdated information by validating it regularly.
Dropcontact offers a free test. You then have to pay, depending on the number of searches performed. For 1,000 searches, it costs 24eu/month, against 149eu/month for 10,000 searches. 50,000 searches and email enrichments are charged 487eu/month.
Discover Dropcontact
Dropcontact is on our list of data enrichment solutions. Feel free to check out our comparison!
Contacting your prospects [Outbound].
In this section, we present you with a list of simple but effective outbound tools, which allow you to contact prospects through all channels.
Waalaxy
Designed by the founders of ProspectIn, Waalaxy allows you to go beyond the limitations of LinkedIn and explore other prospecting channels.
Simple and light, the tool is particularly interesting if you prospect a lot via LinkedIn.Emailing is not left out, since it is possible to create omnichannel sequences.
The reporting control panel is complete and ergonomic. It gives access to essential information: visits, connection requests, messages, acceptance or response rates.
Waalaxy offers a free trial to discover the tool before making a choice. Three packages are available:
the "Business" version: it is offered at 40eu/month
the "Advanced" version: it is offered at 25eu/month
the "Pro" version: it is proposed at 13eu/month
Discover Waalaxy
Waalaxy is an efficient tool, especially if you are prospecting via LinkedIn. Still a little light, it continues to develop and new features may be announced.
Woodpecker
Woodpecker is one of the market leaders. The tool is based on a functional AI, which understands the received emails perfectly well.
It analyses the text and proposes sequence reminders, particularly on holiday emails. The tool comes with an easy-to-edit Excel spreadsheet to update your email list.
The reporting functionality is highly appreciated. Clear and detailed, the essential information is all accessible. Finally, Woodpecker offers numerous integrations. Pipedrive, Hubspot and Salesforce are some of the CRMs involved.
Woodpecker offers a free plan to discover the tool. Then you have to pay:
49/month, for the basic plan
$54/month, for the advanced plan
69/month, for the full plan
Discover Woodpecker
Woodpecker is one of the best cold mailing software on the market. We have studied it in detail in an article about the 10 best cold mailing software currently available on the market!
YAAM
On Yet Another Mail Merge, the contact database is a simple Google spreadsheet. The email template is a Gmail or Gsuite draft. The user can then customise the dynamic fields, add CCs etc...
Finally, the tool is quite basic. Its reporting is in the same vein. It mainly provides information on the health of current campaigns, rather than on the performance achieved. The software is also fairly light in terms of integrations. It can only be used with Salesforce, Hubspot and Copper.
YAAM offers 50 free emails per day. A more complete package, at $40 per year, is also available. It allows you to send as many emails as you want, regardless of the volume.
Discover YAAM
A historical tool, YAAM is much appreciated for its simplicity and speed of execution. On the other hand, the tool is not suitable for large campaigns.
Aircall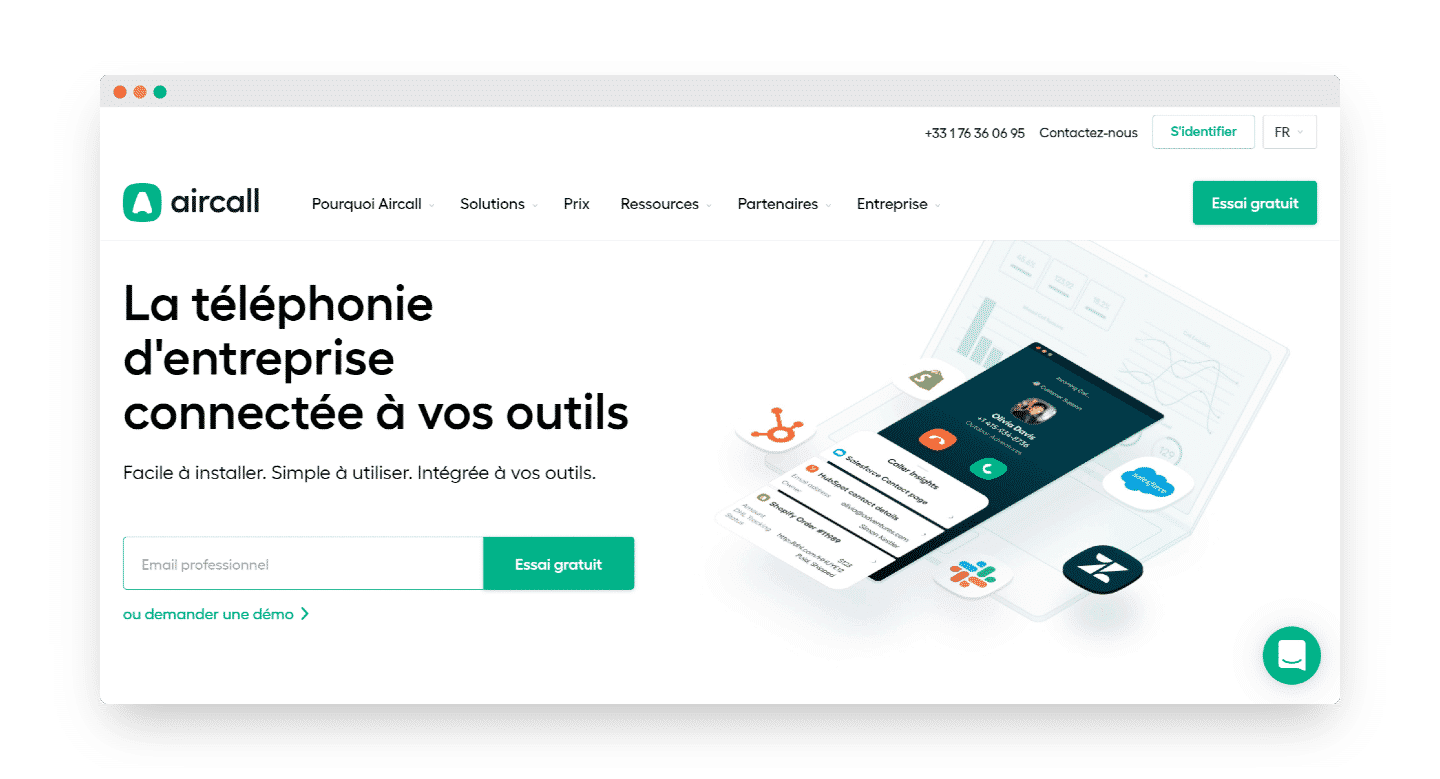 A modern telephony tool for companies looking for a complete call centre solution, Aircall is very powerful.
It eliminates the need to set up physical telephone lines, specially dedicated to the sales or customer service teams. Very fast, the installation allows you to start prospecting in an almost immediate way.
The interface is ergonomic and pleasant. It is very easy to navigate between the application's features. Ease of use and simplified processes, which improve the user experience.
Accessible, simple and fast, Aircall also offers numerous integrations, including one with Salesforce. It is considered to be the best on the market, no less!
Aircall offers 3 plans:
Essentials (basic) at 30 euros per month
Professional at 50 euros per month
Custom whose rates are available on request
Discover Aircall
Aircall is discussed in a comparative article, specifically dedicated to VOIP solutions.
Phantombuster
An essential tool in the growth hacker's and/or sales ops toolbox, Phantombuster works in a similar way to an API route: by sending a request, you receive a list of more precise data.
Let's take the example of a URL of a recently posted LinkedIn post. By sending this information, Phantombuster comes back to you with a list of LinkedIn profiles of people who commented on the post.
It is an effective tool for generating leads and enriching prospecting files. The user can extract the results of a LinkedIn query or a LinkedIn group and then generate a list of verified professional emails thanks to the scraping option.
The tool also allows you to automate your outreach. You can connect or send invitations to all prospects from a LinkedIn search, or who have linked to a post, page etc.
Last but not least, unlike Waalaxy, Phantombuster does not allow you to bypass the 100 invitations/week limit.
5 plans are available:
A free plan for life
Growth Hacker: at $30/month
Business: at $70/month
Company: at $200/month
Premium: at $900/month
Discover Phantombuster
Phantombuster is discussed in a dedicated review article. Don't hesitate to read it to get all the information you need about this tool!
Set up nurturing and emailing scenarios [inbound].
The tools proposed in this section allow you to feed your prospects with relevant content. The aim is to create sequences that will keep the user loyal and move them step by step through the sales funnel.
Active Campaign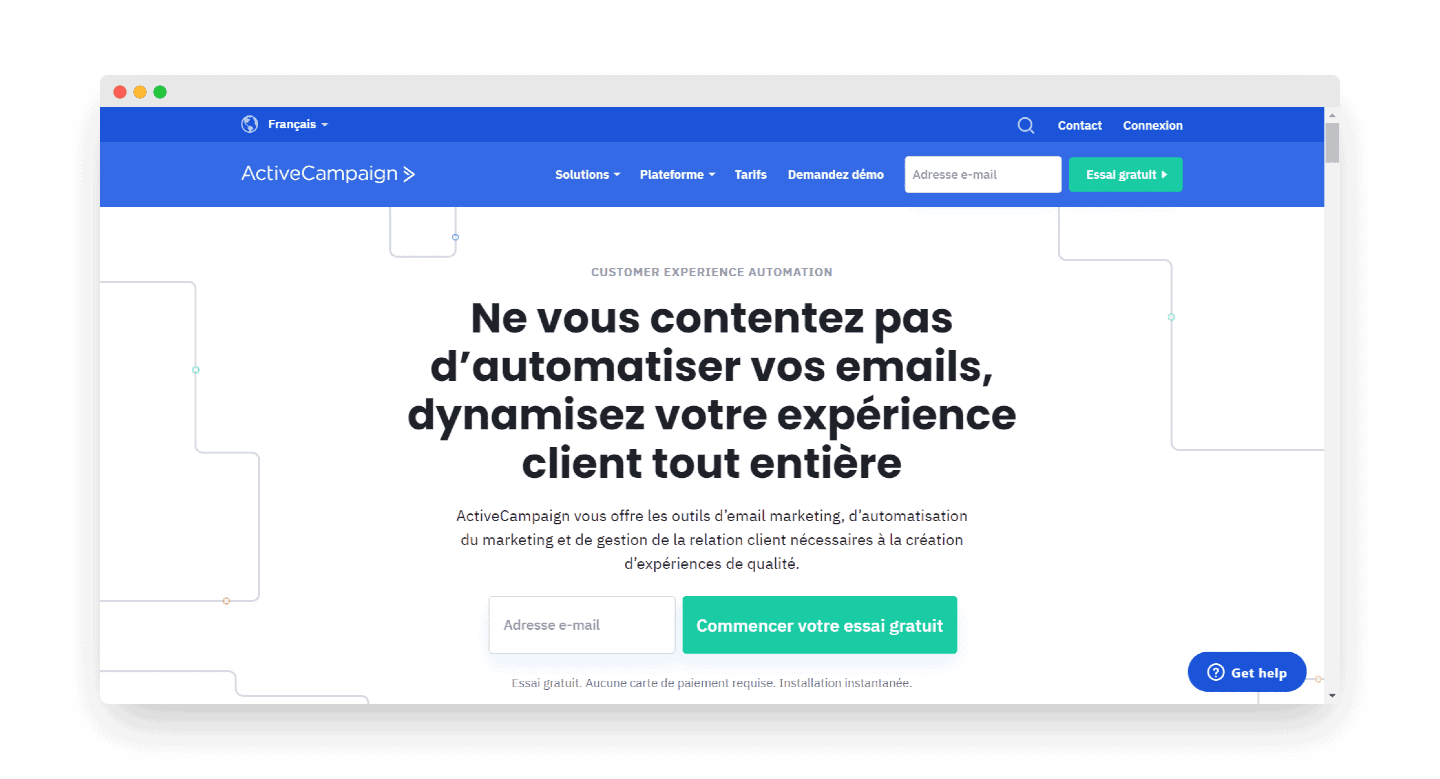 ActiveCampaign is a complete marketing automation tool, allowing you to automate your marketing sequences. An easy to use tool. No need to be an expert in CRM, technologies or code.
ActiveCampaign offers a drag-and-drop automation generator. In just a few minutes, it is possible to generate a quality workflow, adapted to each stage and sub-stage of the sales funnel. A feature that makes it easier to guide the prospect.
A tool that comes with a lead scoring feature. It is easy to analyse and define which opportunities are the most interesting.
ActiveCampaign offers 4 packages:
Basic, from $9/month.
Plus, at $49/month
Professional, at $129/month
Company from $225/month
Discover ActiveCampaign
ActiveCampaign offers a 14-day free trial with access to all features to give you a good idea of the tool's capabilities.
Sendinblue
SendInBlue is a tool that we know particularly well. In fact, Salesdorado was born on their premises.
Generally speaking, Sendinblue is an excellent solution to use upstream of a CRM. The functional scope of the tool is interesting. You can set up a nurturing strategy, manage your contacts and analyse the statistics thanks to the very precise reporting.
The only negative point concerns lead capture. The proposed solutions (forms, landing pages) seem to be behind what one might expect. Finally, the integrations are a little light, especially with the upstream.
It therefore seems difficult to manage somewhat complex capture campaigns with Sendinblue alone. However, by turning to an external solution, the tool can quickly become very powerful.
Sendinblue is available for free. 3 other plans are available:
Lite at €19/month
Premium, at €49/month
The company is based on a quotation.
Discover Sendinblue
Sendinblue is a software that we really appreciate, especially for its range of features. Discover our full review of the tool!
Hubspot
HubSpot is a collection of integrated software tools to automate many tasks. Some of these software tools can be used for free. These include the CRM and the form creator.
A formidable marketing automation solution. However, one cannot help but point out the prices, which can quickly escalate. The higher the volume of leads you process, the more you have to pay.
Discover Hubspot
Hubspot is a relatively complete software, which appears on our list of the 10 best marketing automation software. A comparative article, which we invite you to discover!
Webmecanik
A French solution, Webmecanik has a wide functional scope. It serves as an email editor, a landing page creator and a workflow generator.
A tool that we really appreciate, especially for its segmentation engine. It automatically scores leads based on the interactions observed between them and the campaigns conducted.
Webmecanik has two offers:
Company: from 400€/month.
Reseller: from 500€/month.
Discover Webmecanik
Webmecanik is a powerful tool, of French origin. We appreciate it a lot and we suggest you to discover its review, in a special article.
Drift
Drift is a conversational marketing tool. Its positioning is different from the previous tools. However, it is a complete and very effective software.
Livechat, chatbots, multi-channel sequences to automatically engage prospects, behavioural analysis... Drift is a rich solution that is perfectly suited to today's needs.
The only problem is its complexity. Drift can be quite long to master. However, once the tool has been mastered, there are many possibilities!
Drift's lack of transparency in terms of pricing can also be highlighted. To get an idea of the price to pay, regardless of the plan (Premium, Advanced and Enterprise), you must contact the sales department.
Discover Drift
Drift is a software with a complete functional scope. It requires some effort and involvement to master it. We'll take a look at it in a special article!
Qualify and prioritise your leads [Inbound].
Implementing a lead qualification strategy allows you to prioritise the prospects most likely to call on your services. The tools below help to move leads through the funnel, while facilitating the work of the sales team.
Lead scorer of Salesdorado
We created a very simple lead scoring Google spreadsheet. This is based on email addresses and phone numbers, to get several things:
The website associated with the email (when it is professional)
The title of the website in question (and its language)
The country of origin of the telephone number & its quality (mobile or not)
The quality of the email address (disposable, generic, personal, professional).
NoCRM
NoCRM is an excellent tool, designed for sales people. Very simple in its design and use, it is adapted to the sales teams of small and medium-sized companies.
We appreciate its perfectly constructed menu dedicated to prospecting. Sales-oriented, the tool presents a visual and simplified sales pipeline. This makes it possible to optimise the follow-up of leads and opportunities. Finally, we emphasise the relevance of the kanban view of current opportunities.
NoCRM allows you to discover the tool for free, for 15 days. The first plan, the Starter Edition, is 12€/user/month.
Discover NoCRM
A tool with a commercial scope, NoCRM has a fairly wide functional perimeter. We suggest you discover its complete review in our dedicated article.
Pipedrive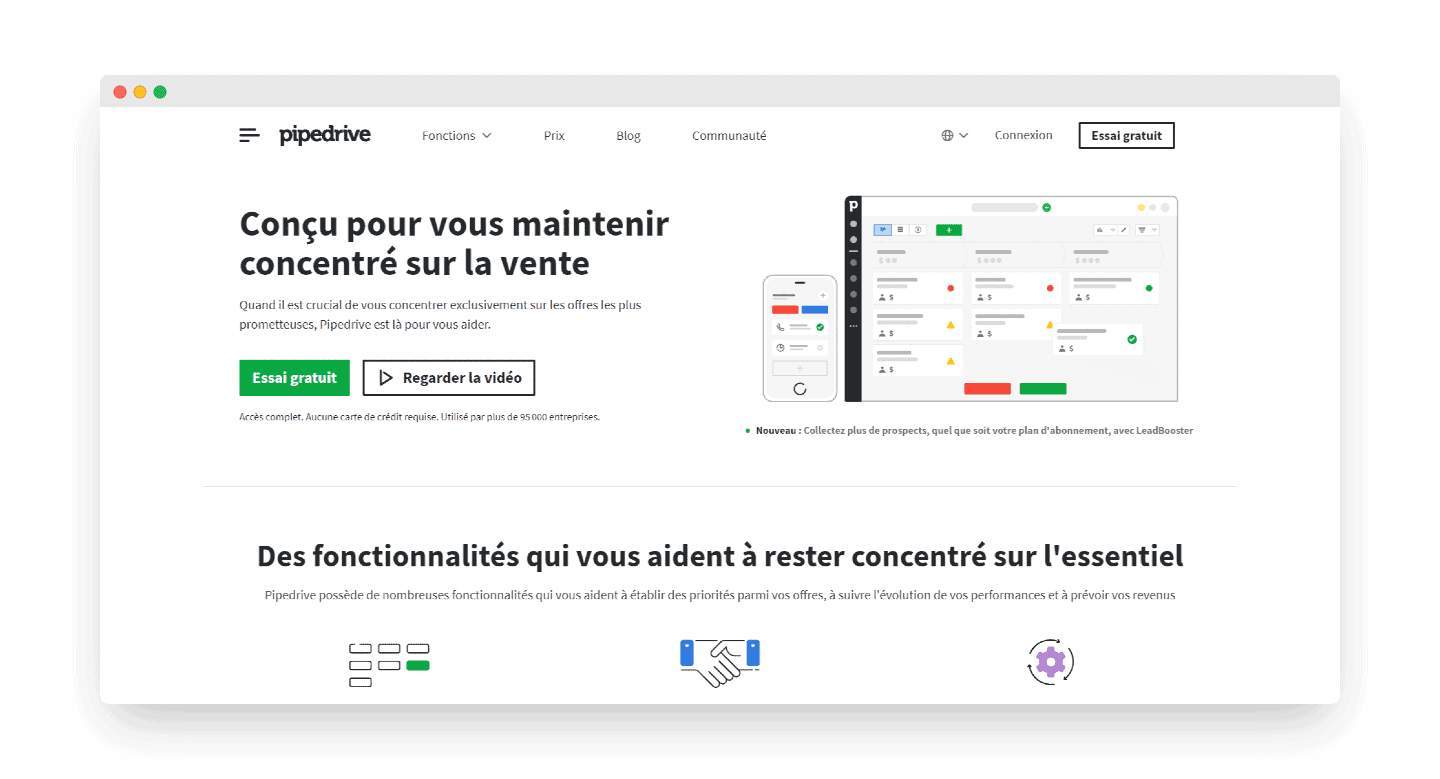 Pipedrive is an excellent option for implementing CRM software. Easy to install, it allows you to better manage and optimise your processes.
It has real functional depth. You can move a deal from one step to the next, add notes, send your email or schedule an appointment or reminder.
The interface is a success. Simple, uncluttered, it allows you to navigate between the options in just a few clicks.
Four plans are available:
Essential, at 12.5 euros/month
Advanced, at 24.9 euros/month
Professional, at 49.90 euros/month
Company at 99 euros/month
Discover Pipedrive
Easy to install and use, Pipedrive has comprehensive and in-depth functionality. A tool that we really appreciate. Check out its full review for more information on the subject.
Close.io
Designed to help the sales department close more sales, Close is a "productivity" tool. It has multiple features, such as integrated calls, SMS, emails. Everything is on one platform.
It is therefore possible to communicate with prospects from this single location. Easy to use, the tool automates certain tasks, such as the automatic recording of your calls.
A free version is available for 14 days. Four plans are then available:
Starter, at $29/month
Basic, at $69/month
Professional, at $99/month
Business, at $149/month
Discover Close.io
Do not hesitate to discover Close.io through their free version. A tool that is easy to deploy and transparent about its pricing, which is worth looking into.
Hubspot CRM
Hubspot CRM is the sales suite of the Hubpost tool. Rich in sales automation features, the tool also offers many integrations.
This CRM allows you to work on and optimise your sales processes. We appreciate the Kanban view, which allows you to follow the evolution of your leads within the funnel. Up to 50 pipelines can be created. Ideal if you have many products or services.
Ergonomic and pleasant, Hubspot CRM makes life easier. The number of clicks is reduced between each action. For basic use, the tool can be mastered fairly quickly.
Hubspot CRM is free, initially. Several plans are then offered:
Starter at €41/month for two users
Professional is €414/month
Enterprise is €1,104/month.
Discover HubspotCRM
An extension of Hubspot, HubspotCRM is a relevant and efficient tool, which we have reviewed in a dedicated "Reviews" article!
Capture and convert your visitors [Inbound].
Capture tools allow you to retrieve additional information about your visitors. These are very effective tools, which can generate new leads and, ultimately, new sales.
OptinMonster
OptinMonster is a tool that offers to create optimised popups and registration forms. The aim is to capture data from leads on the site and then convert them.
The tool was able to distinguish itself by offering a pop-up window for each output intention. As soon as the cursor moves towards the cross, the window appears!
OptinMonster offers 3 different types of plans:
Basic, at $19/month
The Plus, at $29/month
The Pro $39/month
Discover OptinMonster
OptinMonster is worth looking into. Its entire functional scope makes it possible to generate new leads in no time.
Unbounce
Unbounce is one of the leading landing page creation tools. Easy to use thanks to its drag-and-drop system, it is a tool for seasoned professionals.
The software offers many templates to use. You can also work on your sales pages from scratch. It is one of the most complete and powerful editors on the market.
We really appreciate its many other features. It is possible to carry out A/B testing, to integrate with Google Ads or to analyse, in real time, its current performance.
A 14-day trial version is available. Four plans are available:
The Launch plan, at $80/month
The Optimize plan, at $120/month,
The Accelerate plan, at $200/month
The Scale plan, at $300/month.
Discover Unbounce
Unbounce has established itself as one of the most important tools on the market when it comes to creating landing pages. Check out our list of must-have tools to create great ones that convert.
Intercom
Intercom allows you to automatically qualify your leads, thanks to conversational marketing. In fact, this tool is the market leader. It offers a relatively rich and complete range of solutions.
You can create livechat, chatbots and even videochat! It is a great ally in the automation of certain marketing and customer service processes.
We also appreciate its reporting tool, a real strength of the software. However, the management of Intercom is complex and the learning curve is steep.
There is no free and trial version with Intercom. As far as pricing is concerned, Intercom is not very transparent. You should count $59/month for the initial offer. For other plans, you should contact the sales department.
Discover Intercom
Intercom is undeniably one of the leading conversational marketing software. We recommend you to discover it, step by step, through our review article.
LeadQuizzes
LeadQuizzes is an online tool that allows you to create surveys, quizzes and other forms of lead magnets to help you build your customer base and turn your audience into a solid group of loyal readers.
If you only want to use LeadQuizzes for one site, you will pay $37 per month. For five websites, the price is $74 per month.
If you are truly an affiliate marketer and want LeadQuizzes for more than five sites, you will need to contact them to discuss a customised business plan that will best suit your business goals.
Discover LeadQuizzes
The use of quizzes can improve B2B lead generation. LeadQuizzes is naturally one of the leaders in this segment!
Gumstack
Gumstack makes it possible to integrate video call options directly into the website in a matter of minutes. This is an opportunity to interact with the customer in a new way and to meet their needs.
To use the tool, you don't need to be a code expert. Simply copy and paste the script onto your site. Once online, the tool can be used!
A free version is available. However, you only have 20 calls of 10 minutes each. The basic version starts at $29/month. For the professional version, you must contact the sales department.
Discover Gumstack
The use of video chat is a new way to handle requests and enhance the user experience. Gumstack is currently one of the market leaders!
Analyse your traffic and understand visitor behaviour [Inbound].
Analysing and understanding all of your traffic allows you to better define your target. In the same way, the study of the behaviour of the visitors present on its website, allows to better define what works, or not. New data that can be used to optimise the user experience and improve conversion.
SEMrush
SEMrush is known to be a very efficient tool. Relevant at the SEO level (keyword research), it is also useful for performing site audits. It allows you to optimise your natural referencing, for a better positioning on search engines.
SEMrush offers three pricing plans:
The Starter Plan, at $119.95/month
The Guru plan, at $229.95/month
The Business Plan, at $499.95/month
Discover SEMrush
SEMrush is an excellent tool for SEO monitoring, traffic and visitor behaviour. One of the most efficient software on the market.
Ahrefs
While Ahrefs is a general SEO tool, its reporting features are quite incredible.
It allows you to obtain highly detailed reports on your site, its positioning, its backlinks, the user path and the referencing of your website (which implies a reflection on the traffic).
It helps to identify problems faster and solve them before they affect your search rankings.
Several plans are proposed:
Lite, at $99/month
Standard, at $179/month
Advanced, at $399/month
Agency, at $999/month
Discover Ahrefs
A popular tool for SEOs, Ahrefs provides accurate and detailed information on traffic, site status and user behaviour. One of the most effective, along with SEMrush.
Google Analytics
Analytics is probably the best known traffic and behavioural analysis tool. Accessible to the general public, it is relatively powerful. Simple to create and implement on your site, GA allows you to follow the performance of your pages, in real time.
The information related to the visitors of its site, is detailed. You can learn about their age, gender, origin and much more.
Synchronised with Google Ads, you get a system that allows you to set up remarketing lists, to bring the visitor back to your page, after they have left.
Google Analytics is a free tool.
Discover Google Analytics
Google Analytics is probably the most widely used tracking and analysis tool in the world.
Fullstory
Fullstory provides insight into how visitors interact with your site. It allows you to analyse the entire prospect journey.
The data can be used directly by the marketing and sales departments to improve the conversion rate. We also appreciate the reporting functionality. It allows you to create your own reports using only the data that is of interest.
A free, undefined version allows you to manage up to 1,000 sessions per month. There are then two plans, Business and Enterprise. Prices are not indicated on the site.
Discover Fullstory
Thanks to Fullstory you can see your users' sessions live. An efficient tool, which allows you to analyse the path of the prospects in the funnel.
LeadForensics
Many people visit your website. However, only a handful of them turn into leads by filling in your forms.
To improve this, there are two solutions. LeadFormly allows you to propose optimised forms. LeadForensics tracks the IP address of visitors who have not filled in the form completely.
The extracted data can be used to obtain information about the subject or the company that visited your page. You then create a list of qualified leads that you can then follow up with, for example via LinkedIn.
The tool does not offer a fixed price. The prices evolve according to the traffic you have on your page.
Discover LeadForensics
LeadForensics allows you to determine which companies have visited your website, in order to better contact them, especially on LinkedIn. An effective tool that allows you to quickly obtain a list of qualified leads.
Attracting your prospects to your site or other channels [Inbound].
The tools suggested below reflect the type of audience you want to target. By working around the right content format, you could generate new qualified leads.
Livestorm
Integrating webinars into your marketing strategy is an asset for boosting lead generation. It is also a subtle way of prolonging lead capture over time thanks to the replay that you can put online.
Livestorm makes it easy to create your webinars in minutes, with a beautiful registration page and a custom sequence of emails for reminders and follow-up messages.
The tool has all the interaction features expected of a webinar software. Chat, live questions, polls, CTA, notification and more!
Livestorm's data analysis and enrichment allows for a better understanding of participant behaviour, profile, source of registration and engagement throughout the webinar.
While Livestorm offers a free version, premium plans that allow you to increase the number of participants and conduct longer webinars are quite expensive. Please note that you can try each plan for free.
Paid plans start at 99€ / month for 100 participants and 4h sessions max. It is possible to involve more people: 198€ / month for up to 250 participants (connected simultaneously), and 298€ / month for up to 1000 participants.
Discover Livestorm
Livestorm is a must have if you are positioned on the webinar format. Powerful, useful and efficient, it allows you to generate high quality video sessions.
Slideshare
Slideshare is one of the most effective lead generation tools for reaching a B2B audience. A tool that requires some work to manage well.
Make sure your slides are well designed and make sense. The advantage of Slideshare is that it allows you to generate leads from its free version. All you have to do is link a landing page to your presentation, in a description or on your profile.
Slideshare is a free tool.
Discover Slideshare
Slideshare is a very interesting tool which, when used properly, can generate qualified leads. You just have to master it and propose a high added value content.
Quora
Forums allow you to engage with prospects who are already interested. It is the ideal place from which to generate leads. Quora has established itself as one of the most suitable solutions.
By searching for Quora queries relevant to your market, your company could find dozens, hundreds of related questions. A great way to showcase your expertise and generate new leads.
Discover Quora
Quora has established itself as one of the most frequented forums for B2B professionals. Too often forgotten and little used, it can help generate qualified leads.
Zest
Zest is the ideal tool to find inspiring content. However, it is only available in English.
The platform allows consumers and contributors to combine their strengths. You can personalise your feed to receive content (articles, podcasts, infographics) on topics that interest you.
The content sent can then be re-shared, whether on Slack, Trello or social networks. Indirectly, the contributor reaches qualified targets, thanks to the sharing of his added-value content.
We really appreciate the fact that a Google Chrome extension exists. It makes it easier to store and share content.
Discover Zest
Like Buzzsumo, Zest is a very effective curation tool. It allows you to receive relevant content and share it again in a few clicks.
YouTube
YouTube is the second most used search engine on the net. You can generate a lot of leads from high value videos, without having to achieve millions of views.
Your content directly targets leads interested in what you offer. An increasingly popular format. 90% of marketers believe that video is the best way to reuse B2B content.
Discover Youtube
Youtube is, without question, the number one video platform in the world. If you plan to create content, this is the place to share it.
Reader Interactions