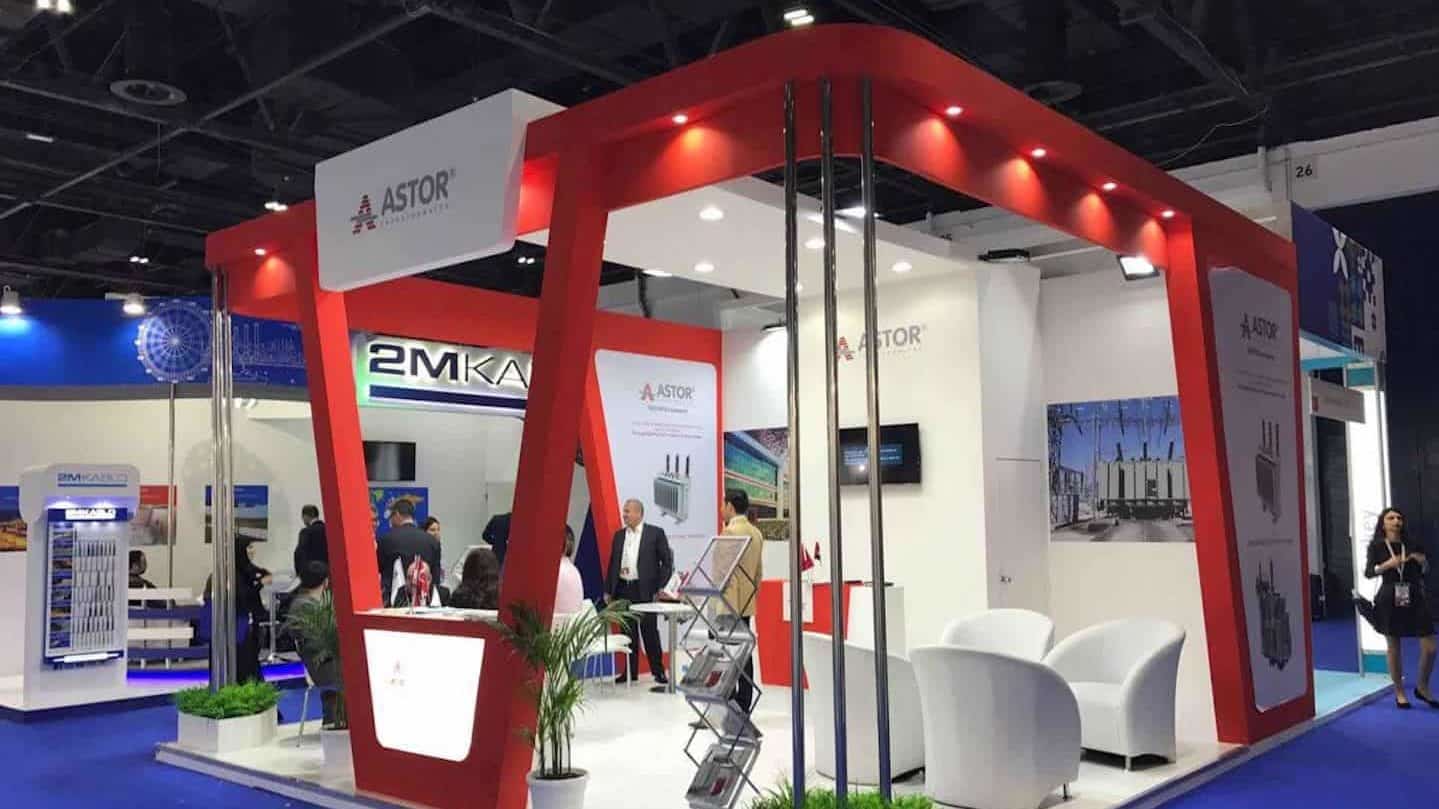 Trade shows are a key moment for your company to increase your visibility in your sector but also to collect many leads. It is therefore important to be well prepared and to know the best tips to stand out from the crowd. Here are 15 tips to help you stand out from other companies.
#1. Choose a theme
Source: Pinterest
Having a theme for your stand makes it stand out from the crowd, so go for it! If you are offering a holiday in Tahiti, then make your theme Tahiti and Bora Bora. By stepping out of your comfort zone, wearing outfits that set you apart from the rest, you can attract a lot of attention and visitors. 
Of course, it is not necessary to have special outfits, but decorative elements may suffice and may catch the eye of the visitor.
#2. Make the show organizers your best friends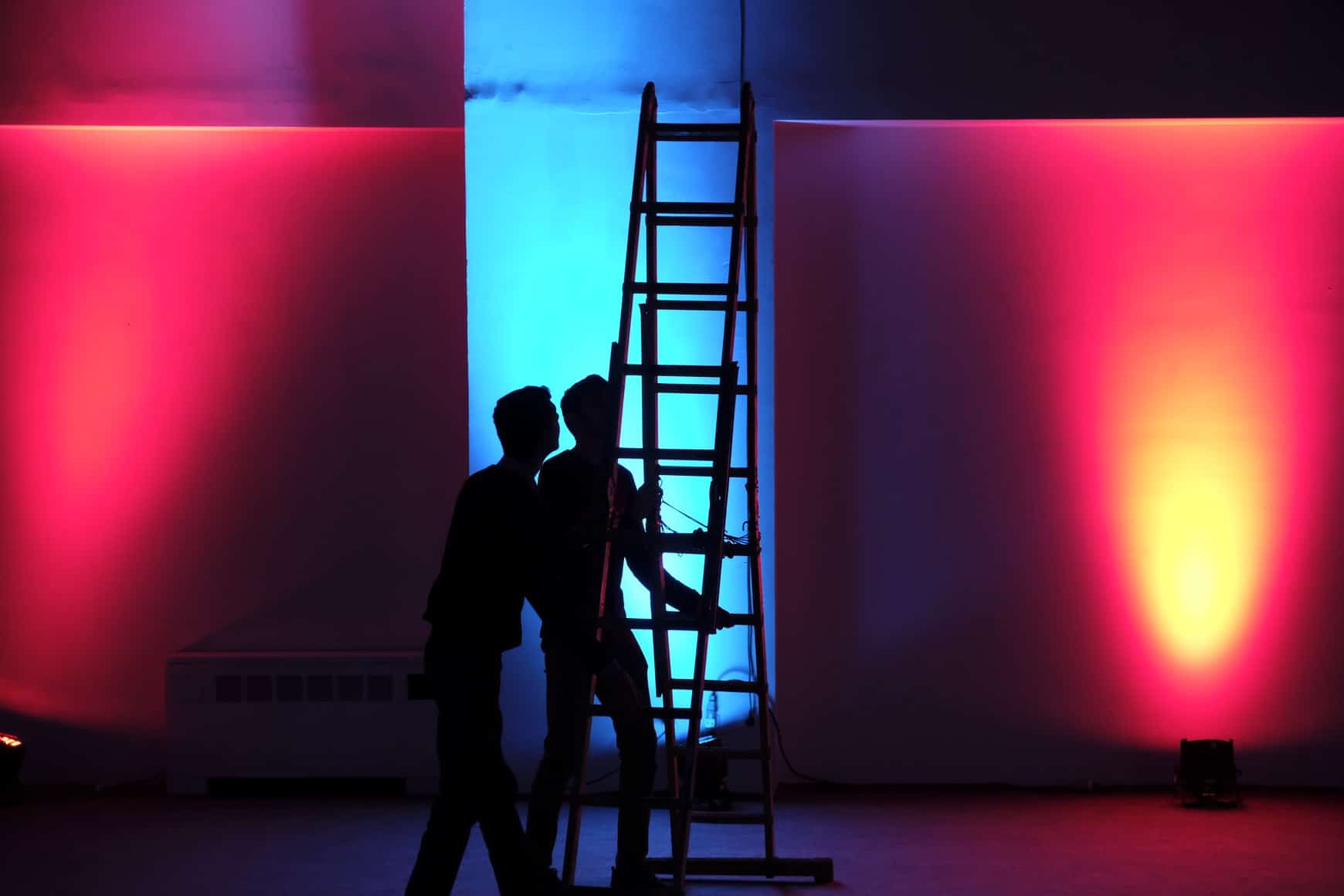 Source: Unsplash
Trade show organisers have influence over the course of the show, so make them your best friends. They can give you valuable advice on all kinds of issues such as the location of your stand. They can even help you prepare the decoration of your stand.
Finally, the trade fair is a stressful event for your company and you can sometimes find yourself in tricky situations. The organisers can help you out of such situations. 
Don't forget to thank them and be grateful to them, they might still be there for the next edition! 
#3. Choose the right location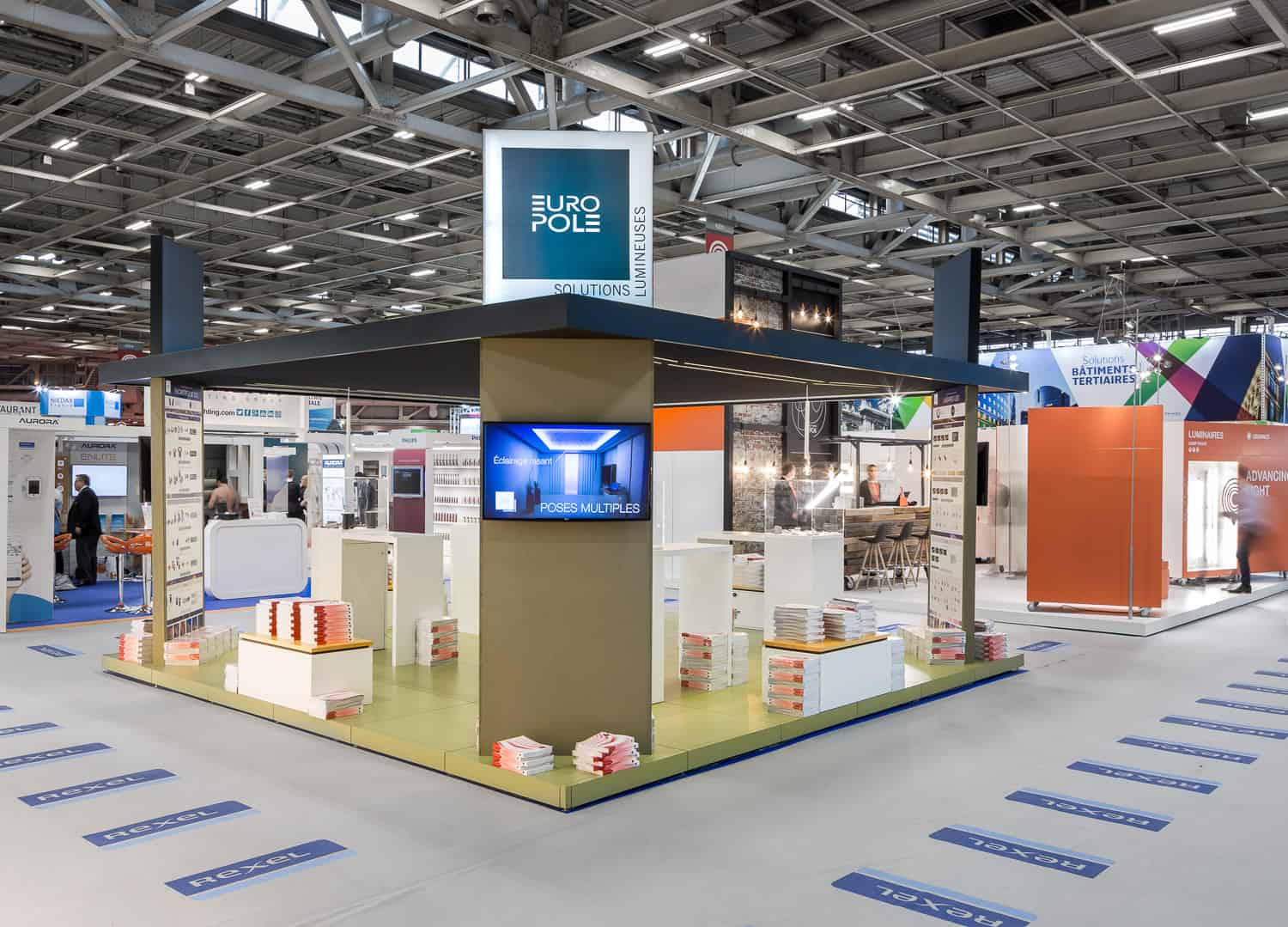 Source: Sebastien Borda
It may sound clichéd, but the location of your stand is essential! Indeed, trade shows are coveted events and host many exhibitors and many participants. It is therefore necessary to book your stand in advance. You can find the 2021-2022 calendar of BtoB trade shows here.
Booking in advance can also allow you to get discounts on stall fees. 
Similarly, a convenient and strategic location is of the utmost importance. A convenient and easily accessible location will increase your attendance and allow participants to move around and find their way to the exhibition without problems.
To choose the best locations, here are the questions you should ask yourself: 
How big is the lounge? 
Where will our company stand be in the building? 
Is the stand located in a busy area or not? 
Do you have direct access to electricity? 
Who will be your neighbours? 
Is your stand easily accessible? Are there any access restrictions? 
#4. Don't deprive yourself of a few square metres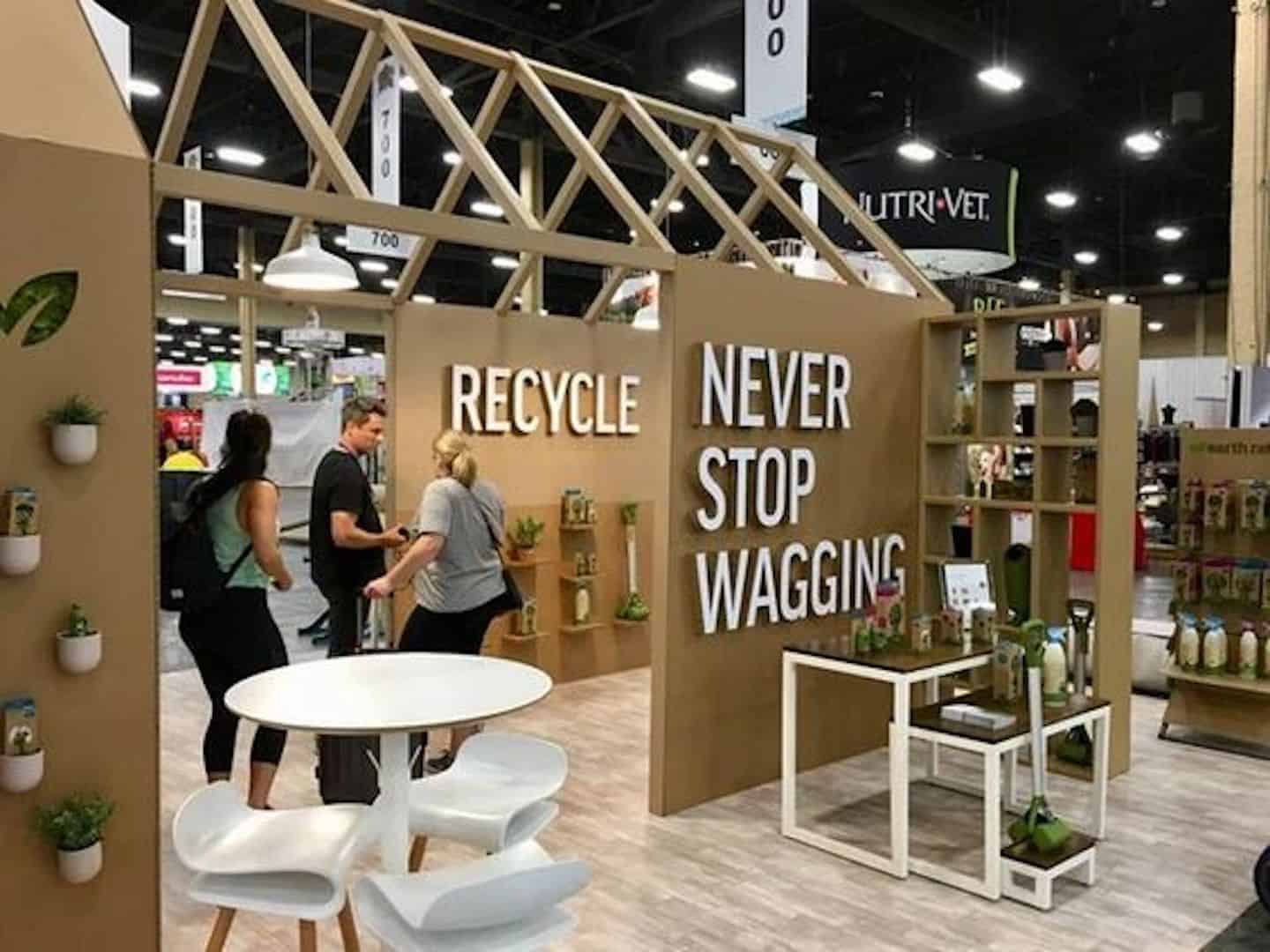 Source: Pinterest 
While the location of your stand is important, so is its size. A trade fair usually brings together many participants, so you need to have space to accommodate as many of them as possible on your stand. 
The layout of your stand should also be taken very seriously. It is important to think clearly about the organisation of the stand so that you can accommodate as many participants as possible and have a pleasant conversation with them. You should also make sure that there is enough space for participants to move around easily. 
#5. Organize an exclusive party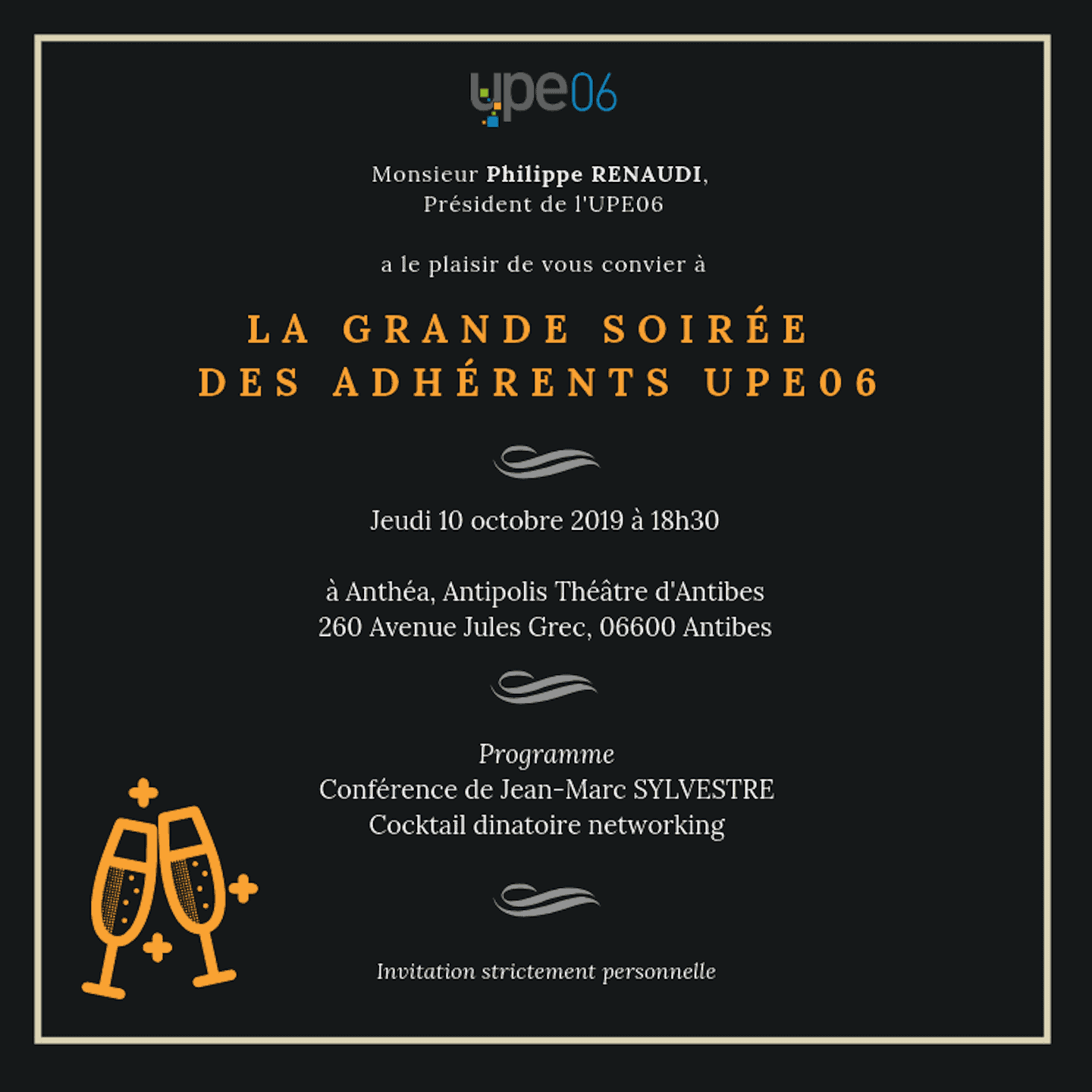 Source: UP06 
It may sound crazy, but we're talking about having an exclusive party at the show. Indeed, this idea was mentioned in the book The Ultimate Sales Machine by Chet Holmes. 
It can therefore be interesting to organise an exclusive party. First of all, it is important to understand that exclusivity is the key to boosting the appeal of your business party.
Spread the word, especially on your social networks, to encourage as many people as possible to come. The condition to be able to participate in the party: participants must visit your stand and get their invitation. 
When it comes to organising the party, the first thing to do is to choose a trendy venue that will make people want to come. 
Then negotiate a price per drink well in advance of the show and your party, contact the venues you are considering. Let them know that you would like to invite 100 of your closest friends to a party on a weeknight when the venue is usually quiet. They will be delighted to have the chance to host you and offer you preferential rates. 
It is also important to insist that your party participants do not queue up to get in or pay for their entry. They should be treated as VIPs. All participants should be given 2 drink tokens. 
Be careful not to compete with the trade fair party, so make sure you choose a different date for your party. 
Finally, it is necessary for your team to be outstanding at your party. They should be easily recognisable and fully integrated with the other participants. 
#6. Build the best possible team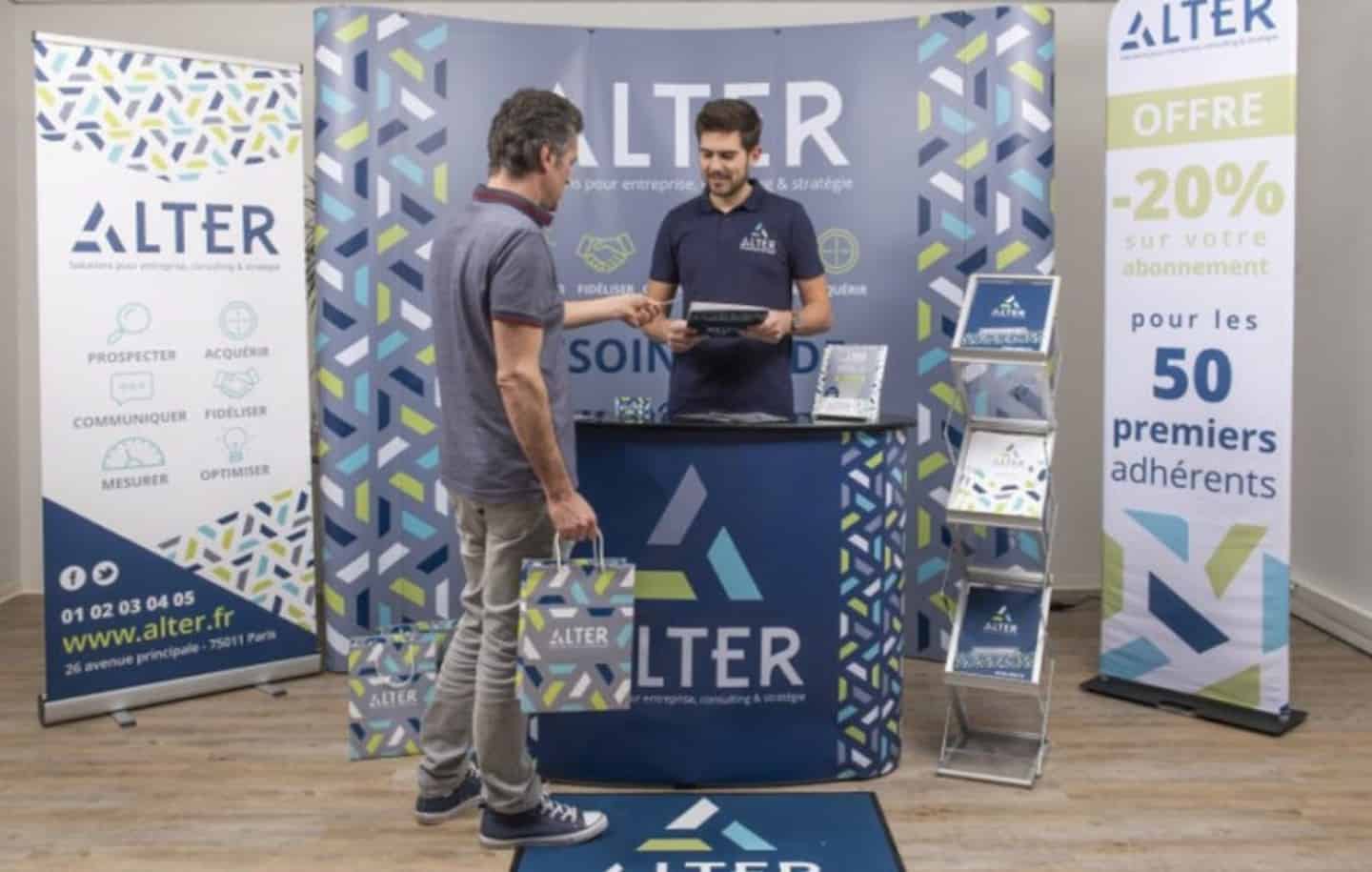 Source: emarketing.com  
To get the most out of the exhibition, you need to prepare for the event in advance, but you also need to prepare yourself. You must therefore arrive with a team that is ready and can represent your company properly. 
Indeed, for trade shows, personality is just as important as subject matter expertise. Trade shows, conferences and forums are for extroverts and charismatic marketing and sales professionals who know how to liven up the stand and make it come alive. 
It is always worth checking that it is not just sales people on your stand. A member of the marketing team can ensure that the logistics of stand construction and accessories are perfect. In addition, they will have plenty of time to research the field and browse the exhibitor hall to see what competitors are doing. This will give your team a head start on the competition. 
Finally, it is necessary to rehearse! Do a full dress rehearsal a day or two before your conference to make sure you are fully prepared and to avoid stage fright, especially if you are doing workshops or conferences. By getting comfortable in your outfits, rehearsing your lines and even familiarising yourself with the cultural aspects of the show and its participants, you will gain more sales. 
#7. Prepare a lead capture process
The exhibition can be a very important source of leads. A clear lead retrieval process should therefore be established. It may be worthwhile to have a handheld scanner that scans your customers' invitations and retrieves their details. If you expect a constant flow of visitors then take several.
You can also opt for other more traditional techniques such as answering a questionnaire. Once the trade show is over, upload all the contacts into your CRM and mark them as trade show leads.
Pro tip
The attribution of leads collected at the show is crucial to measure the ROI of the show and its cost per lead. It is therefore important to have a serious method of capturing leads at the show, which will allow you to better estimate the impact of the show on sales. Discover our selection of the best applications to manage business cards.
#8. Create a social wall on your stand during the exhibition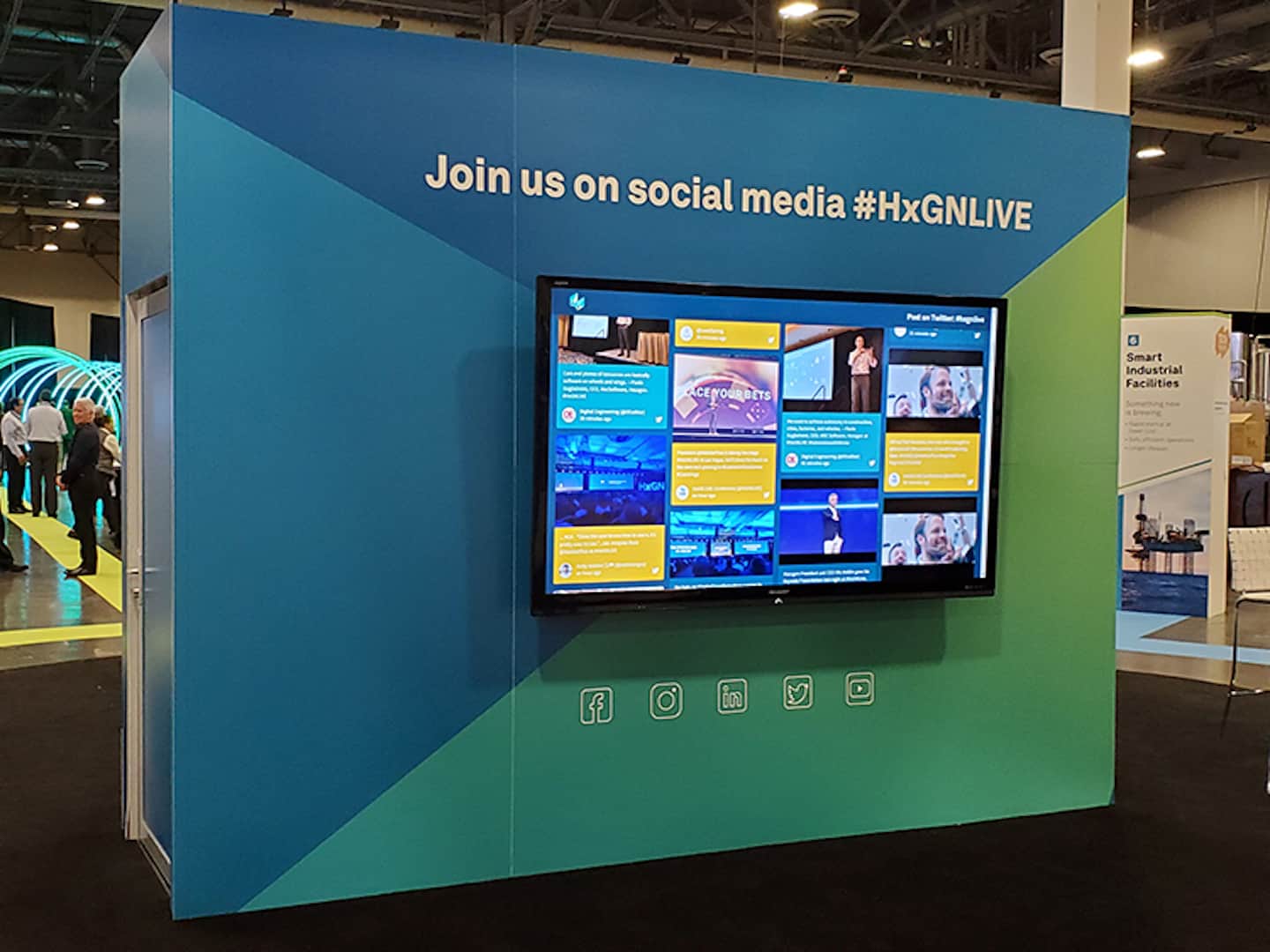 Source: Pinterest 
Setting up a social wall on your stand is an ideal solution to improve your visibility, attract more and more visitors and optimise your commercial prospection. To do so, you just need to find the right hashtag that represents your company while considering the event you are participating in.
Then you have to create your social network wall with tools like Walls.io. You can configure and style your wall with your brand's logo and colours. 
Then, to showcase the photos posted on social networks, all you need is a screen and your wall. A social wall is always a very interactive element at events, bringing people together but also starting conversations.
The social wall can be a good solution to improve visibility but also to allow people who could not attend the fair to participate in their own way. 
To make your social wall even more effective you can offer special offers or gifts for people who have posted and will visit your stand. 
You can also use video or livestreaming to raise awareness of your company and increase the number of visitors to your stand. It can be interesting to capture activities such as organising demonstrations using live video streaming on your company's social networks. 
#9. Organise competitions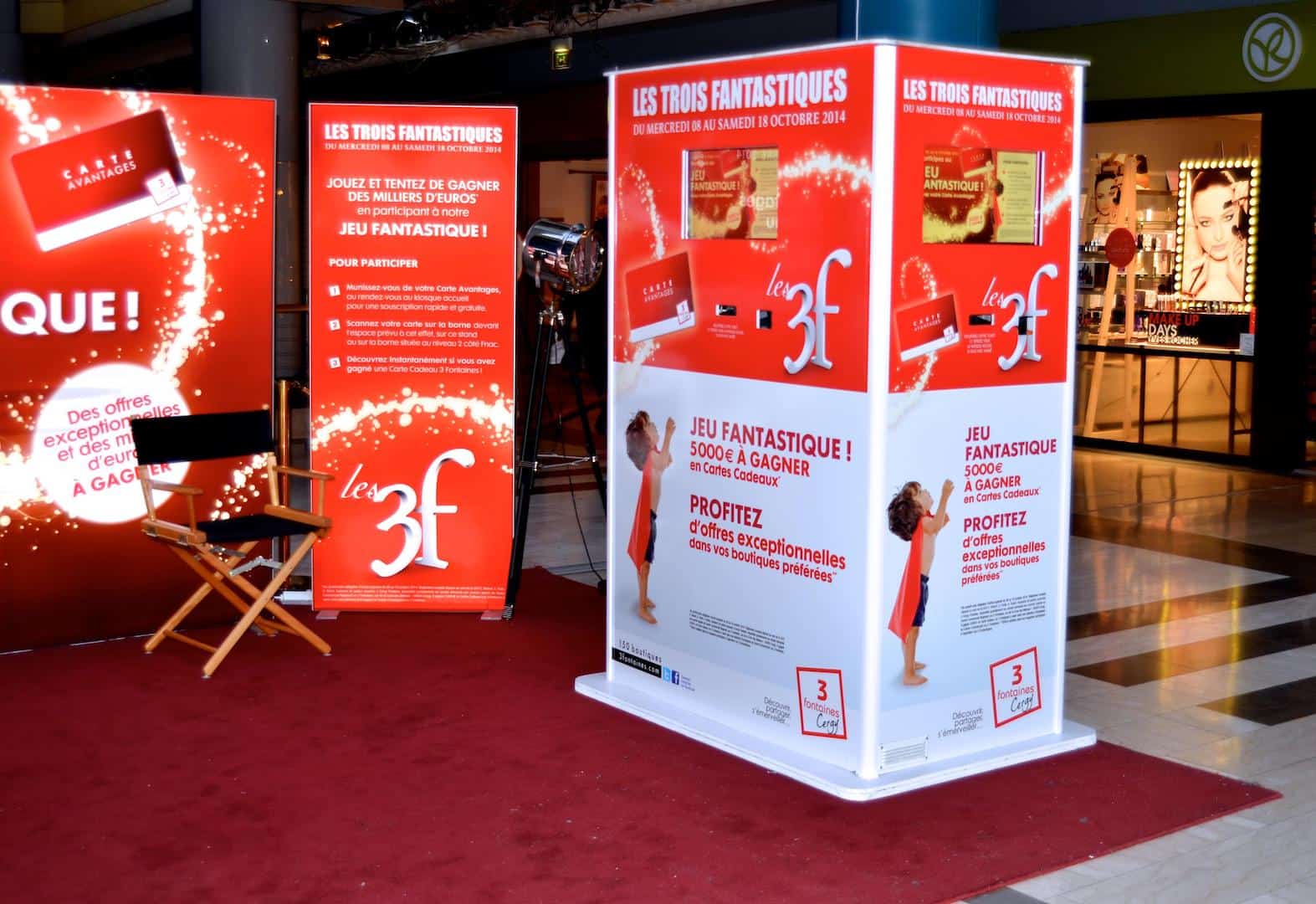 Source: Moon Group
Obviously, organising competitions is a must. If you have a physical product, a trade show is the ideal opportunity to create a buzz around it by giving away a few pieces. It can be interesting to organise a raffle and have the winner drawn during the show. 
The advantage of competitions and raffles is that they collect contact information. Participants fill in their information and agree to receive news from you. Later on, you can use these e-mail addresses for your marketing campaigns!
#10. Set up a photo booth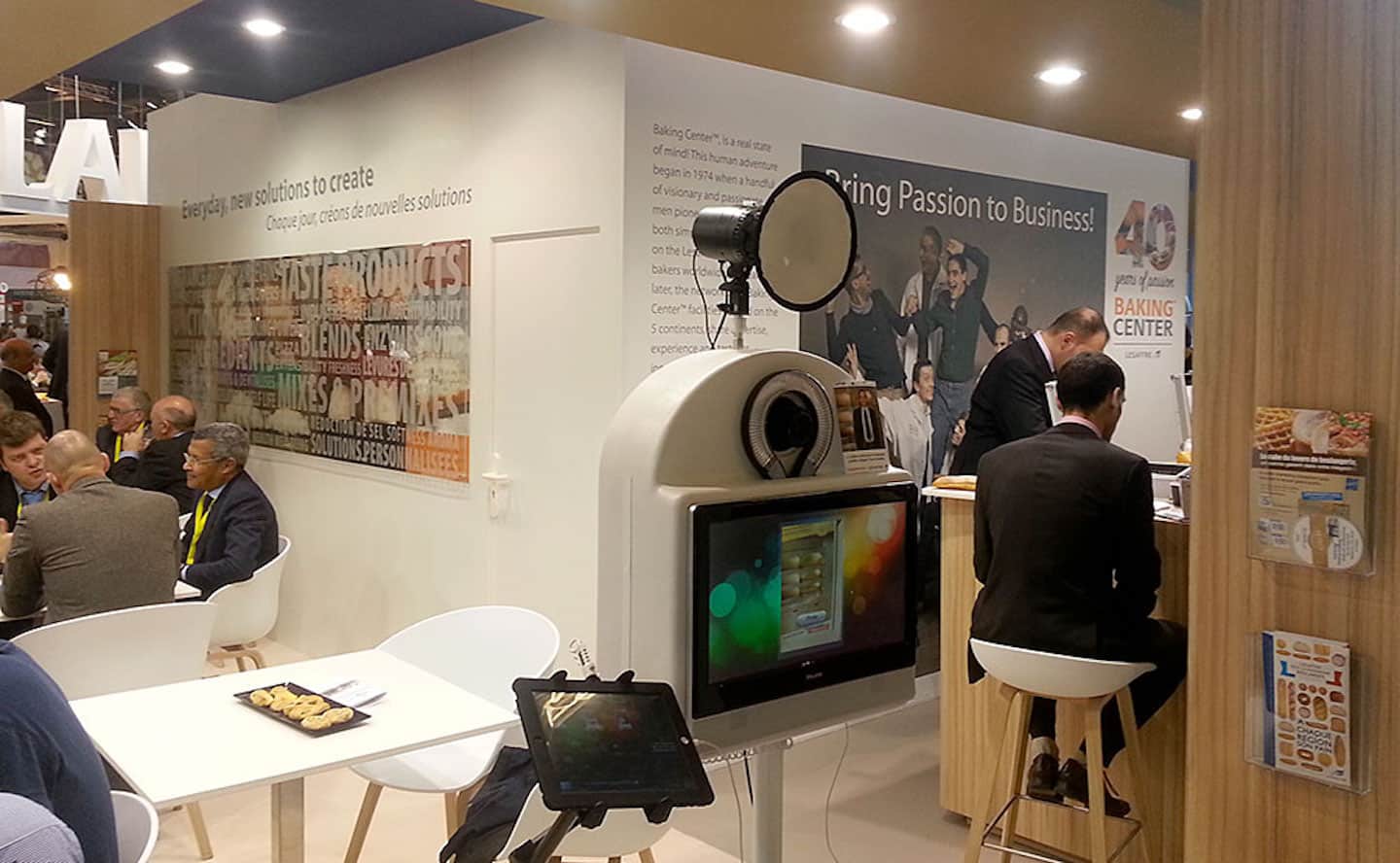 Source: Image on the move
Incorporating a photo booth at your trade fair stand can be a smart move on your part. People love to take selfies. Photobooths are interactive and people have a lot of fun taking pictures in groups or alone.
A photo booth can form a great duo with a social wall. Many photo booths can be set up so that photos taken are automatically posted on social media with a hashtag. You can also give users the option of posting the hashtagged photos on social media with their own accounts.
Thanks to the hashtag, messages will appear almost immediately on the social wall, making the event even more interactive and attracting more people to the photo booth and, consequently, to your exhibition stand.
The scope of the photos taken with the photo booth goes beyond the social wall and allows you to track data if people have registered an email for example to receive the photos. You have the possibility to generate a complete report of the event which will have integrated photo data but also communication data. This data will allow you to contact the participants with a customisable touch. 
#11. Work on the signage of your trade fair stand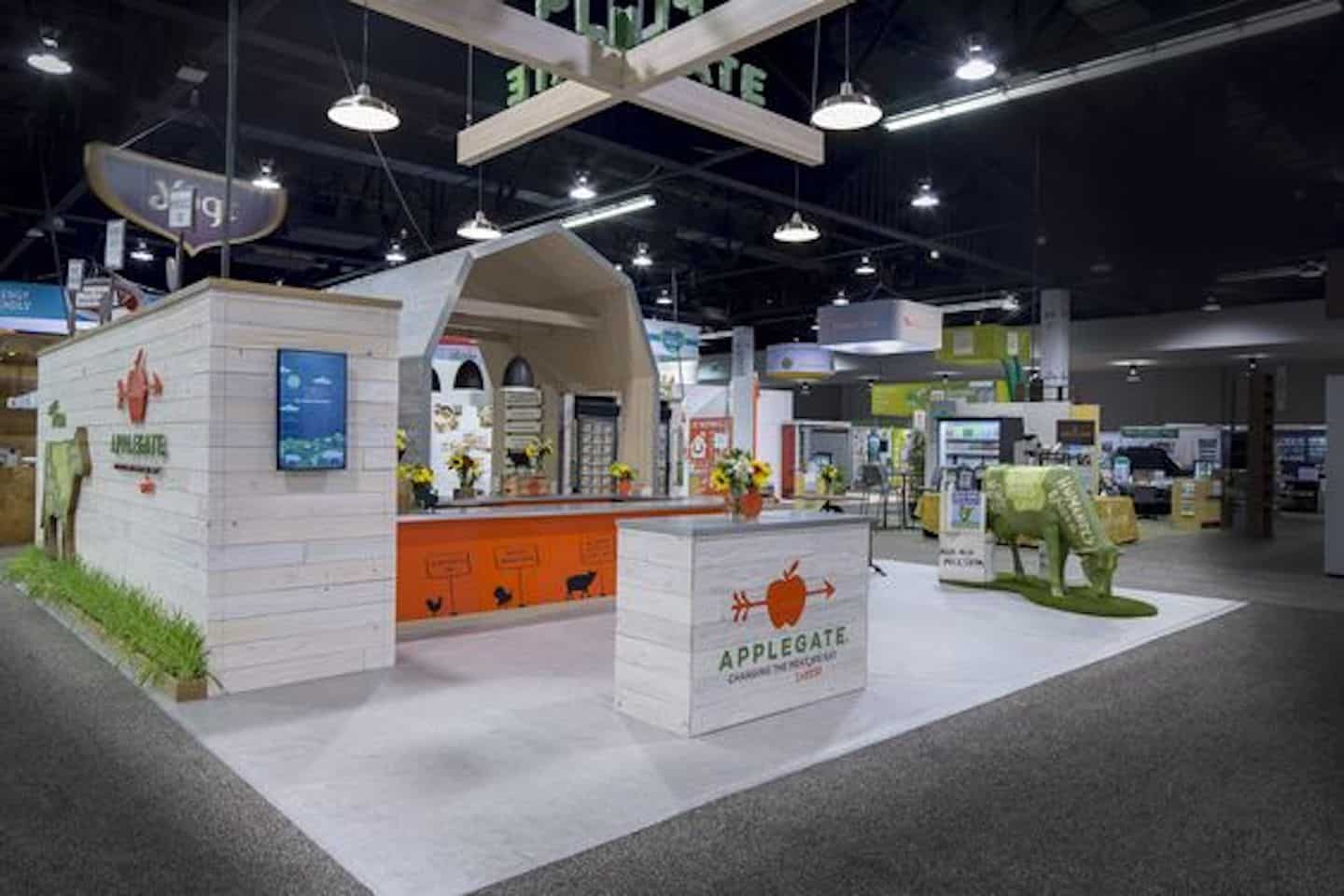 Source: Pinterest 
Obviously you want your stand to be seen and to look welcoming. Think about your stand from the point of view of a passer-by, i.e. someone who knows nothing about your offer. Ask yourself if the messages on your stand are understandable and make people want to come. 
It is also important to keep it minimalist as too much detail can scare passers-by. 
#12. Have a mascot, and make the most of it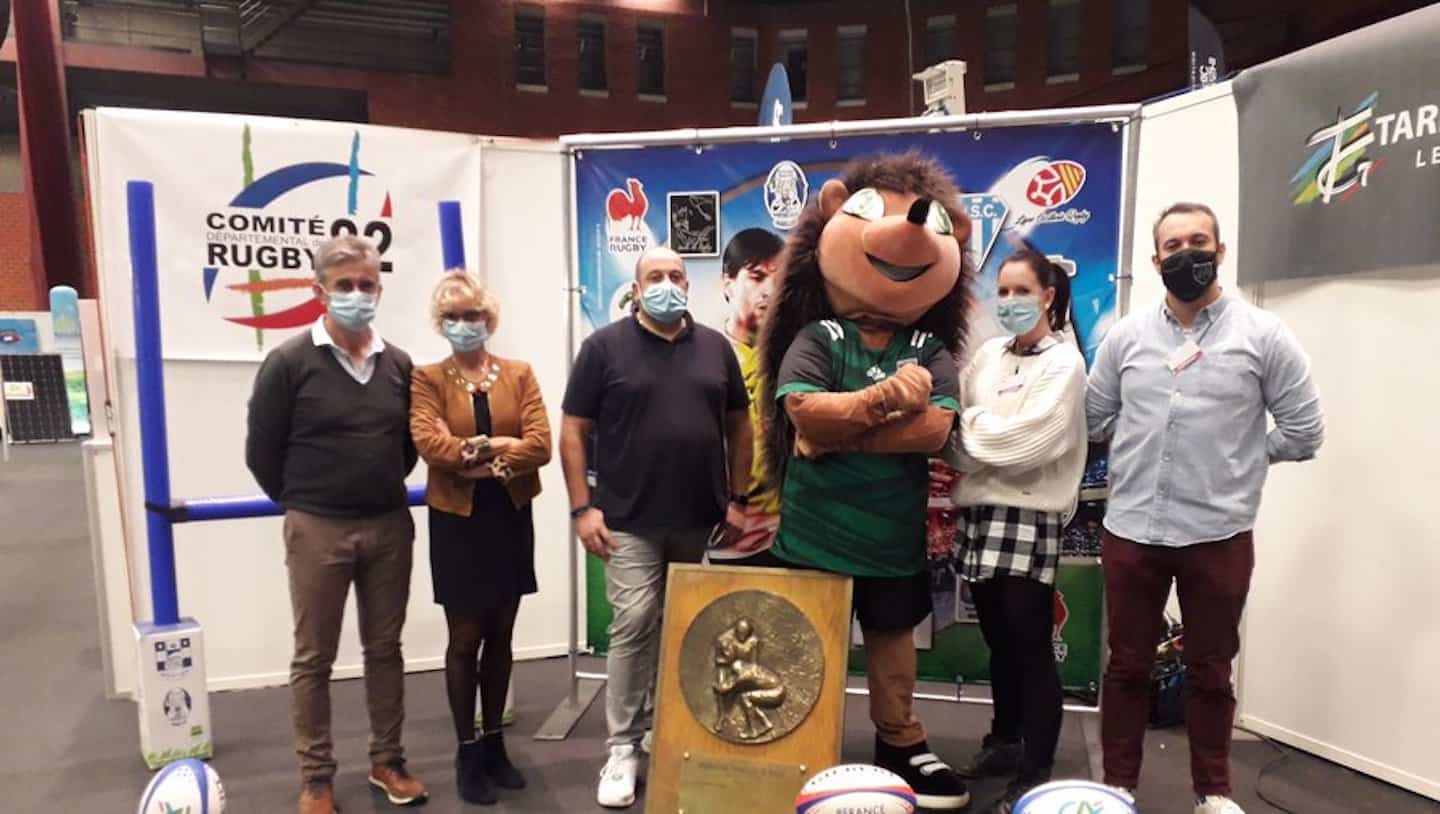 Source: La Dépêche 
Not all brands have a mascot, of course. But if you do, why not use it at trade shows to attract people to your stand? People enjoy taking pictures with a mascot and it gets people talking about you. And the more people take selfies with your mascot and post pictures on social media, the better for your brand! 
#13. Offer food & drink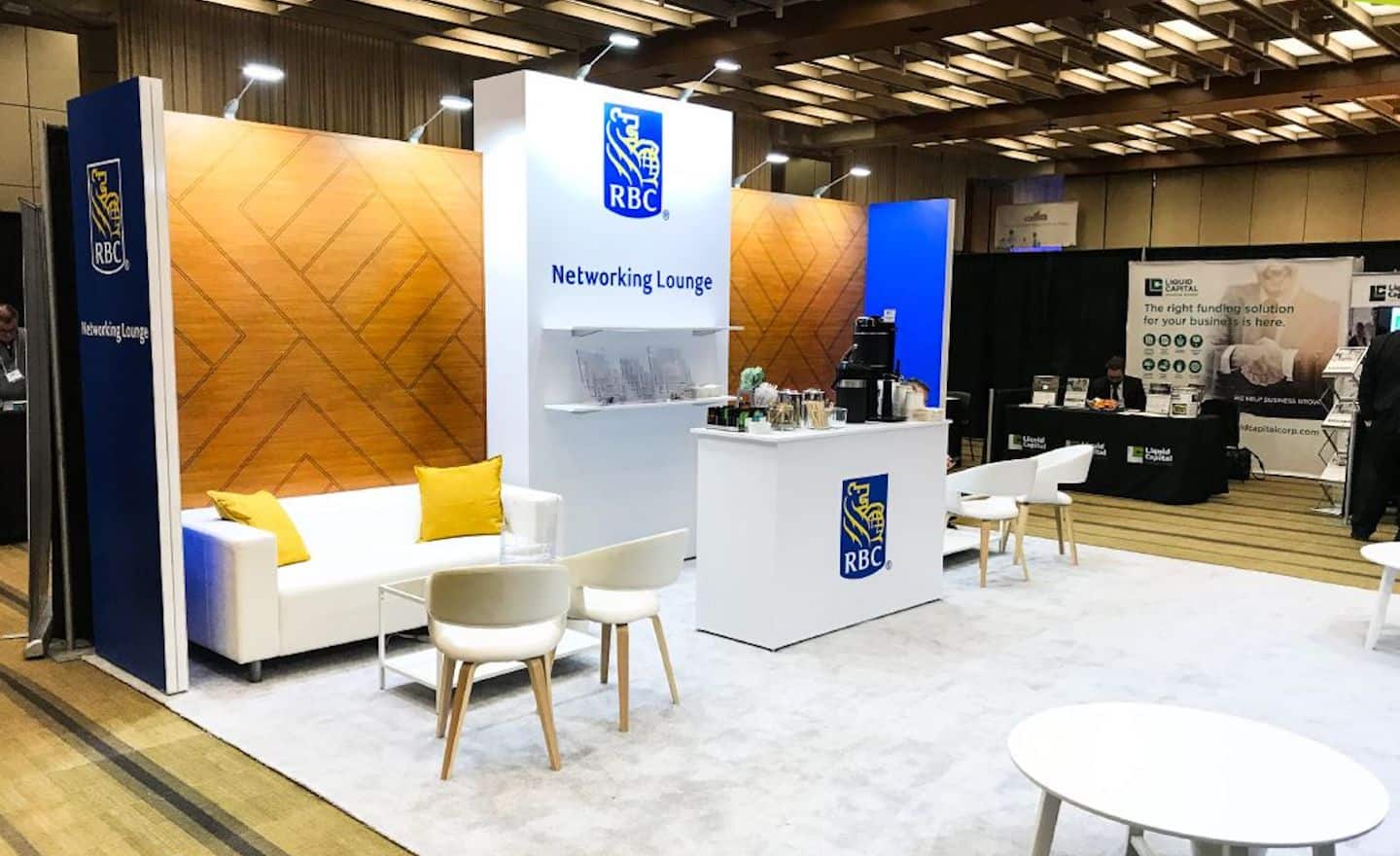 Source: Pinterest
It may seem trivial, but you should not neglect to offer food and drink to visitors. Nothing complicated is required, just a little tea or coffee and some sweets. 
On the one hand, it makes your stand welcoming. On the other hand, people will stay to eat and drink in front of your stand, so you will not only enjoy an exchange with them but also attract the attention of other visitors. 
#14. Prepare original and relevant goodies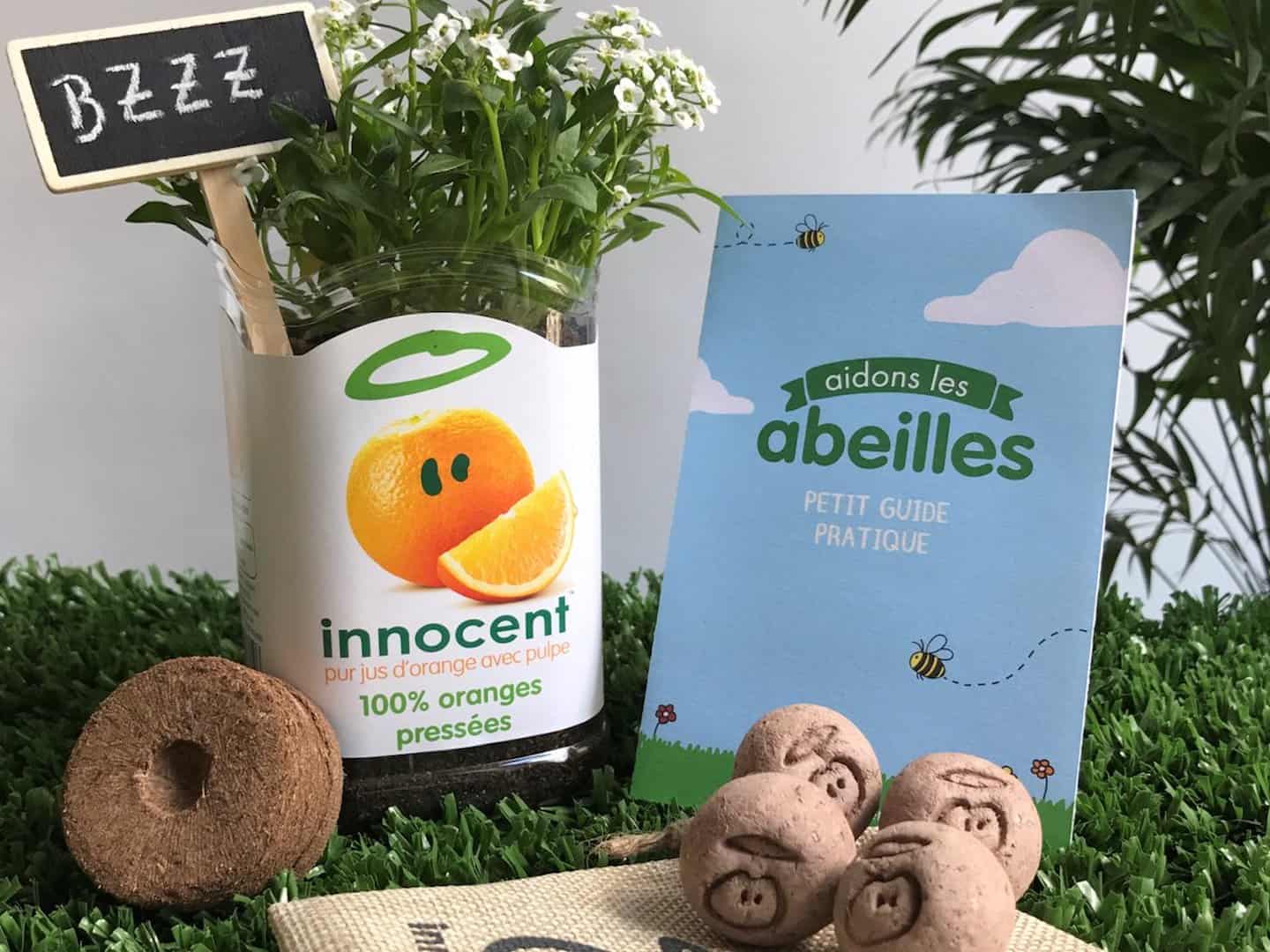 Source: Social Media for You
Branded promotional products, also known as "goodies", are often a staple of trade shows. These are products that participants take home, they will remember your company. 
Choose something unique, useful and of real interest to your audience. 
Find an exciting goodie that will generate interest and make other participants want to go and get theirs. 
Be careful, you must also be creative so that this product does not cost you too much and that there is a real return on investment. 
#15. Become an expert at the show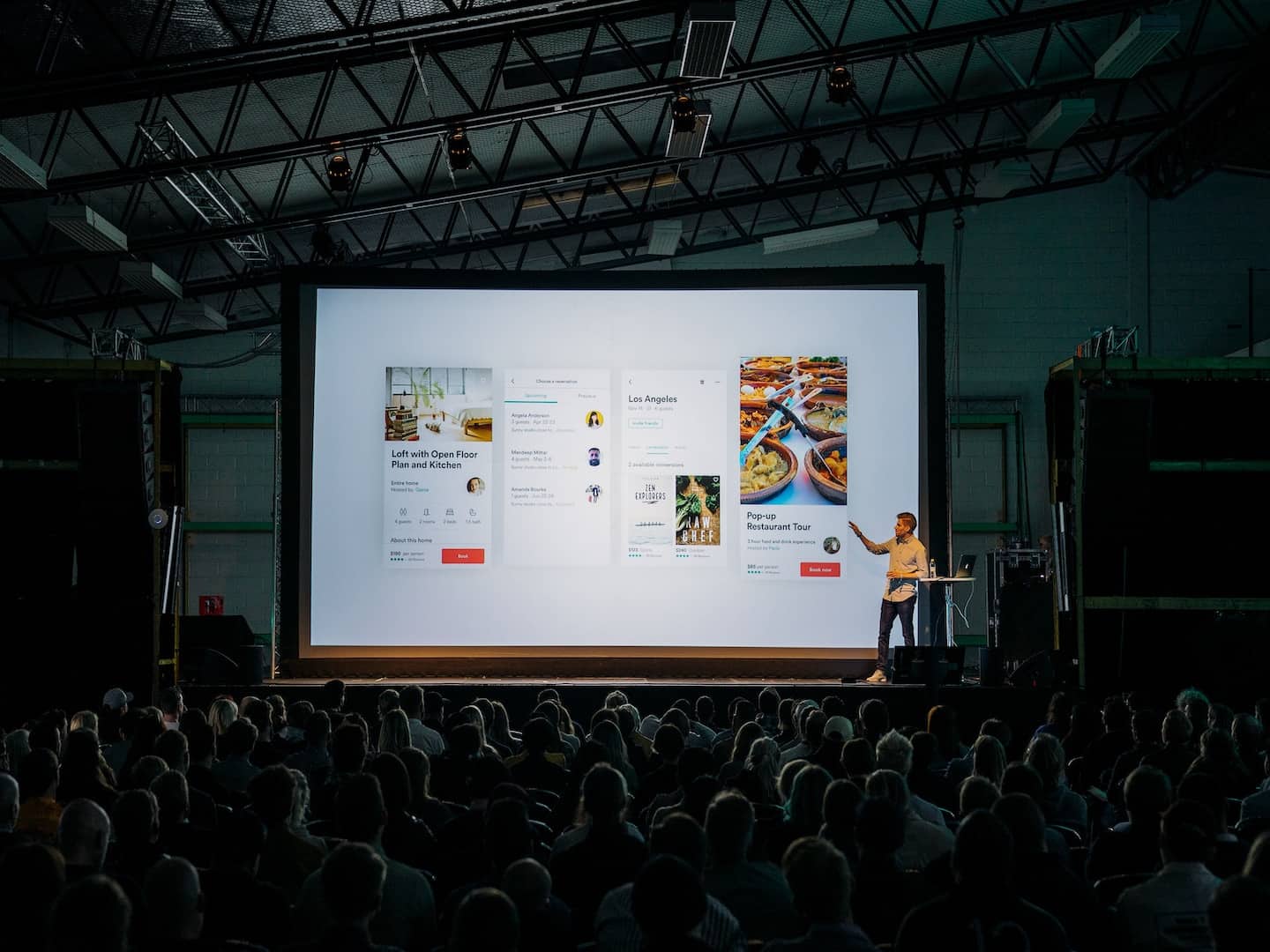 Source: CompanySearch.com
A trade show has to be prepared. You have to prepare speeches, invitation emails but also publish on social networks to appear as a key player in the show. You have to make sure that you are perceived as a leader in your sector. You should therefore participate in many workshops but also in discussions and debates to establish your credibility and gain visibility. You can also organise your own workshop or conference. 
Reader Interactions