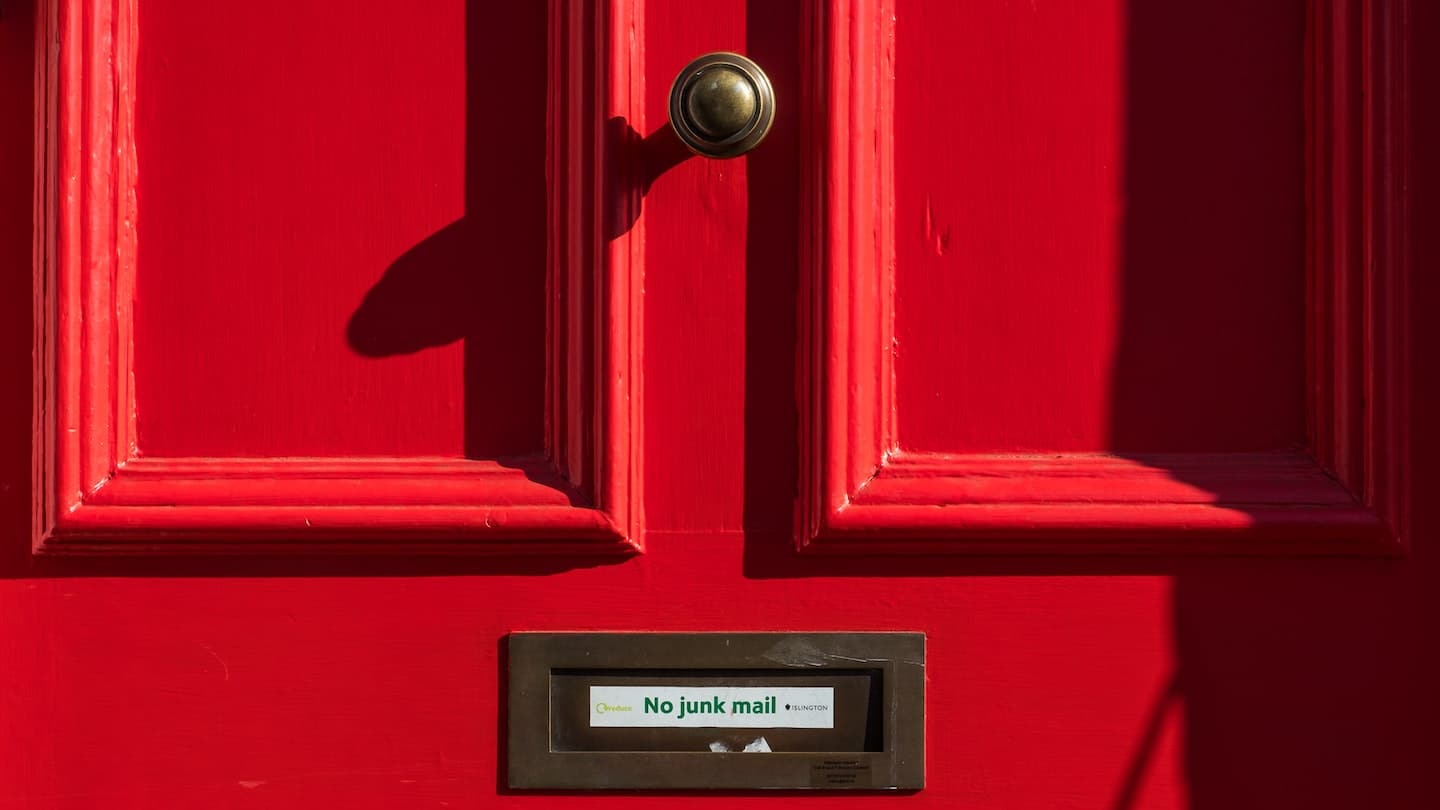 Email testing tools have three main features:
Automated testing: Email testing tools provide automated tests that quickly detect and report email design, formatting or content issues…
Preview on multiple devices: Most email testing tools allow you to preview your email campaigns on different devices such as cell phones, tablets and desktops. It ensures that emails look good on all platforms and devices.
Spam Score Analysis: Many email testing tools also offer a spam score analysis that lets you know if your emails are likely to be flagged as spam by certain ISPs or webmail services like Gmail and Yahoo Mail.
10 tools to test your emailing campaigns: comparison table
#1 Litmus
To get a preview of your email on all possible clients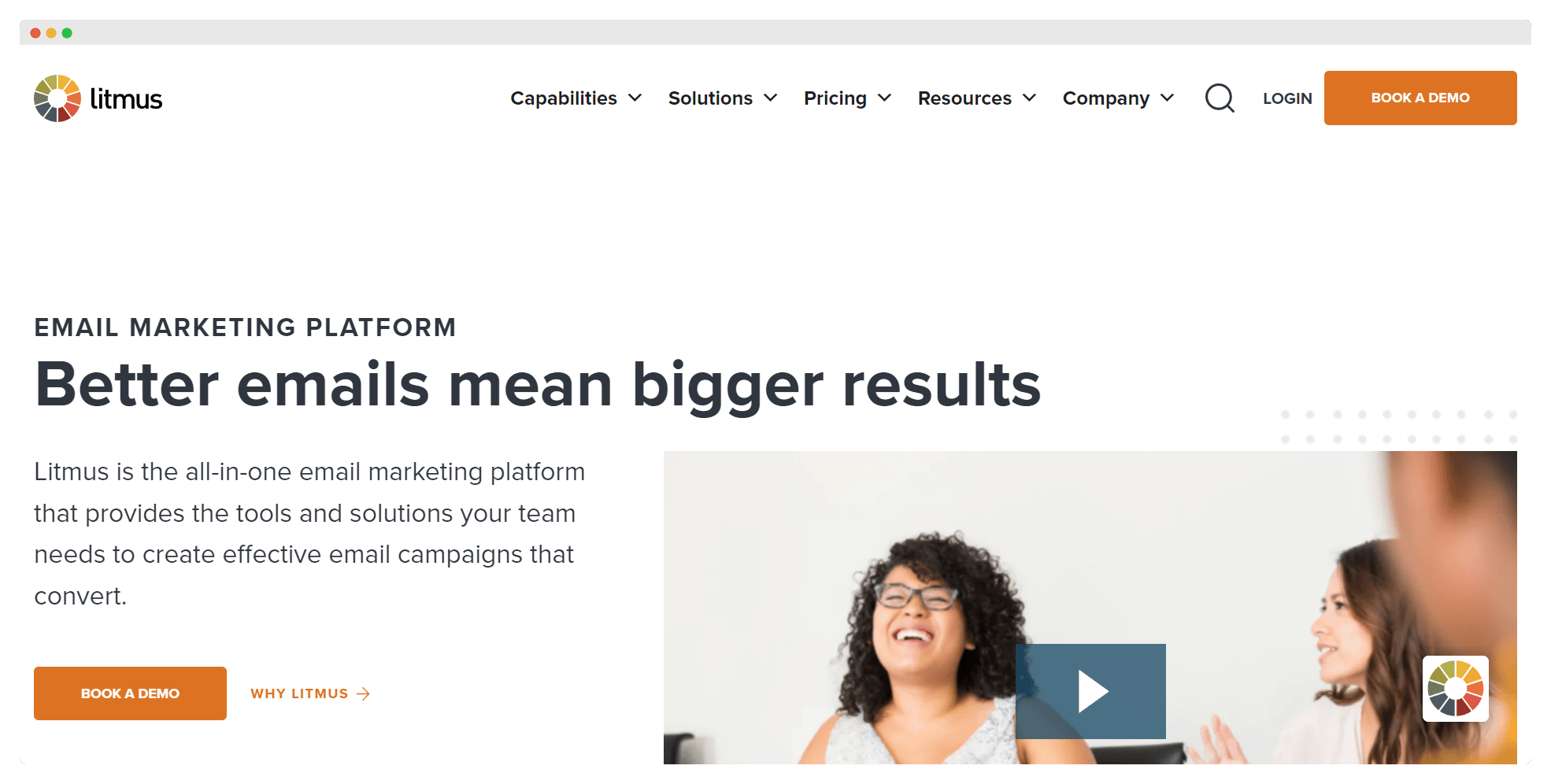 Litmus allows you to test emails on multiple platforms, including desktops and mobile devices. It allows users to ensure that their messages look good no matter what device they are viewed on. Litmus also offers reporting features that allow users to track performance metrics, such as open rates and clicks.
The tool offers extensive email testing features, a user-friendly interface and the ability to preview your emails in real time.
However, the solution is a bit expensive compared to its competitors and it offers limited support options in case of problems.
Users overall give it a high rating on g2. They appreciate its comprehensive testing capabilities and interface. Litmus is also very popular with email marketing, inbound marketing and marketing automation agencies who appreciate its time-saving automation features when creating their email campaigns.
Litmus offers an entry price of 95€/month.
Try Litmus for free
Litmus offers a first plan at 95€/month, take advantage of it!
#2 Email on Acid
To test your emails on a multitude of webmail services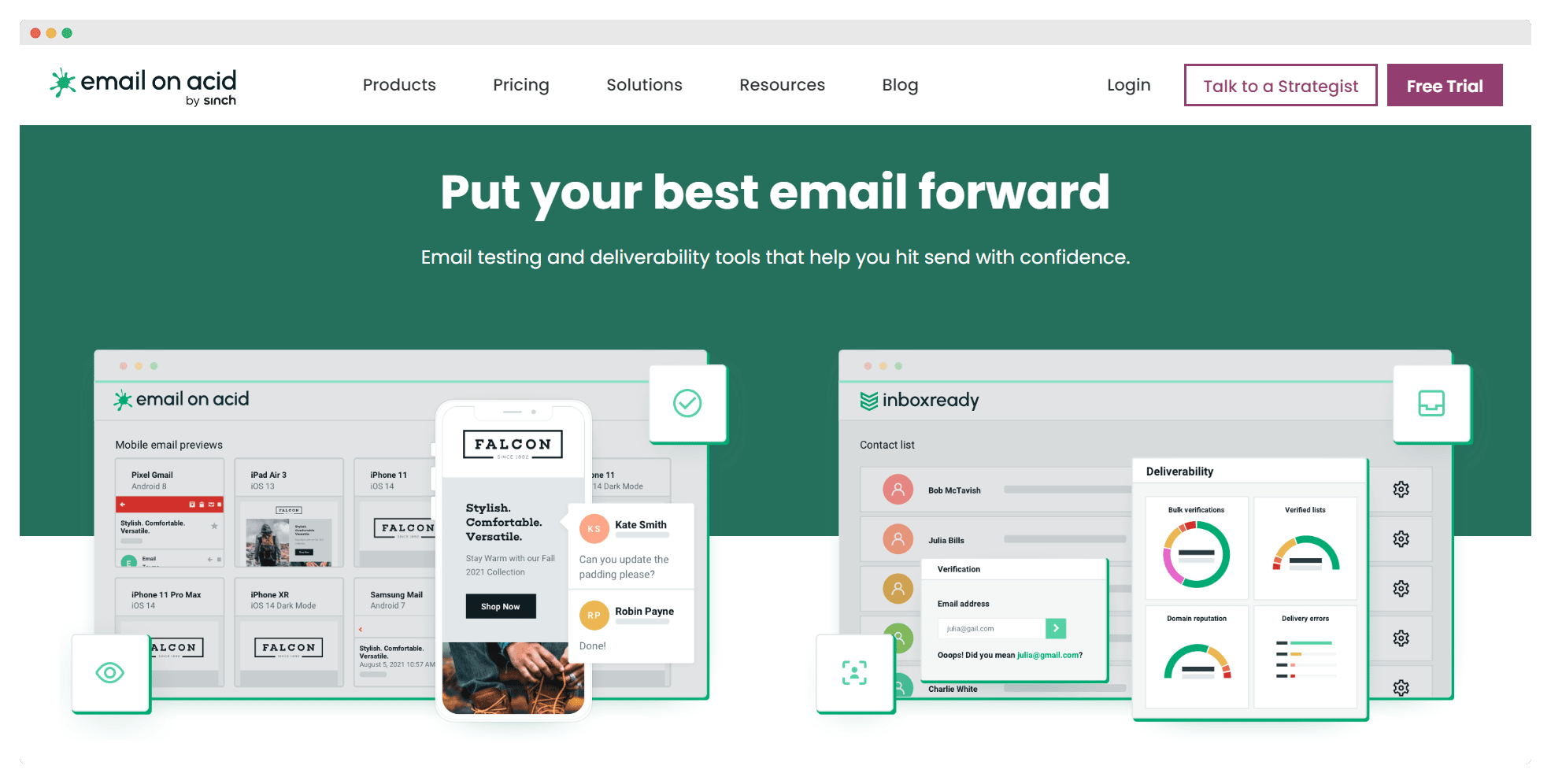 Email on Acid is an email testing platform that allows marketers to get emails perfect on all devices, browsers and clients. It provides a comprehensive suite of tools for previewing, testing, troubleshooting and analyzing the performance of HTML emails.
One of the best features of Email on Acid is its ability to test emails in over 70 different webmail services, including Gmail, Outlook, Yahoo Mail and Apple Mail. This ensures that emails are optimized for all devices or browsers on which they can be viewed. It also features an advanced spam filter test that can help you identify words or phrases that may trigger filters so you know in advance which versions will be delivered successfully.
Email on Acid is very easy to use, supports a wide range of clients and also offers to send automatic alerts when campaigns are online. It allows you to maintain customer relationships and retain new customers, similar to welcome emails and satisfaction surveys, while improving your lead management skills. It provides detailed analytics reports and A/B testing, if you are planning on not usinginbound marketing tools.
The template library is a bit limited, however, and the software is not suitable for transactional emails.
According to g2 customer reviews, customers are very satisfied with Email on Acid's service. They appreciate the simplicity of the campaign creation tools, the robust functionality, the automatic alerts when launching campaigns and the image optimization options.
The cheapest plan costs 48€/month.
Try Email on Acid for free
Email on Acid offers a free 7-day trial to get an idea of the tool, take advantage of it!
#3 Mailtrap
The perfect tool to simulate your email flows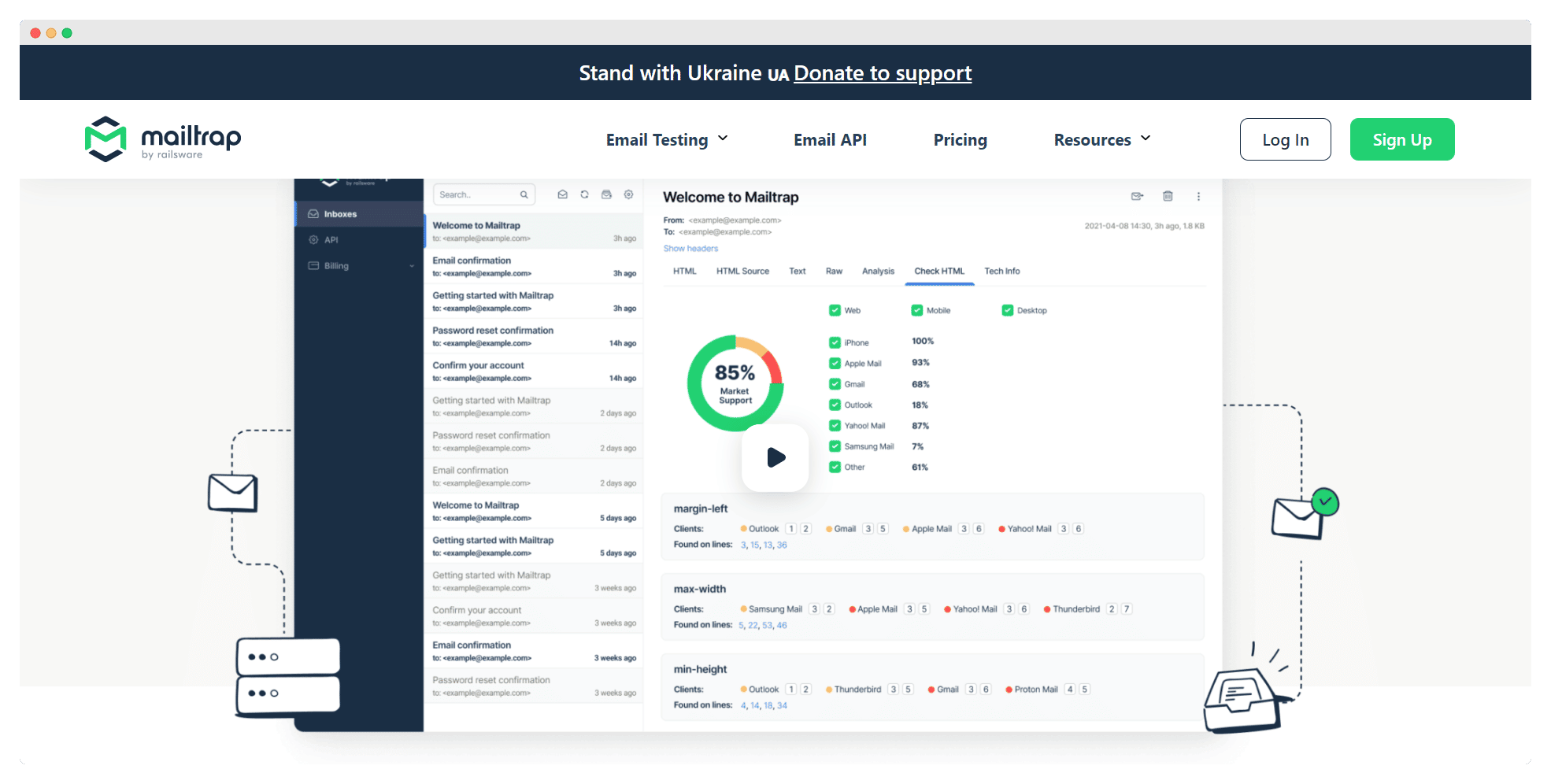 Mailtrap is an email testing platform developed by Railsware. It provides users with a safe and secure environment to test their emails without sending them around the world.
One of the best features of Mailtrap is that it can simulate an email flow to effectively test HTML code and formatting, and integration with other services such as SMTP servers or API calls. The software is ideal for developers who are short of time because it can be configured quickly and easily. Mailtrap has been able to put together some pretty solid indbound marketing tools and offers an interesting free basic plan.
But its functionality is a bit limited and the features require additional fees. Response times can be a bit slow, especially when users try to load large attachments or multiple emails at once.
g2 reports that customers appreciate its ease of use and security measures that effectively protect user data. They also like the email simulation feature.
Mailtrap offers a free forever plan that allows 500 email tests per month, and first premium plan at 9€/month.
Try Mailtrap for free
Mailtrap offers a free plan forever, take advantage of it!
#4 GlockApps
To measure and optimize your campaigns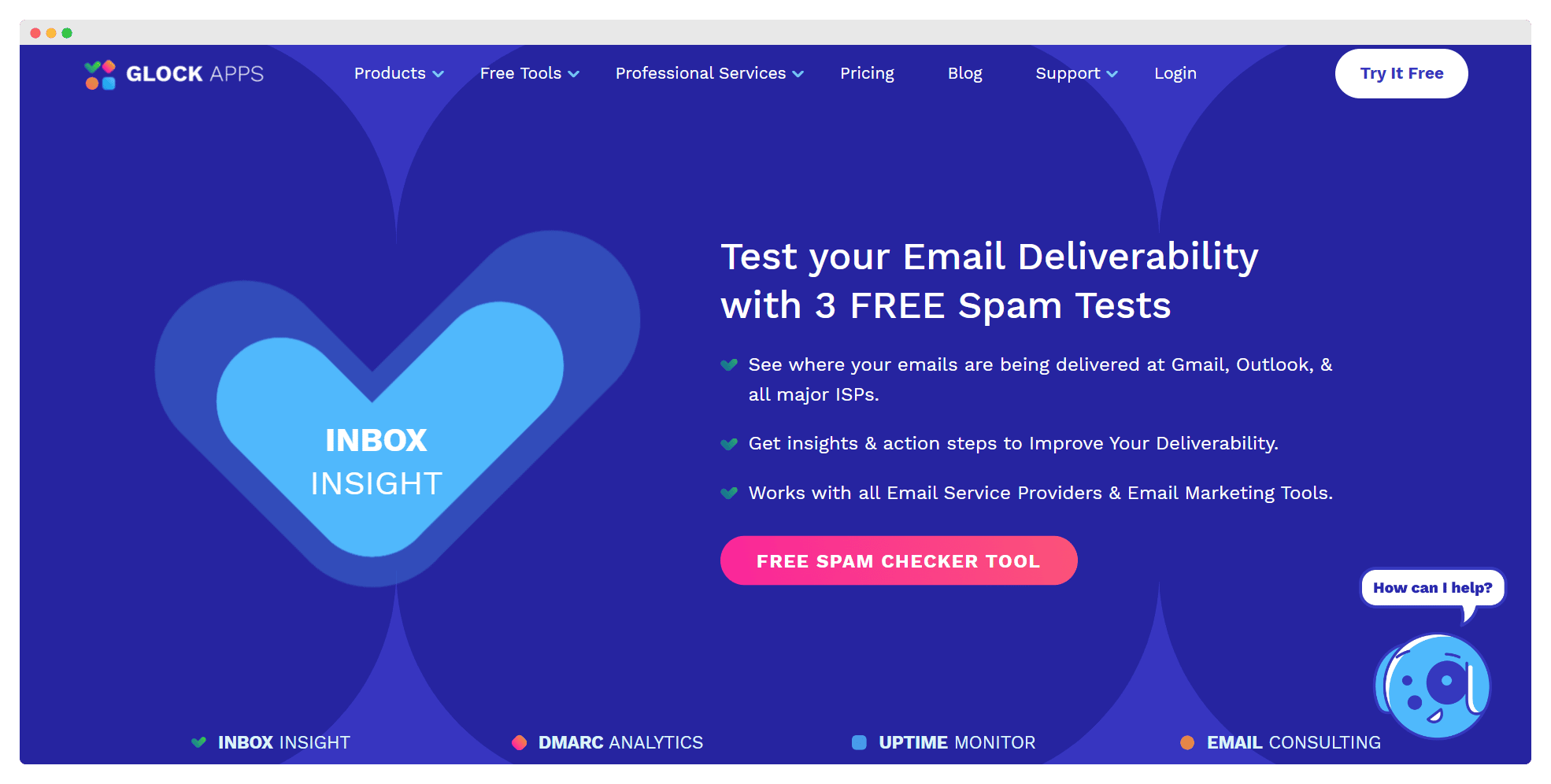 GlockApps is an email deliverability testing software designed to help companies improve their email performance. It offers several features that allow you to measure and optimize your campaigns, such as inbox placement tests, spam filter checks or authentication configuration validation.
It is an easy-to-use software that offers an intuitive interface and is accessible to less experienced users. GlockApps provides detailed reports on the performance of your campaigns to improve your future campaigns. It offers competitive pricing that is very attractive to small businesses that want access to powerful email deliverability tools without breaking the bank. Customer support is also available 24/7 and is very efficient.
The email personalization options are a bit limited. The software does not offer direct integration with the main emailing and free emailing software on the market such as Sendinblue, Active Campaign, or Mailchimp and its alternatives. This makes it difficult for those already invested in one system to switch completely to the other without having to start from scratch.
GlockApps offers a free plan. Count 75€/month for the Basic plan, 122€/month for the Business plan, and 26€/month for the Professional plan, and 195€/month for the Custom plan.
Try Glockapps for free
Glockapps offers a 14 day free trial and a free plan, take advantage of it!
#5 Mailosaur
To automate your email tests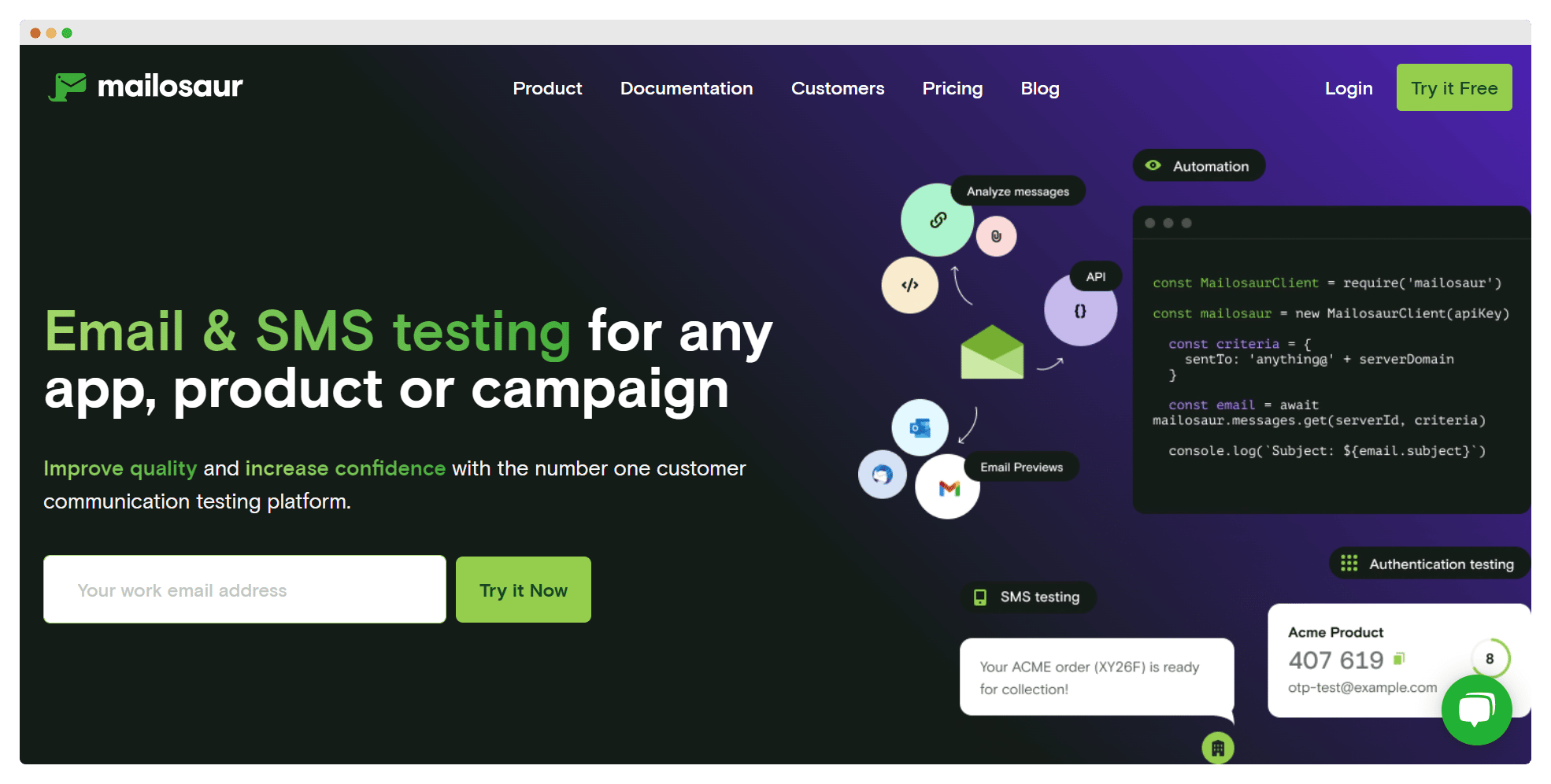 Mailosaur is an email testing platform that allows developers to automate the testing process of transactional emails. It provides a comprehensive suite of tools to validate the accuracy and functionality of emails. It also provides automated inboxes, analytics and debugging capabilities.
The tool is very easy to configure and use and does not require any technical skills. It automates the entire process of testing your emails so you can focus on development.
The support options are a bit limited and are limited to a live chat.
Mailosaur offers free plans with limited features, as well as paid plans starting at 10€/month.
Try Mailosaur for free
Mailosaur offers a free trial to get an idea of the tool, take advantage of it!
#6 Mail test
The cloud-based solution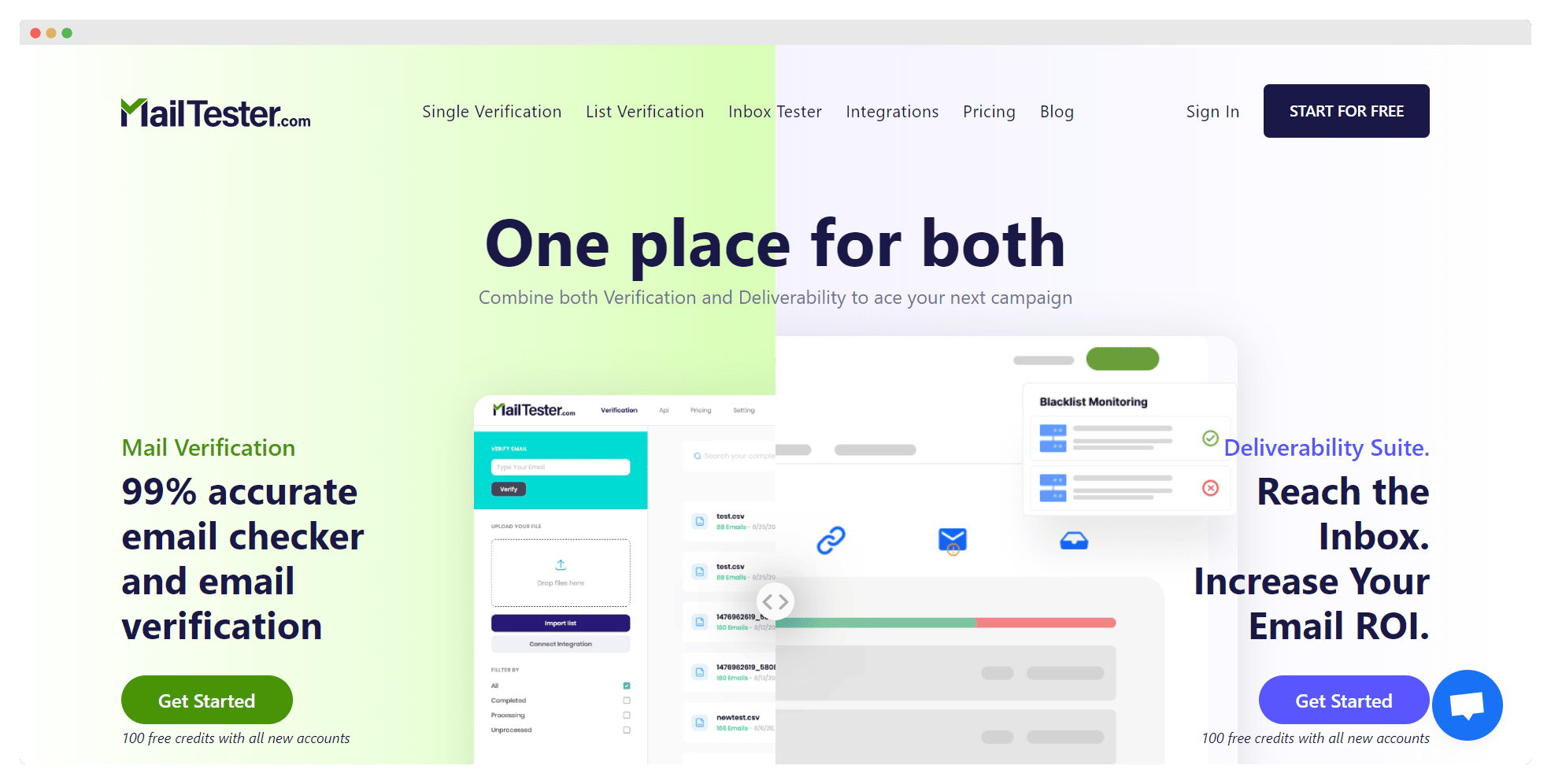 MailTester is a cloud-based email verification solution that allows companies to check domains and syntax of their emails. It offers a full range of tools to test the deliverability of your emails before sending them.
MailTester offers comprehensive tests to check spam scores, deliverability rates, open rates, etc. It also provides detailed reports and very well done analysis. The software is easy to use and suitable for all budgets.
For those who are less experienced, the analysis reports can be a bit too technical and difficult to interpret. The customer support options are also a bit limited compared to the services of other solutions.
MailTester offers several plans according to your needs: a Basic plan for 9€/month, a Professional plan for 18€/month and a Premium plan for 47€/month.
Try Mail for free
Mailtester offers a free trial to get an idea of the tool, take advantage of it!
#7 Mailslurp
The free solution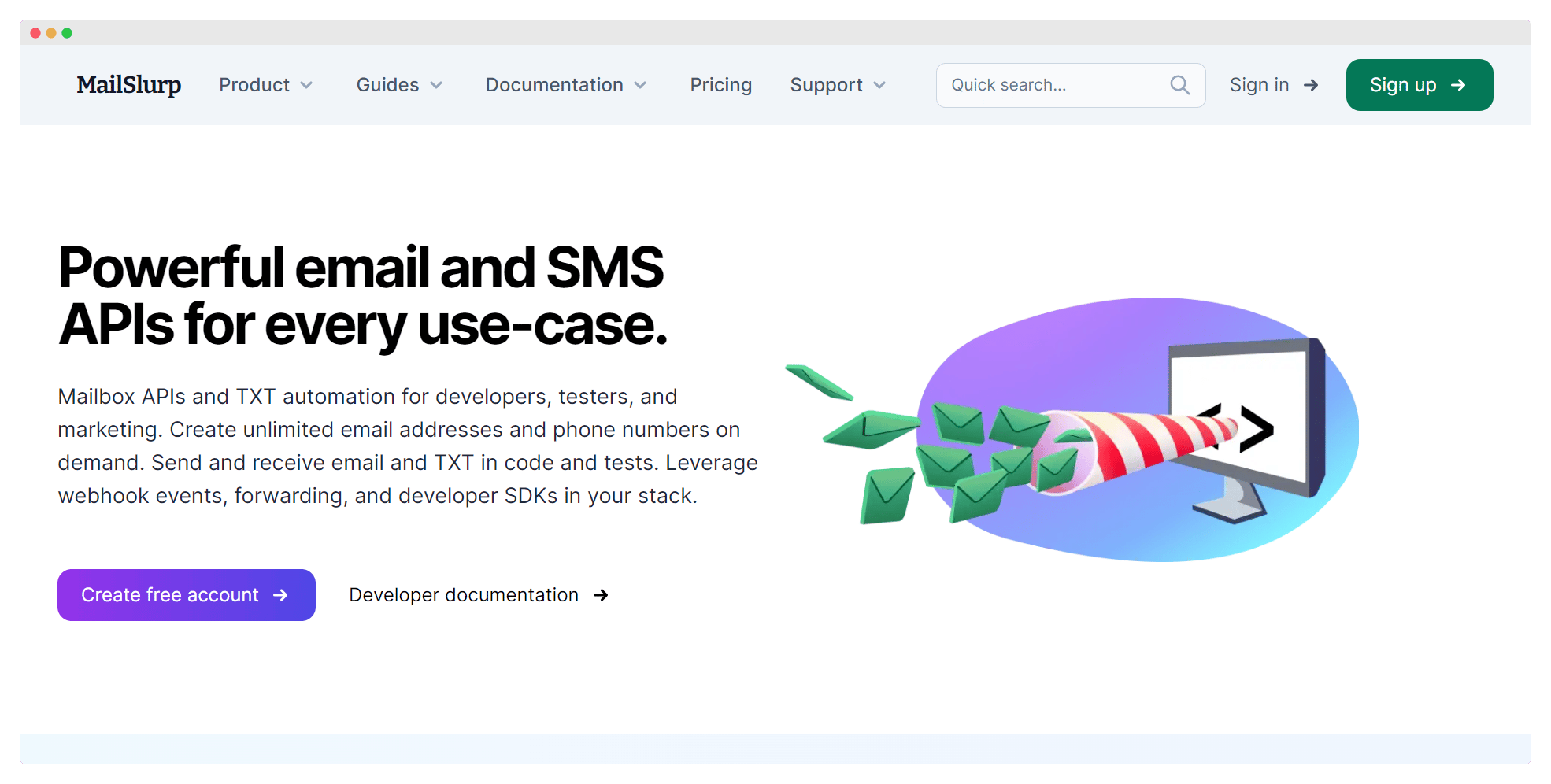 Mailslurp is a powerful email testing tool that allows developers to quickly and easily create, send, receive and analyze emails in their applications. It is designed for quick integration with any web or mobile application.
The interface is intuitive and makes it easy to set up email tests without having to write code. The software is very comprehensive and allows you to test everything from formatting HTML content to managing attachments and more. It offers a free basic plan and plans with a little more functionality depending on your needs.
Mailslurp provides a lot of content, but the customer support is a bit weak.
The basic plan is free and includes 10 inboxes, each with its own unique address, as well as 1 GB of storage per month for emails sent/received through these addresses. Other plans range from €29/month to €439/month.
Try Mailslurp for free
Mailslurp offers a free plan, take advantage of it!
#8 Bouncer
The email address testing tool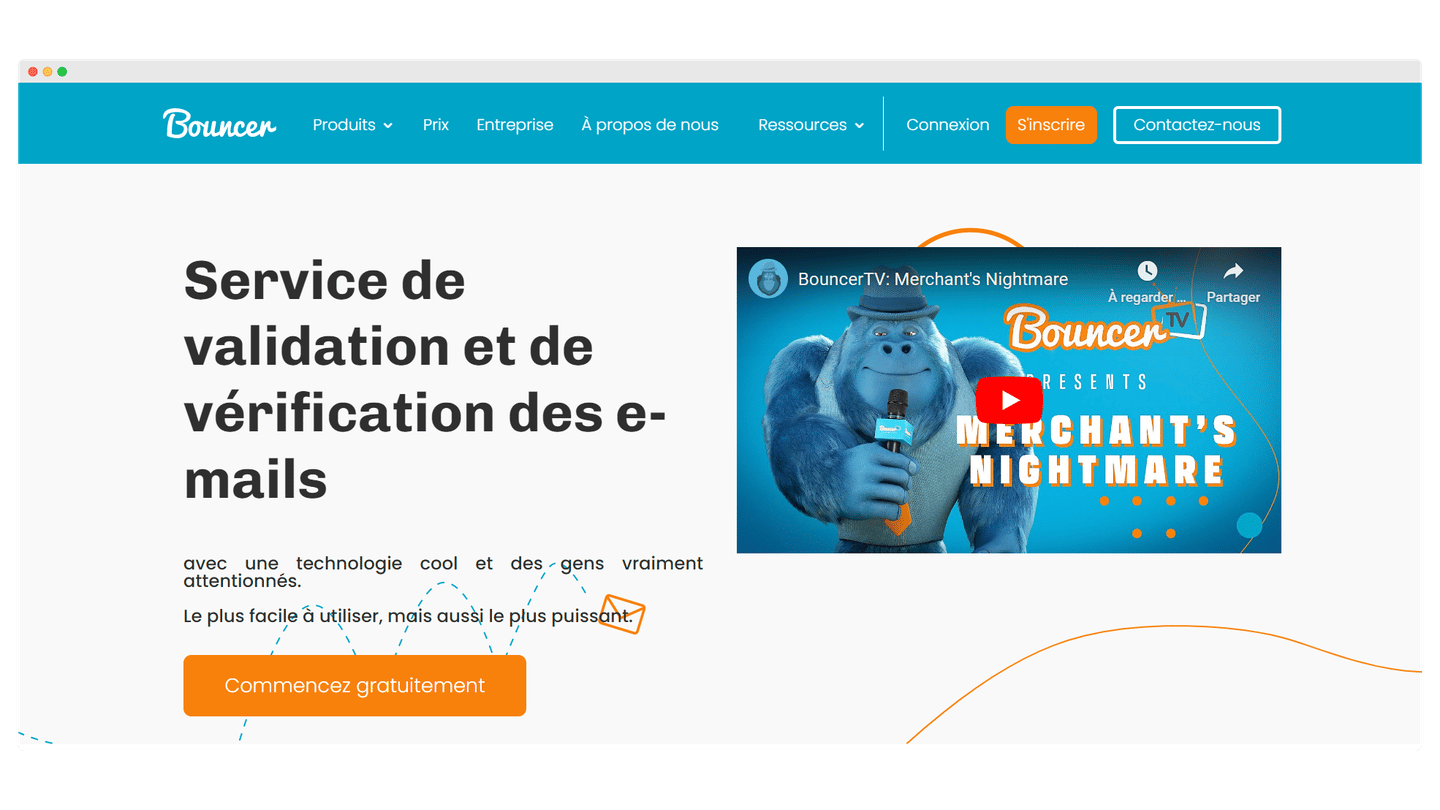 Bouncer is a tool that allows you to verify email addresses, not email campaigns, which makes it a little different from the other tools in this top 10. It is a simple and effective tool to validate emails in real time, ensuring that only valid and active emails are stored in the database. Bouncer also offers detailed reports that allow users to track their email validation progress over time, as well as data on the deliverability of their emails.
This software is also very easy to use, requires no technical skills, allows real-time verification of your emails, offers detailed reports on the validation of your emails and secure storage of your data.
Bouncer is not really adapted to the processing of large databases.
It offers a free plan and premium plans ranging from €38/month to €715/month.
Try Bouncer for free
Bouncer offers a free plan, take advantage of it!
#9 Unspam.email
To ensure the accuracy of your content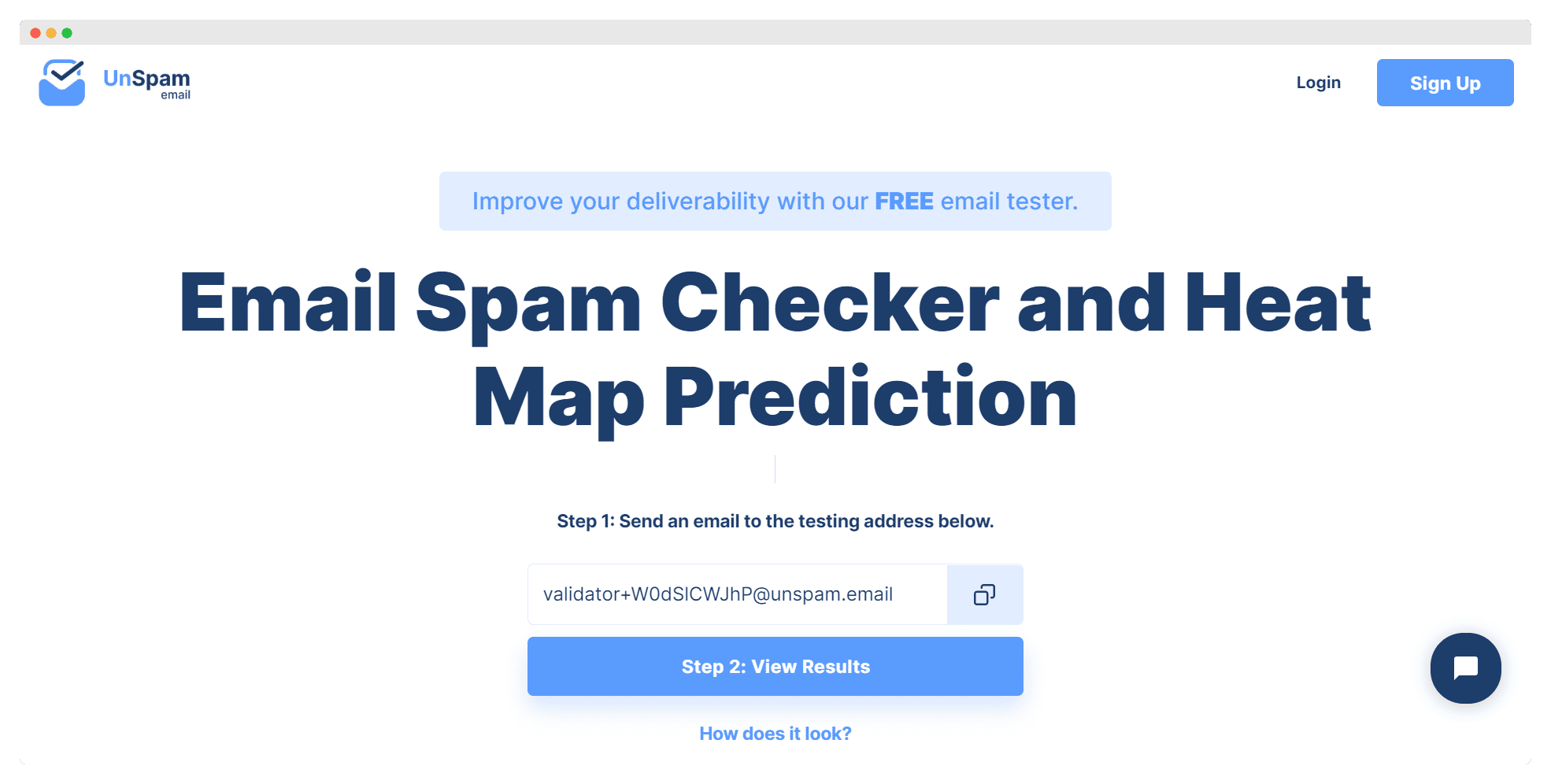 Unspam.email is an email testing platform that helps marketers and developers test their emails before they are sent to customers. It provides a full suite of tools for testing email content, deliverability, links, and more.
It offers a complete set of features to ensure deliverability and accuracy of email content. It allows you to configure automated tests according to a calendar or events that you define (purchases, new registrations…). Unspam.email provides detailed reports on each test with information on the performance of your emails (open rates, clicks, etc). You can also preview your emails in different web browsers and mobile devices before sending them.
However, support for certain types of email clients such as Outlook is a bit limited. The interface can be a bit slow when running large campaigns or tests simultaneously.
Unspam.email offers free plans and paid plans starting at 47€/month, depending on the number of emails you want to send per month. The free plan allows up to 100 messages per day while the paid plans start from 1000 messages/day up to more than 10000 messages/day depending on the plan you choose.
Try Unspam.email for free
Unspam.email offers a free plan forever, take advantage of it!
#10 Mailhog
The free and open-source solution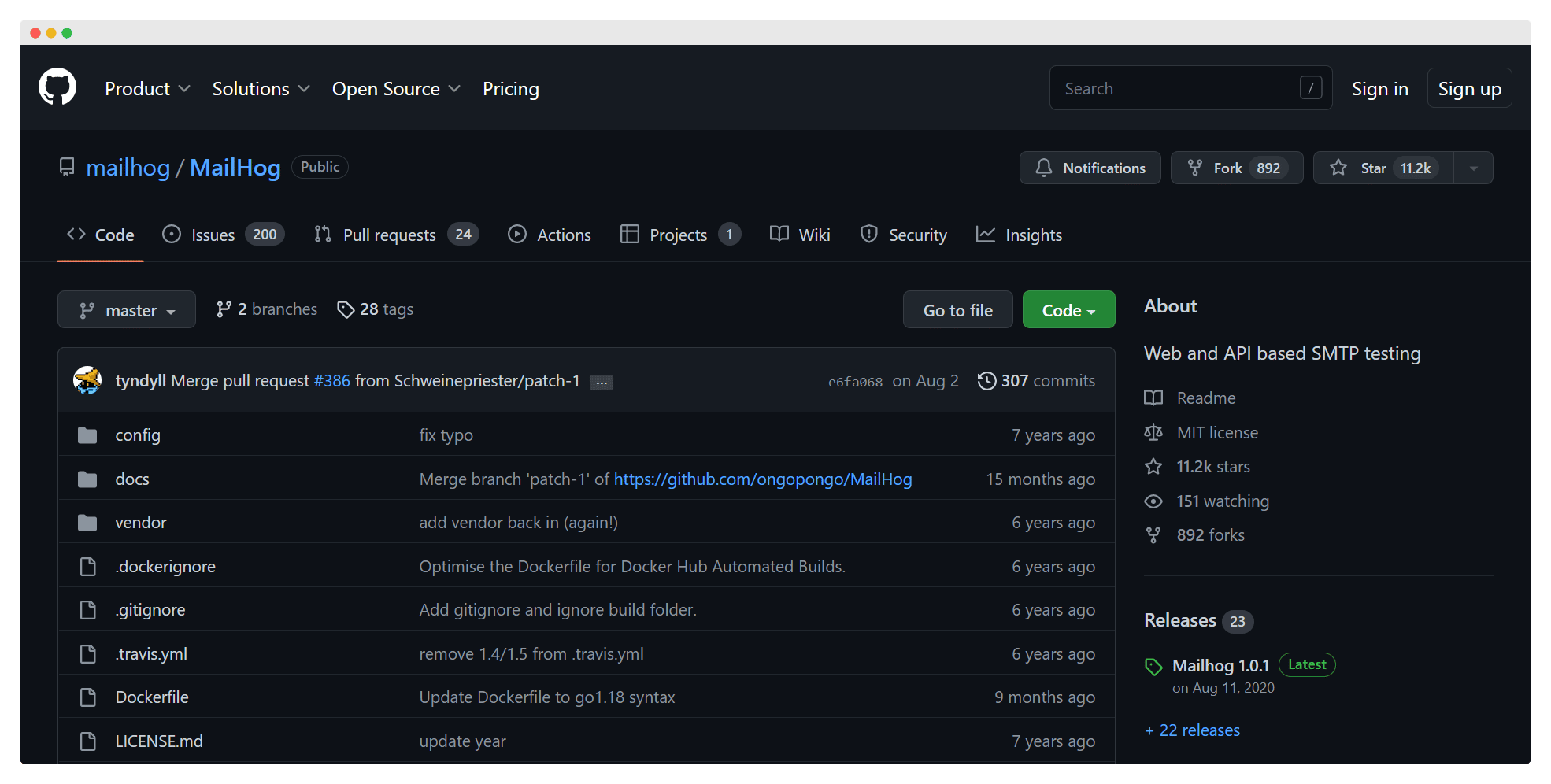 Mailhog is a free and open-source email testing tool that allows users to test their emails in an isolated environment. It can simulate sending, receiving and storing emails without the risk of them being sent.
MailHog is very easy to configure and gets you started quickly. The simulated mail server prevents your outgoing emails from reaching real inboxes and reduces any risk of spam or spoofing. The source code is visible on GitHub and allows developers to easily debug any issues. Mailhog offers cross-platform support and works on all major operating systems, including Windows, macOS and Linux distributions like Ubuntu and Debian.
MailHog offers sufficient basic email simulation features, but does not offer many more advanced features like SMTP authentication or DKIM verification. It also does not offer reporting features to track your performance.
The software is completely free and open source and published under the MIT license.
Try MailHog for free
MailHog is a free solution, take advantage of it!
Reader Interactions