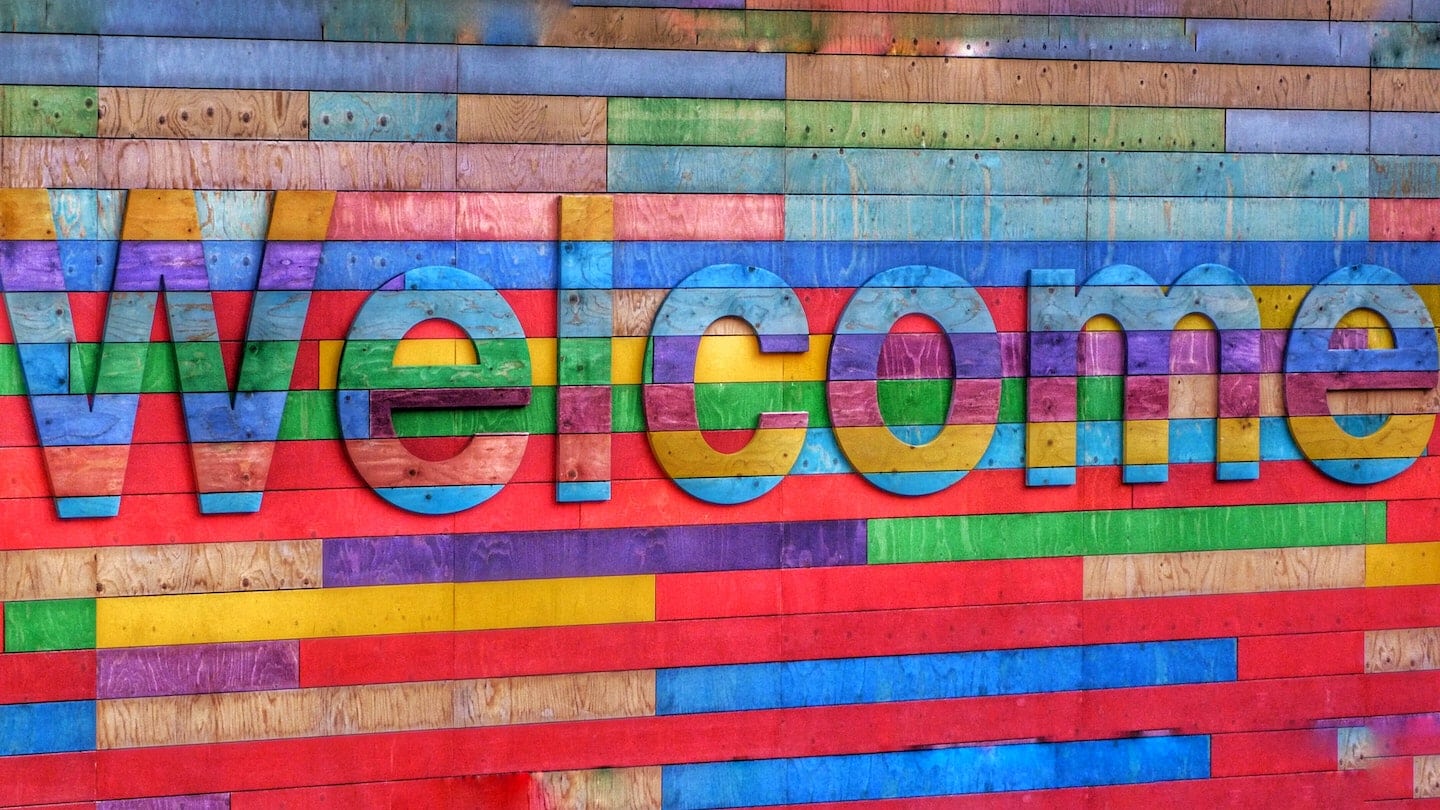 The secret to making a good first impression on a prospect or client is to take care of your first contact. And that includes the welcome message.
The welcome email is a very powerful and often underestimated tool. When used properly and written well, it can turn many prospects into leads, retain your new customers and maximize your engagement rates.
But if you fall into the trap of automatic, impersonal emails with non-engaging content, you risk damaging your brand image and weakening a customer relationship that has barely begun.
In this article, we give you all our best practices to succeed in your welcome emails, with 12 examples of emails to support it!
#1 Show the impact of the product in the welcome email
Object
: Welcome to Loom! 🎥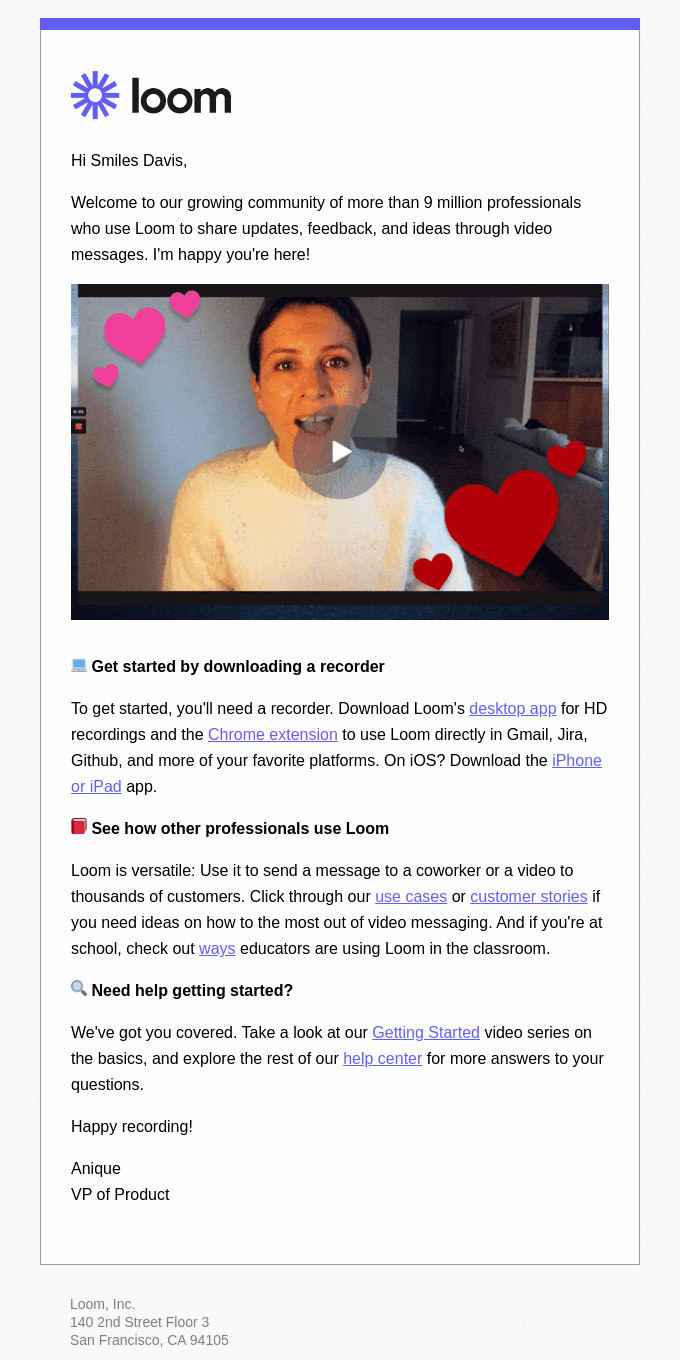 What we like:
The custom video is quite powerful, especially since it shows the power of the tool right away (the video is created with Loom).
The email is simple and effective. The call-to-actions may seem numerous, but they are measured and adapted: a first block to get started, a second block to find inspiration and a last block to get help.
We really like the personal signature (in line with the video) which humanizes the email, the brand, and the relationship created with this first email.
What we like less:
The subject line is literally 90% of all welcome emails. It has the merit of being descriptive and clear, but the email could be even more powerful with a little thought.
Translation
Hi Smiles Davis,
Welcome to our growing community of over 9 million professionals who use Loom to share updates, feedback and ideas via video messages. I'm glad you're here!
Start by downloading a recorder
To get started, you need a recorder. Download Loom's desktop app for HD recordings and theChrome extension to use Loom directly in Gmail, Jira, Github and other of your favorite platforms. Are you on iOS? Download the app for iPhone or iPad.
See how other professionals are using Loom
Loom is versatile: use it to send a message to a co-worker or a video to thousands of customers. Check out our use cases or customer stories if you need ideas on how to get the most out of video messaging. And if you're in school, find out how teachers are using Loom in the classroom.
Need help getting started?
We're here to help. Check out our series of Getting Started videos on the basics, and explore the rest of our Help Center to find more answers to your questions.
Enjoy the recording!
Anique
Vice President of Product
#2 Take advantage of new registrants' engagement to drive conversion
Object
: Thanks for creating your account. Here's a special offer just for you.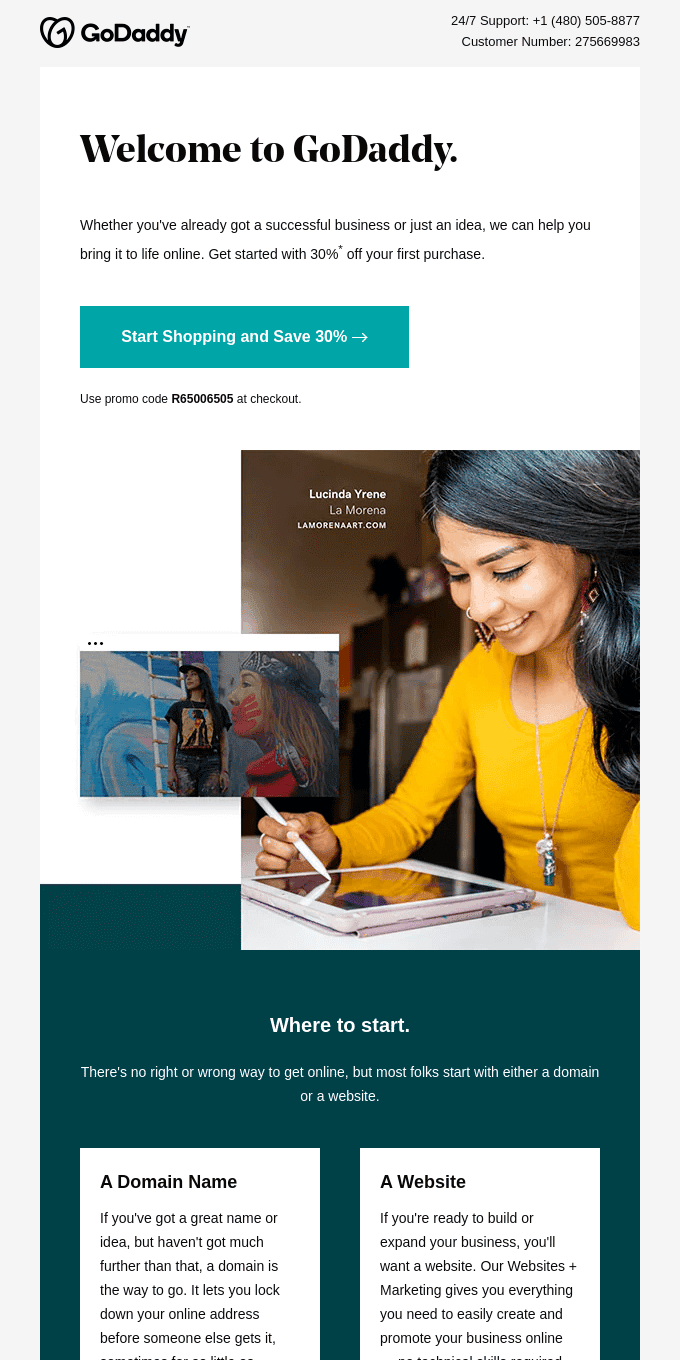 What we like:
We kind of like the idea of picking up the reader with a promotion when they are most engaged. It should be noted, however, that people usually create a GoDaddy account before becoming a customer.
The second part of the email is pretty clear too: 2 call-to-actions for GoDaddy's two main offers, and then a link to a resource center.
Our opinion
The little plus: The phone number at the top of the email and the customer number reference are also excellent ways to simplify exchanges and show that customer support is available!
Translation
Welcome to GoDaddy
Whether you already have a successful business or just an idea, we can help you bring it to life online. Start with 30% off your first purchase.
Start buying and save 30%.
Use promo code 65006505 at checkout.
Where to start
There is no right or wrong way to get online, but most people start with a domain or website.
A domain name
If you have a great name or idea, but haven't gone any further than that, a domain name is the way to go. It allows you to lock in your online address before someone else gets it.
A website
If you're ready to start or grow your business, you'll need a website. Our Websites + Marketing service offers you everything you need to easily create and promote your business online.
#3 Emphasize key functionality for a new user
Object
: Slack 101: Knowing when to post where
What we like:
It's hard to be objective, because we are mega fans of Slack at Salesdorado.The subject line of the email is super well done. Not only is it far from the very generic "Welcome", but Slack insists on the most important aspect of the product for newbies, namely the communication channels.
The 2 call to actions link to a guide that explains the tool in detail, and they have included a login link at the end of the email for those who have lost or forgotten their access.
Every word is weighed in this email. A masterclass.
Translation
Find out where communication happens in Slack
Chain communications bring everyone together, while direct messages give you the space you need for one-on-one conversations – both get the job done.
Dive into Slack 101 and learn:
– The different ways to communicate with your team
– The ins and outs of navigating Slack
Read more
Tip: Work in communication chains to stay organized with your team.
Communication channels bring the right people and information together so that everyone can share ideas, make decisions and get the job done.
Ready to learn more?
Read more
#4 Helping the customer get through the activation process
Object
: Hi there- here's how to get started on your first prototype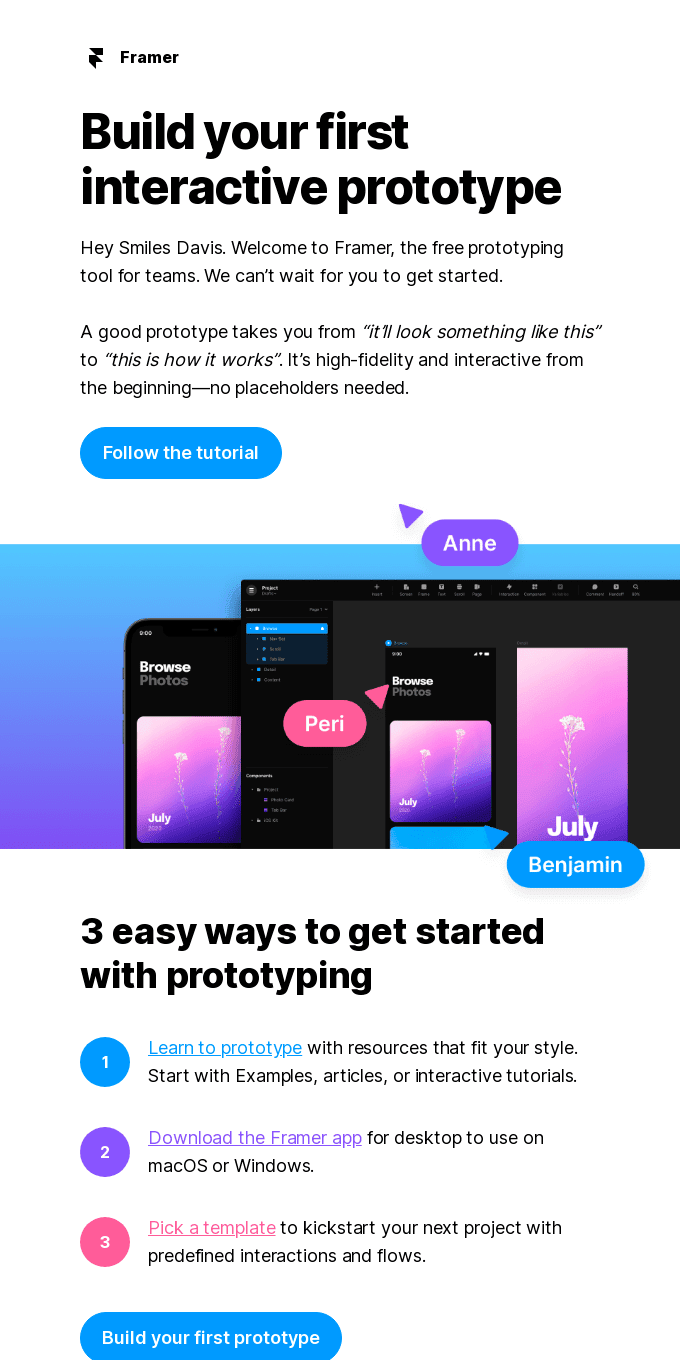 What we like:
We like the strength of the message. The Framer team has probably identified the creation of the first prototype as the critical point for new users to get activated. And they propose 3 solutions to help the user to get to his first prototype: a tutorial, the MacOS & Windows application for those who prefer, and a template gallery for those who are afraid of the blank page.
It's not obvious at first, but the "Was this email helpful" at the end of the email is pretty good: it's an efficient way to get feedback on those automated emails that we often don't work on enough. Of course, on condition that you don't stop there: the click on Yes or No must be accompanied by a free field to collect feedback.
It's all the more clever since you're at the top of the user engagement curve at the moment of registration, and so it maximizes the return rate, and allows you to get in touch with the most engaged users.
Translation
Create your first interactive prototype
Hi Smiles Davis. Welcome to Framer, the free prototyping tool for teams. We can't wait for you to get started.
A good prototype takes you from "it's going to look something like this" to "this is how it works". It's very reliable and interactive from the start, no need for a placeholder.
Follow the tutorial
3 easy ways to get started with prototyping
1: Learn to prototype with resources that fit your style. Start with examples, articles or interactive tutorials.
2: Download the Framer desktop application for use on macOS or Windows.
3: Choose a template to kick off your next project with predefined interactions and flows.
Create your first prototype
#5 Empower the user by showing them where to find answers
Object
: Join the Atlassian Community to find help and support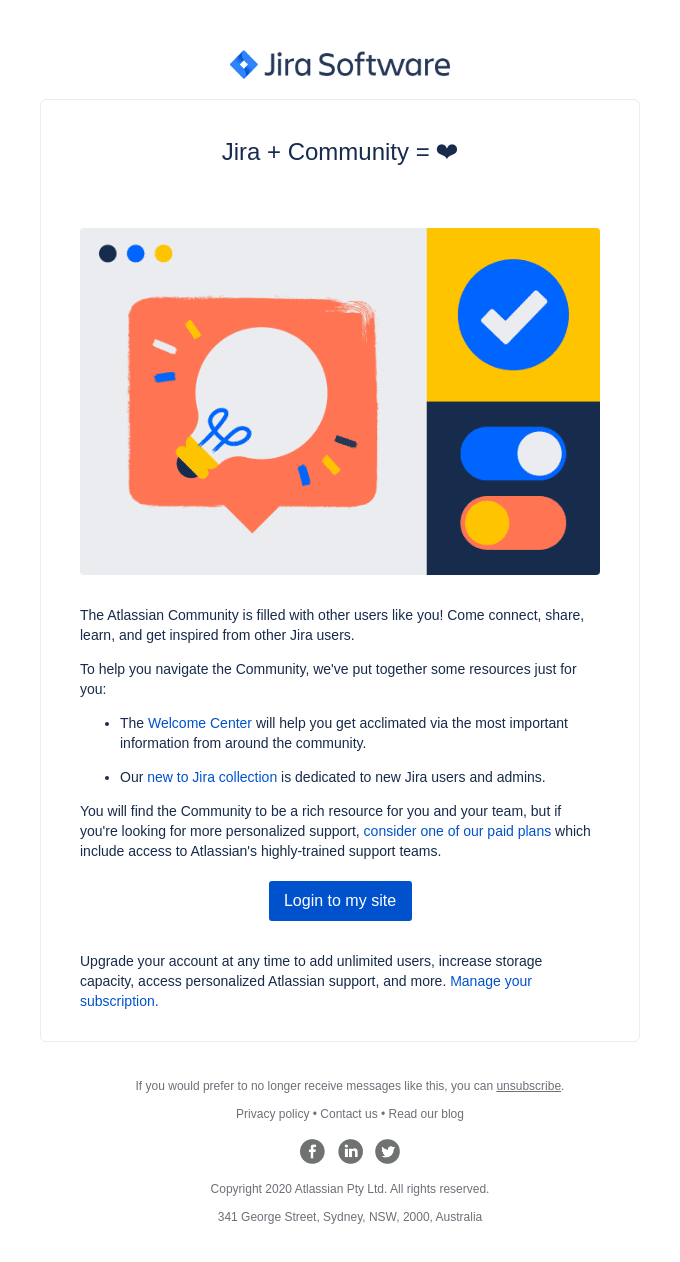 What we like:
This mail is a very simple and effective way to explain to users where to find information and ask questions. And it must work well: the Jira community (and Atlassian in general) is certainly one of the strongest communities in the software.
Plus, the subject line is simple, legitimate, and a little more interesting than a simple "Welcome".
Translation
Jira + Community = ❤
The Atlassian community is filled with other users just like you! Come connect, share, learn and be inspired by other Jira users.
To help you navigate the Community, we have put together some resources just for you:
– The Welcome Center will help you get acclimated with the most important information in the community.
– Our "New to Jira" collection is dedicated to new Jira users and administrators.
You'll find plenty of resources for you and your team in the Community, but if you're looking for more personalized assistance, consider one of our paid plans that include access to Atlassian's highly trained support teams.
Connect to my site
Upgrade your account at any time to add unlimited users, increase storage capacity, access Atlassian's personalized support, and more. Manage your subscription.
#6 Recommend relevant products
Object
: We'd like to welcome you to Domestika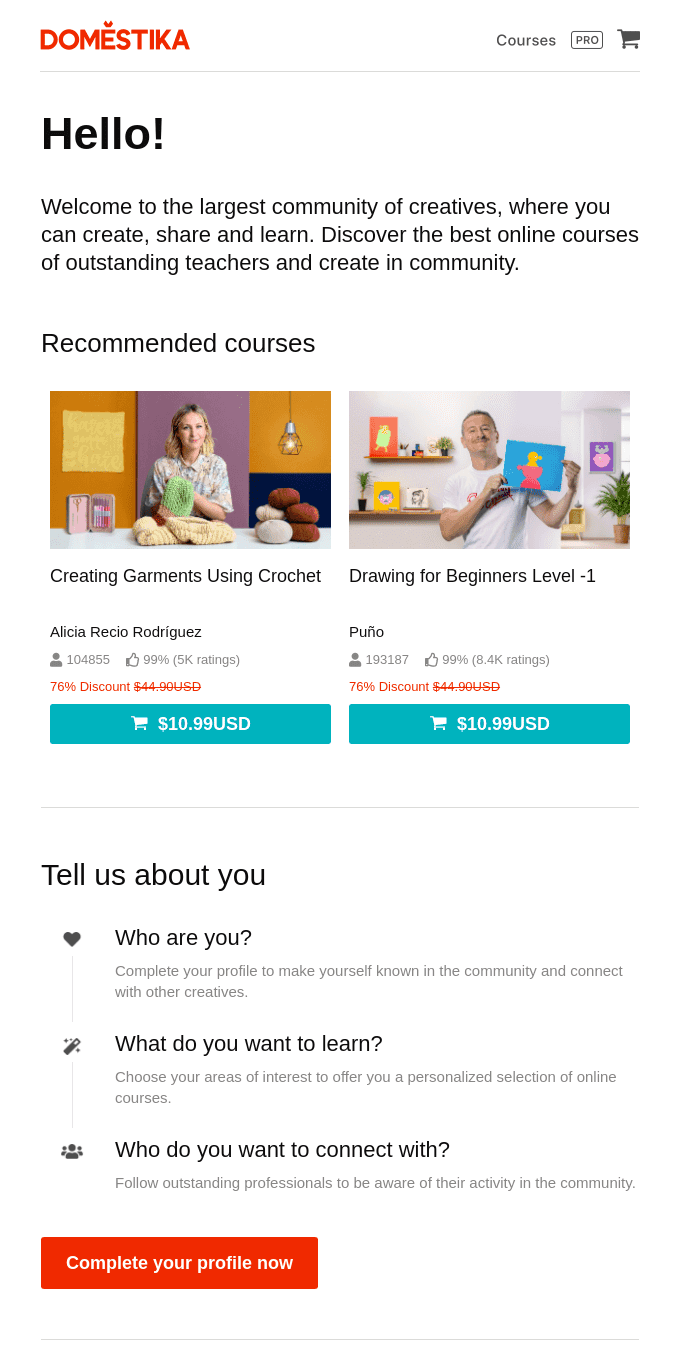 What we like:
We like the product recommendations – it's smart at a time when the user is engaged (at registration) and it looks well done, with the proposal of a promotion.
We also appreciate the buttons at the bottom of the email to download the mobile application.
What we like less:
We are less sure about the "Tell us more about you" part. It's perfectly normal (and even quite good) to ask questions to your subscribers on a regular basis, and to requalify and better segment your contact base in continuity.
However, it is difficult to consider that the welcome email is the right time. It's a bit strange, either you ask questions at registration, or you ask them later. But asking them right after registration, via email, doesn't seem appropriate.
Translation
Hello !
Welcome to the largest creative community, where you can create, share and learn. Discover the best online courses from exceptional teachers and create as a community.
Recommended courses
Creating clothes using crochet / Drawing for beginners level -1
Tell us about yourself
– Who are you?
Complete your profile to get known in the community and connect with other creatives.
– What do you want to learn?
Choose your areas of interest to get a personalized selection of online courses.
– Who do you want to get in touch with?
Follow outstanding professionals to keep up to date with their activities in the community.
Complete your profile now
#7 Start by providing maximum value
Object
: Welcome to Capiche! 🎉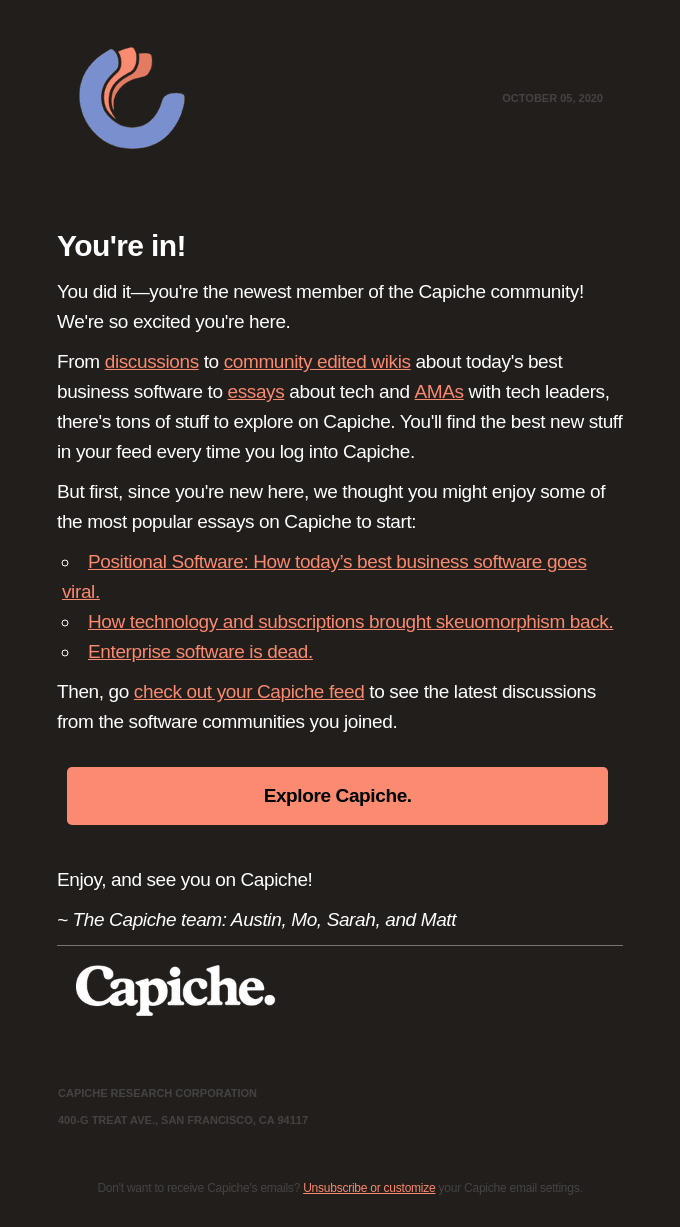 What we like:
The email is very simple and effective. It introduces how it works, the rules of the game and offers 3 of their best articles to show the value of the community to newcomers. The main goal here is probably to bring the user back to the platform for the second time, it is quite clearly expressed and well done.
Translation
Here you are!
You made it, you are the newest member of the Capiche community! We're glad you're here.
From discussions to community-edited wikis on today's best enterprise software, to essays on technology to AMAs with technology leaders, there's tons to explore on Capiche. You'll find the best news in your feed every time you log in to Capiche.
But first, since you're new here, we thought you might enjoy some of the most popular essays on Capiche to get started:
– Positional Software: How today's best enterprise software goes viral.
– How technology and subscriptions brought back skeuomorphism.
– Enterprise software is dead.
Then, check your Capiche feed to see the latest discussions from the software communities you've joined.
Explore Capiche.
Enjoy your reading and see you soon on Capiche!
– The Capiche Team: Austin, Mo, Sarah, and Matt
#8 Keep it simple and authentic
Object
: Greetings From Otherland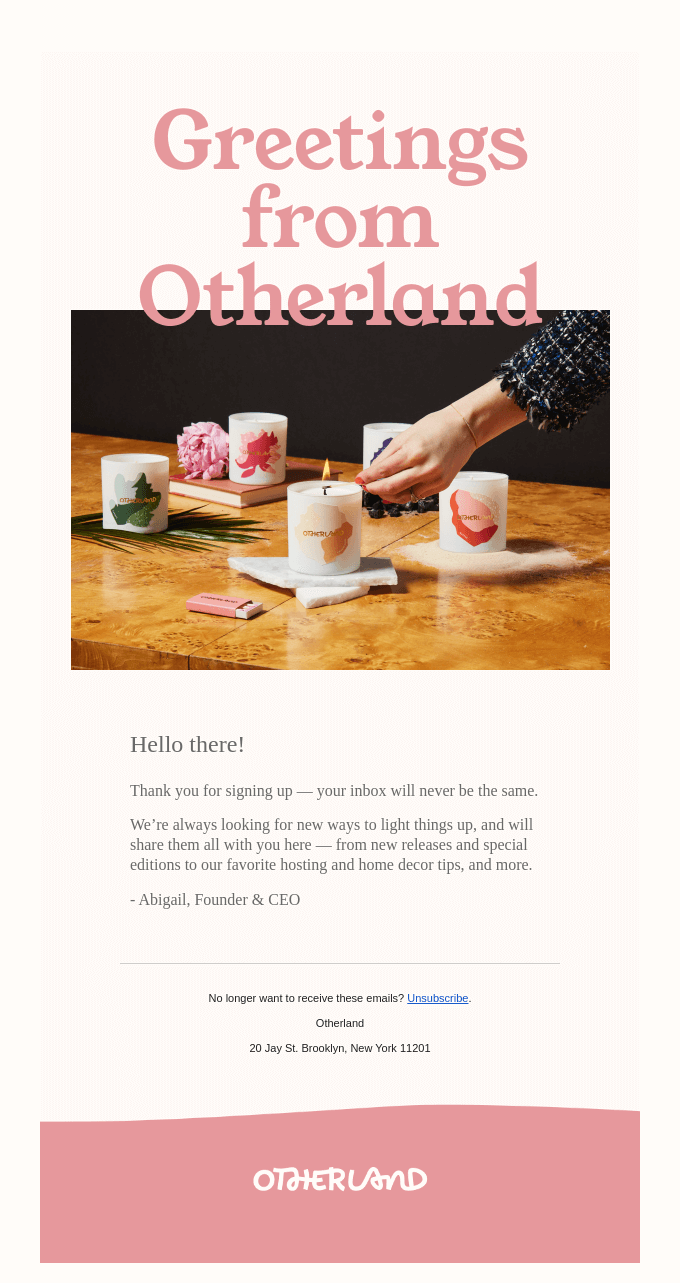 What we like:
It's light but it's pretty well done. The email is signed personally, and reminds in 3 lines what it is about and what to expect.
What we like less:
Even if we can appreciate the simple and effective side, in the end, not much is said. The email could probably have been better used while remaining short and impactful.
Translation
Greetings from Otherland
Hello to all!
Thank you for subscribing, your inbox will never be the same again.
We're always looking for new ways to brighten things up, and we'll share them all with you here – from new releases and special editions to our favorite hospitality and decorating tips, and more.
– Abigail, Founder and Executive Director
#9 Playing with the role of the welcome email
Object
: The welcome email, a largely underestimated potential 👀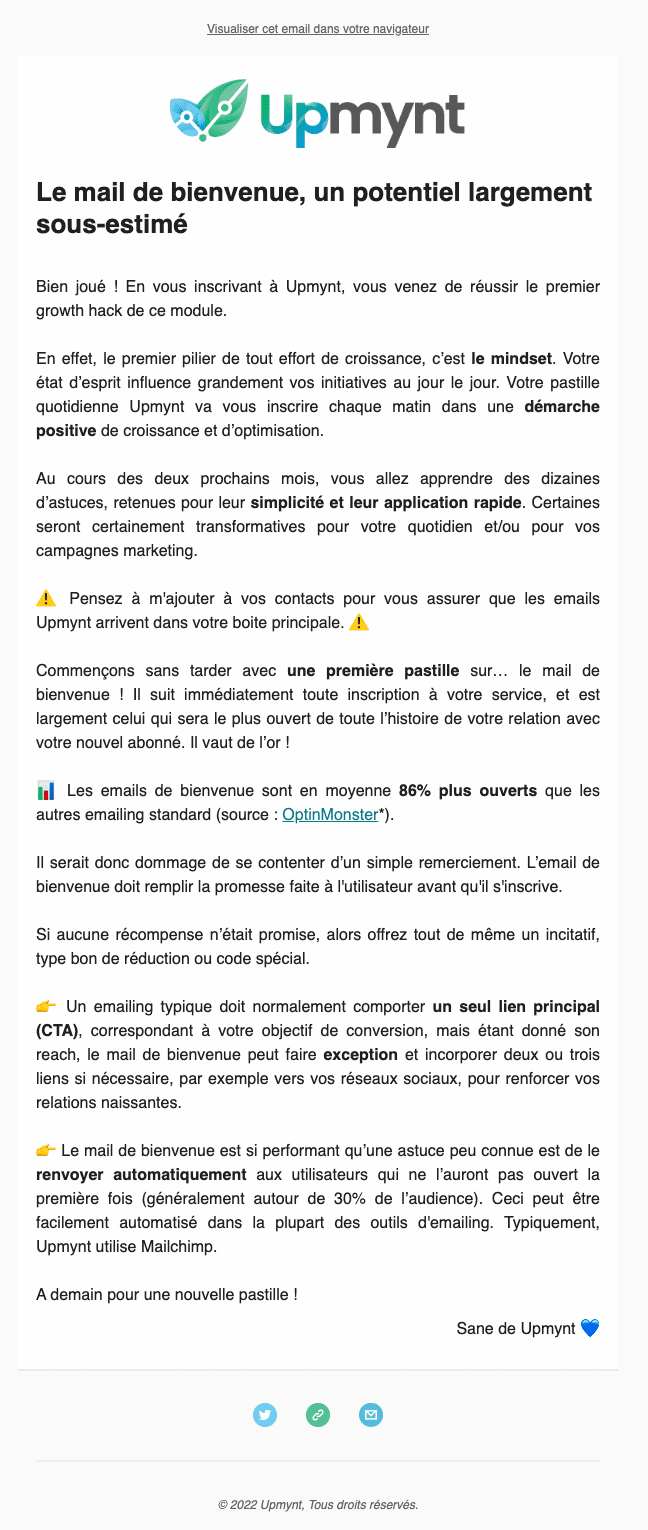 What we like:
This is the meta side of the email that we liked. Instead of sending a simple welcome email, Upmynt sends a welcome email here that explains how and why to make a good welcome email. It's fine and it works.
Translation
The welcome email, a largely underestimated potential
Well done! By registering to Upmynt, you just succeeded in the first growth hack of this module.
Indeed, the first pillar of any growth effort is the mindset. Your state of mind greatly influences your initiatives on a daily basis. Your daily Upmynt tablet will put you in a positive process of growth and optimization every morning.
Over the next two months, you will learn dozens of tips, selected for their simplicity and quick application. Some of them will certainly be transformative for your daily life and/or for your marketing campaigns.
Remember to add me to your contacts to ensure that Upmynt emails arrive in your main mailbox.
Let's start right away with a first bullet point on… the welcome email! It immediately follows any signup to your service, and is by far the most open in the history of your relationship with your new subscriber. It's worth its weight in gold!
Welcome emails are on average 86% more opened than other standard emails (source: OptinMonster*).
It would therefore be a shame to settle for a simple thank you. The welcome email should fulfill the promise made to the user before he/she signed up.
If no reward was promised, then still offer an incentive, such as a coupon or special code.
A typical emailing should normally have only one main link (CTA), corresponding to your conversion goal, but given its reach, the welcome email can be an exception and incorporate two or three links if necessary, for example to your social networks, to strengthen your budding relationships.
The welcome email is so powerful that a little known trick is to automatically resend it to users who did not open it the first time (usually around 30% of the audience). This can be easily automated in most emailing tools. Typically, Upmynt uses Mailchimp.
See you tomorrow for a new tablet!
#10 Take the user to the "Ahah moment"
Object
: Git your deploy on
What we like:
This email plays a bit on words to present a key feature of Heroku: the integration with Git. We won't explain the details here, but this is both the strength of Heroku, and probably the most important part for their new users.
The idea is that once a deployment is done, Heroku is chosen by the user. Showing that it's simple and fast is probably a very effective way to maximize their activation rates.
Translation
Welcome to Heroku, the cloud platform that keeps you focused on building applications, not managing infrastructure.
Learn how Heroku integrates naturally into your development workflow to make deployments fast, easy and elegant.
Git Your Deploy On
Heroku + Git
Heroku makes it easy to deploy with Git. All you need is a git push heroku main.
A deployment workflow that works for you
Heroku offers several ways to deploy applications from the command line, via one-click Heroku buttons, or automatically from download requests in GitHub.
Use the language you like
Deploy your applications written in Node.js, Ruby, Java, PHP, Python, Go and more.
Start
Good deployment,
The Heroku Team
#11 Avoid irrelevant mail, and line up call to actions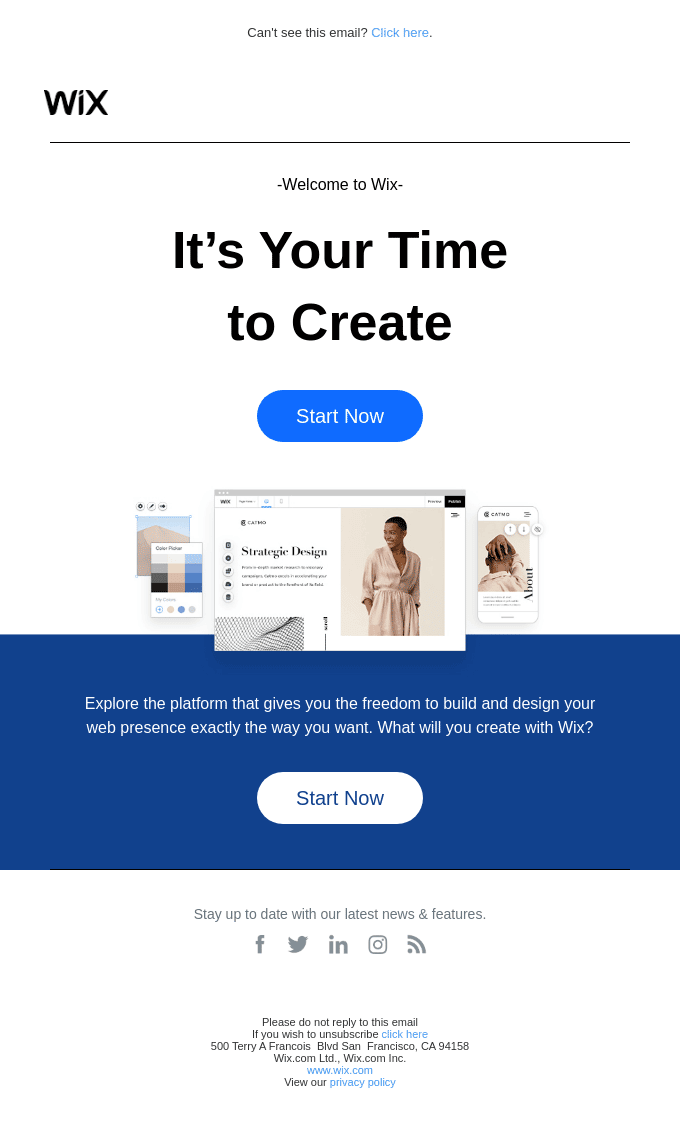 What we like less:
This is the classic case of the welcome email that was only created because someone told someone else to do one. The email has no point. It doesn't provide any information, and simply contains 2 buttons. The "Start now" should not be the call to action of this email.
The welcome email is sent when the account is created, but it is not read at that time. Instead, it is meant to be a reference. You read it on your phone and figure you'll know where to find that information later if you need it.
That said, it's better to have a welcome email no matter what, if only to confirm that an account has been created somewhere. But it needs a little more work.
Translation
Welcome to Wix
It is up to you to create
Explore the platform that gives you the freedom to build and design your web presence exactly the way you want it. What will you create with Wix?
Start now
Object
: Welcome to monday.com 👋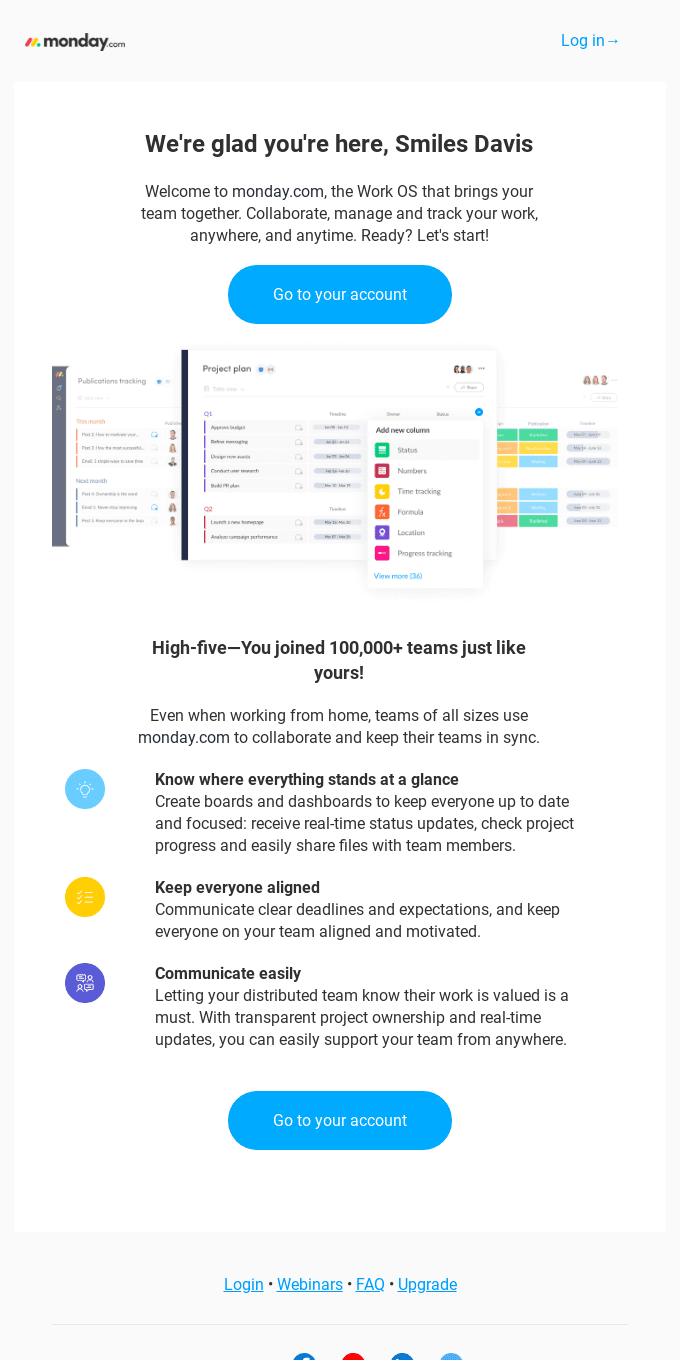 What we like:
The buttons to download the mobile application at the bottom of the email. It's smart. Everyone reads a good part of their emails on their phone, and putting the link every time probably generates a lot more value than the usual links you see in B2B (typically to a Linkedin page that is useless, or a Twitter account that only contains angry tweets from disgruntled customers when the software has problems).
The list of the 3 main value levers of the tool is quite powerful, and especially helps to counter the "buyer's remorse", i.e. the possible regret that a user may have after registering on a software.
The "Login" button at the top right of the email, as on all SaaS pages, is quite nice.
What we like less:
The core of the email is quite poor, and the call to action are also quite poorly chosen here.
We don't appreciate the architecture of the mail, with buttons that are useless towards Facebook & co, just above a huge footer with 2 addresses (and we don't understand too much the interest for the blow).
Translation
We're glad you're here, Smiles Davis
Welcome to monday.com, the work OS that brings your team together. Collaborate, manage and track your work, anywhere, anytime. Ready to go? Let's get started!
Access your account
Congratulations, you have joined over 100,000 teams like yours!
Even when working from home, teams of all sizes use monday.com to collaborate and keep their teams in sync.
Know where things stand at a glance
Create charts and dashboards to keep everyone informed and focused: receive real-time status updates, check project progress, and easily share files with team members.
Keep everyone in sync
Communicate clear deadlines and expectations, and keep everyone on your team aligned and motivated.
Communicate easily
Letting your distributed team know that their work is valued is essential. With transparent project ownership and real-time updates, you can easily support your team from anywhere.
Access your account
What is the role of a welcome email?
The basic idea is to send a short email after someone has shown interest in your organization (for example, by purchasing your product, subscribing to your service or signing up for your newsletter).
But they can be much more than that. By adopting the right methods, the welcome email can become a powerful tool to retain your customers, or to convert a prospect into a lead.
It is a key moment in the construction of the customer relationship, because it allows :
Make the customer feel appreciated: The primary goal is to give your customers or subscribers a warm welcome. It makes them feel appreciated, and it contributes to their positive perception of your brand.
Create expectation: At this point, customers know very little about you. They have the basic information they used to make their purchase, but they know nothing about the user experience you offer. This is your chance to show them what they can expect from your offerings.
Familiarize the customer with your structure and your range of products/services: In connection with the creation of expectation, the welcome email can be a tool to describe your structure, its objectives, its approach…And you can start presenting your range of products and services. The welcome email can serve as a natural showcase of your offer, both for prospects and for leads (newsletter subscribers in particular).
Contribute to the brand's customer experience: As soon as a person has expressed an interest in your structure, the user experience and the customer relationship starts. The welcome email is therefore the first impression of what a regular customer can expect with your product/service.
Make reference for new users: Especially in SaaS where you have a lot of information to pass on to new users. The welcome email can be an opportunity to make a list of 3 or 4 key resources by showing that they are references for the future. This allows you to make the welcome email an email to which you return regularly to familiarize yourself with the tool, and it is very reassuring.
3 tips for writing better welcome emails
#1 Avoid the "Welcome" object that everyone uses
This is a welcome email, but the idea is to go further, for example by focusing the email around one of the roles of the welcome email presented above.
It is necessary to go further than the simple subject of the email. A welcome email will have all the more impact if you ask yourself about its usefulness, about what you want to do with it.
To do this, identify the most structuring friction point for new users, or the point that blocks the majority of your new subscribers, or the question that everyone asks you. The welcome email is an opportunity to answer it, so take it. The Slack, Jira, and Framer emails on this list illustrate this best practice very well.
#2 Recall the benefits and what to expect
The idea is to make your customers want you by telling them what they can expect from you (content and frequency of the newsletter they subscribed to, quality of the service offered, other similar products available…).
It is a matter of explaining your offer to people who are still unfamiliar with it, but also of making them want to go further: subscribe to a paid subscription, make a new purchase. The example of Domestika here illustrates this well.
The welcome email can therefore be the occasion to offer an interesting discount (example of the GoDaddy email), or to propose other advantages that make people want to stay.
#3 Humanize the relationship, from the first email
Personalization is the key to an effective welcome email, it is what increases its conversion, engagement and click-through rates. A generic email can make your recipient feel insignificant, and impact your brand image. Never forget that this is the first step in the relationship with your prospect/customer.
Best practices to remember:
Avoid "

[email protected]

" emails
Always sign the email: either with the name of a member of the communication team or the founder.
Add a photo: To give the feeling of having a real person behind your screen.
Use storytelling: Depending on the context, it can create an emotional link between the recipient and your brand, and thus play in your favor. Why not tell in a few words the reason for the launch of your business, the creation of your newsletter, the new design of your product…
The recipient knows that it's still an automatic e-mail, obviously. But the idea is to make them feel it as little as possible.
#4 Be authentic, and ignore the bullshit rules
You will probably read everywhere that there are rules that cannot be ignored: only one CTA block per email, obligation to introduce yourself, always say thank you… In reality, you don't need anything at all.
The welcome email is the first direct contact with a user, a reader or a customer. You go from a "one to many" model where you send a mass message to more or less fine segments, to a "one to one" model.
This is a very important moment in the customer relationship, and it's easy to see why. By the way, we have presented here some automated emails, sent by brands that have thousands of subscribers. There is no shame in sending a personalized welcome email to each new registrant, on the contrary.
For example, for a while, the founder of Datagma was even sending a Whatsapp message to every new registrant! You can do a lot of copy and pasting so you don't spend all day on it, but a well done email with 1 or 2 relevant and personalized points can be very powerful.
The point here is to remember that you know your clients better than any consultant or blogger on the planet. Make these rules your own in light of your structure and practices, and write only what is important to your clients. Because your clients are not other people's clients.
Reader Interactions