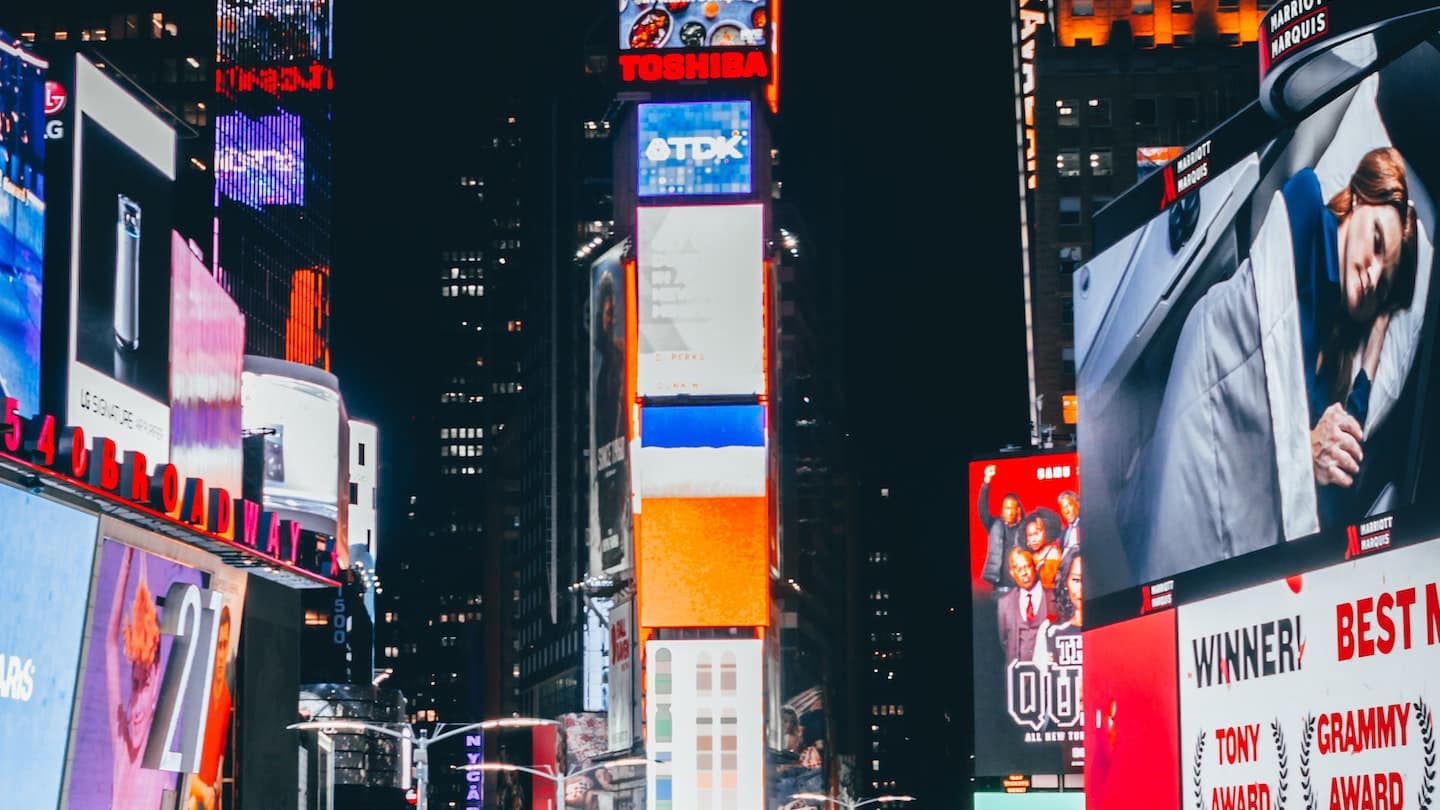 #1 Sendinblue
The reference in Europe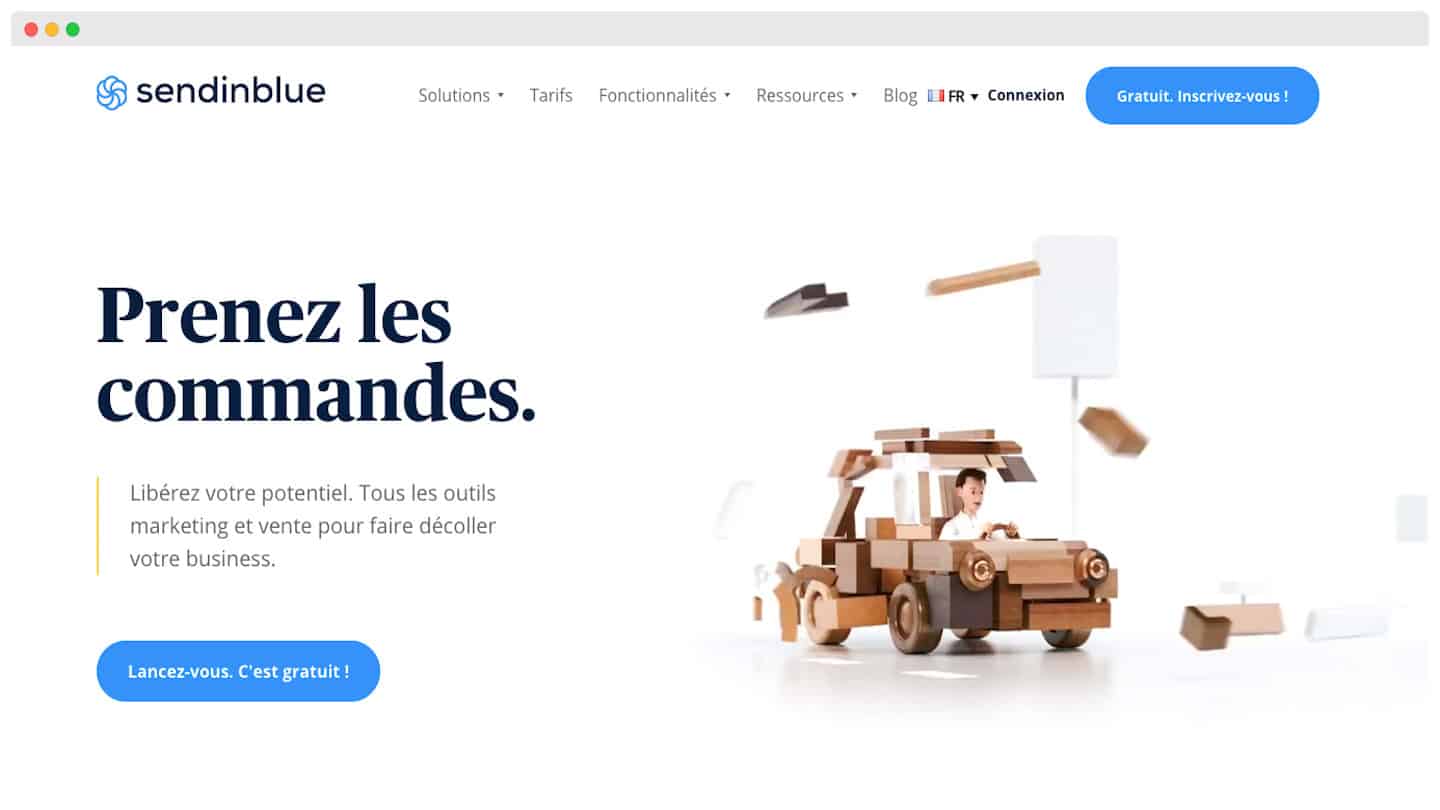 Sendinblue has really established itself as a reference on the European emailing market in recent years. They have quickly built a reputation as one of the best alternatives to Mailchimp on the French market with unbeatable rates, and exemplary customer service, including on their free plan.
With an excellent reputation, a very powerful & scalable marketing automation module, and significant investments since their consecration at the Next40 and a round of financing of more than 100M€ in 2020, the software aims to become the all-in-one marketing solution for all European SMEs.
On the emailing side, the software is very respected. The drag & drop builder is excellent, even if it is a bit complex at first, the reporting is among the best on the market, and the prices remain very competitive despite the explosion of the functional depth: Live chat, WhatsApp, Facebook Ads, commercial CRM, online appointment setting module, advanced reporting for e-commerce, …
We still regret that the integrations are a bit light, and the lead capture tools are far below the market – We use it on this site for example, and it is not uncommon for WordPress to disconnect from the Sendinblue account, which breaks all the forms in production – but we have to admit that we would have a lot of trouble finding another solution given the use we make of it.
Sendinblue's rates
In a nutshell, the free plan allows you to send up to 300 emails per day. So if you are looking for a newsletter tool, count on 300 contacts (actual, excluding blacklists etc.) on the free plan. It's not huge, but it's better than most "free fake plans" that charge for all your blacklisted, unsubscribed, etc. contacts.
But it is on the paid plans that Sendinblue makes the difference:
The Lite plan allows you to send 10 000 emails per month for 19€ / month. That's 4 campaigns with 2500 contacts, or two campaigns with 5000 contacts. You can increase your email limit for a few dozen extra dollars per month.
Above all, you can access one of the best "mainstream" marketing automation tools for 49€ / month, with up to 20 000 emails / month.
Try Sendinblue for free
The tool is available for free with up to 300 emails per day
#2 ActiveCampaign
The leader in self-service marketing automation in the United States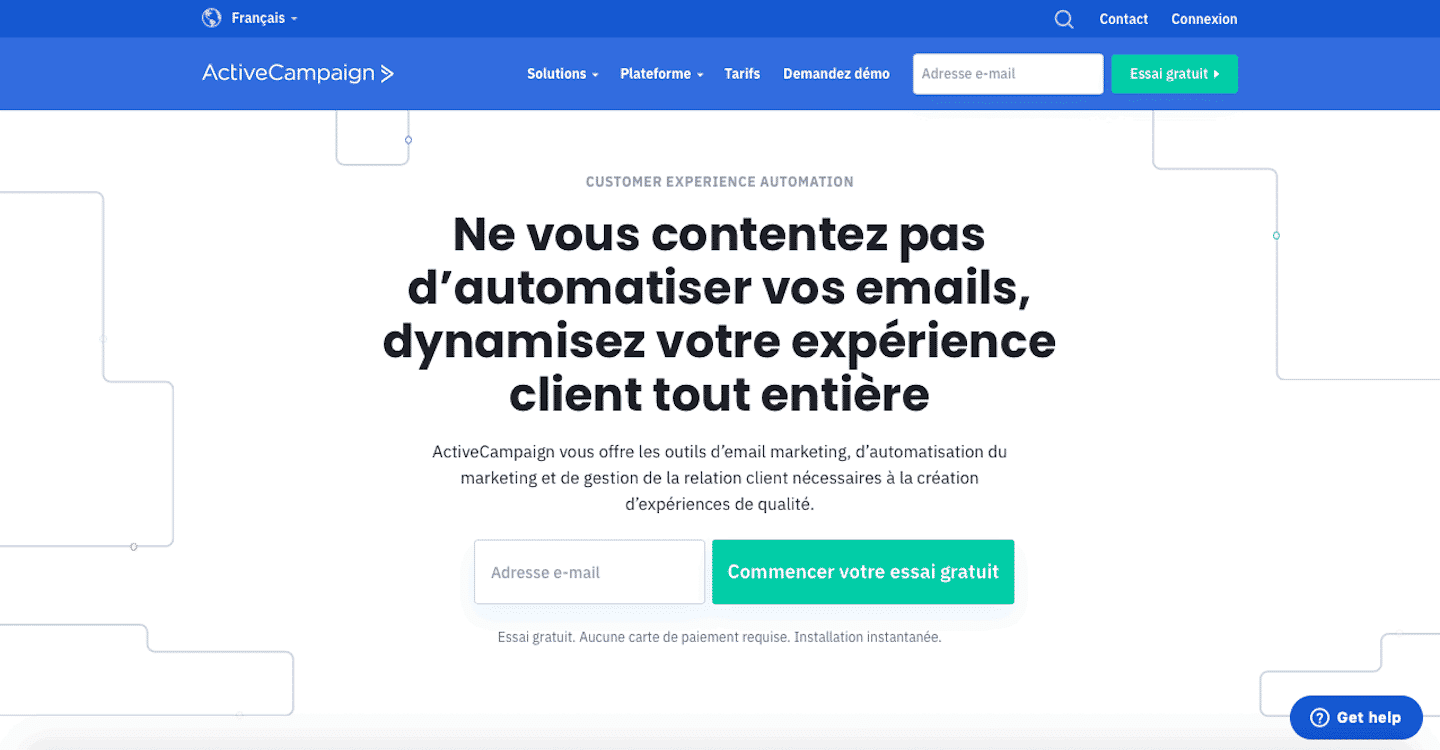 ActiveCampaign is an American solution, and proud of it. Again, this is clearly one of the winners of the 2010s race with a huge fundraising round in 2021, and a very deep, affordable product that has a great reputation, especially in the US.
The problem is that they are a bit stuck between a light and simple use for which the interface is frankly too heavy, and a more advanced use, but for which the software does not really go far enough functionally.
Many agencies appreciate the capabilities of the tool, and it's true that once you get the hang of it, it's very effective. For a simple newsletter, it's a bit too much (and too expensive), but it's probably one of the closest to the ideal of an all-in-one marketing & sales software for small businesses.
ActiveCampaign pricing
This is where it stings a little. There is no free plan, but on the other hand the entrance fees are very interesting. You can access all the automation features from $15/month, with 500 contacts… In other words, this rate does not last very long.
And the curve is a bit steep. From 1000 contacts, you go to $39 / month, then $67 / month for 2500 contacts, and $99 / month for 5000 contacts. All this on the Lite plan.
If you want to add popups, landing pages, and live chat (and a lot of other features, admittedly), you're looking at $262 / month.
In short, if you plan to rely heavily on the software to generate revenue, it can be a good solution, and it's definitely worth a try. But if you're looking for a tool to start doing a little emailing, set up a newsletter, or hook up an e-commerce site that's just getting started, look to solutions like Sendinblue, MailerLite, or Drip.
Try ActiveCampaign for 14 days
Activecampaign offers a free trial with full access to the software for 14 days
#3 MailerLite
The European newsletter software that is on the rise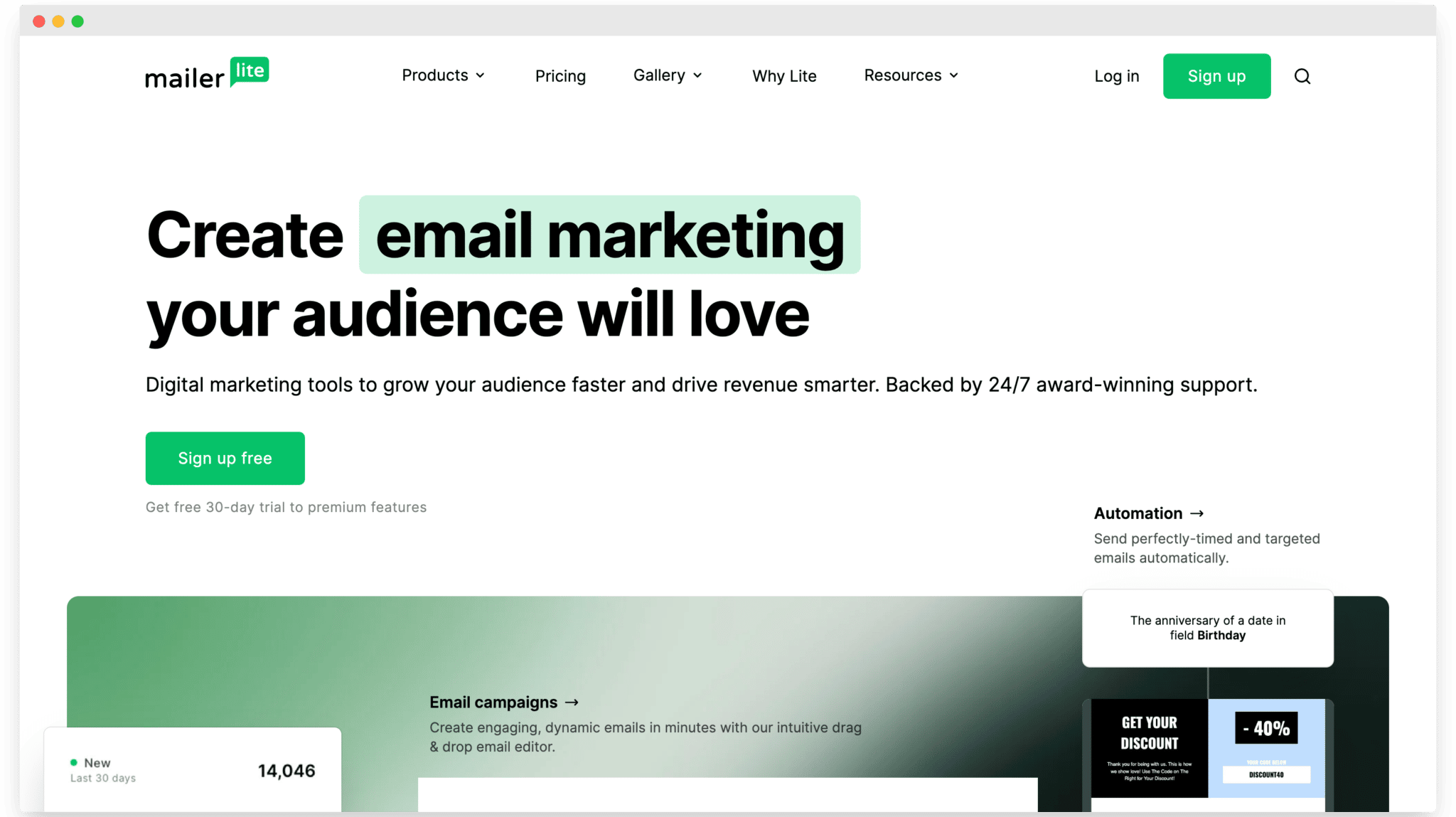 MailerLite is a European solution, with an excellent reputation among inboxes in Europe, which manages its customers' data (…) in an exemplary manner. What we appreciate most is that the software includes a lot of best practices and content to help its clients achieve results without taking risks. It is very much assumed, since their templates are only available in the paid plans.
This is a great solution for those who want to start or take their emailing to the next level. The limit to all this is the automation engine, which remains very light. Functionally MailerLite only supports email, so no SMS, WhatsApp, etc.
If we are honest, all this is a bit gimmicky for the vast majority of the readers of this article, but we can't ignore the fact that the software goes much less far.
MailerLite prices
Overall, MailerLite is one of the most cost-effective solutions available. The free plan allows you to have up to 1000 contacts and send up to 12 000 emails / month. For 5000 contacts, with access to all features (A/B test, reporting, templates, …), count 35€ / month.
Try the free MailerLite plan
MailerLite offers a free plan for up to 1000 contacts
#4 Moosend
For newsletters and simple email campaigns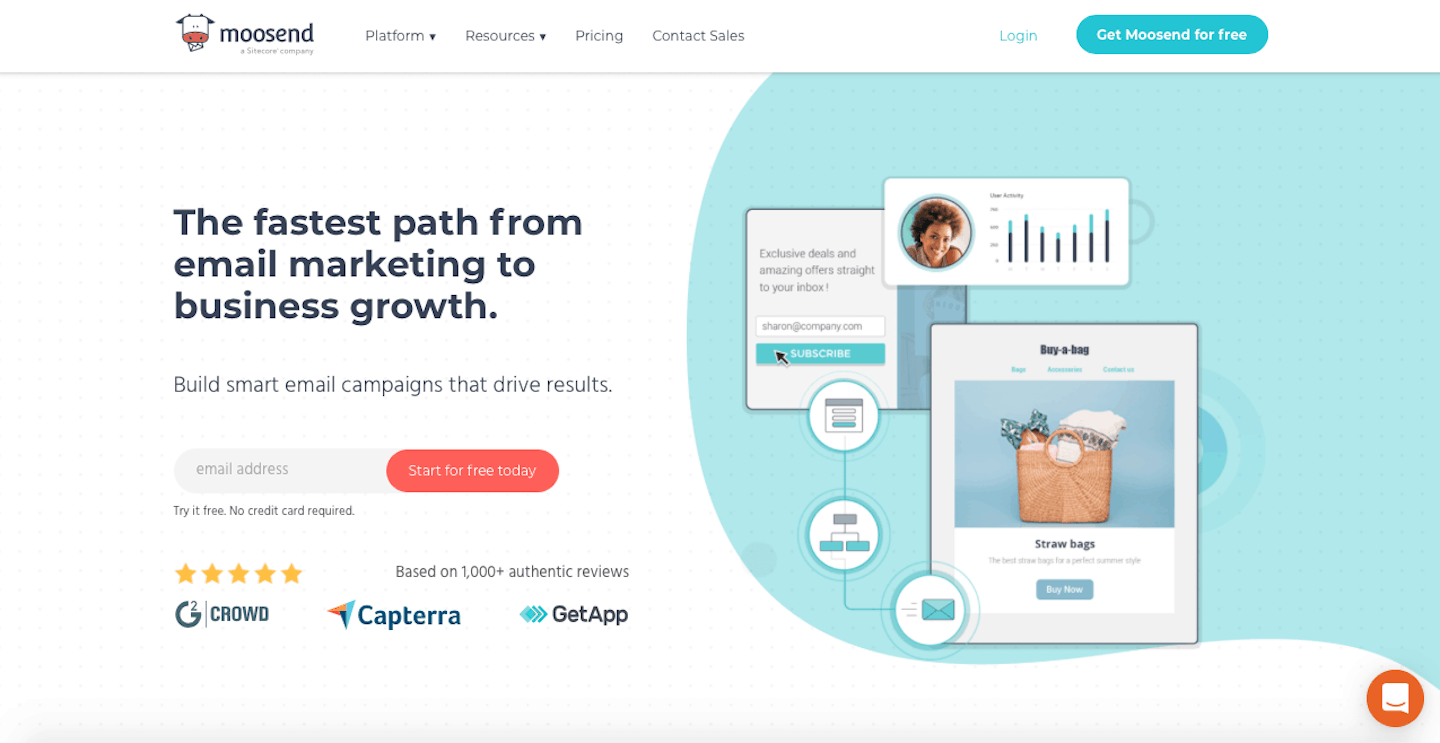 Moosend is a pure newsletter software that started in 2012. The company was acquired in 2021 by Sitecore, a software giant. Like all the others, they are starting to enter the marketing automation software market, but we have selected it mainly for the "Campaigns" use.
The interface is super easy to access, and a bit like MailerLite they managed to focus on the elements that make a successful email marketing strategy.
The software has a great reputation, and they have come a long way in the last few years.
Moosend's prices
The software no longer offers a free plan today, but a 30-day free trial instead. The prices are very simple with a single plan, which contains all the features. The only variable to determine the price is the number of contacts:
Count $9 / month up to 500 contacts
For 2500 contacts, $32 / month
For 5000 contacts, $48 / month
Try Moosend for 30 days
MailerLite offers a free 30-day trial with access to all features
#5 Converkit
For content creators and bloggers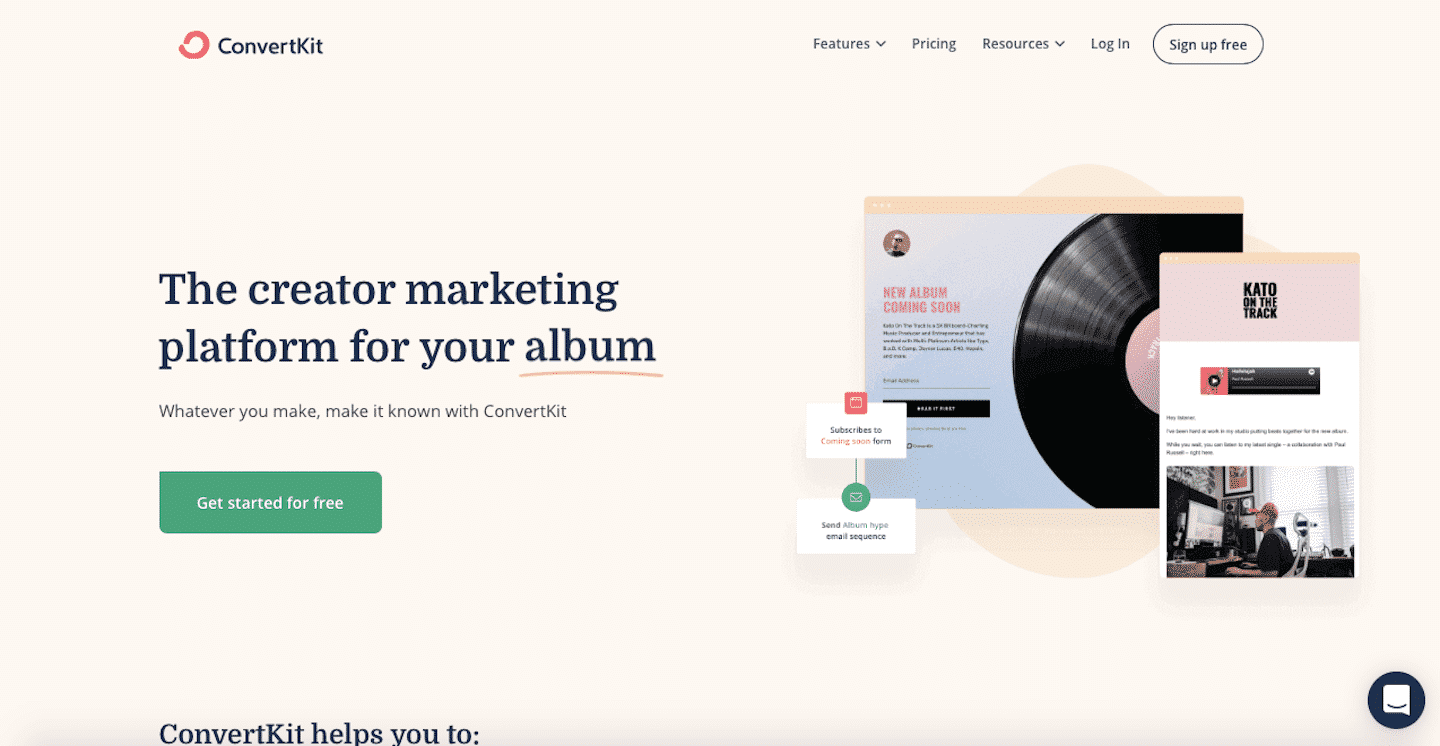 Convertkit is an email marketing solution designed for "creators". If you recognize yourself behind this word, it's worth a look. And if not, the idea of the platform is that it allows those who work in the creative industries to communicate, to sell digital products – training, written content, video, audio, etc. – and build a community. It is very powerful, and the software is highly appreciated by its customers.
To be noted
For this kind of use, we're a big fan of Substack, a free emailing software that allows you to build and monetize a newsletter with a disconcerting ease. Why free? Because they take 10% off paid newsletter subscriptions. It may seem high after a certain point, but at first it's a real no-brainer.
But functionally it's a bit light. You can only send emails in text format. According to them, it allows them to focus on the substance rather than the form. Okay, but we can do both. In terms of automation, it's very light, and they do have some solid features like automated RSS campaigns, but most of the software in this top list support this kind of thing, in addition to many other things.
Overall, it is a software that has found its niche, and works well. We recommend it to those who want to focus on creating a personal newsletter or building a community with the hope of turning it into a business. But in a more traditional B2B setting, there are rather more interesting alternatives.
Convertkit prices
This is the big flaw of Converkit. It's very expensive for what it is. The free plan is quite generous with up to 1000 contacts, but as soon as you go beyond that, it flies away very quickly. 49 / month for 2500 contacts, $79 up to 5000 contacts, $119 up to 10 000 contacts… It's about in line with ActiveCampaign, and much more expensive than Sendinblue, but the software doesn't allow half of what those programs allow.
Try Convertkit for free
Convertkit offers a comprehensive free trial with up to 1,000 contacts to familiarize yourself with the tool and get started quickly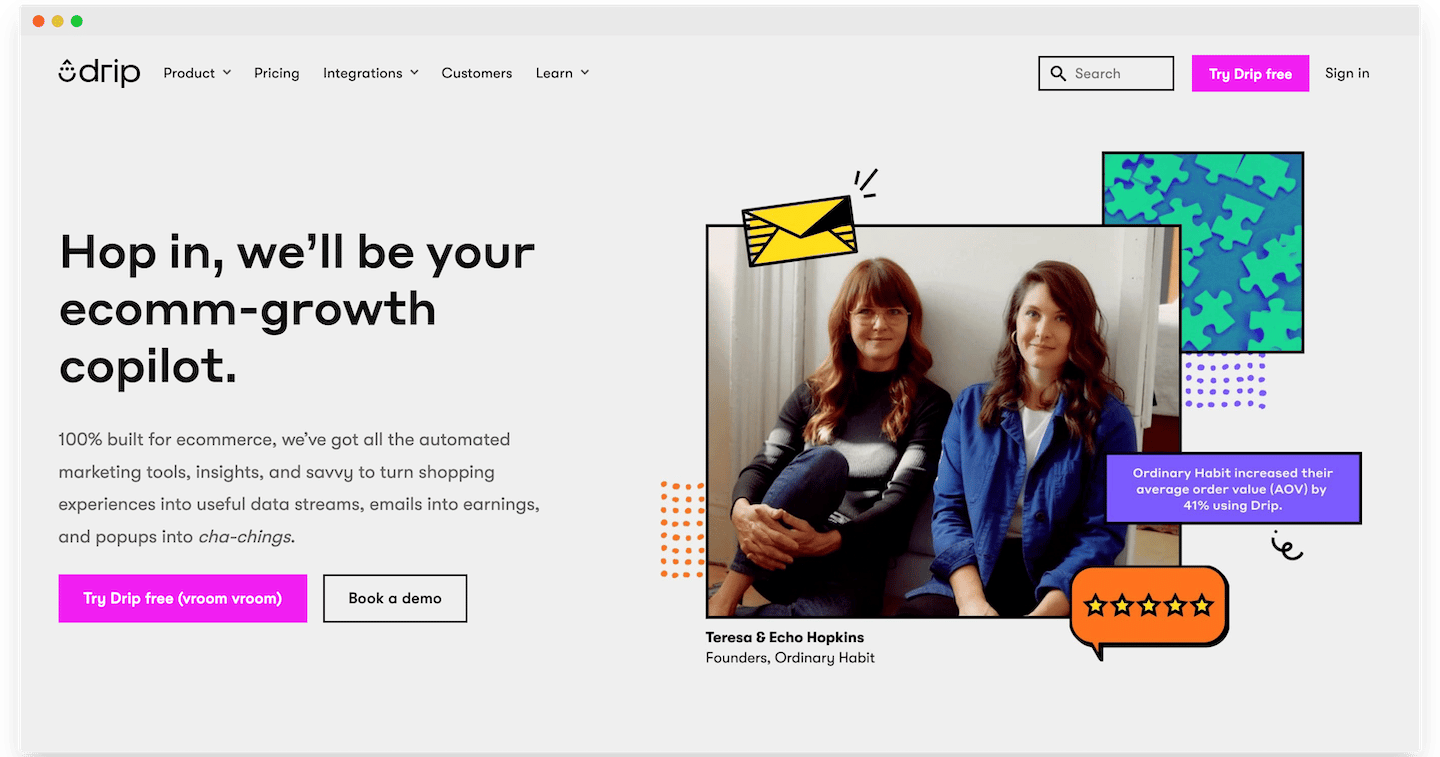 Drip is a bit of a cheap and easy Klaviyo. The interface is excellent, it's quite powerful, and everything is wired for e-commerce. If you are looking for a software to put on an e-commerce site it is really not bad.
The email builder is a bit light, and the support (in English only) is not very reputable. Other than that, it's definitely an option to consider if you want to equip an e-commerce site that makes less than 1M in sales.
In terms of pricing, it's more or less in line with Convertkit (with a real marketing automation module) but it goes up a little faster, in increments of 500 contacts. Like Moosend, they have a unique plan. 39 / month up to 2500 contacts, $89 / month for 5000 contacts, $154 for 10 000 contacts.
Try Drip for 14 days
You can try Drip for free for 14 days, without a credit card
#7 Plezi One
Plezi's self-service suite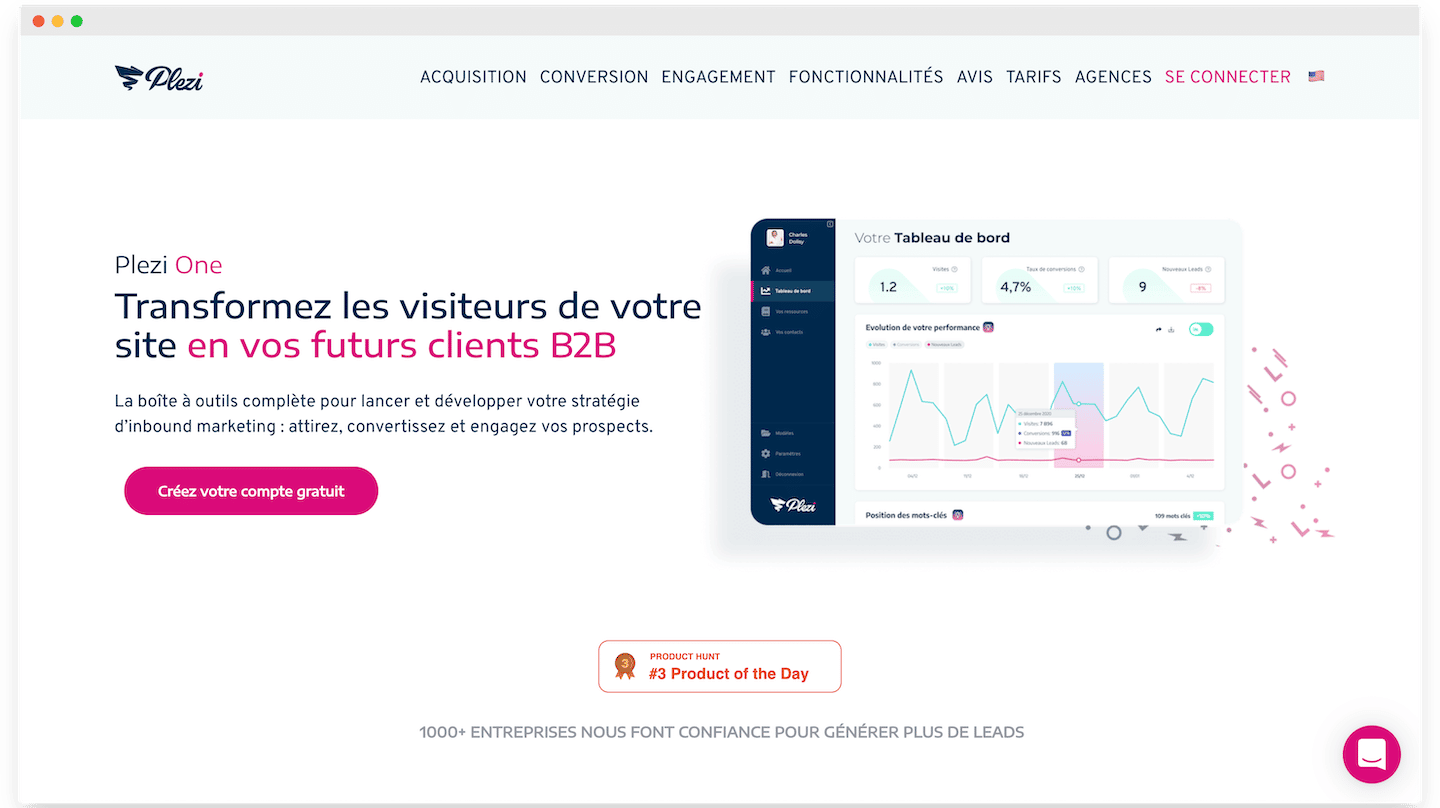 For those who don't know, Plezi is a pretty strong mid-market marketing automation software. They are based in Paris, and it's all in the title: B2B marketing automation software for busy marketers. The tool is super comprehensive and allows marketing teams to focus on what really works. If you are looking for a true marketing automation software, it deserves its place in your benchmark.
But we are talking about Plezi One. This is the self-service tool from the same team, which follows the same approach. It's very content marketing oriented: the resources (downloadable) are at the heart of the tool. The tool manages to reconcile web browsing data, CRM data, and SEO data (Search console) in a very clear and action and performance oriented interface.
More than a tool, it is a lot of good practices and methods that are embedded in the experience. The free plan is very generous and really allows all B2B entrepreneurs to set up an inbound marketing strategy, and especially to get leads and revenue from it.
There is a free version that allows you to set up a real serious reporting on content marketing campaigns. If you don't have anything in place on this subject, it's definitely worth a try.
Then, they offer a premium version at 39€ / month which opens the access to sending email campaigns. No real marketing automation engine yet, but you can set up smart sequences after downloading a resource, which is pretty much what you would do with a more complicated tool.
It is really a beautiful tool, made in France, which deserves the detour.
Try Plezi One for free
Plezi One's free plan makes it much easier to understand your content marketing. And the premium plan at 39€ / month allows you to add email sending capabilities
#8 Hubspot
The leader in inbound marketing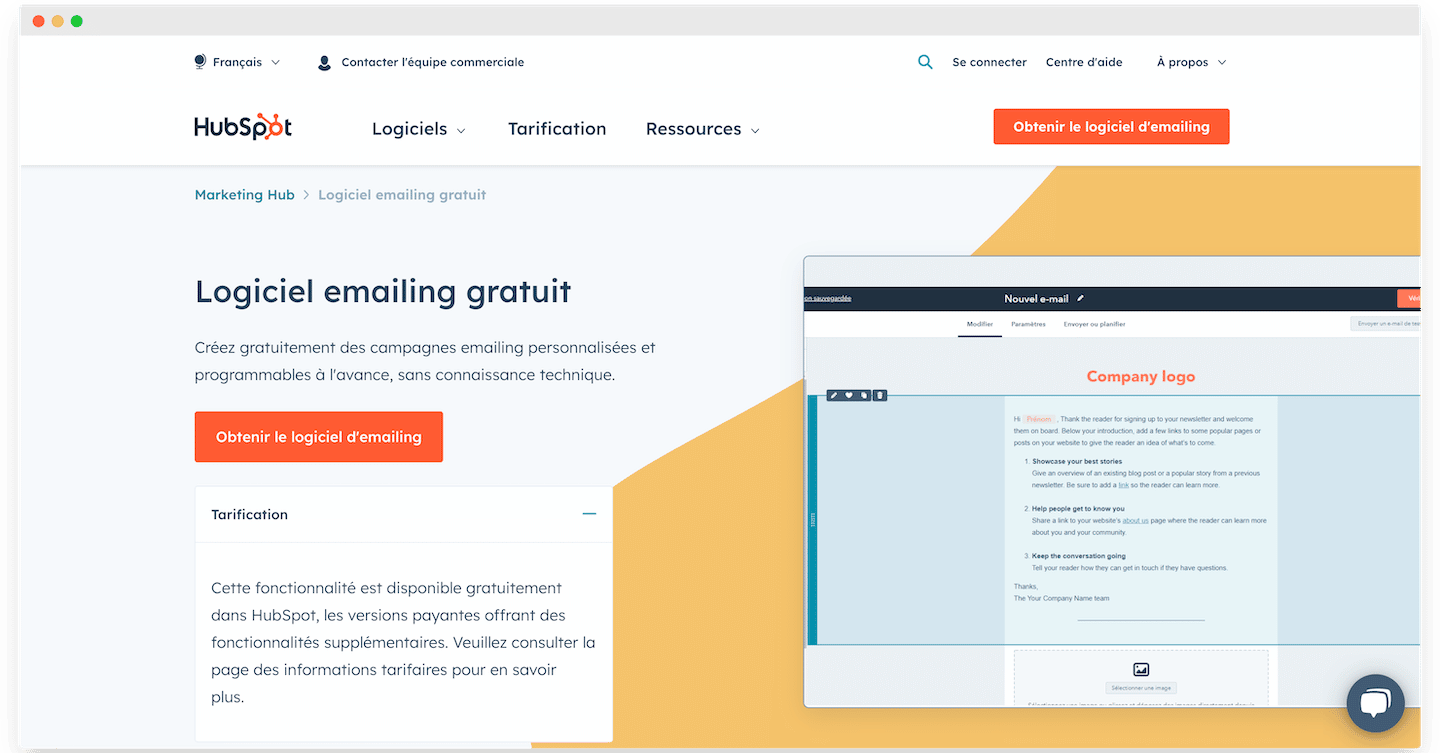 We've been wondering whether or not to include Hubspot in this comparison. Much too heavy, much too complicated, and finally not so efficient. The email builder is average at best, the contact management, … complicated, and if you want to set up basic newsletter forms, hang on.
Hubspot to do basic emailing, clearly it's a big no.
Unless.
Unless you're planning your growth with Hubspot. Whether you're already well established or not, Hubspot is just monstrous in terms of possibilities – that's one of the reasons it's so popular with digital marketing agencies.
Putting all your customer data in one place generates a lot of value in B2B. Commercial CRM, marketing automation, website, etc. If you put everything at Hubspot, the bill is going to be steep, but that's where you'll find the best ROI. Without that, you'll be on your way.
Try Hubspot Email Marketing
Hubspot's free plan will allow you to send up to 2000 emails / month, but after that, it stings
#9 Zoho Campaigns
The best rates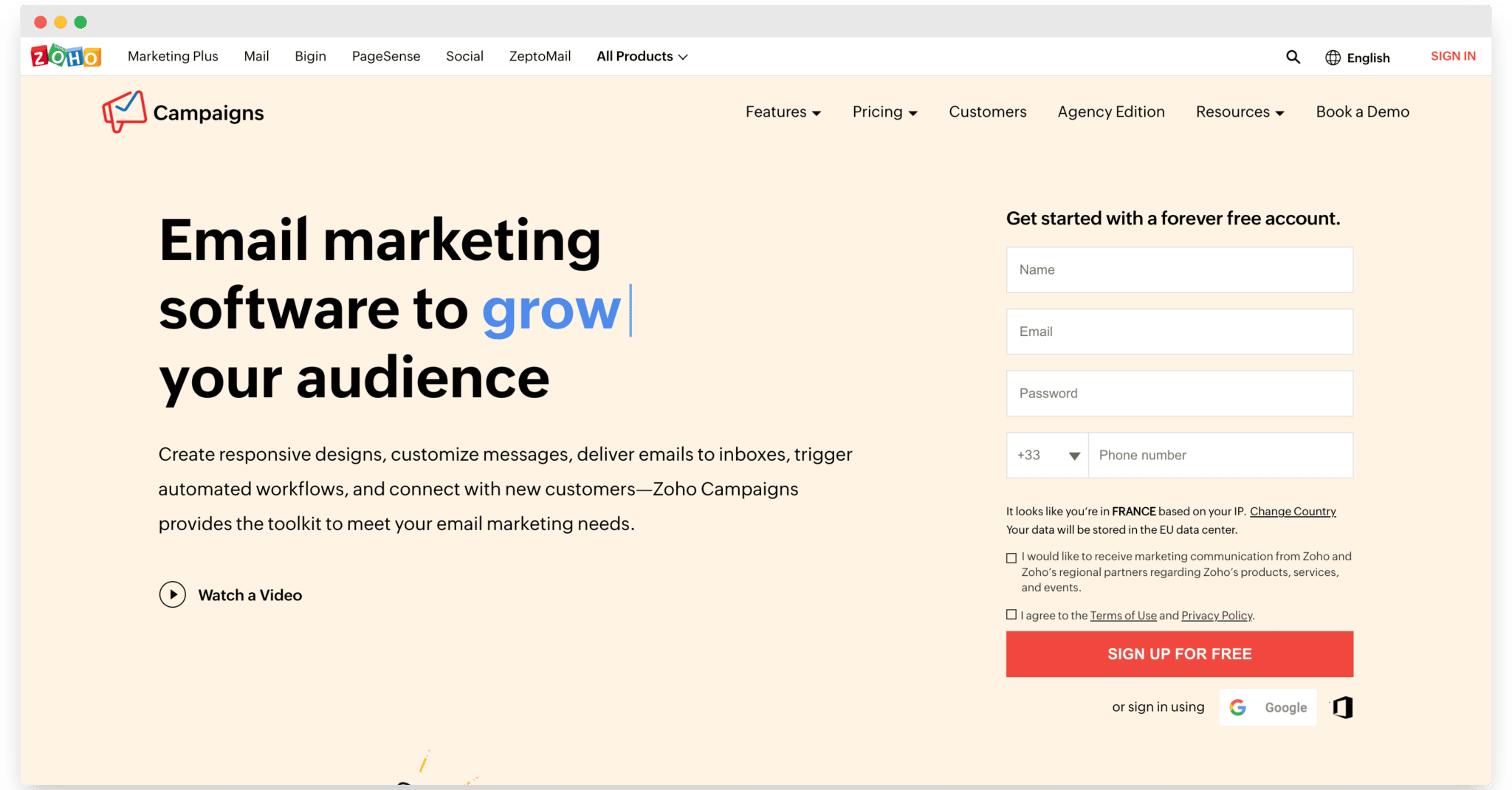 Zoho has somewhat built a reputation for affordable products that work well, but with a somewhat arduous experience. And to be honest it's a bit unfair, they've been working a lot on UX for a few years, and overall it's pretty much in line with the market.
The tool is not as easy to use as others, it's not as polished, sometimes you have to search a bit to find out how to do something, but on the whole it works well, and the prices have remained very interesting. The tool also benefits from a great reputation and deliverability in Europe and worldwide.
On the price side, it's free up to 2000 contacts which makes it one of the most generous free plans on the market. To access more advanced segmentation or automation features, it starts at … 4€ / month (only 500 contacts). For 2000 contacts, count 17€ / month, 31€ for 5000 contacts, 49€ for 10 000 contacts…
If you know what you're doing and you want value for your money, you can't beat it.
Try Zoho Campaigns
Zoho campaigns' free plan is one of the most generous on the market, with 2000 contacts
#10 Sarbacane
Support and premium service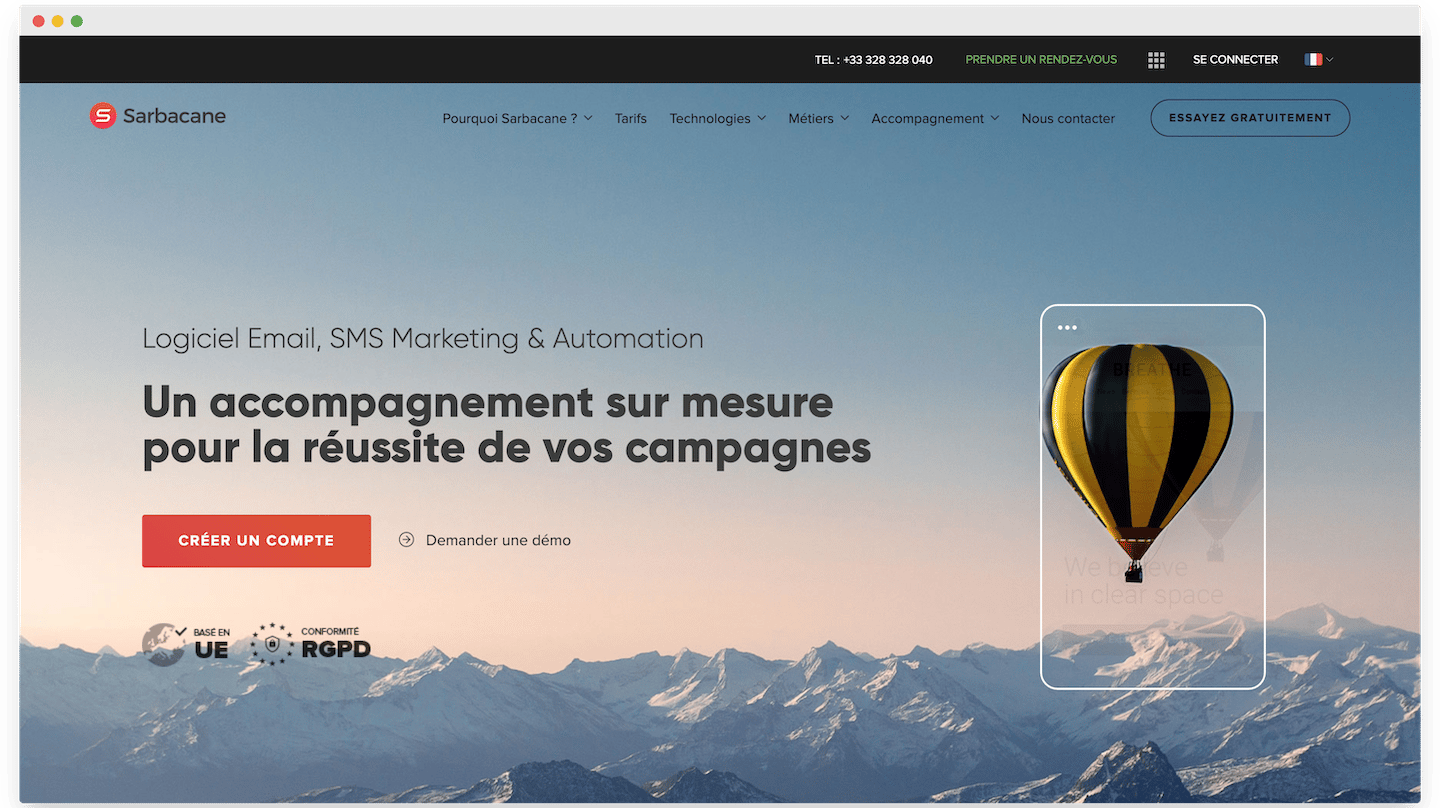 Sarbacane is the exact opposite of Zoho Campaigns. If you're not sure where you're going, if RGPD, personal data, emailing, opt-in, and marketing automation are boring or scary to you, this is an interesting solution.
Made in France, they bought the Datananas prospecting tool a few years ago, and they are also in the process of a build-up. But above all, they bring an important layer of services, webinars in French, a lot of educational content, etc.
They have been in the emailing market for a long time, and have a good reputation in France.
But service comes at a price! They offer a free 30-day trial during which they will contact you to show you the software, the possibilities, and guide you towards your first campaign. Then, count 89€ / month to send 5000 emails, 169€ for 25 000 emails. If you have a very low marketing pressure, it remains affordable, but as soon as you consider 3 or 4 emails per month and per contact it becomes quickly quite expensive.
At the same time, if you're not leveraging email marketing today, it's clearly worth starting, and their tips will help you get going in the right direction.
Try Sarbacane
You can try Sarbacane for free for 30 days