You've probably been in this situation: you post some content on Linkedin and then nothing… You only get a few likes and 2 comments. Don't get discouraged! Even the most popular LinkedIn influencers have been there. What are the important points to follow when writing viral LinkedIn posts? We tell you everything in this article and especially share relevant examples to inspire you 🙂
How to make a LinkedIn post go viral?
Giving value & being honest
LinkedIn is a professional network, so sharing value and expertise is essential. Experts on the platform like Neil Patel understand this and publish their best advice, case studies and value-added articles.
Rest assured, you don't have to be a recognized guru to share your expertise. We all have knowledge in our own way that may be of interest to an audience.
As with all social networks, emotion drives virality and engagement. So don't be afraid to share your mistakes, give your opinion, be confrontational, start debates. No matter what you're talking about, be sharp in your posts to engage your audience!
Josh Fetcher, a marketer, has amassed over 200 million views with simple text-based posts that speak authentically about his experiences.
Salesdorado's advice
Don't create content, document what you do. Talk about your professional experiences, describe your daily work, this is an approach that is simpler to implement and by definition produces exclusive content.
Choosing the right format
You probably know the marketing adage "the right message, at the right time, in the right place". For Linkedin, you have to add "in the right format".
Adapt your posts for smartphones
First, think of your content for mobile. 57% of LinkedIn users access the platform from their mobile devices(Source). The goal is to make your posts easier to read on a smartphone.
Here are some tips:
Skip lines between sentences
Keep it as simple as possible
Use the active form
Évitez au maximum les « il y a », « il faut »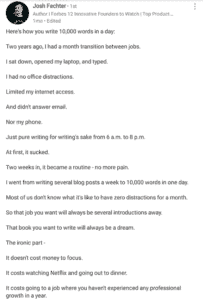 This is what your post should look like!
Make only your catchphrase visible
On Linkedin, only the first 2 sentences are displayed on the news feed. In other words, you need to grab your reader's attention immediately so that they click on "see more".
Use the "hidden text" technique: you write a single catchy sentence and then skip several lines so that only this one is displayed in the feed, as in the example below:

Lacking inspiration? Republish someone else's content
There are no restrictions on using someone else's content on LinkedIn, if you're not inspired, you can always spot a post that has generated a lot of engagement in your field and then publish it sharing your genuine opinion and of course quoting the original author.
As Josh Fechter points out in his book "The Bamf Bible" it is not uncommon for posts using the same content to go viral on LinkedIn simultaneously! By using relevant content, quoting the author but ESPECIALLY adding your authentic point of view on the subject, your posts can go viral.
Fostering engagement
Engagement is the lifeblood of Linkedin, the more engagement you get the more visible your post will be.
If excellent copywriting is the basis, there are some complementary good practices:
Post your link as the first comment and not in your post
Like all social networks, Linkedin wants you to spend as much time as possible on its platform. Tests have been carried out and the verdict is clear: the reach of your post is limited when you insert a link within the text itself. Why is this? LinkedIn does not want its users to leave the platform via this external link.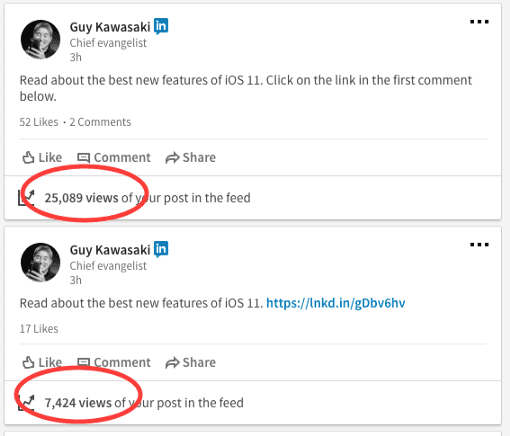 The same post, with the link in the commentary at the top, gets much better results(Source)
Offer something in exchange for a comment
This is probably the type of post that currently works best. It's simply the Linkedin version of the lead magnet principle. Make sure you offer a "compelling" resource that is as useful and concrete as possible.
Comments are much more favoured by LinkedIn's algorithm than "likes", so the objective of this approach is to encourage comments through the sharing of an exclusive study, a new turnkey method, a tutorial video… Once again, it's about bringing value to your audience.
Use LinkedIn pods
On LinkedIn, engagement (likes and comments) is paramount within 30 minutes to an hour of publishing your post. There are tools that can be likened to support groups, where members from the same field of activity commit to liking and commenting on each other's posts in order to encourage this "initial" engagement.
These LinkedIn pods can be manual, via Facebook groups or Slack, or automated like Podawaa or Lempod. Be careful though, if LinkedIn pods work and allow you to increase the reach of your posts, they don't absolve you from writing relevant posts, in the right format and that bring value to your audience!
Salesdorado's advice
How do you choose between manual and automatic pods, what are the rules to respect in order to use the potential of LinkedIn pods? Find all this information in our complete guide on LinkedIn pods.
Reply to all comments
The comment is the main signal of engagement in the eyes of Linkedin. So remember to respond as quickly as possible to all interactions. Respond by asking the commenter a question and identifying them. This way, you extend the conversation.
Identify influential people
Do not hesitate to do so if it is consistent. This will give you extra visibility and put you on the radar of a specialist in your field.
Publish at the right time and frequency
According to Socialpilot, which has synthesised the work of several specialised agencies, it is recommended to favour the following time slots
Working hours, 10am to 6pm – Interaction with LinkedIn was observed in the first half of working hours, when people browse the network for new research, opinions, inspiration, before getting on with their own work.
Office commute times, 7-9am and 6-8pm – Not surprisingly, people check their LinkedIn news feed when they go to work early in the morning or when they finish their work day on the way home.
Please note that this is not a definitive answer, but an indication. The best thing to do is to test different time slots and see what works for you.
400
Regardless of the social network, consistency is key to being part of the community, which means that :
You post regularly and engage with participants in the comments: Set yourself posting targets. 1, 2 or 3 posts per week, start with a goal you can keep.
You must participate in other people's conversations if you want them to participate in your discussions. So like and comment, and be real.
Even if you don't post very often, keep commenting on publications, always being as authentic as possible!
Tracking stats to understand the impact of your posts and the reactions of your audience
To assess the impact and effectiveness of your posts, it is essential to check the statistics. For a detailed view of your numbers, view your post and then click on the link at the bottom "views of your post in the feed". This will give you data on who has viewed your content: the company, the job title and their location.
This data is crucial, as it allows you to assess whether certain messages are reaching your target audience and to learn from your most successful messages in order to create new ones.
Two questions are important to analyse the performance of your posts:
Which messages get the most views?
What messages reach your target audience(s)?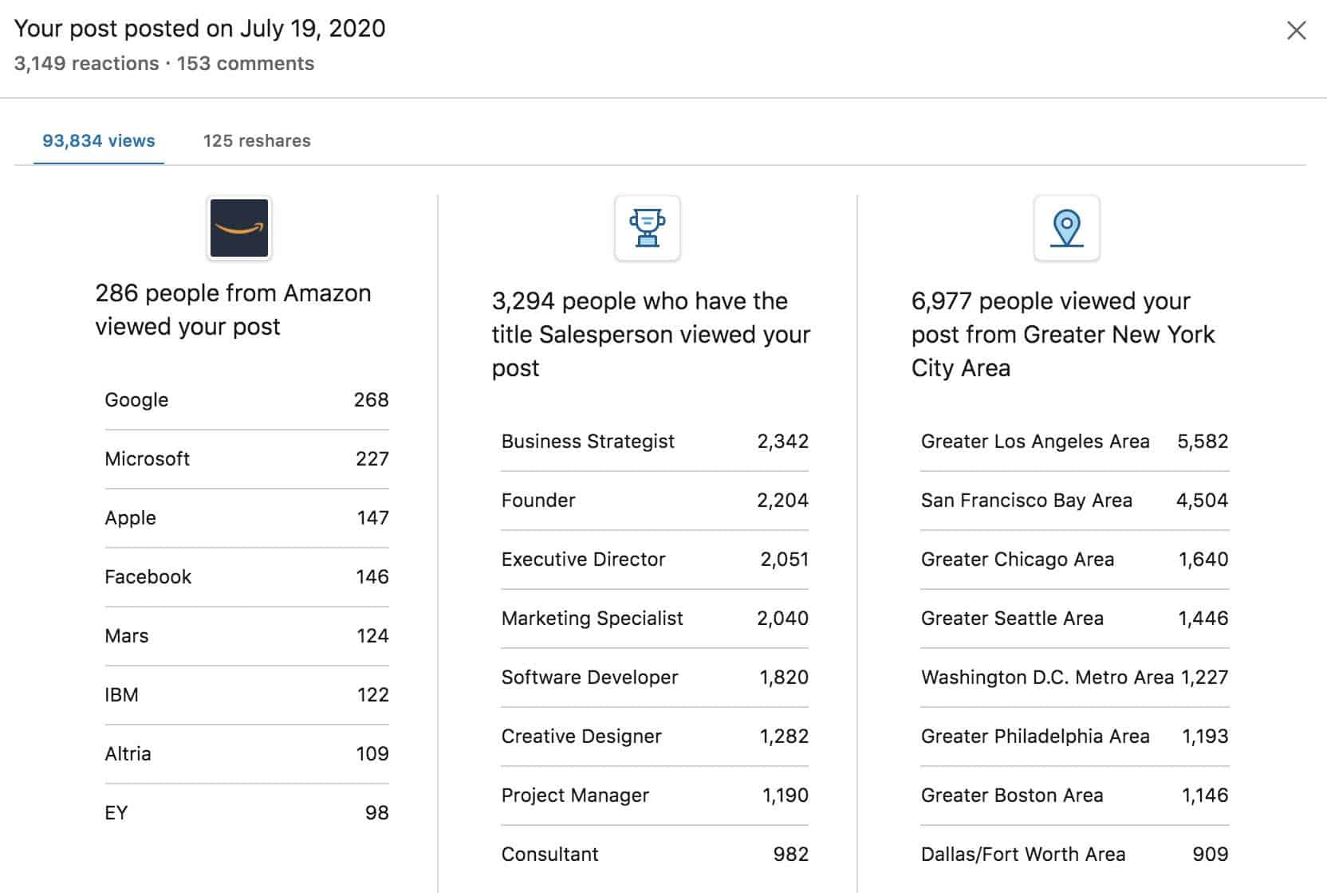 The above figures are linked to a post by Jess Barron that went viral with over 100,000 views! This particular post has been seen by hundreds of employees from Amazon, Google, Microsoft, Apple and Facebook. If you're looking to reach out to people who work for Amazon, Microsoft or Google, be inspired by this post!
The message also reached over 2,204 founders and over 2,000 executive directors and marketers, which means that its format or approach appeals to this type of profile.
Just like your business performance indicators, analyse your statistics carefully and then draw the necessary conclusions. What type of post gets the most views? The most engagement? Adapt your strategy accordingly.
8 examples of impactful LinkedIn posts deciphered
#1 Telling a story you can relate to
Followed by tens of thousands of people, Grégoire Gambatto is one of the most influential people on Linkedin and in the growth hacking ecosystem. Germinal, the training organisation of which he is CEO, offers some of the most solid LinkedIn training on the market.
He likes to provoke debate by sharing often divisive views. In this post, Gregory addresses a theme that speaks to all entrepreneurs (his target audience!): the difficulties of being an entrepreneur. The content seems very authentic, as it focuses on negative emotions. A theme that obviously resonates well with his audience.
💡 Points to remember:
Choose themes/hookups that speak to your target audience
Express a "pain point" that you have experienced and that your prospects are also experiencing
Sharing a very personal experience
#2 Show that you have learned your lesson
Gregory Logan is the founder of the marketing agency "Dare". He shares a lot of content via his YouTube channel and his podcast. In the following post Gregory also focuses on storytelling with a structure that is very much used in copywriting: Problem, fuss, solution, result. The whole thing unfolds a story with difficulties, a triggering event and a lesson to learn.
💡 Points to remember:
Do not hesitate to share a failure
Explain a pathway
Encourage interaction by asking a question at the end of the post
#3 Influence on LinkedIn

Sylvain Tillon is the founder of "Le Bahut", a school to become a Digital Learning Manager and CMO of Linkalyze, an influence analysis tool on LinkedIn. Sylvain often speaks out on Linkedin with content that gets a lot of engagement. The following post has generated over a hundred comments. He relies heavily on careful storytelling with a personal anecdote that enhances his status as an influencer.
💡 Points to remember:
A catchphrase that arouses curiosity
Personal photos to illustrate the story
Skillful identification of its training institute and the brand involved
#4 Ask an open question/controversial opinion
Here is another example of a successful post by Sylvain Tillon. Here, Sylvain challenges his audience with a very targeted question. He also contextualises the problem with the current situation and skilfully suggests a solution with his training centre.
💡 Points to remember:
Describe a problem well before proposing its "natural" solution
Playing on current events
Use targeted hashtags
#5 Involve an expert
John Barrows is an American sales consultant. In the following post, he promotes a new podcast on cold emailing. John relies on inviting an expert, an impactful catchphrase, very short sentences and very specific content.
💡 Points to remember:
Tackle with a shocking statement
Use of video / web radio format
Inviting a specialist to share his or her views to gain credibility
#6 Use self-deprecation / humour
CopyPost is a well-followed account on LinkedIn (20,843 subscribers) that denounces copied and pasted posts on LinkedIn and warns against these bad practices that pollute and spoil the interest of the platform. The following example tells the story behind the scenes of the launch of a paid newsletter with Grégoire Gambatto, whom we mentioned earlier.
The approach in the form of a dialogue is very original and relies a lot on humour, one almost forgets that the objective is to encourage us to subscribe to the newsletter 🙂
💡 Points to remember:
Very direct tone and use of engaging dialogue
Very clever emphasis on added value: Gregoire's experience and the power of Linkalyze for post analysis
Self-deprecating and again very experience-based approach
#7 Share a hack/solution
Formerly associate director of Cartelis, the digital/data consulting firm that co-founded Salesdorado, Yassine Hamou Tahra is the CEO of Octolis, a SaaS dedicated to the unification of customer databases.
The next post is a "resource post" which offers to send a template, which can be used in many sectors of activity, in exchange for a comment. The focus is on the problem and the solution provided by the proposed template. With almost 3,000 comments, the post is a great example of lead generation!
💡 Points to remember:
Identification of a specific problem
Proposal of a very concrete resource that can be used in different types of business
Visual preview via GIF
#8 Delivering real feedback
Guilhem Bertholet is a B2B marketing specialist followed by more than 15 000 people. In the following post, he gives his feedback on an experiment he did: posting every day on Linkedin for 2 months. The topic arouses a lot of curiosity and ultimately concerns many users of the platform. The case study is a great way to generate engagement and prove your expertise.
💡 Points to remember:
Sharing the results of an almost unique experience
Results well presented in a carousel format
Focus on the human aspect of the experience by avoiding giving only numerical results
How does LinkedIn determine which posts are most featured?
As with all social networks, a good understanding of how the algorithm works is essential to boost visibility. Don't worry, you don't need to be a data scientist to understand 😄
What is the LinkedIn algorithm and how does it work?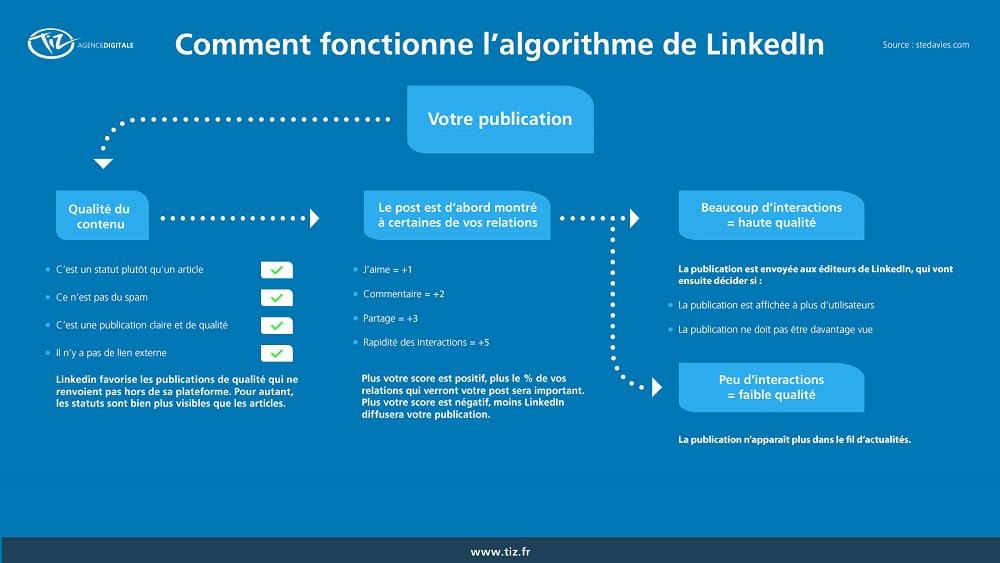 Tiz Agency – Source
Distributing relevant and quality content is the primary objective of the algorithm.
To do this, your post goes through 4 filters when it is created:
Here the algorithm classifies your post (regardless of format) as spam, low quality content or high quality content.
Filter 2: Level of interaction
If your post is considered qualitative, it passes an "engagement test". Indeed, the algorithm will broadcast your post to a fraction of your network and will observe if it generates interaction (likes, comments…). Naturally, the higher the interaction, the more visibility your post will have.
Filter 3: Your Profile History
Linkedin grants a visibility bonus if you regularly create posts that generate engagement.
Filter 4: Human intervention
Linkedin employees can occasionally boost the visibility of your content if it is considered relevant. That's why some posts published several weeks ago show up in your feed again.
Good practices for understanding the algorithm
LinkedIn works differently from other social networks, here are some important nuances to consider:
Using LinkedIn as a micro-blogging platform
LinkedIn allows you to share longer content than other social networks, which often have word limits on posts. Take advantage of this format by sharing more substantiated and documented opinions.
Host your content natively & promote it via other channels
If you have a video to share, you can always upload it to IGTV, Facebook and YouTube… But you should also upload it directly (natively) to LinkedIn.
Today, there are video content creation solutions like PlayPlay that allow anyone to turn any message into an engaging video, designed for LinkedIn. All without any video editing skills.
Your communication plan can use the following channels:
Sharing via newsletter voting
Twitter
Facebook Ads
60 second teaser video on Instagram with a link to LinkedIn in my bio.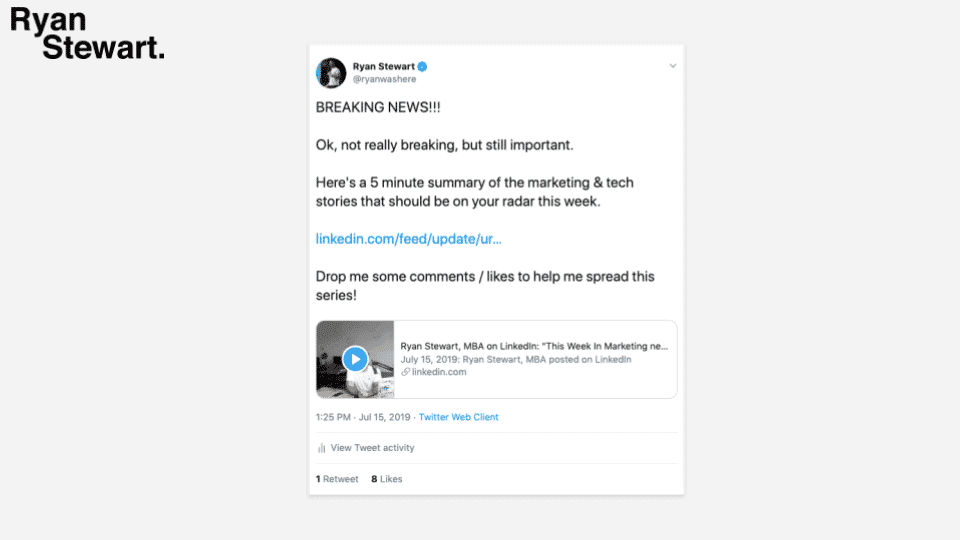 Source: Ryan Stewart
No matter what channels you use to relay your post, the key is to get your URL out there right away to drive engagement and let the LinkedIn algorithm know that your post is worth seeing!
LinkedIn is not a content promotion channel
LinkedIn will not promote your content if you promote your blog or other networks.
You need to build trust with the algorithm by creating content specifically for LinkedIn (aka "native content").
Once you have gained authority, you can push links from other places, but it takes time and repetition to do so.