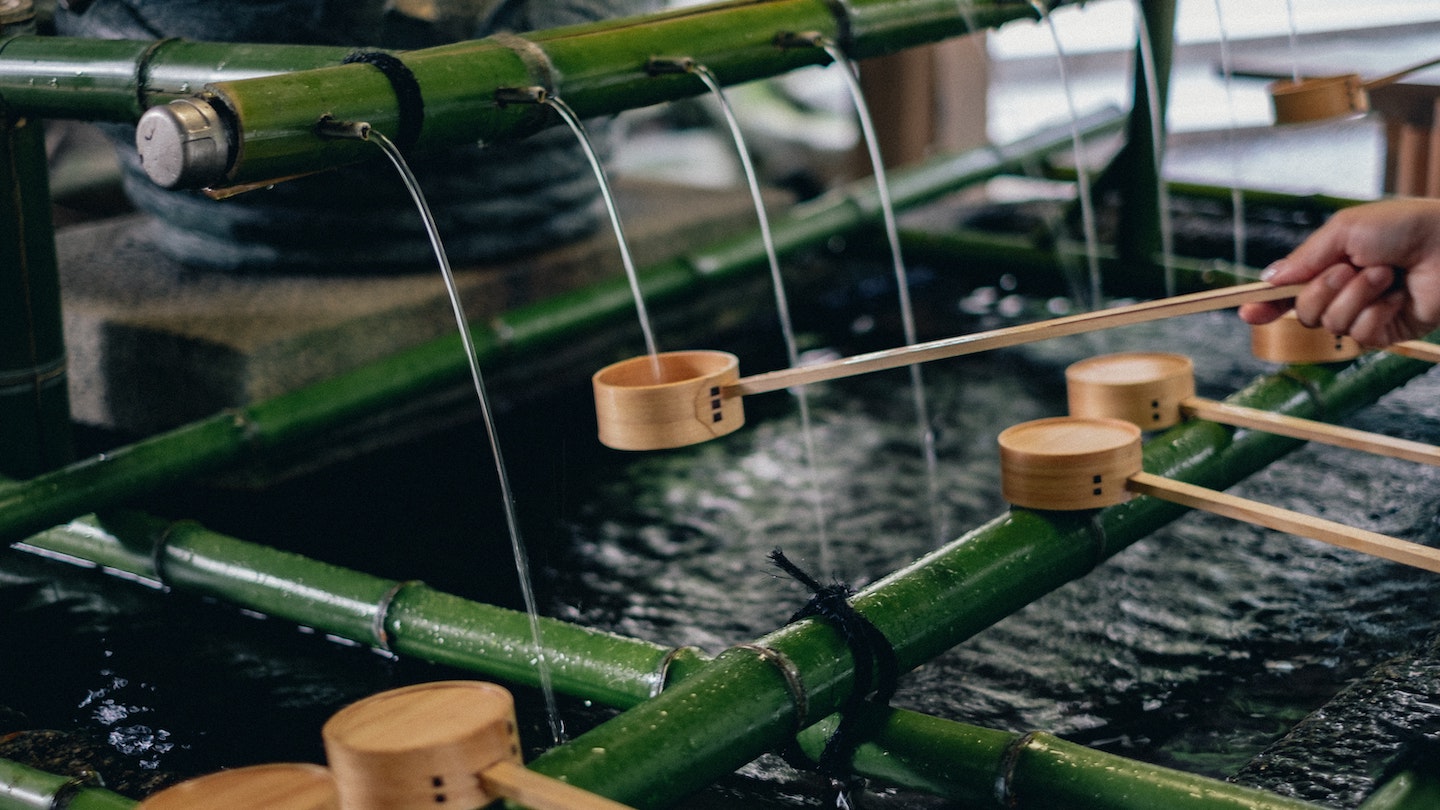 Email harvesting software has become a very useful tool for generating leads and growing your subscriber lists. They must be chosen taking into account the features they offer, their price and the quality of their references.
How to choose the most suitable email address collection tool for your needs? How much does it cost? In this article, we present you the best tools for collecting email addresses!
Top 10 email address collection tools: Comparison table
#1 Optinmonster
The undisputed leader in email collection tools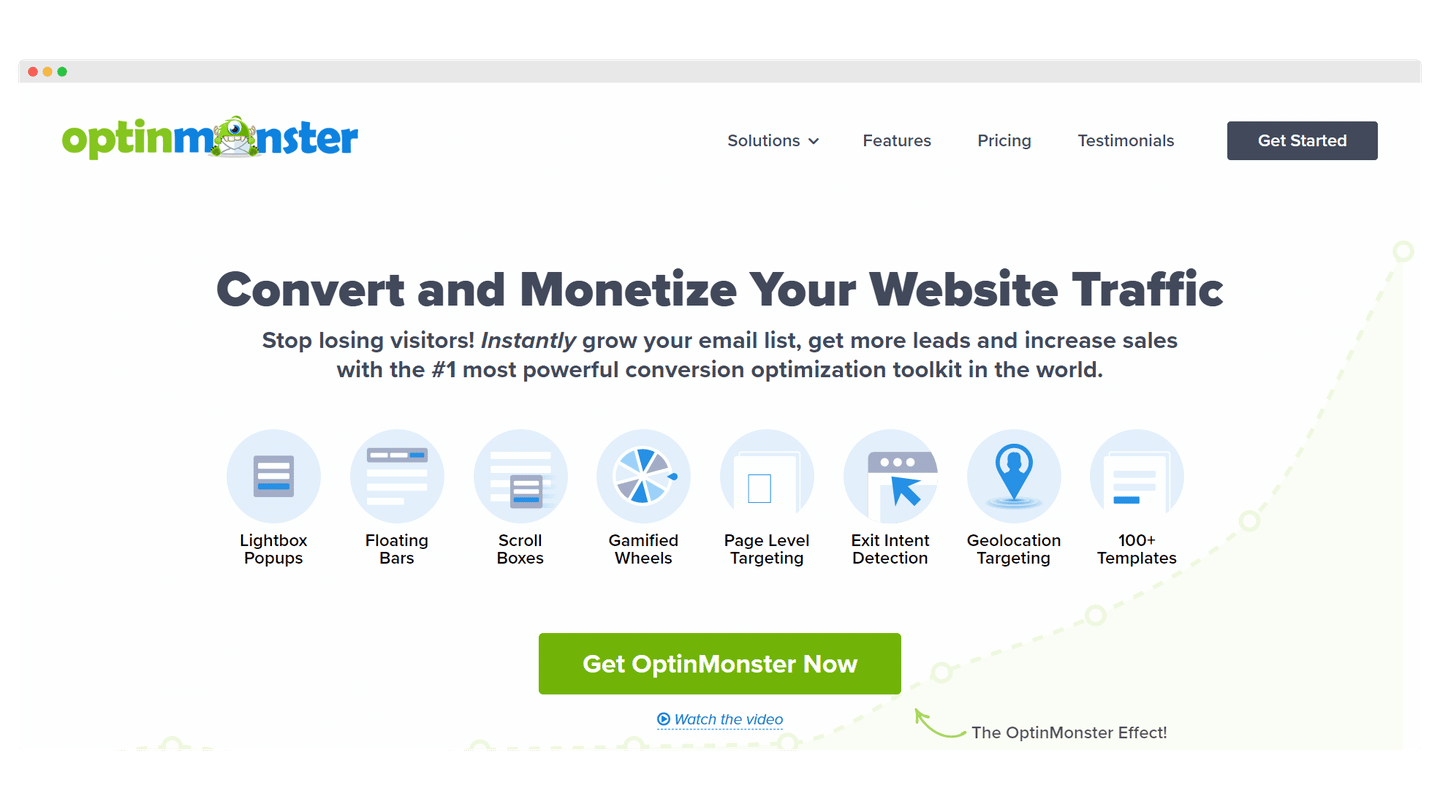 OptinMonster is a powerful email collection software and conversion optimization tool for bloggers, e-commerce sites, marketing agencies and small businesses. It can help you achieve just about any type of marketing goal related to lead generation and conversion rate optimization (CRO).
The software offers many features to develop your email lists, identify your anonymous visitors and turn them into subscribers (pop-up, forms, banners), and CRO features to increase conversions on the page. It also allows you to benefit from more than 75 popup templates, A/B tests, and more than 500 marketing integrations(Sendinblue, Mailchimp, Hubspot, etc). The customer support teams are very responsive.
OptinMonster also offers a content lock feature that allows you to block a portion of your content and make it accessible only to subscribers. Specifically, the software removes content below a certain level from the page so that visitors must choose to see the full article. It encourages email subscriptions and increases your subscriber list.
OptinMonster offers an entry price of 9€/month (Basic plan). Count 25€/month on average to have a little more advanced features. The software does not offer a free trial, but allows its users to be refunded after 30 days if they are not satisfied with the plan they have chosen. The software very often offers promotions.
Try Optinmonster for free
Optinmonster offers a first plan at 9€/month, take advantage of it!
#2 Typeform
A must-have for building up-to-date forms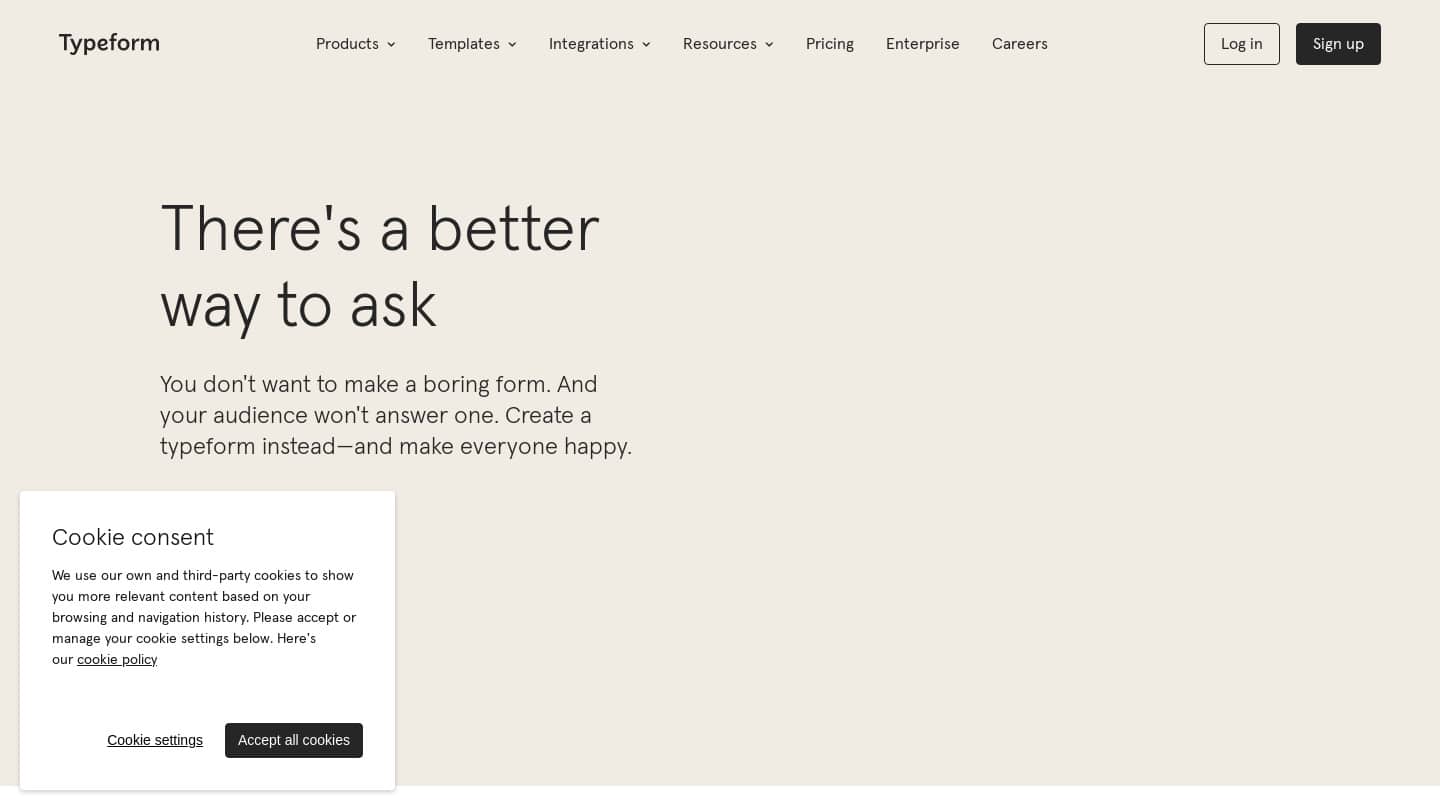 Typeform offers elegant and modern forms, surveys and quizzes for personalized lead generation. The software offers more than 800 form templates and allows you to create conversational forms to achieve better conversion rates and get more qualified leads.
It's very easy to use, the user experience is very smooth and the lead evaluation features are interesting. You can also synchronize it with CRM, marketing tools, Google Sheets and even Zapier.
Typeform also allows you to create chatbots to interact with your users and thus attract leads or recommend products. You can synchronize the data you collect with your chatbot with other tools(Hubspot, Salesforce, Intercom, Zapier, Slack…). The tool provides several templates and allows you to create personalized paths to offer users different content depending on their answers. The functionality is included in all Typeform plans.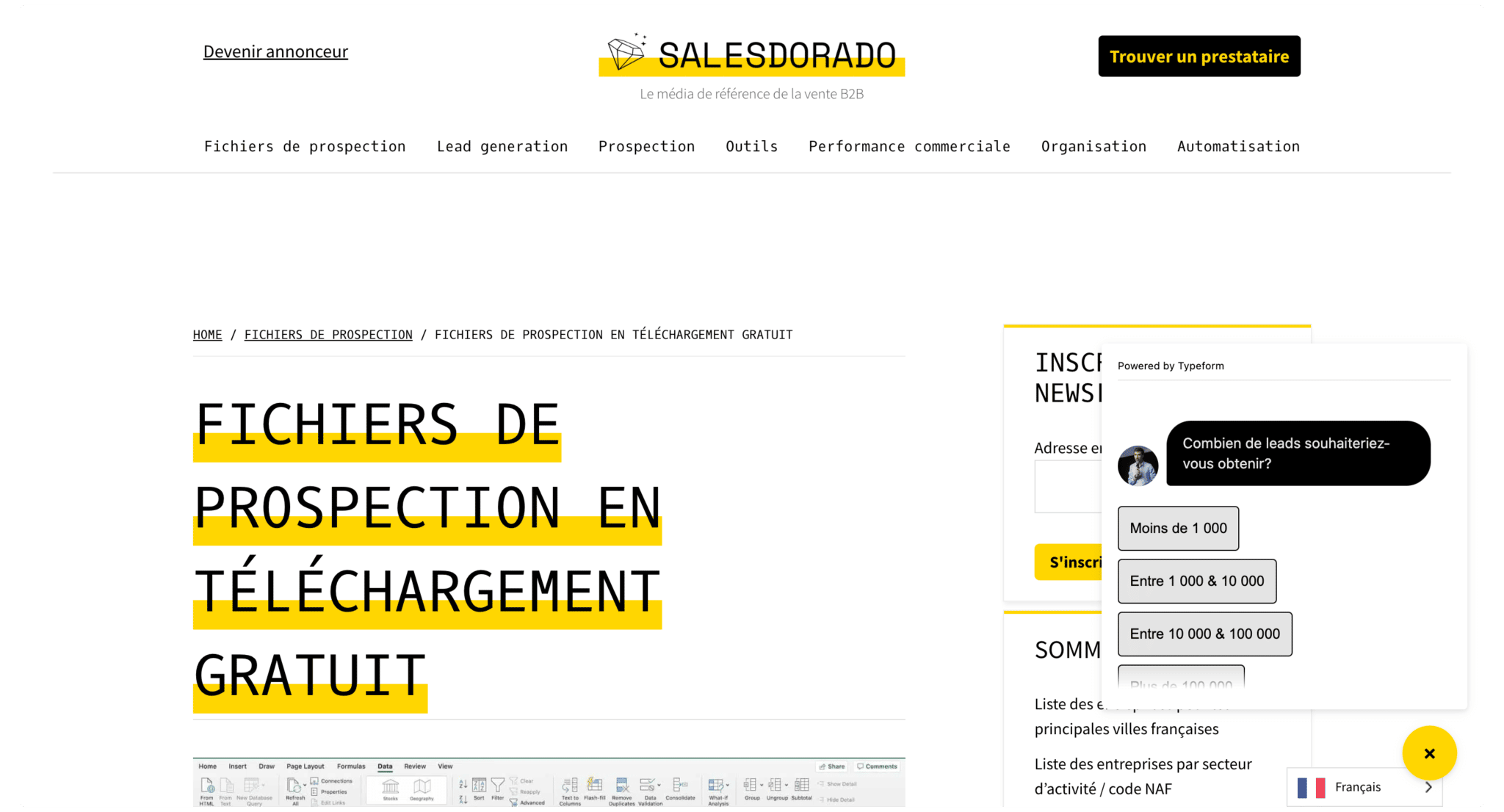 Typeform offers a free plan and an entry fee of €25/month. The average price is 60€/month. The software offers a free trial for 1 month that allows you to collect 10 responses.
Try Typeform for free
Typeform offers a 1 month free trial to get an idea of the tool, take advantage of it!
#3 Outgrow
An efficient tool for designing quizzes and calculators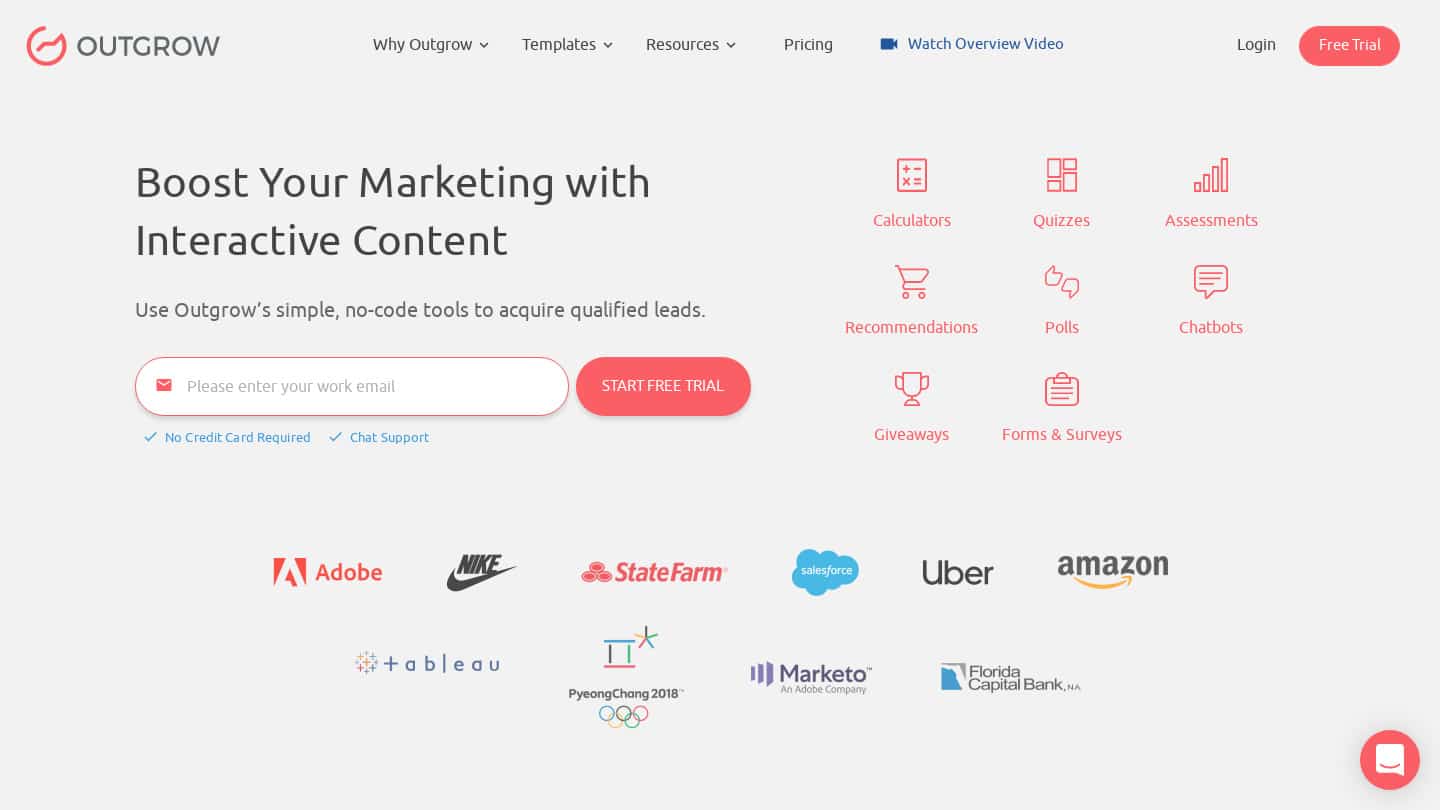 Outgrow is an email capture tool that allows you to add interactive content to your website to attract leads without any coding. It's an innovative option to simply stimulate your prospects with polls, calculators, quizzes, chatbots. It offers satisfaction surveys and also allows you to display product recommendations, which is particularly useful for e-commerce sites.
Outgrow offers more than 1000 templates, a form builder and the ability to provide customized answers to customer questions. It also offers intelligent analysis and segmentation of your audience.
Outgrow offers a free 7-day trial, without the need to fill in your bank details. For the other plans, count on average 70€/month, and 685€/month for the Business plan.
Try Outgrow for free
Outgrow offers a free 7-day trial to get an idea of the tool, take advantage of it!
#4 Viral Loops
To encourage your subscribers to recommend you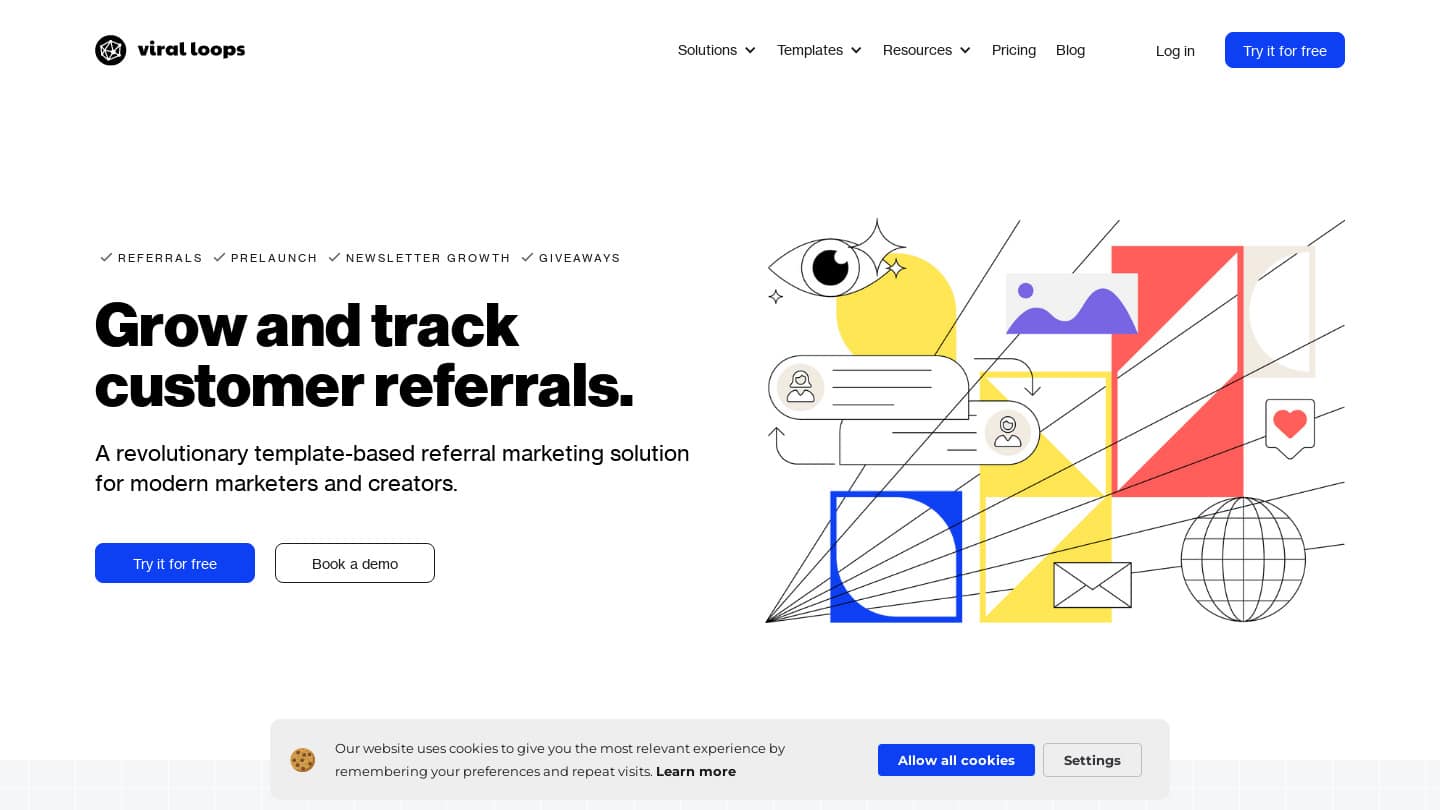 Viral Loops allows you to easily build viral marketing campaigns, combined with reference marketing mechanisms and systems (pre-launch landing pages for email collection, referral programs for your newsletters…).
Viral Loops offers several "ready to use" models. The design of landing pages and widgets is quite intuitive and fun. The software offers very good reporting features.
It also provides a referral waiting list. Your visitors can enter the list by clicking on the button on your website. A referral system between friends allows you to move to the top of the waiting list.
Viral Loops offers a 14-day free trial that allows users to choose between the Start-Up plan (1,000 participants), the Growing plan (20,000 participants) or the Power plan (25,000 participants). The first plan is 35€/month, and the average price is 140€/month.
Try Viral Loops for free
Viral Loops offers a 14-day free trial for all its plans, take advantage of it!
#5 Jotform
Another tool to build advanced forms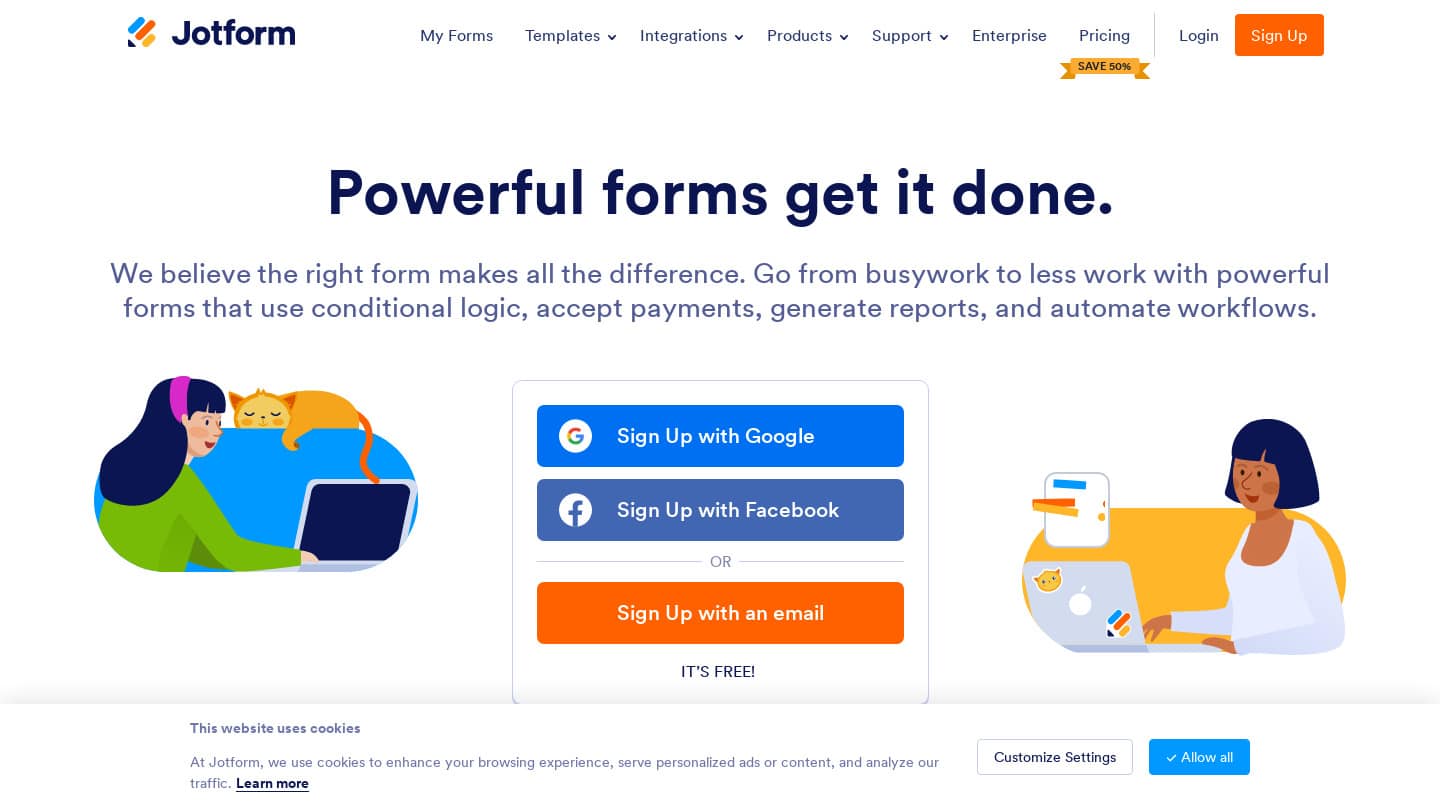 Jotform is an easy-to-use software that allows you to create online forms, collect responses and create fillable PDF documents. It offers automated workflows, forms using conditional logic and the ability to accept payments. It is a powerful tool for streamlining your company's data and processes.
Jotform allows you to test the form creation tool directly on the website without having to create an account. Over 10,000 free form templates are available on the site, including application forms, registration forms, contact forms, etc. Jotform provides access to over 100 integrations(Dropbox, Paypal, Slack, Mailchimp, Trello, Google Sheets).
Jotform offers a very limited free plan, with only 100 form submissions per month. The cheapest plan is 35€/month. Count on average 70€/month for the Jotform plans.
Try Jotform for free
Jotform offers a free plan to get an idea of the tool, take advantage of it!
#6 Get Site Control
Complete popup creation and email capture tool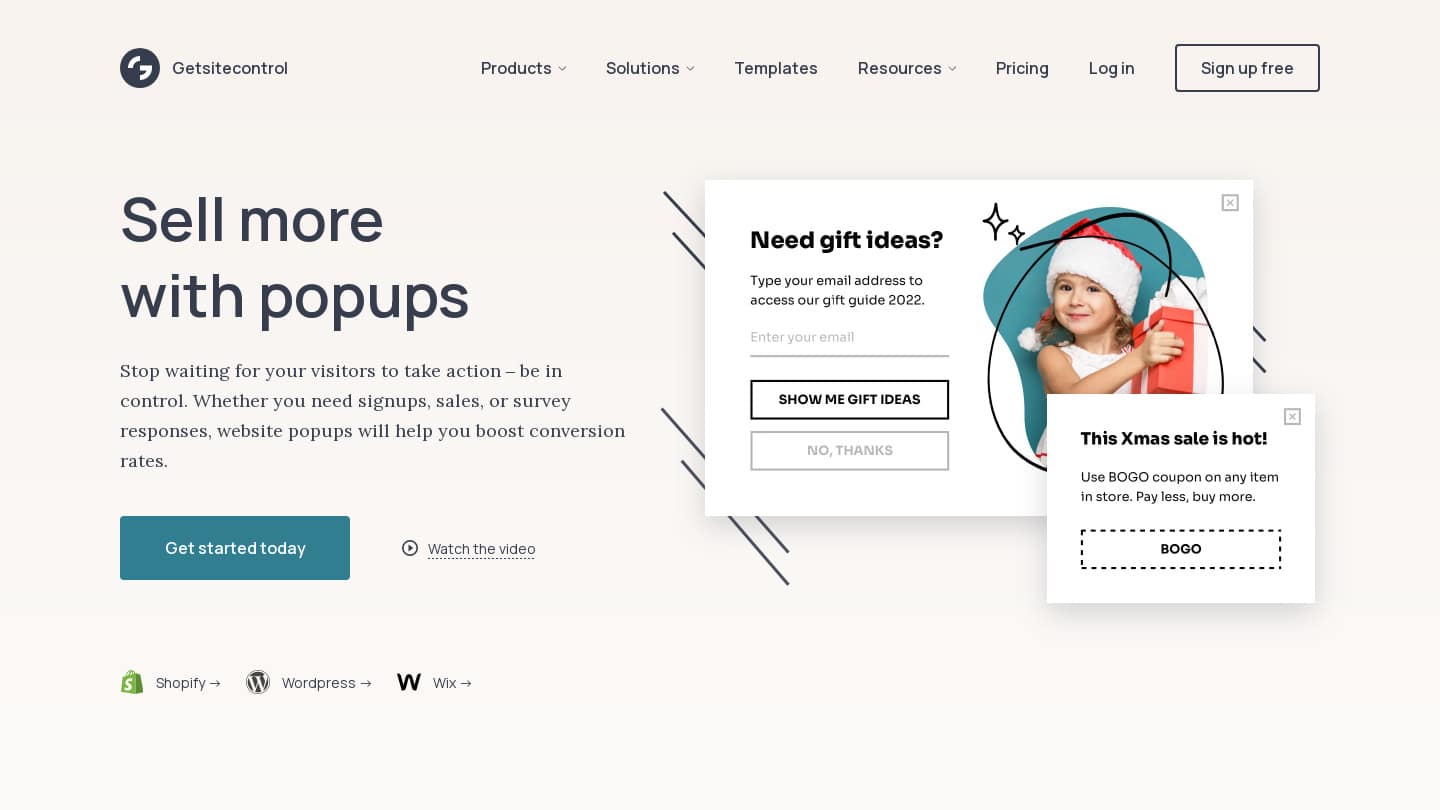 Get Site Control is a powerful software that allows you to create popups and email captures. It has multiple targeting options, mobile-optimized forms and connects to major email marketing services. You can also implement popups that double as contact forms and collect additional information to qualify prospects.
Getsitecontrol offers a free 7-day trial, and an entry price of 9€/month. The average price is 20€/month for the other plans.
Try Get Site Control for free
Get Site Control offers a free 7-day trial to get an idea of the tool, take advantage of it!
#7 Interact
A quiz design tool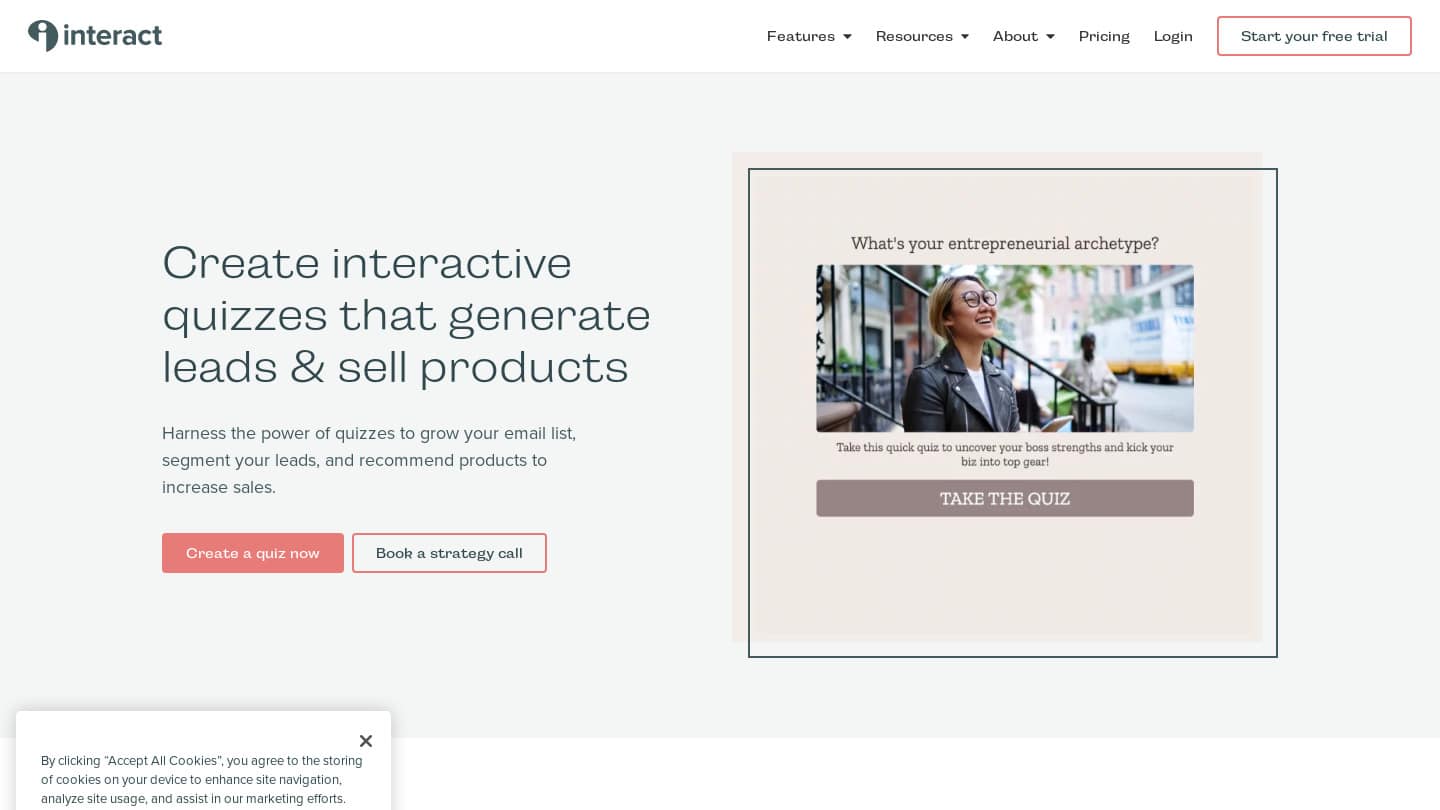 Interact is an online quiz creator that allows you to create several types of quizzes, such as score, personality or evaluation quizzes. It has native integrations for the most popular email marketing services and even allows you to set up popup quizzes.
Interact is a solid choice for creating quizzes and has an extensive library of templates. This is the perfect tool if you are looking for an attractive way to generate more email subscribers.
The first plan costs 37€/month. The average price is 110€/month. A free 14-day trial is offered for each plan.
Try Interact for free
Interact offers a 14-day free trial for all of its plans, take advantage of it!
#8 Hello Bar
A mythical tool, which has lost its superbness, but which still works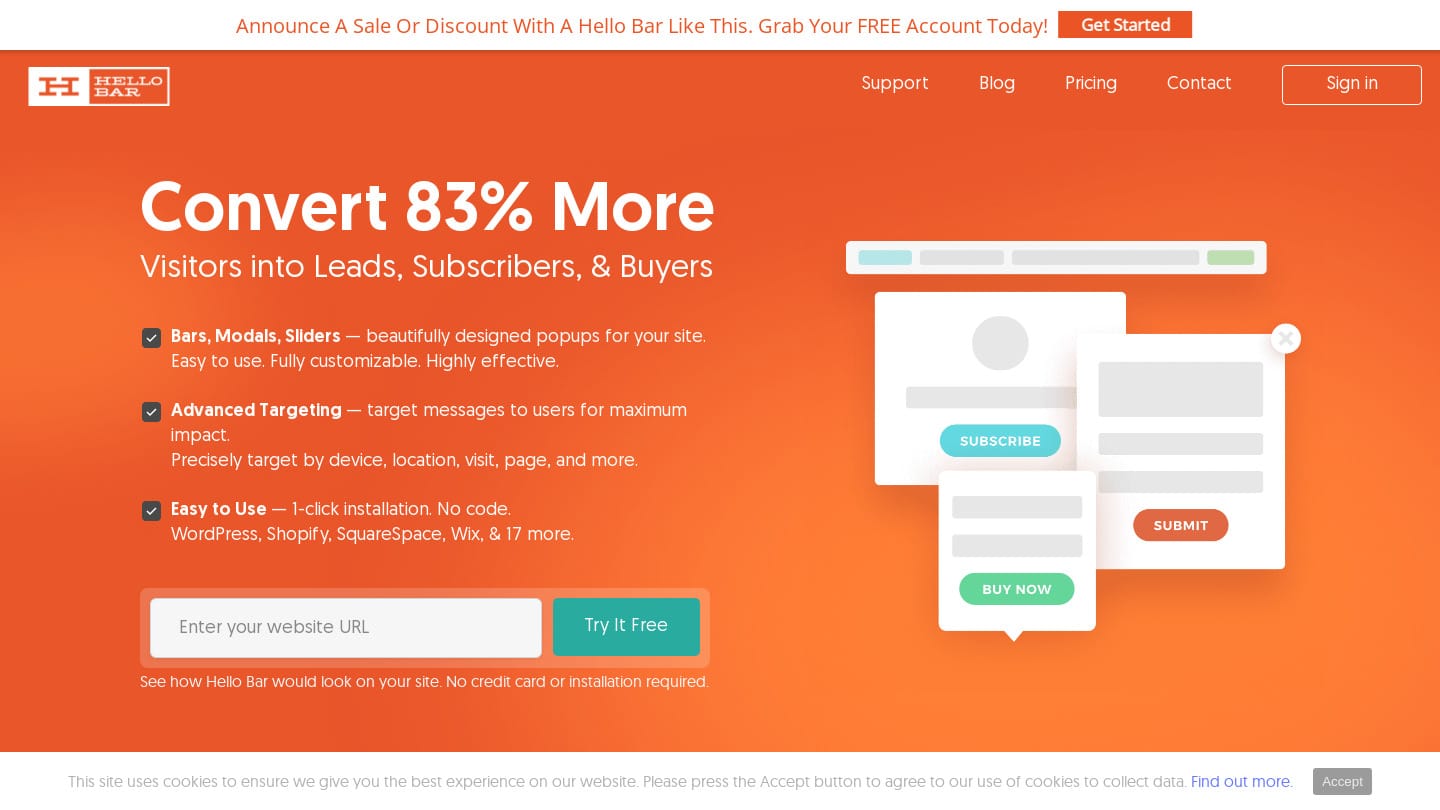 Hello Bar is a pop-up creation tool that allows you to create pop-ups with exit intent, timed pop-ups and floating sign-up bars to convert more visitors into leads.
Hello Bar provides predefined themes for creating your forms, which you can also customize. Each Hello Bar plan gives customers access to five different types of popups. The design assistant tool allows you to match colors, fonts and style to your website design.
The tool is easy to use and its installation does not require any code. It easily integrates with WordPress, Shopify, Mailchimp and other platforms. Hello Bar also offers interesting reporting data to evaluate performance.
HelloBar offers a free forever plan that provides 5000 views per month, unlimited subscribers and 10 popups. For the other plans, the average price is 60€/month. It is not possible to try the paid plans.
Try Hello Bar for free
Hello Bar offers a free plan forever, take advantage of it!
#9 Sleeknote
An advanced popup editor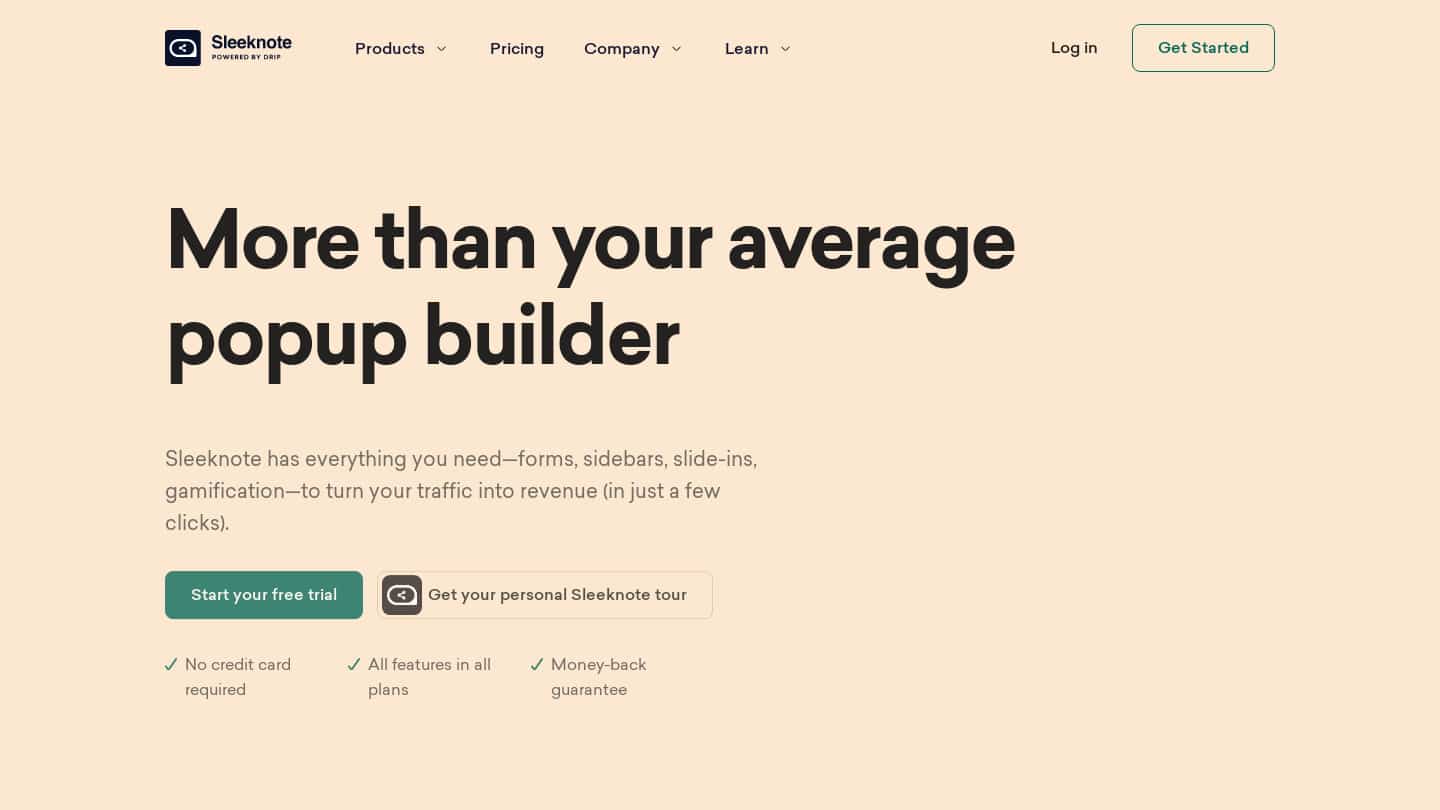 Designed by marketers for marketers, Sleeknote positions itself as more than just an ordinary pop-up builder.
It helps reduce cart abandonment by sending option forms when customers with items in their cart are about to leave the site. The software also offers content to customers who enter their email address or phone number.
Sleeknote is integrated with over 1200 tools. It allows its users to be refunded after 30 days if they are not satisfied, regardless of the plan chosen.
The cheapest plan offered by Sleeknote costs 62€/month and the average price is 200€/month. Sleeknote offers a free 7-day trial of all of its plans, without the need to enter your credit card information.
Try Sleeknote for free
Interact offers a free 7-day trial for all its plans, take advantage of it!
#10 Vyper
To create contests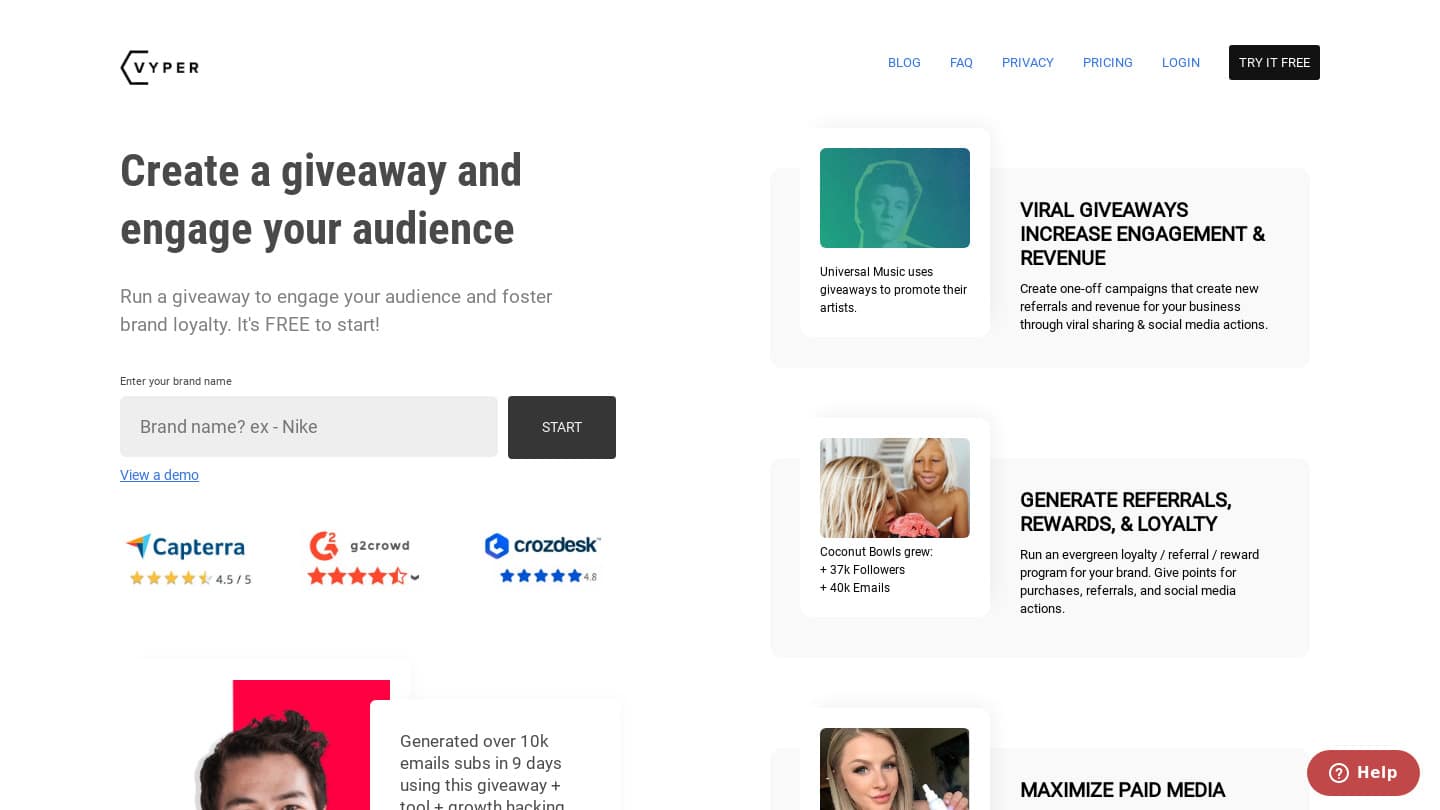 Vyper is a promotion and referral marketing platform that focuses on growing your email list and social networks. It has the classic "refer a friend" function to increase the number of participants in contests.
Vyper also gives you the ability to encourage people to follow your main social networks, share on multiple platforms and perform special actions, such as commenting on blog posts. Conversion-optimized contest landing pages encourage visitors to submit their email address.
The cheapest plan costs 140€/month. Count 280€/month for the other (and only) plan. Vyper offers free trials of its plans for an unlimited period. And when you have opted for one of the two plans, you have a 15-day money back guarantee if you are not satisfied.
Try Vyper for free
Vyper offers to try its plans for free for an unlimited time, take advantage of it!
#11 Your emailing tool
To put it simply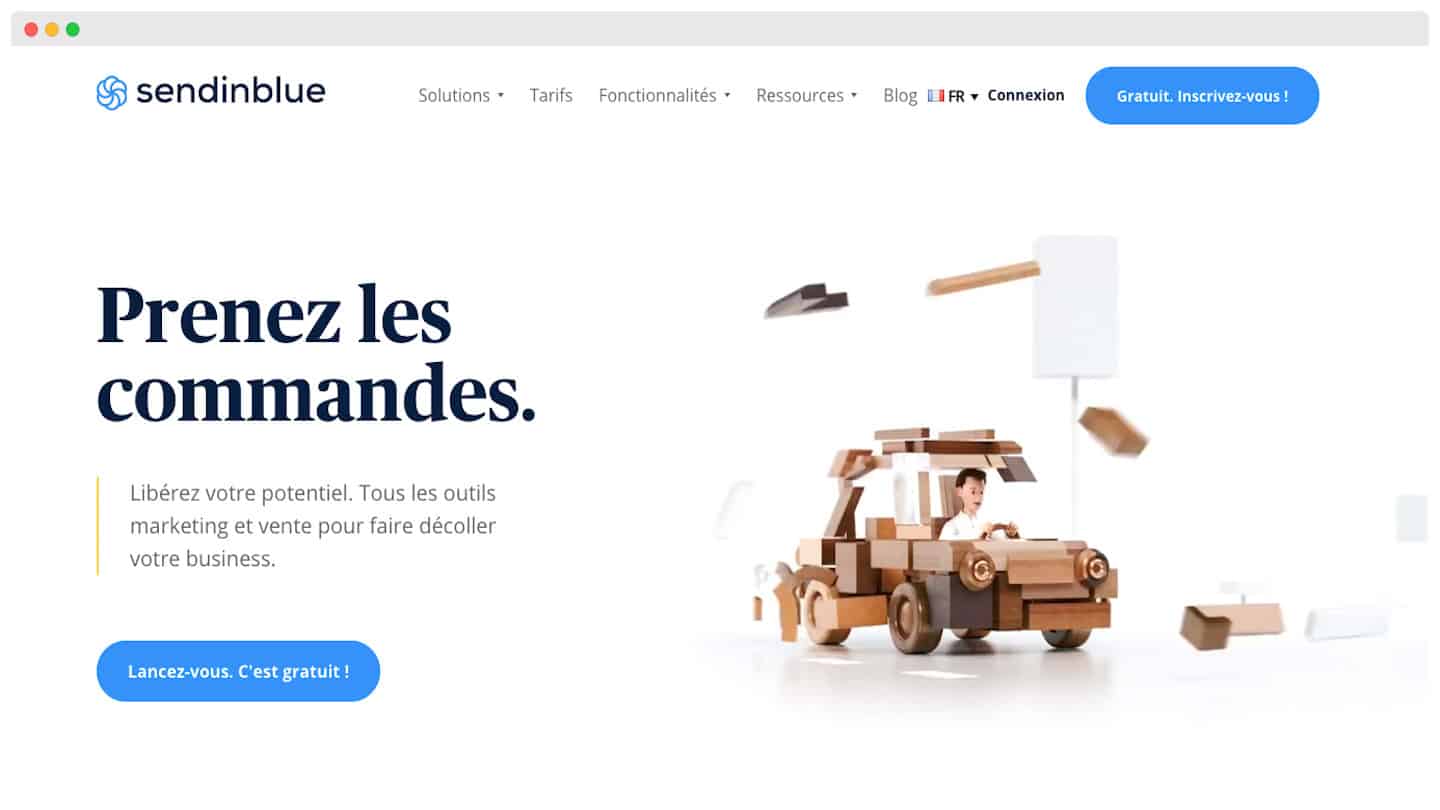 You can also use your emailing software directly. The most qualitative of them offer the key features to capture emails (popups, chatbot, forms etc), and generally integrate quite well with the main email validation tools.
Sendinblue, GetResponse, and Activecampaign are all good options. They will be a bit light to set up more complex campaigns (quizzes, estimator, …), but you can still build quite advanced things.
Reader Interactions