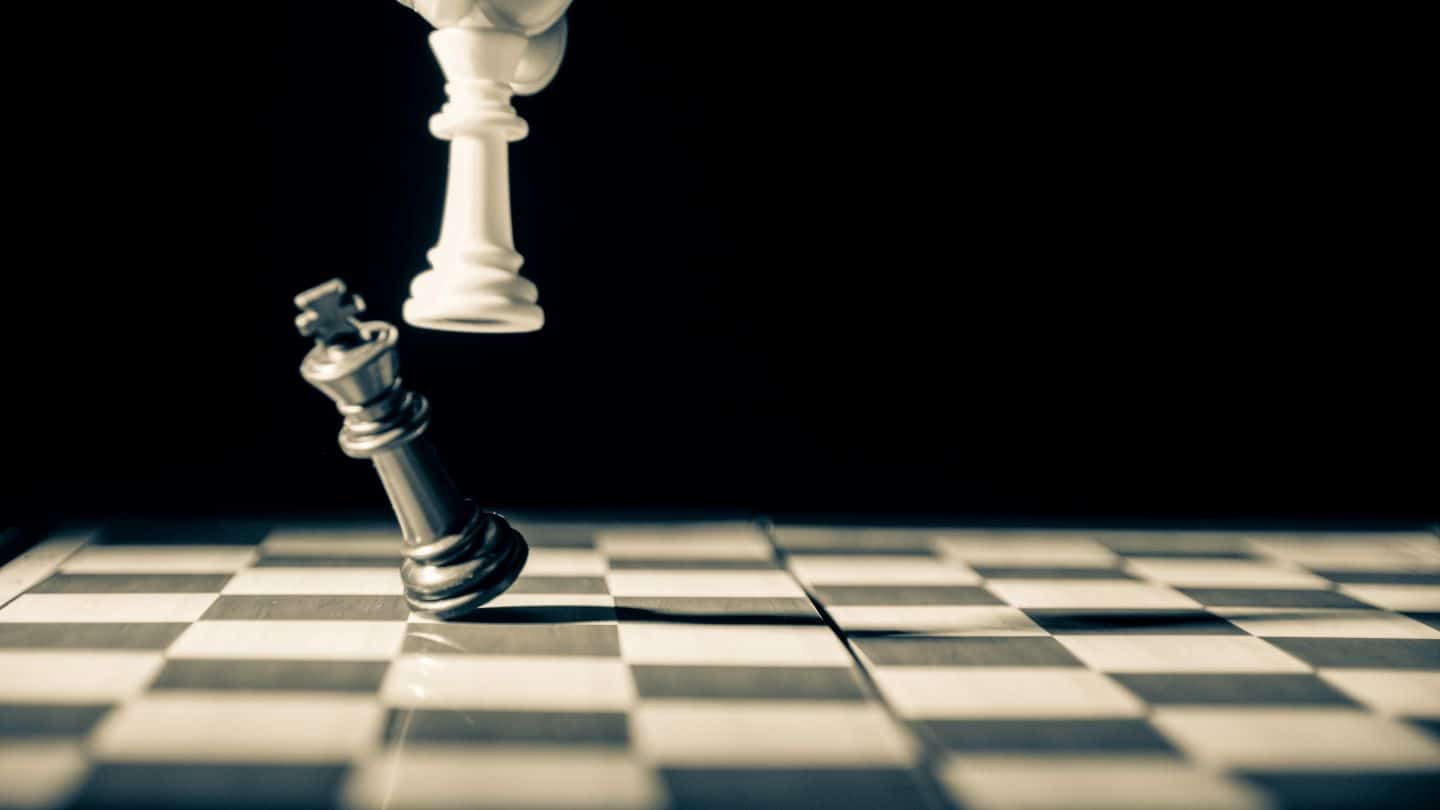 Identifying your competitors' customers allows you to identify people who need the type of solutions you offer and therefore potential customers or prospects. You can then contact them to expand your customer base and grow your business.
However, the methods to identify your competitors' customers are sometimes complex, and often require the use of specific tools. It is also important to be careful because they may be regulated by law.
In this article, we detail 5 methods to steal customers from the competition!
#1 Find companies that use software
The idea is to identify the users (companies) of a particular software (i.e. one of your competitors), to build a file of prospects to approach later.
How to do it?
For this, we use technology profiling. Profiling is when we use data on a prospect to model or anticipate his behavior, and adapt the buying experience we offer him.
We often talk about hyper-personalization in marketing, that's what we're talking about here too. The vast majority of what we call "Personalization" is actually based on rather coarse segments.
Technology profiling is about using data points from the technologies and tools used by a prospect to define segments.
The idea is that when you know a market well, the tools a company uses say a lot about where they are, and the big challenges ahead.
For example, if you sell anemailing tool for e-tailers, you know that:
The majority of Shopify stores generate less than 1M in sales. So you'll need a way to refine your Shopify leads.
Stores that use open-source solutions like Prestashop or Magento almost always work with an agency and a lot of custom code. You'll have almost as many special integration cases as customers.
Stores that use solutions like BigCommerce or Shopify Plus generate significant revenue, but they are relatively standard.
How does it work?
Unfortunately, we can only detect technologies used by a company if this software is detectable on their website. If we keep the example of emailing software, we can rely on the DNS zones (public) that are used to sign emails.
We skip the course on MX, SPF and DKIM entries but you will find a lot of information in our article on deliverability.
The problem with DNS zones is that they are rarely updated as they should be. It is very common to find sites with entries that correspond to 4 or 5 different software programs. They simply forgot to delete the previous entries each time they changed.
The other solution is to detect something that is present on the site. CMS all have their own signatures, that's how you recognize a Shopify, WordPress, or Prestashop site. For other software, you can rely on a form, a widget, etc.
Obviously it is quite limited, but there are still sets of technologies that we can detect quite well.
How to use it?
Customers of direct competitors can be targeted, building lists of those using a competing solution. For example, web agencies can target Shopify sites that appear to be growing and reaching the limits of the solution.
You can target users of a complementary solution. For example, if you just released a Zendesk integration, you can target Zendesk users (easy enough to detect with the live chat widget).
We can also qualify and refine a list of prospects by adding structuring points on the tools used.
3 technology profiling tools
Fortunately, there are established solutions that allow you to obtain this kind of data without having to manually check each prospect's site.
BuiltWith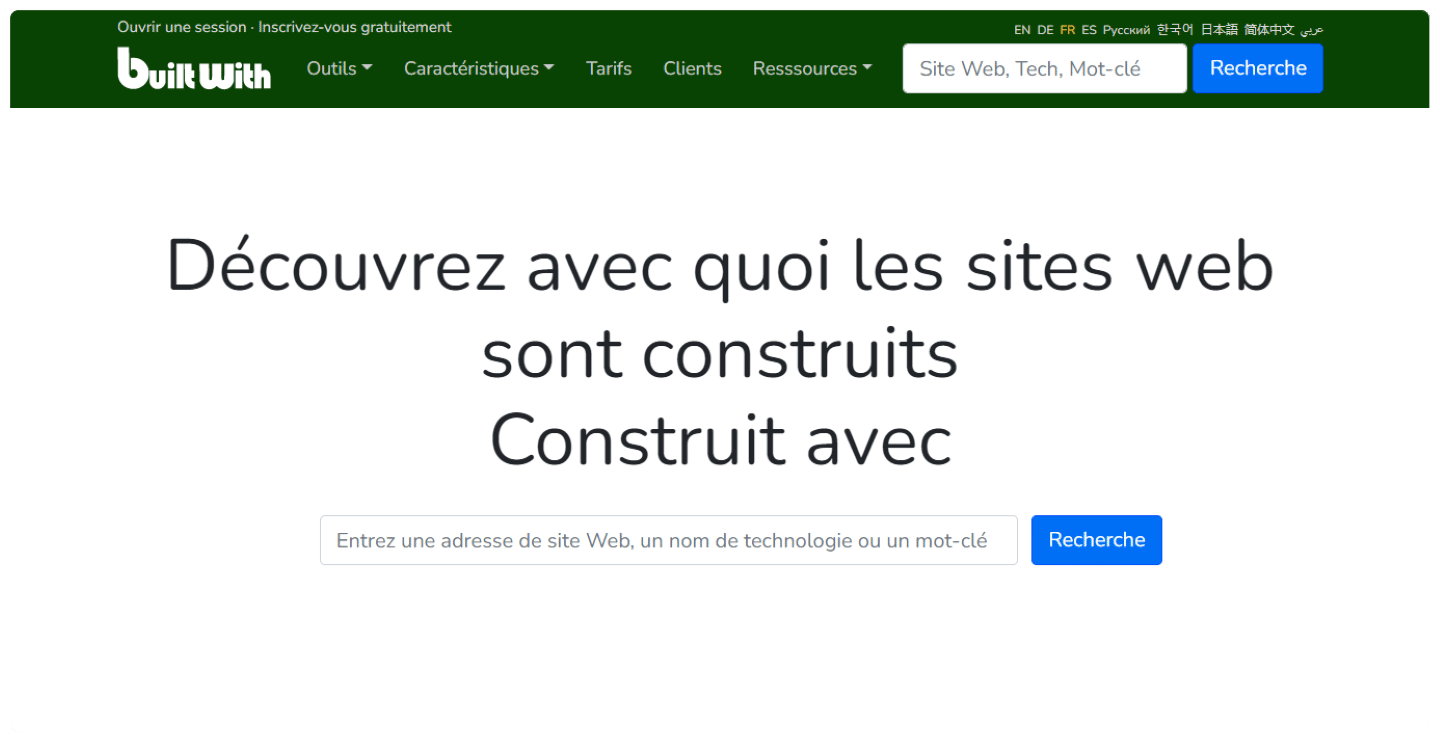 BuiltWith is a very powerful software to identify your competitors' users and the technologies used on a web site. It is clearly a leader in the field, but don't count on it to provide an exhaustive list of users of a given technology.
BuiltWith offers 3 plans. At $295/month, Basic allows 1 user to identify 2 technologies and 2 keywords. At $495/month, the Pro plan still allows 1 user to identify an unlimited number of technologies. And the Enterprise plan, open for $995/month to an unlimited number of users.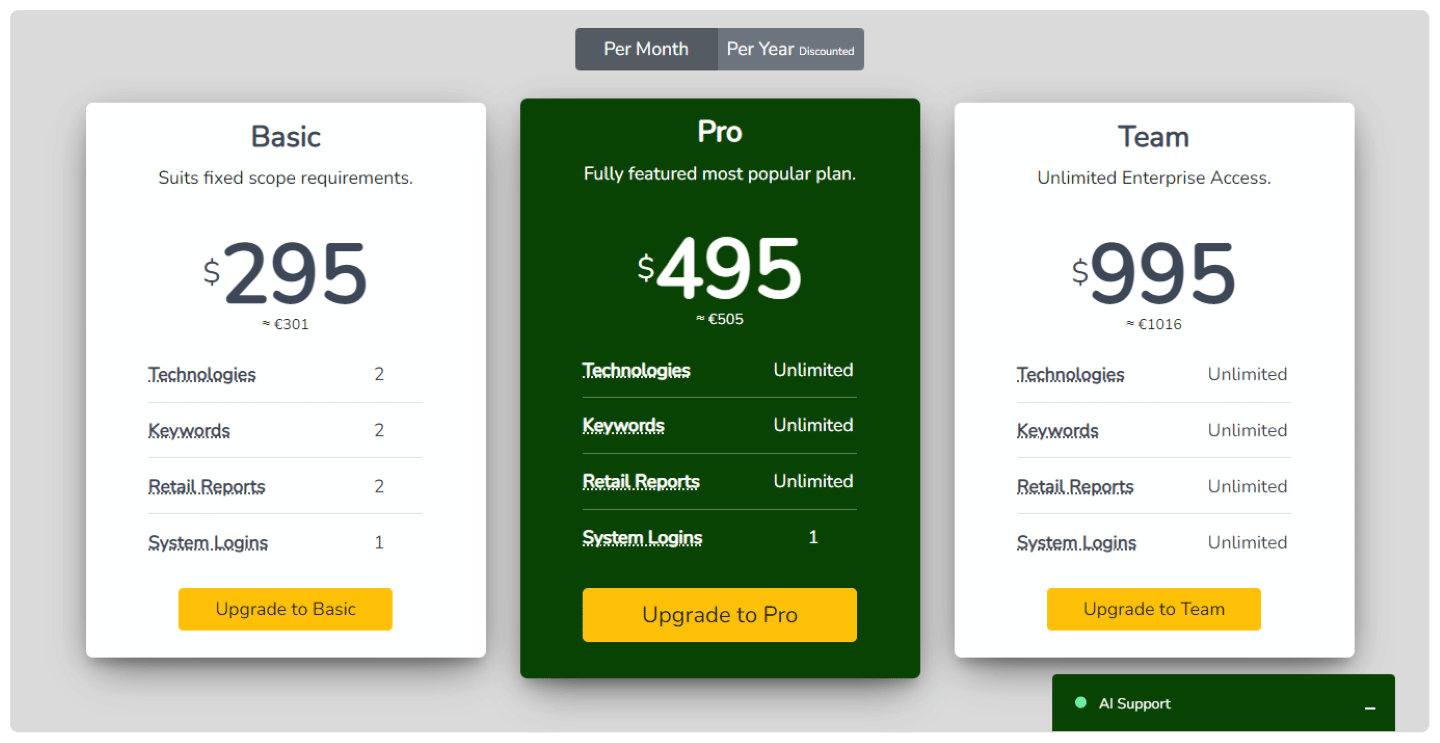 Discover all the features of BuiltWith
Pro tip!
BuiltWith offers a discount from the rates shown below for an annual subscription. Take advantage of it!
StoreLeads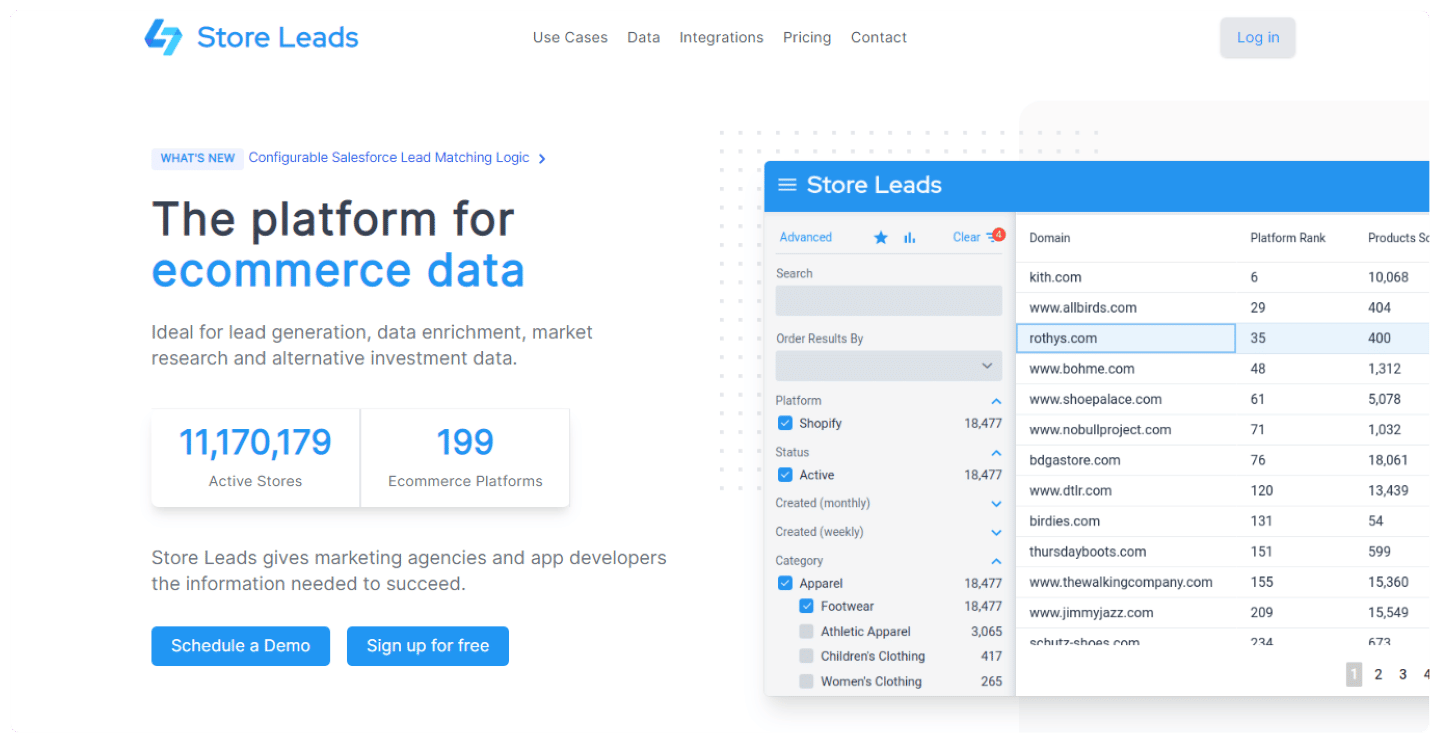 StoreLeads has very good databases, especially on e-commerce.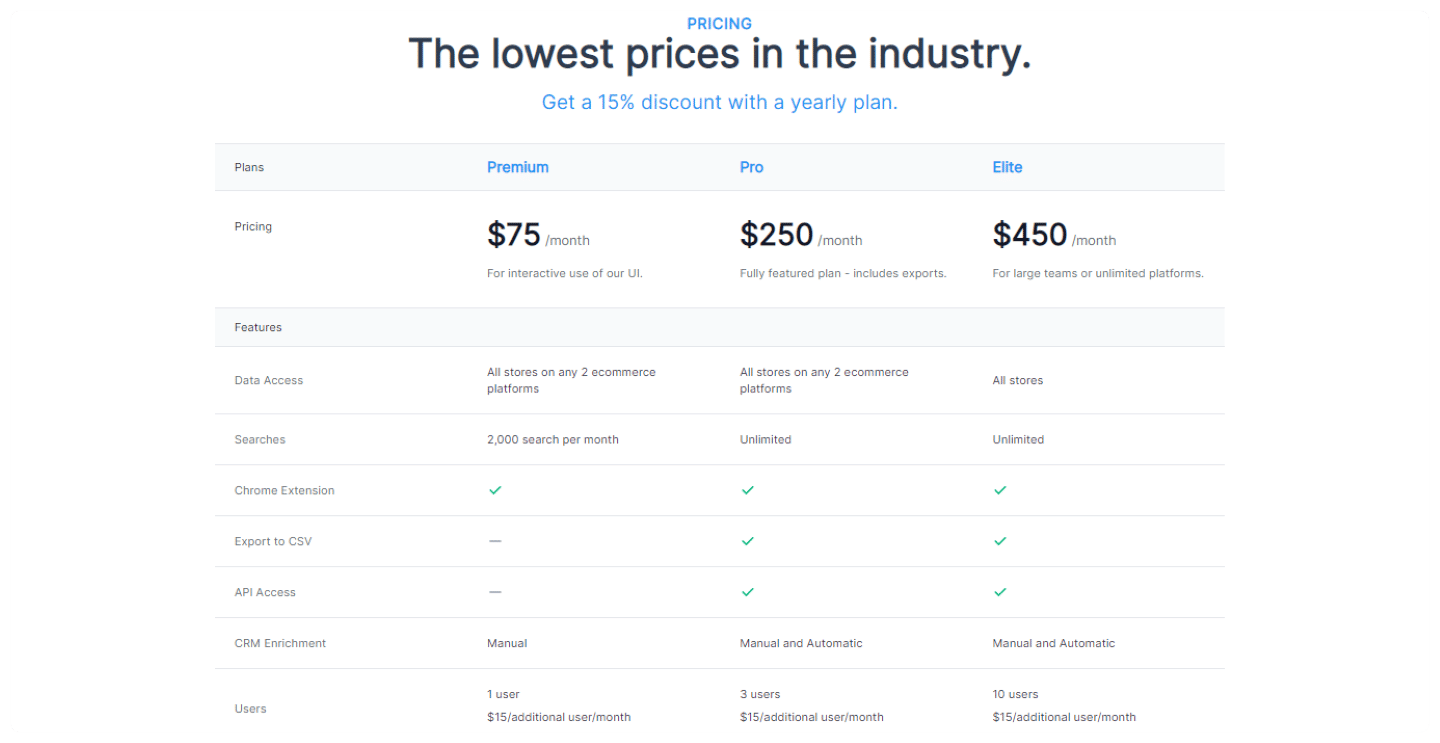 StoreLeads boasts the lowest prices on the market, with a 1st Premium plan at $75/month, limited to 2 e-commerce sites, and 2000 searches. The Pro ($250/month) and Elite ($450/month) plans open to an unlimited number of searches, and then to an unlimited number of sites.
Pro tip!
StoreLeads offers a discount on the rates shown below for an annual subscription. Take advantage of it!
Discover all the features of StoreLeads
StoreLeads offers a free trial: don't hesitate to try it!
Similartech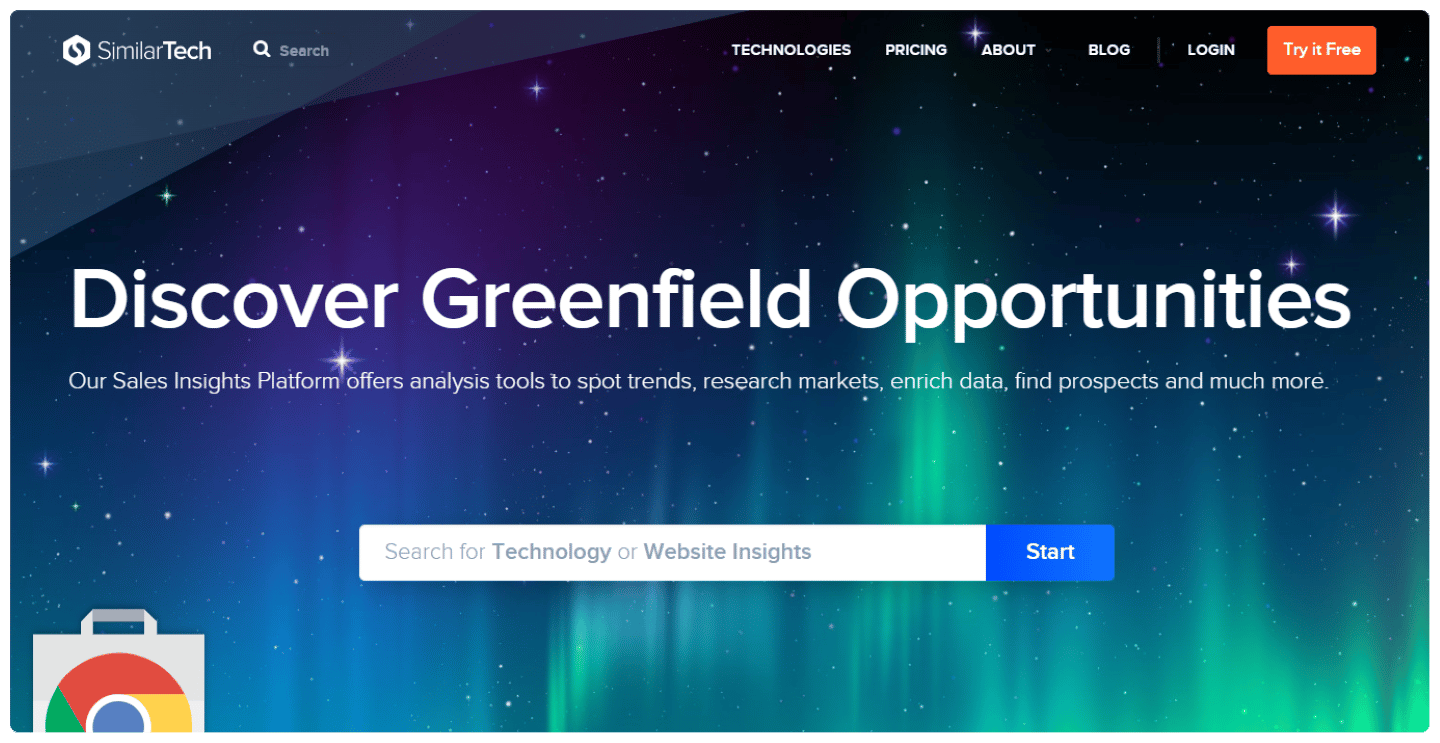 Similartech is a tool that is not really better than BuiltWith and is very expensive because the number of downloadable results is limited.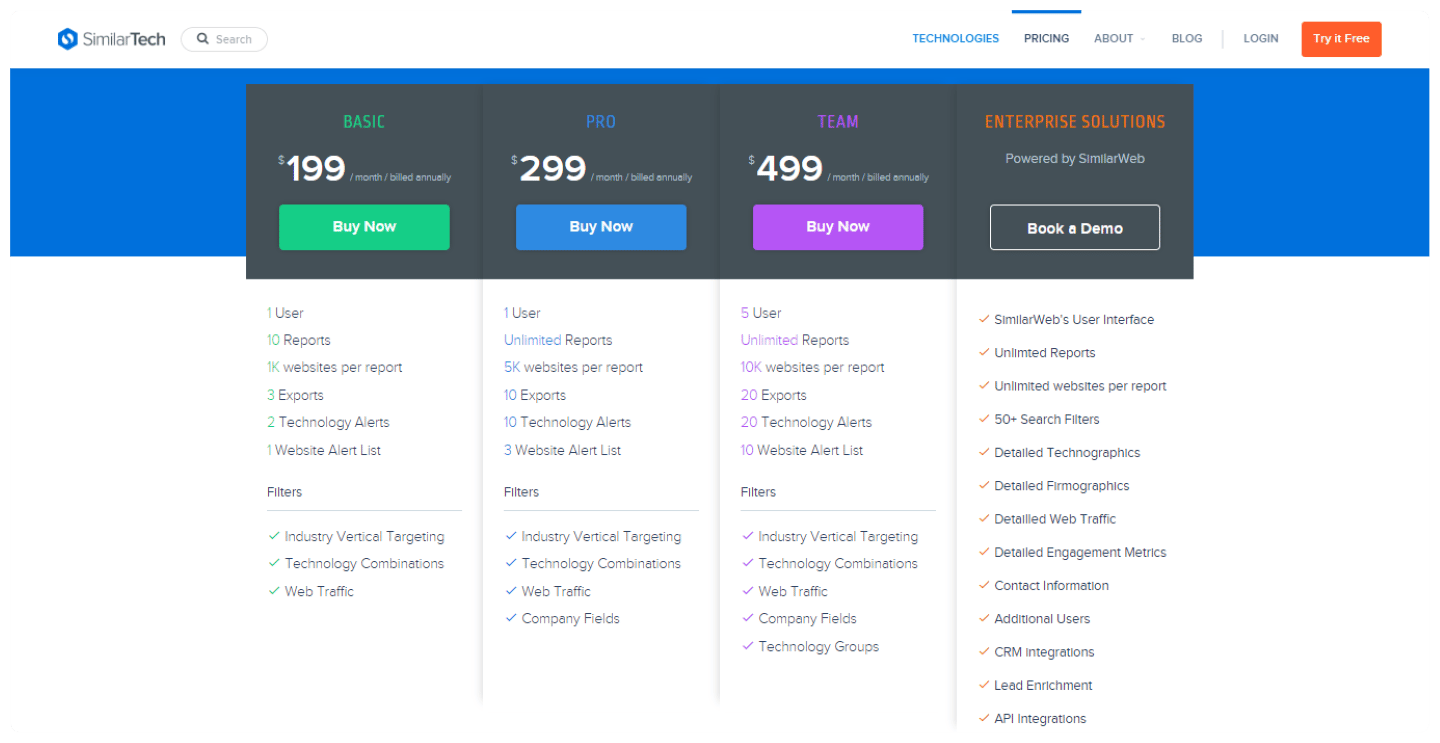 The Basic plan at $199/month is limited to 1 user, 10 reports covering 1000 sites each, and 3 exports. The Pro plan ($299/month) is limited to 10 reports covering 5000 sites and 10 exports, and the Team plan ($499/month) offers an unlimited number of reports, but is limited to 20 exports.
Discover all Similartech features
Similartech offers a free trial: don't hesitate to try it!
#2 Find customers who have left a review on your competitors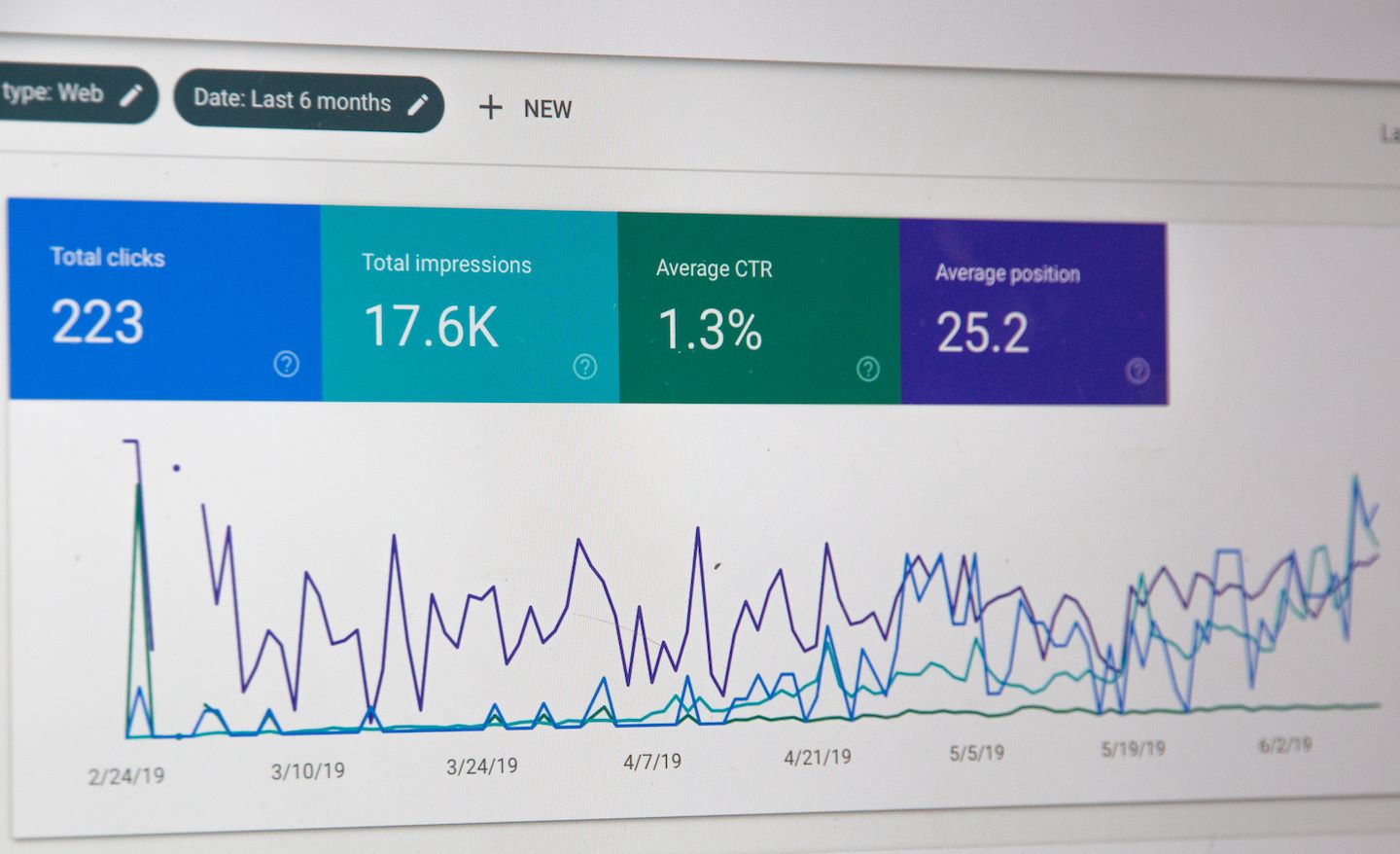 The idea of this method is to use customers who have left a notice to your direct competitors (or selling a complementary solution) to turn them into prospects.
In which cases should it be used?
Identify unsatisfied customers of a direct competitor: For example, find a negative comment on a review platform, and respond with a comment or send a private message to propose your own alternative solution
Identify as many customers of a competitor as possible, in order to build a list of prospects in the sector: For example, if you offer an emailing software, go through the review pages of Sendinblue, ActiveCampaign and Mailerlite and list the customers who have left a review
Identify a maximum of customers of a complementary solution: For example, if you want to promote a new integration with a CRM software. If we take Hubspot as an example, building a list of Hubspot users allows us to target a highly qualified audience, with a very precise message (alibi): Are you experiencing this problem like all Hubspot users?
Identify as many customers as possible of 2 or more complementary solutions, to have a solid prospect file with a wider scope: For example, if we sell a Shopify popup extension that integrates well with Sendinblue, it is interesting to know the Shopify + Sendinblue customers. So we target customers who left a review of the Sendinblue app on the Shopify app store to offer them an alternative solution.
How to do it?
Review platforms like G2, Capterra or Trustradius are increasingly used by B2B companies. They are therefore good research grounds. The problem is that it is difficult to obtain information about the name of the company or the person who leaves a review on these platforms.
Technically, this is possible by following these steps:
Save the profile picture of the person who left a review on the review platform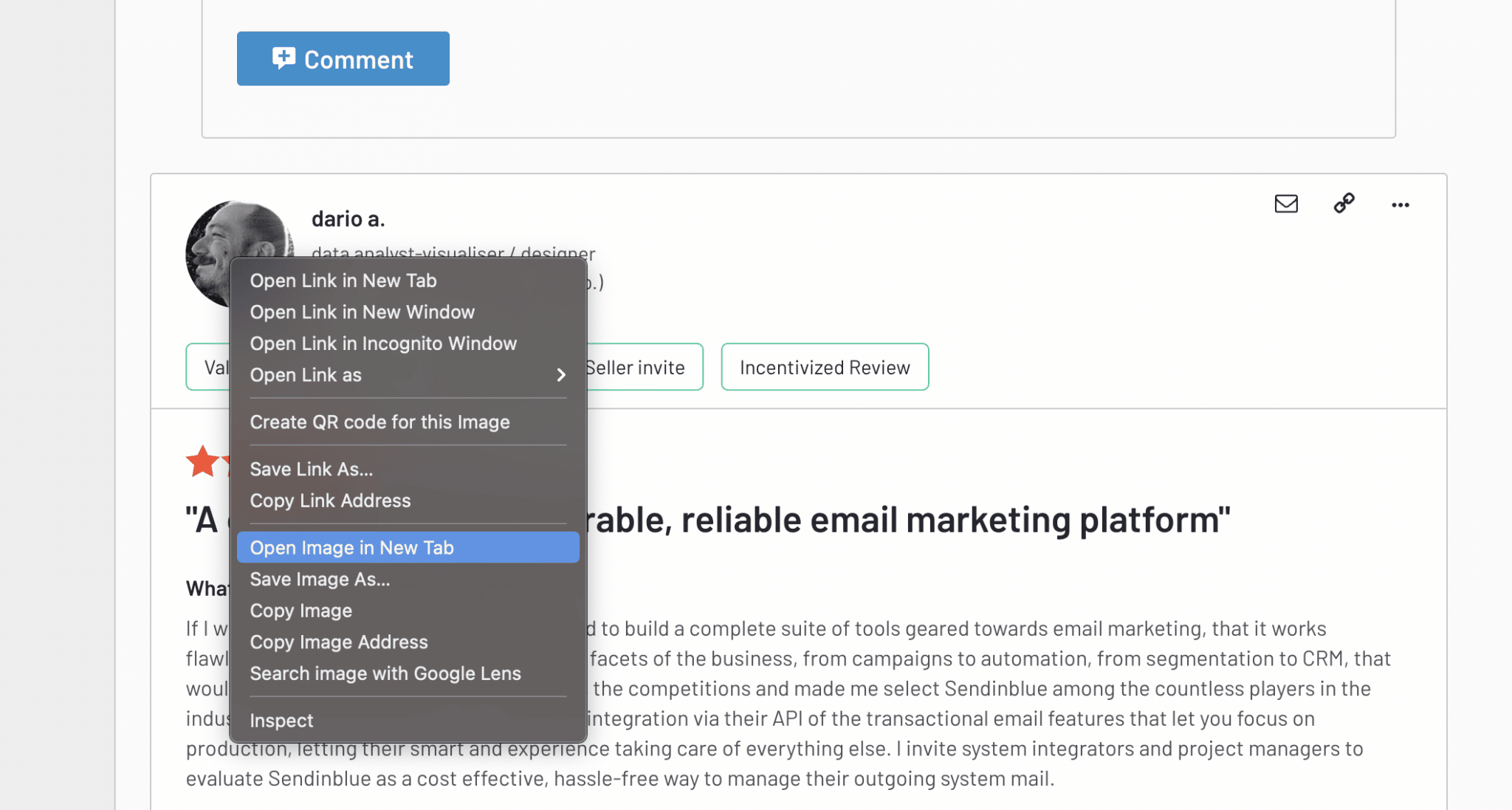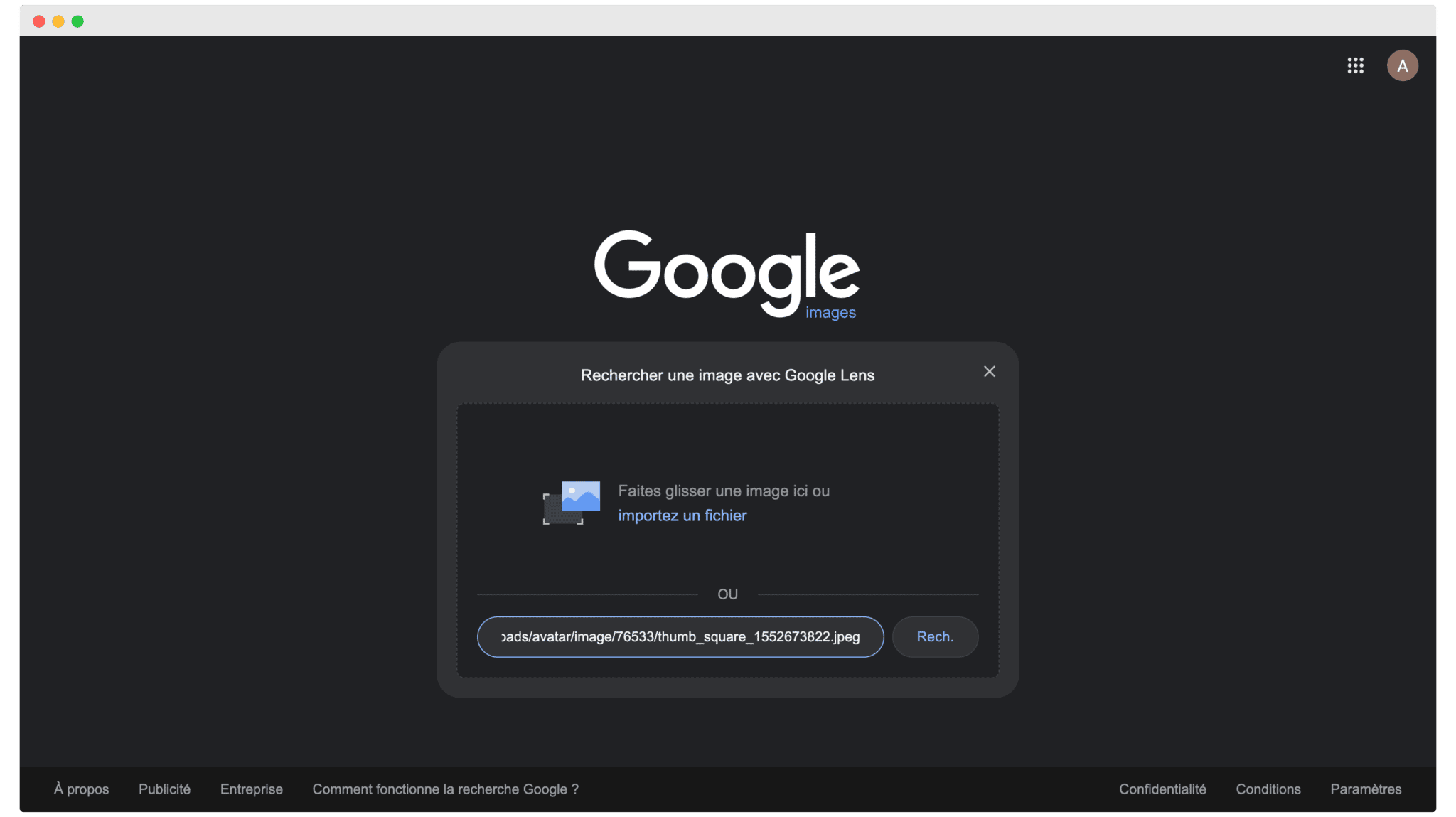 Import the image with some keywords (e.g. the initials as they are on G2 and the name of the box)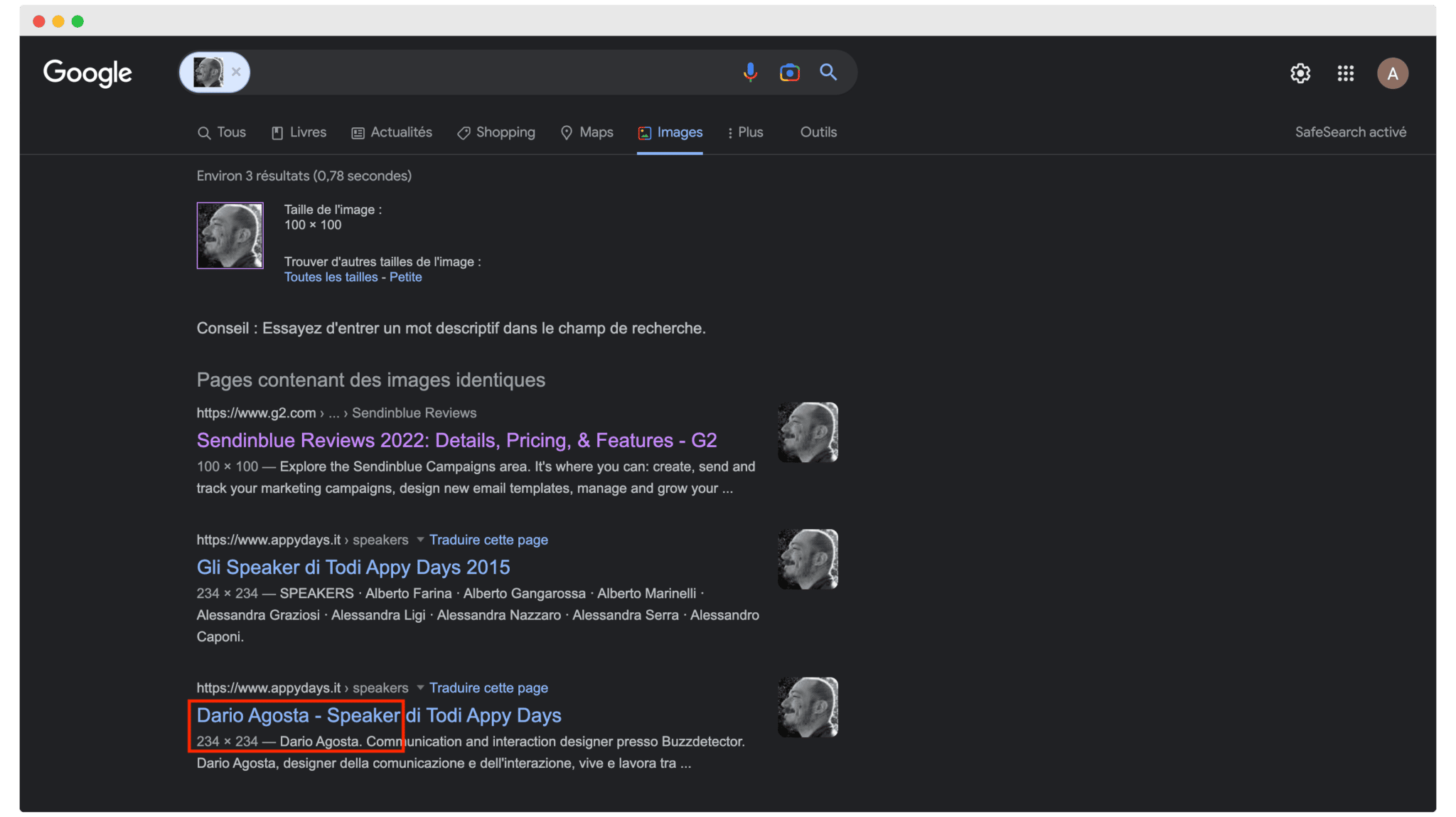 Check Linkedin profiles to find the right one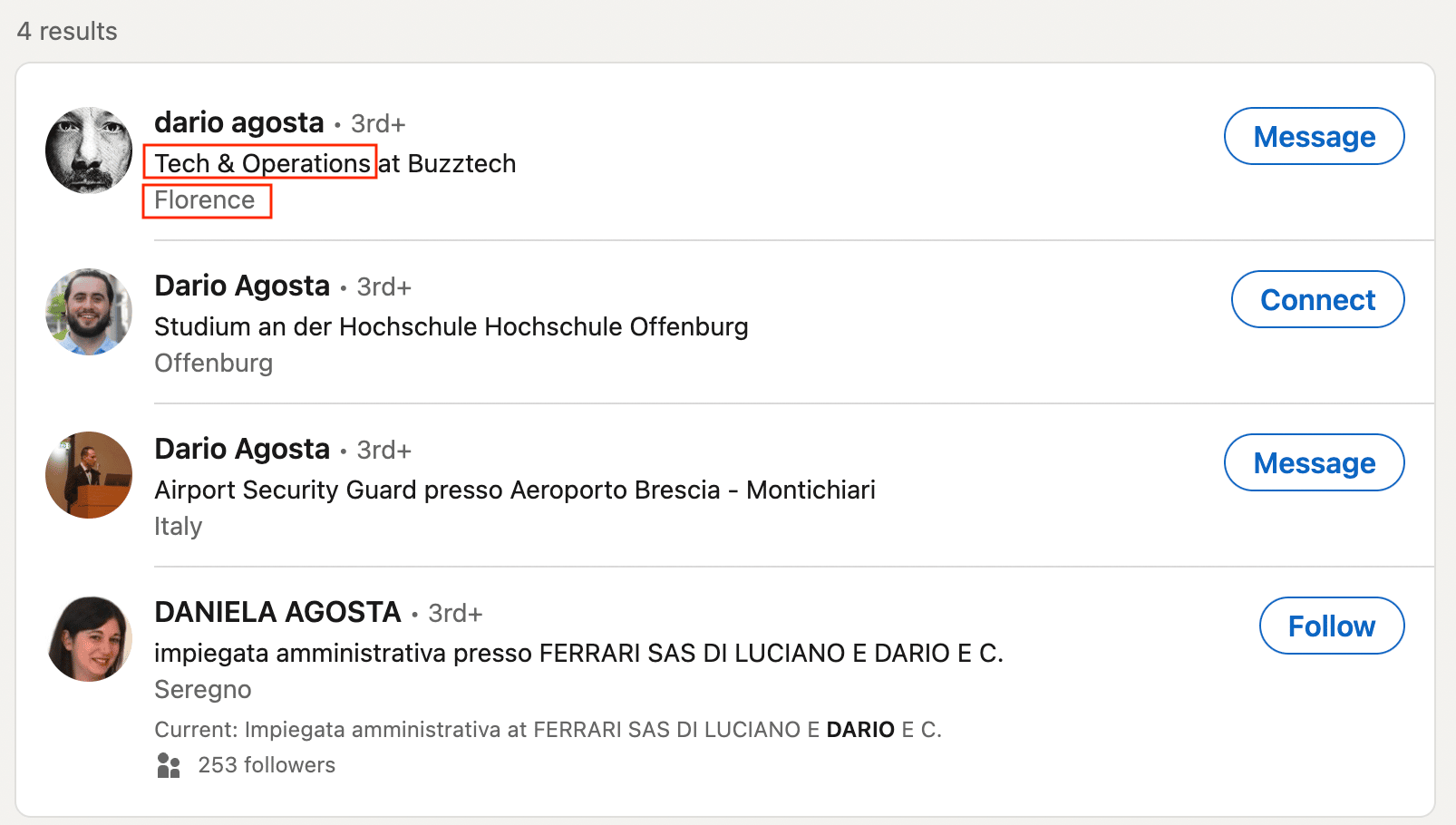 This is a method that has the merit of existing, but is a bit long and tedious.
The real solution
Rather than struggle, we recommend using Reviewflowz. The tool allows you to track any company's reviews on just about any B2B platform, and as a bonus, download the entire history in CSV format.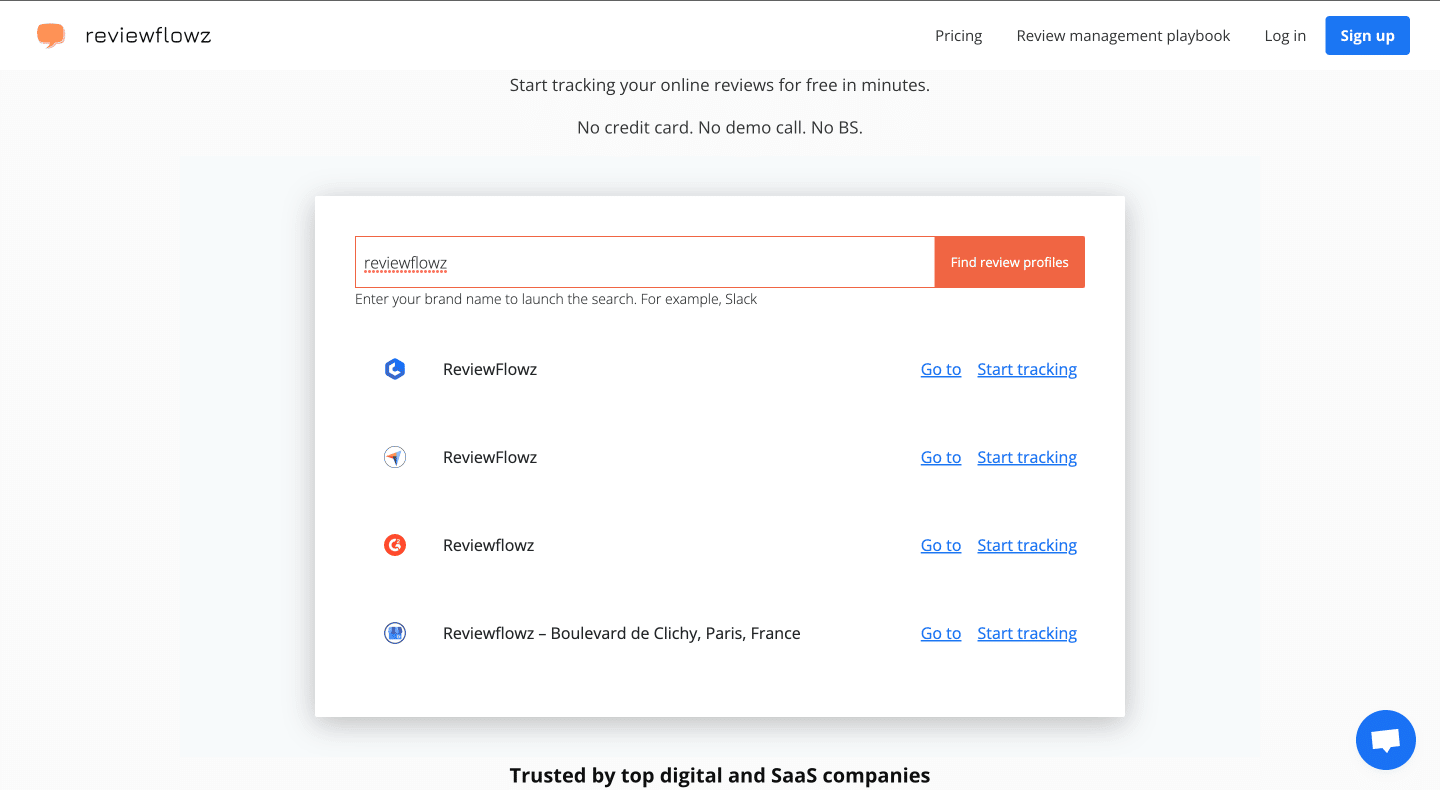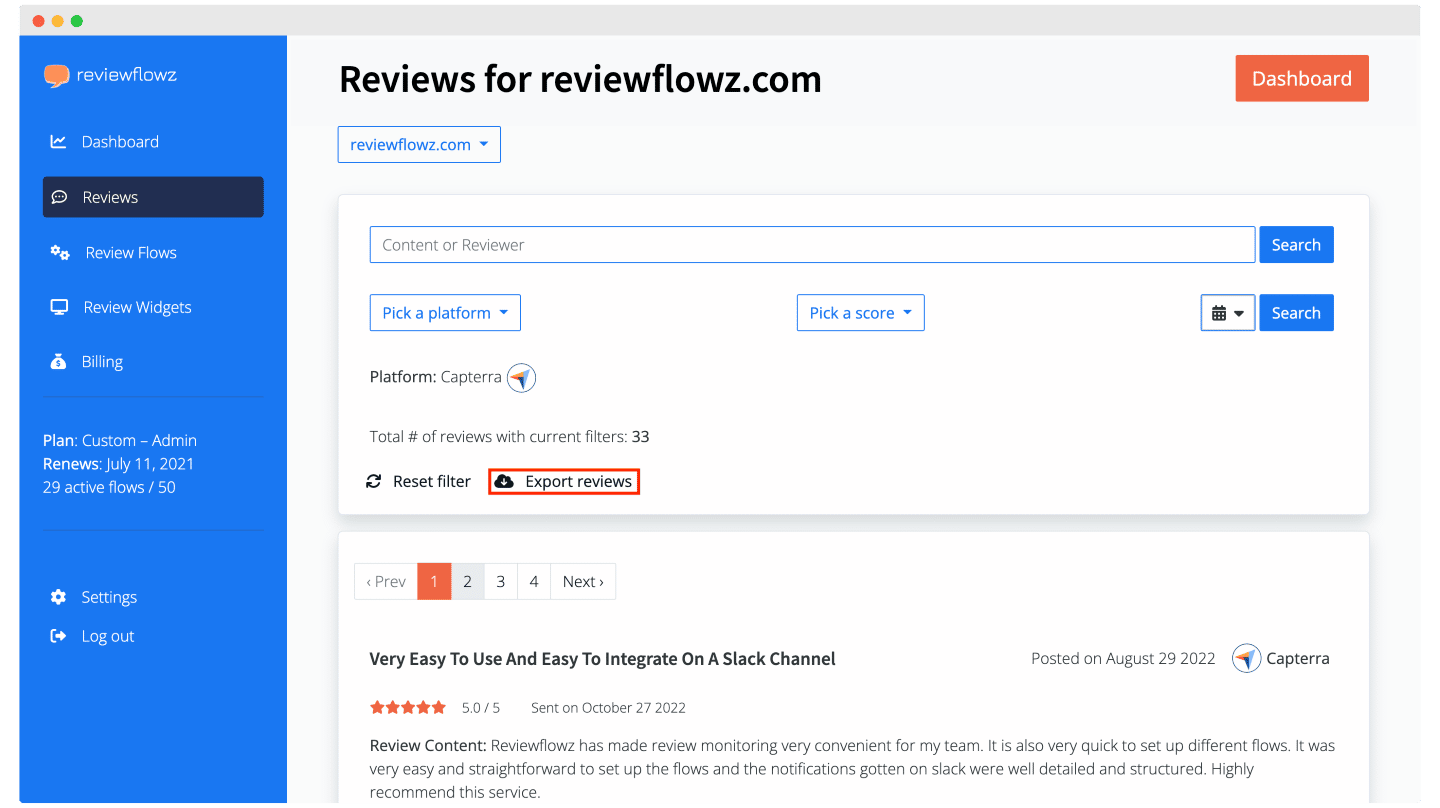 The power of the tool is that it also allows you to retrieve a lot of details about the person who left the review, which makes your job easier.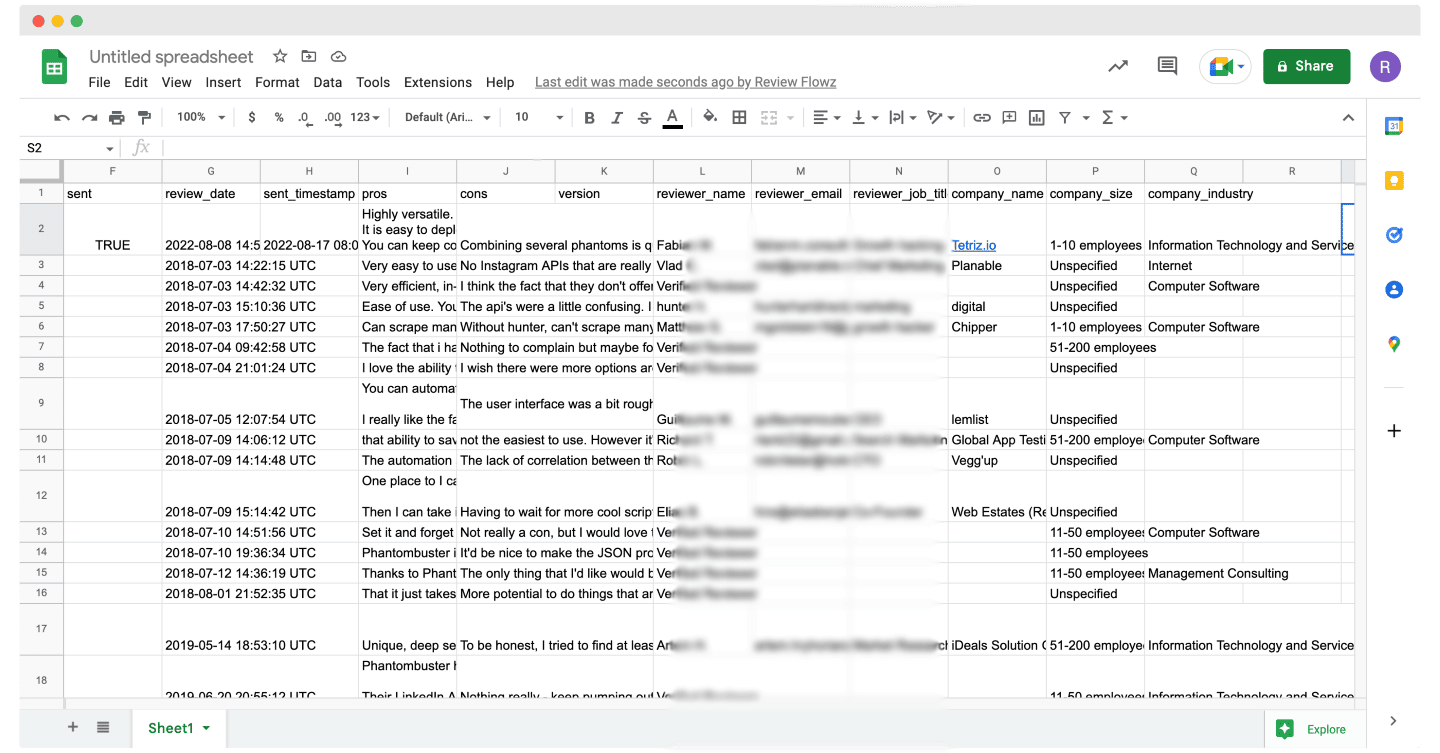 It starts at $50/month to get more or less detailed information depending on the platform, and you can try it for free to get an idea of what you can get.
Discover all the features of ReviewFlowz
ReviewFlowz offers a free version: don't hesitate to try it!
#3 Get your competitors' Linkedin followers
How to do it?
It's well detailed in the video, but in general terms, the following steps should be followed:
Create a fake Linkedin profile
Use the "thispersondoesnotexist" site to generate a fake profile picture
List the competitor as a former company on their profile
Choose the Sales Navigator option (there is a free one month trial)
Search by keyword (ideally choosing the "by title" filter, the most relevant here)
In the results page, select "Prospects who follow your company".
Export this list of prospects from your competitor!
When it is effective
The advantage is that this method works for all sectors, and that it can be used with almost all platforms and social networks (Twitter, Facebook, Product Hunt…). The disadvantage is that a follower on a social network (whatever it is) is in fact rarely a customer. Worse, they are often partners more or less involved with the competitor. In concrete terms, you take the risk of attacking an audience that is quite difficult to convert, and not necessarily very qualified.
#4 Position yourself on your competitor's name on Google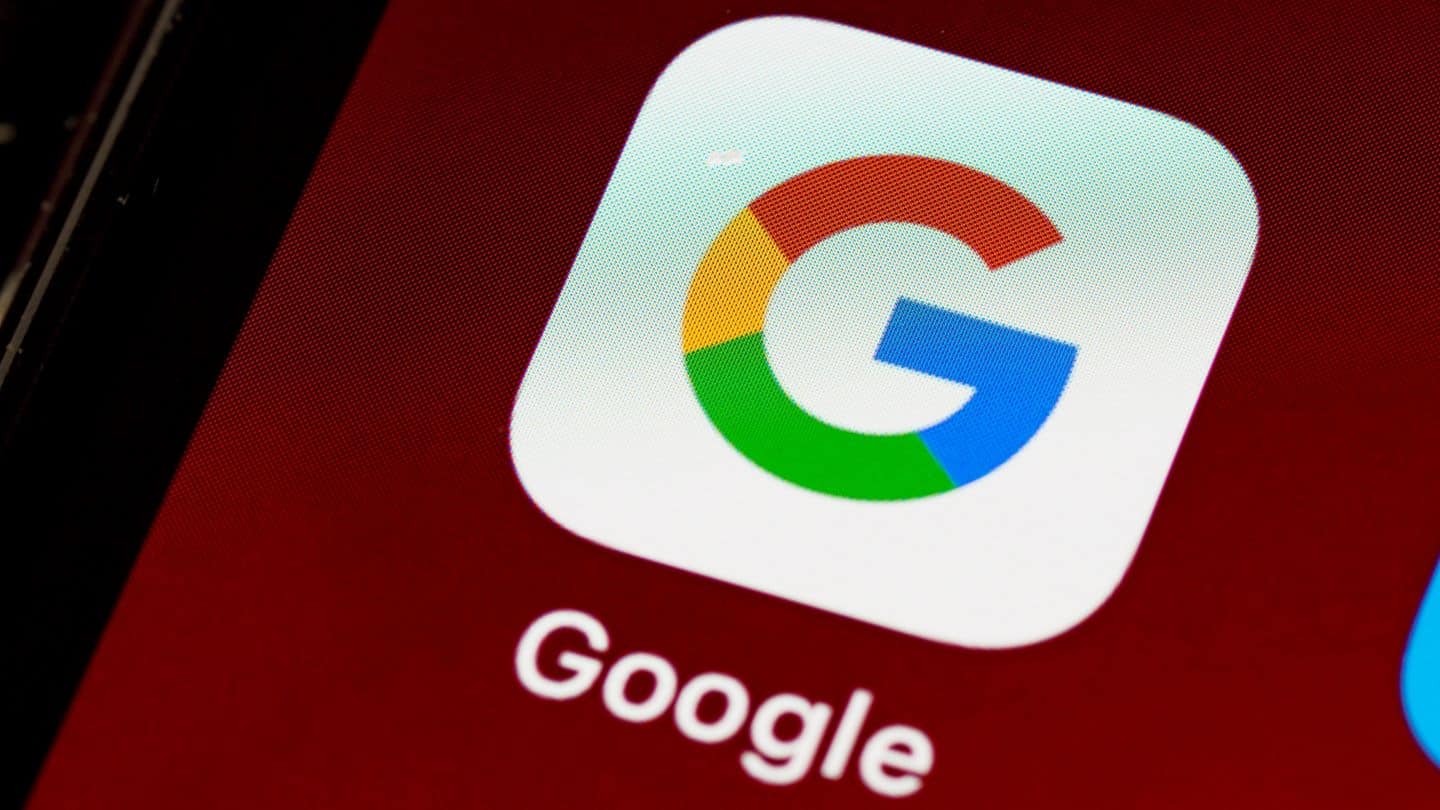 The idea here is to use a competitor's brand name directly as a keyword Google (for example, Nike targets people who search for "Adidas").
The goal is to have an advertisement for one's own offer appear when the customers of one's competitors perform a search.
How to do it?
Obviously, you must have studied the subject before getting started, for example by relying on customer reviews of tools on review platforms:
Write an ad that compares your solution to the competitor's: Avoid anything too provocative. It's tempting, but in reality it's better to avoid offending your competitors, and look for a segment that interests them less, and you more. This is easier said than done, of course. Try as much as possible to include the competitor's brand (without being misleading, otherwise you'll buy a lot of junk clicks), even if Google will forbid you sooner or later. Click-through rates double or triple.
Use comparison landing pages: Ideally, the landing page shows the superiority of your solution over each competitor. To save time and money, some recommend a more general market overview page may work, but it's a bad idea. In reality you have a dozen or so eligible competitors, and clicks are very difficult to get. It's better to spend an extra hour to gain a Quality Score point, rather than the other way around.
Protect your brand: Your competitors are probably using the same strategy, and bidding on your brand to steal your traffic. In this case, you can defend yourself by bidding on your own brand terms as well. This is the "Google tax".
A word about "brand" keywords
It was very fashionable for a while, it is much less so today (fortunately) but just in case. If you ever find yourself in a meeting where someone proudly displays great performances on Adwords including keywords related to your brand (the brand itself and all its variations), run away. You obviously can't compare "brand" traffic (which is based on your brand) and "non-brand" traffic (which is based on transactional keywords, or competing brands).
In the same idea, many agencies pay themselves in % of the Ad Spent, that is to say of what you spend on Adwords. If no one is squatting on your brand, there's no need to pay the Google tax. And if someone is squatting, a phone call to inform that you will do the same in return – that it will make Google richer and both of you poorer – is usually enough to avoid unnecessary expenses.
The limits
Here, the limit is not the areas for which it is effective, but the legal issues. But not so much with the law, more with Google.
In theory, it is possible to position yourself on a competitor's keyword, you do what you want. But in fact, Google considers that using the competitor's brand name in the text of the ad constitutes a deceptive practice (which misleads the customer). And ads that don't have the brand name in the body of the text are much less impactful, and get much less CTR, thus eligible impressions, etc. etc.
And for all the angry people who send formal notices to those who use their brand, comparative advertising is highly regulated in France – especially in B2C – but it is far from being illegal.
If it affects your business, you're too small to be really profitable, and it's probably due to a little too broad targeting. A mistake. It's worth a call to the manager in general.
#5 Find blogs that talk about your competitors
This is probably the most indirect way to reach your competitors' customers, but it can be quite effective. Because if a blog talks about your competitor, it talks to an audience that may be interesting for you, so a priori it's worth talking to it too.
The two types of blogs in B2B
Even though it's all the rage these days to become a "content creator" and "anyone can do it" – those who get traffic are usually in one of those two categories:
Blogs published by agencies: The agency is a prescriber on the choice of software that it will promote. In its relationship with the client, it recommends this or that solution, and it can charge for the migration. You won't convince an agency to migrate all its customers to your solution in 3 days, but engage them in conversation, encourage them to try your product, and create a proximity with these prescribers is to build a hyper powerful asset on the long term.
Media blogs: The difference with agencies is that the business model is precisely to sell visibility and traffic, so it's quite easy to be mentioned, but you have to pay.
SaaS blogs that rank well on real transactional keywords are actually quite rare, and if they are on your keywords, it's very likely that they are a competitor.
3 tools to get links from competitors
Several solutions allow you to obtain a list of all the sites that have linked to your competitors, and above all they indicate the number of links they have put. One may be anecdotal. Two or three, it seems much less random.
On the other hand, if there are more than 10, there is something fishy going on. The site actually belongs to the competitor, or it is an ultra partner since the dawn of time, etc. You have to dig.
SEMrush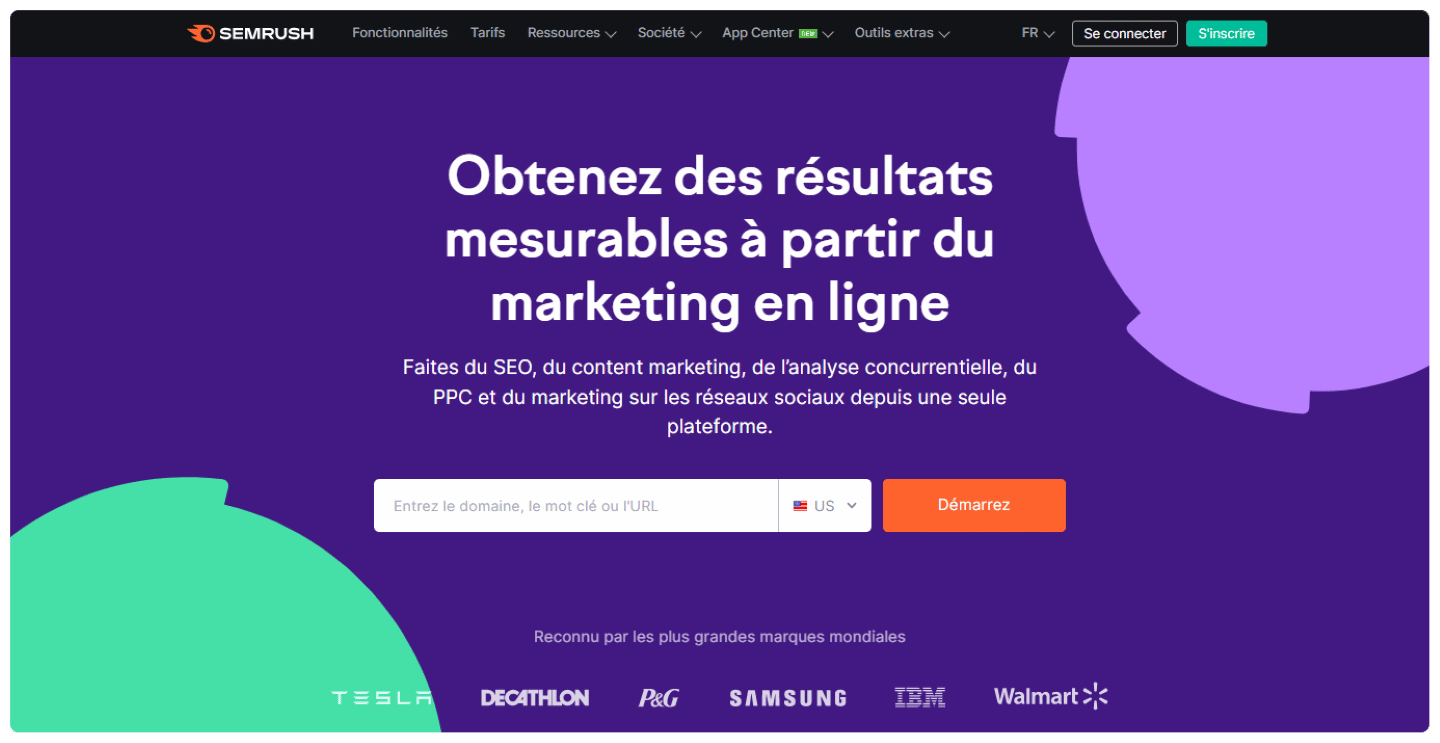 At Salesdorado, we typically use SEMrush, which is a one-stop shop for your company's online marketing needs. Semrush is very effective in identifying relevant competitors.
Limited in projects and keywords, the Pro option ($119.95/month) is recommended for small teams and beginners. Agencies and consultants can opt for the more comprehensive Guru ($229.95/month) or Business ($449.95/month) packages, depending on their needs.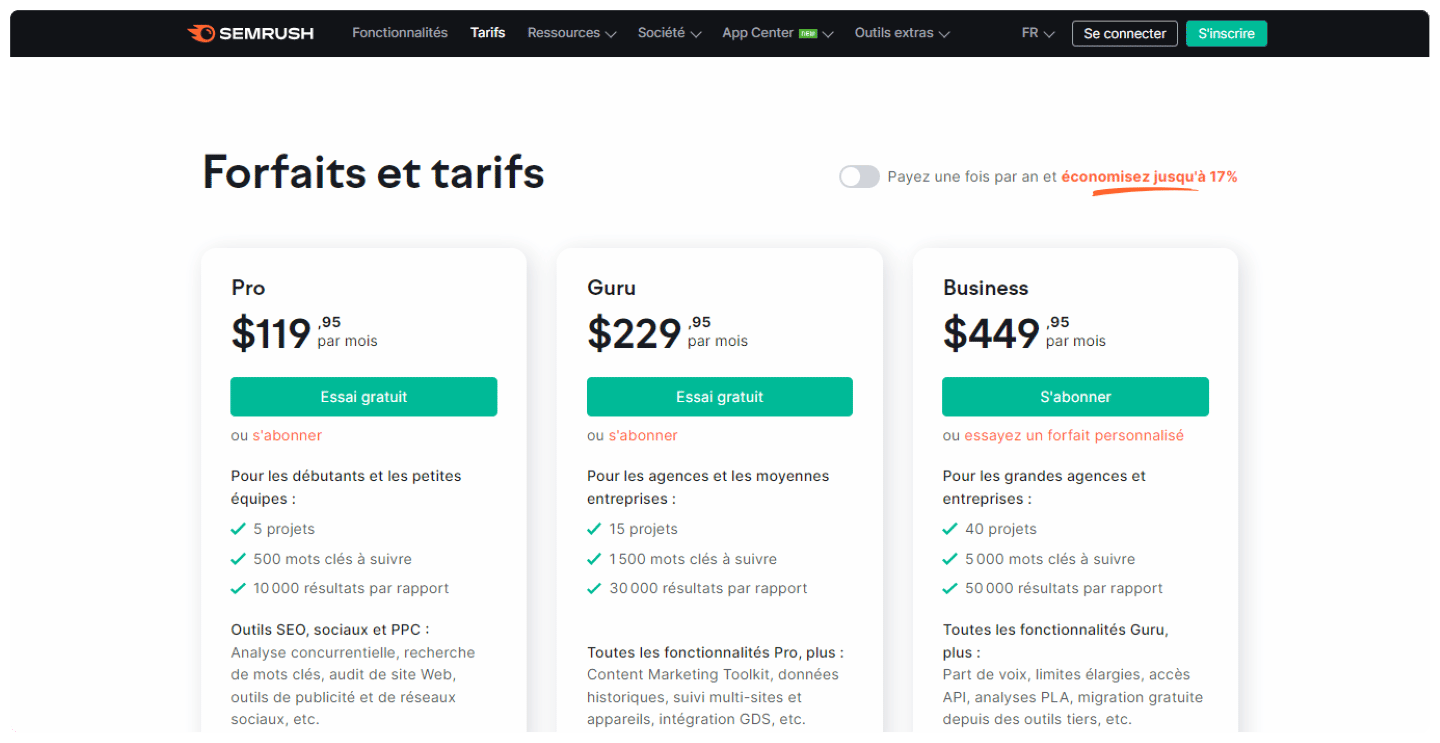 Discover all the features of SEMrush
SEMrush offers a free trial: don't hesitate to try it!
Ahrefs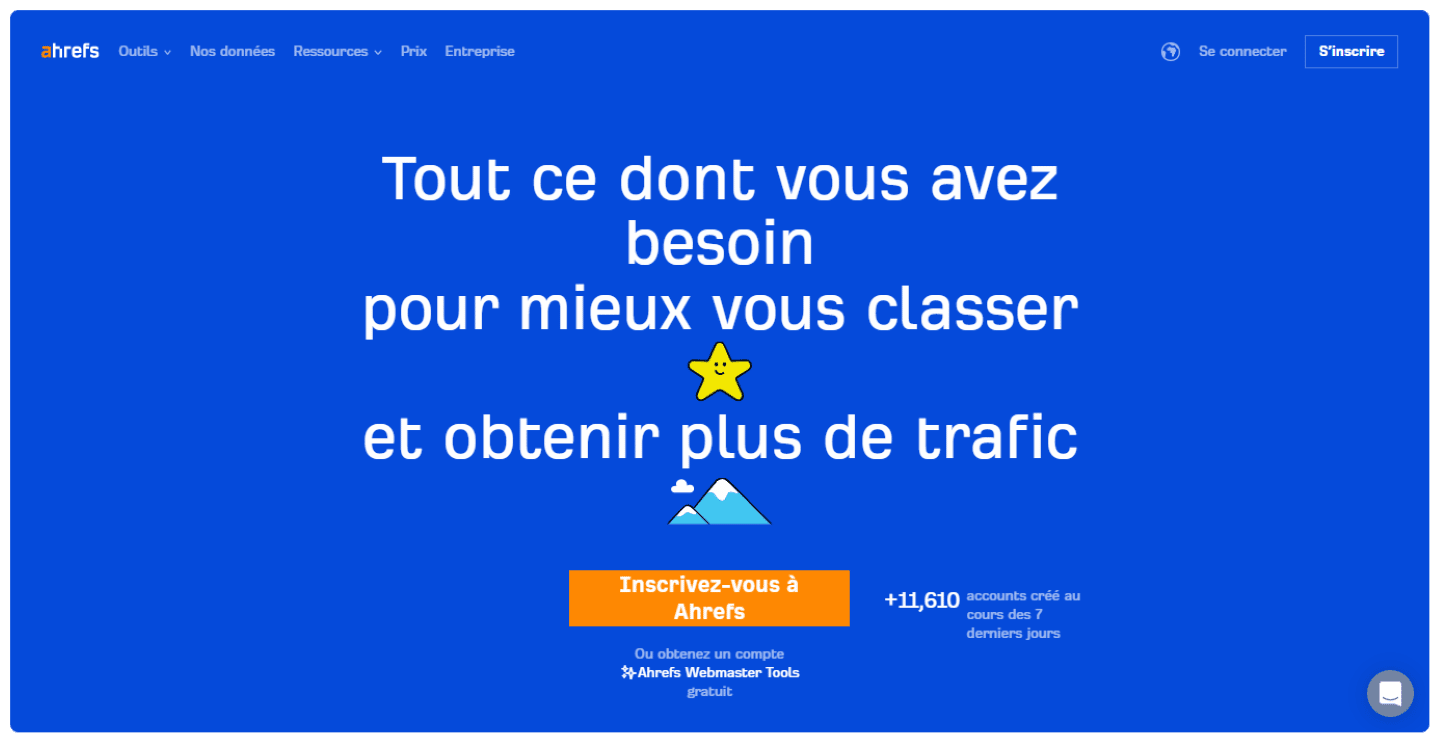 But on this particular use case, we really prefer Ahrefs, which offers tools for link building, keyword research, ranking tracking, and much more. In particular, Ahrefs boasts the largest index of active backlinks in the world.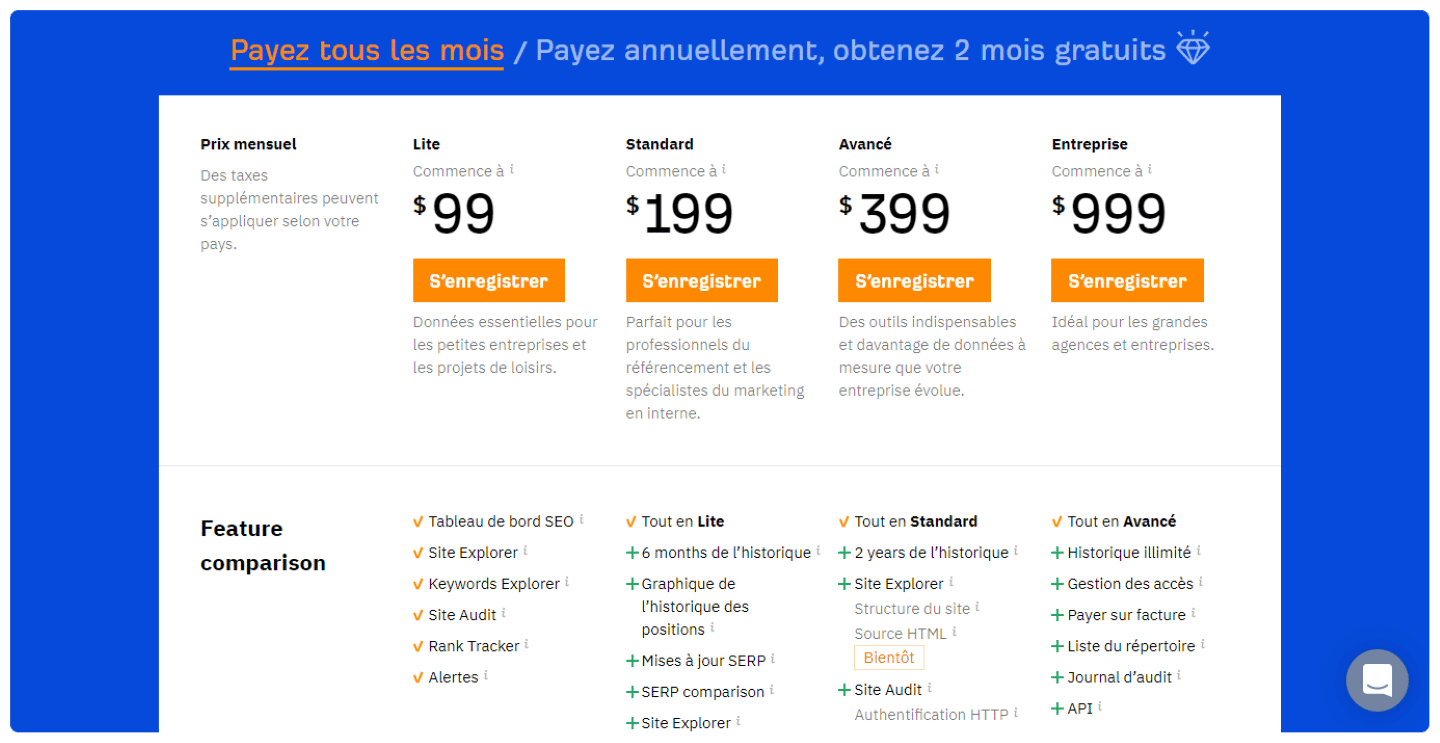 Discover all the features of Ahrefs
Ahrefsproposes a free trial: don't hesitate to try it!
Spyfu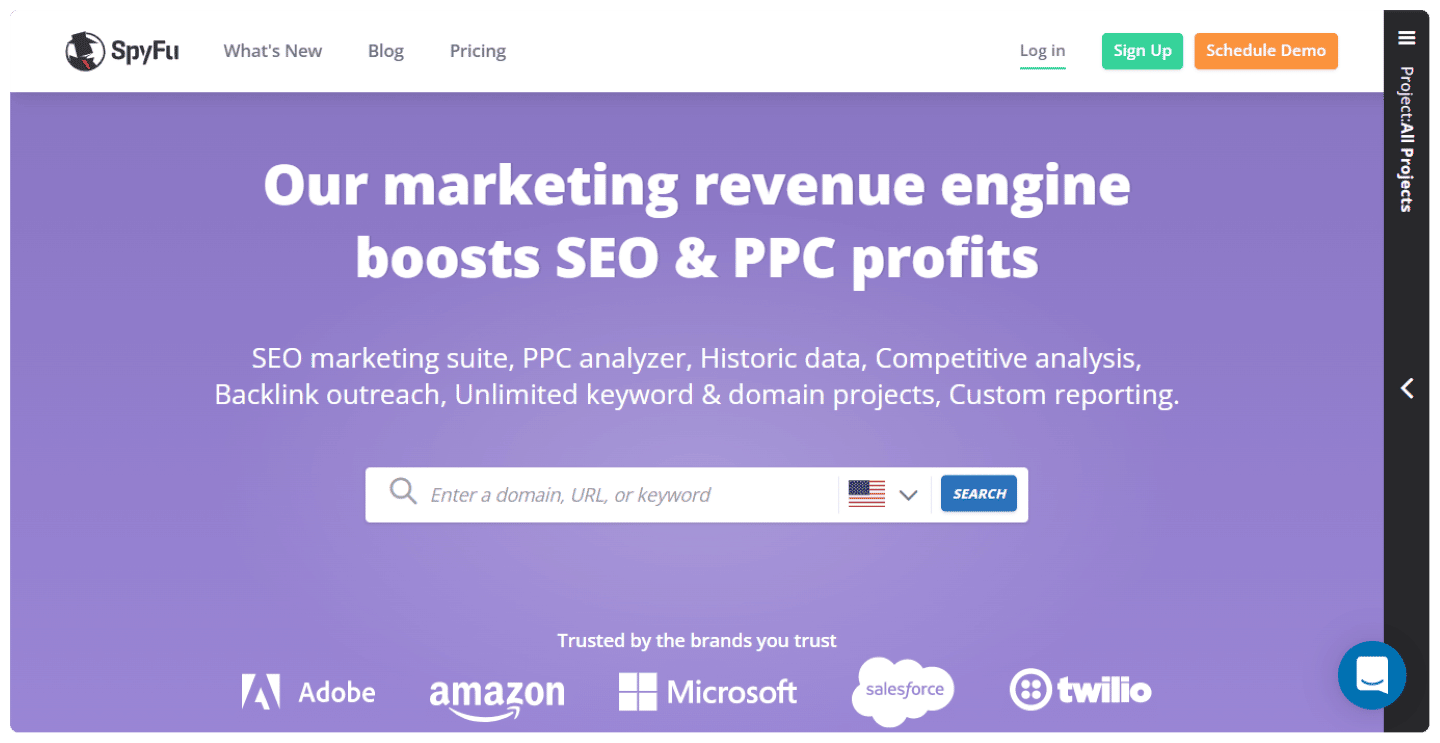 As a bonus, Spyfu allows you to identify affiliate links that go to another site. It's a different kind of partnership, but it's clearly a business relationship.
How to do it?
Classify all these links to know if they come from an agency blog, a media, or a SaaS blog (competitor or partner of a competitor).
Then, you can contact the agencies to try to create a link, meet the managers, etc.
On the media side, you can go for it more frankly with a monetary offer directly, but it will require a little budget to put in front of it.
listicles are a great opportunity to build relationships because their format allows for quick comparison and offers independent perspectives on specific products or services.
Being featured in a listicle offers 2 advantages:
Create more visibility for your brand: listicles bring a lot of organic traffic.
Generate new backlinks: articles are based on providing external links to other sites, so it is almost certain that you will get a new backlink by being featured.
The easiest way to identify listicles that you can be included in is to look for affiliate links. If the article is already monetized, there's really no reason for them to reject your proposal.
You'll have to talk money without hanging around though, these blogs get contacted all the time for backlinks, and you don't want your email to be misinterpreted. Spoiler: when the site does a little volume, the backlink emails end up in the trash unread.
SpyFu has an affiliate link tool that allows you to discover which sites your competitors are listed on with affiliate settings. With this data, you can further refine your contact list.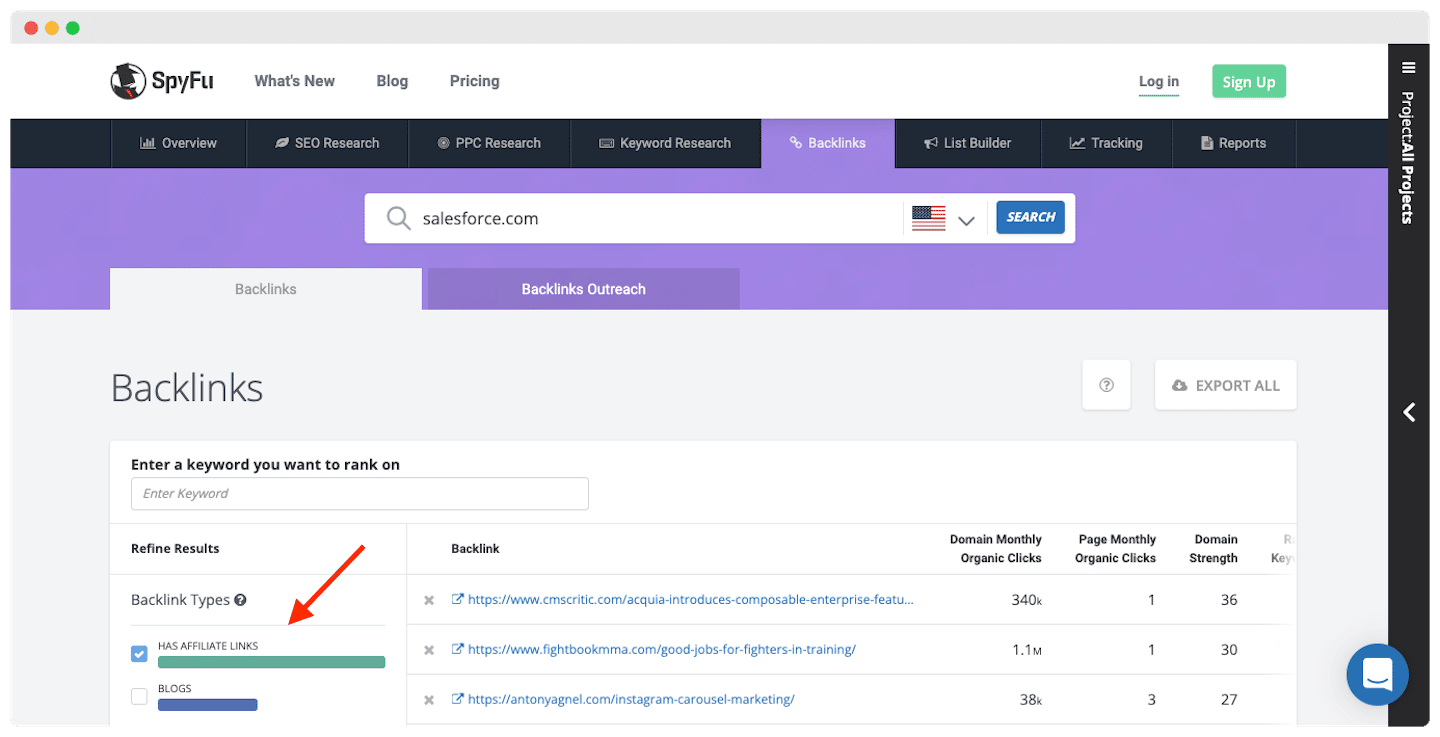 Why is it useful?
Being on the same site as your competitors means being on the sites focused on your niche. If you want to buy yourself a presence in the market, you can contact all your competitors' affiliates with a solid offer.
This ensures valuable generated traffic and increased authority in your field.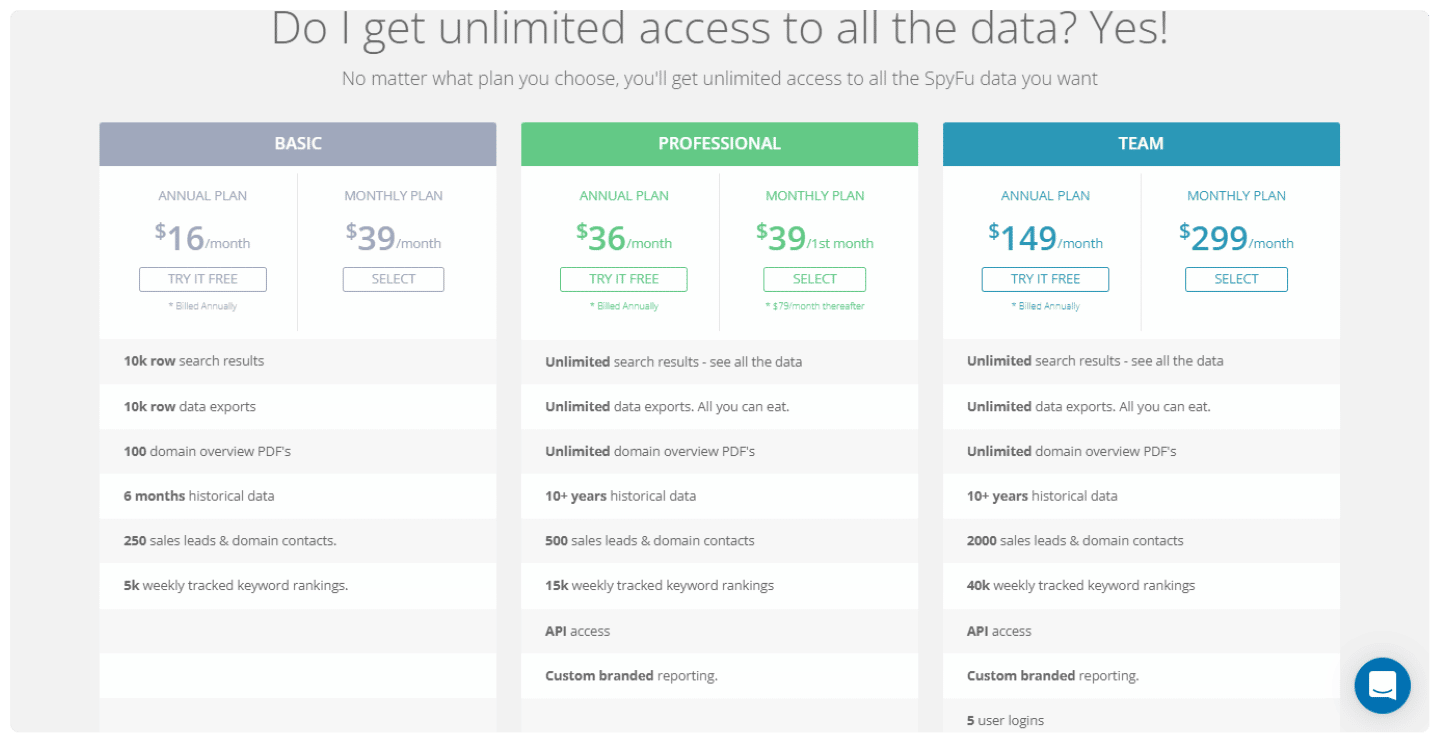 Spyfu is the most affordable resource, with subscription prices ranging from $39/month (Basic plan limited to 10k search results and data exports in a row) to $299/month (Team plan, which offers unlimited search results and data exports in a row).
Whichever plan you choose, you get unlimited access to all Spyfu data.
Discover all the features of Spyfu
Spyfu offers a free trial: don't hesitate to try it!
Reader Interactions