Pardot is the marketing automation solution of the Salesforce suite, its robust integration with the CRM allows you to align your marketing efforts with your sales objectives for better lead follow-up. By combining Pardot with other tools in the suite, including Salesforce Einstein, you get a powerful all-in-one tool to optimise all your sales processes.
In this article, we review Pardot's key features, detail the available pricing and share with you the most frequent feedback from Pardot users.
Our review of Pardot : Summary table
Criterion
Note Salesdorado
Comment
Overall score
Pardot is a comprehensive marketing automation tool that you will need to use alongside the other tools in the Salesforce suite to fully exploit its potential.
Functional scope
Pardot provides you with the essential tools of marketing automation: creation of workflows, landing pages,
email marketing
… The basics are there but the tool lacks manageability and does not go as far as some of its direct competitors.
Reporting
Functionally, this is Pardot's great strength: it offers you a powerful and ROI-oriented reporting tool that allows you to compare the performance of your campaigns and to benefit from a 360° view of the customer life cycle.
Integrations
The integration with other solutions of the Salesforce suite have the power of Pardot: coupled with CRM and BI solutions like Einstein you get a very powerful tool. If you don't use other Salesforce products, the integrations are much less interesting, for example in the area of social network management, the integration is just right.
Value for money
Given the depth of functionality offered, Salesforce's pricing for Pardot may seem out of line, especially for SMEs with fewer resources to allocate to marketing.
Functional scope of Pardot
Email Marketing & Landing pages
Pardot's email campaign management tool consists of an intuitive editor that allows you to create visually appealing B2B email campaigns based on numerous templates.
Pardot makes it easy to segment your prospects based on their interactions with your emails, and personalise each email for the right recipient. A/B testing capabilities allow you to identify what really resonates with a prospect and push the most impactful messages.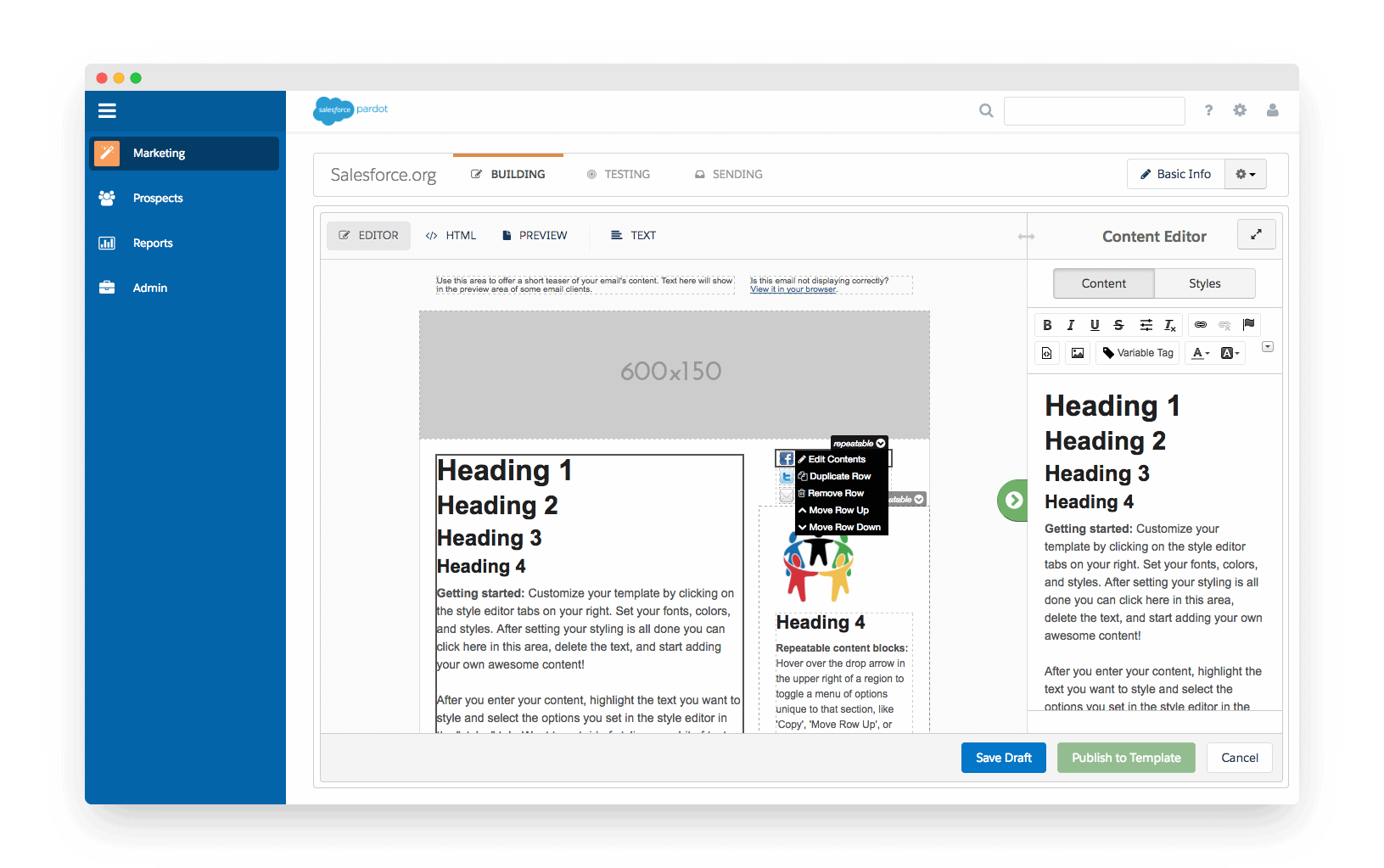 Pardot's email editor
In the same way, Pardot facilitates the work of marketing teams in the creation of landing pages. The tool offers many templates that you can easily customise according to your target and your offer. It is also possible to use HTML to reproduce the appearance of an existing site.
To maximise your conversion efforts and set up landing pages that collect leads, Pardot allows you to create several simultaneously, test the configurations that work best and measure their performance and complementarity with your email campaigns.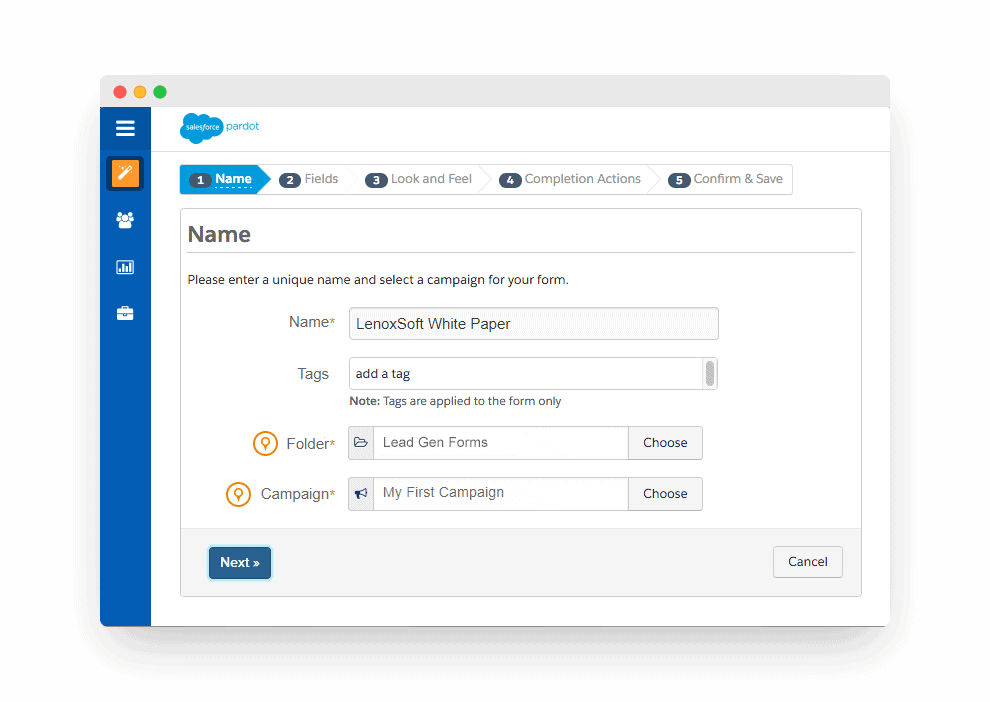 Creating a form for your landing pages
Salesdorado's opinion
A tool for creating emails and landing pages that is intuitive and easy to use. The ability to automatically segment your audiences based on their engagement is a real plus.
Lead Management
Pardot offers a sophisticated lead scoring system, and many ways to use automation to make lead management easier and more efficient. With excellent integration with Salesforce CRM, Pardot helps identify the most qualified leads before passing them on to the sales team.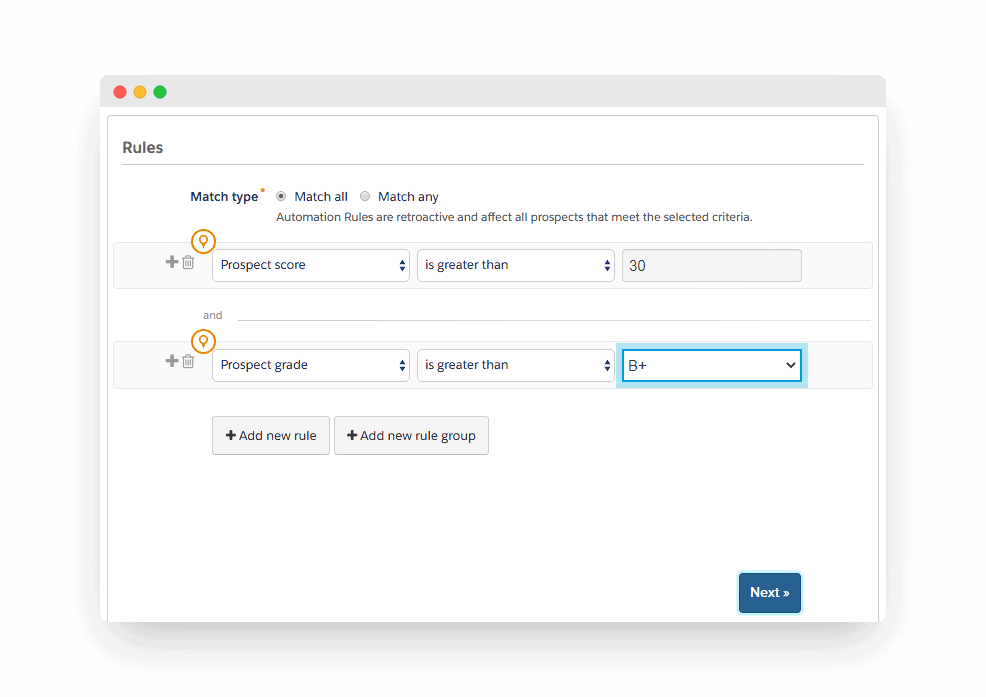 Define the rules for rating your prospects
Rather than sending mass emails, Pardot allows you to identify increasingly precise segments of prospects and to define lead nurturing strategies adapted to each of these segments. The tool also helps you orchestrate these strategies through easy-to-use workflows so that each prospect is reached with the right content at the right time.
The Salesdorado opinion
The automation and segmentation functions reduce repetitive tasks and allow you to precisely personalise your messages. The tool is also easy to use, the predefined scoring criteria help you to set up your lead scoring scenarios.
Reporting on Pardot
Pardot's powerful analytics tools allow you to track how prospects interact with your brand in real time. Pardot's Advanced Email Analytics package allows you to measure the performance of youremail campaigns, including engagement, clicks, and A/B testing.
To use all the analysis features of Pardot, you will need a Pro or Ultimate plan, see the details of the price formulas in the following article.
The robust reporting functions allow you to monitor :
Campaign performance
Their return on investment
E-mail metrics to optimise them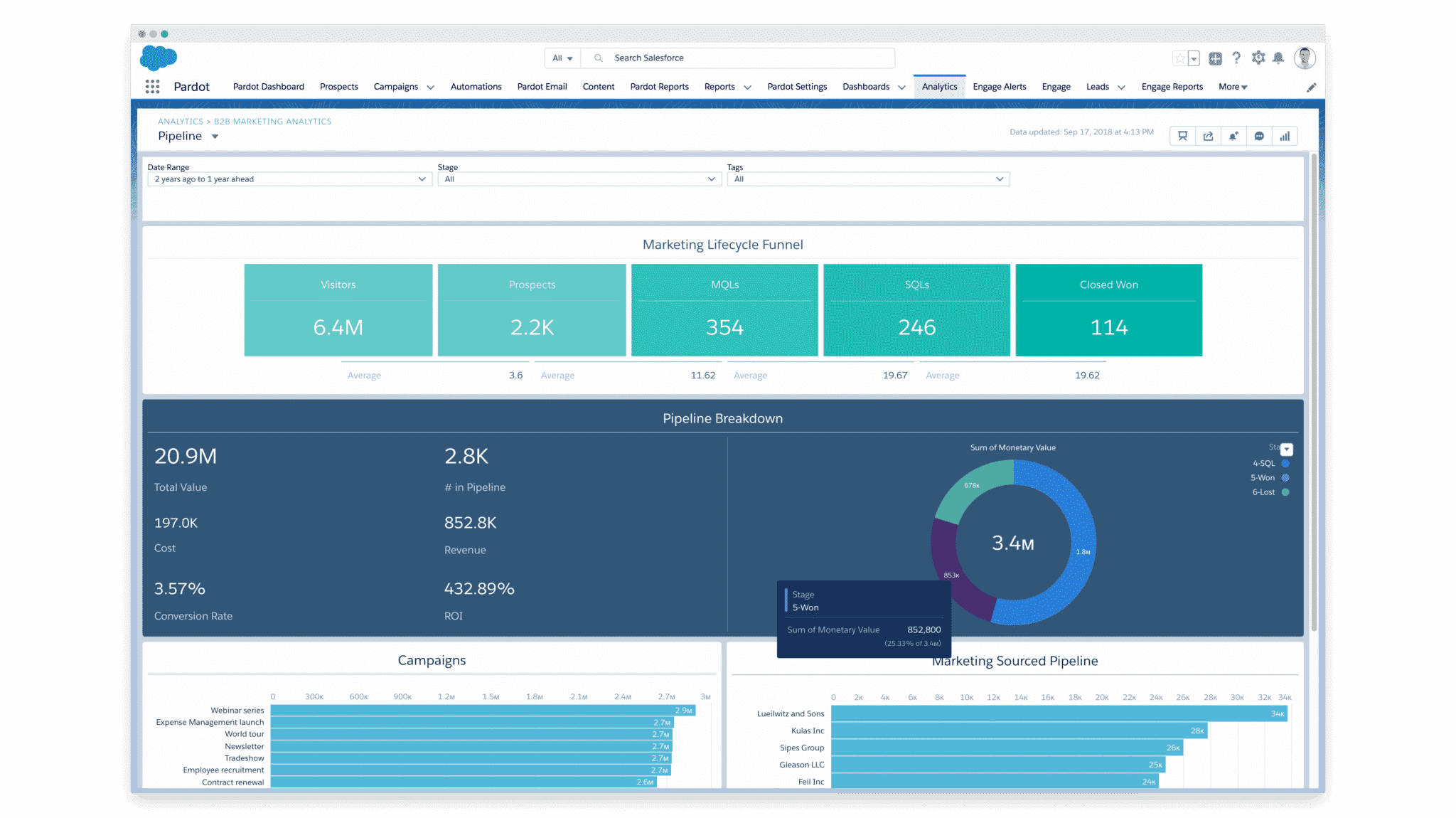 KPIs of your customer life cycle 
Pardot's Analytics solution integrates data flows from all your marketing channels: webinars, events, social networks. Evaluate the ROI of each one so that you can direct your marketing strategy towards the channels that have the greatest impact on your buyers personas.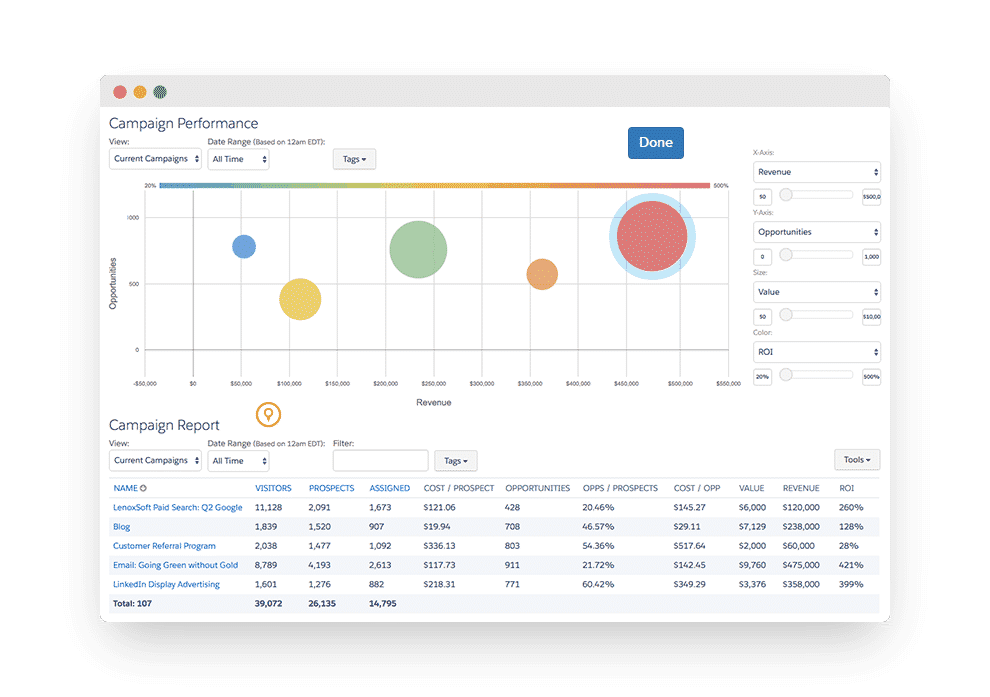 Measure the performance of your campaigns
In the example above, the reporting tool gives you an overview of the performance of your campaigns and allows you to compare them: each bubble represents a campaign and the opportunities generated.
Salesdorado's opinion
This is Pardot's great strength, its Analytics tool offers you a true 360° view of your campaigns in order to optimise them and identify the channels on which you should concentrate your efforts.
Integrations
Salesforce: Pardot's key integration
If you already use Salesforce CRM, Pardot's integration allows you to optimise your use of both tools considerably. The leads and actions that you carry out via Pardot are automatically synchronised, allowing you to easily allocate leads to the right salesperson! You also benefit from the numerous possible integrations with the best applications available on the Appexchange.
In anAccount Based Marketing logic, the ability to alert sales people in real time of the progress of leads within your sales funnel is another important asset of the tool.
In addition to the CRM connection, integration with other solutions in the Salesforce suite, including Einstein, a powerful business intelligence and analytics tool, gives you the opportunity to take customer insight to the next level.
Beyond Salesforce, Pardot offers native integration with most CRM software, although it cannot integrate with more than one CRM at a time.
Google Adwords integration
Using the integration with your Google Adwords account, you can build landing pages that match the keywords you are positioning yourself on via your Google Adwords campaigns.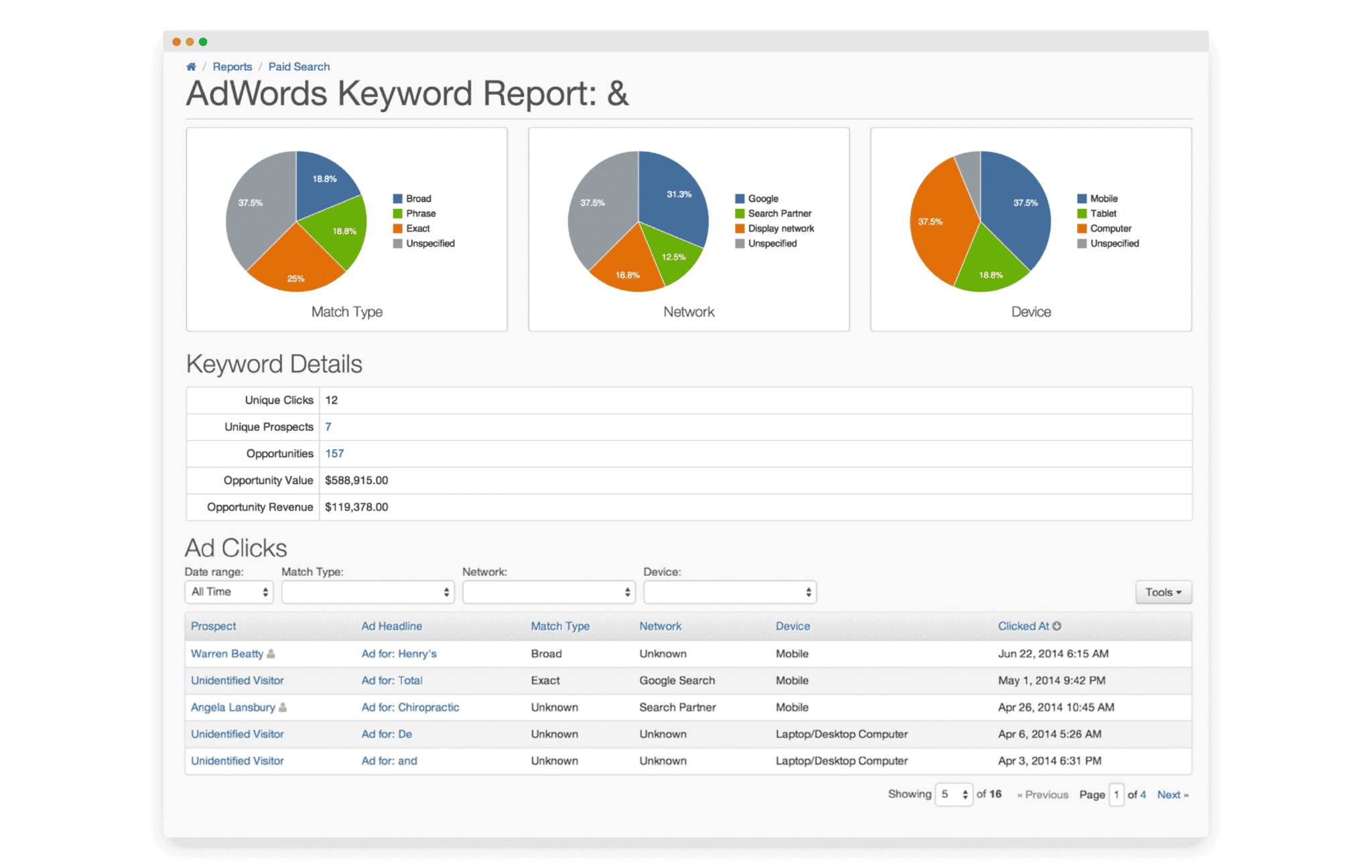 Thus, Pardot all the interactions of your prospects with your Adwords campaigns are integrated in the global follow-up of each prospect. This allows you to optimise your campaigns based on these results. It is also possible to integrate your Google Ads spend with the lead tracking in Salesforce to determine the real cost of a qualified lead and the ROI of your Adwords campaigns.
Social network integrations
Here, Pardot does not particularly stand out from other marketing automation software and offers the basic features that allow you to manage your presence on social networks in an automated way.
The tool therefore offers connectors for all major social platforms, including Twitter and Facebook. You can use these connectors to publish posts automatically and Pardot to create forms and landing pages adapted to the different platforms.
Pardot has two LinkedIn connectors, one for quick and easy publishing, the other for searching for B2B profiles and leads. This feature is another asset that strengthens Pardot's potential for B2B marketing.
The Salesdorado opinion
If you already use Salesforce CRM and perhaps its BI tool, Einstein, these integrations make the tool very powerful in its entirety.
Customer reviews of Pardot
The feedback from the users of the tool is generally correct with :
4.1 / 5 on Capterra (543 reviews)
3.9/ 5 on G2 (1762 reviews)
Advantages & Disadvantages identified by users
Salesforce integration : "integrates very well with Salesforce (Pardot is a Salesforce product)"; "If your company uses Salesforce, this is the perfect marketing tool to use in B2B. You can use the fields in the Salesforce lead records to set up your lists in Pardot, which is very easy…"; "We are able to see our data in Salesforce as well, which allows our sales team to work seamlessly."
Value for money : "The price is too high for what you get…"; "Excessive cost for smaller SMEs, there are many cheaper and more suitable alternatives to Salesforce for SMEs."
Lack of functional depth : "For those who want to build a real customer strategy, the adaptability should be a bit deeper…"; "…I would like to have more options to design landing pages without having to have a coding/HTML background."
Pardot's rates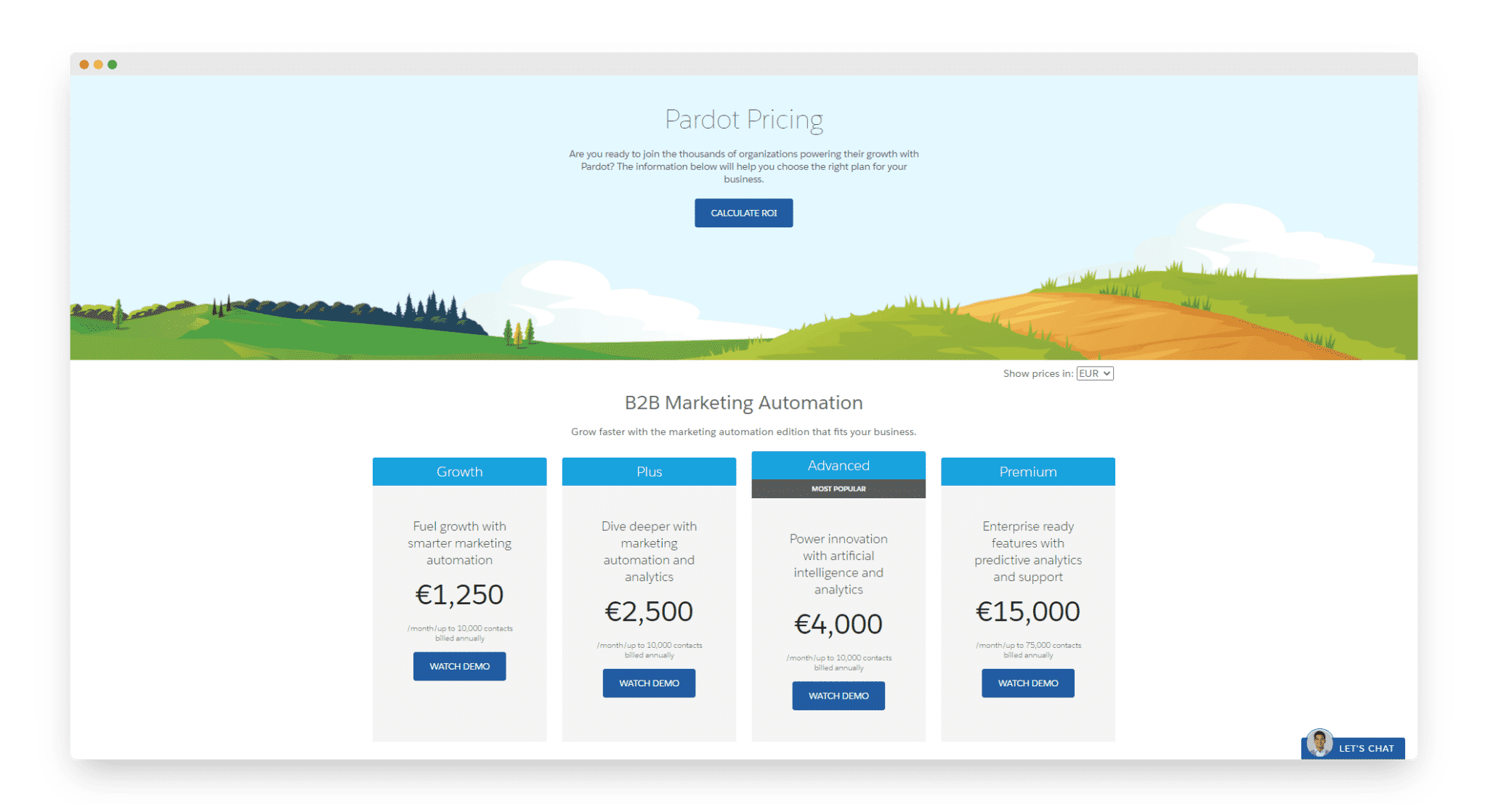 Pardot offers 4 price plans:
Growth – For £1,250 per month, up to 10,000 contacts. This plan includes unlimited email campaigns and lead scoring, lead scoring and reporting features. However, the creation of forms, landing pages and automation rules are limited to 50. At this level the integration with CRM is standard and the tool does not integrate with Salesforce Einstein.
Plus – For £2,500 per month, up to 10,000 contacts. This package adds advanced analytics capabilities to your email campaigns, A/B testing and Google Adwords integration. Automation rules are limited to 100.
Advanced – For €4,000 per month, up to 10,000 contacts. This plan allows you to create up to 150 automation rules, includes integration with Salesforce Einstein and the ability to split 2 business units within the tool.
Premium – For €15,000 per month, up to 75,000 contacts. Finally, the Premium plan includes all the features of the previous plans by allowing the creation of up to 5 different business units as well as access to B2B Marketing Analytics Plus.
If you are not yet using Salesforce CRM, take a look at
Salesdorado's opinion
The tool is expensive overall, especially considering the functional depth offered. If you want to integrate Salesforce Engage with Pardot, you will have to pay an extra 50€ per user per month.
Have you used or are you currently using Pardot? Feel free to share your impressions of the tool in the comments 🙂