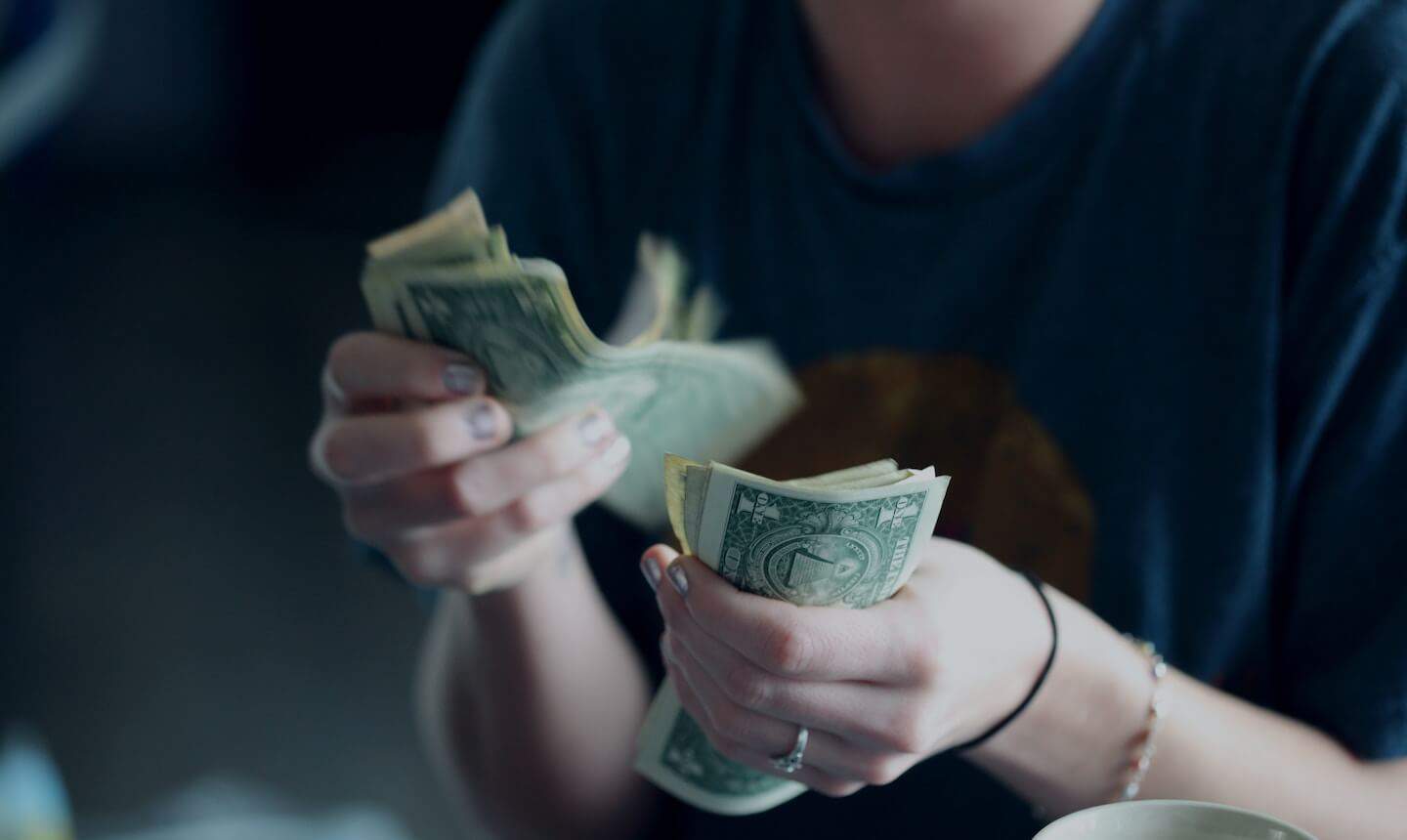 The costs of a CRM project are not limited to the cost of licensing the CRM software. Selection costs, integration costs, training costs, maintenance costs, and hidden costs can quickly add up if they are not well anticipated.
To help you find your way around, this article details the different cost items of a commercial CRM, with detailed estimates and cost drivers for each item.
How much does CRM software cost?
On average, the implementation of a CRM costs about as much as the price of the CRM software over a year.
For light needs with about ten users, you should count between 15,000€ and 20,000€ the first year, and about 5,000€ the following years.
For more advanced needs with around fifty users, you should expect to pay between €60,000 and €80,000 in the first year, then around €40,000 per year.
Finally, for more complex organisations, with more than 150 users, expect to pay between €350,000 & €500,000 in the first year, then at least €200,000/year.
Please note that the licensing costs are very degressive depending on the volume. Catalogue prices are never charged for large CRM projects.
We have summarised the detailed costs of a CRM project for 3 company profiles below
Let us now go into the details of the cost categories mentioned:
CRM selection
Cost of CRM software
Implementation of the commercial CRM
Training
Maintenance
#1. The cost of selecting CRM software
Why invest in a structured selection process?
On average, companies spend 11 weeks selecting a CRM.
But this is only an average: it depends on the size of the company. Companies with more than 250 employees take almost 2x as long to select a system as those with less than 50 employees.
Although selecting your commercial CRM will not cost anything "directly" from a publisher, it will cost your teams time: this is an expense to be anticipated.
Choosing a commercial CRM is obviously an essential step because it allows you to qualify your company's CRM needs, expectations and objectives: you need to define the main use cases, deduce the target features that the software should offer, draw up specifications, benchmark several CRM editors, etc.
Attention
You really need to be able to distinguish between "must-haves" and "nice-to-haves". Too many CRM projects fail and too much software is not adopted internally because the chosen business CRM is too complex. The success of your CRM project lies in the effective adoption of the chosen software by the employees.
On what criteria should you choose your CRM?
"The more thoroughly your team defines its needs before choosing a CRM system, the more successful your CRM implementation will be." – Steve Chipman
The range of features of a CRM can be summarised in 4 areas:
The functional scope of the CRM software
Business needs
Access to commercial data
Scalability of the solution
#1 Essential features
Create a list of "must have" and "nice to have" features. What do you need in each of these areas?
Contact management
E-mail marketing and automation
Opportunity management
Sales analysis and reporting
Workflow automation
Account management
#2 Business needs
What specific tasks should the system perform for your business processes?
What are your specific uses?
What are the steps in the sales process? At what point does account ownership change? What does your sales process look like (prospecting then selling)?
What problems are you experiencing? What processes seem chaotic and disjointed? Where are you starting to lose leads? Who needs to communicate? What information are you losing?
We need to go beyond functionality.
#3 Access to business data
The idea is to think about this issue from the point of view of each team that will use the tool: each team must participate in this discussion about its CRM needs.
Sales team
Marketing team
General Management
Support team
Operations Team
Financial team
Will different teams need different dashboards? What information will be displayed in each dashboard? How will this information be displayed? How will users use it?
#4 Scalability of the solution
How fast are you evolving? How much information are you adding? What would happen if the system broke down? How much information do you store about your customers? The things to consider here are:
Operating time
CRM scalability
Backup and disaster recovery
Cost (of course)
Pro tip
Investing the necessary time will make it easier: the clearer the objective, the easier the process.
How to buy CRM software?
Here are some tips:
Identify between 1 and 3 people in your organisation responsible for dialogue with CRM editors, to avoid all employees investing time with different editors. Having a clear set of specifications, or failing that a precise knowledge of what you want, will also save time in the exchanges.
When you have finished your research, select between 3 and 4 CRM publishers, no more. Ask each one for a demo and test each software. Check whether or not all the needs of your teams are covered. Build an analysis grid, with a list of all your criteria, to compare each of the selected solutions and be able to identify the best one.
Organise internal meetings. The selection of the CRM should not only be a matter for management. All end-users of the commercial CRM (marketing, sales, customer service, etc.) should be consulted and have their say. This is the best way to optimise the adoption of CRM after its implementation.
Attention
Negotiations with CRM vendors take time. Don't forget to anticipate this.
CRM project costing file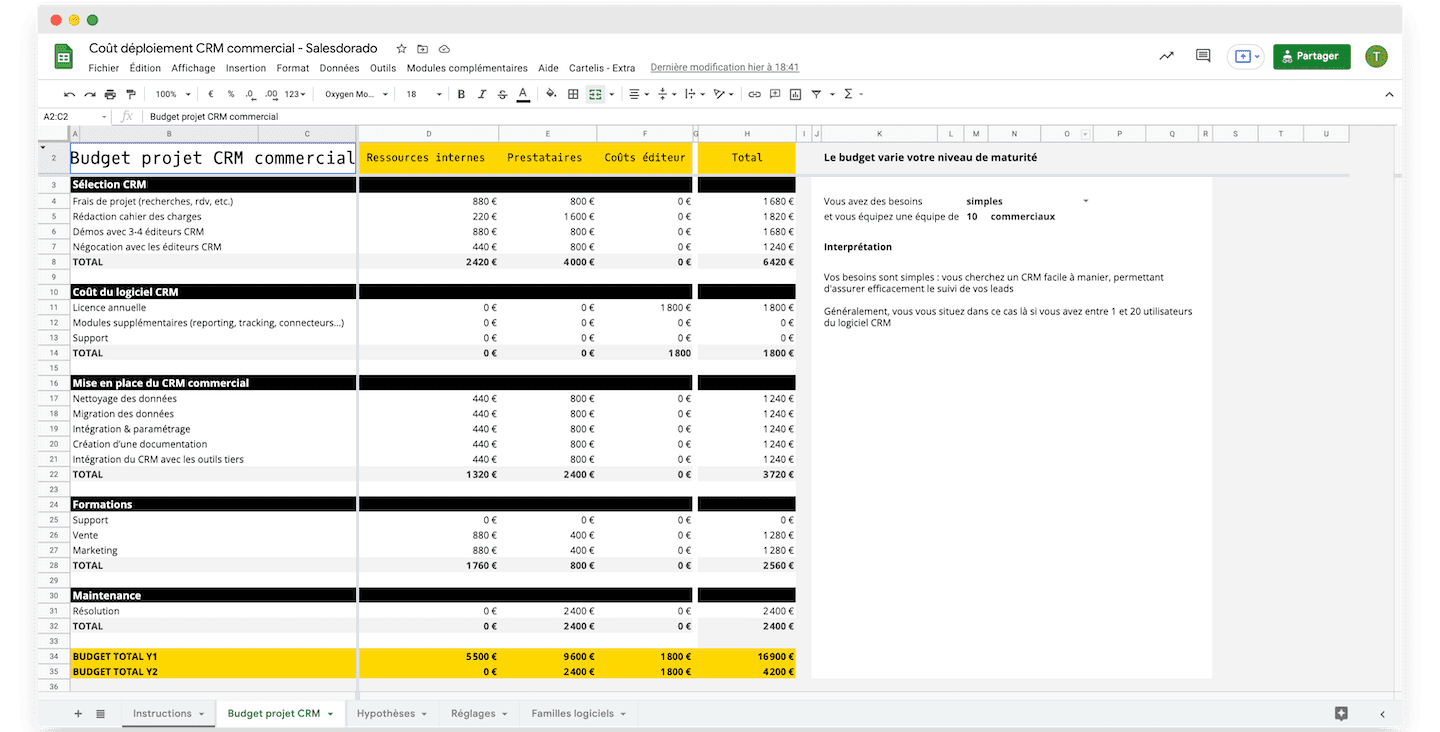 We've prepared a file to help you estimate the budget for your CRM project. Join our community to receive the list, the weekly newsletter, and unlimited access to all our resources.
It's free, and it's right here 👇
#2. Evaluate the real price of your CRM software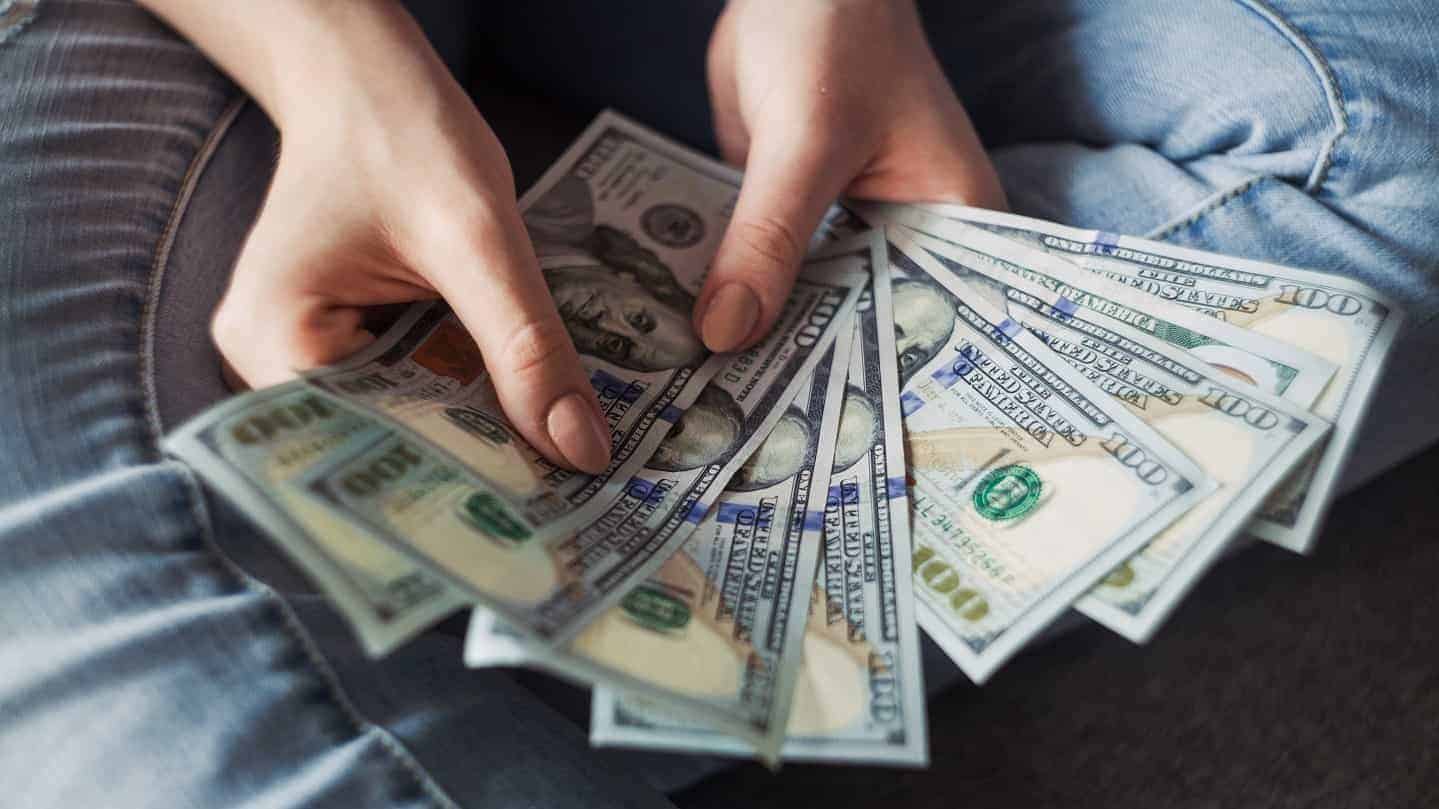 There are two types of CRM software, Saas and "on-premise" CRM, i.e. in licence mode. Here, we will focus on the business model of Saas.
Saas (Software as a Service) are online systems: you pay a subscription fee to license your business. They offer greater flexibility in customisation and payment options, are easier to expand and offer remote access for all your devices.
In contrast, on-premise CRM is a system that you buy up front (usually for a large sum) and which you are responsible for hosting, maintaining, and updating.
Saas are popular because of their scalability and plug and play nature. They are also easily accessible from a distance, a major argument in today's (tele)working world.
Pro tip
Overall, a hosted CRM(on premise) is only a good option if it is really essential for you to control access to your business data. If you manage sensitive data or if you need total control over the system (often for regulatory compliance reasons). Note however that since the RGPD, most SaaS CRM solutions (which manage the business data of hundreds of thousands of customers) will very often be better at managing personal data than you or your IT team.
Saas generally offer the following options:
Monthly subscriptions (most common).
Annual subscriptions (often with a discount)
Quarterly subscriptions (rare, but sometimes possible)
CRM software pricing structure
To understand the price of CRM software, it is important to remember the business model of CRM software publishers.
First of all, you need to calculate the cost of your service level. This is determined by 3 factors:
Plan level: this is the set of services you buy from the provider.
Volume: the number of records, contacts or data points you can store for a certain price.
Add-ons: additional functions, integrations or capabilities that you can add afterwards.
In the SaaS model, CRM vendors offer different "tiers" or "levels" of a CRM platform. Each plan level contains a particular set of features and capabilities.
For example, the Pipedrive CRM limits the use of features based on the number :
of current offers (opportunities in a pipe)
Custom fields (All data fields added to a prospect, offer, person, organisation or product)
reports (combined reports on activities, offers, forecasts, etc.)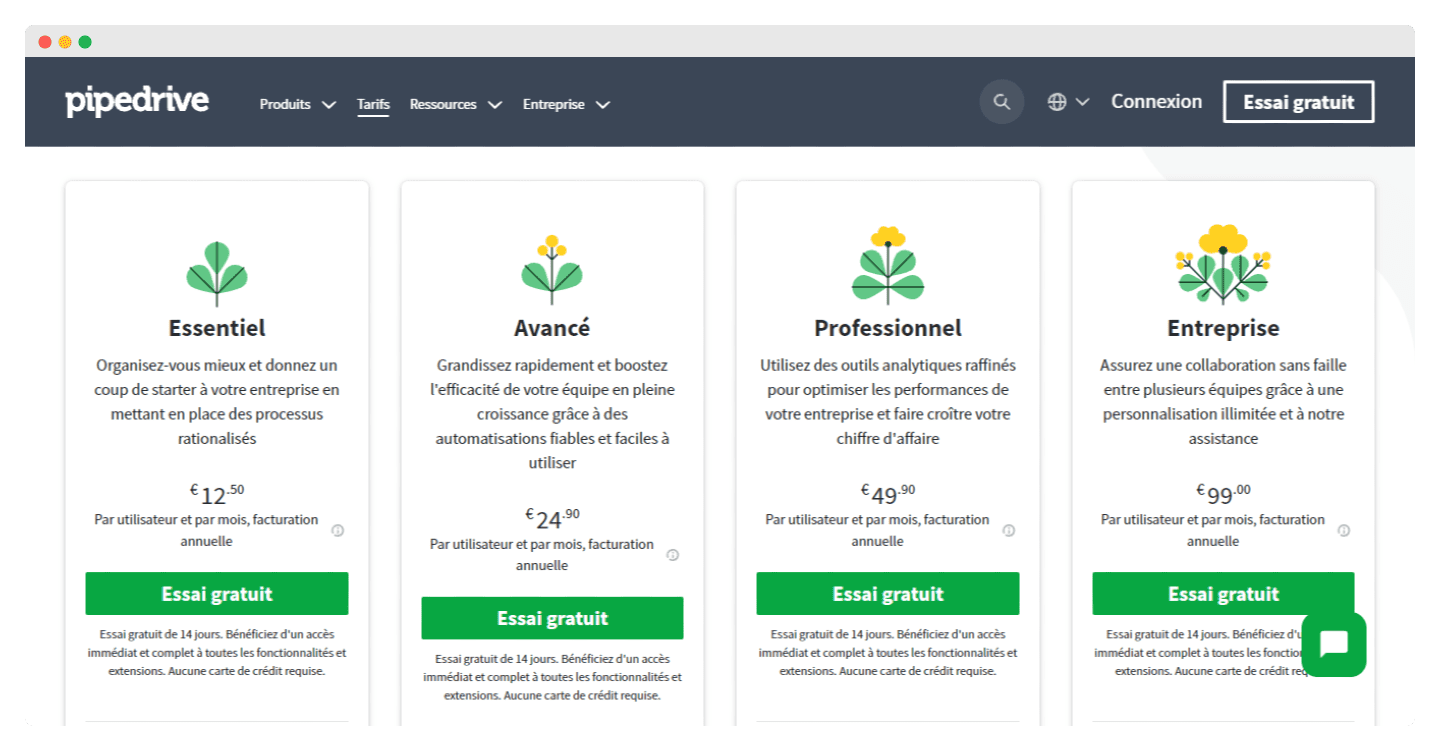 Attention
When you are limited by the volume of contacts or opportunities, when you grow, some CRMs will automatically move you to a more expensive package!
CRM project costing file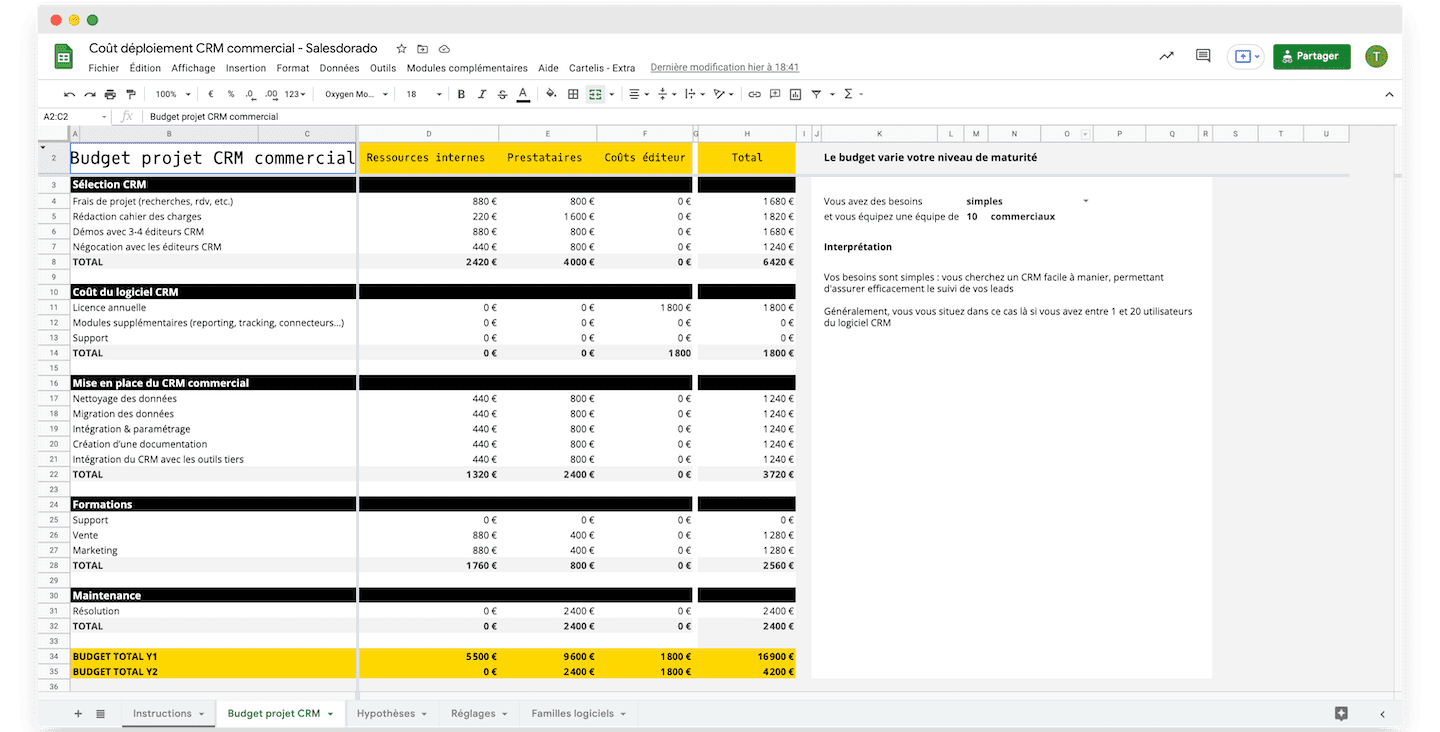 We've prepared a file to help you estimate the budget for your CRM project. Join our community to receive the list, the weekly newsletter, and unlimited access to all our resources.
It's free, and it's right here 👇
#3. How much does it cost to implement a CRM?
Whatever CRM solution you choose and however complex it may be, remember that you are implementing a tool in the organisation that all customer-facing staff will depend on in some way.
This is a real challenge. The biggest risk is low adoption. Teams have their habits. The implementation of a CRM implies for them a sometimes profound change in their way of working. Poorly implemented, a commercial CRM can have a very negative impact on the productivity of teams, the quality of service delivered to the customer and even on the company's profits.
Pro tip
There is a rule of thumb that recommends investing as much in implementation support as the annual cost of the commercial CRM subscription. If the cost of your subscription is 1,500 euros per year, you should invest the same amount in implementation support – by recruiting an expert CRM consultant.
The costs associated with the implementation of commercial CRM software correspond more or less to these elements:
Data cleansing
Data migration
Configuration and parameterisation of the software
The creation of detailed documentation
Integration with your enterprise software environment
#1 Data cleansing
You will probably have to gather data from several sources: files managed by sales staff, databases used by marketing, data from accounting, e-commerce, etc.
There is inevitably some data cleansing work to be done, particularly de-duplication.
To successfully bring all this data together in one file, you need to start by identifying the important data and their sources and then use a database management expert to centralise all this data in the file.
#2 Data migration
Once all your data has been put together in a single database, it needs to be loaded into your new commercial CRM software.
If the file is in .xls format, this step is fairly simple. But chances are that you will have to load the data into the system using different formats.
In order to know what data to load, where to load it and how to do it successfully, you will certainly need the advice of the publisher or the help of a CRM consultant.
#3 Software configuration and settings
This is surely one of the most important pieces of the puzzle.
At first glance, CRM software may seem to be suitable for your company. However, you will soon realise that the dashboards, for example, which you find very well designed, do not include all the information you need. You will see that adjustments are necessary to be able to operate your own customer dialogue.
The specificities of your customer relationship management must be implemented in the software. For this, it may be advisable to call on an external consultant, who will be able to advise you on the functions to activate, the data fields to use, the processes to set up to manage and automate your reports, etc.
A good balance must be found between simplicity and completeness. Too many data fields and too many new procedures to store will discourage users of the software.
Pro tip
We advise a pragmatic and progressive approach: start by implementing the priority features and specifications, and deploy the rest as you go along.
#4 Creating documentation
If you customise the CRM software, the documentation provided by the publisher will no longer be sufficient.
The idea is to create a document, a "user guide", which allows CRM users to easily understand the procedures and the distribution of roles, tasks and responsibilities between different users. This helps to accelerate the adoption of CRM by the teams.
Attention
This documentation should be regularly updated to incorporate changes in functionality and processes as they occur. This document should be easily accessible by employees.
#5 Integrating CRM with your software environment
You also need to connect your CRM to your other systems (ERP, CMS, marketing tools, customer service tools, etc.) using connectors or APIs.
This requires fairly advanced technical skills that even some consultants do not possess. Here again, you can opt for a gradual integration, for example, by initially focusing on integration with the CMS.
Pro tip
If you take too long to clean up your data and migrate it into CRM, it is possible that half of your customer data will be out of date by the end of the process. This can be very costly for the company. The ideal process is to gather the most recent data from the most important sources and merge them together before loading them into the CRM as quickly as possible.
CRM project costing file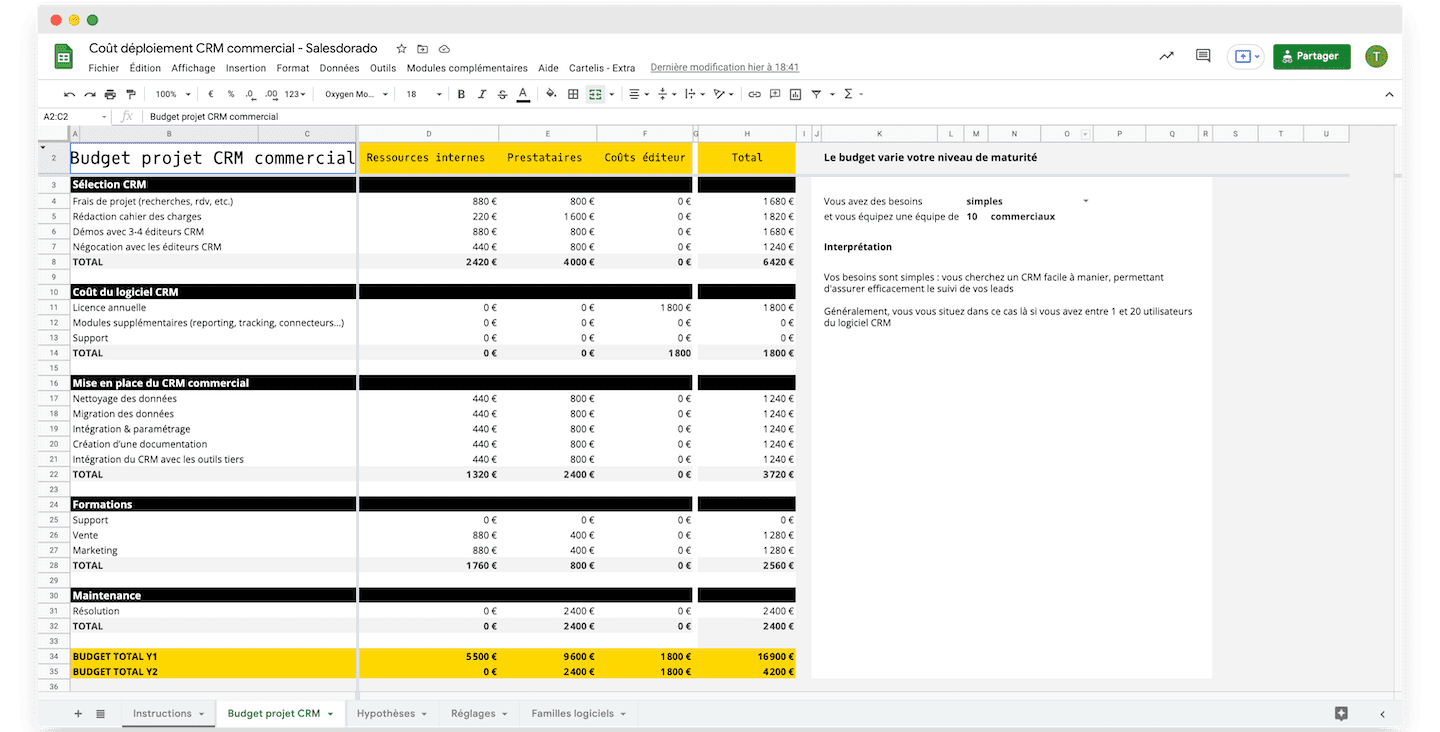 We've prepared a file to help you estimate the budget for your CRM project. Join our community to receive the list, the weekly newsletter, and unlimited access to all our resources.
It's free, and it's right here 👇
#4 The cost of training your teams to use CRM
Why train your teams?
As already mentioned, the biggest risk of this deployment process is that it results in low adoption because teams are used to it and may find it difficult to change the way they work.
In order not to jeopardise the substantial investment you are making to deploy this tool, training is an essential dimension.
This also ensures that the main procedures are correctly assimilated and avoids the drop in productivity that often accompanies the initial introduction of a new tool.
Which teams should be formed?
On average, almost half of the employees in a company use their CRM system.
Again, this figure varies greatly by company size: the results show that companies with fewer than 50 employees have a much higher percentage of employees using their CRM system. In contrast, companies with more than 250 employees have only 15.33% of their employees using their CRM.
Based on this data, a company with 40 employees would expect to have approximately 26 CRM users in its organization. Based on our CRM pricing data, they can expect to spend $780 per month or $9,360 per year on their system.
For comparison, a company with 400 employees would have about 61 CRM users. The monthly cost of their CRM would be $1,830 per month or $21,960 per year for their system.
Attention
CRM software is aimed at all the teams in a company, not just the sales team. It is therefore important to provide training adapted to the different teams. For example :
Training that explains to sales people how to manage the pipeline
Another training course, aimed at marketers, which explains how to manage leads.
How can they be trained?
Some publishers offer training courses, as is the case with Pipedrive CRM, which offers an "Academy":
You can also call upon a CRM consultant competent in your software or an approved training organisation. For example, Zohosphere, the specialized integrator of Zoho: this team of specialized consultants propose to guide companies in the integration of Zoho CRM.
Attention
Again, whatever option you choose, don't neglect the cost of training your teams and the time spent organising it: searching for providers, exchanges, recruitment, organising the training days and of course the training itself!
CRM project costing file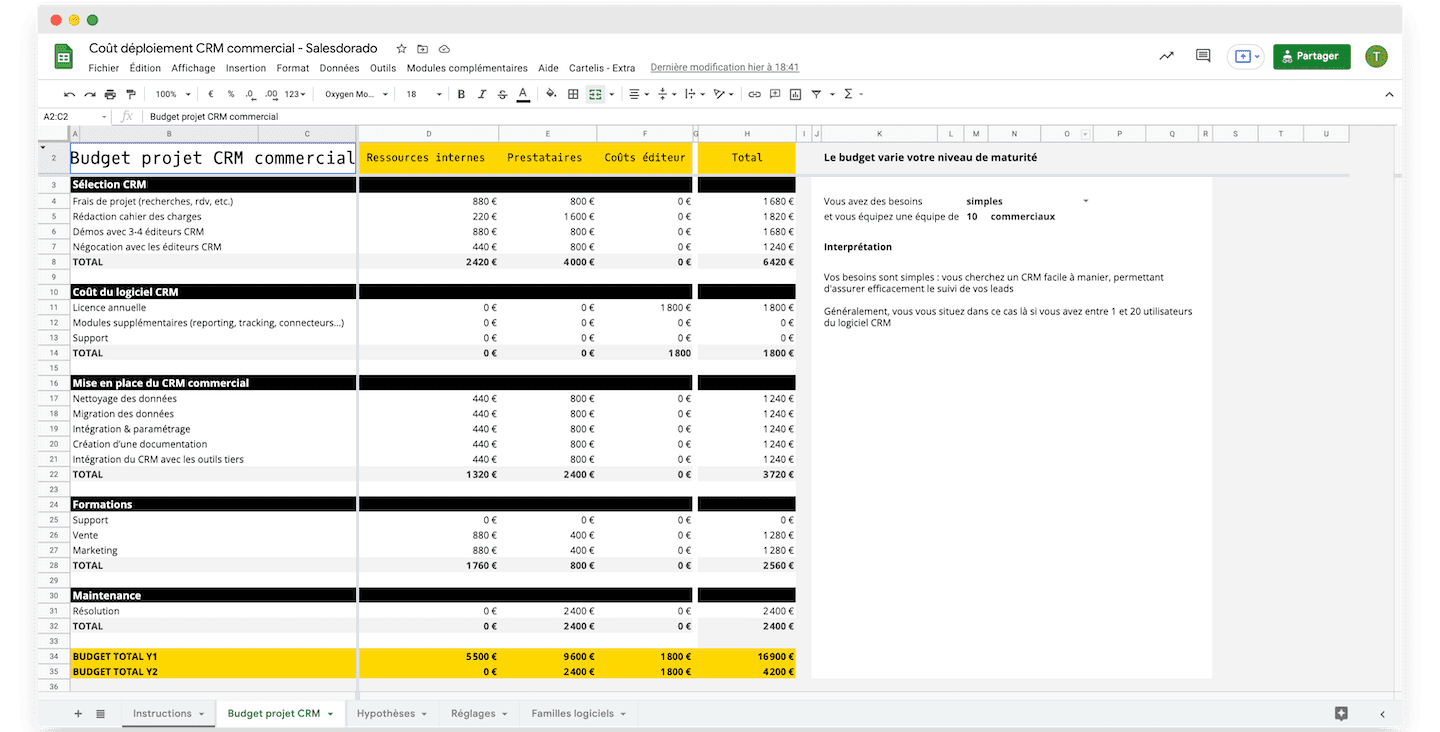 We've prepared a file to help you estimate the budget for your CRM project. Join our community to receive the list, the weekly newsletter, and unlimited access to all our resources.
It's free, and it's right here 👇
#5. Maintenance costs of your CRM
Failures & bugs
CRM crashes are undoubtedly the biggest cost item, if they occur at all. The risk of crashes, bugs, data loss, etc. must be minimised by implementing an effective maintenance system.
If you choose a SaaS commercial CRM solution, the maintenance of your system is partly provided by the publisher.
In this case, check the guarantees offered by the publisher regarding system backup:
How often is your data backed up automatically?
What are the possibilities for manual backup?
Has the publisher you have chosen experienced any breakdowns?
If so, how long do breakdowns last on average?
If you are choosing licensed software, ask customers of the platform about their experience with the software and its "stability"?
Pro tip
The costs here are both the time spent by your staff on maintenance and the money lost through breakdowns and other bugs when they occur. In the event of a serious problem, the use of an external service provider may be required.
Developments
A successful CRM tool must be flexible and scalable. With time (we hope), you will develop, your company will grow and with it the will :
 Add new data sources
 Access to more advanced features
 Integrate new tools
These developments should be anticipated for the years following the deployment of your tool.
CRM project costing file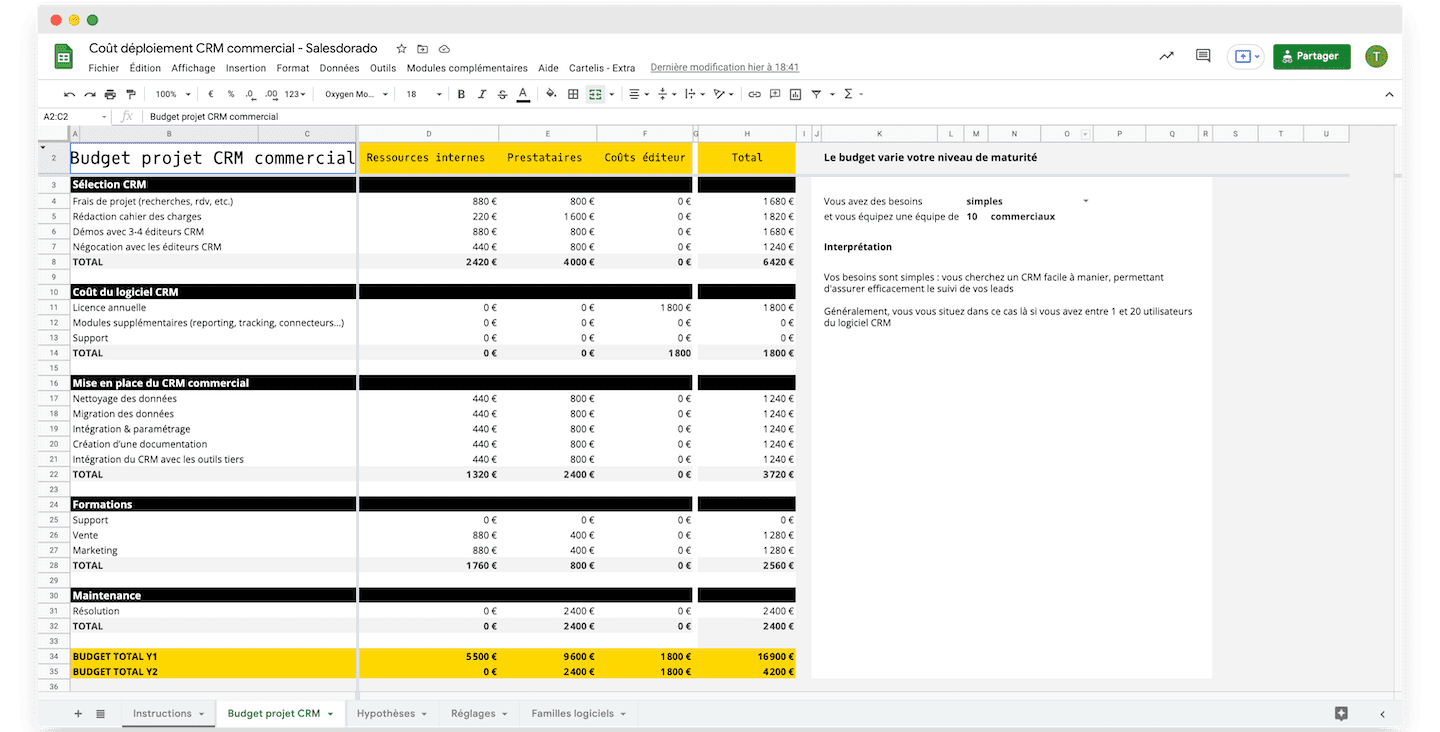 We've prepared a file to help you estimate the budget for your CRM project. Join our community to receive the list, the weekly newsletter, and unlimited access to all our resources.
It's free, and it's right here 👇
The hidden costs of CRM software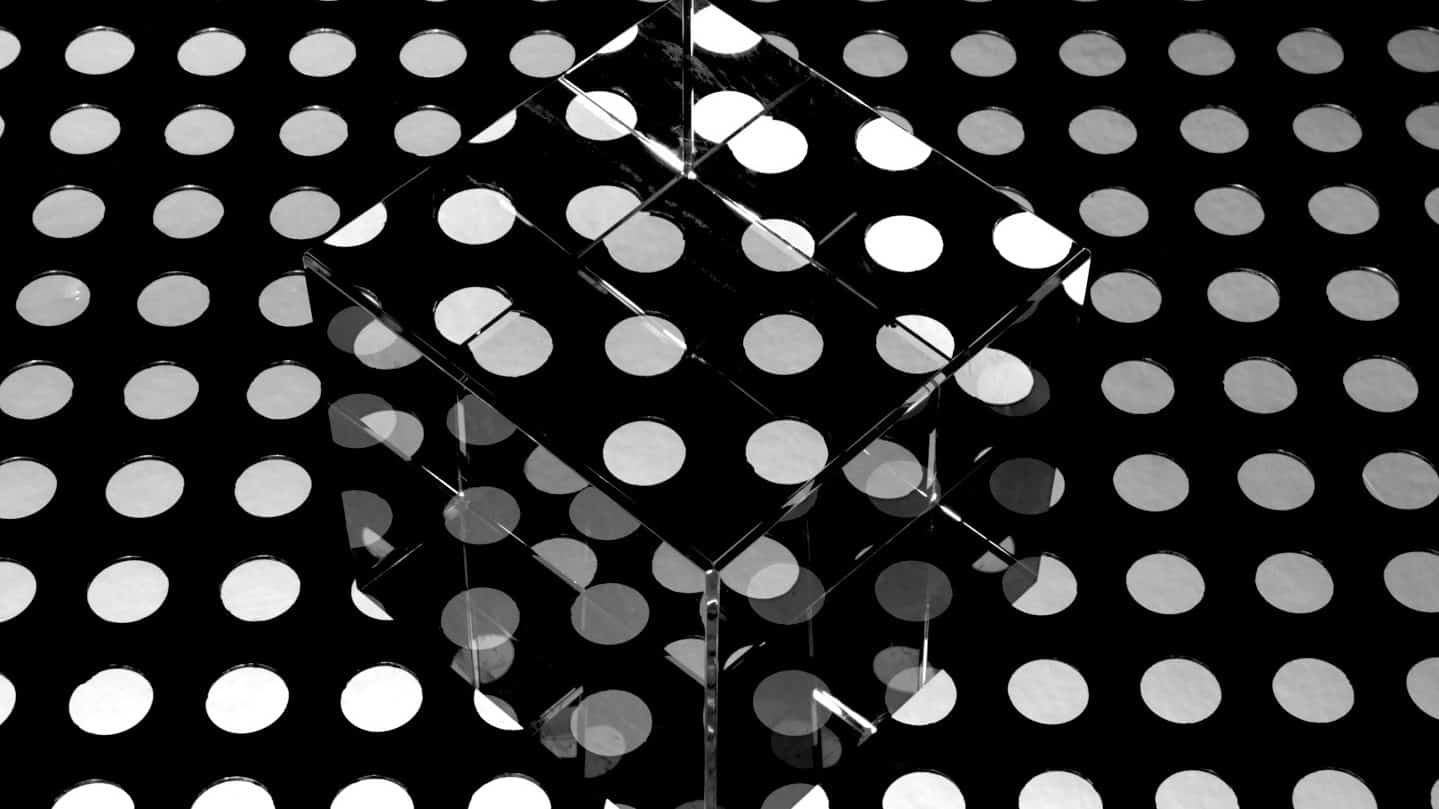 There may be hidden costs at each stage of the commercial CRM project. These should be identified at the time of purchase.
Sometimes the "cost per user" is stated directly, or the plan includes a set number of users. If you can't find either of these, you should ask the supplier.
Customisation of your CRM software
Customised dashboards: How many dashboards can you create before you are charged? Are there limits to what you can include? Do you receive training or support?
Custom pipelines: How many pipelines can you create? Is there a limit to the size of a pipeline?
Custom fields: Is there a limit to the number of custom fields you can add?
Customised user permissions: To what extent can you manage your team's access?
Minimum contractual conditions
they are almost never mentioned in pricing or negotiations, unless you specifically ask for it.
Named user or concurrent user: is the rate based on the number of CRM users or on the total number of employees?
Renewal cycle: Is there a minimum for renewals? Does your contract provide for automatic renewal or upgrade?
Security: Who is responsible in case of a breach? Are there any minimum security measures you must provide?
CRM add-on prices
Integrations, analyses, reports or intelligence functions are usually advertised in the purchase process, but hidden behind paywalls once you have paid.
Some CRM providers offer add-ons to give you this possibility, which can be free or paid for.
Pro tip
There are two reasons for hidden costs in CRM software: vendors are not completely honest about their prices and customers do not ask enough questions. Don't hesitate to ask more questions in advance to clarify the above points.
Free download of a commercial CRM project cost simulation tool
As we have shown in this article, the cost of implementing CRM software includes many variables that depend on both the software and the needs and size of your business.
These costs can be incurred directly from the purchase of the CRM software, but they also include the costs of training your teams and then maintaining the software.
To help you find your way around and estimate the total cost of your commercial CRM project, we offer you a free simulation to download
CRM project costing file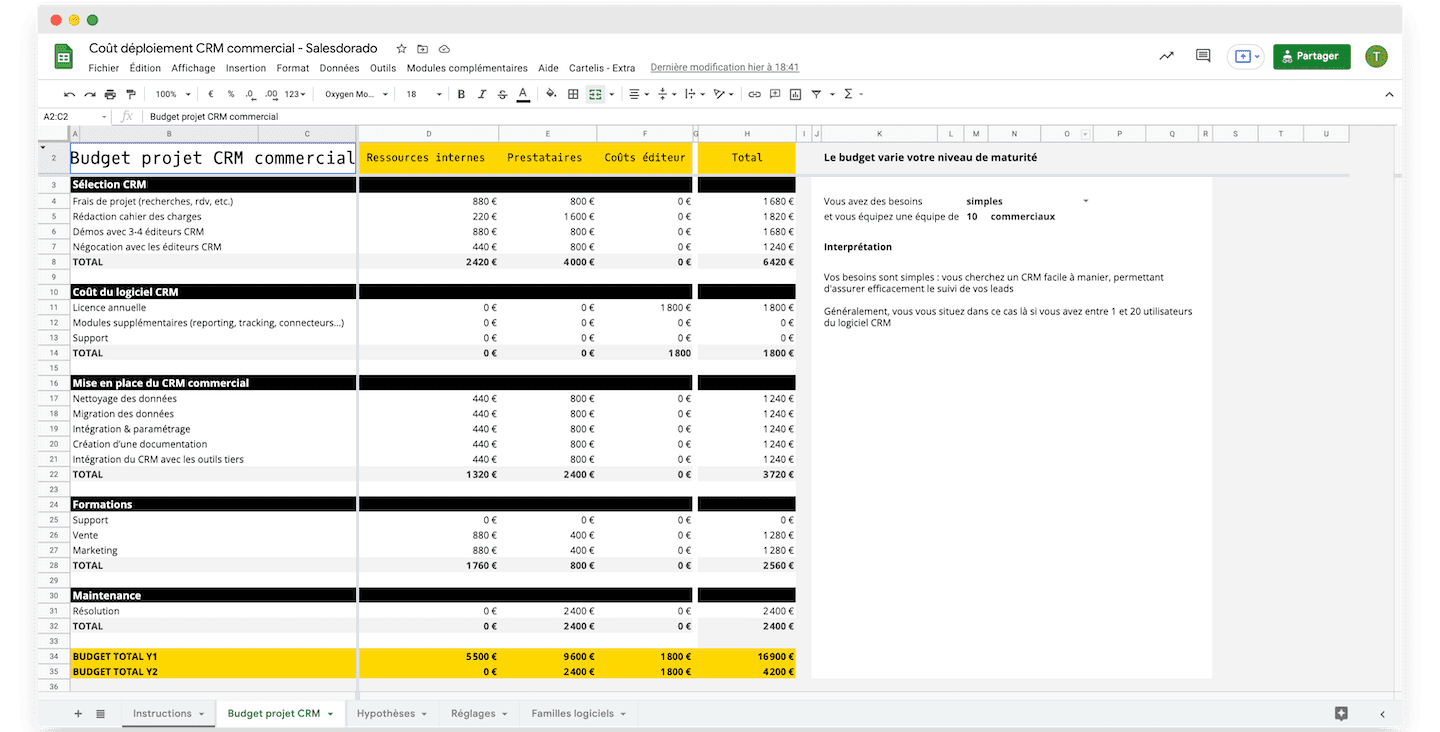 We've prepared a file to help you estimate the budget for your CRM project. Join our community to receive the list, the weekly newsletter, and unlimited access to all our resources.
It's free, and it's right here 👇
Who is in charge of the implementation?
Depending on the maturity of your sales organisation, you will choose a solution that is more or less advanced and therefore more or less "heavy" in terms of deployment.
For small projects: the publisher itself
For a "light" solution: Publishers often offer all or part of the integration. Software such as Pipedrive or Active Campaign will help you (at least) with data migration, and may even go so far as to offer you free or very low-cost migration services
For larger projects: A CRM integrator
For more advanced business organisations (more users, more features, more data sources, etc.). In this case, whatever CRM software is chosen, it takes time to implement, and does not rely solely on technical integration.
For the most important projects, it is also very valuable to call on a CRM consultant. He can help with :
Support your team in structuring business needs
Supporting the software publisher in the implementation of the tool
Define the relevant data models for your organisation
Optimise the integration of the software with your existing stack
The cost of this support depends on the complexity of your system, the chosen CRM software and your existing tools. Note that it is quite valuable to involve a consultant early in the selection process to frame the project properly.
Attention
In both cases, it is essential to take into account the fact that your teams will necessarily be involved and that this cost must be anticipated. It is therefore impossible to envisage a totally free deployment.
Going further
Find all our articles on commercial CRM:
Reader Interactions