Pipedrive is a bluffing tool when it comes to managing your sales tunnel. The interface is very easy to learn, and lets you add all types of actions (calls, emails, appointments, tasks) in record time compared with other solutions.
It's also an excellent account management tool: Pipedrive makes it easy to visualize the sales process from start to finish.
It's a particularly interesting tool for SMEs that are not yet equipped with CRM software and are looking to structure their sales processes.
Try Pipedrive for free
Take advantage of a free 30-day trial instead of 15, with access to all features to get a good idea of the tool's possibilities.
My Pipedrive review in a nutshell
| Perimeter | Score | My opinion |
| --- | --- | --- |
| Overall rating | 4,6 | Pipedrive is an excellent option for implementing CRM software. Very easy to set up, the software will help you frame your processes, and its functional depth makes it a long-term ally. |
| Ease of use | 4,5 | The tool is absolutely brilliant for managing your sales tunnel: move a "deal" from one stage to the next, add notes, schedule an appointment, a reminder, send an email, and so on. The interface is very easy to use compared to other solutions. |
| Easy to install | 4,3 | For implementation, the tool is built around two categories of objects: contacts and deals. This makes it possible to set up robust reporting, bits of automation and, above all, solid business processes with disconcerting ease for those used to more complex solutions (Salesforce in particular). |
| Customer service | 4,1 | Support available in French from Monday to Friday – very efficient. Plenty of content and very detailed training to get to grips with the tool (in French) |
| Integrations | 4,1 | Many native integrations with most newsletter and lead generation tools, and with Zapier & Integromat. The simplicity of information organization and implementation is also reflected in their open API, which is extremely easy to exploit. But the tool is a little lacking in integrations with third-party tools, so even though most leaders are covered, you'll probably have to resort to Zapier or Integromat soon enough. |
| Value for money | 4,1 | Free 30-day trial with no obligation and no credit card. From €15 / user / month to €59 / user / month. Software costs are more than offset by the absence of integration, implementation and, above all, training costs, with one of the best user experiences on the market. |
The pros and cons of Pipedrive CRM at a glance
Pipedrive offers excellent sales pipelines, much more ergonomic than those of Salesforce and Hubspot: the adoption and quality of the Pipedrive prospect sheet means you can build real forecasts with no missing data.
As we said in our Top 10 best mobile CRMs, Pipedrive's mobile application is one of its real strengths. Not only does it feature caller ID functions that tell you your prospect's sales potential, it also automatically records your calls and voice notes. The user experience is also very pleasant, thanks to a simple visual pipeline.
Pipedrive's weaknesses include its lack of marketing functionalities, unlike Hubspot and its native marketing suite, or ActiveCampaign, which combines sales CRM with a complete marketing automation suite. But Pipedrive is easy enough to connect to another marketing tool (unlike Salesforce, to which you need to add Pardot).
Pipedrive's reporting is more than sufficient for a sales team, but if you need to make highly analytical use of your CRM, it will be a little limited. Even if the quality of the API and integrations enable Pipedrive to aggregate a huge amount of data, the visualization tools don't go as far as Salesforce or Hubspot, which can manage marketing attribution.
The sales tunnel: Pipedrive's key functionality
As its name suggests, the heart of Pipedrive lies in its visual pipeline built around "deals" that move from opportunity to success (or failure). In most cases, you'll be able to start with Pipedrive's standard sales pipeline. If you want to create your own pipeline, you can do so easily in the settings.
Once you've added your new opportunity to Pipedrive, it will appear in the pipeline alongside your other deals.
Pipedrive's enormous strength lies in the interface of this "sales tunnel" screen. You can move opportunities to each stage of your sales funnel with a simple click and drag. No complicated parameters or endless drop-down lists: you have a maximum of 5 or 6 possible statuses, and you always have a holistic view of your pipeline.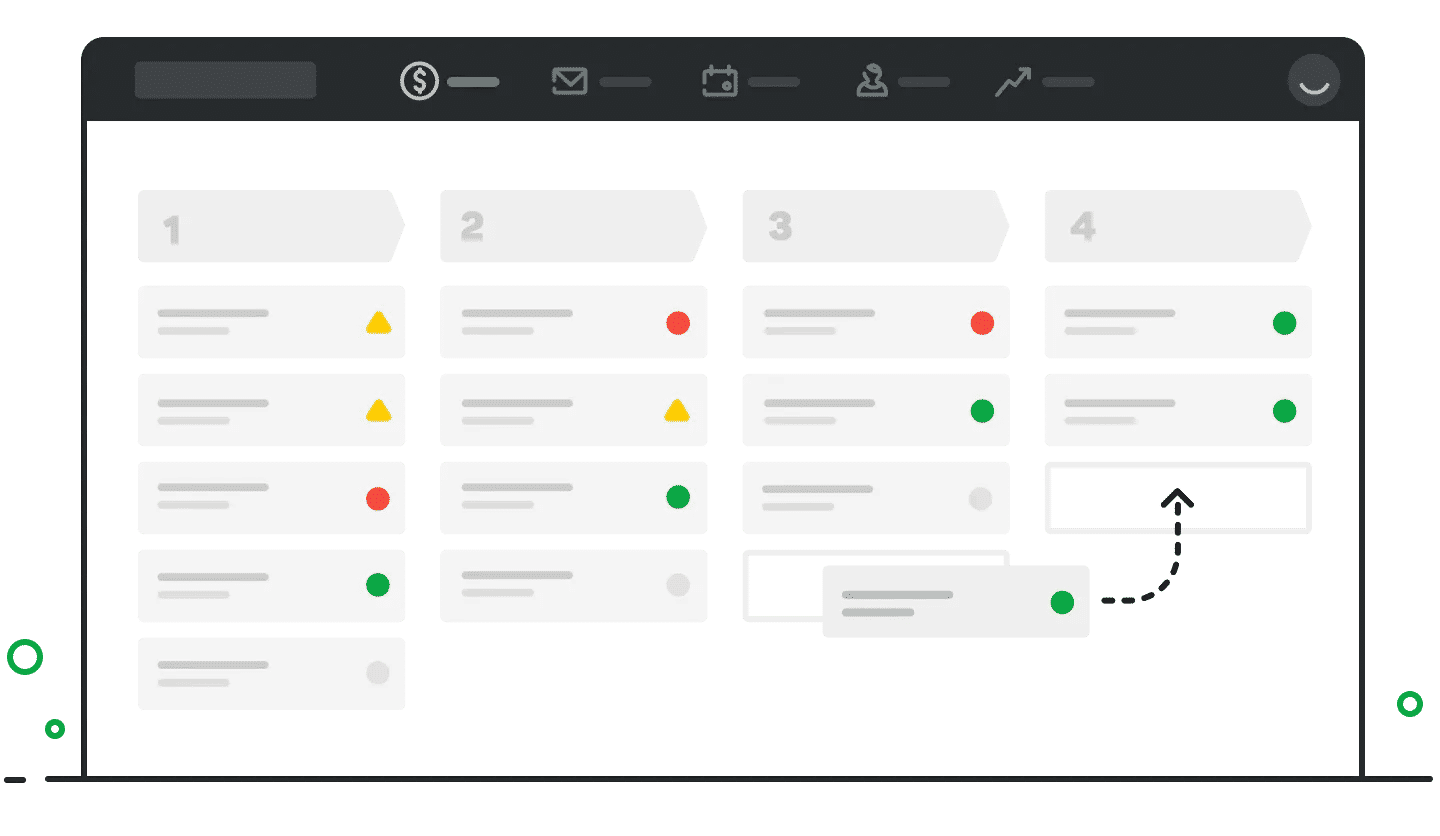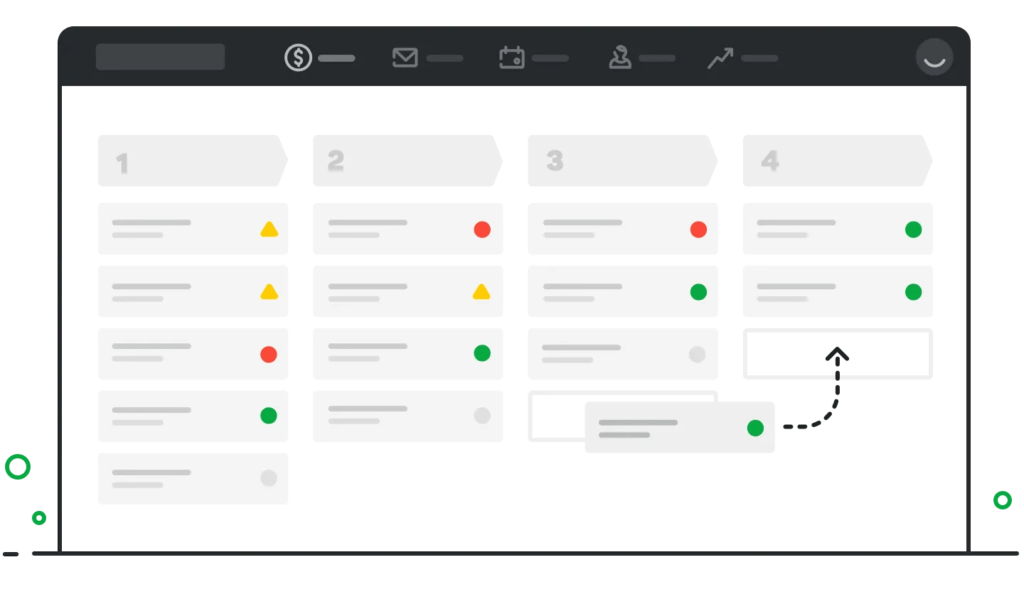 You (and your teams) can filter this view by team member to see only the opportunities relevant to them, and see at a glance which part of the sales tunnel to work on first: for example, if there's a lack of lead volume at the beginning of the tunnel, you'll need to step up your prospecting efforts, and you'll see this at a glance.
This may seem trivial, but in our view it's what really enables Pipedrive to provide a highly agile vision (and therefore sales strategy) for your sales processes.
Try Pipedrive for free
Take advantage of a free 30-day trial instead of 15, with access to all features to get a good idea of the tool's possibilities.
Pipedrive contact management: our opinion
Pipedrive offers several features to help companies organize their contacts, teams and correspondence. The "Contact Chronology" screen helps sales reps determine the next person to contact and when to follow up.
The "smart contact data" feature enables you to obtain public information directly from the companies you are prospecting. The tool can also automatically identify and merge duplicate contacts.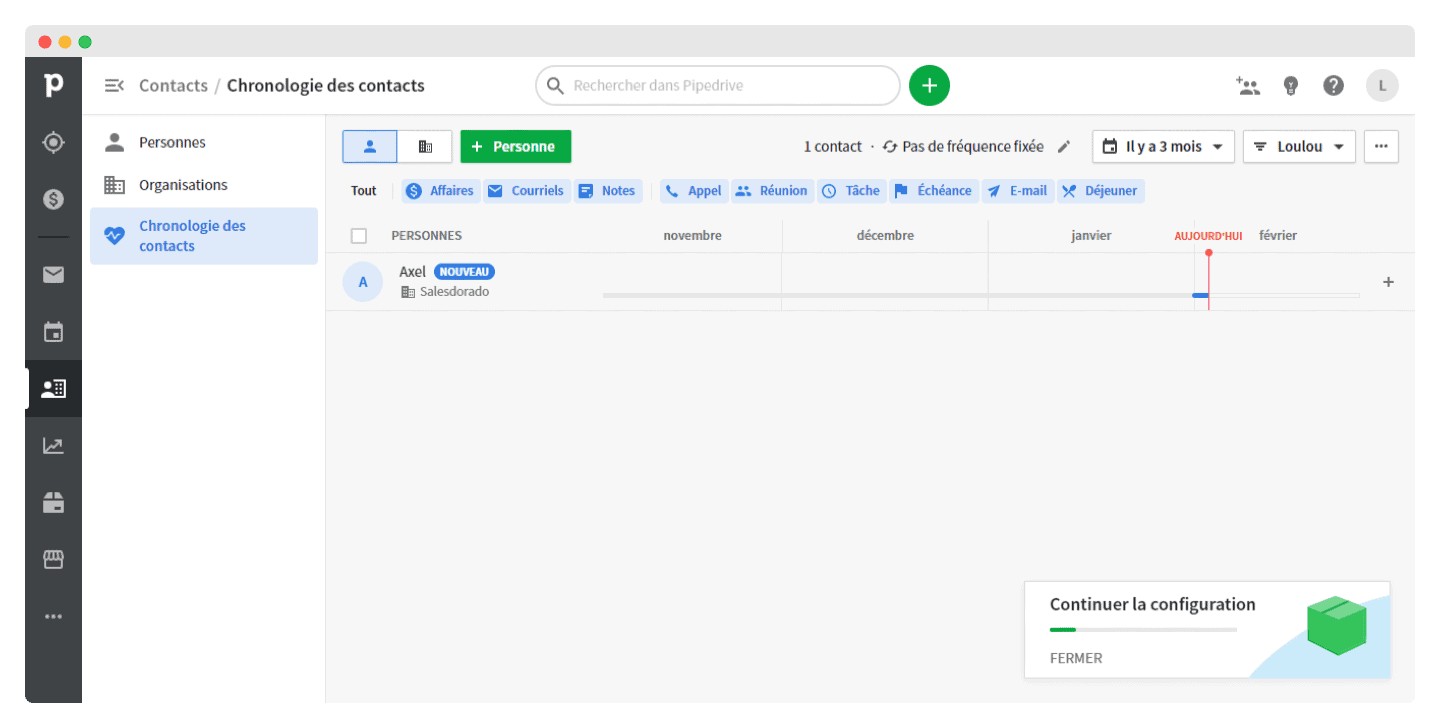 The "E-mail" tab centralizes all your inboxes, with Pipedrive fully synchronized with Google, Microsoft Office and iCloud.
All emails linked to a specific deal or contact can be viewed in Pipedrive's contact entries. You can therefore send e-mails from Pipedrive which will also appear in your mailbox – and anything you send from your mailbox will be saved on Pipedrive.
You can also connect emails with associated offers to quickly discern their monetary value, status in the sales tunnel, and next scheduled activity.
Try Pipedrive for free
Extend your free trial to 30 days with Salesdorado
Administration & Reporting on Pipedrive: much progress
The tool allows administrators to restrict what other users can see and modify. You can also divide your sales department into teams, track their successes and failures, and create customized team objectives.
The "Dashboard" tab gives you access to your important information:
The value of all your new opportunities
Sales tunnel for each employee
Opportunities won and lost
Initiated offers
You can filter this data by pipeline, project and period. You can customize your columns by filter.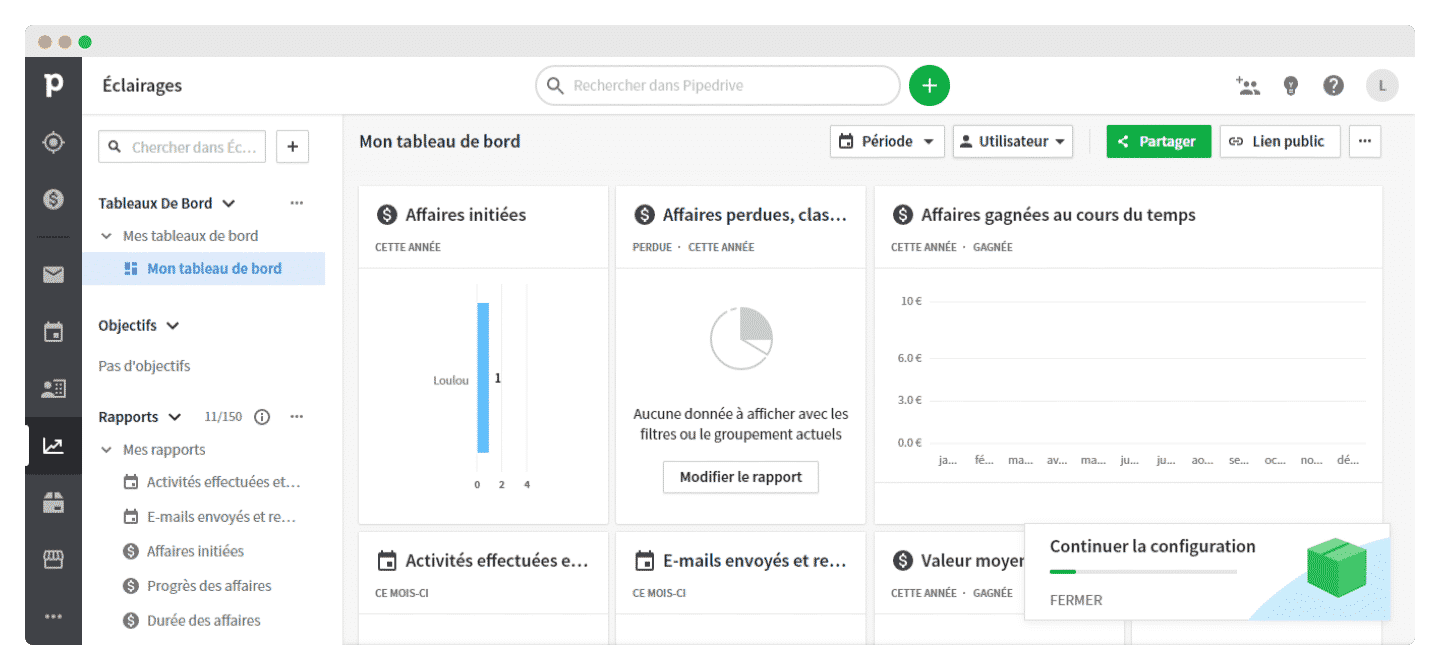 Pipedrive has vastly improved its reporting: you now have access to several tables that integrate won and lost transaction graphs, completed activity graphs and a more in-depth analysis of pipeline conversion.
On the Pipedrive dashboard, you can see how many opportunities have been launched, won and lost based on product, values, discounts and the most active sales team members.
There are also deal-centric views that show who started a deal, where it is in the pipeline, or the status of all deals started in a given period.
Try Pipedrive for free
Pipedrive offers a free trial with access to all features to give you a good idea of the tool's capabilities.
Prospect sheet and data models on Pipedrive
Here we show you what the Pipedrive interface looks like for prospect records and data models.
The opportunity sheet
The Pipedrive interface offers you a specific inbox for your prospects or for offers for which you are not yet ready.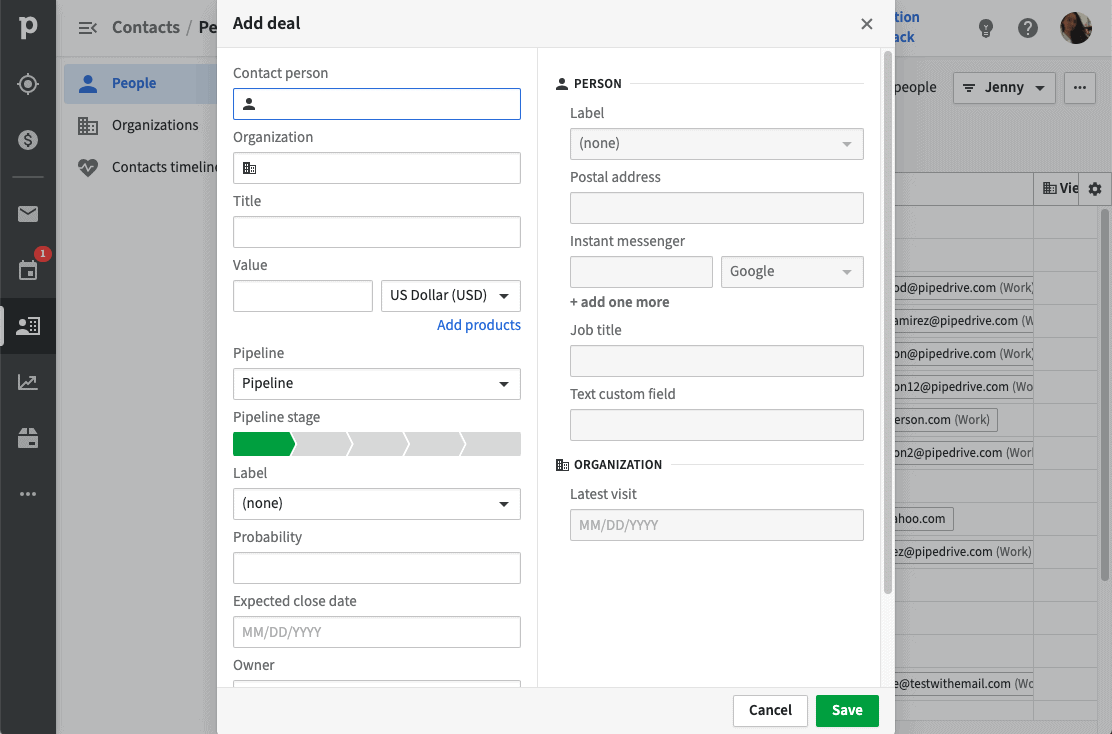 You can then fill in all your prospects' details: you indicate who the prospect is, then the company, the current stage of the pipeline and the expected closing date.
Contact form
You can enter the contact details of all your customers, and then link them not only to their company, but also to any current offers they may have.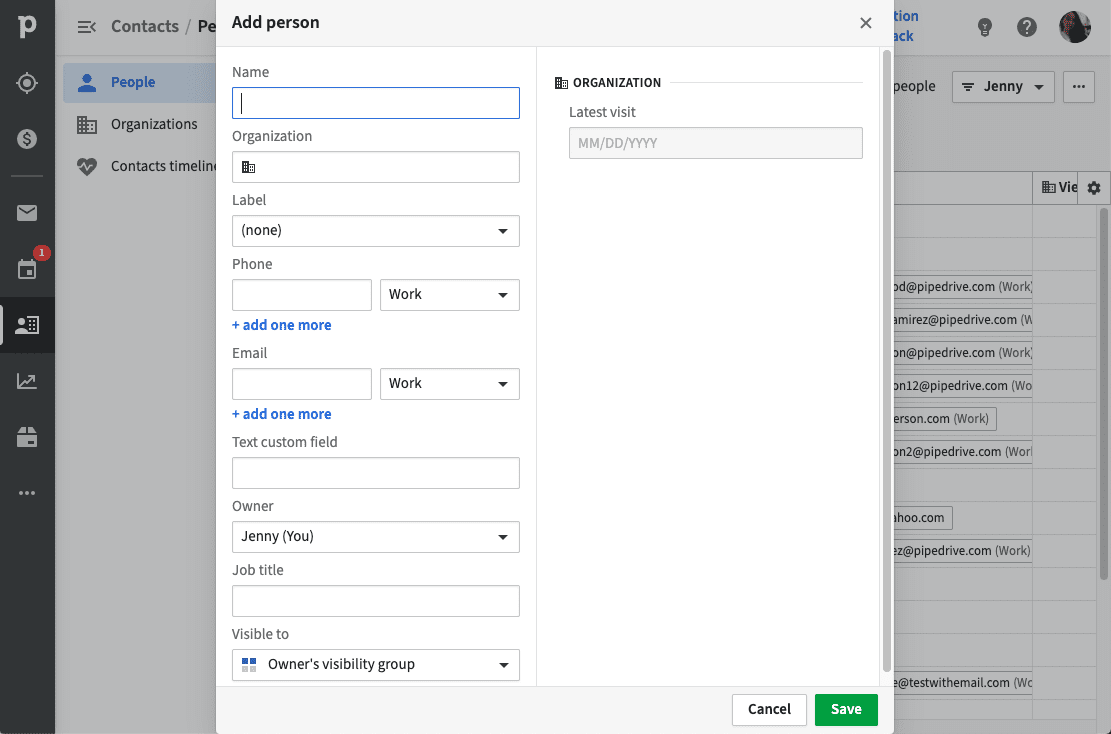 Company profile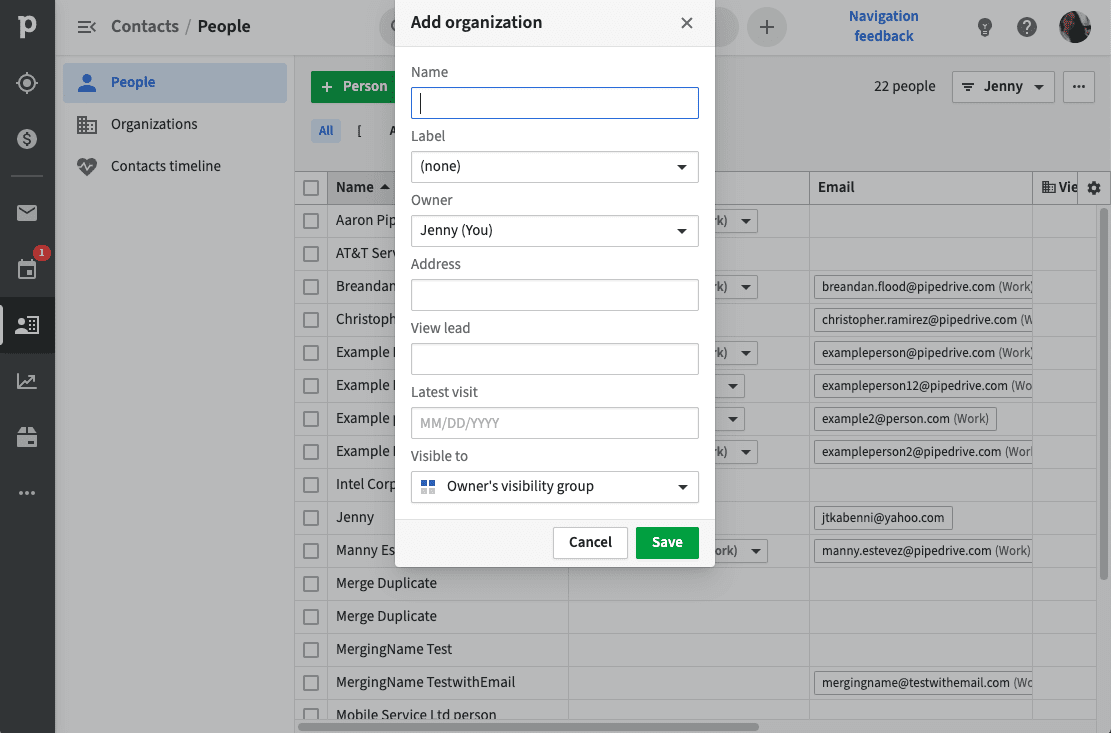 Finally, you can fill in company files, where you can list all the contacts who work there, with notes on the company's activities.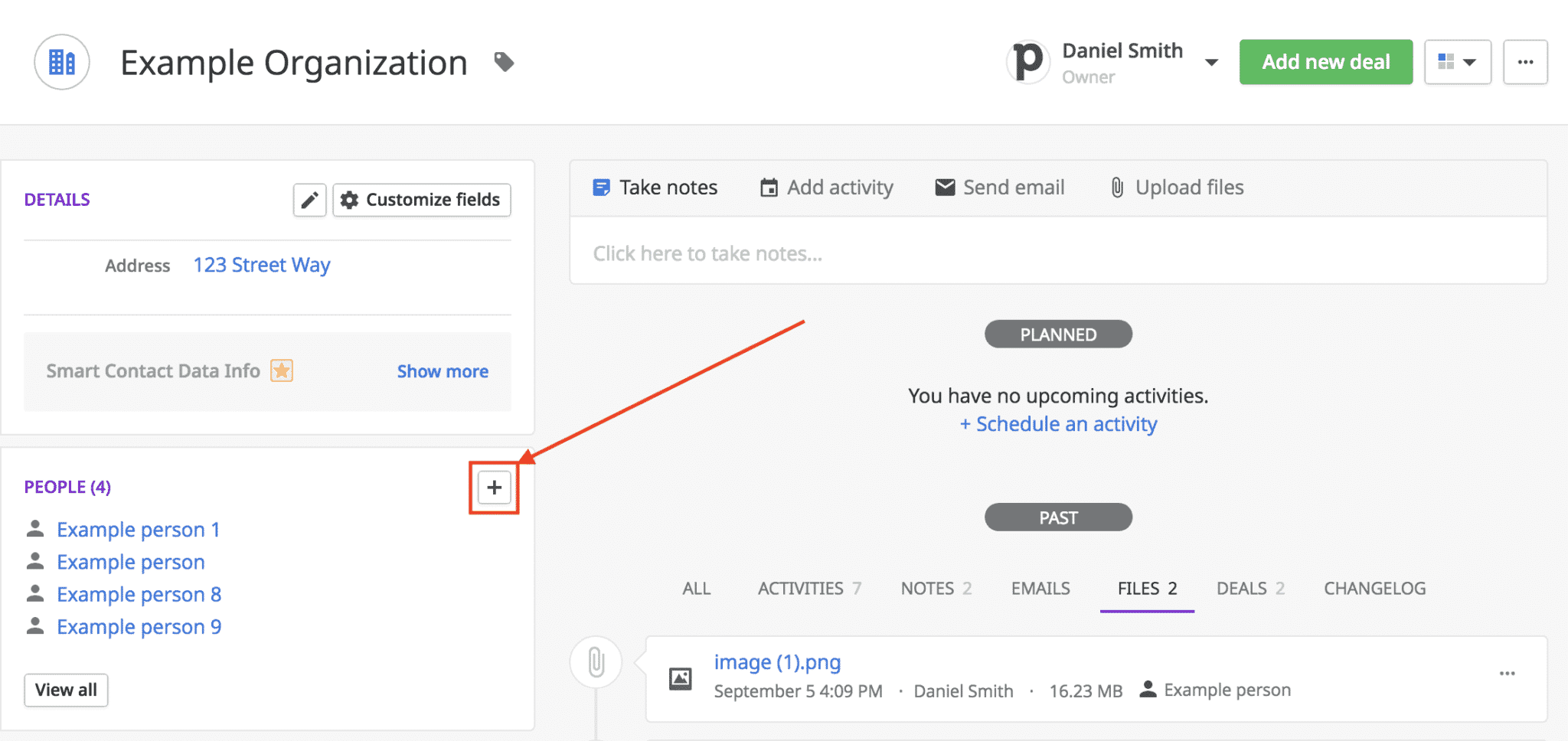 Custom fields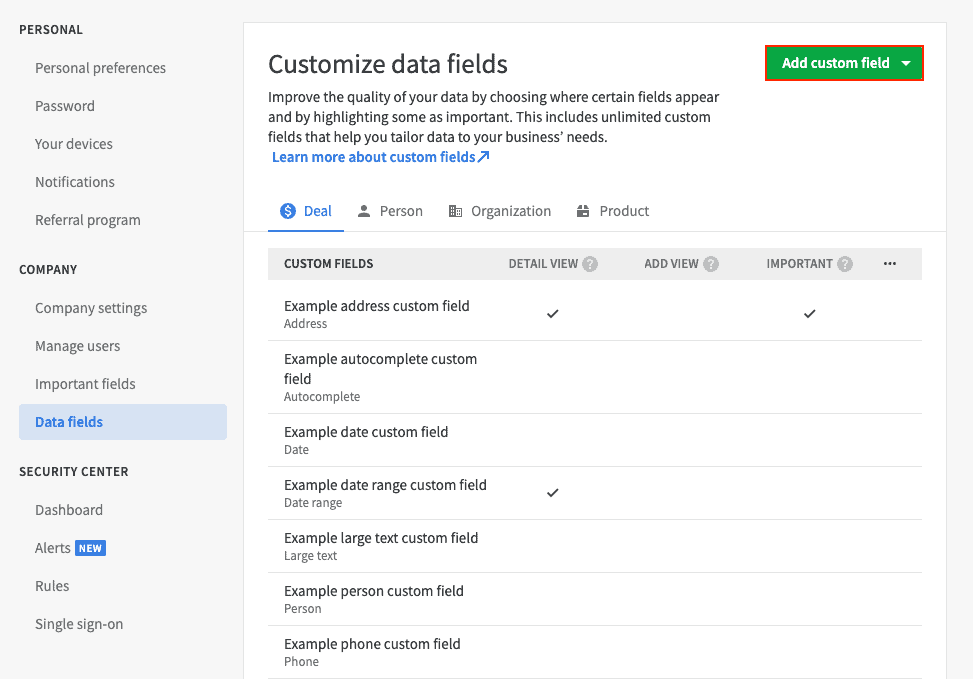 Depending on your company's needs, you can create custom fields to filter your data. These fields can apply to people, offers, organizations, etc.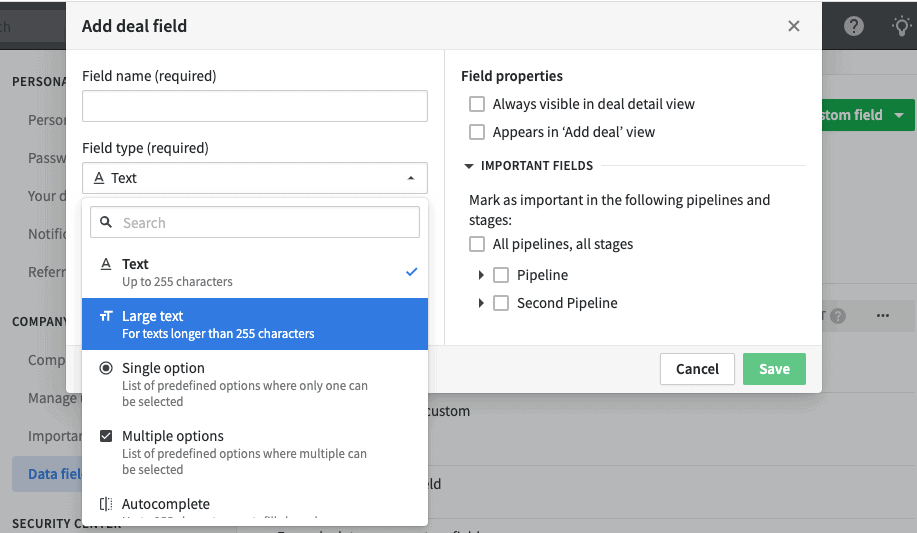 Pipedrive customer feedback
Pipedrive benefits from excellent customer reviews on all existing platforms: it is the best rated on Capterra, and has a very good rating on G2Crowd. Those who adopt the tool are clearly quickly convinced, not least because of its highly intuitive interface. The software's only weak point for users who compare it to Salesforce is reporting, which is admittedly much lighter.
Going further
If you want to know more, we've written direct comparisons of Pipedrive with its main alternatives:
Pipedrive mobile applications: a strong point
This is one of Pipedrive's greatest strengths: you can access your deals on the move thanks to Pipedrive's apps for Android and iPhone. Like the web version, mobile applications are simple and easy to use. On Android, the software even integrates with Google Assistant for voice commands.
You can quickly see your offers, activities and contacts; you can record calls, take notes, link both to offers and schedule follow-up activities.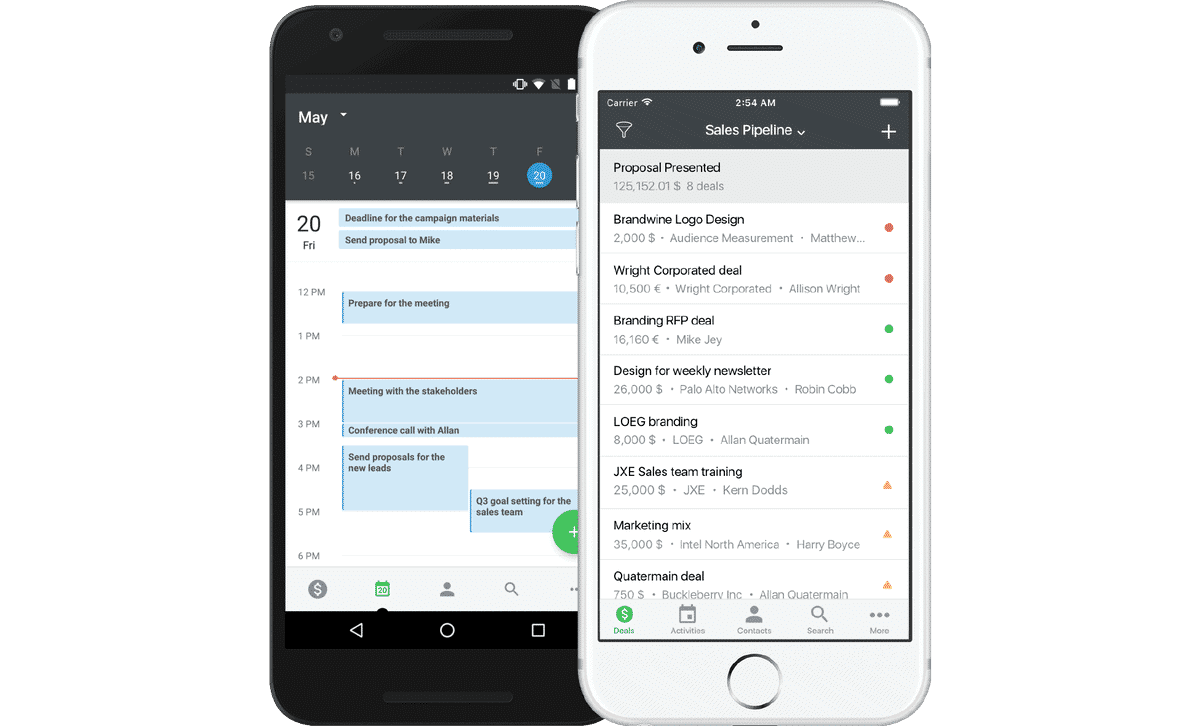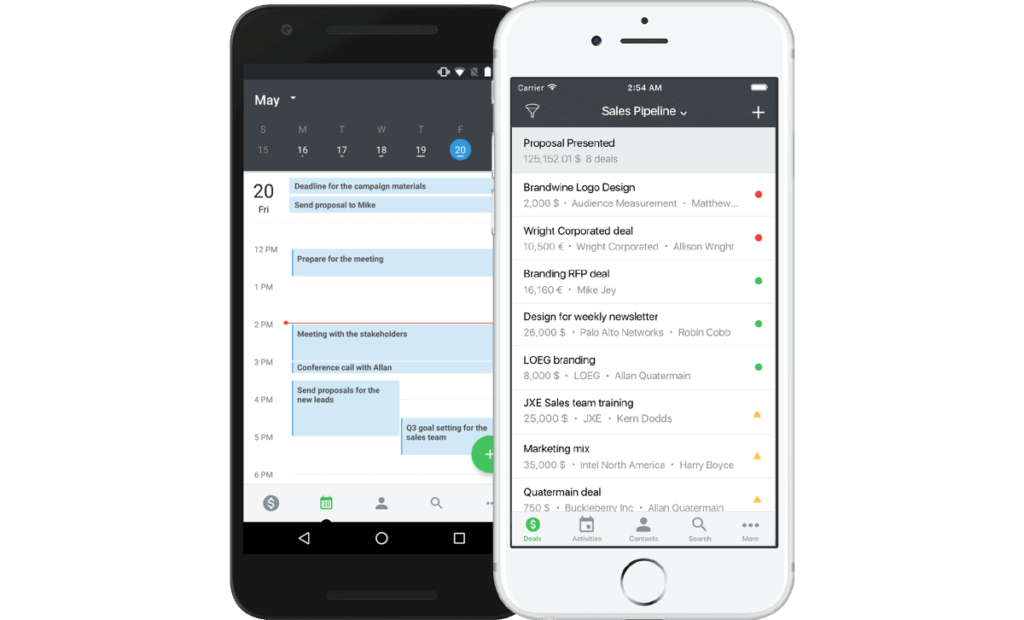 In terms of reporting, the live dashboard gives you an overview of the status of bids by date, person, activities, gains and losses. Under the Progress tab, you'll find reports covering a specific user or the whole company. Like the rest of the Pipedrive interface, the reports are visually appealing and easy to understand.
To take things a step further, the application also lets you scan notes, as well as locate your contacts to schedule appointments when you're nearby.
Try Pipedrive for free
Pipedrive offers a free trial with access to all features to give you a good idea of the tool's capabilities.
Integrate Pipedrive with your existing tools
Pipedrive natively integrates most newsletter and lead generation tools, including Zapier & Integromat. The simplicity of organization, information and implementation is also reflected in their open API, which is extremely easy to use.
However, the tool is a little lacking in integrations with third-party tools: even if most leaders are covered, you'll no doubt turn to Zapier or Integromat pretty quickly.
Integrate Pipedrive with cold mailing tools
Pipedrive integrates with your cold mailing tools, allowing you to :
Launch prospecting campaigns when contacts added to Pipedrive are moved to a particular status, or when information is filled in, etc.
Create or move a lead in Pipedrive when a (positive) response is received to a prospecting campaign.
You can also tag the various contacts by campaign to obtain a final report on prospecting campaigns (and not just the leads generated).
Integrate Pipedrive with your customer support or live chat tools
By integrating Pipedrive with your customer support tools or live chat software, you can :
Instantly create leads in Pipedrive as soon as the lead is captured in chat.
Give customer support teams the business context in all conversations to help them prioritize, and respond better.
Inform sales teams of a conversation with customer support.
Integrate Pipedrive with CPQ tools (Configure, Price, Quote)
The CPQ process covers everything from the formulation of the sales proposal to the production of the quotation and invoice.
For example, you can integrate Pipedrive with Quickbooks, the leading invoicing software on the French SME market.
More generally, these integrations with CPQ tools allow you to :
Generate customers and invoices automatically from Pipedrive in just a few clicks
Empower your sales teams by giving them payment information on invoices in Pipedrive
Increase your conversion rates and accelerate your sales with the payment link integrated into your invoices
APIs, NoCode Platforms, and Webhooks – one of the reasons for Pipedrive's success
This is where Pipedrive really comes into its own:
Integromat and Zapier integrations are native, and offer a wealth of possibilities.
The API is hyper-complete and flexible, with a node.js client and a php client – and a high-quality documentation.
Webhooks let any of your tools listen in on everything that's happening on Pipedrive.
Definition
A webhook lets you send instant updates to your application. For example, you can program an automatic e-mail to be sent when a customer fails to make a payment.
With Pipedrive, you can create up to 40 webhooks per user. From this webhook, Pipedrive automatically sends notification of data changes to the relevant tools as soon as they occur. You can find out more about webhooks with Pipedrive here.
Going further
In our article on How to enrich your CRM, Captain Data shows how they automated the enrichment of their CRM (Pipedrive) with Integromat and a little elbow grease.
Validate integrations
Pipedrive offers a free 30-day trial with access to all integrations. You'll soon realize how easy it is to integrate with your existing tools.
Pipedrive pricing details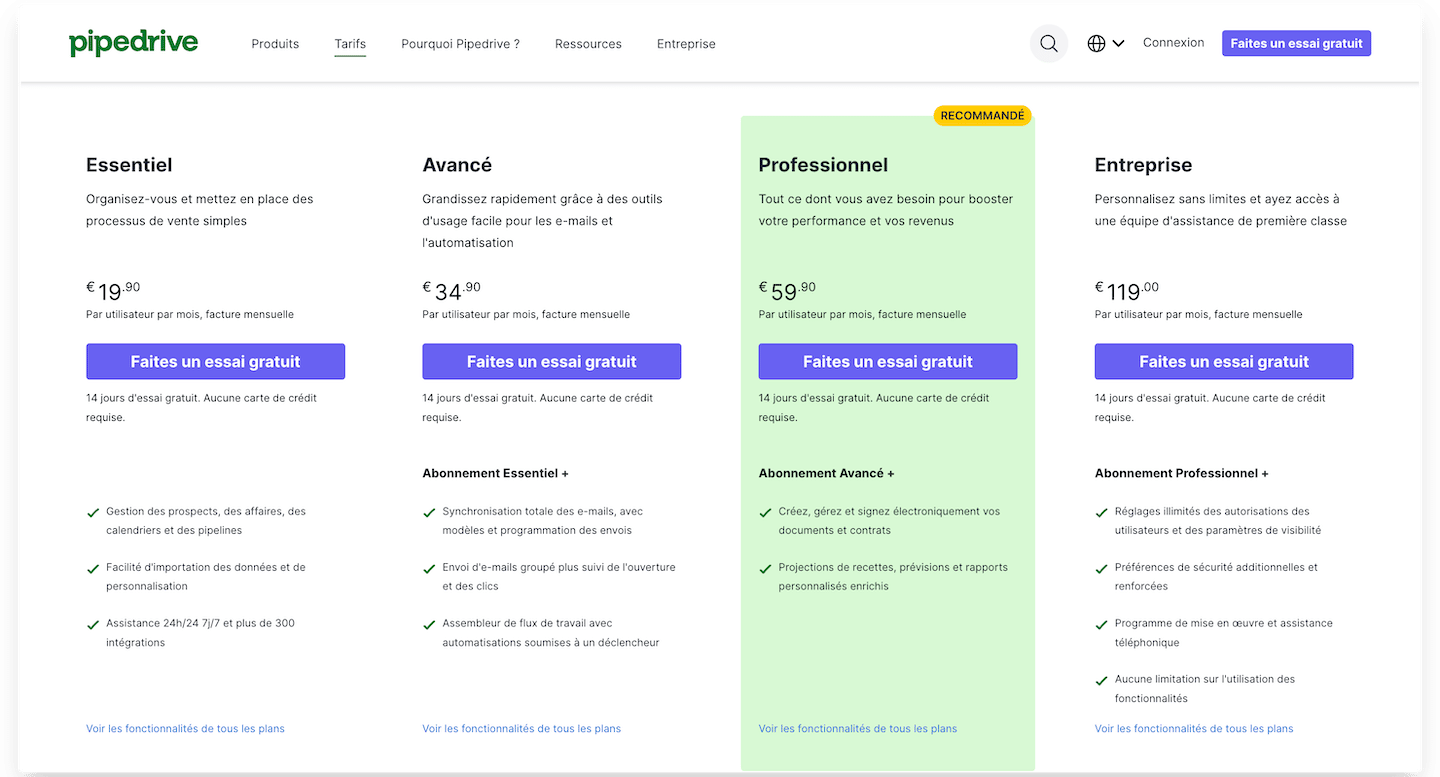 In terms of pricing, Pipedrive remains very affordable, especially for such a comprehensive and intuitive tool.
There are four pricing plans available at Pipedrive, so there's no stress or sense of financial obligation when you get started. And Pipedrive offers a free trial period. Please note that the prices below correspond to an annual commitment.
Pipedrive's price list: Essential plan
Ideal for start-ups and small businesses looking to organize and structure their two- or three-person sales, it starts at just €19.90 a month, with no commitment.
It's a smart starting point for developing a seamless sales process quickly and easily. This plan gives you access to all integrations and mobile applications. It lets you create customized pipelines andlink your mailbox to the tool. In terms of reporting, you can create a dashboard to track your sales.
Pipedrive pricing: Advanced plan
It is aimed at growing commercial organizations and costs €34.90 per month.
The big advantage of this plan is that it adds a great deal of context to your CRM: for example, it lets you enrich existing data from social networks like Linkedin, or from your mailbox, since it offers mailbox integration.
Pipedrive Professional Plan: prices
The Professional Plan is designed for sales organizations with several levels of hierarchy, and incorporates many more sales functions. The list price is €59.90 / month / user.
It includes advanced activity-based selling functions, click-to-call and call recording.
It's also ideal for getting a real view of your performance and sales targets: in addition to customizable dashboards, the plan offers in-depth reporting on your company or team objectives to better measure your performance.
Pipedrive Enterprise Plan: pricing
The advertised price is 119.90€ / month / user, but in practice these prices are negotiable when you buy a certain number of licenses.
It's designed for larger companies: it's Pipedrive's best-of-breed plan, with additional integration and familiarization features.
The key to this plan is flexibility: it offers a high degree of customization. As this is often driven by technical issues (security, etc.), the Enterprise plan offers enhanced security and different authorizations for different types of user.
Also worth noting: telephone support.
Pipedrive training costs
The big advantage of Pipedrive is that there's little or no need for traditional training.
However, there are training courses on the other side of the Atlantic offered by Verkko andAgence Gro, aimed primarily at sales operators, to help you get the most out of Pipedrive automation.
Pipedrive integration costs
In addition to the fact that Pipedrive doesn't require any specific training, the tool provides a wealth of best practices and content to help you get the most out of your CRM.
The bulk of the integration cost clearly lies in connecting the tool with your other tools, but Zapier & Integromat's native integrations make the exercise very affordable.
If you still wish to install Pipedrive in turnkey mode, you can do so with a specialized integrator. Pipedrive offers a selection of experts on their site.
Try Pipedrive for free
Convinced? Pipedrive offers a free 30-day trial (instead of 15) with access to all features to give you a good idea of the tool's possibilities.